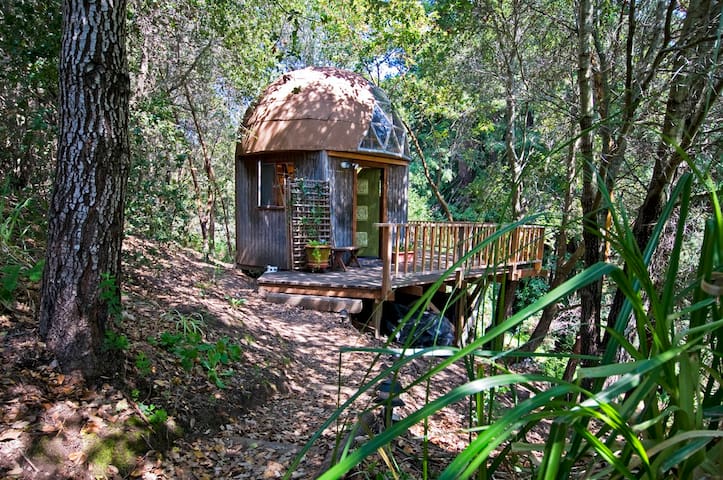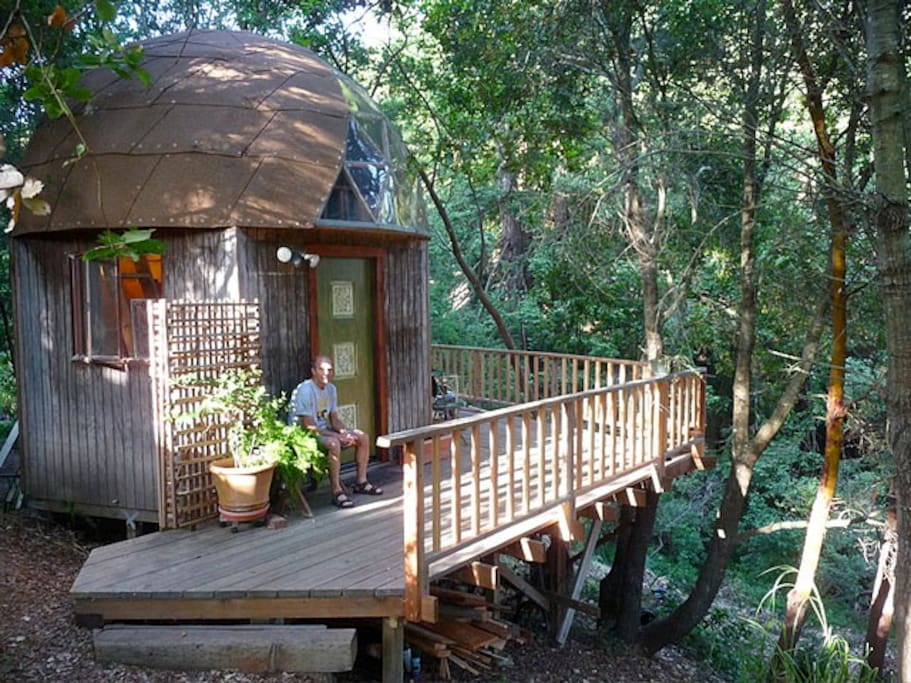 Met een geodesische koepelhok en een groot dek in de bomen, voelt u zich alsof je in een boomhuis in het bos bent. (Kan niet boeken? Als u hier een natuur retraite wilt hebben, reserveer dan onze zoete Hummingbird Haven: https://www.airbnb.com/rooms/6562632) We zijn op een rustige maar gunstige locatie. In de schaduw van Oak en Madrone bomen en naast een Redwood Grove, kunt u buiten genieten van het dek. In de zomer is het cool en in de winter kun je de kreek horen die hieronder loopt.
With a geodesic dome loft & a large deck in the trees, you'll feel like you're in a tree house in the woods.
(Can't book? If you would like a nature retreat here, reserve our sweet Hummingbird Haven: https://www.airbnb.com/rooms/6562632)
We are in a quiet yet convenient location. Shaded by Oak and Madrone trees and next to a Redwood grove, you can enjoy the outdoors from the deck. In the summer, it is cool and in the winter you might get to hear the creek running below.
De ruimte
We hebben 10 hectare naast land zonder hekken, zodat u van de natuur kunt genieten: gewoon op het dek hangen, een wandeling maken in het bos, de kolibries bekijken, de geiten laten gaan, naar het strand gaan of naar de sterren kijken - als lang als de maan niet vol is. ; ) In de zomer, als er geen nachtelijke mist is, kunnen we hier de Melkweg zien. Om onze beschikbaarheid te controleren, klik op de link 'Aanvraag boek'. En ja, als het niet beschikbaar is, is het al geboekt! Als u in de zomer hier op een weekend wilt verblijven, dient u uw reserveringsaanvraag ongeveer 6 maanden van te voren te maken. Wij doen echter af en toe een annulering, dus als u een reeds geboekte datum wenst, kunt u ons hiervan op de hoogte stellen en wij zullen u op de hoogte stellen van een annulering. Als u hier wilt blijven, maar de Mushroom Dome is geboekt, hebben we nu de Hummingbird Haven beschikbaar: https://www.airbnb.com/rooms/6562632. U krijgt dezelfde toegang tot de natuur en de wandeling in de redwoods, een prachtig uitzicht en veel privacy. Niet te vergeten de honderden kolibries die zich rond de studio, zon, een bloementuin en een fontein op uw eigen patio bevinden. (Lees al deze omschrijving voordat u een reserveringsverzoek doet.) De gezellige en schone, semi-rustieke cabine heeft een loft onder een geodesische koepel (de "champignons cap"). In het zolder is een Queen-size super populaire Casper Matras, die zorgt voor zeer comfortabel slapen en gewoon opknoping. Wij bieden schone lakens en kussenslopen. Er zijn ook veel dekens aanwezig. Het andere 'bed' is een bank die we in een bed kunnen opmaken. Als er 2 van u zijn, maar u wilt aparte bedden, maak dan alstublieft de reservering voor 3 of laat het me weten op voorhand - er is een $ 10. charge voor het gebruiken als een bed. In het zolder hebben we een 32 "HD flat screen en een dvd-speler (geen tv) voor films. (We hebben meer dan 80 films die u ook kunt bekijken.) Op de begane grond (een Pentagon) is de bank en een uitklapbare tafel, evenals een mini-kitchenette. Hier vindt u een professionele dubbele kookplaat, kleine koelkast, broodroosteroven, blender, Hot Air Popcorn Popper, French Coffee Press, een saladespinner - zelfs een mixer- en alle gerechten en apparatuur die u nodig had om een hapje of maaltijd voor te bereiden of om een glas wijn te openen. We hebben 2 tafels waar u kunt genieten van maaltijden, spelletjes, etc .: 1 binnen en 1 buiten op het grote dek dat tegen de roodhout komt. We hebben ook een barbecue op het dek met een extra gasbrander aan de zijkant. Wij bieden organische koffie, thee, havermout, popcorn, boter, honing, suiker, voedingsgist (voor de popcorn!) Kruiden, olie en azijn en diverse snacks. Ons goed water wordt behandeld door een ozonator, een UV-licht en een zacht waterfilter. Als u een baby hebt en u niet het tweede bed nodig heeft, maak uw reservering voor 2 en laat het ons weten als u een klein kussen nodig hebt voor het loft. Nogmaals, als er 2 van u zijn, maar u wilt het tweede bed gebruiken, gelieve uw reservering te maken voor 3. De schattige badkamer heeft een Travertijn douche, aangepaste zithoek en een Natures Head compleet toilet. Sommige gasten hebben een probleem met onze badkamer gehad, dus ik wil het duidelijk maken dat we een gordijn voor de deur naar de badkamer hebben en dat we ervoor zorgen dat u uw gebruikt toiletpapier in de prullenbak brengt. (het zal niet ruiken) Als u de instructies volgt voor het gebruik van het toilet, heeft het geen geur. Als de gedachte om een composterings toilet te gebruiken brengt u uit, maak dan hier geen reservering. ; ) Wij leveren handdoeken, zeep, shampoo, conditioner, een droogtrommel, enz. (Een woord van voorzichtigheid: de badkamer heeft een laag plafond. Als u meer dan 6 'bent, moet u hier en daar een beetje eendje doen.) Aangezien de zaterdagen zeer op aanvraag zijn (en we lijken vrij te zijn op zaterdag), hebben we een weekend van minimaal 2 dagen nodig. Houd er rekening mee dat vrijdag en zaterdagavond $ 145 zijn. elk. Om hier een weekend te blijven kost $ 290. plus de $ 35. schoonmaakkosten, de $ 40 airbnb vergoeding en de 11% Santa Cruz County Transient Tax van ongeveer $ 35. Dus voor het weekend is het in totaal ongeveer $ 444. Om te verblijven voor 1 dag midweek kost een totaalbedrag van ongeveer $ 200. Op 3 dagvakanties hebben we een 3-daagse reservering nodig. (Dit geldt ook voor de presidenten, de herinnering, de dag van de dag van de maand, de arbeidsdag en de arbeidsdag.) Maar als je hier in het weekend verblijft, moet je 6 tot 8 maanden van tevoren de cabine reserveren, tenzij je geluk hebt met een annulering! De check-in tijd is tussen 4 en 10 uur. Als u vroeger of later komt, kan dit soms geregeld worden. Uitchecktijd is middag. Aangezien wij schade hebben geleden van gasten, hebben we nu een $ 100 nodig. borg. Hoewel het hier erg geïsoleerd is, zijn we minder dan 10 minuten naar Aptos Village, waar u winkels, restaurants, een gezondheidswinkel, Safeway, etc. vindt. We zijn centraal gelegen op de Monterey Bay: 10 minuten van het strand (Rio Del Mar en Seacliff State Beach), evenals het 10.000 hectare Nisene Marks State Park voor mijl wandelen of vuil fietsen in de Redwoods en langs de Aptos Creek. We zijn 20 minuten naar het centrum van Santa Cruz, 25 minuten. naar de Beach Boardwalk, 45 minuten naar Monterey en het wereldberoemde Monterey Bay Aquarium, 50 min. naar Carmel en 1 1/2 uur naar Big Sur naar het zuiden en San Francisco naar het noorden. Yup, we zijn gevestigd in een van de mooiste gebieden van Californië. (deze tijden zijn niet tijdens rush hour (s);) Een van de attracties die we vanzelfsprekend nemen, is dat u de sterren hier 's nachts kunt zien - tenzij er een heldere maan of wolken is. In de zomer, op een heldere nacht kunnen we de Melkweg zien. Als u van kolibries houdt, breng uw camera. Onze tuin is het hele jaar door naar veel Anna-kolibries. (We hebben meestal ongeve(PHONE NUMBER HIDDEN) het hele jaar door) In de zomer worden we ook door vele Rufus en Allen Hummers thuis gebeld. Dus je moet onze "Hummingbird Airport" zien waar we hen ongeveer 160 oz voeden. van siroop op een zomerdag! Gelieve te roken in de cabine of op het terrein. We lieten rokers hier blijven, maar ze stinken de cabine op en het is een brandgevaar buiten. Sommige mobiele telefoons werken hier niet, maar omdat we gratis wifi in de cabine hebben, als uw telefoon werkt met een wifi-netwerk, kunt u bellen. U kunt soms Verizon service op de swingende stoel bij de oprit krijgen. Om te leren over dingen in de omgeving te doen, doe een internetzoeker naar Santa Cruz, CA. Honden zijn welkom om hier te blijven, maar met een paar eisen: sinds we zoveel dieren hebben, hebben we dat uw honden op een leiband moeten blijven wanneer u buiten bent (de geiten worden zeer zenuwachtig met grote losse honden). Ook laten we honden niet in het zolder of op de bank beneden, dus breng een hondenbed alstublieft mee. (je hondje kan op de bank gaan als je daar een deksel mee opneemt). Als dat moeilijk is, laat het ons weten en we zullen een hondenkussen geven. We hebben een poort die we kunnen opzetten, zodat uw hond uit de leiband op het dek kan zijn. Als u een klein kind brengt, kunnen we een vouw futon (2 / 3rds van de futon of een schuimblok naast het bed) zetten. Laat het ons vooraf weten. Houd er rekening mee dat een kind niet alleen op het hok moet worden gelaten, aangezien het bed vrij hoog is tegen het spoor. Omdat we ongeveer 3 mijl naar de dichtstbijzijnde bushalte zijn, is het vrij moeilijk om hier zonder auto te verblijven. U wordt uitgenodigd, als u van mening bent dat u hier harmonieus zou zijn, om mee te doen met onze ontwikkelende Permaculture farmette. Pet de geiten, bekijk onze kippen, katten, miniatuurhonden en geniet van de frisse lucht. Ik kan je zelfs leren hoe je een geit melk kan geven. Als je hier komt als er geen maanlicht is en de lucht helder is, zie je veel sterren. Moeite van de hitte in de zomer? Omdat we aan de rand van de "mistband" liggen, kan het hier zowel zonnig als koel zijn. Als u een luidruchtige plek wilt hebben, vind je het hier niet leuk: het merendeel van het geluid komt hier uit de vogels of krekels, en de boomkikkers kronkelen en de wind blaast door de bomen. Mensen leven hier wel op het land, dus verwacht het niet helemaal zonder menselijke geluiden en af en toe kettingzaag. :) (We voeden de geiten eiken takken)
We have 10 acres next to land without fences so you will get to enjoy nature: just hang out on the deck, take a hike in the woods, watch the hummingbirds, pet the goats, go to the beach or gaze at the stars - as long as the moon isn't full. ; ) During the summer, if there isn't any nightly fog, we can see the Milky Way here.
To check our availability, click on the "Request to Book" link. And yes, if it isn't available, it is already booked! If you want to stay here on a weekend during the summer, you will need to make your reservation request about 6 months in advance. We do, however, occasionally get a cancellation, so if you want a date that's already booked, you can let us know and we will notify you of a cancellation. If you want to stay here, but the Mushroom Dome is booked up, we now have the Hummingbird Haven available: https://www.airbnb.com/rooms/6562632. You will have the same access to nature and the hike in the redwoods, a great view and lots of privacy. Not to mention the hundreds of Hummingbirds that hum around the studio, sun, a flower garden and a fountain on your private patio.
(Please read all of this description before making a reservation request.)
The cozy and clean semi-rustic cabin has a loft under a geodesic dome (the "mushroom cap"). In the loft is a Queen-sized super popular Casper Mattress which allows for very comfortable sleeping and just hanging out, We provide clean sheets and pillow cases. Plenty of blankets are also provided.
The other "bed" is a couch that we can make up into a bed. If there are going to be 2 of you, but you want separate beds, please make the reservation for 3 or let me know ahead of time - there is a $10. charge for using it as a bed.
In the loft, we have a 32" HD Flat Screen and a DVD player (no TV) for movies. (We have over 80 movies you can view as well.)
On the main floor (a Pentagon) is the couch and a pull-out table as well as a mini kitchenette. Here you will find a professional double hotplate, small refrigerator, toaster oven, blender, Hot Air Popcorn Popper, French Coffee Press, a salad spinner - even a mixer- and all the dishes and equipment you would need to prepare a snack or a meal or to open a glass of wine. We have 2 tables where you can enjoy meals, games, etc.: 1 inside and 1 outside on the large deck that faces the redwoods. We also have a barbecue grill on the deck with an extra gas burner on the side. We provide Organic Coffee, teas, Oatmeal, popcorn, butter, honey, sugar, nutritional yeast (for the popcorn!) spices, oil and vinegar and various snacks. Our well water is treated by an ozonator, a UV light and a soft water filter.
If you have a baby and you won't be needing the second bed, make your reservation for 2 and let us know if you will need a small pad for the loft. Again, if there are 2 of you but you want to use the second bed, please make your reservation for 3.
The cute bathroom has a Travertine shower, custom tiled sink and a Natures Head self-contained composting toilet. Some guests have had a problem with our bathroom, so I want to make it clear that we have a curtain for the door to the bathroom and we require that you put your used toilet paper in the trash. (it won't smell) If you follow the instructions for how to use the toilet, it won't have any odor. If the thought of using a composting toilet grosses you out, then don't make a reservation here. ; )
We provide towels, soap, shampoo, conditioner, a hair blow-dryer, etc. (a word of caution: the bathroom has a low ceiling. If you are over 6' you may have to do a little ducking here and there.)
As Saturdays are very much in demand, (and we like to be free on Saturdays), we require a minimum 2 day stay on the weekends. Keep in mind that Friday and Saturday nights are $145. each. Therefore, to stay here on a weekend will cost $290. plus the $35. cleaning fee, the $40 airbnb fee and the 11% Santa Cruz County Transient Tax of about $35. So for the weekend, it will be a total of about $444.
To stay for 1 day mid-week costs a grand total of about $200.
On 3 day holidays, we require a 3 day reservation. (This includes Presidents Day, Memorial Day, M.L.King day, and Labor Day.) But to stay here on a weekend, you will usually have to book the cabin 6 - 8 months in advance - unless you are lucky to find a cancellation!
Check-in time is between 4 and 10pm. If you want to come sooner or later, this can sometimes be arranged. Check-out time is noon.
As we have experienced some damage from guests, we are now requiring a $100. security deposit.
Although it feels very isolated here, we are less than 10 minutes to Aptos Village where you will find stores, restaurants, a health food store, Safeway, etc.
We are centrally located on the Monterey Bay: 10 minutes from the beach (Rio Del Mar and Seacliff State Beach) as well as the 10,000 acre Nisene Marks State Park for miles of hiking or dirt biking in the Redwoods and along Aptos creek. We are 20 minutes to downtown Santa Cruz, 25 min. to the Beach Boardwalk, 45 minutes to Monterey and the world-famous Monterey Bay Aquarium, 50 min. to Carmel and 1 1/2 hours to Big Sur going south and San Francisco to the North. Yup, we are located in one of the most beautiful areas of California. (these times are not during rush hour(s) ; )
One of the attractions that we take for granted is that you can see stars here at night - unless there is a bright moon or clouds. During the summer, on a clear night we can see the Milky Way.
If you love hummingbirds, bring your camera. Our garden is the year-round home to many Anna Hummingbirds. (We usually have about 250-500 year-round) During the summer, we are also called home by many Rufus and Allen Hummers as well. So you have got to see our "Hummingbird Airport" where we feed them about 160 oz. of syrup on a summer day!
Please, no smoking in the cabin or on the property. We used to let smokers stay here, but they stink up the cabin and it is a fire hazard outside.
Some cell phones don't work here, but since we have free wifi in the cabin, if your phone works with a wifi network, you are good to call. You can sometimes get Verizon service on the swinging seat by the driveway.
To learn about things to do in the area, do an internet search for Santa Cruz, CA.
Dogs are welcome to stay here but with a few requirements: since we have so many animals, we require that your dogs be kept on a leash when outside (the goats get very nervous with large loose dogs). Also, we don't allow dogs in the loft or on the couch downstairs so please bring a doggie bed. (your doggie can go on the couch if you bring a cover for it) If that is difficult, let us know and we will provide a doggie pillow. We have a gate that we can set up so your dog can be off the leash on the deck.
If you are bringing a small child, we can put a folding futon (2/3rds of the futon or a foam pad next to the bed ) Just let us know ahead of time. Keep in mind, though, that a child should not be left in the loft by themselves as the bed is fairly high up against the rail.
As we are about 3 miles to the nearest bus stop, it is pretty difficult to stay here without a car.
You are invited, if you feel you would be harmonious here, to come join us on our developing Permaculture farmette. Pet the goats, check out our chickens, cats, miniature dog and enjoy the very fresh air. I might even teach you how to milk a goat. If you come here when there is no moonlight and the sky is clear, you will see lots of stars.
Tired of the heat in the summer? Since we are on the edge of the "fog belt", it can be both sunny and cool here. If you want a noisy place, you won't like it here: most of the sound here comes from the birds or crickets chirping, the tree frogs croaking and the breeze blowing through the trees. People do live on the land here though, so don't expect it to be totally devoid of human sounds and the occasional chain saw. : ) (We feed the goats oak branches)
Toegang voor gasten
Er is gratis wifi in de cabine, veel goed water en enkele goede wandelpaden direct aan het dek, evenals een natuurzandbak in het droge kreekbed onder de boswouden. (In de winter kan het stromend water hebben) Gasten zijn ook welkom om rond te wandelen, onze dieren te bezoeken op onze kleine boerenkwekerij (3 geiten, veel kippen, een kleine hond en 2 katten) en vragen stellen.
There is free wifi in the cabin, great well water and some good hiking trails right off the deck as well as a nature sandbox in the dry creek bed under the redwood grove. (In the winter, it can have running water) Guests are also welcome to wander around, visit our animals on our little "farmette" (3 goats, lots of chickens, a small dog and 2 cats) and ask questions.
Interactie met gasten
Ik wissel bijna altijd met onze gasten. Ik hou ervan om ze welkom te laten voelen en thuis te laten zien, laat ze de kolibries zien en deel mijn kennis van de geweldige plekken om in ons prachtige gebied te gaan. Laat me weten of je niet met me wilt communiceren en ik laat je snel los. ; )
I almost always interact with our guests. I love to make them feel welcome and at home, show them the hummingbirds and share my knowledge of the great places to go in our beautiful area. Let me know if you don't want to interact with me and I'll leave you alone quickly. ; )
Andere dingen waar je op moet letten
We hebben een vrij smal - en op een paar plaatsen, steile oprit. Er zijn afdalingen om aankomende auto's te passeren. Neem het alsjeblieft langzaam. Soms hebben we tijdens de winter een stroomuitval. Als dat gebeurt, zullen we batterijbediende lichten leveren. Als de hoofdweg wordt geblokkeerd door een boom, laat ik u weten hoe u binnen of buiten ons gebied komt.
We have a rather narrow - and in a few places, steep - driveway. There are turnouts to pass oncoming cars. Please take it slowly.
Occasionally, we have a power outage during the winter. If that happens, we will provide battery operated lights. If the main road is blocked by a downed tree, I'll let you know how to get in or out of our area.
---
---
Slaapkamer 1
1 queensize bed
Gemeenschappelijke ruimtes
1 slaapbank
---
Geen feestjes of evenementen
• Please, no smoking either in the cabin or on the property
• Please don't sleep here with tooth or skin whitening material: they bleach the pillow cases and sheets.
• If you want to bring a dog, please send a request. (We have goats and cats) As so many people are allergic to cats, please don't bring yours.
• Dogs must stay on a leash when outside.
• Dogs are not allowed in the loft.
• No wild parties, please.
• Please don't drink wine in the loft.
• If you use the barbecue, you are required to clean it. But don't close the side lid if the burner is still hot!
• Please wash and put away your dishes, pots, etc. before leaving.
• Please don't bring a lot of food or water in plastic. (those #1 clamshells can't be recycled)
We provide all the dishes you will probably need, so please don't bring disposables either.
• If you want to use real candles, please talk to us first. We provide a rose quartz mood light.
• Please take short showers.
Je erkent ook
Trappen klimmen is onvermijdelijk - There is a short but steep steps down to the cabin and the loft is accessed via a ladder.
Mogelijk geluidshinder - Once in awhile, we need to cut some oak for the goats with a chain saw. We try to do it when guests aren't present, but that is not always possible.
De accommodatie heeft (een) huisdier(en) - We have 3 goats, chickens, 2 cats and a tiny dog.
---
Kitty was very friendly and took the time to welcome us and explain some things about the cabin and the surroundings. We had a nice little chat on her porch. We loved watching the hummingbirds and tasting some goat milk. There were a lot of cats around the property, which reminded us of our cat at home. We liked having acces to coffee for breakfast. The game mindtrap was fun to play.
---
We had a wonderful stay at the mushroom dome cabin. It is so peaceful and quiet, and the cabin is perfectly outfitted. Kitty is also a wonderful, kind and generous hosts. We came a little unprepared and did not bring any food to prepare for dinner and were wary to drive up the winding slope up to the cabin in the dark, so despite Kitty's restaurant recommendations we decided to stay in. Kitty generously gave us some fresh eggs from her own chickens so we could make an omelet. Our only advice to travelevers would be to come a little more prepared than we did food-wise. For the rest, this place has anything you could need and more! Highly recommended.
---
Aptos, Californië, Verenigde Staten
Lid sinds juli 2009
We live on 10 beautiful acres of sun, oak forest, redwood groves and gardens with a small community made up of ourselves (Kitty and Michael), 1 of our adult sons, 8 other young adults, a Chiropractor, a plumber, and a retired mason, 3 goats, a parrot, 4 cats, 2 small dogs, 17 ch…
Responscijfers:
100%
Responstijd:
binnen een uur
Vergelijkbare advertenties
Ontdek andere opties in en rondom Aptos
Meer plekken om te verblijven in Aptos: