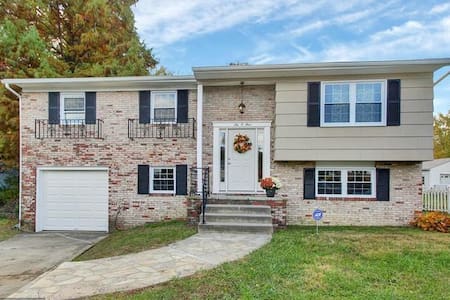 Gehele woning · 12 gasten · 3 bedden · 1 badkamer
Big house with a big backyard! Everything you need in a house and stay is right here.
Welcome and thank you for your interest in booking with Airbnb. My home is located In a really nice area, right in a cul de sac with friendly people right near the water. The neighborhood has a big playground and jungle gym for kids and adults 2 blocks away from the home as well. So, this is a 3 bedroom home with 1 bathroom. All bedrooms come with nice soft beds and extra airbeds. Two of the three rooms will have a television with cable access. You have closet space for each room! (Don't worry I didn't leave my clothes in any rooms). Also, I will have a closet in the hallway full of STUFF for guests to use!!! Like towels, tooth paste, endless amount of toilet paper, shampoo, conditioner, soap and a lot more! I give more than a Hotel so I can make your stay as comfortable as possible and you don't have to spend any extra money on those types of items. Also, you have your own full kitchen! I have mostly everything you would need to cook like pots and pans. So please go ahead and enjoy your meals at home if you'd like! Guests will have access to most of the house which is the first & second floor. Guests have access to the backyard as well and can do any sorts of activities like bonfires, sports or even play fetch with their pet. It's a really big backyard so enjoy it.! There's also a deck which you can chill or relax and enjoy the breeze. Guests are allowed to use my driveway and in-front house parking as well. The house is updated with central AC and heat which you have complete access to and nice furniture with updated equipment so please enjoy! I'm always looking to provide the best service for my guests so please let me know if there's anything else I can do to make your stay more welcome. If you have any questions don't hesitate to contact me please. If you need to be picked up from the airport, I don't mind. Let me know ahead of time! Also if you need to rent a car for the weekend or week I can also provide that for an affordable price especially if your booking with me! Pets on property are an additional charge but can work with you depending on how many pets you are bringing.! Let me know about this ahead of time or time of booking. **No surprises of pets when checking In or extra guest sleeping over that aren't in the reservation please! Penalty for smoking inside home, please smoke outside on the deck not in front of home. Thank you all for reading and I hope you book soon!! (Recently Added) - I am giving discounts to my former guests that have booked my home for there stay and travels. So please take advantage and just message me for more details. Thank You!