The Nook continues to be Airbnb's most popular Yukon listing! This bachelor apartment comes with 11 foot ceilings, large windows, heated bathroom floors, tiled cedar shower, linens and a compact kitchen with all you need for light cooking.
The Nook is a bachelor suite that opened in February 2013. It's perfect for the 1-3 night stay. It is located on 6th Ave downtown and is a 5-minute walk from banks, restaurants, tour offices. Independent Grocery is about a 7 minute walk. The Nook is also just a one-minute walk to nature trails that offer wildlife viewing and a 5 minute walk to the Millennium Trail on the Yukon River. The Nook has its own secure, private entrance. It comes with an equipped kitchenette with dishes. The bathroom has heated stone floors and a large custom cedar and tiled shower with stone base. The room has one double bed and a kitchen table. We provide linens and wireless internet.
Downtown is the best!
We just felt very much at home. Our Host was helpful and so nice to us. If Whitehorse would bee closer, we would stay at the Nook tomorrow.
Marie-Louise
2016-08-05T00:00:00Z
very clean and cozy house. Comfortable location. nearby airport and huge mart(walmart,superstore,independence). I had a nice holiday
Anna Haejeong
2016-12-27T00:00:00Z
Great stay in Whitehorse, good location and a lovely room. Just the right size for 2 and nice and warm! Thank you Chris!
natasha
2014-02-08T00:00:00Z
Chris' place is very modern, tidy Ana comfortable. It's a great choice for quick layover like I had. Thanks for your hospitality an providing great local coffee for the morning!
Katrina
2016-06-22T00:00:00Z
Living outside Whitehorse, the Haven's Nook is my downtown base when I receive friends and family over that fly in. The Nook is simply designed, comfy and always clean. Chris is always my no 1 choice for Airbnb Whitehorse!
Marjolène
2015-07-28T00:00:00Z
A teensy, neat, uncluttered, orderly, comfortable, conveniently located studio. Chris makes every effort to make your stay comfy. Thanks so much!
Danielle
2016-04-02T00:00:00Z
I have been there couple of times because of perfect for me.
Yasushi
2017-01-13T00:00:00Z
Chris was a hospitable host. He checked in with us when we arrived and offered suggestions for trails to explore. He ensured that our amenities were topped up nicely but gave us space and privacy. The place looks as it does in the pictures. It is small and we used it mainly as a place to sleep/shower while we were off on our daily adventures. We were able to walk to most places in downtown proper but also brought our bikes to explore a little bit further. $20 cab ride including tip to the airport (i.e. Close to airport) but we only heard the airplanes take off once and that was because we were outside.
L
2014-07-15T00:00:00Z
Kamertype
Gehele woning/appartement
---
Type woning
Appartement
---
Geschikt voor
2
---
Slaapkamers
Whitehorse, Yukon Territory, Canada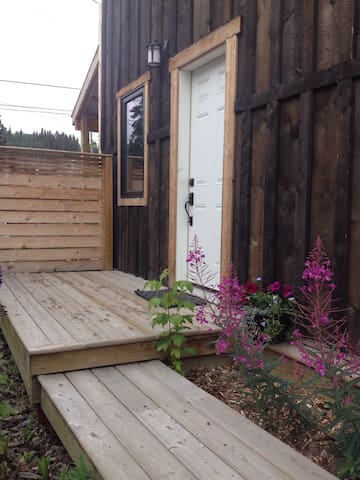 This 2nd floor furnished suite is self contained with private entrance. Downtown. Sleeps four. Full kitchen, dishes, linens. No carpets! One bedroom and hide-a-bed, fireplace, electric heat and Apple TV, HVAC, Licensed, new.
Yukon Haven Suites - Up Top opened in February 2013. This is an upper level, furnished suite conveniently located in downtown Whitehorse. The location offers a 5-minute walk to banks, restaurants, shopping and walking trails and convenient, free street parking. This 500 square foot (145 sq mtr) apartment has a separate bedroom with large bed where you can enjoy sunny mornings, forest views, long sunsets and - if you're lucky, the Northern Lights. It has a fully equipped kitchen. It has large living room, hide-a-bed for two, flat screen television with Apple TV, including Netflix. It has 11 windows. It has a large bathroom with a stand-alone bathtub/shower and stone floors. The suite also has a propane fireplace. We provide linens and wi-fi. The suite has its own private, secure entrance and is located in a different building from the owners. Storage is available upon request.
Eclectic, charming, old school downtown Whitehorse - we are in the perfect location for walkability to services and fun as well as access to nature.
Perfecte suite in Whitehorse. Een kleine 15 minuten lopen vanaf het centrum. Mooie moderne kamer met een aparte slaapkamer en bad/douche. Vlak voor aankomst nog een bevestigingsmail gekregen van Chris en we konden zelfs eerder op de kamer dan was afgesproken....
Davy
2014-06-03T00:00:00Z
The Up Top suite is great. It is centrally located, a short walk to downtown and in a quiet neighborhood. The suite is comfortable and well equipped. Chris was helpful and friendly. We hope to visit the Yukon again and would stay with Chris again.
John and Martha
2014-11-05T00:00:00Z
Chris' Up Top Suite is comfortable and modern with great amenities. The pullout couch was handy for our third guest and we enjoyed the local coffee in the morning.
Katrina
2016-12-20T00:00:00Z
Great location. Grocery store and lots of restaurants nearby. Nice place. Has a cool fireplace and ample space. My only criticism would be the shower and wildly fluctuating water temperature. The instructions say just wait a minute but sometimes would still alternate between hot or cold 5 minutes into the shower.
Todd
2016-09-13T00:00:00Z
We booked the up top suite for a weekend in late September. Chris was super responsive and friendly. We've got clear instructions how to get there. It was easy to find the place. Which has plenty of street parking. The apartment was really over our expectations, the fire stove is amazing. It's a really cozy place to stay. Chris is a professional host.
Zoltan
2014-09-28T00:00:00Z
Great place to stay in Whitehorse!
Rachel
2017-03-06T00:00:00Z
Just a quick one night stay place was excellent as we had expected it to be. Ideal for us, two adults and a baby. But would suit bigger groups as well. Great location
Enda
2016-04-12T00:00:00Z
We had an amazing time in Whitehorse and the accommodation was really nice. It was warm and comfy and homely and Chris checked in with us to make sure everything was ok from time to time. The bed was comfortable with a nice deep matress and lovely cotton linen. Towels were also provided which was handy for visits to the hot springs. The apartment was centrally located in the downtown area and close to nice hilltop walks. There was a slight problem with noise from the unit downstairs as there was a family with young kids staying there but nothing too serious! Everything else was tops and it was great having cooking facilities to make breakfast etc. Chris also left some tea and coffee and salt and pepper for us. we had a wonderful stay. Chris also recommemded tours and activities in the area.
Denise
2013-11-12T00:00:00Z
Kamertype
Gehele woning/appartement
---
Type woning
Appartement
---
Geschikt voor
4
---
Slaapkamers
Whitehorse, Yukon Territory, Canada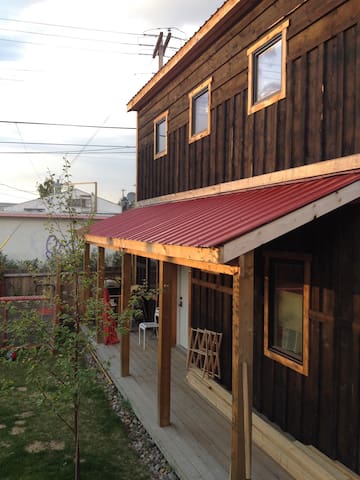 Conveniently located downtown, our brand new micro-suite is suited to the individual business traveler, adventurer or cozy couple. It is a one-room bedroom with small kitchen (fridge, microwave, toaster, kettle) and the bathroom is off the hallway.
This is a very convenient downtown location for visitors to Whitehorse, located in a quiet residential neighbourhood only two or three blocks from Main Street. The micro-suite is best suited for one guest, or a couple that wants to be cozy. This unique house was built in 2015 and is the Yukon's first LEED® Platinum certified home. The micro-suite is located in the laneway house at 704B Wood Street, between Wood and Jarvis Streets and 7th and 8th Avenues. Access is from the laneway or alley at the back of 704 Wood Street. Parking is on 7th Avenue with access to the suite from the lane. It is less than a 5 minute walk to Main Street. The closest coffee shop would be The Java Connection at Wood Street and 3rd Avenue (Monday to Friday). They also have breakfast options and delicious panini lunches. We do provide a french press for coffee, milk and sugar if you prefer to make your own. Another popular, 7 day a week coffee shop is The Baked Cafe at Main and Front Street located in the Horwood's Mall. The closest grocery store is The Independent, about a 10 minute walk to 4th Avenue and Ogilvie Street. Bedding, towels, dishes and wireless internet are provided.
We are nestled at the foot of the clay cliffs with recreational walking trails and parks at the end of the street. This is the original residential neighborhood of Whitehorse and is an eclectic mix of small, charming homes, both old and new. Similarly the neighbours are a cross-section of the community, ranging from young adults, small families to seniors. Wood Street hosts a number of Whitehorse's heritage homes, including the one on the front of the property at 704A Wood Street! Across Wood Street is the Pioneer Cemetery; here are interred some of the ordinary and extraordinary people who helped found the Yukon. On the livelier end of things Main Street, only two-blocks away, is the commercial and social hub of Whitehorse. It hosts a variety of stores & shops, restaurants, a couple of galleries and a number of bars/pubs that frequently have live music.
For a 4-day trip to the Yukon, my wife and I stayed 2 nights at the Laneway Micro-Suite, located very close to downtown Whitehorse. It was the perfect place for us to start our trip and then to end it. Georgi was fabulous as she was in constant communication with us and was flexible to our schedule. The Micro-Suite had everything you would need in a mini-suite and it felt like I was staying in a boutique hotel. The kitchenette was stocked with all the things you would need to prepare food for a short stay or for a longer adventure to the Yukon. Georgi even stocked one of the shelves with teas and coffee from a local coffee roasting company and fresh milk in the little fridge. These extra touches made us feel like we were at home and we would definitely want to come back to the Micro-Suite if we were in the Whitehorse area again. Thank you Georgi for allowing us to stay at your fabulous Laneway Micro-Suite.
Michael
2016-02-08T00:00:00Z
Very central, beautiful cozy bedroom. Great place to be based to discover the city. Clean and great host!
Alex
2016-12-03T00:00:00Z
The only thing micro about the laneway micro suite is its size. Makes up for its small size in comfort, convenience and coziness. I was surprised how quiet it was being located in a laneway...I don't think I heard a car once. I will definitely seek out the laneway micro suit for future personal and business trips to Whitehorse.
Jennifer
2016-11-27T00:00:00Z
My husband and I are traveling from Alaska back to the lower 48 and needed a place to sleep for the night. The Laneway Suite was perfect. Comfortable bed and very clean, cute room. We were so happy we found this place and hope that we can stay longer next time. The check-in was very easy and convenient for travelers.
Emily
2016-11-13T00:00:00Z
Accommodation was as described. Very clean and quick access once arrived. The bed was very firm, so I would not stay more than 2 nights, but that is just a personal preference. Good quality coffee in the unit.
Michael
2016-08-24T00:00:00Z
We absolutely loved our stay here! :)
Tressa
2017-03-19T00:00:00Z
My boyfriend and I really enjoyed our stay at Georgi's place, it was warm, cozy and everything was clean and well-organized. Georgi left me a detailed message with information and there was also a print out in the apartment which was nice to have. The place was close to the Westmark Hotel, a 10 min walk which was great for us since we did a bunch of activities with Arctic Range (dog sledding, snowmobiling, aurora etc.) PS: There's a really cool kettle in the apt that lights up and now that I've discovered it, I'm tempted to buy one of my own :D
Shikha
2017-03-12T00:00:00Z
Quiet, but close to all the hot spots down town. It is a small space but has everything you need. Perfect for a few day in Whitehorse.
Gretchen
2017-03-23T00:00:00Z
Kamertype
Gehele woning/appartement
---
Type woning
Appartement
---
Geschikt voor
2
---
Slaapkamers
Whitehorse, Yukon Territory, Canada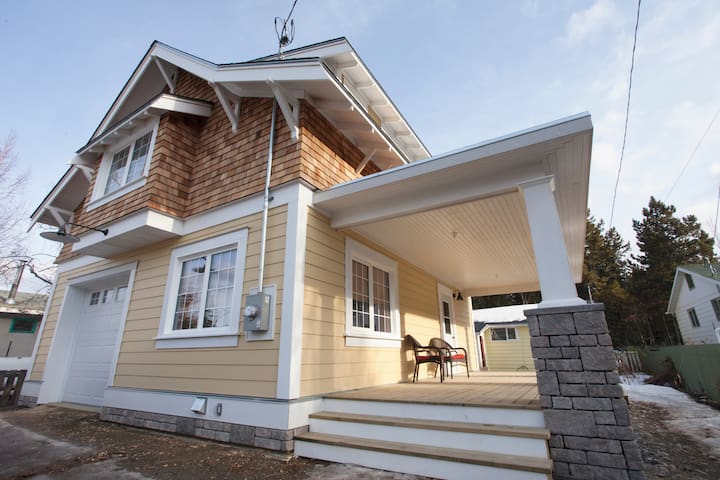 Doppelbett und 1 Couch im gemeinsamen Raum / die günstigste Option im Zentrum der Stadt und dem Komfort der lokalen Hause bleiben! Das Hotel liegt im Dawson City Kern mit allen wichtigen Sehenswürdigkeiten innerhalb von zwei Blöcken.
Unser Platz ist typisch Grund Dawson Ein-Zimmer-Wohnung. Wir vermieten Doppelbett in der Küche / Wohnzimmer (mit Möglichkeit der zusätzlichen Couch). Bitte beachten Sie, dass die Privatsphäre und der Raum sind daher sehr begrenzt. Basic 'Hostel' Unterkunft mit persönlicher Note und den günstigsten Preis in der Stadt. Geeignet für junge (im Geiste) Reisende.
Direkt im Dawson Innenstadt!
Patrik was a great host, and has great info about things to do. The location is perfect, defiantly recommend staying here if you're in Dawson.
Miranda
2016-06-23T00:00:00Z
Patrik was verry welcoming of us into his home and we enjoyed our stay here. My girlfriend arrived the night before I did- and he gifted her(us) a nice bottle of wine. They were very forthcoming with the limited privacy of the accomidation, but they made sure to give us all the privacy they were able to. It was a very busy weekend with a music festival in town so we didn't see them too much and thus we didn't spend a great deal of time together. I would recomend thier home to anyone looking for affordable accomidations in Dawson.
Matthew
2016-07-25T00:00:00Z
This was a great place to stay in Dawson, we had a really good time. Patrik was a generous and helpful host, with very interesting stories to tell about his life and his time in the Yukon. We enthusiastically recommend his place to anyone looking to travel to Dawson, and we will try to stay here again if we ever come back through.
Jonathan and Sue
2016-07-08T00:00:00Z
Ich hatte sehr kurzfristig angefragt, ob ich noch bei Patrik und seiner Freundin für die Nacht unterkommen konnte. Nur kurze Zeit später hatte ich die Zusage und konnte auch direkt "einziehen". Beide haben mich sehr freundlich empfangen und konnten mir einige Tipps geben, die ich in der Stadt machen konnte. Ich hatte ein großes Bett und den wohl besten Schlaf seit 3 Monaten. Obwohl es ein gemeinsames Zimmer ist, hatte ich sehr viel Privatsphäre. Ich kann es jedem weiter empfehlen, der nach einer Unterkunft zu einem guten Preis sucht und netten Locals sucht.
Lars Niklas
2016-10-16T00:00:00Z
This was a great place to stay in Dawson. Patrik and his girlfriend are generous and helpful hosts. I recommend his place to anyone looking to travel to Dawson on a budget.
Verena
2016-07-31T00:00:00Z
Patrik and Irena were definitely some of the best hosts I've ever had. Before booking, Patrik communicated every step of the way to make sure that I knew that this would be a shared space (not a problem at all for me, as besides the bed being in the living room, the guest is given all the privacy in the world). Leading up to my arrival, Patrik also worked wit home to ensure that I have a smooth check in. The place is also ideally located steps away from restaurant and a view of the beautiful Yukon River. Although I did not spend much time in Dawson City and was in and out of Patrik and Irena's place, they were generous in sharing stories and food and made sure that I felt comfortable. Despite the limited time I had hanging out with them, they immediately made me feel like I was couch surfing (FYI, you get a real bed!) among old friends. Thank you, Patrik and Irena, for making my stay in Dawson an awesome experience, and I look forward to being back again some day!
Mindy
2016-07-20T00:00:00Z
I was at Patrik's place with a friend of mine and it was just perfect for our stay in Dawson. We had a comfortable bed in the living room. Patrik told us a lot about Dawson City so we didn't even had to go to the visitor centre. I would definitely recommend staying with Patrik. It was very nice, thank you.
FABIAN
2017-02-08T00:00:00Z
We have a good stay in Patrik house is a very friendly and helpful with us
Alessio
2016-08-23T00:00:00Z
Kamertype
Gedeelde Kamer
---
Type woning
Appartement
---
Geschikt voor
2
---
Slaapkamers
Dawson, Yukon Territory, Canada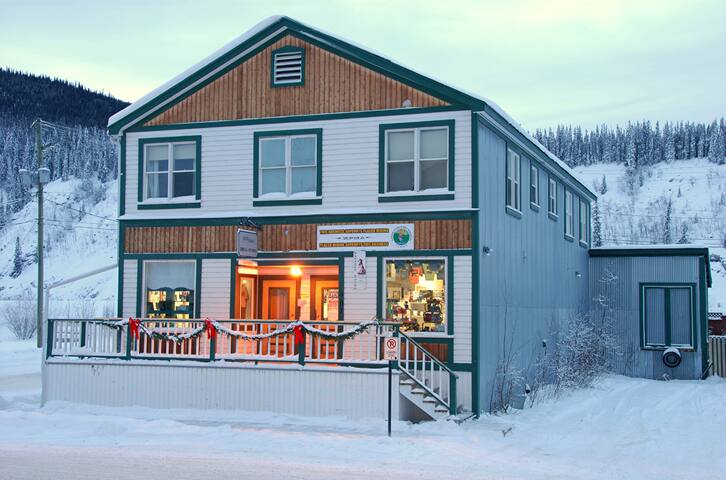 Grote, volledig ingericht appartement met twee slaapkamers geschikt voor maximaal vijf personen. Twee queen bedden en een futon. Kabel-tv, internet, keuken, eethoek, en de full-size badkamer. Geen airco, maar een ventilator in elke slaapkamer is voorzien. Downtown Dawson City - minuten lopen van zowat alles! $ 170 per nacht.
Het appartement is gelegen in het prachtige centrum van Dawson City.
Jesse was very quick to respond to email and text messages. The bedrooms were extremely comfortable with new beds and linens. The location of the unit is fantastic for accessing all that Dawson had to offer. We rented both rooms and ate out for all meals, so the lack of a living room was not an issue. The kitchen was well stocked with cooking utensils so eating in would not have been a problem.
Sandra
2015-06-29T00:00:00Z
The apartment was great! Even though we were on opposite sides of the river during my stay, Jesse made sure to keep in touch, and left a note for me on the front door plus some more local info inside. The other AirBnB guest was a good guy too. Recommended.
Jims
2015-06-24T00:00:00Z
Nous avons été très bien accueillis par Jesse. L'appartement est très propre, les chambres sont grandes et la cuisine bien équipée. Nous avons apprécié pouvoir utiliser la laveuse et la sécheuse. Un peu de bruit le soir à cause d'un restaurant qui était proche.
Emmanuel
2016-08-04T00:00:00Z
All was good - nice place, good location and good communication from Jesse. Thanks again for a good visit.
David
2016-07-23T00:00:00Z
This spot over the Husky Bus is a great location. The bed is comfy, the room stays cool, and everything is within easy walking distance. I stayed in the sunset or west room, overlooking the street. Because the weather was warm I wanted to keep a window open but it was a bit noisy so I ended up shutting the window and was fine. I really appreciated Jesse letting me drop off my stuff early in the morning and check in at 11 am. If you're thinking of booking this room, you need to know that you'll be sharing a single bathroom with the renters of the other room, as well as sharing the kitchen. This is pretty standard for Air BnB- EXCEPT when you filter the search function for "entire home" which I did. So I thought I was booking (and paying for) an "entire place" and instead got a room in a place. I think the rooms are misclassified on Air BNB. That said, the other renters were nice and we never had an issue.
Don
2016-06-27T00:00:00Z
The host made us feel welcome , in a good neighborhood, & offered more than we had anticipated.
Daniel
2015-07-20T00:00:00Z
Very nice room right on the main strip. Dawson city is an amazing little town. Would definitely stay at jesse's spot again
Tim
2015-08-15T00:00:00Z
Jesse was extremely helpful and accommodating with check in times and dates. Location was perfect for sering the whole town. We loved Dawson City!
Rosemary
2016-08-14T00:00:00Z
Kamertype
Gehele woning/appartement
---
Type woning
Appartement
---
Geschikt voor
5
---
Slaapkamers
Dawson, Yukon Territory, Canada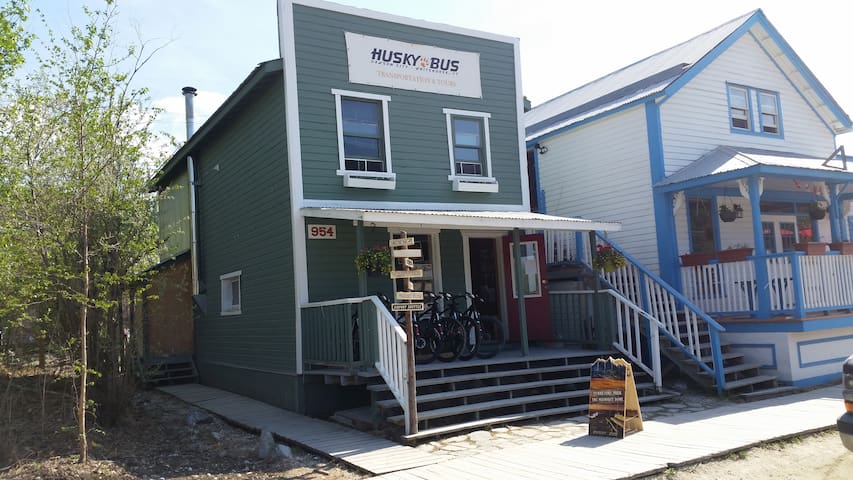 Ma place est à proximité du centre-ville, l'art et la culture, les parcs, et de superbes vues. Vous allez adorer ma place à cause de la proximité, la cuisine, la lumière, et le lit confortable. Ma place est bonne pour les couples, les aventuriers en solo, les voyageurs d'affaires et les familles (avec enfants).
Kamertype
Gehele woning/appartement
---
Type woning
Appartement
---
Geschikt voor
3
---
Slaapkamers
Dawson, Yukon Territory, Canada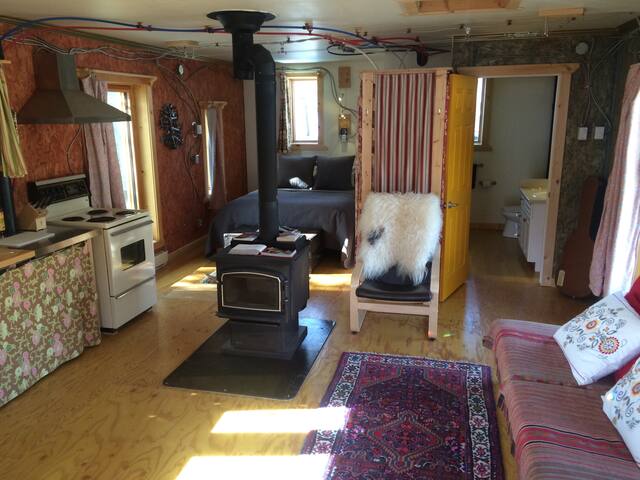 Extra bedroom in a 4 room apartment located on the top floor of house. Clean and cozy small room, perfect for one person, can accommodate two. Has a queen pillow top mattress. Large window with blackout blinds for the summer and amazing sunset view in the winter. Walking distance to grocery store, Cafe, restaurants, bar and regional handicrafts.
Close to downtown.
Athena et al were great to stay with - very friendly and helpful. The house has everything you might need, and is in a nice location in the village.
Dana
2017-03-17T00:00:00Z
Athena's place was very central in "downtown" Inuvik, very close to restaurants and stores. It was very clean and comfortable. My bed was super-comfortable! And the apartment was very warm, something I was very grateful for, since I was there in the middle of the winter! It was not "deluxe" but a great, comfortable place for a great value. I never did meet Athena ! but our communications were always informative and pleasant, and if Ii had any questions I received an answer right away. I recommend it warmly!
Anna
2017-01-10T00:00:00Z
Super easygoing place to stay, great value, comfy, convenient- couldn't ask for more! Thanks for opening your home to us!
Anastasia
2016-07-24T00:00:00Z
Ottima posizione centrale in Inuvik. Athena e Jessica sono state molto gentili e disponibili nel farci stare bene. Casa calda e pulita. Camera piccola ma é un dettaglio trascurabile considerato il prezzo conveniente. Sicuramente consigliabile.
Michele
2017-03-08T00:00:00Z
Athena and Jess are amazing and made my stay very comfortable. Their place is great and they went out of their way to make me feel at home. The apartment is close to everything, clean, organized and great place to crash while in Inuvik.
tara
2017-02-14T00:00:00Z
It was a very clean place with a big, comfy bed. Athena and Jess were really friendly and even invited me for dinner. Definitely a recommendation!
Vincent
2017-03-29T00:00:00Z
Athena and Jessica are delightful hosts - they made me feel welcome from the time we boarded the same plane to Inuvik (!) :) The place is cozy and spatious, right in the middle of town and the communication was perfect. Toby is very cute too. Highly recommended!
Susanna
2016-07-20T00:00:00Z
Athena and Jess' place is an awesome place to stay. The location is very central, right in the middle of downtown, and is near restaurants, cafes, liquor store and grocery stores. From the time I landed, they made sure I felt very welcome in the neighbourhood. They showed me around and told me the best spots to visit in and around town. They are very generous and really make an effort to make you feel welcome from the moment you land. If I had any questions, they were always available via phone/text. The room is spacious and clean, and the common areas are also spacious and tidy. The kitchen is also well stocked. Both Jess and Athena are both super easygoing and funny, I had a blast staying with them! Highly recommended!
Lisa
2016-10-02T00:00:00Z
Kamertype
Privé Kamer
---
Type woning
Appartement
---
Geschikt voor
2
---
Slaapkamers
Inuvik, Northwest Territories, Canada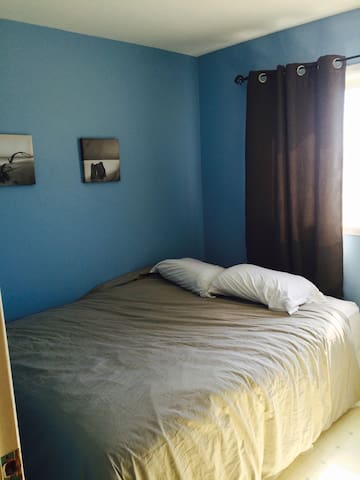 My place is close to the airport, Canada games center,the city centre, parks, bus station, college and art and culture. You'll love my place because of the location, the neighbourhood, and the ambiance. The newly renovated kitchen is fabulous and great for those who like to cook.
Great quiet neighbourhood with a park right out the front door.
enjoy,,,, very comfortable
Robb
2017-02-22T00:00:00Z
This house is an amazing fit for our family. The wood stove and beautiful kitchen and bath made the place feel really unique and special. We got some inspiration to remodel our house. It's a 5 minute drive to downtown and the Game Center. Perfect location for a home base to enjoy Whitehorse. Mark is super friendly and was very helpful at check in. We will definitely be trying to stay here again for our family visits to Whitehorse.
Dan
2017-02-05T00:00:00Z
Mark's place is as described. A short 5 mins walk to the bus stop and 18 mins to downtown via the bus, 5 by car. Located in a quiet neighbourhood with a park across the street including an outdoor skating rink! Communication and access was effortless. On a side note - a 7 min taxi ride costs about $15-17 (from the airport).
Stephanie
2017-02-12T00:00:00Z
We loved our stay at Mark's home - so much, that we decided to come back after one week! The house is nice and comfortable and has everything you need. There is the fully equipped kitchen, laundry, two comfy beds, a nice living room with an ofen (and available wood as well)! I would totally recommend to stay at Mark's because he is very nice and the neighbourhood is quiet and everything was so perfect! If we will ever come back to Whitehorse, we are going to stay here!
Veronika
2016-09-05T00:00:00Z
My coworker and I loved staying at Mark's house. His house is beautiful, very comfortable to stay at, and close to the college where we were taking our courses. Mark stopped by to check on things and was available as needed. We would definitely stay at Mark's again!
Patricia
2016-11-06T00:00:00Z
Highly recommend this location. Very homey. It felt like staying at a friend's house. Big kitchen made for easy cooking. Residential area with playgrounds and easy access. Super high speed Internet. I plan to book the same place on my next visit.
Terence
2017-04-10T00:00:00Z
Comfy beds, warm fire, all mod cons !! Nice space and a good setting, what more do you need.
Tom
2017-01-15T00:00:00Z
Loved our stay at Mark's place, amazing location. Great kitchen space, and the wood stove was super cozy. Highly recommend!
Nick
2017-01-23T00:00:00Z
Kamertype
Gehele woning/appartement
---
Type woning
Appartement
---
Geschikt voor
5
---
Slaapkamers
Whitehorse, Yukon Territory, Canada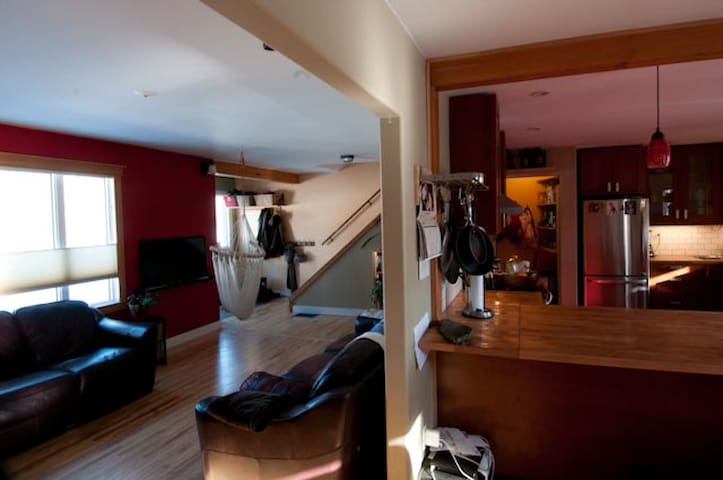 Kamertype
Gehele woning/appartement
---
Type woning
Appartement
---
Geschikt voor
3
---
Slaapkamers
Haines Junction , Yukon, Canada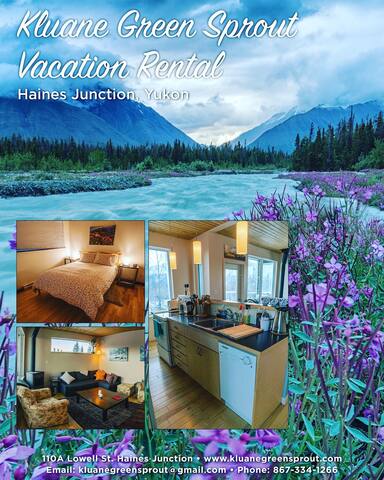 Our 2 bedroom penthouse apartment designed by Kobayashi + Zedda is located on the south side of downtown and comes with large windows, panoramic views, a wraparound deck, high ceilings, abundant natural light and a contemporary, clean urban feel.
With over 1,200 square feet of space, the penthouse is one of very few contemporary residential suites available in downtown Whitehorse. The high ceilings, incredible views and quiet urban setting make it an excellent place to spend time while visiting Whitehorse and the Yukon.
Located on the south side of downtown, the apartment is located in a new residential building and situated next to an urban park. The setting is quiet, pedestrian-friendly and close to all amenities and services.
This condo was beautiful. Clean, modern, spacious, comfortable... everything described in the listing, and more. The hosts answered questions promptly, and we appreciated the helpful welcome binder at the property for both information about the condo, and the surrounding area... where to eat, etc. This is probably the nicest place to stay in Whitehorse!
Mika
2015-08-01T00:00:00Z
Fantastic, beautiful home, great views, everything as described. Great communication and instructions from owners. Excellent location to base yourself to explore Whitehorse and the Yukon. Definitely recommend and hope to return!
Michelle
2017-03-18T00:00:00Z
This is a wonderful, modern, clean apartment in a central location. The location was also lovely, as were our hosts.
Chris
2017-02-19T00:00:00Z
Thanks Antonio and Juliette for providing such a wonderful place to stay. We found we were close to everything we wanted to do, and the penthouse was everything you described it to be in your description! Your communication was excellent, and we really appreciated your timely responses to any questions we had between when we booked and when we were able to stay. We'd definitely stay at the Penthouse if we were to come back to Whitehorse, and would definitely recommend it to any other considering staying with you. Thanks again Darren & Sharyn
Darren
2017-04-06T00:00:00Z
Beautiful place in great location. Great hosts.
gerry
2016-06-24T00:00:00Z
We had a wonderful stay in Whitehorse. The condo was perfect - great location close to all the downtown shops and restaurants, well appointed with everything you would need, and a really beautiful and cozy spot to relax at the end of the day. Staying here was one of the highlights of our trip :)
Anna
2016-02-27T00:00:00Z
This is a great place to stay in Whitehorse. We found it easy to walk to everything. The building was very nice and quiet. I would definitely recommend staying here if you are looking to visit Whitehorse.
David
2016-06-30T00:00:00Z
Spent 10 nights in Whitehorse and loved the whole stay. Antonio communicated promptly, and was helpful. The place was super clean and all stocked. I'd love to go back some day - the cross country skiing was amazing. Thank you!
Margot
2016-03-27T00:00:00Z
Kamertype
Gehele woning/appartement
---
Type woning
Appartement
---
Geschikt voor
4
---
Slaapkamers
Whitehorse, Yukon Territory, Canada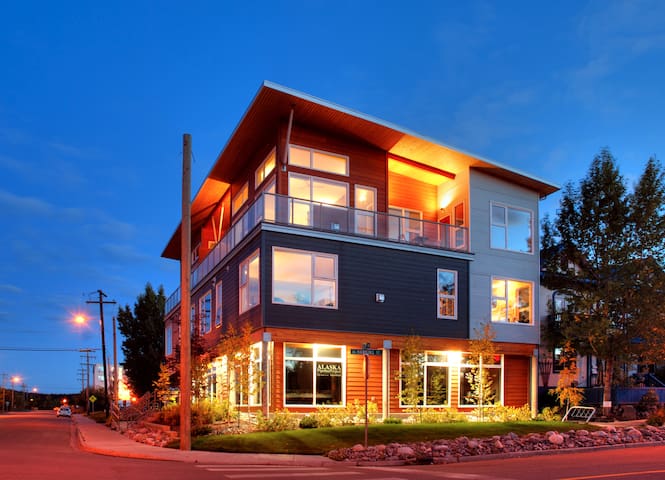 You'll love my place because of the spacious layout, modern kitchen, patio entrance, and immediate access to Grey Mountain trails for hiking, biking, running and fishing.
This open concept apartment offers spectacular view of Grey Mountain.
Riverdale is conveniently located 2km from downtown Whitehorse. This property back onto a greenbelt for immediate access to an extensive trail network.
Leslie's place was great! It was bigger than we had thought. There are some nice details about the place like cork floor in the bathroom and nice tile in the tub. The bed was really comfortable and firm. We loved all the huge windows and the cosy gas fireplace. We would really recommend this place.
Jesse
2017-02-25T00:00:00Z
What a great addition to the Whitehorse Airbnb scene! Huge, clean, bright space with tons of windows, fully equipped kitchen, stocked fridge & pantry (seriously, they had everything, it was awesome!), comfy couch in front of a gas fireplace (which someone came and turned on while I was out during the day so it was nice & cozy when I got back), great bed, big bathroom with nice tub, some beautiful antique furniture. Would be so fun to stay here in the summer to take advantage of the deck, BBQ, & mountain view. Riverdale trail network is right out the backyard. A couple things people might want to know: there is not a separate bedroom with a door, the bed is in the same large space as the living room. Also, for those with limited mobility (or heavy luggage), you park on the street and walk up a steep driveway to the house, through the backyard, and then up a set of stairs to get to the deck and entry to the suite. I had a great time here and would definitely stay again!
Monica
2017-02-23T00:00:00Z
Kamertype
Gehele woning/appartement
---
Type woning
Appartement
---
Geschikt voor
2
---
Slaapkamers
Whitehorse, Yukon Territory, Canada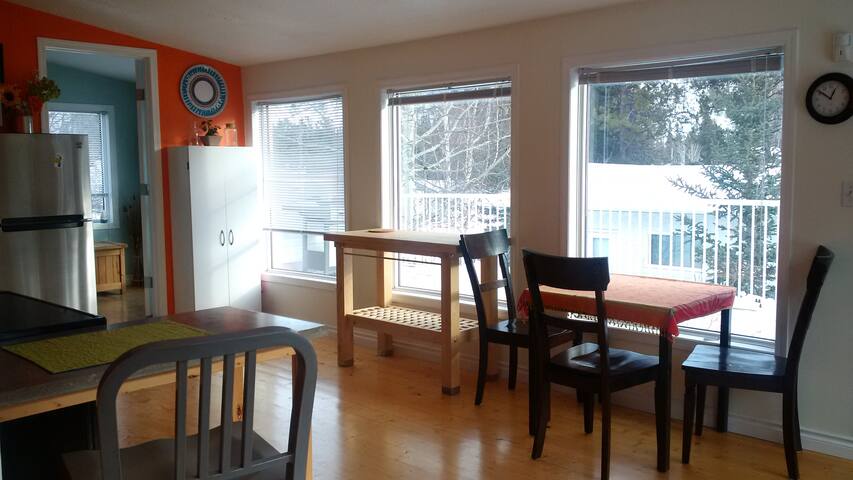 Our house is 3 blocks away from the city centre. Art and culture, parks, City transport and the airport are within 2 km. The apartment is set for a couple, for solo adventurer and/ or business traveller.
Our apartment is warm during winter months and cool during summer. It is calm and quiet environment although we live upstairs. High quality queen size bed is comfortable as is the living room; it is easy to feel at home. The cabled smart TV is in the bedroom.
We are located on a cul-de-sac so there is minimal traffic in the evenings and weekends. There is a park at the end of the street, and trails that lead up the escarpment. There is a butcher shop at the end of the block and a German Delicatessen 3 blocks away.
Very nice, we'll kept place. Denise and her husband were very friendly and a accommodating. 10/10. would definitely stay here again in the future.
Donna
2016-09-22T00:00:00Z
Denise and Vern were wonderful hosts. Their place is warm cozy and so close to downtown. Anything we needed they helped us with right away. The Yukon is a beautiful place and staying at Denise's place just made our visit perfection. We hope to be back sometime again in the fall or summer and will definitely stay with Denise and Vern again.
Erin & Joseph
2017-03-04T00:00:00Z
Greta hosts, very attentive, very cute place with everything from can openers to washing up liquid that you may need. Just a few blocks from Main street where there are good bars and food etc. Beautiful part of the world! Even offered me a lift to the airport. Wouldn't stay anywhere else in Whitehorse.
Euan
2016-09-29T00:00:00Z
Vraiment fantastique! Un séjour extraordinaire à Whitehorse. Je vous recommande absolument d'y séjourner. Denise et son conjoint sont vraiment accueillants et très généreux. Un appartement indépendant très bien situé au coeur de la ville. Tout est à distance de marche (épicerie, restaurants, transport en commun). L'emplacement est parfait et d'une propreté impeccable. Des hôtes incomparables. J'ai uniquement des commentaires positifs.
Sébastien
2016-10-21T00:00:00Z
Denise's place was wonderful and Denise and her husband so kind and easy going. Denise brought us baked goods and fruit and is the nicest person. Our travel plans changed due to bad weather and we were able to stay longer without problems. Denise and her husband gave us tips about activities in town and even brought my daughter a present for her birthday! Do yourself a favor and stay there!!! The location is perfect and if we go back to Whitehorse we would not want to stay anywhere else. Perfect place with wonderful hosts! Thank you Denise!
(EMAIL HIDDEN)
2017-01-06T00:00:00Z
Kamertype
Gehele woning/appartement
---
Type woning
Appartement
---
Geschikt voor
2
---
Slaapkamers
Whitehorse, Yukon Territory, Canada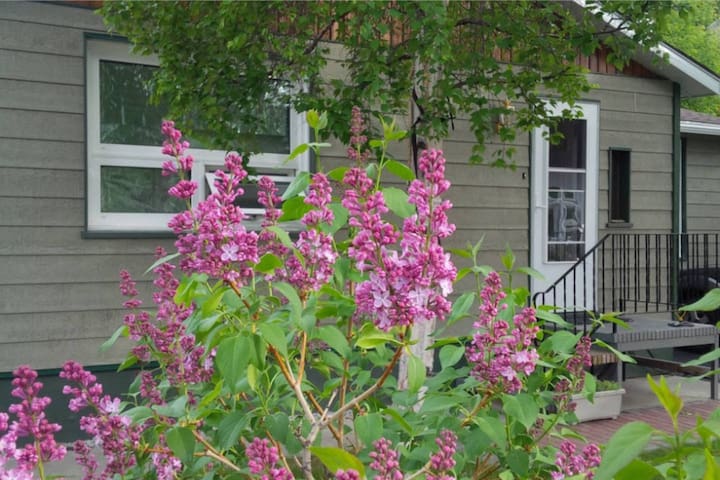 This studio apartment is located within walking distance to the Eric Nielson International Airport and on bus route to town. The 600 square foot studio comes with washer/dryer, TV and parking. Limited internet available.
Great view of airport and mountain. Northern Lights are visible from apartment when they are dancing in the sky. There are stairs into the apartment.
Hillcrest neighbourhood is located across from the airport. There are not enough planes to make a regular noise. Three restaurants in the area (Airport Chalet, Skky - The Oasis(Asian/Korean); Shantis (Indian Cuisine at the airport - not open for dinner) and the Ridge (in Copper Ridge). Check hillcrest community association for details on the area.
Louisa was very helpful and was able to answer any of our questions. The studio apartment was clean and comfortable. The kitchen was well equipped so we were able to cook many of our meals during our extended stay. It is very close to the airport and on the bus route. It was convenient to have a vehicle.
Eric
2016-03-27T00:00:00Z
Beautiful place steps from the airport, easy check in and quiet neighborhood.
Jay
2015-08-08T00:00:00Z
Great stay. Has to be the best air bnb place to stay in white horse! very generous hosts and the place is nice and new. thanks again!
Clardon
2015-08-29T00:00:00Z
Louisa is a fantastic host. She was very helpful and kind, and made our stay more enjoyable; she gave us a lot of local info and let us know when interesting events were going on in downtown. The suite is clean and comfortable at a convenient location. Kitchen is well quipped. There are small trails in the neighborhoods, where I enjoyed evening walks. Definitely recommend this place.
Mika
2016-08-08T00:00:00Z
She is very good host. She guided us many place in Whitehorse. Collge,Museum,etc. Also She introduced us other Japanese people to enjoy. My wife very excited. The last night,She guided us to Music Bar and dance with her. It's very good experience in my life. Flight days,She send us to airport and give us souvenir. I could study about what is host. I hope stay again her house.
Ta
2015-09-25T00:00:00Z
Louisa is very welcoming and eager to answer questions about the area. She didn't seem to mind our late check in and early check out. Her apartment was brand new, clean and stocked with goodies! We loved the big bathroom and open feel of the place. Very easy to get to from the highway but far enough away so you don't hear the noise. We felt safe and welcomed here.
Clardon
2015-08-20T00:00:00Z
Great Stay
Janine
2017-03-19T00:00:00Z
The host canceled this reservation 65 days before arrival. This is an automated posting.
Trevor
2016-06-29T00:00:00Z
Kamertype
Gehele woning/appartement
---
Type woning
Appartement
---
Geschikt voor
2
---
Slaapkamers
Whitehorse, Yukon Territory, Canada
800 sq ft, includes: downtown private entrance full kitchen large, one-bedroom hide-a-bed walk-in shower double sink bathroom Apple TV parking boiler and electric heat wifi Accommodates up to 4
The Haven is a rare new, downtown suite with a fully equipped kitchen. This quiet, comfortable central downtown apartment is designed for travellers who enjoy walking to nearby restaurants, trails and shops. However, easy street parking also allows for a quick get-away!
If you want a taste of what you could see up the Dempster highway in September, this is the best video I've seen. This Japanese filmmaker used a paraglider with a prop on the back to take this amazing video. Thank you, Nao Yamamoto. Simply search for Nao Yamamoto on Youtube to view this unique display.
The haven offered the perfect stay in Whitehorse. Chris was welcoming and flexible with our schedule. The apartment was spacious, offering a small (well-stocked) kitchen, living room, bathroom and large bedroom. The location was perfect for visiting downtown Whitehorse. I would 100% stay here again.
Hilary
2014-07-28T00:00:00Z
Great place to stay in Whitehorse for 2 nights. The apartment was spacious and very clean. Really good location for walking to restaurants in downtown Whitehorse. I didn't actually manage to meet Chris, but he'd made sure everything was organised in advance so I had no trouble at all settling in. All in all, excellent.
Jeff
2014-09-04T00:00:00Z
Great stay as usual! Convenient location, ample parking and lovely, well-equipped suite!
Katherine
2015-10-03T00:00:00Z
Great accommodation in a great location. Stayed there with 3 adults and two young children and it was a good fit. Would recommend it.
Enda
2016-04-01T00:00:00Z
The Haven was perfect for us. The accommodation was very comfortable with a great bed and other facilities. It's close proximity to the centre of town was good too. We were also left to our own devices while there, which really suited us. We stayed here twice and loved it.
Troy
2015-08-25T00:00:00Z
Clean spacious and well situated
Gary
2015-08-17T00:00:00Z
Great one night stay in the suite. Was so nice to have a big fridge to load up our supplies for our trip to Haines Junction. nice comfy bed! walking distance to downtown and all ! We will book this suite again if we have the need.
Sandi
2016-09-08T00:00:00Z
I had stayed at The Nook several times previously. This was my first stay at The Haven. Both places are great - clean, comfy, and close to downtown. The Haven is roomy and well-equipped. I was delighted with my experience there.
Patricia
2014-11-23T00:00:00Z
Kamertype
Gehele woning/appartement
---
Type woning
Appartement
---
Geschikt voor
4
---
Slaapkamers
Whitehorse, Yukon Territory, Canada
Located in a quiet area. Very secure and private. Has Wifi, tv, cable, cooking utensils, small fridge, etc. Clean and comfortable. Shopping, restaurants and live entertainment nearby. Enjoy guided walking tours and learn about our history.
Hello, I have a very quaint, small bachelor suite. Approximately 350 square feet. I live in the rest of the home.
You are a short walk away from restaurants, shopping, businesses, entertainment and nightlife. One favorite live theatre show, The Frantic Follies, is a sure attraction to experience the Gold Rush era. And only 4 blocks away is the Mcbride Museum displaying wildlife, First Nation history, artifacts and Northern art. Or enjoy a leisure walk on our popular Millennium Trail along the Yukon River located downtown.
Kamertype
Gehele woning/appartement
---
Type woning
Appartement
---
Geschikt voor
2
---
Slaapkamers
Whitehorse, Yukon Territory, Canada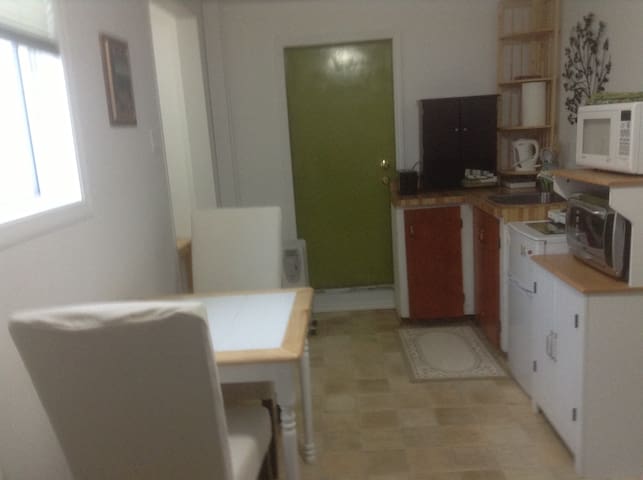 Located in the heart of downtown Whitehorse, this fully furnished & equipped 3 bedroom apartment is tastefully decorated & very comfortable for a holiday or work. Sat TV, Internet & phone,coin laundry. Flexible pricing dependent on #'s and duration!
Awesome location for walking to offices, parks, shopping, or strolling along the Yukon River.
Close proximity to great restaurants, shopping, government offices, and attractions such as the SS Klondike and the McBride Museum are all within easy walking distance.
Excellent host, very accommodating, great location close to restaurants and down town. We are planning on staying here for our next business trip to Whitehorse!
Rob
2015-11-27T00:00:00Z
It was just as expected, very efficient
Lynne
2016-06-26T00:00:00Z
Description of the apartment was bang on. It was clean and had all the necessities to make our stay easy and enjoyable. Location is exception, close to downtown and easy walk to everywhere.
Dave
2015-11-16T00:00:00Z
Derrick was a fantastic host. his place was well located, clean and spacious. There was plenty of information about Whitehorse, a well stocked kitchen and we found his online guidbook very helpful. He was very easy to communicate with and was flexible with our check in/out times. I'd stay here again and recommend it to others.
mindy
2016-06-16T00:00:00Z
We were a group of five people who thoroughly enjoyed our stay in Whitehorse. Derrick was very communicative prior to arrival and gave us several options to contact him if needed. The listing description was very accurate and perfectly suited to our needs. The location was ideal and we could walk downtown in five minutes. Everything we needed was in the house ...the space was great and there was comfortable seating for all of us. The bedrooms were a good size and very comfortable also , and the kitchen well equipped. We cooked in a couple of nights and had all we needed. It was a great stay and I would highly recommend it.Derrick was a great host and I wish him well in the future.
SARAH
2016-05-11T00:00:00Z
Excellent host, very accommodating and was able to make some changes for us due to last minute hickups in our visit. Highly recommended to anyone looking for a place to stay in Whitehorse.
Rob
2016-01-21T00:00:00Z
The place was perfect and close to everything downtown.
Jacinta
2015-07-04T00:00:00Z
The apartment is the top floor of a house in downtown Whitehorse. The people staying in the lower apartments were quiet. The house is a few blocks from downtown-easy walking distance to restaurants and stores. The space has a lot of room to fit a large family and a playground across the back alley.
Kathryn
2016-09-02T00:00:00Z
Kamertype
Gehele woning/appartement
---
Type woning
Appartement
---
Geschikt voor
6
---
Slaapkamers
Whitehorse, Yukon Territory, Canada
Located in the Takhini North neighborhood. We are two minutes from the airport and downtown by car or a 15 minute walk. Beautiful biking and walking trails just outside the door, a sunny deck and born and raised Yukoner as your host.
Ideal for day tripping around Whitehorse! This is a first floor bedroom that offers a lot of privacy. There's a large window and closet, and a TV with Netflix set up.
Located in Takhini North we are a five minute drive or 15 minute bike ride to downtown, a 15-minute walk to Yukon College and Arts Center, and a short walk to beautiful forest trails, creeks and ponds. This neighborhood is located centrally in Whitehorse and close to the airport. Birders, walkers, and hikers: McIntyre Creek, wetlands and forests are a beautiful wildlife area, and a short 10 minute walk from our front door- (URL HIDDEN) For Mountain Bikers: You can be at the the Mt. McIntyre Bike Trails in 5 minutes! The Canada Games Center (pool, fitness classes, etc) is a 10 minute walk away.
Great place to stay in Whitehorse. The room is bright and the location is central. Koko was super friendly and gave us the felling to be home. We would definitely stay again! Thanks Koko!!!
Dani
2016-07-07T00:00:00Z
Koko was very friendly, accommodating and helpful - happy to talk, but also gave us space. She went above and beyond what she listed, offering us bagels, cereal, coffee/tea and even popcorn! Her place was quiet, cozy and the perfect "home base" while we played tourist around Whitehorse. For those who don't mind their hosts being around, this is a great spot to stay. Added bonus: the dogs are super cute.
Kat
2016-08-05T00:00:00Z
Perfect place to stay, good location near bus station, easily go to downtown. Koko is a good host!
LI
2016-06-24T00:00:00Z
Koko is a wonderful host. She checked in with me ahead of time about any special needs. I had one and she readily accommodated it. Koko was there to meet/greet me and was available if needed throughout my stay. The room is very nice with a comfortable bed. It is very good value for the price, and I recommend it to anyone.
Liz
2016-06-18T00:00:00Z
I had a fantastic stay at Koko's. The room was clean and spacious. Koko and her roommate were really nice and friendly. I loved being greeted by their dogs every time when I come into the unit! The parking spot dedicated to the guest at the back of the building is a nice bonus too.
David
2016-08-16T00:00:00Z
Koko made my stay very memorable and went out of her way to make my visit great.
fion
2016-08-30T00:00:00Z
Koko was a fantastic host! She was easy to communicate with and generous in making our Whitehorse experience as comfortable as possible. Her roommate and dogs were friendly too; it was hard to remember the dogs were even there in the day! The bed was comfortable and the room fairly spacious. You share a bathroom with Koko but it wasn't a big deal as we never had any conflicting schedules. Being able to do laundry was a plus and she offered to lend us items when we went on a Yukon road trip. Commuting in Whitehorse was relatively easy, we generally walked to downtown (~25mins) and took the bus back. Although if Koko isn't doing anything she'll happily pick you up or drop you off! We definitely recommend staying with Koko; its like staying with a friend :)
Andrea
2016-07-27T00:00:00Z
We had a great stay. Koko was very friendly and helpful. The room was lovely and felt very much like our own private space. Despite arriving late in the evening, accessing the room was a breeze. Thank you!
Peter
2016-09-03T00:00:00Z
Kamertype
Privé Kamer
---
Type woning
Appartement
---
Geschikt voor
2
---
Slaapkamers
Whitehorse, Yukon Territory, Canada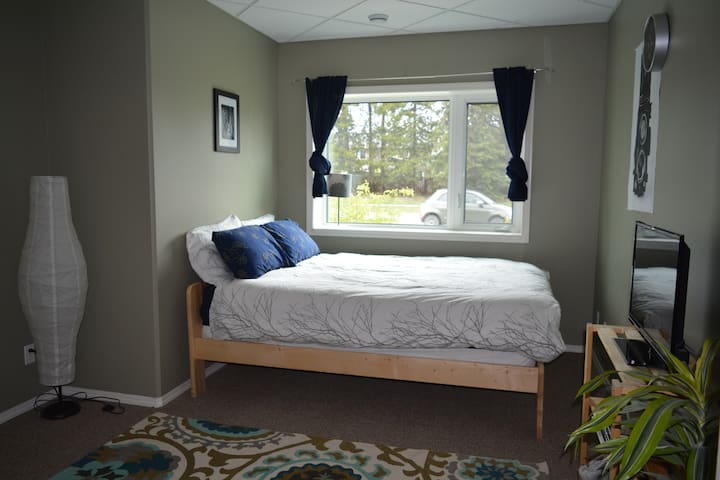 Come & enjoy yourself, stay in the central & private apartment in the downtown core area. Easy access to restaurants, coffee-shops, public transport & museums.
Excellent, Kevin went out of his way to make sure I got into the place. It was spotless and had everything needed for my stay. I will definitely stay there again when I visit Whitehorse in future.
Stewart
2015-10-30T00:00:00Z
It was easy coordinating with Kevin and the location is ideal for walking to food/drinks, work, and other places in central Whitehorse. Had everything you would need for a simple stay. We enjoyed it, and had a great time hitting all the local mountain bike trails.
Loïc
2016-09-05T00:00:00Z
Kevin was a great communicator, very quick to respond and extremely helpful. The place was spotless and perfect for 2 people. I would stay again for sure.
Dacia
2015-06-20T00:00:00Z
Simple place. Nothing fancy but clean. The place is a single car garage converted into a bachelor suite. No tv but warm and cozy
Perry
2015-11-18T00:00:00Z
Great little place. Filled with everything we needed. it is fully detached from other buildings. The location is Great, Middle of white horse waking distance to downtown and even had a parking spot.
Simon
2016-07-18T00:00:00Z
Clean cozy, great location. We had some noisy neighbours which of course has nothing to do with Kevin but it's why I gave an overall 3 star rating for the experience.
Dan
2016-06-24T00:00:00Z
The place was in a great location, close to shops, bus routes. I highly recommend.
john
2016-08-29T00:00:00Z
Tout etait tres bien. Rien ne manquait. le coin est tres calme et a 2minutes du centre ville a pied. merci
sophie
2015-08-16T00:00:00Z
Kamertype
Gehele woning/appartement
---
Type woning
Appartement
---
Geschikt voor
2
---
Slaapkamers
Whitehorse, Yukon Territory, Canada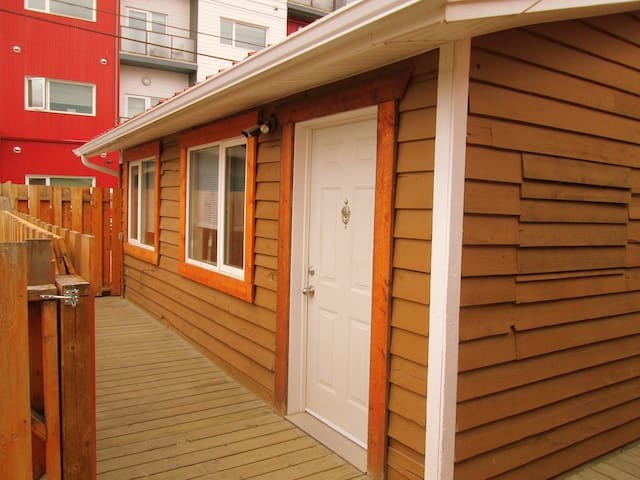 1

–

18

van

20 Appartementen te huur
Voer datums in om de volledige tariefopbouw te zien. Er kunnen extra kosten zijn en er kunnen belastingen worden toegevoegd.