The host canceled this reservation 134 days before arrival. This is an automated posting.
John
2017-04-07T00:00:00Z
This place is immaculately clean, and is bright and cheerful while feeling cosy and comfortable. Thoughtful little food and drink which is provided, adds a nice touch to the welcome. Nice decor upstairs and downstairs. and the house is nice a warm. The location is really close to Glastonbury which is where we went most of the time. Having a lovely view of the Glastonbury Tor from the rear of the house is a real bonus. The garden space is really nicely designed and comfortable. Just note that the garden is not fully private as mentioned, but the host family are not at all intrusive(URL HIDDEN)The area is nice and quiet but being on the often busy A361, traffic noise is inevitable. Small price to pay for such outstanding accommodation and the lovely host! Mo is a real gem of a host.
morowa
2017-04-03T00:00:00Z
Mo was an amazing host, incredibly welcoming and helpful. This place is a real gem and was absolutely perfect for what we were looking for - compact, quiet, clean, homely but bright and spacious. We would definitely want to stay here again and could not recommend it more!
Eleanor
2017-01-02T00:00:00Z
This place is exquisite. My best air b 'n b experience so far. Immaculately clean, beautiful decor and design - the perfect sanctuary and place to stay in. Mo has thought of everything you might need and her communication is excellent. I had some beautiful runs right from the front door. I can highly recommend staying here. You will not be disappointed!! You even have a view of the Tor from the bedroom!
Arabella
2017-01-11T00:00:00Z
I had a great stay at Mo's place, and would definitely come again when in Glastonbury. The town is just a short drive or easy on public transport. Very nice cottage. Everything you need for a night or two, or longer stays would also be very comfortable here :)
Chad
2017-02-26T00:00:00Z
Kamertype
Gehele woning/appartement
---
Type woning
Huis
---
Geschikt voor
2
---
Slaapkamers
West Pennard, Engeland, Verenigd Koninkrijk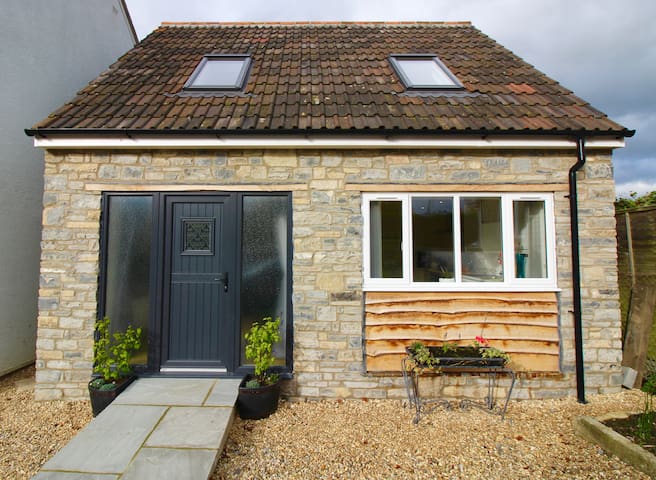 the summmerhouse was perfect and Caroline is a wonderful host who gave us a warm welcome with a bottle of wine! We enjoyed it a lot, everything in the flat was made with a good sense for what you need when you are in holiday. A good place to travel with a dog! Thank You Caroline! :-)
Florian
2015-08-15T00:00:00Z
The summerhouse was such a lovely place and we enjoyef our stay with Caroline. She is a very friendly person. We found several goods in the summerhouse, such as wine, chips, milk, cornflakes and cookies, which Caroline offered us. The summerhouse was very clean and spacious. During the evening we loved to stay in the summerhouse reading a book. It was so comfortable. We can really recommend this place. Gaby & Elmar
Gabriele
2015-10-19T00:00:00Z
Fantastic little retreat, everything there that you need. Would highly recommend!
Garry
2017-01-13T00:00:00Z
Caroline was there to greet us when we arrived and show us around the accommodation. The pictures don't actually do this little beauty justice. It's much bigger and brighter than we expected. It is beautifully decorated with everything you need at hand. It is SPOTLESS, like the cleanest airbnb we have ever stayed in, so really lovely to spend time at. The location is lovely, Caroline garden is beautiful, so sitting out having a cuppa is wonderful. You are nice and close to Glastonbury and the surrounding attractions. The only drawback, for me, was the two unexpected 'guests' waiting on my bed when we arrived home at night. Two massive house spiders sitting on the duvet. I know its the countryside, but if I was on my own I would not have been able to sleep there... so maybe keep the windows closed if you have a similar dislike of creepy crawlies as me! That being said, It wouldn't put me off staying here again and if ever we are back in the area it would be my first choice. Thanks for having us!
michelle
2016-08-30T00:00:00Z
Thank you so much, Caroline! We had a great time and you made us feel very welcome.
susan
2015-10-15T00:00:00Z
I arrived at Caroline's lovely oasis, stepped in , and immediately felt as if it was a little home "away from home". Everything was there that was needed and some extra little added bits of comfort too.
Bola
2015-11-11T00:00:00Z
Lovely place. Great location. Superb host. Many thanks.
Alex
2015-06-29T00:00:00Z
Great place to stay near Glastonbury, homely little touches appreciated, clean, modern, Caroline is friendly and helpful. Was cold and wet out but the underfloor heating keeps it cosy inside.
Adrian
2016-11-19T00:00:00Z
Kamertype
Gehele woning/appartement
---
Type woning
Huis
---
Geschikt voor
2
---
Slaapkamers
West Pennard, Verenigd Koninkrijk
Petite maison près de Tor de Glastonbury, avec une vue magnifique, au milieu d'une belle campagne, à côté de notre maison. Il est un autonome, petit et confortable, dans un langage simple style contemporain. La chambre dispose de fenêtres et un balcon en bois avec vue imprenable sur Tor et Glastonbury la campagne environnante. Profitez de la paix et la tranquillité. Bon pour les couples et les aventuriers en solo.
La porte d'entrée de la maison (folk grand regarder vos têtes!) Ouvre directement dans une grande salle ouverte sur deux niveaux du plan, avec salon et cuisine / salle à manger, ainsi que des toilettes spacieuses et salle d'eau. Des escaliers mènent à une grande lumière et une chambre double spacieuse à l'étage. avec portes-fenêtres à un grand balcon avec balustrade en bois, donnant sur une vue panoramique sur la campagne sur les champs, avec Tor de Glastonbury au loin. La maison de l'hôte est proche de la maison, mais séparée.
Gelegen in het rustige dorpje Baltonsborough, één van de Glastonbury dorpen. Baltonsborough ligt vlakbij Bruton (Hauser en Wirth), Castle Cary, Glastonbury, de Stad van Wells en Shepton Mallet. Frome is een korte rit. Er is een boerderij winkel / postkantoor en een basic pub op loopafstand. Er zijn mooie wandelingen of fietstochten op onze deur en vele anderen in de plaats, met inbegrip van de Somerset levels. Bekroond door de verwoeste, middeleeuwse kapel van Sint-Michiel, de iconische bult van Glastonbury Tor is zichtbaar vanuit de slaapkamer en zelfs voor mijl rond, en biedt Somerset met één van de meest onmiskenbare bezienswaardigheden. Het duurt een half uur te lopen vanaf het begin van het parcours over Well House Lane; de steilste secties zijn gestapt. Tussen april en september een regelmatige Tor Bus (volwassene / kind £ 3 / 1,50) pendelt van St Dunstan parkeerplaats in de buurt van de Abdij van Glastonbury om de trailhead op Well House Lane; als alternatief, het is een 20 minuten lopen. De verspreide ruïnes van de Abdij Glastonbury geven kleine hint dat dit was ooit een van de grote zetels van kerkelijke macht van Engeland. Het werd afgebroken na Henry VIII ontbinding van de kloosters in 1539, en de laatste abt, Richard Whiting, was opgehangen, getrokken en gevierendeeld op de tor. opvallende ruïnes van vandaag onder meer een deel van het schip muren, de overblijfselen van de kapel van St Mary's, en de kruising bogen, die kan zijn schaar-vormige zoals die in Wells Cathedral. Een heerlijke plek om te wandelen, met een aantal hoge kwaliteit displays en een reconstructie van de keuken van de monnik Andere plaatsen om te bezoeken in Glastonbury zijn White Spring Well & Temple, Chalice Well en Somerset Rural Life Museum. Andere veters in de omgeving zijn: Wells kathedraal en de Grote Markt; outlet winkelen bij Clarks Village, Straat Shoe Museum en Greenbanks openlucht zwembad; Cheddar Caves en Gorge; Wookey Hole Caves. Iets verderop zijn attracties, zoals: Bad - The Roman Baths, Bath Abbey Heritage Vaults, No. 1 Royal Crescent, The Jane Austen Centre Barrington Court Dunster Castle en Village Exmoor West Somerset Railway South Cadbury Castle Birnbeck Pier Tyntesfield Muchelney Abbey Kilver Court Er is een fantastisch aanbod van activiteiten op het gebied van de wereldberoemde Glastonbury Festival op talloze andere evenementen in het Bath en West Showground. Er zijn tal van historische huizen en landschappen te bezoeken.
My friend Camilla and I stayed at Cute Cottage whilst doing a weekend course in the area and we had a very pleasant stay. Felicity was quick to answer questions (good directions) in advance and we received a very warm welcome...the wood burner was lit and the cottage was lovely and cozy, a real sanctuary after a long tiring day. Parking was easy and right next to the cottage. The whole place is extremely well kitted out, modern and clean with many small touches like fresh flowers, lovely toiletries in the bathroom and nice ingredients for breakfast. The kitchen had everything we needed to cook our own evening meals. The beds were really comfortable - even the sofa bed. We had a great experience overall and hope to stay there again in the future.
Kamini
2017-03-20T00:00:00Z
A 5 * gem of a cottage immaculatly presented in a wonderful location. Beautifully decorated with every luxury provided from fresh flowers to a cosy fire upon arrival. Felicity and her husband were incredibly welcoming hosts. We would highly recommend a stay, you will not be disappointed.
Chris
2017-02-12T00:00:00Z
Felicity was the perfect host, she is very warm and welcoming! The cottage was absolutely idyllic, the perfect place if you want to relax, it's cosy and surrounded by beautiful countryside! We had a lovely stay, would highly recommend!
Hattie
2017-02-28T00:00:00Z
Had a fantastic stay in Felicity's cottage. Peaceful location. Very clean, well equipped kitchen. Very nice touches, milk, bread, fruit, eggs and flowers on the table. Bigger and better than the photos. Would definitely stay again.
Di
2017-04-04T00:00:00Z
The cottage was lovely; exactly like the photos. Felicity was a great host and the cottage was decked out with everything we could need.
Ashley
2017-03-05T00:00:00Z
Looking for a few days away to relax and unwind and ended up at Felicity's lovely cottage. Modern, clean, warm, comfortable and well equipped - really enjoyed the space. Birdsong all around, great views from the bedroom balcony and easy connection to Glastonbury. Lots of nice touches, scented candles, unlimited logs for the fire, fresh milk and bits and pieces in the cupboards and Felicity and her husband were very very helpful and truly wanted us to enjoy the stay. Will happily keep on the favourites list for a hopeful return in summer time.
David
2017-02-19T00:00:00Z
We had a wonderful stay at Felicity's cottage. The place was beautifully furnished and very comfortable. Felicity went out of her way to make us feel welcome, even leaving books and games for our 2 year old daughter to play with while we were there. She was very responsive to our needs and provided a great little breakfast including fresh eggs (from her own chickens) and fruit. The area was really picturesque with lots to do nearby. We would have loved to stay longer.
Megan
2017-02-07T00:00:00Z
This cottage is amazing! Beautifully decorated and it has great views. We enjoyed our stay very much and Felicity was very helpful and kind. Would definitely stay there again!
Joana
2017-02-15T00:00:00Z
Kamertype
Gehele woning/appartement
---
Type woning
Huis
---
Geschikt voor
3
---
Slaapkamers
Somerset, Engeland, Verenigd Koninkrijk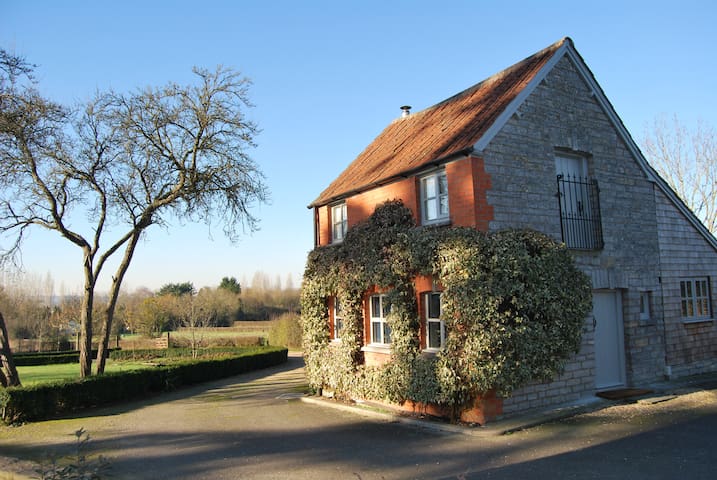 Virginie est une propriété d'époque indépendante, dans le centre du village Pennard Ouest avec vue sur le terrain vers le Tor. Il a été récemment décorée et entièrement équipée à un niveau très élevé. Il est environ 2,5 miles de la Red Gate Festival de Glastonbury. Il peut accueillir jusqu'à jusqu'à 9 personnes - 4 chambres (3 doubles, 1 simple) et un canapé-lit en bas, 2 salles de bains (1 salle de bains) + WC séparés.
Kamertype
Gehele woning/appartement
---
Type woning
Huis
---
Geschikt voor
9
---
Slaapkamers
Somerset, Verenigd Koninkrijk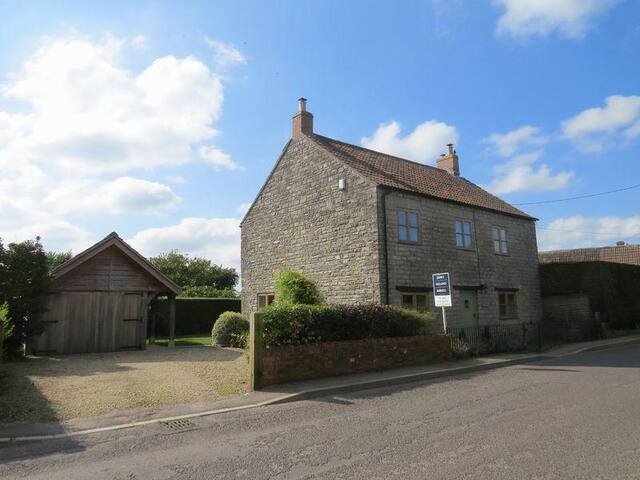 Kamertype
Privé Kamer
---
Type woning
Huis
---
Geschikt voor
2
---
Slaapkamers
West Pennard, Engeland, Verenigd Koninkrijk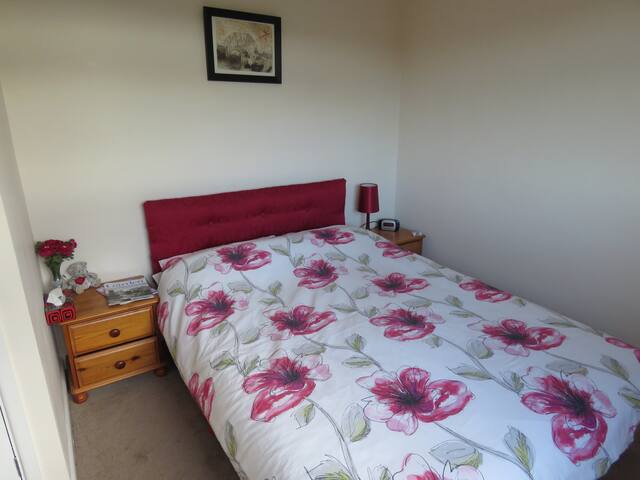 Two bedroom Holiday Cottage Sleeps 4 (Double and twin rooms).
Ground floor: Living room with patio doors/dining room/kitchen. 1 double bedroom. Shower room with toilet. Steep, narrow, paddle stairs to galleried twin bedroom. Freezer. Level access from Lane or 6 steps through garden to entrance. Gas central heating, electricity, bed linen and towels included. Cot. High chair. Smart TV. DVD. Stereo/CD. Electric cooker. Microwave. Washer/dryer. Wi-fi. Shared lawned garden. Patio with sitting-out area and furniture. Parking (2 cars per property). Welcome pack. Pet free of charge. No smoking.
This pair of semi-detached converted barns enjoy a peaceful rural setting amongst rolling countryside, yet just a few miles from Glastonbury. The barns have been sympathetically renovated with oak floors and doors, large patio doors and with the original hayloft storage areas converted into galleried bedrooms. Both properties have a private terraced area, with a shared elevated lawned area, and the site is fully enclosed with fencing, ideal for those with pets or children.
Logement agréable au calme en pleine campagne et en même temps proche des commodités de Glastonbury. Nous avons apprécié d'avoir l'itinéraire précis pour arriver et le thé et les biscuits qui nous attendaient. Très bonne adresse !
Sylvie
2016-10-27T00:00:00Z
Place is as advertised, Adrian very helpful and everything happened as it is supposed to. I would happily recommend.
Mark
2016-12-02T00:00:00Z
Had a great stay at The Old Stables. The cottage was lovely, very clean and well equipped and the tea, coffee and chocolate biscuits were very welcoming. Location was really good about 10 minutes drive to Glastonbury and 40 minutes to Cheddar Gorge. It was within walking distance of The Apple tree Inn where we went for a nice pub dinner. Although we did not meet Adrian he was very prompt at responding to emails and providing information for our stay. We had a lovely stay and would certainly return if in the area and recommend to friends
Magnus
2016-10-03T00:00:00Z
Great place to stay. We were there for couple of nights visiting family close by. Location and amenities served us well. Would stay again.
Charlotte
2016-10-24T00:00:00Z
Kamertype
Gehele woning/appartement
---
Type woning
Huis
---
Geschikt voor
4
---
Slaapkamers
Glastonbury, Somerset, Verenigd Koninkrijk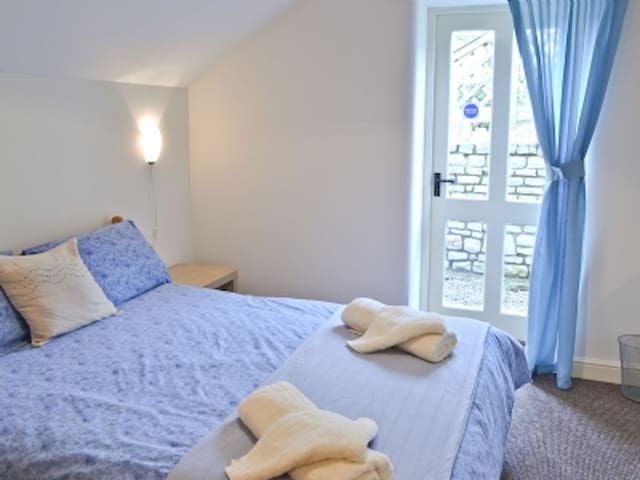 The Cider House is onderdeel van een unieke middeleeuwse boerderij dateert uit 1345, een rustige omgeving in een prachtige omgeving met een prachtig uitzicht op Glastonbury Tor. Het dorp pub op loopafstand en een open platteland te verkennen. Informeer naar GLASTONBURY FESTIVAL, op 5 minuten met de taxi.
The Cider House maakt deel uit van een middeleeuws boerenerf, is ongeveer 300 jaar oud. Het werd omgebouwd tot woningen in 2010, het heeft nog steeds de oorspronkelijke cider pers in de woonkamer en is vol van karakter. We hebben ook een houtkachel voor gezellige winteravonden. Twee zeer ruime slaapkamers, beide met 'zip en link Superking bedden en een verdere single.
Oude boerderij was oorspronkelijk eigendom van Glastonbury Abbey en zit ongeveer 40 minuten lopen over de velden naar Glastonbury Tor, naar verluidt de bakermat van het christendom in Engeland en de begraafplaats van koning Arthur. Het hele gebied is doordrenkt van geschiedenis en spiritualiteit, en wat je spirituele uitzichten zijn Glastonbury stad is echt een bezoek waard, maar ik waarschuw je je eindeloze energie kristallen vinden, maar zal moeite hebben om een gloeilamp te vinden! Wells, de kleinste stad van Engeland, is een 15 minuten rijden van het hotel, mooi en vol met onafhankelijke winkels. De stad Bath ligt op ongeveer 45 minuten rijden en is prachtig.
Kamertype
Gehele woning/appartement
---
Type woning
Huis
---
Geschikt voor
5
---
Slaapkamers
West Pennard, Engeland, Verenigd Koninkrijk
Vous profiterez d'une vue imprenable sur le côté du comté de Somerset, y compris Tor de Glastonbury. Vous avez en commun de notre tout court de tennis météo ainsi qu'un bain à remous privé dans le jardin. Vous avez le wifi et tous les éléments essentiels dont vous aurez besoin pendant votre séjour.
Nous pouvons nous targuer d'une buanderie avec salle de douche en conduisant dans la cuisine ouverte salle à manger et un salon. A l'étage, deux grandes chambres avec salle de bains.
Dans le village de West Pennard nous avons un pub (The Red Lion) une promenade de 10 minutes à Applebarn. La nourriture est disponible 7 jours par semaine. A proximité des attractions comme Glastonbury Tor et Abby, la cathédrale de Wells, Bath, Bristol, cheddar, et peuvent d'autres villes et villages pittoresques.
John was a terrific host; very responsive and friendly too. The accomodation excelled expectation. Extremely comfortable and with excellent amenities. We really enjoyed our stay and hope to return soon.
Bex
2016-12-29T00:00:00Z
Kamertype
Gehele woning/appartement
---
Type woning
Huis
---
Geschikt voor
6
---
Slaapkamers
West Pennard, Engeland, Verenigd Koninkrijk
Our house is just under Glastonbury Tor and has great views south across the Somerset levels. It is very peaceful and away from the main road. On the ground floor, we have a large double bedroom with french doors leading out onto its own patio. Bathroom (shower) adjoining. The price is for 1 or 2 people. If you bring a child or 3rd person we have also a single room next to the main room for £35 per night. TV/dvd and wifi available. Bed linen and towels provided. You are welcome to use our kitchen to make tea and coffee or breakfast etc and sit out on the patio to admire the view! We have owls and badgers in the wood adjoining. We are literally a few steps away from the gate that will lead you up to the Tor. It's best if you can come by car and there is plenty of room for you to park in our driveway. If you come by bus, we are about a 15 minute walk from the town centre. The pub is much closer! The nearest train station is Castle Cary and a taxi will take about 25 minutes to bring you here. Glastonbury is full of interesting shops and cafes/restaurants. Vegetarians are well catered for. There is often live music going on in the evenings. We are about 45 minutes by car to Bath and Bristol and Wells is about a 15 minutes drive. We look forward to seeing you and swapping travel stories!
Era la primera vez que nos alojábamos en casa de otras personas y la experiencia ha sido fantástica. La casa es estupenda, tal cual aparecía en las fotos y la habitación muy acogedora. También pudimos hacer uso de la cocina sin ningún problema. Los dueños un encanto, siempre muy pendientes de nuestras necesidades (incluso un día nos acompañaron a conocer sitios en Glastonbury). Se lo aconsejo a todo el mundo, ha sido un viaje fantástico!
Diana
2015-01-13T00:00:00Z
Hilary is an excellent host. She placed trust in us with her beautiful home while she was away. We were warmly welcomed and all arrangements put in place with ease. She and her husband greeted us with such openess and kindness. Truly wonderful people. I highly recommend this stay!
Noha
2017-01-01T00:00:00Z
Our hosts were both friendly, hospitable and really lovely people. The room was very clean and as described. The location was great and very close to everything yet far enough away from the town centre to be quiet and peaceful.
Susan
2015-09-20T00:00:00Z
We were welcomed in a wonderfully relaxed and friendly way and made to feel very much 'at home'. This is a lovely house and the room was as described. Very comfortable and clean; both my partner and I had the best nights sleep for a long while. The location is superb; it is off the main road, very quiet, and is excellent in terms of accessability to the town centre. It is also literally at the foot of the Tor. Breakfast was a 'help yourself' and there was more than adequate provision for hearty start to the day. Highly recommended as a quiet and warm place to stay.
Richard
2015-12-08T00:00:00Z
I really loved to meet Hilary and Johnny again it was like coming back home. I definitely recommend them
Elena
2014-04-11T00:00:00Z
Hilary's home is beautiful. The accommodation is very comfortable. We appreciated the great shower and comfortable bed. It was a treat to be right next to the Tor. We were driving and we were glad to have the free parking. Our hosts were gracious in sharing their dairy farmer friend's yogurt. We would gladly stay there again. Our hosts had a wealth of knowledge about how to get places.
Judy
2016-04-16T00:00:00Z
This is a fantastic place to stay in Glastonbury. The house is right underneath the tor, in a really quiet and peaceful area. Our hosts made us feel very welcome and were really relaxed and friendly - we arrived 3 hours early and Hilary was happy just to give us the key so that we could go straight off. Then we didnt get back til much later, and found everything all sorted for us. The house and the room are really lovely, the picture doesn't really do it justice!
julia
2014-11-03T00:00:00Z
Hilary and her husband were great - he even welcomed us by giving us a ride to the house on our arrival, which we didn't expect at all! They were very friendly, gave us a few tips on how to get to the places we wanted to see. We loved our stay!
Etienne
2016-03-30T00:00:00Z
Kamertype
Privé Kamer
---
Type woning
Huis
---
Geschikt voor
3
---
Slaapkamers
Glastonbury, Verenigd Koninkrijk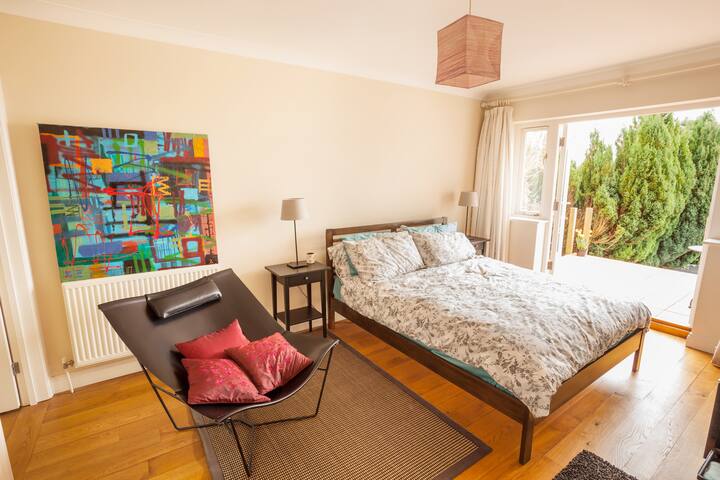 Set in beautiful countryside but within easy reach of the town. Our luxurious "Login" provides quirky and comfortable accommodation for your stay in this magical part of Somerset. With separate bathroom facilities and integrated living space this is the perfect retreat for a cosy weekend away for two. With your own private garden and terrace area with views across the Mendip hills and the Tor, a range walks right from the doorstep, and many popular destinations only a short drive away, Our Glastonbury "Login" is a perfect base for a quick break or a longer stay.
A bespoke "Login" - hand made log cabin designed to make your stay enjoyable - a real home from home.
Eclectic and Interesting, Glastonbury is a unique town with a wealth of history and mythology to immerse yourself in.
Kamertype
Gehele woning/appartement
---
Type woning
Huis
---
Geschikt voor
2
---
Slaapkamers
Glastonbury, Engeland, Verenigd Koninkrijk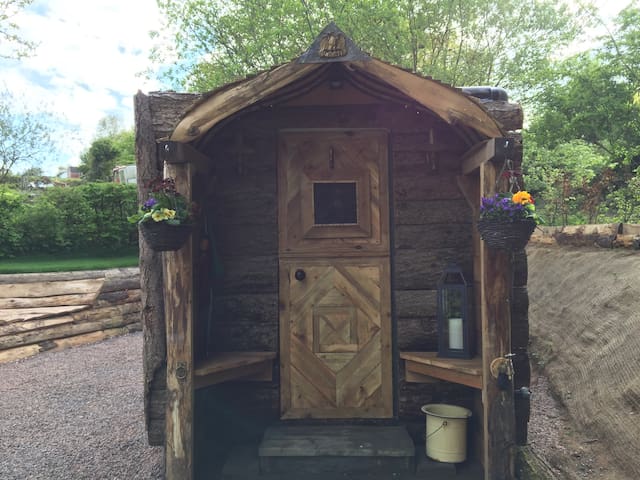 Spacious and tranquil converted stone barn with beautiful country side. Perfect for escaping to the country for families or friends. From a wood burning stove to a garden complete with BBQ, the Long Barn has everything you need. Disabled access.
We had a wonderful weekend break, the cottage was very clean, really well equipped and the children had a wonderful time exploring the garden, stream and games room. It was in a great location just a short drive outside of Glastonbury. Vanessa was very welcoming and provided all the info we needed for a very enjoyable stay.
Nigel
2017-02-27T00:00:00Z
Vanessa & her family are the best of hosts. Everything has been thought out in beautiful detail, making our stay at The Long Barn perfect from arrival to departure. Never have we stayed away and felt so at home. I was part of a big group who holidayed together here for a week and Vanessa kindly accommodated us all where; not once did we feel confined or did the space feel crowded. A very special thank you to Vanessa & Family for the perfect getaway. I personally will highly recommend a stay here to anyone interested.
Luke
2016-09-10T00:00:00Z
Kamertype
Gehele woning/appartement
---
Type woning
Huis
---
Geschikt voor
6
---
Slaapkamers
Coxbridge, Verenigd Koninkrijk
Comfortable cozy single room in quiet house (twin room also available under listing 'Twin Room in Sunny Quiet House. Glastonbury Town'). 10 minute safe walk to high street, Glastonbury abbey, shops, cafes, restaurants, bus stops and taxis. Lovely countryside walk to Tor and Chalice Well garden. Self serve vegetarian breakfast. Use of kitchen for take out food. Shared bathroom with shower. Free parking close by. Astrology chart Reading / Crystal therapy treatment by arrangement before your visit.
The room is small but light and comfortable and situated at the back of the house. It is ideal for a short stay.
The neighbourhood is peaceful and the house situated in a small cul de sac. At the top of the road there is a green space and a children's play area. The Tor and Chalice Well gardens are both a 20 minute walk away through countryside above the town and similarly a 10 minute walk to the town centre, shops, cafes, restaurants and supermarkets. There is a bus stop, shop and off licence 2 minutes away.
Helena went over and above what I expected.Her home is very comfortable and she is a very helpful, friendly and supportive host.I would recommend her bnb to anyone travelling in Glastonbury. She drove down town to pick me up on my arrival, and did my washing for me which made my stay and travelling so much easier. She was very helpful with local information. THANKYOU FOR A WONDERFUL TIME IN GLASTONBURY.
bronwyn
2016-05-28T00:00:00Z
Helena made me feel very welcome from the pick up from coach station to the point of leaving. I invited two friends to stay as I rated it so highly. They also equally felt welcomed by Helena. With the drama over from lost car keys, the week can resume in relative calmess. Thank you Helena for a wonderful stay.
Susan
2016-07-11T00:00:00Z
I cannot praise Helena enough, she was so incredibly welcoming in every sense. The house has a lovely airy, calm energy. I felt very at home there. I will definitely be back to visit. Thank you so much :)
Rachel
2016-07-17T00:00:00Z
Helena is a wonderful host! She was kind enough to pick me up from town and offer me some tea. Her house is lovely and full of warmth, just like her. It is not far from town (walkable) and the views are pretty. I had the most restful sleep at her home and wish I could have spent more time staying with her while at Glastonbury.
Kavitha
2016-07-09T00:00:00Z
Helena was a gracious & friendly hostess. She met me @ the Glastonbury bus stop & gave me a lift to her bnb. After more than 4 hrs. traveling from London, I truly appreciated her offer. She made me a most welcome cup of tea & introduced me to her 2 friendly cats! Later she showed me a walking shortcut to the main street. Everything was available for a nice breakfast & the shared bathroom was always spotless. Highly recommend
Christa
2016-05-08T00:00:00Z
Helena is such a beautiful person, very accommodating to needs and nurturing. Helena picked me up from bus stop, got breakfast to fit dietary requirements which was really nice of her too gave me info needed of things& very helpful, generally lovely person. Very adaptable to changes, had lovely long interesting chats and was great to spend time with her& yet she was also respectful of balance of giving space too. Lovely cats and suntrap garden.lovely distance from Tor with nice countryside walk ways there. Very gifted at astrology reading , etc, would recommend a reading , definately worth the money!! :-) x
Trish
2016-08-14T00:00:00Z
The host canceled this reservation 6 days before arrival. This is an automated posting.
Alfie
2016-05-01T00:00:00Z
I got confirmation within couple of hours. After contacting, Helena kindly provided details to contact , check-in etc. When I arrived, I was offered a bigger room as it was available , which was very kind of Helena. Accommodation was perfect, clean and tidy with a nice bathroom and shower. It also comes with two lovely cats. Helena was very welcoming and very helpful. We sat outside in the garden for a chat after I arrived, which was lovely. Many options available for breakfast and you get the warm homely feeling. She also provided detailed hand written instruction for going to the Tor, which was a fabulous walk with paths covered with overhanging trees. I will definitely recommend and will go back again.
Uday
2016-05-31T00:00:00Z
Kamertype
Privé Kamer
---
Type woning
Huis
---
Geschikt voor
1
---
Slaapkamers
Glastonbury, Verenigd Koninkrijk
Stunning architect designed 5 bedroom house located in a rural and peaceful location overlooking Glastonbury Tor. The location is second to none, total seclusion with stunning views, The house is light and spacious and furnished to a high standard. Light streams in through the large windows and in summer you can spill out onto the surround decking which acts as an extra room. In the winter and extremely efficient woodburner and wonderful aga keep the house very cosy.
This is a house that is totally unique. It is in an extraodinary location of outstanding natural beauty. The house was designed and built with love and huge attention to detail. It is built with eco credetials including warmcell (recycled newspaper) insulation. It has pv panels for the electrics as well as solar thermal panels. Every room has wonderful views. The new electric aga is wonderful to cook on and keeps the open planned ground floor warm and cosy. The bedrooms are tastefully decorated and luxury cotton bedding is used on all beds. There are a selection of double or twin rooms making the accommodation versatile for different groups. The house was designed and built by my late husband in the 1990's. It has been a happy family home that now lends its self effortlessly to the lucky people who choose to come and spend a weekend or longer here in this oasis of paradise
This house is in a location that is second to none. You can walk from the house for miles without meeting another building. Our nearest neighbour is around half a mile away in one directions and 3 miles in the other. It is the most peaceful and beautiful surrounding I have ever experienced. It is also only a 10 minute drive into the wonderfully eclectic centre of Glastonbury
Absolutely beautiful house in the countryside. Warm and cosy evenings by the fire, fully equipped kitchen and overall a very relaxing trip
Emily
2017-03-12T00:00:00Z
Beautiful house in an idyllic and tranquil setting. The views are simply breathtaking. Suitable for a family with young children or a large group to celebrate a special occasion. The rooms are warm and comfortable and there wasn't anything else we needed. Can't recommend enough.
Alastair
2017-02-12T00:00:00Z
What a truly memorable house - unlike anything you'll ever stay in. Fantastic for large groups, (we were a hen party) superb views of Glastonbury Tor, especially as the sun is setting. We spent the evenings in the hot tub, cooking on the BBQ and playing on the trampoline! House is wonderfully peaceful and secluded. It's fully equipped with an Aga, huge lounge area, clean bedding and bathrooms. It truly has the 'wow' factor and Sarah is a wonderful, relaxed host. Would definitely recommend in the summer months as it would be a shame not to enjoy long summer evenings on the veranda with a gin!
Emily
2016-07-25T00:00:00Z
Lower Coxbridge House is a stunning and unique country idyll, perfect for rest and relaxation. Sarah made all 10 of us feel incredibly welcome. Nothing was too much trouble - she sent us numbers of local taxi firms, recommended where to eat / drink, local walks... etc. She's also a wonderful yoga instructor and gave us a lesson on the Saturday morning. She very much left us to our own devices, but we wanted her to spend the whole weekend with us! The house is surrounded by fields and isn't overlooked by anyone. It's a 5 minute drive from Glastonbury or just under an hour on foot. We walked to the Tor, which I would highly recommend to anyone staying. I'd love to come back - especially in the height of summer, when the roses are out. Thank you Sarah - the whole weekend exceeded expectations!
Sophie
2015-05-31T00:00:00Z
Kamertype
Gehele woning/appartement
---
Type woning
Huis
---
Geschikt voor
10
---
Slaapkamers
Glastonbury, Somerset, Verenigd Koninkrijk
On croit que la ferme a été construite dans le 16ème et a été étendue au fil des ans pour fournir notre maison familiale. Le salon a une cheminée feu de bois avec un poêle à bois et une cuisine de ferme avec vue sur les jardins. Sur le devant de la maison il y a une vue magnifique sur le Tor.
terres agricoles au calme avec vue sur le Tor. Street & Glastonbury sont à 5-10 minutes en voiture. Le village de Baltonsborough a un magasin de village / bureau de poste et un pub. S'il vous plaît profiter des jardins et autour de la terre / champs. Il y a beaucoup de sentiers dans la région avec une promenade pittoresque à travers les niveaux à Gastonbury.
This is a lovely farmhouse in the middle of the countryside. We were made very welcome. As you would expect the ceilings in some of the bed rooms were low but we quickly adapted.
Janet
2017-02-19T00:00:00Z
Absolutely amazing house with the most beautiful scenery surrounding it and fantastic garden. We threw a surprise 30th birthday party here for my wife and it was perfect. The hosts are so lovely and even baked scones for us to enjoy. Perfect for a get away with friends or family and close to Glastonbury Tor for a decent walk. If we'd been later in the year and had been able to use the pool I can only imagine how incredible it would have been. Wish we could have stayed there for ever! Thoroughly recommend
Jon
2017-04-08T00:00:00Z
We had a brilliant stay. The house is cosy, warm and homely. Everything was explained clearly and the homemade treats on arrival were excellent too. A really lovely area and great hosts too.
Abigail
2017-03-12T00:00:00Z
We had a fantastic stay in this rustic farmhouse, deep in the heart of the Somerset countryside. 11 adults were comfortably housed for the weekend, with plenty of living space and adequately sized bedrooms. The surrounding gardens and pool are delightful, with farm animals galore. The highlight of this listening was definitely how accommodating and friendly our hosts were! They were prompt and extremely helpful in their correspondence prior to our arrival. Similarly, they were flexible in meeting our group on arrival and had scones with jam and cream for everyone, which was a really nice touch. Our experience was only positive. I would highly recommend staying here.
Edward
2016-08-28T00:00:00Z
Maureen and William were wonderful hosts! Even though they were away when we stayed, they were extremely prompt at responding to emails! The house is beautiful and well equipped and the grounds are great for little ones what with the chickens and sheep. We had a brilliant stay and will be booking again in the future!
Joanna
2016-10-23T00:00:00Z
We had a fantastic stay here for my partner's 30th birthday party. The hosts were really friendly and welcoming and the cottage was brilliant for the 11 of us for the weekend. Thanks guys!
Ben
2016-09-04T00:00:00Z
Just perfect !
timothy
2017-04-02T00:00:00Z
Lovely house. Some of the bedrooms are a bit neat but great location.
Robbie
2016-10-30T00:00:00Z
Kamertype
Gehele woning/appartement
---
Type woning
Huis
---
Geschikt voor
10
---
Slaapkamers
Somerset, Verenigd Koninkrijk
Dies ist eine magisch, geistig, böhmisch, 500 Jahre alten Reetdachhaus. Es ist voller Charakter, 5 Meilen von Glastonbury Stadt, umgeben von schönen Gärten und lange Spaziergänge, ideal für ein gemütliches Wochenende. Eine friedliche Oase voller beruhigende Energie.
Dies ist eine wunderschöne, freistehend (und stroh!) 16. Jahrhundert Landhaus, mit drei Schlafzimmern. Perfekt für ein romantisches Wochenende, einen entspannten Wochenende mit Freunden, einen ruhigen Rückzugsort für eine Familie oder ein Ort, um Ihre kreativen Säfte fließen. Glastonbury Stadt ist nur 5 Meilen entfernt, so dass eine tolle Lage, wenn Sie hier sind die spirituellen Stätten dieser Pilgerstadt zu sehen. Stonehenge ist genau eine Stunde Fahrt von der Hütte und die historische Domstadt Wells ist 5 Meilen entfernt, ebenso. Trendy Bruton ist nur ein Hop überspringen und springen weg. Es gibt drei Schlafzimmer aus, einem Kingsize-Bett mit einem WC, ein Zimmer mit einem Doppelbett und einem mittleren Zimmer mit zwei Einzelbetten (ausziehbares Bett) zu wählen. Das Haus hat eine unglaublich ruhige und spirituelle Atmosphäre. Das Wohnzimmer ist geräumig für ein Häuschen und sehr gemütlich, mit einem neuen Gasherd, die von viel Wärme abgibt, wenn Sie zum Aufwärmen benötigen. Die Hütte selbst ist das Bild eines Inbegriff britischen Häuschen, ganz charmant, mit künstlerischen Boheme berührt überall, auch maßgeschneiderte Malerei und Glasmalerei. Es ist ein 500 Jahre altes Landhaus, also nicht erwarten, Yoga im Wohnzimmer oder Esszimmer zu üben, wo die Decken sind ... na ja, Hütte Höhe! Bedient euch auf Bio Greens aus dem Garten, immer wenn sie dazu bereit sind.
Ein sehr einfaches Somerset Weiler! Dutzende von wunderschönen Wanderungen von leicht rundum zu moderieren!
We had a lovely time at this wonderful idyllic cottage. Myself, my partner, the kids and jasper our dog enjoyed the rambling walks and nearby access to Glastonbury. Be mindful if you are tall as the lounge ceiling is low, at 6'2" I am nursing some bumps on my head but don't let this deter you, just we aware. Mobile signal on Vodafone and EE is none existent until you are about 100 yards up the hill but that suited me just grand, a total opportunity to unplug.
Lee
2016-06-03T00:00:00Z
We felt very welcome, great to have everything provided, lovely garden, though we didn't have time to enjoy much as we were at a wedding all day Saturday.
Debbie
2016-08-15T00:00:00Z
The cottage was exactly as described, full of charm and very cosy in a very peaceful neighbourhood, right in the middle of the beautiful Glastonbury countryside. We had a lovely stay.
Jean-Baptiste Anais
2016-06-23T00:00:00Z
Everything Freddie said was true This is a quaint old cottage reflective of the period with lots of personalised effects.
Paul
2016-07-05T00:00:00Z
A comfortable and well loved home. A great experience for us to stay in such an old building. Lots of personal touches add to the atmosphere.
Sandy
2016-07-10T00:00:00Z
Unfortunately we didn't meet Freddie, but his cottage was homely and welcoming. It was everything I imagined an old English cottage should be, and more. 'Quaint' doesn't do it justice. Stairways hidden behind doors leading up and down to interesting rooms. Every corner of the cottage held another surprise. Beautiful garden. I definitely recommend it to other Australians who want a bit of typical English history.
Kim
2016-06-10T00:00:00Z
The cottage is lovely. Perfect for a country gateway with a group of friends. The cottage is filled with lots of quirky furniture, a great gas burner, a piano, guitar and the comfort you need. The location is perfect, we did a few excellent country walks and cycled to Glasto. Would recommend this place to any guests.
Stijn
2016-03-30T00:00:00Z
Perfect in every way. Cottage was as described and we felt right at home as soon as we got in the door. Everyone had a great night sleep (even our grandson who is hard to settle). Everything is there if you want to cook but we ate out anyway. The garden is a lovely, peaceful place to enjoy. We all wholeheartedly recommend and we didn't want to leave !! Graham & Sue Juliette & Richard plus Brett
Graham
2016-08-26T00:00:00Z
Kamertype
Gehele woning/appartement
---
Type woning
Huis
---
Geschikt voor
6
---
Slaapkamers
Parbrook, Somerset, Verenigd Koninkrijk
A charming nook nestling beneath Chalice Hill in a private close just off Chilkwell Street, 2 minutes from the Chalice Well and the bottom of Glastonbury Tor. There are several restaurants and cafes in the High St which is an easy 8 minute stroll. We have two rooms available. Please check our other Airbnb listing under Honeybee & B.
There are two rooms available (see other listing) The price of around £35-40 a night (plus 15 pounds for a second person) includes wifi and tea making facilities in the rooms. We provide a substantial vegetarian continental self service breakfast including delicious organic sour dough bread, multi-grain breads, cereals, fruit, yoghurt and toast with tea or coffee. We use local organic unhomogenised milk. We also can provide dairy free spreads and milks and gluten free cereals and breads on request. This spacious room has two standard single beds which can be fastened together to make a king size double. Lovely views across to Wearyall Hill.
Lovely views across the levels and very close to the Tor and the two natural springs which emerge at its base: the White Spring and the Chalice Well. The Chalice Well has a beautiful garden surrounding it which is dedicated to peace and meditation. There are many interesting events and courses taking place at the well - see the Chalice Well website for details. The atmospheric and magical White Spring is open most days and is definitely worth a visit. Also close by are the remains of Glastonbury Abbey which has beautiful grounds including an orchard and herb garden. The Abbots Kitchen is still intact and there is also a full schedule of events throughout the year including a medieval fayre and the three day musical Extravaganza. In town you will find many interesting shops and cafes where you can sit and watch the world go by. A few miles out of town is Shapwick nature reserve, a haven for wetland birds and great for cycling because the routes are predominantly flat.
Mathura made us feel wonderfully welcome and looked after, it was a delight to be there, to meet him and be surrounded by such gentle kindness, wonderful comfy beds and the best breakfast ever! We hope to be back.
Sophie
2015-10-06T00:00:00Z
Mathura was a great host that made us feel very welcome. The room was tidy, spacious and well-equipped. We really enjoyed our stay and warmly recommend Honeybee to anybody visiting Glastonbury!
Sara
2016-06-28T00:00:00Z
We stayed five nights at Honey B & B. Our room with twin beds was light & bright & very clean with comfortable mattresses & lovely fresh linen & towels. Mathura is a delightful & helpful host (and accomplished musician & singer!) who provided a wonderful breakfast & even had fresh gluten free bread from the town bakery. The location is a short walk to Chalice Well gardens & the Tor & a ten minute walk into town . Staying at Honey B&B really enhanced our special time in Glastonbury & we would love to return again. Elizabeth & Peter
Elizabeth
2015-08-15T00:00:00Z
Lovely all round - will be back!
Bernadette
2016-09-13T00:00:00Z
Anna was wonderfully accommodating in every way. The room was beyond my expectations, clean and very comfortable. I felt Anna was the perfect host in so many ways. She went out of her way to provide a great gluten free breakfast, and she is very thoughtful. We had a wonderful time.
Alaura
2015-01-17T00:00:00Z
The room was lovely. Exactly as advertised. Breakfast was great. Also the host was very welcoming.
Steve
2017-03-26T00:00:00Z
I was made to feel very welcome. The key was left for me and I was trusted to make myself at home. The accommodation was as described with easy access to the town centre and beautiful views over the Levels. My early breakfast at 7.00 am was not a problem for my host and I enjoyed our interesting conversation. A very pleasant stay.
Harry
2014-10-17T00:00:00Z
The house was very clean and well presented, warm and friendly. Bathroom very nice, beds memory foam and very comfortable. We felt that Anna took a lot of care for the house and guests. Good location near to Chalice Well and very quiet and relaxed environment.
Rupert
2015-01-05T00:00:00Z
Kamertype
Privé Kamer
---
Type woning
Huis
---
Geschikt voor
2
---
Slaapkamers
Glastonbury, Verenigd Koninkrijk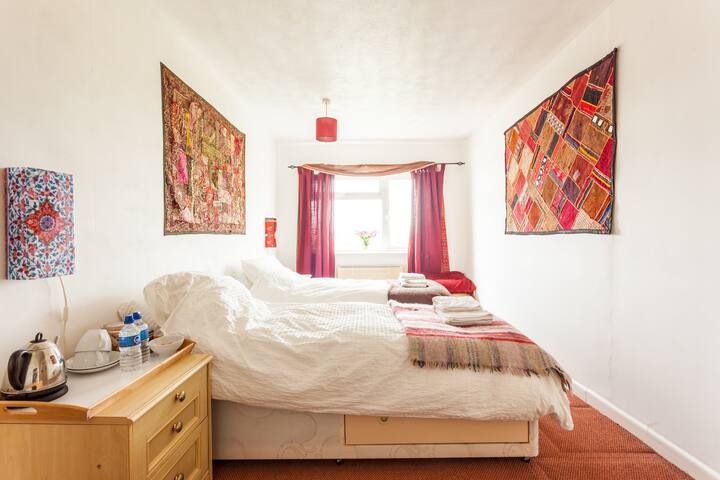 Welcome to Crow's Nest, Glastonbury! Come and stay with Jack & Sarah for a wonderful break in the Somerset countryside. Crow's Nest is located directly next to the iconic Glastonbury Tor and a five minute stroll from the beautiful high street.
Stay in either the fabulously floral double bedroom or the equally fabulous twin room (separately listed). Each room comes complete with complimentary tea and coffee facilities, comfy beds, clean fluffy towels, access to a large guest bathroom, use of the newly refurbished kitchen and a charming dining room. The garden at Crow's Nest is located on the slopes of Chalice Hill. Take a walk up the winding path and enjoy views across the Somerset levels from the very top of the garden. If the weather is warm why not enjoy your breakfast on the roof terrace with a view of the garden.
Beautiful room, lovely and clean house and perfect location for the town and Tor. Perfect hosts, made us feel welcome. Highly recommend, would definitely visit again.
Alysia
2017-03-26T00:00:00Z
Lovely, comfortable place at the bottom of the chalice hill, close to the Tor and town centre but not too close for comfort. Cute little room ( we had the double ) Friendly owners. I will be coming back in the future:)
Dorina
2017-03-08T00:00:00Z
Jack and Sarah are fabulous and their home is just lovely 100% will be back!
Ayesha
2017-02-19T00:00:00Z
Jack welcomed us and was very kind and helpful. Ideal location and the place was just lovely! Very cozy and peaceful - especially loved having breakfast in their little magical garden. They offered tea and coffee in the room which was a nice touch and the bathroom was clean and spacious with a top notch shower. Great experience, wish we could have stayed longer :)
Annabel
2017-04-05T00:00:00Z
Fantastic value for money and the hosts are very friendly! Highly recommend and we would love to stay again.
Harry
2017-03-19T00:00:00Z
Lovely warm, welcoming young couple with very kitch homely feel to the place. Especially loved guest bathroom and location near to chalice well. For me missed having a proper bnb experience with breakfast as I am gluten free mostly vegan but they have a kitchen for you to make your own.
Sara
2017-03-20T00:00:00Z
Thanks for the hospitality and comfy bed! Would use again. Cheers
Joshua
2017-03-17T00:00:00Z
Ridiculously good value for money and fabulous decor! Great hospitality, and so close to town an the Tor. 5 Stars.
Hannah
2017-04-08T00:00:00Z
Kamertype
Privé Kamer
---
Type woning
Huis
---
Geschikt voor
2
---
Slaapkamers
Glastonbury, Engeland, Verenigd Koninkrijk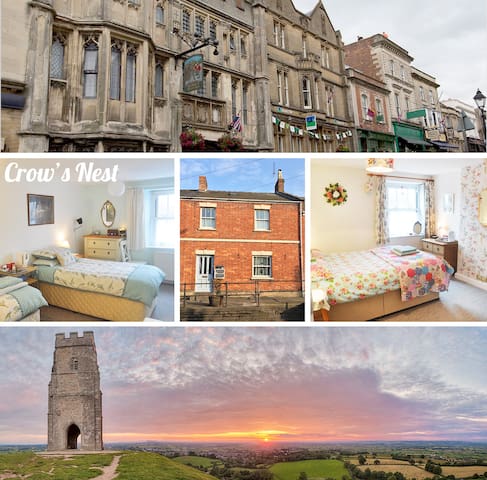 Private Room in Easy going House - near to the Glastonbury Tor, Abbey and Challice Well Gardens. The High Street is just 10 minutes away close to Shops, Restaurants, Public Houses and Cafes.
All good
Wathsala
2017-03-31T00:00:00Z
Sheila was a very welcoming host and always making sure if the guest has everything needed. The room was prepared in a very organized and welcoming atmosphere. The only thing was that the profile photo is the one of completely another person, and I found it a bit dishonest and did not understand why she does that...
Motoya
2017-03-23T00:00:00Z
The photo's of Sheila's bedroom listed is very accurate, it is a basic room with a comfy bed. Unfortunately, my experience was not a pleasant one as I am sensitive to ciggarette smoke which influenced my sleep. Sheila is a loving and understanding host and trust for future bookings this room will be odar free for a more welcoming stay.
Kirsty
2017-03-21T00:00:00Z
Sheila's home was a perfect base for my sister & I in Glastonbury... spacious room, very comfortable bed, a quiet & easy to find location. Sheila is just lovely, very welcoming ~ nothing is too much trouble.
Nancy
2017-04-02T00:00:00Z
Beautiful house! Beautiful large and comfortable room, Sheila is a magnificent person she treated me very well I felt very comfortable, beautiful place! Thank you !
Victoria
2017-03-19T00:00:00Z
Sheila's place was great, easy walk into the main street or up to the tor. Sheila was super friendly, very helpful and an all round lovely person.
Andrew & George
2017-03-26T00:00:00Z
Kamertype
Privé Kamer
---
Type woning
Huis
---
Geschikt voor
2
---
Slaapkamers
Glastonbury, Engeland, Verenigd Koninkrijk
1

–

18

van

139 Huizen te Huur
Voer datums in om de volledige tariefopbouw te zien. Er kunnen extra kosten zijn en er kunnen belastingen worden toegevoegd.