Groot huis voor maximaal 4 personen. Het huis ligt op 40 minuten van München met de auto of de trein en 25 minuten van de luchthaven van München. Ik zal verblijf in dit huis in deeltijd.
Grote kamers, grote keuken, grote tuin met trampoline
We zijn in het midden van Freising, Landshut en Erding
We loved our stay at Rita's and cannot wait to go again! She was warm, hospitable, and accommodating. Thank you Rita, for everything! Veilendank!!!
Amy
2015-09-28T00:00:00Z
Rita is a great hostess, she went out of her way to make sure we are comfortable and happy. We had a great stay at her house, kids loved playing in her beatifully landscaped garden. We recommend her and her house highly.
Mahmoud
2016-05-01T00:00:00Z
Meine beiden Brüder und ich haben das Wochenende bei Rita und ihrer Familie sehr genossen! unfassbar schön gelegens Haus mit jeder Menge Platz und einer Riesenküche! wir durften eine super Zeit erleben und sind dafür sehr dankbar!! Auf hoffentlich bald Rita!
Peter
2016-02-15T00:00:00Z
Selbstredend hat uns Rita ohne das wir gefragt hatten abgeholt wir waren natürlich nach 30 km joggen am Abend total fertig und sie hat uns selbstverständlich essen gemacht
Lukas
2016-09-06T00:00:00Z
Foi maravilhoso na casa da Rita! Adoramos a casa, o lugar e a Rita cuidou de nós com muito amor e carinho! Uma pessoa linda! Ficamos com os nossos dois cachorros que também adoraram o lugar e a liberdade! We loved to stay in Rita´s House, she is a amazing person, the place is wonderful. Our two dogs loved the place also! Totally dogfriendly!! Obrigada Rita....Thank you Rita for all!!!
iracema
2015-09-05T00:00:00Z
Rita was a wonderful host. She was very helpful, from making some late night supper to a great breakfast. We felt completely at home! Her house is secluded in marvellous contryside, perfect for nice trips into the surrounding area.
Wolfgang
2016-03-09T00:00:00Z
Rita is an amazing host, very trustworthy and helpful. Besides, she is a very kind lady :) Thanks Rita!
Lope Andrés
2015-09-21T00:00:00Z
Rita is a great host. We were there only a short time but enjoyed our stay. The home is very nice and in such a beautiful location. Still close to the airport though which was very nice!!! Rita is a very friendly lady and nice to visit with. She provided breakfast for us before leaving after our nights stay. Thanks Rita for everything!!
Tara
2015-09-29T00:00:00Z
Kamertype
Privé Kamer
---
Type woning
Huis
---
Geschikt voor
4
---
Slaapkamers
Langenpreising, Bayern, Duitsland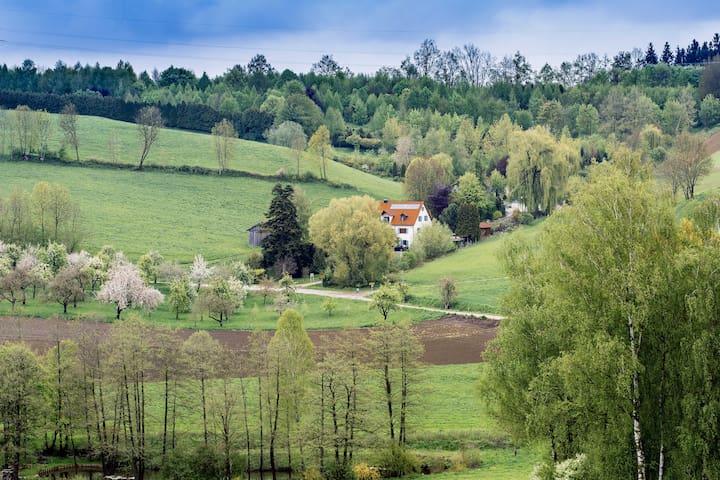 75 qm kleine Doppelhaushälfte, kleiner Terrasse (Grill vorhanden) und Garten, Badezimmer mit Badewanne und Dusche. Das Badezimmer und Schlafzimmer sind im OG (Dachschräge - niedrigere Deckenhöhe)
Wenn sie das kleine kuschelige lieben, eine ruhige Umgebung, die aber alle Einkaufsmöglichkeiten (Superparkt, Metzgerei, Bäcker, Apotheke) in der Nähe hat, dann wäre das genau das Richtige für Sie.
Sie haben sehr nette Nachbarn, die einen kleinen Sohn haben. Es befindet sich der Heizungsraum mit Waschmaschine und Trockner auf meinem Grundstück, der Nachbar muss auch in diesen Raum.
Kamertype
Gehele woning/appartement
---
Type woning
Huis
---
Geschikt voor
2
---
Slaapkamers
Wartenberg, Bayern, Duitsland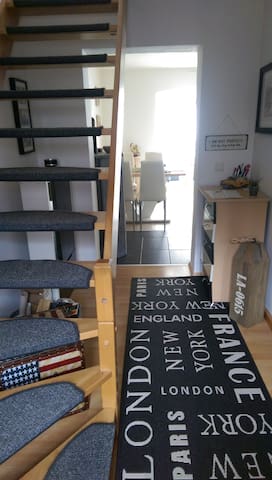 Έχουμε singlerooms, douplerooms και μεγάλα δωμάτια για 4 άτομα. Εάν μείνετε περισσότερο, να ζητήσει για μια καλύτερη τιμή.
Είμαστε στη μέση του πουθενά. Thats'why θα πρέπει να έχετε ένα αυτοκίνητο. Όμως, σε 3 χλμ υπάρχει ένα πολύ καλό εστιατόριο και καταστήματα.
Είμαστε στη μέση του Freising, Erding και Λάντσχουτ (20 χιλιόμετρα). Therme Erding είναι phantastic.
Super Lage, Rita ist wirklich nett!
Grégory
2017-03-11T00:00:00Z
Pleasant, easy, close to airport, good wifi
Chantal
2017-01-19T00:00:00Z
Kamertype
Privé Kamer
---
Type woning
Huis
---
Geschikt voor
4
---
Slaapkamers
Langenpreising, Bayern, Duitsland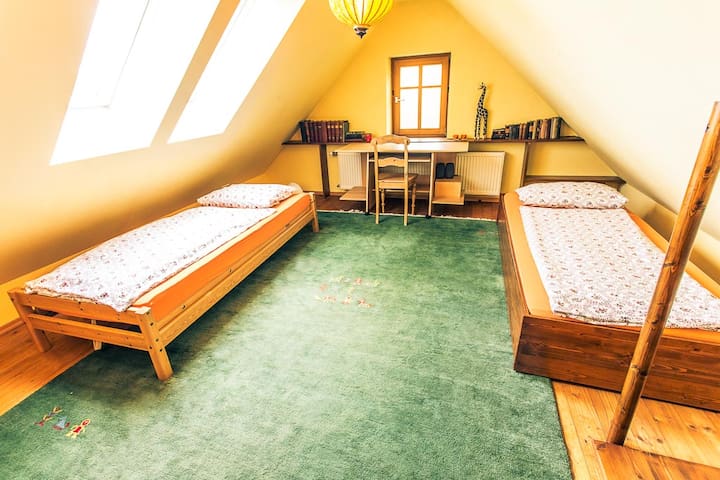 Kamertype
Gehele woning/appartement
---
Type woning
Huis
---
Geschikt voor
3
---
Slaapkamers
Moosburg an der Isar, BY, Duitsland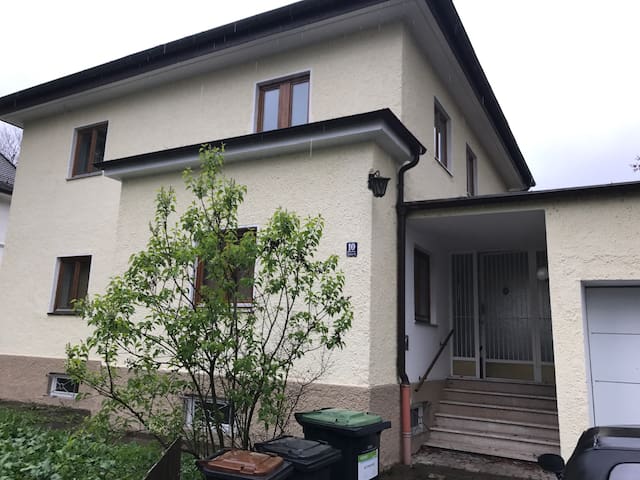 You're going to feel good. 1 very large room with 4 beds
Rita's house was a great place with a very warm atmosphere! Located in a rural area, it does require one to travel by car. The neighborhood is quiet and the perfect place to Relax or exercise. The Room is actually divided into two sections: (upper and lower) each with its own set of beds. This makes it ideal for a family traveling with children. There is a parking space for the car outside, laundry facilities and a separate fridge, which make the property great for longer stays. As someone that travels regularly I was very pleased with the quality of the accommodation and great people living there. Its like a small family atmosphere! One drawback, most of the guests were smokers, so consider this if not your thing. I didn't found this to be a problem inside the room, just on communal areas. Rita was also kind to lend me her bicycle on occasion. I would happily recommend and will book again on my next trip to Freising :-)
Carlos
2016-12-03T00:00:00Z
Alles Top in Schuss. Hier kann man Ruhe und Kraft tanken. Das Haus strahlt Wärme und Herzlichkeit aus. Hier kann man sich wie Zuhause fühlen. Das Bett ein Traum, wie als würde man auf Wolken Schlafen Die Beschreibung bei Airbnb passt super auf diese Unterkunft. Ich kann diese nur weiter empfehlen. Vielen herzlichen Dank für alles.
Alexandra Sandra
2017-01-31T00:00:00Z
Fue una gran sorpresa llegar con Rita y conocer toda la amabilidad que ella ofrece a sus invitados! De verdad me sorprendió de manera muy grata toda la ayuda que ella nos entregó y sin duda recomendaría a Rita para quienes estén interesados en viajar a München! Was a big surprise come up with Rita and knowing all the kindness she offers to their guests! It really surprised me very pleasantly all the help she gave us and I would definitely recommend to Rita for those interested in traveling to Munich!
Franco
2016-10-02T00:00:00Z
Kamertype
Privé Kamer
---
Type woning
Huis
---
Geschikt voor
4
---
Slaapkamers
Langenpreising, Beieren, Duitsland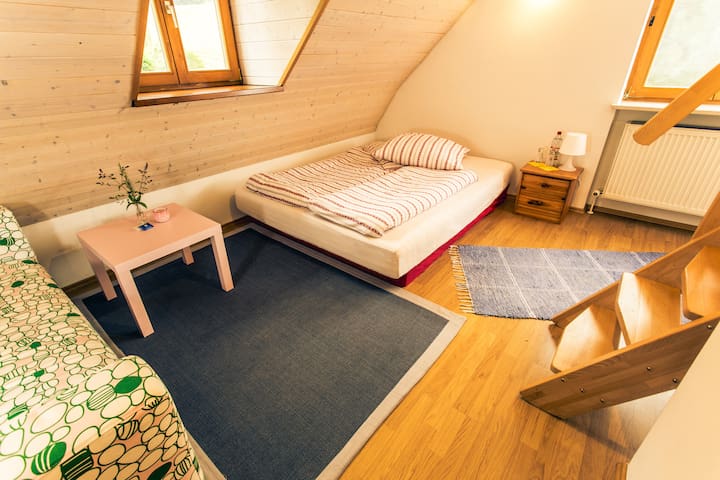 大房子多达6人。 这房子是由汽车从慕尼黑40分钟 我会留在这所房子里兼职。
Es hat alles Wunderbar geklappt, Rita war ein sehr angenehmer Gastgeber.
Ingo
2016-04-19T00:00:00Z
这是我们本次欧洲行居住的最后一套民宿,也是我们最喜欢的一套!整套房子布局合理可爱,干净整洁,房间独立性强,互不影响。可能因为处于村镇,所以早晨站在阁楼上俯瞰周边,居然还能看到小鹿在奔跑,下到一楼餐厅时,又有可爱的猫咪在窗外扒着门要吃的,住在这里就好像住在世外桃源般让人不舍离去!房主Rita更是热情友善,充满活力!和她一起聊天、用餐,都给我们的欧洲行留下了快乐难忘的记忆! 体会是自驾的朋友,推荐这里,相信你一定会不虚此行!
吴吴-
2015-10-18T00:00:00Z
Super Unterkunft und Rita ist sehr nett, Leider war ich geschäftlich unterwegs und konnte nicht so viel von der schönen Umbebung wahrnehmen und erkunder. Werde aber beim nächsten mal paar Nächte mehr mit einplanen.
Anja
2014-12-08T00:00:00Z
Rita greeted us at her beautiful home in the countryside. Excellent communication and was very friendly. We are a group that are rather health conscious and unfortunately this was a smokers home and even with precautions of smoking outside etc - smoke has permeated most of the home and it has an odd muster. We were 2 couples and as it turned out there were 3 rooms on the 2nd level and an attic - but 2 of the rooms were rented out already so we had to climb a rather steep ladder into the roof where 2 single beds were available. I had back issues and this was too much of a challenge and risk for me - so my brother in law oped to take the room but had serious concerns about coming down in the night to use the restroom. There was a single bathroom on the second floor and a separate toilet. It was a little hectic in the am with so many wanting to use the bathroom. Other concerns voiced by the women in my group were no curtains in the attic, sloping low ceilings over beds, coffee and tea was offered, the pillows were bad and there was no AC to avoid the stuffiness already mentioned. It is a beautiful location and Rita referred us out the night we arrived to a fantastic restaurant which we thorough;y enjoed - she also offered us a fire outside upon our return but we were too tired. All in all I think with better communication and room situation we may have passed - this would be good to confirm ahead of arriving.
Clive
2016-06-25T00:00:00Z
我们很晚到达住所,主人Rita还耐心等待我们的到来,非常感激。房子非常大 有很多房间,也非常干净。主人Rita非常好客,也愿意交朋友。每次的旅客都会写下真实的感受,非常温馨!下次来巴伐利亚州有机会仍会选择此处!
Xiaoliang
2015-11-10T00:00:00Z
My Host made every reasonable effort to make my stay confortable like providing an office table and chair during my stay + taking care of my post&parcels. Quite close by car to the impressive Erding Thermal bath. Stressless access by car to the MUC airport (25'). Plenty of tips to go shopping around at the farms (juices, eggs, milk, honey...) but also in the city. A nice baker comes every Thurs. stressless environement, fresh air etc. who those who want to break from their day city-life.
Alex
2016-10-02T00:00:00Z
Rita met us with beer and coffee - very attentive to our needs & helpful in directing us to restaurants, public transportation, local attractions, etc. The location of her house is peaceful & delightful. It was such a great place to stay.
Nancy
2015-09-21T00:00:00Z
La casa poteva rispecchiare la nostra richiesta se avesse avuto la privacy di una stanza con il bagno e la cucina come sembra dalla descrizione dell'annuncio. Purtroppo abbiamo dovuto lasciare la casa in anticipo, la nostra era un esigenza particolare avendo due cani, ma questo l'Host lo sapeva. Comunque ripeto Grazie lo stesso!!!
Massimo
2016-06-05T00:00:00Z
Kamertype
Privé Kamer
---
Type woning
Huis
---
Geschikt voor
6
---
Slaapkamers
Langenpreising, Beieren, Duitsland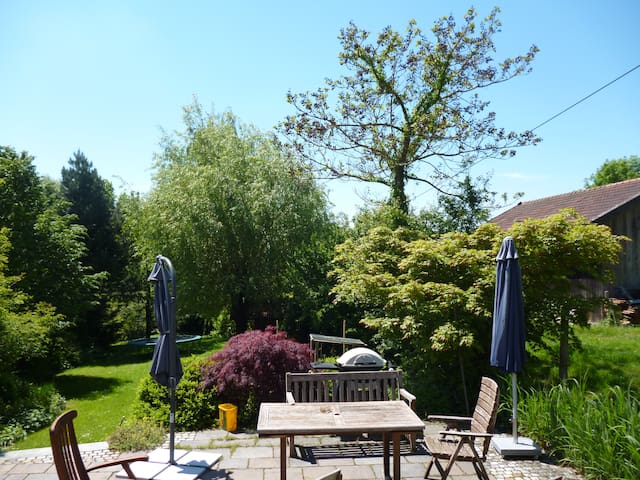 Simple, functional.
Unkompliziert, komfortabel und sehr freundliche Gastgeber. Gerne wieder :)
Bastian
2017-03-05T00:00:00Z
It is a great quiet place where we can rest. You are greeted by a charming couple. It is 45 minutes by train from Munich.I will return with pleasure
Elom
2016-10-03T00:00:00Z
Lisie ist wirklich eine tolle Gastgeberin! Alles hat reibungslos geklappt und sie war auch besonders beim Check in sehr flexibel :) Ich hatte ein großes Zimmer in einem wunderschönen Haus :)
Eve
2017-02-22T00:00:00Z
Lisie hat mir vorab gute Informationen gegeben und mich dann sehr nett empfangen. Alles ist genauso wie in der Beschreibung. Würde auf jeden Fall wieder kommen.
Sabine
2016-06-01T00:00:00Z
Empfehlenswert zum Übernachten. Nette Gastgeberin. Gerne wieder.
Peter
2016-11-25T00:00:00Z
tip top. absolute Empfehlung :)
Christopher
2016-09-24T00:00:00Z
Lisie's room is in a very spatious house and I felt very comfortable. He hous is close to the station (walkable), from there you get easily to the universities in Freising or to Munich.
Ellen
2016-10-06T00:00:00Z
Wenn ich vorher gewußt hätte, was mich erwartet, hätte ich die nette Unterkunft auch gewählt.
Ingo
2017-03-16T00:00:00Z
Kamertype
Privé Kamer
---
Type woning
Huis
---
Geschikt voor
1
---
Slaapkamers
Moosburg an der Isar, Bayern, Duitsland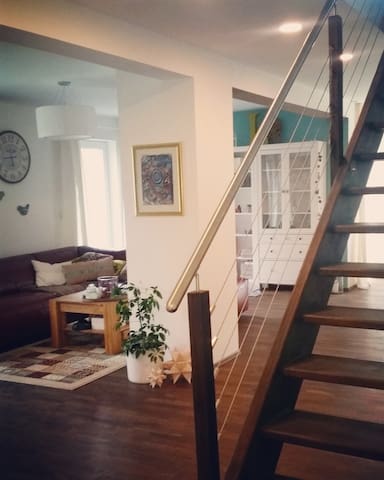 Schönes aus mit tollen Zimmern! Es stehe mehrere Betten in verschiedenen Räumen zur Verfügung. Parkmöglichkeiten auf dem Gelände. - Anreise mit Pkw empfohlen, da sehr ländlich gelegen. - ruhig gelegen -30 min bis München -20 min bis zum Flughafen München -10 min zur Therme Erding -Parkplatz vor der Türe
Wir haben uns sehr wohl gefühlt, waren aber nur eine Nacht bei Klaus. Die Lage ist sehr ruhig, aber von der Therme Erding nur ca. 15 min Fahrzeit entfernt (dies war der Zweck unseres Besuchs). Wir haben es leider versäumt, Klaus persönlich kennenzulernen, der (SENSITIVE CONTENTS HIDDEN)-Kontakt war aber sehr nett. Wir können es auf jeden Fall weiterempfehlen!
Claudia
2017-02-28T00:00:00Z
Wir haben Klaus nur kurz angetroffen, nichtsdestotrotz ist er eine sehr freundliche und nette Person. Trotz Verspätung unsererseits konnten wir problemlos einchecken. Als Schlafmöglichkeit ist das Angebot super geeignet und definitiv empfehlenswert. Man sollte sich aber über die ländliche Lage im Klaren sein, worauf er auch hinweist.
Tobias
2016-11-19T00:00:00Z
Alles prima. Vielen Dank für die Unterkunft
Markus
2016-10-16T00:00:00Z
Bestens mit hohem Vertrauen. Immer wieder gern. Sehr zum weiterempfehlen
Anthony
2016-09-01T00:00:00Z
Hat alles super funktioniert.
Felix
2016-09-04T00:00:00Z
+ (positiv) Kommunikation Sauberkeit Flexibilität bzgl. Check-in/out - (negativ) Kellerzimmer Nicht beheizt und sehr kalt im Winter Keine Wlan Verbindung vom Keller aus
Klemens
2017-01-04T00:00:00Z
Wir waren mit unserem Gastgeber Klaus vollkommen zufrieden. Es hat alles super geklappt und Klaus hätte uns am nächsten Tag sogar noch ein kleines leckeres Frühstück gezaubert. Wir würden jederzeit wiederkommen und können den Gastgeber nur empfehlen.
Kristina
2016-09-27T00:00:00Z
Sehr guter Gastgeber, alles hat reibungslos geklappt. Danke und gerne wieder!
Carola
2016-11-13T00:00:00Z
Kamertype
Privé Kamer
---
Type woning
Huis
---
Geschikt voor
2
---
Slaapkamers
Erding, Duitsland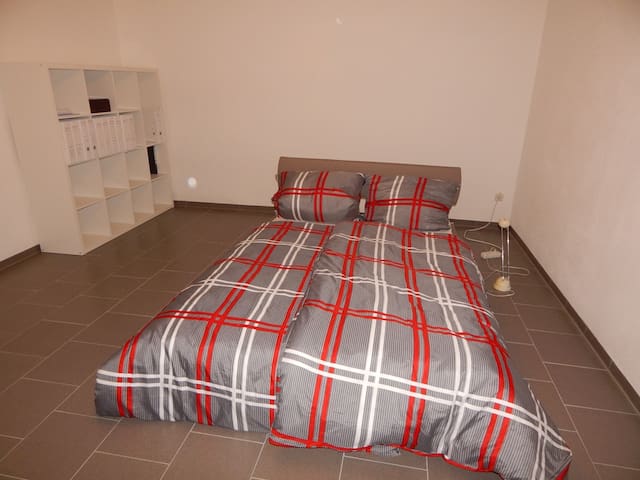 Bem-vindo à nossa casa "Bat Perfect - Zur Fledermaus" Munich Airport (8 minutos). Encontre perto de Munich Airport (MUC mais perto se trata quase não) um oásis celestial de paz e relaxamento e desfrutar como um viajante turista, profissional ou de negócios, o ambiente rural idílico ou as cidades vizinhas de Erding, Freising, Munique. Teremos o prazer em recebê-lo em casa com a gente.
Welcome to our guesthouse "Perfect Bat - Zur Fledermaus" Munich Airport (8 minutes). We offer in our house a total of 3 rooms. 2 of them are also suitable for business. The 3. room (which you book) is small. As a special service we offer copying and printing facilities and a shoe shine machines. Breakfast and meals are not sold commercially by us; but there is a snack 100m from here and a good Italian restaurant. You can to eat like to share our dining room and the terrace / garden. We offer our guests a comfortable at an affordable price Accommodation in cultivated rural location with private idyllic garden, which invites with wooden terrace and access to the river Villages to relax. Guests have beautiful, well-lit rooms available and secure parking at the house. In the immediate vicinity are meadows and forests that invite for biking, jogging and relaxing. Experience Bavarian hospitality connected to the world. Our house is an 8-minute drive from Munich Airport. There is a bus-transit from the airport to near the house. The center of Munich and the Allianz Arena are public Transport in about 30 minutes; the romantic city of Freising and Erding with Europe's largest thermal baths in about 15 minutes. And then the Lufthansa Training Center (LFTC) is only 1 km away from us. Your hosts have experience in the hotel industry and work service-oriented and yet familiar. Our experience with more than 200 guest bookings with guests from over 40 countries are documented in our mostly positive reviews. We speak German, English, Spanish and Portuguese. Internet and high-speed wireless internet access are available for free. Business travelers are welcome! Messe München is only 30 minutes away, very convenient for fair guests! Check please not later than 23:00 and in the evening from 22:00 to avoid noise in consideration roommates and neighbors. n security, we place great value and lead out an annual safety inspection; Advanced security features are: - Well audible smoke alarms in every room - Video camera at building entrance - Various home automation Bed size: 190x90 cm
Schwaig Oberding is a successful, growing municipality in the north-east of Munich and neighbor of the international airport in Erdinger Moos and thereby linked to the rapid development of the booming region at the gates of the Bavarian state capital. Nestled in the beautiful landscape of the district of Erding moss with short distances to the major power centers of the metropolitan region of Munich as the Allianz Arena World Cup or the Munich Trade Fair Centre.
Richard was bij aankomst zeer informatief en hulp bereid. Nette accommodatie. Prima om te gebruiken als je een nacht moet overbruggen ivm je vlucht op München airport.
Arjan
2017-04-03T00:00:00Z
Veronica and Richard are just very good, almost in everything. Very friendly and can help with almost anything. I like them, very peaceful couple. They are also very professional. Oh, not to forget the kitchen, very modern. Overall, the place is neat.
Rasheed
2016-12-12T00:00:00Z
Gisele and Sebastian provide great hospitality, and are friendly no matter what situation you are in. The house is cosy & also located in a cosy town with everything you need close by. Very good location for a stay before the airport, for either 1 or more nights. 10 minute bus ride to the airport was good.
Nick
2015-09-23T00:00:00Z
I had an excellent stay..Richard is an extremely nice person and was very helpful and kind. The house is very clean and everything needed to make your stay comfortable is available. The airport is few minutes away with accessible transportation to the center. I highly recommend this place to anyone visiting Munich. Will love to come back!
Hoda
2016-03-20T00:00:00Z
Sehr nette und hilfreiche Familie! Gute Lösung für übernachten, wenn man zum Flughafen muss und viel Zeit dazwischen bleibt. Gern wieder! Danke!!!
Ljubow
2015-11-18T00:00:00Z
I had great time staying at Veronica & Richard's house. I had quite busy schedule and we see each other a lot, but I can tell you they are very nice people. I can recommend this place to everybody seeking a room close to the airport.
Crt
2015-11-13T00:00:00Z
Gisele and Sebastian were most gracious in our communication. Unfortunately, there was a glitch in my traveling in Munich, and I did not make it to their listing on the night we had agreed to. But they were very kind, helpful understanding, and I hope to get to meet them in the future--their listing looks cool.
Ann
2015-09-21T00:00:00Z
Convenient location to the airport and great communication and accommodation of my later times. Comfortable and clean room. Thanks for the host!
Brett
2015-12-02T00:00:00Z
Kamertype
Privé Kamer
---
Type woning
Huis
---
Geschikt voor
1
---
Slaapkamers
Oberding, Beieren, Duitsland
Una, amplia casa acogedora país (220 metros cuadrados) con vistas preciosa sobre el "Ampertal" con sus bosques y colinas mismo tiempo estar cerca de Freising, Munich Aeropuerto y la estación de tren de Múnich. 4 habitaciones (3 habitaciones dobles y 1 habitación individual), zona de SPA con 4 PPL sauna, sala de relajación, a estrenar 5 PPL bañera de hidromasaje, gimnasio, sala de cine (proyector Full HD para películas / videojuegos, consolas de juego PS3, PS4 etc. disponibles), parrilla de la barbacoa (terraza al sur), enorme jardín con 1.300 metros cuadrados y más.
Su estancia incluye lo siguiente: - Uso de todas las habitaciones de la casa y la propiedad - Uso de la marca nueva (marzo de 2017) y jacuzzi al aire libre con vista al hermoso bosque (climatizada constante a 38 grados centígrados), utilizable por 5 personas, al mismo tiempo, extras: cascada, fuentes, luz LED Emoción, Sistema de sonido - Sauna con sala de relajación (utilizable por 4 personas a la vez) - El uso de la sala de fitness con una variedad de dispositivos - Sala de cine (40 metros cuadrados) con proyector Full-HD y Dolby de sonido - Zona de bar con una amplia selección de bebidas y licores - Estufa de cerámica acogedor y estufa de leña escandinavo - El uso de la Soundtouch BOSE Sound System en toda la casa para reproducir su música individual a través de Smartphone o iPad (por ejemplo, Spotify). - El café gratis en todo momento (máquina de café completamente automático) - Uso de la parrilla de la barbacoa de gas alimentado en la terraza sur - Amplia cocina (20m) para la preparación de alimentos y relajante desayuno - 2 habitaciones con una cama doble, 2 habitaciones individuales con un sofá cama - Amplio espacio de aparcamiento en frente de la casa
Prachtige bossen, heuvels en meren in staat volledige ontspanning, terwijl u toch dicht bij München en de luchthaven van München. 20 minuten afstand van de Therme Erding (grootste warmwaterbronnen en Europa's sauna oord) met de auto.
第一次尝试Airbnb 就遇到如此棒的房子和超级nice的房东。在这里你能体验到家的感觉。很遗憾我们的航班到的时候已经半夜,第二天又是一大早久离开了,后院的Spa 以及多功能娱乐房都没来得及体验,不过没事,再过几天我们又会回到那里继续住Chris家。
Linda
2016-08-13T00:00:00Z
Christian is a great host and went above and beyond to meet all our requirements, my mum wanted to adopt him!!
Sara
2017-02-03T00:00:00Z
Wir wollten ein paar entspannte Tage verbringen und fanden im Haus von Christian dafür ideale Bedingungen vor. Viel Platz, tolle Möglichkeiten für Freizeit und Wellness. Wir hatten einen sehr netten Kontakt mit Christian und er hat sich umgehend um alles gekümmert. Wir werden dieses Refugium wieder besuchen und freuen uns schon jetzt darauf.
Christin und Hanna
2016-10-08T00:00:00Z
You are a great owner Christian. Thanks for letting us use your great house and everything it offers. Because our trust was mutual, a lot was possible during our month stay. We had a great time.
Richard
2016-08-05T00:00:00Z
Sehr netter Empfang, Christian gibt sich sehr viel Mühe, dass die Gäste sich wohlfühlen. Im Haus war alles vorhanden, was man benötigt. Das Haus ist sehr groß und ruhig gelegen.
Markus
2016-09-08T00:00:00Z
Uns hat es sehr gut gefallen bei Christian. Die Highlights waren der Kinoraum (der war leider sehr kalt) und sie Sauna. Das Jacuzzi konnten wir nicht testen, weil es defekt war. Dafür kam uns Christian entgegen und gewährte uns einen Rabatt auf die Übernachtungskosten. Zur Zeit des Aufenthalts war es sehr kalt (-17 Nachts) und wir hatten Probleme, das Haus warm zu bekommen. Es gibt zusätzlich zur Fußbodenheizung noch einen Kachelofen, den wir mit gekauftem Holz befeuert haben. Super, um einfach mal runter zu kommen, Ortschaft sehr ruhig. Das Haus ist technisch Topp eingerichtet.
Patrick
2017-01-10T00:00:00Z
Christian bietet hier ein sehr schönes Haus an und ist zudem ein sehr netter Gastgeber. Kommunikation und Check-In sowie Check-Out liefen problemlos. Es ist alles genau so wie in der Anzeige beschrieben und wir können das Haus absolut weiterempfehlen!
Domenik
2017-01-22T00:00:00Z
Sehr netter Gastgeber, Unterkunft groß, geräumig und nur zu empfehlen, wir kommen gerne wieder :)
Isa
2017-03-12T00:00:00Z
Kamertype
Gehele woning/appartement
---
Type woning
Huis
---
Geschikt voor
8
---
Slaapkamers
Haag an der Amper, Bayern, Duitsland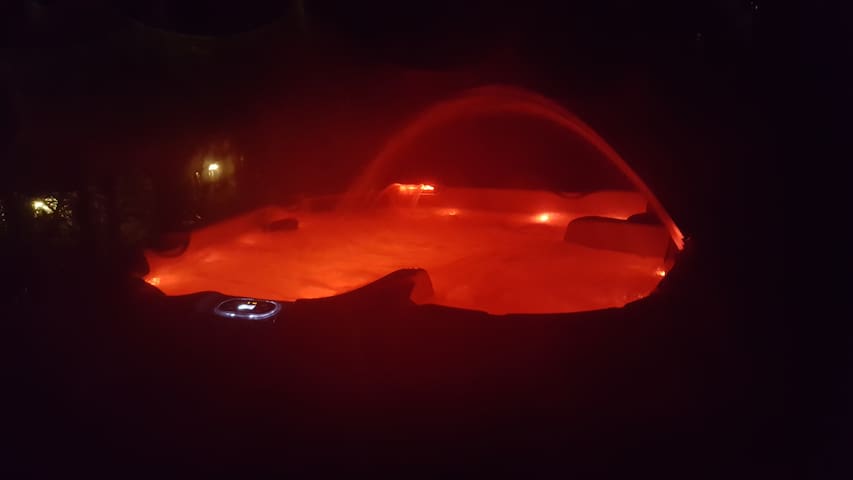 My place is close to Landshut Bayern . You'll love my place because of It's a beautiful country side house, you can feel quiet and relax in a small town. Enjoy the sun and a nice bath in the pool (just available in summer time) or read in the nice garden. My place is good for couples, adventurers, and business travelers. We are 3 in home, me, my boyfriend Rafael and our pet Moppi.
You will enjoy your stay in Bruckberg, it is a quiet village, ideal to spend a few days of rest and enjoying the countryside. 5 minutes walking you can find a well-known bicycle museum where you can take photos and have a fun time.
The house is perfect, so nice and si comfortable, Christopher is so friendly and attentive. I Will recommend it!
Flor
2017-03-29T00:00:00Z
Kamertype
Privé Kamer
---
Type woning
Huis
---
Geschikt voor
2
---
Slaapkamers
Bruckberg, Bayern, Duitsland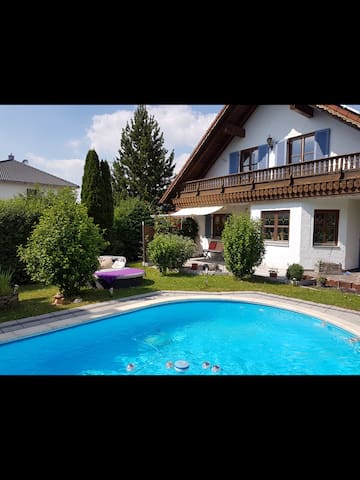 Dobrodošli u malom toskanskom oaza u središtu Donje Bavarske, samo 6 minuta od gradu Landshut, 20 minuta od zračne luke München i 25 iz Therme Erding, najvećeg europskog toplinskog svijetu i oko 40 minuta od Münchena. U sobi je dio mediteranske obiteljske kuće, nudi toplinu i udobnost. Kuhinja, dnevni boravak, praonica rublja i vrt su dobrodošli da se dijeli. Kupaonica s tušem za jednu osobu su dostupni.
Sunčano soba i kupaonica u mediteranskom stilu vile u Bavarskoj samo 6 minuta od prekrasne centra grada Landshut, 20 minuta od zračne luke München, 25 minuta od Therme Erding, najveći sauna i wellness raj u Europi i 40 minuta iz Münchena
Mirnoj stambenoj ulici bez kroz promet sa single-obiteljske kuće
Kathleen was an amazing host & the accommodations were suburb. The house was spotless and located in a great area. Kathleen went out of her way to make me feel at home and was able to answer all my questions. Lovely stay! Thank you Kathleen!
KERRY
2016-09-21T00:00:00Z
Kathleen was very nice host. The place was really quite and the landscape around was amazing. The house is really good with all the modern facilities. Kathleen took good care of us providing all the necessary things. To be honest, I remember this stay forever and also recommended others this house.
Jagadeesh
2016-10-31T00:00:00Z
Best host ever. Not only we had a warm welcome, we're also leaving with a friend for life! 3
Ingride
2016-09-30T00:00:00Z
Kamertype
Privé Kamer
---
Type woning
Huis
---
Geschikt voor
2
---
Slaapkamers
Eching, Bayern, Duitsland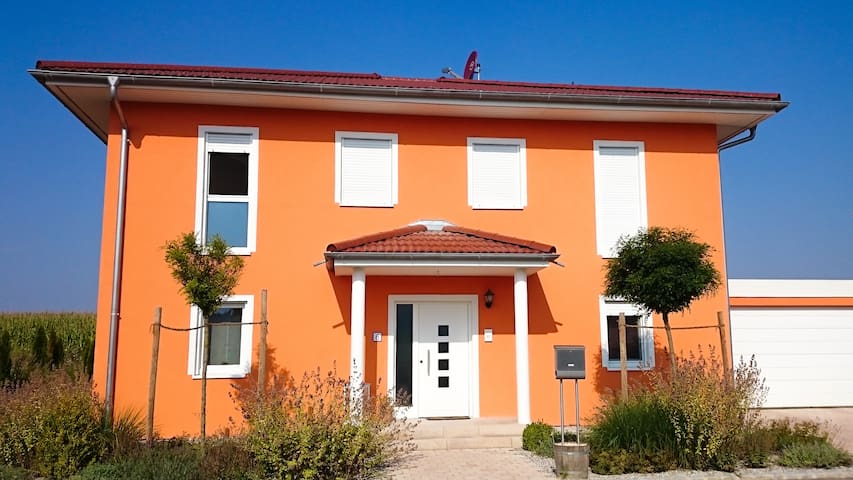 - 20 m² Studio in a row house - own bathroom with shower - queensize bed with TV - nice, quite neighborhood - 45 minutes to munich downtown by S-Bahn - only 5 minutes' walk to the S-Bahn/bus station and the FH Erding
The room is super cozy, big and can accommodate up to 3 people. The third person will sleep on a comfortable mattress on the floor for additional 10 € / night – if you're interested let us know. We will send you a host quotation including the third person. You'll have your privacy on the second floor with your own bathroom across your room. Please feel free to use our kitchen for small dishes (Toaster, Microwave). Furthermore, there's a separate box only for you in the fridge. We have placed a water boiler, cutlery and other basic equipment for you in your room. - You'll reach the 'Therme Erding' within 10 minutes by bus. - The company 'Amadeus' is only one train station away and easy to reach. - If you're doing a flight attendant training at Lufthansa, you'll be able to reach the Airport using the Bus no. 512. Please be advised that we are not a hotel and do not offer breakfast!
There are some nice cafes, restaurants and bars around. The Cinema is 600m away and offers lots of different movies. If you need any advice where to go in the evening, we are happy to help you.
Mein Sohn und ich kamen gegen 14:00 Uhr bei den Gastgebern an und wurden auf's freundlichste empfangen. Die saubere Wohnung lud uns zu einer ruhigen Übernachtung ein und war genau so gut wie wir es laut Beschreibung erwartet hatten. Unsere Gastgeber waren sehr sympathisch und kommunikativ. Auch die Kontakte über airbnb fanden wir sehr gut und wurden beim Aufenthalt in Erding nur bestätigt. Wir können diese Adresse nur empfehlen und würden jederzeit wieder darauf zurückkommen. Helmut Frauenrath
Helmut
2014-10-24T00:00:00Z
Alles genau wie beschrieben, sehr gemütliches Zimmer und freundliches Bewohner. Ich habe mich rundum wohl gefühlt
Kyra
2016-07-04T00:00:00Z
Vielen Dank für die ausgesprochen herzliche Gastfreundschaft. Es war ein sehr angenehmer Aufenthalt. Ich komme sehr gerne wieder. Very nice and friendly hosts. I enjoyed my stay. It was very comfortable and clean.
Lukas
2015-03-21T00:00:00Z
Ich war nur zwei Nächte bei den Brandls, aber der Aufenthalt war aussergewöhnlich. Sie waren weit über das normale Mass hinaus hilfsbereit und gastfreundlich. Das Apartment ist sehr gemütlich, und man hat seine Privatzone im obersten Stockwerk für sich allein. Wir werden sicher wiederkommen wenn sich die Gelegenheit ergibt!
Danelle
2015-01-23T00:00:00Z
Barbara ist super unkompliziert, was toll ist beim ankommen. Sie schreibt auch immer schnell zurück, echt top! Das zimmer ist sauber, hat einen teekocher, tv, etc. alles was man braucht. Wir haben super geschlafen!
yvonne
2016-04-18T00:00:00Z
Ich wurde super herzlich begrüßt als ich ankam. Und auch sonst waren die Gastgeber super super freundlich. Auch wenn ich selber nicht super viel Zeit mit ihnen verbracht habe wusste ich, dass sie mir immer mit Rat und Tat zur Seite stehen würden. Das Zimmer entspricht absolut der Beschreibung. Es war sauber, genau wie das Bad. Ich habe mich die ganze Woche sehr wohl gefühlt. Der Weg zum Bahnhof war super kurz und auch die sonstigen Anbindungen super. Besonders beeindruckt hat, dass ich sogar zum Abschluss zum Flughafen gebracht wurde. Es war eine tolle Zeit und ich würde immer wieder kommen. Danke!
Muriel
2016-07-29T00:00:00Z
I had a great experience at Sabines home. The house and room was extremely clean and beautiful decorated. Very near train station and her parents were super accommodating and attentive . They all made sure we felt comfortable and had everything we needed. I highly recommend it. I can't thank her dad and mother enough for that morning my kids and I had to go to the airport and all they did for us. God bless these family always.
Kay
2015-07-18T00:00:00Z
Die Unterkunft war wie immer super. Alles war sauber und ich wurde sehr nett aufgenommen :-)
Nora
2016-06-04T00:00:00Z
Kamertype
Privé Kamer
---
Type woning
Huis
---
Geschikt voor
3
---
Slaapkamers
Erding, Beieren, Duitsland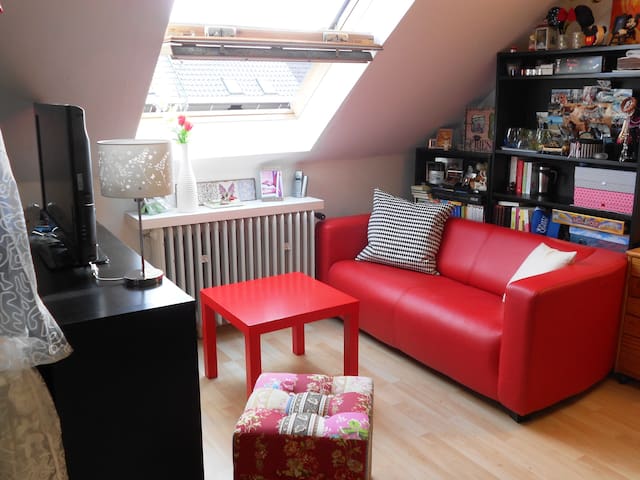 - in a calm neighborhood -30 Min to Munich -20 Min to the airport Munich -10 Min to Therme Erding -Busverkehr To the airport and Munich from 7: 30-19: 00 every 2 hrs. Car parking at the door
We did not meet Klaus in person because he was out of town when we stayed but his friend took a very good care of us. The place is a bit far from Munich (Cost €5/person if I remember correctly) as well as the nearest station and the public transportation was tricky but the people living the area were super nice. We experienced a lot of heartwarming moments. Peaceful and quiet surroundings, much better if you have a car because the bus to the closest station is once in 2hrs and the last bus is around 7pm. The house was really clean and looked very new. There was a heater so it was not cold even winter. When we stayed there was no wifi but we enjoyed the relaxing time.
Nanaho
2016-03-03T00:00:00Z
We had a really good time at Klaus's place. With the car we just needed 10 minutes to Erding and from there the S-Bahn is very convenient going to München. It is perfect if you have a car, so it was perfect for us. The atmosphere was very relaxed, we had also a good conversation with the other guest. Our room was huge and the bathroom has even a bathtub. Very recommended, also very clean.
Isabella
2016-04-15T00:00:00Z
Richtig gut organisiert; Netter unkomplizierter Kontakt, stylische saubere Unterkunft; jederzeit gerne wieder!
Uschi
2016-03-23T00:00:00Z
Simple room with a friendly host. Make sure you pay attention to the letter in the host's address - there are multiple houses with the same number, differentiated only by the letter.
Eileen
2016-06-02T00:00:00Z
Es war eine saubere und super ruhige Unterkunft. Sehr netter Kontakt zu den Gastgebern. Unsere zwei ruhigen Nächte haben wir entspannt genossen. Die Erding Therme ist gerade mal 15min mit dem Auto entfernt. Wir können die Unterkunft sehr empfehlen.
Mona
2016-08-23T00:00:00Z
La casa en general está muy bien, pero es imprescindible el coche para ir allí. Si solo vas a visitar Múnich, entonces está demasiado lejos (53 km). En la casa no vive el anfitrión sino otra persona, con la que no hubo ningún tipo de problema y que además prácticamente no vimos. La habitación está bien, el mobiliario es mínimo ( cama, tele, silla, estantería). Puede ser problemático el uso de la cocina, incluso para comidas sencillas, pero cuando se alquila una habitación, es lógico pensar que se necesita también preparar algo de comer.
Aurelio
2016-07-20T00:00:00Z
nette gastgeber. Leider kann man nicht ohne eigenes Auto sogar zum essen irgendwohin erreichen!
Sohrab
2016-04-25T00:00:00Z
Der Gastgeber ist sehr offen und unkompliziert. Uns wurde grosses Vertrauen entgegen gebracht und konnten problemlos ein und auschecken, wann es uns passte. Sehr flexibel. Die Räume. Waren super sauber. Danke fur den Tipp zum Sinnflut-Fest. Wir hatten einen schönen Aufenthalt.
Carolin
2016-07-24T00:00:00Z
Kamertype
Privé Kamer
---
Type woning
Huis
---
Geschikt voor
2
---
Slaapkamers
Bockhorn, Beieren, Duitsland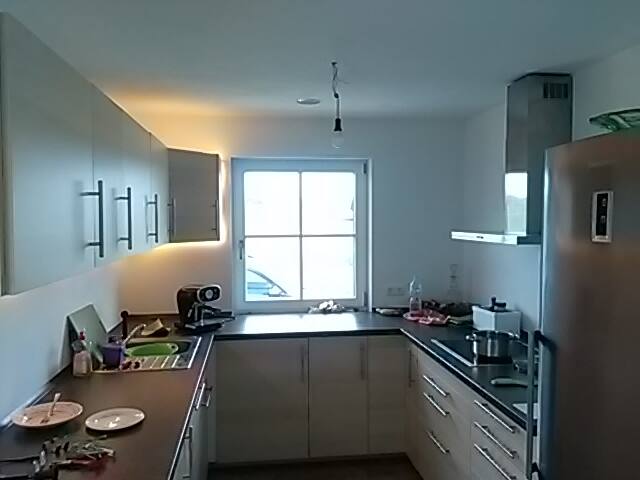 absolute center of Erding. walking distance to whatever one needs parking at the house - additional rental of a MINI convertible possible close to S-bahn: 45 Minuts to Munich center, 10 minutes to airport, AMADEUS and other companies nearby
basement /storage room and washing room, ground floor kitchen, dining area, living room, WC, shoe storage room, first floor sleeping room and bathroom with extra shower and WC 2nd floor (attic) small sleeping room + 1 bigger TV and sleeping room + 1 bathroom with shower and WC
friendly neighbourhood, nice living area o the city
Kamertype
Gehele woning/appartement
---
Type woning
Huis
---
Geschikt voor
5
---
Slaapkamers
Erding, Bayern, Duitsland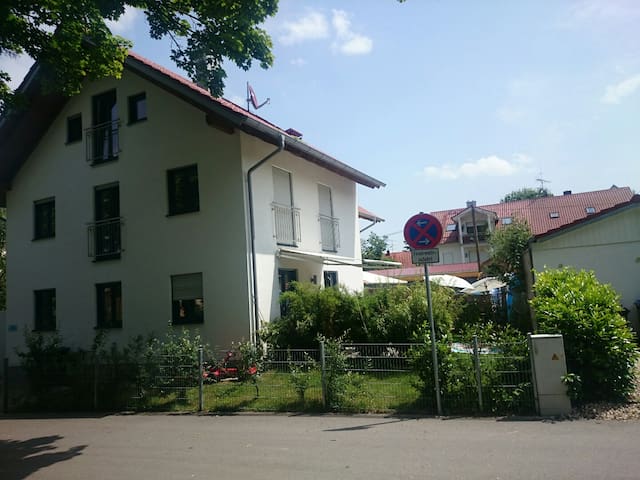 Wartenberg - Airbnb
:
Gemiddeld

4.63

van

5

sterren op basis van

296

gastrecensies
1

–

18

van

29 Huizen te Huur
Voer datums in om de volledige tariefopbouw te zien. Er kunnen extra kosten zijn en er kunnen belastingen worden toegevoegd.