168 Appartementen te huur
Rent this very private situated apartment in the immediate down town area of Sosua. 3rd floor unit with a beautiful view onto the pool and lush tropical gardens. It features: 1 BR with en-suite bathroom plus 1/2 bathroom for guests, large pool.
Lush tropical garden settings, super quite, down town area, short walk to beach, groceries, night life, banks literally everything in immediate walking distance, two flat screen TVs with surround sound system, free personal WiFi, large queen size mattress. Luxury starting at a discount rate but the home still provides a feeling of great luxury and most importantly: you feel cozily home in this vacation home away from home
Showed me around and gave me great tips.
Daniel
2016-11-13T00:00:00Z
It was very nice to staying in Nenad`s place. Everything was close enough, beach, restaurants ect. Very polite and quik responses from Nenad`s for every question. Thank you very much Nenad:)
Krista
2017-02-21T00:00:00Z
NENAD was a great host. the condo is conveinently located in downtown sosua. walking distances to resturants,bars gyms.i look forward to my next stay in this unit
Anthony
2017-04-05T00:00:00Z
Tres bien pour courte duree
Melyssa
2017-01-23T00:00:00Z
My husband and I spent a week in Nenad's apartment in Sosua. We came by bus, and Nenad was kind enough to pick us up at the bus station and also drop us off when it was time to leave. The apartment complex is very well maintained and centrally located within the town. The apartment was very clean and looks just like the pictures. It was a short walk to the beach and all places we wanted to go during our stay there. We received new sheets, towels, and more toilet paper from the on site maid service about mid-week during our stay. We also used the on-site laundry service which was great and not very expensive. There were ashtrays in the rooms which we were not expecting as the listing says that smoking is not allowed, but it did not smell like smoke in the apartment. All the windows have screens, so we were able to sleep with the windows open at night and did not need ay air conditioning. However, if you want to use the air conditioner, it costs extra, which is not noted in the listing. The reason I would give this apartment 4 stars out of 5, though, is the extremely slow internet service. We could barely even check our email. A café around the corner had much faster internet service, so it is available in the area, however, it was not provided in the apartment.
Tanya
2016-01-12T00:00:00Z
My stay was excellent. The apartment and area was exactly as described. I did opt for the ac upgrade for a minimum charge. The apartment was a nice size for one or two (URL HIDDEN) a solo traveler I would definitely utilize this apartment for its cleanliness ., price and location!!
KEEF
2016-04-23T00:00:00Z
Great spot, clean, secure, five minute walk to all you need in Sosua
Joseph
2016-03-30T00:00:00Z
Nenad greeting me as requested at Puerto Plata airport and had the condo readied for my arrival. The unit was just as pictured and very quiet. The gardens are beautiful and the bed was comfortable. It was an easy walk to anywhere in the area and I always felt safe. I would recommend the condo to anyone looking for a nice place to relax and enjoy their holiday.
Laurance
2016-05-10T00:00:00Z
Kamertype
Gehele woning/appartement
---
Type woning
Appartement
---
Geschikt voor
2
---
Slaapkamers
Sosúa, Puerto Plata, Dominicaanse Republiek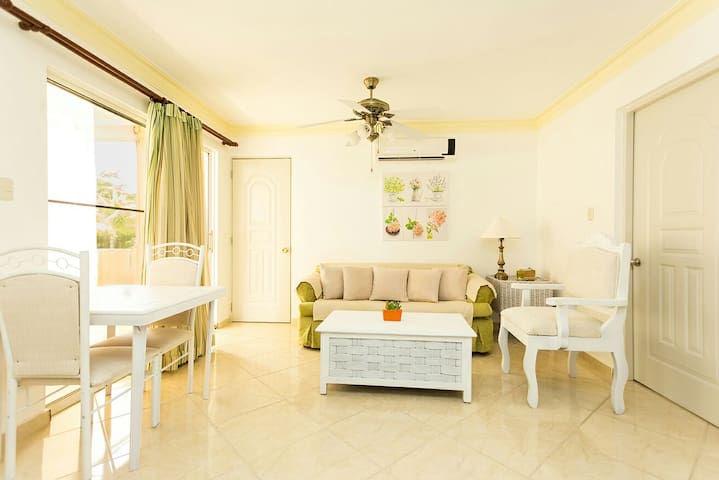 Full Equipped Cozy Apartment in the exclusive condo Trade Winds within 10 min away (walking distance) from Sosua Beach, 15 min by car from the well known Surfing Paradise Cabarete, 32 min from Puerto Plata and 10 min from Airport. One big bedroom with a Queen Bed, AC, bathroom, spacious living room that could serve as a bedroom with a confortable Sofa bed, kitchen and balcony. Include Wifi,cable, pool, kiosk, and BBQ area, access to laundry, your own parking space. The Supermarket is 1 min away.
Full Equipped apartment in the very Exclusive Private Condo Trade Winds, nearby the vibrant and surfing paradise Cabarete (15 min by car). a 15-20minute-walk from Sosua Beach ,= (5 minutos by moto ,or Cars),clubs Discos and bars , 15 min away by car from Sosua Airport. In front of the biggest Mall supermarket in town (POLA) and 30min from Puerto Plata. At 5-minute by car and a 15-20minuteS-walk from Playa Alicia. close to the beach, very quiet, pleaseant and relaxing. WONDEFULL NATURE....
This residencial community is well known for its amazing Trade Wind breezes with easy access to Sosua Beach, city center and great restaurants. Near Ocean, near Shopping Center, near Pola Supermarket. You are going to love your stay in this quiet, safe and beautiful community.
Steve est un hôte très acueillant et sympatique. Son appartement est situer dans une zone résidentielle calme, avec un accès à la vie nocture à 15 - 20 min de marche. Le balcon arrière fait face à un magnifique jardin invitant à la detente et la lecture. C'est un endroit très recommandable pour deux presonne. Le deuxième lit est un divan-lit, et il est préférable de mettre le matla sur le sol pour retrouver un peu de confort. J'y reviendrais sans hésitation !
Jean
2017-01-28T00:00:00Z
Steve was an excellent host, once i arrived to Sousa he was there waiting with open arms and a smile. Steve gave me a quick tour of most of the immediate attractions and places to eat and gave me quick run down on how to get around. His place was perfectly located, just far enough to excape the busyness of downtown but only 5 minutes away to quickly jump right back into the action. Clean with all your basic necessities. This was my first AirBnb experience and was perfect. When I visit again Steve's place will definitely be my FIRST chose. Thanks Steve....
Marcus
2017-02-09T00:00:00Z
A great experience the apartment was very clean everything was nicely placed an order and enjoy the scenery as Steve was very attentive and told me everything I needed to do and it was a great weekend except for the rain but I still enjoyed it and I read it again
Erric
2017-03-25T00:00:00Z
Great a exchange
Erric
2017-03-30T00:00:00Z
Place was in a good location. There was also a very nice pool and nice apartment. There is not free wifi but it can be purchased. Gracious host
Alyxandria
2017-01-08T00:00:00Z
This place had the potential to be a 5 star but fell short due to amenities. It almost ended up as a 3 star. Large 1 bedroom with a separate living space, good view of central garden, quiet, private, 1 block from super market, very good check-in but I had no wireless internet during my 5 day stay which was a significant issue as I was supposed to work from home a few of the days, I couldn't make/receive phone calls using Internet based apps, nor could I communicate using Internet apps. I had to go to a cafe for any work I needed to do. If I was on a vacation only; maybe this wouldn't of been such a big issue. I never actually saw a router in the house; so I think this is a listing description mistake. Also, the appliances were not working. The microwave didn't work so couldn't reheat the food I bought and the fridge was not working correctly; to the point all the ice in the freezer melted and I could not keep anything cool. For getting around, this place is about 5 mins moto/car from main area of Sosua with the bars. After midnight, it is not easy getting a moto from the apartment because it is away from any place that is open real late. Non-issue if you have your own transportation; perfect place away from the busy area but still close.
Noel
2017-01-03T00:00:00Z
El apartamento es precioso. Una zona muy tranquila con vecinos agradables. Mucha seguridad en el area
Federico
2017-03-19T00:00:00Z
Alloggio semplice e pulito, vicini spagnoli molto cortesi e Steve (il proprietario) molto attendo alle nostre esigenze e risponde sempre immediatamente alle e-mail
Giorgio
2017-03-03T00:00:00Z
Kamertype
Gehele woning/appartement
---
Type woning
Appartement
---
Geschikt voor
4
---
Slaapkamers
Sosúa, Puerto Plata, Dominicaanse Republiek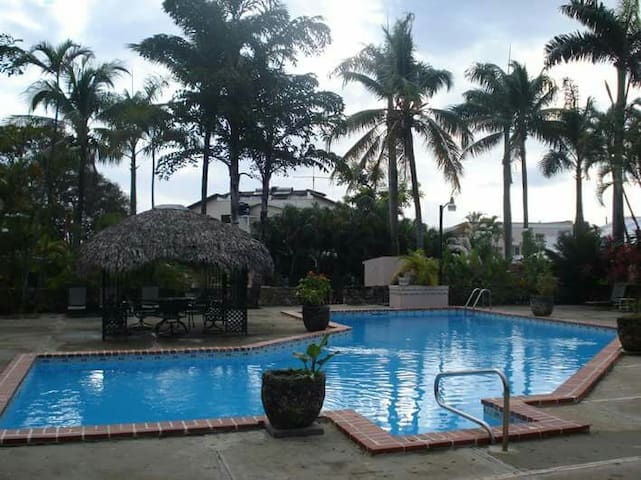 Meine Unterkunft ist in der Nähe von Restaurants und Essen, Nachtleben und Strand. Du wirst meine Unterkunft lieben wegen Platz im Freien, komfortables Bett und Umgebung. Meine Unterkunft ist gut für paare und alleinreisende abenteurer.
Kamertype
Privé Kamer
---
Type woning
Appartement
---
Geschikt voor
2
---
Slaapkamers
Sosúa, Puerto Plata, Dominicaanse Republiek
Casa Pompeii is a large studio apartment at Europa Hotel, steps away from hot Dominican nightlife and famous Sosua beachs. Adult Pompeii decor with California king bed. Kitchen, breakfast nook, balcony with view of oversize hot tub and pool.
All NEW for 2017 - New air conditioning, new flat screen TV, new paint, plus free Adult XXX Channels on Cable. Room clean up is the shared responsibility of the guest. For dirty linen take towels and sheets down to Reception by 10 AM in a bag, and pay Reception DR250 per bag. It will be done the same day. Garbage is to be taken to the garbage chute located down the hall to the Left, off the balcony to the Right. No lipstick or makeup on towels and linen please, use kleenix.
Every night is Carnaval on Pedro Clisante with an abundance of clubs, restaurants and bars.
Steven has a fantastic property in a great location for a good price. I extended my stay twice and ended up at Casa Pompeii for 3 weeks. The complex and room are accurate as described. The pool and jacuzzi are a great place to spend time during the day if you decide not to go to the beach. Food and drink available at the pool bar or restaurant right out the front. Its like being in a little resort. The room is a good size with kitchenette and a good sized bathroom. It was both clean and secure. I didn't feel unsafe at any time day or night when walking to and from the condo while visiting central Sosua's many bars and restaurants. Communication with Steven was always met with a quick response. I really enjoyed my stay here and would not hesitate to stay again at Casa Pompeii if I were visiting Sosua. Thanks Steven :)
DARREN
2016-10-08T00:00:00Z
Great stay in one of my favorite locations in Sosua. Room was large with plenty of the amenities you would expect of a home style stay.
Patrick
2017-03-20T00:00:00Z
The host left notes on thi gs to use, and provided ample extra I t ems for me to use..
BRYAN
2016-08-26T00:00:00Z
Front desk bobbled a few things but nothing major. For a first time visit this was about a 88% plenty of room for improvement but a very good start. Room was good stairs a good workout.
Errol
2016-04-18T00:00:00Z
My stay here was nice and pleasant. Steven is a great host.
DaShawn
2016-07-22T00:00:00Z
Place was great! way more than I expected. It's a large private studio apartment located within a popular Hotel in town. Location is very convenient as everything is within walking distance. Normal hotel rules only allow 1 guest per room otherwise theirs a charge but since its a private room you can bring as many guest as you want with no extra fees. At arrival room was well prepared with everything you can possibly need and the bed was huge as well as comfortable, room had a nice small kitchen with everything you can possibly need to make yourself a meal or have a friend cook for you. Overall my experience here was top notch will defitnatly come back. Thanks again Steven!
Erick
2016-09-06T00:00:00Z
Steven was a great host. Kept me informed. Place was good for money. Good location . Had a great time. Thanks
Eric
2016-09-14T00:00:00Z
Frist thing Steven is a great host and I will be back to stay. The apartment it self was clean and well stocked with extra linens. The front desk was always friendly and ready to help in any way. Like I stated would return. Thanks Steven
jeff
2016-10-19T00:00:00Z
Kamertype
Gehele woning/appartement
---
Type woning
Appartement
---
Geschikt voor
3
---
Slaapkamers
Sosúa, Puerto Plata, Dominicaanse Republiek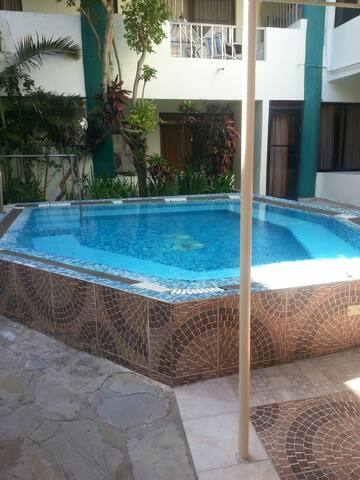 Only 18 km from the Puerto Plata airport.. Right on the beach "Ocean Front" Walking distance to "Everything" (stores, restaurants, casino, nightlife, spa's, hotels etc..)Pub Transportation. Private Salt water Infinity pool and hot tub. The Views! The Price! 24 hour security! It's cozy and it has everything you need for the perfect dream vacation yet affordable.. My place is good for couples, solo adventurers, business travellers, families (with kids), and furry friends (pets).
I was not a stranger to the area after having lived in neighboring Caberete for a month this summer, but my family hasn't been out of the country in a while and this wa a special trip for my mom back to her motherland, the DR. I thought Sosua with its beautiful beaches would be a great place to stay and wanted them to be comfortable. Anna's place provides all of this a private beach and gorgeous pool. Safe central location which is a short walk from restaurants, bars and supermarket as well as, CaribeTours, if you choose to travel elsewhere as we did during our stay. Photos do the place justice! Also she includes taxi to and from airport in stay through her friendly local contacts which were a pleasure to have as an emergency contact. We all had a fantastic time and would come back with others! :)
Gabriella
2016-12-27T00:00:00Z
My stay at Anna's place was amazing. The location cannot be beat, it's located right on The beach with a giant swimming pool. The condo was clean and the service was great. I made last minute reservations and she did everything to make sure I was taken care of. I will definitely stay there again.
Maynard
2016-09-07T00:00:00Z
The place is a gem. Right on the ocean and its a lot bigger than we thought. Waking up to those views were incredible and it is right on the the beach. I highly recommend it to everyone who visits the area. Anna the host and her staff was so gracious and she helped us at every turn. The place itself was wonderful there is nothing like waking up eating breakfast and taking a swim in the wonderfull pool. I would recommend Anna and her unit to anyone, By the way this is my second time staying at one of Anna's unit I would love to stay there again.
Maynard
2016-10-10T00:00:00Z
Wir waren Ende Februar 2017 hier. Das Appartement ist eines der besten in der Anlage. Der Pool bietet eine angenehme Abkühlung und ist eine Alternative zum wunderschönen Strand. Wir haben mehrere Strände besucht, aber der vor der Haustür war der Beste. Der feinsandige Strand, ohne Steine geht tief herein. Am nahegelegenen Riff kann man gut Schnorcheln, andere Urlauber zahlen viel Geld, um dort hingebracht zu werden. Das Appartement hat drei Toiletten, zwei Bäder, ein großes und ein etwas kleineres Zimmer und eine gut ausgestattete Wohnküche. Die Terrasse lässt kaum Wünsche offen mit Blick auf Pool und Strand. Insgesamt ist es sehr ruhig und sicher. Wachpersonal befindet sich in der Anlage. Das Nachtleben ist zu Fuß zu erreichen oder man mietet sich ein Auto. Zwei schöne und gut ausgestattete Supermärkte sind auch in der Nähe. Preise ähnlich wie in Deutschland, teilweise drüber, vor allem dann wenn deutsche bzw. bekannte Marken gekauft werden. Restourant und Bars sind je nach dem wo man ist, nicht unbedingt billiger. Es empfiehlt sich in Pesos zu zahlen, weil der Umrechnungskurs vor allem in Bars deutlich schlechter ist. Zahlen kann man auch in Dollar oder Euro. Das Nachtleben hat es in sich, vor allem für Männer. In der Dunkelheit sollte man aber lieber nicht alleine sein. Am öffentlichen Strand gib es reichlich einheimische Souvenir-Geschäfte. Bei Ausflüge haben wir uns an Franly gehalten, ein Bekannter von Anna. Durch ihn konnten wir auch die Geschichte von Falco auf der Insel mit Überraschung nachvollziehen. Ein Restaurant oder Bar in der Anlage wäre nicht schlecht. Wir würden wieder hinfahren oder Freunde empfehlen.
Thomas
2017-03-04T00:00:00Z
Kamertype
Gehele woning/appartement
---
Type woning
Appartement
---
Geschikt voor
4
---
Slaapkamers
Sosúa, Puerto Plata, Dominicaanse Republiek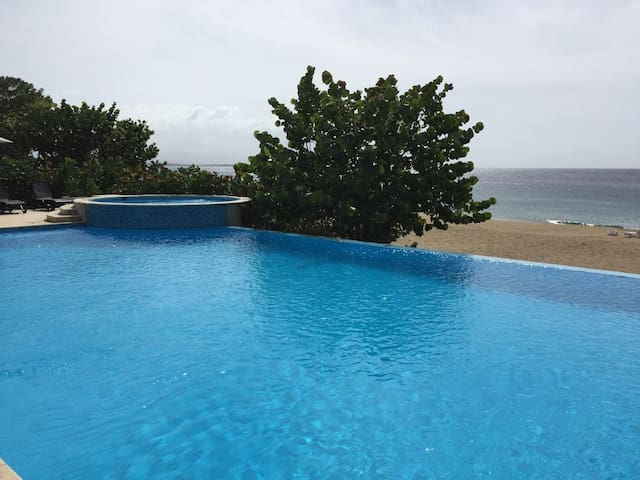 NEW NEW NEW !! NEW large (electricity saving) inverter A/C in living room! NEW X-large flat Screen TV in living room! NEW super large blinds on balcony for COOLER ambience and MORE PRIVACY! Superb located apartment for long or short term rentals.
Everything is sooooo close to this condominium...beaches, restaurants bars and clubs. You don't get any closer to all Sosua attractions. Yet when you are in the condominium you feel like in a tranquil oasis. Kick back and have a good time beside the pool or hanging out in the lush tropical garden settings and just RELAX. Our apartment is fully equipped and features seating and dining areas, granite stone kitchen counters, all kitchen appliances, air conditioning. Rates include all house charges except electricity: gas, cable TV, wireless internet, 24/7 security, poolside BBQ with covered dining area, pool maintenance, garbage disposal, private parking, back-up generator. Electricity will be billed according to consumption.
Cabarete (15 min / 14.1 km away): Is a small, laid-back Caribbean beach village, a perfect tropical vacation spot – the windsurf capital of the Caribbean-. With its charming, hip ambience and a combination of relaxed and adventurous lifestyles, most visitors can barely resist this spontaneous temptation. Puerto Plata (27 min 24.5 km away ): Blessed with beautiful stretches of pristine beaches, lush green valleys, and cradled by a chain of majestic coastal mountains, Puerto Plata was described as "the fairest land under heaven" by Christopher Columbus in 1492.
Gave me an at home feel. Very well accommodated I must say. Make sure you read in details that you have to pay for your own electric consumption at the end of your stay. Paolo was very attentive and helpful whenever I needed him which wasn't much. Excellent host. You will enjoy.
MILES
2016-10-20T00:00:00Z
The listing was as described; peaceful and comfortable, close to beaches and restaurants. The 2 a-c units kept it cool! I would definitely come back when in Sosua.
Ray
2016-09-09T00:00:00Z
From the start the host was very attentive and communicated with us. The host greeted us upon arrival. The place was just as described, very secure and clean. The bed was comfortable and the kitchen was fully equipped even thought it was not used during our stay. The landscaping of the complex is well maintained and beautiful. The host's were great and very friendly.
Ivette
2016-11-08T00:00:00Z
Paolo and Alina were very pleasant and very attentive. The property was beautiful and the apartment had everything you needed for a weeks stay in paradise. Cant wait for my next visit!
Jesse
2015-12-24T00:00:00Z
Paolo and his wife are just amazing :) They greeted us upon arrival and showed us around. Paolo was extremely attentive and always provided great advice regarding restaurants, things to do, etc. Top class host.
Liran
2017-03-07T00:00:00Z
Kamertype
Gehele woning/appartement
---
Type woning
Appartement
---
Geschikt voor
2
---
Slaapkamers
Sosúa, Puerto Plata, Dominicaanse Republiek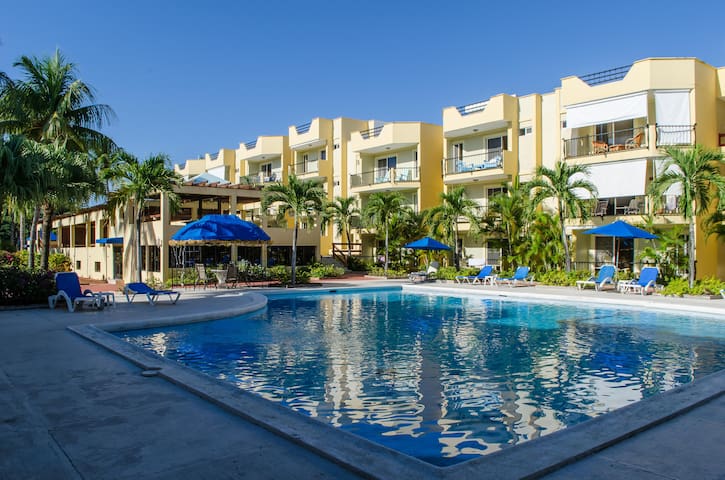 Downtown Condo is located in the heart of Sosua, just within few minutes walk to great restaurants, beach and supermarkets. The condo is located on 3rd floor, offers comfy furniture and fully equipped kitchen.
Kamertype
Gehele woning/appartement
---
Type woning
Appartement
---
Geschikt voor
2
---
Slaapkamers
Sosúa, Puerto Plata, Dominicaanse Republiek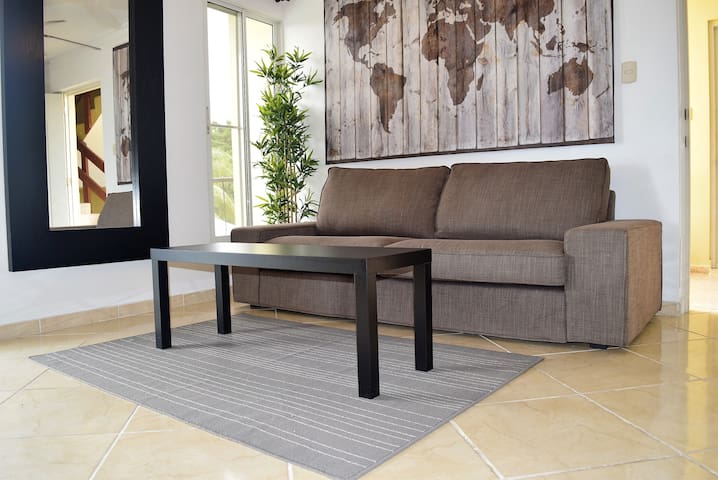 Apartment for rent from the owner, in a very center of Sosua, 50 sq.m., security, cold and hot water 24\7, swimming pool, jacuzi, AC, fan, safe box, TV, fully equipped kitchen. Free Wi-Fi inside the unit included! Special pricing for the long-term rent Taxi pick-up from the airport is available at request!
The most important thing that absolutely everything you might need is at walking distance. So that there is no need even to rent a scooter!
Nathalie war pünktlich da hat mir alles gut erklärt . Das Zimmer ist gross und geräumig und sauber für Kaffee und Handtücher war gesorgt alles vorhanden , Fernseher und Klimaanlage top , 4 Tage 15 $ Strom ist auch OK . das Hotel selbst besitzt einen pool und Whirlpool der mitbenutzt werden kann . vordem Hotel ist direkt eine kleine bar dabei wo man gut und günstig frühstücken kann . alles top nur eine Kleinigkeit als Anmerkung der Kühlschrank bringt leider keine Leistung mehr und müsste erneuert werden abgesehen davon alles top jederzeit wieder .das Zimmer befindet sich im Hotel Europa was Überfall sehr gut bewertet ist für Sosua aufjedenfall zu empfehlen .
Mike
2014-09-29T00:00:00Z
This place is outstanding, especially since everything in the listing is just as shown and stated. Natalia is a great host who takes care to make sure you are comfortable and gives a thorough tour of the unit, explaining everything you will need to know about the place and the town. It would be difficult to find a more private, quieter, more secure location in Sosua, almost impossible to find it while right in the middle of the action with everything you could need within walking distance. Highly recommended.
Robert B
2016-04-17T00:00:00Z
Natalia was a great host! It was a last minute booking and my first visit to Dominican Republic. Natalia took everything in stride and helped make my trip as comfortable as possible. The apartment is big, comfortable and close to everything. The nightlife is right at your doorstep so you'll save on taxis and car rentals. If you want to stay in there's big screen TV and fast internet to get some work done. It was a great experience and I would highly recommend Natalia's apartment to anyone.
Chris
2014-11-01T00:00:00Z
Natalia is a super hostess. She took us to the grocery store, showed us around town, and checked in to see that everything was OK. She's really nice! The apartment is great, right in the heart of town, on a quiet side street. The air conditioning is a huge luxury. It actually has a large working kitchen, you can cook and eat in there.
Erika
2016-01-05T00:00:00Z
Natalia went above and beyond to make me feel welcome including taking me out dancing the first night that I arrived in Sosua. She was always available and happy to assist with anything that came up, including a non-emergency visit to the hospital. The unit is as pictured, although I believe a few small updates may be in the works. There is not a lot of natural light in the apartment which is great for sleeping, but not great if you plan to spend time in the apartment during the day. Internet works well and you have your own router in the unit, so you are not reliant on the building's internet. It is a bit noisy in the night time. It did not bother me at all, but if you are a light sleeper, you may want earplugs. Honestly though, it will be noisy anywhere in central Sosua, not only this apartment. Great location, walking distance to two beautiful beaches, or a 25 peso motoconcho drive during the day. You can ALWAYS find motoconchos available to take you wherever you need to go. The kitchen is functional with a stovetop and mini fridge. It doesn't have a lot of cookware or utensils, but enough for one or two people to get by for a week or two. If you are staying long term and plan to cook in the apartment regularly, you may want to discuss your needs with the host, or plan to buy additional supplies locally. Air conditioning worked well and very quickly, but most of the time I found that the ceiling fan was sufficient to keep me cool when I was in the apartment. The pool at the complex is lovely, clean and not used by guests very much. I found it a nice place to cool off if I didn't have time to get to the beach. Complex has on site security. They do not allow guests in without ID. Lots of bars / restaurants close by. 10 - 15 minute walk to either of the main grocery stores, 3 minute walk to a small vegetable market and convenience store. Two or three local colmados for pico pollo or plato del dia within 2 blocks. Approximately 150 pesos for plato del dia. Cucu bar across the street has a pool table, one of the only ones in town. Nice for a low-key evening. Restaurant 3 minutes walk away - La Costera has excellent food at reasonable prices. 3 - 4 different banks within walking distance Overall, I was very happy with my stay. Natalia was an excellent host, very friendly, welcoming and helpful. The apartment was as advertised. I found it reasonably priced for what was offered and would stay in the same location again.
Shari
2015-01-31T00:00:00Z
Natalie is a great host. It was my first time in Sosua and I was little concerned that I would not be able to explore this small beach town within 2 days. She took the time to walk me to the Sosua and Alicia beach and showed me supermarkets, bus stations, the Belgian bakery, best restaurants, excursion companies etc. Location is safe within a hotel on the main strip where all bars, restaurants, shops are. Great host. Graat value. Nice room.
Tom
2015-07-19T00:00:00Z
Natalia was a great host. Very quick with responses, accommodating upon arrival, and available throughout our stay. I highly recommend scheduling your stay with her.
Erica
2016-03-02T00:00:00Z
A short walk to the beach, good security. Lively neighborhood with music everywhere. Probably not family-friendly as the nightlife is quite popular. Full access to pool & Jacuzzi. Ramona's Bar is awesome and her food is very good (reasonably priced). Lots to do within a few minutes walking.
Don
2017-01-18T00:00:00Z
Kamertype
Gehele woning/appartement
---
Type woning
Appartement
---
Geschikt voor
4
---
Slaapkamers
Sosúa, Puerto Plata, Dominicaanse Republiek
Located on one of Sosua's main streets which offers many restaurants, bars and a variety of souvenir shops and is just a short 2 minute walk to the night clubs and a 1 minute walk to one of the north coasts most beautiful beaches.
Tastefully finished space that is budget friendly, stylized and comfortable all in one. Designed with the savvy traveler in mind, this apartment features a bold purple color palette and supremely comfortable beds with crisp white high thread count cotton linens and plush pillows. Well appointed furnishings highlight the rooms, perfect for lounging and entertaining a guest. As a standard the room contains 1 queen bed. However, for an extra fee of $20 per day the room can be set up with 2 queen beds.
The apartment is in walking distance to everything Sosua has to offer as it sits in the center of town.
I had a wonderful stay and Michael was the consummate host pleasantly answering any and all questions with ease. I would highly recommend this location to anyone looking for a centrally located room in Sosua. This location is an easy walk to beaches, bars and several restaurants.
Patrick
2016-05-25T00:00:00Z
Michael is an amazing host. His place is very clean and well put together, it is within walking distance to all the action, but at the same time located on a very quiet street. I will definitely be visiting Michaels spot again, he is very hospitable and will make sure you are well taken care of.
Nilaxan
2016-09-17T00:00:00Z
Prior to booking I read all of the comments for Michael and was a bit skeptical regarding the high level of praise however, after spending 2 weeks in one of the apartments I can honestly say that I am impressed. The apartment was exactly as pictured and Michael did everything in his power to ensure that all was well. We really appreciate his efforts.
Debra
2016-06-13T00:00:00Z
The place is very nice, clean and the host very helpful but they should include pictures of the outside.
Héctor
2017-02-27T00:00:00Z
The property was safe, clean and very beautiful. Everything workered as expected. Any small issues that arose Mike made sure it was handled promptly. The cost/value is much better than local hotels which offered much less than a full apartment. Mike is more than a property host. He was great in setting up my excursion to the 27 waterfalls, he also made sure we stopped for lunch at this amazing authentic DR restaurant with really fresh fish. He provides a local tour guide, multi-city tours Cabarente and Puerto Plata amongst others. He will translate if you need help with anything. He can help negotiate costs with locals, he helps with friendly warnings of things to watch out for. He was phenomenal and was fundamental in my having a good first trip to the DR. I will return to one of mikes properties in the future when I have trips to the northern part of the island.
Eric
2016-12-19T00:00:00Z
Michael was a great host. Everything we asked for he delivered promptly and with a smile. We even managed to sneak in an adult night out while Noemy (recommended by Michael) babysat our two kids aged 5 and 8. We felt very safe and cozy in the apartment in Sosua. The location is also amazing, we were able to walk everywhere - beaches, restaurants, shops and playgrounds!
Jana
2017-02-17T00:00:00Z
We had a fantastic stay at Michael's place! The unit looked just like the pictures, neat and clean. The location was ideal - close to restaurants, market, downtown, and 3 awesome beaches. Michael went out of his way to help us out throughout the stay which was so helpful. He gave great recommendations and advice about everything (restaurants, things to do, money exchange, etc). And he helped organize and take us on the 27 waterfalls excursion with a great fish restaurant after. We were very pleased with our stay here and would definitely recommend it!
Brooke
2017-03-15T00:00:00Z
I've rented a number of properties over the years but this experience was above and beyond my best. Micheal the Owner is extremely hospitable and knowledgeable he goes above and beyond to optimize your vacation. He offers inexpensive excursions and takes his time to show you all the must eat restaurants around the area. In the United States Micheal was an interior designer so you can't even imagine the class and décor of his property. Hot water every time I showered. A/C was no charge also a major plus. Extremely clean overall and a very comfortable bed. If this or any of his other rooms are available stop now and book it. Thank you Micheal for an amazing and memorable vacation. I'll be back soon.
Andrew
2016-08-24T00:00:00Z
Kamertype
Gehele woning/appartement
---
Type woning
Appartement
---
Geschikt voor
4
---
Slaapkamers
Sosúa, Puerto Plata, Dominicaanse Republiek
Georgeus apartment top of the line renovation, beautiful furnished, spacious room with TV and AC a full (URL HIDDEN) kitchen and living room, laundry area available, close to comercial shops, restaurant, bars and our beautiful beaches 15 min
Great place close to everything and easy to navigate from. Joel was great and on top of everything! Why get a hotel room when you can have a great private place! Will definitely stay there again!!!
Dwayne
2017-01-18T00:00:00Z
Bon accueil sympathique
Christian
2016-12-13T00:00:00Z
Kamertype
Gehele woning/appartement
---
Type woning
Appartement
---
Geschikt voor
2
---
Slaapkamers
Sosúa, Puerto Plata Province, Dominicaanse Republiek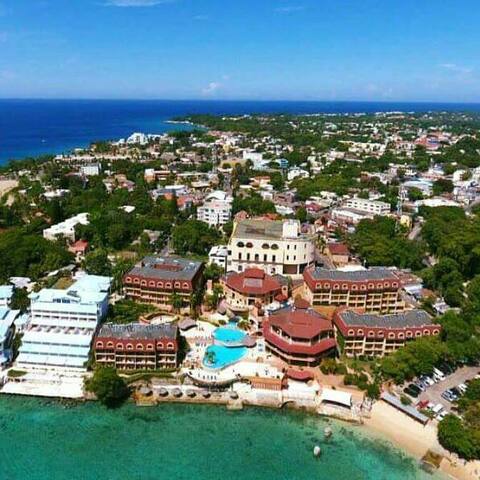 Luxury 3-bedroom penthouse in a secured beachfront residence, in town center This is a spacious 3 bedroom / 3 bathroom luxury Penthouse of (PHONE NUMBER HIDDEN)), on the third and fourth (top) floors of a 4-s Infiniti Blu is a quiet family residence
The condo was nice and cozy.....the pictures and description online was exactly the same in person. The location was perfect and convenient. I liked that every bedroom had a patio.....the place was nice and clean. I definitely plan on staying here again when I come back. Good job Hauke!
Richard
2016-10-17T00:00:00Z
This was perfect for our family. Very roomy for all of us. We felt very safe. Loved the ocean so close.
Ann
2016-10-13T00:00:00Z
The host canceled this reservation 32 days before arrival. This is an automated posting.
Denise
2016-04-12T00:00:00Z
Kamertype
Gehele woning/appartement
---
Type woning
Appartement
---
Geschikt voor
7
---
Slaapkamers
Sosúa, Puerto Plata, Dominicaanse Republiek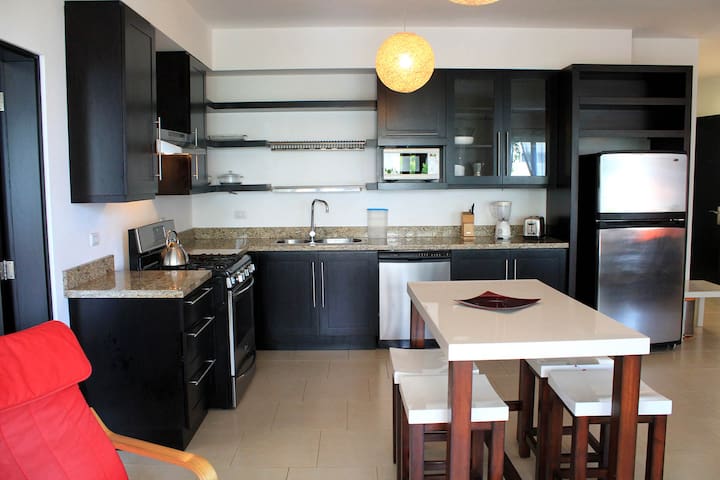 Fully air-conditioned 1-bedroom apartment decorated in a functional tropical style, with tiled floors & simple wooden furniture. Cable TV, Safety Box,free Wi-Fi, living-dining area, private bath, stove-top and refrigerator. Please note A/C surcharge
In a very nice Victorian house, this 1-BR apartment has a principal room with sofa, tables and chairs, kitchenette with fridge and stove top, double sinks, a bedroom with large wardrobe, door wardrobe with large mirror, a safety box, a bathroom with shower and a parking place.
Residential and secure quarter. No transportation needed, beaches, Adventure, Stores, Restaurants, Night Clubs, Casinos, supermarkets within minutes away very close by.
This is a great location, private and only a 15 minute wLk from the main area. Alain was a great host, helpful and yet not intrusive. I changed the days of my trip shortly before I was due to arrive and Alain helped work the details out
Michael
2016-11-15T00:00:00Z
Villa Florie is a nice cozy economical place to stay in Sosua. I was very impressed with the location and how I was greeted by Alan and Florie my first day. They gave me information about tours and guided me to the best supermarket in Sosua Super Pola. I had plenty of room for my clothes and a safe to keep my money and passport. The shower had great water pressure and hot water. The apartment also has air condition for a extra cost per day which I did not mind paying because it is very hot in Sosua. I was within walking distance of most bars and restaurant of the main street in Sosua. The beach was about 15 minutes walk. ATM and cell phone place were 5 minutes away. The bed was a little low to the ground for a big guy like me but I survived. The internet and cable worked constantly throughout my stay. There was also parking available for my rental in front of my door. Very safe area and quiet at night. They also provided 18 liters of drinking water for $1.50 when I needed. Refrigerator was small but had enough room for beer, sodas, and small items. Freezer was not available. Pool was in the back and great for cooling off. Overall I had an excellent month stay and would highly recommend it to anyone.
CURTIS ANTHONY
2016-05-03T00:00:00Z
Nice cozy little place.
Mark
2017-03-20T00:00:00Z
Nice location to the beach, nightlife and grocery store. Hosts were very hospitable and they a arranged driver to pick me up from the Santiago airport. A little noisy but had a lot fun.
Charlie
2017-01-20T00:00:00Z
Alain and Florie are great hosts and they did the utmost to attend my needs. The appartment itself was clean and basically fitted. It is perfect if you plan to go out most of the day. The street trafic can get very annoying with the incessant flow of motorcycles. So, if you don't mind the street noise, it a nice apartment close the core center of the town.
Gilles
2014-02-25T00:00:00Z
Gute Unterkunft sehr kurze Wege für alle Locations
Torsten
2017-02-18T00:00:00Z
Florie was a wonderful host during my stay. Her house is at a very convenient location and she was very accommodating from the beginning to the end, she even arranged my taxi to the airport and see me off at 5:00 in the morning! I had a wonderful time there. You can't find a better host!
cheng
2014-06-03T00:00:00Z
Kamertype
Gehele woning/appartement
---
Type woning
Appartement
---
Geschikt voor
2
---
Slaapkamers
Sosua, Puerto Plata, Dominicaanse Republiek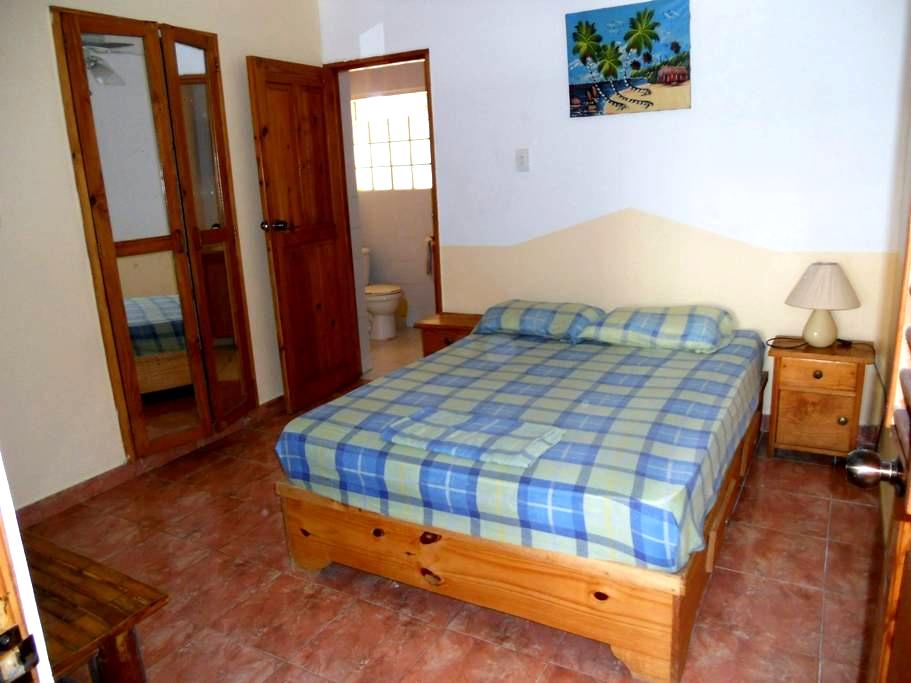 Lage: Hanglage (immer leichter Wind), sicher (2. OG) auch ohne Vergitterung und ruhig gelegen in einer Sackgasse, 20 Fußminuten zum Strand, 15 Min bis Innenstadt.Terrasse mit Blick auf Pool und Palmen, Barküche max 2E 1-2 kl.Kinder, 1 Schlafzimmer
Auf Wunsch bieten wir auch einen Flugplatzabholdienst an Auch ist es möglich einen persönlichen Taxi-Dienst zum Vorzugspreis bei uns zu buchen der Sie überall hinbringt.
In der Nachbarschaft, nur wenige Minuten zu Fuss, befindet sich ein grosses Einkaufszentrum.
franz has a great place...just exactly as pictured. It is about a 20 minute walk from town which i didn't (URL HIDDEN) made it really quiet and away from the bustle. i really liked it...recommended
Heath
2016-03-18T00:00:00Z
There is a big beautiful supermarket across from the complex. Owner is attentive if you need anything. You can hop on a motoconcho to get wherever you need to go during the day and take a taxi back at night. Very close to Sosua beach and all the discos. If you are brave you can take a carro in front of the complex to Cabarete which is 15 or 20 minutes down the road. Otherwise you can just take a cab. You can easily get to Banco Popular to withdraw money. Just hop on a motoconcho. It should only cost you 100 pesos to get there
Ramon
2015-11-11T00:00:00Z
L'appartement est fidèle au photo , c'est grand, et il y a les équipements nécessaire . Il y a un super marché à 5 min à pied .
Christelle
2016-07-02T00:00:00Z
L'appartement est tel qu'indiqué sur les photos. A 6 min. à pied de la route principale et d'une grande épicerie où vous trouverez plusieurs produits américains et de qualité. Un dépanneur à 3 min. à pied. Distance de 20 minutes à pied de la plage et du Centre de Sosua. Le voisinage est très accueillant et respectueux. On se sentait vraiment en sécurité.
Mimi
2017-03-03T00:00:00Z
Una buona accoglienza da parte di Martin, una persona sempre molto disponibile!L´annuncio rispecchia la realtá, anche se c´é da pagare la corrente extra (quest´ultima pultroppo va via quasi tutti i giorni per un breve (URL HIDDEN) quartiere é tranquillo, abbastanza isolato.
Mercuro
2016-02-16T00:00:00Z
Kamertype
Gehele woning/appartement
---
Type woning
Appartement
---
Geschikt voor
2
---
Slaapkamers
Sosúa, Puerto Plata, Dominicaanse Republiek
Cozy one bedroom apartment in a very quiet and secured residential community with hotel amenities. Located in central Sosua, just steps to multiple restaurants, bars, disco and shops. 7 min walking to Alicia beach and 12 min to Sosua main beach. Both night life and relaxation in a real oasis in the middle of the town.
Kamertype
Gehele woning/appartement
---
Type woning
Appartement
---
Geschikt voor
2
---
Slaapkamers
Sosúa, Puerto Plata, Dominicaanse Republiek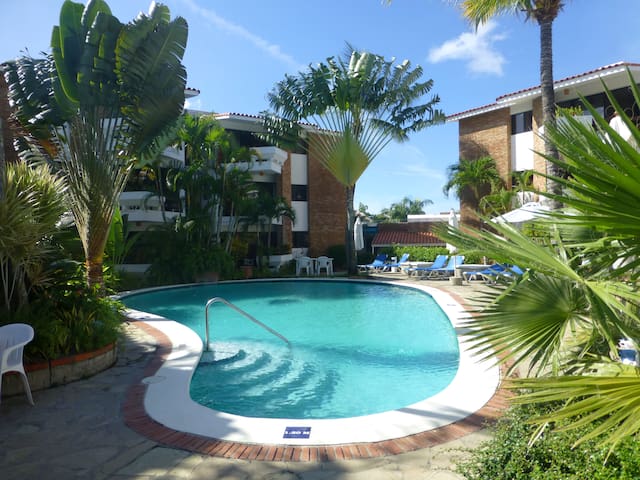 edificio moderno color azul parqueo seguridad incluida piscina y jacuzzy area comun cerca del hotel nuevo ahnvee resort
Kamertype
Gehele woning/appartement
---
Type woning
Appartement
---
Geschikt voor
1
---
Slaapkamers
Sosúa, Puerto Plata, Dominicaanse Republiek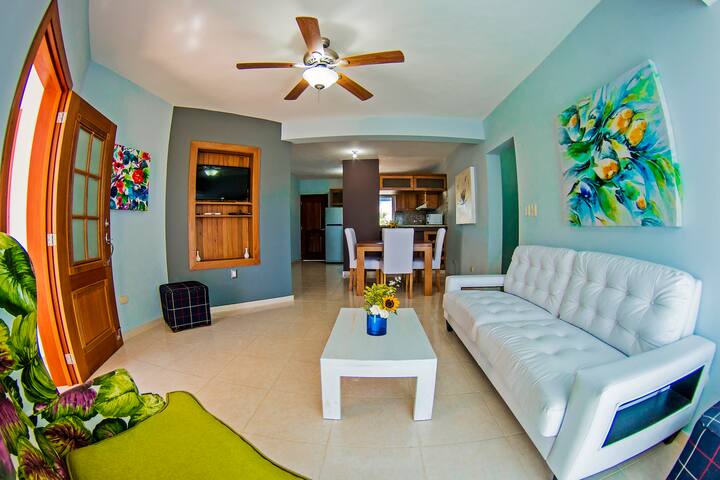 Studio includes queen-size bed, dining table/chairs, desk/office chair, wifi, 32" internet TV, fully-equipped kitchen with fridge/freezer, microwave, coffee machine, toaster, gas stove, bathroom with shower, balcony/terrace with chairs/table. Wall-safe.
Part of a small condos site of 20 privately owned condos, situated 5 minutes walk from the centre of Sosua, 10 minutes maximum from the beaches. No need to rent a car! Well-lit street parking available if you do. Closest airport Puerto Plata (POP) - 15 minutes. Santiago (STI) approx. 2 hours drive. Santo Domingo (SDQ) about 5 hours drive - Punta Cana - one day's taxi ride.
We are five minutes walk from the centre, with an array of bars, restaurants, night clubs, shops and supermarkets. Round the corner are banks, liquor store, mini-market, fruit-and-veg and Dominican fast food. But relaxing by the pool you are in your own little capsule - relaxed and regenerated.
Mir hat es sehr gut gefallen bei Lindsay und Orlando. Angenehmer, freundlicher und lockerer Umgang! Hierhin komme ich gerne zurück! Vielen Dank!
Dieter
2017-01-21T00:00:00Z
The condo was in a great location everything was in walking distance. When I need something Orlando was a call away. Security was on duty every night safety box in room with stove, refrigerator, flat screen TV will stay again
James
2016-06-13T00:00:00Z
Kamertype
Gehele woning/appartement
---
Type woning
Appartement
---
Geschikt voor
2
---
Slaapkamers
Sosúa, Puerto Plata, Dominicaanse Republiek
Beautiful apartment with a modern beach style decor.
138m2 of tranquility and enjoyment in the north coast of the Dominican Republic. 2 balconys, 2 bedrooms, 1 queen size bed, 2 full size beds, towels, sheets, 2 bathrooms, walk-in-closet in the main bedroom, fully equiped kitchen (fridge, stove, microwave, plates, glasses, cutlery, cooking utensils, washer, dryer, coffee machine, etc..), 42" TV, Cable Centrally located in Sosua, DR. Quiet neighborhood with a 10min access to the beach and town center. Located from a 10min ride to the beach of Cabarete, DR Convenient public transit: cars and bus. Pool, BBQ, play ground for kids, private parking, 24h security, free wifi. Quiet neighborhood @ walking distance from the heart of the town and access to restaurants, stores and the night life. During the day there is public transit Located from a 10min ride to the beach of Cabarete, DR
Quiet neighborhood @ walking distance from the heart of the town and access to restaurants, stores and the night life.
Stayed 4.5 month in the apartment and are happy with everything. Big apartment, nice pool. Nice staff. Didn't miss a thing.
Elin
2017-01-11T00:00:00Z
We really enjoyed our stay in Cynthia's lovely condo. It was even roomier than the pictures showed and spotless as well. The beds were very comfortable and we had everything we needed for an enjoyable stay. We really enjoyed the swimming pool and Playa Alicia was a really nice and clean beach for swimming. We had booked the condo for two months but due to a medical issue we left a few weeks early. Cynthia was so understanding and worked with us, which we really appreciate. Cynthia always replied promptly and was really easy to communicate with. We highly recommend Cynthia's condo as a nice, clean, comfortable place to rent.
rita
2015-12-28T00:00:00Z
Kamertype
Gehele woning/appartement
---
Type woning
Appartement
---
Geschikt voor
6
---
Slaapkamers
Sosúa, Puerto Plata, Dominicaanse Republiek
Large luxury 2-bedroom, 2-bathroom condo, size of 1485 sqf (138 sqm), fully furnished and equipped (cable TV, Wi-fi etc), with balcony overlooking the sparkling pool and tropical garden. The Residence is brand new and walking distance to everything!
The residence is located in the center of Sosua (El Batey), yet far enough from the noises. It is gated and secured, and boasts a large sparkling swimming pool (with a separate section for children), a playground for kids and a BBQ area. Pets are also allowed. This is a quiet family residence, single men can contact us for alternative properties. Discounts are possible according to duration. The rental rate includes all house charges (initial/final cleanings, taxes, gardening, security, gas, water, pool maintenance, garbage disposal, internet connection, satellite TV subscription, Residence fees, private parking etc.) except electricity, which is charged by the Residence according to consumption. We manage several identical 2-bedroom condos in this Residence (same size, layout, views, equipment etc.); if you need this particular one please specify it in your booking request.
I didn't personally meet Fabio or Nancy as when I arrived in the office for reception no one seemed to know i was comimng or had booked until i mentioned Fabio. The APT is not as listed in the pictures, they will give you 2D, however, it is just as nice. One thing that didn't sit well with me was the fact that I had to PAY FOR MY OWN ELECTRICITY outside of the Airbnb booking which was alredy $125 booking so bring extra cash with you or don't use any of the electronics, (I owed $10 for one night after checkout). The place is nice they have a pool and they're still close to the main strip as I was surprised to see that they we're close to were I previously stayed. The staff is warm and helpful overall. However, I would stay here again but only for a day or so. If i stayed any longer it wouldn't make any sense or i should just pay for a $200 a night room somewhere else. At least I wouldn't have to pay for my own electricity use.
Seun and Fola
2015-02-15T00:00:00Z
I was rented a different apartment upon arrival. The first offering was not as nice as pictured, but at my request I was given a more suitable alternative. The management was responsive to my concerns. The complex is beautiful and mostly quiet-there were some roosters nearby. The pool was clean and inviting. After some initial problems were taken care of, we enjoyed our stay there and wish we could have stayed longer.
Kelli
2014-10-10T00:00:00Z
We never met Fabio but he was very prompt, professional and courteous. He made sure our arrival and departure went smoothly. The apartment was as pictured. There were a few problems with the toilet and the dryer which were all handled very promptly by Fabio and his counterparts. The stove had a couple of pilot lights out so only 2 of the ranges would work. That was a little annoying because I cooked everyday but I didn't bring it to Fabio's attention so that's on me. I will say that this is the best trip I have ever taken and the policies here would definitely bring me back. It's a very laid back place and the people were very friendly. However, I do feel it to be overvalued, especially for Easter Weekend. Upon my departure I was told that If I had went through Blue Gardens( the community) I could have only paid $80 a night as opposed to the astronomical amount I ended up paying. It's a little disheartening but you live and you learn right? Overall, Fabio was very attentive, the amenities could have been better and the utilities were a bit ridiculous. I feel like no matter how many days you stay you will always owe $10. We never even touched the air conditioning and it came to $110 for 7 days. That makes it a little on the pricey side for not getting room service daily. If we are going to be paying $150 a night, the least you should be able to do is provide daily housekeeping and a toilet that won't clog up every time you use normal toilet paper. Nevertheless, Fabio did an excellent job coordinating everything I just wish we hadn't paid so much. Especially under the circumstances. I would stay again but not at that rate and probably in a different unit.
Amir
2015-04-10T00:00:00Z
Un apartamento muy bonito, nuevo, actual y con gran seguridad, además de tranquilo. Lo único que la playa no está cerca, pero lo compensa una buena piscina y jacuzzi.
Lala
2016-08-22T00:00:00Z
Hi, It was a great place to be in family and friends, it fill our expectation, and I give a 5 star to the condo complete. Pedro Perez
Pedro
2016-07-25T00:00:00Z
Beautiful, comfortable and very quiet apartment. Excellent location! Great communication with Fabio and Enrico before arrival and throughout our stay!
Roy
2015-03-29T00:00:00Z
Kamertype
Gehele woning/appartement
---
Type woning
Appartement
---
Geschikt voor
6
---
Slaapkamers
Sosúa, Puerto Plata, Dominicaanse Republiek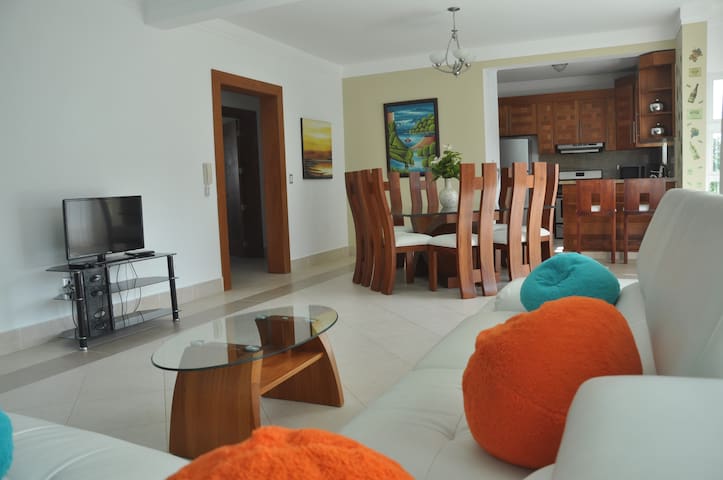 1

–

18

van

168 Appartementen te huur
Voer datums in om de volledige tariefopbouw te zien. Er kunnen extra kosten zijn en er kunnen belastingen worden toegevoegd.