House, onlangs gerestaureerd, met een keuken, een badkamer, twee slaapkamers en een gemeenschappelijke ruimte. Dawn stilletjes naast het kasteel in het centrum van Belmonte. Ideaal voor familie of vrienden een wandeling rond het dorp en de Serra da Estrela.
naast een ambachtelijke winkel waarmee u werkt en adviseerde de producten van de streek, diverse restaurants en take.away.
Casa muito acolhedora, anfitriãs muito (URL HIDDEN) uma localização espetacular mesmo junto ao castelo. Recomendo.
Filipa
2016-04-04T00:00:00Z
Ambiente bastante acolhedor, excelentes condições! Certamente, a repetir !
Paulo
2016-03-07T00:00:00Z
A Paula é uma excelente anfitriã, muito simpatica e disponivel. A Casa é muito aconchegante, bem climatizada e estava muito higienizada. Muitas toalhas disponiveis.
Nuno
2016-12-29T00:00:00Z
A casa fica muito bem localizada (em frente ao castelo da vila) e é muito simpática (agradável). A Paulo foi muito atenciosa e prestativa e check-in e check-out foram muito fáceis. Notamos alguns pontos que poderiam ser melhorados: geladeira maior, atualizar TV, aumentar a capacidade do boiler (sistema de água quente).
Marcos
2016-12-12T00:00:00Z
O espaço é realmente incrível assim como toda a sua envolvente. Fomos muito bem recebidos e a casa é super agradável.
Sara
2017-01-01T00:00:00Z
A Paula recebeu-nos com muito carinho e uma enorme simpatia. A casa é muito aconchegante, bem decorada e completa, com tudo muito arrumado e limpo. A localização é fantástica. Fica na zona histórica a 50m do castelo que vale a pena visitar. Obrigada Paula. Voltaremos ;)
Wilson
2016-12-22T00:00:00Z
Super apartment, very comfortable, magnificent location, wish we could have stayed longer.
Bob
2016-07-07T00:00:00Z
A casa é muito confortável e simpática, com interesaantes traços típicos da região no uso da madeira e da pedra. Nestes dias frios nem sentimos o rigor do inverno. As anfitriãs foram muito acolhedoras e mostraram-se sempre disponíveis. Recomendamos vivamente este Cantinho de Santiago.
Jorge
2016-12-04T00:00:00Z
Kamertype
Gehele woning/appartement
---
Type woning
Huis
---
Geschikt voor
6
---
Slaapkamers
Belmonte, Castelo Branco, Portugal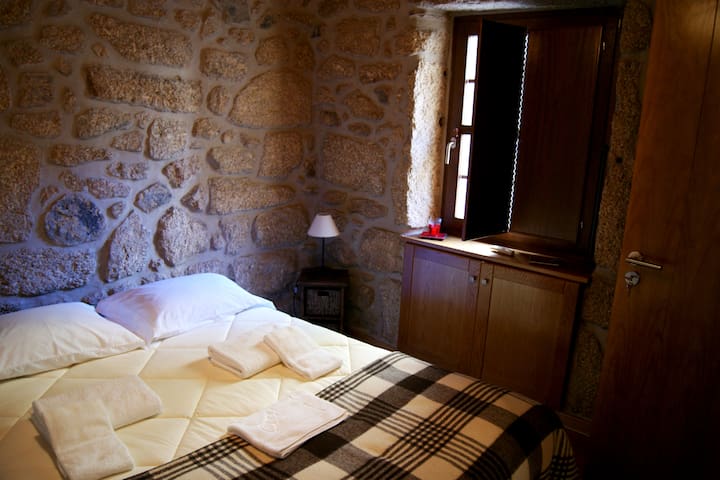 Antigo lagar de azeite localizado na região da Serra da Estrela, entre Guarda e Belmonte, recuperado em 2005 mantendo as paredes de origem, em granito, e decorado para habitação com todas as funções para garantia de conforto.
A aldeia da Vela tem gente muito simpática e acolhedora que garantem o máximo conforto, segurança e ambiente alegre.
M. Antonio nous a facilement indiqué l'endroit de la maison. Nous avons aussi eu un accueil formidable de la part de Mme Augusta. Tous 2 sont d'une gentillesse incroyable. Et nous recommandons vivement cette magnifique et grande maison.A relouer! MERCI ENCORE
Céline
2016-08-26T00:00:00Z
Preciosa casa, decorada amb molt gust, confortable i ben equipada.
Cristina
2016-08-08T00:00:00Z
Es una casa espaciosa, acogedora, elegante, detallista y muy limpia. Trasmite el cariño de sus propietarios por la casa y su tierra. Está situada en un entorno natural, tranquilo y con buenas comunicaciones para disfrutar tanto de la naturaleza como para descubrir los pueblos y la gastronomía de la zona.
Paloma
2016-03-08T00:00:00Z
This was an absolutely wonderful stay in the beautiful little town of Vela. António has done a wonderful job of turning this beautiful old oil mill into a magnificent and comfortable home, a beautiful experience. Thank you very much!
Miguel
2015-12-28T00:00:00Z
La casa de António nos sorprendió porque las fotografías que habíamos visto no hacen justicia al alojamiento que hemos tenido el placer de disfrutar. La casa con su amplitud, buen gusto, comodidades y tranquilidad, ha hecho muy agradable nuestra estancia en Portugal. Las tertulias y juegos de mesa junto a la chimenea nos hicieron posponer el momento de ir a dormir. Destacar también la atención recibida tanto de António, que estuvo pendiente en todo momento de nuestra llegada, como de la persona que nos recibió. Sin duda un placer que repetiremos.
AMELIA
2015-12-08T00:00:00Z
Recomendo a estadia no Lagar da Vela a quem procura uma casa típica (mas com pormenores contemporâneos), confortável, muito funcional e com uma decoração muito cuidada! As fotografias não fazem justiça à beleza da casa... A história do "lagar" ainda torna mais especial a nossa estadia! A casa está muito bem equipada (loiça, mantas, toalhas, roupa de cama, lenha)! O Sr. António é um anfitrião muito simpático e preocupado com o nosso bem-estar na sua casa! Quem nos recebeu, a D. Augusta, é igualmente muito simpática e flexível! Quanto à localidade, apreciamos sempre ficar em lugares típicos e a Vela não desaponta. Trata-se de uma aldeia de gente boa e simpática. Esperemos voltar! Superou todas as nossas expetativas!
Margarida
2016-01-03T00:00:00Z
É uma casa encantadora que tem muitas surpresas agradáveis. A arquitectura moderna misturada com a decoração e com traço antigo tornam este casa especial. Óptima para quem procura uns dias de descanso alternativo à agitação das cidades. Cmps, Nuno
Nuno
2017-02-28T00:00:00Z
A casa está muito bem decorada e equipada e é muito espaçosa.
Tiago
2016-12-25T00:00:00Z
Kamertype
Gehele woning/appartement
---
Type woning
Huis
---
Geschikt voor
5
---
Slaapkamers
Vela, Beira Alta, Guarda, Portugal
oude huis hersteld. Granieten muren en plafonds in hout. Duplex met een tweepersoonsbed en een badkamer met douche. Kamer met keuken en fornuis bank. Slaapbank.
een eeuwenoud rustiek huis hersteld.
het gefluister van de rivier, de rust van een agrarisch erf
Wij hebben 3 nachten doorgebracht in het kleine huisje bij de kreek. We hebben een zeer prettig verblijf gehad. De omgeving is prachtig en rustig. De dame is zeer vriendelijk en behulpzaam.
Aldijana
2016-09-26T00:00:00Z
The place is perfect, better in real life than in the pictures. Branca was very nice and helped us with information. We absolutly recommend!
dekel
2015-09-27T00:00:00Z
Tivemos dificuldades em encontrar o local. Não tinha ninguém para nos receber. fomos obrigados a pedir ajuda num escritório que fica próximo para encontrar o local e para entrar em contato com a Branca, sendo que eles nos emprestaram o telefone sendo que o nosso celular não estava habilitado em Portugal. A Branca enviou uma senhora para abrir o apartamento e só. Sem informação e não tivemos contato pessoal com a Branca. Na hora de sair deixamos a chave em cima da mesa e puxamos a porta. Não tinha ninguém. Muito chato. O apartamento é pequeno sendo que no quarto cabe só a cama. As malas ficaram na sala/cozinha que também é pequena. O mais complicado foi tomar banho visto que o aquecedor desligava duas a três vezes turante o banho. A iluminação também é ruim e muito fraca. Na cozinha ainda pior. A lâmpada de lado de fora da porta de chegada estava queimada dificultando andar a noite pois é um pequeno corredor e tem escadas. De bom mesmo é a localização. Perto de tudo. E só.
Claudio Felipe
2016-10-08T00:00:00Z
A casinha Segunda a beira ribeiro é uma casa pequenina e muito acolhidora para duas pessoas, mas para 4 pessoas é muito pequena, porque soamente tem um quarto e um sofá-cama muito pequenino no salão. Contudo, nós estivemos dois dias na vila de Manteigas e gostamos muito dela, já que a vila é linda e perto tem umas praias fluviais muito lindas. Além disso, se gostarem de fazer rotas pela montanha é o lugar ideal.
Annabel
2016-07-23T00:00:00Z
Tres dur a trouver. Hôte absente. Mignonne maison mais chambre trop petite et lit a changer.
Martine
2015-08-08T00:00:00Z
Branca was a lovely host. She was very friendly and helpful when we arrived later than anticipated due to us getting lost( my mobile phone stopped working), no reflection on the property or Branca. She came to meet us to help us to the property and offered to carry our bags which was very kind. She provided us with lots of information about the town and local area including hiking routes. The house was beautiful and idyllic in a brilliant location with amazing views of the valley and surrounding mountains. The house was small but there was plenty of space and everything that we needed was provided. We enjoyed our stay so much we intend to return next year. Would highly recommend the stay to anyone!!
Laura
2016-08-22T00:00:00Z
The host canceled this reservation 18 days before arrival. This is an automated posting.
MARC
2016-03-23T00:00:00Z
Brancas place was nice and good located into Manteigas. There can be found everything you need for a few days visit. Unfortunately i did not meet her in person, we were just talking over the phone. It would be helpful, if visitors would be able to speak a little Portuguese.
Tanja
2015-09-08T00:00:00Z
Kamertype
Gehele woning/appartement
---
Type woning
Huis
---
Geschikt voor
4
---
Slaapkamers
Manteigas, Guarda, Portugal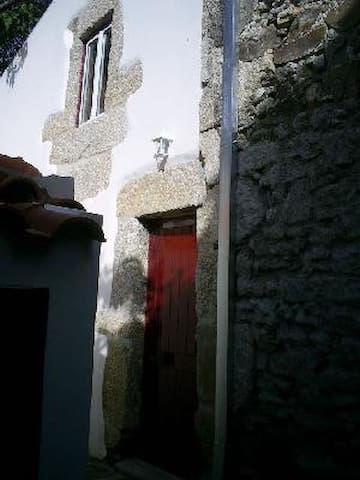 House decorated with great care and should be preserved by the guests. House about 250 years old, remodeled.
It is a very cozy and very nice
The neighborhood is friendly and quiet. The inhabitants are already very old. We must know the respect. Respect to be respected.
Many thanks to Maria that we were allowed to stay in their house in Gouveia. Very nice contact and at all times reachable. Very nice house with many details from the past. Thanks also to Lady Mary, who provides us every morning with fresh bread. A very dear wife, the old lady. My friends and I had any time to feel so welcome. Thanks again. Should we be the next time in Gouveia, we hope to be there again welcome.
Heinrich
2016-04-18T00:00:00Z
La casa es preciosa y tiene mucha alma. Está cerca del centro y a pesar de ello el barrio es muy tranquilo y por la noche se duerme muy bien. María nos recibió bien y le agradecemos el detalle de traernos para desayunar por la mañana...
Christine
2016-07-23T00:00:00Z
Maria answered all questions very quickly and made sure we know how to get to the house. At this big house that we had all for ourselves, lovely Dona Ernestina welcomed us, showed us the house and even prepared breakfast in the mornings :) Great place to stay and very friendly welcoming people! Abraços
Luca
2015-08-15T00:00:00Z
Sehr liebevoll eingerichtetes, schnuckeliges, kleines Haus mit original Inneneinrichtung!
Zé Maria
2017-03-16T00:00:00Z
Anfitrião afável, acolhedor e atencioso. Vê-se que sabe receber e proporcionar aos hóspedes a melhor estadia possível.
Paula
2015-08-20T00:00:00Z
Zimmer und Bad etwas eng aber ok! Herzlichen Dank an freundliche Nachbarin Maria für den lieben Empfang!
Charlotte
2016-03-27T00:00:00Z
The stay at Marias place was a great experience during our Portugal journey! Maria wasnt in the city but helped us at the telephone and arranged everything. Her neigbour picked us up at night and took care of us throughout the stay. The place was nicely furnished and the location was good. We would definetly go again! Thank you!
Miri
2015-09-11T00:00:00Z
We loved Maria's wonderful and spacious house! It has the perfect location to discover the beautiful city of Gouveia and also the Nationalpark! Maria was not at home but she was always answering our questions and helping us via phone immediately. Her neighbor (also called Maria) showed us our accomodation and made us a nice breakfast! She was so warm and welcoming! We definatly recommend to visit Gouveia and to stay in Maria's affectionate home! Thank you so much for everything, it was a pleasure!
Lucy
2016-09-06T00:00:00Z
Kamertype
Privé Kamer
---
Type woning
Huis
---
Geschikt voor
2
---
Slaapkamers
Gouveia, Guarda, Portugal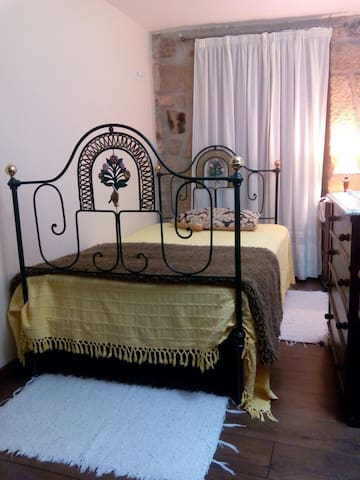 My space is close to the Serra da Estrela, where there is art and culture several museums nearby, the best cuisine of the region, beautiful scenery, and activities for families. You'll love my place because of the people, the outer zone, the environment, the lighting, and the village of Melo quite quaint. My space is good for couples, solo adventures, business travelers, families (with children), large groups, and furry friends (pets).
La casa de Maria es un lugar tranquilo y confortable para pasar unos dias en la Serra de Estela. Tiene todas las comodidades que se necesitan. Nuestra estancia ha sido perfecta y su hospitalidad nos ha hecho sentirnos como en casa. Saludos para Maria y su marido.
maria jesus
2016-11-01T00:00:00Z
Top top top!!! Adorámos a hospitalidade, disponibilidade e simpatia. A decoração é fantástica com móveis artesanais que nos fazem lembrar os tempos primórdios. O cheiro a lenha quente vindo do forno do restaurante é delicioso. Casa simples e ampla, muito acolhedora e quente. A voltar!! Obrigado Maria, cumprimentos da Joana e José
José
2017-03-15T00:00:00Z
Such a charming flat in the middle of a quaint town! Beautiful furniture in home that her husband made, right above a pizzeria that smelt so good! Would recommend this flat for people who are looking to unplug from a busy world.
Matt
2016-10-19T00:00:00Z
A Maria e o marido são pessoas extraordinárias. O espaço é óptimo para descansar :)
Beatriz
2017-02-09T00:00:00Z
This place offers all you need for a long or short stay. The owners are extremely friendly and helpful.
Eduard
2017-02-06T00:00:00Z
Kamertype
Gehele woning/appartement
---
Type woning
Huis
---
Geschikt voor
3
---
Slaapkamers
Gouveia, Guarda, Portugal
leaning against the house wall built by the Romans in the historic village of Sortelha, one of the most beautiful historical villages of the World! Sortelha is about 50 km from the Serra da Estrela.
Nous avons eu la chance d'aller passer deux nuits dans un petit village historique magnifique! Nous avons rejoint Ana (la conjointe de Bruno) dans son bar et elle est venue nous montrer la petite maison que nous avons trouvée très charmante. Tout le nécessaire était là, c'était propre et l'emplacement est tout simplement incroyable. Ana est très gentille et disponible! Nous vous conseillons fortement ce petit coin de paradis pour un voyage dans le temsps!
Caroline
2016-06-23T00:00:00Z
Apesar de um problema a chegar à casa devido ao mapa no site e na App do Airbnb estar errada, fomos muito bem recebidos na casa da Bela Vista. A casa situa-se provavelmente na mais bonita aldeia de Portugal e tem todas as condições para 3 pessoas para uma estadia de curta duração. A área envolvente à casa é lindissima, perfeita para caminhadas e desfrutar da natureza.
Pedro
2016-01-02T00:00:00Z
Nous avons passé une soirée inoubliable à Sorthela : arrivés en fin de journée, très bien accueillis par les amis des hôtes, nous nous sommes baladés dans ce village incroyable en ayant l'impression d'y être totalement seuls. On avait l'impression d'être entrés à l'intérieur d'un décor de crèche pastorale ! La maison, adossée au château, est magnifique, et très bien équipée... bref, notre nuit à Sorthela a été pour nous une expérience magique !
Maïté
2016-07-28T00:00:00Z
If you want to experience on comfort how people lived in the 12th century then this is the place to come to.
Elaine
2017-02-08T00:00:00Z
Espaço super confortável e acolhedor :)
Claudia
2017-01-01T00:00:00Z
Medieval house...first rate hosting! Ana and Bruno are warm and welcoming. They also run the local bar so are always available. This house knocked our socks off. So beautiful! The house is built into a castle wall and within a village entirely constructed of stone. Simply amazing. We have been blown away by the diversity and quality of Airbnb pads while on our 10-day visit. After dinner, our family of 4 came back the house and started a fire. The fireplace was prepared by Ana, so all we had to do was light a match and enjoy. We've never stayed in such a magical setting. Thanks very much!
Nick
2016-04-27T00:00:00Z
A casa é fantástica e a localização de sonho. Sente-se o cuidado nos pormenores e é fantástico viajar no tempo e não ter sequer rede de telemóvel =). Estaa com os meus filhos adolescentes e correu muito bem. O Bruno e depois a Ana froam super disponiveis e foi muito fácil todo o processo de encontrar a aldeia e a casa. Um único reparo, que já transmiti e que, de certeza que vai ser resolvido, como estava particularmente frio e eu dormi na sala, era necessário ter outro aquecedor a funcionar, para além da lareira. Uma estadia inesquecivel e a repetir. O pequeno almoço no Bar Boas Vindas também ficou na memória. Recomendamos tudo!!!
Anabela
2017-01-22T00:00:00Z
descripción correcta
Eva María
2016-08-17T00:00:00Z
Kamertype
Gehele woning/appartement
---
Type woning
Huis
---
Geschikt voor
4
---
Slaapkamers
Sortelha, Sabugal, Portugal
Mijn ruimte is dicht bij de prachtige landschappen. De ramen en rondom het huis kunt u de Serra da Estrela te zien. In de aangrenzende straten heeft een restaurant, bars, bakkerijen, briefpapier en een supermarkt. Het ligt in de buurt van het gemeentelijk zwembad, waar in de zomer kunt u een frisse duik te nemen. Het huis heeft een traditionele inrichting van het gebied en is ruim. Het is een rustige omgeving waar u kunt genieten van de rust, maar ook eenvoudig het centrum bereiken. Mijn ruimte is goed voor koppels, solo avonturen en gezinnen (met kinderen).
Onze ruimte en alles wat het is, is van grote waardering voor de familie, want het behoorde tot een familie. We vroegen voor het aan iedereen die de ruimte gebruiken om dezelfde zorg en respect Het huis heeft een grote open haard in de keuken en een gemeenschappelijke ruimte. Altijd arriverende gasten kunnen genieten van dezelfde als houtvoorraad. Ze kunnen ook genieten van een kamer met een bed-vormige wieg die in de familie meer dan 100 jaar. Het huis beschikt over kabel-tv. Het heeft drie televisies, een in de keuken en de andere in de kamers. Televisies zijn oud, maar werken perfect. Er zijn een aantal spellen zoals schaken en dammen voor de gasten kunnen zich afleiden bezetten vrije tijd binnenshuis.
De buurt is rustig, waar de rust regeert. Het is een woonwijk van Belmonte.
Gostamos do espaço da casa, grande e confortável. Boa localização próxima do centro histórico, dos principais pontos turísticos e de restaurantes, que se chegava mediante breve caminhada. Férias nos recebidos pela mãe da Tânia, que reside muito próximo, e nos mostrou as comodidades da casa e nos repassou informações sobre restaurantes próximos. A estadia foi boa e a cidade de Belmonte é muito agradável com seu castelo e museus. Agradecemos a hospitalidade.
Gabriel
2017-02-03T00:00:00Z
A Tânia e a Mãe foram pessoas exemplares, muito simpáticas e ajudaram sempre que precisámos. A Casa é muito acolhedora, numa zona muito calma e uma excelente vista para a serra. Fiquei 2 noites e ficava muitos mais sem qualquer problema. Aconselho a quem quer passar uns dias no interior com a família. ---- Tania and her mother are wonderful persons, very lovely and helps us a lot. The house are great, with a old fashion Portuguese decoration, very beautiful and cosy (even on cold nights) and placed in a family and call neighborhood and right there with view for the mountains. I stay there 2 nights and i will stay more without any problem. Full advice for everyone who want to take a few days with family or friends.
Tiago
2017-02-19T00:00:00Z
Gostámos muito da estadia. A casa tem tudo o que é necessário, a Tânia é uma anfitriã muito prestável e fomos recebidos com muita hospitalidade pela sua mãe. Recomendamos vivamente!
Ana
2017-02-27T00:00:00Z
Foi uma experiência agradável
Jose
2017-01-22T00:00:00Z
Gostei da estadia, super recomendado. A casa tem tudo que é necessário e os anfitriões bens simpáticos.
Kelly
2017-01-03T00:00:00Z
Très bon séjour. Maison accueillante. Petit feu de cheminée agréable Je recommande
Melanie
2016-10-20T00:00:00Z
Kamertype
Gehele woning/appartement
---
Type woning
Huis
---
Geschikt voor
4
---
Slaapkamers
Belmonte, Castelo Branco, Portugal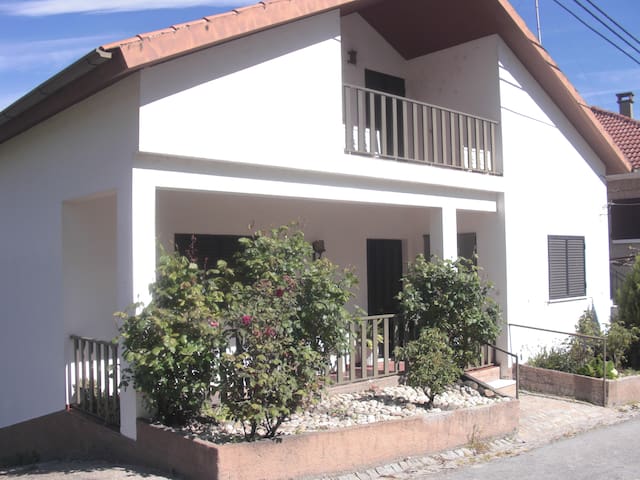 Natuurlijke en prachtige proprety
"De plaats is gewoon geweldig .. de natuurlijke zwembaden en kleine watervallen zijn prachtig en alles in totale privacy"
Eerst konden we het moeilijk vinden maar Antonio kwam ons halen, in het stadje beneden aan de berg. Al snel zagen we dat dit misschien wel een van de mooiste huurhuisjes van Portugal is, zeer sfeervol ingericht, liggend aan allerlei natuur zwembaden, bovenop de prachtige berg de Torre. Voordat onze zonen gingen zwemmen, moesten we eerst de puppies van Antonio en Hanna begroeten. Daarna namen we een duik en genoten we van de heerlijke wijn en kaas die we van de huurbaas hadden gekregen. Antonio ging op de tweede dag nog met ons mee naar de 2000 meter van de Torre, hij heeft ons mooie plekken laten zien en met zijn vele verhalen voelden we ons heel welkom en vertrouwd. Het werd werkelijk een van de hoogtepunten van een heerlijke vakantie in Portugal. Een verblijf om aan te raden. groet Hans en Marjolein en de jongens
Hans
2016-08-07T00:00:00Z
We hebben een onvergetelijke tijd gehad bij Antonio en Anna. Voor je gevoel ben je midden in de natuur. Je hebt eigen huisje gebouwd tussen de rotsen met een prive natuurvijver om in te zwemmen. Antonio en Anna zijn heel behulpzaam en vriendelijk. Voor ons heeft hij mountainbikes gehuurd en heerlijke sangria gemaakt. we waren verkeerd gereden maar Antonio was heel behulpzaam om ons te goede weg op te krijgen. Het huis is midden in de natuur maar je bent ook meteen in het nationaal park en dicht bij de bewoonde wereld.
Nina
2016-08-28T00:00:00Z
Verblijven in dit huis was een fantastische ervaring! Midden in de bergen en in een straal van 3km geen andere bewoners. We hadden onze eigen natuur zwembad en waterval (helaas voor deze tijd ijskoud, maar zomers ideaal!) Bij aankomst had Antonio vers brood en kaas uit de streek klaar gelegd voor als ontbijt de volgende ochtend! En niet te vergeten een flesje wijn! Heerlijk schone grote handdoeken, warm water en het kraanwater kon je ook drinken want dat komt regelrecht uit de bron van de bergen! Het huis was van alle gemakken voorzien. Verwacht geen 5 sterren luxe van een hotel maar dat wil en zou je ook niet moeten verwachten als je midden in de natuur verblijft. Dat is al meer dan 5 sterren waard! De open haard vond mijn dochter geweldig. En ongelooflijk dat een deel van het huis onderdeel is van een grote rots! Antonio was zo vriendelijk en heeft ons de omgeving waar het riviertje stroomt laten zien en heel veel tips gegeven waar we naartoe konden gaan tijdens onze rondreis. Van alles wat wij hebben gezien en zijn verbleven, tijdens onze rondreis in Portugal, was dit huis wel het hoogtepunt! Iedereen die van de natuur houdt zou hier ooit in zijn leven moeten verblijven! Antonio bedankt voor jouw gastvrijheid en ik kom zeker terug in de zomertijden! Stay in this house was a fantastic experience! Right in the mountains and in a radius of 3km no neighbours. We had our own natural swimming pool and waterfall (unfortunately for this time of the Year too cold, but summers ideal!) On arrival Antonio had fresh bread and cheese from the region ready as breakfast for the next morning! And do not forget a bottle of wine! Nice large clean towels, hot water and tap water you could drink because it comes straight from the source of the mountains! The house was fully equipped. Do not expect 5 star luxury hotel but you wouldn't and shouldn't also have to expect that if you are staying in the nature. That was more worth than 5 stars! The fireplace was great my daughter lovend it too. And incredible that a part of the house is part of a large rock! Antonio was so friendly and showed us the place where the river flows and gave us lots of tips where we could go during our travel in Portugal. From everything we have seen and have stayed during our trip in Portugal, this house was the highlight! Anyone who loves nature should ever have to stay here! Antonio thank you for your hospitality and I'll definitely be back in the summer times!
Sharon
2015-05-02T00:00:00Z
Prachtige natuur, geweldige natuurlijke zwembadjes! Zeer eenvoudig huisje en keiharde bedden. Zeer vriendelijke eigenaar met leuke excursie naar een meertje op de serra da estrela. Sanitair en keuken laten te wensen over.
Agro-turismo Quinta
2016-09-09T00:00:00Z
We had a wonderful time at Salto do Lobo! The house is beautiful and the surroundings are stunning. Our host Antonio made a great effort to take care of us, served a fantastic breakfast and showed us around. A very nice place to visit if you want to get away from the daily bustling life.
Maria
2015-07-16T00:00:00Z
Wauw... what a great place! The nature is beautiful, the house is very charming and he host, Antonio, is the best we have ever had! For sure, we will come back and show friends and family the best spot in Portugal! Thanks Antonio!
Roos
2015-10-15T00:00:00Z
Antonio's place is just amazing.. the natural pools and little waterfalls are stunning and all in total privacy. We loved it ! Antonio is super kind and helpfull, a true host. He welcomed us with an excellent bottle of cold white wine and delicious cheese. The house is very special built around rocks . If you love nature and privacy this is THE place. We had a wonderfull time thank you so much Antonio !
anne
2014-07-18T00:00:00Z
Un séjour exceptionnel ! Le lieu est magnifique, la petite maison se fond dans la nature, la rivière coule au pied avec des piscines naturelles, c'était vraiment idyllique. Anna et Antonio ont été des hôtes prévenants, Antonio nous a fait découvrir la région et a tout fait pour que notre séjour soit agréable Merci pour ces quelques jours hors du temps !
Sophie
2016-09-07T00:00:00Z
Kamertype
Gehele woning/appartement
---
Type woning
Huis
---
Geschikt voor
7
---
Slaapkamers
Covilha, Castelo Branco District, Portugal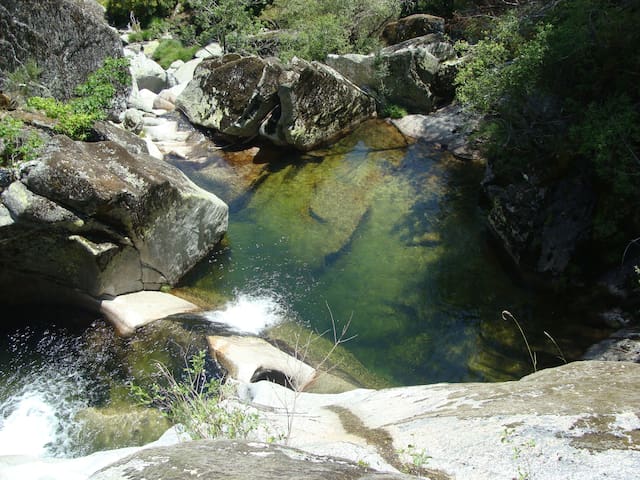 ROOM ONE simple space, Quiet with views of the Glacier Valley of Zêzere. Priority ... Cleaning and Comfort! (WC PRIVATE!) Double Bed WIFI Pets are not allowed. Kitchen available. Only accommodation.
Rooms with private bathrooms. No pets are allowed
Prettig maar zeer kort ontvangst, Marco had het druk wat verder geen probleem was. Mooie locatie met uitzicht op het dorp en de bergen. Goed bed
Ted
2016-11-21T00:00:00Z
It is a very good place to stay for a couple of days. Nice and clean. Be sure that you get the right map-coordinates from Marco because the name of the street is not on (SENSITIVE CONTENTS HIDDEN)-maps yet.
Bert
2017-01-09T00:00:00Z
Está de acordo com a descrição. Alguma humidade na casa de banho, devido às baixas temperaturas. Mas o quarto é limpo, agradável, acolhedor. A casa está situada a uns minutos a pé do centro de Manteigas, uma vila amorosa e muito acolhedora. A relação qualidade/preço é muito boa. E o Marco é muito pontual e prestável. Muito obrigada!
Bárbara
2016-12-10T00:00:00Z
Comfortable, clean room in a nice and quiet place, ideal for a hiking or biking trip in the mountain. Marco makes himself available, which is nice. However, nobody lives there, it's clearly intended as a business venture, so if your ideal airbnb is not a hotel, you will want to look elsewhere.
Thierry
2016-10-09T00:00:00Z
Tudo como planeado, o Marco é 5 estrelas, recomendo!!
Goncalo
2016-12-11T00:00:00Z
The room is clean and air conditioned and its a nice view over the village. You cannot use the kitchen, but there are many restaurants in the center. Marco is very uncomplicated.
Melanie
2016-07-24T00:00:00Z
Thank you for the nice room. It had everything I needed. And thank you also for helping me to find your place.
Nicole
2016-06-07T00:00:00Z
Marc's place was really comfortable, in a beautiful spot for views and added bonus of the balcony! Thanks Marc!
Zara
2016-07-26T00:00:00Z
Kamertype
Privé Kamer
---
Type woning
Huis
---
Geschikt voor
2
---
Slaapkamers
Manteigas, Guarda (district), Portugal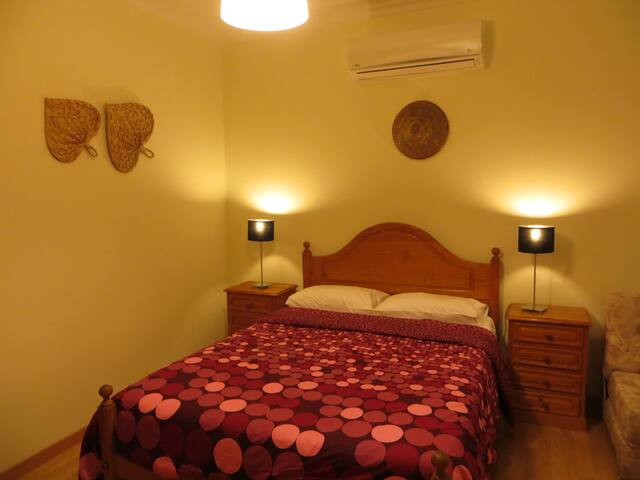 Casa rústica, com madeiras nos soalhos e tectos. Decorada com móveis e objectos simples mas funcionais. Tentou-se preservar, ao máximo, a essência do espaço. Deu-se também especial importância ao conforto.
Soberbas vistas sobre a cidade e arredores, apesar de ter grande privacidade e sossego. Poderá visitar uma grande quantidade de lugares encantadores da Serra da Estrela, aldeias históricas, monumentos, museus, outras cidades como Fundão, Castelo Branco ou Guarda.
Bairro sossegado e agradável.
boa estadia. Anfitriã muito simpática.
CELSO PINTO
2017-04-08T00:00:00Z
Kamertype
Gehele woning/appartement
---
Type woning
Huis
---
Geschikt voor
4
---
Slaapkamers
Covilhã, Castelo Branco, Portugal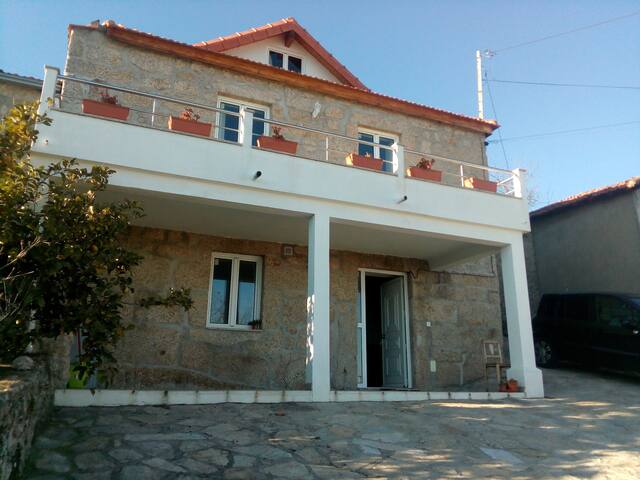 My space is close to Butters, the heart of Serra da Estrela, Ski Park, Hell's Pit, Penhas Douradas, Restaurant Free Wi-Fi, about 25km from the highest point of Portugal - Serra da Estrela, etc. ... You'll love my place because of the location, the environment, the people, the views, and the outdoor area. My space is good for couples, solo adventures, and families (with children).
Very close to the restaurant / bar with free Wi-Fi, a small supermarket, church, sports park, about 25km from the highest point of Portugal - Serra da Estrela.
The host canceled this reservation 4 days before arrival. This is an automated posting.
Diogo
2017-02-14T00:00:00Z
Kamertype
Gehele woning/appartement
---
Type woning
Huis
---
Geschikt voor
4
---
Slaapkamers
Manteigas, Guarda, Portugal
Quarto em tons de azul com casa de banho privativa. Casa dos anos 30 restaurada situada numa rua calma sem carros no centro histórico e mesmo no centro e junto à arte urbana da cidade. Wi-Fi grátis e LCD. Proibido fumar dentro de casa. Possibilidade de fumar no terraço da casa.
A ligação entre rústico e moderno. Tal como a zona histórica da Covilhã. Acesso a um piso com quarto, wc e sala de estar. Sem acesso à cozinha. Privacidade total na zona do quarto e sala. A room and living room completely private and locate at historical zone of Covilhã. No accessibility to the kitchen.
O bairro é típico: a igreja de Santa Maria com a sua bela fachada de azulejos, a casa das Morgadas, a capela do calvário, as lojas modernas do bairro... o pastel de molho da Mena e os mesmos com açafrão e vinagre do Café Santa Maria, os petiscos do restaurante A Laranjinha e as gargantas de freira e as saborosas bolachas de cerveja do Montiel. Located at the centre of Santa Maria neighborhood, the historical area with the best traditional cuisine and products of the region.
Localização, espaço do quarto e simpatia do anfitrião
carla
2017-01-02T00:00:00Z
Antonio is such a friendly and perfect host. The apartment is beautiful, we felt very comfortable. It looks like the pictures and you are directly in the middle of the beautiful, old part of Cavilha. Thanks a lot Antonio!
Viola
2017-03-29T00:00:00Z
Antonio é um otimo anfitrião e sua casa não deixa a desejar. Uma otima localização proxima ao centro, lugar muito silencioso, a decoração do espaço é maravilhosa e principalmente a prestatividade do antonio! :) definitivamente as fotos não fazem jus ao local, recomendo fortemente a casa e principalmente a generosidade do anfitrião! :)
Carolina
2017-03-11T00:00:00Z
Kamertype
Privé Kamer
---
Type woning
Huis
---
Geschikt voor
4
---
Slaapkamers
Covilhã, Castelo Branco, Portugal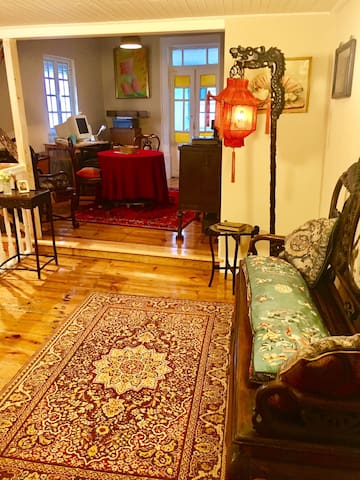 De frente para as Penhas Douradas (1200m), esta casa que fica no limite urbano de Manteigas, tem a beleza da paisagem natural e as comodidades da modernidade. A serra" entra" pelas janelas e varandas e ouve-se o rio ao longe. Há um terraço na parte superior onde se pode desfrutar de banhos de sol e estar em sintonia com a natureza. Possui ainda dezenas de livros e filmes.
O espaço possui 5 quartos, sendo 4 suites, uma cama de criança até 2 anos, sofá-cama com 2 colchões independentes em área reservada dos quartos e um sofá-cama de casal na sala comum. Tem excelentes condições de alojamento para grupos, amigos, famílias e crianças, pela sua dimensão e por ter boas condições de privacidade. Tem frigorífico, máquina da louça e roupa, tábua e ferro de engomar e microondas. A sala de estar dispõe de um plasma, wifi e internet. Possui zona de estar reservada, para lêr, estudar, trabalhar ou brincar. O acesso ao piso dos quartos tem condições para receber hóspedes com mobilidade reduzida.
Situada no centro do Parque Natural da Serra da Estrela, Manteigas foi considerada a povoação com melhor qualidade de vida em Portugal. A quietude e o silêncio e o ar puro são apanágio do local.
Kamertype
Gehele woning/appartement
---
Type woning
Huis
---
Geschikt voor
16
---
Slaapkamers
Manteigas, Guarda (district), Portugal
Manteigas, in het hart van de Serra da Estrela, een klein paradijs met tuin, zwembad en een prachtig uitzicht op de bergen en het dorp Butters. Villa comfortabel en ruim in een rustige afgelegen locatie, gelegen in een beschermd gebied van het natuurpark van de Serra da Estrela, maar slechts 20 minuten lopen van het centrum van de stad. Houd er rekening mee dat de toegang tot het huis wordt gedaan door 1 km van de bosweg op onverharde iets onregelmatig, behorend Natural Park, is het noodzakelijk om langzaam en voorzichtig rijden.
Manteigas, in het hart van de Serra da Estrela, een klein paradijs met tuin, zwembad en een prachtig uitzicht op de bergen en het dorp Butters. comfortabele en ruime villa in een rustige en afgelegen locatie, op slechts 20 minuten lopen van het centrum van de stad. Strategische locatie: in de winter, biedt gemakkelijke toegang tot de skipistes / snowboard en sneeuw en in de zomer, nauw contact met de natuur (glaciale vallei, rivier Zêzere, natuurpark van de Serra da Estrela). Het heeft een open haard en centrale verwarming!
No geral a experiência foi muito muito positiva! Ideal para uma família ou grupo grande. A casa é excelente, muito limpa, tem todas as condições que apresenta na descrição e está muito bem equipada. A cozinha tinha todos os utensílios que necessitámos, o espaço da sala e da mesa de refeições é muito acolhedor, principalmente com a lareira acesa, e os quartos não ficam nada atrás. Ficamos com a sensação de estar em casa. Apanhámos um tempo excelente e portanto o caminho, apesar de algo acidentado, é bem fazível com calma e vale a pena! No jardim, tem-se uma vista magnífica sobre Manteigas. Fomos recebidos pelo Tomé que foi simpático, recebeu-nos muito bem e mostrou-se sempre muito prestável, respondendo rapidamente às nossas questões. A Joana também se mostrou muito disponível. Para quem tenciona visitar a Estância de Ski e a Torre, estamos a cerca de meia de carro e o caminho tem óptimas vistas. Fica a vontade de voltar assim que possível! Altamente recomendado!
Miguel
2016-04-02T00:00:00Z
A casa é um sonho! Sentimos-nos como se tivéssemos numa casa quase nossa, tão acolhedora e tão familiar. A vista é de perder o fôlego! Acordar de manhã a ouvir os pássaros e o rio; à noite olhar para o céu estrelado e parecer que as estrelas estão à distância de esticar o braço e quase que conseguimos apanhar umas quanta delas. Ver Manteigas em forma de coração é só para quem repara em pormenores mas foi encantador. É UM SONHO! UM PARAÍSO! O caminho até à casa como muitos aqui o referem é fazível (com calma e cuidado). E acreditem que vale a pena fazer este caminho para desfrutarem na paz e tranquilidade ao máximo! A Joana e o Tomé são pessoas únicas, muito simpáticas, muito atenciosas, sempre dispostas a ajudar e a aconselhar. Um muito obrigada por tudo, foram impecáveis. Ainda ontem terminei os meus dias de descanso e hoje estou disposta a fazer as malas e voltar para o sítio que tanta paz e tranquilidade me trouxe. Não sei quando, mas regressarei a este paraíso! Sem falta! Bem-haja & obrigada por tudo! Liliya Mazur
Liliya
2016-01-17T00:00:00Z
Mini-férias óptimas, a casa corresponde totalmente á discrição, o caminho de acesso realmente é um pouco "pitoresco" mas se assim não fosse a casa não tinha localização brutal que tem e seria apenas mais uma casa no meio de tantas. Joana e Tomé 5*, sempre prestáveis e simpáticos. Continuem assim, e não até um dia, mas sim um até já:)
Gil
2016-02-08T00:00:00Z
Casa espectacular, bastante acolhedora e harmoniosa. Anfitriões super acessíveis e disponíveis. Excelente paisagem!(URL HIDDEN) Unico e exclusivo inconveniente, acesso nao é o mais facil quando chove. Não hesitaremos em voltar para esta casinha, numa proxima ida à Serra!!
Joana
2016-02-14T00:00:00Z
Adorámos a estadia. A casa é fantástica e muito acolhedora. Fica localizada num local magnífico com uma vista fantástica. Fomos muito bem recebidos pelo Sr. Tomé que é uma simpatia. Contamos voltar mas desta vez para experimentar a piscina.
João Pedro
2015-12-20T00:00:00Z
A Serra da Estrela é maravilhosa! Paisagens lindíssimas com florestas, rios, ovelhas e neve no topo! Fomos muito bem recebidos pelo anfitrião que nos deixou muito a vontade na casa e passou todas as dicas da região. A casa comporta muito bem grupos grandes e no verão deve dar até para usar a piscina. No inverno só com lareira e aquecedores acesos pois a região é bem gelada!!
Melissa
2016-02-22T00:00:00Z
We had a wonderful weekend at Pequeno paraiso na Serra da Estrela. The house is spacious and well laid out. Sitting by the fire after a days hiking in the mountains was the best. Joana and Tomé are terrific hosts. Communication was excellent. I really appreciated being met by Tomé in the town and following him by car to the house. The maps of the different trails around the area are excellent. We'll certainly be back.
Simone
2016-11-13T00:00:00Z
The house was very Nice, Joana and Tomé Made us feel very comfortable, being here anytime we needed!!! The view can't even be described as it is amazing ... Photos are not fair... The pool is very nice. We enjoyed so much our stay ! The only thing was that little road to access the house that is a little uncomfortable for low sport car as we had but you can easily find a rent ( if needed) as the city is around but other cars will pass, my dad had no problems. Joana and tomé told us some good place to have fun, rivers, Trail !!! I can tell you to come in this place and sure you will enjoy!
Shilane
2015-08-30T00:00:00Z
Kamertype
Gehele woning/appartement
---
Type woning
Huis
---
Geschikt voor
12
---
Slaapkamers
Manteigas, Guarda, Portugal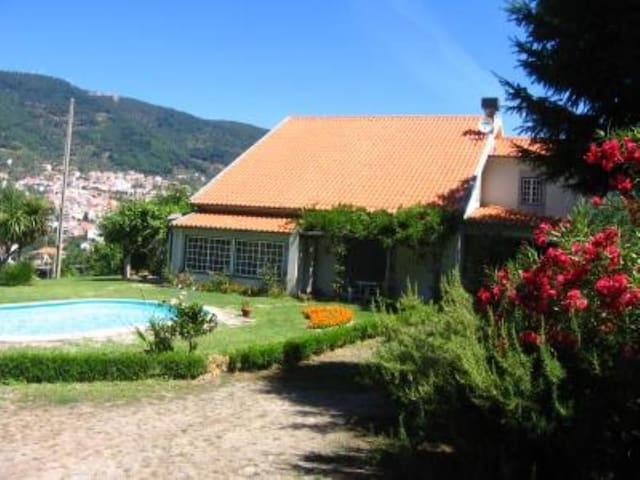 The house is located in the city of Covilha , near the pedestrian bridge. The historic centre is nearby, only need to take the Elevator. The house has two rooms, toilet , shower and mini-kitchen. Convenient for guests who travel through the national Park Serra da Estrela.
Kamertype
Gehele woning/appartement
---
Type woning
Huis
---
Geschikt voor
4
---
Slaapkamers
Covilha, Castelo Branco District, Portugal
gezellig huis gelegen in het historische dorp Sortelha - Guarda. Lang leve de middeleeuwse sfeer van dit dorp en geniet van de nabijheid van de Serra da Estrela en de Serra da Malcata.
Het was als in een sprookje om in een kasteeldorpje te mogen wonen. Overdag waren er enkele toeristen, maar in de avond en nacht hadden we het hele dorpje voor onszelf. Het huisje was geheel authentiek en daarom erg klein, maar helemaal compleet en heerlijk koel ondanks de hoge buitentemperatuur. Een aanrader voor iedereen die eens een sprong terug in de tijd wil maken.
Martijn
2015-06-22T00:00:00Z
A casa de Sortelha era muito linda e romântica, bem no meio do Centro histórico, totalmente preservada com paredes de pedra e assoalho de madeira. O lugar era mágico, como se estivéssemos dentro de um filme ! Foi fácil de encontrar de carro, e também de estacionar, a D. Ana que nos entregou as chaves era muito simpática e nos ofereceu um pouco de vinho de fermentação própria, da região, que era muito bom, compramos até mesmo uma garrafa. Havia aquecedor à óleo no quarto, que era no segundo andar, mas mesmo assim o frio era extremo, por conta das paredes de pedra, então preparem-se: levem casacos e meias de lã também para dormir. No primeiro andar há uma lareira para aquecer a sala e cozinha americana, o que me deixou muito feliz, mas o único problema era que ela soltava bastante fumaça quando se abria a porta de vidro protetora, e com ela fechada o calor do fogo não passava direito para a cozinha... Porém, tomando vinho na beira da lareira conseguimos nos aquecer! O banheiro era bom, mas não havia ducha higiênica, e a cozinha era super bem equipada de utensílios para fazer o jantar (pois lá é difícil de encontrar qualquer coisa aberta após às 20:00, a cidade é bem quieta e vazia, o que para nós foi ótimo para descansar), tinha até micro-ondas, cafeteira italiana e torradeira para o café da manhã. Em resumo, só lamentamos uma coisa: não poder ficar mais tempo ! =)
Tereza
2016-04-18T00:00:00Z
Muy acogedora la casa, todo muy limpio y un pueblo de cuento
Belen
2015-04-03T00:00:00Z
Todo genial. La casa como se describe. Muy bien equipada, amueblada y decorada. Atendida por Ana, siempre pendiente y muy simpática y amable. Muy recomendable, la casa es parte del increíble escenario medieval q es Sortelha
francisco
2015-03-30T00:00:00Z
A truly unique experience! Our stay at Casa da Mesquita was cosy and quiet, and our hosts were very friendly and accommodating. The location is excellent -- we enjoyed exploring the castle ruins and popping into the Boas Vindas bar just steps away for a caffe or ginja. The house is very old but has everything you need to be comfortable, while keeping an authentic atmosphere.
Kim
2016-08-17T00:00:00Z
Very nice house in a wonderful and magic village
Fabrizio
2016-10-30T00:00:00Z
Il s'agit d'une excellente adresse pour une ambiance médiévale garantie. Le village de sorthela est magnifique. Nous sommes restés 4 jours, en plein mois d'août... Grosse chaleur pour les bretons que nous sommes . Mais nous pouvions trouver de la fraîcheur en partie basse de la maison. Nous avons visité Belmonte, sabugal et Monsanto, et également parcouru la Sierra estrela.
Laurence
2015-08-07T00:00:00Z
Sortelha is an amazing place and in Suzana's house you are staying right in the old town! And the old town is incredible! We picked up the keys from the lovely local bartender and spent the afternoon hiding from the heat of the day in the downstairs lounge. There are great walks and we loved going up to the wind turbines. It is truly a unique and beautiful place :)
CaseyJo
2016-08-11T00:00:00Z
Kamertype
Gehele woning/appartement
---
Type woning
Huis
---
Geschikt voor
4
---
Slaapkamers
Sortelha, Sabugal, Guarda, Portugal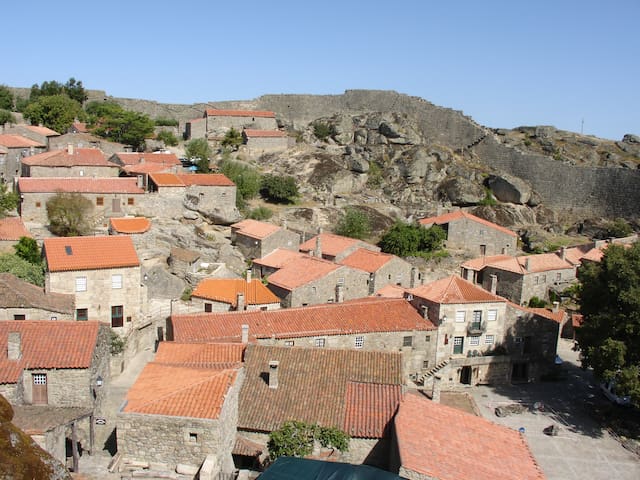 Casa em granito recuperada, duplex com um quarto de casal, sala com dois divans e salamandra. Cozinha aberta, quarto de banho com duche. Na entrada da casa tem um terraço com mesa , cadeiras e guarda sol. E muito agradável com o ruído do ribeiro.
Casa independente. Localizada a beira ribeiro. Muito tranquila, apenas o ruido do ribeiro saltando as pedras...
Ribeiro, Neve, Restaurantes regionais, Tranquilidade, Paisagens, Artesanato
A really nice little house that has been renovated with high quality. Branca gave us a great welcome with some local bread and even a bottle of wine. We had everything we needed in the apartment to cook food and live comfortably. The house is off the Main Street and has no address, so you really need to call her when you get there. The benefit is you have no street noise and just the sound of the river at night! Thanks Branca!
Scott
2014-08-08T00:00:00Z
The house was very well located, right in the middle of the village... next to a beautiful stream. The house has a great outdoor patio space that we used to relax on in the afternoons and eat dinner in the evenings. There are at least 5-6 wonderful hiking trails that are directly accessible from the village... many of the trails actually start in the village itself. Overall, it was great. We would recommend anyone coming to Manteigas to stay here.
Craig
2016-07-05T00:00:00Z
A D. Branca foi bastante simpatica e flexivel. A casa é muito acolhedora. Gostámos muito da estadia e certamente vamos repetir. Recomendamos!
Rita
2016-12-04T00:00:00Z
A very cosy house in Manteigas, clean and easy to warm up if cold outside, near by a small river, which sound was very relaxing and close to a lot of bars and restaurants. Half an hour away from the ski center (by car), the town is very beautiful, with a lot of treking routes to enjoy nature. The price is right for the house, I would recomend Branca's place very much, especially to families.
Cristian
2017-03-12T00:00:00Z
Belíssimo alojamento, excelente localização, consegue-se quase tudo apenas com deslocações a pé, a casinha tem uma configuração engraçada a recepção foi com a D. Graça que foi muito simpática e prestável. Que belo pãozinho que tinha-mos á chegada. Muito Obrigado
Daniel Luz
2016-12-29T00:00:00Z
Our stay here was fantastic! The area was beautiful and we were able to do a couple of great hikes and swim in the river afterwards. Branca was super friendly and welcoming, a little English and a little French and we made everything understood! Sitting outside at the table and chairs to eat was a treat as the river literally runs past the house. Thoroughly recommended!
Heidi
2016-08-29T00:00:00Z
Branca was very accommodating and welcoming when from when we arrived to when we left. She was happy to suggest places to see and to eat.
Mário
2015-10-02T00:00:00Z
Great house with a fantastic fireplace for the cooler nights. Wonderful to hear the sound of the river nearby. Perfect base for endless hikes in the area. Great village feel and with supermarkets and restaurants within walking distance. Would recommend.
Narelle
2016-11-13T00:00:00Z
Kamertype
Gehele woning/appartement
---
Type woning
Huis
---
Geschikt voor
4
---
Slaapkamers
Manteigas, Guarda (district), Portugal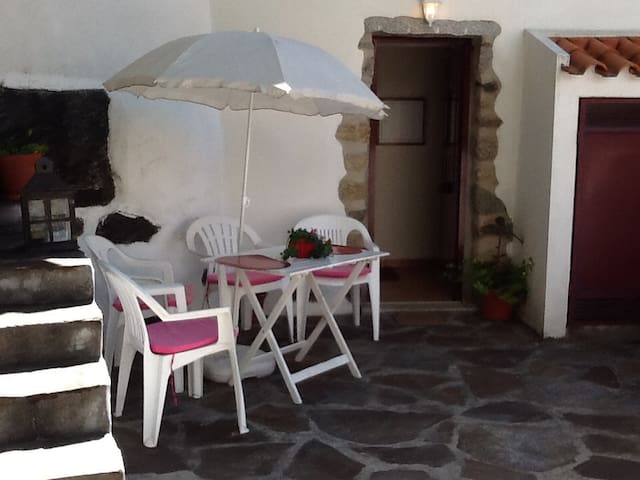 The old primary schools, lost their function with the decreasing of population becoming unused and degrade, the Agr. 33 of Scouts, decided to get to work and restore them to once again come to live
In a small village in the municipality of Belmonte, Inguias, just 8km from the historic town of Belmonte, find a beautiful space with all the comfort, a former elementary school recovered by the Scouts of Belmonte, this school is now fully equipped and adapted to receive visitors wishing to visit the municipality of Belmonte, and all is natural and cultural richness that it has to offer, as well as the entire region in which are inserted the magnificent Serra de Estrela, or the historic villages of Sortelha and Sabugal. The building has a suite with double bed (bathroom equipped with shower), one double bedroom equipped with an extra bed, a dormitory with bunk beds for up to 13 people in single bed. a male bathhouse equipped with 3 bathrooms and two showers, a female bathhouse equipped with 2 bathrooms and 2 shower rooms, a large lounge equipped with furniture for meals and for moments of leisure, a fully equipped kitchen so that our visitors can feel- at home, as well as a completely equipped laundry, so that in longer stays, you don't have no difficulties in respect to garments
The interesting little town of Belmonte is dominated by a 13th century castle that was transformed into a fortified manor house in the 15th century by the family of Pedro Alvares Cabral, the discoverer of South America. Pedro was born inside, and the family's coat of arms is part of a Manueline window on one of the side walls. The interior has been remodeled and includes an amphitheater for shows and concerts. A treasured statue of the Virgin that accompanied Cabral on his voyages is in the town's parish church, while his tomb and those of his family members are in the Romanesque Santiago Church. His statue stands in the center of the town, on a street with his name. Monument to Pedro Alvares Cabral Adjacent to the castle is a warren of ancient alleys that make up the old Jewish quarter. Still the residence of dozens of Jewish families today, this is the largest Jewish community in Portugal. There is also a modern synagogue and a small Jewish Museum that tells the story of this centuries-old community. Inside Northeast of town is a strange Roman tower known as Centum Cellas, a mysterious square, three-storied structure. Archeologists are unable to explain what its function may have been, with some believing it was a watch tower, others a mansion or even a temple. About one kilometer (just over half a mile) from the center of the town is a former convent that has been renovated into a pousada. It preserves its historical architecture, mixing it with stylish modern design, and the rooms instead of numbers have the names of the friars who once lived in the building. The views to the slopes of Serra da Esperança alone would be worth a stay.
The wooden hut beds are a great idea, they're very original! The response to any questions was really fast and the service in general excellent. It's also nice to find a hostel where you don't have to bring sleeping bags, bedsheets or towels, especially when you're travelling by plane. We are all satisfied!
Tiina
2016-02-08T00:00:00Z
Bonjour, Une très belle expérience que ce séjour dans l'ancienne école transformée en maison d'hôtes. L'accueil par Nuno fut chaleureux et il nous a fourni toutes les explications et informations dont nous avions besoin. Quand à l'endroit, il est tout simplement exceptionnel: original, propre, fonctionnel et très grand. Il fera le bonheur des grands et des petits tellement il est bien pensé. Le village est petit mais mignon et il est à quelques minutes de Bellemonte où on trouve tout ce qu'il faut notamment une piscine assez agréable avec une jolie vue.
ziri
2016-08-22T00:00:00Z
Logement génial dans un endroit atypique avec cette moitié d'école de village transformée en gite. Mention spéciale pour la chambre dortoir est son univers entre Peter pan et les cabanes dans les arbres. Nous n'avons pas rencontré notre hôte, mais ils s'est arrangé pour qu'une personne nous accueille à l'horaire que nous voulions et en français.
Alix
2016-08-18T00:00:00Z
El sitio es ideal para los niños. Amplio y con buenas instalaciones. Al lado hay un parque infantil y un campo de fútbol. Nuno es muy atento y servicial. Esperamos volver.
David Alejandro
2016-03-28T00:00:00Z
Mention spéciale pour cette école pleine de charme et de caractère retapée par les scouts. Un très bon accueil de notre hôte qui nous a conseillé de belles visites et de bons restaurants. Je recommande vivement ce logement.
Audrey
2016-12-20T00:00:00Z
Excelent. Very nice place, amazing beds :-D, we were very satisfied. Thank you
Michal
2016-01-26T00:00:00Z
Simplesmente fantástico! A casa tem excelentes condições, num registo muito natural e diferente. Vale a pena a experiência. Agradeço ainda ao Nuno Couto toda a dedicação, atenção e empenho para que tivéssemos uma estadia impecável.
Paulo
2016-04-26T00:00:00Z
Kamertype
Gehele woning/appartement
---
Type woning
Huis
---
Geschikt voor
16
---
Slaapkamers
Inguias, Castelo Branco, Portugal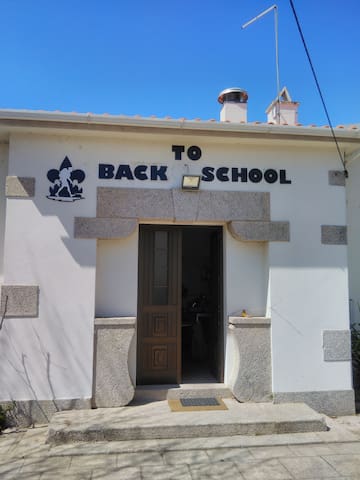 Valhelhas - Airbnb
:
Gemiddeld

4.61

van

5

sterren op basis van

289

gastrecensies
1

–

18

van

63 Huizen te Huur
Voer datums in om de volledige tariefopbouw te zien. Er kunnen extra kosten zijn en er kunnen belastingen worden toegevoegd.