299 Appartementen te huur
Het appartement is zeer dicht bij Raanana / Kfar Saba, in een landelijk gebied. Je zal net als de accommodatie, want het is een zeer rustige en rustige omgeving, maar nog steeds erg dicht bij de stad en op slechts 20 minuten rijden naar Tel Aviv. Het zijn veel speeltuinen in de Moshav en ook een mini-markt. Het is geschikt voor een paar, maar nog twee personen kunnen slapen in de woonkamer op een slaapbank.
Het appartement is gelegen in de semi-kelder, maar er is veel licht door de grote ramen van de binnenplaats.
Lovely quiet appartment with the wellcoming host- Yael
Cadan
2017-01-08T00:00:00Z
Wonderful area, nice and very quite village. One of the best places I've ever seen in Israel
Mike
2017-01-04T00:00:00Z
Wir waren zu frieden, alles wie beschrieben, fragen die wir hatten wurden beantwortet, alles Super, gerne wieder!!
Eduard
2017-03-05T00:00:00Z
Kamertype
Gehele woning/appartement
---
Type woning
Appartement
---
Geschikt voor
4
---
Slaapkamers
Sde Warburg, Center District, Israël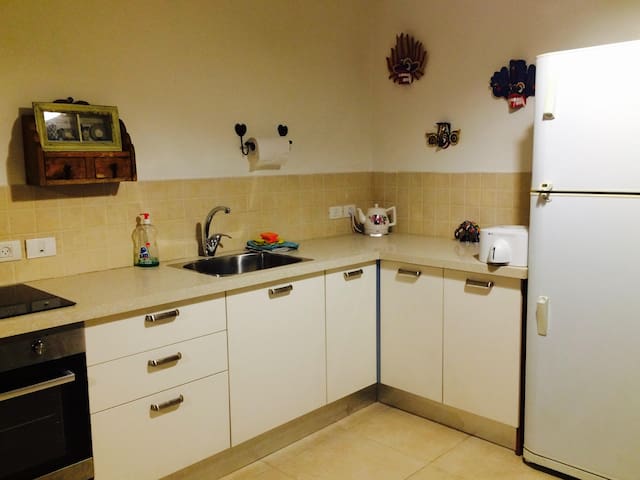 Unser Keller hat ein separates Schlafzimmer, ein großes Bad und einen großen Wohnbereich mit einem Etagenbett, Einzelbett, bis zu 2 Etage Matratzen und eine Küche. Es verfügt über Kabel-TV und Internet. Es ist schwer, familienfreundliche Unterkunft in Tel Mond zu finden.
Dies ist ein Keller mit schönen natürlichen Licht und ist gut mit mehr als einem Dutzend Lichtern beleuchtet. Der Raum ist 70 m, so gibt es einen großen Gemeinschaftsraum ist sowie ein abgeriegelt Doppelzimmer. Die Küche ist koscher so streng keine Fleischprodukte und nicht rauchen.
Unser Haus liegt in der Nähe der zentralen Tel Mond Einkaufszone, sowie die große Gemeinschaft Synagoge. Von Tel Mond haben Sie einen schnellen Zugang zu den Stränden von Netanya (15 min), Herzliya (25 min), und Sie sind nur 30 Minuten Fahrt von Tel Aviv.
Adam's place is a very comfortable, quiet, spacious place to stay. My father stayed there and was very happy with his stay.
Sara
2016-12-01T00:00:00Z
The stay in Adam's place was great in all aspects. Adam provided us with all our needs and gave us a great service. Thank you!
Arie
2017-03-17T00:00:00Z
We were visiting family in the area and Adam's place was a great choice. very friendly and equipped for kids (ours felt at home immidiately and would've stayed longer..) Adam and his family are super nice, relaxed and flexible. communication with them was great. The place is spacious and is 5 min walk from cafe, grocery, ATM, playground etc. we had a fun, relaxing time!
Shahaf
2016-11-12T00:00:00Z
Adam was very kind. The place has one bedroom with a big bed, bathroom and one big space divided very nicely into a living room, bedroom and kitchen. We are a big family with 4 kids and it was enough space for us. The place is fully equipped and there are many toys and books, and our children enjoyed it a lot. Adam left us fruit, wine and snacks. The air conditioner was a portable one and it was enough. The kids asked to come again and we will be happy to! Thank you Adam :)
Gal
2016-08-11T00:00:00Z
Adam and his family were the most wonderful hosts one can ask for! They went out of their way to be friendly and warm, offering lots of help and information, while still being respectful of our privacy. They were incredibly generous with extra towels, bedding and even a basket with fruit and wine to make us feel at home and welcome. The unit is new and clean, comfortable and spacious. It's also a perfect home-base for exploring the Sharon region and Israel's center, 15 minutes to the Netanya beach and half an hour to Tel Aviv. We highly recommend staying here - we're already looking forward to staying with Adam next time we're in town!
Noga
2016-05-08T00:00:00Z
this is a great place to stay! very clean and comfortable and adam and janet are great hosts! there are lots of toys and books and everything you might need and it is on a beautiful street. highly recommend!
Courtney
2016-10-10T00:00:00Z
Amazing family welcomed us and made our stay very special. Adam was a pleasure to deal with and everything was exactly as advertised.
Leor
2017-01-26T00:00:00Z
It's our second time in Adam's place. It was great like the first time.
Gal
2016-09-03T00:00:00Z
Kamertype
Gehele woning/appartement
---
Type woning
Appartement
---
Geschikt voor
6
---
Slaapkamers
Tel Mond, Center District, Israël
Az én helyem jó a párok, üzleti utazók, családok (a nagy gyerek}
Einrichtungen wie Schwimmbad, Supermarkt, Cafés, Restaurants und eine Apotheke. Wir sind sehr Neer auf Straße 6, die nach Süden und Norden der Nähe ist, können Sie Tel-Aviv in 20 Minuten zu erreichen. Kommen Sie mit uns, um zu sehen und genießen Sie Ihren Urlaub und wieder zurückkehren möchten. Eine neue voll ausgestattete Wohnung mit allen Einrichtungen. 2 Schlafzimmer, 1 Badezimmer, eine Veranda mit schöner Aussicht und einem Deckboden. Es gibt zwei LCD-Fernseher in der Wohnung eines im Schlafzimmer und eine im Wohnzimmer. Ein Gericht Waser, Mikrowelle, Toaster, Bügeleisen und großem Kühlschrank. Dieses Gerät beantworten alle Ihre Bedürfnisse. Rauchen Haustiere erlaubt Fernseher Internet Kabellos Klimaanlage Kabelfernsehen Heizung Aufzug Handicap accs Schwimmbad Küche Parken Türsteher Fitnessstudio Whirlpool Kamin BreakfastArea Unterlegscheibe Trockner Garten Mikrowelle Ofen Refrigirator DVD Spieler Film-DVDs Balkon
Kamertype
Gehele woning/appartement
---
Type woning
Appartement
---
Geschikt voor
4
---
Slaapkamers
Kokhav Ya'ir Tzur Yigal, Center District, Israël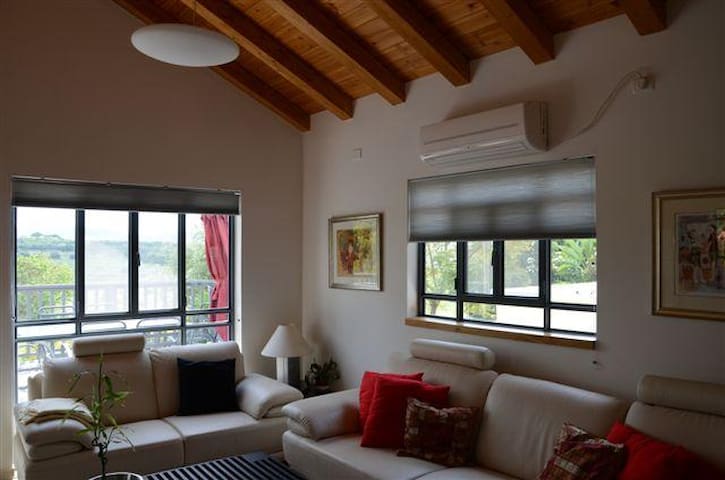 Мое место рядом с семейных праздников ,. Мое место хорошо подходит для пар и деловых путешественников.
Kamertype
Gehele woning/appartement
---
Type woning
Appartement
---
Geschikt voor
4
---
Slaapkamers
Kokhav Ya'ir Tzur Yigal, Center District, Israël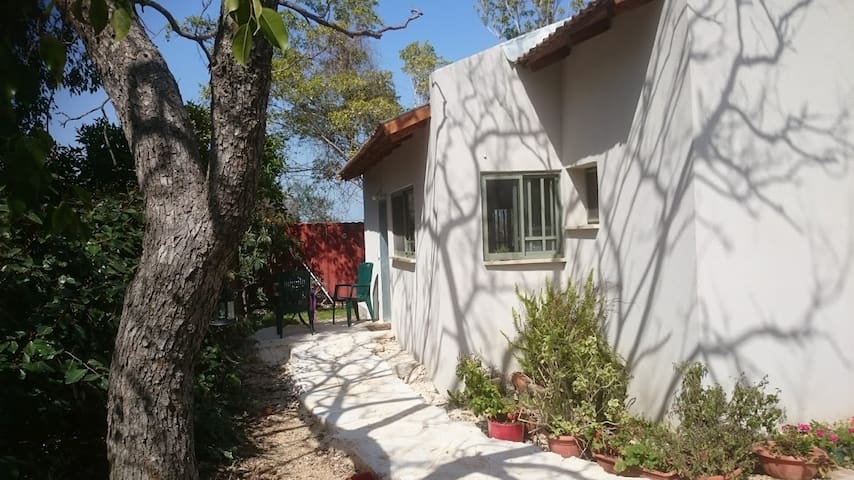 The apartment is located in a modern area with spacious gardens and a great place for children's games. the master bedroom has double bed and another bedroom with a sofa bed with a wardrobe. Within short walking distance there are supermarket, bank and access to public transport. The apt has private parking and located on 4 floor with balcony. you will get clean linen and towels, a fully equipped kitchen for a comfortable and pleasant stay It has central air-conditioning for cooling or heating
very nice and cozy place , very near by the new shopping mall "G" with major brands , cafes and cinema. also new amusement center "Oshiland" is near by. If you like large parks and green areas , you will find the main Kfar Saba park just 7 minutes walk away from the apt.
A modern neighborhood with children's playgrounds, lots of green lawns and parks
Kamertype
Gehele woning/appartement
---
Type woning
Appartement
---
Geschikt voor
5
---
Slaapkamers
Kefar Sava, Center District, Israël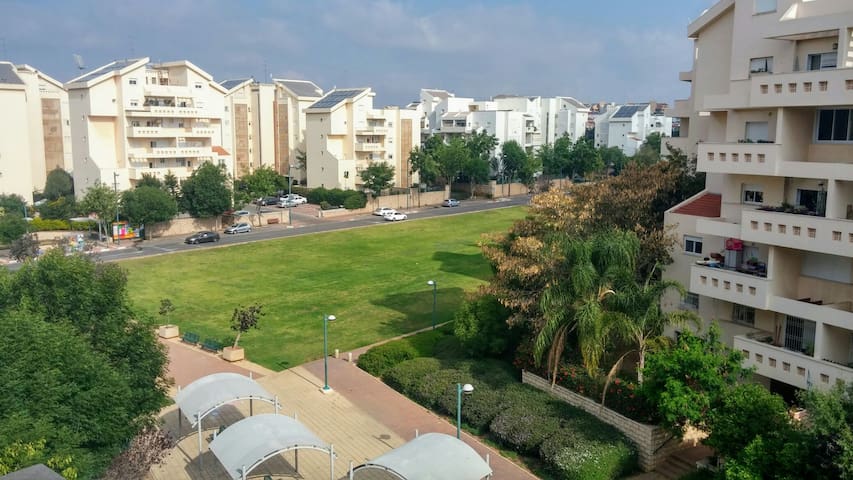 Eingebettet in das Grün, Frei stehend 1br Einheit voll mit seiner eigenen speziellen ländlichen Atmosphäre ausgestattet. Das Hotel liegt im angesehenen Stadt, in der Mitte von Israel 3 Autominuten zur Autobahn. 25 Minuten nach BGN Flughafen, 35 Minuten zum TLV. Einfacher Zugang, Parkplatz.,
Eingebettet in das Grün, repräsentative Stadt, grün landescape. Freistehendes 2 Zimmer-Einheit (voll ausgestattet) mit seiner eigenen speziellen ländlichen Atmosphäre. Einfacher Zugang, Parkplatz., Es ist Zentrum von Israel 3 Minuten zur Autobahn nu fahren. 6: schnellste Autobahn in Israel. Getrennt privaten Grün Eingang, 2 Zimmer, 1 Schlafzimmer (kann 2 Personen beherbergen), Kochnische, Voll ausgestattet: Klimaanlage, Kühlschrank, Toaster-Ofen. , Kabel-TV, High-Speed-Kabel / WiFi-Internetzugang.:. Fliessend: saubere Handtücher Bettwäsche. Das Gerät ist in 3 Minuten zu Fuß: auf: 1. Sportzentrum mit Fitnessraum und Schwimmbad, 2. Handelszentrum mit allen Einrichtungen: Bank, Café, Supermarkt, Wäscherei, Post, Apotheke, Ärztezentrum .
Kohav-Yair: Prestige-Stadt, bekannt für seine hohe Bevölkerungs Platz, auf dem Land, Blick ins Grüne.
I had the great opportunity to live in this house for 2 weeks. Initially, I was impressed by the hospitality Ronit K. As the master of the house and responsible landlord, Ronit was always ready to help me in a difficult situation. Ronit, most likely at the expense of personal time met me at night at the airport. On arrival in the house, she all showed me and told. She was ready to give me a car to use for the period of my stay in Israel, but knowing that I don't have an international driver's license, have prepared for me the public transport schedule. The house in which I lived, very comfortable, located in a quiet area, but close to the center, where there is a shop, café, Laundry and mail. The house is clean, has everything you need. The house is a charming by itself, as it is located in the beautiful garden. Everything was like a fairy tale. This was my first independent trip, and I am very grateful Ronit, for all that she has done for me. Even before my arrival in Israel, she patiently answered all of my sometimes stupid questions. She is really the person whom you can trust as lessor, and as friend. And, if you're still thinking about whether to rent this house, I will say this: if there is anything to fate, and I will again come to Israel, the house Ronit K. is the place where I would want to live.
Римма
2014-11-19T00:00:00Z
Kamertype
Gehele woning/appartement
---
Type woning
Appartement
---
Geschikt voor
2
---
Slaapkamers
Kokhav Ya'ir, Israël
* There are 3 bedrooms in the apartment. Two bedrooms with a twin/double bed and one master bedroom with a queen size bed and an ensuite bathroom. * There are enough bedsheets and towels for 6 people. The main bathroom is spacious and contain both a bathtub and a shower. A door from the main bathroom leads to the service room with a washing machine and cleaning tools. * The kitchen is well equipped with all the cooking and eating utensils that are needed, including oven, gas cooker, microwave and dishwasher. The kitchen opens up to a dinning area and a living room with a large sliding door connecting to a balcony overlooking Moshav Tsofit (The apartment is located on the 6th floor). * The apartment is fully furnished and has central air-conditioning capable of cooling in the summer or heating in the winter.
The apartment's address is Simtat Shahaf 9. In the apartment's immediate vicinity there are shaded playing grounds for kids. Within 7 minutes walking distance there is the new Kfar Saba park with jogging paths, recreational facilities for kids, a coffee place and big loans with BBQ options. Within walking distance you can also get to the Kfar Saba Country Club and within 5 minutes drive you can find any shop you need in the industrial area or in the new shopping center - (website hidden).
Or war mein erster Airbnb-Gastgeber. Trotz aller Skepsis wurde ich positiv überrascht. Wohnung und Lage haben der Beschreibung entsprochen und Sauberkeit, Wohnungsschnitt und Ausstattung haben keine Wünsche offen gelassen. Besonders möchte ich die Flexibilität und Hilfsbereitschaft hervorheben. Ich konnte mit meinen Freunden sogar sehr früh im Morgengrauen einchecken. Ein kurzer Anruf hatte genügt und die Schlüsselübergabe verlief einwandfrei. Wenn ich nochmals nach Mittel-Israel fahre, werde ich definitv gucken, ob die Wohnung noch frei ist.
Gregor
2016-05-21T00:00:00Z
We had good time in the apartment . The apartment was in great condition and cleaned. Great location, convinient with the parking and great views Thank you Or Chen
Ken
2016-04-27T00:00:00Z
Home away from home is the perfect description for this wonderful apartment! The apartment is spacious, well maintained, and very well equipped. Lots of small "touches" made our experience even better - the apartment was stocked with pellets for the dish washer and washing machine, and a welcoming bottle of wine upon our arrival. Covered parking (for 2 cars) is included - especially appreciated during the hot summer months. Location is excellent - a very large shopping center (G) is a few minutes away, as is access to major freeways, making day trips very easy. I did not have the opportunity to meet the owners as we arrived very late (midnight) and departed very early (4am) but communications with the owner was easy, friendly and prompt.
Noam
2016-06-26T00:00:00Z
We had a great time in Or's apartment. It is very spacious and bright, with a large balcony, and is in a great residential neighborhood. It is fairly close to a nice park and shopping, but we were glad we had rented a car to be able to get around easily. Or was very responsive, and his parents were extremely helpful as well. We would love to come back!
Alyssa
2014-10-29T00:00:00Z
As a long-time AirBNB host myself, it was a pleasure to find someone else who shares the same hosting spirit. I can highly recommend Or and his place. 10 out of 10!
R.G.
2014-04-14T00:00:00Z
This was our second visit to Or's apartment in Kfar Saba. The apartment is located in a quiet and friendly neighborhood with many supermarkets nearby, close to everything we needed. Shalom and Shlomit, Or's parents, were very welcoming, addressing all of our needs promptly. This was indeed our "home away from home," and we hope it is available for us next time we visit Israel!
Renana
2016-12-25T00:00:00Z
We felt like at home in Or's nice apartment. It was clean, big and with a very nice balcony. Or is a very caring host and his parent's help wherever they can. I can fully recommend it :)
Beatrice
2013-05-04T00:00:00Z
The host canceled this reservation 7 days before arrival. This is an automated posting.
Steve
2016-09-09T00:00:00Z
Kamertype
Gehele woning/appartement
---
Type woning
Appartement
---
Geschikt voor
5
---
Slaapkamers
Kefar Sava, Israël
Entire apartment 1 min walk from the country club (pool+gym+tennis), 5 min to Kefar Saba big Park, 3 playgrounds, big balcony with a refreshing view. 20 minutes drive to Tel Aviv.
Тихий приятный район, несколько удаленный от магазинов и пр., так что рекомендую путешественникам с машиной. Недалеко от дома - большой благоустроенный парк, стадион. В квартире есть все необходимое для семьи. Шейла -душевный и отзывчивый человек. Мы провели хорошие дни в ее квартире.
Olga
2015-10-29T00:00:00Z
Kamertype
Gehele woning/appartement
---
Type woning
Appartement
---
Geschikt voor
5
---
Slaapkamers
Kefar Sava, Center District, Israël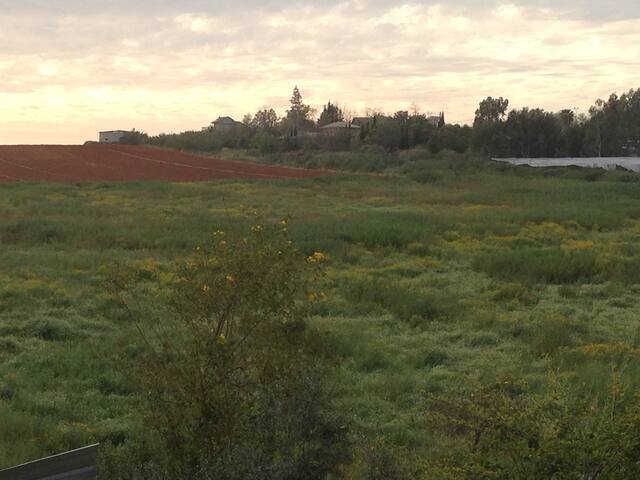 Мое место рядом с великолепным видом на город и в центре города. Вы будете любить свое место из-за на открытом воздухе пространства, атмосфера и взглядов. Мое место хорошо для пар, сольных авантюристов и деловых путешественников.
Kamertype
Gehele woning/appartement
---
Type woning
Appartement
---
Geschikt voor
3
---
Slaapkamers
Sde Warburg, Center District, Israël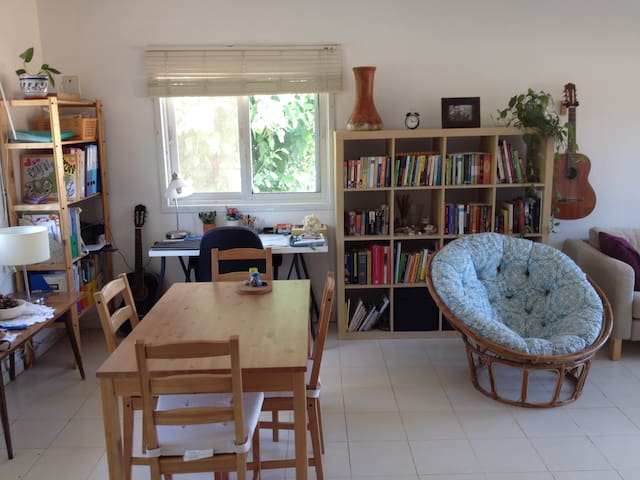 My place is good for couples and business travelers.
Host is super responsive and warmly welcomed me to the apartment. The room offered to me was very clean and neat, had an AC for cooling and heating, a large and comfortable bed, a TV set, a closet, WiFi (7Mbps download 3Mbps upload, 18 ping, work and streaming had no problems at all) and lots of electric sockets. The room also had a private toilet and shower with hot water at all times. In addition, the room had an accessible private balcony with a nice view from the 5th floor. Will definitely come back again!
Norbert
2016-12-19T00:00:00Z
The room is very nice, clean and has all one can require. The host is very nice and friendly and at the same time leave you the space you need - excellent combination.
Moshe
2016-12-11T00:00:00Z
Ein sehr schönes Zimmer mit integrierter Duschbad und Toilette sowie ein schönen Balkon mit Superblick über die Stadt. Hinzu kommt die ruhige Atmosphäre in die Wohnung
Jose
2017-03-06T00:00:00Z
If you need to stay in Kfar Saba, this place is fine. I liked the privacy of having an large en-suite bathroom.
Joel
2017-03-23T00:00:00Z
I stayed one night for Business meetings. it was very clean , the host was responsive and collaborative . fair price. I fully recommend !
Dima
2017-04-02T00:00:00Z
My mom who doesn't speak Hebrew or English felt very welcomed and taken care of. Israel and his wife are very sweep, polite, helpful and easy going. Great value, I will defiantly send more people over when they come to Kfar Saba.
Mijal
2017-01-19T00:00:00Z
Best place
Julik
2017-02-16T00:00:00Z
I arrived to Israel's home by the end of a very stressful day and I was welcomed so warmly that I immediately forgot about all. The home is beautiful and very comfortable. The room is s true gem with a private restroom and everything impeccable clean. The bed is super comfortable. I am so thankful for the warm welcome is saved my day. I highly recommend this airbnb true treasure.
Jose
2016-11-29T00:00:00Z
Kamertype
Privé Kamer
---
Type woning
Appartement
---
Geschikt voor
2
---
Slaapkamers
Kefar Sava, Center District, Israël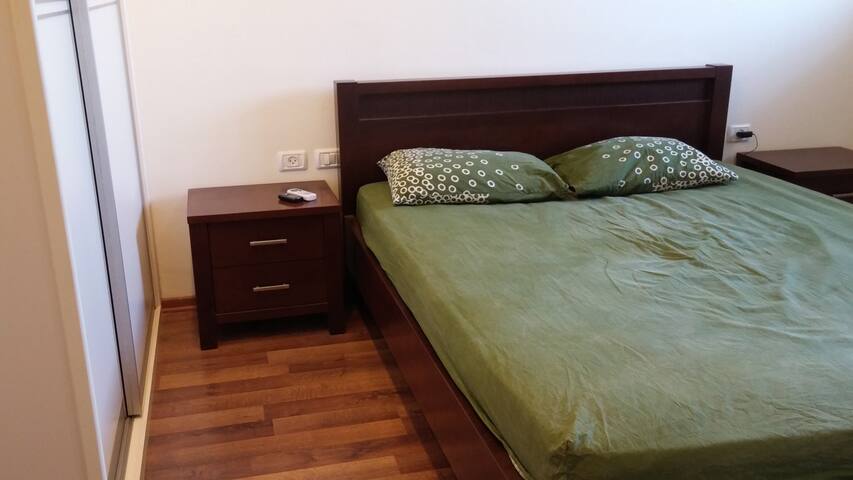 Immersed in the greenery, unique unit, Hidden behind a green blooming entrance with its own special rural- romantic atmosphere, Located In center of Israel 3 minute drive to the fastest highway nu.6 Near commercial center with with all facilities.
Kamertype
Gehele woning/appartement
---
Type woning
Appartement
---
Geschikt voor
2
---
Slaapkamers
Kohav Ya'ir, Center District, Israël
In a quite neighberhood, close to Oshiland mall and G center (restaurants, cinema...), many children's parks around. Cozy room with privat bathroom and coffee corner. My place is good for couples and business travelers. Israeli breakfast for 40 NIS in advanced order only. We are friendly and like meeting nice people frpm all over the world! We travel a lot with airbnb and want you to feel wellcome!
Kamertype
Privé Kamer
---
Type woning
Appartement
---
Geschikt voor
2
---
Slaapkamers
Kefar Sava, Center District, Israël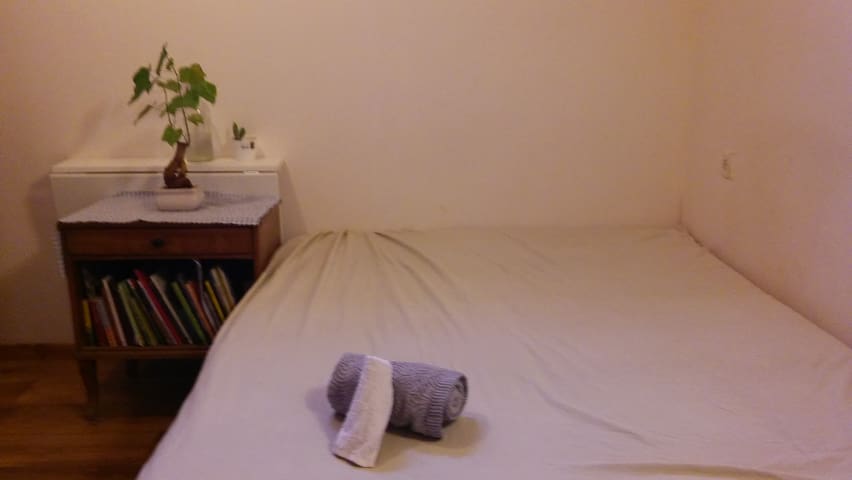 Een mooi appartement in het dorp, op 20 minuten rijden van Tel Aviv. 15 minuten rijden van het strand. Er zijn schone lakens, handdoeken, dekens en kussens. De keuken heeft een koelkast, gasfornuis, magnetron, waterkoker, potten, pannen en keukengerei.
Kamertype
Gehele woning/appartement
---
Type woning
Appartement
---
Geschikt voor
5
---
Slaapkamers
Sde Warburg, Center District, Israël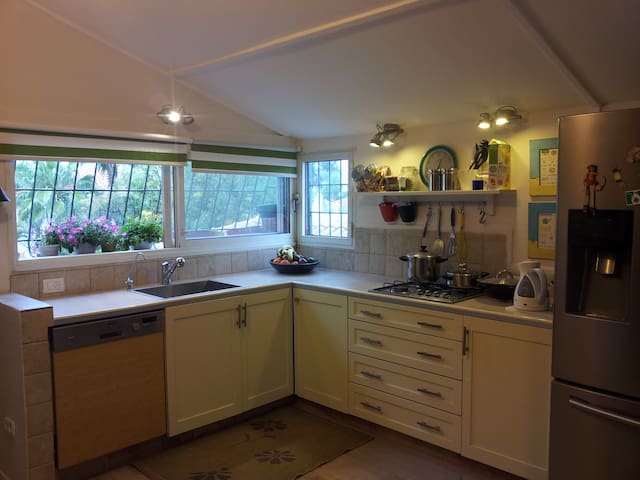 We completely renovated part of our home for your independent comfortable homey stay. Fully equipped kitchen, bathroom and warm parquet floor allows pleasant and budgetary stay. Adjacent to large park, main shopping mall and public transportation.
The studio includes ~35 m2. It includes a nice open space area with parquet floor, double bed, sofa, table, fully equipped kitchen with gas cooker and stove and a bathroom. Allows a very nice and homety stay for a couple. Up to additional two guests be accommodated in the studio. In that case we will add additional double bed mattress and / or additional single bed mattress. Slightly less comfortable but we already hosted several satisfied guests that way.
Well located in a tranquil area in Kfar Saba directly opposite the big Kfar Saba park and in walking distance to the main shopping mall and public transportation. 20 min driving to the beach
We came to Israel for a family event. We needed this Airbnb just for sleeping and showering because we were too many people at my family's place but we were with our family at all times. The Airbnb place is modern and comfortable room.
Cecilia
2016-12-28T00:00:00Z
the place was exactly as described. The hosts were very frinedly and helpful, checked in with us every day to know if we needed anything, provided extra blankets when we asked etc. Very positive exdperience, hoping to return some day
Nadav
2016-02-06T00:00:00Z
We had a great holidays. Housing match the photos and description and is perfect for a young couple wanting to visit Israel. Itay and his wife are friendly hosts who are always attentive and ready to help . We thank them for this great experience !
Céline
2015-10-27T00:00:00Z
Itai was super nice and welcoming, he helped me with every question about the flat, and was very flexible with the check-in and check-out schedule. The flat is perfect, absolutely great location near the park, cozy, clean, and peaceful. I had everything I could possibly need, and there are a lot of nice places, cafés and shops nearby.I can only recommend it!!
Nicolas
2016-03-24T00:00:00Z
Itay is very friendly person. He helped us with relocation by allowing to enter the apartment in comfortable for both of us time. Earlier, than we booked. Apartment is really cool and has best price / quality that we found during our trip on Israel. Room is big and fits well for long stay.
Nikolay
2016-01-16T00:00:00Z
Nice owners! Helpful in every way. Comfortable and well appointed studio. We did need our car to go to shopping mall and main shopping street. Only disadvantage was no direct acces to outside area that we would have preferred if it would be summer time. Good price/quality balance. Definitely recommended.
Carol
2016-02-02T00:00:00Z
This was very clean and comfortable accommodation.The Host was always enquiring as to our satisfaction.We had a wonderful time.Well situated, close the the most wonderful park. worth going back!
David
2016-05-01T00:00:00Z
Excellent helpful host. Itay was always available. The room was well stocked and very clean. Great neighborhood and parking was available. I highly recommend this host and his apartment.
Meir
2016-05-24T00:00:00Z
Kamertype
Gehele woning/appartement
---
Type woning
Appartement
---
Geschikt voor
4
---
Slaapkamers
Kefar Sava, Center District, Israël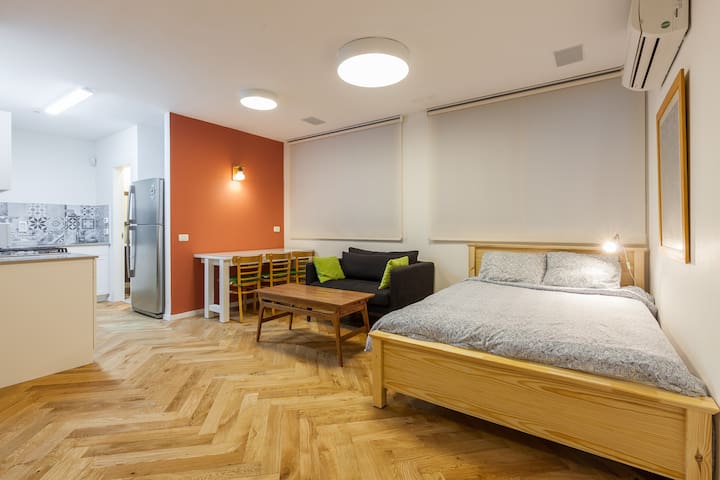 A large new apartment with a big balcony on the 5th floor (don't worry, two elevators are available), fully equipped with everything you need (washing machine, dryer, full kitchen equipment, etc'...). Shopping center with a big supermarket is 3 minutes walk from the apartment. Parking for two cars. The apartment is well located 20 minutes north of Tel Aviv and adjacent to Ra'anana.
Kfar Saba's new and "green" neighborhood, lot's of parks and playgrounds for children.
Nadav's place was perfect for us as we hosted 3 guests from the USA for 3 days. The apartment was airy, clean, functional with private parking. Everything was as shown in the picture!! A shopping area is close-by within walking distance. Thanks Nadav for your kind hospitality.
Sharona
2017-03-31T00:00:00Z
Kamertype
Gehele woning/appartement
---
Type woning
Appartement
---
Geschikt voor
5
---
Slaapkamers
Kefar Sava, Israël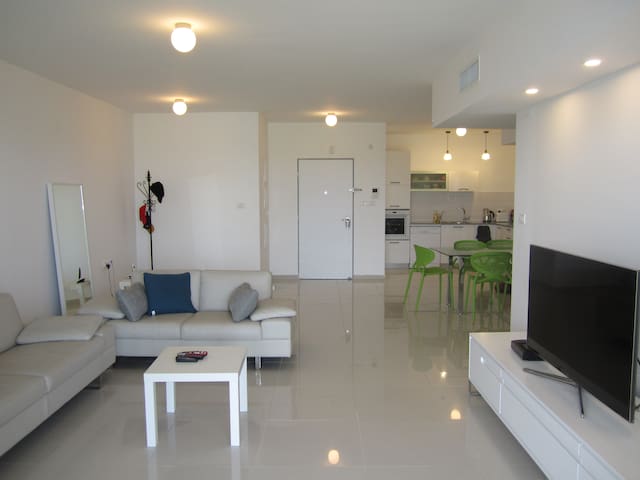 A charming studio apartment, located in the best residental area in Kfar Saba (Kfar Saba Hayeruka), only 15 min walk to Raanana Hi-Tech zone (ideal for business travelers) The building is located just next to a big park, shopping center with super market, restaurants etc.
Kfar Saba Hayeruka is an exclusive residental area, big parks, shopping centers. great neighborhood. very close to Raanana industrial area (Hi Tech zone)
This apartment is very suitable and convenient for younger persons or couples who have their own transport (rental car, etc). The area and the rates are good for long term stays
Zohar
2017-03-18T00:00:00Z
Kamertype
Gehele woning/appartement
---
Type woning
Appartement
---
Geschikt voor
2
---
Slaapkamers
Kefar Sava, Center District, Israël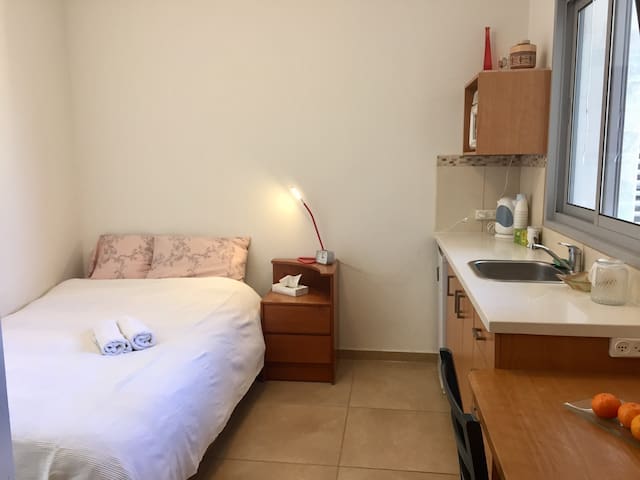 A cozy place in a quiet town near Netanya. 15 minutes from the amazing Poleg beach. Only 25 minutes from Tel Aviv! Perfect for singles or loving couples.
Kamertype
Gehele woning/appartement
---
Type woning
Appartement
---
Geschikt voor
3
---
Slaapkamers
Kadima Zoran, Center District, Israël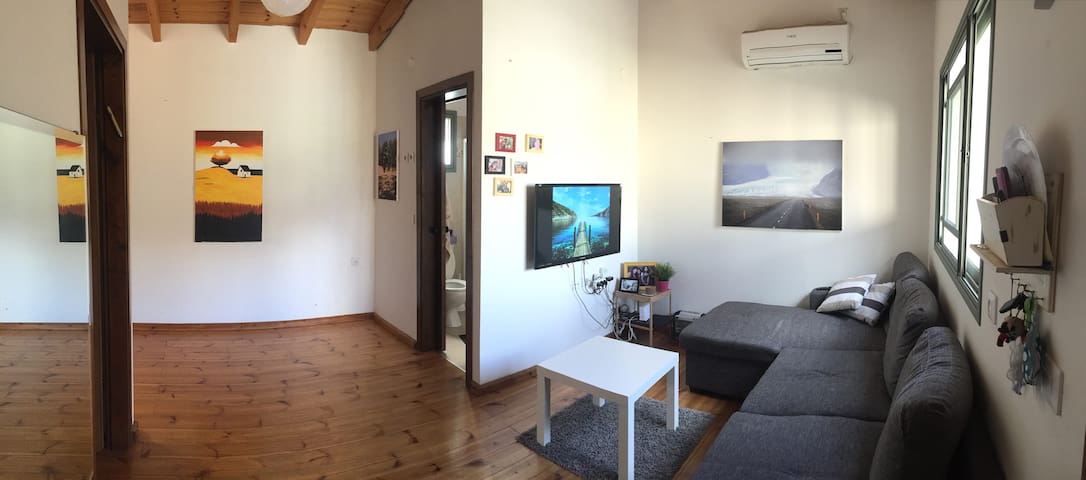 Tira - Airbnb
:
Gemiddeld

4.44

van

5

sterren op basis van

63

gastrecensies
1

–

18

van

299 Appartementen te huur
Voer datums in om de volledige tariefopbouw te zien. Er kunnen extra kosten zijn en er kunnen belastingen worden toegevoegd.