Voer je aankomstdatum in in dit format dd/mm/jjjj
Voer je vertrekdatum in in dit format dd/mm/jjjj
0 kinderen
leeftijd 2 - 12
Ruimtes die je kan reserveren zonder op goedkeuring van de verhuurder te hoeven wachten.
Voer datums in om de volledige tariefopbouw te zien. Er kunnen extra kosten zijn en er kunnen belastingen worden toegevoegd.
Komende juli en augustus kun je een van deze 100 best beoordeelde woningen uitproberen, in elke prijsklasse, om zo een lokaal gevoel van Sonoma te krijgen. 24-uur inchecken, Direct Reserveren en lokale wijn en snacks. Leun achterover en geniet van je reis.
This is a lovingly refinished 1910-era folk victorian rescued from demolition and relocated to the banks of the Cannonball River near Mott, N.D., near the Badlands, Black Hills and in grassland prairie country. The west view to sunsets is so restful and wildlife abounds on the river.
This is a "saved" property, circa 1920, that was scheduled for demolition and moved to the present location. Every attempt was made to renovate this wonderful property and maintain the existing character of the dwelling _ there are some signs of its age _ chips in the old enamel sink, for example _ but those are part of the charm. The entire property is available for guest use. I'm very available by cell phone, but do not live in the community where the property is located. Please feel free to reach out with any questions, or if you need localized information.
You'll find that you have plenty of privacy, but feel to walk around and stop in a say hello to whoever you meet. The downtown is small, but friendly. Mott is a sweet little North Dakota town and the cottage overlooks the Cannonball River that runs through it. Lovely and very pastoral. The local grocery closes at 5:30 p.m. and is not open on Sundays. The local Pheasant Cafe serves wonderful breakfasts and is open through supper. Nearby Regent (15 miles west) has a Cannonball Saloon with a good steak and burger.
Very unique cottage, enjoyed our stay, would definitely look into staying again
david
November 2016
Had a great experience at Cannonball Cottage. Will be back
Adam
November 2016
Lauren sent great directions and responded quickly to our questions. We had a wonderful visit at the Cannonball Cottage. It was the perfect place to relax and enjoy solitude as well as being a good home base for exploring the Badlands and Teddy Roosevelt National Park. It was a little drive to the park, but very scenic and relaxing.
Betsy
July 2016
We had such a great stay! We made supper in the kitchen and then went into town and caught a movie. The wind throughout the night was awesome - felt like we were back in the 1920's era along with cottage! Thanks again.
Sue
September 2016
Lauren was a great hostess (though we never met). She communicated well via email and gave us a lot of information about the area, which was helpful. She even let us borrow her brothers kayaks, which we did not end up using. The cottage was just what the pictures describe. The locations is remote and quite. It was a very enjoyable place to stay. We would recommed it!
Krystal
September 2014
Lauren's cabin was very charming and my friend and I enjoyed turning out all the lights and staring at the stars. We also enjoyed the howling in the distance (coyotes?) while hanging out. My only suggestion is that if you are coming in at night (as we did) to confirm exactly where the cabin is with Lauren.
Chris
November 2015
Lauren communicated with us a number of times before we arrived. We found the home to be just as described. When using the map function on airbnb it showed the house many miles away. Lauren clarified the exact location for us. There is little to do in Mott and only one restaurant. We stayed 5 nights while hunting. That's probably longer than most would stay. So, we used the kitchen a lot. It worked out. The house held 4 men comfortably but for sleeping we brought in a folding cot.
David
November 2016
This cabin is an oasis of brilliance in the prairie-land. The river and grasslands behind the cabin look west and if you're lucky (as we were) you could watch lighting storms, hours away, as they march toward you. The cabin itself is even more delightful than the pictures suggest. Oh the mermaids!! Be prepared to feel your roots - you might be reminded of your grandmothers' ability to make just this type of space work to raise a family. And I was even able to catch a catfish for supper!!
Athena
August 2016
Kamertype
Gehele woning/appartement
---
Woningtype
---
Geschikt voor
4
---
Slaapkamers
2
Mott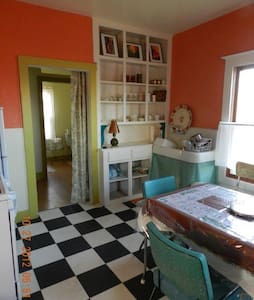 Renting a cozy room with a queen size bed in a 2bedroom condo. Close to major pubs, Frwys, shopping complex, gyms, Restaurants, Museums, and gas stations. Condo, has a kitchen, dinning room, living room, cable, stereo, washer/dryer, etc. A real home away from home!
A homey feeling. All amenities in the Condo. Whenever l'm home
Accessibility to lots of interesting things in the neighborhood. Yes
There was last minute construction in Emmanuel's neighborhood, disrupting traffic and knocking out utilities. This made it very difficult at the last minute for him to host me. He paid for a hotel room instead, which worked out fine. Other than the fact he came through for me, which I really appreciate, I can't rate his place. Thanks, Emmanuel!
Nathan
August 2016
I didn't get the chance to meet Emmanuel, but I can tell he's a very kind and nice host. He was on the phone all he time, making sure I had everything I needed. The house is great. Big and extremely tidy and clean, I had a lovely time there. Would definitely stay here again!
Lydia
December 2015
The host canceled this reservation the day before arrival. This is an automated posting.
Kevin
We had a nice stay thank you
Crystal
June 2016
Nice location close to the highway. A little noisy, but the windows block most of the noise.
Matthew
June 2016
Kamertype
Privé Kamer
---
Woningtype
---
Geschikt voor
2
---
Slaapkamers
1
Dickinson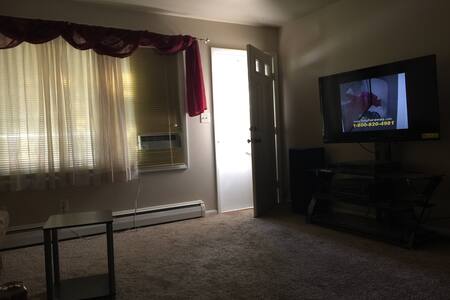 1

–

2

van

2 Accommodaties