The SLC city two bedroom loft was designed with a clean Scandinavian modern feel. Lush down duvets, fresh linens, and comfy danish chairs make this a home away from home. Simple city living - there's no shortage of restaurants, coffee shops, and local brew-pubs around every corner. Walk to Convention Center, Vivant Arena, Gateway, City Creek etc. or explore with a City Green Bike. Skiers have 7 major ski resorts within an hour drive. Fiber and secure underground parking included.
Spacious and clean the loft is a great place to relax and unwind after your day in the city. It is quiet and has fiber for fast tv and internet. Conveniently located near the Salt Palace Convention center (1.5 blocks), Vivant Smart Home Arena- Jazz games etc (2 blocks, Gateway mall (1 block), City Creek Center (8 blocks). Literally dozens of great restaurants and local brew-pubs within blocks. Make sure to check out Caputo's deli for specialty Itallian sundries. On weekends in the summer there is a fantastic local farmers market in the park and concerts in the evenings.
Make sure to check out Squatters brew-pub, the Beer Hive, Whisky Street, Settabella for great pizza, and don't forget the Gellato, Pallet, and Rose's cafe.
Kamertype
Gehele woning/appartement
---
Type woning
Condo
---
Geschikt voor
4
---
Slaapkamers
Salt Lake City, Utah, Verenigde Staten
Treat this as your home from the moment you arrive. comfortable & private apartment with queen bed & pull out couch are centrally located in downtown.Our neighbor is the gateway mall so it's a close to everything. safe walking area in front the house. 3mins walking to the train station. 35 minute drive to Park City and cottonwood canyon ski resorts.3mins to the freeway & a 10 minute drive to the SLC International Airport. there is a gym.Free parking outside the building & complimentary bicycles!
Kamertype
Gehele woning/appartement
---
Type woning
Appartement
---
Geschikt voor
4
---
Slaapkamers
Salt Lake City, Utah, Verenigde Staten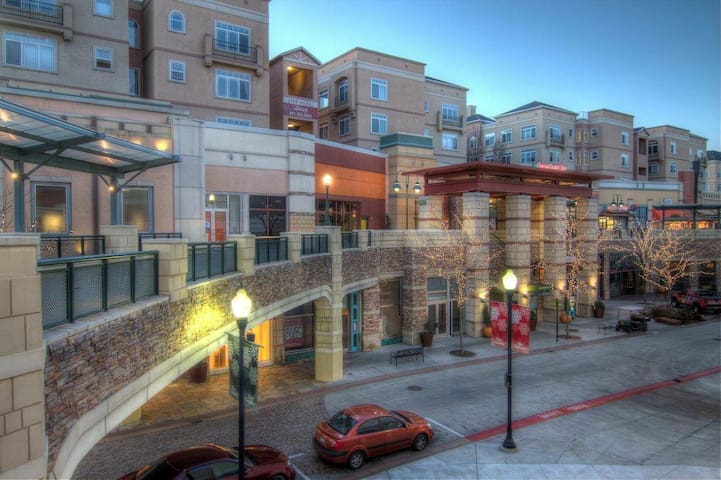 The Art Cottage at the Historic Baldwin Radio Factory is perfect for those seeking a charming & artful stay while traveling for adventure, business, or vacation. This convenient location is 30 minutes from ski resorts, 10 minutes from downtown, steps away from a park, cafe, yoga studio, and library. This unique building was once a factory powered by the nearby Mill Creek, and produced the world's first headphones. Now converted to art studios including: painting, glass, carpentry, music & more.
The Art Cottage hosted by Conor is a wonderfully unique experience! The cottage has a lot of eclectic, funky charm, something that is missing from most of the airbnbs we've stayed at in the past. It was extremely clean, and decorated well. There were even fresh flowers on the table! The bed was comfortable, and we loved the fireplace and "artsy" atmosphere! The location was great! Enjoyed a morning walk in the adjacent park, and had a delicious breakfast at Roots Cafe (less than a minute walk away)! The host was easy to communicate with, gave us some great suggestions, and attentive to our needs. When we arrived, there were bottles of water in the fridge, and a snack. We will definitely be telling our friends about this place if they're planning a visit to the Salt Lake area! 5/5
Rebecca
2017-04-04T00:00:00Z
Loved staying here! I booked really last minute and Conor was super accommodating! There are cool art and yoga studios close by and an awesome breakfast place. I ended up staying alone and I felt very safe there. I only wish I could have stayed longer!
Taylor
2017-04-07T00:00:00Z
This was an awesome stay. The place was small but definitely lively and cozy. There was restaurants and shops nearby at a walking distance which was great. The decor inside all around was beautiful. The pictures seriously don't show enough of how beautiful the place is. The comfortable cottage and calm cool neighborhood gave us a relaxing weekend.
Alex
2017-04-09T00:00:00Z
My husband and I stayed at Conor's art cottage for one night. We arrived to a quaint and comfortable studio, just like the photos show. Very clean, functional space. The location is perfect - very central, east-side community, with easy access to freeways to downtown and the nearby canyons. Perfect for outdoors enthusiasts! Conor was super accommodating and helpful. He provided great recommendations for nearby restaurants and activities - Roots Cafe for breakfast is a must! The art cottage is a unique space, nestled among other art studios, galleries, and a yoga studio. The record collection and turntable was a nice touch! Not the average airbnb - much better! We felt very safe and comfortable during our stay at Conor's cottage. I'd absolutely stay here again and recommend it to others!
Bridget
2017-04-05T00:00:00Z
Adorable bungalow. Easy check-in. Stayed warm regardless of the low temperatures. Beds were comfortable and the showers were hot. The bathroom didn't have a door (there's a curtain), but wasn't a problem for us. Highlights were the record player and The Tao of Tangram. Would definitely stay here again.
Forrest
2017-04-10T00:00:00Z
Kamertype
Gehele woning/appartement
---
Type woning
Overig
---
Geschikt voor
4
---
Slaapkamers
Salt Lake City, Utah, Verenigde Staten
Newly remodeled, 1 bedroom downtown condo. It's right down town and a close walk to everything including the city center, Temple Square, City Creek Mall, and Vivint Arena. 10 min ride from the airport or 20 mins on train. The Train stops just down the street. It has a full bath, laundry, and kitchen stocked with snacks. Brand new queen bed and sleeper sofa with two twin fold outs will sleep up to 6! I keep it VERY clean, comfy, and cozy. It's a really great downtown spot!
This is a ground level condo so there are a few steps down to the door. It's the most accessable condo in the building being closest to the gated parking with the fewest stairs to the door. The condo sleeps up to 6 people! 2 people very comfortably, 4 people somewhat comfortably, and 6 people in a more crowded situation. It sleeps 2 very comfortably on the plush queen size bed in the bedroom. It sleeps 4 somewhat less comfortably using the sofa bed in the living room. The sofa bed is just fine, but the queen in the bedroom is the comfiest. There are two fold up twin beds in the closet. You can fit them both in the bedroom or one in the bedroom and one in the living room. With 6 people it becomes crowded but doable. The pull out twins are really nice for fold ups and fit full size adults. There is a coffeemaker, microwave, oven, dishwasher, and fridge/freezer in the kitchen. The living area includes an HDTV with (SENSITIVE CONTENTS HIDDEN) chromecast so you can use your netflix or other steaming accounts to stream right from your phone or tablet to the TV. WIFI is included for internet browsing, watching movies, etc. The bathroom has everything you need: shampoo, conditioner, body wash, blow dryer, and clean towels. There is also detergent and dryer sheets for laundry and plenty of snacks in the kitchen and fridge.
This condo is right on the edge of downtown so it isn't super busy but it is right next to all of the action. All the best places to eat are within walking distance. It is truly the perfect location for a stay in Salt Lake.
This place was exactly what I was looking for. The apartment was clean comfy and centrally located. Wesley was more than helpful. I'm looking for a reason to come back to Salt Lake City just to stay here again l. Thanks again for hosting me....
JaColbi
2017-01-25T00:00:00Z
This place is perfect! Walking distance to everything, clean and comfy. If you're in SLC for a few nights, this is the place to be!
Lauren
2017-01-15T00:00:00Z
This was an awesome place to stay. Very clean and cozy. Wesley was a wonderful host and helped us with questions we had.
Lexi
2017-03-08T00:00:00Z
Enjoyed my extended stay at Wesley's place. He is a great host. The place is near the Salt Palace and was convenient for the conferences I was attending. Short walk to City Creek and public transport. Will stay again!!!
Barry
2017-02-24T00:00:00Z
Clean, cozy, and quite spacious. Everything it's advertised is precise. Convenient to downtown and especially to the conference centre and temple square and city creek. Will definitely stay here again. Wesley was a great host.
Lottie
2017-04-03T00:00:00Z
Great place! Very clean and I wish we were able to stay longer.
Charles
2017-01-06T00:00:00Z
Lovely small live-in place within walking distance of Family History Library!
Lois Ann
2017-03-18T00:00:00Z
We loved our weekend stay! It was a great location, just across from everything downtown, and a few minutes walk from the free trax. Their home was very clean and nice. They put together a picture guide to check-in which was SUPER helpful!
Maggie
2017-01-08T00:00:00Z
Kamertype
Gehele woning/appartement
---
Type woning
Condo
---
Geschikt voor
6
---
Slaapkamers
Salt Lake City, Utah, Verenigde Staten
Newly renovated private apartment, 2 bedroom and 1 bathroom with full size kitchen, one car garage, separate entrance, and laundry washer and dryer. It is close to downtown Salt Lake City, the University of Utah, Park City, ski resorts (6 within 30 min), hikes and outdoor adventures, and quick freeway access (2 min).
This apartment is newly renovated, new paint, new appliances, kitchen floor, bathroom, etc. The apartment is equipped with wireless internet for your use. We also have a TV and HD Xfinity cable with on demand programming as well as a DVR are included. This listing is two bedrooms. One room has a queen size memory foam mattress, comfortably sleeps 2 people. This room also has a walk in closet and bedside table. We also have a queen size air mattress available if needed. The second bedroom has a twin mattress and a futon, also sleeps 2 people. Additionally, we have a pack n' play for anyone with little children. Each bed has clean sheets, blankets & pillows. The kitchen is fully equipped with refrigerator/freezer, microwave, stove/oven, blender, toaster, dishes, utensils, pots, pans...everything you need to cook a real meal if you so desire. The washer/dryer are available to use as needed. We have a full bathroom with sink, mirror, toilet & shower. Towels are clean and available for your use. Additional towels/linens found in the linen closet in the bathroom. This is a basement mother-in-law apartment so you have access to the backyard to enjoy as well (shared with us). And although it's technically the basement of the house, it's not underground, it's still above ground and has lots of natural light, doesn't feel like a basement. There is also a one-car garage to use for guests, and additional parking in the driveway if there is more than one car - no fees for parking. Check-in/check-out times are flexible depending on bookings. Please message me if you have any questions/requests.
The apartment was perfect for our stay! It worked great for our family of 5. This was our first Airbnb stay and we will look to that as our first option in the future.
Jerica
2017-04-09T00:00:00Z
Cosy little pad. Right near a busy road but the noise was barely noticeable. 15 mins out of town by Uber. Wish I had brought a bike. Looks like some fantastic climbs nearby. Mike & Danika were professional and courteous. Nothing was too much trouble.
Adrian
2016-11-18T00:00:00Z
This is a very cute little place! I guess it is a walk-out basement apt but doesn't feel at all like a basement. There are many windows and lots of natural light. The bathroom and kitchen both appear to be recently remodeled are nicer than the ones in our own home. We stayed here with our two kids (ages 1.5 and 3.5 years) and there was a pack 'n play available for the younger one. (You'll want to bring a sheet if you've got a really little one) The kids loved it and enjoyed sharing a room. They wanted to stay an extra day. Mike and Danika were great hosts. I would recommend this place to anyone visiting Salt Lake City.
Julia
2016-11-07T00:00:00Z
Great place! Easy to get to, restaurants nearby, nice that you can pull your car into the garage too. Would definitely stay again!
Deborah
2017-01-27T00:00:00Z
Danika and Mike were great. They are super friendly, easy to talk to and were more than willing to help with anything I needed. Check-in was easy and they were readily available by text and super accommodating when I had to show up later than expected. I liked the location of the place, it's located at the highway leading either up to Park City or just a short drive to downtown Salt Lake and I was easily able to get up to Big Cottonwood canyon. Overall I'd recommend it, and come ski season I'm hoping to come back!
Nate
2016-11-05T00:00:00Z
Enjoyed our time very much. Great place.
Nathaniel
2017-01-01T00:00:00Z
Very clean , comfortable house, very continent location to ski and downtown of city, great suggestions for places to eat. We had a great expiriance.
Irina
2017-01-12T00:00:00Z
This was our first time in Salt Lake City. Mike and Danika's place was perfect. It was within walking distance to Walmart and right off the freeway to head into Park City. We loved that it had a full kitchen and the rooms were comfortable and the bathroom spacious. They were very accommodating! Hope to stay here again!
Rebekah
2017-01-23T00:00:00Z
Kamertype
Gehele woning/appartement
---
Type woning
Huis
---
Geschikt voor
5
---
Slaapkamers
Salt Lake City, Utah, Verenigde Staten
The studio was originally an old grocery store built on to the main house in the 1950's. It was completely renovated in 2007 and includes a full, private bathroom downstairs. Taller guests will want to watch their heads walking down to the bathroom, as the ceilings downstairs are a bit low. My place is just a few blocks from the University of Utah and a short Uber ride or 10 minute walk to downtown. Ski resorts are 25 minutes away. Light rail is about 2 blocks away. 15 minutes to the airport.
Breakfast items and beverages are available in the mini-fridge. There is a coffee maker (coffee included), tea kettle (tea included), toaster, and microwave in the room, along with cups and utensils. Please remember to turn off appliances when not in use.
Valeri's studio was perfect - clean, comfortable, spacious, and a great location. She added nice touches like breakfast in the fridge, coffee maker, teas, cocoa, etc.. would definitely stay there again!
Sara
2017-03-14T00:00:00Z
We LOVED this air BnB. Valeri was an excellent host- going way out of her way to make us feel comfortable and welcome. The apartment itself feels much more spacious than the photos represent. It is immaculately clean, beautifully decorated, and cozy- all at the same time. It has its own private parking space by the front door, and was within 5-10 min of everywhere we wanted to be. Lots of cute and delicious restaurants nearby. And it's on a very quiet and lovely street. Absolutely amazing value. Highly recommend!!!
Jessica
2017-03-29T00:00:00Z
Great host and apartment. Conveniently located a few minutes drive from downtown SLC - made it easy to get around. Everything was extremely clean and well organized. Val was an extremely communicative, respectful host. Though I didn't meet her, I was sure that if I needed anything she'd respond immediately.
Matthew
2017-03-06T00:00:00Z
Valeri's place was perfect for us! She even left us delicious baked goods in the fridge. It was comfortable, clean and easy to check in and out. Would definitely stay again.
Hannah
2017-04-07T00:00:00Z
The place was clean and perfect, great location not far from downtown, you had your privacy and valeri left little snacks and drinks too. Couldn't recommend this place more!
Elena
2017-03-18T00:00:00Z
Valeri was wonderful. Her place was clean, beautiful and above and beyond all expectations. She respected our privacy but was open to questions and help. She provided coffee, tea, and much more. She was such a warm welcome to Salt Lake City. She is highly recommended.
Erez
2017-04-06T00:00:00Z
Fantastic deal. Incredibly clean, cozy and close to everything you need. Val makes sure you have a great stay.
Jimmy
2017-03-04T00:00:00Z
This was my first time using Airbnb, and I must admit I am a fan. Valeri's place was not only what I expected, but there were personal touches that made my stay even better. There was fresh fruit, some snacks, drinks in the fridge, fresh coffee, tea and a few chocolates too! I dont see a reason to stay anywhere else in Salt Lake City on future business trips!
Mike
2017-03-23T00:00:00Z
Kamertype
Gehele woning/appartement
---
Type woning
Huis
---
Geschikt voor
2
---
Slaapkamers
Salt Lake City, Utah, Verenigde Staten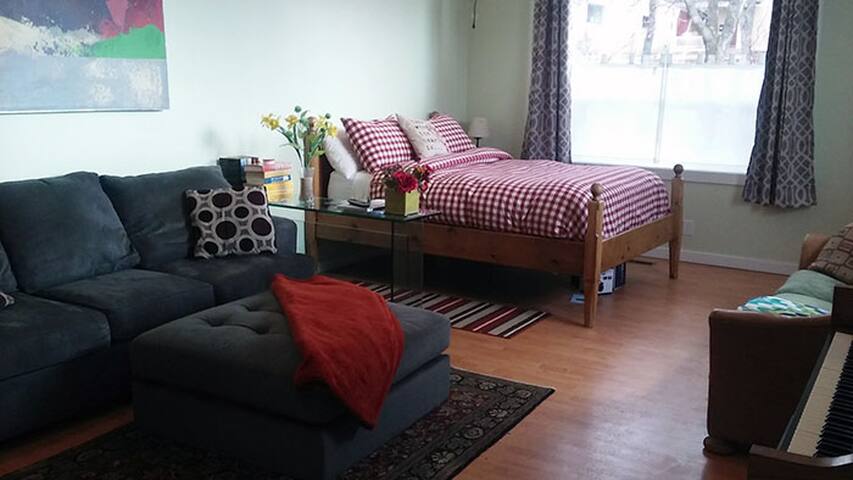 Privacy is ensured in this fully furnished downtown Salt Lake residence that is not attached to any other structure and has its own street address. Located 3 blocks North of Temple Square, it is in the heart of the city's attractions and public transportation. Free on-street parking.
Comfortable and efficient.
Highly diverse culture in the original downtown neighborhood. Close to many rich cultural and entertainment venues.
Beautiful and clean with all the amenities needed. Great location in downtown Salt Lake City. Very warm welcome by the host when we arrived late in the evening.
Peter
2014-09-14T00:00:00Z
Bonnie's attention to detail was amazing! We arrived to fresh fruit and muffins and the a/c running. Blackout curtains, an iron, full kitchen capabilities (very creatively assembled), local restaurant listings, you name it- it was there. We found the location to be a fantastic short walk to downtown and quiet at night. Bonnie also checked in with us during our stay to make sure we had everything we needed. I would definitely recommend!
Danielle
2015-09-13T00:00:00Z
The studio is very cozy. The muffins and fruit were delicious! Thank you! It was perfect for our one night stay in Salt Lake City. It is located only 10 minutes from the airport and walking distance to downtown.
FRANCES
2016-03-04T00:00:00Z
Studio was great, for the price exactly what you need. Perfect location , also I'd highly reccommend Niche Cafe for breakfast , lunch and dinner everyday for the rest of your life. It was fantastic. Warren was a great host , we left a shirt behind and popped it in the mail. Great experience!
Lindsey
2014-01-23T00:00:00Z
This stand alone studio is great! Very well kept and in a good location. Clean and nicely stocked with amenities and snacks for their guests, which was a pleasant surprise! Street parking was easy as there were plenty of spots to parallel park right outside.
Christopher
2016-07-21T00:00:00Z
We had a wonderful stay at this free-standing studio. It was a great location - close to great dining options and main SLC sights. Bonnie made sure we arrived safely and the check-in/check-out process was very easy and smooth. The studio was stocked with fruit and muffins - a very thoughtful touch - and we found the bed/bath accommodations clean and comfortable. A great place to stay for any SLC visit!!
Rebecca
2015-06-07T00:00:00Z
I was greeted by Bonnie's partner and he was very welcoming and sweet. The studio was clean, fully stocked (beers in the fridge!) and very comfortable. I had a great time in Salt Lake for the day, and it was the perfect place to crash for the evening. The location was ideal for anyone looking to hang around in downtown and to drive out to the lake. I went to Antelope Island and it was well worth the 45 minute drive to get there! The AC was nice and I felt safe and comfortable, even during an intense thunder storm! I would highly recommend this place for a single person. The bed might be too small for two adults.
Katie
2015-07-09T00:00:00Z
I stayed one night in the studio with my girlfriend after a weekend camping in Moab. The studio was a lovely finale for our Utah adventure and was better than we were expecting. Acess was simple and straightforward (even with a last minute change in arrival time). The location was perfect for a leisurely walk through working family neighborhoods on the way to local attractions. The airbnb pictures conveyed the studio layout accurately. Though, we were pleasantly surprised to find a hot plate. Notes for future guests: 1) The WiFi code is on the router. If it doesn't work, you typed it in wrong wrong (guilty). 2) The hot plate only works when the surface is in contact with metal. Pretty nifty but it caused some early confusion. The only disappointment of the trip was not being able to meet Bonnie. After we got in the studio, our messages went unacknowledged. It would have been nice to get her input on where to go and also run a load of laundry after a weekend of camping. However, with that being said, I would still recommend the studio to anyone traveling through SLC. Great place!
David
2015-09-21T00:00:00Z
Kamertype
Gehele woning/appartement
---
Type woning
Huis
---
Geschikt voor
2
---
Slaapkamers
Salt Lake City, Utah, Verenigde Staten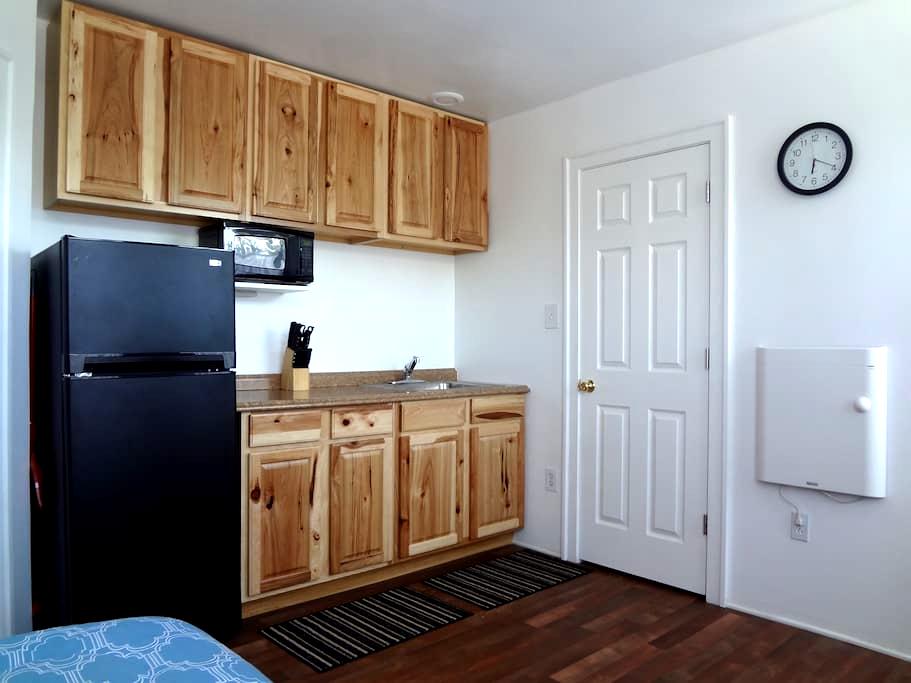 Located just off the highway, this sugarhouse gem is only 15 minutes from the airport, 10 minutes from downtown, and is a quick drive up to the mountains and Park City. Walking distance to a number of great restaurants, bars, and shopping centers. With plenty of street parking, and located only a few blocks from the local TRAX stop, this is a great option whether you have a car or not. This condo is ideal for people who are attending conventions downtown, or for people in town for ski trips.
This is a quiet community, and a very quiet condo. It will not be ideal for large groups or partiers.
Located in a great safe neighborhood with many different types of restaurants and bars as well as some shopping within walking distance.
Kamertype
Gehele woning/appartement
---
Type woning
Condo
---
Geschikt voor
4
---
Slaapkamers
Salt Lake City, Utah, Verenigde Staten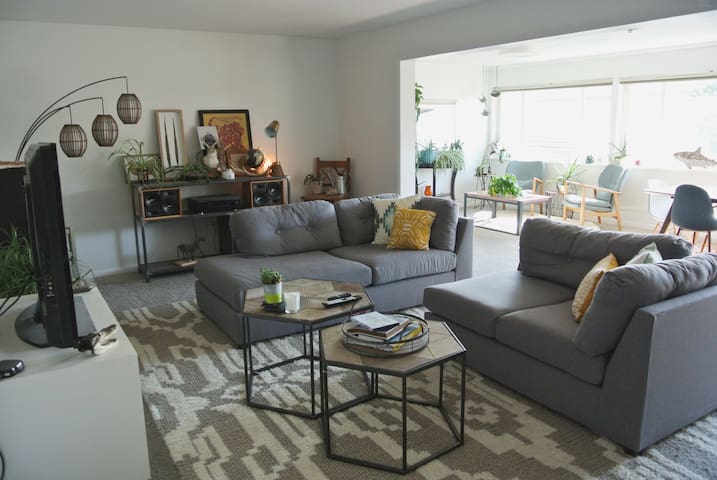 The air is clear up here in our charming self-contained studio apartment and yet we are just an 18 minute drive from the University and 30 mins from Downtown and SL International Airport. We are located in a beautiful canyon setting with a small, private balcony overlooking woodland and a stream. This is a perfect setting for a single person or couple/petite family seeking a canyon getaway with easy access to downtown attractions, mountains and world class skiing, hiking and biking.
The studio is well equipped for self-catering and stocked with basics. It comprises a spacious room sectioned into kitchenette, sleeping platform (Queen and accessed by a ladder if you are feeling adventurous), King bed and curtained off bathroom. There is a washer/dryer via separate access for your sole use. Lovely hikes are a short drive away as are many local attractions such as Hogle Zoo (8 minute drive), Red Butte Gardens (13 mins), Museum of Natural History (13 mins), Rice Eccles Stadium (15 mins) ... to list a few. If you are here to ski (as is my husband) Park City, Alta and Snowbird resorts are an approx 30-45 drive. Mountain bike trails abound here.
We are close to all that Salt Lake can offer in terms of amenities yet up in the clean air with trees, wildlife and a stream. The famous Ruth's Diner is three miles down canyon offering a varied menu and al fresco dining in the summer. Foothill Plaza is 15 minutes away with excellent shops and places to eat.
My husband and I stayed in Vanessa's studio for our anniversary getaway and LOVED IT! We referred to it as "our cabin". It's a charming location and the studio is even more spacious than it looked in the pictures. It was so well stocked that we swore Vanessa read our minds. Any time we needed something, we found it! There were even fresh flowers on the windowsill when we arrived. The king sized bed was comfy and we both slept very well. We're both 6' tall and had room to spare under the shower head, and loved the large oval tub. The peaceful mornings on the balcony listening to the stream were glorious. Thanks for being such a delightful host, Vanessa! We'd love to come again when we need to escape the valley!
Honor
2017-04-05T00:00:00Z
Great space, close to Salt Lake City but still far enough into the canyon that you can get a mountain vibe. Super clean and well prepared!
Shoshana
2017-04-09T00:00:00Z
A great way to get out of the city and enjoy the canyon. We loved the stream running in front of the house, seeing woodpeckers in the yard, the rustic setting.. very peaceful. The apartment is well-furnished and we had everything we needed for our long weekend getaway.
Deborah
2017-03-27T00:00:00Z
Kamertype
Gehele woning/appartement
---
Type woning
Appartement
---
Geschikt voor
2
---
Slaapkamers
Salt Lake City, Utah, Verenigde Staten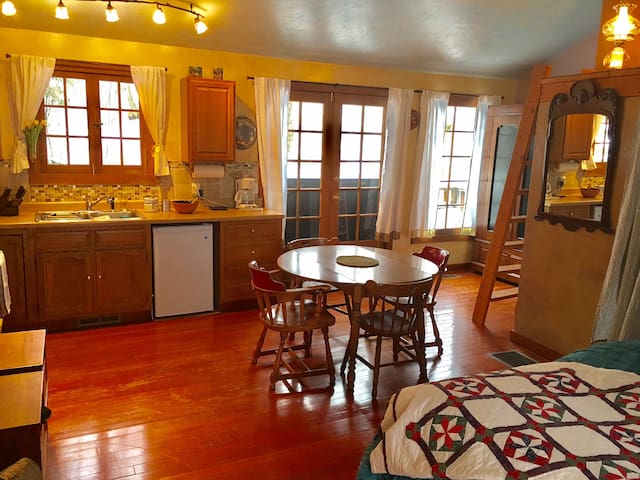 Right in the heart of Sugarhouse in Salt Lake City! Quick 20-30 minutes to ski resorts, mountain biking, hiking and rock climbing. My place is close to the city center, parks, art and culture, and restaurants and dining. You'll love my place because of the people, the ambiance, the outdoors space, the neighborhood The eco-friendly experience in the Tiny House is very unique and exciting My place is good for couples, solo adventurers, business travelers, and furry friends (pets).
The one of a kind disposable toilet is the same toilet Matt Damon used in the Movie "The Martian" . Waterless Urinal Eco-Friendly energy use.
Across the street from grocery store and coffee shop.
Brian's place was perfect for my quick stay. It's pretty central to downtown and Sugar House and quick commute up to the Big and Little Cottonwood. There was a nice little coffee shop around the corner with some pretty dank breakfast burritos. The place was comfy and cooking wasn't any trouble. I would definitely stay again.
Jessica
2017-02-07T00:00:00Z
Such a unique spot! Exactly as pictured with all the essentials, and then some! Brian was easy to get in touch with and it was the perfect place to stay for the night as we were passing through SLC. There were 3 of us so it was cozy but there was an awesome air mattress that was easy to inflate and super comfy. My only complaint: I didn't have time to enjoy the hammock!
Victoria
2017-03-25T00:00:00Z
Great tiny home!
Andrew
2017-03-24T00:00:00Z
My buddy, dog and I stayed at Brian's tiny home and it was a fun stay. The amenities are minimal but the profile and pictures show this and it is what makes the place so original and unique! It is indeed a tiny home but for one night it was great.
Mike and Kate
2017-02-22T00:00:00Z
Very cute space and something new to experience. Awesome location as well.
Lynnette
2017-03-15T00:00:00Z
Brian was great! Very communicative and helpful with check-in. His tiny home was a great location with easy access to the city.
Alexandra
2017-03-06T00:00:00Z
Great small space perfect for any minimalist or someone looking for something small.
Demetrius
2017-03-14T00:00:00Z
Cool spot! After Brian got a better heater for us it was great!
John
2017-02-15T00:00:00Z
Kamertype
Gehele woning/appartement
---
Type woning
Camper
---
Geschikt voor
3
---
Slaapkamers
Salt Lake City, Utah, Verenigde Staten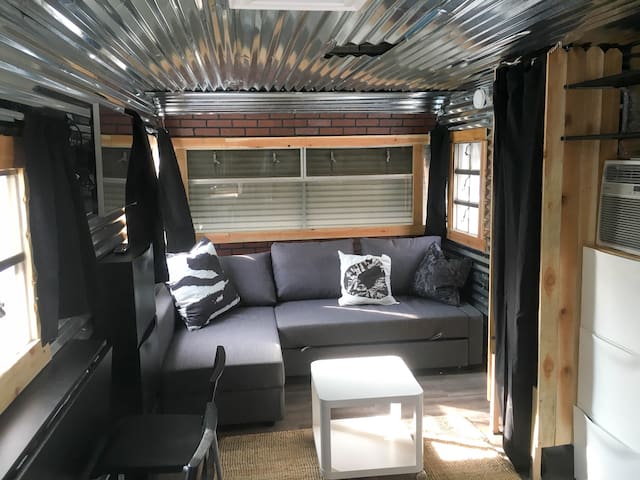 This home is optimum for business stays, family reunions, ski or summer vacations. Our home is in the original neighborhood in Salt Lake called the Marmalade district. It is on a quiet tree lined street with little traffic, and moments by foot or drive from downtown Salt Lake City. 10 minutes or less to the airport. Walk to the central downtown area in under 15 minutes.
This space is my home and has it's own unique charm. There is ample space for couples or families. Walk to anywhere in the downtown area in minutes.
Kamertype
Gehele woning/appartement
---
Type woning
Huis
---
Geschikt voor
6
---
Slaapkamers
Salt Lake City, Utah, Verenigde Staten
A private guest house, newly updated, vintage space beaming with character. Our 1919 mother-in-law suite is your perfect oasis while visiting Salt Lake City.
This is a split level guest house in the Liberty Wells neighborhood. On the top floor is a lounge area, full kitchen and bathroom. On the bottom floor is a spacious bedroom with a king size bed. There is also a queen blow up mattress and a pack N play to accommodate any number of guests. Let us know how you want the space set up and we will have it ready for you when you arrive!
Liberty Wells neighborhood is perfectly situated in Salt Lake City. You are about a mile walk or drive to Liberty Park and the 9th and 9th district. Where you will find many restaurants and shops. Just a few blocks away, you can walk to a coffee shop, vintage shops, laundromat and nail salon. We are about a 7 minute drive to downtown, and to sugarhouse. And are close to the freeway for easy access to park city and ski resorts.
Kamertype
Gehele woning/appartement
---
Type woning
Pension
---
Geschikt voor
4
---
Slaapkamers
Salt Lake City, Utah, Verenigde Staten
Cozy, shotgun style home near University of Utah and Trolley Square. One block from Trax light rail station stop at 900 East. Under 10 minute drive to downtown, 30 minute drive to 3 major ski resorts, 35 minutes to Park City. Easily accessible from SLC International Airport with quick access to Interstate-15.
Home features two bedrooms with one queen and one full mattresses. One bathroom with shower/tub combination. Kitchen is fully functional with all necessary utensils for cooking option. The home features cable TV and WiFi access.
Charming, historic area just east of downtown Salt Lake. Walkable to nearby parks, light rail station, restaurants, and many coffee shops.
Kamertype
Gehele woning/appartement
---
Type woning
Huis
---
Geschikt voor
4
---
Slaapkamers
Salt Lake City, Utah, Verenigde Staten
This bright, airy one-bedroom apartment will be perfect for your next get away. Located right in the heart of Salt Lake's Sugarhouse district, you will be only a block away from shopping, restaurants, even the trax station.
Kamertype
Gehele woning/appartement
---
Type woning
Appartement
---
Geschikt voor
2
---
Slaapkamers
Salt Lake City, Utah, Verenigde Staten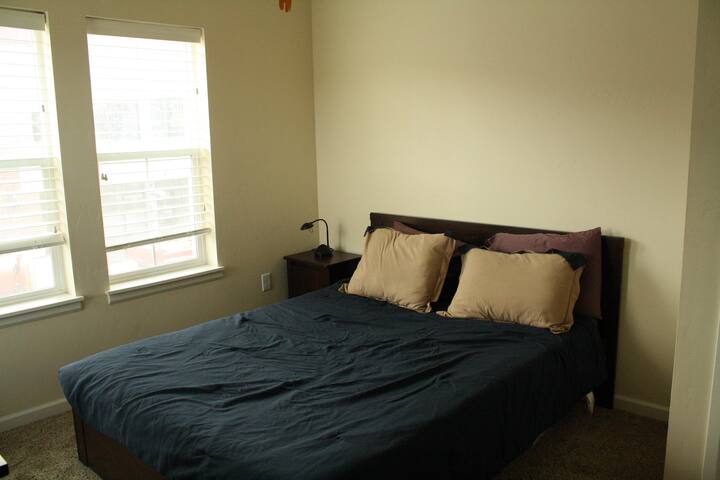 Quiet mother-in-law apartment with private entrance less than 5 minutes from Salt Lake City's vibrant downtown. Quick highway access to reach local attractions and world famous ski resorts.
Custom built kitchen & cabinets. Retro design. Unique fire place. Great views of the valley and mountains. Big deck to lounge outside.
We love that our neighborhood is so quiet and peaceful yet so close to the city. We have quick access to everything Salt Lake City has to offer. We can get to the mountains in almost no time to take advantage of all outdoor recreation. (Climbing, hiking, skiing, snowboarding, snow shoeing, sight seeing, mountain biking, and much more)
Had a great time even though it was a short time! Would stay here every time in salt lake for sure!
Jordan
2016-11-06T00:00:00Z
Overall great experience. Great price for very spacious apartment. Minutes to downtown, airport, and many restaurants. Scott and taeler were very accommodating.
Michael
2016-03-23T00:00:00Z
Fantastic hosts, comfortable beds, simply perfect experience
Carmen
2016-11-19T00:00:00Z
We arrived in SLC pretty late and Taylor, Scott's girlfriend was there to greet us at that hour! She was great at showing us where everything was and even chatted with us a bit about our trip. The place is located right in the middle of downtown. I would definitely stay here again.
Brittany
2016-12-31T00:00:00Z
Scott and Taeler's place is the most stunning place my girlfriend and I saw in Salt Lake City. As hosts, they checked in on us and made us feel very well taken care of. The retrofitted studio is spacious with big windows that feature great views of the Capitol Hill area. It was so comfortable, we stayed for a week and decided to extend our visit. Definitely recommend this place for anyone looking to stay in the area.
Peter
2015-11-01T00:00:00Z
It is a nice place for family staying and there is enough room. Also there is washing machine which is very necessary for about 11 days trip. My family like the place.
Dongxia
2016-08-13T00:00:00Z
The hosts are lovely and welcoming and could not have been nicer. The location is great. We found the apartment to be small for two people for the whole month and wish there would have been screens on the windows to better vent the apartment.
Jessie
2016-10-14T00:00:00Z
I didn't have a chance to meet Scott but Taeler was very friendly and accommodating and gave me a tour of the space. Very cool unique loft - it's a place with character.
Rachel
2016-09-02T00:00:00Z
Kamertype
Gehele woning/appartement
---
Type woning
Appartement
---
Geschikt voor
4
---
Slaapkamers
Salt Lake City, Utah, Verenigde Staten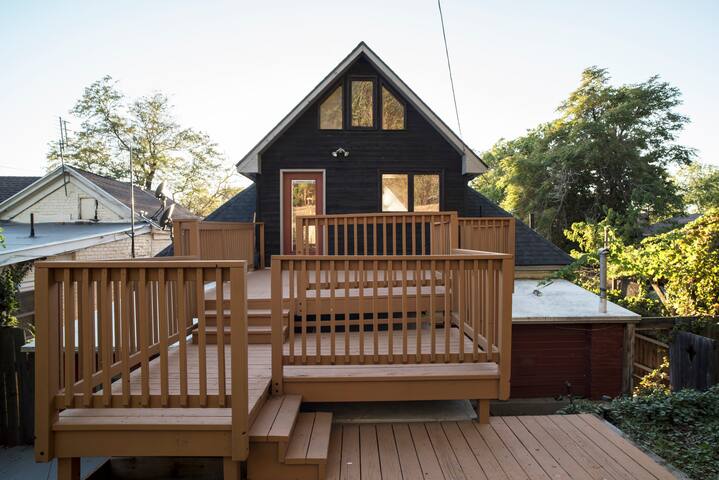 This is a beautifully lit space half a block away from the beloved Liberty Park and 9th and 9th area! It is fully furnished, and can fit up to 5 people. 3 bedrooms with beds, one sofa, and an AMAZING sunroom connected to an upper deck that could fit another. This space also has a large backyard with a fire pit and grill that can be used during your stay. You won't want to miss the opportunity to stay in this thriving neighborhood in SLC!
Kamertype
Gehele woning/appartement
---
Type woning
Huis
---
Geschikt voor
5
---
Slaapkamers
Salt Lake City, Utah, Verenigde Staten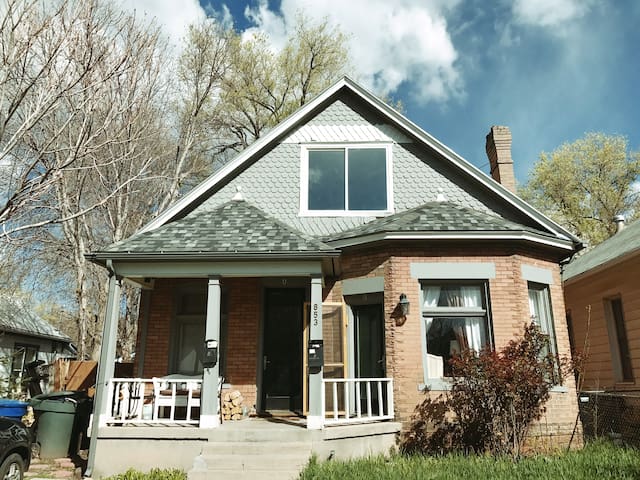 Hi! Benjamin, Heather and Little Gaius here! Come stay in our TWO PRIVATE ROOMS WITH COMFORTABLE KING & QUEEN BEDS with ensuite clawfoot tub & shower. Enjoy our continental breakfast in the mornings. Enjoy the walkability of the Sugarhouse neighborhood as your base to explore Salt Lake City, Park City, and the surrounding resorts. We are veteran hosts with over 300+ total reviews for our listings and we are ready and waiting to welcome you into our clean and cozy pet & smoke free home!
OUR HOME We live in a brick bungalow built in 1910. It has TWO bedrooms for your use only, an ensuite bathroom attached to the King room, a living room, dining room, and kitchen on the main floor. We have kept the feel of an early 19th century home with ornate door handles, a butlers pantry, claw foot tub, and décor from decades past. In the first bedroom we have a comfortable king bed, side tables, dresser, closet and a tv with attached bath. In the second bedroom we have a queen bed that feels like laying on a cloud with a dresser, side tables, and a tv with hallway access to the bathroom. The mattresses are covered with a hygienic covering and everything is washed after each stay. We have several pillows and plenty of clean sheets and towels. We also offer off street covered parking. WHERE WE STAY & COMMON SPACE SHARING Our home is two levels and so we stay in the loft above the main level with its' own entrance (through the common area). This makes it nice for us and you, so that we each have our spaces to retreat to. We do share the common living room, dining room, and kitchen. OUR TWO ROOMS Our primary room is a King bed with a ROKU TV that you can access our Netflix account and various other streaming channels. This room is attached to the bathroom. We also have an additional Queen bedroom with a ROKU TV as well. Both of these rooms are on the main level. Please inform as as to whether you will be using one or two rooms. LONG TERM-STAYS We will wash the towels and sheets as requested.
Sugarhouse could be considered the most popular neighborhood in Salt Lake City. It a VERY diverse and walkable neighborhood just a few minutes from Downtown with quick access to I-80 which leads to Park City and other ski resorts. Our neighborhood is near the main street in Sugarhouse which you can access by walking 10 minutes or driving 2 minutes. We live across the street from a Fresh Market grocery store and the Red Moose cafe and coffee shop (with a weekend brunch menu). Within a few minutes' walk you can visit Westminster park, Westminster University, an antique shop, restaurants, and bars. We do live in the city, so city sounds should not be unexpected especially during rush hours in the morning and evening.
We loved the place and the hosts! Met all our request and expectations!
Shabbir
2017-03-14T00:00:00Z
Ben and Heather were warm and welcoming and their place is a fantastic value! Ben was readily available to us before arrival. Their home is a beautiful mixture of craftsman charm and modern touches. Heather definitely has a knack for decorating! We enjoyed a scented bath in their tub by candlelight! Fun. The bed was comfortable and the linens soft. Extra bonus are the fluffy towels and the covered off street parking. The house is close to all the happenings of Sugarhouse, our favorite SLC neighborhood. Try Little Saigon, suggested by Ben, for great Vietnamese food.
Marilyn
2016-11-29T00:00:00Z
Had my best Airbnb experience ever!!! Theses guys are just awesome. They are putting Airbnb to a next level. Thanks for this great stay. There was nothing to complain about. Definitely first choice when I come back. Highly recommended !!!
Ti
2016-11-22T00:00:00Z
My adult son and I loved staying here! It was close to downtown SLC, the hosts, Benjamin & Heather are Awesome to work with, and we were each able to have our own room, with comfortable Real beds and all for a Very affordable price! Loved it!
Holly
2016-11-05T00:00:00Z
I would highly recommend staying here to anyone in the Salt Lake City area! Heather and Benjamin really exampled a true sample of excellent hospitality. Upon arrival we were warmly welcomed by the family. The house is beautiful and the bedrooms were extremely clean and comfy. We only stayed two days but Heather and Benjamin made the stay awesome (seriously they are so nice!). Would recommend this place to anyone!!
Megan
2016-11-12T00:00:00Z
Heather and Benjamin were wonderful hosts and everything was exactly as described. It's a large room with an amazingly comfortable bed and large private bath. They couldn't have been better hosts!
Beth
2016-11-07T00:00:00Z
Truly a love place with lovely hosts. It was my first time here in Salt Lake, so it was truly wonderful having stayed here and having Benjamin and Heather show us warm hospitality. The house is beautiful and clean, everything we needed was available, and the neighborhood was beautiful and quiet. I would definitely want to come back and stay here in the future! Thanks again!
Hugo
2016-10-30T00:00:00Z
Great place! Great hosts!
Deborah
2017-01-07T00:00:00Z
Kamertype
Privé Kamer
---
Type woning
Bed & Breakfast
---
Geschikt voor
4
---
Slaapkamers
Salt Lake City, Utah, Verenigde Staten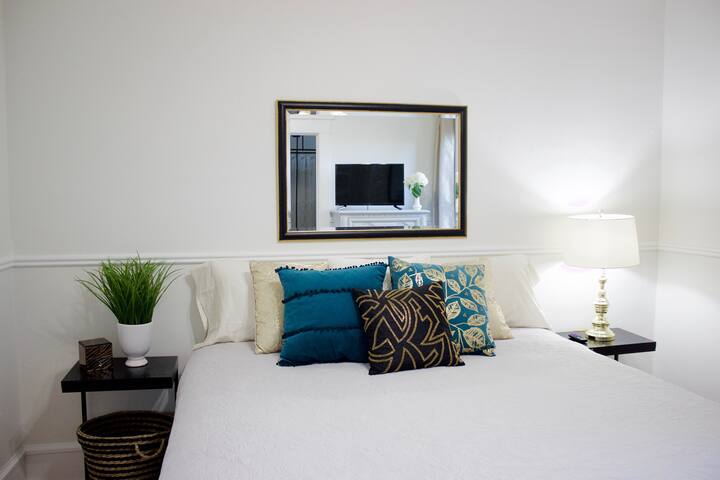 The Beesley Home (1872) is a historic landmark located within walking distance of Downtown SLC. This great studio combines modern comfort with historic charm. Walk to City Creek, the Salt Palace, Temple Square, and much more.
A lovely studio apartment with a queen size bed that is off the back of our house with it's own separate entrance. Providing guests with all the privacy they need. There is a small kitchenette with a sink, Keurig Coffee Maker, microwave, & toaster.
Cute eclectic neighborhood right down the street from the Capitol. This home is on Capitol Hill & as the name suggests it is a bit hilly where we are. There is a way to get to downtown that does not involve a very steep hill that we will provide a map with this marked for guests. But please know there are hills around the home.
The suite is very nice and close to downtown and state capitol, and Megan is super nice.Highly recommended!
寒
2016-09-28T00:00:00Z
My friend and I stayed here one night while visiting Salt Lake City. It was great! Megan & Shawn had great communication with us leading up to our stay. The Cottage was clean and the perfect place to land for a night. It's also within distance of several great places to eat. We highly enjoyed the Copper Onion for dinner and breakfast at the Rose Cafe!
Em & Tim
2016-09-25T00:00:00Z
Megan and Shawn described there place to a T . Just what we needed for a pit stop . Megan was very fast to answer all my concerns and questions. Beautiful area , close to freeway , close to shops and delicious hamburger spot. Thank you Megan for mailing our postcards and wishing you a wonderful summer.
Tracy
2016-06-30T00:00:00Z
Megan was really sweet. Explained they were in process of renovating the house. Location was.perfect. Centrally located in walking distance. Room was a bit small. No chair to sit on and read/relax. Only the bed to sit on. A/C was very noise. Difficult to sleep. Unable to open windows to cool off.
Gail
2016-10-02T00:00:00Z
The Cottage was a great quiet place to stay down town. The room was clean and comfortable and we were really glad they had a fridge, microwave, and even dishes to use. Everything is provided for a comfortable stay. We loved the fact that it was a historical house and the details were beautiful. The whole set up is very private and the neighborhood was quiet, even for a Friday night. It was also a quick walk to the Capital. We have already recommended them to our family and friends, and would love to come again!
Jeremiah
2016-07-10T00:00:00Z
Megan and Shawn were wonderful hosts. Couldn't ask for more. Great experience and highly recommended.
Mike
2016-10-30T00:00:00Z
This is a darling little cottage. We will hope it is available on our future trips. A perfect place to stay and so close to many great things to explore in SLC.
Tiffany
2016-08-19T00:00:00Z
The house is cozy. Megan is a very friendly host. Though our communication is quite short, it's really helpful. The only one suggestion is that the restroom&bathroom is a little bit cold in this season. 房子不错,交通方便,打优步也很快,离机场10分钟左右。房东热情。唯一不足是冬天洗手间/洗澡间没暖气比较冷。
Yao
2016-10-06T00:00:00Z
Kamertype
Gehele woning/appartement
---
Type woning
Appartement
---
Geschikt voor
2
---
Slaapkamers
Salt Lake City, Utah, Verenigde Staten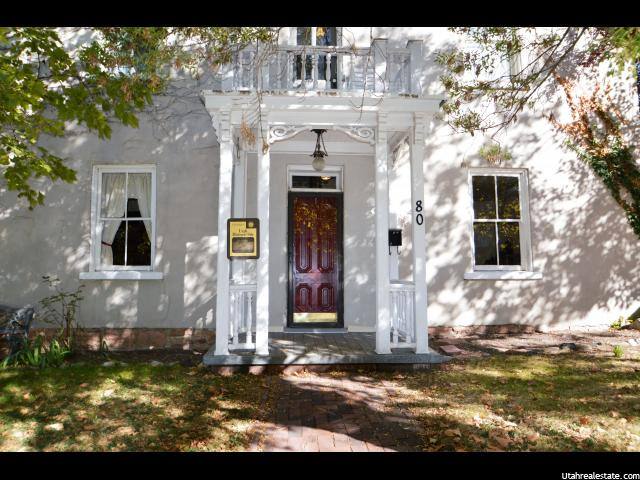 Voer datums in om de volledige tariefopbouw te zien. Er kunnen extra kosten zijn en er kunnen belastingen worden toegevoegd.