*商旅就绪 *准备好一个浪漫脱身 *准备毛茸茸的朋友和家人小 *免费停车场和自己的私人入口来来去去请你。
Kamertype
Gehele woning/appartement
---
Type woning
Appartement
---
Geschikt voor
2
---
Slaapkamers
Middletown, New Jersey, Verenigde Staten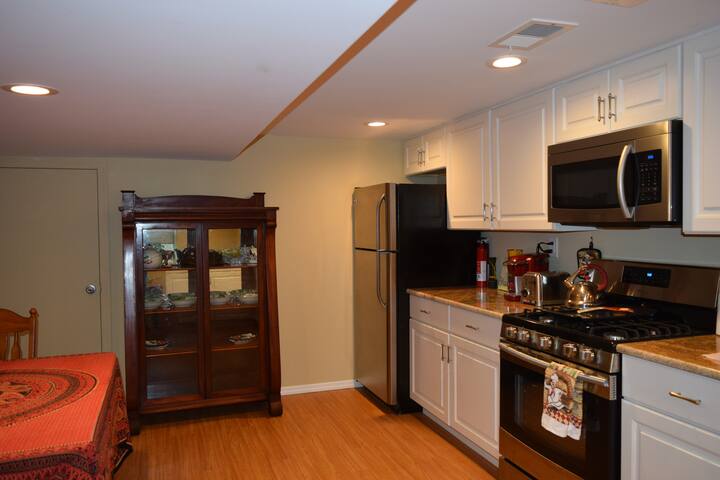 The hosts are lovely, the house is beautiful and the location is great! Victoria was very responsive to my emails and always replied quickly with lots of information. The house is clean and spacious and very close to the ferry, a little beach, restaurants, playgrounds, bars, stores... great for adults and kids alike. It was so nice to not need to drive at all during our stay! Victoria was really kind and went out of her way to be gracious, helpful and flexible. This was our introduction to Atlantic Highlands and we all had a great time.
laura
2016-08-06T00:00:00Z
Victoria was responsive and the house was clean and exactly like in the pictures. Would recommend to anyone!
Romana
2016-09-05T00:00:00Z
Victoria was so helpful and the line of communication was alway open even when I was dumb and driving around the wrong town looking for our "home". :) The apartment/house was beautiful, had old house charm and yet was newly remolded, gorgeous and clean. The location was perfect for our needs, close to the beaches and an adorable little town with great food options. We felt immediately "at home" by the chalkboard sign welcoming us, very personal and sweet. We would absolutely book another stay.
Cynthia
2016-08-18T00:00:00Z
Victoria was a happy and welcoming host. She was very laid back. I had old friends that travelled internationally to get there. We basically had some wine and all caught up that Friday (fun board games provided in the house made for a fun and interesting night!). We went to the city on Saturday night, and the last train back was at 1am. We saw a comedy show that went until 1:22am. So unfortunately, we had to cab it back for 200$. However, the coffee maker provided was great!
Bernadette
2016-09-25T00:00:00Z
I truly felt as though I was staying at t friends house with no fuss.
Yvonne
2016-10-31T00:00:00Z
Great experience the host had all the information and more we needed and was very hospitable. Would definitely stay here again.
Rupa
2016-08-07T00:00:00Z
The house was great! Very comfortable and clean, and we could walk to lots of good restaurants. Short drive to great beaches. Thanks!
Lena
2016-09-12T00:00:00Z
Joe and Victoria were awesome hosts. They are friendly and so helpful, replying to any questions quickly. The house was beautiful and very clean. It is located a great location, close to plenty of lovely beaches, fun towns, and basically right next to the ferry to NYC. They were great at preparing the house too, providing us with some activities to keep us from being bored and other small essentials we may need. They also leave a guidebook to the area, so if you don't know what to do or where to go, the guidebook is definitely something to check out. In the summer, the location is great to hit the beaches and the rest of the year it's great if you want to have a place to stay after a trip to NYC by ferry so that you don't have to worry about driving into the city and dealing with the crazy traffic there. My family loved the house and thought the hosts were awesome! Will definitely be coming back!
Giang
2016-08-16T00:00:00Z
Kamertype
Gehele woning/appartement
---
Type woning
Appartement
---
Geschikt voor
8
---
Slaapkamers
Atlantic Highlands, New Jersey, Verenigde Staten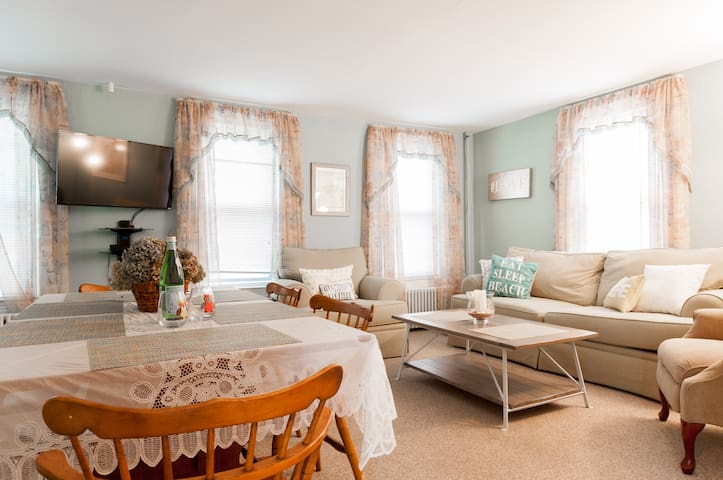 Spacious 1 bedroom, 1 bathroom apartment located on the first floor of a meticulously restored Victorian home, which includes many architectural features. 4 block walk to the boardwalk and beach and located within a short walking distance to shopping and dining. Living room, dining room, eat-in kitchen and large backyard with seating and barbeque grill.
Spacious, bright 1 bedroom with living room, dining room, and kitchen, with large landscaped backyard with brick patio and grilling area. The bedroom has a queen size bed. The living room has space for an air mattress that is provided for extra guests, and by closing the French doors, can be closed off from the rest of the apartment for privacy. There is also a wet bar in the vestibule off the living room. The large dining room table seats 6 and there is also a small table in the kitchen that will seat 3. The kitchen is fully stocked with essential cooking items, including dishes & utensils as well as spices, condiments and basic food items. A coffee maker is provided along with coffee, milk and sugar. The space is a 1350 SF apartment that occupies the full first floor of a quiet three family home. The house has been meticulously restored to its original grandeur with many interesting architectural details.
Asbury Park is ranked in the top 20 coolest towns in the USA. It is a city and transition, with many new developments recently built, planned or underway. It is world famous for its music scene, producing its own unique sound fostered by musicians like Bruce Springsteen, Southside Johnny, Steve Van Zandt, Etc. You can see live music in a variety of venues almost every night of the week. Asbury Park has a wide assortment of dining establishments, from breakfast and lunch eateries to fine dining; it has become the restaurant Mecca for all of Monmouth County. Stephen Crane wrote "The Red Badge of Courage" in his home directly across the street.
Zeer ruime accomodatie, De hele benedenverdieping is beschikbaar. Schoon, ruim en comfortable. Lisa had zelfs wijn en bier klaar staan! Aanrader als je in hartje Asbury Park wil zitten.
Sander
2017-03-01T00:00:00Z
From first contact through check-out, Lisa went above & beyond to ensure that our stay was a memorable one! The house has been meticulously restored and maintained and is a short 4-5 block walk from the ocean. Upon arrival, we were given a quick tour of the property and greeted with both fresh flowers & wine! The house itself has a lot of history, tons of unique architectural details & artwork throughout with high ceilings & tons of natural light! Hard not to love it all. Lisa was really sweet, check-in / out were both flexible and she even provided a list of suggestions for eateries, things to do & local events to attend. You seriously couldn't ask for more from a host or property in Asbury Park.
Vinnie
2015-09-27T00:00:00Z
Great host. The location is full of character. An antique home with a modern touch. Surely will be back
Victor
2016-12-17T00:00:00Z
Lisa has a beautiful house. It is very well located, homey, and spacious. She was an excellent host and especially accommodating.
Drew
2017-02-25T00:00:00Z
This may have been my best AirBnB experience I have had yet. Lisa was the most accommodating, hospitable host. The reservation was very last minute (our fault) but she ensured check-in was seamless and even made time to give us a little tour. The home itself was beautiful, with all the noted amenities and some extra perks we didn't expect. Location is only minutes from all the best attractions and bars in Asbury. I will certainly be visiting her location again, and would definitely suggest to friends. Overall great experience!
Noah
2017-02-28T00:00:00Z
Lisa was the best host! Always in good communication when we needed during our trip, and went above and beyond by offering things like a pickup from the train station and arranging for us to stay an additional night because we were enjoying our weekend at the Shore so much that we didn't want to leave!! Apartment was beautiful, filled with thoughtful details such as beach chairs/towels/passes, fresh flowers, wine, a drawer full of awesome mixtapes, recommendations on things to do. The bed was also one of the most comfortable I've slept in away from home!! Would highly recommend without reservation and we look forward to coming back!!!
Frances
2016-08-14T00:00:00Z
Great experience! The apartment is beautiful, a short few blocks to the beach through an adorable neighborhood. Lisa was very quick to respond to questions and left info about current happenings in Asbury Park in the apartment for us.
Kelly
2015-12-13T00:00:00Z
Lisa thought of everything you'd need for a perfect beach getaway, from the beach chairs to the beer fridge. We loved the back yard grilling situation and had a great time listening to the collection of mix tapes. It was very conveniently located, and Lisa was very helpful and welcoming. We'll definitely try to stay here again!
Dorie
2016-07-31T00:00:00Z
Kamertype
Gehele woning/appartement
---
Type woning
Appartement
---
Geschikt voor
2
---
Slaapkamers
Asbury Park, New Jersey, Verenigde Staten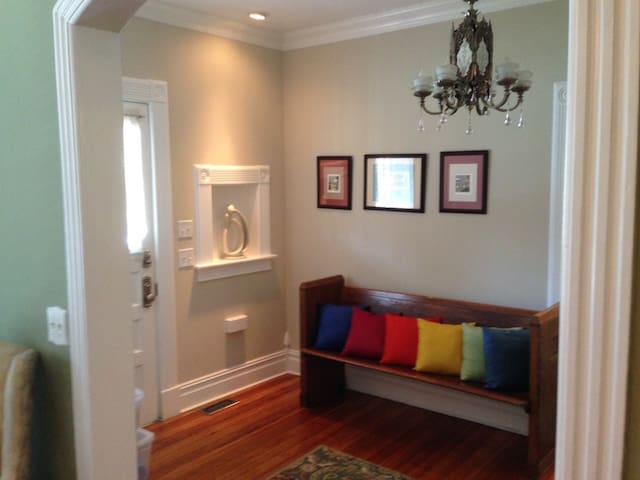 Location - Location - Location! If you are not familiar with Red Bank, it is a "cool little town" and my place is in the heart of Red Bank so you get the "cool" vibe here as well! It's an easy walk to anywhere in downtown Red Bank and a short drive to some of the most beautiful beaches at the "Jersey Shore" including Sandy Hook, Sea Bright and Asbury Park. My place is good for couples, solo adventurers, and business travelers.
Enjoy a spacious guest bedroom and guest bathroom with a bathtub and shower.
The neighborhood is wonderful! Walking distance to everything you need or want including shops, the antique district, Count Basie Theatre, Two River Theatre Company, Molly Pitcher Inn and Oyster Point Hotel, NJ Transit train station, and all the awesome restaurants.
Lovely accommodations and a very friendly hostess
Waltraud
2017-01-24T00:00:00Z
Bonnie was super helpful during our move to Red Bank. Her place was super clean and she offered us everything we needed. Great value and great person!
Philippe
2017-01-09T00:00:00Z
Bonnie's place was perfect for us. We were in town for our son's wedding at the Molly Pitcher Inn. We loved looking out of her large windows & the quaintness of the apartment building.
Debra and Tim
2017-04-02T00:00:00Z
Great place!
Alexis
2017-02-05T00:00:00Z
The host canceled this reservation 11 days before arrival. This is an automated posting.
Shivangi
2017-03-06T00:00:00Z
Great location and comfortable bed. Bonnie is very friendly. Very easy access to restaurants and train.
Bob-Shevawn
2017-03-03T00:00:00Z
Great place to stay. Clean, quiet and close to everything.
Catherine
2017-03-26T00:00:00Z
Bonnie has an amazing place! She is the best hostess and this is the most clean place You will find!!! The location is the best as You can walk everywhere!
Aja
2017-02-24T00:00:00Z
Kamertype
Privé Kamer
---
Type woning
Appartement
---
Geschikt voor
2
---
Slaapkamers
Red Bank, New Jersey, Verenigde Staten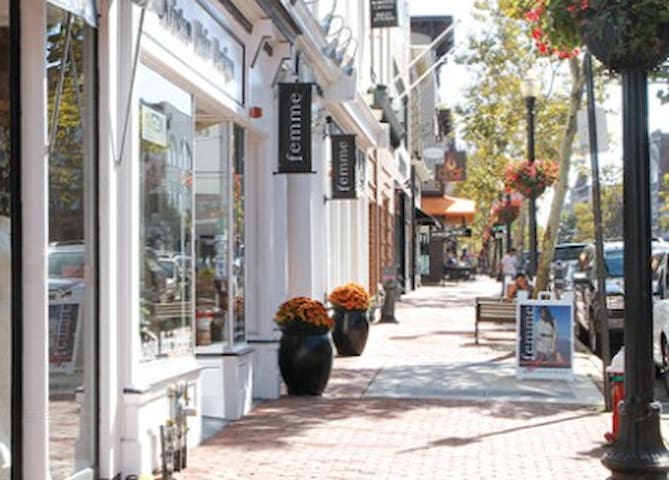 My place is close to highway, nightlife, family-friendly activities, beach and parks. You'll love my place because of the comfort, ambiance, and in-house entertainment. Stay in for an evening of gaming and home entertainment or venture to nearby historic Asbury Park or shopping at Jersey Shore Outlets. My place is good for couples and solo adventurers.
Anthony's home was great! The communication was great. Everything was clean and even provided extra accommodations. Would reccomend to anyone and the location was great.
Izzy
2016-10-23T00:00:00Z
Anthony was so awesome, communication was on point and very fast. He was super flexible and accommodating even when I asked to push our arrival and departure time back a few times. Anthony provided us with everything we needed towels, bedding, toiletries, an amazing entertainment system, etc. Only downside was the microwave but if you're not going to use it, who cares! Thanks for letting us stay with you Anthony! My girlfriend was ready to come back with her family in a few weekends but the apartment was already booked. Whoever stays here next will love it. Would definitely stay here again, can't beat the location, 10 min drive from Asbury. Would definitely stay here again. Oh yea... and the bed is amazing, you won't want to get up :)
Emiliya
2016-08-08T00:00:00Z
This is a nice, large apartment in a large complex. There are stores etc nearby. The apartment itself is very comfortable and quiet.
J Patrick
2016-11-23T00:00:00Z
Anthony's place is decorated well, very clean, and was perfect for our stay. We will definitely stay here again when we come back to NJ!
Zach
2017-02-12T00:00:00Z
Anthony is a great host with a clean and unique place. The apartment was very clean and I would definitely recommend this plc for someone looking to stay here.
Christopher
2017-01-01T00:00:00Z
Anthony's apartment was very clean and fun! He has lots to offer for sci-fi/fantasy enthusiasts and gamers. He was very responsive and helpful when we contacted him with questions. He was a great host and we would stay at his apartment again.
Meghan
2017-02-15T00:00:00Z
Anthony place is very comfortable and clean. His bed is very comfortable and I had a great sleep. It's was so cozy, I had to stay another night.
Daniel
2016-08-04T00:00:00Z
Anthony's place was absolutely AMAZING!!!!! My boyfriend and I ventured here for an overnight random getaway and we never even ended up going out because we had so much fun in the apartment!!! His electronics set up was UNREAL (I learned to play Zelda!) His apartment was indescribable... it was so cozy, so clean, and he had the most fascinating memorabilia and collectibles it was SO cool. Anthony was also super super responsive... I'm electronically illiterate and was trying to set up the tv and messaged Anthony and he contacted me back within a minute (literally). I highly recommend Anthony's airbnb for any ventures! And it's super close to Asbury Park :) Thank you for the amazing stay Anthony!!! We can't wait to come back :)
Jessica
2017-02-18T00:00:00Z
Kamertype
Gehele woning/appartement
---
Type woning
Appartement
---
Geschikt voor
3
---
Slaapkamers
Ocean Township, New Jersey, Verenigde Staten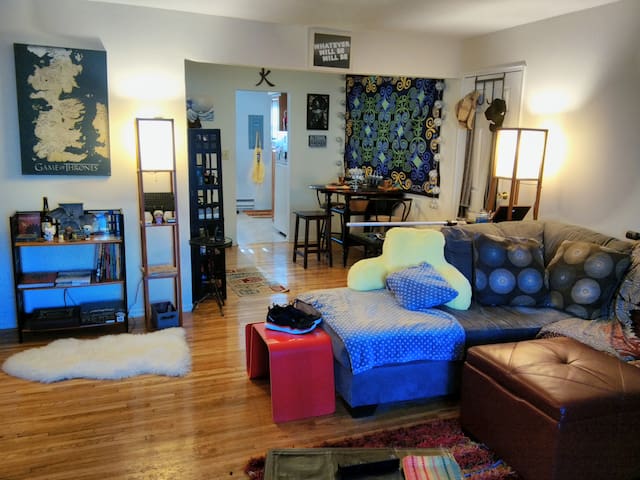 Not a B&B - It is a sometimes vacant 2nd floor furnished Apt. Simple clean, shabby chic w piano. . Middle of " Hip cool " town of Red Bank. 1 bedroom apt w full bath, verizon fios tv, internet, AC, bb heat. Queen bed. Walk couple blocks up 2 all cool hot spots and restaurants. Train, bus, taxi run all time. Easy access to beach/NYC/airports.
Great spot right in downtown Red Bank. We had a wonderful time.
Angela
2016-10-02T00:00:00Z
Kris was communicative in advance of the stay and the listing was as described. He was also flexible on my check out time, which was *very* helpful, as I had just arrived off of an 11 hour flight from Japan and needed the extra sleep. The fridge was well-stocked with water and OJ, and the bed was comfy. This place was exactly what I needed, and it was a short walk to restaurants and shops in Red Bank.
Eric
2016-11-11T00:00:00Z
Great host, great price, spectacular location.
Kathleen
2016-01-18T00:00:00Z
Just as described. Quaint, clean apartment right off downtown with all the amenities you'd expect for a weekend away. Kris was a wonderful host, quick to communicate, and went out of his way to mail some effects we mistakenly forgot. Thanks again!
Kevin
2016-06-13T00:00:00Z
Kris was a good communicator and we had no problem getting a key and access to the 2nd floor apartment, although our travel made us several hours late arriving. Loved the location, almost downtown! Great shower and comfortable bed.
Stephen
2016-06-17T00:00:00Z
Kris was great and made it very easy to get in and get out. He had nice little touches around the house, like Keurig, orange juice, little shampoos etc. air conditioning was on when I arrived. If you are going to the beach and looking for something inexpensive this is where to go. Nothing fancy but a great place to crash.
Leah
2016-06-22T00:00:00Z
The apartment was as described. Kris was an excellent host. He had a ton of amenities and was very welcoming, just a text away. The apartment is in a great location, walking distance to restaurants and bars and also a short drive to the beach. My boyfriend and I really enjoyed our stay.
Joelle
2016-08-28T00:00:00Z
Kris was very accommodating and was excellent with his communication. If you are looking for a clean apartment that is extremely close to downtown Red Bank this is the place for you. The price was right also since I wasn't looking for a 5 star residence just a place to sleep .
Robert
2016-10-30T00:00:00Z
Kamertype
Gehele woning/appartement
---
Type woning
Appartement
---
Geschikt voor
2
---
Slaapkamers
Red Bank, New Jersey, Verenigde Staten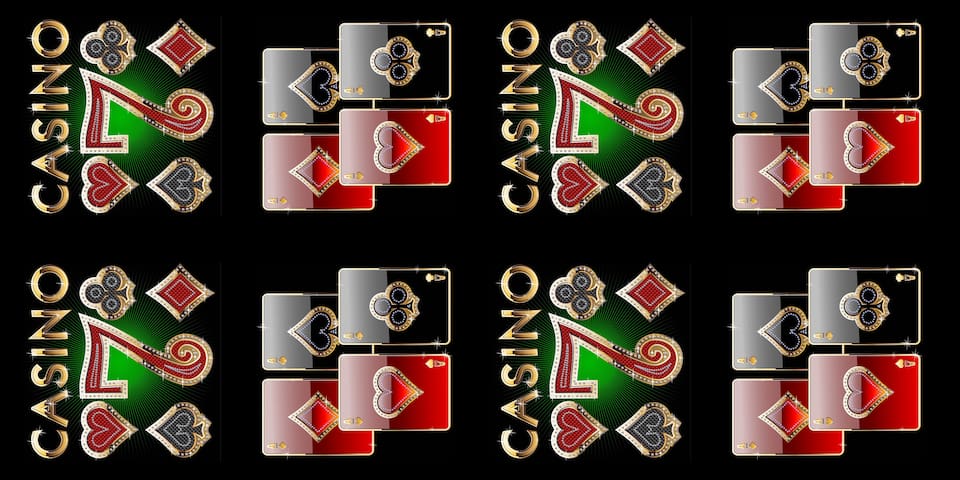 Very Bright & Airy Spacious Studio Apartment, 3 blocks from the ocean! Perfect Beach Getaway with eat-in kitchen, large bathroom, newly renovated shower and plenty of closets. It is located within walking distance to Pier Village and train station.
This is a large, beautiful, second floor studio, large bath and kitchen in a two-family house. It is completely self contained and provides a quiet, private space to relax after exploring all the city has to offer.
The apartment is located 3 blocks from the ocean and within walking distance to Pier Village, which offers lots of great restaurants and shoppes and grocery store. The train station for trains to NYC: 2 miles Ferry to NY 15mins Garden State Parkway 10mins
Sarah and Tina are excellent hosts. I didn't get a chance to meet them but they communicated with me (very quick responses) throughout my stay with any questions I had. They also allowed me to check in a little bit early as we took an earlier train from NY. The apartment itself is absolutely adorable. And extremely spacious for a studio (the kitchen is not in the studio but off to the side so it didn't feel crowded) The amount of Windows and natural light being let in was lovely. The kitchen was extremely large with a large pantry next to it. The kitchen also had pots, pans, and dishes. the bathroom is extremely large. ( it has a tub, as well as a tiled shower on the other side and also a bidet, which was cool). They provided towels, toilet paper, hand soap, body wash, shampoo and conditioner. The beds are super cozy with one being by the window And a TV. As well, the beds were clean.The area itself is QUIET, which was such a nice break from the city noise I'm use to. My only recommendation is that you bring a bike or car. It's a bit of a walk to the grocery stores, but a beautiful bike ride along ocean ave (7 minute walk to the beach). The beach is in a more private area, but pier village is about a 6 minute car ride) I also recommend trying out the Bacon Beach Grille. Adorable little restaurant on Atlantic Ave. the food was great and the owners came out to talk to my girlfriend and I. Also Sarah and Tina were super nice about offering to mail back some items I had left behind(URL HIDDEN)Totally recommend this place and I'll definitely be back!
erica
2016-03-11T00:00:00Z
Wonderful location and communication was prompt!!! Check in and out was smooth. Small cozy studio, with a charming quality about it!! Within walking and short driving distance from various beach attractions. My only recommendation is updating towels, linens and window blinds.
Despina
2017-02-12T00:00:00Z
I stayed here for my first marsthon, even running past it along the way. Cute apartment close to the beach. Quirky and cute. It is clean and well taken care of by Sarah and Tina, who were great hosts. Thank you again!
Melissa
2016-05-03T00:00:00Z
Sarah and Tina were great hosts, received very quick response to any questions we had! The studio was very clean and welcoming. They provided very clear instructions which made checkin very easy. We only stayed for a short time but it would be be very comfortable for long visits and is walking distance to the beach... great for a summer getaway! Thanks Sarah and Tina for a great experience!
Valerie
2016-03-24T00:00:00Z
Perfect location! Easy breezy check in. The hosts were available by phone when needed and very pleasant and accommodating to my changing plans.
Nubia
2016-12-16T00:00:00Z
Residential second-floor apartment above a house with private entry. Nice walk-in shower. This is a good summer spot if you're spending time at the beach.
Roger
2016-11-24T00:00:00Z
Great place for a quick, quiet beach getaway from NYC. Loved how easy check-in was and how helpful the travel info. ended up being.
Emily
2017-02-20T00:00:00Z
Tina and Sarah's place was the perfect respite for my children and I for a last minute Easter weekend getaway. Tina was so accommodating and helpful whenever I needed to communicate with her. The apartment was the perfect size for us and in a really safe neighborhood that was convenient to the beach and main arteries of Northern NJ beaches. It was convenient to explore Sandy Hook to Asbury Park and everywhere in between. Thanks so much for sharing your apartment with us! We hope to be back.
Audree
2016-03-28T00:00:00Z
Kamertype
Gehele woning/appartement
---
Type woning
Appartement
---
Geschikt voor
3
---
Slaapkamers
Long Branch, New Jersey, Verenigde Staten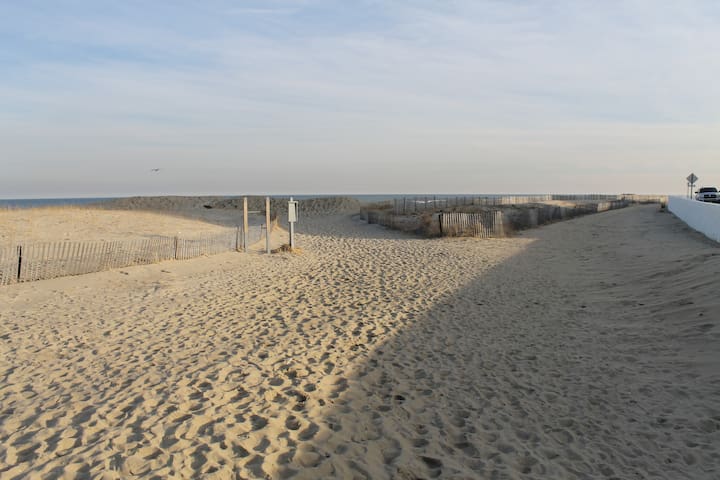 My place is close to restaurants and dining. The house is centrally located within a short walking distance to the beach (and world famous boardwalk), and Cookman Ave. (shopping and restaurants). The train station is located in town that accesses the nearby shore towns, as well as north jersey, Newark Liberty airports, and New York City. My place is good for couples, solo adventurers, and business travelers.
Although we didn't get a chance to meet Lisa, she enlisted help from a friend to greet us and make sure we were settled after our arrival. She graciously gave us a complimentary bottle of wine and left beach chairs and beach badges for us to use. The apartment was clean and well-decorated, and a nice short walk to the beach and the downtown area. We had a great stay!
Julia
2016-08-29T00:00:00Z
Lisa was a great host! Flexible with regards to checking in and out, knowledgeable about Asbury Park and surroundings, and very friendly in general. The apartment was very nice and complete. Some noises from quite active neighbours, but nothing after bedtime or too early in the morning.
Robin
2016-10-25T00:00:00Z
This place is even better than the pictures that are shown! We enjoyed every second here, and felt so comfortable. Lisa went above and beyond to accommodate us, and we would gladly recommend it to anyone!
Joshua
2016-09-13T00:00:00Z
Just finished up a great weekend in Asbury! Lisa was incredibly responsive, friendly and easy to work with. Her home is bright, airy, spacious (agree that the pics online don't entirely do it justice - it's even better in person) and located within walking distance to the beach, shops, restaurants, bars, boardwalk, etc. We were greeted with wine and fresh fruit upon arrival. The beach passes, chairs and towels were a huge bonus as well. Would recommend Lisa's place to any Asbury lover!
Emily
2016-08-29T00:00:00Z
The place is great. It felt like home, albeit five blocks from the beach. The location is very convenient, easy walking distance to both the beach and the town. Lisa was very nice and welcoming (the complimentary bottle of wine was appreciated). I would do it again, assuming she lets me.
Scott
2016-09-09T00:00:00Z
Stayed here with my fiance and had a great time. The space is great for a couple just looking for a nice, chill place to unwind and go to the beach. It's maybe a 7-10 min walk to the beach/boardwalk and a 20 min walk to cookman and the downtown area - both easily doable. Had a great weekend and would definitely return.
Wayne
2016-08-22T00:00:00Z
My son and I had a marvelous visit to Lisa's place this week! Lisa is a great host - met us with the keys and showed us the apartment briefly - pointing out the extra blankets, towels, toiletries, fresh fruit, the local paper and many pamphlets for local spots, kitchen essentials (and extras!), and of course, the beach badges and beach chairs (backpack style). Seriously, if you forgot something, she's sure to have it there for you already. And if not, there is a convenient mart a short walk away which was, well, convenient. The apartment is bigger than the pictures make it out to be. And the sofa is also a bed! Bonus! It is an older home so the floors creak and you can hear the other upstairs neighbor waking around at times, but that's expected and was not disturbing in anyway. There were a/c units in the living room and the bedroom which kept the apartment cool and such hot, humid nights. Cool architectural details and decor. Loved it. Would stay again! The beach is about a ten minute walk from the apartment. If you've never been to Asbury Park, it's a very clean beach. And it's a short walk from the boardwalk to the water. There are chair and umbrella rentals. Two parks on the sand and the splash pad make it a perfect spot for the little ones. Just a clean, not overly crowded beach and Boardwalk. Low key.
Alyssa
2016-08-20T00:00:00Z
The stay at Lisa's place was great. It was clean, well-appointed, and close to the beach and shops. We wish we could have stayed longer. Lisa was a pleasure to communicate with and we appreciate her hosting us. Would not hesitate to stay with her again. Thanks Lisa!
Tara
2017-04-11T00:00:00Z
Kamertype
Gehele woning/appartement
---
Type woning
Appartement
---
Geschikt voor
2
---
Slaapkamers
Asbury Park, New Jersey, Verenigde Staten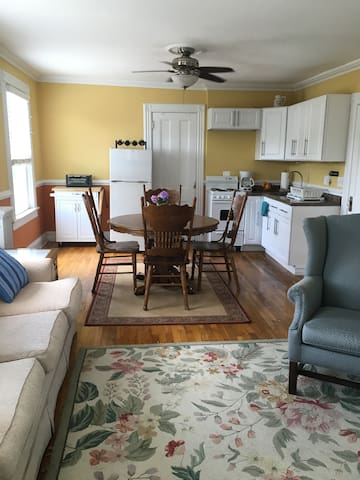 Das Hotel liegt im schönen Lincroft, die untere Ebene unseres Hauses ist w / eigenem Eingang. Red Bank mit Riverview Krankenhaus sind zehn Minuten entfernt. Innerhalb von 5 bis 30 min sind die schönen NJ Strände und öffentliche Parks. Der Transport ist einfach: 30 min. vom Flughafen Newark; Bahnhof und Busbahnhof sind nur wenige Minuten entfernt. Nur noch 1 Std. Fahrt nach NYC. Buchen Sie Ihre nächste Reise mit uns noch heute!
Εμείς απλά εγκατασταθεί ένα όμορφο ολοκαίνουργιο κουζίνα πλήρως εξοπλισμένο!
Unsere Nachbarschaft ist abgelegen und ruhig. Ganz ein Juwel für ein Gebiet mit viel Hektik!
Ilysa and her husband were great hosts! The place was really nice and homey and they accommodated for everything and provided everything within a reasonable time. My fiancee and I used their home to get to and from New York, which is within reasonable distance. Sleeping accommodations were great, as we had a blow up mattress provided along with the bedroom, but honestly, the sofas were just as comfortable! They provided breakfast for us, which was great as we have some special dietary needs in my family. Overall, felt very much at home. Thank you so much for a great stay, will look forward to coming back again soon!
Michael
2016-11-13T00:00:00Z
Thanks so much for all your help, we look forward to staying again on our next trip!
Connie
2016-12-11T00:00:00Z
Our stay at Ilysa's was fantastic! She was so helpful, accommodating, and friendly. The space was great--exactly what we needed when visiting family in the area. We would highly recommend it!
Jeanette
2016-12-31T00:00:00Z
This little gem has become my home away from home when visiting the area. Highly recommended to all!
Melissa
2017-02-17T00:00:00Z
Ilysa was amazing! She was prompt to respond to all of my messages and texts. She and her husband we so welcoming and nice. I could tell right away that they are good people. The space was lovely. It was incredibly clean and neat. Ilysa provided a few amenities including delicious homemade granola which was a nice touch. The bed was also super comfortable. We were more than satisfied with our stay and would definitely recommend!
Elizabeth
2016-10-30T00:00:00Z
Such a gem of a find! This place was exactly what I'd been looking for in the area. Ilisya was super communicative leading up to and during my stay. The entire unit appears brand new and it was treated as if it was my own. They even had a cabinet full of toys for my three year old to play with! Bed and pillows absurdly comfortable and everything was immaculately clean. Could not have had a better stay and will definitely be returning. Thanks again!
Melissa
2016-11-20T00:00:00Z
Ilysas place is fantastic. Located in a very nice neighborhood with deer in the backyard. New kitchen, good wifi. Great communication with host
Boaz
2017-03-31T00:00:00Z
I've stayed here multiple times now and this stay was the same as all previous: clean, comfortable, convenient and great communication. Highly recommended for anyone whose travels take them to the area.
Melissa
2017-01-15T00:00:00Z
Kamertype
Gehele woning/appartement
---
Type woning
Appartement
---
Geschikt voor
5
---
Slaapkamers
Middletown, New Jersey, Verenigde Staten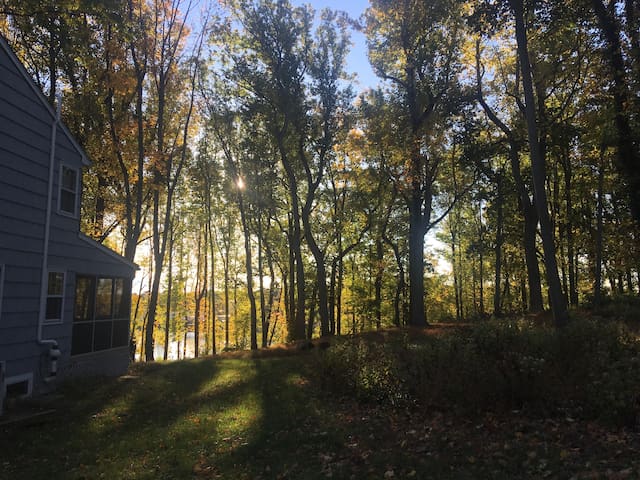 Great Apartment in a nice neighborhood. Huge windows & French Door to yard. 500 sq.ft. open concept, modern, clean, newly renovated apartment; Gas fireplace; Walk-in Closet; Dishwasher; Private Yard space; Washer/Dryer, Freezer available.Plenty of street parking. Ground floor of a two-family house.
Very bright and private one bedroom apartment with modern design and full amenities. Sheets, towels & shampoo are provided. Cable TV & wifi The booking includes two beach passes and beach chairs.
Great place to stay! 10/10
Chris
2016-09-19T00:00:00Z
We had a fabulous time. Tina was a great host. Very easy to communicate with. Super friendly. The apartment was exactly like described.
Diana
2016-05-31T00:00:00Z
I enjoyed my stay at Tina's place. The home was pretty much exactly as described. She promptly answered any inquiries I had for her. My only regret is not finding her listing sooner since she's pretty much booked up for the summer
Emily
2016-06-26T00:00:00Z
Tina was so accommodating and friendly, the space was decorated so lovely. Overall awesome experience!
Alexa
2016-02-16T00:00:00Z
This rental was fantastic! Tina had great communication, the space was well stocked with basic amenities, and the price was just right. Our group of four was able to stay comfortably as the couch converted into two twin sized beds, giving each of us a nice place to sleep. We'll keep this place in mind for future stays.
Jason
2016-06-13T00:00:00Z
Although we didn't get to meet Tina she was very helpful prior to arrival and answered any questions we had. The place is exactly as described/pictured. We had such an amazing stay and would definitely come back. Thank you! :-)
Ashley
2016-09-04T00:00:00Z
A very very well aquainted apt for two Tina was an excellent host, on site because it's her dwelling, and just a cell phone text away from providing anything :) I like her taste in art as she decorated the place. It's cool. The use of her concrete engineering and design knack needs to be seen The beach & boardwalk? You can drive there, sure, but bikes are better. Very hard to park close. But it's a great place that Tina gives ya two free beach passes for a week, which is too sweet Trust me it's $9 a day per person cuz u have to pay NJ local fees, plus $2 an hr parking We enjoyed it. It was a value for sure. Rent it!
Chester
2016-07-24T00:00:00Z
Tina's place was perfect for a weekend get-away. We loved the location -- we brought our kick scooter (URL HIDDEN) !) and zoomed around the neighborhood and down to the boardwalk. Tina was flexible and answered all of our questions! Would definitely stay in this quaint space again.
Lisa
2016-05-02T00:00:00Z
Kamertype
Gehele woning/appartement
---
Type woning
Appartement
---
Geschikt voor
4
---
Slaapkamers
Asbury Park, New Jersey, Verenigde Staten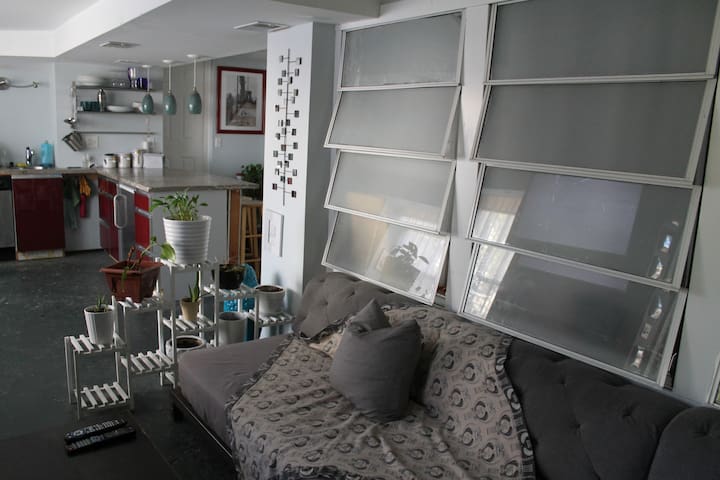 Eine schöne, elegante und moderne Ocean Front Haus mit Panorama-Meer und Blick auf den Fluss. Kein Strand Pass erforderlich! Terrasse, Gras Hinterhof, Radweg und persönliche Parkplatz. Geräumige LR, formale DR und voll ausgestattete Küche. Wäschetrockner. Minuten bis in die Stadt; Fachgeschäft, Restaurant & das ganze Jahr über Aktivitäten in Red Bank, Sandy Hook, Long Branch Pier Village. Schließen Sie NYC Fähren. Ein großes Ferienhaus für einen kurzen oder langfristigen Bedarf. Bitte erkundigen Sie sich für unsere wöchentliche und monatliche Rabatte!
Unser Strandhaus ist schön, geräumig und stilvoll eingerichtet, 2 BRs aber mit den zusätzlichen 2 Sofabetten können problemlos 4 -6 Gäste auf separaten Betten. Summer Rental ist auf wöchentlicher oder monatlicher Basis. Tagesmiete ist das ganze Jahr über mit Ausnahme der Sommermonate. Dies ist die Penthouse-Wohnung in einem Zweifamilienhaus. Wenn Sie beide Wohnungen mieten möchten / 4 Schlafzimmer bitte kontaktieren Sie mich und wir werden Ihnen aufnehmen.
Unser Strandhaus liegt an einem ruhigen Teil von Ocean Ave noch ist sehr nah an der Mitte der Stadt, wo Sie die Fachgeschäfte und Aktivitäten am Strand finden. Zu Fuß zum NJ Sandy Hook Beach Resort. Es gibt einen Radweg in der Schrift rechten Seite des Hauses vor und parallel zum Strand. Auf der rechten Seite des Hauses über die Highlands / Sea Bright überbrücken Sie die beliebten Badeorte finden: Highlands, Atlantic Highlands mit vielen Fachgeschäften und Restaurants. Auf der linken Seite des Hauses mit einer kurzen Fahrt zum berühmten Pier Village Resort in Long Branch unter anderen beliebten Strandstädte. Red Bank ist nur wenige Minuten entfernt für Ihre Antiquitäten Shopping-Vergnügen.
We had a great stay at this house. The location is perfect, the view wonderful, and the house was very clean. Chris is very quick to reply to any questions. We will gladly return in the future. One of the best experiences we have had in this area.
Jerame
2016-07-23T00:00:00Z
Christopher and his family where wonderful hosts. The apt was absolutely beautiful with breathtaking views of the beach. It was the perfect weekend get away. Quick/ fun ferry ride from the city, great restaurants, and a quite relaxing atmosphere. Looking forward to going back!
Valerie
2016-06-13T00:00:00Z
This is kind of an unbelievable space. The windows looking out over the ocean were perfect for seeing the sunrise over the ocean. Each morning we just crossed the street and walked the quiet, pristine beach for miles! Christopher and his family were the kindest hosts and were the most responsive airbnb hosts we've ever had. We'll definitely be back!
Melissa
2016-04-18T00:00:00Z
we had a great stay, the host was very welcoming, personally showed us around the apartment and even gave us recommendation on which places to visit. the apartment was nice and clean, very close to the beach
jemalie
2016-05-04T00:00:00Z
We were in town for the Sandy Hook Iron Girl triathlon being held at the Gateway National Recreation Area. The location of this listing was great! We were located less than a minute from the park entrance which was great the morning of the race. The park is great and has beaches, bike and running paths, kayaks and other recreation rentals, as well as lots of historic buildings! The place itself was kept up well. It was clean and was what we expected from the pictures. Christopher was a great host and was very responsive with any questions we had and was able to provide us with restaurant suggestions as well! The private beach was great. Nice and quiet! This particular private beach access would not be suggested for anyone who has difficulty getting around as it is sort of climbing through stones. Overall a great experience and somewhere we would stay again!
Katie
2016-09-13T00:00:00Z
Great communication. Cute little spot. Great view of the ocean. Very friendly town.
Mimi
2016-08-27T00:00:00Z
Incredible.
Tiyanna
2016-09-24T00:00:00Z
The host canceled this reservation 29 days before arrival. This is an automated posting.
Claire
2016-06-23T00:00:00Z
Kamertype
Gehele woning/appartement
---
Type woning
Appartement
---
Geschikt voor
4
---
Slaapkamers
Sea Bright, New Jersey, Verenigde Staten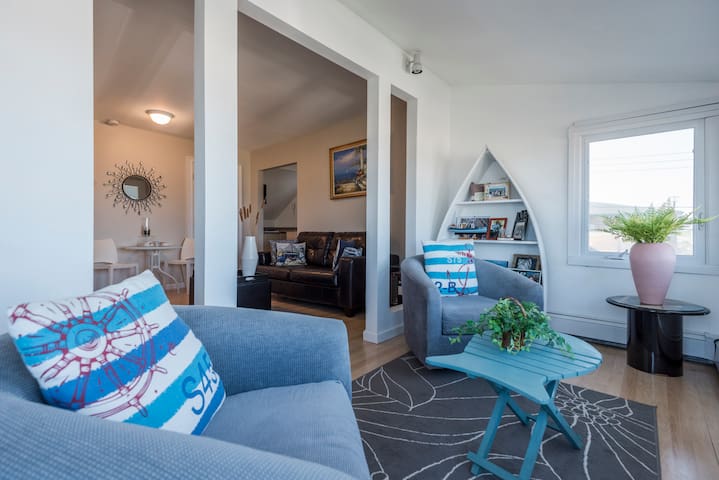 Located on the second level of a beautiful home only 300 feet from the beach! Enjoy the view from your private studio style apartment and take in the sun from Seven Presidents Beach (300ft) or The vibrant Pier Village offering almost 20 Ocean Front dining options
Convenience of your own free parking, your own apartment, Kitchenette with microwave, refrigerator, and sink. Fully Furnished, A/C unit, Lots of natural light. Queen Size bed with additional futon. Linen and towels provided.
A short walk to Pier Village and all of its shopping, dining and nightlife. 300 feet from the beach. -10 minutes from Asbury Park and Sandy Hook NJ Catch the Ferry from Sandy Hook to NYC, be in NYC in 40 minutes!! -1 hour from Atlantic City and Philadelphia -5 minute drive from Long Branch Train Station connecting you to New York's Penn Station and all Amtrak lines.
This was my 1st Airbnb experience and it was a great! I spent a weekend at Domenic's apt. with a friend in August, and the apt. was exactly as advertised. Two short blocks from the beach and walking distance to Pier Village. There is a lot to do and see in the area. We arrived to a very clean, well kept, apt. There were snacks, soft jazz music playing and the A/C was on for us when we entered, which was a very nice touch and made our arrival nice and comfortable. The apt. is laid out nicely - it is so cute and cozy. It accommodated two adults just fine. Domenic was very responsive and replied immediately to any inquiries I had. I have only read positive reviews, and they are on point. I almost don't want to leave a review b/c we really loved the place and I don't want the world to know about it. ;) But share I must. If you stumble across this place, there's no need to hesitate.
Leonor
2015-08-31T00:00:00Z
I thought the place was fantastic. Literally, 4 mins biking to the Pier Village. Apartment was cozy and kept relatively clean. I enjoyed my stay and look forward to the next one. Thanks, Domenic!
Krizia
2016-08-09T00:00:00Z
From my first contact with Domenic, I could tell he would be an amazing host. Quick response, kind in all correspondence. His apartment is exactly as pictured, clean and equipped with everything we needed. He was accommodating with our schedule and so nice! I appreciated all of the little amenities, cable, wifi and even phone chargers! He's a great asset to the air B and B community! We can't wait to visit again! Consider yourself lucky if you get to work with domenic!
Ellyn
2014-07-02T00:00:00Z
Domenic was a wonderful host. He was incredibly welcoming and easy to work with. The place was adorable and so close to the beach and the boardwalk. It was very convenient to get to and parking was a breeze. The apartment was incredibly clean as well as cozy. Our stay here made the whole trip visiting family perfect! I'd HIGHLY recommend Domenic's place to anyone looking for a stress free stay!
Cherre
2017-04-07T00:00:00Z
Domenic was great from start to finish. He was so prompt in his responses and made sure everyone was taken care of. He made us feel so welcome. The apartment was cozy and so clean and we were pleasantly surprised to find an assortment of snacks waiting for us. Perfect location for a walk to the ocean or Pier Village
Sarah
2015-03-12T00:00:00Z
This was my first time using Airbnb after it was recommended by a co worker. Dominick made things super easy, answering all of my questions before booking his place. I rented for my parents and they loved it! Everything in the listing/pictures is reliable. My parents said the apartment was clean and welcoming, close to the beach/restaurants. If your looking for a low key atmosphere ide check it out!
Catherine
2016-08-12T00:00:00Z
Domenic went out of his way to make us as comfortable as possible. He even left a bottle of champagne in the fridge, as we were on our mini-honeymoon. Communication was excellent! The gentleman who lives downstairs was also very helpful, loaning us a cooler and beach chairs since we didn't bring any- didn't expect to need them mid-October! Also let us pick fresh figs from the tree in the back. Everything was great and we appreciated the opportunity to stay there, even an extra night.
Danielle
2016-10-19T00:00:00Z
This is the second time I have stayed at this location, which means the first time must have been good for me to come back. Second time around was even better than I remembered it. Very welcoming feeling when you arrive with snacks and drinks in the refrigerator. Clean, comfortable and a block from the ocean. Very quiet at night. Will definitely be looking at it again when we return. Highly recommend this host and this location.
Una
2015-10-12T00:00:00Z
Kamertype
Gehele woning/appartement
---
Type woning
Appartement
---
Geschikt voor
4
---
Slaapkamers
Long Branch, New Jersey, Verenigde Staten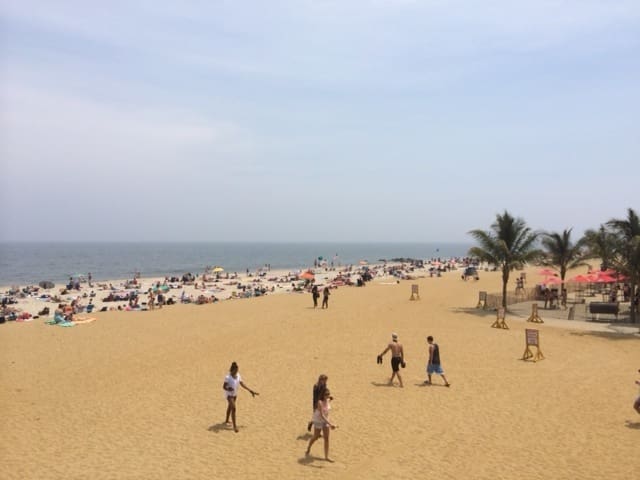 Please message me for any accommodations prior to booking. My place is close to a private beach, Sandy Hook, a short drive to other Jersey Shore towns, and many delicious restaurants within walking distance. You'll love the apartment because of the spacious,clean environment, and how close it is to the water. Its great for couples, solo adventurers, and business travelers.
This is a spacious studio made for TWO guests. Has all amenities.
The apt looks great and in a brand new condition. William was very responsive and took care of all my needs. Great place for a weekend next to the !
Itay
2016-07-25T00:00:00Z
William was very communicative and I had a great time! His recommendations were on point :)
Said
2016-10-08T00:00:00Z
We had an overall great experience. The room was spacious and window unit kept the room cool. The bathroom door did not latch, but that wasn't an issue for us. We didn't have any problems or need to contact William, but he was able to answer questions beforehand
Justin
2016-08-23T00:00:00Z
The apartment was perfect for a quick fall getaway to check out Carton Brewing and have a nice night out. Quick uber to Highlands and some fun local spots were open as well. We would definitely return.
Sarah
2016-10-30T00:00:00Z
Great spot and we had a blast even with bad weather.
Griffen
2016-10-09T00:00:00Z
Super easy place to find and stay. Our family had a nice 1-night stay. The place has everything you need, including two beds which makes it nice for a small family.
michael
2016-10-16T00:00:00Z
.
Pam
2017-03-26T00:00:00Z
Had a lovely stay at William's place. Everything was spotless and it's a perfect location to discover Sandy Hook's marvelous beaches. We couldn't find the private beach he refers to however.
Stacy
2016-09-04T00:00:00Z
Kamertype
Gehele woning/appartement
---
Type woning
Appartement
---
Geschikt voor
3
---
Slaapkamers
Highlands, New Jersey, Verenigde Staten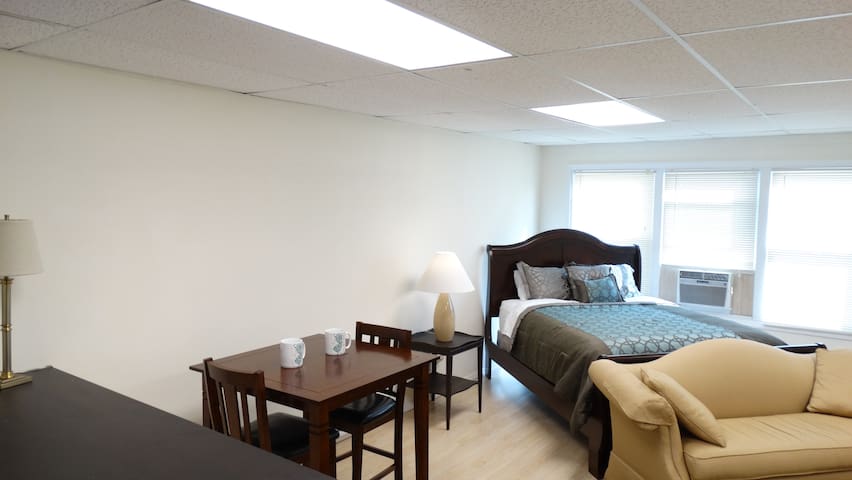 Bienvenido a este pintoresco 2 dormitorio, 2 ° piso, piso situado en el histórico Ocean Grove. Perfecto para el descanso y la renovación. Disfrutar de las vistas desde el porche mientras degusta su café de la mañana. Reservar un fin de semana de invierno de distancia. La visita de la casa de estilo victoriano es 10mo de diciembre!
Ocean Grove es un lugar increíblemente amable. La mayoría de la gente asienten, sonríen y dicen hola. De hecho, si lo hacen, no es probable que no son de la arboleda! La playa, tiendas y restaurantes están a poca distancia. la iglesia de San Pablo es una manzana y que está seguro de oír las campanas de la iglesia. Si estás aquí durante los meses de verano, del Día del helado es un deber-tener!
Great stay at Robin's apartment. Quick walk to the beach or Downton Asbury The space comfortable.
Alex
2016-08-24T00:00:00Z
We felt very welcomed. We loved Ocean Grove. Location of Robin's property is perfect!
marina
2016-10-09T00:00:00Z
My husband and I had a wonderful stay at Robin's cottage. It was adorable and quaint and perfect. My favorite part was sitting on the porch in the morning and the evening listening to the sounds of the neighborhood. The birds (SENSITIVE CONTENTS HIDDEN)ing and the leaves rustling. The wind chimes next door. I loved the windows open and the breeze coming in. It was clean and sweet and cute. I loved the bikes and the beach passes! It was convenient to both the beach and the town!
jennifer
2015-08-16T00:00:00Z
We are a family of four and we rented Robins house for three weeks this summer. It was a wonderful house. Small but big enough for two adults and two children. Location was perfect. Close to everything. We just loved it! Robin and Fred are wonderful hosts. Really kind and welcoming people. The fridge was filled up with water and food when we arrived, and everything else we needed was there. Fred even got delicious donuts and cookies from the bakery delivered to our door as a surprise two times! They also let us stay longer on check-out day! We would love to go back next summer!! Thank you Robin and Fred:)
Fru
2016-08-15T00:00:00Z
This was my second time staying in Robin's Ocean Grove apartment, and it was just as delightful as the first. The apartment has a perfect location around the corner from the town's shops and restaurants and just a few blocks from the beach. This time we particularly enjoyed the upstairs porch, the bikes and the DVD collection, and we appreciated that the fridge was stocked with eggs for breakfast. The entire experience was great from start to finish, and I'm already hoping to go back again later this year!
Julie
2016-06-25T00:00:00Z
Robin's place was great! Great location, the area was extremely walkable, the beach was very nice and the neighborhood was adorable. Very close to the train- 10 minute walk from NJ transit. We had the perfect weekend getaway.
Michael
2016-07-18T00:00:00Z
Perfect in every way! True beach getaway. Robin was lovely and was so nice to be off the busy Main Street area. Few blocks back was just wait we needed. Beds comfy! Kitchen functional and just a cozy warm feeling! We will be back
Melissa
2015-07-21T00:00:00Z
We really enjoyed our stay at this cute house in Ocean Grove, NJ. Our wonderful hosts, Robin and Freddie, went above and beyond to make us feel welcome from the moment we arrived. They greeted us upon arrival and offered helpful information about the neighborhood and surrounding areas, including good places to eat and sites to see. The house was clean, well-stocked with everything we needed and more, and located in a nice neighborhood with a view of the ocean. The upstairs balcony offered a pleasant seating area for reading a book in the sun. If we are in the area again, we will definitely be back!
Jenna
2015-04-27T00:00:00Z
Kamertype
Gehele woning/appartement
---
Type woning
Appartement
---
Geschikt voor
4
---
Slaapkamers
Ocean Grove, New Jersey, Verenigde Staten
Experience the beauty of the Jersey Shore by staying at this bright, super modern and open Neptune, NJ home with 3 unique bedrooms and design!
We are finishing up the renovation by May 1st, 2017. Be among our first guests to the completely gutted out and renovated house. The house is just a 1.6 miles or 5-7 minutes ride to the beach. If you're planning a trip to the Jersey Shore, a weekend in the Jersey nature or a beach getaway, this Neptune home could be the perfect accommodation for you and your travel companions. It features 3 bedrooms and 2 bathrooms with a stunning open floor grand room, a fully equipped kitchen, and a large back yard. Key Property Features: - 2 Bedrooms including 1 queen size bed in each, 2 showers, and 1 half bathrooms. - Fully equipped kitchen with brand new appliances, wireless internet access, shared washer and dryer, flat screen TV, and much more. - Fantastic outdoor area. When you're done spending the day out, you'll love coming home to whip up your favorite recipes in the fully equipped kitchen, complete with new appliances and beautiful laminate floors. Share a meal with your friends and family at the dining room table, or take your plates outside to the backyard table. You'll have full access to half of the house which is a separate unit/ apartment. There are a washer and dryer in the basement which is shared with the second unit that is part of the house. Book with confidence and we will be there to help you enjoy your stay. We're on a mission to make short term rentals easy, accessible, and most importantly consistent. If you have questions or need help, we will be available 24/7 for you. The best way to get to the house is by car, although public transport is easily available nearby. In addition, UBER and LYFT work well in the area.
Kamertype
Gehele woning/appartement
---
Type woning
Appartement
---
Geschikt voor
6
---
Slaapkamers
Neptune, New Jersey, Verenigde Staten
Great house, great host!
Bryan
2017-02-12T00:00:00Z
We had a great time at Robin's! My family and I felt a warm welcome from the moment we opened the door. Neat, clean, generous amenities and comfortable. Dexter the cat was a great companion as well; sweet and friendly. Perfect location; short walks to the beach and restaurants. Definitely recommend the stay!
Heba
2016-08-31T00:00:00Z
Robin was an excellent host. She is very responsive, sweet and thoughtful host. You can count on her to answer any questions or concerns quickly. Her house is comfortable and the decor and color schemes for each room makes the place very "homey". It is walking distance to the beach, train station, town and restaurants which made it extremely convenient. I would highly recommend this home for any getaway.
Jenny
2016-05-16T00:00:00Z
Robin was an amazing host with a lovely apartment!! She exceeded all of our expectations with every amenity imaginable. The apartment was spotless and incredibly charming. Robin was very considerate and left little thoughtful notes throughout the space to make us feel comfortable and welcome, down to a bottle of wine! Her cat Dexter was an absolute joy to play with and was calm throughout our stay. I highly recommend this spot that's central to almost all of Ocean Grove and we hope to visit again next summer!
Natalie
2016-08-14T00:00:00Z
This charming comfortable home was perfect for my boyfriend and I. As soon as we walked in the door we were greeted by Dexter the cat briefly but seldom saw him. Sometimes we forgot he was there. The house was immaculate and cute. I couldn't find one dust bunny! The was comfortable and sheets were fresh. The shower was hot and the towels were plush! Robin left us a nice welcoming note with instructions on use of the house. She also had pamphlets about the area about where to go and what to see. We were just minutes away from Ashbury Park which was the reason we came to town. Thanks Robin and Dexter! We'll be back!
Leigh
2016-01-17T00:00:00Z
Robin is a great and responsive host. Her apt is lovely, beautiful and welcoming. She went above and beyond to provide guests with passes to the beach as well as a beach cart. The neighborhood is quite and the location is perfect for the beach. The cute cat is a bonus if you're a cat person. I would highly recommend this apt and will come back in the future.
Hui
2016-07-24T00:00:00Z
My friend and I spent a lovely weekend at Robin's place over Memorial Day. Robin is a wonderful host! The apt was perfect! Great location, easy walk or bike ride to the beach. Very close to restaurants and bars. We would definitely book a stay again in the future.
Dorothy
2016-05-31T00:00:00Z
This is a great spot to stay and enjoy ocean grove while also being able to walk to Asbury Park, restaurants, bars, and the beach. Robin makes you feel as comfortable as possible. Beach passes and an awesome cart of beach amenities makes the stay even more worth wild!
Breann
2016-08-26T00:00:00Z
Kamertype
Gehele woning/appartement
---
Type woning
Appartement
---
Geschikt voor
2
---
Slaapkamers
Ocean Grove, New Jersey, Verenigde Staten
Designer 1BR apartment with fully equipped kitchen on Asbury Park's quiet, friendly, and neighborhoody west side. Includes 2 bicycles, beach passes, and backpack beach chairs for a quick ride (or walk) to the beach, or to the bars and restaurants of downtown. Meanwhile see Asbury like a local, and enjoy relaxation and easy street parking!
Designer chic with high-end fixtures on Asbury's quiet & long-stable west side. 12 block easy bike ride (2 new hi-style bikes, beach passes, beach towels, and backpack beach chairs included) or walk to the beach. Plentiful street parking. Newly renovated. Bedroom has peaceful, private rose garden view w the sound of babbling water feature. Full stainless/granite kitchen, a nice spot on the front porch for coffee. Street parking never a problem. (Please park on street, not driveway.) 12 blocks to beach for easy bike ride or walk. Cute shared front porch bistro spot, and you're welcome to avail yourself of the private rose garden outside your bedroom window. I share the house in a totally separate 2 bedroom apartment next door. I've been in Asbury over 10 years, so I'll be glad to help you with the in's and out's of all the local spots, the best restaurants, events, etc. Even through Asbury's dark years, the Northwest side always remained a stable and relatively safe haven. A pretty residential neighborhood, if you walk around at night you will see people hanging out on their front porches, and might even be invited up for a drink! NEW TO ASBURY? Please read the section about "The Neighborhood" Asbury Park is one square mile, so everything is easily accessible. Parking can get a little tricky in-season by the beach, or downtown (Cookman Ave) by the restaurants and bars. But what do you want to get in a hot car for anyway?! I have a pair of bikes you can use. It's how I prefer to get everywhere in nice weather. Also we have Uber in town (if you don't have the app, download it with code "brettL25" for a discount). Or if you want to go the cheepie route, local cabs are Tops (PHONE NUMBER HIDDEN) or Surf Taxi (PHONE NUMBER HIDDEN). On weekend nights they can be tough to get because they are busy driving drunk fratboys around Belmar. Use Uber or bike.
New to Asbury? PLEASE CONSIDER: Asbury is an exciting, fun, edgy, diverse, bohemian, non-gentrified (yet), friendly, changing beach town with an urban vibe. It's being called the Brooklyn of the Jersey Shore. Art galleries, fab restaurants, hipsters, musicians, a diverse population including people of all ages and colors, with well established African American, Mexican, and gay and lesbian communities...all hanging out together and getting along with respect, for the most part, and without attitude. (The impoverished southwest quadrant of town is very rough and you should not go there. However if you have street smarts, Asbury is relatively safe.) Yes, your car will be safe in front of my house. It's in one of the best neighborhoods in town. Asbury Park is NOT a quaint, suburban, manicured, charming, gated, uniform, immaculate beach town. It is not the Upper East Side of the Jersey Shore. It is the opposite of the Hamptons. If these are what appeals to you please consider checking out Ocean Grove, one town south, Bradley beach, south of that, or Spring Lake, among others. I don't want you to be disappointed in Asbury, and take it out on my "location" rating! Plus I want you to find the right spot for your vacation.
The space was lovely and comfortable, and Brett is an extremely hospitable host with tons of knowledge about the area!
Madeline
2016-09-19T00:00:00Z
Was really happy to book at Brett's last minute when my trip unexpectedly changed. The location is perfect to explore asbury and was quiet and relaxing. Very well equipped space. I would totally come back again!
Charlie
2016-05-16T00:00:00Z
Brett is a friendly and welcoming host. Everything went smoothly from our arrival, to our stay, and departure. He provided an expansive list of recommendations to local cafes and restaurants which was very helpful. We really enjoyed having access to the bikes at the house.
shawn
2016-09-05T00:00:00Z
Great location and space was the perfect size for 2 people.
Jessica
2016-08-09T00:00:00Z
Great place, had everything we needed. Brett was a really helpful host and available if we needed anything.
Kyle
2016-10-09T00:00:00Z
Brett was a great host. I really liked staying at his awesome apartment in Asbury and exploring the nearby beach and restaurants. I had a great time!
Simon
2016-07-07T00:00:00Z
My friend and I chose Asbury Park as an overnight destination at the last minute. Fortunately, Brett's place was available. Before we arrived Brett texted me to say hello and to find out what time we would arrive. Since he wouldn't be there he left the key in a hidden place easy to access. The apartment was exactly what we expected. It was impeccably clean, very well decorated in a modern, yet warm and comfortable style. The artwork was original and interesting. The kitchen had what ever we would have needed should we have stayed longer. As he states, Brett's house is about a 3 minute drive to the boardwalk and downtown. Asbury Park is great for food, shopping and charm. I would highly recommend staying at Brett's place while exploring this classic Jersey Shore town.
Susan
2016-07-28T00:00:00Z
Brett is an amazing host with a beautiful cottage. Everything in the apartment is tip top and we couldn't have asked for anything better. Brett gave us amazing recommendations for food, and what's happening in the area. This such a little gem, don't pass it up.
Michelle
2016-08-15T00:00:00Z
Kamertype
Gehele woning/appartement
---
Type woning
Appartement
---
Geschikt voor
2
---
Slaapkamers
Asbury Park, New Jersey, Verenigde Staten
Great Location, and value, directly behind the Bungalow and Ocean Place hotels. 2 min walk to the beach and center of Pier Village. New kitchen, granite countertops, new stainless steel appliances including dishwasher and washer/dryer. The unit is part of a 2 family home therefore you will have access to a shared backyard with BBQ grill and plenty of parking. 4 Complimentary beach passes + parking and WIFI are included.
We had a great time and Angelo was a great host. Property is within a five minute walk to the beach! Thanks Angelo!
Jeff
2016-09-19T00:00:00Z
We had a great time in LB. The house has perfect location, one block behind pier village. House is clean, with beautiful kitchen and specious 3 bedrooms. Owner, Angelo, was very helpful and available with answers if we had questions within few minutes. He even greeted us with wine and let us use beach passes during our trip. We loved our stay in the house and would come back again!
Ivonka
2016-07-16T00:00:00Z
The host canceled this reservation 46 days before arrival. This is an automated posting.
Thomas
2016-09-08T00:00:00Z
Angelos beach houae was great. two blocks from beach and all the restaurants. it waa clean and fully equipped. The kitchen is fantastic and there is a cool backyars too. Angelo was friendly and helpful. We had a great time and would definitely come back again
Yariv
2016-07-05T00:00:00Z
Angelo was great. Let my family and my dog stay in his comfy beach house. Literally a 3 minute walk to the beach and everything Pier Village has to offer. Looking forward to staying here again.
Bobby
2016-08-22T00:00:00Z
All of my feedback was listed in my comments.
Marlon
2016-09-06T00:00:00Z
It was an excellent experience and the beach is literally 2 blocks away
Adam
2016-08-26T00:00:00Z
Kamertype
Gehele woning/appartement
---
Type woning
Appartement
---
Geschikt voor
6
---
Slaapkamers
Long Branch, New Jersey, Verenigde Staten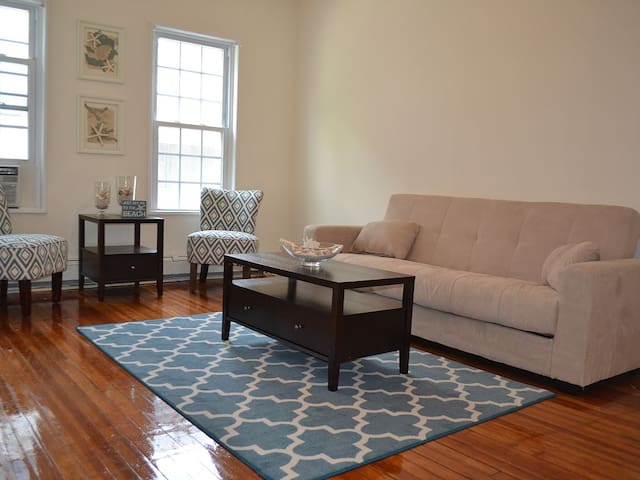 1

–

18

van

90 Appartementen te huur
Voer datums in om de volledige tariefopbouw te zien. Er kunnen extra kosten zijn en er kunnen belastingen worden toegevoegd.