Αυτό το μικρό ξενοδοχείο στεγάζεται σε ένα μπεζ κτήριο και προσφέρει ήσυχο και χαλαρωτικό περιβάλλον, μόνο 450 μέτρα από τα Φηρά και 800 μέτρα από την κεντρική πλατεία των Φηρών. Το Villa Agas απέχει μόλις 15 μέτρα από τη στάση του λεωφορείου.
Ο χώρος περιλαμβάνει και αίθουσα αναμονής και υποδοχής ο οποίος λειτουργεί από την περίοδο Απρίλιο - Οκτώβριο. Επίσης στο χώρο αναμονής και της πισίνας λειτουργούν αυτόματοι πωλητές ποτών/αναψυκτικών κατά τους παραπάνω μήνες.
Το Villa Agas διαθέτει μόνο 11 δωμάτια και παιδική πισίνα και είναι κατάλληλο για οικογένειες που αναζητούν ασφαλές και ήρεμο περιβάλλον διαμονής. Σε απόσταση μικρότερη των 30 μέτρων θα βρείτε: Φωτογραφεί,Ζαχαροπλαστείο,φούρνο, ενοικίαση μοτοποδήλατων, ποδηλάτων,τουριστικά γραφεία, εστιατόρια (παραδοσιακά,πιτσαρίες,ψησταριές,κινέζικο),καφετέριες,σούπερ μάρκετ και τη στάση λεωφορείων του ΚΤΕΛ προς όλους τους προορισμούς.
Het was erg fijn dat de eigenaar ons kwam ophalen van de haven. Dit omdat we een late aankomst tijd hadden. De kamer was erg schoon en werd ook elke dag schoongemaakt. Ook hadden wij een mooi ruim balkon! Zeker een goede plek om voor een mooie prijs te verblijven dicht bij Fira!
Maaike
2016-10-17T00:00:00Z
Logement fidèle à la description. Même si le quartier n'a pas de charme, l'hôtel est bien placé face à une station de bus et des commerces, et à 15 min à pied de Thira. Bon accueil et services complémentaires agréables.
Mélanie
2016-08-25T00:00:00Z
Has everything you need and absolutely best value for what you pay. It's a bit further down from central Fira but walkable distance. I will probably visit here again in the future.
Kristian
2017-03-29T00:00:00Z
The room is fine with satisfactory facilities. It's location is ideal as it is within walking distance (~20 min) to Fira. However, it was not a good experience. We did not even see the host. It seems impossible to join her either by message or by phone upon arrival. The address given on Airbnb will lead you to a neighborhood of the apartment, but not the exact location. We got it by asking around people in the shops nearby. At last fortunately the cleaner happened to be there and gave us the key when we arrived. It was sort of confusing, and I would probably not recommend it.
Daming
2016-07-16T00:00:00Z
Nice stay in a nice studio. Close from the bus station, so very easy to move. The appartment was clean. We had a friendly welcome.
Martin
2016-09-08T00:00:00Z
Nice
XinLi
2016-10-06T00:00:00Z
This was a nice place to stay, with a transfer from the airport late at night, even after my flight was delayed several times. Clean, comfortable and friendly.
Nicol
2016-10-09T00:00:00Z
Good place, walking distance to Fira and the bus station. Very nice pool, near the building. The bed wasn't comfortable. I felt all the springs. Great people, very helpful and available at all times.
Maria
2016-10-04T00:00:00Z
Kamertype
Privé Kamer
---
Type woning
Appartement
---
Geschikt voor
2
---
Slaapkamers
Karterados, Aegean, Griekenland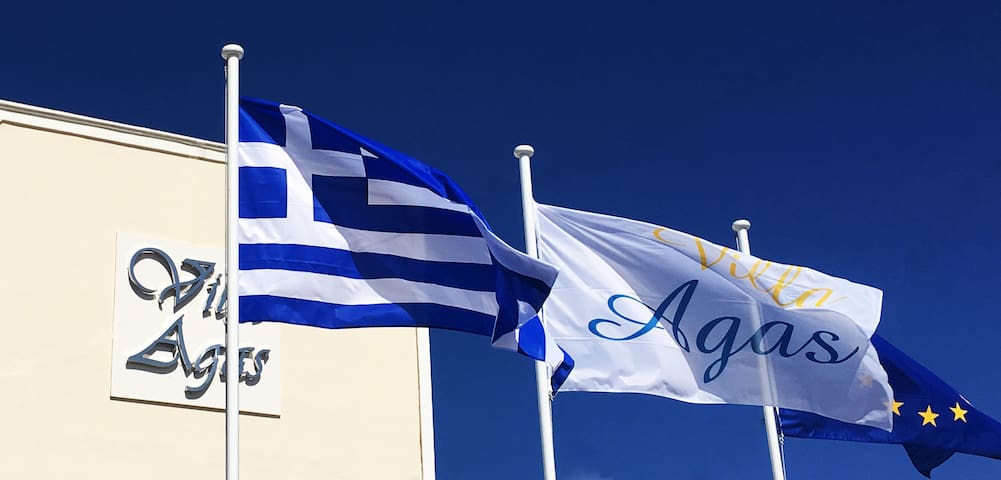 Heaven - Junior Suite met een prachtig panoramisch uitzicht op Santorini De hemel is een junior suite bevindt zich in het dorp Imerovigli. Het ligt hoog op de Imerovigli Caldera en is gemakkelijk te bereiken vanaf de hoofdweg van het dorp. Het is een perfect ontworpen suite van 25 vierkante meter dat alle comfort biedt. De locatie van dit pand is uniek. Omdat het hoog is gebouwd op de rots, de gasten hebben uitzicht op twee verschillende delen van het eiland. Het eerste deel is die van de Caldera, de vulkaan en de vulkanische eilanden, die adembenemend zijn natuurlijk. Het andere deel is het zuidelijke deel van het eiland en de dorpen van Kamari en Pyrgos. buitenruimte De woning is verdeeld in twee niveaus. Het eerste niveau is de eigen veranda die ligt recht tegenover de ingang van het huis. Vanaf de veranda kunt u genieten van het panoramische uitzicht op het eiland en genieten van uw maaltijd omdat het tuinmeubilair en een hoek gevormde gebouwd bank ideaal om te ontspannen en te genieten van het panoramische uitzicht over het eiland. De veranda biedt volledige privacy en geeft je de indruk dat het drijft in de blauwe lucht. Het tweede niveau is zeker de hot spot van het pand omdat het een eigen terras die ligt recht boven het huis. Het terras is letterlijk een stukje kunst en geeft een van de beste uitzicht op het eiland want het is het hoogste punt van Imerovigli! Het terras is uitgerust met twee ligbedden, zodat u kunt genieten van de zon en de ongelooflijke uitzicht op het eiland. Het overdekte ruimte van de hemel biedt een tweepersoonsbed, een kleine badkamer met douche en een woonkamer met een comfortabele slaapbank die huisvesting kan bieden aan nog een gast. Bovendien is er een kitchenette met een kleine koelkast met vriesvak, twee kookplaten, koken untensils en een eettafel. Faciliteiten en Diensten De accommodatie biedt: -Dagelijkse Schoonmaak -satelliet LCD - TV -Draadloos internet -Stereo systeem We zullen blij zijn om u te helpen met alle nodige informatie om uw verblijf aangenaam en comfortabel te maken. We kunnen stellen voor plaatsen die je kunt bezoeken, zoals toeristische attracties, restaurants, winkels en musea. We zullen ook blij zijn om u te helpen een auto of fiets huren regelen; het organiseren van excursies over het eiland en overdrachten binnen het eiland. Meer informatie over de locatie van de woning Heaven is gelegen in het rustige dorpje Imerovigli, op slechts 2 km afstand van Fira de drukke en charmante hoofdstad van Santorini. De afstand van de dichtstbijzijnde openbare parkeerplaats en het busstation van Imerovigli ligt op 2 minuten lopen. Er zijn 5 restaurants en 3 kleine supermarkten binnen 3 tot 5 minuten lopen van het pand. Er is ook een bakkerij, autoverhuurbedrijven en een apotheek binnen 5 minuten lopen. Vanaf Imerovigli kunt u de route die gaat door Firostefani en uiteindelijk eindigt in Fira (20 minuten lopen) te nemen. Afstand van de haven (Athinios): 10 Km Afstand van de luchthaven (Near Kamari): 7 km
Stefanos was very helpful and responded quickly to our questions during the booking process. All the arrangements went well, and we were met near to the apartment by Stefano's assistant who was also very helpful and friendly. The apartment is a great place to stay and the view is absolutely spectacular! The scenery is so amazing and we enjoyed walking along the footpaths to Firostefani and to Fira from the apartment, and you can also reach the Imerovigli castle from there. We had everything we needed and there are some shops and facilities close by. We took buses from Fira around the island and it is quite easy to see a lot that way. It was pretty windy while we were there (early April) but the apartment was cosy and the beds comfortable, and it was just incredible to sit and have a drink on the terrace. Thanks for a lovely stay!
Anna
2016-04-11T00:00:00Z
Stefanos' house is a great choice if you want to take some beautiful pictures and enjoy the belle view in the same time. The house even has a hifi player which is really romantic and thoughtful! when we have a cafe in the balcony, enjoy the sunlight and sea view, soft songs are surrounding us! His assistant Zachos is a cute guy who came over to carry our luggages at the first time we met him. When we leave, he came over again. In our journey we rented a car to visit the island and one night we got the car crashed! Stefanos is really really nice and came over in the early morning next day to see what we can do. He gave some advices and told us that we take things too seriously. Finally the rent company didn't charge us any penalty!!thank you a million stefanos!! We love the flat and you! And Zachos'!
yan
2014-06-11T00:00:00Z
The view from this apartment is spectacular! Unfortunately, while we were there, the bathroom smelled terribly of sulfur (maybe from the nearby construction). The bathroom was also full of little flies. So we spent most of our time on the terrace.
Emily
2015-05-12T00:00:00Z
I did not meet Stefano myself but only people taking care of the flat. Anyway , we had a very good communication before and during my stay. I spent 4 nights there and unfortunately the weather was awful .. Rain, wind and cold. We could not use the terace which is very nice, with a wonderful sight on Santorin . The flat is quite nice, even if very small. I strongly recommend it
Emmanuel
2015-04-11T00:00:00Z
My partner and I stayed in the Heaven suite for 3 nights and we did not want to leave! The apartment is as described. The view from the apartment is spectacular. It also has a private balcony above it that was perfect for sunbathing and an incredible view. Zacchos met us at the bus stop, took us to the apartment (2 minutes away) and answered any questions we had - he also arranged a taxi for us for our last day. The apartment is clean, the wifi worked well and Imerovigli is the best spot on the caldera! We had a very relaxed and romantic visit. We briefly met Stefanos who made sure we had everything we needed, as well as Rosa the cleaner who was also lovely and friendly. We would definitely recommend this apartment!
Lillee
2016-08-24T00:00:00Z
We had a great stay. We felt very welcomed and the staff member helped us with our heavy luggage. The apartment was all that was described on the site. Very cozy and with a spectacular view! I loved it and would definitely stay there again.
Selene
2014-08-12T00:00:00Z
The whole experience of staying at Heaven exceeded our expectations from beginning to end. The property is every bit as nice as it looks from the photos, but the stunning views simply have to be seen to be believed! Stefanos, Zachos and Rosa accommodated our every need and we couldn't have wished for more. The neighbourhood is ideal - peaceful, friendly and beautiful plus everything on your doorstep. Put simply - we will be back!
Miranda
2014-09-15T00:00:00Z
Cute but not nearly as charming as the pictures depict. The location is superb. And it could be cleaner. The communication was great! So was Stefano's help with pick up and departure arrangements which was a major bonus at 5am departure! Thanks!
Zafire
2016-07-03T00:00:00Z
Kamertype
Gehele woning/appartement
---
Type woning
Huis
---
Geschikt voor
3
---
Slaapkamers
Imerovigli, Aegean, Griekenland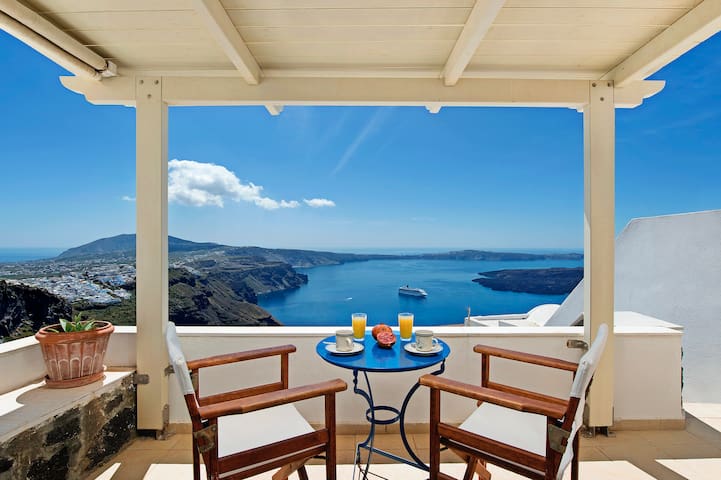 ΕΙΝΑΙ ΣΤΟ ΚΕΝΤΡΟ ΤΟΥ ΝΗΣΙΟΥ ,ΣΕ ΠΟΛΥ ΚΟΝΤΙΝΗ ΑΠΟΣΤΑΣΗ ΥΠΑΡΧΕΙ ΣΤΑΣΗ ΛΕΩΦΟΡΕΙΩΝ . Just 100 metres from bus station, Fira's famous sunset spot and centre.
My girlfriend and I spent 5 nights at 3 daughters apartment and it was perfect. The location is ideal for anyone wishing to spend a few days exploring Santorini. The apartment was a few steps away from all that beautiful Santorini has to offer. The apartment was spotlessly cleaned every day and stocked up with fresh towels. Xrusa was so helpful and accommodating during our stay, she even arranged an airport transfer to the apartment when we arrived. I would highly recommend 3 daughters apartment for anyone wishing to visit Santorini.
Cillian
2016-11-05T00:00:00Z
Our stay in 3 daughters apartment was wonderful. The flat is near the center of Fira and you can reach every destination in few minutes. Xrusa is very kind, she arranged a transfer from the airport upon our arrival. The announce is precise and pictures can let you have a clear idea of the apartment that is very nice, clean and characteristic. Santorini is a beautiful place to spend a holiday, I recommend it to everybody.
Simone
2016-08-12T00:00:00Z
This place was great, the apartment was cosy and clean and right around the corner from the main places in Fira. My friend and I absolutely loved it here! We found it a bit hard to contact the host at first but once we were there she was available to us and very friendly! Highly recommend this place. It is even close to the bus terminal.
Mitisha
2016-10-14T00:00:00Z
apartamento centrico y moderno en Santorini. Seguro y tranquilo.
mirta
2016-10-09T00:00:00Z
It was a great stay and everything as promised was working perfectly! We can only recommend to stay at the 3 Daughters! Thank u and best regards from Hamburg ;)
Oliver
2017-03-19T00:00:00Z
Xrusa was accommodating and helpful when we first booked and arrived, but was non responsive after that and through our departure. The apartment is very modern, nicely decorated and simple. It does not however have a good heating system. We found ourselves freezing in the middle of the night. The free breakfast was appreciated. We were on a budget so we were happy to receive any free food, no matter the quality. We ran out of toilet paper and there was not any extra stocked. It was finally refilled when they cleaned the next day. Overall, it was a nice stay. Santorini is beautiful and we spent little time in the apartment so it was just right for us.
Amy
2016-12-15T00:00:00Z
Es un lugar muy lindo, e dejan comida paa un desayuno bàsico diariamente y te hacen la limpieza diario, como si estuvieras en un hotel, el lugar es muy bello, cómodo, moderno, Xrusa es una supe anfitriona, esta todo el tiempo pendiente y disponible. El lugar esta ubicado en Thira que es el lugar de comercio, rumba, esta a tres cuadras de la estación de autobús y a una cuatro cuadras del centro. Lo recomiendo un 200%
DIANA PATRICIA
2017-01-11T00:00:00Z
We were in Santorini for two nights and we stay in three daughters apartment. Everything in the house was brand new and clean. It is located in the center of Fira and you could find everything in small distance (restaurants, mini market). When we arrived Antonia was waiting for us and she was very helpful and polite. They have prepared breakfast for us which was very kind. The second day they cleaned the apartment and gave us clean towels! Everything was excellent and if i visit again Santorini i will definitely stay there again. Highly recommended!!!
DIMITRA
2016-05-10T00:00:00Z
Kamertype
Gehele woning/appartement
---
Type woning
Appartement
---
Geschikt voor
3
---
Slaapkamers
Thira, Griekenland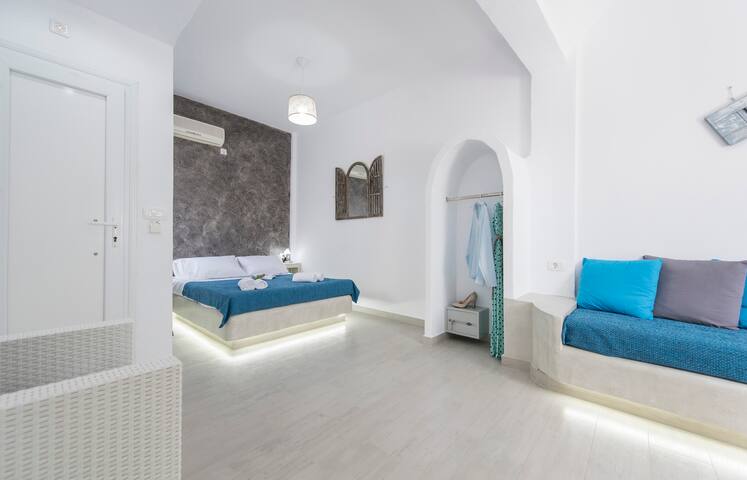 This house is part of Calderimi Traditional (URL HIDDEN) has one queen size bed and an area with a fully equipment kitchen to prepare your meals . The bathroom is made according to the local traditional style.
We would like to welcome you to our beautiful island of Santorini, to experience the hospitality and the friendliness of the local people and our old traditions which are only known in our island(URL HIDDEN)It's a perfect place for couples who will appreciate one of the most beautiful areas of the island, while being just a breath away from the main square and the magnificent caldera view. Calderimi studio is 45 sq.m. and can accommodate 2-3 people. It has 1 bedroom with 1 queen size bed, 1 dining-living room with a large sofa which can be used as an extra bed, 1 fully equipped kitchen and 1 bathroom.
Fira is the capital of Santorini,in the centre of the island.
Perfect place to call home base as you explore Santorini. Vivi was very nice and picked me up from the port, and on the drive to the apartment she gave me a great introduction to the island. The place itself is very very clean and new. The location is so convenient and everything you need is within minutes.
Annie
2015-05-29T00:00:00Z
Vivi was a really friendly and helpful host. The apartment is in central Fira,5 min away from the bus stop where the buses arrive from the port. It's a nice white house with a few rooms. The room (with fridge,kitchen sink and all you need for a light breakfast) and bathroom were large and well equipped, with a balcony. We would definetely recommend to stay here!
Elena
2015-08-04T00:00:00Z
This place is absolutely stunning and perfect for one person, two friends or a couple. Extremely clean and location was right next to everything in Thira - shops, restaurants and the bus station to go to the beaches is basically right around the corner and less than a minute walk. Internet was super fast and modern bathroom facilities. Vivi was the perfect host.
Bonnie
2016-07-14T00:00:00Z
Perfect host. Vivi arranged the transportation from the airport and someone was wating for us. We arrived at night and supermarkets were closed but vivi recieved us with things to eat for breakfast. She also left for us in the apartment some homemade marmalade that was delicious! The apartment was perfect, clean and with everything we needed. Vivi gave us some recomendations and was always glad to help. Definetly would stay again!
Franco
2016-08-10T00:00:00Z
Vivi was a delight to deal with. She came and met me to give me the keys and the apartment was so centrally located, it was perfect. The apartment was very spacious, clean and equipped for two ppl. Definitely would stay here next time I am in Santorini.
Monica
2015-09-15T00:00:00Z
My husband and I stayed here in our honeymoon in August 2015. This is the best accommodation for two. The room are very good, fully consistent with the photo, clean and comfortable. Conveniently located near the main street of the city, but quiet and peaceful at night. Vivi, was very hospitable and met us at the port. We are grateful to Vivi. Thank you!!
Oksana
2015-08-10T00:00:00Z
We had a wonderful stay of five nights in Vivi's appartment. The studio is very well located (2 minutes walk from the main square, bus station, etc). The bed was sooooo comfortable (my biggest wish is to bring it back home!) Maybe some interior decoration could make the studio more cozy, but seriously, you could book this flat without any hesitations. Finally, Vivi is one of the greatest host ever of Airbnb for sure! She was so helpful and welcoming. We warmly recommand Vivi and her studio without a doubt :)
M-Ève
2016-11-05T00:00:00Z
Vivi helpfully arranged for a driver to pick me up and waited for me to check in even though I only arrived way after midnight. She was very welcoming and the room was absolutely beautiful! Thank you for everything Vivi!
Nadiah
2015-08-19T00:00:00Z
Kamertype
Gehele woning/appartement
---
Type woning
Appartement
---
Geschikt voor
2
---
Slaapkamers
Φηρά, Σαντορίνη, Griekenland
Kelenis Apartments are located in the village of Karterados, 1 Km from the main city of Fira. Comfortable apartments with private bathroom, balconies, kitchen, refrigerator, satellite plasma T.V, A/C. Kelenis Apartments offer swimming pool with Jacuzzi, private parking, free Wi-Fi, Familial Apartments. Find the peace you need and let yourself take in the horizon and every little aspect of the rooms we have designed for you. Each apartment offers the truly unique and warm environment that you need to have an unforgettable holidays. Next to the apartments you can find restaurants, cafe bar , mini-market, bakery, supermarket and laundry. We can provide bike, bicycle and car rental, boat trips and excursions. Family Rooms Non-smoking Apartments Internet Access (free of charge) Daily maid service, towels Walking Distance from Fira (Capital) 15 minutes Bus Stop:50m Beach:2000m Gialos 5000m Kamari, 8000m Perissa Village Center:50m Airport:3000m 10 minutes Port:4000m 15 minutes Shops:50m If you have any other questions about the apartments or the area, do not hesitate to contact me.
We had an excellent stay here. Our room was right outside the pool which was a good temperature and very clean. The room had everything we needed. The location is a great place if you are looking to avoid the typical busy areas of Santorini, but still be close enough to shops and restaurants. We rented a bike for the duration of our stay and explored the island and enjoyed it. The wifi we found was not very consistent, but did work. Stathoula was very nice and accommodating, and helpful with any questions we had about the area. Recommended stay
Ben
2016-09-07T00:00:00Z
Great place to stay good communication and good choice. The photos are not so good but the place is awesome
Nicolas Alejandro
2017-03-18T00:00:00Z
The worst experience ever!! We never had such a bad time as we have in Kelenis apartments. The first day we left our things before the check in time, and when we came back, the cleaning lady stole many off our things( toothbrush, tooth paste, food) and a coffee thermos from starbucks!! But the worst thing of all was that the hoste never show up! She answer by messages telling that she was sory. But she didnt compensate at all! We dont recomend this place. You better stay in Fira, in Karterados there isnt a thing to see. The only good thing is the swiming pool.
david
2016-08-11T00:00:00Z
Our stay at Kelenis was perfect.The apartments are 15 minutes walking from Fira in a very silent area.Just walking 3 minutes you can reach whatever you need:cafeterias,restaurants,supermarket,scooters and car renters and the bus stop for every place in the Island.Our apartment was the #2:it is perfect if you like to have breakfast in the terrace having in front of you the sunrise on the sea. It was clean and refreshed daily;towels changed each day and bed sheets every 3 days.The only little inconvenience is the small shower but it's just a matter to get used to it. Stathoula was an amazing host:friendly and familiar she helped with any needs and proactive in asking if everything was OK.Kitchen is provided with the essential for preparing breakfast and at our arrival there was already a bottle of water in the fridge.Thanks Stathoula you made us happy and continuing like this!
Simone
2016-09-13T00:00:00Z
Η εμπειρια ηταν μοναδικη! το περιβαλλον,καθαρο,φιλικο,φιλοξενο,οπως παρουσιαζοταν στις φωτογραφιες,η γειτονια ησυχη,με ομορφη θεα.Η εξυπηρετηση εξισου ικανοποιητικη,το δωματιο καθαρο,με ολες τις ανεσεις! Οι οικοδεσπότες φιλικοι,ευγενικοι,διακριτικοι και μας περιποιηθηκαν αξιοπρεπως! Τους ευχαριστουμε θερμα! Ανεπιφυλακτα θα το προτεινα και σε φιλους μου!
Natasha
2016-09-16T00:00:00Z
The host canceled this reservation 61 days before arrival. This is an automated posting.
Micheal
2016-05-12T00:00:00Z
Overall for the price and location, this was a great place. Would definitely stay again next time we come back to Santorini. Host was great, very responsive, I asked for towels ND they were at my door super fast. Only little quirk was wifi signal was weak, I think because we were in the farthest room in the back. Pool was great too. Definitely get an ATV, your travel time to the main strip in Fira is like 5 mins with ATV. Clean rooms, strong ac, strong hot water. All good things thx so much for having us we will come back!
Sam
2016-09-04T00:00:00Z
We had a wonderful time. The little apartment was clean and well equipped, and nice to sit by the pool in comfortable lounge chairs.
Karen
2016-09-29T00:00:00Z
Kamertype
Gehele woning/appartement
---
Type woning
Appartement
---
Geschikt voor
3
---
Slaapkamers
Karterados, Aegean, Griekenland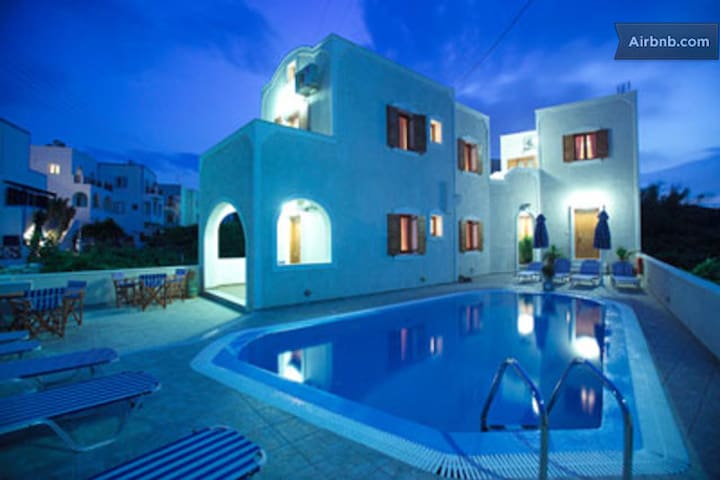 A traditionally decorated two-space apartment, characteristic of the Santorinian architectural style. Consists of a double bedroom and separate sitting area or small lounge. Contains fully equipped open plan kitchenette with traditional features such as handcrafted marble basins etc. Reformed from a building of 1883. Can accommodate three people. This charming boutique apartments' hotel brings centuries-old style, history and hospitality luxuriously to life at the highest point of Santorini's breathtaking volcanic Caldera, in Imerovigli. The restoration project of a Traditional Mansion owned by a family of generations of Captains that began in 1979 established the Hotel in 1983 as the first high standard guest house in the area of Imerovigli and certainly among the first on the Santorinian Caldera. This historical building complex dating back over a century, between 1779 and 1883 has been preserved, restored and renovated to meet the highest standards of modern luxury. Unique, blend traditional local architecture and aesthetics with modern amenities that tastefully cater for any true travellers comfort. A unique sensitivity to detail and restored original objects revive the simple elegance of tradition, and pay homage to the history of the mansion. A deeply personal service philosophy offers a unique hospitality experience in a setting surrounded by an endless horizon of blue in a bird's eye view of the Santorinian Caldera, the Volcano, and the whole of the Southern Aegean Sea and neighbouring islands. Services: Private concierge orientation, map service and sightseeing organization • Travel organization and coordination (incl. ticketing and route planning to helicopter and private jet reservations) • Transfer Service from /to port and airport (under previous arrangement) with standard or luxury options • Car & bike rental services • Private and semi-private yacht charters and sailing cruises •Scuba diving & Snorkeling • Wine & Dine & exclusive culinary reservations • Wine tasting & Food tasting experiences • Signature Gourrmet 'Local Flavors' Degustation Experience • Private Cooking Lessons / Demonstration (under previous arrangement) •Private Custom dinner for two (previous arrangement is required; all food is seasonal and is custom prepared for our guests at each time) • Wedding & Vow Renewal planning & hosting • Wedding proposals planning and services • Event Planning – Team Building events/activities, cocktail parties, art exhibitions, theatre, concerts • Personalized yoga, massage and other exercise and relaxation programs. • Beauty Treatments • Free Wireless Internet in rooms and communal areas • Laptop computers /Net-books free of charge (on request & upon availability) • Business services (fax, scanning, printing, courier correspondence) • Conference facilities (up to 16 persons) •Breakfast served 8:30 – 12:00 (with large variety of home-made special pastries, marmalades, pies, our new Greek Breakfast option and other treats) • Laundry service – Drying Service. Amenities: Direct dial phones in all rooms • Free Wireless Internet • Safe-box • Tea making facilities with exclusive herbals • Board games • Luxury table books and other literature • CD – Mp3 players in all rooms (with iPod and iPhone docks) • Music Library with a large collection of music choices • Luxury bathroom amenities • Bathrobes and slippers • Hairdryer • Mini Bar • Air conditioning. Facilities: Swimming pool with Jacuzzi corner. • "Kafeneion" preserved cavehouse cafe'-bistro and cocktail bar • Large Communal veranda overlooking the Caldera (also suitable for wedding ceremonies, unique cocktail parties/bbq's, gatherings & events).
My wife and I spent 3 days at Christos and Marios' Altana resort in Santorini and it was the absolute highlight of our entire trip to Greece...These 2 brothers are the absolute PERFECT hosts...Only one word can clearly articulate the highly personalized service that we received from Christos and Marios: SENSATIONAL! Wish we had more time to enjoy their hospitality in beautiful Santorini...
Karim
2013-07-01T00:00:00Z
My wife and I celebrated our 30th wedding anniversary at this wonderful place and it is impossible to describe the experience. Few places I have been in the world actually exceed what the pictures portray but the setting is surreal and Christos and Marios made us feel like we were guests in their home. One of the most outstanding things we will remember is the attention to details, we were given very specific ideas for the best restaurants, shops and daily itineraries. This place is not to be missed, I hope to return again soon. Mick & Jan
mick
2013-08-15T00:00:00Z
Kamertype
Gehele woning/appartement
---
Type woning
Bed & Breakfast
---
Geschikt voor
3
---
Slaapkamers
Thira, Cyclades, Griekenland
Fijne vakantie.
Very clean and spacious, exactly the same as the photos shown. And the location is quite nice with only 15 to 20 mins walk to Fira and 3 mins walk to Imerovigli. The best part of this apartment to us is the sunrise! You can probably see a beautiful sunrise in the early morning just outside the flat:)
Ann
2016-05-26T00:00:00Z
La casa de George, es súper bonita , tiene una vista espectacular , tiene buen parqueo, buen calentador , y el es súper buen anfitrión , está ahí siempre atento a las necesidades de sus inquilinos.
Caro
2016-12-31T00:00:00Z
The reservation was canceled 8 days before arrival. This is an automated posting.
Margaret
2014-06-19T00:00:00Z
Very nice apartment close to the most beautiful village of santorini.
Raphaël
2014-08-28T00:00:00Z
George was a very friendly and excellent host, and the apartment was very comfortable. Great view, staff cleaned every day, and conveniently located for walking through Fira and Imerovigli. We rented a car (which George was happy to help with) and it was very easy to get around the small island. Would stay here again if we return to Santorini.
Kevin
2014-10-16T00:00:00Z
An excellent apartment; very well-equipped and clean and tidy, it had everything we needed for a great stay. Location is a pleasant 15min stroll from Fira, nice and quiet area and sea views. George was lovely and very helpful too. Would highly recommend!!
Belinda
2015-05-15T00:00:00Z
George is such a great host and amazing human. He really makes sure you have everything you need and he really cares you have a great time. The Rhapsody Apartments are located right across the street from the cobble stone path that leads you to Imerovigli and Thira town centers. Shops and restaurants are only a few blocks away. The apartment itself was huge. It was our first experience in Greece so far that the air conditioning worked too well ;) we had to turn it off in the middle of the night Thank you so much for everything! Also- you can walk to Thira which is all downhill (easy) and take the bus from town for €1.80 or €2.40 per person to either Oia for the sunsets or Perissa beach for the black sand beaches. The walk back is harder but if you travel to Oia, the bus drivers will drop you off (you just have to ask them) at the top of Imerovigli on the way back which is a few blocks above Rhapsody and then you just walk down.
Jonathan
2016-06-25T00:00:00Z
He gave us a lot of information about what to do on the island and how to avoid the touristy/ overpriced areas. It was exactly what we wanted. We hired a quad from a place up the road which was perfect and a must if you want to properly experience the island. Would highly recommend, good value for money, George was great!
Lucy
2016-08-26T00:00:00Z
Kamertype
Gehele woning/appartement
---
Type woning
Appartement
---
Geschikt voor
2
---
Slaapkamers
Ημεροβίγλι, Αιγαίο, Griekenland
Privé-kamer in Anitas Villa op de eerste verdieping bestaat uit: mini bar met koelkast, kluisje, airconditioning en verwarming, nieuwe designer matras, moderne badkamers, USB muur opladers, dagelijkse schoonmaak, en een terras toegang.
Mijn Villa is een zeer speciale eigenschap voor mijn familie en ik, dat ooit toebehoorde aan mijn grootmoeder en is doorgegeven van generatie op generatie. De villa bestaat uit 8 aparte slaapkamers alle met uitzicht op de beroemde Santorini Cliff, die zijn onlangs in de traditionele Santorini stijl gerenoveerd. Elke eigen slaapkamer is uniek in zijn eigen manier, en elke deur opent naar het spectaculaire uitzicht.
Imerovigli is niet alleen het hoogste punt van Santorini cliff caldera, het is de laatste cliff side stad die meer woningen dan commerciële. We hebben slechts een handvol van restaurants en cafés in mijn dorp, en een paar markten die zijn in de buurt. Imerovigli is de stilste klif dorp dat het perfect voor rust en ontspanning maakt. De belangrijkste stad van Fira ligt op slechts 20 min lopen, of 5 minuten met de bus of auto rijden die clubs, bars, restaurants, winkels, cafés en nog veel meer biedt.
Exceptionnel ! Vue à couper le souffle, petite terrasse privée. La chambre correspond à la description, avec douche à l'italienne.
Matthieu
2016-07-09T00:00:00Z
Anitas Villa is a very nice house in front of the Skaros rock. The view from their rooftop and our balcony was amazing. Imerovigli is between Fira and Oia- so it s perfect to stay there. The fridge in the room is a little bit annoying...but with earplugs it was ok. I can really recommend Markos appartment.
Mel
2016-10-27T00:00:00Z
Very much enjoyed our stay at Villa Anita Cliff Suite 1, the location was perfect and the room was exactly as shown. Incredible value considering the location overlooking the caldera and Skaros rock. The roof terrace was a great place to watch the sunset. We were made to feel very welcome and the room was kept immaculately clean with daily room service.
Moley
2016-05-25T00:00:00Z
We were made to feel guilty for asking for clean towels, since we were "only staying 3 nights". He then said we could have them but forgot. There was no where to hang clothes or towels to dry. There was a hot water pot for tea/coffee, but no cups for that. The view is great, but right on the trail where people stopped right in front of you while watching the sunset.
Isis
2016-09-14T00:00:00Z
Marks was extremely accommodating for my husband and I during our recent stay on Santorini. He not only arranged for our transport from the port to the villa, but he also gave us many suggestions throughout our entire stay. The cliff side villa was very clean and spacious. Also the view from the outdoor space was breathtaking and had an exceptionally good view of the sunset. The outdoor area also had convenient access to the path that led into the island capital and around the entire area. In addition to the nice room, Markos was a wonderful host. He seemed to know everyone on the island and was able to set us up with dinner reservations, an ATV rental, taxi transport and overall recommendations. We loved how his experience on the island helped to make our trip relaxing and worry free! We would highly recommend this spot and are excited to return to the island because of our great experience.
Joe
2015-07-10T00:00:00Z
This is a beautiful place to stay and it looks exactly like the pictures. The view from the outside is incredible, you could easily enjoy a quiet sunset there and I think it's just as beautiful as a sunset in Oia. It's in a great location, you can easily hop on a walking path to Fira and there is a bus stop very nearby that can take you to other parts of the island. Unfortunately, I was pickpocketed on the first day of my vacation but, fortunately, Markos was extremely helpful and understanding. He allowed me to extend my stay and pay in cash, saving me and my vacation from some huge headaches. I had to change rooms so he could accommodate other guests, but each room was beautiful, clean and he provided clean sheets and towels each time which he did not have to do! He was also was really helpful in giving information about the island and things to do. Overall, I was very happy with my stay here. I would stay here again and would definitely recommend it to any of my friends or family planning to visit Santorini.
Katiria
2016-04-22T00:00:00Z
A beautiful place, the perfect view of the caldera right from the porch, and modern interior. And Markos was incredibly nice, helpful in directing us where to do our laundry, and excellent communication leading up to our stay.
Christy
2015-09-27T00:00:00Z
Location and views are good. Host is helpful and friendly. Overall a good and pleasant stay.
Ding Yu
2015-08-22T00:00:00Z
Kamertype
Gehele woning/appartement
---
Type woning
Villa
---
Geschikt voor
2
---
Slaapkamers
Imerovigli, Santorini, Griekenland
The studio is in Fira the capital of the island. On the first floor of the building with a nice balcony overlooking the rooftops and the sea in the distance (balcony shared by two rooms). Just a few meters from the central square fo FIra. All the shops, restaurants and bars yet in a quite spot away from the crowds.
Flat with a large balcony, clean and very well located in the heart of Fira A special mention to Chrysanti (hope i wrote it well) and her delicious snacks, she was really kind with us. Thanks Chris
Youssef
2016-09-09T00:00:00Z
Chris was very accommodating and nice, within great local recommendations and Miss Chrysanthi took amazing care of us and we wonderful!
Chris
2016-09-15T00:00:00Z
Chris gave me a fantastic welcome and communication was excellent with him during my stay in Santorini. The apartment is situated in Fira and has an enormous balcony. Chris also helped organize my transportation on the island. Can really recommend staying at Chris' apartment.
Conor
2016-11-03T00:00:00Z
I stayed here with my boyfriend for 2 nights and loved it!!! We were met by Chris's friend Antonis (who provided super helpful information about the island) and his mother Chrysanthi (who probably reminds you of your grandma but nicer and smiles more...she brought us this huge plate of loukoumades out of the blue on our second day, YUM). The place was spotless and perfectly located near the main square and bus terminal, which means you can get to/from the airport or see the sunset in Oia for only a couple euro and minimal stress. It is tucked away in a residential area which means the noise level is nonexistent - on our way to the bus terminal at 5am on a Sunday the square was POUNDING but we didn't even realize it until we turned on to the main street! The other notable thing is that the balcony is huuuuuuuuge and sunny! I always try to find some cons in my reviews but the only one I can think of is the TV is tiny...but were you really going to use that in Santorini? Book this place with confidence and enjoy :)
Alicia
2016-09-25T00:00:00Z
Antonio and his mom were really helpful! They tried to help in every way possible and we're always available for us! The place is super well located and nice. It's worth the money for the location in fira.
Analuisa
2016-11-21T00:00:00Z
Great stay fantastic location great view and exceptionally friendly host.
Jack
2016-09-28T00:00:00Z
Nuestra estancia en el apartamento de Chris fue muy positiva. Está situado en el pueblo principal de Santorini, que es Thira que está en el centro de la isla, a tan solo 3 minutos de la estación de autobuses y de las calderas. La localización es perfecta ya que salen desde ahí todos los autobuses a los diferentes pueblos y playas de la isla. Chris nos llamó antes, durante y después de la estancia para ver cuándo llegábamos y preguntar si nos hacía falta algo más. Los precios en Santorini en Julio y Agosto son desorbitados e incluso nos pareció muy barata la relación calidad precio del apartamento. Las fotos que aparecen son tal como es el apartamento, una única habitación con cocina y dos camas individuales, el cuarto de baño y una gran terraza. Ideal para visitar la isla por tres o cuatro días.
Ruben
2016-08-25T00:00:00Z
Very well located appartment, quiet even though it is only three minutes walk from the centre. Very welcoming and kind hosts.
Gillian
2016-10-25T00:00:00Z
Kamertype
Gehele woning/appartement
---
Type woning
Appartement
---
Geschikt voor
2
---
Slaapkamers
Fira, Griekenland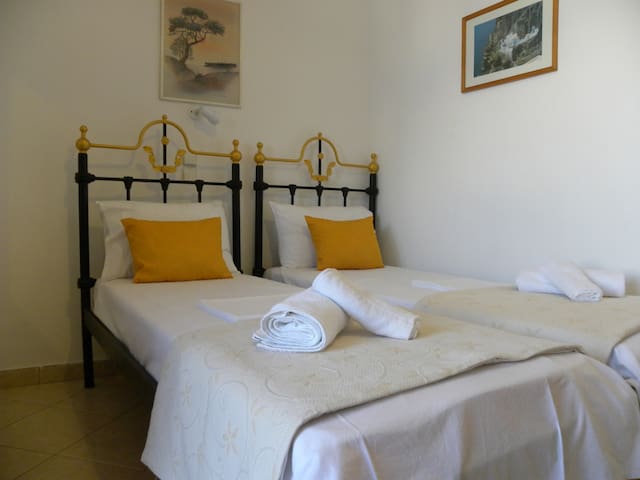 The Standard 2ble room is bright and airy and it has a bedroom with double bed and a bathroom and can accommodate up to 3 people with an extra fold bed . Safety deposit box, air-conditioning and a fridge are also provided. There is free WiFi Internet Access. Continental breakfast is available at the rate of 7 euro per day. A Family run pension studio in an excellent location right in the centre of the Island. It's just a 15 minute walk into the capital town of Thira, and a 10 minute bus ride to the beach. Located in the traditional village of Karterados where car & moped rental offices, coffee bars, tavernas, travel offices and mini-markets, plus a laundry and a bakery, are all close by. Free transfer from the port or airport is offered upon arrival, and free parking is available right next to the hotel. Helen and her husband will be happy to assist guests with ticket service, guided island tours and car or bike rentals. Helen will do her utmost to make your stay an enjoyable one!
Our stay at Karterados was perfect. This small town so close to the very touristy spots was a blissful relief each evening as we swam in the pool set in lovely gardens.Our host Helen was kind and very helpful. It was great to be met at the ferry and dropped off too. Our room was very clean and any request or questions to Helen were never any trouble. This was a great place to stay and highly organised. Lots of fun.
Annie
2013-10-15T00:00:00Z
El lugar y la ubicacion de la pension George es muy buena y bien comunicada. los departamentos son comodos y limpios y lo mejor es la atencion y la alegria del staff!
Agostina
2014-04-23T00:00:00Z
Helen was a very warm, kind and attentive host. She provided pick-up at the port, which was really convenient. Her place is really beautiful - flowers everywhere with a nice pool. The room is spacious and clean. The pension is near the bus stop, which takes you to wherever on the island. I thoroughly enjoyed my stay there.
Whitney
2014-06-20T00:00:00Z
La Pension Georges est tres agréable. La piscine est tres belle, la chambre etait propre et spacieuse avec un petit balcon et nous avons été conduit au port gracieusement à la fin de notre sejour. Je recommande cet hébergement, très bon rapport qualité-prix !
Margot
2016-06-15T00:00:00Z
Helen's family is very nice. They offered a lot of help for our trip in Santorini. Our room is just beside the entrance of backyard. It has a beautiful balcony, where you can have your breakfast. The apartment is quite nice. You have the fridge and kitchen. It is kind of hotel thus you don't share the living space with the host. The location is in a village from where you can walk 20 minutes or take bus to the center of Fira and the other places. In 5-10 minutes you can walk to a supermarket and an excellent bakery where we tried some delicious traditional Cretan desserts.We enjoy our stay in Santorini by Helen.
Huiyi
2014-05-22T00:00:00Z
Helen was very co-operative and welcoming; she arranged for our pickup from the airport and gave us detailed instructions about visiting Santorini and general means of transport around the island. The place and the room is beautiful, spacious and very well maintained. We highly recommend staying at this accommodation!
Sachin
2015-06-11T00:00:00Z
Helen went above and beyond to welcome us into her AirBnB. Even before we arrived to Santorini, she had excellent communication to help us book our dinner. She was able to securely store our valuables and luggage before we checked in to explore Santorini. The room was extremely accurate to the description and very comfortable to sleep in and had A/C and Wifi. The swimming pool was extremely comfortable to swim in after a hot day of exploration. She provided a free taxi from the airport, and had our ATV ready when we arrived. The town is walkable to Fira, and very quiet (away from the crowd in Fira). We had an early flight, and she called a taxi to pick us up, also. Very friendly and nice lady, very accommodating, and knowledgeable about the island. Unbeatable price for the room! She's been doing this for a long time, and her experience really shines through with her friendliness and willingness to help. Would definitely stay with her again when we're back in Santorini. Helen and her BnB was definitely one of the best BnB's we've stayed in, and very very economical! Would give 10/5 stars if I could!
Rong
2016-06-25T00:00:00Z
Helen's wonderful hotel made our trip in Santorini much more pleasant! She patiently recommended and explained the places we ought to visit and provided us with wonderful service and warm welcome. The place is nice and clean. I will not hesitate to choose Pension George for my future visit to Santorini!
Zhou Xiang
2014-05-28T00:00:00Z
Kamertype
Privé Kamer
---
Type woning
Appartement
---
Geschikt voor
2
---
Slaapkamers
Karterados, Aegean, Griekenland
Stilvi Studio welcomes its guests since 2013! I will be delighted to welcome you on this beautiful island of Greece!
Stilvi Studio welcomes its guests since 2013! I will be delighted to welcome you on this beautiful island of Greece!
Both Natali and Marianna were kind and welcoming, meeting us in the main square of Firostefani (for an early check in) and being kind enough to point out some of their favorite spots of Santorini on the map. Of course, we didn't have enough time to heed all of the suggestions but it gave us a great starting point. They also provided a complementary bottle of wine. The studio itself is cute and has a wonderful view of the caldera - perfect for catching a sunset! Located ~5 min from Fira by foot, it was a convenient and quiet location. I would recommend not to bring too large of a suitcase as you'll have to haul it through cobbled streets and up stairs from the nearest parking (~10 min walking distance away). There was also a daybed on the patio that was pretty nice to relax on. All in all, a beautiful place to stay!
Joony
2016-04-20T00:00:00Z
Marianna organised a transfer from the port and despite our ferry being 1 hr late met us on arrival. She showed us around the studio and gave suggestions for things to do and places to eat. The studio is amazing and the balcony and view simply stunning and fairly private. The AC works great for those hot afternoons & wifi was good. The studio is in a quiet area and not a far walk from the town centre with shops and restaurants and the old port & cable car. Our studio was serviced daily same as a hotel. This is defiantly the place to stay for an authentic Santorini experience.
Brendan
2016-07-25T00:00:00Z
This home in Santorini was a dream! We were provided transportation from the airport and to the ferry which was organized by our wonderful hosts! As soon as we arrived we were greeted by Natali and her wonderful hospitality. She was so helpful getting us settled in her home and getting aquatinted with the area. Any and all information we possible needed was provided. The flat was so beautiful. The view from our balcony was so amazingly beautiful and the flat was cozy and everything I expected and more! I definitely recommend this to anyone looking to soak in the beauty of Santorini with warm and hospitable hosts! THANK YOU for making my vacation as wonderful as it was
Jaclyn
2016-04-26T00:00:00Z
The stidio is the best place to stay if you want a private, excellent, and peaceful experience in Fira. You can see the Volcano island at the balcony, as well as the amazing sunset of Santorini. Marianna and Gregory are nice and prepared a comfortable room for us. The studio is also near the parking lot and the most famous church.
WEIPING
2016-06-01T00:00:00Z
amazing location and amazing view!
Shuwen
2016-06-28T00:00:00Z
First of all I wish to thank Marianna for the great stay she ensured for my wife and I on our honey moon. Nothing in the description of the listing is understated!!! The property is located in my opinion in the best neighbourhood and we had very easy access to all the lively places,markets, places to eat and sightseeing spots. The great view from the terrace was breathtaking, the property is well-maintained and for that kind of money in this neighbourhood it is a bargain. Marianna was very responsive and helping, she ensured an ATV rental for our stay that helped us explore the whole island and she told us where the best gourmet restaurants and nice bars are located. I am so impressed by our stay at the Stilvi studio that if we ever come back to this island there will be no doubt as to where we are staying again. Thank you for letting us experience this little heaven on earth for the 5 nights that we had :)
Todor
2016-05-15T00:00:00Z
Everything was so perfect! The view is just amazing. The studio is close from restaurants, bus stop. Ou host was welcoming, and helpful. She arranged our arrival and departure transferts. I definitly recomend this studio.
Sandra
2016-08-30T00:00:00Z
This apartment was wonderful - located in a great part of Santorini. A short walk from the lively town of Fira, but yet quiet enough in the evenings at Firostefani. The views of the caldera are spectacular in the day and during sunsets. Marianna and Natali did everything they could in helping us arrange for the airport and ferry transfers, and communication was smooth throughout our stay. The apartment also comes with small kitchen utilities. The WiFi and air-con worked great - perfect for lazing in the apartment when we needed a break from the blazing summer heat. The apartment itself is beautiful, and tourists passing by the house always stop to take a second look! Very nice to just sit in the yard and enjoy the caldera view.
Jenny
2016-08-26T00:00:00Z
Kamertype
Gehele woning/appartement
---
Type woning
Huis
---
Geschikt voor
2
---
Slaapkamers
Θήρα, CYCLADES, Griekenland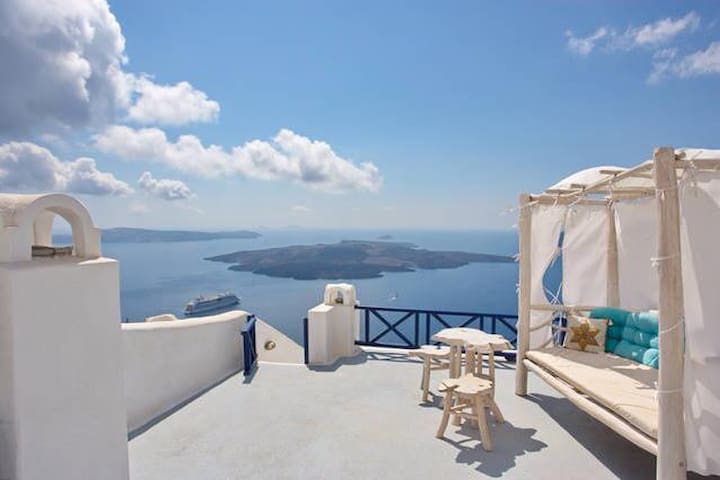 This house has an amazing view of the volcano and the south side of the island. It has a massive outside patio. It has unique characteristics and is a cave house. 2 bedrooms, a full kitchen and a living room. I really think you will love this place.
The house is a traditional Santorini cave house, situated in Imerovigli village, on the Caldera(cliff). Unlike most of the cave houses in Santorini, this one runs wide and not deep in the rock. This characteristic provides a lot of natural light throughout the day, thanks to the windows that cover the front of the house. There isn't one room without natural light. The villa has a very nice lay out and is ideal for couples, families or even a group of friends. It is comprised of two bedrooms (one is outside the main house, totally private) with double beds and a living room with two single concrete beds/sofas. It also has a fully equipped kitchen with stoves, oven and all other necessary. The living room, besides the two sofa/beds, has a dining table with chairs. The villa can very comfortably accommodate up to 6 persons. It does not have air-conditioning but the house keeps a very comfortable temperature all year round. Outside, the 85sq.m veranda provides unobstructed view of the Aegean sea, the volcano and Thirassia island. You can also find patio furniture, which includes an umbrella, table and folding chairs, as well as 2 sun loungers. There are also concrete areas that someone can sunbathe on. It is near the path that leads to the main town of Fira, so there aren't many steps to reach it, approx. 40 easy steps. Restaurants and mini markets are only a step away, and so is the main town of Fira. Distances (approximates) Fira (the capital): 1klm Oia (Ia): 7klms Perissa/Perivolos (black beach): 15klms Red beach: 15klms Airport (JTR): 7klms Athinios Port: 8klms Nearest bus stop: 120 meters Mini markets: 50 meters Restaurants: 20 meters and the next at 50 meters Parking: 70 meters Facilities and Service(URL HIDDEN)Linen and bathroom towels provide(URL HIDDEN)TV LCD 22" with Satellite receive(URL HIDDEN)DVD/DivX playe(URL HIDDEN)Hi-Fi midi with CD player/radio/MP(URL HIDDEN)High-speed Internet connection (Free(URL HIDDEN)Fully equipped kitche(URL HIDDEN)Hair drye(URL HIDDEN)Iro(URL HIDDEN)Heater for the winter month(URL HIDDEN)Cooling Fans provide(URL HIDDEN)Free map of the islan(URL HIDDEN)All taxes
Aris was great, very responsive and helpful. The apartment is exactly as pictured in a very peaceful location and worked perfectly for our family of four. There were extras such as a fan and a housekeeper that came each day. Note that there are several steps down to the apartment, which might pose an issue for some travelers.
Mark
2016-06-06T00:00:00Z
Our stay at Aris's beautiful home was perfect. It was just as we expected and more. The house was clean and everything worked. I loved the fact that the second bedroom was like a mini house, detached from the main part. We enjoyed breakfast and lunch outside, gazing out at the stunning view. It was real treat. Aris is a wonderful host, always made sure that we had everything we needed - even when I woke him up in the morning asking if there was a spare key, as I had locked mine in the kitchen. Make sure to check out his Thai restaurant in Oia as well :) The location is perfect, and the nearby town is easily accessible by foot. If you don't want to walk there is a bus stop 2mins away. The house is by plenty of traditional restaurants, all with crazy nice views. There is also a supermarket open until late about 2mins away. Overall, we couldn't have asked for a better host, location and accomodation. Truly a special experience for my family and I.
Zara J
2014-05-12T00:00:00Z
Communication with the host regarding check-in was very poor. The views were incredible!! Also, the location was ideal for traveling and experiencing the entire island!
Jake
2017-03-24T00:00:00Z
Aris is a great host. He made an early arriving possible and organized a car for us. The Location is amazing. The view from its terrace is stunning. I can highly recommend this apartment!
Malte
2017-03-07T00:00:00Z
Aris ou son intermédiaire était très disponible tout au long de notre séjour et nous a y compris arrangé le transfert (7 € par personne) et la location d'une voiture. La maison, conforme au descriptif, est propre mais pas parfaitement entretenue : rideau de douche en phase d'effondrement (vivent les épingles à cheveux), cuisinière et casseroles très âgées, placard sentant l'inhabitation et l'humidité. Le débit d'eau est faible. L'espace et la vue exceptionnels compensent toutefois amplement ces petits inconvénients qui restent très vivables pour 4 nuits à 5. Le ménage est fait régulièrement. La situation à Imerovigli permet d'éviter une grande partie de la foule dans un cadre assez somptueux. Un bar-pool est accessible à quelques centaines de mètres au nord en suivant le chemin de crête et permet de se rafraîchir moyennant une sangria à 5 €. Très agréable quand on n'a pas le temps d'aller à la plage. Les terrasses ne sont pas éclairées, mail il est possible d'acheter des bougies à proximité. Nous avons conservé un très bon souvenir de ce logement qui n'est toutefois le meilleur rapport qualité-prix que nous avons eu en Grèce.
Christian
2015-08-04T00:00:00Z
We had a very nice stay at this well-located home in Imerovigli. Aris was terrific to work with. He was responsive, on time, and very informative. The home is basic but comfortable and well-located. The view from the terrace is terrific. The set up worked fine for my daughter and I but might be difficult for families with young children or two couples because the second bedroom (and the kitchen) is not connected to the main living area/bathroom. Each has a separate entrance from the terrace. The location is a just enough off the path to provide a relaxing, quiet stay from the crowds. Yet, it provides easy access to everything you need - a grocery, bakery, the Fira trail, restaurants, the bus, etc.
Sandy
2016-07-20T00:00:00Z
Aris had been a wonderful host in Santorini by helping us to co-ordinate and settle-in well in our stay in Santorini. Beside the fact the the house is a little old, our overall stay was fantastic and will definitely recommend this place to others.
Benjamin
2012-06-16T00:00:00Z
My partner and I stayed at the "Traditional View" cave house for several nights. The place is fantastic and is exactly as the photos indicated. Santarini is known for the spectacular view of the Caldera (bay created by a collapsed volcano), and the view from the house and terrace could not be better. We were able to access food and other items from stores that are very close, and there are numerous restaurants available nearby. Despite the conveniences and the fact that houses are clustered together on the cliff, there was a sense of absolute privacy and peacefulness at the house. My partner and I chose to sleep in the room that is separate from the rest of the house. It was utterly charming, and the view from the large window was breathtaking. Aris was an incredible host, always available and responsive. He arranged transports from the airport when we arrived and to the ferry port when we left. On our arrival, he let us know about touring options and arranged a volcano/Caldera tour at our request. All in all, this was an ideal rental for visiting Santorini -- I highly recommend it to others!!
Rick and Leroy
2013-05-25T00:00:00Z
Kamertype
Gehele woning/appartement
---
Type woning
Huis
---
Geschikt voor
7
---
Slaapkamers
Thira, South Aegean, Griekenland

Ο χώρος μου είναι κοντά σε αεροδρόμιο, πάρκα και κέντρο πόλης. Λόγοι που θα σας αρέσει ο χώρος μου: άνετο περιβάλλον και άνετο κρεβάτι. Ο χώρος μου είναι κατάλληλος για ζευγάρια, δραστηριότητες για ένα άτομο και επαγγελματίες ταξιδιώτες.
Nice, clean room. Good location—walking distance to Fira, and a short ride away from Oia! Friendly staff.
Spencer
2016-11-11T00:00:00Z
Really good
Susana
2016-10-30T00:00:00Z
I had an amazing time at Hotel Lodos. Great location in relation to the city center of Fira and it was very easy to access any other part of the island from here. I highly recommend it!
Katie
2016-10-25T00:00:00Z
Everything I was hoping for while staying in Santorini. The people who work there are very nice and helpful. Check in was very easy. It's a short walk to Fira and I not too bad of a hike from the airport and port. The room very good especially for the price. Would stay here again for sure.
Joshua
2016-11-05T00:00:00Z
Lodos was quite nice. Comfortable beds, private mini deck area. Fridge and clean bathroom. Wifi didn't work in our room but does fine in the lobby. Cheap water in vending machine which is good because all Santorini taps are salt water. Pools was awesome as the beach is quite a walk away. Located near the bus stop and lots of shops. Had s good time!
Will
2016-10-16T00:00:00Z
Kamertype
Privé Kamer
---
Type woning
Bed & Breakfast
---
Geschikt voor
2
---
Slaapkamers
Karterados, Aegean, Griekenland
Measuring 183 square feet ,this room opens to a private balcony.Get a good night's sleep with premium bedding and cotton linens.The private bathroom has a shower,as well as a hair dryer. Complimentary wireless Internet access keeps you connected.
I smukke Kykladerne, i fortryllende Santorini, øen drømme og kærlighed, og i Firostefani område, man finder Ersi Villas med moderne faciliteter for behagelige ferier. Ersi Villas tilbyder hyggelige indkvartering på øen Santorini Grækenland en af Cyclades unikke destinationer i Middelhavsområdet. Værelserne, konjunktion i en klynge, tilbyder traditionelle påvirkninger inden for en rolig atmosfære. Ersi Villas charmerende værelser bruge rustik indretning, mens den udendørs pool-området giver mulighed for afslapning midt i tæt sammentømret kommuner Santorini. Værelserne er komfortabelt mellemstore værelser med privat balkon. De har to enkeltsenge og er egnet til to personer. Alle værelser har alle moderne bekvemmeligheder og faciliteter for at tilfredsstille de mest krævende gæster at gøre deres ophold uforglemmeligt. De er ikke-ryger og dekoreret med traditionelle møbler, der kombinerer moderne faciliteter med en traditionel charme. Hvert værelse er indrettet med aircondition, tv, køleskab, pengeskab, telefon, en-suite badeværelse med bruser, hårtørrer og varmt vand på en 24-timers basis. Det består af soveværelse med to enkeltsenge, badeværelse med bruser og privat balkon. Kan rumme 2 personer. Ersi villaer er et familiedrevet hotel med et personligt præg, et sted, hvor du vil opleve øen gæstfrihed. Vores familie vil give dig råd, oplysninger og anbefalinger til at besøge Santorini ø på sit bedste. Bygget med sans for detaljerne, under hensyntagen til kykladisk stil, der afspejler den tradition og unikke i budget hoteller Santorini, vil Ersi Villas tilbyde sine gæster et behageligt ophold. Beliggende i Firostefani landsby, kun et stenkast fra den centrale plads i Fira, vores værelser tilbyder alle faciliteter, komfort og faciliteter til at tilfredsstille selv den mest kræsne rejsende. Dit værelse på Ersi Villas tilbyder en fantastisk udsigt over Det Ægæiske Hav og den østlige kyst af øen, hurtig adgang til byens shoppingområde og til Santorini natteliv. Placeringen af vores villaer, væk fra stress og jag i byens centrum, absolut sikrer en afslappende ferie i Santorini.
Ersi Villas ligger i Firostefani, kun en kort gåtur fra den centrale plads i Fira og har en fantastisk udsigt over Det Ægæiske Hav og den østlige kyst. Her har du en nem adgang til det kommercielle område af byen og til den populære natteliv på øen. Placeringen af Ersi Villas, som du kan tjekke på kortet over Santorini, væk fra biler og støj, kombineret med de fredelige omgivelser, giver en afslappende ferie for alle slags rejsende. Selv om det betragtes som en anden landsby, Firostefani er faktisk en fortsættelse af Fira, kun 10 min til fods fra Fira centrale torv. Firostefani er et roligt sted at bo under din ferie. Det har mange restauranter og butikker, mens det for et sted mere aktiv, kan du hovedet til den nærliggende landsby Fira. Fra den gamle havn i Fira, kan du også tage den udflugt båd til vulkanen og de varme kilder. Fira by: 600 m Nærmeste Bus Stop: 80 m Main Bus Terminal: 1 km Nomikos Conference: 400 m Forhistorisk Museum 700 m Cable Car: 400 m Nærmeste strand: 4 km Santorini Athinios havn: 9 km Santorini Lufthavn: 6 km Santorini Imerovigli: 1,5 km Santorini Pyrgos: 10 km Santorini Oia: 10 km Santorini Kamari strand: 8 km Santorini Perissa & Perivolos strande: 13 km Santorini Akrotiri: 12 km Santorini Red Beach: 13 km
Elias was such a helpful host! Right away he provided us with a map and some very specific and easy directions. He also provided us with airport pick up and helped us book a boat trip to the volcano--a definite must! He grew up in Santorini so you can ask him about anything. The room was very clean and it was nice to have a fridge and TV. We also loved having the balcony! The Caldera is just a short walk away and it really is just 10 minutes to Fira. The bus stop is also close by and it's very easy to get to places like Oia. Overall, Elias and his mom were very sweet and welcoming. Definitely recommend staying at Ersi Villas!
Debra
2015-10-01T00:00:00Z
Lovely stay, the room was very spacious and clean, the view was wonderful, and Elias was a very helpful and kind host! Also a very convenient location. Recommended!!
Pedro
2015-08-20T00:00:00Z
Elias was very nice to pick us up at the airport and also take us back there for departure. He showed us a little market and where the bus stop was. Also recommended cliff walk to Fira. Very beautiful common spaces. Well furnished room and very clean. Excellent location.
Donna
2014-10-21T00:00:00Z
Nous avons été bien accueillis par Elias. L'appartement est propre et bien situé. Il est totalement conforme aux photos.
Marion
2016-08-16T00:00:00Z
Elias is one of a kind man. Him and his mom are the nicest people you can meet. His place is very close to the city. The only thing is that the Wi-Fi is very week. Everything else is outstanding.
Van
2016-07-08T00:00:00Z
Elias is the best. He was very nice and helpful in finding us things to do everyday. His villa was beautiful and very clean. It is a great location about a 10 minute walk into the main town. I definitely recommend staying here.
Erica
2016-09-01T00:00:00Z
Logement et résidence très propres, à proximité de tout type de commerces et de fira. Pour les gens véhiculés, il y a un parking juste à côté de la résidence. Élias a été très serviable et a répondu à toutes nos demandes: il nous a obtenu des places pour l'excursion sur le volcan, nous a permis de louer un quad très tôt et nous a accompagné à la station de bus pour notre depart à l'aéroport. Je recommande très fortement ce logement et remercie encore Élias pour cet agréable séjour.
kahina
2015-04-29T00:00:00Z
Ersi Villas was an absolutely delightful experience, and I can't recommend it more highly. Everything you want to do and see is at your fingertips. The view is amazing, the pool is relaxing, and the rooms are comfortable. An ATV rental to scoot around the island is right next door, but you can really walk to wherever you want to go. There was a little noise at night, but that's anywhere you go on the island, and we all adjusted pretty quickly. Elias himself was amazing, and I don't think we will ever have a better host. He bent over backwards to make us feel at home! I already miss the Villas!
Kaitlin (Nashville Native)
2015-05-06T00:00:00Z
Kamertype
Gehele woning/appartement
---
Type woning
Appartement
---
Geschikt voor
2
---
Slaapkamers
Thera, Aegean, Griekenland
tweepersoonskamer
Solid little hotel.
Burl
2015-07-15T00:00:00Z
Maria and her family are awesome hosts! My friend and I stayed here for two nights and oh my goodness this place is amazing! It exceeded our expectations. We were picked up at the airport at 4am for 15 euros and dropped off at the airport for 15 euros by Ana's father. This was great because we didn't have to worry about the headache of public transportation to/from the airport! Breakfast was amazing for only 5 euros per person and was always relaxing dining it poolside. Our room was beautiful! We had an ocean view and a city view and our room was spacious, with nice clean and comfy beds, clean and spacious restroom with a balcony! Ana was always there to help! The location is a ten minute walk away from the bus stop and you are able to roam around easily in Santorini from this location. Such a beautiful and helpful family, Ana is awesome! I would definitely recommend staying here if you ever visit Santorini. I will be back to Santorini and plan to stay here again!
Priscilla
2016-06-29T00:00:00Z
Very friendly staff who give you a neat central location. We recommend it
Ben
2016-09-10T00:00:00Z
This place was incredible for the price. Pick-up from the airport, plenty of room, easy to get to downtown Fira with a nice walk, and markets near by. I highly recommend!
Dana
2015-10-15T00:00:00Z
Nice cosy room for a very fair price. The room was very clean and the laundry was changed everyday. Although, hot water was very random. We didn't try the swimming pool because of the weather was bad but the pool looked great ! Overall, we had a good time here, thanks !
Gaelle
2015-10-25T00:00:00Z
It was really nice to stay, and I'll book again with them if I go back :)
Jingwen
2016-11-04T00:00:00Z
We enjoyed our stay at Pensione Livadaros. Maria and her family were lovely friendly hosts and very helpful when we needed to arrange taxis or had any other requests. They gave us a transfer from the airport on arrival for free which was very welcome after a 34 hour journey! The location is nice and quiet - away from the hustle and bustle of Thira centre. The Cretan Bakery at the intersection of the road towards Thira is not to be missed!!
Steph, Kris & Archie
2015-07-06T00:00:00Z
We had a great time staying with Maria and her family! The room was nice and they helped us set up a boat tour and transportation to the airport at the end of our stay. Pretty easy walk into the main part of Fira where you can catch a bus to Oia or rent a car. Would definitely recommend for someone looking to do Santorini on a budget!
Carla
2015-04-23T00:00:00Z
Kamertype
Privé Kamer
---
Type woning
Huis
---
Geschikt voor
2
---
Slaapkamers
Σαντορίνη, Αιγαίο, Griekenland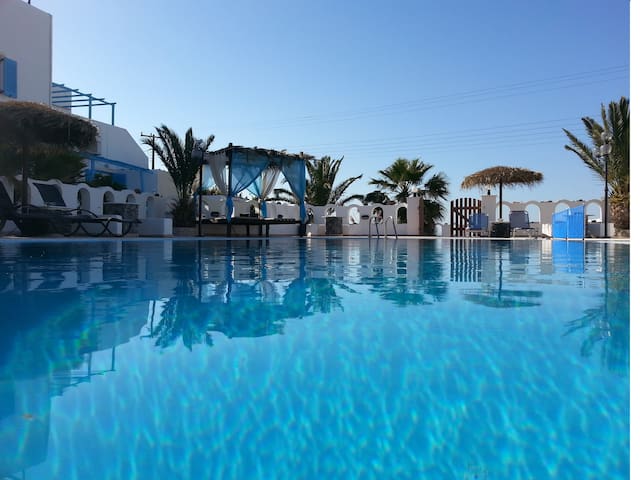 Walking distance (only 7min walk) from Fira town the capital of the island where the big market, shopping, museums and nightlife. Our village is very peaceful and away from the "panic" of the town. My favorite museum in the world is in Fira town, the Prehistoric Museum. There are plenty of things to do from historical, sightseeing, activities, sports or just relaxing and enjoying the picturesque sea views & I am here to make sure you have everything you need and make you feel like home :)
Cocoon cave feel's like a big "Hug" the round room give's you that warm feeling and the cute kitchenette stands where the old wood-stove used to be, there is also a round cave bathroom. The studio has organic and minimalistic look. Cave studio for 2 ppl. with breathtaking views from the spacious terrace! Imagine the view being 250meters above sea level, on top of the unique volcanic caldera circular island, looking out at the spectacular crater island "Kameni".
Easy access to all amenities, including the local market for shopping, fresh fish and local products and many some of the islands best restaurants for eating out. Just 2 min from the studio is Mylos bar, Ginger sushi restaurant, il Cantuccio italian and Akti traditional Greek tavern and many more. Just 10 min walk to Fira town there are 3-4 night clubs, many bars and restaurants. So you needn't drive at night. All walking distance near the center yet not in the panic of the town! Hot Spots to Visit: 1) Akrotiri area & walk around ancient 3 storey's high Prehistoric buildings!! 2) Prehistoric Museum and try to picture the houses, the furniture and the marvelous wall-paintings... 3) Ancient Thera town where king Thera's reigned 4) famous Oia village sunset at the castle 5) Venetian Pyrgos village 6) wineries to learn the secrets of exquisite aromas 7) Swim in Perissa black volcanic beach or discover the red beach & get to know why Santorini is voted the No1 destination worldwide!
Santorini, Firostefani village, Sensyo Host - Elvira has all the little touches that make staying in Sensyo a true delight. As promised in the description she is discrete in her interaction. She was able to answer any questions we had about the island and usually replied back with an hour to any message we sent her. She is warm, helpful and very welcoming. She obviously cares a great deal about her business and this is reflected in the unique designs and concepts contained in the various rooms at Sensyo Home - We stayed in the Cocoon room. Very comfortable for 2 people. Very nice views from the shared terrace of the Calandra and surrounding area. The little kitchen nook is well stocked with utensils, plates and cooking dishes. Water heater does take a bit longer than 15 minutes to get warm. Comfortable bed and great free Wi-fi. The only negative is that the bathroom floor floods every time we had a shower even if we were very careful with the shower curtain and tried to not spray the water in the wrong direction. Area - Located 1 kilometre North of Fira, this room in Firostefani is a great location for exploring the town of Fira. The majority of the tourist attractions, restaurants, viewpoints and shops are within a maximum 22 minute walk of this room. For anyone who has not traveled to Fira previously prepare for the challenge of stairs anywhere where you wish to explore! The path between these towns is easy to find (simply walk along the edge of the cliff). It's not the distance that can be a challenge, it's the elevation changes. Nestled a little ways in from the walking path you are protected from noise and wind. Overall, this is a great option for those who want to stay just a little ways away from the noise and crowds of Fira.
Breanna-Evan
2016-05-21T00:00:00Z
The stay at Sensyo was great. We arrived to find a personalized note as well as the fridge stocked with house wine water and coffee. For one reason or another our Samsung devices would not recognize the WI-FI network however we made friends with neighbors to connect if necessary. They were very accomadating with our luggage as we were taking the overnight ferry back to Athens during our last day of the trip. Location is excellent as it is writhing walking distance to Fira as well as just below Firostefani. Steps were the only downside, so just pack lightly.
Alex
2015-06-10T00:00:00Z
We had a lovely time staying at Sensyo - beautiful views and a very cute cave apartment. Elvira's little touches like wine in the fridge made us feel very welcome, and the location was perfect for getting around all of Santorini.
Michael
2014-06-21T00:00:00Z
Excelente atención por parte de Elvira. Volvería sin dudarlo. Hermosa casa en Santorini. Excelent!!!!! Thank you Elvira. We had a beutibul stay in sensyo home.
Alberto Luis
2016-06-14T00:00:00Z
My newly husband and I came to Santorini for our honeymoon and stayed at the Cocoon for 5 nights. Cocoon was cozy and had everything we needed for our stay on the caldera. The complementary bottle of wine and coffee enough for our stay was a nice touch, and the fan kept the cave nice and cool. Definite perks were the location of the cave: quiet area in Firostefani, but within walking distance of more action in Fira, and the stunning yet quaint village of Imergovigli. Also of course the view was indeed amazing! The shared veranda was perfect for tucking in with a bottle of local wine for sunset, or for contemplating life early in the morning over coffee. We felt lucky to have such a nice place to stay with an incredible view, at a fraction of the cost of most hotels on the caldera. Elvira was very nice and helpful, and gave us great recommendations for beaches and restaurants. I would give Cocoon 5 stars, except the bed was so hard that we didn't sleep well, and ended up with stiff and sore backs by the second day, which was a bummer. Also the shower setup is messy, no matter how careful we were, we ended up with water everywhere and spent a good 10 minutes squeegeeing the floor after each shower :/ Aside from that, we had a great stay! Thanks, Elvira!
Dorothy
2012-10-22T00:00:00Z
This place is fantastic! From the beginning to the end our stay at the Cocoon has been fantastic. The superb view of the caldera, the great nearby restaurants, and the proximity of Thira by walking are great assets. But what also makes this place very special is our host Elvira, who on top of being the friendliest person, made sure everything was ready for our very early arrival, made a point to make us feel like home with wine and juices ready in the fridge, and was always ready to help us with recommendations and tips about the island. We had a wonderful time.
mathieu
2015-07-11T00:00:00Z
Elvira is a lovely host, and the space was beautiful, comfortable, and very clean. We arrived earlier than expected on a very hot day, and were welcomed generously into a cool, sweet space where we could unwind before exploring the village. A real treat to stay here. Thank you so much Elvira!
Victoria
2016-06-22T00:00:00Z
Sensyo home is an absolutely fabulous and wonderful place to stay. It is a short walk from Fira so you can have all the amenities of being near the bigger town (and the main bus stop) while enjoying the the tranquility of Firostefani. Also, the home is very close to the bus to Oia which was very convenient. The cave house was absolutely adorable and very clean. It was a unique experience to be able to stay in a structure with such history. The view is even more amazing than the photos!!!! I highly recommend staying here. It was a truly lovely experience. Elvira was a wonderful host. She helped us plan our activities and even set up a taxi for us to the airport. Being able to stay here was a one of a kind opportunity and a blessing. Thank you so much- we will come again!!!
Catherine
2017-04-03T00:00:00Z
Kamertype
Gehele woning/appartement
---
Type woning
Grot
---
Geschikt voor
2
---
Slaapkamers
Thira, South Aegean, Griekenland
De villa ligt hoog op de klif kant in een rustige buurt van het pittoreske dorpje Imerovigli. Het kijkt uit naar de zee, de vulkaan en de beroemde caldera met een terras voorzien van tuinmeubilair. De ligging is uniek en het uitzicht vanaf het terras is adembenemend. Het pand ligt in het centrum van het dorp. Al Imerovigli is binnen een loopafstand, met inbegrip van zonsondergangen, cafés, restaurants, een eigen kapellen. Vanaf Imerovigli kunt u de route die gaat door Firostefani en uiteindelijk eindigt in Fira (20 minuten loopafstand) te nemen. Het onlangs gerenoveerde villa beschikt over een slaapkamer met een tweepersoons bed dat kan omzetten in twee enkele bedden, een kleine eenpersoonskamer met een eenpersoonsbed, een eigen badkamer met douche, een volledig uitgeruste keuken met alle moderne faciliteiten, samen met een eetkamer. Ongeacht om te zeggen dat de droom zoals uitzicht op de vulkaan, de caldera en de pittoreske dorpje Imerovigli vanaf dit balkon, zal de gasten te voorzien van een onvergetelijke ervaring. faciliteiten: Volledig ingerichte keuken, satelliet-tv, dvd-speler, airconditioning, terras met tuinmeubilair, WiFi internet. diensten: Dagelijkse schoonmaak service, bieden wij handdoeken en lakens, portier service, auto of fiets huren op aanvraag, het boeken van de lokale eiland reizen, transfers op aanvraag. We zullen blij zijn om u te helpen met alle nodige informatie om uw verblijf aangenaam en comfortabel te maken.
La casa es perfecta, limpísima, bien equipada , bien ubicada y con inmejorables vistas. Fanis, el anfitrión, encantador solventado dudas , aconsejándonos y reservándonos excursiones y transfers y todo lo que podíamos necesitar . 100% recomendable. The house is perfect, spotless, well equipped, well located and with excellent views. Fanis, the host, lovely: solved questions, advising and reserving tours and transfers and helping in whatever you may need. 100% recommended.
Pati
2014-05-25T00:00:00Z
fantastic apartment in Santorini. The private balcony is very impressive. Very nice holiday resort.
sarah
2014-10-05T00:00:00Z
Fanis an Tina, Thank you so much!!! They are wonderful hosts, always available and helpful with tips. Their english is perfect and their recommendations fantastic! Best food we ever had in one of the places they recommended. Arranged tours and transportation for us, really made our stay perfect! The apartment is gorgeous, cozy, beautiful cool decoration, very well equipped and everything in pristine conditions. The view is amazing! Location is perfect in one of the main paths just a few minutes away from main towns. Absolutely recommend it and hope to come back soon!!! Sas efcharisto!!! Andrea and Tim
Andrea
2014-05-18T00:00:00Z
Little Stones Villa is the perfect escape-with an absolutely breathtaking view, and cosy home away from home, situated in a perfect location, right on the walking path to Oia.
Brooke
2016-10-28T00:00:00Z
Our accommodations were lovely. Incredible view from the balcony, in a great area. If we had come a few weeks earlier, I imagine it would have been much busier. We were able to walk to Fira (a nice 40 minute walk), and we were very close to vehicle rental shops, the bus stop and a mini market. Would definitely come and stay here again. Keti was very helpful in getting us situated and was ready to help in any way she could. She booked our catamaran tour for us, and made sure everything went smoothly.
Jag
2015-09-05T00:00:00Z
Apartment is in a great location and well served by local restaurants, bars, cafes etc. The views from the terrace are stunning and all you could wish for. Maxine
Maxine
2016-08-09T00:00:00Z
The apartment was just as described and Fanis was kind enough to coordinate the airport transfer as well. The location is perfectly situated between Fira and Oia allowing for great walks between the two towns. And the private terrace was perfect for sunset viewing.
Scott
2016-04-25T00:00:00Z
View and location are beyond expectations (and dreams). Extremely clean, well appointed, and surprisingly large by European standards. Imerovigli is the perfect location on the island to get anywhere and still have a great view of the sunset (2 minute walk to the church is the best spot; bring a glass of wine). The private sundeck was awesome and since the villa is located on the main walking path, the people watching was second to none. Will return!!
Tripp
2016-06-07T00:00:00Z
Kamertype
Gehele woning/appartement
---
Type woning
Huis
---
Geschikt voor
3
---
Slaapkamers
Imerovigli, Aegean, Griekenland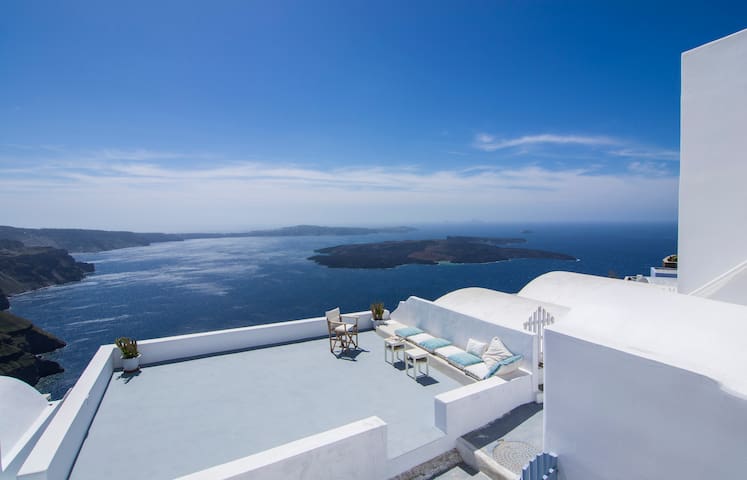 All of Erato rooms have a bathroom with bathtub or shower and hairdryer, air conditioning, TV, safety deposit box, fridge ,satellite ,phone.Each room offers a terrace or a balcony that overlooks the sea or the east side of town. * the swimming pool is open daily anytime between 1st-7th May, weather permitting
Echanges très fluides en préparation du voyage, très bon accueil à l'arrivée et super service pour nous aider à découvrir l'ile. les lieux sont propres, calmes, agréables.
Marie
2016-09-08T00:00:00Z
Great host everything so good
Nico
2016-07-29T00:00:00Z
We spent three nights at Tonia's apartments & had a wonderful time. The pool is wonderful to cool off after a hot day's sightseeing. The apartments are located just outside Fira centre (about a ten minute walk). All our needs were meet & I highly recommend Tonia's apartments to anyone wishing to stay in Santorini.
Amanda
2016-07-15T00:00:00Z
The Erato apartments was a lovely place to stay in Santorini, only a short walk away from the main town, the rooms were very spacious and immaculate, with their own kitchenette and outdoor area, and the pool was a lovely place to relax in the afternoon after a big day of exploring. Tonia was also very helpful and a lovely person to deal with. We highly recommend! very good value!
Amanda
2016-07-28T00:00:00Z
Good place to stay. Santorini is a crowdy island, and Erato is in a place, near the town, but isolated from the crowd, where you can rest without any problem. The room was very clean and Tonia is kindly! I recommend this place!
Miquel
2016-08-03T00:00:00Z
Easy access from airport and transportation was smooth booked by Tonia. Tonia was very nice and helpful. The room was nice and clean and the bathroom was spacious compared to European bathrooms. Easy access to the center of town. We rented a scooter and visited Akrotiri and Oia (where we enjoyed the sunset) in one day. Best option for sightseeing and get to know the area. I would definitely recommend Erato apartments. ευχαριστώ Tonia!!!
Jose
2016-09-21T00:00:00Z
Tonia helped us book transport from the port (which is 100% necessary!) that arrived on time and took us directly to the apartment. We didn't actually get to meet her, but someone from reception let us in within a couple of minutes of arrival. The room is as described - a studio with very comfortable bed. Kitchenette area if you need it. The apartments also have a pool. Located near the center, but you do have to walk a little bit. Overall, very pleased!
Jenna & Axel
2016-10-03T00:00:00Z
We stayed here for two nights and it was a great clean, affordable option while being in Santorini. The host Tonia is very helpful with providing transfers to and from the port or airport which facilitated a lot for our trip. The rooms are basic and provide you with a mini kitchenette as well as some plates/cutlery, as well as having a clean bathroom and decent size shower. Only thing is, make sure you are okay to walk 15 minutes to get into town because the apartments are essentially on the outskirts. Overall I highly recommend for anyone, great bang for your buck!
Julia
2016-08-09T00:00:00Z
Kamertype
Privé Kamer
---
Type woning
Overig
---
Geschikt voor
2
---
Slaapkamers
Thera, Aegean, Griekenland
Voer datums in om de volledige tariefopbouw te zien. Er kunnen extra kosten zijn en er kunnen belastingen worden toegevoegd.