My accommodation is close to Highway 2 minutes; the exceptional view of Lake Neuchâtel. Enjoy my housing for outdoor spaces, brightness, area, opportunities for leisure activities (lake, walks (gorges of the Areuse, Creux du Van, 3 Lakes Region, Latenium etc. ..) watch parts, etc. ... My home is perfect for couples and families (with children).
Kamertype
Gehele woning/appartement
---
Type woning
Huis
---
Geschikt voor
5
---
Slaapkamers
Saint-Aubin-Sauges, Neuchâtel, Zwitserland
Kleine houten chalet op het einde renovatie geïsoleerd, zonder stromend water of elektriciteit, charmante balkon zwoer adembenemend uitzicht .... (Alpen, het meer 3, Murten, Neuchâtel en Genève), 15 minuten lopen van Creux DU-Van. Kompas en aanbevolen koplamp!
Niet aanbevolen voor kleine kinderen: wenteltrap zonder een barrière, west balkon zonder barrière ook (zal worden gerenoveerd in de zomer 2017)
In totaal 6 kleine chalets in de natuur beschermd gebied op de zuidelijke hellingen van de Jura, werd bebouwbare oppervlakte
Kamertype
Gehele woning/appartement
---
Type woning
Chalet
---
Geschikt voor
8
---
Slaapkamers
Saint-Aubin-Sauges, Kanton Neuchâtel, Zwitserland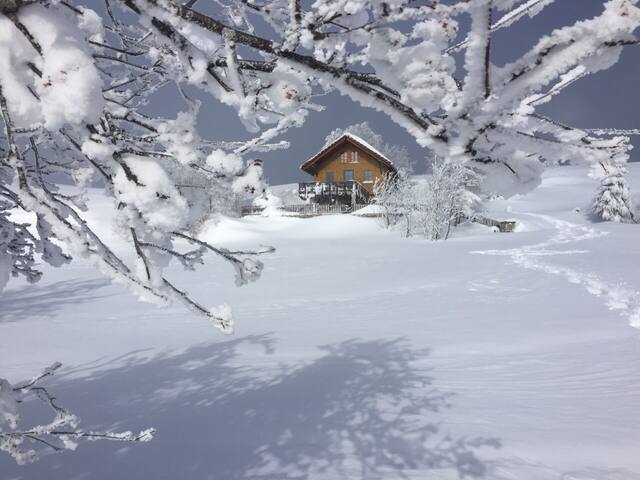 Ideal für ein intimes weg in einer ruhigen und modernen Umgebung für einen Urlaub, ein Wochenende oder auch die Last auf einer Geschäftsreise zu erleichtern, werden alle im Chez Flora willkommen fühlen.
Flora Wohnung wird Sie mit seiner großen Wohnbereich mit Tageslicht und wärmende Atmosphäre gefüllt verzaubern. Im Sommer entfliehen Sie dem Druck des Lebens in unserer ruhigen Ecke ", die Carnotzet" oder gleich um einen vollen Tisch im Garten.
St-Aubin ist ein kleines Dorf von 3000 Einwohnern auf den bancs des Sees Neuchâtel. Mit Blick auf die herrlichen Alpen, sind wir am Fuße des "Crêtes du Jura" positioniert. Begeisterte Wanderer und gleichermaßen nicht mit der Wahl der abwechslungsreiche Ausflüge in unserem exquisiten Region enttäuscht sein. Sowohl kulturell aufschlussreich und Sport die Wahl des Vergnügens Aktivitäten basiert.
O meu anfitrião fez me sentir super bem recebido sempre muito atencioso, simpático e preocupado. O espaço superou as espectativas com promenores muito agradáveis. Recomendo.
Raul
2014-12-28T00:00:00Z
Un séjour particulièrement agréable dans un cadre charmant et puis surtout des hôtes très accueillants et aux petits soins pour notre confort.
Dominique
2015-03-28T00:00:00Z
Tania a été une hôte très accueillante et arrangeante. Nous avons vraiment appréciée notre temps chez elle et elle a vraiment fait en sorte que nous nous sentions à l'aise. L'appartement est bien équipé et l'emplacement est idéal avec une voiture. Nous avons aussi profité des promenades qui peuvent se faire à pied à proximité de l'appartement : notamment un endroit très agréable au bord du lac à 10min de marche. Idéal avec un jeune enfant. Et si vous avez une voiture, la place de parking facilite la vie et vous êtes à moins 20min de tout : Neuchatel, de très belle plage (Auvernier) et la montagne pour de très belles randonnées (Creux du Van). Une seule envie : y retrouver avec un grand soleil pour profiter des baignades dans le lac !
Helene
2016-04-12T00:00:00Z
Tania und ihre Familie haben uns sehr herzlich empfangen und wir haben uns sofort wohl gefühlt. Die Unterkunft ist grossartig, mit bequemen Betten und einer tollen Terrasse. Geschirr und Küche laden zum Kochen und Essen ein, das Wohnzimmer zum verweilen. Alles ist sauber angenehm. Der Bahnhof ist sehr nahe, daher sind Ausflüge an den See, in den Jura und nach Neuenburg sogar ohne Auto gut machbar. Das nächste Mal am Neuenburgersee werden wir bestimmt wieder bei Tania übernachten.
Pascal
2016-05-09T00:00:00Z
Un accueil très sympatique dans une magnifique villa. L'intérieur est décoré avec beaucoup de goût et de propreté; les énergies du lieu y sont vraiment douces et agréables (on se sent vraiment très bien)....
Kirsten
2015-04-19T00:00:00Z
Me and my husband stayed here for 4 nights. Tania was a very welcoming host and she made us feel very welcoming and comfortable. She helped us with what we could do on our holiday and also left us a small breakfast and bottle of wine in the fridge. The house was very clean, well kept and smelled nice. It has a parking space for the guest. Our only disappointment was that the house is not directly on a lake and you cannot see the lake from the house. However, we could make that up by walking to the lake or driving to the other lakes.
Rumana
2016-04-01T00:00:00Z
Das "Chez Flora" liegt gleich unterhalb vom Bahnhof Gorgier-St-Aubin, zu Fuss ist man in ein paar Minuten im Dorf oder an der Schiffländi mit schönem Park und Badeplatz. In der Wohnung findet man viele aktuelle Prospekte und Karten rund um das Seeland. Die Wohnung ist toll eingerichtet und hat einen wunderschönen Garten wo wir viel Zeit verbracht haben. Im Badezimmer gibt es eine Regenwalddusche, so macht Duschen richtig Spass! Tania und ihre Familie sind sehr hilfsbereit und aufgestellt, wir haben unseren Aufenthalt genossen. Kaum Zuhause hat unser bald dreijähriger Sohn gesagt "wieder einisch Tania ga", da sind wir ganz seiner Meinung und freuen uns darauf.
Reto
2016-08-11T00:00:00Z
Die Unterkunft war super ! Sehr stylisch, liebevoll und geschmackvoll eingerichtet. Es hat an nichts gefehlt. Es ist alles wie beschrieben. Tania und ihre Familie sind super nett und jederzeit hilfsbereit. Wir haben tolle Tips für Ausflüge bekommen und haben uns rundum wohl gefühlt. Wir würden jederzeit wieder kommen! Perfekt!
Iris
2015-05-30T00:00:00Z
Kamertype
Gehele woning/appartement
---
Type woning
Huis
---
Geschikt voor
4
---
Slaapkamers
Saint-Aubin-Sauges, Neuchâtel, Zwitserland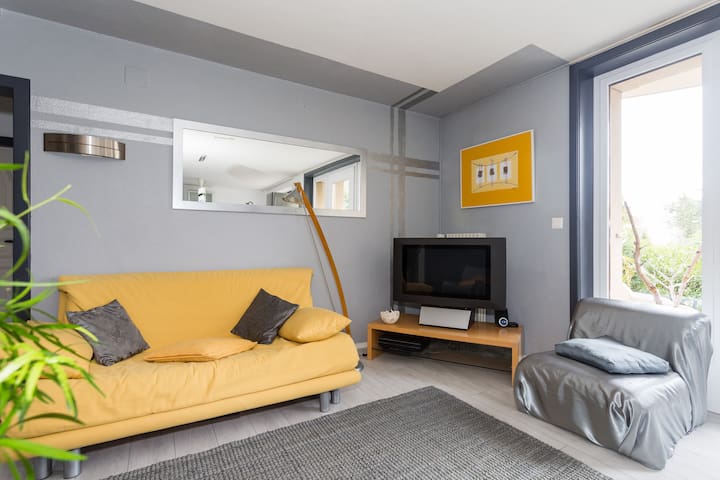 Maisonette-Wohnung in unmittelbarer Nähe des Sees von Neuchâtel. 3 Schlafzimmer für 4 Personen. Erstes Schlafzimmer mit einem Kingsize-Bett, 2x2 m. Zweites Schlafzimmer mit 190 * 160 und zuletzt Roos für Kinder. Zwei Badezimmer.
Sehr schneller Zugang zum See. Schöne Gegend auf den See und auch die montains zu genießen.
Ganz Bereich mit schnellen Zugang zum See, sondern auch in der Nähe der Montain.
Accueil sympathique de Pierre à notre arrivée, appartement vraiment bien placé et très agréable à vivre, le tout étant absolument conforme au descriptif fait sur le site ... Nous remercions Pierre de nous avoir ainsi permis de passer un excellent séjour chez lui, et je ne peux que recommander son appartement à quiconque aimerait séjourner dans la région de Neuchatel/Yverdon ( précisons que les thermes d'Yverdon ne sont qu'à 20 petites minutes de l'appartement et que s'y baigner un soir d'hivers par une température extérieure négative est juste... magique )
Deschaseaux
2015-01-02T00:00:00Z
The host canceled this reservation 36 days before arrival. This is an automated posting.
Silvia
2015-08-16T00:00:00Z
We have only the very positive - beautiful modern apartment, amazing spatial resolution, terrace overlooking the lake and the panorama of the Alps. The apartment is equipped with a very high standard and not come to us that something was missing. Swimming in an incredibly clean and beautiful lake, about 100 m from the house is a pebble beach. We appreciate the attitude of the owner and would like to come back sometime. We encourage everyone to visit.
Robert
2016-08-01T00:00:00Z
Merci beaucoup Pierre pour ton accueil et nos échange. Superbe appartement avec vu sur le port de plaisance. Appartement impeccable. Séjour très sympa
Xavier
2014-08-29T00:00:00Z
Alles war bestens organisiert, wir haben uns Willkommen gefühlt, sehr nette Nachbarn, das Umfeld mit fußläufig erreichbaren Strand und Restaurant, grillplatz waren ideal.
Dunja
2016-08-06T00:00:00Z
L'appartement de Pierre correspond bien à la description. Nous avons passé un excellent séjour ! Nos garçons (5 et 3 ans) ont adoré pouvoir jouer "dans la maison de vacances", se baigner dans le lac à proximité immédiate ou jouer aux jeux ! Pierre a été très serviable à l'accueil, et nous a donné les bons coins à visiter, où manger... Je recommande chaudement ce logement !!
Virginie
2015-08-30T00:00:00Z
Pierre a été très flexible et arrangeant et tout était parfait. Encore un grand merci, je ne peux que recommander son appartement.
Léo
2014-08-31T00:00:00Z
The host canceled this reservation 94 days before arrival. This is an automated posting.
zhang
2015-05-12T00:00:00Z
Kamertype
Gehele woning/appartement
---
Type woning
Appartement
---
Geschikt voor
4
---
Slaapkamers
Saint-Aubin-Sauges, Neuchâtel, Zwitserland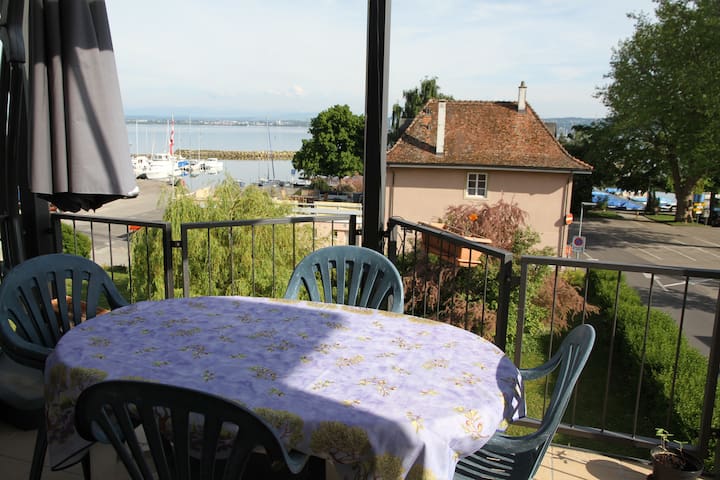 In een oud huis, goed gelegen in een rustige en dicht bij alle openbaar vervoer, is de apt. Ruime en moderne 5 stuks. Er is 1 kamer beschikbaar voor niet-rokers bezoekers.
An extremely homely place. Takes a little time to get there but definitely worth going and meeting Ulrike.
A
2017-02-25T00:00:00Z
Jolie chambre, dans une belle maison. Ulrike est une très bonne hôte.
Dubois
2017-03-03T00:00:00Z
Artistic house with sophisticated and personable hostess. Highly recommended.
Gerald
2017-04-07T00:00:00Z
il y a plusieurs autres locataires airbnb dans la maison de Ulrike. donc on ne peut pas laisser des objets de valeurs dans sa chambre. Ulrike m'a manqué de respect lors de mon arrivée.
denis
2017-03-23T00:00:00Z
Merci beaucoup à Ulrike pour son accueil très sympa et chaleureux ! J'ai passé un séjour vraiment agréable ! Je recommande ce logement dans cette belle maison au calme avec plaîsir ! MERCI !
Sabine
2017-02-01T00:00:00Z
maison très agréable et calme... elrike femme dynamique et originale :) Elrike nous met à l'aise...on se sent bien.....c'est plus jolie que les photos..
Valerie
2017-01-23T00:00:00Z
Nous retrouvons avec Ulrike le vrai plaisir de l'échange et du sens de l'accueil ! Plus qu'un logement, une rencontre chaleureuse.
Maïlys
2017-03-09T00:00:00Z
L'accueil et la maison d'ulrike n'ont rien de banal. C'est vraiment un coin de paradis ou chaque moment passé et remplis d'une beauté naturelle. Mérite d'être découverte.
Ioana
2017-04-01T00:00:00Z
Kamertype
Privé Kamer
---
Type woning
Appartement
---
Geschikt voor
1
---
Slaapkamers
Neuchâtel, Neuchâtel, Zwitserland
The accommodation is in a quiet area, 10 minutes from the train station and 5 by bus from the city center. It has an excellent view of Lake Neuchâtel e Alps.
Very calm
Notre sommes resté une nuit chez Édilson pour faire une escale de notre tour du lac à vélo
Fiona
2016-06-06T00:00:00Z
My husband stayed with Edilson when he moved to Neuchâtel to start a new job. Edilson provided lots of help and advice including meeting him at the station and giving him lifts. He speaks excellent English and Italian. Edilson's home is well located in the town, easily accessible from the station, clean and very comfortable. I would certainly recommend staying at Edilson's next time you're in Neuchâtel.
Dianne
2016-05-22T00:00:00Z
We didn't have time to meet Edilson because we stayed only one night but he explained everything my emails, the room was perfect, the apartment was lovely decorated and the morning view on the lake ;). Thanks Edilson, We highly recommended your place.
Ingrid
2016-07-17T00:00:00Z
Schönes ordentliches Zimmer, freundlicher Gastgeber. Man sollte die Zimmertüre immer geschlossen halten, sonst verbringt die Katze den Tag in dem Zimmer.
Michaela
2017-01-27T00:00:00Z
Edilson est venu nous chercher à la gare, la chambre était propre et très aggréable, le petit déjeuner offert... nous étions trés contents!
Elisabeth
2017-02-26T00:00:00Z
Très bon passage chez Nilson, arrangeant compréhensif à recommander!
Romeo
2017-03-04T00:00:00Z
Edilson's place was a lovely mini museum with many little cute antiques. The place was clean, the room was big and nice. Thanks Edilson.
Lydia
2017-04-05T00:00:00Z
Lovely accommodation, very welcoming and considerate host.
Miranda
2017-02-19T00:00:00Z
Kamertype
Privé Kamer
---
Type woning
Appartement
---
Geschikt voor
2
---
Slaapkamers
Neuchâtel, Neuchâtel, Zwitserland
Rabatt ab 3 Nächte (Rate sichtbar nach Buchungsanfrage). Meine Unterkunft wird ganz bei Ihnen während Ihres Aufenthalts sein. Die Wohnung liegt in der Nähe der öffentlichen Verkehrsmittel und das Stadtzentrum ist nur eine kurze Busfahrt. Neuchâtel Serrières Bahnhof ist auch ein paar Minuten zu Fuß. Es gibt einen Supermarkt in 50m. Genießen Sie die Lage, ruhig, Queen-Size-Bett, um die Qualität der Audio-Video-Installation, Blick auf den See. Die perfekte Unterkunft für Paare und Alleinreisende. Skipisten von 1 / 2h mit dem Auto.
60m2 Dachboden mit großen TV (mit Kasten), Küche mit Geschirrspüler, Kaffee und viele Teesorten, Badezimmer mit Wanne. Der Strand ist nur einen kurzen Fußweg. Kostenlose Parkplätze vor dem Gebäude. In der Nähe der Autobahnauffahrt.
Kleine ruhige Gebäude mit kostenlosen Parkplätze zur Verfügung.
L'appartement est parfait, merci encore à Vincent qui s'est montré disponible! Je reviendrai c'est sure.
arielle
2017-01-15T00:00:00Z
Nous avons passé un excellent séjour, le lieu et conforme aux photos, vincent est disponible pour toutes questions... bref un hôte agréable et a qui il est difficile de trouver quelques choses à redire. Merci à lui
stephanie
2017-03-19T00:00:00Z
Thanks :)
hakon
2016-11-27T00:00:00Z
Another great stay at Vincent's and although the weather was extremely cold the apartment was warm and cosy
James
2017-01-20T00:00:00Z
Merci a Vincent pour sont accueil ces expliquation parfaite un appartement sublime que je ne manquerait pas de relouer par la suite pour mes passages sur Neuchâtel !!!
Damien
2016-09-22T00:00:00Z
Everything was fine. We had a great time in neuchatel.
Christina
2016-09-20T00:00:00Z
Vincent provided excellent info with photos and maps. The apartment felt like home from home and my only regret was not staying longer. Great parking and easy bus connection to town centre which is also an easy 20-25 min walk. I will return!
James
2016-12-01T00:00:00Z
Vincent's house is very clean, bright, and cozy. All the utensils to cook a meal are there. During the night it is really quiet, the neigbourhood is nice with the busstop and small supermarket closeby. Although it was very foggy during our stay, the view of the lake is as on the picture, impressive. We would surely try to book this place again if we visit Neuchatel in the future. Merci vincent!
Jozef
2016-12-11T00:00:00Z
Kamertype
Gehele woning/appartement
---
Type woning
Appartement
---
Geschikt voor
3
---
Slaapkamers
Neuchâtel, Neuchâtel, Zwitserland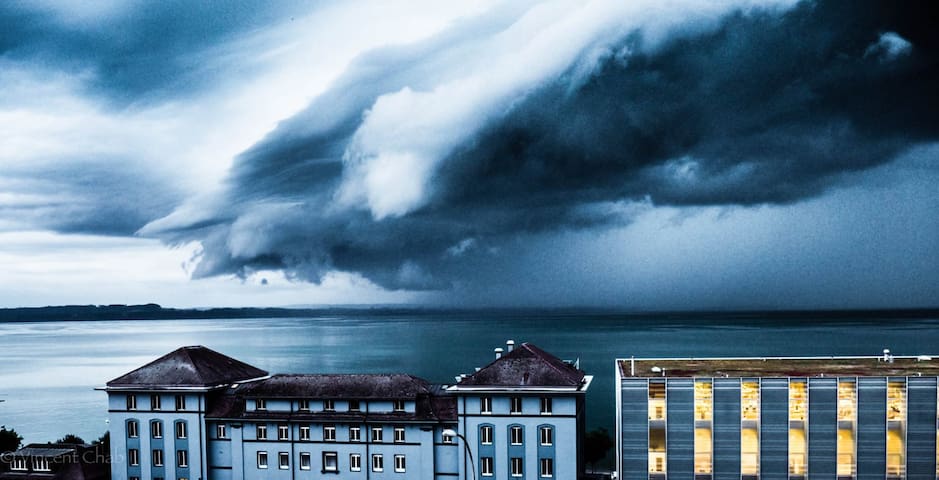 Mooi appartement van 2 kamers met een groot balkon en een halve minuut van het centrum van de stad! Ondanks dit in de buurt van de woning is in een zeer rustige complex!
Het is een grote 2-kamer inclusief half - een kamer van 20 m2 met een 160x200 bed en een 90x200. - een woonkamer met een slaapbank voor 2 personen. - een volledig uitgeruste keuken. - een eetkamer die 6 personen zetels. - een badkamer met douche. Beddengoed en handdoeken zijn aanwezig en natuurlijk veranderd elke locatie! Schoonmaak kosten zijn ook opgenomen in de prijs.
Kamertype
Gehele woning/appartement
---
Type woning
Appartement
---
Geschikt voor
5
---
Slaapkamers
Neuchâtel, Kanton Neuchâtel, Zwitserland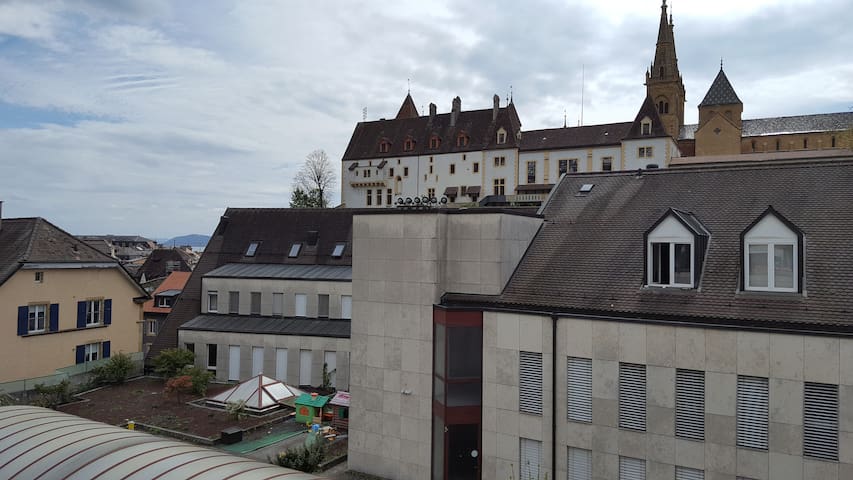 This home is close to public transportation, downtown, art and culture. Enjoy the place for the calm and serene atmosphere it creates, its exceptional location, the neighborhood and its brightness. Bathroom towels are provided. By cons, since we just moved, the house is provided as a minimum. So there is no TV.
Located 3 minutes walk from the city center (no need to make the tough climbs of Neuchâtel) and the lake, this 18th century house is full of charm. Located in a quiet, it's sunny.
Very quiet, in an affluent neighborhood. At not even 5 minutes of the lake, the city center, the casino, the theater and the university.
really fantastique! lovely house and Solange was very accomodating about my late arrival. on day of departure i could pop back to the house to collect my luggage and have a quick shiwer after a jog. highly recommended! merci Solange!
Garoid
2017-02-02T00:00:00Z
Attention, les propriétaires ont déménagé. La maison est vide, à l'exception de matelas. Ne vaut pas le montant indiqué.
Damien
2017-04-07T00:00:00Z
Everything was great! We really enjoyed the stay and would always come back to you two and the awesome cats!
Marie
2016-11-18T00:00:00Z
Appartamento molto accogliente e vicino al centro!
Chiara
2016-10-29T00:00:00Z
Das Zimmer ist ideal gelegen - ruhig und doch sehr zentral.
Rägi
2017-03-18T00:00:00Z
I spend very good time at Solange's place in Neuchatel. I recommend.
Julie
2016-09-07T00:00:00Z
Nous ne nous sommes pas beaucoup vus car notre séjour était très bref, mais tout s'est très bien déroulé : accueil très sympathique, logistique pratique, maison agréable, emplacement idéal. Merci pour tout !
Julien
2016-12-11T00:00:00Z
Un excellent accueil de la part de Solange et Bastien. L'appart est nickel comme la chambre. Très attentionné, ouvert à la discussion et prêt à aider, il n'y a rien à leur reprocher. Les photos sur le site correspondent à la réalité. Par contre, allergique au chat, fuyez (chat "pate" super en demande de câlin) ! Pour ce qui est de l'emplacement , il est très proche du centre-ville mais dans un lieu très calme. Un grand centre commercial est à 5 minutes à pied comme la gare (funiculaire à prendre). Je recommande chaudement
Zakaria
2016-06-16T00:00:00Z
Kamertype
Privé Kamer
---
Type woning
Huis
---
Geschikt voor
4
---
Slaapkamers
Neuchâtel, Neuchâtel, Zwitserland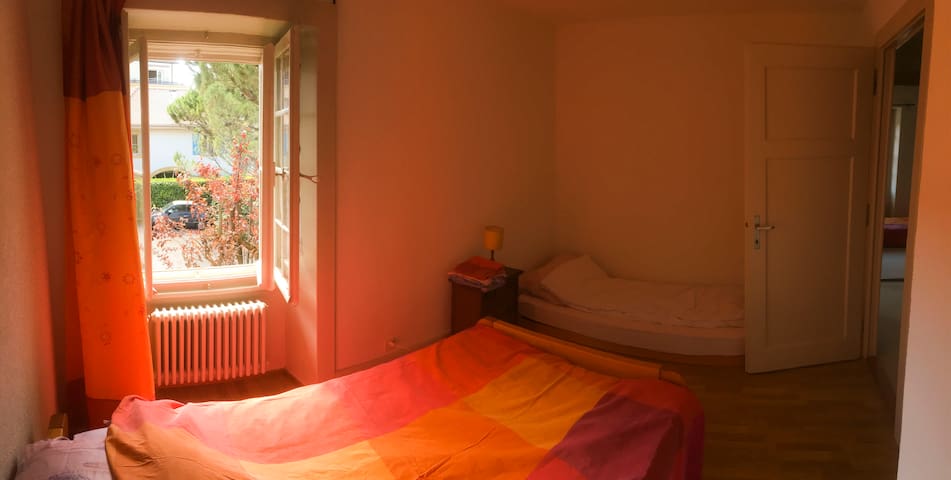 My property is located near La Gare, Bus, Funicular and the town center which is 3 minutes by funicular or 15 minute walk. It is located in the upper town. in above the main station. The botanical garden, public transport, restaurants. Enjoy my accommodation for the view, the bed comfortable, comfort and cuisine. My accommodation is perfect for couples, solo travelers, business travelers and four legged.
Simonette is a lovely lady! She made my stay in Neuchatel even more pleasurable. I enjoyed dinking tea and talking to her. The view from the room window is amazing! You can see the big lake and the Alps. This is definitely going to be my choice when i come to Neuchatel again! Simonette est une dame très charmante! Elle a fait mon séjour à Neuchâtel encore plus agréable. J'ai aimé prendre du thé et lui parler. La vue de la fenêtre de la chambre est incroyable! Vous pouvez voir le grand lac et les Alpes. Ce sera certainement mon choix quand je reviendrai à Neuchâtel!
Teodora
2016-11-25T00:00:00Z
L'appartement est bien situé et dispose d'une très belle vue. Simonette est très accueillante et fait tout ce qu'elle peut pour qu'on se sente bien chez elle. Les photos des chambres sont parfaitement conformes à la réalité. Mais mon expérience est mitigée car : je n'ai pas eu la chambre que j'avais choisie (plus petite et pas de clé), il y a eu un malentendu sur la durée de mon séjour, l'appartement était plein (3 chambres occupées et l'hôtesse dormant dans le salon - pièce fermée par un simple rideau) pour une seule salle de bains.
Caroline
2016-09-11T00:00:00Z
Simonette a nous souhaité la bienvenue d'une facon très gentil. Elle a preparé le dîner pour nous et nous avons eu des conversations agréables. Nour recommandons bien attarder chez Simonette.
Lutz
2017-03-26T00:00:00Z
Simonette is very welcoming and friendly. The room is clean and spacious with great wifi and a private tv. Very convenient to public transport.
James
2017-03-23T00:00:00Z
Arrangeante et disponible Simonette a su s'adapter à notre arrivée tardive !
Sophie
2017-01-23T00:00:00Z
La chambre de Madame Simonette est vraiment propre et jolie , et puis beaucoup mieux que la photo qu'elle pose sur internet :)
zijiao
2017-03-27T00:00:00Z
C'est une chambre assez grande et zn lit comfortable. Simone a été très sympathique et je me sentait toute suite à la maison. La maison est bien situé près de la gare. C'est vraiment à recommander!
Tanja
2017-01-06T00:00:00Z
Simonette is very friendly and keeps the bed & bath rooms very clean. Very friendly and made us feel at home right away.
Joyce
2017-01-28T00:00:00Z
Kamertype
Privé Kamer
---
Type woning
Appartement
---
Geschikt voor
2
---
Slaapkamers
Neuchâtel, Neuchâtel, Zwitserland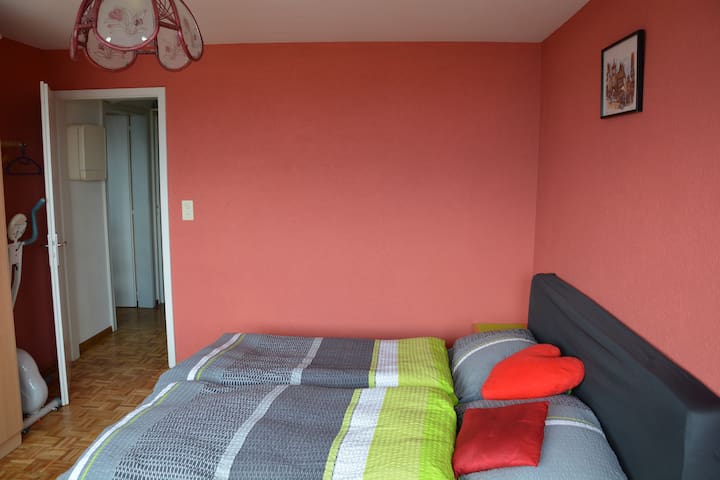 independent housing, large bedroom, kitchen, bathroom, beautifully situated in a nice area, close to the railway station, downtown, University and Lake ...
The apartment is 38 m2. On arrival, the beds are made, tea and coffee are provided and if you forget your soap or shower, you will find in the bathroom with toilet linen and bathrobes ... WiFi, TV free radio.
Between the station and city center, nice and quiet, close to shops and the lake.
The listing is exactly as described, a cosy room with everything you need for a stay in Neuchatel. A well equipped kitchen and comfortable beds, beautiful view of the lake. Daniele was a marvelous host who provided excellent suggestions for day trips to La Chaux de Fonds and the Latenium - the ferry ride being free with a ticket to the museum. I visited during the football season and found the celebrations quite loud but not unwelcome, the neighbourhood was quiet and family friendly too. Communication with Daniele was easy and it was a pleasure to stay here. I am certainly hoping to return in the future because it was just wonderful!
Nikita
2016-06-29T00:00:00Z
Daniéle's apartment is spacious, very centrally located and well equipped. It has everything you need for a home from home experience and I highly recommend it. Daniéle's communications and availability are excellent.
James
2017-02-03T00:00:00Z
Excellent accueil, très chaleureux. Logement très agréable, très calme (comme toute la ville d'ailleurs !) et à deux pas de la zone piétonne. Vignette de stationnement mise à disposition, et c'est un plus indéniable (sinon, ce serait très difficile !). Nous reviendrons !
Cham
2017-03-01T00:00:00Z
Logement idéalement situé dans Neuchatel, très fonctionnel. Danielle est une hôte charmante, disponible et de bon conseil. Notre séjour a été parfait!
Perrine
2016-05-04T00:00:00Z
Daniele was very welcoming and helpful. The apartment was very comfortable with cooking facilities, a nice bathroom and a great view of the lake. It was also very conveniently located to the station.
Bronwyn
2016-06-18T00:00:00Z
Calme confortable et très bien placé. Une excellente adresse et un accueil chaleureux. Un immanquable !
yves
2016-05-09T00:00:00Z
Danièle et Alain ont été très accueillants et leur appartement est une vraie petite perle au cœur de Neuchâtel. A recommander !
Christophe
2016-07-08T00:00:00Z
Great private apartment centrally located, well equipped and with great views
James
2017-02-09T00:00:00Z
Kamertype
Gehele woning/appartement
---
Type woning
Appartement
---
Geschikt voor
2
---
Slaapkamers
Neuchâtel, Neuchâtel, Zwitserland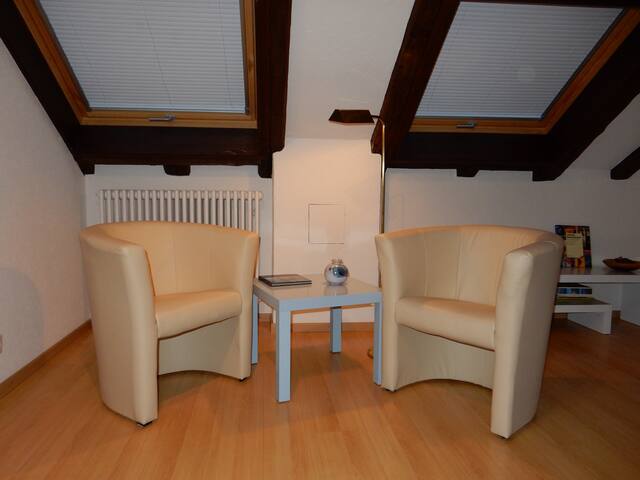 Bequeme Mansarde im Herzen von Neuchâtel
Ein in sich geschlossenes Mansarde in Fußgängerzone von Neuchâtel, 2 min. zu Fuß vom See, 5 min. mit dem Bus zum Bahnhof SBB. Die Mansarde Zimmer in der oberen Etage der Wohnung ist mit einem Doppelbett, einen Kleiderschrank und einen Schreibtisch. Im Vorraum finden Sie ein Einzelbett. Auf der gleichen Etage befindet sich das Badezimmer mit Dusche. Sie haben Zugriff auf die voll ausgestattete Küche, Wohnzimmer mit Kamin und die schönen Terrasse mit herrlichem Blick auf das Schloss und die Collegiale. W-lan Der Zugang zu Waschmaschine und Trockner im Keller
Kamertype
Privé Kamer
---
Type woning
Appartement
---
Geschikt voor
2
---
Slaapkamers
Neuchâtel, Neuchâtel, Zwitserland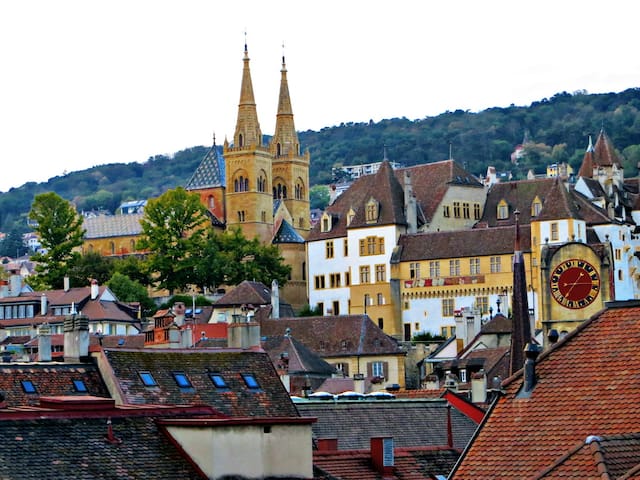 Ruhig, Wohnung mit Blick auf den See und die Alpen. Bushaltestelle 2 Schritten. Stadtzentrum in 10 Minuten mit dem Bus. Parkplatz vor dem Gebäude. Supermarkt in der Nähe. Genießen Sie die Königin und sehr attraktiven Preis. Sie haben das Recht, alle Einrichtungen der Wohnung zu verwenden. perfekte Unterkunft für Paare und Alleinreisende. Wir freuen uns auf Sie zu treffen.
Kamertype
Privé Kamer
---
Type woning
Appartement
---
Geschikt voor
2
---
Slaapkamers
Neuchâtel, Neuchâtel, Zwitserland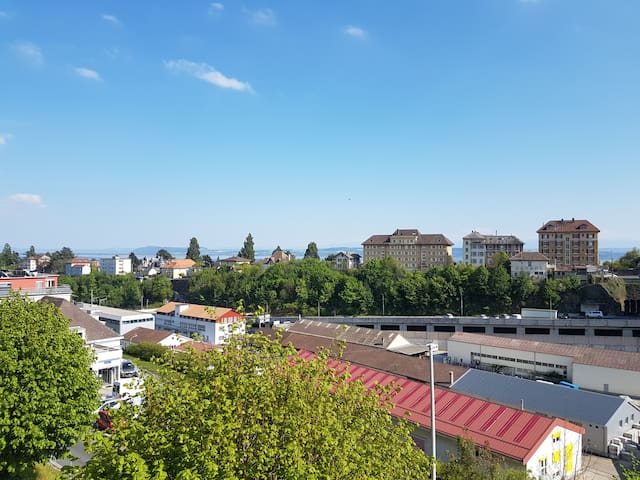 Der Raum ist eine große Wohnung mit zwei Schlafzimmern, die 4 Erwachsene bequem passen würden. Es verfügt über zwei große Betten (eines davon ist ein ausziehbares Sofa) sowie zwei große Sofas. Es gibt viel Licht in die Wohnung, sehr warm im Winter und kühl im Sommer eintritt. Es liegt an der Hauptstraße von der Innenstadt von Neuchatel entfernt. Fuß vom Bahnhof (7 min), Bushaltestellen (1 min), Parken (1 min), Supermärkte (1 min). Bitte lassen Sie mich wissen, wenn Sie nur ein Zimmer mieten möchten.
Es ist eine gemütliche Wohnung direkt im Zentrum der Stadt, so ist es sehr einfach zu Fuß herum zu erhalten. Es fühlt sich auch sehr gemütlich und sicher. Es hat eine große Küche mit allen Utensilien und ein großes Bad mit Dusche und Badewanne. Es ist meine Heimat und ich habe versucht, es wirklich bequem zu machen, damit ich hoffe, dass Sie es mögen!
Legen Sie in Neuchatel besuchen: 1. Château du Neuchâtel. Das alte Schloss (Burg), die auf einen kleinen Hügel in der Mitte der Stadt sitzt beherbergt das Parlament des Kantons Neuenburg, sowie eine alten mittelalterlichen Kathedrale. Das Schloss ist auch in der Mitte der Altstadt der Stadt, gelegen, die viele Jahrhunderte alten gelben Sandsteingebäuden und gepflasterten Gassen frei, das Innere der Kirche befindet sich nur durch Führung besichtigt werden, die auch frei ist. 2. Collégiale. Die Stiftskirche ist Teil der Burganlage. 3. Tour des Prisons. 8-18, geöffnet von Apr-Oktober Früher wurden Gefangene eingesperrt, heute Touristen und den See unten einen Blick auf die Stadt aufstehen und haben kann. 4 Église Rouge. Eine große rote katholische Kirche dominiert die Skyline von nordöstlichem Neuchâtel. 5 Le Jardin Botanique. Die Dauerausstellungen und die großen Räume für natürliche Umgebungen der Berge sind Jura reserviert für Besucher geöffnet um das Jahr. Temporäre wissenschaftliche und künstlerische Ausstellungen sind geöffnet von Mai bis Oktober. 6 Le Jardin des Senteurs. Über 2000 Kräuter können sowohl medizinische als auch praktisch in diesem Garten von 3000m2 zu sehen. Dazu gehört 350 Arten von Salbei, 100 Arten von Geranien, viele Minzen, Rosmarin, Thymian, süß Pflanzen und 60 verschiedene Feigenbäume. Es gibt auch einen Spielplatz für Kinder und ein kleines Kloster. 7 Le Casino. Die Casinos der Stadt ist in der Rotonde Bezirk. Es verfügt über 150 Spielautomaten, sechs Spieltischen, zwei Bars und ein Restaurant. 8 Le Gor de Vauseyon. Ein pädagogischer Park rund um die Ruinen aus dem 17. Jahrhundert Wassermühle zentriert. Dies ist auch der Ausgangspunkt für einen Wanderweg zu Valangin führt. 9 Le Funiculaire panoramique; La Coudre-Chaumont (3km nordöstlich vom Bahnhof). Eine Seilbahn bis zu Chaumont, 1160m über dem Meeresspiegel. Der Gradient ist steil, bis zu 46%. Auf der Oberseite befindet sich ein Aussichtsturm, von dem man drei großen Seen sehen, die Alpen und sogar Massiv des Mont Blanc.
The place is so fancy and are very comfortable. What a nice apartment!!
Sarah
2017-01-29T00:00:00Z
Second time around, Christmas season, some nights party goers are a bit noisy on the street. 2 closed rooms very convenient. Not much storage space though, dresser would be nice in master bedroom.
Alain
2017-01-06T00:00:00Z
Beautiful place! Everything was perfect! Thanks Yvy :)
Cléa
2016-08-25T00:00:00Z
superbe appartement, idéalement placé en plein centre, à quelques minutes du lac, très propre et fonctionnel. Je remercie Ivy pour sa gentillesse.
Sandra
2015-09-27T00:00:00Z
It is pleasant to stay in Yvy's house, for our short trip in Neuchatel. The house is bright, clean and very close to town centre. We felt like home during the stay. We checked in a bit early than the booked time to drop our luggage which I believe caused some inconvinience to the host but Yvy is very friendly we appreciated it a lot. Strong recommend Yvy's house. Sherry
Sherry
2016-05-30T00:00:00Z
The host canceled this reservation 59 days before arrival. This is an automated posting.
arthur
2016-10-13T00:00:00Z
Yvy was a great host! She kept up excellent communication before and during the stay. The apartment itself is spacious, clean, bright and stocked with necessary amenities. The location is fantastic as you can walk to all the shops, restaurants and the lake. I shared the apartment with Yvy for a couple of days too, and she was very easy-going and hospitable. I'd definitely stay here again!
Meghna
2016-06-27T00:00:00Z
Tolle Wohnung, direkt im Zentrum. Schnelle und unkomplizierte Kommunikation mit Yvy. Sehr sauber und nett eingerichtet. Seh gerne wieder.
Sabine
2015-10-03T00:00:00Z
Kamertype
Gehele woning/appartement
---
Type woning
Appartement
---
Geschikt voor
4
---
Slaapkamers
Neuchâtel, Neuchâtel, Zwitserland
Diese Wohnung befindet sich im Zentrum von Neuchâtel, 2 Minuten vom See ist geräumig, hell und voller Ausstrahlung. Das Schlafzimmer und Wohnzimmer kann unterschiedlich gestaltet werden, aber wenn es irgendwelche Ergänzungen sind Sie wünschen gemacht werden, man könnte genauso gut versuchen und fragen! :) PS - Es gibt einen Aufzug!
Kamertype
Gehele woning/appartement
---
Type woning
Appartement
---
Geschikt voor
2
---
Slaapkamers
Neuchâtel, Neuchâtel, Zwitserland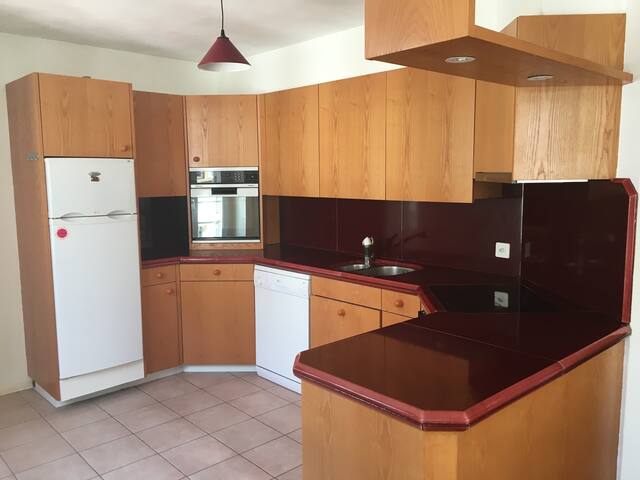 De sudio ligt in het centrum in de buurt van het treinstation, de universiteit, de ziekenhuizen en het meer. Je zal net als de studio om zijn comfortabele bed en de centrale ligging. Het is perfect voor koppels, singles en zakenreizigers. Ik zou graag willen dat reizigers gratis parkeerplaatsen zijn bijna onmogelijk te vinden in Neuchâtel op de hoogte.
Volledig ingericht voor 2 personen, het appartement is op de tweede verdieping noorden met uitzicht op le Palais du Peyrou en andere leuke en oude huizen. In toevoeging van het tweepersoonsbed, vindt u een bureau als je wilt werken en een relax fauteuil om te relaxen. Een prive-WIFI is geïnstalleerd. De badkamer is voorzien van een douche, een toilet en lavabo. De keuken is uitgerust met 2 kookplaten en een tafel voor twee personen. De straat is vrij rustig ondanks het feit dat het centrum. De studio is echt goed gelegen dicht bij winkels, bars, meer, scholen en restaurants.
De straat is vrij rustig ondanks het feit dat het centrum. De studio is echt goed gelegen dicht bij winkels, bars, meer, scholen en restaurants.
I always stay at this place (if available) when I come to Neuchatel, I highly recommend it.
Alfredo
2017-03-31T00:00:00Z
As always, it was great to stay at Christian's place. Perfect place for a business or leisure trip to Neuchâtel.
Alfredo
2017-02-16T00:00:00Z
Indépendance totale et bien situé en ville.
Fabio
2017-04-09T00:00:00Z
Very central appartement, conform to the photos, very comfortable bed and flat was clean. Only negative point is the insulation (noise of the street and the building)
Anne
2017-04-06T00:00:00Z
Christian's place is in a perfect location for any visit to Neuchâtel or the surrounding area, he was really helpful and friendly providing me with advice about the area and helping with all requests and questions I had. I highly recommend his place.
Alfredo
2017-01-13T00:00:00Z
Très bon emplacement et studio très confortable. Je recommande ce logement sans hésitations!! Christian un grand Merci!!
Yann
2017-01-25T00:00:00Z
Nous avons passé un très bon séjour chez Christian. L'appartement est formidablement situé près du Centre et du Lac, propreté du lieu impeccable.
Delphine
2016-12-18T00:00:00Z
I had the chance to stay again at this great place. Thanks Christian for being a great host! I will definitely come back whenever this place is available.
Alfredo
2017-03-03T00:00:00Z
Kamertype
Gehele woning/appartement
---
Type woning
Appartement
---
Geschikt voor
2
---
Slaapkamers
Neuchâtel, Neuchâtel, Zwitserland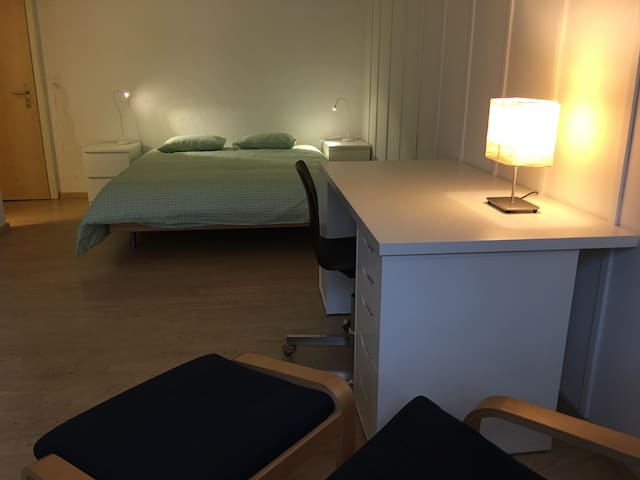 Two-room mansion located within 3 minutes walk from the station and 5 minutes walk from downtown. A parking space. Can accommodate up to three people. friendly street with colorful houses. Two restaurants in the street.
Ideal location, 3 minutes walk from the station and 5 minutes walk from downtown. An entrance hall, a twin bedroom, a living room with sofa bed, a fully equipped kitchen, bathroom with shower.
lively and friendly neighborhood with colorful houses
Great apartment and very kind owners.
Samo
2015-10-27T00:00:00Z
We had a fabulous stay, we were welcomed on arrival shown the apartment, really spacious and bonus of having a travel cot put up for our 19 month old. Apartment had everything we needed, will definitely look to stay again.
Ciara
2017-02-26T00:00:00Z
Excellent stay in a charming appt
Rui
2016-09-04T00:00:00Z
Nous avons eu un excellent séjour dans ce jolie apartment qui est dans un quartier près de tout dont on a besoin (la gare, centre-ville, etc.). C'est un BnB avec 8 chambres individuelles sur les premières et deuxièmes étages et un appartement sur le rez-de-chaussée. Le restaurant italien derrière l'appartement est très bon. J'ai suivi des leçons de français à l'école de langue quelques pas de l'appartement (Inlingua). Je voudrais y revenir un jour ! We had an excellent stay in this nice apartment that's close to everything you need (the train station, the town center, etc.). The building is a BnB with 8 individual rooms on the first and second floors and an apartment on the ground floor. The Italian restaurant behind the apartment is very good. During my stay, I took private French lessons at the language school (Inlingua) that is very close to the apartment. I'd like to stay here again some day!
Elizabeth
2017-01-24T00:00:00Z
They even provided a free public transportation ticket for the entire time of our visit! Great stay! :)
Andreas
2016-09-09T00:00:00Z
The host canceled this reservation 6 days before arrival. This is an automated posting.
Nathalie
2016-09-03T00:00:00Z
Françoise est une hôte très sympa. L'appartement est spacieux, bien agencé et très bien situé. A recommander vivement!
Istvan
2015-08-23T00:00:00Z
Fred was terrific, helped us with TV and things we were unsure of. We were unaware property was up top of a hill but proximity to the railway station a definite plus. Walk into town only 10 minutes and we discovered the bus system so the walk back was no problem, we used public transport. Apartment was well appointed, clean and airy with a great Italian restaurant behind. We loved our time in it and Neuchatel.
Graeme
2016-10-23T00:00:00Z
Kamertype
Gehele woning/appartement
---
Type woning
Appartement
---
Geschikt voor
4
---
Slaapkamers
Neuchatel, Kanton Neuchâtel, Zwitserland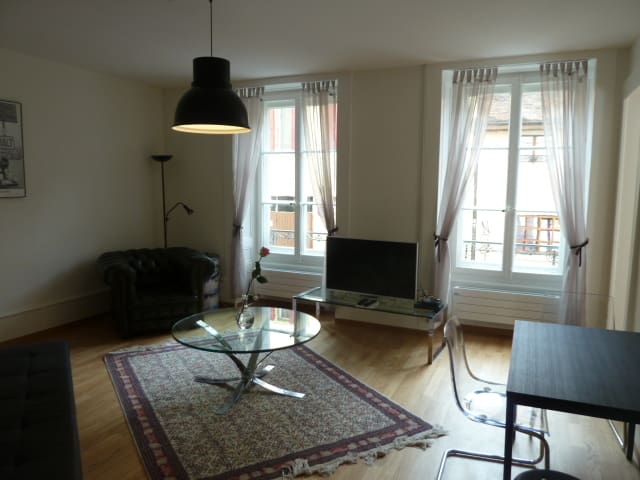 Kamer student, met douche en bad en 4 toiletten! C is 7e verdieping van het grote Plúa Toure van Neuchatel (Cadolles) wat de c is een woonplaats van student! Ps: slechts één bed! Voor een maand 570chf
The host canceled this reservation 11 days before arrival. This is an automated posting.
Miranda
2017-02-05T00:00:00Z
Kamertype
Privé Kamer
---
Type woning
Appartement
---
Geschikt voor
1
---
Slaapkamers
Neuchâtel, Neuchâtel, Zwitserland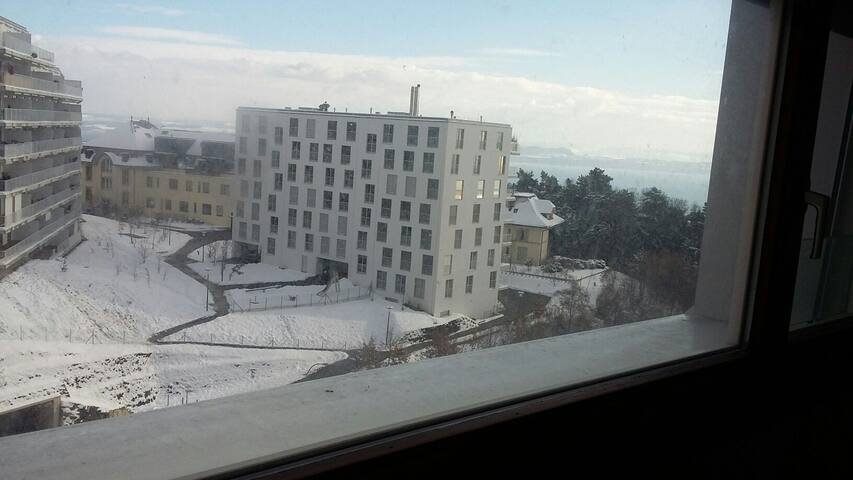 1

–

18

van

240 Accommodaties
Voer datums in om de volledige tariefopbouw te zien. Er kunnen extra kosten zijn en er kunnen belastingen worden toegevoegd.