Breakfast for 2 included. Queen bed, good for couples or single traveler. This is an 1950's style cottage built when things were much smaller. Shared bath if other room is booked. 2 minutes from US45. 25 minutes to Saraland . 35 minutes to Mobile.
Queen bed, fresh crisp linens. Towels and washcloths provided. There is a dresser and small closet. Bathroom is located outside your room. Private unless other room is booked. Coffee maker, TV and internet. Iron and board available upon request. Gourmet Breakfast for 2 included. Please indicate in your request for this highly rated meal. All dietary needs are observed. Mattress covers are allergen, mite and bedbug protectors. Pillows are double covered for your peace of mind. High quality sheets for a great nights sleep. Temperature is controlled by you. Going on a cruise, we can store your vehicle for you. I'd be more than happy to deliver you to the boat, and pick you up again for a 20.00 fee. Active or retired military ask before you book about your discount. Active Missionary on traveling furlough? Ask about your discount. This home was a derelict home just a few short years ago. We are constantly updated as time and money allows. Currently it is peaceful, and pleasant with normal older home flaws. We do not pretend it is perfect. We love ❤️ our home enough to share with you. We think you will find it charming as many others before you have.
There is a 2 mile walking trail, one block from our house. Citronelle has several old Victorian homes, built when the town was a "spa town" There is an old train depot that can be explored on weekends. A local golf course is 15 minutes away. Small diners and fast food is one the menu, small bars are here, I'm not sure of their quality. We do have a VFW, which serves specials each night. For fancier fare you will need to continue into Mobile. While there you may want to see our famous battleship. Or go on down to the beaches. Around here we don't talk in miles but in amount of time it takes to get from a to b. We like our tea sweet, our family close, and strangers are never that for long.
Ann and her family were lovely hosts. They generously invited us to have dinner with them and we had a great time. The bedroom was cosy and comfy and the breakfast was delicious. Ann was very friendly and flexible regarding pur arrival time.
Camille
2016-09-24T00:00:00Z
Great place at a great price
Alan
2017-01-15T00:00:00Z
Ann was very accommodating even as we had to book last minute. She made us feel right at home the second we pulled in. She also had many great suggestions for the rest of our trip. Everything was clean and as pictured. The breakfast was delicious as well!
Ryan
2016-10-15T00:00:00Z
Super lovely host, welcoming and open... Super flexible towards our travel plans Makes super nice breakfast (best breakfast ever) Second stay felt like coming home Would have given 6 or more stars Would definitely recommend this place
Marie
2016-08-26T00:00:00Z
What a great couple to visit with! So relaxing. We left with lots more to discuss. We recommend this to anyone traveling through.
Karen
2016-12-02T00:00:00Z
Ann and her husband Tim were incredible hosts. They were a great first stop on my move west and were very accommodating with my moving truck needs. Some places just feel like home when you walk inside and this was no exception. The place is cozy and clean and well stocked with anything you would need for travel. The bed was so comfortable that I slept better than I have in months. 5/5 definitely stay here.
Mark
2016-12-06T00:00:00Z
Ann was the most warm, funny, hospitable and welcoming hostess we've met on airbnb! My husband and I were extremely well taken care of during our one night stay - chocolates and moonpie that were waiting for us in the room when we arrived, comfortable bed, and a delicious hearty breakfast in the morning. We especially enjoyed playing with Gretchen and her puppies, and the interesting conversations with Ann and Tim. Ann has a real passion for hosting and we feel so grateful to have experienced her hospitality. If you are ever in the area, please do yourself a favor and book a stay with Ann. You will not regret it!
Pearl
2016-12-30T00:00:00Z
Ann, Tim and their beautiful family were warm and lovely hosts! Their home is comfortable, beautiful appointed and exceed my expectations in all ways! Just outside of Mobile AL, Ann's beautiful room is private, comfortable and beautifully decorated for a pleasant stay. They were kind to allow me bring my Pekingese who enjoyed walking in their fenced yard, seeing the chickens in pens in the back yard. I highly recommend this great accommodation for one or two who are seeking a peaceful and comfortable space. Ann's gourmet breakfast is fabulous and so impressive! She was also flexible as to what time was best for me. They really thought of everything to make their rental the perfect space and at such a great value! Thank you Ann and your precious family for the hospitality. Kindest regards, Anne
Anne
2016-11-13T00:00:00Z
Kamertype
Privé Kamer
---
Type woning
---
Geschikt voor
2
---
Slaapkamers
Citronelle, Alabama 36522, Verenigde Staten
Quiet and serene. Breakfast for 2 . King size bed room with crisp sheets. Great for couple or singles. Prefer a smaller bed? check out Queen Bed Southern Cottage
Cozy room with King Bed, climate controled by you. Bathroom is right outside your room (shared by the other room if booked at the time.) There is a double dresser, TV (outside antenna) coffee and tea supplies, ice bucket. Gourmet Breakfast. All dietary needs are observed. Mattress covers are allergen, mite and bedbug protectors. Pillows are double covered for your peace of mind. High quality sheets for a great nights sleep. Fluffy towels for your use.
The town Is dotted with old growth oak trees. With Spanish moss hanging down. We love that it is classic small southern town. If the humidity and bugs are in check it's a great place to hang out in the evenings and watch the chickens, wave at the occasional passerby. Our tea is sweet, and folks are friendly to guests provided you are too. Save time to check out all,the lovely older southern homes. Many of our guests seem to be coming from or going to New Orleans. We also get equal amounts of east to west or vice versa. Whatever your reason for needing a good nights rest, just know we love to spoil our guests. Bicyclers, runners or health walkers will enjoy the towns lighted trail located 1 block from our home. 2 minutes from US45, 25 minutes to Saraland, 35 minutes to Mobile (depends on traffic flow).
Ann is a wonderful host, she is a a very welcoming person and me and my boyfriend felt almost like we were part of the family for one night ! We had a amazing breakfast in the morning, Ann is a very good cooker ! So if you want a peaceful and warm stay in a very nice and kind family, I would definitely recommend this house !
Emilienne
2016-09-16T00:00:00Z
We loved our stay with Ann and Tim! We felt like part of the family and enjoyed the comfy quiet room as well as eating breakfast with them in the morning. They were very sweet to our kids and went above and beyond to make our stay comfortable.
Amy
2017-01-10T00:00:00Z
Ann is very friendly and warmly welcomed us when we arrived. The room is very nice and clean, and she provided us with water and coffee machine in the room. The next morning she made a breakfast for us before we hit on the road. Will definitely recommend to anyone!
Xiao
2016-07-31T00:00:00Z
Ann and Tim graciously open their home and lives to share with others. Their home is as described and is peaceful, warm, inviting. You will feel like you are part of their family. Had a wonderful breakfast before we left. One of the best Airbnb stays we've had!
tara
2016-08-03T00:00:00Z
This has been a wonderful experience staying in their home. They welcomed me with open arms and we're very helpful in the time that I stayed. Would definitely stay there every time I come into town. Would recommend to anyone. Very loving family
Joel
2016-10-14T00:00:00Z
Wow, this host knows about hospitality! Yuuuuuuuummy breakfast, uuuuuber soft sheets, and lots of wonderful, thoughtful touches! The bed was comfortable, the shower was hot, and the location incredibly peaceful - I felt incredibly grateful to have found her!
Victoria
2017-01-11T00:00:00Z
Ann's big heart and love for hospitality made for an enjoyable stay. I was welcomed with open arms and immediately felt comfortable. Ann really cares about her guests comfort and well-being, and it shows in her greeting, communication, and the Air BnB space. I recommend this Air BnB for anyone passing through or staying in the area.
Allison
2017-01-29T00:00:00Z
Kamertype
Privé Kamer
---
Type woning
---
Geschikt voor
2
---
Slaapkamers
Citronelle, Alabama 36522, Verenigde Staten
My nice and cute home with king size beds is proudly welcoming her guests.
Kamertype
Gehele woning/appartement
---
Type woning
---
Geschikt voor
6
---
Slaapkamers
Vinegar Bend, Alabama 36584, Verenigde Staten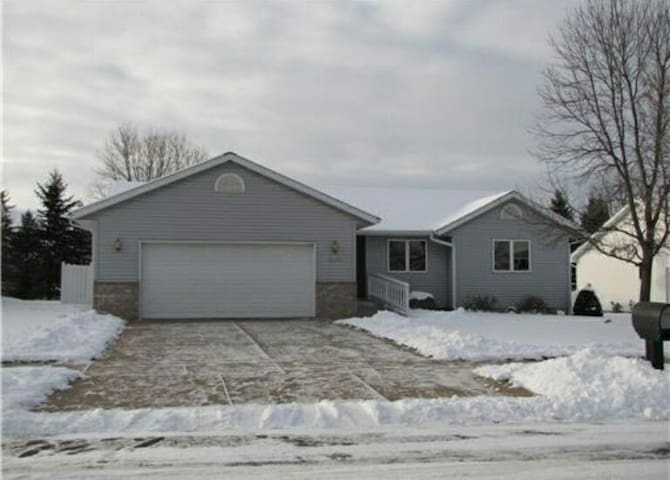 When you need or want more than one room, use this selection. Everything is the same as the other selections. This just gives the opportunity of more space for your booking party. Please start with your final count, even if it is a child. Thanks for your understanding. Any extras over four except for perhaps a small child to be shared in the King room would be on our couches.. VERY OPEN space. This is a comfortable space for 4, 6 taxes the system. All share one bathroom.
Small town charm, quiet and peaceful. Close enough for day trips to the beach or golf. Walking trail one block away. Most of all we love hosting. Mattress covers are allergen, mite and bedbug protectors. Pillows are double covered for your peace of mind. High quality sheets for a great nights sleep. Temperature is controlled by you.
We love the small town feel. We love that if you are willing you can get to know many great families here. We are patriotic, loyal, genteel town, that is until football season starts, and then you won't see a soul, everyone is either at the game or watching the game. In general this is a safe quiet neighborhood. Your Vehicle will be on our property. If you are looking for nightlife, I would suggest you look to Mobile for more activities. We drive there often, but if you are used to the convenience of a big city, it will seem too far for you.
Ann was a pleasant host. The house was as described and the hospitality was perfect. We received home made breakfast which was absolutely delecius.
Peter
2016-11-03T00:00:00Z
Kamertype
Privé Kamer
---
Type woning
---
Geschikt voor
6
---
Slaapkamers
Citronelle, Alabama 36522, Verenigde Staten
Apartment in my home in the country surrounded by farm land and timber land. This is South Monroe County. It is about 17 miles N. of the Creek Indian Casino. Towns around are Atmore and Monroeville. Close to Claude Kelly State Park. under 12 free. There is one queen size bed in a private room. The couch is not full size but would be good for a small person. One twin air mattress. PLEASE READ...this is an apartment and not bed and breakfast. Bring your eats Walmart and other stores 17 mi. away.
It is my home located in a farming area.
Ronald's place is absolutely adorable! It was the perfect weekend getaway. If you like peaceful mornings and resort quality stay please book with Ron. He is very hospitable, I'm already making plans to visit again. The jacuzzi is to die for!! We bbq'd and everything! ! I can't wait to visit again! The decor was very cute, a lot of thought and planning went into the simple country home.
Catherine
2016-03-14T00:00:00Z
This is our second time that we stayed at Ronald's in Frisco City area and once again our stay was great. We had a hot water issue when we arrived Friday evening, but I sent Tonald a text and he responded immediately and within ten minutes we had hot water. No other problems the rest of our stay
Bob
2015-11-03T00:00:00Z
The listing was 100% accurate. Ronald was there to greet us when we arrived and was around to answer questions when we needed him. The apartment was clean, roomy and stocked with everything you could need. The pool and hot tub were also clean. He takes great care of his property.
Jason
2015-09-09T00:00:00Z
This was the perfect little getaway for my family. Ron was very accommodating and made this Mother's Day trip a success. Ron greeted us as soon as we drove up and showed us around the area. There were several little things available in the apartment (detergents, paper towels) that you tend to forget on trips. Ron answered any questions we had and even gave us tips to make the most of the trip. The apartment was emmaculate and I would definitely visit this little retreat again! The pictures do not do this place justice...
Tiffany
2016-05-12T00:00:00Z
Very cozy and scenic setting with a pool. A beautiful country side get away - makes for a quite weekend. Very helpful and welcoming host. Only thing to watch out is take a look at the map to locate the address. (SENSITIVE CONTENTS HIDDEN) maps and TomTom GPS were not very helpful and we had to call the host to locate the place
Venkat
2016-07-28T00:00:00Z
This place is great! I have stayed here multiple times with the work I do, it is always relaxing, peaceful and clean. Ron is a wonderful host, he has thought of everything, love the washer and dryer! I give it two thumbs up! A GEM!!!
Tamara
2016-07-15T00:00:00Z
We stayed over for one night. We really liked the house and had a wonderful rest. The pictures do not do the house justice! Ronald was very friendly and provided us with a big and clean place to stay at. He even left us some delicious cherry tomatoes from his garden. The place was easy to get to and is very quiet and idyllic. Surrounding the house are farms and small towns. Overall, we got some nice and quiet rest while on our way to another destination. This place was perfect for that.
Andriy
2015-07-09T00:00:00Z
Perfect experience from beginning to end. Great fast communication with Ronald. We stayed several days and enjoyed cooking out on the grill, relaxing in the hot tub and even swimming in the pool. This place is out in the country and let me just say the stars at night were big and bright! We were traveling lightly so it was nice to have the washer/dryer available. Full kitchen with most everything you would need to prepare meals. Highly recommend this charming place in the country. :-)
Michael
2016-04-18T00:00:00Z
Kamertype
Gehele woning/appartement
---
Type woning
---
Geschikt voor
4
---
Slaapkamers
Atmore, Alabama 36502, Verenigde Staten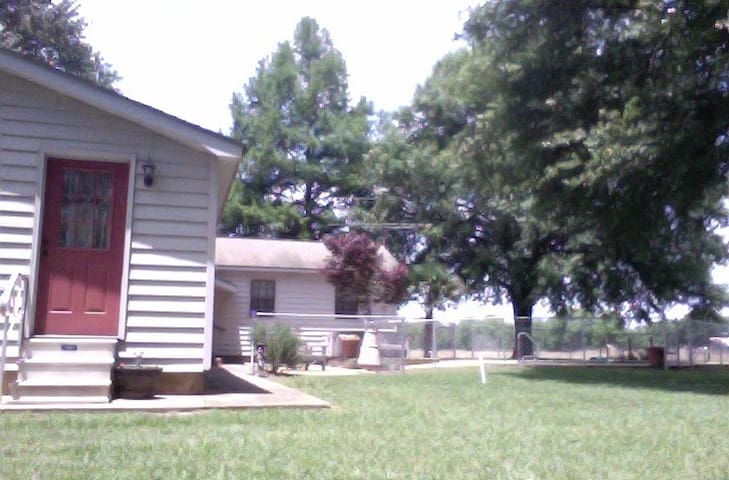 My place is close to all of the local restaurants. Just a 10 minute drive will place you in the heart of Downtown Monroeville and all of the city's rich history. You'll feel right at home in this Alabama abode. With brand new appliances and furniture, all that is missing are some happy travelers. My place is good for couples, solo adventurers, business travelers, and families (with or without kids).
Kamertype
Gehele woning/appartement
---
Type woning
---
Geschikt voor
4
---
Slaapkamers
Monroeville, Alabama 36460, Verenigde Staten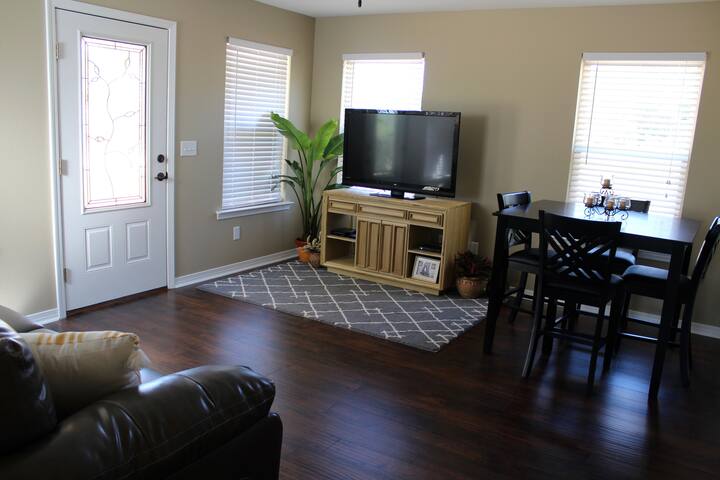 Private master suite. Spacious room with plush queen size bed. Extremely comfy. Room has Dohm machine (white noise) for more restful night. Master bath has large 4' shower, separate toilet area and large vanity for your use. We enjoy having people from all over!
Master suite with private bed and bath. Separate entrance, if desired. Check in @ 3pm. Check out @ 11 a.m.
Semi rural, residential subdivision. Quiet . Very nice area.
We stayed only one night at Michelles home, and we did arrive pretty late at the evening, but it wasn´t a problem for her, wich was great! The bed is very comfy!!! We really enjoyed talking to her in the morning, she gave us some really great informations about the area, the culture.....We would love to stay again with her! we can highly recommend to stay there!
Tabea
2015-08-19T00:00:00Z
Michelle was the sweetest host...the room was just as described, in a great location, close to the interstate but UNVELIEVABLY quiet! I had an amazing night's sleep and felt safe and welcomed. I highly recommend staying with Michelle if you're ever in the Mobile area!
Megan
2016-01-23T00:00:00Z
Michelle was super nice and my husband and I were very satisfied about she, her house and her kindness ! She also prepared a good breakfast for us ... so, if you need or want stop in Alabama, don't hesitate to stop by Michelle :-)
Sara
2015-09-15T00:00:00Z
Michelle was so nice and we had great conversations. The bed was comfy, the neighborhood was great. I wish you and your daughter all the best!
Christianna
2015-07-31T00:00:00Z
I loved it a lot. The family was very welcoming and made me feel comfortable immediately. Also the kitty is quite funny and enjoyable!
Kiami
2015-07-25T00:00:00Z
This visit at Michelle's home was our second time to stay at her home. The accommodations were just as excellent as our first experience. My husband and I highly recommend Michelle as a host and the location is excellent for touring Mobile.
Charlotte
2015-07-29T00:00:00Z
Michele was a wonderful hostess who went way beyond the expected to make us feel welcome. The room was very spacious with a huge ensuite bathroom and we even went back the next day and enjoyed lunch and conversation with her. Highly recommended! It doesn't get any better for an airbnb experience!
Deborah
2015-11-07T00:00:00Z
Michelle was very friendly and accommodating and gave us a simple breakfast which was very kind. The house would not be a good fit if you have a cat allergy. Convenient and the price is right.
Becky
2015-07-13T00:00:00Z
Kamertype
Privé Kamer
---
Type woning
---
Geschikt voor
2
---
Slaapkamers
Axis, Alabama 36505, Verenigde Staten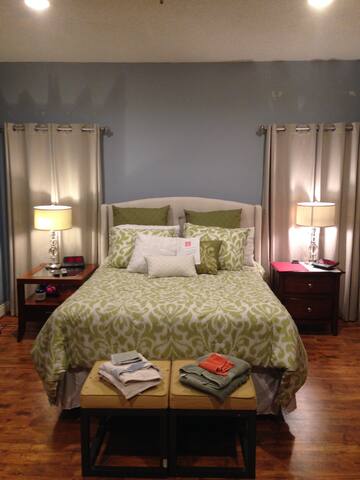 One bedroom with an small kitchen and dining. You have your own private bath area. It is the same location as the other apartment with the same outdoor photo's. Close to the Creek Indian Casino, 2 parks, Monroeville's To Kill a Mocking Bird, kids under 12 years old are free. There is one queen air bed.
The apartment was remodeled in the last months of 2015. There are a lot of new things including the the bathroom. One large room and one small bathroom. PLEASE READ...this is an studio apartment and not bed and breakfast. Bring your eats Walmart and other stores are 17 miles away.
This is a farming area. Please see my other listing. I do not wish to copy and paste here.
Ronald had a perfect place for us to stay. He was a great host and all went really good. He has done some amazing work and wood work to the place. Very talented man!
Gail
2016-08-08T00:00:00Z
This is a really wonderful little gem of a place out in the country. Ronald has obviously put a lot of heart and soul into fixing this one room apartment up with built in cabinetry, a comfortable bed, nice decorations and all the things you need for a short or long stay. We were super comfortable and enjoyed talking with our host. Highly recommend this place as a great alternatives to a hotel room that would cost almost twice as much and not be nearly as nice. It's located less than 20 minutes from the hotels in Atmore at the Interstate exit.
Brian
2016-05-08T00:00:00Z
Ronald's AirBNB was fantastic! A perfect getaway for an individual or family for a day or a week if you want peace and quiet. Oh, and cows.
Alexander
2016-06-27T00:00:00Z
We had a lovely stay at Ronald's apartment! It was clean, very spacious and had all the appliances we needed including a washing machine and dryer. Ronald is very nice and helpful, he made us feel very welcome. The house is in a very remote, peaceful area which makes it a great getaway, but make sure your satnav takes you down the correct route! Ours tried to take us through a lot of dirt tracks. Overall, perfect!
Em
2016-06-29T00:00:00Z
This place is just great! The apartment is very organized and clean. We felt welcomed by Ronald and the place was easy to find. We loved how quiet and peaceful this location was. Overall an excellent stay!
Phil
2016-05-25T00:00:00Z
We had a really pleasant stay, even if it was only overnight. The apartment was very clean and comfortable. Ronald was a really gracious host as well.
Ginny
2016-04-25T00:00:00Z
Roland's place is very kind, lovely and got everything we need. A great place for a country view and even for long term stay.
Miki
2016-05-30T00:00:00Z
Great cottage in the country!
Eric
2016-12-25T00:00:00Z
Kamertype
Gehele woning/appartement
---
Type woning
---
Geschikt voor
2
---
Slaapkamers
Atmore, Alabama 36502, Verenigde Staten
1

–

8

van

8 Accommodaties
Voer datums in om de volledige tariefopbouw te zien. Er kunnen extra kosten zijn en er kunnen belastingen worden toegevoegd.