We have the best of both worlds. Our home is location down a long country road in Willamette Valley, yet we are only 4 or 5 miles to town. There you can have a great dinner, shop for groceries, take a trip to a winery or see a see a movie.
Spring and Summer is a great time to experience the wonderful State of Oregon. Come and enjoy beautiful wine country. When you day of site seeing, shopping, wine tasting, etc. is done, come back to relax with breath taking views of the Willamette River. Our home is about 3-4 miles from the city of Newberg. We love living in the country where you can sit on our deck, drinking your morning coffee or evening wine, while you watch the water activities as the boats drive by. Ready for a quiet walk? Our mile long road is just what your need, where you will only hear a tractor or occasional horse whinny. During the summer one of our favorite treats living here, is waking up to the hot air balloons that pass right by our house. They drift down the river thru this amazing countryside every weekend, and go where the wind carries them. The apartment is located above our garage with a private entrance. There is a queen size bed, bathroom, and complete kitchen. There is also a futon for an extra friend, or child. The refrigerator is always stocked with bottled water, and most condiments. We also have coffee and tea available. We just got new chicks ( in May ) so fresh eggs will be available again, in September. We want you to feel comfortable and welcome at our home. There is a deck off the apartment that leads into our backyard. There you will find our family deck which also overlooks the river, the BBQ, and gardens. During the summer you can choose from a variety of berries and fresh vegetables to pick and enjoy. We also have a washer and dryer available to you located in the garage. We enjoy meeting and getting to know our guests, and stories about their homes and travels. Since the apartment is not located inside our house, there is quite a bit of privacy. Should you need anything, we are always available in the house, or by phone. Of course, our dog, Sadie is always here to Welcome You! She's a barker, but big baby too. Newberg is a small town with a small town feel. Book stores, antique, bakery, and coffee shops line the streets of old town. There are also many attractions available near us. The Vista Hot Air Balloons, Evergreen Air Museum & Waterpark, Spirit Mountain Casino, Woodburn Outlet Mall are all within 30-40 miles. Of course the Oregon coast is just a little further, and an easy day trip from here. Above all, wine tasting is the most popular... and Yamhill country proudly represents the largest amount of wineries and vineyards in Oregon. There are over 80 wineries to visit and 200 vineyards! Please check out this awesome website: (website hidden) If you are visiting for a special occasion, please let us know. It could be your birthday, anniversary, retirement, or just celebrating No Kids Weekend! We would love to have a romantic room ready for you with wine and roses! Just email us for detail and additional cost.
Tracy and Jack made us feel welcome from the moment that we arrived. Everything about the listing was accurate and they were gracious and helpful hosts.
Kristen
2016-03-02T00:00:00Z
Tracy was very responsive with any questions (we really didn't have many, the set up was easy and effortless). We were in Newburg for a family wedding, so we really didn't spend much time there to get to know her or Jack, but the room was clean and comfortable, and the coffee was awesome! Lots of little extras like bottled water, etc. nice touches. The best parts were the lovely grounds and watching the balloons in the morning!
Joyce
2016-08-08T00:00:00Z
Beautiful Location! Lovely place! Tracy and Jack are very responsive.
Gail
2016-08-01T00:00:00Z
They were so accomadting with our hectic schedule. And the place was so peaceful and cozy!
Margo
2016-07-10T00:00:00Z
Great, private entry unit with kitchenette. There were 3 of us and it was just right. Beautiful location on the the river, surrounded by horse/ farm land. Just 10 minutes to Newburg. Check out their guest recommendations, that's how we narrowed down the wineries!
carolyn
2016-05-24T00:00:00Z
Tracy and Jack's place was a lovely and memorable experience. Perfect location for a wine country expedition or a romantic getaway, we loved the sunset over the river and they were great hosts.
Tamara and Michael
2016-07-12T00:00:00Z
Hi jack and Tracy! The Airbnb system is asking me to write another review for my second night so I'm plopping this in here too just so your review will show for me. I hope the first review I wrote for you is showing for you! Thanks again for being wonderful hosts and for providing a great place to stay!
Jess
2016-09-10T00:00:00Z
My husband and I traveled to Oregon for our wedding anniversary and Tracy and Jack's apartment was perfect! It's a small apartment just above their garage and is extremely comfortable and quiet. The location is a few miles outside Newberg, which made it very convenient for visiting the area's wineries during the day. The apartment has a kitchen with most basic pots, pans, dishes, silverware, etc. so we loved taking advantage of cooking our own food. However, the area has tons of great restaurants and we dined out as well. They are located on a beautiful property by the river, so you can walk down there and relax. Jack even offered that we could use the kayaks, but we regret we didn't have any extra time to enjoy them. Jack and Tracy are very responsive hosts and accommodated anything we needed. They clearly communicated during our check-in/check-out process and made everything very easy. We would definitely stay here again!
Kendra
2016-08-19T00:00:00Z
Kamertype
Gehele woning/appartement
---
Type woning
Appartement
---
Geschikt voor
3
---
Slaapkamers
Newberg, Oregon, Verenigde Staten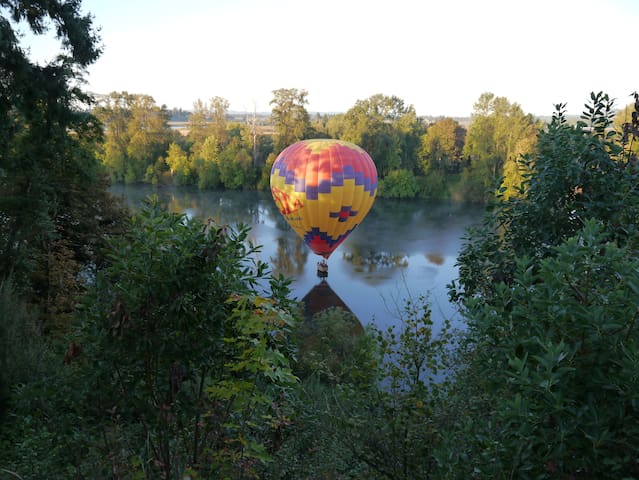 Steps away from world class tasting rooms & directly above local hotspot, Red Hills Market, our loft is located in the center of it all. Decorated with a blend of rustic wine country and industrial modern elements, our great room style studio, includes a living room area with a sleeper sofa. Measuring 600+ square feet, it is quite spacious and comfortable. Residing above Red Hills Market adds to the appeal & offers endless opportunities for fun... Bocce ball, wood fired pizza, wine & more!
This is one of two Market Lofts available above The Red Hills Market. This unit features a beautiful great room studio layout with a grand king sized bed and a living area with a sleeper sofa. Measuring over 600 square feet, this unit is perfectly sized for 2-4 people. Our cozy lofts come fully furnished and decorated with a blend of rustic wine country and industrial modern elements. They boast all of the same amenities you would expect in a high-end hotel and more... luxury bed linens and towels, modern kitchenettes and bars, private bathrooms, and complimentary internet. We have paid special attention to the comfort of the bed, offering a luxurious king sized feather bed and a glorious bed frame. The sofa bed is a full sized bed, perfect for two kiddos or one adult. Luxury bedding is supplied to make it extra comfortable. Our custom made kitchenette features a large eating bar, small fridge, microwave, sink and kuerig with complimentary coffee & tea. There is shared laundry room available for your convenience, right outside your door. Residing above the Red Hills Market adds to the appeal of The Lofts and offers endless opportunities for entertainment and fun. Grab a glass of local Pinot Noir and play some bocce on the full sized court out back. Pick up a Cup-of-Joe before heading out on your Willamette Valley adventures. Stay in and have some wood-fired pizza delivered to your room!
The Market Lofts are located in the center of Downtown Dundee. You can walk to numerous tasting rooms... Argyle, Fox Farm Vineyard, Panther Creek, Dobbes, Purple Hands, Lange & Co - just to name a few. And you are also steps away from great restaurants... Tina's, Dundee Bistro & Bubble Bar, Red Hill Provincial and more. Less than a mile away brings you into the Dundee Hills where you will be surrounded by vineyards and is easily one of the most beautiful places in the world. Dundee is also home to hiking trails and a paddle launch to the Willamette River.
Super location! Both rooms are spacious. The single has a larger kitchen, but the suite has an electric fireplace and Roku tv streaming for the Netflix addicts. Both rooms have a huge tiled shower. The Red Hills Market below has a delicious menu and is popular with the locals. Restaurants, corner store, and tastings rooms are short walks away. Take a bike ride tour of wineries with stunning views on Worden Hill Rd. TIP make sure you know the code for the main entrance door or ask the Market staff to let you in during business hours. Sometimes it's locked!
Marc A.
2016-11-10T00:00:00Z
Jennifer and Noel were perfect hosts with quick communication. We were given all the arrival information and access was seamless. The flat is beautiful, clean, and very accommodating. Added bonus for us was: •SUPER comfy bed with soft sheets and comforters. Slept like logs! •Keureg coffee maker with a selection of flavors (nice to have coffee early without having to leave to get it) •Board games and popcorn! •A coffee table which sort of doubles as a Stanley Cup look-a-like (Hockey fans here!) •clean, clean, CLEAN! •••The BEST added room bonus was the HEATED bathroom floor! Comes on from 6am-10am automatically! It was a chilly 48 degrees outside and that floor felt amazing!! After check in we enjoyed a bite to eat and wine/beer downstairs. Great food, super cute gift shop and large selection of bottled wine and artisan cheeses. I was really impressed! Walking distance to a few restaurants and wineries too!
Jane
2016-11-22T00:00:00Z
What a great space. The decor fits the space perfectly and the bed is extremely comfortable. We stayed here just a week after it opened and did have an issue with the air not working when we arrived, but thankfully they were able to fix and supplement with a fan while we were waiting for it to cool down. By morning everything was running smoothly. There is a washer and dryer you have access to which was nice as we had been bouncing around Oregon for a week so did end up doing a small load while we were there. The kitchen space is great and there was plenty of room for preparing snacks. The heated floors in the bathroom were also a nice feature and the bathroom was equipped with a hairdryer. The location is fantastic and a major plus being above Red Hills market. I would definitely stay here again.
Dee
2016-11-09T00:00:00Z
Jennifer and Noel communicated with me well. Checking in and out were easy. The bedding and towels were good quality, very comfortable. The location was close to many wineries. The best thing about the place is the Red Hill Market downstairs and the bistro and their bar across the street. It was perfect for us to have someplaces to eat and drink in walking distance after all day of driving. Though you hear music downstairs from 7am to 8 pm. If you are early riser like us it is fine. Overall my husband and I had very comfortable stay.
Kaori
2016-11-03T00:00:00Z
The loft is very elegant. The windows need blackout curtains as there are street lights. The traffic on the main street (a half block away) is like Los Angeles. Bring your shampoo, conditioner and bar soap.
Mark
2016-11-05T00:00:00Z
We loved staying at the Market Lofts in Dundee! Our hosts were super responsive, very friendly, and helpful in choosing wineries to visit. The loft itself couldn't be more fresh, clean, new, and stylish...absolutely gorgeous. The bedding alone was worth the nightly rate ;). We enjoyed it and wish we could have stayed longer.
Gina
2016-11-07T00:00:00Z
Our stay in Dundee could not have been better. Hands down the best Airbnb we have ever stayed in. This loft is unbelievable. Very comfortable and relaxing. Everything is brand new, from the 5 star hotel-quality king sized bed to the large shower, and everything in between. The market downstairs has amazing food, coffee, and an outstanding local and imported wine selection, with staff ready to make recommendations. Get the breakfast sandwich and coffee to start your day before going to the vineyards. The sisters who own and manage the loft provided detailed winery and restaurant recommendations to perfect our anniversary weekend. We can't wait to come back!
Gregg
2016-11-13T00:00:00Z
This place is perfect! My wife and I came down from Seattle for the weekend to taste the local wines, and this loft above Red Hills Market was just the ideal base for us. The location could not be better, the room is beautiful, and the market below is super convenient. The location: You are smack in the middle of wine country. There must be at least 15 gorgeous tasting rooms within 10 minutes of Red Hills Market, probably more. Want to break for lunch? Pop back to the market, the food is excellent, and freshen up in your room upstairs before heading back out to the wineries. The room: Brand new, huge, bright, and very comfortable. Great bed, great bedding, the bathroom has heated floors and a walk-in shower, I mean, we could not have been happier with the room. The market: Staying above the market is a huge asset. Want coffee in the morning? Not a fan of the Keurig in the room? Pop down stairs for a fantastic americano. While you're at it, grab something from the pastry case - the chocolate croissants are amazing. Want a more substantial breakfast? We had the pancakes and the breakfast bowl, both were top notch. Want to pack a lunch to eat at one of the local wineries? They have really tasty baguette, charcuterie, and a lovely selection of cheese. Stay here, it's amazing.
New
2016-10-23T00:00:00Z
Kamertype
Gehele woning/appartement
---
Type woning
Appartement
---
Geschikt voor
4
---
Slaapkamers
Dundee, Oregon, Verenigde Staten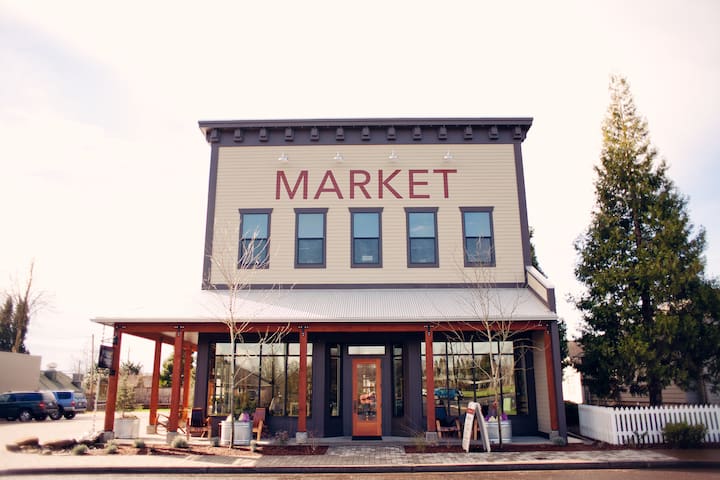 Saint Paul - Airbnb
:
Gemiddeld

5

van

5

sterren op basis van

115

gastrecensies
1

–

2

van

2 Appartementen te huur
Voer datums in om de volledige tariefopbouw te zien. Er kunnen extra kosten zijn en er kunnen belastingen worden toegevoegd.