207 Appartementen te huur
My place is close to great views Kehelgamu Oya Seven Virgin Mountain Adam's Peak. You'll love my place because of the views and the location. My place is good for couples, solo adventurers, families (with kids), and big groups.
Kamertype
Privé Kamer
---
Type woning
Appartement
---
Geschikt voor
2
---
Slaapkamers
LK, Sri Lanka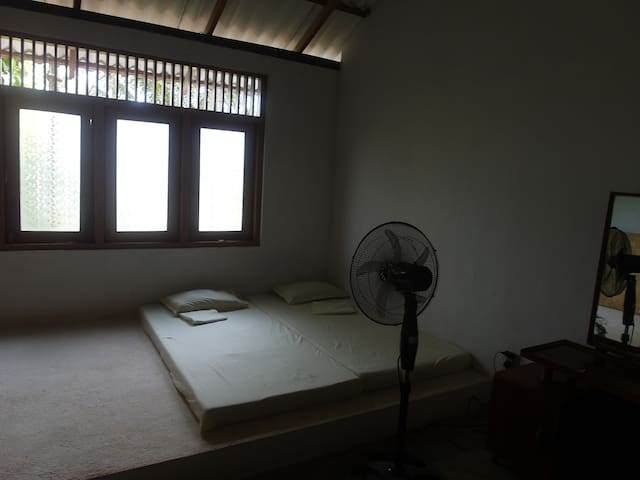 Green View penzion se nachází právě na výchozí bod v Adamově vrcholu. Tento penzion má krásný výhled a poskytují chutné jídlo. Majitel penzionu je opravdu užitečné a poskytují vynikající služby
Perfect launching point to hike Adam's peak. I wouldn't stay any longer than 1 night as there's really no amenities - just a place to sleep. Wifi is barely functional. But staff were very friendly and check-in was easy.
Allison
2016-12-01T00:00:00Z
Super endroit pour attaquer Adam's Peak le lendemain. La chambre est spacieuse et propre. la literie est super confortable. C'est juste à 10min à pied du début de l'ascension (pas d'hotels plus proches) Samantha et son mari sont adorables. ils nous ont même arrangé un tuk tuk pour le départ. Je vous conseille de manger dans leur restaurant en face qui sert de super bons petits plats. Pour venir il faut que vous vous arrêtiez à Hatton puis que vous preniez un tuk tuk (45min pour (PHONE NUMBER HIDDEN) rps). Le seul point négatif serait la wifi que l'on ne capte que sur le balcon.
Mél
2016-08-11T00:00:00Z
It's close to the start of Adams Peak ( maybe about 1 km). There is nice restaurants close by. BUT a lot of noise from across the street and from traffic (we tried to get some sleep before climbing Adams Peak but didn't. )
Line
2017-01-29T00:00:00Z
place is basic, clean and if you planning to hike adam's peak and leave next day it's more than enough. Also you can eat at the place opposite of the place
Nagib
2016-11-05T00:00:00Z
Планы изменились, так что забронировал, но не поехал, а отменять было поздно.
Никита
2016-09-29T00:00:00Z
The place is very good to climb adam's peak. It's clean and usual. There is a restaurant in front of the guest with good food. Not expensive. I recommanded
Laurent
2016-08-15T00:00:00Z
The place is good. Very lean & clean. Just fits the prupose Samantha is really helpful especially in directing us on how to reach the place & the local intelligence with respect to if the night trek is safe or not. Wifi signal is weak in the rooms but I am sure the same would be rectified immediately :)
Deepak
2016-08-19T00:00:00Z
Chambre à proximité du départ pour l'ascension du pic d'Adam. Vu qu'il faut se lever tôt on y dort presque pas . La rue est très bruyante (commerce,voiture,musique et personnes qui parlent) Samantha est très arrangeant, gentil,souriant et de bon conseil! Wifi sur place Merci
Rachel
2017-02-04T00:00:00Z
Kamertype
Privé Kamer
---
Type woning
Appartement
---
Geschikt voor
2
---
Slaapkamers
Nallathanniya, Central Province, Sri Lanka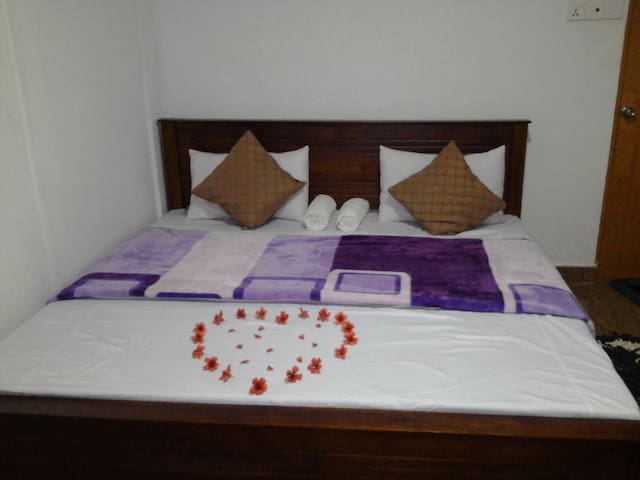 Wake up to a glories sunrise in Kandy. Our holiday home over looks the world heritage listed Knuckles and Hunsgiriya mountain range. We have two rooms with attached bathrooms, fully equipped kitchen, lounge area and a garden to relax!
Rent the whole apartment or a room for two and stay for as long you like. Apartment features- Mountain view room – King bed – Attached bathroom (single bed can be arranged for an extra guest upon request) Fully equipped kitchen - Consists of a gas cooker, fridge, kitchen utensils, cutlery and dishes. The Lounge consists of a vibrant and colourful space with seating area, dining table and is decorated with traditional Sri Lankan kitchen utensils and live plants. This space is for visitors to relax, enjoy the beautiful surroundings and feel refreshed by the Kandy breeze on the balcony! The garden in full of vibrant colors and plays host to an abundance of birds squirrels and occasionally a troop monkeys. Most herbs, fruit and vegetables are sourced from our garden i.e. Avocados, Rose Apple (Jammbu), King coconut, Gotu Kola, Curry leaves, Chillies, Carrots, Spinach and many more....
Friendly neighbourhood with plenty of smiles, easy access to most popular tourist sites. Taxis, buses, and hire vehicles are readily available.
Lovely room with own private balcony. Our hosts were very keen to help us out in any way and looked after us well. Thanks we enjoyed our stay in Kandy!
Alex
2017-01-06T00:00:00Z
Had a one night stay at this lovely apartment in Kandy and was very warmly welcome by Hesh's parents who are the main people that will take care of your needs during the stay. The furnishing and overall vibe of the apartment won over the hearts of my friends and I, easily being the cleanest and most 'homestay'-like of the airbnbs we had stayed at during our trip. This is mostly due to Hesh's Father who tirelessly interacted with us and provided much direction on what we could and should do in our short stay. Food can be catered for at an additional price and my friends have remarked that it was definitely one of the best meals throughout the trip. Breakfast is at 7USD while dinner is at 10USD. Definitely not the cheapest meal you can find but many would appreciate eating from the comfort of home, knowing how certain dining establishments in Sri Lanka have less than desirable hygiene standards. A problem we found is that we would have appreciated if Hesh had informed us about the prices of Horton Plain National Parks and the cost to get there. It was a 3hr ride (one-way) but absolutely beautiful. I suggest leaving earlier (maybe 5 or 6) so you can have an unadulterated view of World's End, rather than the blanket of white mist we caught as the car we rented could only leave at 7am due to 'last-minute booking' which is rather unfortunate as I had told Hesh about planning a trip there, asking for suitable times and prices. It is also notable that the airbnb has its own transport service where arrangements can be made to bring you to most places around. What my group found uncomfortable was that the pricing was extremely unclear according to the price list that was shown to us when we wanted to make a trip to Horton Plains. It is stated that the trip would take about 7000 to 8000 rupees onwards depending on the car used. The base vehicle for calculation is a tuktuk. Followed by a small car and so on. What was inconsistent then is that when we asked whether tuktuks could go up to Horton Plains, Hesh's Father said no. So what then did the (PHONE NUMBER HIDDEN) rupee refer to? Additionally, we were told that should the trip exceed 200km (or a one day trip perhaps meaning the car is rented for a day), it would be charged at 8000 rupees plus an additional 35/45 rupees per kilometre. I calculated that from the airbnb to Horton Plains, it would be approx. 110km which would be 220km both ways. Either which the cost would have been much less than the (PHONE NUMBER HIDDEN) that Hesh's Father quoted, starting at what was 12k before going to 14k and finally 13k. Perhaps there was some reason for the fluctuations and inconsistency with their price list. However, Sri Lanka being a country with a large tourist population and even a great number of tourist...
Hew
2017-03-26T00:00:00Z
The host canceled this reservation the day before arrival. This is an automated posting.
Xavier
2016-08-14T00:00:00Z
Hesh parents run the place when we were there. They will take care of you like you are one of their own children. Very generous, helpful and caring. The place is exactly as shown on the photos. I personally feel more relaxed in an independent atmosphere, so for me it was not the right match.
Renaud
2016-11-08T00:00:00Z
Hillside stay is a beautiful accomodation, with amazing views and the hosts are very chatty and helpful. They treat you as family when you get through the door and are very warm, friendly people. While we were there we experienced some noise issues from construction work going on at the time, also some issue with water and wifi, which was out of our hosts control, but they were very apologetic about it! Although the accomodation is a bit remote, we used their driver who was wonderful for getting us around, and our hosts helped us organize our trip to Adams Peak. There is no AC in the room, it is just a fan, which was a bit uncomfortable but not a major issue. We were offered loads of sri lankan foods and were immersed in to their culture and home life.
Eoin
2017-03-30T00:00:00Z
We had a great stay at Hillside Holiday Home...Uncle and auntie were super sweet and kind...They opened up their hearts, home and kitchen for us- a great boon since we were travelling with a toddler...Overall a nice stay! Thank you!
Shweta
2016-12-22T00:00:00Z
I dont have the words to express this beautiful place and people. if you want to rest your soul for a while it's just perfect. me and my girlfriend are not really into sightseeing but if you guys want to see and explore Kandy the parents of hesh offer some cool trips. enjoy your time there!!!
Semi
2017-03-09T00:00:00Z
Chandra and Lakshmi were very welcoming hosts. It was easy to find the place as we were provided with great directions by Hesh. The room and bathroom were very clean and picturesque. Kandy is a busy town so it was nice to have somewhere to retreat to. The bed was very comfortable. While during our short stay we didn't make much use of it they also have many meals and tours available at additional cost. The dinner we had was probably one of our best meals in Sri Lanka so far. But our only minor criticism would be that all these packages etc kind of make it feel a bit like a hotel insteaed of an airbnb which can ruin the vibe. Overall, we enjoysd our stay.
Fatima
2017-02-11T00:00:00Z
Kamertype
Privé Kamer
---
Type woning
Appartement
---
Geschikt voor
4
---
Slaapkamers
Kandy, Central Province, Sri Lanka
Private 2 aparte slaapkamer appartementen beschikbaar gekoppeld aan een woonhuis. Slechts 1,5 km naar Kandy centrum van de stad in een rustige woonwijk. Schitterend uitzicht over Hantana bergketen. Elk appartement heeft een eigen ingang en een keuken.
Dit is de eerste van 2 afzonderlijke appartementen met één slaapkamer beschikbaar is gekoppeld aan een woonhuis. Slechts 1,5 km naar Kandy centrum van de stad in een rustige woonwijk. Schitterend uitzicht over Hantana bergketen. Elk appartement heeft een eigen ingang en keuken met koelkast. Douche met warm water beschikbaar in elk appartement. Wij bieden veel extra's voor uw comfortabel verblijf in Kandy. Gratis onbeperkt wi-fi. Gratis af te halen en / of afzetten bij bus- of treinstation in een ruim 6 passagiersstoel van. Gratis ontbijt van uw keuze in de westerse of Sri Lankaanse stijl. Gezien onze eerdere uitgebreide werkzaamheden in het toerisme-industrie zullen we blij zijn om u te voorzien van gratis suggesties of advies nodig had u uw reis routes in heel Sri Lanka. In het geval van twee paren die samen reizen kunnen we beide appartementen op $ 60 per nacht voor zowel. Mocht u nog vragen hebben, aarzel dan niet om te vragen.
The stay at Bernard's house was fantastic. Bernard is helping you with everything. He has a lot of experience about what the best trips are to do in Sri Lanka and also about the price. You can get from him very good information about the region, even better thsn the lonely planet. He even helps you when you have a problem with the camera. He picks you up from the station. The curry for breakfast was amazing and he also knows a lot about budhism, which was very interesting.
Silvio
2015-05-07T00:00:00Z
bernard's place is very nice! we spent 4 nights in kandy. the room was ideal and everything was clean. on the balcony you have a beautiful view over kandy and sometimes the monkeys come to visit:) 10points for the breakfast wich was fantastic! i didnt know i can eat so good and so much! every morning something different! bernard gave us a free tour to the tothtempel. he knows so much and loves to share it! thank you soooo much for everything!
luca
2015-07-26T00:00:00Z
Such a nice stay and such a nice Family! My girlfriend enjoyed Samanthas ayurveda massage, super cool Cheap tuktuk Driver and super nice Brother Pryantha who drove us to ABay for a good Price and showed us so much of the country and explained a lot. Best man ever! Thanks for everything!!
Benno
2016-09-25T00:00:00Z
We had a wonderfull stay here! Bernard helped us with getting tickets for the train, helping us in the city, giving advice about our trip and let us understand more and more about the country and Kandy. The room was clean and the bed was good! Next to that we also had a very very nice massage, one of the best one we ever had. really relaxing. Thank you for everything!
Eric
2016-09-18T00:00:00Z
Bernard's accommodations are located on a hill overlooking candy city. The place we stayed in was big, clean and equipped with everything a traveler can ask for. Even a private rooftop comes with the place. Bernard himself is one of the most welcoming and helpful guys I have met while traveling around. Don't miss out on the delicious breakfast!
Ralf
2016-06-15T00:00:00Z
Bernard and his wife, Uma, were fantastic hosts. They were so kind and gracious and Bernard went way out of his way to help us when we realized that we left something in Colombo. Bernard also helped us coordinate a driver for a day. There was nothing he couldn't do! The house is a short walk to town (downhill). The room was basic and clean. The breakfasts were fantastic as well. Highly recommend staying here.
Bonnie and Michael
2015-12-12T00:00:00Z
I can't speak highly enough about the stay I had with my wife and two teenage daughters at Bernard's house. First of all, the house itself is large and well-apportioned, with a sizable living room, kitchen, and two bedrooms, and an outside porch, which has a beautiful view of the valley. (Bernard also has other property for smaller groups, all adjacent, I believe.) The walk to the city center takes around 15 minutes -- the road is busy but interesting, and if you don't want to walk, there are plenty of tuk-tuks who will take you there or back for 250 SLR (around $2 US) or less. There is also a supermarket a few minutes away and a reasonable restaurant above the supermarket. There is also a bakery near the restaurant. We stayed for four days, because we wanted to see the Kandy Perahera which coincided with our stay. Bernard and his wife Uma were very gracious hosts, and they speak English very well. He spent time explaining details about the Perahera as well as about Sri Lankan culture/history, about the Temple of the Tooth, and about Buddhism. The family is also very kind and gentle, and Bernard has a nice sense of humor. The breakfasts that the family serves, which are included, are delicious and quite abundant -- each morning, they gave us a different Sri Lankan breakfast, all homemade, and Bernard and Uma explain the details about each dish. Probably because we stayed for so long, they gave us a free dinner on the parting night, again outstanding. Bernard arranged day trips to the three temples near Kandy and the Botanical gardens (all worth seeing, by the way -- takes a good 6 hours or so), and another day trip to Dambulla and temples on the way to Dambulla (definitely worth seeing Dambulla, which is a full day trip, and you could probably see it more strategically when you visit Sigiriya -- but then you would probably miss the temples along the way, we enjoyed seeing those as well.) So my very strong recommendation is to stay here when you visit Kandy(URL HIDDEN)
Arthur
2015-08-31T00:00:00Z
We had an amazing time staying with Bernard and his family! From the moment we arrived to the minute we departed, we received nothing but the warmest and most sincere hospitality. The room was great and the breakfast fantastic, the best Sri Lankan breakfast we've had! It was nice to be away a little from the bustle of Kandy centre. Bernard went out of his way to help us get to places and even showed us around the Temple of the Sacred Tooth Relic. We had a perfect NYE with the family and loved every minute of being there! Thank you all for everything!
Katie
2016-01-03T00:00:00Z
Kamertype
Gehele woning/appartement
---
Type woning
Appartement
---
Geschikt voor
2
---
Slaapkamers
Kandy, Central Province, Sri Lanka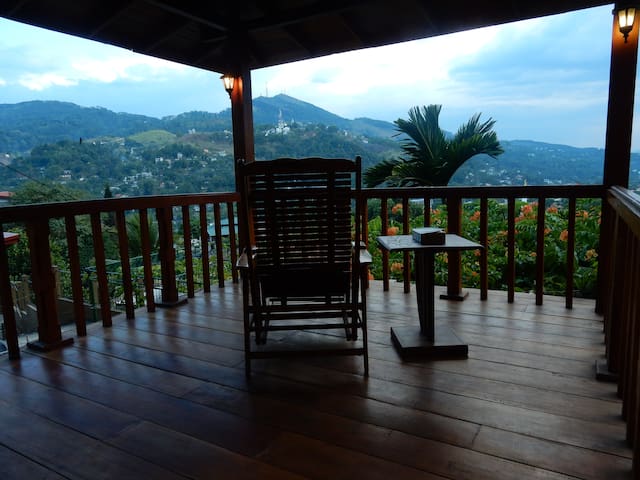 Ayubowan ! We are happy to inform you.. That We have newly refurbished property, Now You can enjoyed very good service with comfortable Accomadation for your stay..! All bedrooms are attached bathroom Hot water, free wifi access etc.. Breakfast : US$ 3 for per person Pls call us for directions!
Ayubowan ! We are happy to inform you.. That We have newly refurbished property, now open for business, From 01 July 2016.. Now You can enjoyed very good service with comfortable Accomadation for your stay..! Breakfast Not included: just for $3 per person All bedrooms are attached bathroom Hot water, free wifi access etc We have a total number of 10 Bed rooms with attached bathrooms, For every room has hot water.. Free wifi access entire property, 2 Triple rooms + 8 Double rooms available On your requirement you can add rooms and will cost for Double $35 and triple $ 50 Prices are included with Breakfast! Meals are available on Requst .! Also have a Air-condition room with extra of Rs.1000 per night Easy access to the city by public transport To main Train station 1.4km Mahaiyyawa train station 0.5km Public bus stop 0.2 km Kandy city 01 km Udawatta kele..! You can see the bird watching and very calm Accomadation while u stay ..! Kandyan kingdom is the last kingdom of Sri Lanka,, that you can visit temple of tooth of Lord Buddha, Museum very close by to the hotel as well as very famous Peradeniya botanical gardens are just for 4 km from the Hotel. Hotel is located udawatta kele.. Which is government forest and you can enjoy relaxing while your stay.!
Udawatta kele..! You can see the bird watching and very calm Accomadation while u stay ..!
The house is decent and nice in quite and gorgeous mountain. Our room is comfortable. Kandy is not big, so no need to worry about transportation. You can take TukTuk everywhere. Thank you for providing us the detail information about traveling and delicious breakfast!
超
2016-10-01T00:00:00Z
I can really recommend this place! I received a very warm welcome and the owners are doing their best to make you feel at home. The place has a nice balcony where you can enjoy a drink, your evening meal or breakfast. The rooms are cozy and specious, with very good beds. Thebathrooms are spacious as well, and everything is very clean. For most drivers the place is a bit hard to find, so have their telephone number at hand, so the driver can call the place.
Linda
2016-11-20T00:00:00Z
It was a fantastic experience. The property is located ~1km from Kandy city and is easily accessible from public transport. The interior road is a bit tricky but jeewani made sure that I reached safely. The property does feel like a house. The food cocked by caretaker and cook Brian was out of the world and I strongly recommend everyone to have a meal at the place itself. The caretakers were extremely helpful in guiding me with the logistics and are very happy to speak. Brian accompanied me for a late evening walk, showing me around the city. All in all, it was an extremely pleasant stay, with very accommodating and helpful caretaker. Though Jeewani wasn't there, he made sure things were in place!
Yatin
2016-10-06T00:00:00Z
Having been on the road for 24 Hours, the cold drink and kind reception provided by Jeewani was very gratefully received! Although we only stayed for one night, we had an extremely comfortable night and a very tasty first breakfast in Sri Lanka. Jeewani and her staff was incredibly kind and got our trip off to the best possible start. Thanks for everything
Marta
2016-09-18T00:00:00Z
This was one of the best stay in our trip.My friend and I had a lovely time.Lalaani is very very nice and we love her so much!
丹冰
2016-12-12T00:00:00Z
Jeewani's place is great! Spacious, clean rooms, excellent food (try the choice of vegetable curries and a fresh salat) and we enjoyed the quiet neighborhood. Ask Jeewani for her phone number, so that the tuc tuc driver can phone her for directions, as the place is not easy to find. Jeewani can arrange for an excellent ayurvedic massage for a fair price. Highly recommended!!!
Iris
2017-01-22T00:00:00Z
Very happy. Great value, great host, really comfortable, much better than the more expensive hotels around Kandy. A nice quiet location but still within walking distance / cheap tuk tuk ride from the city centre. Brought us hot tea in the morning - a lovely gesture. Thanks a lot Shammi!
Lauren
2016-02-24T00:00:00Z
Jeewani and Lalani were very helpful with sorting everything out with our stay in Kandy! We were welcomed with drinks and all the information required to make our stay in Kandy enjoyable! They even accomodated our dietary requirements for breakfast the following morning! The accommodation is in an incredible location within a walking distance to most tourist spots. Highly recommend!
Thinesh
2016-10-01T00:00:00Z
Kamertype
Privé Kamer
---
Type woning
Appartement
---
Geschikt voor
2
---
Slaapkamers
Kandy, Central Province, Sri Lanka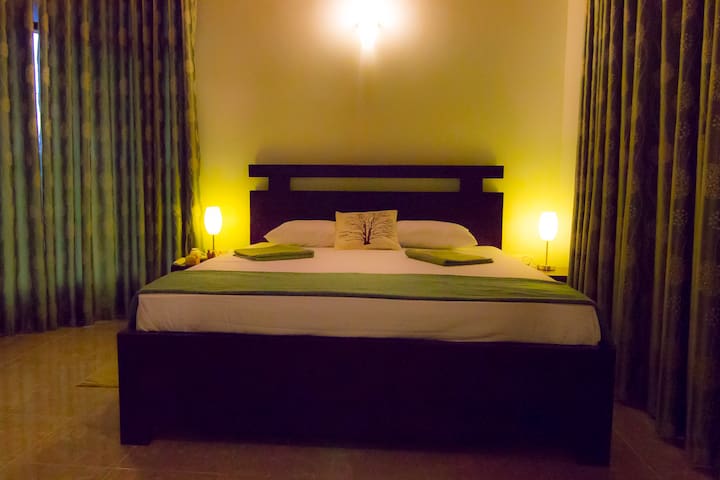 Zwei gemütliche und gut ausgestattete Zimmer mit Blick auf die Berge vom Balkon aus. Wohnzimmer, Speisekammer und Essbereich mit Blick auf die Berge. Unser Haus ist mit dem Bus, dem Zug oder jede Transportart leicht zugänglich. Tuk Tuk stehen in unmittelbarer Nähe. Eine sehr sicheren Ort, und Sie werden in der Lage, die lokale Kultur und Küche zu genießen. Alle Sehenswürdigkeiten sind nur 5 bis 10 Minuten mit dem Tuk-Tuk oder Bus.
Supermarkt, Einkaufszentren, Supermärkte, privates Krankenhaus, Restaurants, Bäcker, Edelsteine und Schmuck zu Fuß zu erreichen von unserem Haus. Wir sind auf dem Weg zu "The Peradeniya Botanical Garden" (15 Minuten), Dalada Maligawa (Zahntempel), 10min Kandy Stadtzentrum mit dem Tuk Tuk entfernt. KFC und Pizza Hut 5 Minuten zu Fuß. Lokale Restaurants für "Kottu" direkt gegenüber, für Kebab 5 Minuten zu Fuß.
We stayed 2 nights at Ezra's spot. His place is in the heart of Kandy, but tuk-tuks can easily take you anywhere you want to go. The place has a huge amount of space, and it was nice to finally take a hot shower :) He was super accommodating and let us stay later than checkout, so that we could schedule our taxi mid-day to our next spot.
Jessica
2016-11-06T00:00:00Z
Ezra and his family are brilliant hosts. Ezra is very responsive and helpful. The pictures on the website accurately represent what we saw in person. They have a beautiful house and the sprawling space that you have access to just makes it better. The house is equipped with everything and has a lot of natural light. I loved every bit of staying in that apartment. The apartment is walkable from the train and bus stations and the center of the city is just 1.5 kms. We mostly walked everywhere. It was our favorite home stay in Sri Lanka. Would love to stay there again!
Ishita
2016-12-31T00:00:00Z
Could not recommend this place more! Far and away the one of the best airbnb's I've had the pleasure to stay in. Great service, excellent facilities and perfect location provided an awesome home away from home. 5 stars in all regards.
Lachlan
2016-12-03T00:00:00Z
We had a fantastic stay here in Kandy! The apartment was beautiful and clean; it was like staying in a very nice hotel! Ezra's mom met us and was really kind and helpful. Would definitely recommend staying here.
Samantha
2016-11-26T00:00:00Z
One of the best places Ive stayed on AirBnB, it was extremely spacious and cosy. Erza and his parents were incredibly friendly and made sure I settled in alright and pointed out all the places of attractions.
Teresa
2016-11-10T00:00:00Z
Ezra's apartment was one of the best places we stayed during our time in Sri Lanka. It is spacious and comfortable and appears exactly as described. Ezra gave us some great tips on things to see and do in the area. I would definitely recommend staying here.
Jack
2016-10-12T00:00:00Z
Beautiful home in Kandy. Ezra and his family were great hosts. The best accommodation we had in Sri Lanka. The rooms are large, spacious, clean. Nearby is a great Restaurant. Tuk tuk to all the major sights ride for 5 minutes.
Kresimir
2016-11-09T00:00:00Z
房东很nice,大晚上还借厨房给我们煮面吃。房子干净又宽敞。
Fei
2016-10-02T00:00:00Z
Kamertype
Gehele woning/appartement
---
Type woning
Appartement
---
Geschikt voor
4
---
Slaapkamers
Kandy, Central Province, Sri Lanka
nous suggérons l'kandy complexe commercial de centre-ville pour acheter vos fournitures. Ceux qui voudraient visiter le marché traditionnel peut aller à Kandy marché public. De nombreux lieux de restauration fonctionnent à distance de marche qui offrent la valeur pour l'argent avec de la nourriture traditionnelle.
Clean, quiet, big, beautiful, hospitable! No doubt I would recommend it to anyone who want to stay in Kandy.
ken
2017-02-27T00:00:00Z
Прекрасные и очень доброжелательные хозяева. От общения с ними остались самые теплые воспоминания. Замечательный, просторный дом, с огромной кухней, на которой есть все необходимое для готовки. Шикарные спальни, в каждой свой санузел и душ с ванной! Идеальная чистота и порядок. Нам очень понравилось. До автостанции пешком около 15 минут, до жд вокзала около 20. Хозяева помогли нанять водителя для поездки на весь день в Сигерию и Дамбулу по отличной цене и с удовольствием отвечали на все наши вопросы.
Роман
2017-03-15T00:00:00Z
Asitha's place is situated in the hills very close to Kandy downtown area, only a short 10-15 minute walk. The space is great with a full kitchen and Asitha even provided us with bananas, bread, butter, and other essentials. The bed is comfortable and if you're lucky you'll even see the monkeys swinging in the trees nearby. Highly recommended!
Tegan
2017-02-17T00:00:00Z
Kamertype
Gehele woning/appartement
---
Type woning
Appartement
---
Geschikt voor
2
---
Slaapkamers
Kandy, Central Province, Sri Lanka
Può vedere Palazzo Reale / Lago di Kandy e catene montuose dall'appartamento. a pochi passi da città di Kandy. A pochi passi da famosa colazione restaurants..free includono il pane / marmellata / burro / latte e famiglia fruits.large camera da letto con aria condizionata. Può accormadat 2 adulti e 2 bambini. È possibile osservare uccelli e scimmie dalla appartamento nello stesso.
Può vedere palazzo reale e il Kandy lake dal appartamento nello stesso. Può guardare uccelli e scimmie dalla appartamento nello stesso.
Educato e profesionals.
Huge appartment near the city centre of Kandy. Perfect view of the lake. Big rooms! Brought us breakfast for our stay.
Rune
2017-01-09T00:00:00Z
The host canceled this reservation 14 days before arrival. This is an automated posting.
Kate
2017-03-01T00:00:00Z
I had an most wonderful time at Priyantha's place. It was very warm, safe, quiet, comfortable, reasonable and most of all the best location ever with stunning views. Priyantha was very helpful and was easy to talk with anything. I had an awesome time. Simply one of the Best...
Pavithra
2017-03-13T00:00:00Z
This apartment is located in a perfect spot for a visit to Kandy. It is up in the hills directly across from Kandy lake in a secluded spot away from all the noise and crowds. It is only a short 5 minute walk to the shops, sights, and restaurants in downtown so no taxi or tuk tuk is required to get to any of the places of interest. The apartment is newer construction with wood floors and glass walls overlooking the lake. It was far larger than we were expecting and is spacious enough for any length of stay. Priyantha was one of the best hosts we've had, he was very responsive, and flexible even when we ended up having to catch an earlier train than expected. He was also a very kind person and treated our daughter with the best bananas she's ever had.
Vinson
2017-03-05T00:00:00Z
Priyantha was an amazing host! Very friendly, helpful, left us the fridge full of food for breakfast and fresh bread and tropical fruits. The place is simply perfect: veryyy spacious and nice, we stayed alone in the huge 4rooms apartment. Everything was clean and nice. The view from bedroom and living room are simply amazing. Its 3 min walk from the lake and the centre of the city. We extended our stay there with 1 more night as we simply didn't want to leave. Highly recommended place!
Svetlana
2017-03-02T00:00:00Z
房间观景位置很佳,可以对康堤湖一览无余,整幢房间很大,有司机房,可住十二三个人,整洁舒适,厨房应有俱有,很方便。特别适合家庭度假旅行。房东很热情,准备了各式水果迎宾待客,非常感谢! 但整屋没有拖鞋和吹风筒,洗澡热水持续时间很短,总的来说是个很不错的旅行选择。
勇斌
2017-01-24T00:00:00Z
Kamertype
Gehele woning/appartement
---
Type woning
Appartement
---
Geschikt voor
3
---
Slaapkamers
Kandy, Central Province, Sri Lanka
Our Cute Villa is situated 3km away from Kandy city.Passing the Kandy lake & the Temple of The Tooth Relic you can reach our place where you can accommodate comfortably. You just come and enjoy the aroma and taste of our home made food.
The space is right above our house.We are residing on ground floor.
Neighborhood is located in very jungle feeling.Few minutes to lake , mountain & monasteries. 10minutes away from Kandy City Centre (KCC) Temple of The Tooth Relic and other highlights of the Kandy city
We really enjoyed our stay at Priya's homestay. The house is located in a quite and beautiful area right next to Kandy city (only 2,5 km from Kandy, 150-300 Rupee for Tuk Tuk) Priya cooked very delicious dinner for us and was really helpful to plan our trip to Nuwara Eliya and Ella. Also she recommended a very nice accomodation at her friend's place in Nuwara Eliya. We had the whole upper floor for ourselves, our room was clean and there is also a nice view from the balcony. Altogether we really enjoyed the stay at Priya's home, she is a truly kind and helpful person! Thank you for everything, Priya :)
Kirill
2017-03-01T00:00:00Z
Nice and quiet place to stay; great host - very friendly and helpful.
Marion
2016-12-19T00:00:00Z
It was great. Thank you, Priya!
Pavlo
2017-02-19T00:00:00Z
We had originally planned to stay with Priya for 1 night, but due to the fantastic hospitality and amazing location we ended up staying for 5 nights. Being slightly out of kandy was perfect, every evening you can hear monks chanting up in the hills as you enjoy a lovely cup of tea and Priya's brilliant company. The cooking was fantastic and it was so nice having a host who was so keen to introduce you the Sri Lankan food. She has the nicest family in the world and her husband was even able to pull some strings to get us some very last minute train tickets. The only down side is that we fear that we may have peaked too soon in terms of brilliant hosts! We will be recommending this guest house to anyone and everyone, but words really can't describe how great our stay was.
Felix
2016-09-24T00:00:00Z
Pryia and Sunil were very welcoming hosts, we enjoyed being shown all the different fruits on the trees around thier house and the tasty soup that Priya made for us. Priya also arranged a tuk tuk and driver to give us a tour of Kandy, which was much appreciated as it allowed us to make the most of the limited time we had in the city. The room was clean and it was nice to sit on the terrace and drink coffee in the morning.
Kevin
2017-03-20T00:00:00Z
Esperienza complessiva molto positiva visto anche il costo! Priyanthi si prende cura dei propri ospiti, ti aiuta a risolvere eventuali problemi. Ti spiega con cura come muoverti...davvero molto carina. La casa si trova a circa 3 km da Kandy ma è buono perché kandy è una città caotica, molto traffico e molto smog. Ha tre camere e un bagno in condivisione con tutti gli altri ospiti,nonché una cucina attrezzata. Priyanthi, se lo richiedi, ti prepara una ottima colazione e un ottima cena con prezzi modesti. La casa è pulita e in ordine. La cosa molto bella è la possibilità di condividere momenti con altri ospiti nella sala comune :-) La wife purtroppo non funziona molto bene. Se dovessimo ritornare a Kandy torniamo da Priyanthi :-) Grazie mille per tutto
Claudio & Giusy
2017-01-15T00:00:00Z
We stayed there for two nights. Priya and Sunil are excellent hosts. Friendly, kindly, very hospitality. They gave us a good advices about traveling plan, recommended their friend's place in Sigiriya, cooked delicious food and helped us to buy train tickets when everything was sold out!!! Amazing people! We highly recommend to stay there. Its close to Kandy (15 min by local bus from railway station and just 16 Rs. for the ticket or 7 min by tuk-tuk and 300 Rs. From house to lake 5-7 min by bus). Country side is much better than crowd town. Thanks a lot our new friends!!!
Valentina
2016-12-23T00:00:00Z
We had a lovely stay here for one night, Priyanthi host was very kind and helpful especially when it came to getting buses and the best price for tuk tuks. The room was comfortable and clean and there was a well equipped shared kitchen. We felt at home as soon as we arrived and can definitely recommend staying here, you will be looked after very well
Emma
2017-01-09T00:00:00Z
Kamertype
Privé Kamer
---
Type woning
Appartement
---
Geschikt voor
2
---
Slaapkamers
Ampitiya, Central Province, Sri Lanka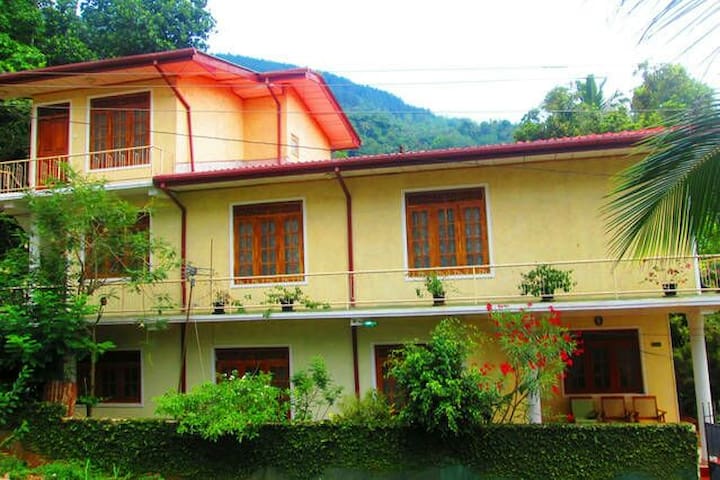 Mé místo se nachází v blízkosti centra města a parků. Zamilujete si své místo kvůli názorům, na atmosféru, umístění a lidí. Mé místo je vhodné pro páry, sólové dobrodruhy, obchodní cestující a rodiny (s dětmi).
Not the norm AirBnB as this is a hotel, But what a hotel. Our room was HUGE with a stunning view of Kandy Lake and only a 10 minute walk to the Temple of the Tooth. 100% recomend
Liam
2017-02-15T00:00:00Z
Good location. the hotel is just beside the lake and it's walking distance to the temple from the hotel.Enjoy my staying in Kandy although only one night.
Si Chao
2017-02-16T00:00:00Z
Kamertype
Privé Kamer
---
Type woning
Appartement
---
Geschikt voor
2
---
Slaapkamers
Kandy, Central Province, Sri Lanka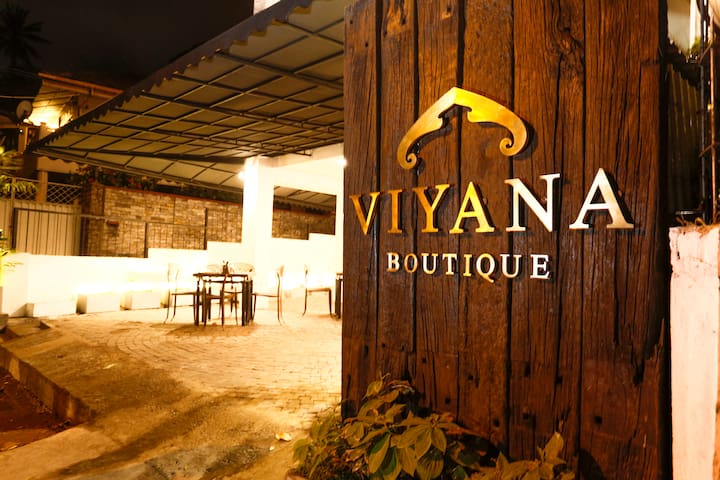 清洁,通风,康提湖和群山的美景。步行或容易笃笃骑卡迪·莱克和市中心。自助式公寓设有自己的厨房,浴室和独立的入口。
Kamertype
Gehele woning/appartement
---
Type woning
Appartement
---
Geschikt voor
3
---
Slaapkamers
Kandy, Central Province, Sri Lanka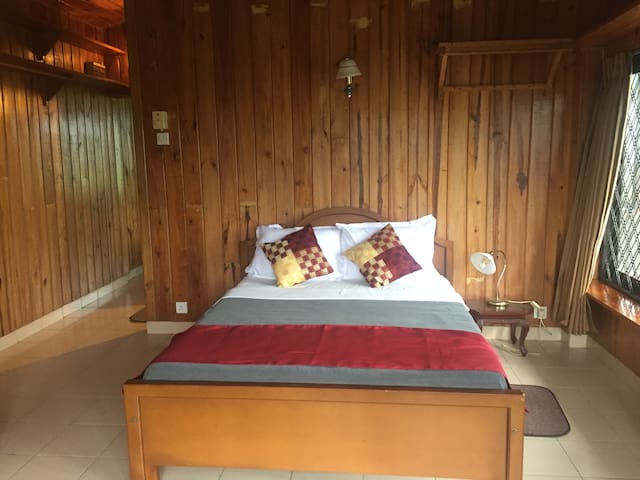 Dit is een tweede van onze 2 aparte slaapkamer appartementen beschikbaar gekoppeld aan een woonhuis. Slechts 1,5 km naar Kandy centrum van de stad in een rustige woonwijk. Schitterend uitzicht over Hantana bergketen. Elk appartement heeft een eigen ingang en keuken met koelkast. Douche met warm water beschikbaar in elk appartement. Wij bieden veel extra's voor uw comfortabel verblijf in Kandy. Gratis onbeperkt wi-fi. Gratis ontbijt van uw keuze in de westerse of Sri Lankaanse stijl. Gezien onze eerdere uitgebreide werkzaamheden in het toerisme-industrie zullen we blij zijn om u te voorzien van gratis suggesties of advies nodig had u uw reis routes in heel Sri Lanka. In het geval van twee paren die samen reizen kunnen we beide appartementen op $ 60 per nacht voor zowel. Mocht u nog vragen hebben, aarzel dan niet om te vragen.
Na een telefoontje vanaf het busstation kwam Suranger ons in de tuktuk ophalen. Het was druk op de weg, Kandy is geen rustige stad. Bij het huis aangekomen moesten we even klimmen ,maar nu is de weg weer gemaakt tot aan het huis.Het appartement was ruim ,wel beperkte keukenfaciliteit( koelkast, 1 pit,maar zelf koken is niet nodig ,Suranger kookt heerlijk ). Welkom door Bernard met thee. Adviseerde wat te doen in 3 dagen. Het ontbijt was ook prima. Bernard leidde ons zelf rond in de tempel van de tand en wilde daar niets voor hebben.Bracht ons ook weer naar de trein. Bernard en zijn vrouw doen er alles aan om je je thuis te voelen.Als je wilt kun je een prima oliemassage krijgen voor weinig geld.
Xandra
2016-01-11T00:00:00Z
Ik heb met mijn vriend voor 3 nachten een kamer geboekt. Bij aankomst mochten we Bernard bellen om ons op te komen halen bij het busstation. Bij aankomst in het huis konden we eerst onze kamer in en stond er boven op het terras een pot thee voor ons klaar met een geweldig uitzicht. Heerlijk om zo bij te komen na een busreis. Bernard gaf ons tips over het bezoeken en het verkennen van kandy. Hij heeft ons geholpen met de treinkaartjes en een plekje voor de dansavond. De kamer was groot en schoon. We hebben een heerlijk verblijf gehad, het is een stukje naar beneden lopen maar een prima lokatie om de stad te verkennen. We zouden deze homestay zeker aan raden. PS: de sri lankese massage is zeker aan te raden!
Saskia
2017-01-13T00:00:00Z
Bernard is a really nice host. He can cook very good breakfast, and we like his curry much more than any other curry we eat. He was very helpful since he took us to the railway station by his car and communicate with the ticket seller for us. His place was clean and have a good sight to the city below. Totally, I highly recommend his place for you to stay in Kandy.
Aria
2016-06-08T00:00:00Z
看到房子实物的那一刻,简直惊呆了,跟图片描述也太不一样了吧~房子在半山腰没错,可是一股潮湿霉霉的味道,给的房间不是图片那间。房主不在,是他下面的工作人员接待我们的,看完房间直接把我们带到一个很脏的半山腰介绍他的马杀鸡。后来小伙伴放弃了那晚的住宿,房东要我们找bnb客服,退了20元人民币的费用。他家还有一条奇凶无比的狗狗,叫Snoopy,也是醉了。。。一次最奇葩的bnb经历。。。
maggie
2015-10-13T00:00:00Z
Our stay at Bernard's place was really great! The view is indeed breathtaking and the room was private and clean. He even drove us to the train station the next morning and managed to get us tickets for the overbooked train! The breakfast was really good an definitely plenty too. It ranged from Sri Lankan food to eggs and fresh bread!
Philip
2016-10-18T00:00:00Z
I am single traveler, had 2 nights memorable stayed at Bernard's place. And this is my very first time with Airbnb and I was blown away by super host like Bernard and his wife Uma. The house is so lovely, located in very nice area. Local breakfast was awesome! Bernard's recommendations are very useful and thoughtful. I had day trip to Sirigiya and got to leave early morning, they prepared me lovely huge breakfast box and offered me without me asking. For me, I will surely return to Bernard's place for next trip to Kandy and I will personally recommend this place for everybody who would love to visit lovely town like "Kandy".
Panitsara
2015-08-25T00:00:00Z
Very happy with my choice, thank you for the great breakfast, even better advise and the good conversations. The location was perfect for me as I wanted to walk around and explore the city: the property is about 1.5 km from the temple and a bit closer to the heritage city. It was also very easy to take local transport to the Botanical gardens (again recommendations by Bernard). Flat had everything i needed.
Emil
2015-08-11T00:00:00Z
Top spot! Great place to stay in Kandy, slightly out of the way but with local supermarket and restaurants, Bernard has 35 years experience in tourism and was very knowledgable and helped us with our travel plans so we got the most out of Sri Lanka. Bernard's family were lovely and cooked us delicious Sri Lankan breakfast every morning with fresh fruits and eggs (included in price) we could not recommend this place more
Tony
2016-11-15T00:00:00Z
Kamertype
Gehele woning/appartement
---
Type woning
Appartement
---
Geschikt voor
2
---
Slaapkamers
Kandy, Central Province, Sri Lanka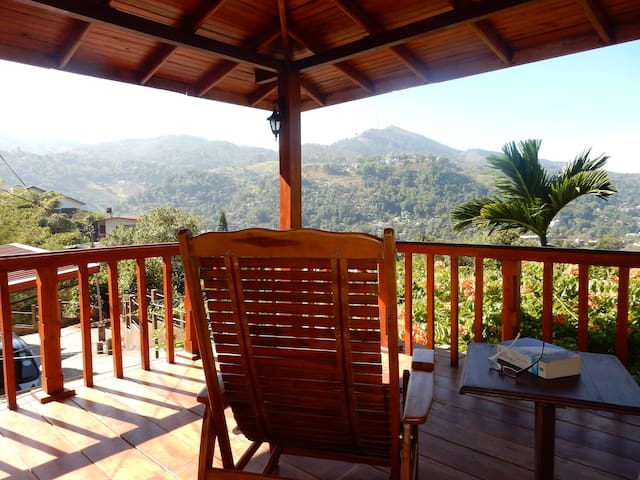 3 Schlafzimmer Privat Wohnung mit herrlicher Aussicht auf KANDY See und die Stadt .. Nur zu Fuß ein paar Minuten vom Stadtzentrum Kandy und den Tempel.
, 3-Zimmer-AC-Wohnung nur wenige Meter vom Stadtzentrum neu gebaut. Schlafmöglichkeiten für 6 Personen. (2 Doppelbetten und 2 Einzelbetten) 3 AC Schlafzimmer und 3 Badezimmer. 1 mit Jacuzzi. Einfache Küchenausstattung enthalten. (Wasserkocher, Herd, Kühlschrank, Mikrowelle) Zimmerreinigung auf Anfrage ohne Aufpreis. Ein Mittelgeschäft ist eine Minute zu Fuß von der Wohnung entfernt. Das Kandy Stadtzentrum Einkaufszentrum liegt nur 3 Minuten zu Fuss.
Ein Mittelgeschäft ist eine Minute zu Fuß von der Wohnung entfernt. Das Kandy Stadtzentrum Einkaufszentrum liegt nur 3 Minuten zu Fuß.
We 6 persons were all surprised by the size and decoration of this apartment. It is about 150 square meters with three comfortable bed rooms, two of which are king size and one is twin beds. Many kinds of appliances are available including washing machine with dryer function. All furnitures are made by 100% wood and the style is fashion in low profile. Even in China, the apartment is a quite luxury place. Kandy lake is visible from living room and master room. However, there is no hair dryer, shower water is not warm enough, air condition in mater room is a little bit noisy. Overall, very nice place to stay when visiting Kandy.
Mato
2017-03-20T00:00:00Z
The apartment is like the pictures, spacious and bright. Unfortunately it is very loud due to the main road next to the lake. The cars horns are annoying and will wake you up before 6 am. The apartment has an intense smell of naphthalene all over used as pesticide. Kandy is a highly polluted city by cars and buses (we had read tearing itritated eyes and strong headache just crossing the city). Certainly not a place to come back. After a wonderful trip to Sri Lanka, we regretted to visit Kandy.
Alicia
2017-02-28T00:00:00Z
The accomodation was perfect for our young family. Walking distance to the shopping centre and to the lake and temple. The place was very clean and well appointed. Could not have asked for a better stay in Kandy
Jaminda
2016-11-11T00:00:00Z
It is a spacious and clean apartment in a good location and my family of six had a very comfortable stay for two nights. We arrived in the evening and didn't meet Nuwan, nor have any contact during our stay. It would have been helpful to have some information in the apartment regarding the facilities and how to check out etc. Unfortunately we had a power cut in the apartment on our second night and it wasn't clear who to call in the first instance, but it all worked out in the end after calling a telephone number on the fridge (wasn't Nuwan's name) and being told where the main fuse box was (downstairs by entrance). What we did notice during the power cut was what appeared to be a video camera just below the ceiling in the kitchen. If it was, might be fair to alert guests of that in advance.
Abi
2016-08-26T00:00:00Z
此次斯里兰卡之行最满意住宿,房屋位于康提湖畔,面积差大,估计200多平米,三间卧室每件都配备卫浴,巨大的客厅餐厅和超级宽敞厨房,房屋配独立电梯。屋内各种设施超级齐全,且样样都是高档货,洗烘一体洗衣机超赞,看屋内设施级别,应该是珠宝商房东出租前只用物品,总之惊艳极了!
JIE
2017-03-01T00:00:00Z
The room is very clean, facilities are complete, consistent with the pictures. Good location, just a few minutes walk away from the temple. Satisfied with this experience.
一帆
2017-02-12T00:00:00Z
My wife, toddler son and our parents stayed here for one night and I wished we stayed loner. Beautiful specious and well equipped apartment on the 1st floor of the condo of 3 floors. Amazing views of the Kandy lake and the sacred Buddhist temple of the tooth relic. Nestled one road above the Kandy lake road, it's very convenient to walk down or take a short tuk tuk down to the city center. Though take care if you do walk down as there's no paved walk ways, so watch out for vehicles. If you do bring a vehicle do note the drive down to the apartment is very steep so take great care, there is one designated parking lot. Nuwan has tastefully decorated the apartment with quality furniture and accessories. A well appointed kitchen good enough for a budding chef, a water purifier for filtering water, fully automatic washing machine, iron and ironing board. The whole apartment has beautiful hardwood floors giving the place a warm luxurious feel. All rooms have air conditioning, thoughtfully stocked with extra pillows, blankets and pillow cases as well as towels. Small soap bars and even a spare tooth brush and toothpaste was found in the bathrooms. Very thoughtful indeed. Nuwan has been very responsive to my messages and helpful in getting information as well as directions. Even gave me information on where he got the lovely carpet my wife so admired and wanted to buy. We will definitely come stay here again.
Nish
2016-08-03T00:00:00Z
We are so happy to stay in this house! Great view, nice kitchen! Clean,comfortable! Convenient to everywhere!
Irene
2017-02-03T00:00:00Z
Kamertype
Gehele woning/appartement
---
Type woning
Appartement
---
Geschikt voor
6
---
Slaapkamers
Kandy , Cp, Sri Lanka
Mé místo je v blízkosti Mountain View, ptáci sledoval, pět minut tuk tuk jít Buddhův zub temple.great pohledů, restaurací a stravování, činnosti rodiny s dětmi, noční život ..
Friendly.Helpful
(English one below) Wer eine tolle Aussicht und einen fantastischen Gastgeber sucht, ist hier genau richtig. Suresh' Villa liegt nahe dem Stadtkern und Suresh ist der liebevollste Gastgeber, den wir im gesamten Sri Lanka Urlaub hatten. Er organisiert nicht nur Tuktuks sondern sorgt auch dafür, dass ihr die Preise zahlt, die auch die Einheimischen zahlen. Er hat schon vor Ankunft Kontakt zu uns aufgenommen ((SENSITIVE CONTENTS HIDDEN)) und wir konnten schon vieles klären. Auch als wir bereits weiter gezogen sind, hat er Kontakt zu uns gehalten, Tips gegeben und Touren organisiert. Er kannte unsere späteren Gastgeber über mehrer Ecken, hat Kontakt zu ihnen aufgenommen und uns vieles dadurch ermöglicht. Das Zimmer ist klein aber fein und das Bad war sauber. Von der Dachterasse hat man eine tolle Aussicht zu den Knuckles. Abends steigen die Flughunde auf und dieses Schauspiel ist phänomenal! Auch haben wir eine Tour in die Knuckles unternommen, die Suresh für uns organisiert hat. Nehmt dies wahr, wenn euch die Möglichkeit geboten wird. Weiterhin hat Suresh' Frau traditionell gekocht, so dass wir stets dort gegessen haben. Ihre Küche ist ein Traum und wir haben kaum so autentisch gegessen wie dort. Außerdem hat sie auch unserer Wäsche gemacht. Insegsamt ist es einfach nur herzlich dort und Suresh und seine Frau sind zwei wundervolle Menschen, die alles tun, damit euer Sri Lanka Urlaub unvergessen bleibt. Ich würde wirklich jederzeit wieder dort hin, weil wir uns dort unglaublich wohl gefühlt haben! Mit dieser Unterkunft macht ihr nichts falsch! ____________ Everyone who wants a great view, a nice room and a fantastic host is absolutely right in Suresh' villa. He and his wife are wonderful people who do everything to make your stay in Sri Lanka unforgettable! Suresh is kind of a "travel agent" who arranges nearly everything and that for the prices the local people would pay. The room was clean and the bath was too. The view from the rooftop to the knuckles was fantastic! The centre of Kandy is a 10/15 minute ride from the villa away. Suresh organised the tuktuks for a very good price. You have to try the meals there! Suresh' wife is fantastic in the kitchen and the food is very authentic and tasty. Never drank that good milktea! Also she did the laundry for us. All in all I always would come back and I'm absolutely happy that we stayed with Suresh and his lovely wife!
Sophie
2016-12-05T00:00:00Z
Suresh and his wife are wonderful hosts! They helped us organizing our trip and recommended great places to visit, told us about their lifestyle and about local culture, and served a very delicious organic breakfast. The area is outside the city center and calm, but only a few minutes by Tuk-tuk. We enjoyed the view from the terrace especially during sunrise and at nighttime. We observed monkeys from there. Close to the house is a river and a park with beautiful nature, many animals and few people. We strongly recommend a stay at Suresh's place and will definitely come again!
Charis
2016-12-18T00:00:00Z
Suresh was a great host, so welcoming and warm. His wife made us some of the best food we've tasted in Sri Lanka, eat her food when you are there. The view from our bedroom area was stunning, best view in the whole of Kandy I'm sure. Suresh organised a driver for a whole day trip around to Pidurangala Ancient Forest Monastery and many many temples, thank you for that. (side note, we had a lot of issues with the driver stopping at places that were clearly ripping us off but that were his friends. this is bound to be a problem everywhere but just don't use the same driver as us and be aware of these issues) We were catching the train back to colombo and Suresh was so flexible about the check out time even though they had guests checking in after us. Such hospitable people, thank you for having us!!
Bilan
2016-12-17T00:00:00Z
We absolutely loved our time at Suresh's. He and his wife are unbelievably lovely. They accompanied us on a waterfall outing that was the highlight of our trip so far, cooked us fabulous food, and were always there for advice and tips. The room itself is basic but has everything you need. The view is unreal. Wonderful homestay all around.
Tiffany
2016-12-23T00:00:00Z
We had a great time at Suresh`s house. It is hidden from the busy and noisy Kandy yet it is only about 10 minutes away by tuk tuk to the town centre. Suresh and his wife are both very polite and generous people and the advice and help from them were very usefull and helped us to see and enjoy a lot more then if we would have stayed in an ordinary hotel. Also watching the sunrise from the terrace was one of the unforgetable moments we had in Sri lanka
Tomas
2016-11-15T00:00:00Z
Very friendly and comfortable,Suresh is a very nice man.his big house is so clean with widely views.you can stare at the sun rising on the balcony.on the night you can count stars hanging on the sky than have a very deeply sleep and sweet dream.thank u Suresh!hope to see u again.
云
2017-01-09T00:00:00Z
Suresh is a wonderful and knowledgable host; he was very helpful in organising for us the next stage of our travel, and arranged a private three-wheeler during our stay. The location is in a quiet and peaceful residential area, about ten minutes by three-wheeler from the town centre. The top-floor balcony affords great views over the area and the Knuckles Mountain Range.
Kenta
2017-02-12T00:00:00Z
Generally the place is ok, nice smells, buddha altar, hot water and open air terrace with a view on mountains. We were surprised to be charged 200 rs for baby pampers utilisation. At the same time Suresh helped with tuk tuks and guided us around Srilanka.
Andry
2016-12-20T00:00:00Z
Kamertype
Gehele woning/appartement
---
Type woning
Appartement
---
Geschikt voor
2
---
Slaapkamers
Kandy, Central Province, Sri Lanka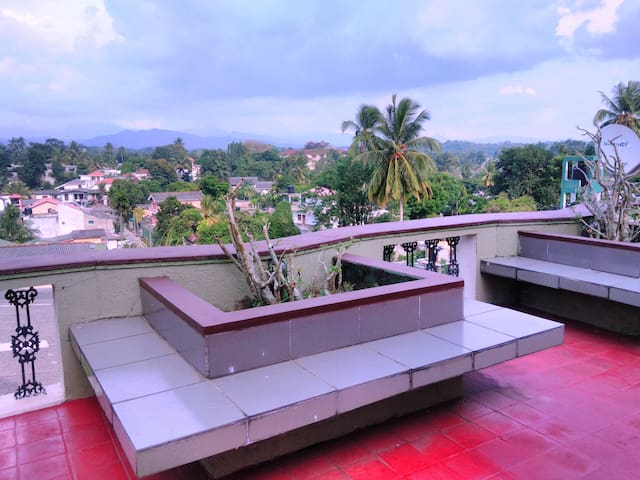 This house belongs to my uncle Mr.Gamini Gamage, House is on top of a small hill and is suitable for a quiet nights rest without the noise of traffic.Nestled among exotic tropical surrounding and beautifully manicured lowland tea estates on the fringes of the remote of Kalawana,Very close to Sinharaja Forest Reserve, Kalawana Town is just 5 min away,There are so many water falls to visit, If you are a nature lover, This is a place for you
This place is ideal for experience the real beauty of nature and gain the opportunity of a lifetime to catch a glimpse of rare flora and fauna from the comfort of our house. Explore the lush green forest and marvel at the mystery that surrounds the jungles. We offer you experienced and well trained guides that could take you through challenging trails and they could educate you on the many endemic species, flora and fauna that call Sinharaja home.Sinharaja world heritage site spreads over wide elevation range (300m to 1100m). It is rich in bird life with an impressive 147 species recorded to date. It is also the only location where 21 out of 26 bird species endemic to Sri Lanka may be viewed, there are so many waterfalls you can visit Udawalwa National Park Bird Watching Gem mine Tea Factory visiting
If you need to enjoy your holiday with Nature this is the best place for you
Kamertype
Gehele woning/appartement
---
Type woning
Appartement
---
Geschikt voor
2
---
Slaapkamers
Kalawana, Sabaragamuwa Province, Sri Lanka
Zentral gelegen, ist diese Wohnung anstoß einem Park gelegen und nur 5 Minuten vom Kern von Kandy Stadt entfernt. Die atemberaubende Aussicht vom Wohnzimmer gibt direkt auf Kandy-See und der Tempel des Zahns. Haben sie alle in diesem luxuriösen Wohnung.
Freier Zugang zu zwei Balkonen rund um die Wohnung und Dach für ruhige und private leasure oder Meditation
Die Wohnung ist neben dem Malwatte Tempel und in der Nähe der Tempel des Zahns und in einer exklusiven area.The Kandy Stadtpark grenzt das Gelände. Der Eingang ist aus einem drei Menuette zu Fuß. Restaurants sind gleich um die Räumlichkeiten von den großen Hotels Weg Restaurants für alle Nationalitäten bieten. Ein Spaziergang rund um den See oder im Park belohnt
Harinda's House is absolutely beautiful. It is very comfortable. The view of the Kandy lake was absolutely mesmerising. The lake and city centre was just a quick walk down the hill. There is help in the house called Saraswati. We weren't expecting her, however she was helpful. Finally, the host, Mr Mahinda was very helpful and understanding. He answered all our queries once we got there. Thank you for hosting us. We would love to come back to this beautiful house in this amazing town, Kandy.
Shamayita
2017-01-06T00:00:00Z
Harinda was very communicative before the stay and it was easy to find the apartment since it is in a conspicious neighbourhood with several landmarks. Lovely view of the lake and temple, and also within a 15-20 minute walk to town. The 2 bedrooms were well furnished and cosy and one came with an en suite bathroom. Check out the wood carving shop further down the road - made several nice buys! His dad called me after check in to check on the arrangements and was very helpful with advice on sights around town. Our maid could have been more proactive cleaning up and doing the sheets, but I understand it was a last minute arrangement since it was over Christmas and the regular one wasn't around. Based on the other reviews the regular maid should be good. All in a very comfortable stay for the 4 of us and would book it again.
Abdullah
2016-12-27T00:00:00Z
The house is amazing, we love it once we step in the house. The detailed decoration, the view from the balcony, and the comfort bed, good taste of the house. Highly recommend to stay at when you are in Kandy. :)
Alan
2016-12-12T00:00:00Z
The environment is too good Beautiful room The sitting room can see kandy lake. The single most important have aunt help us ready for breakfast at home every day. (remember to when they leave a tip, the aunt can't speak English)
zhouyang
2016-06-17T00:00:00Z
Great for visiting the temple of the tooth. Lovely place to stay. The beds are firm as all budist beds I am finding are.
James
2017-03-05T00:00:00Z
Great location - just walk down a small hill to get to the city center. Large and clean with a big balcony that overlooks the lake!
Amanda
2016-11-23T00:00:00Z
Harinda was very helpful even before we arrived. Its the 3rd floor on a hill, with a very nice view. The caretaker, Saraswati is very sweet, helpful, stays out of the way. But language might be a problem, we spoke Tamil so that was easy. The lobby area on the ground floor and the top floor is dark at night, and the driveway to the apartment itself is a very small road downhill (we managed ok with a van- driver was great) lovely place for a stopover, and its right in the middle of the city as well. Convenient.
Miyeera
2016-06-23T00:00:00Z
Flat was better than described. View is amazing and the flat is equipped with all what you can think of. just like a 5 star hotel. Mr Harinda replies instantly when you send him a message and he is very helpful. I strongly recommend to go for it.
Mohamed
2016-07-23T00:00:00Z
Kamertype
Gehele woning/appartement
---
Type woning
Appartement
---
Geschikt voor
4
---
Slaapkamers
Kandy, Central Province, Sri Lanka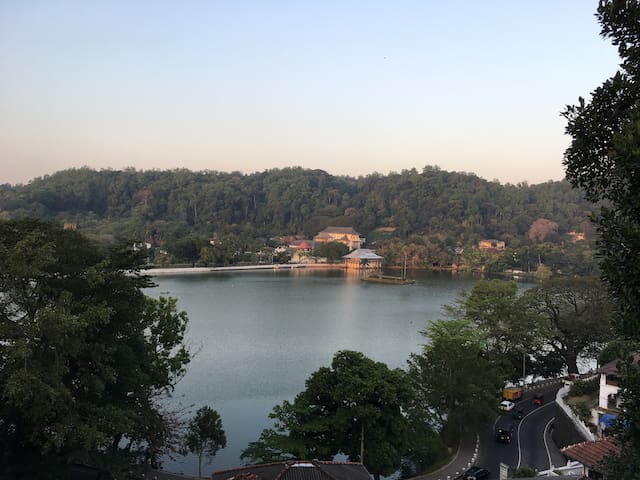 White House is a guest house very close to the world famous mountain Adam's peak .The close proximity, serene location and superior services personalized to the guests had made it a popular place to relax on the way to Adams peak. We can airport pick up, or closest next train station (Hatton).
White House is a guest house very close to the world famous mountain Adams peak .The close proximity, serene location and superior services personalized to the guests had made it a popular place to relax on the way to Adams peak. The White House has got some ordinary rooms in the guest house and in addition it is having a wooden cottage which is very popular among travelers. The garden with flower beds and many trees will make travelers fresh feelings.
Very close to Adam's peak starting point near the river silent place
We réceived à warm Welcome from nymal, Nice dîner before climbing sri pada peak which is close to the guest house. We met there people who were also climbing and nymal prepared sandwiches . The room were OK but as we Woke up early , you don t spend so much time un them.
Achille
2015-09-06T00:00:00Z
White House is very peaceful place with beautiful garden. Nimal was friendly and helpful to us, he gave us some advice for Adams Peak trip.
Hana
2015-09-05T00:00:00Z
Very simple Accomodation, the room was clean. No towels are provided. Shower takes 10 mins to heat up. Food is alright. The staff are very sweet and Accommodating. It's 10 min walk to the start.
Samantha
2016-01-12T00:00:00Z
terrible experience would never recommend staying here. in the end we didn't end up staying- I wanted to reschedule as was meeting a friend and the Internet wasn't working to do online so I rang Prakaz who made it really difficult and wanted to charge extra even just to put back our arrival date by 1 day. It was within 24 hrs so we accepted we would lose our first nights payment. After finally rescheduling, our 13 hour trip from Yala to Adams Peak meant we would be arriving late , which we explained to Prakaz. We arrived at 10pm- not that late really as everywhere else was still open ready for Adams peak or late arrivers. there was no one at the White House to let us in. we waited, text and called Prakaz and were told someone would be there soon. we waited another hour for someone and tried ringing again but the phone was switched off. we had to go and find somewhere else to stay last minute, very tired and very angry. the following afternoon!!!we received a message saying- sorry, phone switched off where are you now? - erm well we didn't camp out all night at your convenience to when you feel like turning up to let your paid guests in. So we have since asked for that nights money back and had no response at all. Awkward difficult customer experience and really unpleasant. there are many more cheaper, decent offers and closer to Adams peak than this which you can barter for on the day. Just don't risk staying - worst experience of Sri Lanka, avoid at all costs
Michelle
2016-01-22T00:00:00Z
We had a very good time at the white house. The room is quite nice, the private bathroom was ok (we stayed in the oldest houses). The area where it's located is absolutely amazing! You feel like being in the jungle. Also the food was very delicious and worth the price. We only stayed one night to do the Adams Peak but we met a lot of lovely people. Nimal is also a very warm-hearted host and tries everything to make his guests feel welcome. It was a pleasure to meet him and we would definitely recommend staying here! Thanks again!
Ben
2015-08-15T00:00:00Z
Very beautiful room with huge and comfortable bed. The guest house is in amazing nature and the best for climb on Adams peak. Staff is very friendly. In the restaurant is large choice of dishes. Thanks
Jakub
2015-09-08T00:00:00Z
We enjoyed our stay at White House. Thank you Prakaz for organising our arrival.
Lucie
2015-12-20T00:00:00Z
The host canceled this reservation 12 days before arrival. This is an automated posting.
alain
2015-12-14T00:00:00Z
Kamertype
Privé Kamer
---
Type woning
Appartement
---
Geschikt voor
1
---
Slaapkamers
Nuwara Eliya, Central Province, Sri Lanka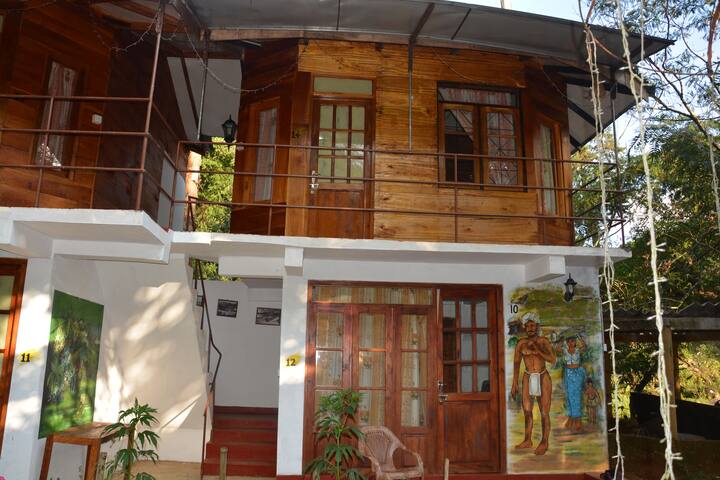 Pradeeps place is really nice great relaxing deck and beautiful view. It is hard to find but you can arrange pick up through Pradeep which i definitely recommend!
Michele
2017-02-23T00:00:00Z
La casa è esattamente come in foto! Carina ed accogliente. Il proprietario sapeva che volevamo fare il bbq e ci ha subito portato i ferri del mestiere. La casa è situata un po fuori dal caos di kandy, e non facilissima da trovare.Qualche problema con formiche e acqua (URL HIDDEN) è un problema comune in sri lanka. Nel complesso consigliato
Cecilia
2016-12-28T00:00:00Z
Nous avons passé un agréable séjour chez Pradeep. Tres bon acceuil, l'appartement est vraiment très confortable, avec une grande terrasse au calme et la rivière juste en dessous. Nous avons sympathisé avec toute la famille, pris le thé ensemble. Yasarah leur fille est d une gentillesse extrême tout comme ses parents et son petit frère. Des gens simple qui ont le sens de l'hospitalité et qui se soucient de votre bien être et de votre séjour chez eux. Appartement complètement indépendant. Tjrs souriant, a l'écoute, pour nos déplacements Pradeep nous appelai un tuk tuk a chaque fois avec les meilleurs tarifs. Bref une maison, une famille que nous n'oublierons pas d'aussitot car nous avons déjà prévu de revenir chez eux l'année prochaine. Et de plus nous sommes en contact dorénavant. TRES bel endroit et tres belle rencontre. Merci pour tout. Et le sourire de yasarah nous manque deja..
Karine
2017-02-14T00:00:00Z
Pradeep's house in Kandy can be easily located on the GPS as per the address given in the listing. It is a steep slope down from the main road but you can walk down or even take your car/taxi uptil the main gate. Pradeep and his family have a two storied house and the terrace has been beautifully converted into a guest apartment and that is where we stayed. Be ready to be surprised when you enter the apartment because it much better than the pictures that Pradeep has put up. There is a small living room once you enter the house. The kitchenette is equipped with a four stove gas burner, cutlery, knives and enough crockery. There is a four-seater dining table and a small refrigerator as well. Pradeep had provided with a pan and kettle as well. A few more utensils will make your cooking easier. You can ask Pradeep for the same. However, the best thing you will find here is a barbeque grill. We used it and had a wonderful barbeque evening on the terrace garden. The bed room is very tastefully done with two arm-chairs, a king size bed, side tables, multi-purpose cabinet, clothes rack and a mantle with a huge looking-mirror above it. The room has French windows opening into the terrace garden giving you beautiful un-interrupted mountain views. The bathroom is equally classic with a shower area which has a glass top. You will feel close to the nature and at the same time the setting ensures you have enough privacy. Pradeep has also installed a water pressure pump so that the water flow is good throughout. There were fresh towels and toiletries kept in the bathroom. We spent most of our time in Kandy at Pradeep's house. Even though Pradeep and his family could not spend a lot of time with us due to prior commitments, they gave us a warm welcome and were in touch with us on phone throughout to ensure we were comfortable. There was a caretaker available on-call in case we needed anything. We were worried about insects as there is greenery and flora all around and the house is by a river, but luckily we found no mosquitoes or insects. During our stay, we procured a lot of raw material from nearby shops, cooked a lot, enjoyed the rain and the sun and the mountain view, sitting in our room and on the terrace. Even in a very short stay we fell in love with Pradeep's house.
nidhi
2016-12-30T00:00:00Z
Kamertype
Gehele woning/appartement
---
Type woning
Appartement
---
Geschikt voor
2
---
Slaapkamers
Kandy, Central Province, Sri Lanka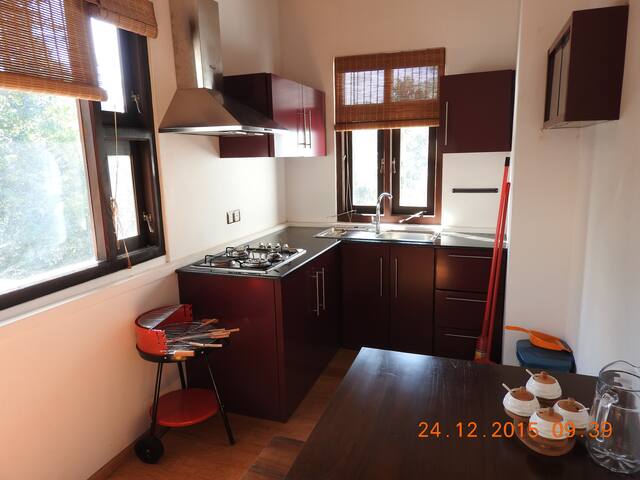 1

–

18

van

207 Appartementen te huur
Voer datums in om de volledige tariefopbouw te zien. Er kunnen extra kosten zijn en er kunnen belastingen worden toegevoegd.