アパートは洞爺湖の近くに位置しています。 それは約かかります。 15分には、JR洞爺駅から徒歩。 コンビニエンスストア、スーパーマーケット、アパートの周りの小さなレストランがあります。 有料駐車場はアパートの前に設けられています。
アパートは湖の洞爺湖とJR洞爺駅の近くに位置しています。 ヒーターは部屋のために設置されています。それはあなたの旅行のための本当に便利です。 我々は自由のための駐車スペースを提供します。
7イレブン、スーパーマーケット、小さなレストランなどがあります。
Kamertype
Gehele woning/appartement
---
Type woning
Appartement
---
Geschikt voor
4
---
Slaapkamers
Tōyako-chō, Hokkaidō, Japan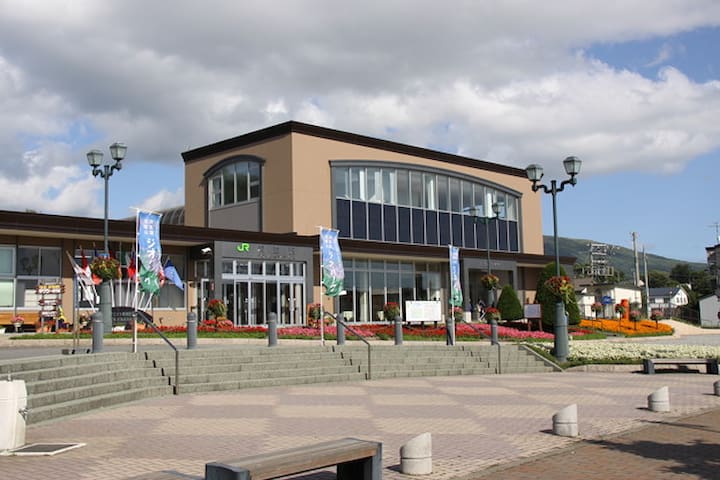 correct address: 〒(PHONE NUMBER HIDDEN) Hokkaido, Toyako, springs (PHONE NUMBER HIDDEN) Hokkaido, Lake Toya, Izumi 354-6, Japan - Map code (MAPCODE): (PHONE NUMBER HIDDEN) Located in Toyako Onsen, Nishiyama crater beautiful cabin side with Loft (Loft) is. , About three kilometers JR Toya Station about 10-minute drive away from the Lake Toya hot-spring resort. From JR Toya Station and Lake Toya hot spring can take the road Nan Bashi, Western Hills trail to get off. Love Springs lodge is located in scenic Mt. Usu hillside, surrounded by very quiet, especially for passengers traveling by car.
Nothing was provided, not even cups or glasses. No towels. Bathroom was very cramped. There were 4 of us but only 3 futon covers were provided. As we checked in late at night, we refrained from disturbing the host late at night.
Kevin
2016-08-11T00:00:00Z
Obasan was very helpful and friendly hence making us feel very comfortable throughout the entire stay. She even offered to drive us to lake toya and suggested places to eat and enjoy the onsen there. Jinye was also very prompt in replying my queries. Thank you Obasan for the pleasant stay!
Stella
2016-07-08T00:00:00Z
Centrally located. Place was clean and basic stuff was supplied. The futon provided was a little thin though, but for the price it's reasonable :)
Daniel
2016-08-04T00:00:00Z
Good experience and the host is very friendly.
JUNE
2016-07-12T00:00:00Z
I had a wonderful 3 days in Lake Toya, especially in Koiizumi. It is a small, peaceful house not far from the town and away from all the tourists . I really enjoy the walk up the hill and around the village. It has a small, cheerful, friendly and warm caretaker, she is full of love and she made sure that our stay was memorable.
Grace
2016-05-18T00:00:00Z
When we arrived, there was no one to greet us, there was terrible service, only a old lady gave us a little linens and disappeared. The inside was incredibly dusty and looked like nothing had been cleaned. The bedding required us to set up ourselves. We paid for 5 people but there wasn't enough room for all of us. They did not provide even accommodate towels. If you wanted a towel,you had to pay for them. Overall, the experience was horrible and we looked forward to leaving. We left as soon as we could. One star.
Man ling lucas & James
2016-08-24T00:00:00Z
We spent a really good time last week end in Koiizumi Pretty Hotel, thanks to the kind and warm welcome of Mrs. Fujita. Although we had some difficulties in finding the place, Mrs. Fujita was waiting for us outside the house and immediately showed us our room and suggested we spend the evening in Toyako Onsen, were we could see the fireworks from a nice onsen on the 8th floor of a Hotel for about 500 yen. The room was comfortable and spacious enough to fit 4 people, and even if we didn't use it, a kitchenette was at our disposal. The hotel is situated in a very quiet neighborhood, right next to a bus station (Bus terminal), so it is very accessible both from Toyako Onsen and Toyako Station. Thank you very much for everything you did for us Obāsan!
Chloé
2016-06-14T00:00:00Z
Wonderful place! They took very good care of us!
Murphy
2017-02-13T00:00:00Z
Kamertype
Gehele woning/appartement
---
Type woning
Appartement
---
Geschikt voor
4
---
Slaapkamers
Tōyako-chō, Hokkaidō, Japan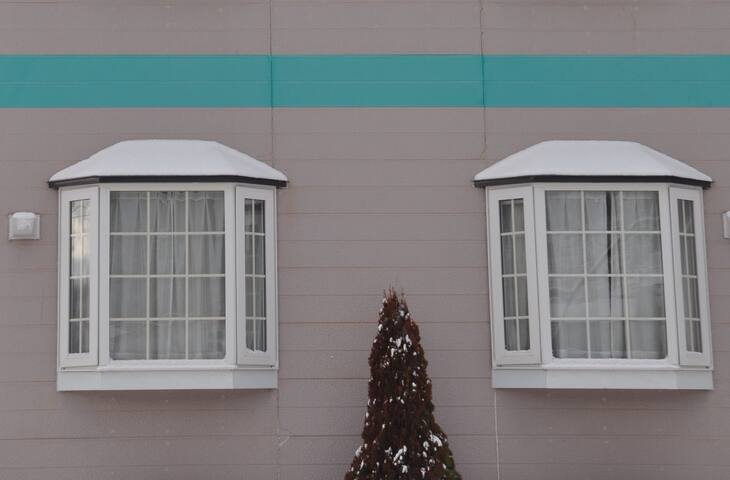 Yasuragi- meaning Peace and Relaxation in Japanese - offers expansive, loft-style living and breathtaking views of iconic Mt. Youtei. Features private indoor/outdoor Onsen-style spa with large rain-canopy shower, Japanese bath, falling-water shoulder massage, Gym. Large living area with fireplace. Complimentary concierge service, restaurant reservations & private shuttle. Apple TV in bedroom and living room with Netflix subscriptions, etc.
The apartment is great, winter view is super nice in the area, a lot of nice restaurants around the conner , special thanks to Ginger, Max and Hiro for taking good care of us.
Eric
2016-12-10T00:00:00Z
Although we didn't get to meet Liana in person, she'd arranged everything for us. We (2 couples & 2 babies) stayed for 10 nights, the apartment had everything we needed to make the stay comfortable & memorable. The location was so central, yet quiet & secluded from the centre of Hirafu. For the guys to get a private shuttle up to the lifts & back was fantastic, as was the in-house onsen. There was help on hand when ever we needed anything, & communication with Liana was perfect. A great base to not only relax & enjoy a beautiful part of the world, but enjoy every part of what Hirafu has to offer. Thanks Liana!
Melanie
2016-02-03T00:00:00Z
We have 5 people including a baby staying in Liana's Yasuragi apartment for 4 nights. Liana was very nice and prepared a baby cot for us. The apartment is stylish and luxury, just exactly like the pictures showed in Airbnb. The reception provided by the property manager Ms. Hiromi was professional and excellent and gave lots of information. She even booked a rafting tour for us on her day off. She helped us almost everyday. The kitchen has everything such as coffee machine, toaster, Nespresso machine, even a rice cooker. Our favorite part of this apartment is the bathroom. It has a fancy shower room and a big bathtub capable for the whole family. Even though there is no air conditioner and it's pretty hot in the day time during our stay, we just opened windows and pulled screens to get fresh air as well as avoid insects. This way has cooled down the apartment and worked very well. If you plan to stay in Niseko area and want a luxury stay experience, I would strongly recommend you to stay in Yasuragi! You won't regard!
cherry
2015-07-13T00:00:00Z
It was amazing place and we had great time to stay Lina's place! They r very nice and kind! Perfect for a family ! Thank Luyan
yan
2016-04-11T00:00:00Z
WOW what a beautiful part of Hirafu to stay in. Yasuragi was better than the pictures showed. The large onsen style bath in the main bathroom was amazing after a long day out in the snow. The kitchen had everything that you need to cook your own meals. Linda and Hiromi what can I say? the girls are amazing! there is nothing that they wouldn't have done to make your stay as wonderful as they could. From organizing private transfers from the airport to running us around Hirafu. Thank you for such a wonderful stay in Hirafu. Hopefully we will be back to stay in the near future
Tanya
2016-03-17T00:00:00Z
What a wonderful place to stay in Niseko! I cannot say enough good things about this property. I hope we go back next year for another great stay. The apartment was as beautiful as the pictures and accurately described. The two bedroom space was perfect for our family of 4. The layout of the apartment really makes the most of the space, and the huge windows in the living room make everything feel larger and more open. It was so nice to relax on the couch after a day on the mountain. :-) Beds were comfortable and everything was spotlessly clean. The private onsen was fabulous! we really enjoyed it and so did our children. Everything was done to a very high standard. Downstairs there was a room to store snowboards and skis as well as a seperate dry room with a dehumidifier to make sure all jackets, boots and gloves were dry in the morning. The location is very convenient to bars and restaurants and the single main street in all of Hirafu. When we were not snowboarding or skiing, we were fine to walk to and from the apartment to the center of the village. The apartment is in "lower village" but Hirafu is small so it's a little misleading; even in the snow with two small children we were fine walking to and fro. When we had our equipment, The shuttle service to and from the mountain was great. We got to pick the times based on our own schedule instead of having to wait for others (the drive is about 5 minutes). The concierge service was amazing. Before we arrived, the service arranged all of our lessons, babysitting service, gave us advice about dinner reservations, etc. Hiromi and Linda arranged for our airport transfer to take us right to the apartment, met us there and took care of everything we needed for the 4 nights we were there. They dealt gracefully with some last minute schedule changes we had due to work. There was a local mobile phone for us to use with all the numbers we needed pre-programmed. How smart and convenient!
Suzanne
2016-02-25T00:00:00Z
Awesome apartment and great management!
Deanna
2017-03-22T00:00:00Z
Great place, fully equipped kitchen, the design of the entire place is very well thought out. Walking distance from Hirafu. Excellent service provided, highly recommended!
Cloey
2017-03-10T00:00:00Z
Kamertype
Gehele woning/appartement
---
Type woning
Appartement
---
Geschikt voor
4
---
Slaapkamers
Hirafu, Hokkaido Prefectuur, Japan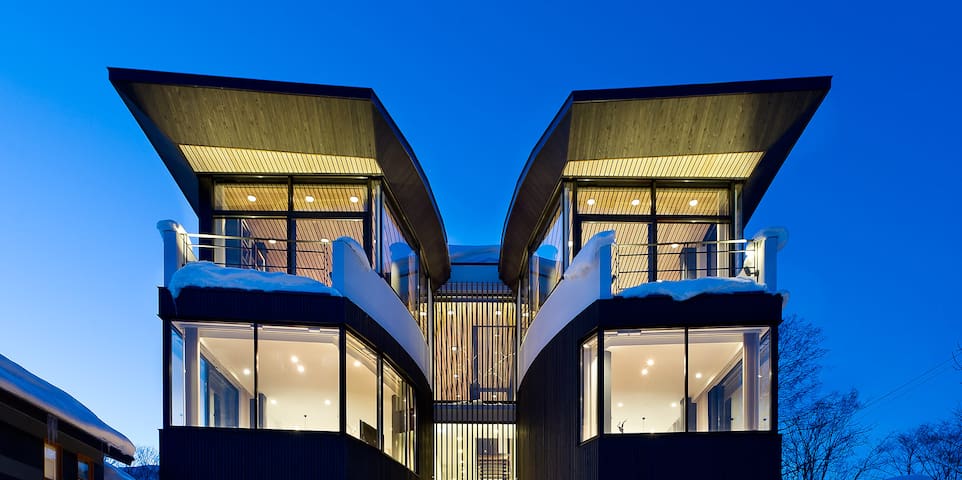 These popular self-contained apartments are located within walking distance to the Family Ace Lift and in the heart of the main shopping and dining area of Hirafu village. The apartment offers luxury accommodation at affordable rates.The studio units have mezzanine floors and vaulted ceilings offering views of either the resort, Mt Yotei or private views of a silver birch forest Size - 35sqm (375sq ft). Bedding - 1 queen size bed or 2 single beds plus 2 futons in the mezzanine floor.
Kamertype
Gehele woning/appartement
---
Type woning
Appartement
---
Geschikt voor
5
---
Slaapkamers
Kutchan, Abuta District, Hokkaido Prefectuur, Japan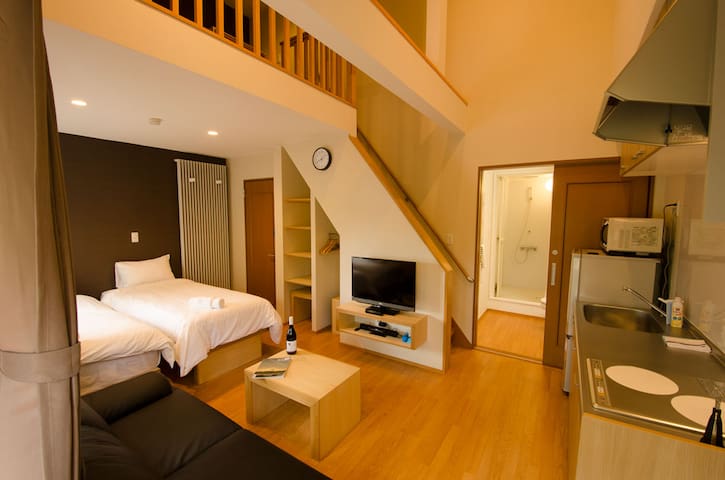 Over the years we've hosted writers, photographers and musicians in this spacious, atmospheric one bedroom apartment. This winter, we're looking to open it up to the rest of the world visiting Niseko. Whether you're here to ski & snowboard, snowshoe through the forests (trails start in our backyard) or write a novel, the apartment mixes modern amenities & comforts with the intimacy and personal touches that will make our place in the Japanese mountains into the second home you've always wanted.
We are located at the entrance to the main hiking trail on Mt. Youtei, the towering volcano in our backyard, and the forest around the house is full of small animals, birds and our resident but elusive white Hokkaido owl. Our water source is directly from the volcano, so you are drinking clean volcanic spring water, and the surrounding private forest allows you to rest in tranquility and wake up to spectacular uninterrupted views.
Lake Hangetsu You can snowshoe around the beautiful crater lake in our backyard. The path starts from the top of the road and is about 2km around the lake in the winter. You can even go right down to the lake and during January and February when the lake is frozen, you can walk on the ice. The trail around the lake is not marked, so a guide is recommended.
Great host, great property.
Wewang
2016-12-28T00:00:00Z
Ioanna's place is stunning and the location can't be beat. It is minutes from Niseko United where you can snowboard or ski the best powder and a short walk to the Hanagetsu lake with an incredible view of Mt. Yotei. Ioanna is a generous and communicative host from beginning to end..she even left us snowshoes to trek to the lake. Staying at this loft is truly a winterwonderland.
Akemi
2017-01-25T00:00:00Z
I recommend Ioanna as a guest. The flat is well-equipped and comfortable. Location is only 10 minutes by car to Niseko (you will need a car) but offers a fantastic view on Hirafu resort. I highly recommend this fantastic place!
Sébastien
2017-01-30T00:00:00Z
We loved the place! It is a beautiful and tasteful loft with postcard-like surroundings. Fully equipped, it made us feel at home from the very first second. Ioanna, our host, was extremely helpful and kind at very moment. The house is ideally separated by a short distance by car to the villages of the area, so that one feels surrounded by nature while in the house, but close enough to civilisation when needed. Next time I come to Niseko, I will definitely try to book the same loft :-)
Diego
2017-01-21T00:00:00Z
A superb designed house, beautifully decorated throughout, cozy fireplace, a breathtaking view of mountain and trees from the windows, relaxing bathroom... the apartment has everything we dreamed to have in our ski holiday. Plus Ioanna who offered to share everything they have.. thank you!!!! Highly recommend to anyone who seeks for a special stay in Niseko.
Yoshimi
2016-12-24T00:00:00Z
Kamertype
Gehele woning/appartement
---
Type woning
Appartement
---
Geschikt voor
4
---
Slaapkamers
Kutchan, Hokkaido Prefectuur, Japan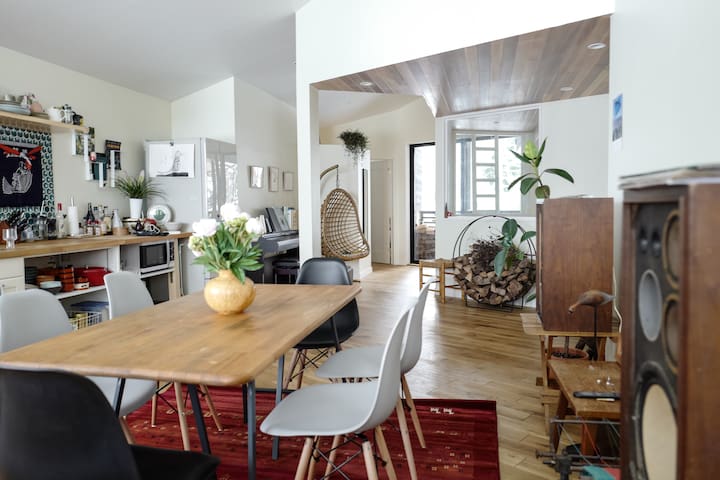 一室公寓设有绝佳的中央大街的位置。仅有150米,以皇牌系列电梯,方便前往商店和餐馆。现代豪华的家具和私人滑雪储物柜。
Great place, great location, friendly staff!! Will come back!!
James
2017-02-04T00:00:00Z
staffs are very friendly. pickup and checkin were quite smooth. room is clean as pictured and apartment is located in the center. quite convenient for shopping and dining however takes 10-12mins walking uphill for ski lifts. this is not really a hotel and they only offers one time "eco cleaning" during our 4 nights stay. eco cleaning is actually only changing bath towels and removing trash, and the cleaning staff would not clean bathroom, toilet and kitchen sink(no stove though). we encountered a problem that the bathroom was flooding due to lack of cleaning of the drain which was clogged by plenty of hair, and it caused some flooding into the room. hope their cleaning service could be much improved as such room rate is more than many 5-star hotels in japan.
Jonathan
2017-02-08T00:00:00Z
Kamertype
Gehele woning/appartement
---
Type woning
Appartement
---
Geschikt voor
2
---
Slaapkamers
Niseko, Hokkaido Prefectuur, Japan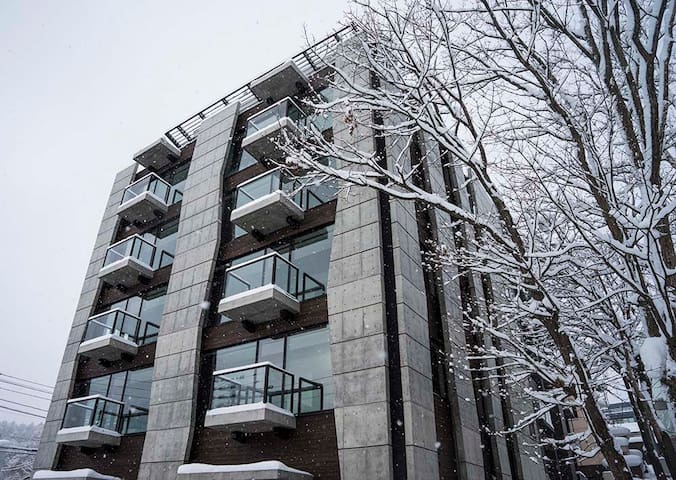 Completed in 2016, Flow Niseko features luxury designer 2 bedroom and studio apartments. Located within walking to the lifts and with a free shuttle bus just across the street, Flow Niseko is a convenient place to base yourself during your vacation.
湯の華が浮かぶ天然温泉、地元で人気の居酒屋・レストランへ徒歩5分。北海道産の素材にこだわったパン屋、カフェ、コンビニまで徒歩10分。 尻別川でのラフティングとカヌー、ニセコアンベツ川でのキャニオニングも可能。レベルや好みに合わせたハイキングツアーやニセコ連峰を眺められるゴルフコースも人気です。
設備完善且品質很好,走出門就是shuttle bus stop,天氣好可以直接清楚看到羊蹄山,唯一的缺點是房間面對主街,容易會有人經過比較吵雜
Chunhua
2017-02-28T00:00:00Z
Amazing place to stay. Felt like home. Fits 5 people comfortably and is perfectly located to the mountain. Would highly recommend staying here! Ashley and Dylan, thank you both so much for all the help. You both did an amazing job making us feel at home and helping with any of our needs.
Raven
2017-02-08T00:00:00Z
That was perfect, very close to Rin restaurant, onsen and power room... We love the apt very much
Luke
2017-02-24T00:00:00Z
Had a great stay. Central location in mid Hirafu close. Shuttle bus stop is basically right downstairs. There is a nice cafe across the street as well.
Jackson
2017-01-22T00:00:00Z
Kamertype
Gehele woning/appartement
---
Type woning
Appartement
---
Geschikt voor
5
---
Slaapkamers
Kutchan, Hokkaido Prefectuur, Japan
*** TripAdvisor 2017 Travellers' Choice Award *** My 3 (or 2) bedroom apartment is in the coveted Upper Village close to the main gondola, family lift, restaurants, bars, onsens, everything! You'll love my place because of the stunning views, convenient location, designer decor, high quality fittings, the FREE concierge service and much, much more! My place is ideal for groups and families (with or without kids).
A delightful blend of Japanese and Western styles with mind-blowing views from the main living area. Full entertainment options with TV, AppleTV, WiFi and stereo system. Fully managed with attentive service from arrival to departure. You have access to a free concierge service, on-mountain equipment storage, parking and other great facilities. This is a fabulous apartment that has had many 5-star reviews on previous listing sites (ask for a copy) but is new to AirBnB.
Kamertype
Gehele woning/appartement
---
Type woning
Appartement
---
Geschikt voor
8
---
Slaapkamers
Kutchan, Hokkaido Prefectuur, Japan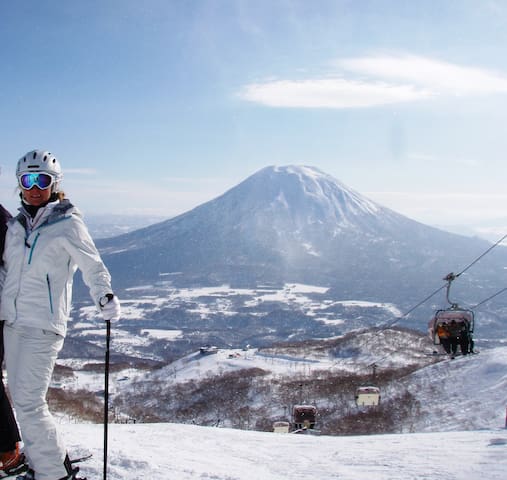 My place is close to Restaurants and Dining, Hirafu's Premier Onsen (hot spring bath), Shuttle Bus Stops. You'll love my place because of the ambiance, the neighbourhood, the comfy bed, convenience. My place is good for couples, solo adventurers, business travellers and freinds
Kamertype
Privé Kamer
---
Type woning
Appartement
---
Geschikt voor
2
---
Slaapkamers
Kutchan, Hokkaido Prefectuur, Japan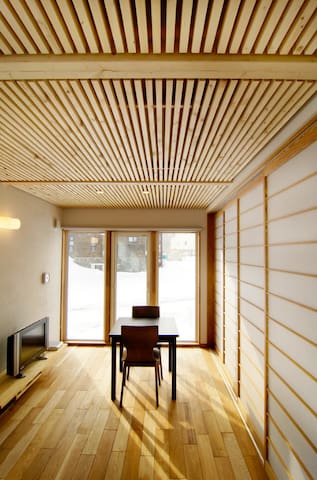 2 bedrooms private aprtment in Kutchan. It takes about 15 minutes drive to Hirafu ski resort and 5 minutes to Kutchan down town.Price is included usage of private car.Apartment is just renovated.You can enjoy both ski resort and Japanese local life. International driver's license is required to drive car in Japan.I come to pick you up in Hirafu Welcome center bus terminal or JR Kutchan railway station.Private airport transfer service is available with additional cost.
Nice quiet place to stay, was good value for money. Wouldn't be a place to party--working families seem to live to the side and below. But quiet, and within walking distance to the Kutchan restaurants (which are cheaper than Niseko) as well as a grocery store.
Chris
2015-09-21T00:00:00Z
Not much to say. I came late, went early. You need to use the car, to justify the price.
Rune
2015-08-11T00:00:00Z
Overall experience was good. Expected to meet the host but Yoshi san did not come. Had a phone call to get guidance to get to the house, other than that no contact. The apartment was ok, but cleanness could be better. need more guidance on the utilities in the house. the weather got cold and wanted a heater so tried to use the one in the living room but it did not work. Then found two small heaters in the bed rooms, in case of winter the 2 small heaters diffidently will not be enough. Had no issues except got some complaint from down neighbor due to noise. Had some worry regarding the electric plugs and how they are fixed. Please give some attention to the heat on the plugs in case you are a heavy electric user otherwise you may get a fire.
Hocine
2015-09-08T00:00:00Z
The host canceled this reservation the day before arrival. This is an automated posting.
Michael
2016-12-29T00:00:00Z
Kamertype
Gehele woning/appartement
---
Type woning
Appartement
---
Geschikt voor
6
---
Slaapkamers
Kutchan, Hokkaido Prefectuur, Japan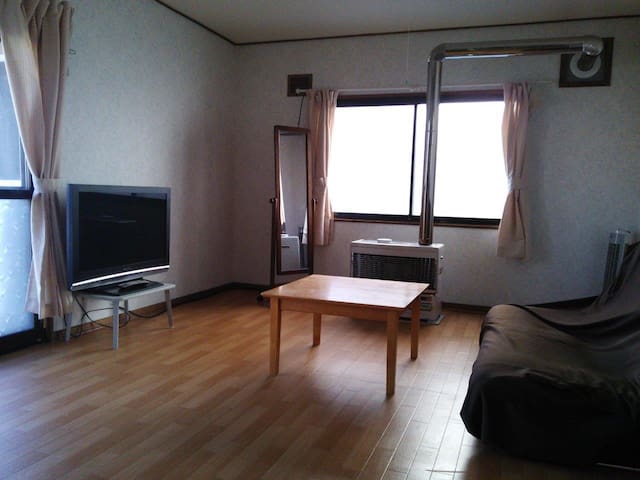 Our place is well located in the heart of Kutchan; 100m from the train station and bus stop, which will take you up to Hirafu; two supermarkets within 300m of us; Restaurants and bars on our doorstep. The property has two guest rooms, one western style and one tatami room. We have free Internet for all. Apple TV and Netflix are available for guests to use. We share our home with two very friendly cats. Free use of skis and boots (great condition, first come first serve, limited supply).
The Tatami room is located next to the living room. It is nice and toasty warm and comfortably sleeps two, but if you have one or two extras, we can fit them in (charges apply).
Our location is really had to beat. Just downstairs and one block away are two of the areas best restaurants, and a great little coffee shops. The restaurants (Sakaba & K`s Factory) serve up delicious fusion dishes and have a variety of choice. The coffee shop, Sprout, has free WiFi and the best lattes in the town. Supermarkets are nearby as is the public transport and many more restaurants and bars, my favorite bar, Kaveri, is about 300m from our place and is run by three super friendly Japanese ladies, it will be my pleasure to introduce them.
Jason was a great and delightful host. He humbly welcomed us to his home and the room provided was just as the listing described it. He shared with us his views on why he moved to Japan among many other things. He was very friendly and easy to converse with. He also managed to lend us his some skiing gear which saved us from renting them outside. Overall, a really good host.
Sean
2017-03-30T00:00:00Z
Best location near Kutchan Station. Nice and cozy private room and huge living room. Best value for money.
Danny
2017-01-30T00:00:00Z
Great spot, very nice accommodation and fantastic people. We were only there one night but were made to feel very at home. Recommend this stay.
Phillip
2017-02-03T00:00:00Z
Good : The host was good at English. A good guest can meet different. Have a good location! Bad : Wooden houses, cold and noisy. The cat is two.. cats fur TT We are in cloth, towel and bedding to remove bristles to spend a lot of time. Very hard time one of us are allergic.
Jinrang
2017-03-27T00:00:00Z
子どもをとても可愛がってくれました! とても安心できる時間を過ごすことができました!
WATARU
2016-12-30T00:00:00Z
GOOD LOCATION
Yat Long
2017-01-08T00:00:00Z
Jason is a great host! I'm glad that I can stay in his house, and the room is really cozy , we all enjoy the night we stay!!!!Highly recommended!!!
Leo
2016-12-30T00:00:00Z
译文 Jason is very nice.If you have any questions he will love to answer. The house is match with the picture.very clean, but it's a little bit not warm enough, Anyway have one night to stay in here is a good choice.
思琳
2017-01-11T00:00:00Z
Kamertype
Gedeelde Kamer
---
Type woning
Appartement
---
Geschikt voor
4
---
Slaapkamers
Kutchan-chō, Hokkaidō, Japan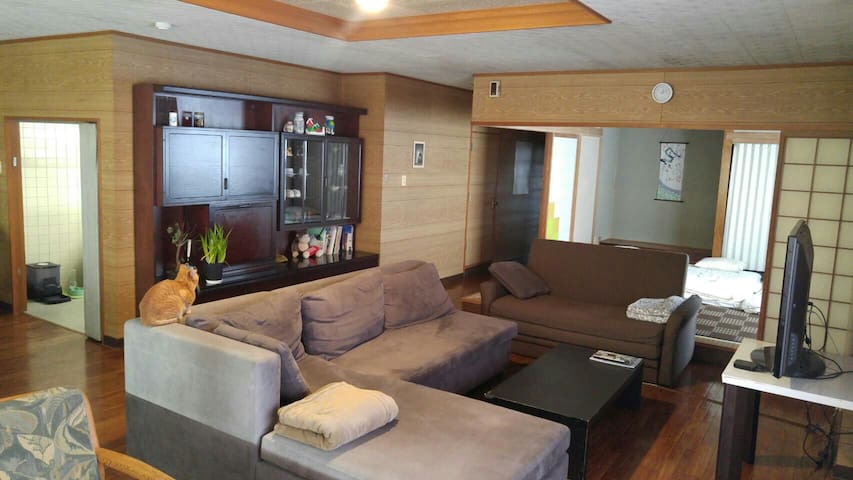 Die Wohnung ist in der Nähe des Sees Toya entfernt. Es dauert ca.. 15 Minuten zu Fuß von der JR Toya Station. Es gibt Supermarkt, Supermarkt und kleine Restaurants rund um die Wohnung. Parkplätze für Gebühr ist vor der Wohnung zur Verfügung gestellt.
Die Wohnung befindet sich in der Nähe von See Toya und JR Toya Station. Die Heizung ist für den Raum installiert. Es ist wirklich praktisch für Ihre Reise. Wir werden kostenlos für die Parklücke sein liefern.
Es gibt 7 Eleven, Supermarkt, kleine Restaurants und vieles mehr.
Kamertype
Gehele woning/appartement
---
Type woning
Appartement
---
Geschikt voor
4
---
Slaapkamers
Tōyako-chō, Hokkaidō, Japan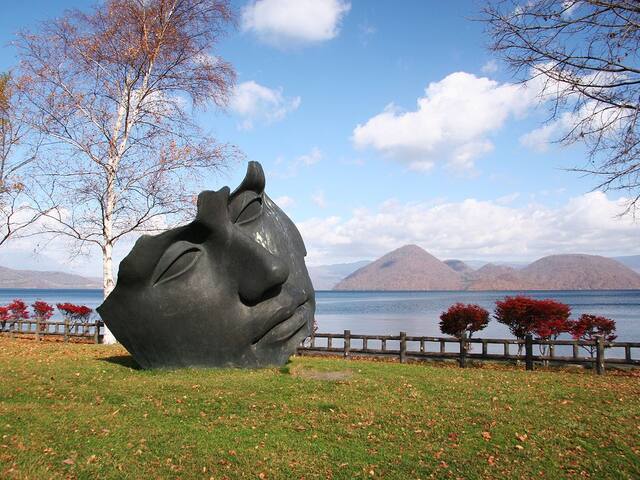 Nestled in a quiet neighborhood with a trickling stream and beautiful silver birch forest on one side of the house. Just a 10 minute walk to the closest ski lift with prestigious restaurants nearby. We offer you a unique Japanese experience.
*Nestled in a quiet neighborhood with a trickling stream and beautiful silver birch forest *located on the second floor of a Japanese green tea cafe and bar Also we offer you 1free drink /day at this cafe/bar and a chance tea experience high quality Japanese green tea and a taste of the tea ceremony *living space with tatami area. The tatami area can be closed off to become a separate room. Also there is a loft space which includes a double bed. *Japanese traditional wood burning large bathtub outdoors *mini kitchin *wi-fi, T.V. with movies *cleaning service *shower *heated room for skis, boots etc. *parking *restaurants close by
Overall an excellent accommodation and a very positive experience. 5 of us stayed for our 6 day ski holiday. Locating was good. It's around 15min walk to Hirafu shops and restaurants and there is a shuttle/bus stop 2min walk away. The guest house is even nicer than the photos show. Very modern design, large bathroom. My wife and I slept in the loft whole 3 friends were on the tatami. We were all comfortable and slept well. The kitchenette is small but adequate if you're not doing full cooked meals. We only used it to cook some breakfast and to make tea and coffee. There's a good ski storage area downstairs. There's an outdoor Japanese style bath which was wonderful. We loved sitting in it while looking at snow falling gentle among us in the trees. Stephanie and her Japanese husband were very accommodating hosts. They gave us rides to the mountain a few times when we needed it and even showed us a few great powder runs. They live in an adjoining part of the same building and run a Japanese tea house where we could have a free drink everyday. There is a separate entrance to the guest house so we had total privacy.
Zeyin
2016-01-23T00:00:00Z
The Greensaso guest house is magical. Stephanie and her family were so helpful and have created a really special space to share in breathtaking Niseko. It isn't the closest place to stay to the ski lifts and slopes, but not a far walk to the free shuttles and a central ski lift and rental shop (10-15min scenic walk). We will definitely be staying here for our next Niseko trip, and be sure to drink some tea!
Jess
2016-02-28T00:00:00Z
This place is magic. First super well located, Hirafu village is the best place in Niseko's area. Then the home is clean, chic and stephanie and jun the host our discrete and polite and helpful. You can be either 5 or 1 in that place you will feel at home.
alexandra
2016-04-11T00:00:00Z
very lovely wood house,walk to the main street and Hirafu welcome center about 20-30mins, driving will be fast about 5-10mins,Stephanie is very nice! Everything Kitchenware you need they have already prepare for you.you can buy food to her house to cook.
Summer
2017-02-25T00:00:00Z
Stephanie and John are prefect hosts! We had a great time staying in their lovely, clean and cos lodge. Stephanie offered all information you need to feel comfortable stay, and she invited us to her beautiful tea shop. John gave us a ride to the downtown when we were leaving.
Hong
2016-12-18T00:00:00Z
A wonderful cosy lodge which is an idyllic blend of traditional and modern Japanese. I stayed there with my two boys for skiing and it was perfect for us. Being active boys they made full use of the open spaces playing in the snow when we weren't up the mountain skiing. Stephane and Jun are wonderful hosts and we will definitely stay there again.
Robert
2016-12-21T00:00:00Z
Great!
Wan
2016-12-31T00:00:00Z
The perfect location. Super new and cosy apartment. I can highly recommend it. The two hosts are wonderfu. and so are their kids and their dog. We had a great time and felt very welcome. We enjoyed having our daily tea downstairs in the green tea café. Communication was very good and Stephanie is very helpful as well. I can highly recommend it for any guest. I would definitely return.
Daniel
2017-01-13T00:00:00Z
Kamertype
Privé Kamer
---
Type woning
Appartement
---
Geschikt voor
5
---
Slaapkamers
Kutchan-chō, Hokkaidō, Japan
Large modern apartment split over two levels in an excellent location. Easy walking distance to the Ace Family beginner lift and many popular restaurants. Views of Mt Yotei. Sofa bed in upstairs living area provides extra bedding for young families. Size - 74sqm (796 sq ft). Bedding - 1 queen or 2 single beds.
Kamertype
Gehele woning/appartement
---
Type woning
Appartement
---
Geschikt voor
4
---
Slaapkamers
Kutchan, Abuta District, Hokkaido Prefectuur, Japan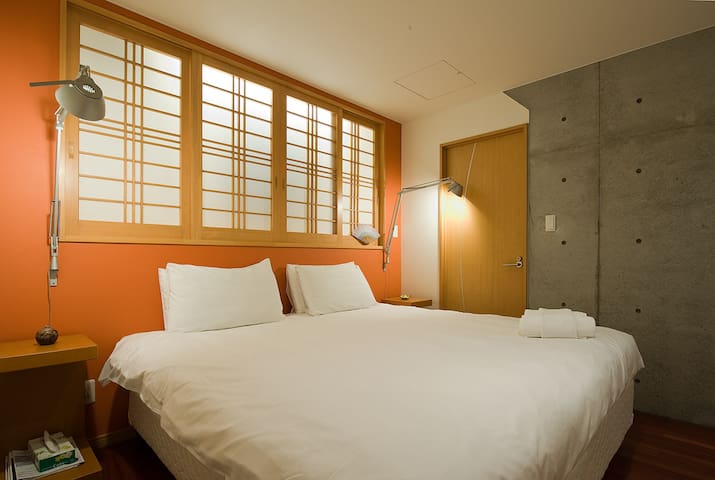 Located in the main village. The free village shuttle service is a short walk away as well as several restaurants and natural hot-spring. This spacious townhouse is a good option for families or groups of friends who want to stay in luxury without the price tag. Size - 110sqm (1184sq ft). Bedding - 1 double bed and 2 double splits (or 4 single beds).
衛星放送、WiFi、食洗機、洗濯機、乾燥機、オーブン、バルコニー、薄型テレビ、駐車場、フルキッチン完備。
湯の華が浮かぶ天然温泉、地元で人気の居酒屋・レストランへ徒歩5分。北海道産の素材にこだわったパン屋、カフェ、コンビニまで徒歩10分。 尻別川でのラフティングとカヌー、ニセコアンベツ川でのキャニオニングも可能。レベルや好みに合わせたハイキングツアーやニセコ連峰を眺められるゴルフコースも人気です。
非常不错!
long
2017-03-06T00:00:00Z
Kamertype
Gehele woning/appartement
---
Type woning
Appartement
---
Geschikt voor
7
---
Slaapkamers
Kutchan-chō, Hokkaidō, Japan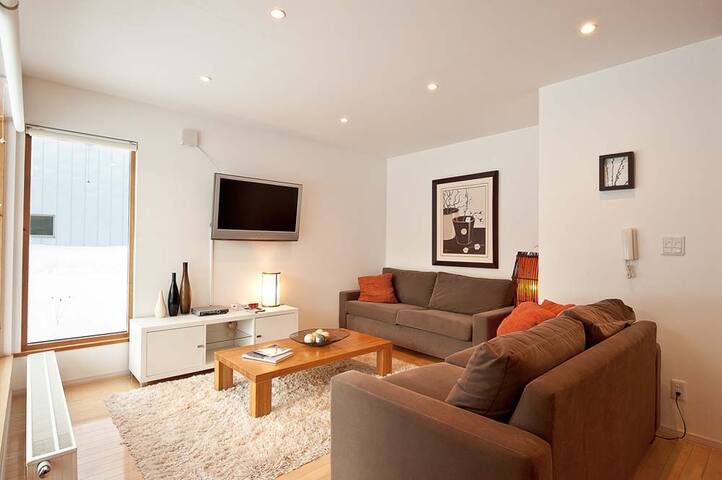 Located in the most famous ski town in Asia, Niseko-Hirafu !! Walking distance to all the restaurants and bars in the village, as well as to the free shuttle bus stop to the gondola/lifts of Niseko Grand Hirafu ski resort. You have the whole apartment for yourself and your friends/family. Please come enjoy the best powder snow on the planet !!
Clean, comfy, convenient, helpful host. Perfect!
Alex
2017-03-19T00:00:00Z
Kamertype
Gehele woning/appartement
---
Type woning
Appartement
---
Geschikt voor
8
---
Slaapkamers
Kutchan, Hokkaido Prefectuur, Japan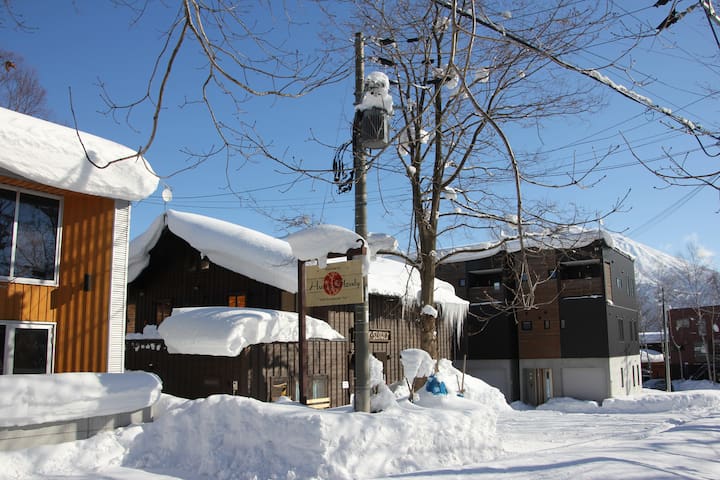 アパートは洞爺湖の近くに位置しています。 それは約かかります。 15分には、JR洞爺駅から徒歩。 コンビニエンスストア、スーパーマーケット、アパートの周りの小さなレストランがあります。 有料駐車場はアパートの前に設けられています。
アパートは湖の洞爺湖とJR洞爺駅の近くに位置しています。 ヒーターは部屋のために設置されています。それはあなたの旅行のための本当に便利です。 我々は自由のための駐車スペースを提供します。
7イレブン、スーパーマーケット、小さなレストランなどがあります。
Kamertype
Gehele woning/appartement
---
Type woning
Appartement
---
Geschikt voor
4
---
Slaapkamers
Tōyako-chō, Hokkaidō, Japan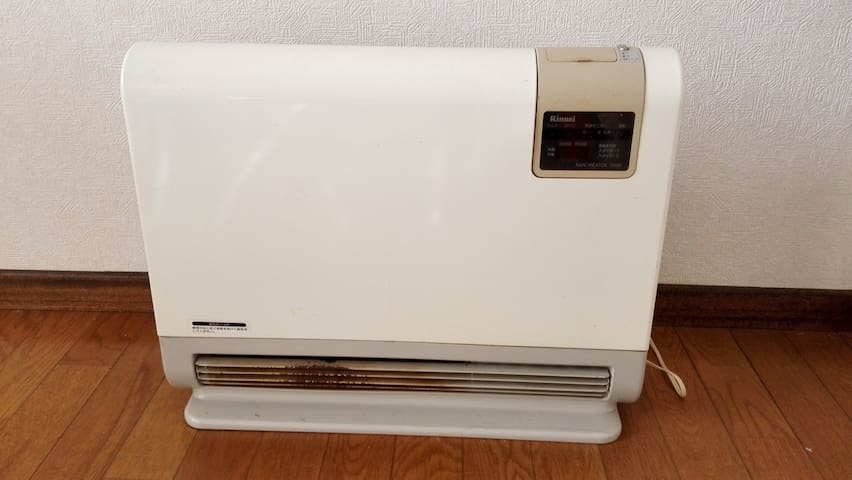 Renovated in 2014, this modern 25 sqm studio is part of a 2 key 3 bedroom penthouse. Great location and with guest services included to help you with any needs for your stay. studio available 12/26-1/6 only. strictly for 2 pax.
The apartment is very well appointed and exactly as described. Gail is by far one of the best hosts I've had. She responded very fast to all queries and is extremely helpful in every way! If you're looking for a place to stay in Hirafu Village area this is the place to be!
Ben
2016-12-31T00:00:00Z
Kamertype
Gehele woning/appartement
---
Type woning
Appartement
---
Geschikt voor
2
---
Slaapkamers
Kutchan, Hokkaido Prefectuur, Japan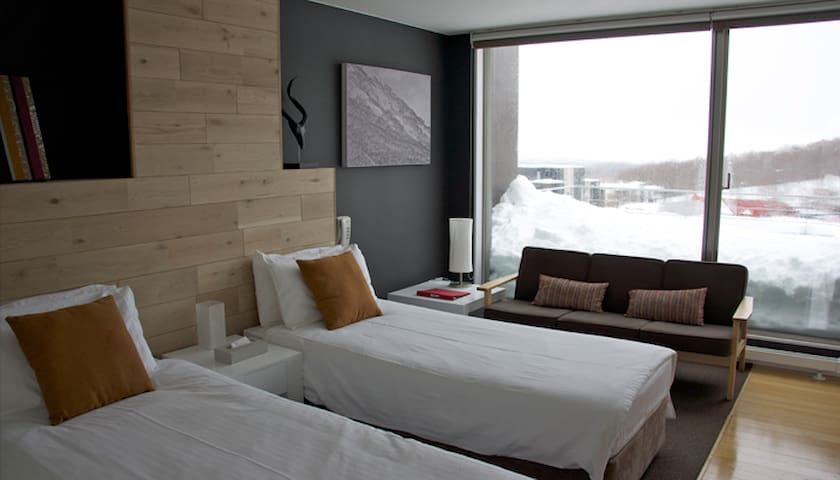 Hokkaido Prefectuur - Airbnb
:
Gemiddeld

4.29

van

5

sterren op basis van

93

gastrecensies
1

–

18

van

81 Appartementen te huur
Voer datums in om de volledige tariefopbouw te zien. Er kunnen extra kosten zijn en er kunnen belastingen worden toegevoegd.