De woning is gelegen op 'binnen van een landgoed, een paar honderd meter afstand van de' zuidelijke ingang van het land. Het pand biedt een panoramisch uitzicht over het dal van het landgoed en de aanwezigheid van bossen en eeuwenoude dennenbossen. Het is toegankelijk via een particuliere weg.
Twee kamers van 55 vierkante meter, met centrale verwarming, bestaat uit: • Grote slaapkamer • Woonkamer met kitchenette • badkamer met douche en bijkeuken MATERIAAL: • Wasmachine • Oven • TV • Kettle • gerechten
Fantastic.
Daniel
2016-10-18T00:00:00Z
We spent a week in the Lelio's house at the end of March. It was a delightful time. The house is equipped with everything necessary, flawlessly clean and fine. Supermarket Deco is located five minutes from the house, there is another one nearby. The location of the house is convenient for trips to other places of Sicily. In the very city of Piazza Armerina there is an interesting object for visiting - a Roman villa with unique mosaics. And the separate attraction is the garden and the forest area around the house - we got a great pleasure from walking in this picturesque neighborhood. This is an exemplary place of stress-free for a city dweller tired of noise and fuss. Lelio and Julia are a very nice young couple, they were very kind and friendly to us. We hope to visit their wonderful house someday once more. Thank you, Julia and Lelio! Olga and Igor Gassko
Olga
2017-03-30T00:00:00Z
My boyfriend and I were looking for a place to stay last minute as we were in Piazza Armerina for the night.. (Definitely a place to visit!) Lelio and his family were great hosts, very welcoming and they did everything they could to help! The apartment was completely detached from their villa and located in the woods - it was a lovely location with stunning views! The place was clean and had a brand new kitchen with good appliances. The furniture was okay. Very relaxing place overall and we were very comfortable! Thank you for your hospitality!! :)
Amelia
2016-09-24T00:00:00Z
Kamertype
Gehele woning/appartement
---
Type woning
Villa
---
Geschikt voor
3
---
Slaapkamers
Piazza Armerina, Sicilia, Italië
A flat that stays in the very hearth of Enna, far from city traffic but at the same time perfectly linked with all the city areas. A perfect stop in the middle of Sicily, and a nice surprice to discover its inlad so reach of things, people, colours.
The flat is new, clean, confortable, the decor is simple and functional. It is in the city centre very connected linked to all the city focus, it is close to food places, it is niche of the centre so that you can stay there relaxing. At home you will find clean towels, beds tidy, tooth paste, shampoo, showergel, in the kitchen fresh water, juices and a basket with coffee, tea, biscuits, rusks, milk. Occasionally I relax preparing sweets or picking fresh fruit that I bring to my guests to let them try what Enna has to offer.
The area around is very quiet and silent. Enna is everywhere a safe place. People walk all around all day long. From there you can reach every part of the ancient Enna, it is easy to reach coming from the bus station, and out from the Route A19 crossing Sicily.
Nous avons eu de nombreux contacts par mail avant notre arrivée, Cristina nous a accueillis à l'heure prévue dans son agréable appartement, nous avons apprécié de trouver café, thé, lait, et même des petits pains pour le petit déjeuner, et même un délicieux gâteau maison!
marie
2015-09-22T00:00:00Z
Cristina proved to be a really helpful host with great English and lots of useful information on how to get to our next destination. The flat was large, really clean and well located in Enna Alta which is the prettier part of town though right at the top of a fairly significant hill!
Jony
2015-10-22T00:00:00Z
I met Cristina only briefly as I only stayed one night and left early in the morning, but she was welcoming and helpful when I arrived - she also speaks English very well. The flat is very big (I had it all to myself) and it's just a few minutes away from the bus station and the city centre with a beautiful view onto the next city and the rolling Sicilian hills. The flat was clean and the kitchen fully equipped for own use. There was coffee and water to use, however breakfast was not provided. (which is ok, it's just good to know)
Juliane
2015-07-31T00:00:00Z
Crisitina has a generously sizes apartment close to the centre of Enna but in a quiet location. It is very clean and tidy and comfortable enough. The balcony from the lounge and kitchen has some stunning views. There is plenty to do around Enna and this makes for an ideal base to explore the region. Cristina was very helpful, knowledgable and friendly with a good command of English.
Nathan
2015-08-13T00:00:00Z
Good location. Large rooms comfortable and good facilities. Helpful and friendly host
Rex
2015-10-07T00:00:00Z
I can't say enough positive things about Cristina and her beautiful home in Enna!!! Cristina made me feel welcome from our very first correspondence and she really went our of her way to make my visit to Enna special. The apartment is beautiful and is in the perfect location. Enna is a stunning city that shouldn't be missed on any trip to Sicily!
Lisa
2015-06-15T00:00:00Z
Christina was very helpful: she met us at the bus station and gave us a ride to the apartment (it was walking distance but we had a lot of luggage and a baby). She left us lots of snacks and a home-baked treat. Best of all, she gave us a guided tour in English of Villa Romana del Casale (the mosaics are astounding). The apartment is spacious, if Spartan, but Christina said she is planning to add more furniture next year when she is done refinishing it (that's why she has not put up photos yet). The beds are comfortable and the kitchen has most things you'd need (except paring knives). A supermarket is just a few blocks away. The view over the valley from the kitchen and living room is wonderful. However, the toilet runs sometimes or makes loud noises when refilling. A sofa and a washing machine would be useful additions. If you don't have a car (as we didn't), it's a long walk to the area of the duomo, the castle, and the main strip of restaurants in Enna Alta. Streets are narrow and jammed with cars, which makes walking a bother (especially when pushing a baby stroller). During much of our time there in late September, Enna Alta was in a cloud, with only white out the windows (no view) and the streets shrouded in cold mist. Apparently that's common during the cooler months and takes away much of the benefit of staying up on top of the hills.
Chris
2015-10-03T00:00:00Z
Cristinas's apartment is gorgeous, you won't regret staying there! Very clean, nicely fitted, spaceous and tastefully furnished. Big bedroom with a very comfortable mattress. We had such a quiet relaxing night there! The kitchen is very well equiped and Cristina left water, tea, etc. for us. It is located in the first floor of a secure development with an nice balcony overlooking the mountains, big enough for 2 chairs and watching the sunset. The apartment is in a niche corner of Enna, very close to the historic centre. Free parking outside too! Cristina is really cool, super helpful, speaks fluent spotless english and took us around town to meet her friends. A real Enna experience! We didn't want to leave any more. Definitely recommended!
Sabine
2015-07-06T00:00:00Z
Kamertype
Gehele woning/appartement
---
Type woning
Appartement
---
Geschikt voor
5
---
Slaapkamers
Enna, Sicilia, Italië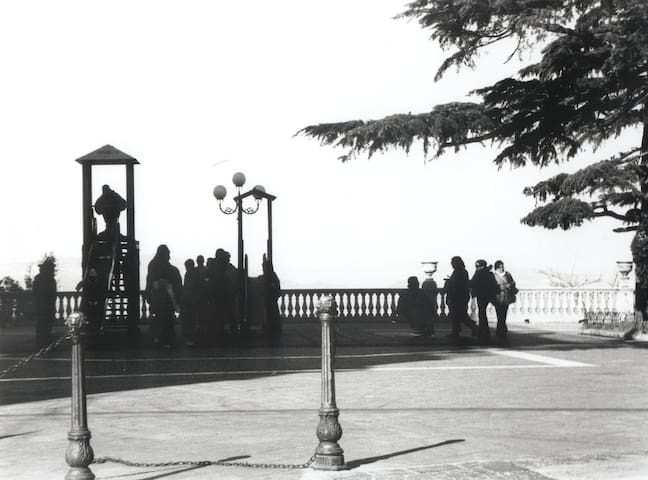 La mia villa si trova immersa nella pace dei sensi, distante qualche chilometro dal centro cittadino. È consigliata a chi vuole rilassarsi e farsi trascinare dalla bellezza della natura dell'entroterra siciliano tra sapori forti e vedute sensazionali.
Kamertype
Privé Kamer
---
Type woning
Villa
---
Geschikt voor
3
---
Slaapkamers
Caltanissetta, CL, Italië
Camere, arredi e biancheria nuovi. Accesso degli ospiti indipendente, parcheggio auto, camere ampie, vista giardino.
Nous avons été reçus avec courtoisie et grande gentillesse par nos hôtes La maison d'Eugénio est belle, la chambre est magnifique et d'une propreté irréprochable
Nelly
2017-01-01T00:00:00Z
Kamertype
Privé Kamer
---
Type woning
Bed & Breakfast
---
Geschikt voor
4
---
Slaapkamers
Calascibetta, Sicilia, Italië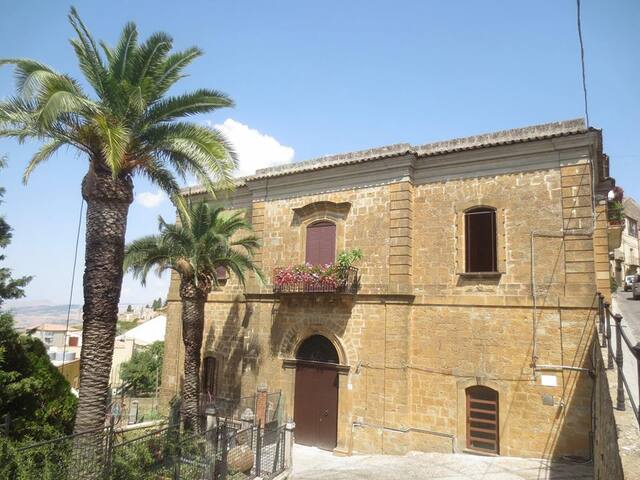 In una residenza estiva aristocratica rurale ci sono 6 cottage composti da 1 camera da letto matrimoniale, 1 bagno, 1 soggiorno, 1 angolo cottura con antistante patio attrezzato. Vi è servizio di breakfast. vi è una piscina e un giardino storico. I bambini fino a sei anni non pagano.
Great Place and Perfect Host That make you feel at home. Very recommendable!
Felix
2016-08-19T00:00:00Z
We had a great time at the Masseria San Giovanni. Maria Antoinetta welcomed us warmly and made all the necessary to let us feel confortable. The location is a good place to rest and to visite amoung the most beautifull cities of the islande ( Gangi / Petralia Soprana). The pool is amazing and the point of view you get from there is candy eyes.
mathieu
2016-08-31T00:00:00Z
Thank you both so much for a lovely stay in your beautiful home. At the end of the season ( 5-8 sept) we were the only guests staying in this fascinating location in the Sicilian mountains. Nini took us for a walk with his dogs and booked a couple of fabulous resturants for us in a local village (3 km away) and one in petralia soprana. Lovely spot. Highly recommended!
Sarah
2016-09-09T00:00:00Z
We have stayed here two nights with our two kids of 3 and 6. The place of 250 years old is absolutely wonderful. It has been restructured with a lot of respect for the place, authenticity and respect. The apartment was nicely situated at the back of the masseria looking over the old garden where our kids played hide and seek. Even though it was 30 degrees outside, the apartment was naturally cool. The pool overlooking the hills is breathtaking. We would love to come back!
aafke
2016-08-24T00:00:00Z
A great host, and a great place to stay : charming, calm, in the countryside ! Thank you for everything ! We will come back !
Clara
2016-05-22T00:00:00Z
Maria Antonietta was lovely, super helpful, full of recommendations, and very generous. The place is isolated in the middle of the Sicilian countryside, we were precisely looking for this kind of environment. The masseria is charming and filled with history. The view from the pool is worth every second of it!
Camila
2016-08-12T00:00:00Z
Kamertype
Gehele woning/appartement
---
Type woning
Bed & Breakfast
---
Geschikt voor
4
---
Slaapkamers
Petralia Soprana, Sicilia, Italië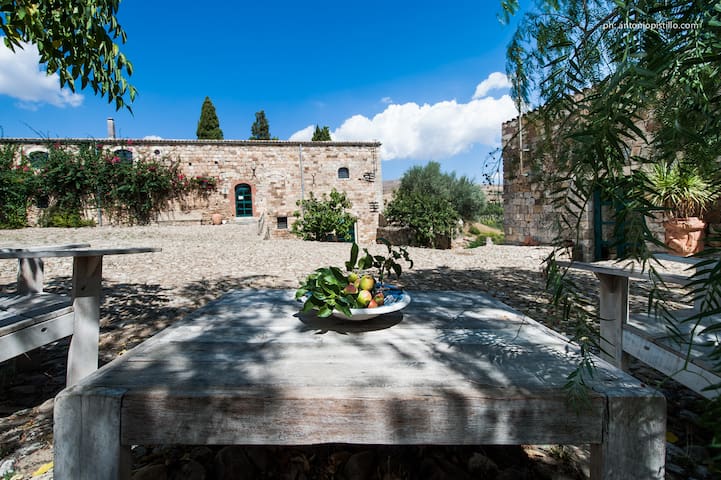 Renting rooms in large farmhouse in the countryside, surrounded by greenery and a lush olive grove, located in the highway between Pietraperzia and Barrafranca.
Renting rooms in large farmhouse in the countryside, surrounded by greenery and a lush olive grove, located in the highway between Pietraperzia and Barrafranca. The villa is recommended for those who sought a place of peace of mind and relax, where you can breathe clean and healthy air, in contact with nature, but especially away from the chaotic city life. The farm is composed of a large living room and a large veranda as relax areas, kitchen with all mod, two double bedrooms with en suite bathrooms. The farm is located 10 km away from Caltanissetta and 20 km from Enna. The convenient location allows easy to reach the archaeological sites of Piazza Armerina, Morgantina, Monte Sabucina, and the many others archaeological sites that characterize the Sicilian hinterland.
Kamertype
Privé Kamer
---
Type woning
Villa
---
Geschikt voor
5
---
Slaapkamers
Barrafranca, Sicilia, Italië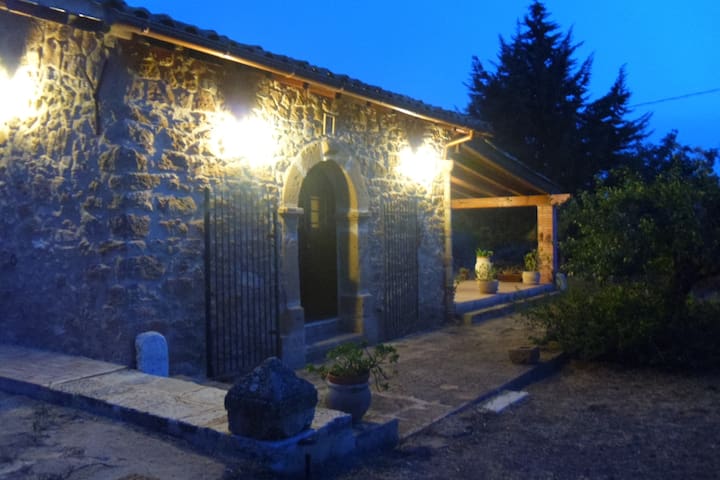 La camera si trova in un punto strategico a pochi minuti da ospedali dal centro storico e dal mare.a pochi passi dista la metro
Kamertype
Privé Kamer
---
Type woning
Bed & Breakfast
---
Geschikt voor
3
---
Slaapkamers
Catania, Catania, Italië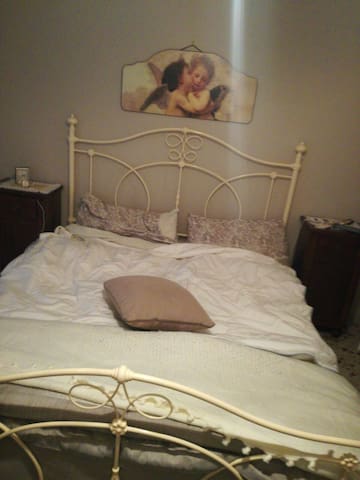 Situato proprio in centro città, alle spalle della splendida chiesa S. Stefano, si nasconde tra le vie medievali, un accogliente monolocale indipendente, appena restaurato e dotato di un ampio garage.
Het is een charmant en comfortabel, onafhankelijke appartement met een gratis doos voor uw auto. Verdeeld over twee verdiepingen. Open keuken en een comfortabele woonkamer met een slaapbank en eetruimte op de eerste verdieping. Een tweepersoons slaapkamer en badkamer op de tweede verdieping. Keuken is voorzien van oven, koelkast, Smart TV en gratis wifi internet. Centraal gelegen en onlangs gerenoveerd, Het is een uitstekende uitvalsbasis om de regio te verkennen. Als je enige vorm van advies over lokale voorzieningen of dingen te doen moet ik ben erg blij om u te helpen op elk moment. Wekelijkse schoonmaak service.
Roberto's appartement was zeer goed en groot genoeg voor de 4 dagen die we er hebben doorgebracht. De ontvangst was goed, uitvoerig en met persoonlijke aandacht. R. had gezorgd voor een goed ontbijt met koffie en thee. Ook een prima advies voor een goed restaurant. We willen dit adres aan iedereen aanbevelen. Freek en Anja de Boer.
Freerk
2016-06-13T00:00:00Z
Accueil charmant, Roberto est disponible pour rendre service. Appartement conforme aux photos, très mignon, fonctionnel, propre et bien placé. Place réservée ou garage à disposition très pratique pour la voiture. A recommander vivement.
Philippe & Agathe
2016-04-28T00:00:00Z
Enjoyed Roberto's place. We were met by his father who helped with getting the car parked - was not easy! Spoke with Roberto's by phone. Felt we were in real Sicily sitting out on the small balcony. Good location and clean, nicely refurbished apartment.
Amanda
2016-06-17T00:00:00Z
Roberto and his father were nice and helpful. Although we only spoke over the phone, Roberto helped direct me to a SIM card shop at my request and was accommodating to my needs. The apartment is nice and cozy, although with some oddities (low cieling). It is a bedroom and shower connected by stairs to a living room - kitchen, which was convenient. It is a short walk from both the old city and the new center. If your are set on staying in the city itself and not the surroundings I would definitely recommend this place.
Yishay
2016-05-26T00:00:00Z
Roberto è stato gentilissimo, ci ha accolti al nostro arrivo e ci ha illustrato tutto ciò di cui avevamo bisogno sia in casa che nel paese. Piazza Armerina è molto bella e Roberto ci ha anche consigliato un ottimo ristorante per la sera. La casa è molto accessoriata e accogliente, nel bel mezzo del centro città.
Ada
2016-03-09T00:00:00Z
Un appartement idéal pour une halte à Piazza Amerina, bien placé, propre et fonctionnel. Et Roberto a été de loin le plus accueillant des Siciliens que nous avons rencontrés ! Sans oublié le super rapport qualité-prix.
Flavie
2015-10-27T00:00:00Z
Alloggio carino... vicino dal centro... pulito con asciugamani profumatissime ...ottimo per un quick stop per andare a vedere piazza armerina e la villa romana del casale
Gianmario
2016-08-20T00:00:00Z
Roberto ist ein junger sehr netter (URL HIDDEN) gab uns Tips und war sehr zuverlässig. Die Wohnung selbst ist inmitten der Altstadt.Dort war der richtige Platz, um wirklich in Sizilien anzukommen! Die Unterkunft ist total schön und sauber und gut ausgestattet.
Conny
2016-07-25T00:00:00Z
Kamertype
Gehele woning/appartement
---
Type woning
Huis
---
Geschikt voor
3
---
Slaapkamers
Piazza Armerina, Sicilia, Italië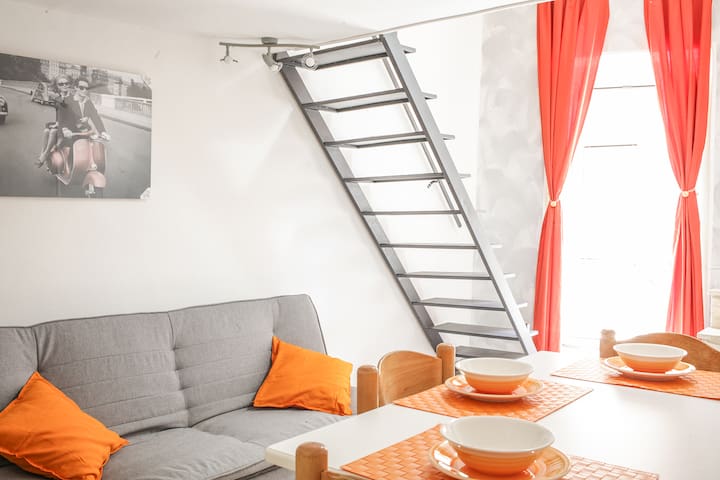 ...nel vero senso della parola.. la stanza con ingresso indipendente e al piano terra e' stata ricavata da una vecchia stalla e ristrutturata con passione ed eleganza. Ottimo punto di partenza per visitare i migliori siti della Sicilia..
La stanza e' stata ricavata da un'antica stalla, che un tempo veniva utilizzata come stanza dell'asino o del cavallo utilizzati dai vecchi proprietari principalmente come animali da lavoro e come mezzo di trasporto per cibo e merci, in particolare per carichi pesanti o traini. Gli elementi caratteristici della stalla che fu un tempo, sono rimasti intatti e semplicementi restaurati. La mangiatoia trogolo di legno usato per dar da mangiare agli animali con ancora presenti gli anelli in ferro dove venivano legati gli animali. La lumiera che veniva riempita di olio per illuminare la stanza, quando ancora non era presente la luce elettrica. Il fantastico arco in pietra che domina la parete laterale della stanza, dove e' stato anche ricavato un sedile con mattoni in cotto e comodi cuscini. La parete laterale della stanza da letto totalmente in pietra, e' stata restaurata. Il bagno e' particolare perche' e' stato incastonato nella parete in pietra ed e' suggestivo fare la doccia con l'acqua che sembra fuoriuscire dalla pietra. L'arredamento e' stato principalmente ricavato da mobili antichi e restaurati in stile Shabby Chic. Inoltre e' presente un divano letto per un'ulteriore ospite.
La casa e' situata nel cuore del quartiere Monte, con le sue viuzze medievali e con i bei palazzi rinascimentali e barocchi (Palazzo Trigona). Poco lontano il Castello Aragonese e il maestoso Duomo. Da non perdere la visita alla pinacoteca comunale ricca di pregevolissime opere d'arte, poco piu' avanti la chiesa di S.Martino di Tours, prima chiesa fondata dai Normanni la cui costruzione inizio' intorno al 1163
We zijn ontzettend hartelijk ontvangen met een verfrissende zelfgemaakte granita! De kamer was modern en gezellig, leuk om het verhaal erachter te weten (stal geweest van ezel en paard). Bij het afscheid kregen we zelfgemaakte pesto. Waw! We hebben genoten van jullie gastvrijheid!!
Joke
2016-07-10T00:00:00Z
Le logement est idéalement situé dans la vieille ville (charmante !) de Piazza Armerina, à quelques pas du Duomo. Nous avons rencontré Pietra, très accueillante et désireuse d'échanger autour de sa ville. Elle y vit depuis toujours, la chambre a d'ailleurs été aménagée dans une ancienne étable, juste en face de chez elle. Pietra et son mari lui ont donné une seconde vie avec beaucoup de goût. Pietra est pleine de bons conseils pour manger ou prendre le petit déjeuner sur la place du village. 100% local, la vie à la sicilienne! C'est une base idéale pour visiter le centre de la Sicile, notamment la villa del Casale toute proche ou encore Caltagirone.
Laura
2016-10-22T00:00:00Z
Ci siamo trovati veramente bene. Massimo è sempre stato presente rispondendo ad ogni nostra richiesta.
LUCA
2017-03-24T00:00:00Z
Magnifique logement dans la vieille ville (qui est d'ailleurs splendide), facile de se garer à côté et hôtes d une gentillesse absolue... je recommande.
Florian
2017-03-04T00:00:00Z
La "stalla" di Piera Angela e Massimo è un'esperienza unica e super consigliata. Il restauro è stato curato nei minimi dettagli, l'ambiente è molto pulito e dotato di ogni comfort, ma il vero valore aggiunto di questo soggiorno è l'accoglienza di questa coppia. La cura per l'ospite inizia con un annuncio veritiero e molto realistico, una comunicazione accurata e un'attenzione per l'ospite rara. Assolutamente imperdibile se passate da Piazza Armerina!
Giulia
2017-01-02T00:00:00Z
Host molto gentili e generosi, la camera è esattamente come la si vede nelle foto, segnalo solo la mancanza di una finestra perché potrebbe rappresentare un problema.
Laura
2017-02-27T00:00:00Z
Sin dal primo impatto sono rimasto felicemente impressionato. Ci siamo incontrati a due minuti a piedi dall'appartamento, dandomi modo di apprezzare le bellezze dei dintorni, siamo infatti nel quartiere storico, ricco di suggestivi vicoletti in cui puoi spesso rubare un'occhiata ai cortiletti privati, anch'essi speciali nella loro antica bellezza. L'appartamento è incastonato all'interno di una vecchia stalla di cui non rimane nulla se non l'atmosfera di protezione e tranquillità che non è mai mancata. Un ottimo incontro tra antico e nuovo; io personalmente sono rimasto piacevolmente sorpreso dalla doccia (per cui nutro sempre dubbi e preoccupazioni): piatto doccia largo e lindo, telefono grande con una portata d'acqua eccellente e soprattutto il muro alle spalle in parte originale (opportunamente trattato) in parte ristrutturato. Un pò indispettitto l'ultimo giorno ho cercato un difetto, niente...ho fallito! E voi avete vinto alla grande! Massimo infine mi ha anche omaggiato di un dvd sulle meraviglie siciliane, insomma...sapevo già di dover tornare in futuro a Piazza Armerina, ora spero anche che potrò godere nuovamente della stessa ospitalità, se non della stesso appartamento!!
Saro
2016-01-06T00:00:00Z
We spent very nice time by Piera Angela. The room was beautiful, in green style. Near the centre. We are satisfied. We got a lot of informations,we can recommend for other travelers. Alena and Vitek
Alena
2016-09-24T00:00:00Z
Kamertype
Privé Kamer
---
Type woning
Huis
---
Geschikt voor
3
---
Slaapkamers
Piazza Armerina, Sicilia, Italië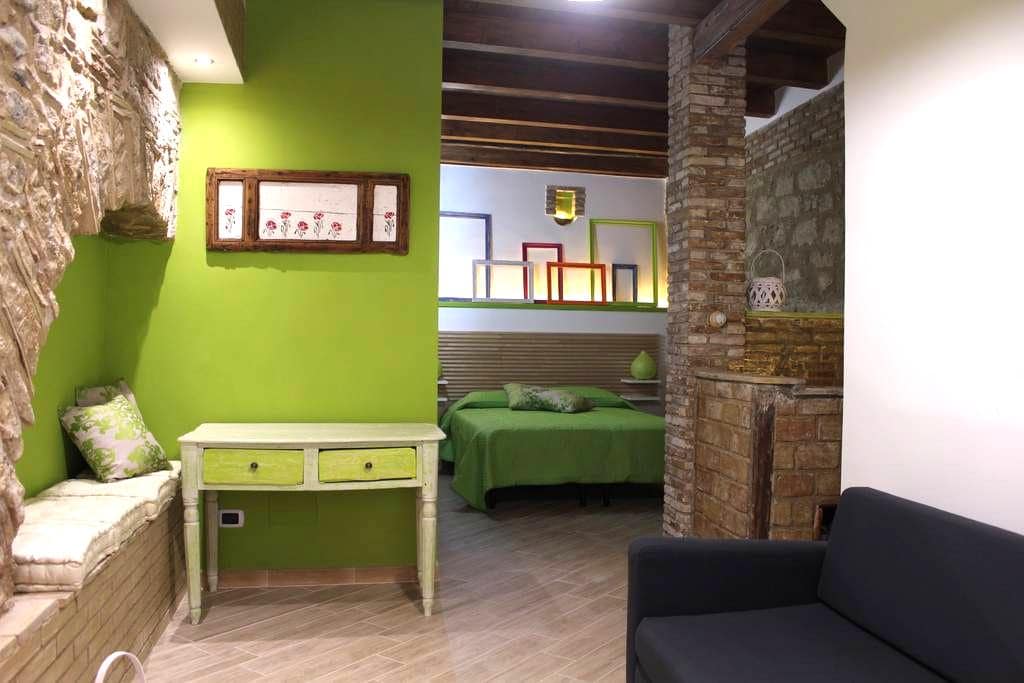 Een 3 km van de stad een mooie villa met een grote, vierkante fontein met .Twee hele verdiepingen met 2 slaapkamers en grote ruimtes in (URL HIDDEN) huisje heeft een kitchenette, een wasmachine en airconditioning en een ventilator aan het plafond
Appartement spacieux au milieu des oliviers, emplacement rêvé pour qui veut du silence. Seul regret, nous sommes arrivés à une période relativement fraîche. A partir de ce lieu nous avons pu visiter Agrigente et la Villa romaine de Piazza Armerina
Roland
2016-05-10T00:00:00Z
Casa molto ampia e bella immersa negli uliveti!
Flavia
2016-07-30T00:00:00Z
Great and big house in the countryside with an incredible view above the typical landscape of the intern Sicily. Giulia was very kind and helpfull and she adapted herself to our hour of arrival and departure. We loved this experience ! Thanks.
Guillaume
2016-07-05T00:00:00Z
La villetta in campagna di Giulia ha un ottimo rapporto qualità/prezzo. Gli spazi della casa e quelli esterni sono enormi, e ci sono tutti i confort necessari per un buon soggiorno. Bisogna solo valutare bene durante la prenotazione la posizione della casa, perché - come segnalato nell'annuncio - la casa è a 3 km dal centro abitato e quindi piuttosto isolata. Giulia è stata una host professionale e puntuale, pronta a risolvere qualsiasi esigenza le abbiamo sottoposto.
Pablo
2016-09-13T00:00:00Z
Les photos de la villetta et de son environnement à la campagne sont attrayantes, mais le confort intérieur nous projette 40 ans en arrière. Néanmoins cette expérience peut être intéressante pour qui n'a pas vécu cette période. Malgré l'odyssée spartiate dans la villetta, nous quittons Piazza Armérina avec les images fascinantes de notre visite à la villa romaine et de ses merveilleuses mosaïques.
Bernard
2016-10-27T00:00:00Z
La villetta è un ottimo rapporto qualità-prezzo. A 10 min da piazza Armerina. Comodo. Unica pecca le camere da letto non sono ben oscurate per la notte.
Laura
2016-08-12T00:00:00Z
Nice house in the middle of the countryside and olive trees! Beautiful view from the house. The house is very big. Clean. Tina is a very nice host and gives a lot of advice !
Mathieu
2016-09-01T00:00:00Z
Grande maison au calme. Accueil très sympathique.
cb3118@(SENSITIVE CONTENTS HIDDEN)
2016-09-11T00:00:00Z
Kamertype
Gehele woning/appartement
---
Type woning
Huis
---
Geschikt voor
5
---
Slaapkamers
Piazza Armerina, Sicilia, Italië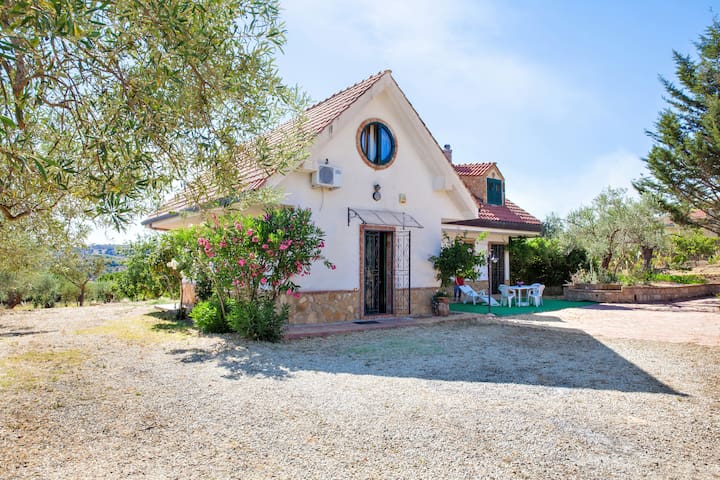 La camera, ampia e luminosa, è arredata semplicemente ma dotata di ogni comfort: TV, WI-FI , climatizzatore e bagno privato esterno con doccia, finestra.
Il B&B Le Giare si trova in un palazzo antico recentemente ristrutturato nel centro storico di Aidone.
Il B&B si trova nel centro storico di Aidone, piccolo borgo medievale sui monti Erei. Grazie alla sua posizione centralissima, tra le due piazze principali del paese, offre al turista/viaggiatore la possibilità di visitare comodamente a piedi quanto il paese ha da offrire: musei, chiese, monumenti e panorami mozzafiato.
Kamertype
Privé Kamer
---
Type woning
Bed & Breakfast
---
Geschikt voor
2
---
Slaapkamers
Aidone, Sicilia, Italië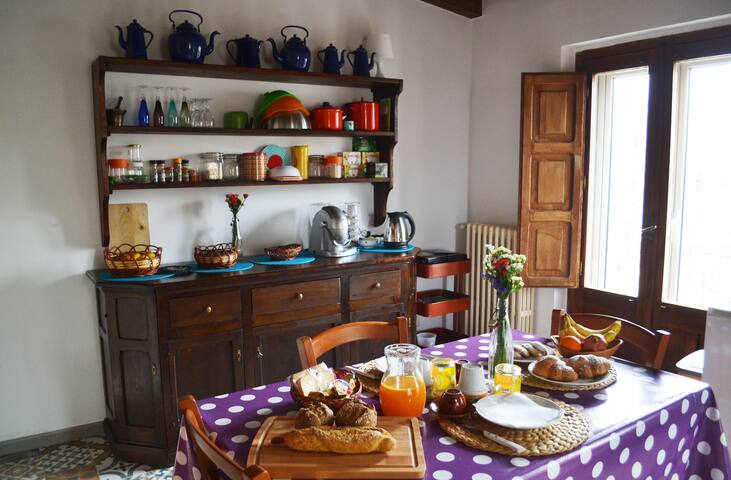 Een fantastische plek om het ware licht van Sicilië en het bouwland in de Romeinse Griekse Persephone mythe waarderen. Het Huis op de Prairie is geschikt voor fietsers, hardlopers, boeren, schilders, fotografen, musici, schrijvers en dichters. Koks en gezinnen met kinderen (en dieren). Genieten van een rustige, maar dicht (20 min) naar de oude stad van Morgantina (Korah) standbeeld Armerina Villa, de Etna, Catania, aan de Playa Beach, Acireale en de Siciliaanse barok District.
Het huis heeft vier kamers en een lommerrijke tuin van olijfbomen. Een eeuwenoude eucalyptus en cipressen sieren de patio. Het decor is eenvoudig, de vloer van gebakken klei tegels, de witte gepleisterde muren en een badkamer met lichte keramische voorzien van douche, toilet en bidet. De kamer heeft een bed voor een en een halve cm 190x160. Gasten hebben toegang tot de parking en de keuken is groot en leefruimte met een tafel voor zes zetels.
De boerderij ligt in het midden van een terrein van 10 hectare. Het maakt je rond voel je de meester van alles. U kunt gaan winkelen in de supermarkt de oren van Giumarra, een fractie van Castel di Judica. U kunt proeven van de lokale producten in de Borzì boerderij produceert kaas en ricotta. U kunt gebruik maken van de artisjok festival in het voorjaar in Ramacca.
Absolutely stunning, beautiful and off beaten like, I love this place, wanna come back here!
Igor
2017-02-21T00:00:00Z
endroit de tout repos, très calme sans TV et WIFI
COLETTE
2017-02-25T00:00:00Z
Un petit paradis, de la symplicité..... à vivre pleinement.
patricia
2017-03-24T00:00:00Z
What a lovely, lovely place Salvatore is offering. If searching for something that is secluded, then look no further. The house is equipped with everything you need (pasta, fresh bread upon arrival) and has a beautiful garden. Perfect for a break from city life, basic but really very peaceful!
Lucas
2017-04-04T00:00:00Z
Salvatore est un hôte très réactif pour toute les informations que l'on peut avoir besoin pour séjourner dans sa demeure. C'est sa soeur qui nous a accueilli, c'est une personne très gentille et qui a pris le temps de tout nous expliquer et de nous donner l'adresse de la boulangerie du coin,etc... La maison est vraiment un havre de paix, le temps y est arrêté et c'est un plaisir de se lever avec le bruit des oiseaux... Sublime ! Merci Salvatore
Marina
2017-03-05T00:00:00Z
Abbiamo trascorso tre giorni meravigliosi a casa di Salvatore, immersi nel verde dei campi di grano e nella tranquillità e calma che trasmette la natura incontaminata. Salvatore è molto ospitale e ha degli ottimi gusti musicali :D Speriamo di tornare presto!
Luana
2017-02-06T00:00:00Z
Kamertype
Gehele woning/appartement
---
Type woning
Huis
---
Geschikt voor
2
---
Slaapkamers
Franchetto, Sicilia, Italië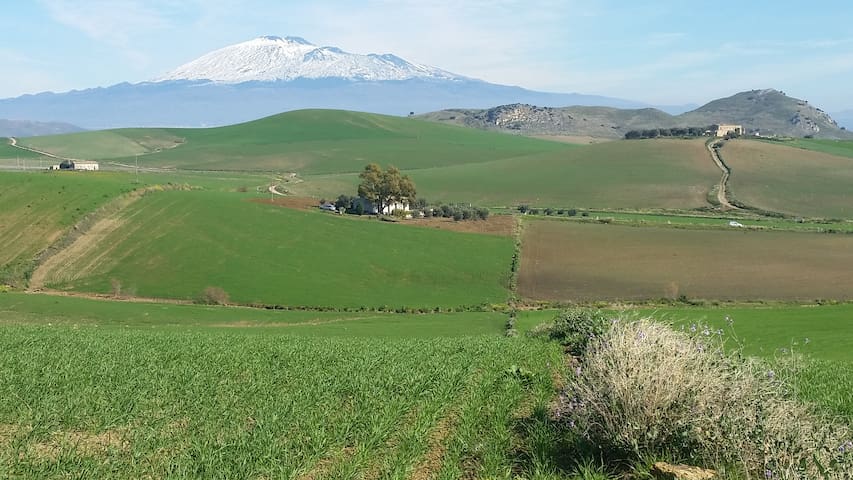 La casa è immersa nella tranquilla campagna ennese. La dimora è composta da una salotto, un'ampia cucina, una camera da letto matrimoniale con letto a baldacchino, 2 camere singole e due bagni. Dalla cucina si accede a una grande terrazza e ad un giardino a completa disposizione degli ospiti. La casa è arredata in modo creativo secondo arte, tradizione siciliana e stile shabby chic. Molto comoda, tranquilla e con un'anima romantica è l'ideale per coppie, famiglie ma anche per solitari.
Un ambientazione creativa e inusuale, quasi ogni singolo componente dell'arredamento e' stato pensato, creato da materiali poveri e rinato a nuova vita !
Great hosts, very kind people. The place is extraordinary, like a palace with an incredible view of old city of Enna.
Tomislav
2017-02-25T00:00:00Z
Une famille adorable, exceptionnellement accueillante, qui nous a fait partager l'amour de sa maison. "Maître Giovanni" l'a construite de ses mains et est en train de finaliser les extérieurs, tandis que son fils fabrique des meubles et objets de décoration uniques et originaux. Belle vue sur Enna et calme de la campagne.Notre séjour fut trop court et nous reviendrons avec plaisir.
Irene
2017-03-26T00:00:00Z
Kamertype
Gehele woning/appartement
---
Type woning
Appartement
---
Geschikt voor
4
---
Slaapkamers
Enna, Sicilia, Italië
Two rooms bright living room, kitchen, bathroom with window and bedroom. The kitchen has everything you need to cook. The living room has a sofa bed for two people and television. Pocket Wifi free is avaiable in the house. The bedroom, on the floor with a sloping roof, has a double bed and a small desk. The house is located in the city center, allowing you to move on foot and by public transport. In the street below you can park for free. The house is equipped with natural gas heating.
The accommodation is located in the historic center. Enna is a strategic point to visit all of Sicily, being at the center of it. The house can be combined with another studio which is located downstairs thereby offering the possibility to have two other beds.
Very convenient and clean place, even if a bit hard to find!
Simon
2017-03-22T00:00:00Z
Kamertype
Gehele woning/appartement
---
Type woning
Huis
---
Geschikt voor
5
---
Slaapkamers
Enna, Sicilia, Italië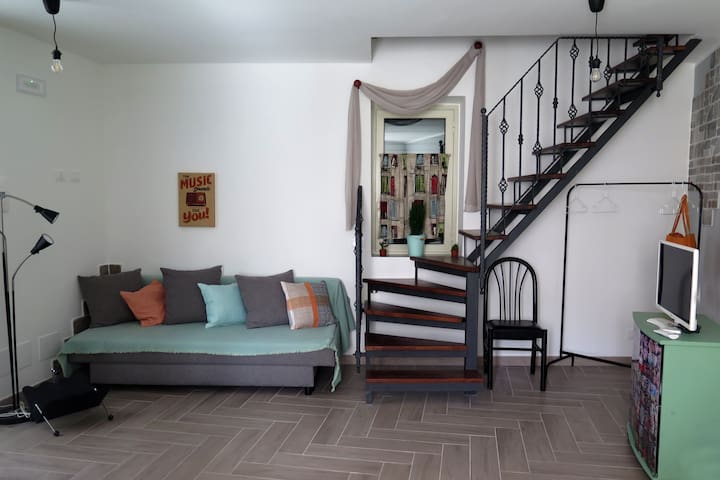 Mijn accommodatie is een zelfstandig appartement gelegen in een typische straat van het historische centrum op korte loopafstand van de kathedraal, dicht bij restaurants en cafés. Het appartement is gezellig en intiem, ideaal voor koppels, alleenstaande avonturiers en zakenreizigers. Het appartement is voorzien van een keuken, compleet met accessoires, een comfortabele tafel voor 4 personen, een kleine pantry, een tweepersoonsbed, kledingkast, kleerhanger en ondersteuning tafels voor koffers en een kleurrijke badkamer met douche.
Mieszkanie w starej części Piazza Armerina, urocza okolica, spokojna. Stylowa kuchnia wyposażona we wszystko czego potrzeba. Wygodne, duże łóżko. Eva jest przemiłą osobą, niezwykle pomocną i przyjazną :-) Zawsze szybko odpowiadała na smsy czy maile. Żałujemy, że mogliśmy spędzić w jej mieszkaniu tylko jedną noc :-)
Jagoda
2016-10-01T00:00:00Z
El apartamento es muy coqueto y aunque está en una zona céntrica es tranquilo. Eva fue una anfitriona encantadora: nos recibió con un refresco (incluso nos trajo salsa de tomate de la que estaba preparando para que no tuviéramos que complicarnos con la cena) y nos facilitó información sobre sitios a donde ir, etc. Muy, muy, muy recomendable.
Beatriz
2016-08-10T00:00:00Z
casa veramente carina, accoglienza con un aperitivo degno di nota! eva è molto gentile e simpatica. qualità prezzo eccellente.
Giada
2016-07-21T00:00:00Z
Son stato 2 giorni, e per le attivita svolte son stati piuttosto serrati quindi non ho avuto modo di vedere l'host. Pulito e accogliente
Enrico
2016-08-26T00:00:00Z
Ce n'est pas Eva qui nous a accueilli mais elle nous avait prévenu. La personne qui l'a remplacée était sympathique mais nous ne l'avons pas revu au moment du check-out malgré un message de notre part indiquant que nous quittions les lieux. Donc la porte est restée ouverte à notre départ. L'appartement est très chaleureux mais le quartier est très bruyant (musique) jusque tard dans la nuit.
Alejandra
2016-08-25T00:00:00Z
Un joli petit appartement très bien situé dans le centre de Piazza Amarena, idéal pour visiter la ville et avant d'aller voir la Villa Romana del Casal. Eva est très gentil et malgré le fait qu'elle ne parle qu'italien (et pas nous...) nous avons compris toutes ces explications et conseils. Je vous recommande chaudement son logement!
Cécile
2016-10-28T00:00:00Z
L'appartement est correct. Plutôt bien placé dans la ville. L'hôte est aimable et de bons conseils. Elle ne parle pas très bien l'anglais mais elle se fait comprendre, toujours avec le sourire ! Rapport qualité / prix correct. Nous nous y sommes arrêtés une nuit pour couper un trajet en deux. Rapport qualité / prix honnête. Le lit n'est pas super mais pour une nuit c'était suffisant. Si vous êtes dans le coin, allez voir la villa romana, ca vaut le détour.
Victor
2016-09-03T00:00:00Z
Un piso muy lindo, bien ubicado y limpio. Eva nos ayudo con todo lo que necesitamos. Súper recomiendo este piso!
Angeles
2016-08-04T00:00:00Z
Kamertype
Gehele woning/appartement
---
Type woning
Appartement
---
Geschikt voor
2
---
Slaapkamers
Piazza Armerina, Sicilia, Italië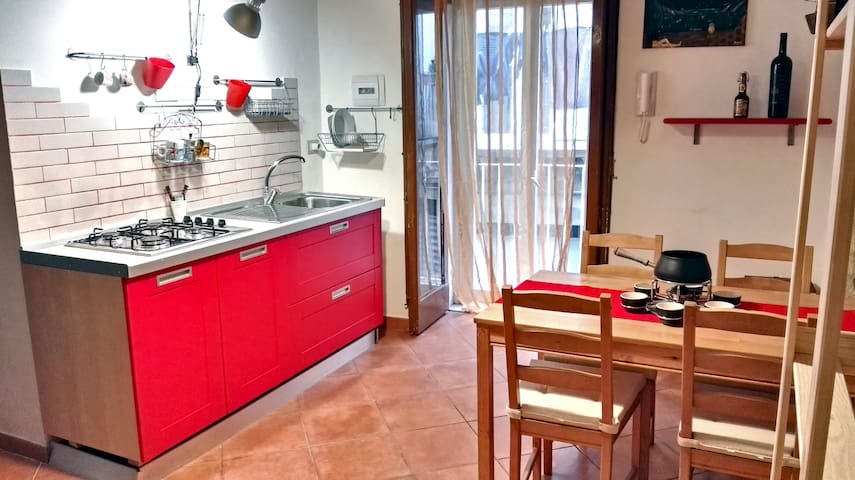 Scegli l'opportunità a prezzi competetivi di vivere qualche giorno in un monolocale di 50 metri quadri immerso in 3.300 metri quadri di terreno, circondato da palme e ulivi. Villa Folco si trova in città, ma allo stesso tempo in campagna.
Monolocale da 50 metri quadri, bagno autonomo interno con doccia, arredato con design moderno, all'interno di una villetta indipendente immersa nel verde. Dotato di tutti i comfort, wi-fi gratuito, parcheggio gratuito privato, ingresso autonomo, letto matrimoniale super spazioso, due divano letti superspaziosi da una piazza e mezza, cucina a isola, macchina da caffè con cialde, microonde, frigorifero, tablet, tv lcd 32 pollici, radio-cd e lettore i-phone, lettore dvd, dvd, libri, fumetti, asciugacapelli. Il riscaldamento è a pavimento e centralizzato. A richiesta lavatrice, asciugatrice, asse e ferro da stiro per soggiorni più lunghi. Tour a 360 gradi dentro l'appartamento: (URL HIDDEN)
La villa si trova nel quartiere Santa Croce, in città, ma allo stesso tempo immersa nella natura, su un pezzo di terra di oltre 3 mila metri quadri
FORMIDABLE. très belle réalisation, tant à l intérieur qu'à l extérieur. Tout est neuf. Endroit calme, reposant, agréable terrasse. bravo pour le tri des déchets. bravo pour la biodiversité: integration des arbres dans le projet. papillons présents.
François
2016-09-17T00:00:00Z
Nous avons passé un sejour magnifique, je dirai même paradisiaque. Un sans faute pour Roberto qui mérite son titre de Superhost. En effet l'appartement est neuf et d'une décoration de grand goût. Pour ce qui est de l'équipement, machine à café, tablette Samsung, tout ce qui fait pour cuisiner et une grande collections de livre pour les petits et les grands, amateur d'art, de trilleur, de classique ou de BD. Merci encore c'était formidable.
Steven
2016-08-11T00:00:00Z
Roberto is a lovely guy we had trouble finding his place from the address but he wizzed out in his car to find us. The apartment is under his house, very like James Bond's. It is new and although it has a sofa bed my boyfriend and I found it comfortable for the one night we stayed following our visit to Villa Romana. There are a couple of other sofas which I am sure would be fine for a group of friends or a large family visiting the sites. There is a lovely collection of curiosities including 4 animated music boxes and a collection of cowboy comic books, great if you are trying to improve your Italian. Roberto is fun to talk to because he is really interested in foreigners. Do not hesitate choose this apartment if you want to visit Villa Romana.
Juliet
2016-09-09T00:00:00Z
Appartamento moderno, pulito e tecnologico in un contesto appartato e circondato dalla natura. Servizi e comodità a portata di mano, anzi, un supermercato è fuori dalla porta, meglio di così non si può! La casa è in ottima posizione per chi è alla ricerca di un viaggio culturale e tradizioni nella Sicilia orientale, esperienza positiva!! Grazie a Sandra e Roberto.
davide
2016-08-25T00:00:00Z
Nice and clean place, just as told in the description. Roberto is a very friendly and helpful, as well as a very well organized Host. Completly recommendable.
Martin
2017-04-04T00:00:00Z
Roberto is very warm, the place brand new and perfectly equiped. You feel Like home. For sensitive back as me, good to know that the bed is a sofa bed, and need to Be used a little bit more to Be comfy. Except this, it was perfect !
veda
2016-05-08T00:00:00Z
Kamertype
Gehele woning/appartement
---
Type woning
Villa
---
Geschikt voor
4
---
Slaapkamers
Piazza Armerina, Enna, Italië
Hi there!Thanks for stopping by!I present to you,dear travelers stylish,a bright apartment located in the central of Sicily, in Contrada Capuano and near Gangi. A place where the silence of the night is almost a dream against the stress of the city
The apartment is nestled in the countryside, you can travel comfortably with your car, that you can leave it for free on site. In your apartment you will enjoy beautiful sunsets to be observed in the terrace with a glass of house wine, or lying on one of the benches in the garden. Even your awakening will be accompanied by the singing of the birds that breaks the silence of nature. If you want, you can accompany me in my daily routes, looking for mushrooms, asparagus or other products offered by the earth. And if you are adventurous enough, I will give you all the tips to take the paths between the Madonie Mountains. If instead you want to enjoy the views in a relaxed atmosphere, you can undertake long walks or bike. In the same structure of your apartment there is also the restaurant of my farm, when you want to taste my specialties, for lunch or dinner, you are welcome! The firm that I manage is certified organic, and you can buy vegetables, wine, jams and other products. The common room has a small library, and you can to listen via cd stereo system at your disposal, and also you can play different guitars... A place for musicians in search of inspiration.
Natura, musica e pace.
Dit was onze meest pure Sicilië ervaring ooit!! Wat een geweldige man en een lieve vrouw. Het appartement ligt in een adembenemend mooi gebied. Fantastisch lekker eten werd er voor ons gemaakt. Allemaal uit de eigen tuin en vlees van biologische boeren uit de buurt. De heerlijke wijn maakt hij zelf. We hebben bij de open haard gezeten en Salvatore ging mooie liederen voor ons zingen met zijn gitaar. Wat een sfeer!! Hij heeft 2 CD's gemaakt en we hebben er 1 gekocht die we dagelijks afspelen. Het ontbijt was ook super met o.a. taart die net gebakken was. Salvatore bedankt!! Dit was een ervaring die we nooit vergeten.
Jos
2014-05-18T00:00:00Z
Mooie rustige locatie. Vriendelijk onthaal. Rijkelijk lekker ontbijt (verse yoghurt, koffie, eigen gebakken koekjes, eigen gemaakte confituur,...). Als je wil kon je nog dingen verzoeken oa. fruit, een extra ei'tje. Heerlijk! Tips gekregen voor prachtige wandeling in Madonië-park. Dankje!
Eveline
2015-08-15T00:00:00Z
G
Antony
2016-12-07T00:00:00Z
Wir hatten bei Toto eine großartige Zeit. Abends hat er für uns HERVORRAGENDES Essen gekocht und zusammen mit seinem Freund Giuseppe für uns Musik gemacht. Ein tolles Erlebnis. Das Haus liegt nahe Gangi in absolut ruhiger Lage. Von der Terrasse hatten wir Abends einen tollen Blick in die Landschaft inklusive Sonnenuntergang. Die Gegend um Gangi und Gangi selbst sind ein echter Geheimtipp und wir können Totos Haus nur empfehlen! DANKE TOTO!!!
Malte
2015-04-16T00:00:00Z
Great location, really quiet environment, great flexible hosts, great cooking on demand, really nice walk to Gangi and a lot of hills! Thanks Totò and Angela!
Gerard
2016-05-24T00:00:00Z
What a great part of sicily to visit. unspoilt, beautiful countryside. Toto's household are great hosts take the food offered its exceptional.
Zac
2017-04-06T00:00:00Z
Notre séjour chez Salvatore s'est déroulé dans la gaité et l'humour! Visite du jardin potager bio, chanson pour le petit déjeuner et excellents repas, fait maison! chez Salvatore et son épouse, il fait bon prendre le temps de refaire le monde! Nous recommandons vraiment cet endroit pour les amoureux de la nature et de la tranquillité.
Séverine
2015-07-14T00:00:00Z
We loved Toto and Toto's place. We arrived in Ganci three days after Palermo. This apartment at this location was exactly what we needed during our holiday. Beautiful Sicilian environment, great welcome and lovely food and music. We arrived at the Ganci's agriturismo farm in the evening. In our journey finding the apartment we got lost with the car in the town of Ganci. We were totally wrong, and we got stuck with our Fiat 500 in the small streets of Ganci. It was awsom! We found are way back to the mainroad, and no damage. We still needed to find Toto's place so we asked a random guy in the streets. We could barely understand him with, but then he showed up in his car and led us to Toto's place. When we arrived at Toto's place he was expecting. We were the only guest in he prepared a table in his great guestroom entrance. This is where you hang out, eat breakfast an diner and see Toto. He made us excellent food the 3 nights we were day. And a big bonus was that Toto played us his own songs on his guitar. He also has his own record. I would recommend it to everybody who is looking for a peacefull place
Irfan
2015-09-25T00:00:00Z
Kamertype
Gehele woning/appartement
---
Type woning
Appartement
---
Geschikt voor
4
---
Slaapkamers
Gangi, Sicilië, Italië
L'abitazione è situata nell'antico tessuto urbano del centro storico che collega il Duomo al prezioso Castello di Lombardia. Accogliente e confortevole, è divisa su tre piani. Al piano terra ampio salone con tv e zona relax, un letto a scomparsa e bagno. Al primo piano soggiorno con 1 divano-letto e vetrata con balcone vista panoramica, cucina e zona giorno , bagno con lavatrice. Collegato da una scala a chiocciola ,al secondo piano, l' appartato soppalco con due letti per la zona notte.
Tra profumi nei vicoli e gialli prospetti settecenteschi delle chiese. A due minuti il Duomo, "culmine delle celebrazioni della suggestiva Settimana Santa di Enna e delle celebrazioni patronali della Madonna della Visitazione". A tre minuti circa il Castello di Lombardia, "dalla sua torre pisana ci si accorge visivamente che Enna è l'Umbilicus Siciliae e probabilmente i Romani la soprannominarono così per la vastità dei paesaggi che abbracciano vaste parti dell'Isola". Quasi alle spalle del Castello c'è la Rocca di Cerere parte dell'antica acropoli di Henna, sacra a Demetra e Kore. Con veduta mozzafiato, "spettacolare l'alba con il sole che sorge accanto il maestoso vulcano Etna".
Kamertype
Gehele woning/appartement
---
Type woning
Huis
---
Geschikt voor
4
---
Slaapkamers
Enna, Sicilia, Italië