hotel entorno privado w. libre de Direct TV HBO, ropa, televisores de pantalla plana w teléfonos de larga distancia, sin @price desayuno wifi gratuito, el más cómodo pillow-top camas Laura Ashley de American Furniture, ABQ. No hay desayuno se ofrece en este momento. (Precios bajaron). Nevera, microondas y cafetera
Se trata de un hotel boutique que se encuentra en la categoría de los hoteles boutique. Hemos reducido nuestros precios por lo que no ofrecen el desayuno en este momento. Estamos ubicados en el lado oeste de la ciudad, cerca del centro de la ciudad. Hay un restaurante mexicano por la calle en dirección Este hacia la calle principal. Hay una de Sonic en la misma dirección. Todas las cadenas de restaurantes están situados en el lado norte y el lado este de Clovis como Applebees, langosta roja, chiles, y una cocina de campo restaurante al otro lado del centro comercial de la calle Prince. Hay un Walmart Supercenter en el lado norte de la ciudad. Se habla Ingles.
Me gusta el hecho de que es un barrio tranquilo, frente al dólar de la familia que lo hace conveniente. Además, hay una tienda Allsups - una tienda de conveniencia con largas horas. El Ihop está en el lado este y está abierto las 24 horas. Tenemos perros de la pradera en nuestras instalaciones.
The host was always available by text and the room was adequate especially for the price. It was a bit of an older establishment but the staff was very friendly.
David
2016-05-02T00:00:00Z
Overall, experience was very good. The host was available as soon as I arrived, she met me and the check in went very smoothly. She also made sure there was plenty of communication along the way before I checked in. The room had all the amenities described in the description. The room itself was good. It did have a remolded bathroom and was clean. However, it is an older building and it did have water damage in the ceiling. The owner was working on the roof but that caused some critter migration to my room such as a centipede, and several spiders. In conclusion, it still was a great value for the price and amenities such as microwave, refrigerator, and access to free laundry.
Michael
2016-09-24T00:00:00Z
Clovis is a town with lots of character, its small and friendly. I enjoyed my stay at the Colonial Heritage Inn. Linda and the Doc were great hosts. Linda was always very efficient with getting back to me and very helpful when I had to find a place for my dog to stay. The Sierra Pet Hotel is awesome! They accommodated me last minute and my dog left there happy! The room was very comfortable, it had a little fridge, microwave and coffee pot. The room had all the essentials, including a very nice vanity where I was able to put my makeup on. There are cute prairie dogs around the property, they come out in the morning and you can even hear them. I know theres not much in this town but the Inn was a much better stay than any motel! I recommend Coffee Bistro off N. Prince St. they have awesome sandwiches and coffee!! I also recommend the biggest pawn shop in NM, well at least thats what the owner told me, its actually off 7th St. and they are open everyday except Sunday and Monday. Look forward to visiting this place again!! Thank you Linda for a great stay!
Brianna
2015-04-21T00:00:00Z
Clean and recently renovated rooms. Spacious, quiet and very private. The washer and dryer is a nice bonus for travelers.
Joey
2016-12-23T00:00:00Z
Linda is an understanding host and worked with me through the difficulties we were experiencing getting the reservation taken care of. The room was great and and place it self was unique. I do recommend this location to anyone traveling through Clovis!
Matthew
2015-04-26T00:00:00Z
I did not make the reservation until the day of arrival. Linda responded quickly and we finally get it set up. On arrival, Ali greeted me warmly and showed around part of the Inn and my room. The room in this hotel-like setting met my needs. The bed was comfortable. There was a table I used for my computer. The Internet worked until midnight and then was no longer available in the room. It worked in the lobby though. Throughout my stay, and after it too, Linda stayed in touch electronically.
Joe
2015-03-15T00:00:00Z
Quiet & secure lodging at an unbeatable weekly price. Lin was very accommodating during the booking and check-in process (inn doesn't have front desk staff, so you'll need to coordinate in advance). Accommodations were well-appointed (inn is furnished throughout, pillowtop bed was nice) but could have been a bit cleaner. Would stay again.
John
2015-06-21T00:00:00Z
My wife and I arrived at Colonial Heritage at 4:00 pm on our way to Santa Fe. The door was locked. We rang the door bell and there was no answer. After a few minutes we rang the buzzer again. Still no response. We looked through the windows for signs of life. There were two cars in the lot and a truck belonging to the Inn. One car had a flat tire and the dirt around it indicated it had not moved in a while. The truck also looked like it had not moved in a while. There was a hand written sign posted on the front door saying "guns were not allowed on the premises" and a phone number to call for service. We called the number and an automated message service recorded our request: "Come to the door please. We have arrived." We waited. Crickets. There was a 800 number painted on the back window of the Colonial Heritage Inn pickup truck. We called that number and were greeted with a automated "short survey" asking if we were over 65 (Whaaa?!?!?). My wife noticed a nearby billboard sign for the Colonial Heritage Inn with yet a different 800 number. We called that and there was no response. It rang and rang. We looked on Trip Adviser at the listing and noted a comment wondering whether the business was still active. The comment offered yet another number we tried and that too had no response. We looked around the side of the Inn. The place looked like no one was there. We got in the car and shared a beer because it was HOT. It had been about 45 minutes waiting for ANY response so we booked another room at Super 8 which was non-refundable. While we were driving to the Super 8 we got a call from the Heritage Inn proprietor - 50 minutes after we'd arrived - and we told her we'd made other arrangements. Super 8 was non-refundable. She begged for us to return but we declined. The stay at the Super 8 had its own challenges. The local Mexican restaurant where we had "migas" had culinary challenges but the people were friendly. Clovis is a small town that used to be a big railroad hub. Now the town appears struggling to stay alive. I don't want to pile on, but in honesty, our stay in Clovis was "an adventure" and the adventure started at the Colonial Heritage Inn. The next day I got and email through AirBNB. The proprietor offered us a TWO nights stay at the Colonial Heritage Inn. Neither my wife nor I would ever choose to go to Clovis again let alone for two days nor to stay at the Colonial Heritage Inn. Let's leave it at that.
David
2015-07-23T00:00:00Z
Kamertype
Privé Kamer
---
Type woning
Boetiekhotel
---
Geschikt voor
2
---
Slaapkamers
Clovis, New Mexico, Verenigde Staten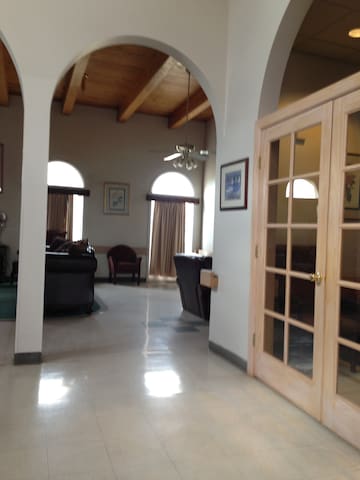 Worst experience ever. Everything from the host to the facility, that used to be a nursing home, is awful. Could go on as to why, but please please stay away. Clovis has many more options that are much better if you need an extended or temporary place to stay.
Rushi
2016-07-12T00:00:00Z
Lighting outside in parking is very poor, not in a favorable area of town, windowed leak air and a lot of dust, had to clean layers of dirt off jacuzzi tub in my room each time I wanted to use it. Lots of issues with having hot water for showers, TV consisted of mainly HBO with no local channels available and lots of problems with the Wi-Fi.
Pamela
2017-03-29T00:00:00Z
Kamertype
Privé Kamer
---
Type woning
Bed & Breakfast
---
Geschikt voor
2
---
Slaapkamers
Clovis, New Mexico, Verenigde Staten
Kamertype
Privé Kamer
---
Type woning
Bed & Breakfast
---
Geschikt voor
2
---
Slaapkamers
Clovis, New Mexico, Verenigde Staten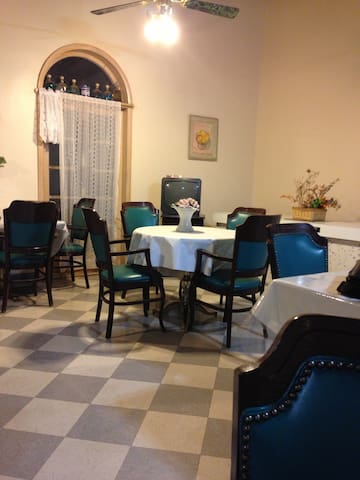 1

–

3

van

3 Accommodaties
Voer datums in om de volledige tariefopbouw te zien. Er kunnen extra kosten zijn en er kunnen belastingen worden toegevoegd.