Het is me dicht bij kunst en cultuur, gastronomie en restaurants en activiteiten die geschikt zijn voor gezinnen. Bij mij zul je het omdat het comfortabel bed, gezelligheid en hoge plafonds houden. Mijn hotel is zeer geschikt voor koppels, individuele reizigers, families (met kinderen) en huisdieren (dieren).
Kamertype
Privé Kamer
---
Type woning
Huis
---
Geschikt voor
2
---
Slaapkamers
Černošice, Tsjechië
It's me close to art and culture, spectacular views, restaurant and catering and activities suitable for families. For me, you will love it, because the neighborhood and location. My accommodation is great for couples, solo travelers and business trips.
Das Haus war genau wie in der beschreibung und auf den Fotos ersichtlich. Ales war sehr nett und hat uns alle Räumlichkeiten gezeigt. Er hatte darüber hinaus Pläne für s- sowie Straßenbahn parat. Obwohl das Haus direkt an der S-Bahn Strecke liegt hört man davon überhaupt nix. Ausblick und Umgebung einwandfrei. Ein Spaziergang ist zu empfehlen! Des weiteren solltet ihr im Ort das Restaurant Luna besuchen. Sehr gutes Preis Leistung Verhältnis! Danke
Sebastian
2017-01-03T00:00:00Z
Kamertype
Privé Kamer
---
Type woning
Huis
---
Geschikt voor
2
---
Slaapkamers
Černošice, Central Bohemian Region, Tsjechië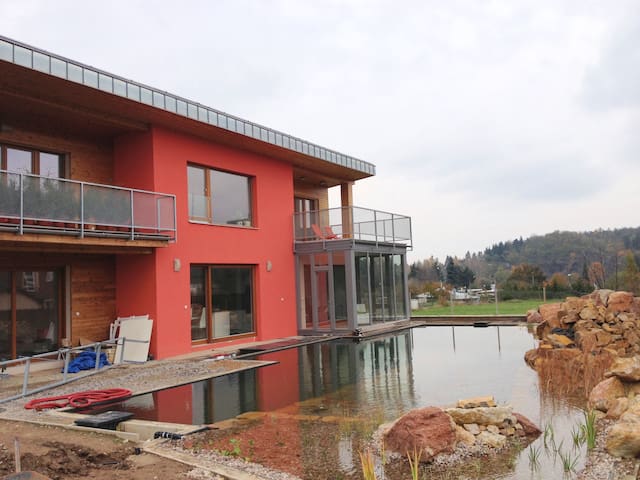 Nově zrekonstruovaný plně vybavený byt v třípodlažním domě, s velikou zahradou. Byt ve vrchním patře + terasa, balkon, možnost přistýlek, dětské postýlky. Kousek do Prahy (vlakem i autem 20 minut) i hrad Karlštejn. Krásné okolí, nádherný výhled!
Nádherný výhled na Prahu a okolí. Blízko centra Prahy i hradu Karlštejn. Klidné místo, lesy, řeka. V Centru Prahy do 35 minut.
Klid, pohodu, ale vše blízko - obchody, vlak, les, Praha, Karlštejn, vyhlídky..
Very good place for that would posmotet Prague and its surroundings. Eva and her family are always ready to help and resolve all issues. Apartments fully correspond to the description. There is everything for a comfortable stay. Excellent on-site parking apartments. Many thanks to Eva and her family for their attitude to the guests. We will definitely return.
Aleksei
2016-11-03T00:00:00Z
Нам очень понравилось у Евы. Хороший дом и хозяева. Отлично!
VADIM
2017-01-06T00:00:00Z
Absolut ideale Ferienwohnung für 4 Personen. Die Gastfamilie ist sehr entgegenkommend und nett. Die Aussicht ist einmalig und der Pool im Garten ideal. Die Wohnung ist wirklich gemütlich und geschmackvoll eingerichtet, Sauberkeit wird hier groß geschrieben :)! Mit der Bahn erreicht man den Prager Hauptbahnhof in 20 min. und kann ohne Parkplatzprobleme den Tag genießen, ggf. mit einem Tagesticket die günstigen, öffentlichen Verkehrsmittel nutzen. Diese Wohnung ist wirklich empfehlenswert!
Arie
2015-10-09T00:00:00Z
Eva is very nice host, she was very helpful, providing all kind of information. And her parents who met us at the house are sooo kind! The house is located at super beautiful place on the hills is perfect for those who don't like to live in tourist crowded areas. It is very clean and children friendly. We love it! Oh and the view from balcony is just amazing! You can actually see whole Prague) thank you!!!
Maria
2016-01-02T00:00:00Z
We had an excellent stay at Eva's place. She and her family were very hospitable, kind, providing all the information we needed. House was very clean, spacious, it had everything we could possibly need. We really felt like at home. We would certainly consider coming back. Aleksandar and family from Serbia.
Aleksandar
2015-12-26T00:00:00Z
The host canceled this reservation 156 days before arrival. This is an automated posting.
Anja
2016-02-10T00:00:00Z
Kamertype
Gehele woning/appartement
---
Type woning
Huis
---
Geschikt voor
6
---
Slaapkamers
Černošice, Central Bohemian Region, Tsjechië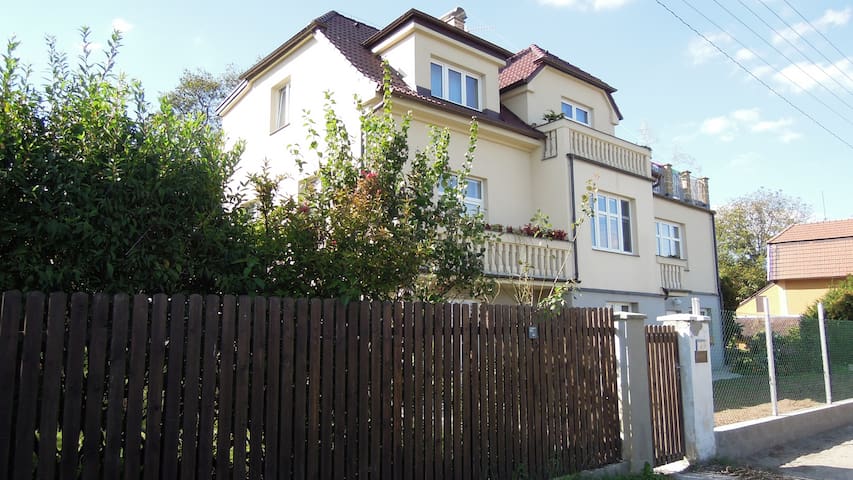 It's me close to art and culture, spectacular views, restaurant and catering and activities suitable for families. For me, you will love it because of the location and surroundings. My accommodation is great for couples, solo travelers and business trips.
close to the Prague city center, near the forest, close to the river, close to the Karlstejn
During our vacation date prag was full,we couldn't find even a room in city center, then we decided to rent ales house, little bit outside from the city but perfect, safe quality location just next to the train station, in 15 min you can arrive to prag by train, home is perfect, Ales is very kind person.
Ugur
2016-08-16T00:00:00Z
Moc pěkné ubytování v krásném klidném prostředí
Hana
2016-11-24T00:00:00Z
Ales was really friendly. We enjoyed the house and the terrace a lot!
Chiu-Hao
2016-10-03T00:00:00Z
Amazing house really it's a paradise near to Prague, the balcony is one of the best things and also the river near to the house. But the bedroom was a little dirty, more cleaning and the place is the best in Prague.
Eduardo
2016-10-31T00:00:00Z
Ales welcomed us with tea. His gorgeous house is very close to the trainstation but great double glazing means you don't hear it. Very easy and quick into Prague. A very nice bedroom with private bathroom made for a fantastic stay. Thank you and hope to see you again Ales.
Christy
2016-09-24T00:00:00Z
Kamertype
Privé Kamer
---
Type woning
Huis
---
Geschikt voor
2
---
Slaapkamers
Černošice, Central Bohemian Region, Tsjechië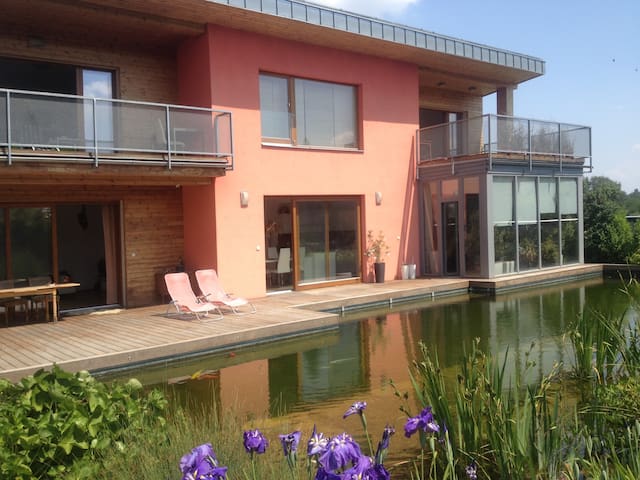 Separate flat 1+1 in peacefull area in family house. 1 room with 1 (event.2 beds) with TV, PC, WI-FI free + 1 room (2 beds) with kitchen corner. Enjoy green area while you get into the Prague center in 35-40 min..Owner can give you trip-tips.WELCOME
Ubytování bylo fantastické, vysoce nad očekávání. Jelikož jsme dorazili do Černošic vlakem, paní se nabídla, že pro nás přijede autem, tedy servis vynikající. Byt byl hezký, moderně zařízen, včetně ledničky, televize..., zkrátka nic nám nechybělo. Ubytování určitě doporučuji.
Jiří
2016-10-09T00:00:00Z
Gabriela and her husband are nice hosts who can give many valuable tips for excursions. Their extraordinary house lies offside on a wonderful green plot in the prettiest small town around Prague. Driving up to the house is not quite simle, but after one or two times, you've got the hang of it :-) The two dogs are very nice and tame. The apartment consists of a 14 m2 room with a single bed, which can be extended on the floor with a second bed. The matressses are good. It also has a table and a PC workplace. In the 6 m2 kitchen, there's an additional sofa that can be used to sleep on, too. Since we were the first airbnb guests, there were a few things missing. But that was fixed promptly by Gabriela. For those who look for a beautiful, quiet place near Prague (quickly accessible by train), this is a nice place to stay.
Martin
2016-06-07T00:00:00Z
Kamertype
Privé Kamer
---
Type woning
Huis
---
Geschikt voor
3
---
Slaapkamers
Černošice, Central Bohemian Region, Tsjechië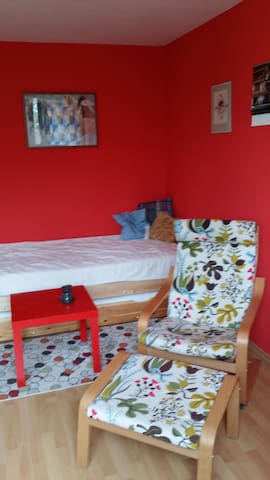 Studio,ca 40 m2 with fully equipped kitchen, own bathroom and separate entrance in a villa from 1936 set in beautiful gardens fronting the River Berounka. 15 min train ride into the centre of Prague.
We had a nice and comfortable stay at the studio/appartment in Olga´s house. It is spacious and there is basically everything you need. The surrounding is really kind, and even it´s a bit outside of prague it is quite easy to reach the city center (about 20min by foot and train). We were welcomed very friendly and can recommend this accomodation warmly :)
Sunia
2016-01-02T00:00:00Z
Kamertype
Privé Kamer
---
Type woning
Huis
---
Geschikt voor
3
---
Slaapkamers
Černošice, Central Bohemian Region, Tsjechië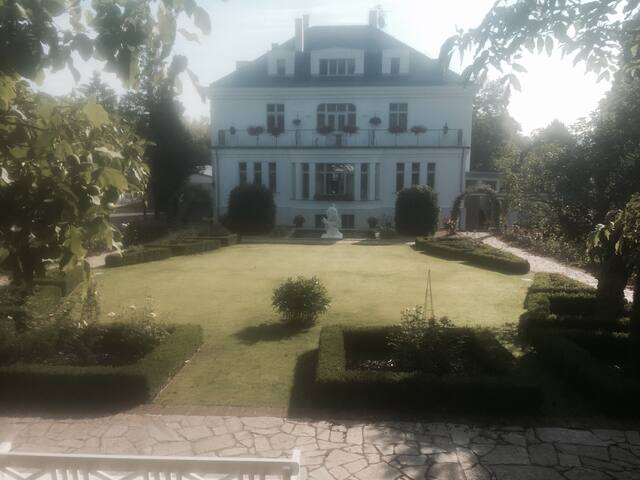 The apartment is located on the ground floor of our family house in the suburbs of Prague. Although you are in Prague, you are constantly surrounded by a quiet and clean environment, beautiful greenery in your private garden, which is there all just for you. In the garden you can BBQ while and your children will have play a sandpit and a trampoline.Also, pets welcome. Nearby are several playgrounds, cycling and skating trails, a small family bakery, shops and renowned Argentine steak restaurant.
Loved it
Pepper
2016-10-23T00:00:00Z
VEy helpful with information about the city and surroundings.
Svilen
2016-11-01T00:00:00Z
Great stay at Prague! Jiri's apartment is the perfect place for a family like us - spacious and comfortable and not far from the city centre. Our host cared for anything that we needed and gave us maximum freedom with departure. We can only say, we want to come back!
Julia
2016-10-28T00:00:00Z
一切都很完美!房东善良热心,还为我们安排了BBQ!赞!
Xinyu
2016-10-02T00:00:00Z
Jiri's mom (Mili) & dad were really lovely friendly & helpful people. We had a fantastic welcome and the apartment was beautiful and very spacious. My only comment was that although Mili kindly did our washing when we arrived it would have been great to have our own machine and an iron/ironing board. When we tried to get hold of Mili at the end of our stay to do some more washing she wasn't reachable. The apartment was spotlessly clean but after a week's stay with 5 of us it would have been handy to have a broom or vacuum to clean the floors. Otherwise, cannot fault the apartment and loved the location even though you definitely need a car. Would definitely recommend this place to anyone visiting Prague with a car!!!!
Charlene
2016-08-09T00:00:00Z
George and his mom were amazing hosts. My family and I had a pleasant stay at this great place. The house is beautiful, ample space, 2 spacious bedrooms and 1 cute kids bedroom, and 1 huge bathroom. The kitchen is fully equipped, and George was super nice to leave us a few Czech beers ;) The house is very close to town, so if you rent a car it is about a 20min drive to the city center. Very easy access and peaceful neighborhood. Definitely recommend.
Rafael
2016-09-24T00:00:00Z
George and his parents are excellent hosts. From the beginning everything was great! For all our questions about the house answers came very fast. George helps us in everything we asked him. For example, to check in earlier and check out later. All photos was same as reality. All appliances in working condition, the house is clean, has a shower and bath. Fast internet. Possibility of BBQ. Trampoline for children. From center a little bit far, 7 minutes by bus and 15 minutes by metro. But it was not a problem for us because it is not so much. We liked and hope to come next year!
Stanislav
2016-08-14T00:00:00Z
Vi ble veldig godt tatt imot av Jiri. Han stod klar til å ønske oss velkommen. Vi var de første airbnb gjestene hans og de hadde laget en flott velkomstbanner der det stod welcome. Leiligheten var meget godt utstyrt med alt vi trengte og mere til. Sengene var oppredd. Det var laget en oppslagstavle med blant annet navn og adresse til 2 ulike kjøpesentre i nærheten stod oppført. Jiri innstallerte også en taxi app til meg som vi brukte mye. Vi hadde med oss hund og han ble også tatt veldig godt imot. Hunden vår kunne springe løs rundt i den store lukkede hagen. Det var ca 10 min å gå til matbutikk og rett ved siden av den lå en meget god restaurant som vi var og spiste på to ganger. Vi hadde et kjempeflott opphold hos Jiri og kan absolutt anbefale denne store og flotte leiligheten!
Eirin
2016-07-29T00:00:00Z
Kamertype
Gehele woning/appartement
---
Type woning
Huis
---
Geschikt voor
12
---
Slaapkamers
Praag, Praag, Tsjechië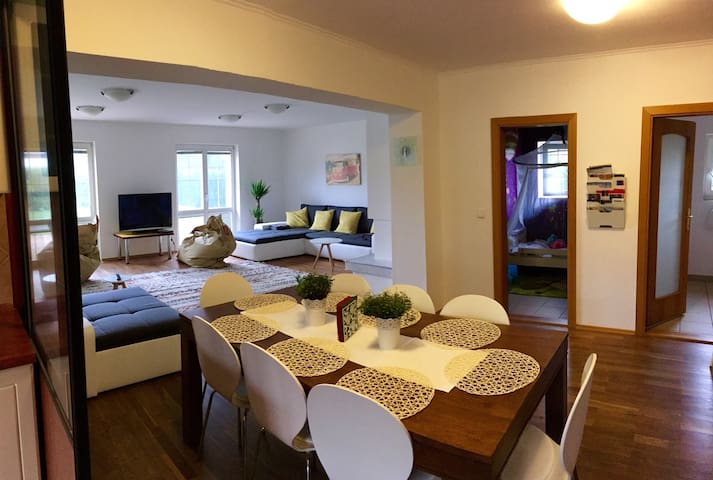 -I speak english, german and czech -Pilsen Shoppingcentre 12min./Zebrak 8min./ Prag Airport 35min. by car -more than 10 persons = 2 or 3 Apartments! -Babybed -Complete infrastructure in this town -3 Restaurants 200m - 300m -Trainstation 400m/Bus 50m -Supermarket 50m -3 Bedrooms with high quality mattresses -kitchen with dining area -bathroom -washing machine -highspeed Internet -TV -beautiful hiking and cross-country skiing area -big area for searching mushrooms
The location of this holiday home is ideal, to hike in the beautiful forest landscape "Brdy". For a trip to Prague it takes 30 minutes, Pilsen centrum is 20 minutes by car. The largest open-air swimming area in west-czech can be reached in 10 minutes by car. The trainstation (train to Prague/Pilsen) can be reached in 10 minutes by feet. There are many excursion possibilities in the surrounding area, which can be reached by car, train and bus very well. In this town are three restaurants with delicious dishes and best beer (3-7 minutes by feet). One of them have a playground for kids. Three supermarkets with opening hours from 7h to 20h has daily opened (50m). For athletes, there is a fitness studio, a high climbing wall in the hall, a big paintball area, 3 new tennis courts, one of them in the hall.
We hebben met onze twee kleine kinderen een fijne tijd in het huis van Filip gehad. Filip had speciaal voor ons een babybed geregeld. Het huis ligt aan een rustige straat en heeft een prettige tuin. Er zijn twee supermarkten op nog geen 100m van het huis. Het huis is schoon en van alle gemakken voorzien, behalve een aparte woonkamer. Deze is niet aanwezig. Filip is een vriendelijke en vlotte gastheer. Pilsn is nog 25 minuten rijden en je kunt ook in minder dan een uur in hartje Praag zijn.
Klaas
2016-07-27T00:00:00Z
Filip hat uns gut empfangen und uns alles erklärt, was man in der Region alles tun kann. Er hat uns z.B. gute Restaurants im Ort empfohlen und nächste Einkaufsmöglichkeiten gezeigt. Er hat dafür gesorgt, dass wir uns wohlfühlen und war sofort vor Ort, falls wir eine Frage hatten. Solch eine nette, hilfsbereite Versorgung habe ich bisher in keinem Hotel erlebt. Davon abgesehen war die Ferienwohnung in bestem, modernen Zustand und sogar für 8 Personen noch groß genug. Insgesamt hatten wir 4 tolle Tage in Tschechien!
Jonas
2016-05-09T00:00:00Z
Very pleasant time with a host who couldn't do enough to help. Very much recommended
James
2015-08-17T00:00:00Z
Filip hat uns sehr freundlich und spontan empfangen und konnte fließend deutsch sprechen. Die Zimmer waren geräumig und es war alles wie beschrieben, auch das WLAN hat problemlos funktioniert. Die Terrasse hatte einen schönen Garten und man konnte sich rundum wohlfühlen. Die Küche war auch sehr sauber und bestens ausgestattet. Filip hat uns auch eine Karte gezeigt, damit wir uns in dem Ort zurechtfinden konnten. Auch als wir etwas im Zimmer vergessen hatten, hat er sich gemeldet und uns bescheid gegeben. Insgesamt ein sehr freundlicher und herzlicher Kontakt!
Eddy
2016-09-12T00:00:00Z
We stayed at Filip's holiday home for one night. We really enjoyed it as we were on our half way home journey. The location was great and close by motorway. The house was very clean, cosy and refurbished to the high standards. We felt like at home! The bonus was having a meal at the restaurant near football pitch. The food was delicious and our little daughter had a chance to play on the swings and slides. Thanks very much. Highly commanded...
Martina
2015-08-29T00:00:00Z
Wir suchten ein gemütliches Domizil mit Charakter in der Nähe von Plzen und einen schnellen Einstieg für Tageswanderungen. Im kleinen Ort Myto bei deutschsprachigen Gastgeber Filip fanden wir beides. Wir verbrachten drei Nächten dort und fühlen uns sehr gut betreut. Auch als Ausgangsort für Wanderungen wurden unsere Erwartungen mehr als erfüllt - vielleicht sogar kleiner Geheimtipp. Jederzeit wieder!!
Uwe
2015-08-21T00:00:00Z
Filip's apartment was just what we were looking for--a convenient, well-equipped weekend getaway near some of the better mushrooming forests (Brdy) in this part of the country.
Bret
2016-08-29T00:00:00Z
Very good,beautiful and clean!
qingtje
2017-04-09T00:00:00Z
Kamertype
Gehele woning/appartement
---
Type woning
Huis
---
Geschikt voor
16
---
Slaapkamers
Mýto, Plzeň (Regio), Tsjechië
Je to od nás blízko na letiště a centrum Prahy. Ubytování je v přírodě blízko lesa. Koupaliště je vzdálené 5 km a Akvapark 7 km. V nedalekém okolí je hrad Karlštejn a Křivoklát,dále hrad Žebrák Točník a Zbiroh.Cena je za 1 pokoj, 2 osoby. Je možné přidat 2 přistýlky za 10USD každá. Adresa Svatá 157 ,okr. Beroun. GPS N (PHONE NUMBER HIDDEN). Svatá je 5 km ze sjezdu z dálnice Praha -Plzeň- Německo.
Dům je mimo hlavní silnici a tedy v klidném místě s oknem do zahrady a lesa. GPS N (PHONE NUMBER HIDDEN)
Nadherny dum, blizko do prirody a zaroven v blizkosti d1 shledavam jako idealni pro straveni rodinne dovolene s vylety do uzasneho blizkeho okoli, stejne jako pro prespani po ceste. Pani Libuse je uzasny hostitel. Takova vajicka na snidani jsem uz dlouho nejedl. Pokoje jsou krasne upravene, ciste a je k dispozici mnohem vice, nez je potreba. Urcite doporucuji a jestlize bude treba nocleh v Praze, radeji zvolim tuto variantu nez predrazene mnohem mene nabizejici noclehy primo v Praze
Karel
2016-07-19T00:00:00Z
Pani Libuši a pánovi Petrovi sme veľmi vďačné, že sme ja a moja 2 ročná dcera mohli strávit teplý koniec leta v ich nádhernom dome. Cítili sme sa u nich ako na návšteve u príbuzných. Pán pomohol pri príjazde so zaparkovaním, vyniesol nám všetky tašky do izby. Pani okamžite priniesla veľa dětských knižiek a krabicu s hračkami, aby sa dcéra mala s čím hrať. Ponúkla pre dceru detský nočník, kúpaciu vaničku a kolísku, ktorú sme ale nevyužili. Bolo to veľmi milé privítanie. V dome bolo čisto a voňavo, izba bola priestranná a dobře vybavena. Pani Libuša je skvelá kuchárka, každý den na raňajky upiekla nejaké čerstvé dobroty, až sme ju museli krotiť, že to všetko nie sme schopné zjesť. Dcéra si pochvaľovala hovadziu polievku, ktorou ju pani pohostila. Príjemne sme trávili čas i v ich s láskou udržovanej záhrade v spoločnosti mačacích priateľov. Pobyt u pani Libuše možeme vrele doporučiť, všetko nám podrobne vysvetlili, zoznámili nás s okolím dediny a dokonca i s miestnymi mamičkami a ich dětmi. Pár minut pešo cestou v lese od ich domu je pekné detské ihrisko, pár minut jazdy autom je zmodernizované kúpalisko, čo sme v teplých letných dňoch veľmi ocenili. V dedine Svata je jedna reštaurácia, vyskúšali sme ju a chutilo nám tam. So všetkým v priebehu pobytu u pani Libuše sme boli nadmieru spokojné! Myslím, že sme sa nevideli naposledy. Ďakujeme zo srdca za všetko!
Lucia
2016-09-05T00:00:00Z
Děkujeme Libuši a Petrovi za úžasně milé přijetí a posezení a povídání. Cítili jsme se jako doma a skvěle jsme si odpočinuli v nádherném prostředí vašeho domu.
Kate Mia
2016-07-16T00:00:00Z
The location is excellent, in beautiful nature and yet close to Prague. Libuše is communicative and makes you feel like home. Rooms are modern and clean.
Petr
2017-03-31T00:00:00Z
Hi to all :) we just spent two amazing days in Libuse and Peter beutiful home. They are just great people with a big heart. It was big pleasure even met them. They offer us pick up in Prague, welcome us like friends, we talk and chill and grill with them. We slept in confortable bed with view to garden and morning they made us big breakfast. They also took us to see their family house in neighberhood and we saw their farm and we went togheter to visit castle with a woderful view. I just want to say, it so nice to meet people like this, we took a break from our busy life and we really felt like we are visiting our family. Iam so happy we met them and cant wait to be back :** thanku for all <3 PS:the one bad comment, what they have here wasnt their fault, but airbnb, so dont worry to go there!
Monika
2017-04-09T00:00:00Z
Libuše und ihr Mann sind die wunderbarsten, inspirierendsten Hosts die wir bis dahin getroffen haben. Es hat von der Buchung bis zum Auschecken alles einwandfrei geklappt. Wir fühlten uns mit ihnen in ihrem zu Hause sehr familiär umsorgt. Für uns sind sie das Vorbild einer Gastfreundschaft. Auch das reiche Frühstück lieben wir sehr. Dankeschön liebe Libuše und lieber Petr!
Andrea
2017-03-24T00:00:00Z
Moje prvni zkusenost s airbnb byla naprosto v poradku. Pani Libuse a pan Petr byli vyborni hostitele. Napomocni s planovanim vyletu po okoli a dokonce nam i zajistili odvoz. Jejich dum lezi v prijemne a klidne lokalite, byl prostorny a cisty. Snidane pani Lubuse byly take fantasticke. Vsem mohu toto ubytovani jen doporucit.
Sober
2016-08-21T00:00:00Z
Velmi pěkný, klidný a tichý dům. Vše čisté a bez problémů. Velmi dobří a komunikativní hostitelé, kteří nám ochotně poradili kam se vydat. Snídaně byla dobrá a bohatá. Ještě jednou děkujeme. Very nice, calm and quiet house. Everything clean and with no problem. Great and communicative hosts who helped us to get direction for interesting places. Breakfast was tasty and rich.
Martin
2016-09-30T00:00:00Z
Kamertype
Privé Kamer
---
Type woning
Huis
---
Geschikt voor
4
---
Slaapkamers
Svatá, Central Bohemian Region, Tsjechië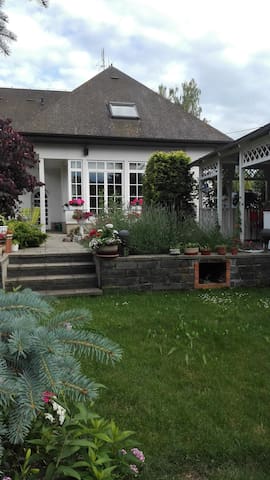 Cosy new garden house with historical oven and wooden attic. New facilities with large shover. In a garden, which provides opportuties for recreation - sun bathing, swimming pool and grill. 10km to Prague (subway), 15 km to the Airport and Castles.
Okres Praha-Západ, 10 km na metro Zličín, 15 km na letiště Václava Havla. MHD do Prahy jezdí 2 krát za hodinu a trvá asi 25 min. Stojí 18 kč. Doporučuji osobní automobil pro pohodlnější dopravu - 10 min do Prahy. Skvělá lokace pro návštěvu památek Prahy i okolních památek, jako je Karlštejn nebo Křivoklát, krápníkové jeskyně, Sv. Jan pod Skalou nebo umělecké sklárny Nenačovice. Navíc je hned za domem les vhodný na procházky i cyklistické výlety.
Skvělá lokace pro návštěvu Prahy i okolí. Příroda pro procházky i výlety na kole na dosah ruky.
We loved staying at Lenka's house. She was so welcoming and accommodating that I thought of staying there forever. She baked us strudel, gave us fruits and vegetables, showed us where to pluck herbs, lent us bikes and invited us to share a couple of meals. We totally loved her.
Djali
2016-10-04T00:00:00Z
Liebe Lenka, liebe Martina und lieber Jan, Tschechien ist wunderbar. Aber nicht nur wegen seiner Landschaften, der Moldau oder Prag, sondern wegen so wunderbaren Menschen wie Euch! Reisetipps sind eine Sache, aber am Abend heim zukommen und schon ein warmes kisterndes Kaminfeuer, frisches Obst und Gemüse aus Eurem Garten und leckeren selbstgebackenen Kuchen (mit Obstler) vorzufinden etwas wirklich ganz Besonderes! Auch für Familien mit Kinder ist Euer verwunschener Garten, der Pool und das romantische Sommerhaus ein Traum. Unsere neunjährige Tochter wollte gar nicht mehr weg. Ihr habt uns so warmherzig und familiär aufgenommen, so dass wir liebend gerne viel, viel länger geblieben wären. Aber wir kommen wieder. 100%! Alles Liebe und bis ganz bald, Natalie&Florentine&Thomas
Natalie
2016-08-13T00:00:00Z
Υπέροχο μικρό σπιτάκι, ιδανικό για 2-3 άτομα. Τζάκι, γρήγορο ιντερνετ, εξαιρετικοί, ευχάριστοι και διακριτικοί οικοδεσπότες. Πολύ καθαρό, ήσυχο, ιδανικό για ενα ρομαντικό Σαββατοκύριακο ή διακοπές. Νοιώθεις πολύ όμορφα απο την πρώτη στιγμή που θα το επισκεφθείς.
Michael
2016-10-30T00:00:00Z
Die Tochter von Lenka, Martina, hat mich sehr freundlich empfangen und ein positives Klima geschaffen. Martina spricht sehr gut Deutsch, was die Kommunikation sehr erleichtert hat und sich als sehr angenehm gestaltet hat. Ich habe mich sofort wohl gefühlt. Im Häuschen fehlt es an nichts. Martina hat mich mit Informationen und Informationsmaterial zu Prag versorgt, was auch nicht selbstverständlich ist. Der Ort ist sehr klein, dort gibt es kaum etwas zu sehen oder zu unternehmen. allein die fantastische Unterkunft ist es wert.
Karl
2016-09-08T00:00:00Z
Proche de l'aéroport. Famille sympathique et serviable. Idéal pour court séjour.
Michael
2016-09-23T00:00:00Z
Маленький, славный домик на лоне природы и в 15 мин от аэропорта. Гостеприимные хозяева натопили печку к нашему приезду - и внутри, и снаружи - такой был приятный запах, и как было хорошо посидеть с опять же подаренным хозяевами пивом под звездным небом у огня. Если путешествуете на машине или берете напрокат - зачем вам эта городская толчея и шум? Всем рекомендую
Александр
2016-11-06T00:00:00Z
It was great stay at Lenka's flat. Well organised, clean flat, nice garden and full of nature. Specialy, Lenka and her family are so friendly and always attentive. They tried to show many great things around place. Surely I will stay here again. Thanks a lot Lenka.
Chinsoo
2016-05-10T00:00:00Z
Lenka, her animals and her daughter were very welcoming and Nice ! Everything is simple, efficient and clean. We feel like home with Lenka.
Elise Et Florian
2016-10-31T00:00:00Z
Kamertype
Gehele woning/appartement
---
Type woning
Huis
---
Geschikt voor
3
---
Slaapkamers
Úhonice, Central Bohemian Region, Tsjechië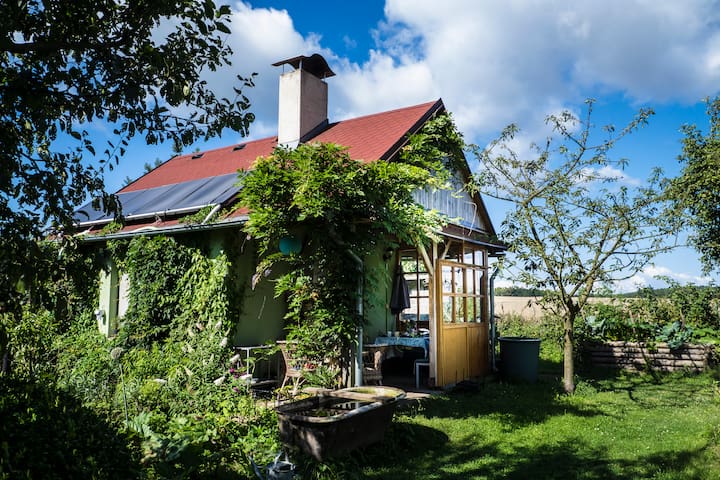 Slunečný vzdušný domeček s terasou v zahradě s bazénem. Zahrada je společná s vedlejším domem. Poslední dům ve vesnici, výhled na louky a koně, velký klid. Nedaleko Karlštejn, letiště 45 min.
The house was as shown in the photos. Quite far from public transport. Perfect if you have a car with you. House was cosy but a bit secluded. Nice if you want extreme privacy.
Puteri
2017-01-01T00:00:00Z
ヤナさんのお部屋は、本当に素敵で素晴らしい所にあります。チェコ中央駅から約33㎞各駅電車で45分程にある、カレルシュテイン城のすぐ近くです。このお城は神聖ローマ帝国時代に建てられ、中世の面影を色濃く留めています。ヤナさんの家はカレルシュテイン駅より1つもしくは2駅手前のZadin Treban駅かReunice駅から徒歩でも12分、車で数分の所にあります。残念ながら私は3月下旬の肌寒い日に宿泊しましたが、春夏秋にかけては木々草花に囲まれた本当に自然豊かで、素晴らしい所だと思います。お部屋は8畳程あり、ベッドは清潔で寝心地も良く快適です。シャワールームは広くてお洒落な空間で、リビングの解放感ある大きな窓からは四季の美しい自然を楽しめます。チェコに行かれるなら、カレルシュテイン城を訪れ、ヤナさんの素敵なお部屋にお泊まりになる事を日本の皆様にお薦めします。特に春から夏、緑の美しい季節に…。ヤナさん、ありがとうございました。 Our airbnb host Jana is absolutely nice person. She is a little bit shy but very attentive. Her house is located near by wonderful Karlstejn Castle. It's surrounded by a lot of beautiful nature. The room is clean and quiet, the bed is really comfortable. Everything was so perfect. I recommend going to Karlstajn Castle and staying at her place to all airbnb guests. Thank you very much and see you again, Jana.
hiroko
2016-03-27T00:00:00Z
The host canceled this reservation 8 days before arrival. This is an automated posting.
Ivaylo
2017-04-06T00:00:00Z
We haven't met Jana but she sent her friend to welcome us. The house is beautiful, really bright and cosy. I loved Jana's collection of books. Good location with nice view to landscape. Close to Karlštejn Castle (approx 5 km), Velká Amerika Quarry (30 minut by car) and Vyhlídka Maj (50 minutes from Amerika). I really recommend this house and Jana as the host.
Karolína
2016-10-30T00:00:00Z
We really loved and enjoyed the place. Not very close to Praha but in a very relax and beautiful countryside Thanks Jana for everything! I do really recommend this place.
Isabel
2016-12-31T00:00:00Z
Janin domek je skvělý pro odpočinek.
Štěpán
2017-01-22T00:00:00Z
It was just perfect experience! Jana was busy that day, so she send her friend instead of her. Both of them were very welcoming! House is clean and cosy enough, close to quarry Velka Amerika and other beauties of nature. Thanks Jana :)
Martin
2016-10-02T00:00:00Z
Kamertype
Privé Kamer
---
Type woning
Huis
---
Geschikt voor
4
---
Slaapkamers
Zadní Třebaň, Central Bohemian Region, Tsjechië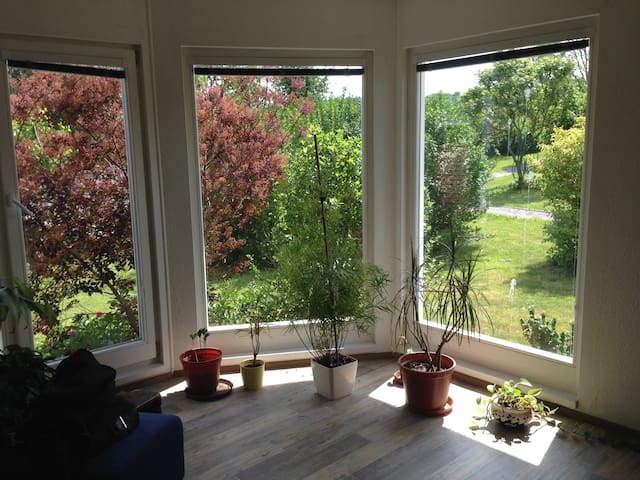 Luxe wonen in de voormalige stallen. Arch, romantiek, geschiedenis.
Housing ligt op 5 minuten van de luchthaven Václava Hävla, 15 minuten van het centrum van de stad, in een stijlvol gerenoveerde voormalige schuur. Parkeren een auto is mogelijk in de afgesloten tuin. Er is een supermarkt, restaurants, recentelijk gebouwd vijver en een zwembad.
In de omgeving is de ondergang van Okoř, de stad Kladno en Praag. Niet ver van de leads hotel fietsen parcours.
Kamertype
Gehele woning/appartement
---
Type woning
Huis
---
Geschikt voor
4
---
Slaapkamers
Středokluky, Středočeský kraj, Tsjechië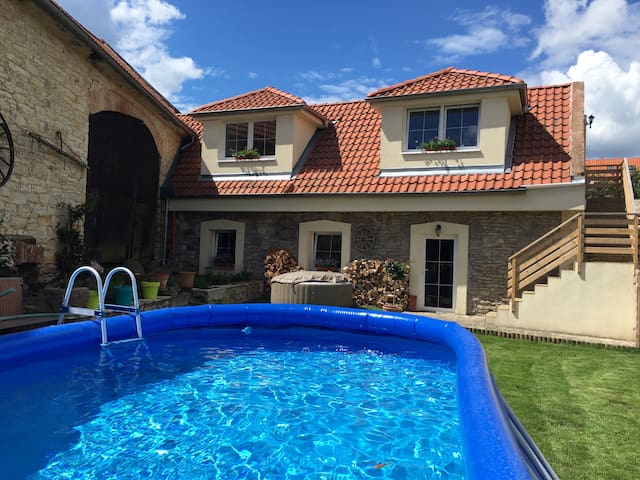 My place is close to the city center and the airport. My place is good for couples, business travelers, families (with kids), and big groups.
The house is great !It is a three floor house and a wonderful garden !The transportation is also convenient. Thanks for the hospitality of Peter and his wife !we have had a great trip in Czech !
YANFEI
2016-12-31T00:00:00Z
Kamertype
Gehele woning/appartement
---
Type woning
Huis
---
Geschikt voor
7
---
Slaapkamers
Úhonice, Tsjechië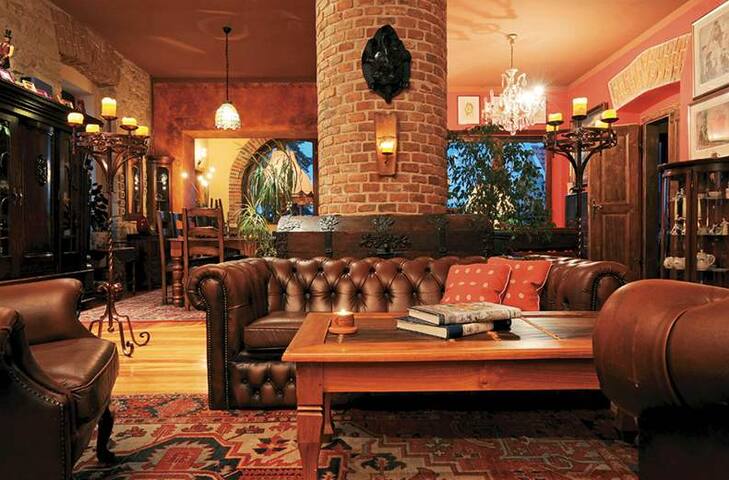 Ideally situated in a lovely residential neighborhood between the airport and the historic center, this large ground floor private bedroom will be your oasis in Prague. The airport bus, metro and 24 hour trams are all located 3 minutes walk from the house. Travel time to the historic center is approximately 10 minutes.
Your private bedroom has it's own sink in the room, and private toilet (in the hallway). Bedroom, living room, full bathroom and kitchen are on the ground floor. We've recently moved into the house, so it's a bit sparsely furnished at the moment, and is in need of some minor cosmetic repairs. If you're expecting luxurious accommodation, this isn't the right place for you. This is a modest house in a lovely, convenient location, shared with two friendly people. We do not supply shampoo, washing powder, coffee, tea, or food of any kind.
Lovely, quiet, safe residential neighborhood surrounded by parks. There's a small, local grocery market about 500 m away by foot. Large supermarkets are available nearby by tram or metro. This is a residential neighborhood, but there are two local restaurants/pubs, a pizzeria, cafe and general goods store within a short walking distance.
Clean, comfortable, private stay in one of the best connection hubs in Prague -- Without having to pay yourself sick If you're still scrolling through the pages trying to find a place to stay in Prague - you can stop now. This is the place you want to stay. We arrived at John's place on a sunny day without any expectations on how our stay would be like. John met us in front of the house and we quickly found out our host to be super-friendly, polite and incredibly mindful of us having the best stay at their place. The room is located on a ground floor of a beautiful house. In the room, we had everything we needed for a comfortable and convenient stay. In addition to the room, the whole ground floor was at our use. The ground floor has a kitchen, shower, bath, washing machine, living room and basically anything you would need in your daily life. You could easily stay long term here. John and his lady live in the upper floor and have busy lives, so you'll be enjoying a very private stay at their place. But if you happen to catch John, you'll be guaranteed to enjoy a conversation with him -- he is genuinely an interesting, lighthearted, fun guy. The location of the house is incredibly convenient. If you're coming from the airport, it's the most sensible place to stay. Imagine this: Your plane has just landed to Prague. Instead of having to go through the usual anxiety-producing steps of using 3 different types of transport, walking for miles, having a panic attack and then finally arriving at your stay in the middle of the night YOU CAN INSTEAD: Just take the bus from the airport and just ride it all the way to the end terminal and voilá - you've practically arrived at John's footsteps! You'll also find the metro station within 2 minutes of walking distance, which gets you to the center super fast. Location wise, it's the perfect combination of "quick access to everywhere in Prague" and "lovely quiet neighborhood". Oh and one last thing before I forget! They have a beautiful green garden. It's rugged but you'll enjoy seeing the green grass and trees after looking at cement and big buildings all day in the center. I always felt renewed after staying a couple moments there when coming from the town. Anyways, just click book now. You won't be disappointed. It's one of the best deals we've made.
Noona
2017-04-05T00:00:00Z
Ok!
Aleksandr
2017-03-31T00:00:00Z
Kamertype
Privé Kamer
---
Type woning
Huis
---
Geschikt voor
2
---
Slaapkamers
Praag, Tsjechië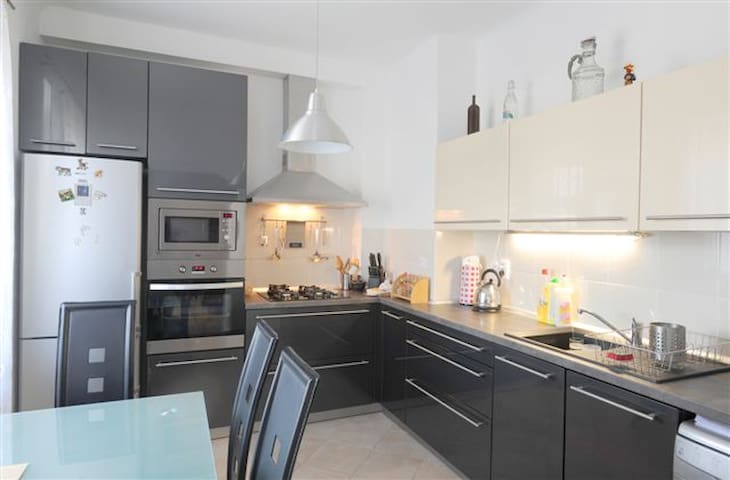 Welcome to our vegetarian and non-smoker household with sunny room for you in lovely house in Strašice near Rokycany. You can find us on the road between Pilsen (30 minutes by car) and Prague (45 minutes by car) in the nature of Brdy woods.
- ideal place for silent work or holiday in the nature near the big culture cities – Prague and Pilsen - unique massages available in the house - walking in the woods, cycling and cross-country skiing
Everything was really good. Clean, warm and cosy house and really friendly and welcoming hosts!!
Carmen
2016-01-03T00:00:00Z
Merci à Katka et à son mari pour leur accueil. Notre échange autour d'une bière a été agréable, convivial pour partager nos histoires respectives. Belle chambre dans une maison zen. Lieu idéal dans notre périple entre Pragues et Ceske Budejovice.
Jean-Luc
2015-08-29T00:00:00Z
Katka is a really nice host, we felt welcome in her house which is very comfortable. Surroundings is also nice and quiet.
Markéta
2016-05-16T00:00:00Z
Katka and her husband were the most welcoming hosts! Super flexible with our arrival time and even prepared coffee and cake for the next day! The room was clean and quiet and the house is super pretty. Would recommend to stay here and have a good time :-)
Marion
2016-10-01T00:00:00Z
Es gibt ein schönes Haus in einem nettem Dorf auf einer grünen Wiese hinter den sieben Bergen, dort gibt es Natur, schöne Wander- und Fahrradmöglichkeiten, in kurzer Zeit sind die Städte Prag und Pilsen erreichbar. Das ganze demnächst als Naturschutzgebiet deklariert. Gastgeber sind total nett und hilfsbereit, Unterkunft liegt ruhig und lädt zum Ausruhen oder entspannten Arbeiten ein. Ich werde auf jeden Fall diese Unterkunft ab sofort als erstes Ziel anfahren, wenn ich wieder in CZ unterwegs bin, und das werde ich sicherlich....
Peter
2015-10-07T00:00:00Z
Katka's place is really beautiful and the host extremely nice and helpful.
Kinka
2015-07-03T00:00:00Z
S Katkou byla od začátku skvělá, vstřícná a rychlá komunikace, navíc nám nabídla odvoz z Plzně s jejím manželem, což se nám opravdu hodilo. S manželem Vojtou se také dobře povídalo, cítili jsme se vítání a jako doma. Vše bylo připraveno.
Petr
2015-05-03T00:00:00Z
It was so pleasant for us! The hosts are very open minded,welcoming! The house is absolutely clean. We had everything what we need. Katka gave us a lot of advise about tourist information. We followed them and was absolutely suttisfied. The village is calm place with spectacular views. The shop and restorant are not far. We highly recommend this place.
Юрий
2016-01-20T00:00:00Z
Kamertype
Privé Kamer
---
Type woning
Huis
---
Geschikt voor
2
---
Slaapkamers
Strašice, Plzeň (Regio), Tsjechië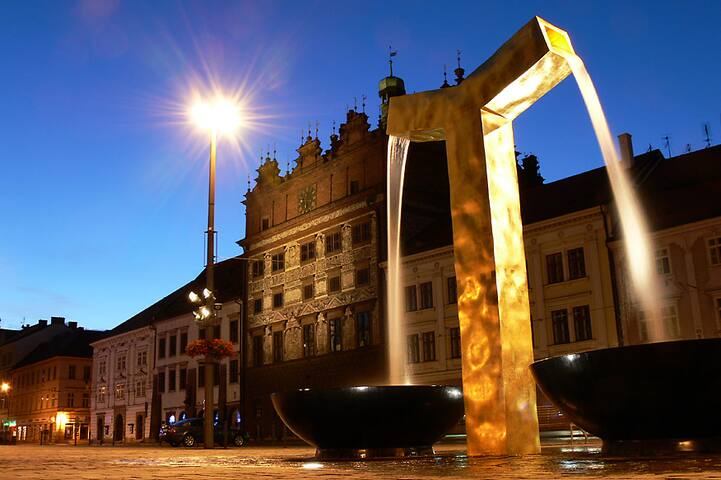 The flat is located in the beautiful area of Prague famous for stunning old houses, big church and lovely park. It is situated close to the centre but the street is calm. There are lots of pubs but it's a safe neighbourhood. You can get to subway A (Náměstí míru) or C (I.P. Pavlova) and trams 10,16,22 on foot in two-five minutes. Perfect for an ERASMUS student.
Why my flat? The building is a cultural and architectonical heritage. You´d have a stunning view on the St. Ludmila´s church and famous Vinohrady Theater. There is all you need nearby - subway, tram stations (night lines crossroad), shops, parks, restaurants and pubs. If you want to meet czech atmosphere, cuisine etc this is the right spot!
Everything is close but the neighbourhood is calm.
Kamertype
Privé Kamer
---
Type woning
Huis
---
Geschikt voor
1
---
Slaapkamers
Praag, Praag, Tsjechië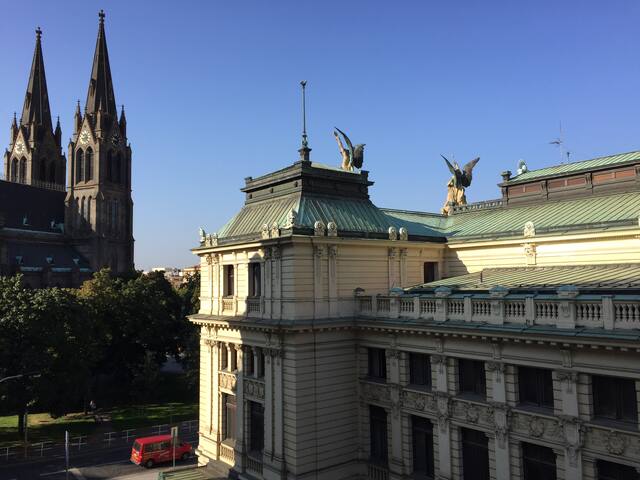 Saloon na ,,Holiday Home westernovém MB ranči je místo splněných snů. Krásný stylový srub z masívních klád nabízí absolutní klid, relaxaci a romantiku po celý rok.Výhled z terasy na pastviny s koňmi lemované řekou Berounkou usazené v rozlehlém lese. Letiště Václava Havla v Praze je vzdálené 69 km, centrum Plzně 4 km. K dispozici jsou dvě ložnice, posezení u krbu, bar, koupelna se sprchou , 3 x WC, audio, TV, video, výčepní zařízení, výrobník ledu, myčka, pračka, venkovní gril, vybavená kuchyně
We have stayed here before and this time it was with some people within our organization (a group of guys). It was fantastic again. Beautiful scenery, magnificent place, great communication, quiet and secluded, friendly hosts and close to downtown Plzen. Great value and hosts.
David
2017-02-12T00:00:00Z
Alena and George were very friendly and accommodating. Their house was awesome with a quiet and relaxing location! We loved looking at their horses.
Karen
2016-10-07T00:00:00Z
Upon our arrival Alena and Jirka gave us a warm welcome. We were positively surprised by the authentic 'Saloon', as part of a ranch, with plenty of room, a bar, spacious and professional kitchen... a cosy and ideal place to spend some relaxing days with friends and family. While sitting on or using the gas BBQ on the porch you see the horses walk by, while you enjoy a glas/meal by candle light. At walking distance there's a big lake for a refreshing swim, or you can go for a walk in the surrounding forest. Jirka made us a bonfire on our last night: a perfect ending of our Czech vacation. We would definitely recommend this place to anyone!
A
2016-08-24T00:00:00Z
Wir waren mit 7 Personen übers Wochenende auf der Ranch. Schon der Mailverkehr direkt nach der Buchung war sehr freundlich. Wir wurden am Abend der Anreise sehr herzlich von der Tochter des Hauses in Empfang genommen und haben uns gleich wohl gefühlt. Die Ranch ist einfach unglaublich schön. Ob die Fußbodenheizung, der Kamin, die Hifi Anlage oder die Luxuriöse (Groß)-Küche; Es blieben keine Wünsche offen. Während des Aufenthalts hatten wir immer einen Ansprechpartner und so konnten alle aufkommenden Fragen schnell gelöst werden. Ein absolut zu empfehlendes Erlebnis - Wir wollen bald wieder kommen. Vielen Dank für diese klasse Unterkunft.
Nick
2016-10-23T00:00:00Z
We had a wonderful stay. The home is beautiful and the surrounding scenery is breathtaking. The owners are very kind and attentive. Highly recommend!
Phil
2016-12-18T00:00:00Z
This is a great place to say with wonderful, friendly, informative and interesting hosts. We felt well-taken care of and our kids loved it too. Thanks especially for the free horse ride through the forest and goodies. The house is a beautifully crafted log-cabin with fire-place and all the comforts of home. Plzen only 10 minutes away. Would visit again. Thanks again. Dave
David
2016-12-30T00:00:00Z
Sehr schönes Haus mit fast allen Annehmlichkeiten. Perfekte Adresse für familien und/oder um einfach zu entspannen. Wir werden bestimmt bald wieder kommen.
Sebastian
2017-04-02T00:00:00Z
Kamertype
Gehele woning/appartement
---
Type woning
Huis
---
Geschikt voor
10
---
Slaapkamers
Zruč-Senec, Plzeň (Regio), Tsjechië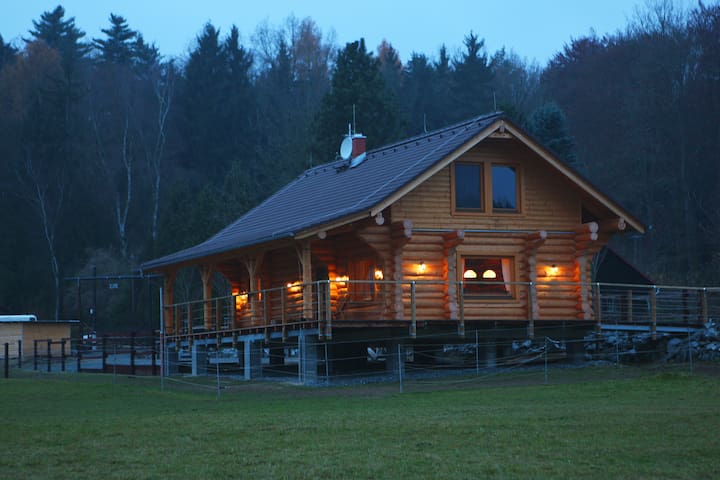 Seznamte se v klidu a přírodní tvář hlavního města Prahy. Náš dům se nachází v klidné části Prahy 4, bude Šeberov a přesto dobrá dopravní neměl být velký problém vůbec. My nabízí čtyři stylové soukromé pokoje. Obývací pokoj a velká terasa jsou k dispozici všem hostům.
We are proud to live in a peaceful location that is out of touristic rush of the centre, yet with a great access to transportation. It takes just 20 min. to the main boulevard of Prague (Wenceslas square, in Museum station) within a walking distance to many popular attractions. The bus station is right in front of the house and the night bus is 8 min. (by walk) from our place. - Note that we can provide you local transportation card so travelling in Prague will be much more cheaper for you!
The house is near pizza restaurant, pub, children playgrounds, football station, sport site - Šeberov and buffet nearby. The area is cyclist friendly with a lots of greenery for picnics and strolls. - the place is not very suitable for party people, since we are located on the outskirts of Prague, which has a different quality than such people might be looking for. notable places nearby: - Stall Trojan: Horse rental and trail riding in walking distance. - Park Průhonice: one of the largest landscaped parks in Europe. - Aqua Palace Čestlice: the largest aqua park in ČR - you can get there by bus 385 in 15 minutes. - OC Chodov: the Prague's most popular shopping centre - in just 8 minutes. - SAPA aka Little Hanoi is very interesting and little known place by tourists. the area was originally set as a vietnamese market place, but nowadays, people visit Sapa for its unique atmosphere and traditional vietnamese cuisine. you will get there in about 20 min.
Встретили хорошо,радушно! На кухне бардак!
Николай
2017-04-06T00:00:00Z
Bonito y acogedor lugar, tranquilo, bien comunicado hacia los lugares de interés en Praga.
Ángeles
2016-12-22T00:00:00Z
The room was clean and fully furnished with a good kitchen for cooking enthusiasts. The place is also easily accessible by public transport as but it is a bit far from the main tourist destinations, but that was not a big deal as i knew about it in advance. The host, Thuy, is really nice she try her best to make my early arrival comfortable.
Anteneh
2016-12-26T00:00:00Z
Wonderful stay! I stayed with my boyfriend for 4 days. The house was big and had a beautiful terrace that I wish I could have spent more time on, the room was nice and cosy. The whole place was clean. The house is literally right next to a shop so very useful and also right next to a bus stop so very conviently placed. Thuy was lovely; i arrived at 6am and even though check in time was much later, because nobody was in the room she let me check in early and so I could sleep after a long bus ride which I really appreciated!
Clarissa
2016-07-01T00:00:00Z
Very friendly and nice people, willing to help in every occasion. Thui provided us instructions for our transportation and we could go to the center and return late pretty easily. The room is beautiful and cozy. All the facilities in the house are available for the visitor and Thui always there to help :) Also the room, as the rest of the house is very nicely decorated by Thui and her sister. Our stay there was very pleasant! Thanks Thui!!!
Sophia
2015-08-10T00:00:00Z
They were really warm and welcoming and give full independence to you regarding the house. It's almost like you are actually living in a friend's place.
Shubham
2016-04-12T00:00:00Z
It is A very nice and spacious house and the host and her family were all very welcomed and polite .
Kayle
2015-10-29T00:00:00Z
Študentské ubytovanie. Po vylepšení čistoty na záchode a výmene čistiacej hubky v kuchyni celkom fajn, za cenu odpovedajúce.
hana
2017-02-22T00:00:00Z
Kamertype
Privé Kamer
---
Type woning
Huis
---
Geschikt voor
2
---
Slaapkamers
Praag, Praag, Tsjechië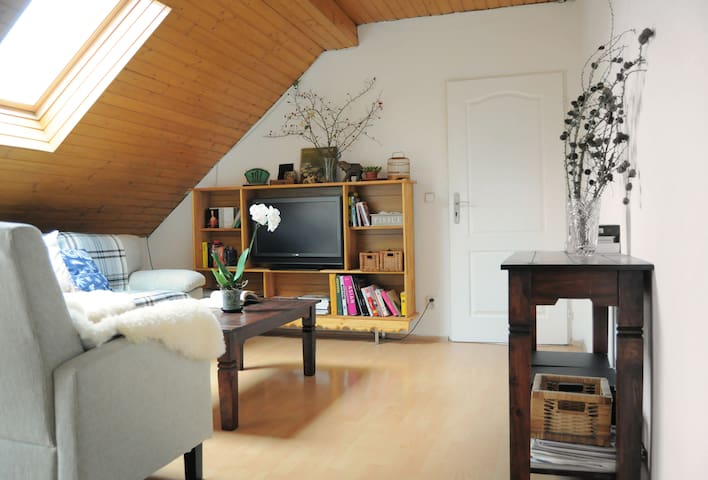 1

–

18

van

300+ Huizen te Huur
Voer datums in om de volledige tariefopbouw te zien. Er kunnen extra kosten zijn en er kunnen belastingen worden toegevoegd.