280 Appartementen te huur
Vi är mycket nära till 2 busshållplatser som kan ta dig till centrala Malmö. Jag älskar denna plats eftersom vi har många vackra promenadstråk och bor nära en liten sjö också, men det är fortfarande bara kort bussresa till centrala Malmö
Detta är en perfekt storlek rum för en person, och vår lägenhet är nära till fina vandringsleder och parker.
Kamertype
Privé Kamer
---
Type woning
Appartement
---
Geschikt voor
2
---
Slaapkamers
Malmö, Skåne län, Zweden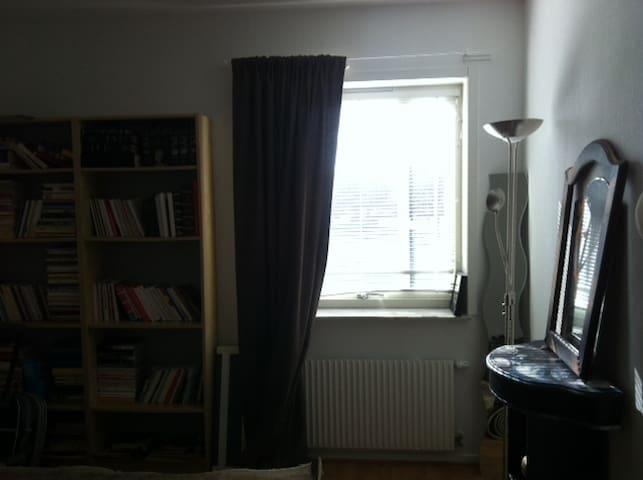 Gemütliche neu renovierte Wohnung von 97 qm in einem multikulturellen Bereich Rosengård, den Geburtsort von Fußball-Legende Zlatan Ibrahimovic. Ausgestattet mit Küchenbedarf, Bettwäsche, Wi-Fi, eine Badewanne und einer zweiten Toilette, es ist alles, was Sie für Ihren Besuch in Malmö müssen. Sehr gute Busverbindungen alle 5-10 min zum kulturellen Zentrum von Möllevången in weniger als 10 Minuten und erreichen Malmö Hauptbahnhof in unter 20 Genießen Sie einen Blick über die Skyline von Malmö suchen vom Balkon oder nach unten gehen und Zlatan alte Hauben erkunden.
renoviert, neu 2 Schlafzimmer und ein großes Wohnzimmer sowie eine große und voll ausgestattete Küche. 1 Badezimmer mit Badewanne und 1 extra WC. Genießen Sie einen Blick auf Malmö vom Balkon
Rosengård ist einer von Schweden kulturell vielfältigsten Gebieten und der Geburtsort des Fußballs (Fußball) Legende Zlatan Ibrahimovic. Das Gebiet inlcudes Lebensmittelgeschäfte mit Delikatessen aus der ganzen Welt, sowie die Zlatan Fußballplatz und ein Mosaik aus seinem Lächeln Sie auf den Bereich begrüßen zu können.
La casa de Petter es muy confortable y tiene todo lo q necesitas para descansar tras patear la ciudad. Muy bien comunicado connla linea 5 q cruza toda la ciudad. Petter es un chico muy agradable y sabe 5 idiomas entre ellos el español. Muy recomendable.
Miguel
2016-11-07T00:00:00Z
The host canceled this reservation 7 days before arrival. This is an automated posting.
Anastasia
2016-11-11T00:00:00Z
Kamertype
Gehele woning/appartement
---
Type woning
Appartement
---
Geschikt voor
5
---
Slaapkamers
Malmö, Skane County, Zweden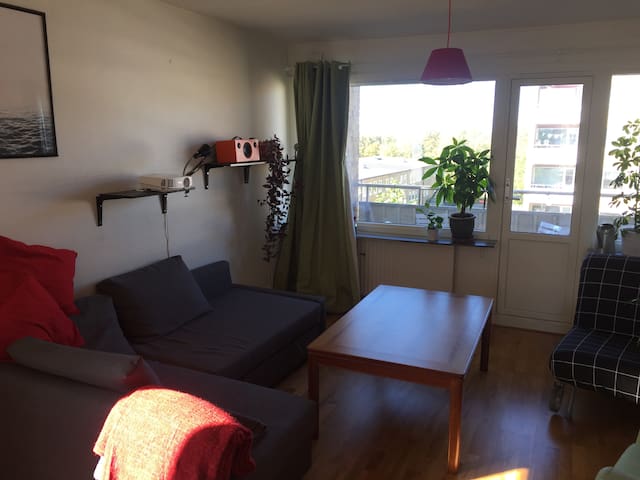 Ik bied een gezellige en mooie plek in het noorden van Malmö. De accommodatie is voor 2-4 personen. Ik bied het hele appartement op de zevende verdieping met uitzicht over het water op Malmö en de brug naar Kopenhagen.
Het appartement beschikt over veel ruimte, ideaal voor 1-4 persones. Zijn sterk aanbevolen voor mensen hwo komt voor vakantie of buisness.
Het is een multcicultural neighberhood met veel groen in de buurt. .Supermarket Open 07.00-22.00 ..... daar kunt u kopen ticets aan bus en trein communicatie kaarten. Bakkerij geopend van 24 uur
Perfect place to stay;) Sari is very nice and helpful host;) she told Me everthing what i need to know about travelinq in malmo and answer all my quastions;) apartament was very clean, bright and Big! I Love design;) supermarket and bus stop are so close!! Totally high recomend!
Agnieszka
2016-02-16T00:00:00Z
We loved staying in Sari's apartment. Her apartment is very spacious, very clean & comfortable. The kitchen was well-equiped with virtually everything we needed for easy cooking & eating - including a much appeciated tea pot! The bed was very comfortable and it was great to have a nice living room to relax in. Sari is a great host - warm, friendly, and welcoming. She was very helpful & attentive, helping us (by phone) to figure out the system for doing the washing in the basement, despite being a bit sick. The bus stop is right next to the apartment building, and it's about 15 mins to the train station at Trangeln & 20ish to the Centre. There is also a supermarket across the road. We hired bikes for the week and it is only about 15 mins on Malmo's sensational off-road bike paths to the market and multi-cultural hub at Mollevangstorget; and a bit longer to the centre then on to the beach and the new development (loads of restaurants and cafes) at Vastra Hamnen in about half an hour :) We'd recommend Sari's place to visitors to Malmo - a lovely apartment and a great host.
John
2016-05-29T00:00:00Z
The host canceled this reservation 2 days before arrival. This is an automated posting.
izzy
2015-11-24T00:00:00Z
Sari nous a bien informés sur les différents transports en commun et était facilement joignable. Elle a tout mis en oeuvre pour qu'on se sente à l'aise et confortables. Bel appartement spacieux et bien équipé, très agréable et propre. A 20 min du centre ville en bus et 20 min de l'Arena expo. Facilement accessible par les transports en commun. Chouette séjour pour le travail
Delphine
2015-11-04T00:00:00Z
Die Wohnung war sehr schön und mit allem ausgestattet. Einen Punkt Abzug gibt es, weil die Wohnung leider noch nicht fertig war, als wir ankamen. Konnten erst 1 1/2 Stunden nach dem vereinbarten Termin rein. Ansonsten ist Sari eine sehr gute Gastgeberin gewesen.
Anna
2016-09-06T00:00:00Z
we stayed just 2 nights in malmö and She was nice and kind
Alan
2016-08-16T00:00:00Z
Awesome stay! Very Hospitable and attentive to our needs.
Zach
2016-08-28T00:00:00Z
Sari was a great host , really helpful and nice. The apartment is really beautiful and clean, with an oriental touch, something different from the normal swedish apartments and the couch in the livingroom was awsome for relaxing tv evenings. I would highly reccomend this apartment to everyone.
Corcoveanu
2015-12-21T00:00:00Z
Kamertype
Gehele woning/appartement
---
Type woning
Appartement
---
Geschikt voor
4
---
Slaapkamers
Malmö, Skåne län, Zweden
New apartment about 10 minutes from downtown by car, bus departs 1-minute walk from the apartment to Hyllie where Emporia, a large shopping center there and to the center 3 minutes walk from the residence. There are apoket, convenience store and pizzeria on the other side of the road. There is also a terrace where you can use the grill is present in the apartment.
The apartment is bright warm and well soundproofed. There is plenty of room in the bedroom, with a chest of drawers for clothes and a wardrobe to put suitcase and hang hanging storage. There is a bluetooth speaker in the bedroom if you want to hear music. In the living room there is a sofa with chaise longue, armchairs and TV with small channel package, in addition, there chromecast which can be streamed movies / TV for guest's own wishes. There are sound systems that can be used in the living room. In the kitchen is the most common utensils for cooking and there is a large fridge / freezer. Guests washes itself up after cooking / eating. There is also a dining table that seats 4 people.
The apartment is new construction and is located in an area with a wide variety of housing types (Apartment buildings and residential neighborhood close to) the same applies to the area's population, here are people of many nationalities.
Kamertype
Privé Kamer
---
Type woning
Appartement
---
Geschikt voor
2
---
Slaapkamers
Malmö, District Skåne, Zweden
If you are looking for a cheap place to crash for the night, this is as good as it gets in Malmo! However, we were told we would have wifi but were not able to connect.
Mary
2016-09-03T00:00:00Z
Nice host,Very cosy and freedom in the little place. I met two girls and song together and took a tour in the city. Nice experience.
璐铭
2016-10-01T00:00:00Z
Its a cozy room. 2 big sofa bed. And Skander is a good guy! He went to the bus stop for us. Not so far from the central. By foot around 15 mins from bus stop to his room. Quiet place. I just stayed a night for rest. valuable! Thank you Skander!
Juicheng
2015-10-14T00:00:00Z
Excellent host. Location is very near to a bus stop. Was in touch with me right from my arrival till the time I left. Quite interactive also. Tried to make my first time in Sweden / Denmark as smooth as possible even helping me with the public transport and tickets. Would definitely suggest a stay if u r single or couple. Cheers
Jigish
2015-11-02T00:00:00Z
Todo correcto. Anfitrion muy amable y dispuesto, todo muy ordenado. Recomendable 100x100
Carlos
2016-10-14T00:00:00Z
very friendly and patient) care to provide us with all the information how to get there. treated coffee with biscuits)
Надежда
2016-03-04T00:00:00Z
Accommodation was great. We had available a sofa bed, which was very convenient. The apartment had two floors where the top was our kitchen and the couch and the bathroom was lower and host. The host was very nice. Everything pointed to us immediately and showed interest in our comfort. We got your own key and we had privacy there. There we have the kitchen with equipment. The host made us the space in the refrigerator and on request also lent us towels. The host was very accommodating, friendly and helpful. There is nothing to add.
Pavlína
2016-11-22T00:00:00Z
Skander is a super welcoming host, great to talk to, and I'd definitely recommend staying here. The apartment is cosy and located very near to the bus stop with easy links to the centre of Malmo and to Copenhagen via the central station if you like. Thanks for helping make my first experience of Sweden a great one!
Emeka
2015-09-14T00:00:00Z
Kamertype
Gedeelde Kamer
---
Type woning
Appartement
---
Geschikt voor
3
---
Slaapkamers
Malmö, Skåne län, Zweden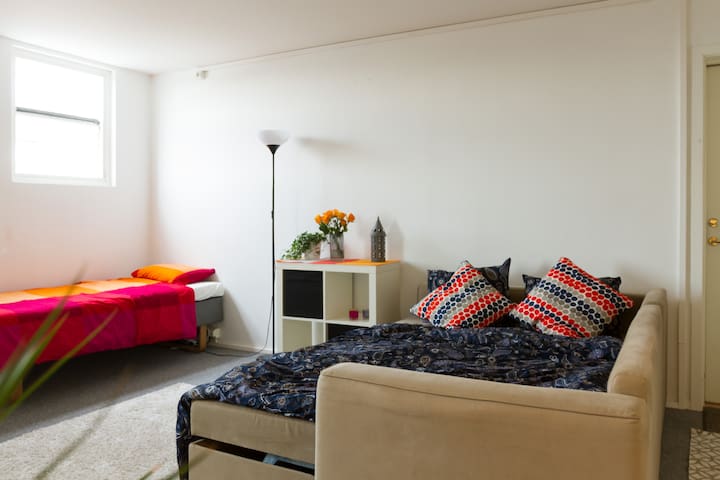 La chambre est blanche et 11 mètres carrés minimalistes. L'appartement est rempli d'œuvres d'art sur les murs. Mobilier simple et cuisine dans le style rétro 50. 10min par Buss au centre et à la plage. Le marché est à distance de marche. Endroit calme avec un grand parc de verdure. Il y a un vélo, vous pouvez emprunter.
Mon endroit est très froid.
Kamertype
Privé Kamer
---
Type woning
Appartement
---
Geschikt voor
4
---
Slaapkamers
Malmö, Skåne län, Zweden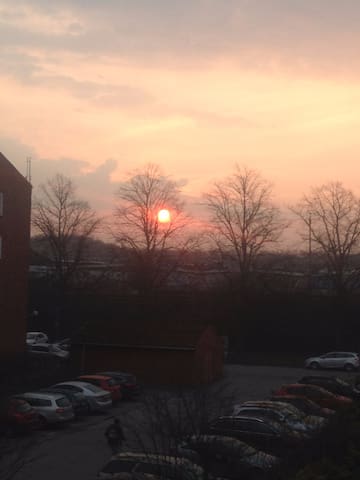 Affittare la mia accogliente camera doppia da Torno nella mia città per le festività natalizie. Situato nella zona di Rosengård, cappuccio calmo e tranquillo e ben collegato al centro della città e al centro commerciale Centrum Rosengård. Dal momento che non sarò in città, è possibile utilizzare la mia moto se si desidera muoversi per la città :)
Calma e familiare quartiere, con molte scuole con i bambini in giro, e molto vicino al centro commerciale Centrum Rosengård.
The neighborhood was quiet, idyllic and charming in its own way. My friend and I felt completely comfortable staying at Gonzalo's place, and enjoyed our interaction with the host(s). It felt so very homely. We would highly recommend that you make use of the public transport to get there if you can.
Yong Li
2017-01-10T00:00:00Z
Kamertype
Privé Kamer
---
Type woning
Appartement
---
Geschikt voor
2
---
Slaapkamers
Malmö, Skåne län, Zweden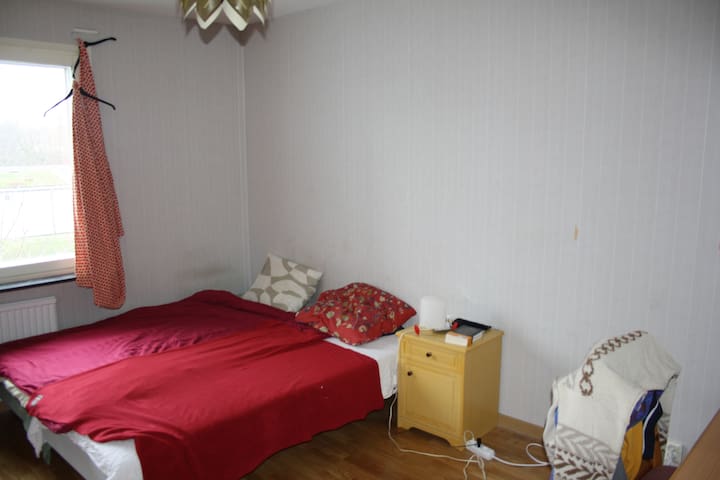 Welkom op een fantastische, ruime accommodatie in een nieuw gebouwd eco-vriendelijke huis. U heeft uw eigen grond hebben, met eigen entrancy, een badkamer en een balkon. Het ontbijt is inbegrepen! Het appartement ligt dicht bij het openbaar vervoer in Malmö, en Lund en Kopenhagen. Huurfietsen (Malmöbybike) in de buurt, Möllan op loopafstand. De kamer zal koppels, vrienden, zakenreizigers en gezinnen met kinderen aan te passen. Als u wilt, kunt u een wieg, keuken of wasmachine lenen.
Twee verdiepingen apt met een eigen verdieping, ontbijt inbegrepen in de prijs! Grote slaapkamer met ontbijt tafel en alles wat je nodig hebt om een lekker ontbijt te bereiden. Mooi weer - hebben het op het balkon!
Het appartement is gelegen in de eco-stad Augustenborg, een kids vriendelijk en groene omgeving, die tevens in het bezit van een paar fast-food restaurants en ligt dicht bij het gebied van Möllevången.
We had spent one night in Malmo, and this location has been perfect for our needs. The appartment is new, well fournished, cozy and with a lovely terrase. Mirjam and her family are very nice and so kind. We recommend
Antonello
2017-02-26T00:00:00Z
I had a nice stay at Mirjam place. Its about 6 minutes by bus from trianglen and about 10 minutes from central st of Malmo. Place is clean, quite and relax. Though, I couldnt meet Mirjam in person but it was easy to find her place. I would highly recommend and would like to stay at her place again sometime
Hamid
2017-02-03T00:00:00Z
Mirjam oli erittäin ystävällinen, joustava ja huolehtivainen emäntä. Tapasin hänet ensimmäisenä iltana. Hän ei ollut itse paikalla paljon, mutta vastasi viesteihin nopeasti. Huone oli siisti ja sen vieressä oli oma kylpyhuone. Huoneessa oli kahvinkeitin, vedenkeitin ja jääkaappi jonne hän oli varannut aamupalatarvikkeet, joista sai helposti hyvän aamupalan. Alue on rauhallinen ja kaunis ja busseja lähtee läheltä jatkuvasti keskustaan päin. Kaiken kaikkiaan positiivinen kokemus, suosittelen ehdottomasti tätä majoitusta!
Johanna
2017-03-07T00:00:00Z
Had a fantastic time staying with Mirjam! She was so accommodating with check in and check out - this made our stay much more relaxing. She helped us figure out where to visit and the breakfast was simple and great! Would recommend this space for any couple looking for an affordable room during their stay in Malmo!
Anthony
2017-02-20T00:00:00Z
Fresh place in newly built house, good connections by public transport in region. Place as in pictures. Nice with breakfast things. In area pizza and fast places, and small grocery store.
Paul
2017-03-22T00:00:00Z
Mirjam is really the best host ever! Nice decorated place and it was clean and so cozy! And breakfast is even included!! :)
Anton
2017-01-28T00:00:00Z
Zusammen mit einer Freundin verbrachte ich 2 Nächte bei Mirjam. Das Zimmer und Badezimmer waren mit allem ausgestattet was man brauchte. Im Zimmer befindet sich ein großer Schrank in dem man auch größere Koffer verstauen kann während des Aufenthalts. Das Frühstück war super! Die Check-In sowie Check-Out Zeit konnten wir variieren, so dass wir unser Gepäck am Tag der Abreise noch im Zimmer lassen konnten und später dann geholt haben. Alles verlief unkompliziert. Wir hatten einen schönen Aufenthalt und würden jeder Zeit wieder die Unterkunft bei Mirjam buchen.
Jenny
2017-03-29T00:00:00Z
Mirjam is the best host you can find in Malmö!! Her place is really nice and clean. She kept contact with me all along of my trip ! Don't search any longer , i recommend it a 100%. Best for friends, or even for couples. She bought us some breakfast which was really kind and delicious. Thank you Mirjam! :)
Peter
2017-01-21T00:00:00Z
Kamertype
Privé Kamer
---
Type woning
Appartement
---
Geschikt voor
3
---
Slaapkamers
Malmö, Skåne län, Zweden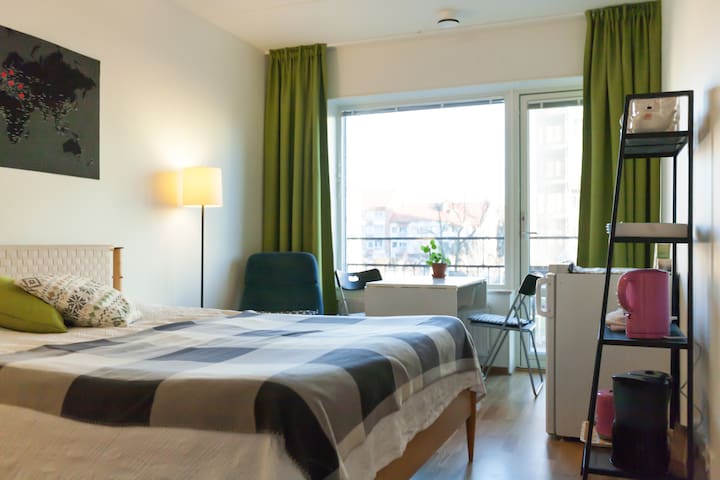 Onze koel en comfortabel appartement met 2 slaapkamers met een grote woonkamer in een rustige buurt heeft een ware gevoel van thuis. Het past comfortabel 6 en centraal gelegen in een rustige straat.
Een zeer schoon en ruim appartement dat is volledig ingericht en kan comfortabel plaats aan maximaal 6 volwassenen. Het is in een zeer rustige en kindvriendelijke buurt. Het is dicht bij alle benodigdheden zoals supermarkt (5 minuten lopen) en andere winkels. Je hebt een zeer snelle wifi-verbinding en ook gratis internationale tv-kanaal en films te genieten van uw verblijf in het appartement.
Het is vrij in het centrum en heeft nog steeds veel groen. Het is zeer rustig en kindvriendelijk met een goede toegang tot de winkels en vervoer.
It was a fantastic experience! Shaun and his apartment is highly recommended!! It is a little bit outside the city bit easily accessible by bus 32! Well-equipped, spacious, clean and Shaun and his friend were extremely kind and prepared! I would definitely go back! :)
Bobba
2017-03-07T00:00:00Z
We sent 2 employees to stay in Shaun's place. There could have been a bit cleaner and one of the beds a bit more comfortable. But overall they were very happy with their stay and the experience they had at the apartment. Easy trip to city center by bus (approx. 30 minutes).
Christiane
2016-10-08T00:00:00Z
Jättenöjda. Trevlig värd och bekväm lägenhet. Nära till kommunikationer, närbutik och pizzeria. Allt fanns på Asptorget endast 3 min promenad
Carina
2017-02-12T00:00:00Z
The apartment is excellent and large. We really enjoyed. It was clean and comfortable. Near a bus stop. Thank you
Natalia
2016-12-02T00:00:00Z
Great host. Great apartment. Would come again. :)
Mathieu
2017-03-19T00:00:00Z
Five stars for the kindness and availability of the owner.
Tommaso
2017-03-12T00:00:00Z
Shaun was very nice and accomodating, the flat was spacious and nice. Great value.
Lars
2017-04-09T00:00:00Z
We stayed at Shaun's place last week. I must say the apartment is bigger than I expected. We were 5 people and there was plenty of space. We felt very comfortable. It is a little far from the city-center. But once you figure it out how buses work, this is not a problem anymore. Over-all I would recommend this apartment to all my friends who want to visit Malmo and Copenhaga.
Dan
2017-03-30T00:00:00Z
Kamertype
Gehele woning/appartement
---
Type woning
Appartement
---
Geschikt voor
6
---
Slaapkamers
Malmö, Skåne län, Zweden
Sumera is a wonderful host. She communicated expediently and consistently with me. The place itself is lovely - brand new everything, and very quiet. The bed is comfortable, and everything is so very clean. It's a bit of a ways outside the city center, but easy to get there on the #2 bus. Highly recommended!
Erin
2017-02-16T00:00:00Z
Kamertype
Privé Kamer
---
Type woning
Appartement
---
Geschikt voor
2
---
Slaapkamers
Malmö, Skåne län, Zweden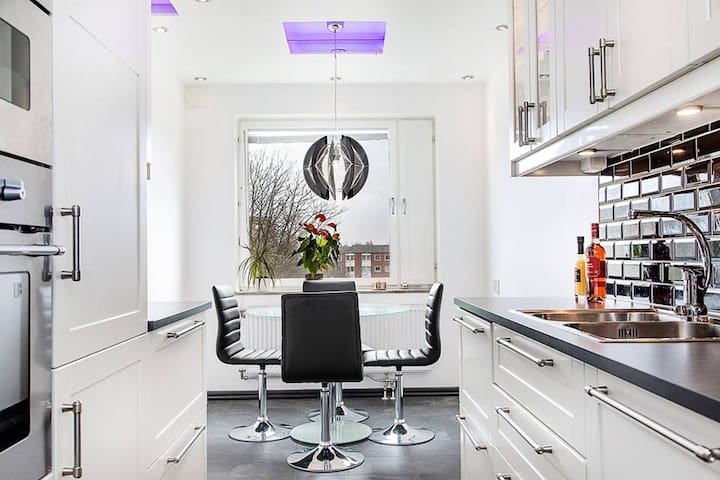 My place is near the center. You'll love my place because of the view. My accommodation can accommodate couples and solo adventurers.
Adres was lastig te vinden. Multi culturele buurt. Je logeerde echt bij de gastheer.
Ruud
2016-09-09T00:00:00Z
Dragan is a great guy! Very good price/quality ratio! :-)
Sjoerd
2016-10-18T00:00:00Z
Dragan notified us on the day of arrival that he couldn't meet us at the requested check-in time but was very apologetic about this. The walk from the train station to the accommodation is about an hour, so taking public transport is better. The area the accommodation is in is not located very close to the city centre and isn't very appealing (in regards to cafes/restaurants, the landscape and site-seeing etc.---not the hosts fault) but if you are travelling through Malmo for a short period and will be out for most of the time then it is a good place to stay at. The room is big and the bathroom is clean. Dragan is very nice and welcoming! We appreciated the cup of coffee when we arrived!
Kelita
2016-12-06T00:00:00Z
The place situated not far from center, the room was big enough, clean and nice. Dragan was also very friendly and helpful. Overall i really enjoyed my stay in Dragans place.
Najib
2016-08-28T00:00:00Z
Dragan est quelqu'un de très agréable, amical et ouvert. Excellent rapport qualité/prix. Le quartier peut décevoir au premier abord, mais le logement est sécurisant et confortable. A recommander sans hésiter!
Charlène
2016-07-18T00:00:00Z
Dragan was nice person, he gave us a lot of advices. Room looked exactly as in the picture - comfortable bed and chair. We could use kitchen and bathroom. However he could pay more attention to cleaning the house. Apartment is located near central area and has easy connection with airport. I think I can recommend this place in this price.
Justyna
2017-01-08T00:00:00Z
Staying with Dragan was super nice and cozy! He's a really helpfull person and answered my messages every time imediately. I can recommend this stay to everyone.
Anna
2016-12-16T00:00:00Z
Dragan was a lovely host. He always renewed the soap and tipler paper. The room is big, the bed is comfortable. He is a nice person that is a good chatter but also he always gives you space.
Asya Gediz
2016-10-05T00:00:00Z
Kamertype
Privé Kamer
---
Type woning
Appartement
---
Geschikt voor
2
---
Slaapkamers
Malmö, Skåne län, Zweden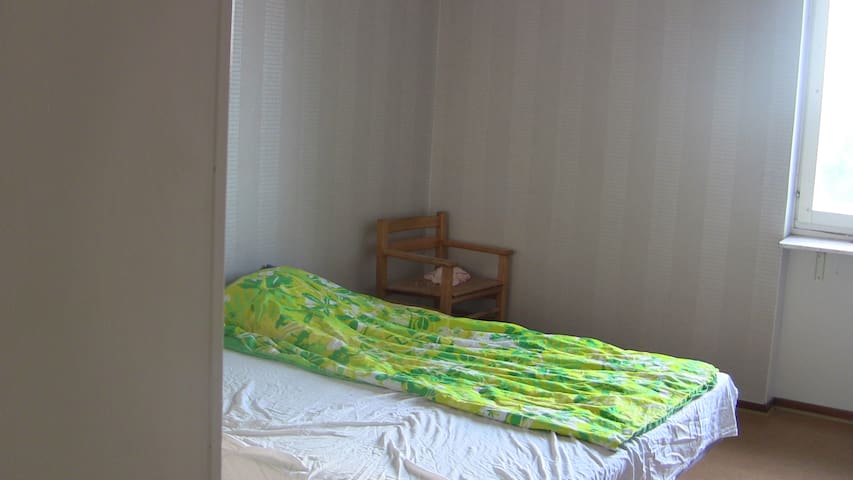 Mijn appartement van 62 m² is ideaal als u op zoek bent naar een verblijf in een rustige buurt, maar toch met verbindingen naar het hart van Malmö. Mobilia shopping mall kan worden bereikt door te voet (15 min) evenals Emporia, Malmö Arena en het Hyllie treinstation (25-30 min). Buslijn 7 brengt u naar de oude stad van Malmö in minder dan 15 minuten. Zeer dicht in de buurt is ook een kleine gemakswinkel. Het appartement is uitgerust met een moderne keuken, een woonkamer, een slaapkamer en een badkamer.
Afgezien van wat er al in de beschrijving hebben het bed in de slaapkamer is 120 cm breed. Het is met andere woorden een groot bed voor koppels, maar misschien niet als je om het te delen met een vriend en hebben behoefte aan een beetje breder bed. De opblaasbare matras kan vrijwel overal in het appartement worden geplaatst en is 140 cm breed (dus het is eigenlijk een queen size ook al het comfort van het bed zou kunnen missen). Zie foto. De keuken is state of the art en als je wilt om te koken u zult niet teleurgesteld worden. Eten in restaurants in Zweden kan heel duur zijn. Deze keuken moet zo ongeveer alles wat je nodig hebt. Er is een badkamer met een bad ... Niets bijzonders, maar het heeft wat je kunt verwachten van een badkamer (zie foto). Als u nodig hebt om de wasruimte te gebruiken informeer me vooraf, zodat ik een boeking kan bereiden. De wasmachines zorgen de dosering zelf en poeder / weekmaker is niet noodzakelijk. Laat het me weten als er iets in specifieke je zou willen weten.
Het gebied is erg rustig en leuk voor een Strohl. Het is groen en zeer sympathiek.
Nice place, as described. Nice host, easy check in and out. The spare bed was not very good to sleep on.
Hassan
2017-04-07T00:00:00Z
I recommend it at all
Javi
2017-04-02T00:00:00Z
Kamertype
Gehele woning/appartement
---
Type woning
Appartement
---
Geschikt voor
4
---
Slaapkamers
Malmö, Skåne län, Zweden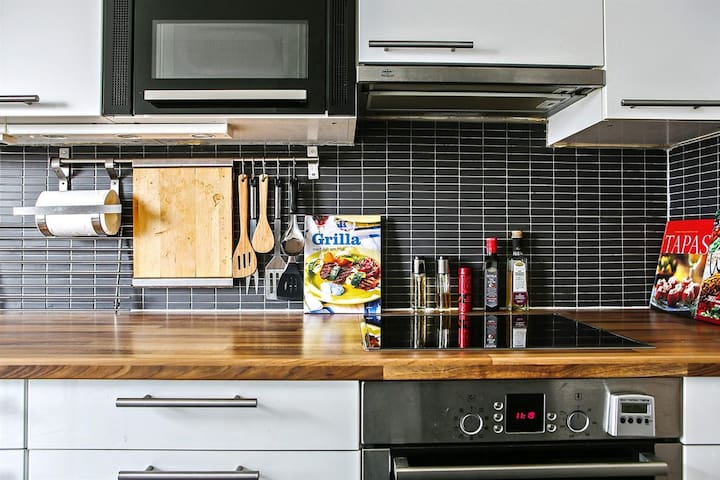 My place is close to parks, and shopping centers. You'll love my place because this is a homely, practical and clean, you get access to unlimited Internet and your own bike and I know all the bike trails that will take you anywhere. I do not smoke or have any pets, you are welcome to bring pets but please smoke outside.
You have space in kitchen and bathroom and extra storage if you need.
Christina er super flink og imødekommende. Hun guider dig gerne igennem byen. lejligheden ligger i gå afstand til Mobilia shopping center og en kort cykeltur til centrum. Christina stiller en cykel til rådighed, så man kan tage på opdagelse i Malmø.
Julie
2017-02-11T00:00:00Z
It was a very nice and pleasant stay! The room is cozy and the bed is comfortable! Christina was a great host, she helps where she can and always very kind! Es war ein sehr angenehmer Aufenthalt. Das Zimmer ist klein aber gemütlich und Christina ist ein sehr guter Host :-) Highly recommended! Weiterzuempfehlen!
Yannick
2016-12-18T00:00:00Z
The host canceled this reservation 10 days before arrival. This is an automated posting.
Tobias
2016-09-28T00:00:00Z
Warm and clean
Ramazan
2017-01-08T00:00:00Z
Kamertype
Privé Kamer
---
Type woning
Appartement
---
Geschikt voor
1
---
Slaapkamers
Malmö, Skåne län, Zweden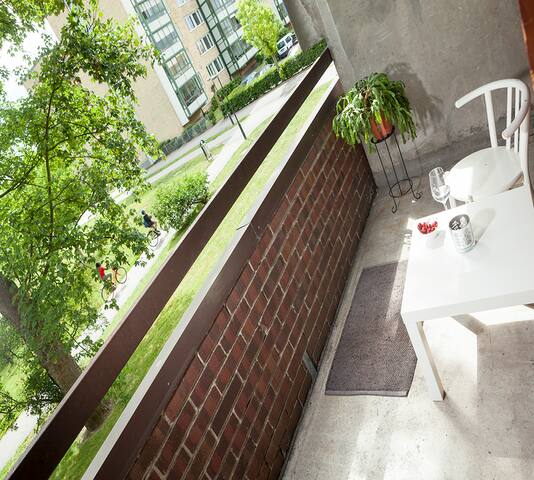 Welkom op een fantastische, ruime twee-verdiepingen appartement in een nieuw gebouwd ecofriendly huis, met een terras en twee balkons! Twee slaapkamers en een woonkamer. Het appartement ligt dicht bij het openbaar vervoer in Malmö, en Lund en Kopenhagen. Huurfietsen (Malmöbybike) zijn in de buurt, Möllan ligt op loopafstand. De apt zal koppels, vriendengroepen, zakenreizigers en gezinnen met kinderen aan te passen. U bent van harte welkom om de keuken, de wasmachine, het bad en alle andere faciliteiten te gebruiken.
Het appartement is als een klein huis en heeft alles wat je nodig hebt voor een comfortabel verblijf. Meestal is er een 1,5 jaar oude kind wonen in het huis, dat wil zeggen dat het huis heeft alles wat nodig is voor een kleine baby of kind als je wilt om een te brengen!
Het appartement is gelegen in de eco-stad Augustenborg, een kids vriendelijk en groene omgeving, die tevens in het bezit van een paar fast-food restaurants en ligt dicht bij het gebied van Möllevången, de zuidelijke centrum van de stad.
Had a nice stay at Mirjams place. Did not meet Mirjam in person, but her mother was there to hand over the keys and present the appartment to us. Nice place in general. Since I had my young daughters with me, we were pleasantly surprised to see that there werer a lot of childrens toy, books etc in the appartment, and Mirjam was also able to provide us with a childrens bed. Location is not city center, but communications are good and there's several buses near by. I would definately reccomend anyone to stay at Mirjams place.
David
2017-01-10T00:00:00Z
It is a beautiful home with calm neighbor hood. Had an wonderful experience staying here. Would love to go back
Savitha
2017-03-26T00:00:00Z
This is a beautiful apartment, newly built and cleanly kept and with such a comfy bed. It has all comforts, such as a bath tub, a washing machine and dish washer, if needed. We visited in the winter, but summertime the balconies and the terrace must be very nice. The area is calm and green with a lot of rabbits jumping around! Easily reachable by bus and close to the southern city centre. Mirjam was really a very friendly and thoughtful host who had done everything to make us feel comfortable and at home. There was even a generous breakfast waiting for us in our room! We had a great experience staying at Mirjam's place and would love to come back. Would warmly recommend it to anyone!
Tove
2017-01-25T00:00:00Z
Kamertype
Gehele woning/appartement
---
Type woning
Appartement
---
Geschikt voor
6
---
Slaapkamers
Malmö, Skåne län, Zweden
Mitt boende och passar ensamäventyrare affärsresenärer. The apartment is small is suitable for a single person or a small child.
The apartment is surrounded by gardens where live wild rabbits, small lakes, ducks, and playgrounds.
Malmo is famous for the many parks that has its urban center (16 in total and other pending construction) as well as for its beautiful canals that meander winding through the oldest parts of the ciudad.A only 20 min walk of the Pildammsparken with its old water tower, the largest park in Malmo, situated around a lake .who wants to cross it by bicycle, enjoy one of the best cities in Europe to do so. (URL HIDDEN) (URL HIDDEN) (URL HIDDEN) This article is about the neighborhood where it is located Augustenborg on our floor. (URL HIDDEN)
Sara was a great host, we really enjoyed our stay there. Everything was clean. She was very nice and helpfull. If we ever come to Malmö again, we will definetly stay at Sara's :)
Ivona
2017-04-02T00:00:00Z
Kamertype
Privé Kamer
---
Type woning
Appartement
---
Geschikt voor
2
---
Slaapkamers
Malmö, Skåne län, Zweden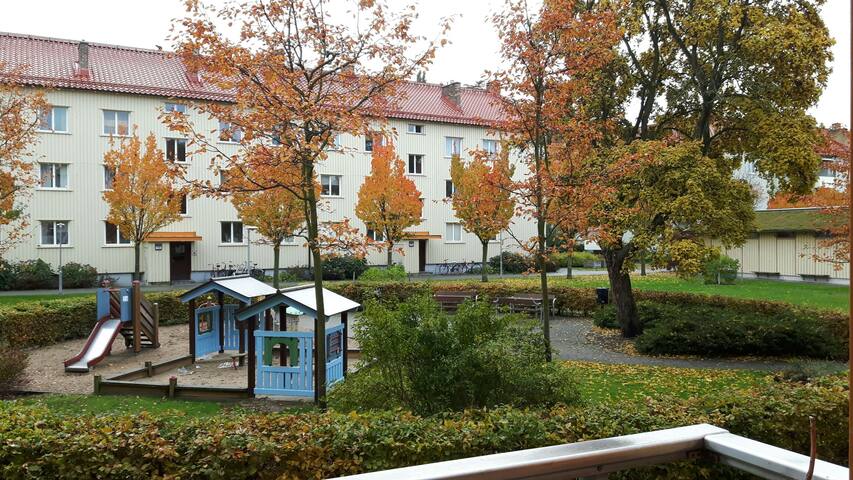 Mijn goed geplande appartement is gelegen in het centrum van Malmö. Buiten het appartement zijn er busdiensten die u naar de centrale delen van Malmö, met inbegrip van de Driehoek, Gustav Adolfs Torg en Malmo Centrastation. Mijn appartement is ook dicht bij supermarkten, gezinsvriendelijke activiteiten en winkelen! Het appartement past iedereen van paren, bij de levendige avonturier of zakenman. Is er nog iets wat je wilt weten? Aarzel niet om contact met ons op te nemen! Wij zullen u helpen met alles wat we kunnen!
Dit appartement is gekookt. Ik heb het al meer dan 2 jaar geleden gekocht en zijn de beste! Het ligt op de vierde verdieping, dus het is zeer rustig en peacfull. In de slaapkamer heb je een mooi panoramazicht op Malmö! De badkamer hebben een douche en een wasmachine. In de keuken heeft u een afwasmachine, oven, fornuis en alle andere dingen die u nodig heeft tijdens uw verblijf.
De buren zijn rustig en vriendelijk.
Christoffer and Kajsa are very friendly. The flat is a positive szrprise because its much bigger than the pictures, very clean and good location. Perfect and absolutely recommented!
Bianca
2017-03-27T00:00:00Z
Trevlig och central lgh. Allt fungerade perfekt. Rekommenderar boendet.
Emelie
2017-03-28T00:00:00Z
Alt var fint og lejligheden levede godt op til billeder og beskrivelse. Værterne var søde og vi fik nemt aftalt opholdet. Meget anbefalelsesværdigt.
Morten
2017-04-01T00:00:00Z
Cristoffer and Kasia are the perfect hosts that every tourist would like to find! They are every time ready to give answers and solutions to your questions as a tourist! The house has all you need even for a long stay. It's nice and very clean! You can find under the house the bus that brings you in 10 min. to the center of the city and to the central station of Malmö. Highly recommended!!
ERION
2017-04-07T00:00:00Z
Kamertype
Gehele woning/appartement
---
Type woning
Appartement
---
Geschikt voor
2
---
Slaapkamers
Malmö, Skåne län, Zweden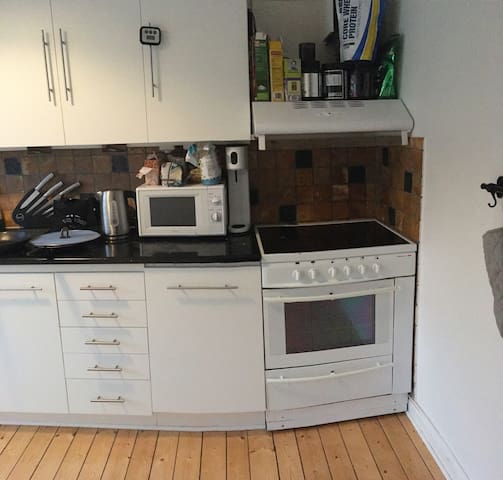 Oxie - Airbnb
:
Gemiddeld

4.45

van

5

sterren op basis van

214

gastrecensies
1

–

18

van

280 Appartementen te huur
Voer datums in om de volledige tariefopbouw te zien. Er kunnen extra kosten zijn en er kunnen belastingen worden toegevoegd.