Recientemente remodelado la casa de 1940 a sólo 50 pasos de la arena con fabulosas vistas a la playa y al océano. Disfrutar de la brisa del mar desde su porche y ver la gente pasar. Ir tomar el sol y nadar, tomar un paseo en bicicleta o un paseo en la playa, tomar un vaso de vino y ser testigo de los más bellos atardeceres. Estamos situados en una tranquila zona residencial de la playa del océano. Esta casa de campo luminoso y acogedor tiene todo lo que necesita para sentirse como en casa.
Nuestra cabaña de playa ofrece un ambiente ideal para familias, parejas o personas que viajan solas. La casa ha sido totalmente remodelado y diseñador decorado con piezas de arte y pequeños detalles para mejorar su experiencia de vacaciones. El patio delantero tiene un área de descanso para relajarse y disfrutar del aire fresco del mar y maravillosas vistas de la playa y la costa. El patio tiene una parrilla de la barbacoa Weber de sus platos favoritos. Planear en la preparación de comidas o aperitivos en una cocina totalmente equipada que incluye electrodomésticos de acero inoxidable, un horno de microondas, licuadora y cafetera. El salón tiene un sofá cama, juego de comedor y un Smart TV 42" . Cuando es el momento de terminar la noche, los huéspedes pueden dormir cómodamente en una cama de matrimonio en el dormitorio que tiene un armario empotrado y un Smart TV 32" . Hay un sofá cama en la sala de estar y un 18 "colchón de aire de alta calidad que puede acomodar a una quinta persona. Una lavadora y secadora están en un cobertizo en la parte posterior de la casa. El garaje está situado en la parte trasera de la propiedad y tiene acceso a un callejón. Hay un teclado en la pared del garaje para abrir la puerta del garaje. En el interior del garaje hay cuatro sillas de playa, una sombrilla, dos tablas de surf y dos de 26" bicicletas para su uso durante su estancia. Para nuestros clientes infantiles proporcionamos un paquete n juego, donde el bebé puede dormir cómodamente o jugar y una silla alta para hacer las comidas de una brisa. Pequeños niños podrán disfrutar jugando con los juguetes de la arena en la playa. Si tiene cualquier momento libre que queda podrás encontrar todo tipo de juegos para todas las edades en la sala de estar.
Ocean Beach es una comunidad costera situada al noroeste del centro de San Diego y tiene muy cerca del aeropuerto. En la playa del océano casi todo está a muy poca distancia. Newport Avenue, que está a tres cuadras de nuestra casa es la calle principal y cuenta con numerosas tiendas, cafeterías, restaurantes, bares y tiendas de antigüedades. El embarcadero de la playa del océano es el más largo de su tipo en la costa oeste y es justo ahí para que usted tome un paseo y observar los surfistas cabalgando las olas, pescador tratando de atrapar su cena y un buen café hacia el final del muelle. Todos los miércoles de 4:00-20:00 es el mercado del OB Farmer, donde se pueden degustar golosinas, recoger flores frescas cortadas, verduras cultivadas localmente y frutas, junto con entretenimiento en vivo. Los amantes del café: cafetería colibrí perezoso Newbreak café y café El nido Jungle Java Azucar Restaurantes, bares y Más: de hodad - hamburguesas famosos South Beach Bar and Grill - para tacos de pescado BBQ House Bar & Grill informal mexicana - Margarita Thai Time Bistro Italiana de Pepe Cocina de Hugo pizza Port OB Noodle House Los mercados de comestibles: El mercado de Olivo Mercado de alimentos orgánicos de las personas vons CVS
The Cottage is very nicely done, clean, we'll stocked with all essentials and extra touches like snacks, bikes, beach chairs, secure garage....and just three houses from the beach access, you can hear the waves.....
David
2017-04-08T00:00:00Z
Kamertype
Gehele woning/appartement
---
Type woning
Huis
---
Geschikt voor
5
---
Slaapkamers
San Diego, Californië, Verenigde Staten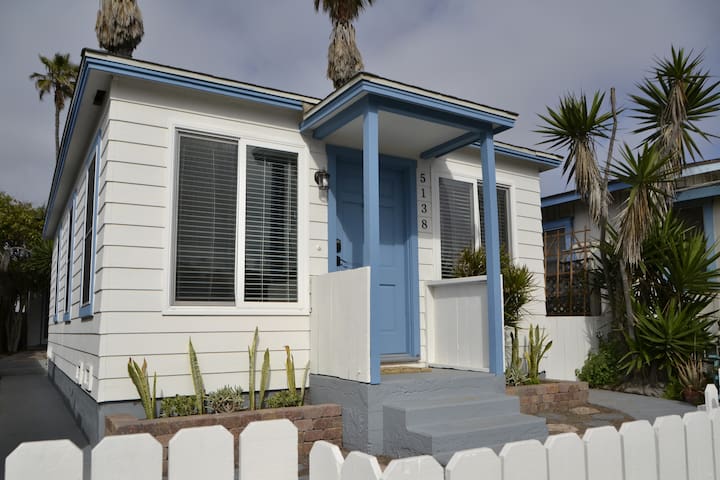 Waypoint Cottage ist ein gemütliches, renoviert Turnkey-1 BD / 1 BA Ferienhaus mit Parkplatz und Terrasse, 1 Block vom Strand und einen kurzen Spaziergang von Restaurants, Bars und Brauereien. Wir haben auf die Details geachtet, so dass Sie sich wie zu Hause fühlen !! Unschlagbare Lage und Charme !! $ 119 - $ 249 / Nacht je nach Saison.
Von dem Moment an Sie durch das Haupttor gehen, wissen Sie, dieser Ort ist etwas Besonderes - Waypoint Cottage hat Urlauber offenen Armen empfängt seit mehr als 100 Jahren bis OB und die Stimmung der guten Zeiten und faul Spaziergänge am Strand sind hier stark. Während das Innere komplett sanierte Gut ist, hat die Außenseite noch so einfach frühen Blick des 20. Jahrhunderts Strand - erwarten Sie die Hälfte eine alte Woll Badeanzug Trocknen auf den urigen Adirondack Stühle vor der Tür, um zu sehen! Während die Geschäfte und Restaurants geändert haben, ist die tägliche Leben bei Waypoint Cottage noch sehr ähnlich, wie es vor Jahren war. Aufwachen am Morgen, um den Klang der Kinder spielen (. Hart für sie zu spät mit der Aufregung der Gegend schlafen) Spaziergang entlang des Wassers zu Newbreak Cafe für Ihren Morgen cuppa Joe - oder, wenn Sie mit Hunde- Begleitern unterwegs sind, macht den kurzen Weg zum Hundestrand für etwas Spaß Morgen tummeln. genügend Zeit gibt es wieder zu bekommen und ein hausgemachtes Frühstück zu machen - vielleicht haben Sie eine Chance haben, die bereits von dem Wochenmarkt zu schwingen und bevorratet auf Bio-Müsli, lokale Beeren und griechischen Joghurt. Oder wenn Kochen ist nicht Ihre Sache, Schatten Bistro direkt am Wasser, oder O'Bistro auf Voltaire Street ist zwei große haustierfreundlich Frühstück angeboten. Nach dem Frühstück sortiert ist, zu seiner Zeit den Tag zu planen. Ist es ein Tag am Strand zu verbringen? Oder ist heute der Tag, um aus und einige von San Diego Top-Touristenattraktionen (nur 10-15 Minuten Autofahrt entfernt von denen die meisten sind.) Zu sehen oder vielleicht ist heute ein Tag auf dem Wasser raus - Angeltouren fahren von Shelter Island und eine Reise auf einem kleinen Segelboot kann für $ 75 werden musste - $ 120 je nach Länge und der Jahreszeit. Was auch immer Sie sich entscheiden, keine Eile es - seine den OB Weg! Nach einem Abenteuer des Tages, sein gut auf der vordere Terrasse mit einem lokal gebrautes Bier entspannen (gepflückt vielleicht aus Kultur Brewing Co auf Newport Ave up?) Oder einem Temecula Wein. Das Abendessen kann eine Weile warten, nicht wahr? Es gibt viele Restaurants zur Auswahl in ein paar Blöcke - alles von flippiger Sushi / Tapas Fusion und Ramen mexikanische Küche und Französisch. Aber die beliebteste Option scheint immer einen altmodischen Grill direkt auf dem Holzkohlegrill zu Hause sein werden. kuscheln zu Hause und beobachten einige TV - Nach dem Abendessen können Sie viele Strand auf der Stadt zu OB Bars und Craft Cocktail Versorger, oder halten Sie es einfach den Kopf aus. Je später es wird, desto einfacher ist es, die Wellen mit offenem Fenster zu hören. Sie werden auch Paare hören wandern nach Hause, von der Salzluft kichernd (und das Seagram); Hunde spielerisch durch ihren letzten Gang des Abends traben; und irgendwo ... das weit weg Geräusch von jemandem einen Bob Marley Rekord zu spielen. Ah, OB.
Ocean Beach ist San Diego die authentischsten Cali Strand Nachbarschaft. Es ist entspannt und weniger Vermietungen als Mission Beach oder Pacific Beach hat, so in Ocean Beach zu bleiben ist ein viel Wohnerlebnis. Die Bevölkerung ist eine Mischung aus jungen Menschen und mittleren Alters Menschen. Es war ein großes Hippie-Viertel in dem 1960er und 1970er Jahren und die Atmosphäre besteht noch heute. Das Haus ist ein wenig weg von der Partei entfernt, aber es ist immer noch eine 'Beach-Party' Atmosphäre rund um den Ort - im Laufe des Tages können Sie Kinder hören zu spielen oder Leute, Musik zu hören und in ihren Hinterhöfen Grillen aus. In der Nacht an den Wochenenden, können Sie eine Party am Abend hören (obwohl die meisten nicht reichen weit in die Nacht.) Der Strand Nachbarschaften sind auf dem Flugweg von San Diego Flughafen, so gibt es einige Fluglärm während des Tages , aber es gibt eine Ausgangssperre, so dass keine Flüge von 23.30 bis 06.30 Uhr, und die meisten Gäste nicht den Lärm nach der Ankunft bemerken.
Kamertype
Gehele woning/appartement
---
Type woning
Huis
---
Geschikt voor
4
---
Slaapkamers
San Diego, Californië, Verenigde Staten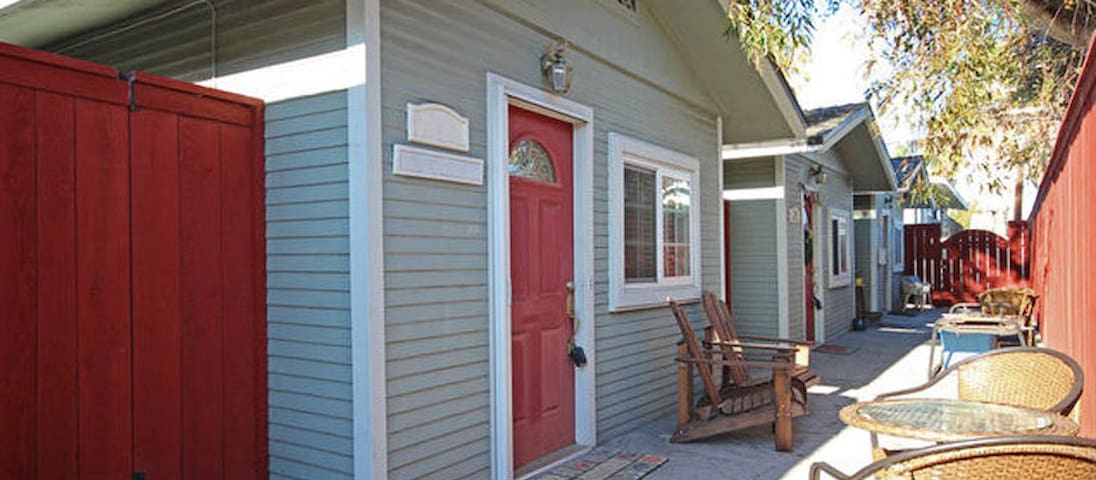 Здравствуйте! Наше место в изворотливых окрестностях Ocean Beach. 3 кварталах к северу и к югу несколько ресторанов и магазинов. Половина мили Запад собака пляж и океан! Sea World находится в 2,5 милях и Mission Bay, отлично подходит для каякинга и парусного спорта, находится через мост. Дом лучше всего подходит для пары или небольшой семьи, как это всего лишь около 800 квадратных футов. Пожалуйста, обратите внимание, нет AC, парковка во дворе, посудомоечная машина или сушилки для белья.
Это небольшой Ocean Beach дом, построенный в 1935 году с двумя спальнями и ванной комнатой. На кухне есть полный холодильник, духовка, плита и раковина, но нет посудомоечной машины. Поскольку это меньше дома, лучше всего подходит для пары или небольшой семьи; четверо взрослых могут быть толпой! Пожалуйста, обратите внимание, нет AC, парковка во дворе, или сушилки для белья.
El sitio de turismo de San Diego hace un gran trabajo de describir la playa del océano (el siguiente es directamente desde esta página web: (URL HIDDEN) . Ocean Beach Encuentra tu Funk & Groove en Ocean Beach Si usted está buscando una playa relajado para pasar el rato como un local, no busque más que la playa del océano. Este pequeño pueblo de playa es un favorito entre los locales que pasan sus días surf, tomar el sol alrededor del muelle, pasando el rato en sus furgonetas VW de época, y paseando por las muchas tiendas de surf, tacos y centros comerciales de antigüedades. Ocean Beach ofrece el tono perfecto tiro de volver ambiente maravilloso de la vendimia sur de California, junto con gente amable, buena comida, y una escena de la vida nocturna vibrante. Ubicado entre el río San Diego y las colinas de Point Loma, Ocean Beach es ideal para los surfistas para disfrutar de las olas creadas por espigones. La playa también es amigable para los nadadores, bañistas, incluso los perros también! Dónde ir • El muelle al pie de Newport Avenue: Uno de los muelles más largos en el sur de California, el muelle extensiones Ocean Beach una buena ½ milla hacia el mar. Es bien vale la pena el esfuerzo para la gran vista y la sensación de estar viendo olas pasan por debajo de los pies y las ondas de choque en los pilotes. Hay una tienda de café a medio camino clásico y una frente a la tienda también. Ocean Beach Pier es uno de los pocos lugares en San Diego, donde se puede pescar sin una licencia válida de California. Todavía se espera que conocer y seguir todos los límites de tamaño y de captura, pero no es seguro que será un profesional de edad al alcance de recitarlas para usted. • Dog Beach: Situado entre el puerto del canal Mission Bay y el muelle en el extremo norte de la playa del océano. Aquí, las mascotas no están permitidas solamente en la playa, pero anima a venir en cualquier momento, falseado la correa y fuera de control con otros intrusos onda caninos. Si usted es un ser humano con vistas a la fiesta en la playa canina, asegúrese de actuar de forma responsable. Las mascotas deben vacunarse, obediente y tiene la competencia de ser liberado en el mundo. Los dueños de mascotas están obligados por ley a limpiar después de sus mascotas en la playa del perro y el resto de parques y playas de San Diego. Sin embargo, no hace falta decir, que es una buena idea para ver su paso. Estacionamiento • Hay una gran cantidad públicas de aparcamiento situadas al pie de Voltaire calle, otro lote adyacente al extremo norte de la playa y la playa del perro, uno al pie de la Avenida Santa Mónica junto a la principal estación de salvavidas, y un lote grande en el pie de Newport Avenue, adyacente al embarcadero de la playa del océano. • Calle aparcamiento está disponible a lo largo de la avenida de Newport, así como que rodea los barrios residenciales. Socorristas, baños y duchas • Ocean Beach tiene la natación socorrista-supervisado y surf áreas, baños, duchas y de ayuda para clientes con movilidad reducida. Aquí, y en muchos otros de las playas más populares de San Diego, socorristas ofrecen vías de goma especiales y sillas de ruedas todo terreno para ayudarle a obtener desde el paseo marítimo, sobre la arena profunda y hacia la playa donde está la diversión. Simplemente pregunte en la torre principal salvavidas, durante las horas regulares de guardia. Las actividades más populares • Surf, nadar, tomar el sol. • tiendas, restaurantes y vida nocturna a lo largo de la playa de Newport y Voltaire calle. Direcciones • Tome el 8 FWY al oeste de Sunset Cliffs Blvd. ya la derecha en Blvd. West Point Loma Lo que al Amor • Hamburguesas en Hodad en Newport Avenue. • Hay un montón de lugares para comer y comprar adyacente a la playa - lo convierte en una experiencia fácil de playa continua. • Observación de las olas rompen en Sunset Cliffs. • La pesca libre en el muelle - sin licencia de pesca requerido. Qué saber • OB viene con una población permanente de 'playa moscas' - habituales que se pueden encontrar sentado en el malecón o salir en los estacionamientos. Son, gente de buen carácter general son inofensivas, que esperamos que el cambio de escenario presentado por los visitantes, pero si no ha llegado a la playa para tener algunos viejos pescadores doblan su oído en el paseo marítimo, hacen una decisiva b- línea de la playa.
This place is great! Location: Within walking/biking distance of Dog Beach, as well as downtown Ocean Beach (they have 2 bikes and a lock, highly recommend riding around the area). Instructions: clear and simple. Rebecca sent instructions on how to get in, how to check out, and where to find everything. Beds: Good quality memory foam mattresses. This often makes or breaks it for me, and we slept wonderfully. House: Good natural light, everything nice and functional and fully equipped. There is also a cool backyard with a covered area with couches, great for reading or hanging out. They also have a lot of beach toys like volleyballs, popups, etc.. Extras: Rebecca left us some coffee and granola, which was a very kind touch, and a welcome sight for a couple of caffeine addicts.
Tyler
2017-04-02T00:00:00Z
Cute, cozy, and sweet home in a great beach town! The key entrance was a little tricky at times. The sheets and towels needed to be cleaned a little better. The backyard is a great place to sit with friends and family and share a cup of tea!
Lauren
2016-11-27T00:00:00Z
Absolutely loved our stay. Rebecca has the place well stocked, and was a great resource for local information. 10 min walk to the beach. Close to so many attractions. As other reviews have stated, you hear airplanes as parking can be tough. However, those things never bothered me. I would stay here again!!!
Jon
2017-03-16T00:00:00Z
Rebecca was great, the house was spotless. Exactly as promised. I would stay again anytime. Great location. This trip was just what we needed.
Sharon
2016-09-12T00:00:00Z
Rebecca's home was the absolute perfect little sanctuary for our visit to San Diego. A generously stocked kitchen and toiletries cabinet, Rebecca has thought of everything from whiskey to baby diapers! I've never felt more at home and I've always wanted to live in OB, this place is the ideal home for comfortable stay!
Nina
2017-03-27T00:00:00Z
Rebecca's place was very clean and close to everything, like bars and restaurants. She provided us with some cereal and milk for breakfast and suggestions of where to spend St. Paddy's Day weekend. Rebecca was a great host and very attentive.
Logan
2017-03-19T00:00:00Z
This is a great little place in a terrific location. Just ten minutes from the airport - it has everything you'll need for a fun getaway in beautiful San Diego! Parking is great in the day, limited at night, but we didn't mind walking a couple of blocks in a city with great weather and warm evenings. There's even a fun little patio with sparkly lights where we enjoyed wine and conversation.
Bo
2017-03-11T00:00:00Z
Although this is a busy area the house was fine for our group. We came for a wedding and the weather was not what we expected for California. The house is a little farther from the beach than I expected, but in good weather I bet the area is glorious.. thanks again it is s fun clean home and beats staying at a hotel anyway. Fresh lemons and all.
Joanne
2017-02-19T00:00:00Z
Kamertype
Gehele woning/appartement
---
Type woning
Huis
---
Geschikt voor
4
---
Slaapkamers
San Diego, Californië, Verenigde Staten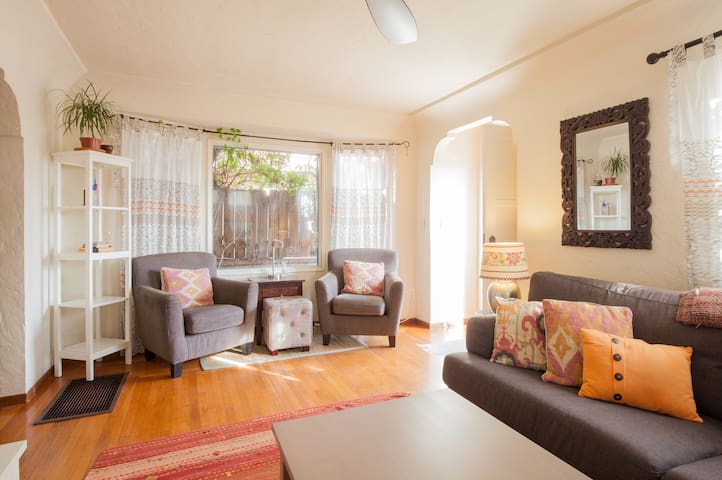 Crystal's house is close to all the shops, restaurants, and beach. You can easily walk down with no problem. The house is small and cozy , perfect for a weekend getaway.
Danha
2017-02-26T00:00:00Z
Loved that it was walking distance to market and very cute,clean and quiet home
Mar
2017-01-01T00:00:00Z
Crystal's place was exactly as described - and I would say even more adorable in person! The decorations are lovely, the interior was incredibly clean, and we were walking distance from just about everything we needed. Crystal was also incredibly available and responsive. Overall, a great stay!!
Amy
2016-12-18T00:00:00Z
Great place and great location.
Nick
2017-01-08T00:00:00Z
Crystals place was fantastic. Walking distance to restaurants and breweries; short drive to downtown, SD Zoo and Old Town SD. Would definitely stay here again!
Courtney
2017-04-02T00:00:00Z
Crystal's home was everything she said. Centrally located, close to the beach. A clean, comfy home.
Patricia
2017-03-26T00:00:00Z
Crystal was super friendly and accommodating. We loved staying in her place, it was super clean and beautifully decorated. The location is perfect and walking distance to many great restaurants and other fun places to hang out. We would definitely recommend this listing and would love to stay again next time we're in town.
Laura
2016-11-25T00:00:00Z
Kamertype
Gehele woning/appartement
---
Type woning
Huis
---
Geschikt voor
3
---
Slaapkamers
San Diego, Californië, Verenigde Staten
Dette er virkelig den mest fantastiske beliggenhed !! Se og høre lyden af havet, der er kun 50 skridt fra hoveddøren! Men langt nok, at du ikke vil være overvældet med støj. Gå eller cykel 3 blokke til Newport Ave, OB hovedgade.
Vi er glade for at tilbyde vores strand hus i Ocean Beach, San Diego! Utrolig yndig 1930 hytte, meget hyggelig og indbydende. Nyd morgenkaffen, grill lokale fisk og skaldyr, eller sip vin, mens du ser solnedgangen fra havudsigt dæk. Du vil være 50 skridt fra sandet! Træk vejret havluft og lytte til bølgerne bryder dag og nat. Du vil få en komfortabelt møbleret stue / spisestue, fuldt udstyret køkken og bad. Der er et fladskærms LCD-tv og trådløst internet service. Køkkenet er udstyret med fuld størrelse apparater, plus en mikrobølgeovn, brødrister ovn og kaffemaskine. I soveværelset er der en dronning seng, med loppetjans hukommelse skum madras. Den sovesofa i stuen har en oppustelig madras, som er meget behagelig. Der er vaskeri på stedet, og garage til bilen. Hvis du har en hund, der er en privat hund løbe ved siden af huset. Butikker, restauranter og barer er inden for 3 blokke, herunder den berømte Hodad er for burgere, og South Beach Bar & Grill til fisk tacos. En stor landbrugerens marked sker hver onsdag eftermiddag. Der er en mole til fiskeri eller at slentre langs, og en café i slutningen. Der er en snor-fri hund strand 4 blokke væk. Ocean Beach er en funky lille uhøjtidelig by, med farverige lokale. Dette er det perfekte sted at opleve San Diego uden stress. Det er en en af en slags, afslappet, ikke-touristy samfund. Vi er en 10 minutters kørsel fra San Diego International Airport og Sea World, 15 minutter fra Downtown San Diego og SD Zoo. Vi mener, at vores sommerhus er på den bedste blok i Ocean Beach. Gaden blindgyder på sandet! Vi har strand stole, strand håndklæder, boogie boards, og en grill / kul for dig at bruge. Der er også fire beach cruiser cykler, alle beliggende i garagen. Vores mål er at gøre din flugt meget speciel og mindeværdig. I sommermånederne vil vi have et vindue air condition i stuen. Du behøver ikke det alt for ofte, men når du gør, det temmelig meget køler hele hytten.
Ocean Beach har en reel Fællesskabet føler, meget lille townish inden den store by. Mange uafhængige, eklektisk, butikker og restauranter, meget få virksomhedernes kæde steder. Den mest afslappede strand og surfing område i San Diego! Vær sikker på at slentre ned Newport Avenue samt sidegaderne, og gå ikke glip Sunset Cliffs.
Schattig huisje, direct aan het strand. Een welkomspakketje stond klaar, net zo als een extra luchtbed. Helemaal geweldig. De buurt deed ons wat denken aan een hippie commune, in ieder geval heeft iedereen een surfplank en een hond. Lekker gegeten in de restaurantjes die Joanie had aanbevolen.
Pauline
2015-08-02T00:00:00Z
This cozy cottage was impeccably laid out. Joanie gives lots of thought to what her guests might need and did everything she could to make us feel welcome without intruding. When a problem arose over which she had no control, she acted promptly, appropriately and graciously.
Kenneth
2014-12-22T00:00:00Z
Joanie was very friendly and helpful and the house was amazing. We booked for the weekend for my husbands birthday and it was perfect. We were just steps from the beach and walking distance to all shops and restaurants. We parked the car when we arrived and it didn't get moved again until we left, it was great staying in such a prime location. We spent a lot of time sitting on the front patio enjoying the view of the beach. The house is stocked with anything you might need, right down to snacks and juice. I would definitely recommend this house to friends and family and would absolutely stay here again!
Shannon
2015-05-24T00:00:00Z
We had a great experience staying in Joanie's cottage. It was steps from the beach and a short walk to the pier and newport st which is the center of it all! The house is very comfortable and the location lends itself to easy access to all of the places in the sd area we wanted to visit. We had stayed in pb last visit and found ob to be funkier and charming. We will be returning on business and hope the cottage is available then. Thank you Joanie!
Lindsay
2014-03-04T00:00:00Z
One of my best Airbnb experiences yet. Seamless check in/out, the keyless entry system is very convenient. Excellent location, walk to restaurants, shops, surfing! Awesome front porch, comfortable bed, everything you need for an outstanding beach vacation!
Kyle
2015-12-18T00:00:00Z
Another AMAZING trip and stay at this super cute beach cottage. Our family so looks forward to our time here to relax and slow down. The view is spectacular, the people are so friendly and the house is everything that you could hope for and more. Joanie always checks in with us after we get there to make sure that we are ok and everything is good. She is super responsive and we couldn't wish for a better host. Thanks Joanie for everything and we look forward to staying again!
Shelley
2016-07-09T00:00:00Z
Thank you Joanie for the nice time in your lovely cottage. We enjoied it very much. Best regards Susanne and Family
Susanne
2014-04-19T00:00:00Z
This was the perfect little cottage for my parents. Joanie was great to work with and provided my parents with a list of restaurants and bars near the cottage. My parents loved the area and could easily walk down to the beach each morning. They were so impressed, they now want to spend a few months of the year at a place on a beach. Thank you!
Nick
2014-05-01T00:00:00Z
Kamertype
Gehele woning/appartement
---
Type woning
Huis
---
Geschikt voor
4
---
Slaapkamers
San Diego, Californië, Verenigde Staten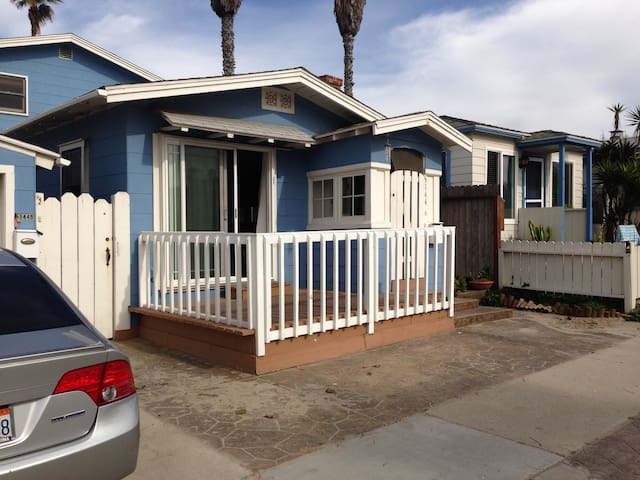 Vores hus ligger kun få skridt fra stranden og er i gåafstand fra alt, Ocean Beach (OB) har at tilbyde. Nyd synet og lyden af Stillehavet fra din komfortable front soveværelse eller tag øverste dæk. OB er et godt sted, kom og bo et stykke tid.
Nær stranden (livredder tårnet er i nærheden), molen, mange restauranter og barer.
OB er en afslappende strand samfund tæt på downtown San Diego, men alligevel er det stadig bevarer en lille by føler. Udover den åbenlyse fordel ved at have smukke strand, er der cykelstier, klipper at vandre sammen, gode restauranter og en temmelig livligt natteliv. Om onsdagen er der en landbruger marked i nærheden med masser af friske råvarer og levende musik. Der er ingen reel grund til at forlade OB, men hvis du vælger at, nem adgang til motorvejen systemet betyder, at du ikke er langt fra alt, San Diego har at tilbyde.
Zonsondergang met een drankje op het dakterras : wat een ontvangst ! Dan mochten we ook nog de fietsen lenen en kregen we uitleg over een mooie fietsroute in de omgeving. En daarbij een prachtige kamer met privé badkamer. Dus : een echte aanrader !
Charles
2014-10-07T00:00:00Z
De ligging van de accommodatie is in een woord FANTASTISCH. Direct aan zee, in een heel gezellig, knus deel van San Diego. Jhonny is een hele gezellige en spontane gastheer. Hij heeft ons veel tips gegeven over uitstapjes en restaurants. Het huis is prachtig. Beneden heb je een eigen slaapkamer met badkamer en toilet. Op het eerste terras is een leuk zitje en op het dakterras staan ligbedden.
Jolanda & Richard
2015-07-10T00:00:00Z
Very organized and helped coordinate way before our visit! Super helpful when my Girlfriend and I arrived late and provided the things we needed to have such an amazing time in Ocean Beach. Towels and toiletries, clean sheets and garage access for our car? In addition to the amazing building and it's location to the beach, I would have to say that even we never met in person (we had a busy weekend!), Jhonny put in the thought and planned ahead for all the things an AirBnBer would want. Would ABSOLUTELY book again. Perhaps sometime in the near future!
Kenneth
2015-10-04T00:00:00Z
Jhonny gave us a tour of the property he was a great host. The neighborhood was gorgeous right on the beach as described. Loved that you could walk to where you wanted to go. We enjoyed visiting with Jhonny and felt very comfortable on our stay.
Sharon
2016-07-17T00:00:00Z
We had a wonderful time during our stay with Wes. He was a gracious host and welcomed us with a nice cool refreshment. The house was spectacular and even more beautiful than the pictures on the listing. You don't need to have a vehicle, as everything is within walking distance. We are hoping to come again in July and enjoy this perfectly magical home. My husband was sad that we didn't get to meet Juan(Jhonny)
Janet
2014-12-17T00:00:00Z
Jhonny is a fantastic human being. He has an amazing heart and really goes out of his way to make his guests feel comfortable and at-home during their stay. I would come back in a heartbeat. The house is fantastic, with an amazing rooftop and he really does put in a lot of extra love! Highly recommend to anyone staying in the OB area. Thanks Jhonny!! I'll be back for sure!
David
2014-05-19T00:00:00Z
Since this was our first Air B&B experience... We have been thoroughly impressed with everything. Jhonny and Wes were perfect hosts and their accommodations are tasteful and sterile... Location is brilliant and convenient to everything we wanted to experience. Never one bad meal and the sights and ocean smells are awesome! Thanks again, James & Magda 5 Star*****
James
2015-04-23T00:00:00Z
From the moment we arrived, Jhonny made us feel welcome and right at home. We arrived late at night and Jhonny was waiting to meet us. He was genuine and a perfect host. Their home was warm, comfortable, clean, and had the most gorgeous views of the ocean. Both Jhonny and Wes made us feel like friends in for a visit. We will be back.
Joy
2014-11-28T00:00:00Z
Kamertype
Privé Kamer
---
Type woning
Huis
---
Geschikt voor
2
---
Slaapkamers
San Diego, Californië, Verenigde Staten
Mein Platz ist für Solo-Abenteurer und Geschäftsreisende gut. Separates Schlafzimmer mit einem Einzelbett. Nur einen Block vom Strand entfernt. Zehn Handwerk Bierprobe Zimmer, 40 Bars und Restaurants innerhalb von 4 Blocks.
I didn't sleep there but based on our brief encounter it seemed like a good place to stay.
Chey
2016-10-28T00:00:00Z
Michael is a very kind and welcoming host! His dog Girlfriend is also great company! was great staying there!
caspar
2016-11-06T00:00:00Z
Amazingly located a couple of quarters from Ocean Beach. Lot of things going around. Local Farmer's Market every Wednesday. Well connected buses 5 min walk from the house. It couldn't be better. Uncle Mike is a great fella to give you the best tips on the City and to have some awesome chat!
Romario
2017-01-06T00:00:00Z
Michael was super chill. His bulldog Girlfriend was awesome and very nice. Location was good too.
Adam
2016-11-12T00:00:00Z
Can't beat this location for the price. Place was perfect for me and the Internet connection was solid (did a little work there so it was important) Mike had great recommendations for food and fun nearby and is a super chill guy. Was lucky to be there for Farmer's Market. Town has a hip, chill vibe and folks are friendly. I'd stay at Mike's 10 out of 10 times if I return to OB as a solo traveler again. Thanks for a great experience.
April
2017-03-15T00:00:00Z
Great location. Owner easy to work with and knowledgeable about the area.
greg
2017-03-11T00:00:00Z
A casa fica no coração de Ocean Beach. É só estacionar o carro e deixar lá. Muitos bares bons perto, assim como a praia, restaurantes, lojas, mercados etc. Toda a estrutura necessária. Michael tem um buldogue inglês chamada girlfriend que sempre te recebe com a maior felicidade, o que torna o lugar mais especial. Fui muito bem tratado. Foi muito bom passar esses dias lá.
Alexandre
2017-03-29T00:00:00Z
Pluses, Michael's place is located close to the beach, and as a host he was nice. The main thing I would recommend is to bring and use ear plugs for the planes taking off at 6AM from SAN airport.
Fred
2017-01-25T00:00:00Z
Kamertype
Privé Kamer
---
Type woning
Huis
---
Geschikt voor
1
---
Slaapkamers
San Diego, Californië, Verenigde Staten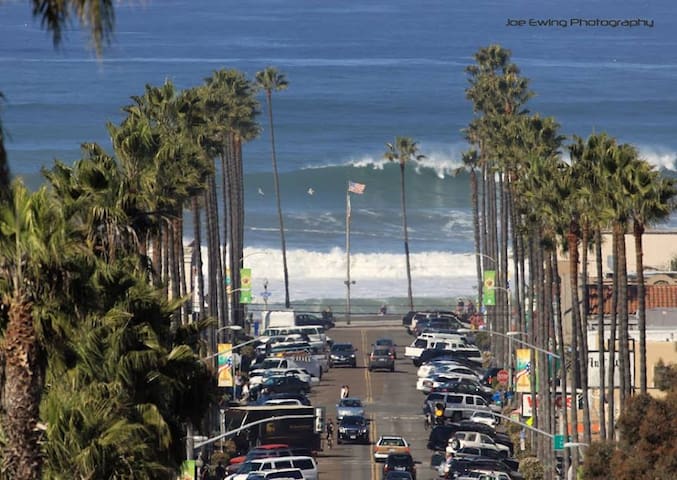 Velmi čisté, elegantní, relaxační a zcela soukromé studio v duplex, s jeho vlastní soukromou terasu a off-parkování na ulici prostoru. Krátká jeden blok chůze od pláže a jen dva bloky Ocean Beach Newport Ave restaurací, barů a obchodů.
Tato neposkvrněná soukromé studio se nachází ve městě Ocean Beach a je velmi čisté, zvaní a pohodlné. KLIKNĚTE tlačítko "+" More do níže úplný popis - An off ulice parkovací místo je zahrnuto v průběhu svého pobytu. - V kuchyni je plná lednice, sporák / trouba, dřez, mikrovlnnou troubou a kávovarem. - Easy Check-in: Klávesnice dveřní zámek do svého ateliéru dělá check-in snadno kdykoliv během dne po 3pm. Váš osobní kód bude poskytována v den příjezdu. - Maximální kapacita je 2 osoby jakéhokoliv věku * Poznámka: Letiště se nachází v centru města, pro ně uslyšíte letadla při návštěvě San Diego. Lety začíná kolem 6:30 a zastavit kolem 11pm. To může být nepříjemné pro některé lidi, ale většina mých hostů si řekl, že to není problém. Ucpávky do uší jsou poskytovány jako zdvořilost. ,
Ocean Beach je jedním z více bezstarostný a relaxační plážových měst v San Diegu. Jóga studia, kavárny, restaurace, bary a samozřejmě na pláž! Hlavní ulice je jen dva bloky dál s nákupy a noční život. Balboa Park a světově proslulé San Diego Zoo je 10 minut jízdy. Za 10 minut jízdy se také dostanete na Hillcrest nebo centra města San Diego je to s historické čtvrti Gaslamp a známý noční život. Plážová zábavní park, Belmont Park, je jen 2 míle daleko, pokud chcete jezdit obří naběračky horskou dráhu nebo může být otočil na některé z dalších jízd. Sea World je 1 míle daleko. Další informace o více věcí, které se v této oblasti, podívejte se na sekci "Průvodce" tohoto seznamu.
We really enjoyed our stay at Cliff's place in OB. The place was very clean and well appointed-it had everything we needed for our 5 night stay. It was within walking distance to a great coffee shop, Azucar, and about two blocks from the beach. An excellent spot for early risers. I would definitely stay here again!
Jennifer
2015-11-03T00:00:00Z
Our stay at Cliff's studio was delightful. It is a cozy, CLEAN space with many amenities. Off street parking was really a BONUS! Comfortable bed with nice linens and a large shower. Quiet residential neighborhood (except for airplane noise - thx for the ear plugs Cliff! - nice touch!) Walking distance to both the beach and restaurants. Loved our private patio! We will definitely stay here next time we visit SD!
Susan
2016-04-11T00:00:00Z
Cliff is amazingly accommodating and responsive. The place is very clean and tidy and comfortable.
Michael
2015-08-10T00:00:00Z
AMAZING STAY. Every detail was so perfect. My boyfriend and I had a carefree time in Ocean Beach, wish we could have stayed longer. Cliff was accessible via text for anything we needed. Thank you Cliff for making our road trip epic.
Consuelo E
2016-07-17T00:00:00Z
We had a great stay at Cliffs. Very convenient to beach and the market . Cliff was kind enough to find us to return clothes that we had left. We would highly recommend this studio.
Pat
2016-06-16T00:00:00Z
Cliff was great - always available via text, VERY accommodating. The studio is really nice - immaculate, inviting, peaceful. It's like an in-law quarter in the back of the house - I didn't hear one sound from the front tenants (though I saw them and know they were home) or front the street. A very easy walk to the beach or the restaurant / shopping area.
kari
2016-03-06T00:00:00Z
Cliff has a wonderful little studio near the beach. It was exactly as described in the listing. Best thing about it is the proximity to the beach and shops/ restaurants of Ocean Beach. Cliff was even kind enough to say hello and answer a couple of questions on site when I arrived a little early. Thank you for making my first Airbnb experience great.
Jamayan
2016-04-06T00:00:00Z
Great location, clean and comfortable. Would stay at again.
Michael
2016-04-02T00:00:00Z
Kamertype
Gehele woning/appartement
---
Type woning
Huis
---
Geschikt voor
2
---
Slaapkamers
San Diego, Californië, Verenigde Staten
Slaap stappen naar het strand en genieten van uw eigen comfortabele slaapkamer, badkamer, entree, en prachtige huisje-stijl woonkamer. We wonen in het achterste gedeelte van het huis - dit is eigenlijk alsof je een eigen prive-plek. Geweldige eetgelegenheden en bezienswaardigheden zijn slechts enkele minuten!
Dit is een uitstekende strand huisje voor twee personen, een steenworp afstand van het zand in het hart van Ocean Beach.
OB is een leuke strand gemeenschap met veel karakter en goede plaatsen om te eten en te drinken. Alles kan worden benaderd met een korte wandeling of fietstocht. Ga naar Newport Ave om live muziek te vangen, ga naar de bars, restaurants, brouwerijen, wijnmakerij, of gewoon om mensen te kijken. Maak een wandeling over de langste pier aan de westkust, uit het hoofd naar de branding, maak een strand vreugdevuur. Binnen een paar mijl is Sunset Cliffs, Cabrillo monument, en Mission Bay.
Carry was a very welcoming and helpful host. For intance she printed a number of travel documents for us. She is respectful for the guests privacy. The house is nicely situated very close to the beaches.
Dick
2016-06-18T00:00:00Z
Wonderful location! House was clean and Carrie was very kind.
Kendall
2016-07-17T00:00:00Z
We had a blast in San Diego. Carrie was very helpful and the place is nice and clean. Ocean beach was like our backyard. My wife and I had a blast.
Noe
2016-08-21T00:00:00Z
Carrie's little beach house is a sweet set up for people wanting to stay in a private space, mere steps from the beach, and in the very walkable and hip OB area. Parking is rough on some days, but not bad at all on others. Over all not much to complain about. It's a good deal.
Daniel
2017-03-17T00:00:00Z
Loved this place! It was like a private apartment, very cute and cozy with lots of space. Very clean, great access to the beach...loved it! Carrie was amazing!! We were looking for wedding venues and she was so sweet she gave some suggestions. She was available if we needed anything. Great place and great host!
Erika
2016-03-07T00:00:00Z
perfect spot. Beach right outside and few steps walk around the corner to all the fun eateries. don't wait to book your next two visits!
Vince
2016-11-10T00:00:00Z
Very nice place. Carrie was a great host. Would definitely come back
Claribel
2016-12-09T00:00:00Z
Super close to the beach and I felt very peaceful after a good night rest. It's a very quiet apartment even though it's right next to the beach. Though the place is smaller than what was depicted in photos. Great price for the location.
Vincent
2016-02-04T00:00:00Z
Kamertype
Privé Kamer
---
Type woning
Huis
---
Geschikt voor
2
---
Slaapkamers
San Diego, Californië, Verenigde Staten
Spanisch Cottage in Strand .Beach, Parks, Laufen, Fahrradfahren, Hochseefischen, Blocks entfernt. Dieses Haus befindet sich neben unserem Restaurant und unserem Garten Sitzplätze ist auf der einen Seite davon. Neue Geräte, umgebaute Bad und Küche .Queen + 1 Schlafsofa.
Tolle Lage, umgebaut sauberes Haus. Das Badezimmer hat nur eine Dusche. Voll ausgestattete Küche und Wäscherei. Kabel-TV im Wohnzimmer, Lokale digital im-Bett-Zimmer. ein Parkplatz neben Einheit, es aus irgendeinem Grund nicht zur Verfügung können Sie in unserem Restaurant Los parken. Wir arbeiten in unserem Restaurant, und ich bin es von 10.00 bis 22.00 Uhr gleich nebenan. Wir werden nicht stören, aber wir werden da sein, wenn Sie etwas oder Informationen benötigen. Englisch, Spanisch und Deutsch gesprochen. Sie sagen, es ist die letzte echte Strand-Community an der Westküste. Etwas für alle Altersgruppen. New Port Ave. nur 10 Minuten zu Fuß. Hier finden Sie alle Arten von Geschäften, Restaurants und Bars finden. Downtown San Diego ist wie bei den meisten anderen großen Städten, die gleiche Kette Steakhäuser, W Hotels, House of Blues. in der Innenstadt OB "Ocean Beach", haben wir lokale Einrichtungen, Live-Musik und gutes Essen. Das Haus ist nur einen Block von zwei Buslinien. Ein direkt an der Innenstadt von SD über Flughafen. Eine Altstadt, nehmen Trolly dann in die Innenstadt oder Mexiko. Wir sind auch von "Cars 2 Go ', Elektroautovermietung serviert. Lift, Uber und Taxis kommen in munites OB ist in der Flugbahn von San Diego Airport, ist es etwa 4 Meilen entfernt paar Flugzeuge über das Haus fliegen, aber eine Stunde weniger. Der Flughafen schließt um 11.00 Uhr. Das Haus ist gut isoliert und nicht laut mit Fenstern geschlossen. Wir haben gerade ein Schlafzimmer mit Klimaanlage für den seltenen heißen Sommertag hinzugefügt. ein Parkplatz neben Einheit, es aus irgendeinem Grund nicht zur Verfügung können Sie in unserem Restaurant Los parken. Wir arbeiten in unserem Restaurant, und ich bin es von 10.00 bis 22.00 Uhr gleich nebenan. Wir werden nicht stören, aber wir werden da sein, wenn Sie etwas oder Informationen benötigen. Englisch, Spanisch und Deutsch gesprochen. Sie sagen, es ist die letzte echte Strand-Community an der Westküste. Etwas für alle Altersgruppen. New Port Ave. nur 10 Minuten zu Fuß. Hier finden Sie alle Arten von Geschäften, Restaurants und Bars finden. Downtown San Diego ist wie bei den meisten anderen großen Städten, die gleiche Kette Steakhäuser, W Hotels, House of Blues. in der Innenstadt OB "Ocean Beach", haben wir lokale Einrichtungen, Live-Musik und gutes Essen. Das Haus ist nur einen Block von zwei Buslinien. Ein direkt an der Innenstadt von SD über Flughafen. Eine Altstadt, nehmen Trolly dann in die Innenstadt oder Mexiko. Wir sind auch von "Cars 2 Go ', Elektroautovermietung serviert. Lift, Uber und Taxis kommen in munites OB ist in der Flugbahn von San Diego Airport, ist es etwa 4 Meilen entfernt paar Flugzeuge über das Haus fliegen, aber eine Stunde weniger. Der Flughafen schließt um 11.00 Uhr. Das Haus ist gut isoliert und nicht laut mit Fenstern geschlossen. Wir haben gerade ein Schlafzimmer mit Klimaanlage für den seltenen heißen Sommertag hinzugefügt.
Sie sagen, es ist die letzte echte Strand-Community an der Westküste. Etwas für alle Altersgruppen. New Port Ave. nur 10 Minuten zu Fuß. Hier finden Sie alle Arten von Geschäften, Restaurants und Bars finden. Downtown San Diego ist wie bei den meisten anderen großen Städten, die gleiche Kette Steakhäuser, W Hotels, House of Blues. in der Innenstadt OB "Ocean Beach", haben wir lokale Einrichtungen, Live-Musik und gutes Essen.
I would like to thank Mr Peter for the great house , it was very clean , also has a parking beside the house, and he let us stayed 1 hour after the check out, Thank you Peter .
Abdulrahman
2017-01-04T00:00:00Z
We loved staying at Peter's cute little house in San Diego! It was in a great location, close to everything we wanted to do. We especially enjoyed be able to use the beach mats and umbrella! Thanks so much!
Nadia
2015-05-12T00:00:00Z
Peter was a wonderful host - he was flexible with both check in and check out time. He even made us a big German Breakfast, which was served to us inside our apartment. The apartment itself was nice - and the bonus was how it was attached to the cool German restaurant next door where Peter works. We would wake up in the morning and have coffee and our newspaper in the patio area - reminded us of a New Orleans-style outside patio bar, but with German decorations. Our daughter thought it was really cool... The only drawback with this place is that we live on a very quiet street back home, so for us the sounds of the big city were louder than we are used to...it didn't ruin the experience, but I do think that light sleepers or guests with children might want to consider the noise factor. Overall, a truly unique experience, walkable to some great restaurants - and attached to a German restaurant with a LOT of really good beer on tap and excellent food, too!
Mike
2014-09-29T00:00:00Z
Fun and convenient rental in Ocean Beach. Generous hosts and we had everything we could need and more. Thanks!
meg
2015-03-12T00:00:00Z
We loved everything about our stay including the house and the location! It was neat and clean and stocked with basic food and bottled water, which was a great touch. We walked everywhere. Ocean beach is amazing. I would recommend OB and Peter's place in a second! I'd love to return in the future. P.S. The restaurant isn't noisy at all. You can hear planes taking off at the airport. Earplugs that were provided helped a lot and it didn't detract from our stay at all.
Lisa
2015-06-28T00:00:00Z
Perfect place for family. The room is full of privacy and comfort. My family all enjoyed its prepared blanket, dinning area and food in refrigerator. Peter and his wife are great host, even though I did not get time to chat with them that much due to my tight vacation schedule at San Diego. The place is about 5 min to Sea World and 10-15 min to downtown and Zoo, which saved me lots of travel time between each visitor spot of San Diego. I will definitely recommend whoever visit San Diego with family stay at Peter's house.
Deborah
2016-01-02T00:00:00Z
Peter was a fantastic host. He was incredibly flexible with check-in and was incredibly accommodating. The house was stocked with beach gear, kitchen supplies and toiletries. It is very convenient to walk to grocery and restaurants.
Kristin
2016-06-29T00:00:00Z
Communications were just as needed. The home provided privacy and comfort as much as my own home. Thank you for the food stuff and especially the coffee! The bed was comfortable and the home exceptionally clean. The location was perfect to my needs, both to the beach and the convention center as needed. It was a busy street but never once did I feel the noise was bothersome. Thank you for allowing an early check in which as so needed after a full night of travel.
Amber
2015-04-02T00:00:00Z
Kamertype
Gehele woning/appartement
---
Type woning
Huis
---
Geschikt voor
4
---
Slaapkamers
San Diego, Californië, Verenigde Staten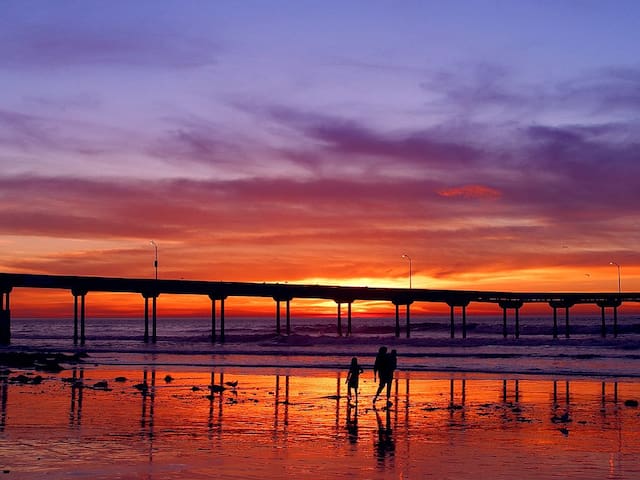 umzubauen Neu Strandhaus, 1 Block in die Innenstadt Ocean Beach und 1,5 Blocks vom Strand entfernt. Kommt mit alles, einschließlich Strand Spielzeug und Fahrräder ausgestattet. Mit Kinder bis 10 sind in diesem Haus bequem.
In bester Lage, und Sie werden nicht ein Auto brauchen, wenn Sie in Ocean Beach ankommen. Alles, was Sie wollen, ist nur einen kurzen Spaziergang und die Bushaltestelle ist 1/2 Block entfernt. Zurück Terrasse hat einen Blick nach Süden und ist groß, groß und warm. Das Haus hat einen großen Hinterhof und alle gesicherten Raum liegt bei Ihnen. Auch können wir leicht passen zwei große Lastwagen und drei Autos der Mittelklasse in unserem Parkplatz.
Kommen Sie leben wie ein Einheimischer. Genießen Sie diese ruhige und friedliche Nachbarschaft mit freundlichen Menschen
Wonderful location and awesome space. Thanks for a great stay Todd!
John
2017-03-23T00:00:00Z
Kamertype
Gehele woning/appartement
---
Type woning
Huis
---
Geschikt voor
8
---
Slaapkamers
San Diego, Californië, Verenigde Staten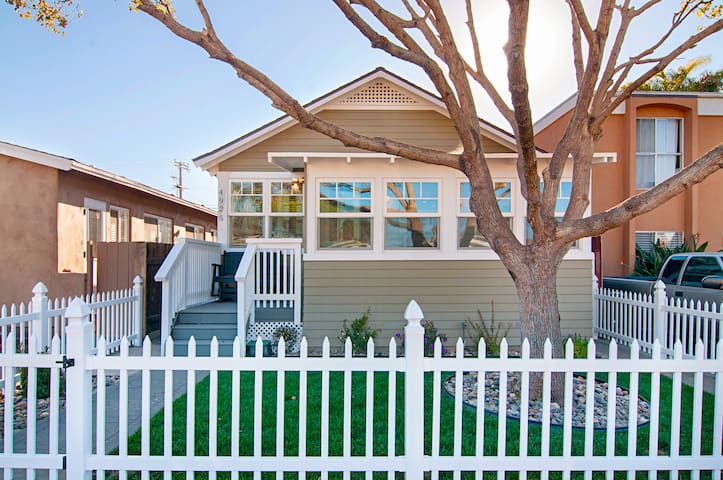 Sie werden meinen Platz wegen der Nachbarschaft, das Ambiente und die Nähe zum Strand lieben. Das Haus liegt im Herzen von OB der Nähe von Restaurants und Brauereien auf Newport Ave. Das Haus ist tierfreundlich und liegt 15 Minuten von der Innenstadt von San Diego und dem Flughafen. Mein Platz ist gut für Paare, Solo-Abenteurer, Geschäftsreisende, Familien (mit Kindern) und pelzigen Freunde (Haustiere).
We loved our little vacation house. It's tiny and simple and perfect for what we needed – just a place to relax. Checking in and out was extremely easy. It was clean and cute and air conditioned (yay!). The bed was very comfy. It's just got a tiny shower, but it has great water pressure, and we didn't need anything more than that. The place has free wi-fi and great satellite TV, too, which was really nice to have at the end of the day. The house is a five-minute walk to the beach, restaurants, coffee shops – you name it. It's also right across the street from a CVS which came in very handy since, being pale midwesterners, we were going through sunscreen at a ridiculous rate. It's also a block away from a post office which was also really nice since I could send some of my souvenirs home instead of dragging them on the plane. This is not a place for someone who is looking for a luxe getaway – it's for those who are looking for a simple, lovely place to stay while enjoying what Ocean Beach has to offer.
Bridget
2016-07-27T00:00:00Z
I was able to get in very easily once it was communicated where the key was. The key was not in a secure place, but I was able to get in without issue. I never met Lisa. The place was very clean & in a fabulous location. It is very small & simple. The shower was very small & the water got warm, but not hot. The toilet room was also small. Low quality toilet paper & the TP dispenser is broken. There was a good stock of coffee & a fridge & microwave available. Such a cool area, can walk to any type of food/beverage locale & the beach in under 5 minutes. Can hear street & sidewalk traffic. The floors are not exactly level, but not a real problem. The value was good & for this simple single traveler all was well.
Brendan
2016-10-13T00:00:00Z
Such an awesome little place seemingly in the middle of everything in Ocean Beach. Easy walk to the pier, beach, store, and any number of bars/restaurants/breweries. Really enjoyed our stay and Lisa was fantastic!
Colin
2016-11-19T00:00:00Z
El apartamento está muy bien localizado y es cómodo. Por la tarde hace calor, pero tiene aire acondicionado y por la noche la temperatura baja, así que se duerme bien.
Daniel
2016-10-05T00:00:00Z
Cutest beach house in Ocean Beach. We loved the convenience and the charm. Shower was a tad cold, but no complaints really. Would stay here again.
Stacey
2016-12-24T00:00:00Z
Great location in the middle of Ocean Beach. Home was clean and the owner was wonderful.
Thomas
2017-02-24T00:00:00Z
Cute and cozy house. Just a couple of blocks from the beach. Just a block away from Newport Ave with all the fun places to hang out
Srijith
2017-03-13T00:00:00Z
She was very attentive to our needs, frienneeds and timely.
Audrey
2016-08-19T00:00:00Z
Kamertype
Gehele woning/appartement
---
Type woning
Huis
---
Geschikt voor
2
---
Slaapkamers
San Diego, Californië, Verenigde Staten
Verbazingwekkend aangepaste 3 slaapkamers en 2 1/2 badkamers 3 Niveau Townhouse in Ocean Beach. Ontworpen door de bekende ontwerper van NYC. Private spa ruimte - sauna, hot tub, open douche. Beveiligen met een parkeergarage. Wandelen buurt: cafés, biologische markt, restaurants.
Verbazingwekkend aangepaste 3 slaapkamers en 2 1/2 badkamers 3 Niveau Townhouse in Ocean Beach. Ontworpen door de bekende ontwerper van NYC. Private spa ruimte - sauna, hot tub, open douche. Beveiligen met een parkeergarage. Wandelen buurt: cafés, biologische markt, restaurants. Stappen om verbazingwekkende surfen en bodyboarden. Great eclectische Boheemse wijk met cafés, muziek, fantastische restaurants. Ocean Beach is de typische Zuid-Californië badplaats. Uw eigen prive-spa met bubbelbad, droge ceder sauna en open douche. Razendsnelle WiFi. Flat panel LED-televisie met Apple TV. Wij bieden gratis toegang tot Netflix, Hulu, etc. U kunt uw eigen account voor toegang tot uw inhoud aan te sluiten. Voel je vrij om speciale verzoeken te maken en we zullen proberen om tegemoet te komen. Dit is een high-end stadshuis met hardhouten vloeren, gezoet granieten keuken, high-end roestvrij apparaten, architecturale verlichting, en de lijst gaat maar door. Prachtig master-bedroom met een piek uitzicht op de oceaan en de baai op heldere dagen. En-suite badkamer met regendouche en massagestralen. Goed ingerichte tweede badkamer. Handdoeken, badmatten, etc. zijn aanwezig. Eigen balkon om te genieten van je 's ochtends koffie. Nieuw ingericht met queen bedden in alle 3 slaapkamers. Nieuwe beddengoed, kussens en dekbedden. Ingerichte keuken met glaswerk, borden, potten en pannen, bestek, enz Eettafel biedt plaats aan 6 personen. Privé garage om een auto, wasmachine en droger, top van de lijn roestvrij keukenapparatuur, een eigen balkon, een volledig ingerichte queen bedden, linnengoed, handdoeken, servies, kookgerei, enz. Flat panel televisie met Apple TV en high-end sound systeem tegemoet te komen. We zullen niet onsight maar op afroep aan uw behoeften te behandelen. Fantastisch, levendige en eclectische. Op steenworp afstand van de legendarische surf, yoga studio, bootcamp in het aangrenzende park, fietspad, fantastische restaurants en terrasjes. Slechts 2 mijl van SeaWorld. Prachtige wandel-wijk. Markt voor biologisch voedsel een blok verderop. Naburige cafés en restaurants. Privé garage om een auto, wasmachine en droger, top van de lijn roestvrij keukenapparatuur, een eigen balkon, een volledig ingerichte queen bedden, linnengoed, handdoeken, servies, kookgerei, enz. Flat panel televisie met Apple TV en high-end sound systeem tegemoet te komen. We zullen niet onsight maar op afroep aan uw behoeften te behandelen. Fantastisch, levendige en eclectische. Op steenworp afstand van de legendarische surf, yoga studio, bootcamp in het aangrenzende park, fietspad, fantastische restaurants en terrasjes. Slechts 2 mijl van SeaWorld. Prachtige wandel-wijk. Markt voor biologisch voedsel een blok verderop. Naburige cafés en restaurants.
Fantastisch, levendige en eclectische. Op steenworp afstand van de legendarische surf, yoga studio, bootcamp in het aangrenzende park, fietspad, fantastische restaurants en terrasjes. Slechts 2 mijl van SeaWorld.
Plenty of towels! We had a frustrating experience with the internet, but who hasn't.
Michael
2015-09-27T00:00:00Z
We didn't meet Anthony, but his friend met us with the key and got us all set up. We were staying here as a mini reunion with college friends, and the three bedrooms and 2.5 bathrooms were perfect for the 6 of us. This is an amazing location! We all fell in love with OB. It's a quick walk to the beach (and a dog beach!), and it's within a block or two of many amazing cafes, bars, restaurants, convenience stores, and other services. We loved our meals at Te Mana Cafe, OB Noodle House, and Wonderland Ocean Pub, all within walking distance. A bunch of us went running on the lovely paths, and we meant to go to yoga down the block (but ended up oversleeping, haha). We basically had private concerts every evening thanks to the musical performances next door at Te Mana. The hot tub was a nice bonus, though none of us ended up using the mini sauna. The garage was also handy since parking is a little tight in the neighborhood. Note for high-maintenance folks like myself: there were no hairdryers or conditioner, and the beds are super-firm. Also, we were thwarted in smoothie-making by the lack of a blender. We also couldn't find beach towels, so you should probably bring those with you. Note that there are quiet hours after 9 pm on weekdays and 10 pm on weekends, and parties aren't allowed. Great space--I'd recommend this highly to any chill group or family!
Gina
2014-06-10T00:00:00Z
I liked how the house was very close to little shops in walking distance. It wasn't very noisy because my 2 kids fell asleep & stayed asleep. Only down fall was the bathrooms could ofind been cleaned a little more like the mirrors could be cleaner & the tub slash shower could of been cleaner. Other than that whole place was wonderful to stay at & never had a problem with the neighborhood.
Jana
2016-06-08T00:00:00Z
We had a really good time in San Diego. The flat was amazing, close to the beach and really nice shops and restaurants. I would definitely recommend to spend a couple of days. Communication with Anthony or Jeff was quick and easy. If you are looking for a really quite place you should probably go somewhere else since the airport is close.
Christin
2015-07-21T00:00:00Z
Great experience. The home was clean and great place to stay if you want to take advantage of Ocean Beach. There's a great cafe next door run by a nice lady named Marguerite who cooks up a mean breakfast sandwich and good coffee. Anthony's friend Jeff was quick to let us in and flexible on our departure.
Alex
2014-08-18T00:00:00Z
Jeff was very helpful. Neighborhood was so quaint and the cafe next door was so perfect. Great food.
Debbie
2015-10-11T00:00:00Z
Place was clean when we arrived, it was as listed, furniture was clean and comfy. Would recommend it for a family.
Syed
2016-03-02T00:00:00Z
Our stay was nothing short of perfect. We were in contact with Jeff throughout our stay, and he was readily available to answer any questions that we had. Street parking around the area can get hectic, especially on weekends but no need to worry because there is a 2 space garage right underneath the condo. The rooms were spacious and we loved the minimalist and modern vibe of the place. We cooked twice during our stay, and were surprised to find that we had everything we needed. Everything is within a 2.5 mile radius: Convenience stores, supermarkets, the beach, eateries and more. All in all we really enjoyed our stay and would definitely recommend to friends!
Ann
2015-08-19T00:00:00Z
Kamertype
Gehele woning/appartement
---
Type woning
Huis
---
Geschikt voor
6
---
Slaapkamers
San Diego, Californië, Verenigde Staten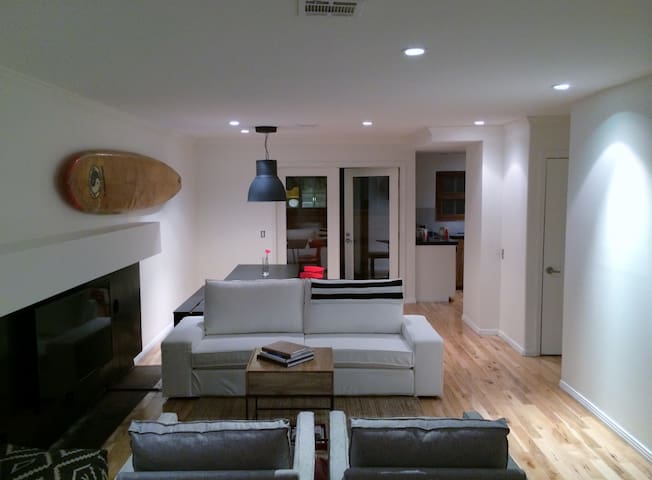 Hallo! Hier vindt u een eigen slaapkamer in mijn 3-kamer woning aan het strand te hebben. Gratis behandelt, drankjes en fietsen en gratis parkeergelegenheid laat je verwennen gevoel en willen nog een nacht blijven. De oceaan roept uw naam met een korte 5 minuten fietsen of 15 minuten lopen. U kunt lopen naar de supermarkt en vele restaurants. Ook centraal gelegen ten opzichte Hwy 8, Highway 5 en San Diego Airport.
Deze privékamer heeft een super comfortabel queen-sized bed en is geschikt voor 2. In jouw kamer: • Koninginnen bed • Dekens en dekbed • katoenen lakens en handdoeken • Kabel TV • Hoge snelheid Wi-Fi • Persoonlijke ventilator (in de zomer) • Kast met kleerhangers • Dohm witte ruis machine • Blackout gordijnen • slot op je slaapkamerdeur Beschikbaar voor uw gebruik: • Privé oprit parkeerplaats • Fietsen & sloten • Badlakens • Ruimte in de keuken voor je spullen De grote badkamer is net buiten de deur. Het wordt gedeeld met een andere kamer en dagelijks schoongemaakt. • Pluche handdoeken • Fair trade shampoo, conditioner en zeep • Föhn • Strijkijzer en strijkplank Vanuit de eetkamer, tuindeuren open naar de serene, op het noorden gelegen dek, dat de weelderige achtertuin uitkijkt. De comfortabel ingerichte dek is een heerlijke plek om te ontspannen of vrienden te vermaken.
• De Ocean Beach waaraan food & boerenmarkt is woensdagavond vanaf 4 - 07:00. • De buurt Ocean Beach is de thuisbasis van tientallen coffeeshops. Prachtige bezienswaardigheden in een 5-20 minuten fietsen: • Ocean Beach Pier • Sunset Cliffs Natural Park • Shelter Island • Mission Bay (in het bijzonder, Mariner's Point Park) • Smiley Lagoon • Ocean Beach Dog Beach • Zeewereld • Liberty Station (nieuw!) Een vegetarische supermarkt ligt aan de overkant van de straat: Ocean Beach People's Biologische voedingsmiddelen Co-op Andere supermarkten binnen 10 minuten fietsen, of 5 minuten rijden met de auto: • Vons • Grocery Outlet (korting) • Barons markt (Discount natuurlijke voedingsmiddelen)
The location of the house is perfect, which you can walk to the beach in 5minutes and there are some shops nearby. The environment is comfortable and clean. After all, this is one of the best choises to live in the San Diego.
Xuan
2016-12-22T00:00:00Z
Tara's place was everything we hoped for and more. It was clean, cozy, and VERY welcoming. The whole experience was smooth and I would definitely stay here again in the future. Although there were other Airbnb guests, the shared bathroom was ALWAYS clean and available. The neighborhood is busy during the day, but dies down a lot during the evening.
Daniel
2016-12-21T00:00:00Z
Although there were others staying in the other rooms during my visit, I always felt that my privacy was respected and felt right at home. The house was well organized and made staying there very easy! The bathrooms and living spaces exceeded any expectations. I will definitely keep it in mind for my next visit.
Angelica
2017-02-25T00:00:00Z
This place was everything I was looking for in my stay. There are some great bars/restaurants close by (walking distance). My main reason I wanted to stay in OB was to surf. The beach was not as far as I expected. It is definitely walkable if you don't have much stuff or a quick Uber ride if you don't want to deal with parking (I didn't have a car for this trip). Tara was an amazing host. The checkin process was very detailed and this place had everything I needed for a get away. When my flight arrived late, I had no problems finding the place or getting in. I would come back and stay here again.
Amy
2017-03-17T00:00:00Z
Tara responds quickly, is super helpful, and her place is beautiful! Clean, close to the beach, and has everything you might need. Definitely would recommend.
Cassy
2017-03-14T00:00:00Z
Tara's place has been the best Air BnB experience I have had thus far in my early Air BnB usage thus far. She was polite, professional, accommodating and friendly. We had great interactions with her and the crew that helps her run her tidy house. All guests there were friendly as well - and despite the place being within 10 mins from the beach and 15 mins walking distance to the main road with restaurants and shops, it was appreciated that Tara had several bikes available for us to use to rest tiresome feet - and boogie boards to ride a few waves. Would recommend Tara's to anyone and would definitely use her again, if traveling to SD. Thank you, Tara & Co!
Fredi
2017-03-11T00:00:00Z
Well worth the price! Great room in an adorable Ocean Beach home. It was fun meeting Tara and the other guests staying in the other rooms, too. The house had a clean bathroom with any extra supplies you'd need, a comfy bed with a white noise machine on the nightstand to help drown out the noise of the fairly busy street nearby, and plenty of seating indoors and out back for relaxing in beautiful San Diego. It's clear Tara enjoys hosting and has put a lot of thought into the details that make your stay comfortable in her home!
Brittani
2016-12-23T00:00:00Z
The place is very neat, quiet and well maintained. The bathrooms and kitchen are very clean and offers a coffee house vibe. Loved it.
Karthik
2016-12-24T00:00:00Z
Kamertype
Privé Kamer
---
Type woning
Huis
---
Geschikt voor
2
---
Slaapkamers
San Diego, Californië, Verenigde Staten
Große Energie in diesem Haus, 3,5 Blocks vom Meer, während eine friedliche Heiligtum zu sein. 2-Blocks zum Herzen vieler OB den wichtigsten Sehenswürdigkeiten. Schauen Sie sich die Bilder / Empfehlungen, wie sie wirklich die Geschichte zu teilen und was SuperHosting Güte ist alles über!
Ein-Schlafzimmer-Setup mit Königin-over-Königin Etagenbetten und ein Queen-Schlafsofa. Schöne offene Grundriss verfügt über eine Küche, ein Esszimmer und ein Wohnzimmer, die alle zusammenfließen einen komfortablen offenen Raum zu schaffen. Start ist hell und freundlich mit viel Luftstrom. Das Badezimmer ist direkt aus einem Luxushotel mit Regendusche und Wasserfall Wasserhahn. Haustiere sind willkommen, es wird eine zusätzliche $ 60 Endreinigung separat als eine tiefe sauber abgerechnet ist erforderlich, nachdem unsere pelzigen Freunde für zukünftige Gäste-Hosting, die Allergien haben kann.
OB ist die beste Low-Key-Strand-Viertel in San Diego. Große zum Abhängen, Beach-Volleyball spielen, surfen, Familienzeit oder zu feiern. Wie Berkeley durch den Ozean.
We stayed at Robert's place for 5 nights during spring break. Robert's place is at a great location near to lots of restaurants. We walked every morning and evening to the beach. The beds are comfortable (including the sofa bed). We were able to find parking within 1 block of the house every time (sometimes right in front of the house). Overall, We had a great time.
Dinesh
2016-04-15T00:00:00Z
What a fantastic rental and host, I can't recommend enough.
Thomas
2016-08-11T00:00:00Z
We couldn't have been happier with our Airbnb experience staying at Alberts beach house! He made us feel totally at home & was more than accommodating. Albert really impressed us with his communication & desire to ensure our stay was nothing short of perfect. The beach house was charming in every way! The queen over queen bunk beds were so comfortable and lots of fun for my two boys to watch movies on and turn into forts. The kitchen had everything you need to make a nice meal, but if you're not up for cooking, you're in walking distance to a many restaurants! My favorite part of the house were the adorable outdoor lights that we paired with a couple glasses of wine. All in all- we enjoyed the house dearly & will return!
Dayna Marie
2016-05-25T00:00:00Z
We had a great experience at Albert's. We enjoyed the awesomely lit backyard and used the grill one evening too. The place had everything we needed!
Riteja
2016-04-05T00:00:00Z
Cute house, good location within walking distance to the ocean and anything you need. Very easy check in.
Sara
2016-12-14T00:00:00Z
This was the perfect location! Only walking distance from the beach. I loved how neat the house was and my kids had a blast with the bunk beds. Would definitely come again.
Rajnish
2016-04-04T00:00:00Z
Huset och läget vid Ocean beach var perfekt för oss och våra barn 7, 11 och 13 år. Bilderna stämde väl överens med vad vi förväntat oss. Rent och fräscht i huset. Bra och smidig kommunikation med värden. Kan verkligen rekommendera.
Petra
2016-07-18T00:00:00Z
Our group of groomsmen had a great time at this place. There were 8 of us and we still found it comfortable. All the beds were great. Kitchen had so many useful things. Shower was perfect. The list goes on. The host sends a video that previews the place extremely well and tells you everything you need to know. Never seen another host do that so very impressed! Location and neighborhood was great. Only thing we struggled with was parking. But that was because there was a chili cook off in the area. Make sure to see if anything is happening in the area during your stay.
Victor
2016-06-27T00:00:00Z
Kamertype
Gehele woning/appartement
---
Type woning
Huis
---
Geschikt voor
7
---
Slaapkamers
San Diego, Californië, Verenigde Staten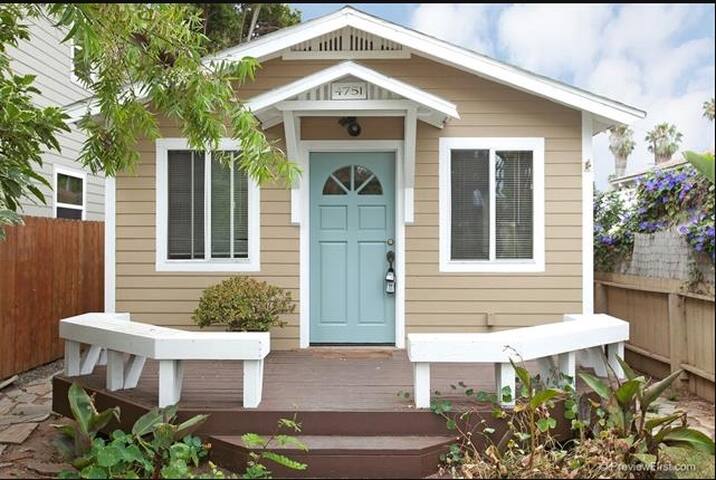 Awsome! nur einen halben Block vom Ozean! Einen halben Block von der Main Street, Newport Avenue!
Unser Strand-living inspirierte Häuschen liebe Red Surf 28. Ein frisch dekoriert mit einem Schlafzimmer Hütte in den Küstenfarben genannt werden Sie komplett mit voll ausgestatteter Küche begrüßen, Handtücher zum Baden und Sonnenbaden, im ganzen Fans die ehrfürchtigen kühlen Winde zirkulieren zu lassen, und ein volles Sofa Bett für Freunde oder die Kinder. Es ist ein Flachbild-TV, Wireless-Internet-Service! (Keine Haustiere erlaubt) Red Surf 28 ist nahe am Wasser, nur eine einfache 1/2 Block vom Ocean Beach! Kommen Sie nach Ocean Beach, endearingly gerade genannt OB, San Diego eklektischen und authentisch böhmischen Stadt am Strand. Nur wenige Minuten vom Flughafen entfernt, OB ist eine lebendige und freundliche Community bekannt für seine OB Pier ... die längste Betonpfeiler an der Westküste, lokale Brauereien, eine große Auswahl an Restaurants von lässig bis gehobenen, Kaffeehäuser, Antiquitätenläden, Boutiquen und Surfshops. Unsere komfortablen und luftigen Hütte befindet sich in unmittelbarer Nähe zu allen OB zu bieten hat, ist es ein perfektes Ziel für Familien, Paare, Singles, Surfer, Segler, Entdecker ... Menschen mit aktivem Lebensstil oder Menschen machen, die einfach nur am Strand entspannen wollen . ------------------------ Ocean Beach Wohn -------- Alle Entfernung zu Fuß ... Red Surf 28 wird durch den OB der Lebens Entscheidungsträger umgeben. Vom Frühstück bis zum Abendessen - möchten Ihre ersten Kaffee genießen Sie die Meereswinde von den frühen Morgenstunden zu haben? Gehen Sie ein paar Meter zu neuen Bruch an der Ecke Santa Monica und Abott, und erhalten, dass beruhigende Morgenkaffee oder Latte. Vom Strand oder Red Surg besuchen Te Mana, eine neu gestaltete Häuschen auf Voltaire für eine hawaiianische leichtes Mittagessen. Zeit für Happy Hour? Die Möglichkeiten sind unzählige !!! Lucy Taverne an der Ecke von Kabel und Voltaire, der Mutter Saloon einen Block entfernt auf Bacon, oder versuchen Sie eine unserer lokalen Bierbrauereien wie Port Pizza und Raglan Public House. Sie werden die Umgebung, gutes Bier und IPAs sowie ihre berühmten Bio-Burger lieben. die verpackt und suchte nach OB Noodle House Für das Abendessen! Unser Stück des Pazifiks - Ocean Beach ist ein Strang von Strand durch die Aktivitäten gekennzeichnet, die entlang der Pazifik-Platz in seiner Spanne nehmen. am Ocean Beach Surfen keine Ausgangssperre haben. Sie können jederzeit kommen Einheimische und Besucher durch den OB Pier der perfekten Welle fangen, den Sonnenuntergang beobachten, mit den Delphinen im Wettbewerb, die gelegentlich durch das Ufer zu spielen kommen, oder einfach nur das kalte Wasser der Abende für die Liebe es zu schlagen. Nicht ein Surfer? Legen Sie unter der Sonne von der Leibwächter-Station, sei nicht schüchtern und kommen Sie mit den Volleyballspielen auf dem Sand, oder einen Spaziergang nach oben, wo die San Diego Fluss auf den Ozean trifft, Doggy Beach, und beachten Sie unsere Eckzähne das Wasser mit dem gleichen sorglos genießen Art und Weise tun wir. Tide Pools - Überprüfen Sie für unsere tägliche Ebbe und zu Fuß nach Süden entlang unserer Gezeiten-Pools, unter dem OB Pier starten. Re-Erfahrung der Kindheit und entdecken Strandkrabben, Einsiedlerkrebse, Seeanemonen, und viele kleine chitons. Sie werden sogar versteckte Strandbuchten auf dem Weg zu entdecken. Ocean Beach Pier - Als ein "OBcean 'kann nicht in unserem Dorf enthalten sein. Unsere Identität erweitert bis zum Pazifik durch unser halbe Meile Pier. Eine der längsten Piers in Südkalifornien unser OB Pier erinnert uns daran, dass wir mehr als ein Strand der Stadt sind, sind wir auch ein Ozean Stadt. Hängen Sie einfach bei einem schweren Nebel morgens um und erleben Sie die Nebelhorn Warnung Nautiker seiner Präsenz ... und warten die Schiffe der Nähe Antwort zurück zu hören. Wie Angeln? Der Pier ist einer der wenigen Orte in San Diego, wo Sie ohne gültige Kalifornien Angelschein angeln kann. Ja, Sie werden voraussichtlich alle Größe und Fangbeschränkungen zu kennen und zu befolgen, aber es gibt immer ein freundliches Profi in der Nähe, sie Ihnen zu rezitieren. Dinge zu achten gilt diese hinterhältigen Dichtungen sind, die Ihre Köder zu stehlen lieben, oder dass Sie einen verrückten Surfer nicht Haken, die unter dem Pier gerade beschlossen hat, sein Brett zu springen mehr Abenteuer zu seinem Surf-Erlebnis zu geben ... ja, wir haben einige von denen auch! Doch einer unserer beliebtesten Gründe für einen Besuch sind Frühstück am Pier Cafe. Frühstück Burritos und flauschige Pfannkuchen sind die besten! Ocean Beach Downtown - Daylight Shopping, Nacht trinken! Newport Avenue ist das Herz der Innenstadt von Ocean Beach von traditionellen erinnernden kleine Stadt Hauptstraßen mit diagonalen Parkplatz, bunten und vielfältigen Fassaden in einer ungezwungenen Atmosphäre. Im Laufe des Tages spazieren unsere vor Ort im Besitz Surfshops unten, Smoothies und Taco steht, und antike Malls. In der Nacht bereit sein, von Restaurant zu hüpfen, zu versperren, zu Standup Comedy-Shows, in Clubs. Wir sind durch unsere Liebe zur Musik, gutes Bier ... und Party aus! Seien Sie sicher, dass Ihre ID zu bringen, oder Sie werden auf jeden Fall verpassen. Farmers Market - Wenn Sie einen Crash-Kurs auf wollen, wer wir sind, dann müssen Sie unsere Mittwoch Farmers Market zu erleben. Es wurde auf einer regelmäßigen Basis San Diego Best Farmers Market gewählt. Von 02.00 religiös jeden Mittwoch des Jahres ein vollen Block von Newport Avenue wird mit Ständen der frischesten und leckersten lokal angebauten Produkten, Kunst, Blumen, Lebensmittel, Schmuck, Kunsthandwerk, Clowns, die Spaß zu schaffen Ballon Zeichen und Malen Kinder-Gesichter, und Live-Musik bis 20.00 Uhr verwandelt. Habe ich dir wir nicht ein schüchterner Gemeinschaft sind? Sie finden uns, unsere Kinder zu finden, auch unsere Hunde in die Live-Musik ohne Scham in der Mitte der Straße tanzen. Sunset Celebration - Jeder Anlass ist ein Grund zum Feiern am Ocean Beach. Wir sind dankbar, eine tägliche Erinnerung zu haben, das Leben durch unsere Sonnenuntergänge zu feiern; es hat eine Zeremonie zu werden! Eine Stunde vor Sonnenuntergang, wenn Sie vorsichtig darauf achten, können Sie sicherlich feststellen, wie die Menschen die Migration in Richtung Strand starten. Es kann an den Klippen entlang, in Richtung der Sand, auf dem Pier sein, nach einem Ort, am Strand entlang Wand, oder mit einem Glas Wein oder Bier sitzen am Strand Schatten oder die Hüfte Wunderland Restaurants zu sitzen. 15 Minuten vor dem 'Landung' tiefe Stille fängt den Strand, wie wir die Sonne in Erwartung beobachten alle wie hypnotisiert. Und in diesem Moment, wenn die Sonne den Horizont berührt, ein großes Gebrüll, Klatschen und sogar Glocke aus dem Wunderland-Restaurant ausbricht in dankbarer Fest zu einem der Wunder unserer Küste zu läuten. Für Übung Buffs - Trails, Fitness-Studios, Hügel, Lifestyle-Bike ... alle verschwören uns gesund zu halten. Ein paar Meter in Richtung jeder Richtung Inspiration auszuüben. Robb Field und Skateboard Parks sind zu Fuß zu erreichen erreicht. Sie sind ein öffentliches Erholungskomplex mit mehreren Tennis, Basketball, Softball und Handball Gerichte. Es verfügt über einen Fitnessraum, einen Spielplatz für Kinder, und Morgen von weiten, offenen Gras mit Picknick-Tischen und Schatten spendenden Bäumen. Die Skateboard-Park wurde vor kurzem gebaut worden ... eine 40.000 Quadratfuß state-of-the-art-Skate-Park, das allein spricht über unsere Skateboard-Kultur. Nur ein paar Meter von Rotbarsch, Kreuzung Voltaire können Sie private Fitness-Studios finden. Und wenn Laufen Ihre Leidenschaft ist, läuft am Strand entlang, bis zum Ende der Pier und auf unsere 'Lomas (Hügel) sind große und anspruchsvolle Wege. Es gibt auch einen Weg entlang des Flusses Ausgangs am Hundestrand können Sie nicht verpassen, was würden Sie den ganzen Weg nach Pacific Beach tatsächlich nehmen über den Fluss! A bei etwas zuerst - Wollen Sie in passen? Registrieren Sie lehren! Nehmen Sie eine Surfen, Tauchen, Skaten, Kajak fahren oder sogar ... eine Meditation Klasse. Es gibt mehrere Surfshops entlang Newport Avenue, die bieten Surfen, Skaten, Kajak und Stand-up paddleboarding. Neu bei Meditation? Dann versuchen Sie die kostenlose Meditationskurs mittwochs während des Farmers Market.
Michael really made us feel welcome when we arrived. He was very accommodating and gave us great suggestions for eats. The cottage was very nicely located, exactly where we wanted to be. It was very clean, the bed comfortable, the wifi connection good. We could walk to everything we needed or wanted. It's a great beach community. He even saved us a parking space for our arrival. We loved OB and would certainly stay again!
Monica
2016-09-29T00:00:00Z
Red Surf Cottage was amazing- incredibly convenient, very clean and modern, and one block from the beach! Michael was very nice in helping us acclimate to the area and making us feel right at home. Will definitely be staying here again!!
Matt
2015-08-23T00:00:00Z
Good size for 2 people. I liked the location - very close to beach and there are good restaurants and bars close by. There is street parking that was never too hard to find, but you may have to park a couple blocks away. The bed is comfortable but very noisy. I went in March, and it could get pretty cold at night, but there is a space heater that works fairly well.
Hudson
2017-03-25T00:00:00Z
We thoroughly enjoyed our stay at the Red Surf cottage. The space, the location and the kind welcome provided by Michael were very much appreciated. We would definitely recommend it to anyone looking to have a good stay in San Diego. Most importantly for a recommendation, we would certainly be happy to stay again in the future!
Gavin
2014-10-11T00:00:00Z
Michael was great! He was very punctual upon our arrival and always available if we had any questions. The cottage was exactly as it was presented in the photos, and extremely clean, and comfortable. Michael gave us a little description of the neighborhood and recommended some great places to eat. The location was PERFECT!! The cottage is literally 1/2 block from the beach! The pier is only a block away also! This made my morning runs amazingly easy and breathtaking! It was also very convenient, seeing as how we tugged a lot of beach necessities with us for the day, including the boogie boards and beach chairs he provided for us with the rental! This was a great vacation rental!
brandy
2016-07-26T00:00:00Z
The entryway garden is beautiful and the cottage is well cared for. There is nothing to be done about the plane noise, so we tried not to stay up too late. It usually woke us up by 6:40 a.m. each morning, and ended around 11. It was too hot to close the windows. There is no air conditioning. Also, the neighboring rooftop terrace had loud partiers on several nights. The bed isn't as soft as I like, but we were fine. The boogie boards, chairs and umbrella were a nice touch.
Wendy
2016-07-23T00:00:00Z
This cottage was conveniently located in OB and priced at a very reasonable rate...You had all of the amenities needed to make your stay a pleasant one. We would definitely stay again...
Mike
2016-08-01T00:00:00Z
Michael was an amazing host, very communicative leading up to our stay and so helpful, giving us pointers and recommendations for what to do in OB! We LOVED the cottage and the location as well!
Hillary
2014-11-23T00:00:00Z
Kamertype
Gehele woning/appartement
---
Type woning
Huis
---
Geschikt voor
3
---
Slaapkamers
San Diego, Californië, Verenigde Staten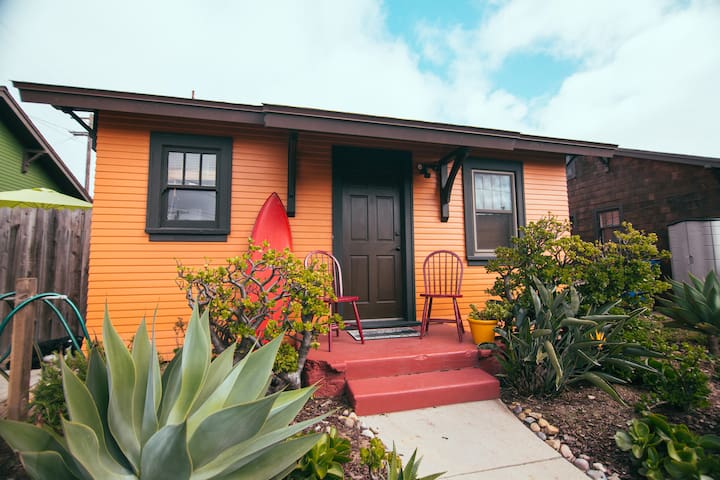 Ce charmant 1 chambre 1 salle de bain chalet, avec un petit patio privé. Il est bien situé à quelques minutes à pied de la plage et du centre-ville Ocean Beach, à environ 3 pâtés de maisons. Réfrigérateur et cuisinière à gaz installé. Il se trouve à 10 minutes en voiture de l'aéroport.
Il y a une chambre avec un lit double / complet qui peut accueillir jusqu'à 2 personnes et un canapé-lit dans le salon pour 2 personnes. Ce chalet a été construit sur l'île de Coronado au début des années 1900 et a ensuite été transféré à Ocean Beach au milieu des années 1930. Le chalet a beaucoup de caractère qui peut facilement être vu dans la conception unique de la cuisine et salle de bains. Il a le charme d'un cottage ancien tout en offrant le confort de la vie moderne.
Ocean Beach est une petite ville de plage facile. Downtown Ocean Beach a l'apparence d'un style rue principale des années 1950 jonchée de bars, restaurants et magasins d'antiquités. La rue est fermée tous les mercredis après-midi pour accueillir un marché de producteurs. La bande principale se termine à la plage et la jetée Ocean Beach, la plus longue jetée sur la côte ouest. Il est à seulement 10 minutes en voiture du centre-ville de San Diego et Sea World.
This stay was perfect - the space had everything we could've possibly needed and was very cute! Susanna also had wonderful recommendations, some of the best food we've ever eaten. Can't wait to come back... if we don't move to Ocean Beach!
Brenner
2016-12-12T00:00:00Z
I loved staying here! Susanna was a great hostess and the cottage was perfect. Walking distance to the beach and resturants. Would definitely stay again.
Katelynn
2015-02-18T00:00:00Z
Great place! Great location! Hard on communication! But everything was great! Great place to stay!
jody
2016-05-24T00:00:00Z
The place was nice and we enjoyed our stay. Parking was a bit of a hassle since there was only street parking and that was full most of the time. the town of Ocean Beach was fun and funky...loved to walk the beach and downtown
LeeAnn
2016-08-03T00:00:00Z
We loved our stay at Susanna's cottage. It was perfect. Great location, very responsive host, clean, well stocked, private, safe. Beach bikes were fun, People's organic grocery close by, walking distance to everything OB, easy access to public buses. Loved it!
Katrina
2015-03-27T00:00:00Z
Great place to stay! The small house/cottage had a lot of character. It's a close walk to the beach and to restaurants on Newport Ave. Also having access to two bikes was nice. The only thing to consider would be the fact that you can hear planes overhead every once in a while as the OB area is in the flight path of the airport which is 10 minutes away. Overall, a good place to stay.
Jonathan
2015-04-01T00:00:00Z
Very nice stay of almost two weeks at this charming cottage in OB. We did not meet Suzanna but she was very reactive and helpful. We highly recommend this place.
Yves
2016-04-13T00:00:00Z
This Ocean Beach cottage is so lovely. It is hidden behind another house that sits on the street, so it feels very private, quiet and safe. Susanna met us at the cottage and showed us around and the pride she takes in this home is evident. The cottage has ample storage, the claw -foot tub is comfortable for a luxury bath, and the entire home feels spacious. I would recommend this listing to anyone going to San Diego.
Linda
2015-02-04T00:00:00Z
Kamertype
Gehele woning/appartement
---
Type woning
Huis
---
Geschikt voor
4
---
Slaapkamers
San Diego, Californië, Verenigde Staten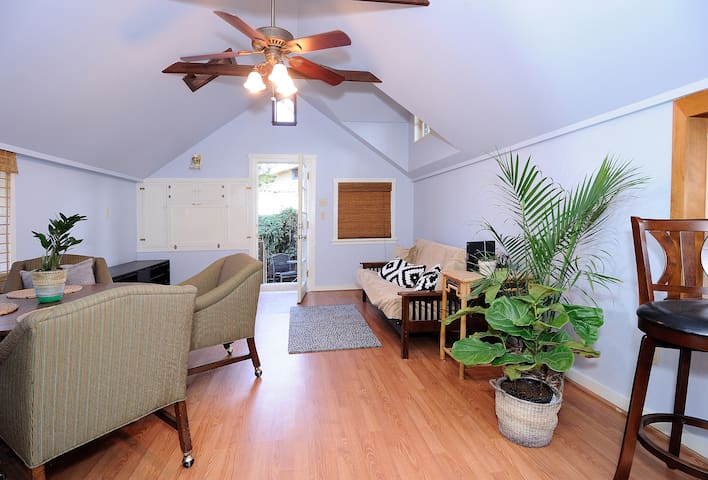 Mein Platz ist gut für Paare, Solo-Abenteurer und Geschäftsreisende.
Dies ist ein von einer Art Ort, der wirklich OB-Stil ist. Ruhig während der Woche, außer Montag Morgen, wenn der Müll wird abgeholt (viele Piepen, ziemlich früh) und einer Explosion an den Wochenenden. Kommen Sie nach Frieden und einer Partei bleiben! Dies wird Ihre Bedürfnisse entweder Weise gerecht wird.
Ocean Beach ist der beste Strand der Stadt in Südkalifornien. Voller interessanter Einheimische und Touristen dergleichen, es bietet eine offene Atmosphäre für alle, die eine gute Zeit zu haben oder einen ruhigen Aufenthalt mit einigen echten Menschen zu fangen.
Marisa was very friendly and helpful. Her dogs are really sweet and friendly as well. The location is absolutely unbeatable, we walked everywhere. She has thought of everything including an in-room coffee pot for lazy mornings and has made great functional use of the space. Would definitely stay again.
Allison
2016-11-27T00:00:00Z
Marissa made our stay comfortable, and her dogs are playful and loving. The listing was even more beautiful in person, and since we didn't have cars during our stay, it wasn't an issue because everything is relatively close. Both the bathroom and room were clean upon our arrival. The neighboorhood has constant walking and driving traffic and it felt safe to walk around. She's easy to talk to, and I would definitely stay here again!
Vianey
2016-08-15T00:00:00Z
Marisa made my daughter feel right at home. All in all, very smooth and pleasant experience.
Thom
2016-11-13T00:00:00Z
Sweet host! Loved the snacks and her sweet sweet dogs.
Krista
2017-01-02T00:00:00Z
Marisa was very accommodating and helpful. I got pretty lost finding her place one night and she was extremely helpful, even picking me up. It wasn't the quietest location and there was an outside light that was a little bright. Overall, her location was perfect for us an we had a great stay.
Natasha
2017-02-06T00:00:00Z
This was an amazing experience at Marissa's place!! Her dogs are the sweetest as they warmly welcomed us every time we walked in the door. The accommodations were perfect, and everything was within walking distance in Ocean Beach. Marisa was a lovely host, and we would hope to stay with her the next time we visit. It was seriously hard to leave
Dan
2017-03-11T00:00:00Z
This place was a fantastic value for visiting San Diego. We really enjoyed exploring the neighborhood of OB, including being only 2 blocks away from the beautiful beach! We were within walking distance of Newport Ave, with fun trendy bars and restaurants, a great place to walk around at night. It's also only a fairly short Uber ride into downtown. Marisa was a great host! She was very friendly with lots of good suggestions of places to go, and she made sure that we found her place okay and arrived smoothly. Oh and her dogs were incredibly sweet and friendly (:
Amber
2017-03-17T00:00:00Z
Marisa's location is amazing! Perfect for walking to the beach and around the area. She's was also a great host and very accommodating to us. And dogs are the sweetest!! From reading some reveiws, what I thought parking might be difficult, but we didn't struggle at all to find nearby parking on a weekend. I'd definitely recommend Marisa's place for a cozy San Diego visit.
Lara
2017-03-19T00:00:00Z
Kamertype
Privé Kamer
---
Type woning
Huis
---
Geschikt voor
2
---
Slaapkamers
San Diego, Californië, Verenigde Staten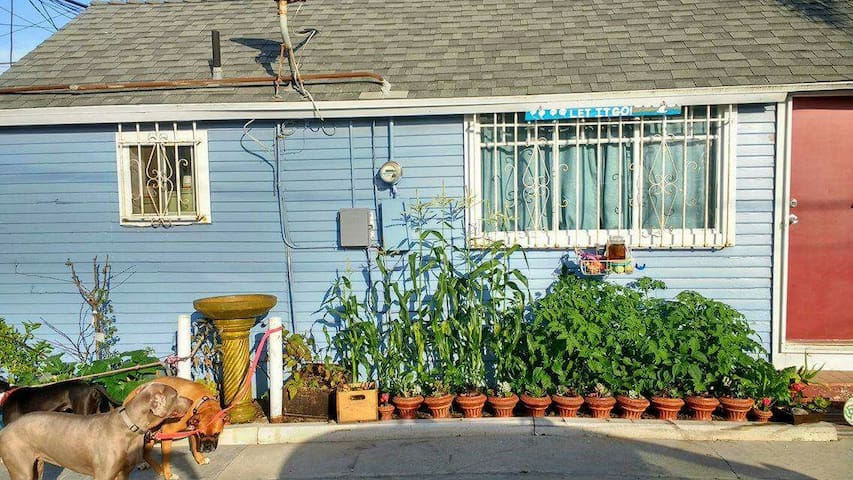 1

–

18

van

197 Huizen te Huur
Voer datums in om de volledige tariefopbouw te zien. Er kunnen extra kosten zijn en er kunnen belastingen worden toegevoegd.