Welcome! We are very fortunate to have met so many amazing people from this site and even made some very good friends through the process! We are also very flattered by the kind things people had to say about us and proud to be rated 5 stars!
Welcome! We are very fortunate to have met so many amazing people from this site and even made some very good friends through the process! We are also very flattered by the kind things people had to say about us and proud to be rated 5 stars consistently and have always been a superhost! Welcome! First off we are very fortunate to have met so many amazing people from this site and even made some very good friends through the process! We are also very flattered by the kind things people had to say about us and proud to be rated 5 stars all around by our lovely guests so far! We're right in the middle of Omaha, close to the freeway (US-80), only a 5-15 minute drive to the main spots, two blocks from the bus stop and the library/post office/restaurants are well within walking distance. Aksarben village is also close-by which is full of delicious restaurants & a great movie theater. If you're rotating /visiting any of the hospitals or University of Nebraska - Omaha, it's an ideal place to stay as well (as it is close to all of them)! Please check out our guidebook for more nearby locations. Reliable internet, parking on the street is free (garage-additional fee), utilities, towels, laundry, dishwasher, filtered water, coffee/tea, netflix, video games on an actual arcade machine, and use of the yard are all included with your stay! You will be staying with 3 of us, most of us are usually never home and when we are, we're very quiet. This makes our place great for studying or relaxing after work. The house is always superclean and we are very respectful of the place. So clean, that we do ask that you please take your shoes off in the home (it's a cultural and cleanliness thing). If we are not working and/or have free time, we can even show you around town! If not, we can give you a list of all the great restaurants, theaters, and attractions (music venues, free yoga classes, places to shop, best bars, markets, festivals, etc), which are all included in our guidebook from this site as well! Your room has new carpet, a large bookshelf, a good sized closet, a comfy double air bed (confirmed by our guests' reviews- "The air bed is the best air bed I've ever seen and is very comfortable, big and doesn't deflate at all!"), and a study desk w/ a lamp. The room dimensions are 10.10ft x 8.2ft, bathrooms are shared, and the rest of the house is, of course, free to use at your convenience! The house also has a super cool electronic lock for added security. We look forward to hearing from you and having you come stay, please do not hesitate to get in touch! Also during your stay if there is anything you need, just ask! We're easy going, if you want to hang out, we'll do our best to make time to do just that, but if you want to just rest and be left alone, we can respect that too! If you are not driving or will be carless, we recommend getting a car rental from Hotwire/Kayak as it will be cheaper than cabs if you're not able to drive. One way from or to the airport or greyhound station will cost you $20-$25 without tip via cab. We've gotten car rentals for $20 a day here from the airport. If you still prefer to cab the most reliable we found is happy cab or get the Lyft app which has slightly better pricing. You can also use the code LEON306 for $10 off your first ride on Lyft. We also really recommend the Uber app which seems to be more popular. Use the code YONC3 for $20 off Uber! Everyone loves to bike here and we have a groovy bike you can use for free! There are also community bikes nearby for a rental fee and the transport system isn't too bad in the downtown areas, but can be pretty unreliable anywhere else in Omaha. With that said, there is a bus stop 5 min walk from our house that many of our guests have used flawlessly! If you are staying more than 2 days, and if we can fit it in our schedules, we can always pick you up and drop you off at the airport/bus/train station for free, if less than that we usually charge $10 one way as it is 20 minutes from our home. Pets are additional $5 each for cleaning.
Super experience! When I arrived late they were more than understanding and helpful.
Brian
2016-07-27T00:00:00Z
Yon and Leon are incredible people; they are kind, welcoming and generally awesome. They are perfect hosts and an ideal representation for AirBnB. Their house is charming, clean, and fun, with some very thoughtful special touches that made my one night stay memorable. I'm not the biggest fan of the mid-west but I would plan a vacation in Omaha just for the pleasure of visiting Yon and Leon again!
Michael
2015-06-29T00:00:00Z
These are two of the nicest and most accommodating people you will ever meet. The best way I can describe the experience is that you feel like you are a roommate here with your own room but your roommates are ideal and awesome and the house is great, clean, and has some funky fun style. Will come again.
Jj
2015-05-07T00:00:00Z
Another perfect stay! Yon, Leon & place are great, definitely recommended!!
Kevin
2015-04-09T00:00:00Z
Yon and Leon were great hosts. I had some weather problems before my late arrival, so they were very accommodating and left me the key and instructions for how to get in. I didn't see them during my stay, but they were very responsive over email, and the place was exactly as described. Best airbed you'll ever sleep in!
Nadine
2014-10-13T00:00:00Z
Great home, and a great couple. Their friendliness and hospitality really shined through. For 20 bucks you will not find better. Peace be the journey.
Tyler
2017-02-25T00:00:00Z
I arrived late and left early, so did not actually meet Yon and Leon face to face! However, they were accommodating and helpful with my changed arrival time, and their system ran very smoothly. Their housemate was very friendly and helped me out, as well. The room was comfortable and with all the space I needed, including a heater, small desk and lamp, and helpful printed instructions from Yon and Leon.
Randy
2014-09-13T00:00:00Z
We just crashed there after staying at the zoo - it was a nice place. Yon and Leon were very easy to work with, I would recommend to anyone.
Jake
2016-04-06T00:00:00Z
Kamertype
Privé Kamer
---
Type woning
Huis
---
Geschikt voor
2
---
Slaapkamers
Omaha, Nebraska, Verenigde Staten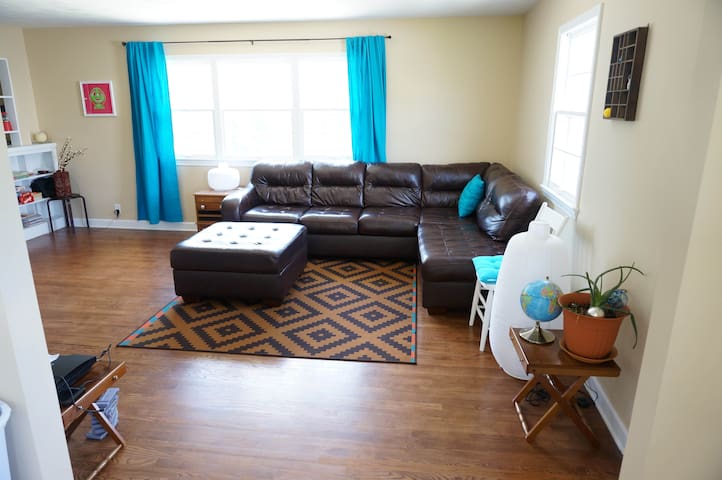 Come stay in our beautiful home located in the Field Club neighborhood minutes from Midtown Crossing and downtown Omaha with quick highway access. Private bedroom with shared guest bathrooms. See our profile for our additional guest room listing.
Our century-old home in Midtown Omaha features guest bedrooms and a bathroom on the top floor. Sleep well in our quiet neighborhood on a full size bed with comfortable bedding and pillows. The guest bathroom right next door is stocked with towels and toiletries. Help yourself to our continental breakfast bar and french press coffee. See our profile for our additional guest room listing.
We love our neighborhood in the middle of the city. Our home is in the quiet Field Club neighborhood with Gerald Ford's birthplace, the oldest golf course in Omaha, and the peaceful Hanscom Park a short walk away.
Place was pretty old, picture look much nicer than the actual room. Street parking in sage neighborhood.
W
2016-08-25T00:00:00Z
Terrific Airbnb setup. Everything you would want and the best hosts and beat representatives of Airbnb! Quiet Historic Conveniently close to interstate access.
John
2015-10-03T00:00:00Z
Bill was very communicative and easy to work with on our very late (1.30am) arrival -- he left lights on and instructions on the keybox entry. Their two cats welcomed us playfully, and we saw them whenever we were at their home. House is exactly as described and pictured; in a great neighborhood, parking is easy, nice to walk and see all the 100 yrs old homes with lots of character. Met Bill a couple of times during our three night stay -- a very pleasant and amiable host. Everything is very clean, kitchen well stocked. Nice to be able to have breakfast as well! We felt very comfortable in our room and their home and would love to stay with them again!!
Phil
2015-07-26T00:00:00Z
Nice comfortable home in a quiet neighborhood, I have been travelling the US now for 4 weeks and had the best nights sleep since I have been here, away from all the hustle and bustle of the city. Having the cats cuddling up to me made me feel like I was back at home
Nick
2016-01-28T00:00:00Z
Bill and Olivia were awesome hosts. The place is exactly as described. Quiet neighborhood, beautiful home, "continental breakfast," helpful Omaha tips, and lots of privacy (nobody was staying in the 2nd airbnb room, so we had the whole top floor to ourselves with a bathroom!) Would definitely recommend this to anyone traveling through.
gillian
2014-10-31T00:00:00Z
We stayed with William and Olivia on our way to and from MN to CO. It was wonderful to have a clean and comfortable place to stay after a week of camping.
Kathryn
2015-04-04T00:00:00Z
Bill was a very hospitable and welcoming host. My guest and I arrived to a great, clean room, and Bill made accessing the home when he was not present, an ease. The room itself is comfortable and inviting, and adjacent to the bathroom, which was also very clean and comfortable. Bill provides a self service breakfast in the morning, which is awesome, in addition to great information on the home's history and great spots to visit in the area for food or entertainment. The neighborhood is very beautiful, and the home is very easy to get to. Being my first visit to Omaha, I was happy to find out that Bill's home is in a great location to get to downtown in a few short minutes, and only a few minutes from the venue I was visiting (The Waiting Room). Overall, Bill did an excellent job welcoming us into his home and ensuring we were comfortable during the stay!
Grayson
2015-06-01T00:00:00Z
We had a great stay here! They were very helpful and easy to coordinate plans with. We were there for one night while driving cross country and they were sure to accommodate our arrival time. The room was very nice and clean and came with an excellent guide book and helpful instructions for the stay. Supplied us with everything we needed from towels and toiletries to directions, etc. We were very impressed! I highly recommend.
Morgan
2016-07-20T00:00:00Z
Kamertype
Privé Kamer
---
Type woning
Huis
---
Geschikt voor
2
---
Slaapkamers
Omaha, Nebraska, Verenigde Staten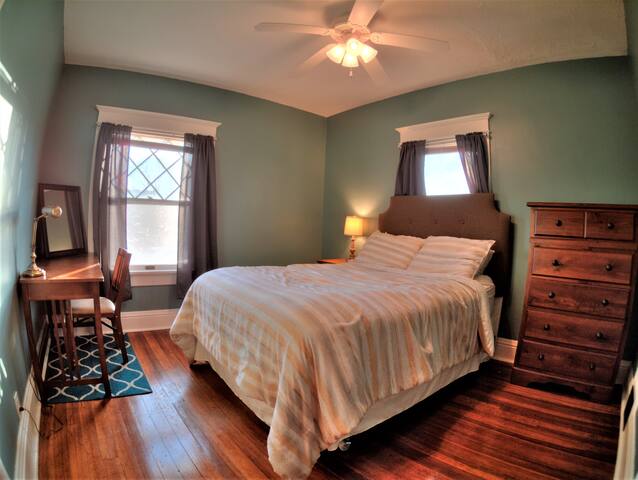 We would love to host you here on the edge of the Nebraska Outback! Conveniently located a mile north of I-80, four hours from Denver & Omaha, 3 from Cheyenne, we're a pleasant, relaxing stop after an arduous day of driving. Please be sure to double-check the directions, and let us know if you're going to be arriving late so we can prepare and give you the after-hours instructions.
We are located in west central Nebraska, a mile north of I-80, about four hours from both Denver and Omaha, three from Cheyenne and Lincoln. As we enter our fifth year as AirBnB hosts, we would love to extend our hospitality to you. Our home offers the following: 1 bedroom with a full size bed and a queen bed; 1 bedroom with a king bed; 1 bedroom with a queen bed. There is a shared bath in the hall of the bedroom wing. We have a cat and a dog which have the run of the public areas of the house, but not the bedrooms. Our living quarters are in the basement, so you'll have the upstairs to yourselves, unless there are other guests in residence. It is possible that we can accommodate more than four people. Please contact us to make the arrangements.
Sutherland is a rural community of just over 1,000 people. There is a grocery store, which closes at 7 and a convenience store that closes at 9. There is a bar and liquor store too. A continental breakfast is provided. There are very limited dining options available locally. The nearest option is 12 miles west in Paxton at Ole's or the Windy Gap, both excellent choices. We are nestled in the Platte River valley, and are a gateway to the beautiful Nebraska Sandhills. Birdwatching and outdoor recreation are popular pastimes and we'd love to share the history and culture of the area with you.
We arrived at Muriel's around 10pm after driving all day and night. Her house was super warm and welcoming. I slept on the king bed with my partner which was extremely comfy and my younger brother slept on the queen bed and he said it was very comfortable as well. Everything is clean and tidy. She had set up rooms for us and left lights on and also left towels out for us so we could shower in the morning. Muriel is very kind and VERY helpful; i80 was closed and she showed us different routes to get to our destination. Yummy breakfast and coffee too. I absolutely would recommend this place to everyone!
Hannah
2016-01-17T00:00:00Z
Staying with Mark and Muriel felt like coming home from college to visit family. They are so welcoming, we had great conversation right away and great communication along the way getting there. They even bought us chicken and had dinner waiting! The experience with them made me very excited to visit Nebraska again to see them. They were also very helpful with travel info. Great place to stay :-)
Candice
2014-07-24T00:00:00Z
Mark and Muriel made us feel welcome and comfortable right off the bat. After a long day on the road the rest and good conversation were welcome.
Brad
2015-10-31T00:00:00Z
I stayed at Mark and Muriel's house for just one night, as it was one of the rest stops along my cross country road trip. The house is beautifully decorated, and the room I stayed in had a king bed truly meant for royalty. I don't typically oversleep - I'm an early-to-rise kind of gal - but I couldn't help but sleep in when I slept on that thing! Mark and Muriel were great hosts as well: kind, responsive, and accommodating. Not sure where to go? Who needs (SENSITIVE CONTENTS HIDDEN) when you've got these two around! Thank you for everything!
Michelisa
2014-06-18T00:00:00Z
This experience was fantastic. Great location, easy to find, great accommodations and lovely people. Would absolutely recommend.
Michael
2015-05-21T00:00:00Z
It was fantastic. Both Muriel and Mark are kind and easy to talk to. I will stay again and recommend 100%
Zach
2016-01-28T00:00:00Z
Muriel and Mark were very welcoming. They fed us breakfast and dinner, our room was super comfortable, and they were just really nice, interesting people to talk to. They were also super considerate of our cats - we were easily able to separate their animals from ours. Definitely stay with them!
Alana
2015-05-10T00:00:00Z
Great bed. Slept well. Dogs felt welcome
Ruth
2015-05-26T00:00:00Z
Kamertype
Privé Kamer
---
Type woning
Huis
---
Geschikt voor
4
---
Slaapkamers
Sutherland, Nebraska, Verenigde Staten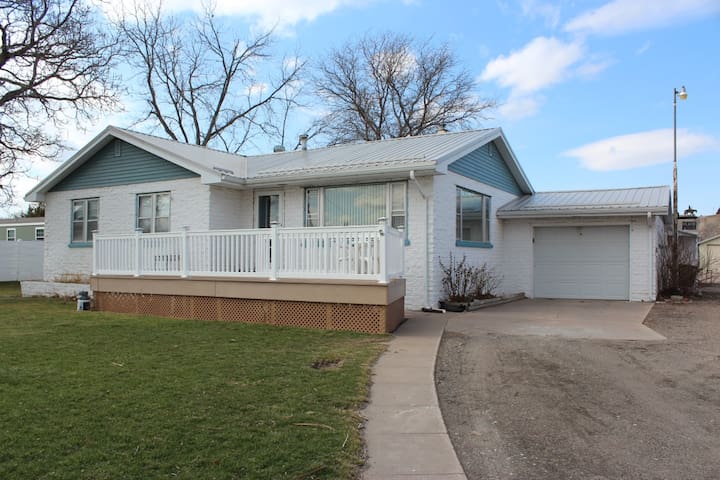 Rest easy in this calm and minimal home full of bright natural light and indoor greenery. Located in the historic Little Italy neighborhood, you're only blocks away from the Old Market, burgeoning South 10th Street and surrounding downtown area.
High ceilings, open rooms and houseplants give the space a very tranquil vibe. Make yourself at home. The guest room has a brand new queen mattress and bedding. I keep my cats out of that room, to uphold its cleanliness. I do the majority of my bathing at the gym, so you'll have free reign on the shower/tub. Since the bedroom is on the smaller side, I encourage you to use the communal rooms for work and/or leisure. Feel free to lounge on the couch, watch TV/draw/read/chill. You can also convert the kitchen island or dining table into a personal work space, if needed. Utilize any and all Kitchen amenities (please ask before consuming my food--but spices, coffee and condiments are fair game). When the weather is nice, the backyard is a great place to hang out; lay in the hammock, grill some food, soak up some vitamin D. Free washer and dryer located in the basement (***Use caution when going up and down the steps!).
Little Italy is one of the oldest neighborhoods in Omaha (my home was built in 1888). Once a vibrant neighborhood of predominantly Italian, first-generation immigrants, Little Italy is experiencing a revival. On 10th Street, just four blocks west of here, you'll find the brand new Blue Barn Theater, Durham Museum and House of Loom--a popular bar/night club with a diverse crowd and eclectic mix of live, Latin and electronic music. A mere 2-3 minute drive, 5-10 minute bike ride or 15 minute walk north will take you to the historic and picturesque Old Market. There you'll find amazing restaurants, vintage/antique stores and modern art institutions (Bemis Center & Kaneko). Just north of the Old Market is TD Ameritrade Park, Century Link Convention Center and Saddlecreek Records. Henry Doorly Zoo, Lauritzen Botanical Gardens, Orpheum Theater, Holland Performing Arts Center and Joslyn Art Museum are all less than a five minute car ride away. Get to Epply Airport in under 10 minutes, and Council Bluffs is just across the river.
I can't rave enough about my stay. From the very first message, Andrew showed the utmost consideration and warmth. I really appreciated that he was able to juggle housekeeping and giving me thoughtful recommendations though he had a very busy schedule. The cats were wonderful and the home itself felt surprisingly inviting and cozy in spite of what many people think of minimalist, modern spaces.
Elle
2016-05-29T00:00:00Z
Andrew is an amazing host! The place was simple, clean and exactly what I was looking for. Although my trip was short, I had a chance to connect with two amazing pets and a few of Andrew's friends. They are an amazing lot and I will rate this place overall 5/5 - I look forward to staying here again next year!
Jyotirmoy
2016-05-02T00:00:00Z
Andrew's space was excellent. The room was clean and the simple, making for a nice place to relax and the house itself was charming and aesthetically pleasing. Andrew was accommodating and kind, never short on good conversation. If you're looking for a room that isn't far from downtown Omaha, give Andrew's room a shot!
Pj
2016-03-18T00:00:00Z
From the minute I walked in, I could see that Andrew possessed a gene that I'm missing...the one for design. Despite the leaning toward minimalism in the living space, it is still warm and welcoming. I felt immediately at home, not in small part to Andrew's amiable spirit. I will look to stay here the next time I visit Omaha.
Larry
2016-04-08T00:00:00Z
I cannot say enough positive things about this host. Andrew provided me with a wealth of information about Omaha for our upcoming move. His home is sunny, inviting and a pleasure to stay at. I highly recommend this listing and would stay again in a heartbeat.
Audre
2016-02-13T00:00:00Z
Staying at Andrews house was an excellent decision! He was a friendly informative and gracious host. The house was clean with a minimalist feel, and an extremely comfortable bed. I had a great time getting to know Andrew for the short time that I was there!
Brandon
2016-02-08T00:00:00Z
Andrew is fantastic. A friend and I were only staying in Omaha for one night, pretty much for 12 hours. Andrew was more than accommodating and incredibly hospitable. He gave us the full tour of his beautiful home upon arrival, and we were introduced to Lazer and Bingo - his adorable tortoiseshell cats. His home is exactly as its pictured. The bedroom is a little on the small side, but we didn't mind, it had enough space for our bags, and the bed was VERY comfortable. Andrew had great recommendations on places to go. And he even blessed us with coffee in the morning. I would 1,000% stay with Andrew again. :)
Erin
2016-05-08T00:00:00Z
The host canceled this reservation 3 days before arrival. This is an automated posting.
Ashley
2017-02-10T00:00:00Z
Kamertype
Privé Kamer
---
Type woning
Huis
---
Geschikt voor
2
---
Slaapkamers
Omaha, Nebraska, Verenigde Staten
Just 12 mins from I-80! We live in part of this big house. We reserve only one party at a time for your privacy, even it's just one person! We have beds for 10, and can add airbeds, couches, etc for more. 4 Bedrooms, 3 baths. GREAT BREAKFAST. Lovely, peaceful country! See pics! 3 porches! Per guest $ after 2 guests. High Sp Wifi. Near 4 State Park, 4 Wineries. Fantastic for getaways, retreats. Contact us for weddings, events and parties. Green Gables Inn at Greatful Acres.
Sleeps up to 10+! 4 bedrooms each with a queen, and daylight basement suite with a queen and 2 twins. Super comfy beds! 3 bathrooms. Big roomy rebuilt 1905 farmhouse, fireplace, 3 porches, wrap around porch, sun porch, screen porch! Stone patio with fire pit. Quiet - 30 mins to Omaha or Lincoln. Base price is for 2 people and increases per person. Use of the full house - Tom and I live here too. The total number of guests must be submitted with your booking request. If you need room for more than 10 we can accommodate with blow up beds, toddler beds, couches, etc - just coordinate in advance. Our lovely old lab "Juno" and a few cats roam on our acreage, and sleep only in the garage. Interaction with animals is avoidable - and if you are a person that needs to stay away, please let us know in advance so that we may insure separation. Otherwise Juno will be happily wagging her tail to greet you at your car door. :-) We will provide you with a "House Users Guide" when you arrive which contains the wi-fi password and other guidance. Guests with pets are always assigned to the nice big daylight basement suite. If you are allergic you will be comfortable in one of the 3 upstairs bedrooms that we maintain to insure pets are never exposed to the second floor.
We live on 6 acres along a creek, wooded with farmland all around, big lawn, garden, lots of flowers. Very peaceful and quiet. A slice of heaven in the country. Close to bike trails and State Parks!
We expected to arrive sooner than we were able to, but the hosts were very cordial and accommodating, offering us peach pie and ice cream when we arrived. We felt right at home in their large and beautiful house -- and the outside landscaping and wrap-around porch were wonderful for both walking and resting. We had a great time on our one night stay, breaking up our two-day drive from Colorado to Minnesota.
Jim
2014-08-06T00:00:00Z
We arrived to the home of Tom and Marie pretty late, around 9:30p and after a long drive from CO. Tom and Marie were very welcoming and began to show us around the house. As soon as we told them that we were unable to stop and get something to eat, Tom immediately called the local restaurant Round the Bend to let them know we would be going to pick up a late dinner! The food was amazing! We were only stopping for the night as we still had another 7 hours to go to reach our destination. The house was very cozy and welcoming! Eventhough Tom and Marie actually live in the home, they both made my family and I feel very comfortable! They both were very pleasant and personable as if we knew each other for a long time! Our son is a big sports fan so Tom and Marie were very proud to talk to him about their son who played college football in NE! The bedrooms we're inviting and the beds were comfortable! The exterior of the house was very pleasing to the eye! Really gives you a warm and inviting feeling. My kids were ecstatic about the new kittens that Tom and Marie have and Juno their lab was such a sweetie! She even greets as you're driving into the driveway! Breakfast was wonderful, Tom makes wonderful coffee and delicious blueberry pancakes!! We all enjoyed them very much! We will definitely stop through with Tom and Marie and hope to stay a little bit longer to enjoy their home and the area more! Thank you for such a pleasant stay in your home!
Liza
2016-08-21T00:00:00Z
This was our first AirBnB experience and it couldn't have been better. We were greeted at the door by Tom / Marie and of course their dog Juno. The house was perfect for our group of 6 (and could easily handle more) that stayed the weekend to attend a football game. While the accommodations were great, the lasting memory will be the conversations / hospitality we had with the hosts. We shared stories, talked a little football and they even shared a parking pass that we used at the game on Saturday. It was great to start each day with a nice warm breakfast after watching the sunrise (with a warm cup of coffee) from their wrap around porch. Our stay could not have been any better. Thanks, Tom and Marie for being such great hosts.
Mark
2015-10-25T00:00:00Z
I had my bridesmaids and their significant others stay with Tom and Marie for our wedding weekend. They were incredibly hospitable and my bridesmaids had an amazing experience! Tom and Marie were around and available if we needed anything but we also were able to use the space as we needed from morning yoga on the porch to taking over most of the space for getting ready for the wedding.
David
2016-10-03T00:00:00Z
Marie and Tom were top notch hosts! We arrived with our two sons early and they had everything ready. Marie gave us a tour of their beautiful home and grounds and made us feel more than welcomed. They were very kind and great conversationalist, yet respectful our privacy as well. We were in town for the huskers game and returned late Saturday night. As soon as they heard us up and moving Tom started on a wonderful pancake breakfast for our family. Chocolate chip and blueberry pancakes, we sat at their kitchen table and Tom served us all. It was wonderful and more than we had expected. I can't say what a wonderful experience this was and we would fully recommend a visit to their home. And you'll love Juno! :)
Tisha
2016-09-04T00:00:00Z
Marie and Tom were excellent hosts. Busy as the bees pollenating their gardens, they were available, friendly and very accommodating. We enjoyed hearing about their family and their ties to the local community. When I needed assistance for Mom, Tom and Marie were ready to help with folding chairs and extra supports. Juno, their lab, and her newest three fury accomplices are adorable. I highly recommend a stay with them when you're in the Omaha or Lincoln Nebraska area.
Sean
2016-05-10T00:00:00Z
Tom, Marie's husband greeted us and gave us the full tour and explained how everything was set up as soon as we arrived. The house and the setting were quite beautiful and exceptionally nice. Marie had provided names of 2 restaurants on the way to the house. We went to the BBQ place which was great. Tom provided a great breakfast. Tom and Marie were very nice and good conversationalists with me and my 23 yr old son.
Anne
2015-08-09T00:00:00Z
My experience with Marie and her husband was AMAZING. The pictures they have on the website are great, but it really is a jaw-dropping house to stay in. I originally was just stopping near Lincoln to get some sleep in the middle of my cross-country drive, but Marie showed me so many things that I could do, and made it a truly amazing experience. They have an extremely friendly dog who I loved hanging out with on the huge wrap-around porch. Everything was great, and they definitely have a lot to offer.
Janna
2014-05-29T00:00:00Z
Kamertype
Gehele woning/appartement
---
Type woning
Huis
---
Geschikt voor
10
---
Slaapkamers
Murdock, Nebraska, Verenigde Staten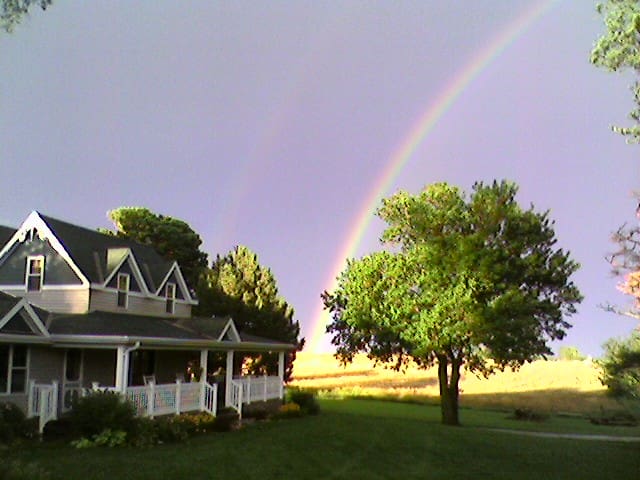 Come stay in our beautiful home located in the Field Club neighborhood minutes from Midtown Crossing and downtown Omaha with quick highway access. Private bedroom with shared guest bathrooms. The first room price is as listed and we will manually add $30/night to the booking for use of the additional room. Maximum 2 person per room. Contact us with questions and thanks!
Our century-old home in Midtown Omaha features guest bedrooms and a bathroom on the top floor. Sleep well in our quiet neighborhood on a full size bed with comfortable bedding and pillows. The guest bathroom right next door is stocked with towels and toiletries. Help yourself to our continental breakfast bar and french press coffee. See our profile for our additional guest room listing.
We love our neighborhood in the middle of the city. Our home is in the quiet Field Club neighborhood with Gerald Ford's birthplace, the oldest golf course in Omaha, and the peaceful Hanscom Park a short walk away.
We got in pretty late. The instructions for the key box were clear and the room ready for us. Bill is a great host. The two cats were very friendly too. The house was nice and clean.
Lavanya
2016-05-28T00:00:00Z
We had a nice stay here! The room was clean, Bill gave us some recommendations and the neighborhood was quiet.
Betsy
2016-02-25T00:00:00Z
Very nice place very clean great communication loved the cats loved the house
Ken
2016-10-02T00:00:00Z
Bill was very accommodating to us showing up a little later than we expected. His house is gorgeous and his two cats were delightful. The omaha visitor guide they made was very helpful and the breakfast they provided was a pleasant surprise. These guys are airbnb pros.
Matt
2015-10-17T00:00:00Z
AMAZING as ever :) I love staying with Bill and Olivia -- they are always so gracious and accommodating, their house is beautiful, their cats are mega cool.
Emma
2016-08-15T00:00:00Z
William made us feel very at home and welcome! No one was there when we arrived but they helped us step by step over the phone and it was easy to get in. Great neighborhood.
Hannah
2016-07-17T00:00:00Z
Everything was great!
Nancy
2016-07-04T00:00:00Z
Very accomdating and everything was as decribed. Great stay.
Shane
2015-06-18T00:00:00Z
Kamertype
Privé Kamer
---
Type woning
Huis
---
Geschikt voor
4
---
Slaapkamers
Omaha, Nebraska, Verenigde Staten
This is a beautiful carriage house for rent in the hip Midtown area. Lovingly renovated to be a cool, quirky and functional home away from home. Fully furnished. Minutes from downtown and 7 blocks walking distance to UNMC. LONG TERM RATES AVAILABLE
**Contact me for long term rate discounts.** This carriage house is one of a kind in Omaha. It's located in an historic part of town and has modern charm and appeal while keeping with its history. Newly renovated, this is your stylish home away from home. Fully stocked kitchen, quirky and comfy living room, fresh bathroom and super romantic loft bedroom upstairs. Perfect for business travelers and for a romantic weekend in town. The carriage house is surrounded by a fence offering complete privacy. It overlooks a beautiful church in the quiet, historic and well-kept neighborhood of Morton Meadows. During summer months, you're welcome to use the deck - complete with dining table, a large couch, grill and patio heater.
Morton Meadows is THE sought after neighborhood for young professionals given its proximity to midtown and downtown, tons of bars and the best restaurants in town. But it's also a very quiet safe neighborhood with well-manicured lawns and really unique and historic houses. It's walking distance to the UNMC med center. Nearby is the historic Field Club with a lovely golf course, a tree-covered walking trail, and the Blackstone development with coffee shops, bars and restaurants. Everything is a 5-10 minute drive from the house so it's super convenient.
Rebecca was an amazing host with a delightful carriage house in midtown Omaha! Beautifully decorated and very cozy which made for a pleasant stay. She was very attentive to a few hiccups with the air conditioning due to a fluke heat wave. She made sure we had everything we needed and I would definitely stay there again next time I'm in the Big O!
Amy
2016-06-13T00:00:00Z
This is one of the coolest properties I have ever stayed! The space is hip, comfortable, and provides everything you could ever need! My kids commented it also had the coolest stairs ever. The bed is beyond heavenly and the couch isn't too bad to sleep on either. The neighborhood is quiet and safe...and the property itself is gorgeous. I can't wait to go back to Omaha for another stay.
Julia
2016-06-06T00:00:00Z
Wonderful alternative to staying in a hotel. You will not be disappointed!
CONNIE
2016-11-10T00:00:00Z
She was super communicative and the place was lovely and just as advertised.
Jon
2016-12-14T00:00:00Z
We absolutely loved staying here! The place was beautiful and very comfortable to stay in. The style of the carriage house was amazing and beautiful. Rebecca was very wonderful and fast in her communications with us. We will definitely stay here again if we stay in Omaha again.
Kaylea
2016-08-19T00:00:00Z
Rebecca's place was amazing! It is probably the best Airbnb that I have stayed in. She has a separate house with its own kitchen and bathroom and it is decorated perfectly. She was very friendly and thought of everything to make it a great stay. The upstairs bedroom was huge and the downstairs had a great, modern, but eclectic feel that was way amazing! I couldn't say enough things about my great experience there! If you are not familiar with Omaha, this is a central locations that is just a few min from just about anything that you want to see!
Jake
2016-04-02T00:00:00Z
The location was great, the place was amazing and Rebecca was a great host.
Andrew
2016-09-09T00:00:00Z
Rebecca's carriage house is located in a tidy and quiet residential neighbourhood that is centrally located to many local amenities. She thoughtfully stocked the fridge with some basic essentials to get us started, provided restaurant recommendations, and was responsive and helpful in communicating with us before and during our stay. We were able to meet in person, and she was unfailingly helpful, welcoming and friendly.
James
2016-08-16T00:00:00Z
Kamertype
Gehele woning/appartement
---
Type woning
Huis
---
Geschikt voor
3
---
Slaapkamers
Omaha, Nebraska, Verenigde Staten
This family home is perfect for your multi-family & multi-generational trips! It has everything the typical American Family has. Prices vary by night, and possible situations. Feel free to ask for quotes like LAST MINUTE business rates (less beds to change and bathrooms to clean means a deeper discount). 4 of us clean when our kids give us a minute to spare. Sometimes the work is great and sometimes we are at our max. ;)
Single-family, detached home with 4 bedrooms and 3.5 bathrooms with plenty of extra space to spread out! The entire house is yours for the duration of your stay. Our home is located in a historic district of Omaha, Dundee, it is quiet at night, and we are close to everything: restaurants, entertainment, shopping, golfing, and downtown! Large kitchen, dining room, living room, family room, outdoor patio, and washer/dryer. Air-conditioning throughout the house. Kid friendly family room and backyard. Make your trip fun and relaxing and avoid being cramped in a hotel. Bedrooms: 3rd Floor: Finished attic space with 1 queen bed, a twin bed (on floor), and a toddler bed. Master: 1 King bed w/ attached 3/4 bath & playpen in the walk-in closet. Brown room: 1 full-size bed & 1 twin w/o box springs (on floor) Pink room: 2 Twin beds that can be made up as a king (on floor) & an old style drop down crib. Basement: 2 twins w/o box springs/not identical (some height variation) that can be made into a king or 2 twins. 3/4 bath. House easily sleeps 12 adults +2 toddler +2 babies. Bring your own bedding to accommodate more on air-mattresses/floor. However, I do need to be informed of ALL guests in house. Bathrooms: 1- 3/4 bathroom in the basement 1- 3/4 bathroom in master bedroom 1- full bath on the 2nd floor 1- 1/2 bathroom on the main level. When you need downtime, we have wireless high-speed internet and Netflix. The pictures are not 100% accurate, PLEASE PLEASE ask about stuff. It is not my intention to deceive you. I tried to mention in notes under pictures. Plenty of parking along the driveway. Access to our garage is not included with the base rate, but negotiable. Allergy: Dog. While we have not allowed our dog pass the sun-room and it was professionally cleaned (vents, drapes, etc.) we can not guarantee it is free of dog allergens. If the occasion arose we might allow a service dog or kenneled dog in the home. Please ask any questions prior to booking if allergies are a problem.
A quiet, family neighborhood gilded with quint 1920's homes. The home is located in Dundee, which is in the center of the city. From the home you can walk to Dundee restaurants, popular ice cream parlors, and the famous Billionaire Warren Buffet's home a couple of blocks down just to name a few. While in the heart of the city it is a very safe neighborhood, where people work from home, sit on the porches and converse with a glass of wine.
We had a wonderful experience! Erica was an excellent host--she thought of everything and invited us to ask questions and always followed up promptly. The home is lovely and the neighborhood is very fun as well. The neighbors were friendly and we felt that we could have gone to them for help if we had needed it!
Karen
2016-02-15T00:00:00Z
Just a Great place to stay !
Ken
2017-01-19T00:00:00Z
We had a great stay! Dundee is a beautiful neighborhood, and the house is clean, cozy, and comfortable. The kitchen is very well stocked. Generous linens and pillows. No charge for extra guests. We appreciated the kid-friendliness: toys, books, kids' dinnerware, extra little beds, crib sheets, etc. (There are lots of stairs if you have toddlers, FYI.) I'd agree with a previous review that the rules feel overly stringent – we felt a little like we were walking on eggshells. BUT they were not hard to follow, and it's better to have all the info upfront. Would definitely stay here again!
Michaela
2016-10-25T00:00:00Z
This is everything Airbnb can hope to be. A well managed, great experience from start to finish. We had a group of seven in town for the College World Series, and Erica was great at explaining beforehand what their house did and didn't have and properly setting expectations. Everything was set up for a smooth arrival and the house was perfect for our needs. Erica was great at being always available but never obtrusive (I was able to message with her at any time, though we never met face to face), and everything about the accommodations was explained very well, including labeling all the cabinets and drawers in the kitchen. Everything functioned perfectly and I can't come up with even a minor complaint. Would hope to stay here again the next time we're in Omaha.
Will
2016-06-23T00:00:00Z
Booking & communication couldn't have been easier. Erica was flexible on arrival time. House was clean, attractive and comfortable for our extended family. Stocked kitchen was a great plus! Mattresses & pillows were super comfy. Neighborhood was quiet, safe and convenient. So glad we did this rather than hotel. Definitely would stay again!
Sarita
2016-03-26T00:00:00Z
Fantastic stay! I am a high school teacher and brought several students and parents to stay for a national competition. I had never tried Airbnb and wasn't sure how this would work out. I talked everything over with Erica on the phone before hand and she was always reachable when I had questions. The home was everything that was promised and the stay was a great bonding experience for everyone! I would highly recommend Erica and this Airbnb if you are ever in the Omaha area and need a comfortable home to stay in!
Nevelyn
2016-04-11T00:00:00Z
Great neighborhood with sidewalks for walking. Close to a number of good dining options.
Jill
2016-11-13T00:00:00Z
If you want the chance to stay in a beautiful, historical home, this is it! I cannot recommend Erica highly enough, she was great to deal with, knowledgeable, and very kind. Thank you, Erica!
Shelene
2016-07-28T00:00:00Z
Kamertype
Gehele woning/appartement
---
Type woning
Huis
---
Geschikt voor
16
---
Slaapkamers
Omaha, Nebraska, Verenigde Staten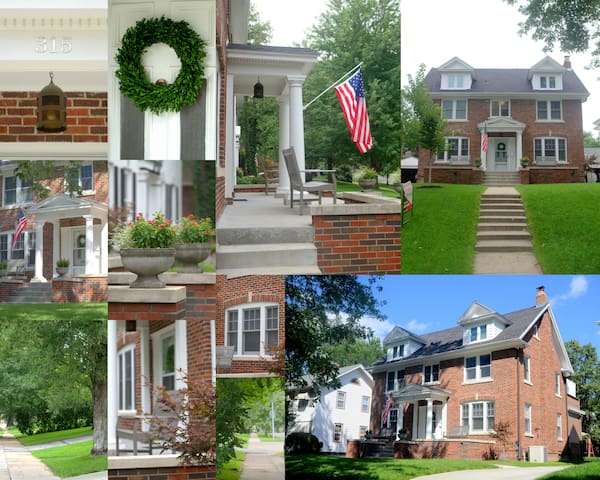 The Scholar House makes your housing experience care free. It's a fully furnished home, including 1.5 bath (one toilet), 2 bedroom, with double hide-a-bed in living room. Three miles from Univ. of Nebraska Lincoln city and east campuses.
This is an entirely separate home in our backyard, not an apartment. It has a basement and deck. It is a safe and quite neighborhood in the heart of Lincoln. The main floor is 600 sq. ft. and the basement is 600 sq. ft. with 400 sq. ft. finished. The deck is 250 sq. ft. Smoking is not allowed inside the Scholar House, ever, but smoking on the deck is permitted. The sunroom and basement bedroom with egress window each have a full -sized futon. The living room has a hide-a-bed sofa.
Beds The double beds in each bedroom are spring mattress futons. Each have toppers as well, which make them quite comfortable. The only concern may be an individuals height. The double sized futons have arm rests at the head and foot, which may be uncomfortable for taller individuals. There is also a sofa bed in the living area in front of the TV. Neighborhood: We are centrally located, minutes away from UNL campuses, downtown and the Haymarket. You can get just about anywhere you need to in Lincoln within 20 minutes to a half hour. Our neighborhood is surprisingly quiet filled with friendly neighbors. A local grocery store, pharmacy, and Antelope Park are only blocks away, a bike trail that leads directly to UNL is just down the street and a city bus stop is within walking distance. Local Transportation: Lincoln Municipal Airport Eppley Airfield Star Tran Public Bus System Bike Routes and Paths Education University of Nebraska – Lincoln Union College Lincoln Nebraska Wesleyan University Tourism Lincoln Convention and Visitors Bureau Omaha Convention and Visitors Bureau A Street Market National Pharmacy Sips and Subs Fit 4 Lincoln Gym
Carol was an excellent host and The Scholar House was an excellent place to stay. It was cozy, quiet, and well-appointed and in a quiet neighborhood which was a short drive from downtown. I highly recommend this if you are looking for a place to stay in Lincoln.
Tyler
2017-02-08T00:00:00Z
Great cabin like house!
Cory
2016-12-06T00:00:00Z
This was an excellent option for our week-long stay in Lincoln, NE. The hosts made us feel welcome immediately and checked to make sure we had reliable heat, internet, kitchen supplies, etc. The cottage was very cozy, very comfortable, and very clean. The location in Lincoln is great. It's not far from downtown and close to parks with nice walking/ running trails. I would highly recommend this rental!
Matt
2014-12-28T00:00:00Z
Carol was a very welcoming and accomodating host. She provided clear driving directions through Lincoln, and lots of detailed information on local gems, including where to find one of the best cups of coffee in town. The Scholar House was cozy and comfortable, and was a great space to find rest from traveling. My partner and I wish we would have had more time to stay! We would definitely recommend this space to anyone visiting Lincoln, Nebraska.
Karsten
2015-08-27T00:00:00Z
A very nice cottage. Comfortable and quiet in a picturesque neighborhood. We would stay here again.
James
2016-10-28T00:00:00Z
Carol is such a courteous host! She was flexible with check-in and made herself available to us during our stay. The only complaint I would have is that the basement bathroom does not have a toilet. We hope to stay here again - great experience overall!
Eva
2016-10-09T00:00:00Z
Underpromise and underdeliver; so rarely achieved! Carol provided and absolutely seamless, comfortable and cordial stay. Not only was Carol able to work with me through a temporary disability and "off-hours" access needs, but she went out of her way to greet me and make sure I felt comfortable. Is also important to note that this is indeed a fully furnished house - with two floors - and all the amenities. The fact that there was so much room to stretch out - in such a nicely appointed place made all the difference. The Scholar House will be my Nebraskan 'home away from home!' Thanks so much, Carol!
Shawn
2016-02-24T00:00:00Z
A ver y nice place to stay, very comfortable and well located. Hosts were always ready to assist. When we go again to the area we will surely ask Carol to let us stay at her place.
Nabonasar
2015-05-11T00:00:00Z
Kamertype
Gehele woning/appartement
---
Type woning
Huis
---
Geschikt voor
4
---
Slaapkamers
Lincoln, Nebraska, Verenigde Staten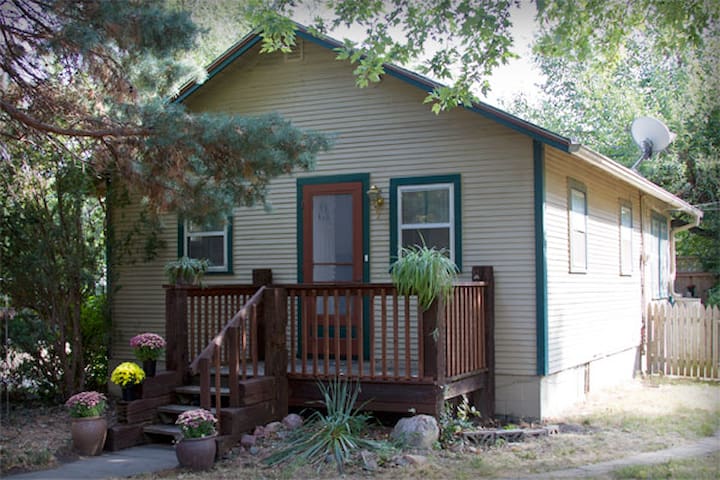 Our one bedroom carriage house is located on beautifully landscaped grounds alongside a Queen Anne mansion built in 1884. Walk or bike one mile to Lincoln's vibrant downtown offering a variety of eateries, entertainment, and shopping. Pricing: Note that we have no cleaning fee to help keep your costs reasonable! Please check your travel dates for accurate pricing as it varies depending on city events.
This charming space has its own entrance and was once used as living quarters by staff that supported the main house in the late 1800's. As the development of automobiles eliminated the need for a 'carriage boy', it was updated into general living space. It most recently served as a self-contained apartment and before that was the honeymoon suite for a bed and breakfast. The jetted tub for two, Mediterranean tiled bathroom, and step-in shower make relaxing a joy! The main floor has a kitchenette, living room, and large bathroom. A table that seats four allows you to enjoy meals or have a spot to work. The sofa transforms into a queen sleeper bed that comfortably sleeps two adults. The kitchenette includes the use of a microwave and toaster/convection oven. Dishes and utensils are provided. A coffee pot and modest amount of coffee are waiting for you. The stairs to the second floor are steep, but open up into a nicely sized bedroom, newly carpeted with a closet. There is a small sitting area next to the queen size bed.
Our neighborhood is one of the original sections developed in Lincoln. It mixes old and new architecture, serving families and college students with rental space. We hear many languages from our front porch, different kinds of music from open car windows, and enjoy ethnic shops and stores just down the street. People are generally friendly as they walk and bike past our gate with many stopping to pet our dog Sam. The Postal Carrier even brings him dog treats! We recommend you stop in at Cultiva for an excellent cup of coffee or crepes, Pan Dulce for fresh Mexican pastries priced very reasonably, and head downtown to the Pinnacle Arena to enjoy major concerts and sporting events. Of course, if you are Nebraska Husker football fans, we can hear the crowds roar from here!
Everything was perfect for our stay. We enjoyed quite reading and romantic time, and the space also could accommodate our kids the nights they were there. Close to bike trails and much is in walking distance.
Lisa
2016-08-07T00:00:00Z
Greg, Paula and Sam were amazing hosts! The Carriage House is beautifully set up for guests, and the freshly ground coffee for the first morning was a VERY welcome find. Here, you're centrally located and within walking distance of a lot of neat stuff. (Definitely stop by Cultiva for a Cubana and a crepe!) Dad and I are extremely thankful for Greg and Paula's help in making this family visit truly great. I wouldn't hesitate to recommend the Carriage House to anyone!
Patty
2016-04-17T00:00:00Z
I can't say enough great things about this place, as well as Paula and Greg. They really set the standard for Airbnb hosts! This carriage house was a perfect space for what we needed at a fraction of the cost for a hotel. The unexpected extra touches the hosts provide made it feel homey and welcoming. We were in Lincoln for a Huskers game. The location was an extremely short Uber drive (maybe 5 minutes) to the stadium and nightlife. The carriage house is on the property of the main house but has its own separate entrance so you get as much or as little privacy as you need. The first floor has a kitchenette, living area and spacious bathroom, and the upstairs is a large bedroom. Absolutely perfect set up! Definitely recommend for anyone traveling to Lincoln!
Lauren
2016-10-23T00:00:00Z
Greg and Paula were flexible with us on our hectic schedule and worked with us to get us accommodated as easily as possible. We had asked for some nearby antique store suggestions, and Paula greeted us with a list of places to visit. There were fresh flowers on the table, banana bread in the fridge, and a very homey atmosphere to make us feel welcome. There was parking right in front of the house and the grounds were gorgeous. As first-time airbnb'ers, we weren't sure what to expect, but this was great. We would definitely stay here again, without hesitation!
Stephanie
2015-06-19T00:00:00Z
Greg and Paula were absolutely wonderful, and the carriage house is a beautiful and cozy space. We had an amazing time on our trip, and their generosity and guidance helped make our stay that much more enjoyable. Thanks for everything! We'll be back next time we're in Lincoln!
Tim
2015-11-09T00:00:00Z
The carriage house has been remodeled and is very nice and comfortable. I arrived to fresh flowers on the table. The new tile in the bathroom is beautiful. I looked forward to a hot bath in the jetted tub, but the hot water supply is limited. Even with running only the hot water, I could only fill the tub about 10 inches before the water was cold. The water pressure in the shower is minimal, which was disappointing because it's otherwise a very nice shower. Also, the upstairs bedroom was uncomfortably hot and stuffy when I arrived. It was early May and the temperature was in the 70's outside. There is A/C and the lower level stays cool, but the air didn't seem to go to the upstairs vent. I brought all the bedding downstairs and slept on the pullout couch the first night. After that, the weather cooled off and it was very comfortable sleeping upstairs. Overall, the garden and property are just as amazing as the photos. It was very pleasant to sip tea by the fish pond in front of the gazebo. It's fun to be greeted by Sam, the big, friendly black lab, but if you are not a dog person, that is something to keep in mind. This is a historic property and Greg and Paula have done an amazing job with it's upkeep.
Kelly
2015-05-12T00:00:00Z
Highly recommended. We completely loved our stay in the Historic Carriage house. The room was as presented, pretty, very comfortable and well equipped. The setting of the lovely garden, trees, gazebo, pond etc. was way beyond expectations. It was a quiet, idyllic, lovely spot. Sam the handsome and well-behaved lab was also a favorite. Our hosts Greg and Paula were charming and so supportive (we arrived horribly late due to plane delays). We tried out all their local recommendations and loved them. We especially loved that it was a short walk to coffee shops, restaurants and even the Nebraska football stadium and college. A 5 star experience in every way.
Tommi
2015-09-14T00:00:00Z
Greg and Paula were gracious hosts! The carriage house was clean, quiet, nice and private. Everything was lovely and just as described. The house was close to some great restaurants and cafe's, and a short jaunt to a hip and happening part of Lincoln. Thanks for a great experience!
Lenyr
2015-05-19T00:00:00Z
Kamertype
Gehele woning/appartement
---
Type woning
Huis
---
Geschikt voor
4
---
Slaapkamers
Lincoln, Nebraska, Verenigde Staten
Private room and bath in our home located on 11 acres of private and secluded property 25 minutes south of downtown Omaha. Enjoy the outdoors at "Oak Haven Vineyard"
Private room and bath within our home. We live in the country south of Omaha about 25 minutes south of the airport. We live on 11 acres of private property with a vineyard and full garden to peruse. A hot tub is available for use. Room has full internet access, with flat screen TV and satellite access. Full private bath with shower. Come enjoy the quiet solitude of the country. Enjoy a glass of wine and relax on our big deck. Should you wish, Downtown Omaha is only 25 minutes away. Transportation can be arranged if needed.
We live on 11 acres of secluded property! Access is easy but you will feel like you are entering another world! And you are! Peace and quiet!
Herb and Joyce were fantastic hosts! We enjoyed the property checking out the vineyard and garden and spent relaxing time in the pool. The deck is a wonderful place to have breakfast or simply enjoy a cup of coffee or share a bottle of wine. The place was easy to find and only 20 or so minutes away from the Omaha Zoo or Old Market. Its also just minutes from Plattsmouth, a beautifully restored history town. We would definitely stay with Herb and Joyce again.
Andrea
2014-06-27T00:00:00Z
Wonderful! We were in town to visit family and this worked perfectly for our needs. Herb and Joyce made us feel very welcome and the property is gorgeous. A homemade breakfast was offered on the weekend. The bed was one of the most comfortable we've ever slept in, and we've traveled a lot. We will definitely stay at Oakhaven again when in the area.
Beth
2016-06-21T00:00:00Z
We had a wonderful stay! Very clean and comfortable! Beautifully decorated space, bathroom and all! No stone left unturned; great hosts, great property in a quiet secluded area close to all there is to do in Omaha and points south. Breakfast was offered and it was awesome! Homegrown ingredients! We will definitely stay again when in the area and recommend to others.
Diane
2016-10-02T00:00:00Z
Herb and Joyce made my partner and I feel very welcome, and their home was relaxing and beautiful.
Katherine
2015-07-24T00:00:00Z
Very wonderful hosts. Communication was excellent. Made us feel right at home. Beautiful home and surroundings. Great recommendations for outstanding food in the area. Would definitely book again. Strongly recommend not to miss this one on your travels.
Pam
2015-08-11T00:00:00Z
What a lovely place! This will leave you thinking the state of Nebraska is a paradise. Herb and Joyce were most accomodating and I really enjoyed visiting with them about their wine operation and walking the property even though it was raining. Wonderful hosts and my room was lovely. The spiral stairs to the loft are steep but not a problem. Joyce's cherry bread sustained me through two states!
Nancy
2014-07-09T00:00:00Z
Herb and Joyce were AMAZING hosts and their property is stunning. We had a very long drive coming from Denver to Plattsmouth. Since we had some dogs in tow, we weren't exactly sure our ETA on arrival. Herb and Joyce were able to accommodate us without a problem sliding back our time by 1-2 hours. As I mentioned we had our dogs with us. H and J we're very understanding about our pets needs, and even had treats waiting for them upon arrival. Note For bigger dog owners: The stairway to the loft is very narrow. If you can't scoop your pups up in your arms and walk them up, bring a kennel. Another option is to bring a cable to leave them outside attached to the deck. (season permitting). The bed was amazing, good sized space. Coffee, and water was available. Recently remodeled\ updated bathroom. Joyce (I assume) even made us muffins for breakfast. (extremely thoughtful) If your looking at the property to stay, Do It. The pictures aren't really justice of how nature\ beautiful the place is.
Wayne
2016-06-28T00:00:00Z
What an exquisite little getaway! I stopped off here for a one-night stay on my way to South Dakota. Herb made me feel welcome and the space was perfect. The setting is quite peaceful and my dog loved the wildlife (we saw rabbits, fish and a great big blue heron!). The room is private and spacious with a big comfy bed, private bathroom and coffee maker. I'd definitely recommend asking for a glass of wine while you're here, as Herb and Joyce love to talk about their vineyard and wine-making in general. You'll learn a lot! Book a stay at Oak Haven and you won't be disappointed!
Zachary
2015-07-21T00:00:00Z
Kamertype
Privé Kamer
---
Type woning
Huis
---
Geschikt voor
2
---
Slaapkamers
Plattsmouth, Nebraska, Verenigde Staten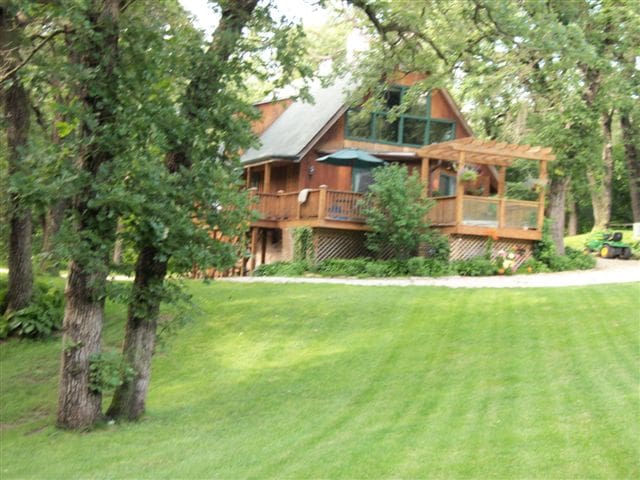 Our BED&BATH HOME offers you a choice of bedrooms. This listing is for the Master Bedroom with a King Size Stearns & Foster Bed, private 3/4 bath including an oversized shower, and Cable TV with Netflix. If this listing is unavailable please check the other STAY WITH US for a 5 STAR MEMORY bedrooms at $50 per night. They have their own calendar and availability!
The Master Bedroom is located on the 2nd Level, with a King Size Stearns & Foster Bed and a Private 3/4 bath. The bedroom also includes Cable TV with Netflix! It has its own keyed door lock for privacy and security.
This is a very quiet and safe upscale neighborhood!! The house has off street parking for 2 vehicles.
The house is lovely and so was the room. Don was very gracious, easy to get a hold of and offered suggestions for activities and dinner. Would love to stay there again the next time I am in Lincoln.
Marie
2015-08-30T00:00:00Z
Don was amazing! I got to Lincoln much later than expected and he graciously accommodated my changing schedule. The room was comfortable and felt like home.
Craig
2015-07-28T00:00:00Z
Host truly deserving of the SuperHosts designation! Beautiful, clean and restful home! TV in bedroom, in fact other TVs most everywhere. Keurig Machine. Extremely comfortable bed. Quiet and safe neighborhood, great Lincoln location. Can also optionally park off street in driveway! Great Stay! I highly recommend!
John
2015-03-25T00:00:00Z
Don met us at the door and showed us around the whole house. It was very comfortable and clean. Coffee and cold water available. We spent time with the Netflix in the evening, and had a very restful getaway.
Jan
2016-06-27T00:00:00Z
Everything was perfect in that house, clean room and bath, comfortable bed and nice host! I would recommend this house for all travelers!
Jiahui
2016-04-09T00:00:00Z
Wow where do I start! Don is just in all fun, wonderful guy. The house was beyond words! If you like a clean, antiques, you can eat off the floor kinda house then this is for you. The room I chose was absolutely a blessing. He also accommodated my late arrival. He has an amazing pool room down in the basement which was my favorite. You need to stay with him in order to get the best of Lincoln NE. GO HUSKIERS......AND DON!!!
Jerrial
2014-11-12T00:00:00Z
Very friendly and efficient host. The best B&B experience we've ever had. Very comfortable and clean. Excellent facility. Highest recommendation! 5+Stars
Rick & Colleen
2016-07-12T00:00:00Z
Don was very welcoming to us upon our arrival. He was very understanding and allowed us to come stay at his place despite it being very late at night. The house was superb and super clean. Would definitely stay again.
Riley, Jessie
2016-08-26T00:00:00Z
Kamertype
Privé Kamer
---
Type woning
Huis
---
Geschikt voor
2
---
Slaapkamers
Lincoln, Nebraska, Verenigde Staten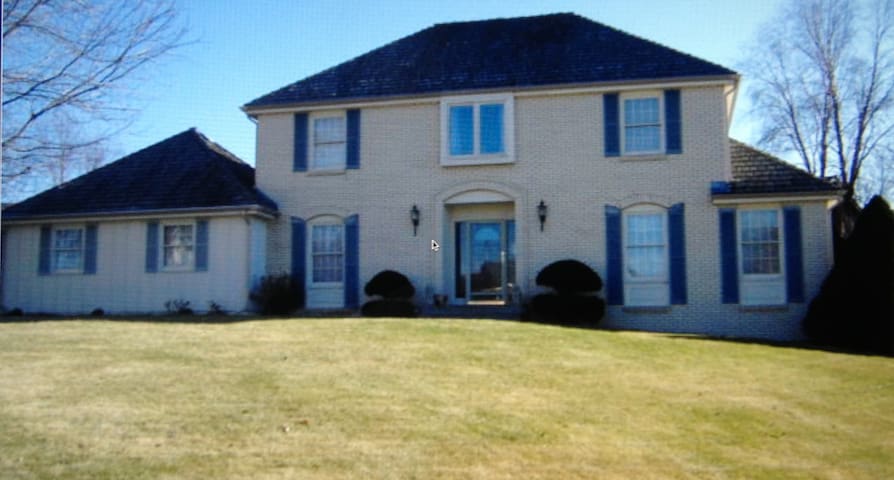 Historic Florence is very accessible to downtown. Guests like Historic Florence! See the reviews!
This home was built by a father, for his daughter, as a wedding present. Unique pillow ceilings throughout the home. Big homemade straw bale adobe dog house in the back yard. Not a party house.
Hostess gave us good instructions and we were very comfortable. We had a wonderful Christmas in Mathia's house. Easy to get to and cute little house.
Yvonne
2015-12-26T00:00:00Z
Mathias place was amazing, clean and comfortable. Her yard was prefect for our pup who was very tired of being in the car! Mathia was quick to respond to questions and helped with our check in as we got in later then expected.
Erin
2016-08-24T00:00:00Z
Mathia's space was great! Exactly as depicted in the pictures. It was very easy to keep in contact with her and she was flexible with our late arrival time. Great host!
Elyse
2015-05-20T00:00:00Z
Everything about our stay at Mathia's house was great. We arrived rather late due to bad traffic on the interstate and she was understanding and accommodating and waited for us at the home. There were plenty of pillows, blankets, sheets, and all the creature comforts we could ask for. Her comfortable furniture and TV with HBO, Netflix, and Hulu was great when we came back to the house after a long day of being out around town and just wanted to relax. We would definitely stay in this home again!
Brandon
2016-05-04T00:00:00Z
Mathia was a very gracious and thoughtful host. She surprised us with continental breakfast and provided extra towels and sheets promptly when we asked. Her home is very charming, clean and bigger than it appears in pictures. The neighborhood reminded me of growing up where neighbors interact and children play all day after school. She allowed us to bring our Lab who was in seventh heaven because she loves kids. We even got some knocks on the door to see if Hera could come out to play. Overall, we felt very comfortable and well taken care of. I would definitely stay again and highly recommend to others. Thank you Mathia.
Shelly
2015-05-15T00:00:00Z
We stayed two days at this lovely home! Mathia has great communication and get home was charming and comfortable! Thank you!
Aleah
2016-03-19T00:00:00Z
Great house!!! Adorable,clean and very comfortable! Short drive to downtown with great food and bars! Would most defiantly stay there again! Thanks for the great stay!
Darin
2015-09-12T00:00:00Z
Wonderful place!!
Andrew
2016-03-05T00:00:00Z
Kamertype
Gehele woning/appartement
---
Type woning
Huis
---
Geschikt voor
4
---
Slaapkamers
Omaha, Nebraska, Verenigde Staten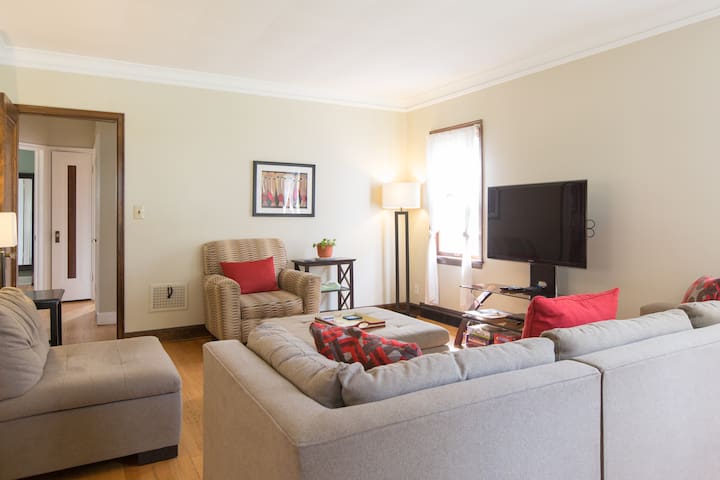 A private locking entrance leads to a modern & beautiful basement studio space. Almost 1100sq feet includes a full kitchen, bathroom, and laundry facilities. We live upstairs & are happy to give recommendations on nightlife, restaurants, & activities Please note we don't give discounts for long-term rentals.
This private entrance studio provides almost 1000sqft of space. We have a brand new pillow top mattress as of 9/15. This fully furnished studio is a unique space with sleek, modern furnishings that feel comfortable for 2 people. We use this space for entertaining and air B&B.
The neighborhood is quiet and friendly, but access to the rest of the city is best by private car. Dundee and Benson are close neighborhoods with much to offer. Benson has exploded with incredible music, great bars, breweries, and restaurants. Dundee is a great family spot and has several great places to eat, savory and sweet, and many places to grab a drink.
Great space, location is very convenient to Omaha attractions. Dan was friendly, accessible, and helpful. Would stay again, had a great time.
Jeff
2016-04-17T00:00:00Z
Beautiful studio. The bed was PERFECT. The host, Dan, was super helpful. He was readily available through text and advised us to go to a great brunch spot. Would def stay again.
Alex
2015-10-18T00:00:00Z
Dan is a wonderful host and his apartment is gorgeous - the photos don't do it justice. It is fully appointed with everything you need. This was my 2nd time staying with him and I hope it won't be my last!
Bill
2016-09-11T00:00:00Z
We've stayed w dan multiple times and always had a great experience. They are always flexible with arrival/departure times and the apt is a great place to spread out and relax. Love it!
Jean
2014-05-08T00:00:00Z
Dan's place was incredible! Exactly as described in the listing and he had more amenities than I have time to list. Very clean, private, very comfortable, and very well priced for a space this high end. I will definitely be staying here again next time I'm in Omaha.
Brett
2016-08-20T00:00:00Z
Dan was a great host, very friendly and had helpful suggestions for what to do around town. The accommodations were perfect and just as described- super clean, comfortable, and quiet. We'd definitely stay here again!
alyssa
2016-08-15T00:00:00Z
We stayed at this Omaha Airbnb over the Fourth of July weekend. We needed a place to rest our heads with our 13-month old twins during a road trip from Chicago. The host was out of town during our stay so we never met, but he was easily available via text. On a whim we inquired about early check in, but he was not able to accommodate the request due the previous night's guest checkout/cleaning service schedules. Upon our arrival, an animated cleaning lady stopped by because she forgot to leave some dish soap and then 10 minutes later knocked again when she couldn't figure out how to open the back gate to exit the property. We helped her on her way. The space is lovely. Although it's technically a studio, it feels larger and has some separation to it. It has all the modern amenities you would expect from a three star hotel, including barware, extra toiletries, etc... It's definitely not child-friendly (more geared for couples or individuals), but we came equipped with all of the baby gear we needed. We felt some of the artwork in the space was culturally insensitive, which I shared with the host following our stay, he didn't seem all that receptive (understandably, art is subjective). To be clear, this space is definitely a basement and as such was chilly and a bit damp feeling. We notified the host that it was cold and he was able to adjust the thermostat remotely and suggested we use the space heater. We had some issues with the bathroom plumbing (the toilet clogged - we were able to plunge it - and the tub drain was also clogged). We hung up some of our clothes in the back closet (laundry area) and in the morning they felt damp. Overall, despite some fairly minor annoyances, it is nice space for a reasonable price.
Kathryn
2016-07-05T00:00:00Z
Matt and I were completely dazzled by this studio apartment! We wish we could pick it up and move it to Brooklyn. We'd be the envy of all our friends. The apartment has a great energy and was obviously designed with love. We were especially impressed with Dan's art collection. The neighborhood was quiet but within walking distance of an area known for its nightlife. We only stayed two nights but didn't want to leave! Dan was an exceptional host and made us feel welcome without ever being intrusive. He provided us with every amenity that one could possibly hope for in an Airbnb (or a 5-star hotel!), and then exceeded even those expectations with little touches that made us feel like honored guests. If you ever need a place to stay in Omaha, this apartment should be your first choice.
Wistar
2015-06-14T00:00:00Z
Kamertype
Gehele woning/appartement
---
Type woning
Huis
---
Geschikt voor
2
---
Slaapkamers
Omaha, Nebraska, Verenigde Staten
This is the perfect solo or couples getaway (or business traveller) in the heart of Midtown Omaha. The unit is within walking distance to several restaurants/bars and a movie theater, grocery store and gym. The unit is equipped with WIFI, washer & dryer & full kitchen. Within 1 mile: - Creighton University and Medial Center - UNMC - The Nebraska Medical Center - Midtown Crossing Within 2 miles: - TD Ameritrade Park - Old Market District Within 5 miles: - Omaha Eppley Airport
This my first Airbnb experience and it was fabulous! The room was cute, arrival and check out were both simple, and I had complete privacy through my whole stay. Overall a great experience!
Katelyn
2016-08-08T00:00:00Z
This was my second stay at Nick's place and it was great. Everything was as depicted and it's a great place in Omaha. I hope to stay again in the future.
Joseph
2016-11-23T00:00:00Z
Great! Clean quiet and very comfortable. Highly recommend
Eva
2016-08-09T00:00:00Z
Truly unique decor -- we had an absolutely great time! Look forward to staying again!
Chris
2017-01-25T00:00:00Z
I really enjoyed my stay at Nick's place. It was very clean, warm, and welcoming. It was perfect for what I needed.
Calesse
2016-08-14T00:00:00Z
Nick was excellent in his prompt in his communication with me in setting up my stay. Also he was kind enough to wait up for me at a late arrival at midnight. The room was very clean and comfortable. I arrived late and left early so didn't get a chance to get a feel for the neighborhood. Nick seemed quite nice but had lititle time to connect with him. All in all, a good stay.
Michael
2016-07-14T00:00:00Z
Nick was very welcoming, and his place is very clean, comfortable and well furnished with really cool pieces!
Jamie
2016-07-21T00:00:00Z
This was my very first airbnb experience and Nick made it lovely, he communicated with me upon reservation as well as day of stay for information about my stay. I was only there 7p-7a and I didn't see him. His home was very cute, clean and homey, the bed was super comfy with soft sheets, and he had plenty of space in his fridge and freezer for me to put all my cooler contents and re freeze my ice packs! Great experience!
Jennifer
2016-10-26T00:00:00Z
Kamertype
Privé Kamer
---
Type woning
Huis
---
Geschikt voor
2
---
Slaapkamers
Omaha, Nebraska, Verenigde Staten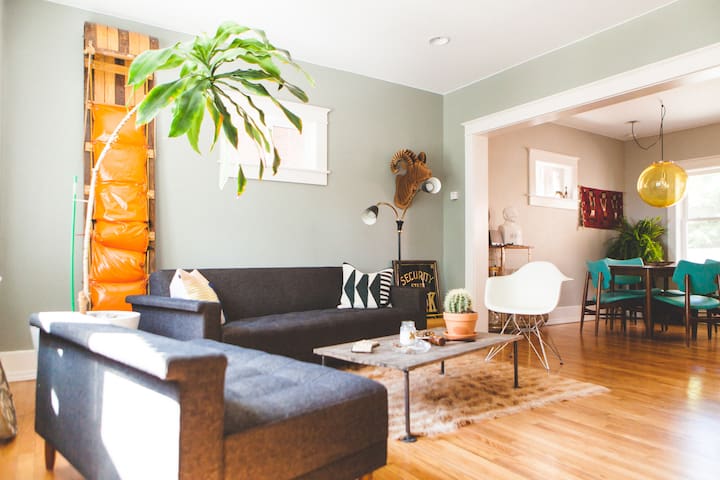 I typically respond within five minutes of an inquiry!
I provide the following: - private bedroom with queen-sized bed - private bathroom - 1 GIG internet network - TV in the room - desk - fresh sheets - clean towels - coffee bar - off-street parking - full use of kitchen - full use of living room - keyless access to my residence - no hassle check-in I live across the street from a par-three golf course. It's a great neighborhood - quiet and safe.
I live on the southeast side of the city, fairly close to Holmes Lake. Living in east Lincoln allows for getting to Omaha a little quicker than some other parts of Lincoln. I can drive downtown and park within 15 minutes. My neighborhood is quiet.
We actually didn't make it to the house due to weather,but he was super understanding and did everything on his end to make sure we were alright. Would love to try and stay here again!
Shelby
2016-10-18T00:00:00Z
It was great staying with Aaron. He's a gracious and caring host
Mark
2016-12-15T00:00:00Z
Aaron is very friendly to solve all the problems that we have. And he prepared all the stuff that we might need, like coffee that he doesn't usually drink. So we really enjoyed our stay at this place.
Cleo
2016-11-27T00:00:00Z
My best Airbnb experience yet. Great amenities and overall care put into this listing. Will stay here again if I come through Lincoln!
Bob
2017-03-18T00:00:00Z
Aaron is excellent in communicating! His home is easy to find and very comfortable and cozy. I would strongly recommend him (and the price is great, too!)!
Larissa
2017-01-04T00:00:00Z
Very nice place, easy to find. A lot of UNL memorabilia, it was super cool. Aaron was very nice, although we didn't see him much. Had a very nice time.
Danielle
2016-11-08T00:00:00Z
Clean and comfortable room. Aaron was very accommodating for our overnight stay with little notice.
Laura
2017-02-27T00:00:00Z
Super easy check in and very comfortable stay. Aaron was very accommodating!
Scott
2017-01-15T00:00:00Z
Kamertype
Privé Kamer
---
Type woning
Huis
---
Geschikt voor
2
---
Slaapkamers
Lincoln, Nebraska, Verenigde Staten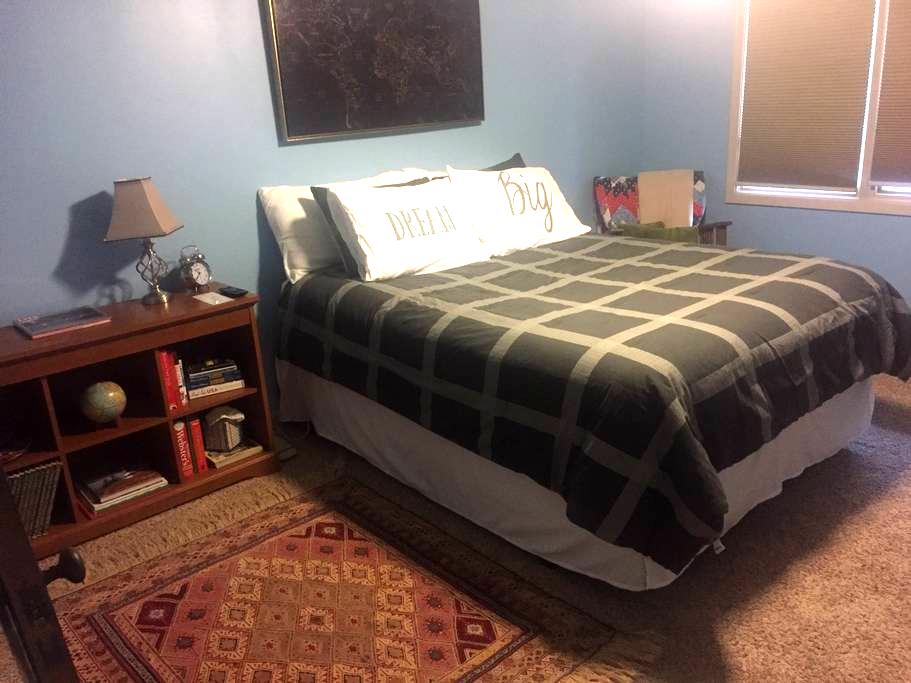 Welcome to Omaha and the historic Field Club neighborhood! We love our 110 year old house and charming neighborhood. We look forward to your visit!
Recently redone with our Air BnB guests in mind, our newly remodeled guest suite is the perfect place for a brief stop over, or for a long weekend of exploring Omaha. Originally constructed in 1905, our historic craftsman home is one of the oldest in Omaha's Field Club neighborhood. Field Club is the birthplace of President Gerald Ford and also houses the oldest country club still operating west of the Mississippi River. Situated atop a small hill at the intersection of two quiet, tree-lined avenues, we enjoy opening our home up to guests like you. Your newly remodeled private guest suite includes a luxury bed and newly remodeled bathroom with a heated spa tub, heated floors, and brand new modern amenities. All of the common areas of our home, including the family room, living room, dining room, front and side patios, and more, are open to our guests. Outside the home, Field Club is the perfect neighborhood for your visit to Omaha. Within walking distance of some of Omaha's most iconic neighborhoods such as Blackstone and Midtown, we're also just a short drive from Eppley, the Henry Doorly Zoo, the Orpheum and Holland Theaters, TD Ameritrade Park, the Old Market, and more. All of Omaha's best dining and entertainment venues are within a walk or short drive of our home, making it the ideal place to stay when visiting our city.
Field Club is a quiet neighborhood nestled in Midtown Omaha. Listed in the National Register of Historic Places, Field Club boasts beautiful architecture and the convenience of being located in the heart of the city. Take a stroll through Hanscom Park or visit the Gerald R Ford Birth site and Gardens, both within about a 7 minute walk from the house. Easy access to Field Club trail if you'd like to go for a run as well!
The space was comfortable, clean and welcoming. We enjoyed relaxing in adjacent family room and enjoyed the porch.
Maureen
2016-08-11T00:00:00Z
Prompt communication prior to arrival; special accommodation to fit our travel schedule; great neighborhood for running and proximity to Midtown and Downtown; and especially kind and gracious hosts. We only wish we could have stayed longer to get to know them more. It's a cozy environment, whether you use the space for a place to sleep or a place to unwind.
Steven
2016-09-03T00:00:00Z
My granddaughter and I arrived late and left early, traveling from Chicago to Colorado. We enjoyed our brief stay in this lovely property in a neighborhood I wished we had time to explore. Thanks to Sonja for accommodating our being late.
Judith
2016-08-02T00:00:00Z
Everything I could have hoped for, plus Mark and Sonja were gracious and kind hosts.
Aaron
2015-05-31T00:00:00Z
We couldn't be happier with our stay at Mark and Sonja's home. The house is a beautiful century home in a great neighborhood that is only minutes from everything a tourist might want to see. They are both really wonderful people and have a beautiful family. We had a little time to socialize in between knocking out our "things to do while in Omaha" list, and we felt almost instantly that they were friends. [It didn't hurt that we discovered many surprising and obscure connections, even from way across the country :-)]. Though they were friendly and hospitable, they respected that we were really there to visit Omaha. The house was nice, the basement bedroom was comfortable and nicely furnished with a queen sized bed and a private en suite bathroom. They thought of everything - snacks in the room, toiletries in case you forgot something or ran out, help-yourself-wine in the bedroom, and even a binder full of places and events in Omaha and menus from many local restaurants! Those little touches were representative of the thought that obviously went into creating a welcoming and comfortable place to stay. When we visit Omaha again, we'll definitely be staying with Sonja and Mark again!
Jb
2016-10-02T00:00:00Z
Wonderful experience. Sonja and Mark were very cool about our late arrival and we really, really appreciated that after our long drive. The house/room was absolutely beautiful. Highly recommended!
Kristi
2014-09-15T00:00:00Z
I had a great time staying with Mark and Sonja! They opened up their house on short notice and even had my room ready for an earlier check-in. The room itself is a private space in the downstairs with it's own bathroom with heated floor tiles (really nice touch!), and I was provided snacks upon arrival, which I appreciated after a day of traveling. Their house is in a great central location. Mark and Sonja were in constant communication and were very attentive to any needs that arose. Beyond being great airbnb hosts, they're also just cool people, and I had a great time playing cards and chatting. Mark and Sonja's place will definitely be the first place I check on my next trip to Omaha!
Chris
2016-11-12T00:00:00Z
What a nice room that they have in the basement. The bathroom was great. Sonja and Mark went out of there way to make us welcome even though it was Sonja's birthday. I felt honored to be allowed to stay at this location. This place was close to things to do. I wish Lynn and I had more time to stay and visit the town. We are planning another trip to this area and hope that we will be able to stay here again.
Doug
2016-08-06T00:00:00Z
Kamertype
Privé Kamer
---
Type woning
Huis
---
Geschikt voor
2
---
Slaapkamers
Omaha, Nebraska, Verenigde Staten
Enjoy the clean, quiet, comfy repose of my luxe modern 1780 sq. ft. 3BR home in hip Little Italy. Short walk to Old Market, Century Link Arena, TD Ameritrade Park (home of College World Series), Durham Museum, Blue Barn Theater, & short drive to Henry Doorly Zoo. You'll love it here.
Spacious, Clean, Charming 3-Bedroom, 3-Bath Townhome in Historic Little Italy, Next Door to Omaha's Famed Old Market. You can't beat this anywhere downtown. It's the best of both worlds: a quiet and relaxing oasis near all the downtown action. You will love the fully-furnished comfort and repose of my quiet, comfortable, luxurious 1780 square foot town home, which comes with high-speed cable and wireless, DVR, full kitchen with dishwasher, microwave, range, refrigerator and freezer, dining room, living room with high-end sofa, tall ceilings, three full bedrooms (five rooms in total), three full bathrooms (one with bath, all three with shower), a sweet porch with two outdoor chairs, your own attached one-car garage, washer and dryer, maple hard wood floors, maple cabinet, stainless steel appliances, granite counters, refrigerator, central heat and air, towels, linens, hairdryer, a full supply of cooking and eating utensils, coffee-maker, tea kettle, toaster, filtered water, all in an open, clean and refreshing space, with absolutely amazing neighbors. My home is only a ten-minute walk (2 minutes by car) from the impressive galleries, bars, restaurants, boutique shops, architecture and cobbled streets of the Old Market National Historic District (whose highlights include The Boiler Room, Le Boullion, La Buvette, V. Mertz, Blue Sushi, M's Pub, Jackson Street Booksellers, and the the famed Blue Barn Theatre, relocating soon to only a few blocks from my door). Moreover, within a few short blocks of my home, you not only have the Con Agra campus and the Durham Museum, but you also have the sundry landmarks of Little Italy (Orsi's Italian Bakery, Cascio's Italian Restaurant, St. Francis Cabrini Church, Santa Lucia Hall, Marino's Italian Grocery, and the Sons of Italy Hall). Also nearby is the Omaha Rail and Commerce Historic District, Dahlman Park, the Bohemian Café, a local Cross Fit, yoga studios, massage, several groovy cafes, plus incredible views high above the mighty Missouri River. Within a 15-minute stroll north you are at "The Link," a.k.a. the Century Link Center (home of great concerts, the annual Berkshire Hathaway Shareholders Meeting, and the nationally ranked Creighton Bluejays college basketball team), Ameritrade Stadium (home of the annual College World Series), Slowdown (a club co-owned by Omaha's own Conor Oberst of the band Bright Eyes and Saddle Creek Records), Film Streams (which shows excellent retrospectives, plus indie works), the Holland Performing Arts Center, Kaneko, the Bemis Center for Contemporary Arts, bike trails, parks, and more. And within a 3-minute drive to the south, you are at Sokol Hall (where all manner of cutting edge rock bands perform) and the Omaha Botanical Gardens. Within a five-minute drive south you are at Interstate I-80, which will take you quickly to all parts of Omaha and nearby Council Bluffs (including casinos, Lake Manawa and more). Within a seven-minute drive to the south, you are at the world-renowned Henry Doorly Zoo. Within a 7-minute drive to the north, you are at Creighton University. Within a 12-minute drive to the west, you are the University of Nebraska Medical Center and UNO. And to top it all, you are only a 12-minute car, cab or Uber ride from the Airport. This pet-free, nonsmoking, drug-free oasis is also near all manner of easy public transportation (there's a bus line a few blocks away on Dodge; and there are plans to build a trolley right up nearby 10th St.). Parking is free all around the neighborhood, which is safe, evocative, and beyond cool. I've been a successful Airbnb host for many years, starting in NYC and now in Omaha. I know what guests want. And I go out of my way to ensure that their visit is beyond compare. If you or someone you know is clean, quiet, and highly responsible, and looking for a pristine place to stay in the heart of Omaha, please send name, phone number, the precise number of people in your party, and two references. And please make sure to fill out your airbnb profile before booking. This will speed acceptance of your reservation. Tx!
Little Italy is an amazing, hip and historic neighborhood right next to Omaha's Old Market. See description above. Here you go: (URL HIDDEN)
Jack was excellent with communication and had very clear directions. I stayed just one night with my family and was definitely satisfied. Three spacious bedrooms and plenty of communal space as well. Do bring your own shampoo and save a little time to chip in on standard house stuff before you depart (dishes, start a load of laundry, etc.) Jack asks for some basic cleaning steps, which are par for the course in any European home rental and keep things tidy for everyone. Very convenient location.
Elizabeth
2015-07-15T00:00:00Z
Fantastic home in an ideal location. I came with four of my family members, and we all felt comfortable and relaxed in this spacious, nicely laid out and designed space. The kitchen had everything we needed, the beds were comfortable, and the living area was great for playing games and relaxing.
Brian
2016-06-04T00:00:00Z
Beautiful and clean home. We really enjoyed our stay. Conveniently located close to everything we and anyone else would need to get to in Omaha. The information provided prior to the stay was thorough and easy to understand. Other than the freak snowstorm, we had a great time! Would definitely stay again!
Jeff
2015-02-01T00:00:00Z
This beautiful, spacious and cozy town home was the perfect place for my friends and I to relax together and catch up. The location is conveniently close to the Old Market, downtown Omaha and Eppley Airfield. We loved it and felt very much at home. Many thanks to Jack, our host, for a great experience and the wonderful local eatery recommendations, too.
Jennifer
2016-04-14T00:00:00Z
We couldn't have been happier with this home as it is very consistent with the advertisement as well as their passion to maintain extreme cleanliness and organization.
Anthony
2015-07-27T00:00:00Z
Just a hop, skip and a jump from downtown Omaha, this is a perfect location if you want to skip the hotel experience, yet still be right in the middle of everything. If you want to visit Omaha (and I am a resident of this fine city) this location is perfect for your trip. I utilized this rental to fly in clients who needed to stay about a week--their second trip and they specifically asked for this location. Do not hesitate to book this property!
Jennifer
2016-05-14T00:00:00Z
A very convenient location for visiting the Old Market district of Omaha. Spacious and clean.
Bill
2016-04-17T00:00:00Z
Great stay in a great location in Omaha, close to lots of fun attractions! I will rent again!
Phil
2016-09-11T00:00:00Z
Kamertype
Gehele woning/appartement
---
Type woning
Huis
---
Geschikt voor
10
---
Slaapkamers
Omaha, Nebraska, Verenigde Staten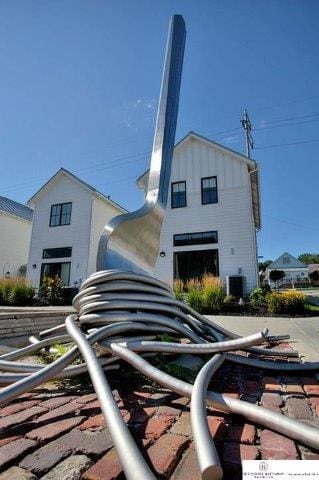 Nebraska - Airbnb
:
Gemiddeld

4.99

van

5

sterren op basis van

2110

gastrecensies
1

–

18

van

300+ Huizen te Huur
Voer datums in om de volledige tariefopbouw te zien. Er kunnen extra kosten zijn en er kunnen belastingen worden toegevoegd.