The flat is situated in a quiet area in a town called Molins de Rei (20-25 minutes from Barcelona by public transport). Supermarket, bakery, bar... whithin 5 minutes walking. Minimal renal period: 1 week
Kamertype
Gehele woning/appartement
---
Type woning
Huis
---
Geschikt voor
4
---
Slaapkamers
Molins de Rei, Catalunya, Spanje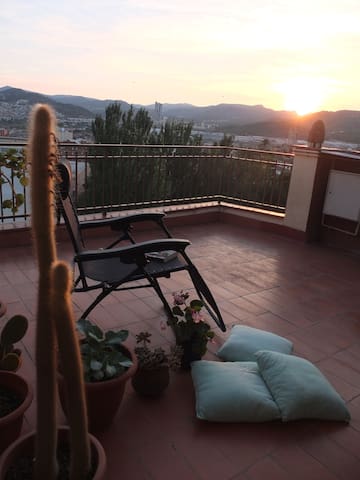 50m2 floor, parquet floor, patio where the washer, dryer and clothes line, sofa cam, TV, double bed, wardrobe, window, kitchen with dishes and pans, freezer staying snowing. Free parking area 5min walk.
50m2 apartment. Wood floor. Courtyard where houses the washer, dryer and clothesline. Sofa bed. TV. Double bed. Closet. Large window. Kitchen with dishes and pans. Snowing freezer. Free parking area within 5min walk. Comfortable loft at 3 min from rail station. In the quiet center of Molins de Rei, far from noisy city. Only at 15 min from Barcelona Center. Supermarket right next door. Whenever required. Very quiet Train, bus and taxi.
Molt tranquil.
This flat was excellent place for our family with 2 kids. Apartment is nice and tidy, pictures don't do justice. At night time apartment was nicely cool even the day temperature outside was +29C and there is no aircondition, so we slept well! Area is safe and cosy, and quiet at night time, nice bakery just around the corner. We purchased the T-family traveling card 70/30 for 2 zones, so we traveled a lot every day by train and metro to the center of Barcelona. Carles is very nice host, he answers quickly and politely and is very helpful. 5/5
Minna
2015-08-21T00:00:00Z
It was a great stay here. The house is clean and nice. The place is near to the train station and it's very convenient to go barcelona. The hosts are very friendly and easy to communicate. We only get to meet the father who is very friendly even though he couldn't really speak english but it wasn't a problem. I really recommend this place !
How
2016-10-24T00:00:00Z
Piso muy bien equipado. Situado en un barrio tranquilo cerca de la estación del tren, de varios comercios y del mercado municipal.
Gorka
2016-10-06T00:00:00Z
Carles was a fantastic host and gave us a lovely welcome to Spain! He picked us up from the airport and also arranged to drop us off on our departure for a small fee. We really enjoyed the apartment which is ideally placed for catching the train and enjoying the local culture. Carles is a very welcoming host and gave good information in regard to local amenities eg supermarkets, local restaurants and public transport. cheers Carles, many thanks for a great stay Paula & Tony Bishop
PAULA
2015-10-07T00:00:00Z
La casa è molto accogliente, la mamma di Carles ci è venuta in contro . Siamo arrivato dall'aeroporto fino a Molins de rei con i treno ed è stato molto comodo il viaggio. In 20 minuti massimo si arriva a Barcellona Sants (Stazione Centrale). Nel quartiere è presente quasi tutti i servizi necessari inclusi piccolo mini-Market , giornalaio, ferramenta , ufficio postale (sotto casa) , stazione dei treni a 5 minuti di cammino. La casa è davvero bella ed accogliente.
Marco
2014-10-22T00:00:00Z
Carles was incredibly kind and helpful. He helped us find the apartment, a good parking space, and the train station when we arrived. His apartment was very neat, clean and spacious. We enjoyed staying there and would stay there again next time we are in Barcelona.
Helen
2016-08-09T00:00:00Z
Staying at Carles place was great! My friends and I enjoyed the neighborhood. Since it is a bit outside of the center it is very local not so touristy, which i prefer acutally. The apartment is quite big and clean and cosy! Very close to public Transportation (not even 5 min.), in the evening there a night busses going to the center. There are some stores and bakerys just in the same street! I recommend to stay at Carles place, if you like the local life. See you :)
Sarah
2016-03-30T00:00:00Z
We had a good time. Carles has a nice small appartment. He and his Mother respond very quick and check in went easy! We came by car and there is free parking nearby. Also the trainstation is nearby, with a direct line to barca's city centre (around 25 min). At last there is nice supermarket with indoor foodmarket very close as well!
Wouter
2016-09-12T00:00:00Z
Kamertype
Gehele woning/appartement
---
Type woning
Appartement
---
Geschikt voor
4
---
Slaapkamers
Molins de Rei, Catalunya, Spanje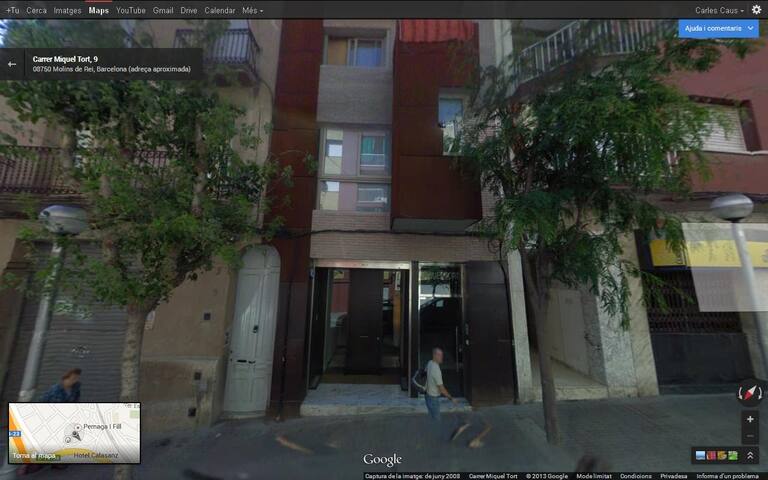 License number: HUTB-015814 Looking for a true Spaniard experience? Modern apartment in Molins de Rei, one of the most charming towns next to Barcelona. A semi-new building in a quiet street, 2 bedrooms, a separate work space room, 70m2, sunny terrace for breakfasts and dinners, parking, free strong WIFI and elevator. Free parking. Fully equipped kitchen. Excellent transport connections to Barcelona city center by train, bus & car.
Nice duplex apartment with sunny private terrace, elevator, free parking and free strong WIFI. Ideal for those looking for high comfort at good price. Perfect for couples, seniors, executives, solo travelers or PHD students. Molins de Rei is a town chosen by middle class Catalans to settle due to its safe and nice pedestrian streets & cozy shops and restaurants, which makes it perfect for family life and for a high quality of life. Excellent public transport connections by train, bus and car (very good motorways to Barcelona). Stylish interior with 2 bedrooms: one of them with a double bed and the other one with two single beds. An office room with a large work desk for laptops, plenty of shelves, two office ergonomic chairs and enough plugs for all your devices. Two bathrooms with shower, sunny private terrace, free strong WIFI, air conditioning, heating, wooden floors, dishwasher, washer, fridge/freezer, microwave. Bedding and towels provided. Semi-new building with elevator and free private garage. Parking fee: 20€ to be paid in cash upon arrival. All kind of services nearby: groceries, restaurants, bars, wineries, ATM, pharmacies... Situated in a quiet street close to the old town. Public swimming pool for summertime 10' min walking. Almost direct access to Collserola Natural Park, ideal for hiking and BTT in a beautiful pure mediterranean forest.
Molins de Rei is a charming town only 15 min driving from Barcelona and 25 min by train to get Las Ramblas, with cute modernist buildings and traditional market. Its pedestrians streets makes life very pleasant and safe with lots of cozy shops and cafes. Groceries, bakery, ATM, pharmacies nearby too. Stylish restaurants nearby and typical Catalan Masias and tapas bars. Street market every Friday. Best beaches nearby: Castelldefels (20'), nice promenade with natural sand dunes protected Sitges (30'), beautiful town & cosmopolitan beach All them less crowded than Barcelona beach so totally recommend! Check-out my guidebook for bars, restaurants, groceries and servicies in Molins de Rei. Also, you will be given a guidebook for Barcelona city.
Well located airBnB to Barcelona and surrounding towns and countryside. Francesc's place is very clean and well appointed. And Molins de Rei a very comfortable and charming town.
Nancy
2016-12-31T00:00:00Z
Todo perfecto
Michel
2017-02-28T00:00:00Z
Un appartement formidable: spacieux, bien agencé, avec un extérieur, et dans lequel il ne manque rien pour passer un séjour agréable ! Nous avons aussi beaucoup apprécié la climatisation ! Francesc a été très arrangeant car le jour de notre arrivée nous avions beaucoup de retard dû à des conditions de circulation difficiles et parce que un de nos enfants était malade dans la voiture. Francesc parle d'ailleurs très bien l'anglais. Une très bonne adresse, nous regrettons seulement de ne pas pouvoir y passer plus de temps ! :)
Laurence
2016-08-09T00:00:00Z
Everything about Francesco's place was excellent, he is a very precise and detailed person which reflected in his property. The location was great with easy access to trains. I would definitely recommend his accommodation and return myself.
Kaylene
2016-09-27T00:00:00Z
For those who are looking for a local experience, this is a Great place to stay! Highly equipped and well located, only 25 min by train from Barcelona. You will find everything you need at walking distance from the apartment. We really enjoy our stay.
Carlos
2016-09-23T00:00:00Z
it was a nice apartment it had everything you need. nice location and neighbors it also had resturants and supermarket close. the host was nice and he also told use everything we wanted to know he is very nice.
Vesna
2016-10-06T00:00:00Z
We had a great stay. The appartment was exactly as shown on the pictures and Molins de Rei is a charming little town. Francesc was very helpful and advised us well. He provided us with basic food for the first beakfast which was much appreciated. The free parking spot was a welcome bonus. I would definitely recommend this appartment for a Barcelona visit.
laure
2016-10-30T00:00:00Z
Francesc nous a très bien reçu avec de petites attentions à notre arrivée qui nous ont fait bien plaisir , l'appartement était vraiment très bien équipé et conforme à l'annonce, nous ne manquions de rien. Nous étions très à l'aise dans ce logement et proche de Barcelone , c'était parfait !! C'est avec grand plaisir que nous reviendrons à Molins de Rei chez Francesc. Merci encore et nous recommandons sincèrement cette location où il fait bon vivre.
karine
2016-08-31T00:00:00Z
Kamertype
Gehele woning/appartement
---
Type woning
Appartement
---
Geschikt voor
4
---
Slaapkamers
Molins de Rei, Catalunya, Spanje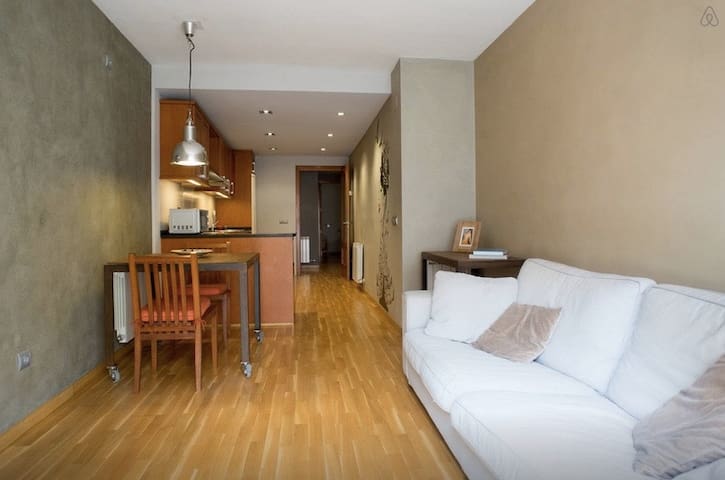 Located in the centre of Molins de Rei, a nice village with all services and sorts of shops, 13 km from Barcelona, 23 km from airport and 20 minute by train from Plaça Catalunya. Shuttles are offered by private car. Pets are welcome. I live in Molins de Rei, so I can offer quick solutions to any questions or problems that may arise. We can speak Catalan, Spanish, English, French and Italian.
Muy contentos con la atención y apoyo por parte de Roser. Volveremos a considerarla para nuestro próximo viaje. Muchas gracias!
Yuliette
2016-09-28T00:00:00Z
En la casa estava todo muy limpio y nuevo y el trato fue excelente.
David
2016-09-01T00:00:00Z
Genial habitación! limpia bien situada y con trato cercano! 100% recomendable
Osmel
2016-09-05T00:00:00Z
Excelente atención y apoyo por parte de Roser. Quedamos muy contentos e invitados a volver. Gracias por todo.
Yuliette
2016-10-03T00:00:00Z
Kamertype
Privé Kamer
---
Type woning
Huis
---
Geschikt voor
2
---
Slaapkamers
Molins de Rei, Catalunya, Spanje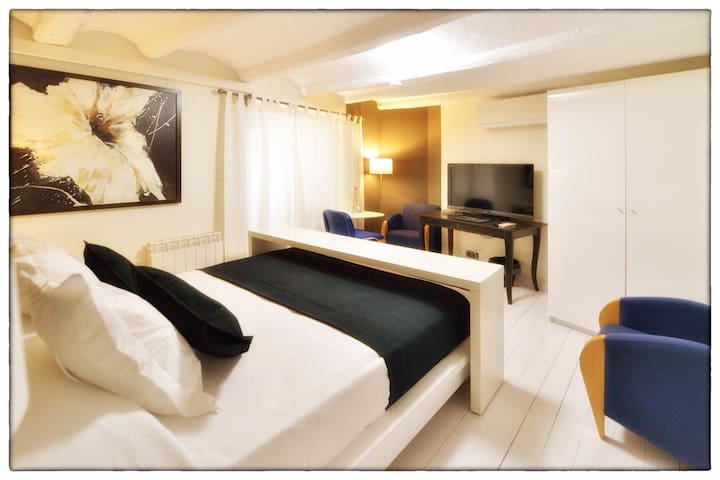 Great floor very well connected. Highways all directions, Bus 200 m train station to downtown Barcelona in 23 min La Rambla-Plaça Catalunya. Beaches, Fair, airport, port 15 min. Air conditioner. Public parking. Internet WIFI.
Josep is een vriendelijke man die ook meteen reageerde op onze vragen en dingen die we misten, kwam brengen. Het appartement is een prima uitvalsbasis om Barcelona te bezoeken: dichtbij een station, nog geen 5 min. lopen. Direct onder het appartement zit een supermarkt(je) met alle basisbehoeften: ideaal om na een dag op stap nog even inkopen te doen. Het appartement zelf wordt aangeboden als niet roken, maar er is/wordt duidelijk wel gerookt. Ook ligt het aan een doorgaande straat, dus je moet de ramen potdicht houden anders slaap je niet.
Maarten
2016-10-22T00:00:00Z
L'appartement correspond totalement à la description, spacieux, agréable et proche de Barcelone. Josep est très accueillant et donne toutes les informations dont on a besoin pour passer un bon séjour. Je recommande
Maëva
2016-08-06T00:00:00Z
Josep was an awesome host. Although he did not speak any english, he brought his daughter to help with the communication. They were there to greet us on arrival and was very prompt. The apartment was immaculate. It was clean, tidy and extremely comfortable. everything we needed was right there. The apartment is 3 minutes away from the station and 20 minutes by train on one line to the city centre. A supermarket was right below us and had everything we needed. Many thanks for a wonderful and comfortable place. I will gladly recommend this listing for your stay.
Liezel
2015-10-06T00:00:00Z
We stayed at Josep's apartment for four nights with our three teenage children. He personally welcomed us to Barcelona and gave us the keys and all the info on the apartment, as well as some info on Catalunya in general and stuff we can check out. Very friendly :-) His daughter joined us later, who could speak English, who helped us out even more with understanding the Metro and Roadlies train - getting around. Communication was not a problem at all. We watched the Euro final on his TV! Was good fun. It only costed 38 euros for a 5 seater taxi from the Airport to the apartment. The apartment had two bathrooms which was very convenient as there was 5 of us. The house was very spacious and clean. 3-4 minute walk to the Moulin de Reis Renfe (the train), which you can take to Placa de Catalunya and transfer to the Metro. We bought a T-10 ticket for 19.95 giving us 10 trips, where you can transfer from the train to the subway/bus in an hour for no extra cost each trip. Can be used by multiple persons, good deal. There was a supermarket right below the apartment, super convenient. We will definitely consider staying here again when we return to Barcelona! Thanks Josep
Valerie & Benny
2016-07-11T00:00:00Z
Adoramos a casa de Josep. Ele foi muito gentil ao se dirigir até a estação do trem para nos receber. Além disso, resolveu rapidamente o problema do odor de cigarro que estava nas roupas de cama do quarto do casal. O único problema que ficou foi a constante queda de energia, quando ligávamos o aquecedor central e algum outro equipamento elétrico, como microondas ou fogão. Mas creio que esse problema seja fácil de se resolver e, quem sabe até antes da próxima hospedagem. No mais, a casa é excelente. No térreo do prédio, há um supermercado muito bom e a estação de trem fica a menos de 300 metros. Além disso, a comunicação com ele era bastante eficiente. Recomendamos.
Luana
2017-03-05T00:00:00Z
l'appartement de Josep est très grand et très lumineux. Il est super bien situé car à 25 minutes seulement de Barcelene en train. Le petit parking gratuit en bas de l'appartement n'est pas négligeable. Beaucoup de petits magasins, le marché à proximité et un supermarché pas très loin permettent de ne pas utiliser la voiture. Un seul petit inconvénient: le bruit de la rue!
Martin
2017-01-01T00:00:00Z
My family and I had a great experience in Josep's apartment. This place is very well situated (20 min away by train from Barcelona) and less than 5 minutes away from the train station. At first, I wasn't sure whether it was a good idea for me to not be in the city but I do not regret it at all because all trains/metros are easy to navigate even for someone like me who's not used to public transportation. The apart is conveniently two steps away from a grocery store where I stocked up on food, snacks, drinks, dinner, etc. The area is also quite safe. The latest we got back after hours in Barcelona was close to midnight without any worry. Josep is very accessible. He's responsive via email and Whatsup. All my questions were answered in due time. We even had an issue with the power once (my sister plugged the kettle on the wrong plug and this caused power to go off due to fuse capacity). We had paid-for scheduled tours in the morning and couldn't pass up on these opportunities to visit the city. I asked Josep to come by while we were away to take care of the fuse (usually an easy thing to do but I didn't want to play around with this as it's not my place) and he was very gracious, came by to fix while we were away. By the time we came back to the apart, all was in order. The apartment is very well equipped. We cooked dinner twice during those 4 days in the city and had everything we (6 people) needed in terms of dishes, pots, essentials such as salt, oil, etc. (probably left overs from previous guests). For a party of 6, we were well taken care of in terms of towels, soap, etc. The apart was clean, nice heating system during the cold months. Josep was welcoming, giving us some Catalan lessons. We arrived close to midnight the first night and Josep came to greet us at the apartment and showed us a bit around without rushing given how late it was. Thank you Josep; you really know how to treat guests. Two thumbs up!
Tanya
2016-10-30T00:00:00Z
The apartment was very nice and walking distance to many restaurants. There was also a grocery store adjacent to the building. Josep was very accommodating even with a last minute update on my arrival time. The apartment was also very clean. Would love to stay again.
David
2016-06-24T00:00:00Z
Kamertype
Gehele woning/appartement
---
Type woning
Appartement
---
Geschikt voor
7
---
Slaapkamers
Molins de Rei, Catalunya, Spanje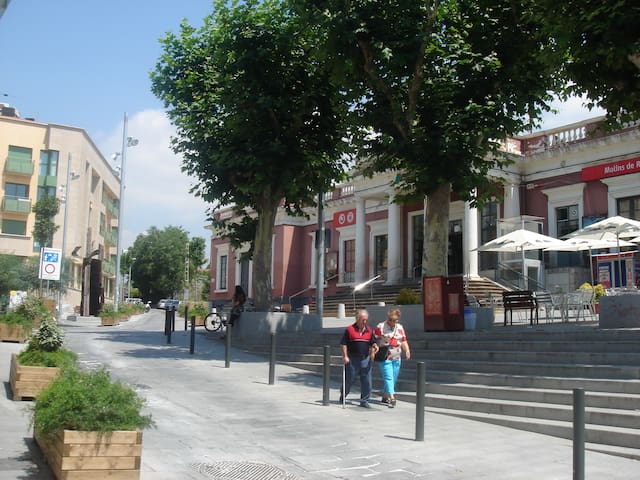 Auténtica casa del árbol en el parque de Collserola, La Floresta, Barcelona. Espacio único para noches de ensueño. El precio incluye desayuno para dos, con huevos ecológicos, zumo, té, café, croissants y tostadas. RESERVAS: (website hidden)
Cabañita muy acogedora en lo alto de los árboles, rodeada de naturaleza y tranquilidad, a tan sólo 20 minutos del centro de Barcelona. Ideal para disfrutar de un dulce despertar con el sonido de los pájaros o de una fantástica puesta de sol desde la copa de las encinas.
La casita se encuentra en el término municipal de Molins de Rei, pero a 10 minutos andando del centro de la Floresta, en pleno parque natural de Collserola. El entorno es ideal para paseos tranquilos en la naturaleza, desconexión, silencio... Hay diferentes restaurantes entrañables para todos los gustos y presupuestos a tan sólo unos pocos minutos a pie. También hay supermercado y panadería.
Nuestra estancia en la casita del árbol de Carles fue genial en todos los sentidos. No tuvimos ningún problema para llegar, nuestro anfitrión se mostró atento en todo momento y la cabaña cumplió con todas las posibles expectativas. Hay que destacar el magnífico desayuno continental que nos trajo Carles, así como el detalle de la botella de cava que nos dejó al llegar. Acogedor; exquisita decoración rústica; perfectamente integrada en la naturaleza y a 20 minutos de Barcelona. Definitivamente una experiencia que recomendamos a cualquiera. Gràcies per tot Carles, fins aviat!
Maria
2016-04-24T00:00:00Z
Very awesome experience. Carles was very kind and welcoming. The location is perfect, calm and relax to come back after a day in Barcelona with a lot of people. Waking up with a delicious breakfast and the birds singing... We miss it already!
Joost
2016-08-30T00:00:00Z
Carles fue desde el primer momento muy amable con nosotros. La tree house es un espectaculo: Carles la construyó cuidando los pequeños detalles que nos han enamorado. Y el famoso desayuno ha sido algo memorable. Pudimos disfrutar de la naturaleza y de una tranquilidad que es dificil encontrar en la ciudad. Lo aconsejamos al 100%...y volveremos :)
Simone
2016-04-25T00:00:00Z
Una noche increible en los arboles. El entorno tranquilo y bello, al comienzo de un bosque, silencio y belleza. Carles nos trajo un completo desayuno, todo riquisimo, además de dejarnos fruta y cava frío en la habitación. Un encanto. La cabaña tiene todo lo necesario para estar cómodo, muy acogedora, y un pequeño balcón para observar las vistas. Genial! Repetiría sin duda!
Lucia
2015-12-14T00:00:00Z
The tree house is a very unique place, calm and atmospheric. We were happy there! The hosts were very friendly, and everything went great.
Elena
2017-01-24T00:00:00Z
Carles has been a wonderful host and this tree house has been a perfect place to stay the night as we were looking for a beautiful, quiet setting outside of Barcelona. we loved our stay and highly recommend! Thanks Carles for hosting us and for the celebration champagne and delicious breakfast!
Chad
2016-09-16T00:00:00Z
Gracias por los detalles y la hospidalidad. Es de verdad una experiencia diferente que recomendamos a todos
Andrea
2017-03-05T00:00:00Z
A wonderful place, charming, with great views and a perfect escape from the city. Carles was very helpful and a great host, the breakfast was delicious. We had a great stay and would recommend this trip to anyone.
Paula
2016-06-15T00:00:00Z
Kamertype
Gehele woning/appartement
---
Type woning
Bed & Breakfast
---
Geschikt voor
2
---
Slaapkamers
Molins de Rei, Catalunya, Spanje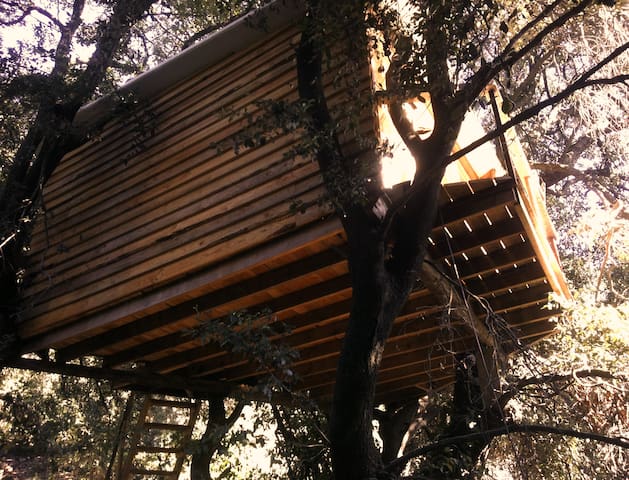 Visita Barcelona y sus alrededores y descansa en un lugar tranquilo. Tenemos una gran casa para acogerte, compartimos los espacios comunes y os alojamos en una gran habitación y baño exclusivo. Podrás probar nuestro pan hecho en casa!
La habitación es muy espaciosa y con mucha luz, tiene acceso directo al jardín. Hay una cama doble y la posibilidad de poner dos camas individuales. La habitación tiene un espacio de estudio y un piano. El baño es exclusivo para los huéspedes.
La Floresta es un barrio tranquilo, tenemos diferentes tipologías de restaurantes y todos ellos muy agradables. También hay algunos comercios. Esta en medio del Parque Natural y se pueden hacer excursiones a pie desde la puerta de casa.
Anna et jaune et leurs Enfants sont très accueillants, serviables ,gentilles nous sommes très satisfait de notre séjour
jean michel
2016-07-30T00:00:00Z
Famille très accueillante pour des personnes qui viennent avec des enfants. Bons petits déjeuners. Au sous sol une seule pièce avec 4 lits et un espace de jeux pour les enfants. La salle de bain est au rez de chaussée. L'endroit est pratique pour laisser sa voiture au parking de la gare située à deux kilomètres et aller ensuite à Barcelone en train.
Rémy
2015-07-07T00:00:00Z
logement en dehors de la ville et proche du train ce qui permet de laisser la voiture pour les visites à Barcelone
Christophe
2017-04-05T00:00:00Z
Anna was lovely and made us feel very welcome. She shared her family table with us the first and last night. She helped us find a really cool area San Cugat 'Mercantic' antiques market and had good information on accessing Barcelona by train.
Joanne
2016-07-06T00:00:00Z
Arrivés à minuit et très bien accueillis :) De bons petits déjeuners et une maison agréable, Disponibilité et sympathie sont les maîtres mots de cette famille!
Delphine
2017-02-08T00:00:00Z
Estuvimos de vacaciones en enero del 2017 con mi esposa y nuestros 2 hijos de 3 y 4 años. Alquilamos una habitación y el lugar nos encantó, tiene unas vistas maravillosas, está rodeado de naturaleza, es muy tranquilo y descasamos muy bien. Anna y su esposo Jaume fueron personas muy amables y nos ayudaron e informaron muy bien. Para nosotros fue el lugar perfecto para visitar Barcelona y sus alrededores y descansar en la noche en un lugar tranquilo y muy bonito. Seguro que volveremos.
Jorge
2017-01-11T00:00:00Z
Anna and her family are really helpful and their place is perfect for a family of you want to stay beautiful surroundings, yet have Barcelona and sant cugat within close proximity. A recommendation for sure!
Timothy
2017-02-12T00:00:00Z
La habitacion era perfecta muy limpia, ampla y comoda , la familia muy simpatica , muy recomendable , gracias
Rodrigo Luis
2017-04-03T00:00:00Z
Kamertype
Privé Kamer
---
Type woning
Huis
---
Geschikt voor
4
---
Slaapkamers
Sant Cugat del Vallès, Barcelona, Spanje
Located in the centre of Molins de Rei, a nice village with all services and sorts of shops, 13 km from Barcelona, 23 km from airport and 20 minute by train from Plaça Catalunya. Shuttles are offered by private car. Pets are welcome. I live in Molins de Rei, so I can offer quick solutions to any questions or problems that may arise. We can speak Catalan, Spanish, English, French and Italian.
Possibility of sleeping two more people in sofa bed in the living room.
Appartamento bellissimo e pulizia ottima! Host gentilissima, vi aiuterà in tutto e per tutto. Disponibile per qualsiasi necessità, grazie mille Roser!!! :) Sicuramente consigliato! Non resterete delusi in nulla! Very nice flat! Clean and comfortable! Great host! Highly recommended!
Danilo
2016-10-09T00:00:00Z
Der aufenthalt bei roser war perfekt. Eine sehr individuelle wohnung im zentrum von der kleinen stadt,sehr gute anbindung an barcelona per zug, roser war extrem bemueht, sehr empfehlenswert
Iris
2016-09-16T00:00:00Z
Un très bel accueil et très serviable
Mame Thiaba
2016-09-22T00:00:00Z
Roser was super helpful, she put in extra effort to help us reach home because streets were closed the day we arrived due to a festival. The house has a great location, next to molins de rei townhall, 10 min walking from train station that takes you to Catalunya. Quite peaceful and very friendly neighbourhood, with supermarkets closeby. She also called her friend Anna, who spoke more fluent english to help us settle in. Both of them were so helpful and warm! Accurate pictures, and description. My parents had a good time staying here, only taking the stairs (a pair for the bedroom) worried them.
deepika
2016-10-04T00:00:00Z
Hemos tenido una fantástica estancia en Molins. Roser ha sido muy atenta en todo momento, y su casa está fenomenal. Si las fotos están bien, la realidad es mucho mejor :) . Esta muy cerca de Barcelona tanto en transporte público como en coche propio, al mismo tiempo que se puede disfrutar de la tranquilidad de Molins de Rei. Sin duda repetiremos, y lo recomendamos a todo el mundo! Saludos, Omar.
Omar
2016-10-29T00:00:00Z
Kamertype
Gehele woning/appartement
---
Type woning
Appartement
---
Geschikt voor
2
---
Slaapkamers
Molins de Rei, Catalunya, Spanje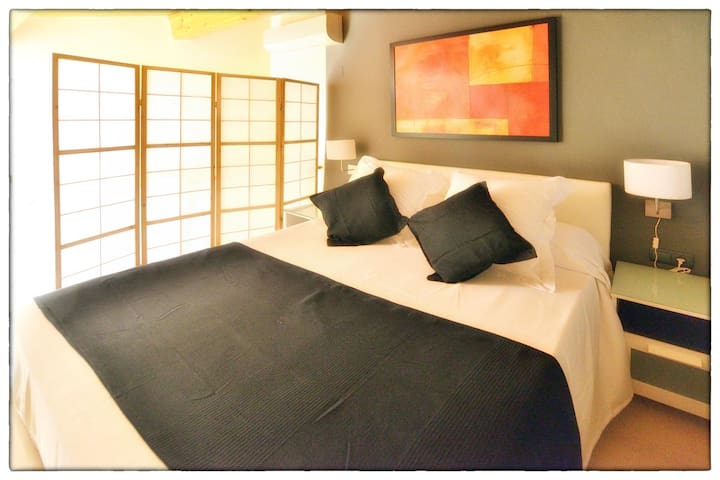 Beautiful surroundings, natural park of Collserola, walks, bars + restaurants at walking distance . We are surrounded by nature, away from the craziness of the city however at only 19 minutes by train from it. To be able to go for peaceful walks in the woods everyday and still have access to the city...for me is paradise. If you are group of friends who don´t mind sharing an open space there is another big room + bathroom upstairs that could accommodate 4 or 5 people. it´s an 70square metters
First i apologise for the photos, not of good quality. This is a country house, with beautiful terraces and wild garden. The room is a double bedroom, very cool in the summer. There is a bathroom, kitchen and living room /dinning room , terraces, wild garden. Breakfast is providedas part of the price, however i can only prepare it very early as i work, after 8:30 you will be given what you need for breakfast but you prepare it yourself. dinner can also be prepared at extra cost. You may bring children however not only they would sleep in the living room but also you must be aware that there are many stairs outside, to access the house, therefore not young children friendly. If there 3 adults, i don´t mind either but will sleep in the living room. I am flexible within reason.
The neighborhood, is peacuful, natural, artistic, however at 5 minutes by train there is another village Sant Cugat, with monasteriun to visit, local markets, plenty of bares and restaurants. if you want to have the choice of nature , peace, clean air but also have easy access to the city...this is your place. it is only 20 minutes to plaza catalunya, (URL HIDDEN) is in the woods.
Fantástica atención, una gran anfitriona, personas muy amables y atentas, el lugar espectacular, en medio del parque de collserola. Con terrazas, y un precioso apartamento, sin pretensiones,pero muy acogedor. En invierno debe de ser mágico.
Lisandra
2016-09-12T00:00:00Z
Staying at Christians home was hour best airbnb experiences so far. Our host made everything so easy for us, from check in time, to explaining all the details you should know before coming and what and where to do ones you arrive. Even it wasn't listed, she did make us delicious breakfast every morning and brought treats from local bakery! The house is in great location for people who love nature; it is cozy and cute, decorated with hart and warmth. There is everything you need for staying longer then just few days since house is fully equipped. You can chill at house terrace, with candles and fresh air. We had a car and drove everyday to Barcelona ( 15-20 min ) and to the beach 40-60 min, but there is also a train station walking distance. All in all, staying at Kiki's was like visiting your favorite aunty !!!!!
Olivera
2016-08-11T00:00:00Z
Cristiana a été très arrangeante durant tout le séjour, concernant notre heure d'arrivée et de départ notamment. Elle nous a extrêmement bien reçu et a toujours été disponible. Très très gentille, elle nous a ramené tous les matins un petit déjeuner tout droit sorti de la boulangerie et nous a tous les jours demandé si nous avions besoin de quoi que ce soit. La maison est très mignonne et idéalement situé si l'on souhaite être excentré de la ville pour le calme mais suffisamment proche pour la visiter facilement. Tout était très propre et Cristiana avait mis à notre disposition de la nourriture pour le soir. Nous avons passé un excellent séjour et sommes très heureux d'avoir rencontré notre hôte! Un grand merci!
Zélia
2016-08-17T00:00:00Z
Kamertype
Gehele woning/appartement
---
Type woning
Huis
---
Geschikt voor
2
---
Slaapkamers
Molins de Rei, Catalunya, Spanje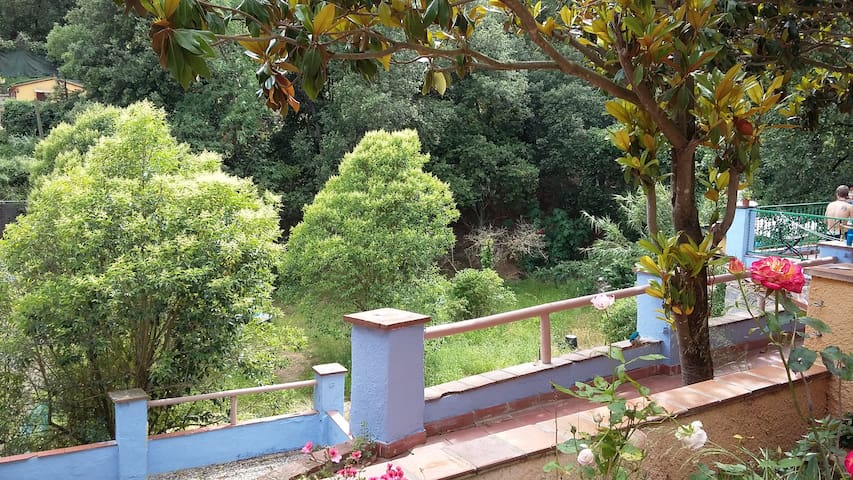 A confortable and charming wood house in a residential area near the city of Barcelona with an excellent view to the Collserola's natural park. It has an open-plan kitchen with a large lounge/dinning area with fireplace and large windows facing the terrace, two bedrooms (one double and one single with bunk beds), open loft plan with two large beds, one bathroom with shower and an office. It has dishwasher, washing and dryer machine, TV, internet connection and all other normal facilities.
The house has neighbours in front and one to the left, the remaining surrounding area is forest. To the front the house has amazing views to the Natural Park. It is a residential area called Vallpineda located inside the Natural Park of Collserola and it belongs to Molins de Rei Municipality. This area is quiet but at the same time well-communicated by road and bus (which takes you to the train station) and it is also at walking-distance from the Valles metro stop "La Floresta": 20 minutes away from the center of Barcelona.
Situada en la urbanització de Vallpineda, en un entorn de tranquilitat amb pocs veïns i envoltada de bosc i camins per passejar o anar amb bicicleta, a la vora hi ha una cascada petita apte per al bany i un salt d'aigua, hi ha 3 piscines públiques a la vora (Floresta, Valldoreix i Vallpineda).
Kamertype
Gehele woning/appartement
---
Type woning
Huis
---
Geschikt voor
5
---
Slaapkamers
Molins de Rei, Catalunya, Spanje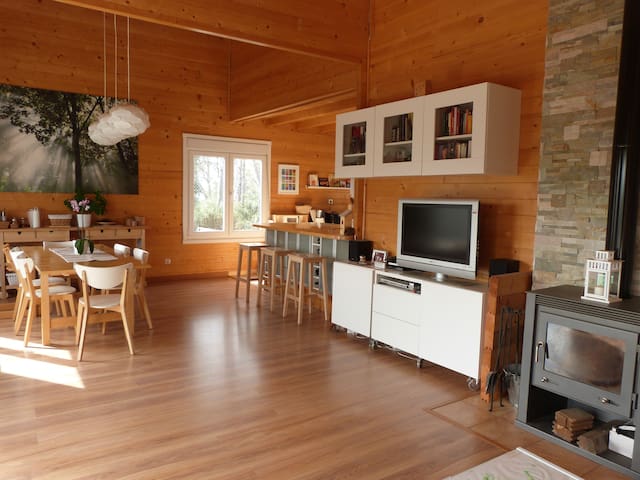 Lugares de interés: Acceso en transporte público al centro de Barcelona en 20 minutos y al centro de Sant Cugat en 5. Y en coche a Barcelona en menos de 10 minutos. . Te va a encantar mi casa debido a La (URL HIDDEN) una casa unifamiliar en zona residencial muy tranquila. No hay problemas de aparcamiento. El alojamiento es bueno para parejas, aventureros, viajeros de negocios, familias (con hijos), y mascotas. Es una buhardilla de 50 metros cuadrados con mucha luz y techos de madera.
Buona sistemazione in una ampia mansarda luminosa, inserita in un contesto tranquillo e residenziale, silenzioso e verde; ottimi host molto gentili e disponibili... È un po' fuori Barcellona, nella seconda zona dei trasporti pubblici, molto ben servita ma per tornare dal centro bisogna mettere in conto una ventina di minuti di treno/metro, alcuni minuti di minibus e poi di cammino.... è un po' laborioso.... La signora però è stata gentilissima e ci ha dato passaggi alla stazione FGC per tutte e quattro le mattine, oltre a prodigarsi nel dare e cercare tutte le informazioni di cui avevamo bisogno
Luca G.
2017-03-01T00:00:00Z
Para personas que le gustan retirarse de la ciudad por la noche y disfrutar del verdor de las montañas de Barcelona es perfecto. Nosotros lo disfrutamos un montón y mas con la atención y simpatía de Elena y su familia! Son muy lindos y excelentes anfitriones. Se os recomiendo :)
Karen
2016-11-01T00:00:00Z
Kamertype
Privé Kamer
---
Type woning
Huis
---
Geschikt voor
5
---
Slaapkamers
Sant Cugat del Vallès, Catalunya, Spanje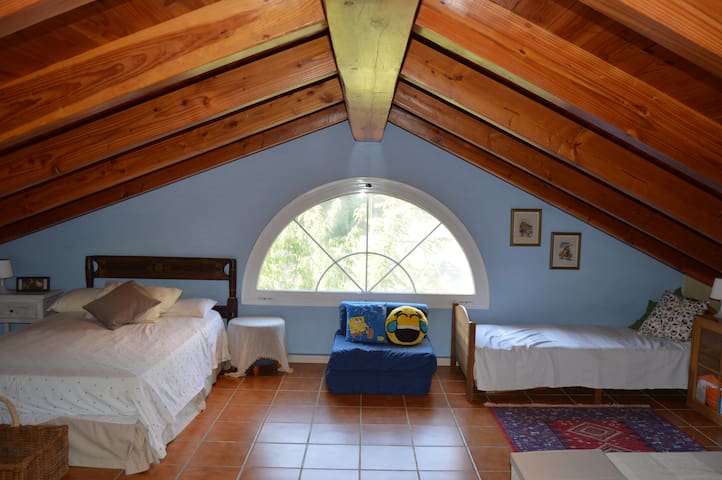 Located in the centre of Molins de Rei, a nice village with all services and sorts of shops, 13 km from Barcelona, 23 km from airport and 20 minute by train from Plaça Catalunya. Shuttles are offered by private car. Pets are welcome. I live in Molins de Rei, so I can offer quick solutions to any questions or problems that may arise. We can speak Catalan, Spanish, English, French and Italian.
Possibility of sleeping two more people in sofa bed in the living room.
The host canceled this reservation 3 days before arrival. This is an automated posting.
Werner
2016-10-01T00:00:00Z
The host canceled this reservation the day before arrival. This is an automated posting.
Arvind
2016-10-18T00:00:00Z
Nous avons passé un très bon séjour. L'appartement est conforme aux photos : spacieux, décoré avec goût et très fonctionnel. Il est situé dans un environnement calme. Nous avons été très bien accueilli et nous reviendrons avec plaisir pour un prochain séjour. Merci pour tout
Maxime
2016-08-14T00:00:00Z
Elle est très accueillante ,sympa et gentille!
Nikolle
2016-08-21T00:00:00Z
Kamertype
Gehele woning/appartement
---
Type woning
Huis
---
Geschikt voor
4
---
Slaapkamers
Molins de Rei, Catalunya, Spanje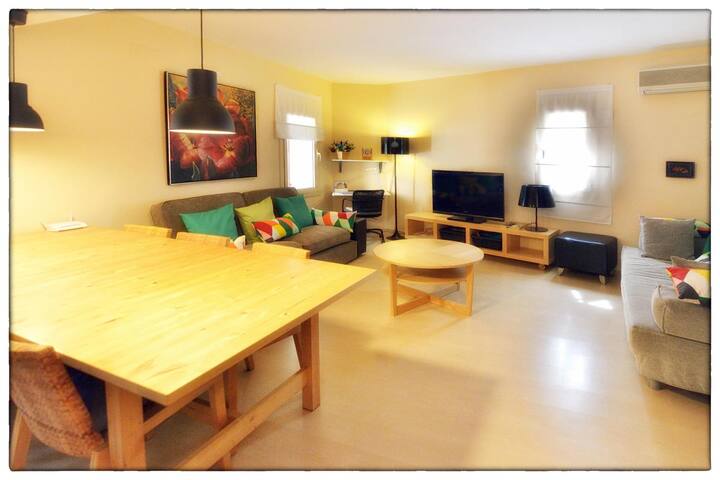 Alquilo habitacion en una casa bonita, grande y sobretodo muy limpia a pocos kilometros de barcelona capital. El precio es por habitacion/noche. Tenemos varias habitaciones disponibles, por esto se pueden organizar grupos de hasta 10 personas.
la habitacion es grande , muy comoda, y la casa se encuentra muy cerca de la parada de tren que va directamente al centro de Barcelona
la casa se encuentra dentro de un bonito parque,con merendero y barbacoas, y la ciudad es tranquila y tiene todos los servicios que necesiten
Un séjour très agréable un accueil parfait de Monica, nous nous sommes sentis très alaise, famille très sympatrique et très serviable La joie de vivre de Monica est très contagieuse elle toujours le sourire une bonne communication. Très bonne en cuisine elle nous cuisiner une Paella de très bonne qualité, et elle nous a fait visite la montagne de montserra merci Monica pour ce séjour agréable
Karim
2014-08-18T00:00:00Z
Nous avons été très satisfait de l'accueil, Monica est une personne très avenante, accueillante et intéressante. Petite déjeuner de qualité. Son beau-fils parle très bien le français et c'est un avantage pour les personnes ne parlant pas espagnol. La maison est facile d'accès (20 minutes de Barcelone), le quartier est très bien situé avec beaucoup de petits commerces aux alentours. Nous recommandons chaleureusement Monica. Famille Biche.
Cindy
2016-05-23T00:00:00Z
Monica est de ces belles rencontres auxquelles on ne s'attend pas. Un accueil parfait et chaleureux. Beaucoup de discussions, de rires et de moments partagés. Merci pour ton accueil en or. On se reverra, c'est sûr!!
M
2015-12-02T00:00:00Z
Monica was exceptionally helpful, hands-on and communicative. We became fast friends and spoiled us in too many ways to mention. Perhaps one of the most important things to note is that you are not near the heart of Barcelona. Can Ros is a sleepy little suburb just out of town. Despite this, public transportation is very easy.* My wife and I stayed long enough to be eligible for Monica's offer of paella and a trip to Montserrat. We took advantage of both. Montserrat is stunning and Monica's paella is proper home cooked goodness and was better than anything we'd had in a restaurant. Trust me, we've eaten a lot of paella! We also used the fresher air and hilly surroundings to do some running - much needed after gorging ourselves on all sorts of foods in town. Barcelona is wonderful but more touristy than we could ever have imagined. I have traveled there over the years and even I sensed the change. This AirBnB worked well for us. *Note, that for the train headed into Barcelona, you will need a zone 2 ticket. Also note that there are buses for travel back to Can Ros should you need to return after hours - which can happen easily in Barcelona!
Bernard
2016-06-07T00:00:00Z
Todo estaba muy bueno en casa de Monica, nos ayudó con el transporte del aeropuerto y nos ha preparado desayuno por la mañana:) en todo: muy bien!
Ebba
2016-06-28T00:00:00Z
Monica is a delightful person. Very kind, smart and easygoing. She made us fell comfortable and welcome our whole stay. From giving advices about Barcelona to making us a delicious "pastel" we felt like we belong to the family. It was a huge pleasure and awesome experience stayed on her house. We did alast minute booking with a very late checkin but it could not ended better :). Thank you very much!
Ralph n' Andrea
2016-05-27T00:00:00Z
Kamertype
Privé Kamer
---
Type woning
Huis
---
Geschikt voor
2
---
Slaapkamers
Sant Vicenç dels Horts, Barcelona, España, Catalonië, Spanje
Es una casa bonita, muy limpia tiene 5 habitaciones, pueblo tranquilo, cerca del aeropuerto y tenemos tren directo hasta el centro de barcelona
Estuvo todo muy bueno en cada de Monica, nos ayudó con todo y nos ha preparado desayuno para todo los días :) les recomendó quedarse en casa de Monica para una experiencia muy amable, gracias para todo!
Ebba
2016-06-28T00:00:00Z
Monica ha sido una anfitriona fenomenal, mi prima y su hijo disfrutaron mucho la estadía en su casa. Se ha portado como si fuese una familiar cercana muy amable. El alojamiento es muy apropiado. Limpio. .fácil para tomar el metro y para comprar cosas de comer. ..había toallas, jabón y shampoo. Les hizo paella. ..desayunos...los llevo a Monserrat y los llevó al tren la mañana que salieron.
Silvia
2016-06-22T00:00:00Z
Kamertype
Privé Kamer
---
Type woning
Huis
---
Geschikt voor
2
---
Slaapkamers
Sant Vicenç dels Horts, Barcelona, España, Catalonië, Spanje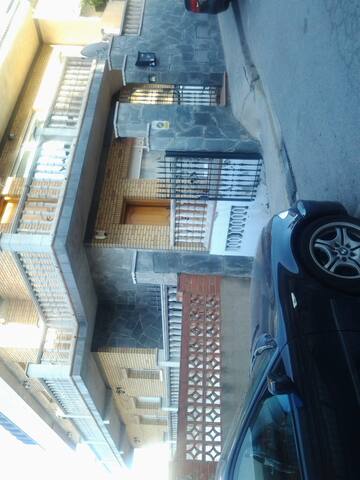 Es una bonita casa, a 15 km del centro de Barcelona Podemos hacer el traslado del cliente del aeropuerto La estacion de tren esta cerca hasta el centro de Barcelona
Bon séjour personne très accueillante, souriante je recommande les réservations chez elle, à refaire pour ma part.
Mohamed
2016-08-17T00:00:00Z
Милая женщина. Очень заботливая. Всегда на связи и готова помочь. Кормит супом и завтраком. Дом чистый, комната просторная и тахая. Wi-Fi. Приятно
Sergey
2015-10-18T00:00:00Z
l'accoglienza è stata buona e calorosa, persone molto gentili e disponibili e le foto corrispondono alla realtà. la paella che ci ha offerto Monica era molto buona.
Marco
2016-08-01T00:00:00Z
Monica era una anfitriona muy amable, nos ha preparado desayuno cada mañana y también un plato de arroz por almuerzo una de las días. Se nota que se cuidan mucho sobre sus invitados. Las recomendó a visitarla, es todo muy bueno y ninguna problema. Nos ayudo con todo que necesitamos también. Solo puedo decir que: en su casa se sienten como en tu casa :)
Ebba
2016-06-28T00:00:00Z
Kamertype
Privé Kamer
---
Type woning
Huis
---
Geschikt voor
2
---
Slaapkamers
Sant Vicenç dels Horts, Barcelona, Spanje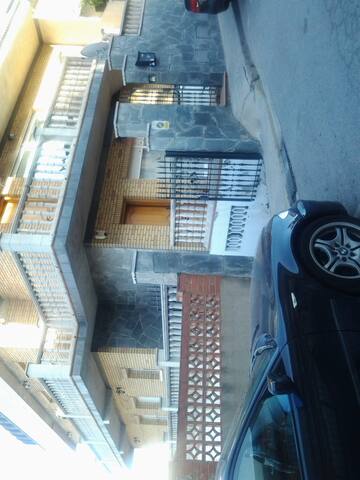 Casa frente al Tibidabo , a 15 minutos del centro de Barcelona. en plena naturaleza de la sierra de Collserola. Casa de madera con gran terraza y piscina, magnificas vistas, Silencio y tranquilidad. Habitación de 12 m2 y baño exclusivo de 10 m2
Luis and his wife Anna Maria were PERFECT hosts in EVERY WAY.Very kind and thoughtful and most welcoming.House is beautiful with FABULOUS VIEWS onto forest.Very peaceful and relaxing.Thoroughly enjoyed their company and will DEFINITELY stay there again if back in Barcelona.MUCHO GRACIAS AMIGOS !!!!!!
owen
2016-05-30T00:00:00Z
Très bon logement, hôte agréable et toujours disponible, plein de fou rire pour la traduction, mélange de langue agréable. Très belle vue. Détente et calme assuré pour passer de bonnes vacances. Commodité pour aller sur Barcelone impeccable (Train). Je recommande !
Florian
2016-08-13T00:00:00Z
The family made us feel vey welcome. Their house is amazing, the view is incredible, the pool is the best. We absoulty loved it. The room is lovely the bed confortable. We could't have asked for more. Luis and his wife Maria and the sweetest granny made us feel like we were home. The location is perfect, it is so peaceful and just 20 min. away from Barcelona. We will come back for sure. Muchas gracias por todo y hasta luego!
Anja
2016-08-22T00:00:00Z
Kamertype
Privé Kamer
---
Type woning
Bed & Breakfast
---
Geschikt voor
2
---
Slaapkamers
Molins de Rei, Catalunya, Spanje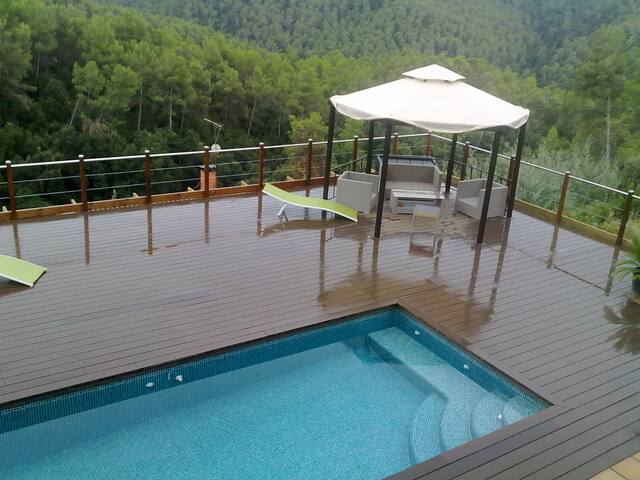 Is a perfect place to stay some days. Is near the train station and the bus stop, and also in the center of the village with shops and stuff. Near the mountain and 20 minutes by train from Barcelona.
Teresa es una anfitriona exelente.El bario muy tranquillo y cerca de Barcelona.En casa se encontra todo necesario.Recomiendo!
Vladislav
2016-08-18T00:00:00Z
I had a very nice stay at Teresa's flat. The room looks like on the picture. The bedroom was big and comfortable. Wi-fi was working perfectly. And there was a kitchen that I could use for breakfast and dinner. Apartmant have good location,near train station,3 min walk.Teresa is kind, helpful and very friendly!!!
Kostiantyn
2016-07-10T00:00:00Z
1) Great low budget option with direct metro line to Barcelona just 3 minutes walk away. 2) Clean bedroom, clean bedding, clean bathroom. Hot shower. 3) Strong WiFi signal in room. 4) Teresa was very responsive in communicating and helpful with suggestions when asked. 5) In a quiet town but with plenty of small cafes and a couple of decent food options. Calasanz is very good and open late, just a walk away. 6) There is a friendly cat.
Matt&Ashley
2016-11-24T00:00:00Z
Me sorprendió lo cerca que esta su casa de la estación de tren (200 metros) y el centro de Molins, también a un tiro de piedra. Teresa consiguió que me sintiese como en casa desde el primer momento y durante toda la semana que me acogió. Ordenada y limpia, cariñosa y comprensiva, con mucha calidad humana, que eso también es importante. Recomiendo esta opción encarecidamente.
Juan Manuel
2016-07-28T00:00:00Z
My stay at Teresa her place was wonderful! It's a bit outside of Barcelona!? Yes! When I booked her place I was in Barcelona city center with bad internet connection.. thinking I had booked within the Barcelona center! But whiles traveling towards her place I had to take the train and ended up a bit outside of the center. It's easy; Just go to the last metro station near to the train station, when you walk up you will see the train station!; Within 18 minutes you end up at a nice train station and there Teresa my host picked me up :) Molins de Rei is a very nice small city and really not that far from Barcelona! + not that many tourists (real Catalonia!). Teresa showed me around the apartment and went back to work (hard working girl for real!). In her guest room I slept like a baby. The next morning she left me a note in the kitchen; Good morning! Take whatever you want and enjoy the morning! :) (I did!), In the afternoon she had time left and we talked and she even brought me to the airport! She probably does not know it, but this part of the trip was just what I needed, not what I expected and just wonderful! Nice room, nice city, Teresa is a great host (she makes you feel at home)., Dankjewel Teresa!
Kim
2016-03-19T00:00:00Z
Kamertype
Privé Kamer
---
Type woning
Appartement
---
Geschikt voor
1
---
Slaapkamers
Molins de Rei, Catalunya, Spanje
Big room of 35 m2 with private bathroom in a marvelous design house with 850 m2 of garden, the room has a direct access to a big terrace. It is located at only 20 min of Plaza Catalunya. The ideal option to be in nature and close to Barcelona.
Luminous, quiet, in the middle of nature, and close to the city center.
If you like to wake up with the sound of birds, horses and dog you will love the neighborhood.
Accoglienza generosissima e gentile. Javier ha fatto il possibile per permetterci di arrivare nonostante i nostri problemi di orario, per rendere il nostro soggiorno comodo e confortevole, per essere a nostra disposizione pur nella massima discrezione. La casa se è possibile è anche migliore che nell'annuncio: davvero accogliente, pulita e luminosa. Credo che la posizione richieda un'auto, anche se in effetti non ci siamo informati sui mezzi pubblici perché non ne avevamo bisogno.
Francesca
2015-07-12T00:00:00Z
The host try's his best to help guests. The property is suitable for very fit people or those with a car as is quite remote. Buses are every hour on the hour from nearbye (although none in august) and its a 45 minute walk to La Floresta station. Some parts of the walk are steep going down and most of the walk is steep going up, Very scenic and lovely cat.
dawn
2016-08-06T00:00:00Z
I spent a week with my two children in BCN. We had rented a car so we decided not to stay downtown but outside of the city. In the context of this we could not find much better place than this one. Thank you Javier, great place, great service, hopefully see you again.
jiri
2016-08-20T00:00:00Z
Kamertype
Privé Kamer
---
Type woning
Huis
---
Geschikt voor
3
---
Slaapkamers
Molins de Rei, Catalonië, Spanje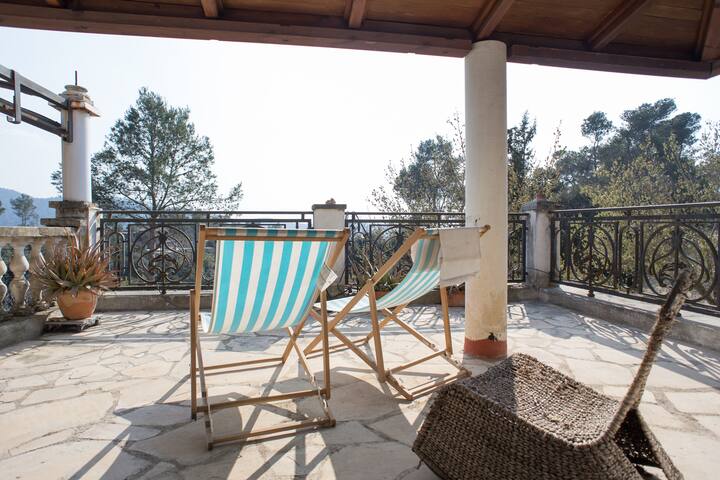 El Baix Llobregat - Airbnb
:
Gemiddeld

4.71

van

5

sterren op basis van

414

gastrecensies
1

–

18

van

18 Accommodaties
Voer datums in om de volledige tariefopbouw te zien. Er kunnen extra kosten zijn en er kunnen belastingen worden toegevoegd.