This cozy getaway blends into Lookout Mountain and emphasizes the beauty of the land inside and out. Every room draws natural light and calm. Convenient drive to all of Chattanooga's natural wonders, and a short distance from vibrant town life. We live on site, in a separate apartment downstairs
The cozy master bedroom holds a queen bed and golden sunset views over the bluff. The porch-side room soaks up the morning sun and has a collapsible daybed and a twin. The kitchen is spacious and bright with plenty of room and gadgets for even the most adventurous meals. The great-room is the airy hub of the cottage, perfect for board games, curling up to read, or a healthy dose of Netflix and chill. We can comfortably sleep 7, but could sleep more if necessary.
The cottage is located on Lookout Mountain's west brow. It is private and quiet here, but a convenient distance to all the fun that Chattanooga and Lookout Mountain have to offer.
I felt our stay at cloud land cottage would be extra special the moment I saw the 'Welcome Irvin and friends' sign at the main door. The hosts, Peter and Amy were extremely helpful and answered our every query in the run up to our stay. The cottage itself is brilliant with an unparalleled view of the valley. It's isolated from the hustle and bustle of Chattanooga yet not too far away from the attractions. The cottage had everything we needed right from the tastefully designed rooms to views. We wish we had more time here! Peter made time to come say hi and gave us a few tips on places to view the perfect sunset. I'm bringing my parents down to Tennessee when they visit me and no prizes for guessing where I'll be staying! Thanks a lot!
Irvin
2016-03-18T00:00:00Z
Peter and Amy Sue made us feel very welcome. The house was wonderful and the views were gorgeous. We really enjoyed our stay and would be happy to spend another vacation here.
Charisa
2016-10-23T00:00:00Z
This is a beautiful house, ideally located on top of Lookout Mountain with a gorgeous view of the valley from the back deck. The decor is so tastefully done and the hosts are friendly and helpful. I highly recommend this rental to anybody interested in a clean, bright, welcoming place to stay. An amazing experience.
Sara
2016-05-09T00:00:00Z
Cloudland Cottage was the perfect first Airbnb experience. Peter was prompt in communicating from the moment we made our reservation. The home is beautiful and was a great fit for our large family (of mostly small children)! Our children loved watching Netflix, the heated bathroom floors were an added bonus, and the kitchen had everything we needed for cooking. The view off the back deck was incredible! If we are in the area again, we wouldn't hesitate to book with them again.
John
2016-05-23T00:00:00Z
The cloud land cottage is the perfect getaway. The view is breathtaking. Everything we needed was there and local stores and shoppes are only a hop,skip and a jump away. We will definitely be back!
Evan
2016-11-23T00:00:00Z
Our stay was absolutely perfect! So close to awesome attractions and the house is so comfortable! Not to mention the beautiful views! Would recommend this beautiful home to anyone!
Taylor
2016-06-11T00:00:00Z
We were thrilled with our choice. We were a little further from downtown and St. Elmo than we expected, but the drive is easy and pretty. The house and the view are astounding, exceeding expectations. We loved the careful combinations of vintage, modern, and rustic furniture, and the kitchen stocked with all of the essentials. Every surface was clean. Our hosts even offered to coordinate delivery of local, farm-fresh eggs and bacon! This house is a calm oasis after hot days outdoors and crowded days at tourist spots. We hardly interacted with our hosts because everything was smooth and easy. When I had questions before our trip, they were answered promptly and gracefully. This was our first experience with Air BnB, and we were delighted.
Stephanie
2016-06-15T00:00:00Z
Spectacular view, comfortable bed, heated bathroom floor! I had a wonderful stay at the cottage. It was peaceful and clean and if I had wanted to cook, the kitchen has all the necessary amenities. Our hosts were communicative and thoughtful. A chalkboard out front with my name on it was welcoming us when we arrived. I would recommend the cottage to anyone visiting Chattanooga or the surrounding areas.
Cecelia
2017-01-12T00:00:00Z
Kamertype
Gehele woning/appartement
---
Type woning
Appartement
---
Geschikt voor
6
---
Slaapkamers
Lookout Mountain, Georgia, Verenigde Staten
We are located in West Brow GA, on beautiful Lookout Mountain. We are just off Scenic Parkway, Highway 189. It is about a 25 minute drive from downtown Chattanooga. We are on 5 acres of wooded land, with neighbors nearby but the home has a feeling of privacy. Our house next door is also a rental. Cloudland Canyon, Hang Gliding, Hiking, Lula Lake Land Trust (hiking), some bike trails are all within 10-20 miles.
This is an upstairs apartment that has an ample size bedroom/living room space, a full kitchen and a bathroom with a shower. It has a scenic view out the 2 windows and a deck available down stairs. There is a twin sofa bed available in the living room area.
There is a small market/gas station just a mile away on Scenic Highway going South. There are restaurants nearby-Canyon Grill is further down on Highway 189, Cafe on the Corner is in Lookout Mountain TN, about 15 minutes away. Trenton, GA is down the mountain about 15 minutes away with several large stores, pharmacies and some restaurants.
GREAT place for a quiet getaway. Bed is quite firm & very comfortable. Wood swing & fire pit is fantastic. Kitchen has everything you need, but we didn't use much. Limited cell phone reception ( you're on top of a mountain), but Wi-Fi reaches outside the apartment easily. Loved that we could look up & see the stars in the quiet of evening. Highly recommend & we will certainly be back!
Sharon
2017-03-27T00:00:00Z
Scenery here is beautiful. We had a peaceful stay. Thank you!
Harry
2017-03-28T00:00:00Z
I am familiar with Lookout Mountain and so I had an accurate idea of the location of this particular spot. If you would like to enjoy a tucked away spot away from traffic and somewhere you can relax as well as be nearby to great spots for walks and hiking, this is the place to head! My mom and I stayed quite comfortably for two nights in the garage apartment. The bigger house is a great choice for a group of about 8. Gracious and easygoing hosts! Highly recommend. I also hope to return!
Jessica
2017-03-05T00:00:00Z
The apartment was clean, quiet and relaxing. Cori was great about sending info and directions in advance.
Jenny
2017-03-31T00:00:00Z
We had a great time at this beautiful and quiet fully furnished apartment about 25 minute drive from Chattanooga. We were one of Cori and Tims' first air bnb guests (they just started posting beginning of march) and they were fabulous! Very friendly and accommodating with great attention to detail. Thanks!
Matt
2017-03-08T00:00:00Z
My husband and I stayed in the apartment above the garage, and cannot speak highly enough of how great it was! Everything was pristinely furnished, and very well kept. The linens were well stocked, as well as anything you could need to use to cook in the kitchen. If you're looking for AMAZING views, lookout mountain is the place! The house is secluded, yet just a short 25 minute drive down the mountain into Chattanooga. We could't get enough of the scenery! Cori and Tim responded very quickly when we needed them, and were so accommodating our entire stay. Very kind, genuine people! You will be so happy to stay with them, if you ever get the chance. Wonderful place!
Angela
2017-03-18T00:00:00Z
Comfortable and cozy place to stay while visiting Lookout Mountain and Chattanooga.
Karin
2017-04-08T00:00:00Z
Coris place was awesome! Such a cute apartment, everything was very clean and the space was cozy and comfortable. The bed was super comfortable and the heated blanket was a great asset. Although we didn't get to meet her check in was easy and she made sure we were good to go for the weekend. Would love to stay here again in the future and would recommend to everyone.
Gabby
2017-03-12T00:00:00Z
Kamertype
Gehele woning/appartement
---
Type woning
Appartement
---
Geschikt voor
3
---
Slaapkamers
Lookout Mountain, Georgia, Verenigde Staten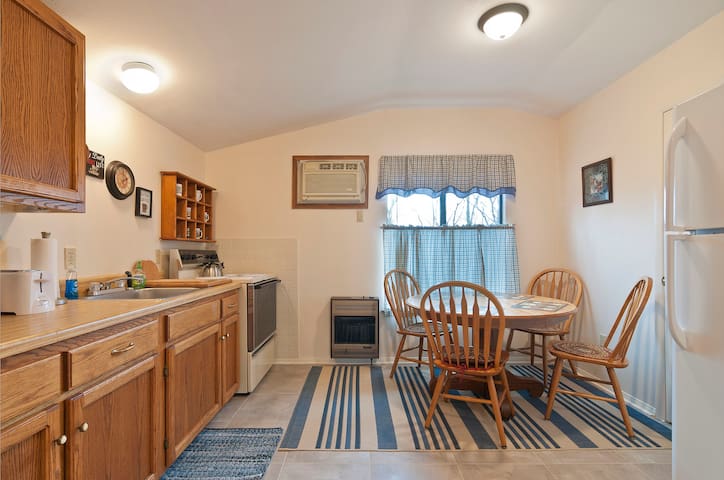 My place is close to restaurants and dining. You'll love my place because of the coziness. My place is good for couples, solo adventurers, and business travelers.
Offers private room with queen bed with access to second room with air mattress (queen) if needed. Guests use private guest bathroom outside of room. Common living room and kitchen.
Ricky's place was so nice and clean. I love his greeting note in my room. It makes me feel very welcome in the house. Thank you Ricky.
Andrew
2016-12-08T00:00:00Z
This was a wonderful, clean home. Ricky was a great host, and our room was prepared for our stay with water, fruit, and snacks. Thank you for making our quick drop into town a great experience.
Elise
2017-01-28T00:00:00Z
My son and I went to Rome, GA for four days to visit Berry College. We stayed at Ricky's house, which was about 15 minutes away from the college and is located in a tranquil and nice neighborhood close to stores and restaurants. We didn't have the opportunity to meet Ricky until the last day, but he always responded to our text messages quickly, he took care of us and made sure we were comfortable and we truly appreciated that. We enjoyed our stay at his home.
Patricia
2017-03-26T00:00:00Z
Ricky was friendly and his place is a good choice for a simple, quiet place to stay in Rome.
Kim
2017-03-10T00:00:00Z
Ricky was AMAZING!!! He made sure that everything was perfect for my stay!
Lauren
2016-11-19T00:00:00Z
Ricky is an excellent host, even though we did not speak the same language, he was very attentive and helpful, the place is clean and friendly, it was very good! Thank you.
Fabián
2017-02-01T00:00:00Z
We went to Berry College for a scholarship competition for our son. Ricky's place is very close to Berry and perfect for the overnight trip. The value is incredible, given that Rome, GA doesn't have a lot of options compared with Atlanta. The guest bathroom is right next to the guest bedroom, just two steps away. Ricky left us a full water carafe, Halo oranges, breakfast bars, chocolates and made sure we had what it took to get us out the door for our long day at the school. He was so quick to volunteer his help when we arrived in the cold night around 10 pm. He helped us get our van window back on track after it came off track and jammed--he was a lifesaver! The location is quietly residential, newer homes in a cul de sac. Our sleep was so easy and very comfortable in a new bed with soft sheets and pillows. Ricky is a great host. He was prompt and easy to connect with in the booking and arriving. We decided he is our "go to" if we make more trips to Rome.
Sue
2017-02-17T00:00:00Z
Ricky, Thank you for being a great, courteous and helpful host!!! Our stay was amazing. Ricky's house is very clean and cozy. This is my first time using airbnb and I will for sure be using it again! Thanks again for your hospitality Ricky!
Ashley
2016-11-29T00:00:00Z
Kamertype
Privé Kamer
---
Type woning
Appartement
---
Geschikt voor
2
---
Slaapkamers
Rome, Georgia, Verenigde Staten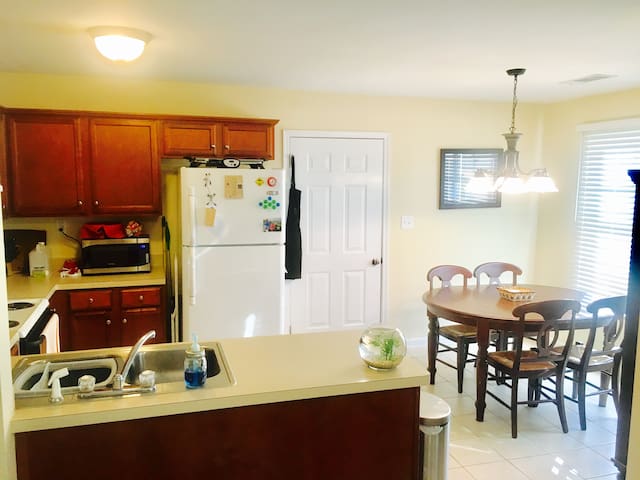 My place is close to restaurants and dining and family-friendly activities. You'll love my place because of the neighborhood, the comfy bed, the light, the kitchen, and the coziness. Good for couples, solo adventurers, and business travelers. Minutes from historic La Fayette, GA, on a country lane just off four-lane US 27 and less than 30 minutes from downtown Chattanooga and Lookout Mountain.
The lovely deck with a private garage make this place ideal for a personal retreat.
Located in a lovely rural village on a tree-shaded byway which many local people use for daily walks.
Beautiful neighborhood. David was a wonderful host.
Margarida
2016-11-28T00:00:00Z
I enjoyed fish at the pond. Very relaxing place
Andrew
2017-03-18T00:00:00Z
David is a gracious, caring, sensitive host. His country home is quite large, on 50 acres, with a long, gravel entrance driveway. It is very secluded, with no neighbors, due to the 50 acre-property. Because of this, it is very serene, quiet and pleasant. The in-law suite is large, immaculate, and furnished beautifully. The kitchen has everything needed - just bring your own food. What I especially liked is that there is a separate garage to the suite. David gave me the garage door opener to use, so that, once in the garage, I opened a door leading directly into the living room. I heartily recommend this bnb, without exception!
marie
2016-12-21T00:00:00Z
Communication was excellent, very prompt. The accommodation is in a lovely, quiet rural setting (we saw deer from the patio). Spotlessly clean, comfortable with everything we needed. Would recommend staying here.
Janine
2017-03-12T00:00:00Z
This is my second time staying at the in law suite and I definitely recommend the place. I like everything about it. The house sits on a lovely landscape and the street is very quiet and charming. The suite have everything you need and more. It is well decorated and have a nice view of the backyard. The place is also very comfortable and clean. David and Lem are great hosts and did make sure I had everything I needed.
Margarida
2017-02-05T00:00:00Z
Kamertype
Gehele woning/appartement
---
Type woning
Appartement
---
Geschikt voor
2
---
Slaapkamers
LaFayette, Georgia, Verenigde Staten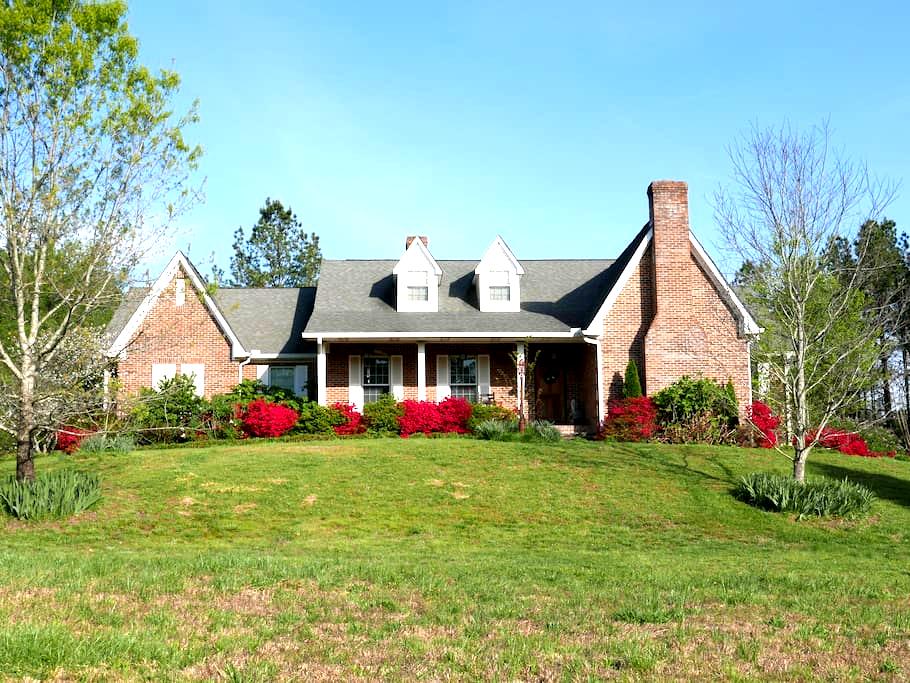 My place is close to hangliding, canoeing, hiking, biking, rock climbing, horseback riding, great views, restaurants and dining. You'll love my place because of the peace and quiet of the country yet only 15-20 minutes to downtown Chattanooga Tn, 15 minutes to Cloudland Canyon State Park, and 1/2 a mile to Lookout Mountain Flight Park. Bring your canoes or Kayaks and float Lookout Creek right from the apartment. We do utilize the barn/garage daily but in respectable hours. Horses allowed!!
We are just a short drive from almost any adventure your looking for so please ask and we'll be happy to give you information.
We are just about a 1/4 mile from lookout mountain flight park, so you can watch the hangliders flying over head and if you feel adventuresome head on over there and give it a try. Cloud land canyon is just a 10 minute drive away with disc golf, hiking, and mountain biking trails, theres even a trail just about 5 minutes away at the base of the mountain that you can take all the way up. Creek road where we are located is also a very popular route for road biking, its actually part of the route for the 3 mountain 3 state bike race that is held every spring.
My boyfriend and I chose Hali's home to spend our one year anniversary, and I can most definitely say we will be coming back! It was absolutely gorgeous and just enough out of the way from main cities that it was perfect for outdoors people like us. It was within reasonable drive of everything. Waking up early to the views outside the cottage was my favorite part of our entire trip. Hali and Zack were incredibly personable and sweet people, and just seemed like our kind of people personality wise. We are already planning another trip to head back that way and will most certainly be staying in Hali's cottage again.
Baleigh
2016-07-18T00:00:00Z
Hali and Zack were amazing hosts! They made us feel so welcomed from allowing us to walk their property down to the creek to asking if there was anything else we might need during our stay. We had our boat with us and Zack even asked if we wanted to use his shop when we had to tweak a few things on the motor. It is a little bit off the beaten path of the major roads but thats what we liked about it. The rental has everything we could need and the bed was super comfortable. Beautiful and cozy rental! Thank you for a great stay!
Jenabena2012
2016-10-10T00:00:00Z
This was the perfect place to stay! Not only were Hali and Zach perfect hosts but the house was secluded and on a lot of land so it felt like we were secluded enough. It was really close to lookout mountain which was an awesome hiking place and had great scenery. The house was equally close to downtown Chattanooga which was awesome. The house is also new so everything was working perfectly and it was super clean. Me and my 4 friends had a blast and definitely plan on returning!
Merissa
2016-07-24T00:00:00Z
Super cute place, well laid out and very comfortable. It was really close to the hang gliding school, which was extremely helpful for us. The hosts were very helpful and accommodating. We enjoyed having a stocked kitchen to work in, setting out our camp chairs to check out the stars, and taking walks from the property. The water was low when we were there, but I would definitely take advantage of the swimming opportunity when the creek is higher.
Jennifer
2016-09-25T00:00:00Z
We had a great time staying at Hali & Zack's place! It was very cute and cozy and very quiet. If you are looking for privacy, then you definitely get it here. We ran into Zack twice on the property as he was training for a triathlon and he was very welcoming and personable. We didn't have the pleasure of meeting Hali but we were in communication via text throughout the trip. She gave us a lot of recommendations for places to try while we were in town. The barn was awesome and we loved the decor. The pillows are to die for. There is a creek back behind the barn that you can swim/kayak in, we saw an otter swimming there! The Wi-Fi wasn't available during our stay but we were so busy we didn't really need it. Plus our cell service worked just fine out there when needed. Thanks again!
Samantha
2016-08-15T00:00:00Z
Hali and Zack went above and beyond. They are so welcoming and willing to do anything for their guest. Zack even took me and my friend Mountain biking, Provided wood for the fire pit. Our kids had a great experience, they had plenty of space to play. We can honestly say we had an awesome experience staying at their place. We will definitely recommend this place to any airbnb members :))
Darwin
2016-12-29T00:00:00Z
We absolutely loved staying at the loft. Hali and Zach made us feel very comfortable and at home. They made sure we had everything we needed for our stay and more. Our two younger boys wanted to swim so they allowed us to swim with them and their children in the creek in the back of the property. The loft itself was immaculate and far enough out of town to avoid traffic but near enough to do everything you want to do. The property is a beautiful parcel of land that you can watch the hang gliders from out of the Windows. We will definitely be back in the future
Cameron
2016-07-05T00:00:00Z
This is the perfect place to stay if you're looking for a beautiful, secluded, country get away. There is an amazing field and creek on the property that you have access to and our son was so super excited to feed the horse apples. My family has been looking for a vacation spot like this for a long time and we will definitely be going back!!!
Jennifer
2017-03-26T00:00:00Z
Kamertype
Gehele woning/appartement
---
Type woning
Appartement
---
Geschikt voor
4
---
Slaapkamers
Wildwood, Georgia, Verenigde Staten
Our suite has everything you need to relax and enjoy yourself as you explore scenic Prince Edward County. Just steps from vibrant Main Street Wellington.
Kamertype
Gehele woning/appartement
---
Type woning
Appartement
---
Geschikt voor
7
---
Slaapkamers
Trenton, Georgia, Verenigde Staten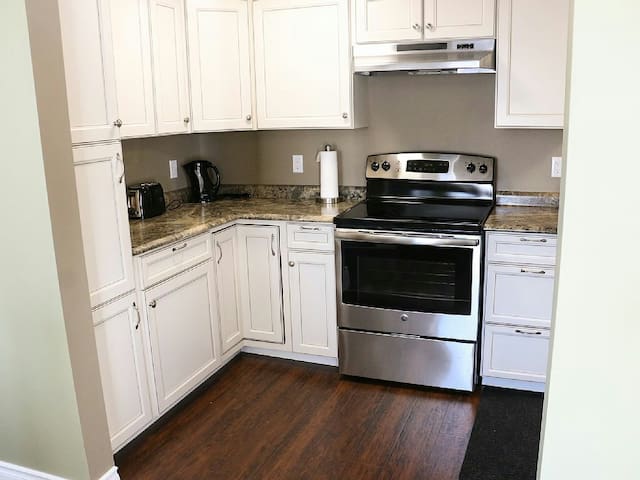 Mentone - Airbnb
:
Gemiddeld

4.96

van

5

sterren op basis van

136

gastrecensies
1

–

6

van

6 Appartementen te huur
Voer datums in om de volledige tariefopbouw te zien. Er kunnen extra kosten zijn en er kunnen belastingen worden toegevoegd.