Eigener Eingang 1 Schlafzimmer-Wohnung mit Küche, Bad. Downtown Medien mit einfachen Transport-Optionen. Auf der anderen Straßen von Philadelphia Trolley # 101. 3 Minuten zum Swathmore. 1 Meile von Medien / Elwyn Bahnhof. 15 Minuten Fahrt nach Philadelphia Flughafen.
Ein in-law-Suite der Raum in unserem Haus angebracht ist 375 Quadratmetern und hat alles, was Sie für einen angenehmen Aufenthalt. Wir gerade renoviert, so dass Sie, dass neue Gefühl dafür zu bekommen. Bereiten Sie eine Mahlzeit in der Küche, Wohnzimmer mit dem Fernseher oder schlafen spät in den halbfesten Matratze mit Kissen. Eine Königin Luftmatratze für zusätzliche Gäste zur Verfügung gestellt. Wir sind nur so nah an alles. Sie können rund um eine große Stadt zu Fuß oder mit den öffentlichen Verkehrsmitteln zu bekommen und in nur wenigen Minuten in Philadelphia sein. Die Wohnung ist ein in-law suite zum Haus angebracht, so dass Sie immer noch voller Privatsphäre haben, während super einfach Zugang zu einem Host zu haben, die bei der Reiseplanung oder frische Handtücher helfen können. Es liegt an dir! Wir sind rund, sondern auch verstehen zu helfen, wenn Sie Ihre eigene Zeit möchten.
We had a fantastic stay at Erin's. It was exactly as the pictures and description made it out to be - clean, cute, comfortable, and close to what we needed. The neighbourhood is absolutely stunning. We could have spent hours just walking and admiring homes if we had the time! Erin provides quick responses to messages, goes out of her way to make her guests comfortable (even texting us when the place was ready so we could check in at a more convenient time), and was available but let us do our own thing. We really had a great experience, and we would definitely go back if we are in the area again!
Ellery
2016-05-07T00:00:00Z
The experience was spectacular! The accommodations were great very clean I was honestly a little surprised by how well stocked the kitchen was. I loved the way it felt like your own separate apartment. Overall 4.5 out of 5. Would definitely stay again!
David
2015-03-09T00:00:00Z
This little apartment in Media is exactly as described. Practical, good, safe location with parking available. Close to shops and restaurants. Erin was prompt to bring a hair dryer when asked. I would definitely recommend this place for two.
Azalea
2015-06-09T00:00:00Z
Wonderful location. Close to downtown, a grocery store, a pharmacy & gas stations. Easy walking area. Great place to stay if you're heading to Media, PA!
Terry
2016-10-17T00:00:00Z
Staying in this apartment was a pleasure! Erin was a fantastic hostess who went out of her way to make us feel comfortable. The space was just the right size for our family of three, and was in the perfect location for access to many different places. We would definitely stay here again!
Alix
2015-05-05T00:00:00Z
The place was very clean, tidy and as described on posting. The host was friendly and responsive. Will definitely recommend this place. P.S. Super fast internet speed, which was a pleasant surprise =]
Cindy
2015-08-28T00:00:00Z
Apartment was exactly what our family needed on our vacation. Pictures and discription are 100% plus! It was so clean, and inviting, and we already are excited to book again soon. We loved how close it was to everything we needed, and we could walk to all of our favorite restaurants and attractions. Simply wonderful !
Tracy
2016-06-07T00:00:00Z
This was an excellent find! My boss comes in to town from time to time and enjoys making his own food and being able to walk to Trader Joes... I will def keep Erin's contact and go this route whenever possible. The space was spotless and she even got the sofa bed opened up and ready for his arrival with his kids. The personal touch and great communication were so appreciated :) and made the holiday brighter! Cheers.... Until the next time!
Lori
2015-11-27T00:00:00Z
Kamertype
Gehele woning/appartement
---
Type woning
Appartement
---
Geschikt voor
4
---
Slaapkamers
Media, Pennsylvania, Verenigde Staten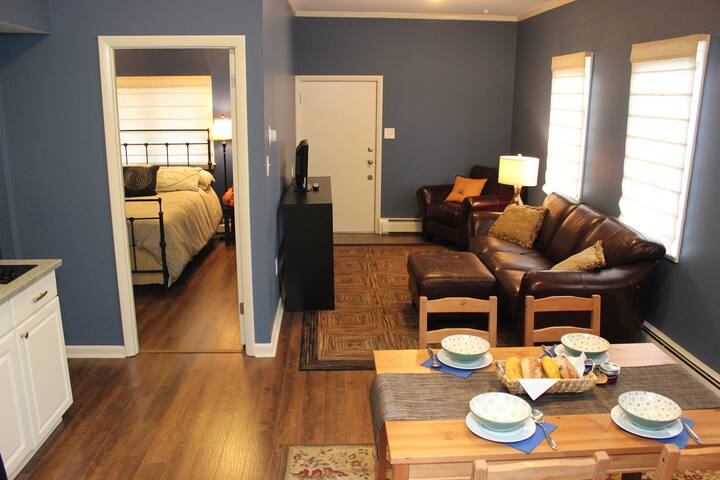 A quaint little town - quiet and close proximity to our friend's house. The neighbourhood felt like one of those sleepy towns in a grand novel. Patricia was very welcoming - she opened up her home to us - quiet, peaceful, homely in a very nice way. I wish we could have stayed longer and would definitely stay there should we visit Philadelphua again. Thank you - Patricia - for your warmth and your graciousness. Blessings to you. Hope you got a chance to take the kayaks out before it gets too cold. Cheryl
Cheryl
2016-10-09T00:00:00Z
Wonderful host. Charming house.
Don
2016-11-25T00:00:00Z
Patricia was very welcoming upon arrival and very accommodating throughout the whole stay even if was just for the night. She allowed me to utilize her fridge and oven for some food I had prepared for a House-Warming party. She is a pleasure to have a conversation with and would highly recommend anyone to stay with her! A true home away from home experience! Almost felt like I had known Patricia my whole life! If your looking to stay someplace close to Media, this is it!
Brett
2016-11-13T00:00:00Z
Patricia is a warm and welcoming host, making you that you feel at home right away. The house is charming and the location peaceful, and within walking distance of the town and the train into center city.
Sarah
2016-12-09T00:00:00Z
Great stay
Craig
2017-02-13T00:00:00Z
Very clean, quiet & close to the destinations I needed.
Chris
2017-03-25T00:00:00Z
Patricia was warm and welcoming. The space is comfy and in a great location.
Teresa
2017-04-09T00:00:00Z
Thank you so much Patricia, love your lovely house, your perfect breakfast, LOVE YOU! It was such a memorable stay with you.
Eddie
2017-03-05T00:00:00Z
Kamertype
Privé Kamer
---
Type woning
Stadswoning
---
Geschikt voor
2
---
Slaapkamers
Media, Pennsylvania, Verenigde Staten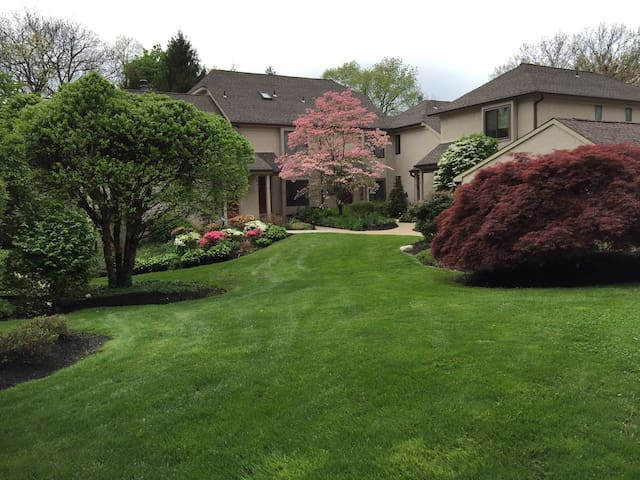 We attended a wedding in the area, and Linda and David were wonderful hosts for our short overnight stay. We communed with Batman the Cat, had a peaceful breakfast with fresh eggs, and met the alpacas and goats before we left. It was exactly the tranquil stay we wanted. Thanks!
Diana
2016-08-28T00:00:00Z
Linda & David were very warm and so interesting! This is definitely a working farm. They operate a small industry out of the products of nature on their farm using wool, wood, plants and animals. We ended up arriving late and stayed only one night so we didn't have much time there. I think we'll be back!
Alice
2016-12-30T00:00:00Z
We arrived at the Fiber Farm and were warmly welcomed by David, Linda, Batman, their cat, the dogs, alpacas and goats. It was a great and relaxing experience. We traveled there to attend a graduation which meant that we had to leave early in the morning. We look forward spending more time on the farm in the future. We highly recommend the Fiber Farm.
Adam
2016-05-15T00:00:00Z
We really enjoyed meeting Linda, David and their family. They are so warm and friendly and made us feel right at home. We loved being invited to the Friday night bonfire. They took time to chat with us and we so enjoyed getting to know them. I loved the clawed foot bathtub and being in the farm experience. We are looking forward to our next stay with them.
Robin
2016-05-23T00:00:00Z
Linda and David are lovely people and their place is a tranquil slice of verdant heaven.
Les
2016-08-19T00:00:00Z
Linda and David were excellent hosts. The house is located in a very peaceful setting, you can forget how close you are to downtown Philadelphia. I would definitely recommend staying at here!
Chris
2016-09-07T00:00:00Z
This is less a review than a thank you card for Linda, whom we have stayed with before, for being so gracious and flexible when my situation changed suddenly and at the last minute. We ended up not staying with Linda this time, but look forward to doing so the next time we come to Media!
Tim
2016-10-29T00:00:00Z
Linda and David (and their visiting grandsons!) were incredibly welcoming and made us feel very comfortable from the moment we arrived -- in fact before we arrived, they were very helpful in helping us get there, as it turns out (SENSITIVE CONTENTS HIDDEN) Maps was about a half mile off with their address. The house has a great, lived-in feel and the property is so calming -- they have really mastered comfort and we appreciated every minute of our stay!
Elizabeth
2016-07-25T00:00:00Z
Kamertype
Privé Kamer
---
Type woning
Huis
---
Geschikt voor
2
---
Slaapkamers
Media, Pennsylvania, Verenigde Staten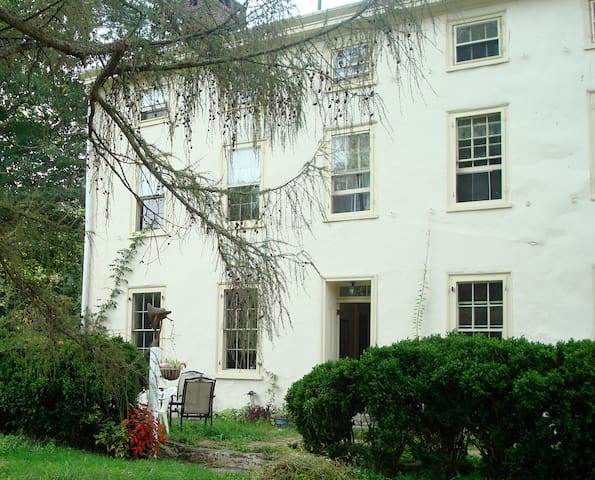 chambre Nord-face dans une maison coloniale belle et confortable construit en 1939. Stately vieux tilleul en dehors de la fenêtre. Vue du jardin. Très court (90 secondes!) À pied de la gare de Moylan-Rose Valley sur la ligne ferroviaire régionale Media-Elwyn. Huit minutes de route de Swarthmore College. Parfait pour un week-end à Philadelphie historique ou les délices de la Brandywine Valley.
Très proche de Media, PA et juste un saut de la gare ferroviaire régionale Media-Elwyn à Moylan-Rose Valley.
Établi, rue calme et résidentielle avec des maisons conçues par des architectes Rose Valley Prix, Walter Prix et Billy Price. arbres et beaux jardins.
Christine met me as I was locating her house. She was very kind and showed me right to the room. The door to the room didn't fully latch which was a little unsettling but I was very comfortable in the room. Also, there was cat hair and stains on the sheets but she assured me they were clean. I was taken a little aback by that but let it slide. She greeted me in the morning as I was leaving and had a plate of scones available to myself and other guests. Again, she was a very kind host but I'm not sure I would stay there again.
Katie
2015-06-29T00:00:00Z
Christine's home is a lovely oasis, away from the bustle of Philly, but a very easy train commute to down town. My room was comfortable, bed was excellent, and the bathroom was right next door. The home is wood floors throughout, which is great for people with allergies, like me. Beautiful garden outside to wander in and smell flowers and herbs. I so appreciate Christine's communication before and during my stay. At the time of my visit, the trains were disrupted greatly, with a shuttle bus replacing part of the journey. She shared all of this with me, including the longer commute time, so I could make other arrangements if it didn't work for me. I am so very glad I stayed at Christine's house. It made my week in Philly even more special.
Emily
2016-07-29T00:00:00Z
The location was very convenient for our visits with family members in the area.
Patricia
2016-06-13T00:00:00Z
Christine's home is set in a little slice of heaven. She has a beautiful garden behind the house filled with zinnias and nasturtiums. Her home is on a quiet street very near the local commuter line. Christine greeted us as we arrived late at night, and could not have been kinder or more accomodating. Our room was large and bright and had a marvelous collection of books. She was quite helpful with our negotiating the Swarthmore campus.
Elizabeth
2015-08-27T00:00:00Z
Very comfortable 3-night stay in a quiet neighborhood. Both bedroom and bathroom exceeded any expectations I would have brought to a traditional hotel. Christine was completely flexible with my arrival and departure times. Additionally, she made some excellent suggestions for dining and entertainment in the area. the location is across the street from a train providing easy access to downtown Philadelphia and connections to the airport. It also within safe and easy walking distance of downtown Media with myriad eating choices across much of the day. If I travel to Media in the future, I will absolutely check into staying here again.
R Gayan
2016-10-31T00:00:00Z
Christine is a very kind and welcoming host! The room has plenty of room for resting and relaxing and the two full bathrooms are nearby. The bed is incredibly comfortable! The location is quiet, while just across the street from a commuter rail that will take you into Philadelphia. It is also less than a mile to downtown Media with Trader Joes, Acme, and numerous restaurants.
Janet
2017-03-06T00:00:00Z
We spent two nights at christine's house with a friend and we don't regret this choice ! She is very friendly and make everything to make you feel like you are at home, she was at the train station when we arrived, show us the way, the train station is very close to the house and take you directly to the center of the city, she proposed us some breakfast (by the way your cake was soooooo good), when we were come back of our day she took some times to speak with us, but also respect your privacy ! concerning the house, this is very clean, the bed is comfortable, we were so tired and sleep very well. i can't say negativ thing about this week end. It was our first airbnb experience and for sure we will do that again ! thank´s again for your kindness et your time Christine, hope to see you next time I will be in Philly !
Emma
2015-09-07T00:00:00Z
Christine was a wonderful host! Very responsive. The home was kept clean and tidy and I felt very safe and comfortable. Amazing location close to shops and restaurants. The train station is across the street but I never heard it. The bed is very comfortable and cozy pillows and bedding was provided. Thank you Christine for a wonderful stay!
Kimberly
2016-09-19T00:00:00Z
Kamertype
Privé Kamer
---
Type woning
Huis
---
Geschikt voor
2
---
Slaapkamers
Media, Pennsylvania, Verenigde Staten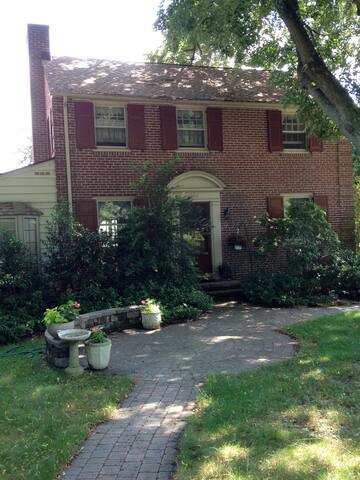 Wonderful stay with the Woody's. Dan's spicy chicken curry really hit the spot after a long workout.
Scott
2016-04-07T00:00:00Z
Kamertype
Privé Kamer
---
Type woning
Huis
---
Geschikt voor
1
---
Slaapkamers
Media, Pennsylvania, Verenigde Staten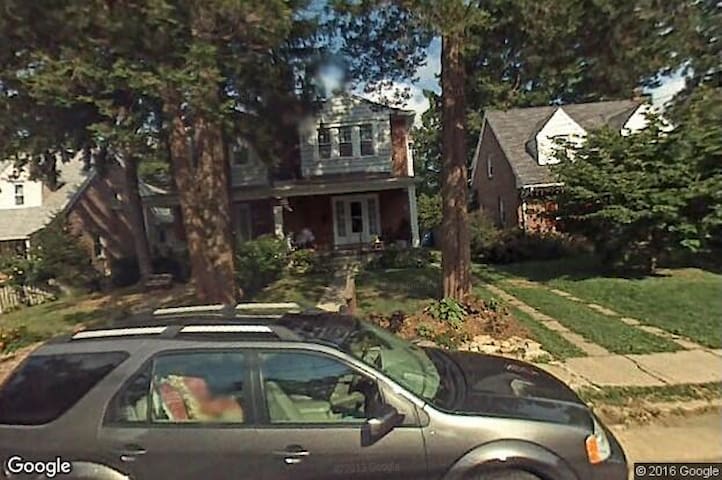 Very easy to get to from the main highway. Very clean place and spacious bedroom with private bath. Even offered shampoo etc
Maureen
2017-02-12T00:00:00Z
I have stayed at Jumin's before. Everything was good as usual.
David
2016-01-04T00:00:00Z
Junmin was absent during my stay, but left clear instructions. He provided a nice & clean space, a bowl of snacks, a comfortable bed, and clean towels & the like. All in all, it was a very good experience, and at a great price.
Peter
2015-04-19T00:00:00Z
Mon hôte m'a tenu au courant des modalités de séjour chez lui. Il m'a spontanément fourni des renseignements à propos des transporteurs publics de la région et suggéré des endroits très intéressants à visiter qui étaient pertinents avec le but de mon voyage . Le logement était correct . Le quartier était chic et paisible . Durant nos conversations , mon hôte était attentif , ouvert ,spontané et agréable . Si j'ai à retourner dans cette région plus tard , j'envisage de retourner chez mon hôte. Je recommande mon hôte et le logement offert.
Jean
2015-06-30T00:00:00Z
Junmin was extremely responsive from the very beginning and allowed me to stay in his lovely home at last-minute notice. I had also never tried Airbnb before, but this was a great first experience! I used to live in Media, and I knew exactly where this home was located-- a very nice neighborhood close to town but away from the busy roads. Junmin asked me before accepting the reservation if I still wanted to come because they were having a problem with their central heating unit. I decided to come still, and Junmin and his gracious partner stayed an extra day to figure out the heating system, and went out and bought me another space heater in the meantime. I was toasty the whole time and had a very comfortable stay--nice bed, nice bathroom (not shown in pictures, but it is private and looks newly renovated), very clean, and there was even oatmeal and other snacks left for breakfast. Despite this, Junmin still offered me a discount on the original price due to the heating issues-- I plan to come back to stay here again in the springtime! Overall, I could not have asked for a better experience--kind, hospitable hosts, clean place, perfect for one or two people, and a great value for your stay. If you're coming to Everybody's Hometown, this is a great choice.
Claire
2016-12-22T00:00:00Z
This was my second time staying here and everything was great! Junmin's place is very nice and everything is as shown. Definitely recommend!
Evan
2017-01-01T00:00:00Z
Junmin Liu was very hospitable. The property was clean, as advertised and in a safe neighborhood. I would recommend staying at this property.
David
2015-06-16T00:00:00Z
Junmin is a kind and considerate, the type of host we all look for on Airbnb
Richard
2016-01-20T00:00:00Z
Kamertype
Privé Kamer
---
Type woning
Huis
---
Geschikt voor
2
---
Slaapkamers
Media, Pennsylvania, Verenigde Staten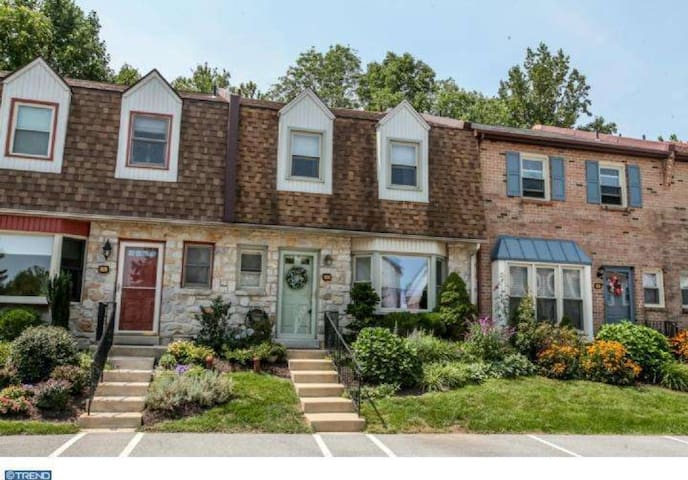 Black Oak Farm est une ancienne ferme rénovée de 200 ans. Idéalement situé entre médias PA et Newtown Square, PA. Détendez-vous près de la piscine, à pied ou à vélo sur les sentiers de Ridley Creek State Park ou assis sur le porche couvert et regarder les oiseaux. lecteur rapide ou Uber aux médias, PA, qui dispose de 25 divers restaurants, boutiques de charme et une salle de spectacle. Ma place est bonne pour les couples et les voyageurs d'affaires. Facile d'accès à I-95, l'aéroport de Philadelphie (20 min.), et de la gare Media.
Christine made me feel very welcomed in her home! The room was prefect and the bed is very comfortable!
Alicia
2016-09-01T00:00:00Z
We had a wonderful time in this beautiful place. Very kind and hospitable owners. The pool was a blast and nearby Media has many options for dinner. We would love to go back.
Adriana
2016-07-25T00:00:00Z
Christine and her husband were wonderful hosts. They were very welcoming and helpful with things to do around the area -supplying us with directions and even umbrellas due to threatening showers. Media is a lovely town with a great downtown - full of interesting stores and plenty of restaurants. Philly was only a 30 minute train ride from the neighboring town of Swarthmore. Coffee and a delicious light breakfast was a very nice addition . We were able to use the kitchen fridge for beverages. The pool was perfect. Would highly recommen(URL HIDDEN) Paula Aug 8
paula
2016-08-07T00:00:00Z
My boyfriend and I stayed for 2 nights and it was exactly as described. the pool was beautiful and we had an amazing breakfast prepared for us on the first morning. Definitely a good place to stay!
Katie
2016-09-19T00:00:00Z
This place is a dream come true! I visited for a quiet weekend escape and could not have been happier. The location is idyllic, the hosts are terrific and the pool was a wonderful addition! Communication with Chris was a breeze. Truly felt like a perfect farm weekend away from the big city. Can't wait to go back for another relaxing trip!
Lauren
2016-06-27T00:00:00Z
Christine, quickly approved our request to stay at her farmette. She contacted us the morning of our arrival requesting our arrival time. The neighborhood was located in a beautiful rolling hills neighborhood with thick tree canopies. Christine was present when we arrived and was very gracious. The setting is breathtaking, a old stone farm house with modern conveniences. The bed was very comfortable and the attached bathroom had everything you need, including a clean hot shower. Christine was a was a perfect host, providing us guidance for local restaurants in the quaint town of Media, PA and various highlights in the area including Longwood Gardens and Winterthur. The pool was a perfect place to relax after a day of exploring. We were impressed with Christine's piece of paradise that was within driving distance of Philadelphia.
James
2016-07-22T00:00:00Z
Wow! What a great experience we had staying at Christine's beautiful historic house. Of all the Airbnb places we have stayed in the world Christine is easily the best host we have encountered. Very friendly, the room was immaculate, beach towels for the pool, bottled water in room, fresh scones, coffee and fruit for breakfast, fibre wifi, the list goes on. We ended up staying an extra night it was so good. Great relaxing location that is 30min drive to Philadelphia and 5min to small town Media. Highly recommended.
Logan
2016-08-16T00:00:00Z
The listing was as described. Christine and her husband was very friendly and inviting.
richard
2016-09-26T00:00:00Z
Kamertype
Privé Kamer
---
Type woning
Huis
---
Geschikt voor
2
---
Slaapkamers
Media, Pennsylvania, Verenigde Staten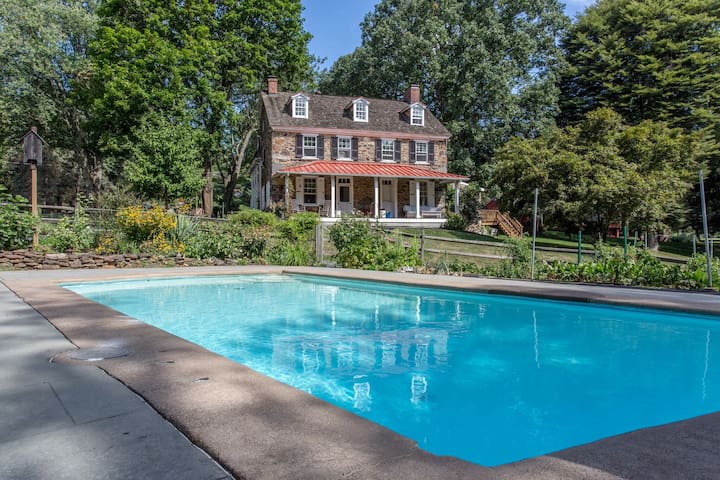 retiro urbano bela fronteira com dois pequenos preserva a natureza. Trilhar os caminhos de pé ao longo do córrego sinuoso. Relax-se enroscar com um livro e lareira a lenha. cozinha totalmente funcional, estacionamento fora da rua, e uma cama queen high-end! Estação de comboios / Main St Media-5 minutos; Philadelphia-20min; aeroporto-15mins; Swarthmore-10
Bem-vindo ao nosso belo retiro em uma copa de verde. Wingover situado ao longo Ridely Creek e os santuários da vida selvagem Saul e Longpoint. Relaxe longe de tudo, então pop em mídia centro da cidade para desfrutar de uma refeição num dos nossos restaurantes snazzy locais ou zip em Filadélfia. e Rose Valley piscina passa disponíveis por favor consulte. Estamos também a uma curta distância do Old Mill de Rose Valley e do teatro histórico Hedgerow. Nós talvez capaz de facilitar o check-in antecipado / tarde ou saída do estabelecimento.
Para obter mais informações sobre o bairro olhar para cima Wikipedia Rose Valley PA, o Museu Rose Valley e Hedgerow Theater
Aaron is a wonderful host. Very gracious and accomodating.
Peggy
2015-11-27T00:00:00Z
This is the most charming place to stay in an overall charming village, a forested nook with fern lined slate terraces near an old mill now an inn. One morning I walked the circle path in the woods behind the inn at sunrise crossing a stone footbridge over the creek. One evening I curled up with a book by a blazing fire. Aaron is a gracious host who proactively checked to see I had everything I needed. Natasha provided me fresh rosemary from her garden for the dinner I cooked in their well-stocked kitchen. Philly is 30 minutes away by car. You will enjoy your stay here.
Francesca
2015-10-19T00:00:00Z
My stay here was amazing! I recently started grad school in the area, and the apartment very peaceful, relaxing, and exactly what I needed after a long day of class. Aaron and his family are very nice and accommodating! I will definitely be coming back!
Stephanie
2016-09-11T00:00:00Z
The apartment was great - located in a beautiful wooded setting. Aaron was helpful and available too. I would definitely return.
Beth
2015-10-26T00:00:00Z
This was a very welcoming setting and the hosts were extremely nice. Great vacation spot with lots of good trails.
Kari
2015-12-23T00:00:00Z
We thoroughly enjoyed our experience at Aaron's Creekside Apartment. He got us started off on the right foot through emails, texts, and calls. We enjoyed the friendly pets! There were few things we needed and what was lacking was provided when asked. A few decor updates, etc. would make the interior even more appealing. The driveway was curved and steep so difficult to manipulate with our truck. We walked down the hill to surrounding property to see and access the trail and creek. Compared to the limited accommodations needed to visit our family in the area, the apartment was IDEAL. We even had our 3 year old grandson stay one night and he enjoyed it, too. Media is a GREAT little town and has trains and trolleys to go elsewhere if needed.
TL
2016-08-30T00:00:00Z
Quiet, spacious, fascinating house and neighborhood. Shopping is under two miles away, but you feel immersed in history and nature.
Janet
2017-01-01T00:00:00Z
Hosts are very nice and responsive, with lots of valuable information about the local area and Philly. Apartment is the lower portion of their charming house and was clean and well appointed. Extra touches like board games and organic products were included. There is wonderful old mill adjacent to the property with a creek and nature trail. Media is a small town with ample parking and amenities and has easy tram access to Philadelphia. Tram station is within walking distance but has parking for $1/day. Perfect alternative to a stay in the city!
Ryan
2015-08-18T00:00:00Z
Kamertype
Gehele woning/appartement
---
Type woning
Appartement
---
Geschikt voor
4
---
Slaapkamers
Media, Pennsylvania, Verenigde Staten
Chambre privée dans une maison spacieuse et accueillante dans un quartier tranquille de la banlieue. Chambre partagée familiale, cuisine et coin repas, salle à manger, buanderie, salon formel, espace bureau et salle de jeux. cour arrière privée et grande terrasse à 2 niveaux, avec piscine disponibles en été. Bon pour les couples, les aventuriers solo, les voyageurs d'affaires, les familles et les parents qui visitent leurs enfants des collèges! 2e BR disponibles pour les couples voyageant ensemble ou les familles. berceau Portable, chaise haute.
coloniale spacieuse sur un terrain clos de 1 acre. Cuisine et salle familiale ouvre sur une terrasse à 2 niveaux avec barbecue, foyer et meubles de patio pour se détendre. En été, profiter d'un plongeon dans la piscine chauffée ou sieste dans un hamac. Siroter un café le matin ou un thé glacé rafraîchissant au coucher du soleil et profiter de la faune locale. Sur la prémisse est une salle de jeux du sous-sol, piscine (en saison), barbecue, Internet, terrasse, blanchisserie, parking. Maison spacieuse et lumineuse dans une bordée d'arbres et quartier calme, hors des routes principales, mais idéalement situé à proximité I95 et Route 476. Rue et parking allée disponibles. Un espace disponible pour les séjours> 7 jours de garage. L'emplacement est de 1,5 heures des plages NJ, 1 heure de Atlantic City, à 30 minutes de King of Prussia Mall et à 20 minutes de l'impôt sur Free shopping dans le Delaware et une heure de Lancaster (Amish).
Maison spacieuse et lumineuse dans une bordée d'arbres et tranquille, hors des routes principales, mais idéalement situé à proximité I95 et Route 476, les transports en commun et de l'aéroport. Médias arrondissement remonte à 1600 et William Penn. Il y a beaucoup d'endroits historiques dans la région. State Street, des médias accueille souvent des festivals locaux. Les marchés de producteurs sont abondants.
Margie is a super nice host, her place is absolutely clean and neat, She also has two beautiful dogs, Storm and Lexi, they are amazing and kind as two children. I'm sure you'll have fun with this big family during your stay!
Zhi
2017-03-12T00:00:00Z
Kamertype
Privé Kamer
---
Type woning
Bed & Breakfast
---
Geschikt voor
2
---
Slaapkamers
Media, Pennsylvania, Verenigde Staten
Tres habitaciones privadas están disponibles. Cama matrimonial. cama de tamaño completo. También tamaño completo cama futón. Baño privado con ducha y bañera. También privada 1/2 baño. El precio es por habitación. Descuento disponible para múltiples habitaciones de una milla de medios de la AP.
Privada porche y patio con parrilla para las noches de verano precioso. La cocina tiene encimeras de cocina viking de granito y todas las comodidades. Televisor de pantalla plana en la sala de estar cómoda abierto para el entretenimiento nocturno incluye cable, Netflix, Hulu Amazon.Central aire acondicionado. Un camino circular por el aparcamiento fuera de la calle.
barrio tranquilo. Un santuario para las aves y para usted!
Loved Joanne's place and Joanne is a great host. Media is a beautiful little town, very safe, quiet, and close to everything.
Ginny
2016-10-01T00:00:00Z
My husband and I are in love with Joanne's place. It's large, roomy, and has all of the comforts of home. The perennial garden in the backyard with all of the various blooming flowers is like having your own nature preserve right there to drink your coffe and relax and enjoy. The Media area is really a nice safe area and just a short ride to Philly or out to sight seeing spots in PA.
Ginny
2016-06-13T00:00:00Z
We had a wonderful stay with Joane. Her home is comfortable and charming, with a beautiful garden in a quiet neighborhood. It was very peaceful yet only minutes to everywhere we wanted to go in Media. Although we did not meet Joane, she communicated well via text and responded to questions promptly. We would definitely recommend in the highest terms.
Miriam
2016-06-16T00:00:00Z
Joanne has been an awesome host and we extended our stay several times. Anything you need, Joanne responds quickly and is extremely helpful! The Media area is lovely and her home is in a quiet, beautiful, safe neighborhood and it's just a short drive to Philly or Amish Country or just about any other sites in the area that you might want to see. Don't miss Longwood Gardens and Linvilla Orchards!
Ginny
2016-09-01T00:00:00Z
Joanne was great made sure we settled in with no problems. The house is beautiful and with lots of light. Good location. Enjoyed going to downtown Media.
T. J.
2017-03-21T00:00:00Z
My stay with Joanne was delightful. She accommodated me in a pinch. She was very laid back and friendly. Her home was lovely, the bed and room just right and the shower was nice and hot. Her friends were lovely too. She lives close by to historical town with lots of shops and restaurants.
Patricia
2017-01-13T00:00:00Z
Kamertype
Privé Kamer
---
Type woning
Huis
---
Geschikt voor
6
---
Slaapkamers
Media, Pennsylvania, Verenigde Staten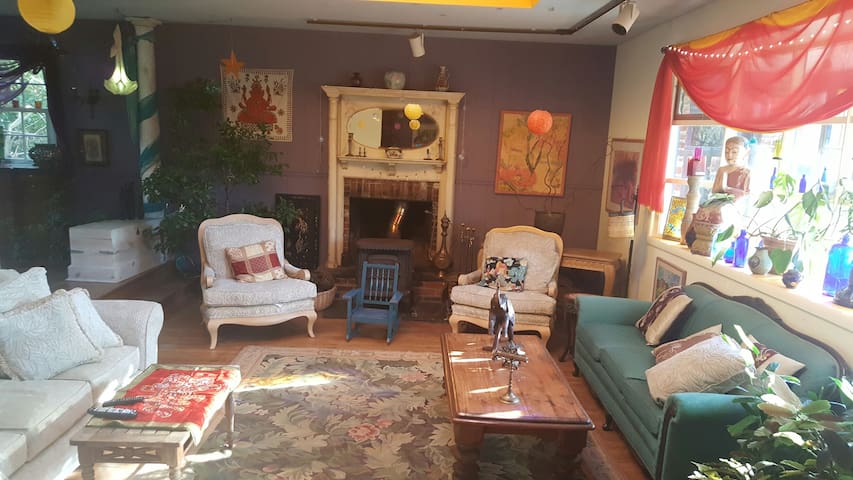 Comfortable modern "row home." Quiet neighborhood, conveniently located. Extremely easy working with Gretchen--very welcoming. Perfect for our family visit to my hometown for Thanksgiving.
Randy
2016-11-26T00:00:00Z
We went to Philly for a long weekend to celebrate my mother in laws birthday. We were pleasantly surprised on arrival at the size and cleanliness of the space and loved the surrounding area. Media business district is a short walk away and there are plenty of restaurants to eat and shops to browse. Gretchen was very helpful in making sure we knew the best rated places to eat and things to do in the surrounding area. After a busy day visiting and doing chores it was nice, as the weather was cooling off , to come home and eat take out, watch tv, and warm by the fire. (we are Floridians so it doesn't need to be that cold) ;) I would definitely return to this place if it is listed next year. If there was one recommendation to make my husband would have more color in the rooms. All in all it was an excellent experience ! thanks Gretchen! PS thanks for being so understanding about the key...that son of mine... :/
Geri
2016-10-25T00:00:00Z
Gretchen called to make sure that we arrived safely. They also left some local tasty cakes for us upon arrival.
Linda
2016-11-13T00:00:00Z
Great place close to everything Media has to offer. Hosts were very good with communication. Highly recommend!
John
2016-10-30T00:00:00Z
Kamertype
Gehele woning/appartement
---
Type woning
Stadswoning
---
Geschikt voor
6
---
Slaapkamers
Media, Pennsylvania, Verenigde Staten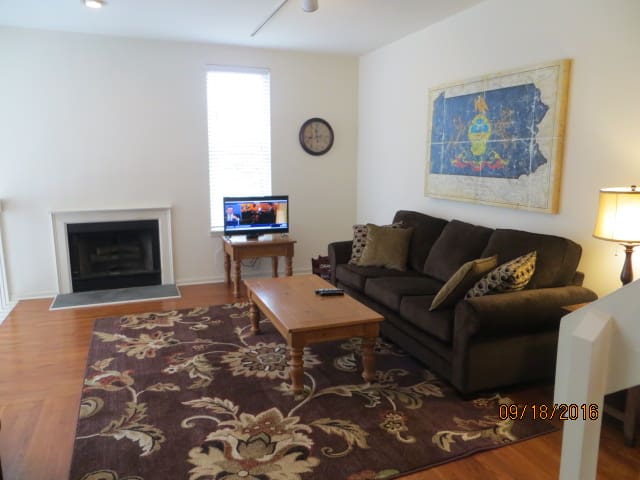 Hallie是个非常好客的房主,在我们入住前跟我们及时沟通,再三确认我们需要的东西。我们到之前帮我们把灯打开。房子也很惊喜,有四个卧室加一个书房,两个厕所。我们两家人住的很宽敞。非常好的一次经历,强烈推荐Hallie的房子。
li
2015-09-26T00:00:00Z
Kamertype
Gehele woning/appartement
---
Type woning
Huis
---
Geschikt voor
8
---
Slaapkamers
Media, Pennsylvania, Verenigde Staten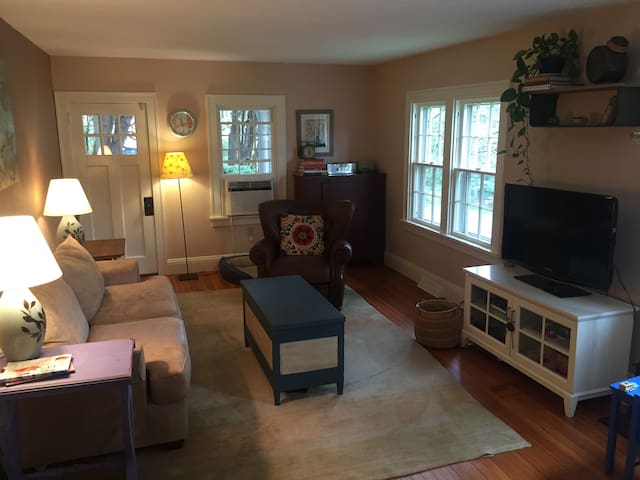 Denne smukke hjem er i et roligt forstæder kvarter mindre end en sømil væk fra Elwyn Station. Det vil tage dig direkte ind Bymidten, Philadelphia. Plads til 7 gæster. 4 soveværelser 2 dronning senge, 1 luftmadras, og 1 krybbe. 2,5 bade. Ingen husdyr eller rygning tilladt. 3 nat minimum ophold
Kamertype
Gehele woning/appartement
---
Type woning
Huis
---
Geschikt voor
7
---
Slaapkamers
Media, Pennsylvania, Verenigde Staten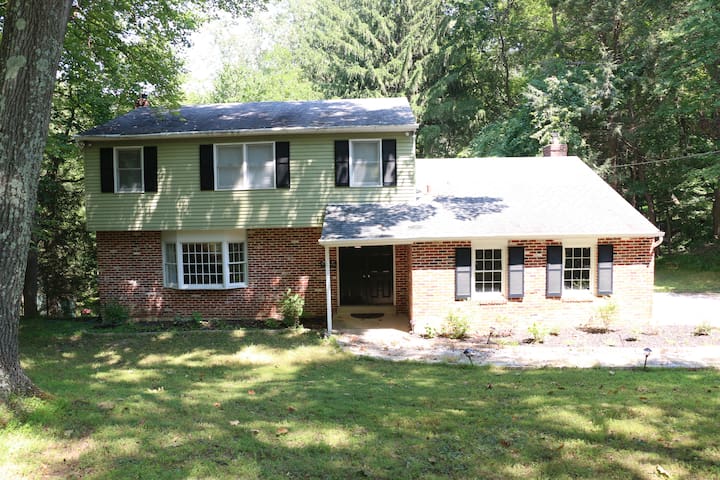 I loved the property, the isolation, and the proximity to local towns. Ridley Creek Park is a wonderful plus to staying here, just a half mile down the road. Chris is a great host!
Luke
2016-09-12T00:00:00Z
Kamertype
Privé Kamer
---
Type woning
Huis
---
Geschikt voor
2
---
Slaapkamers
Media, Pennsylvania, Verenigde Staten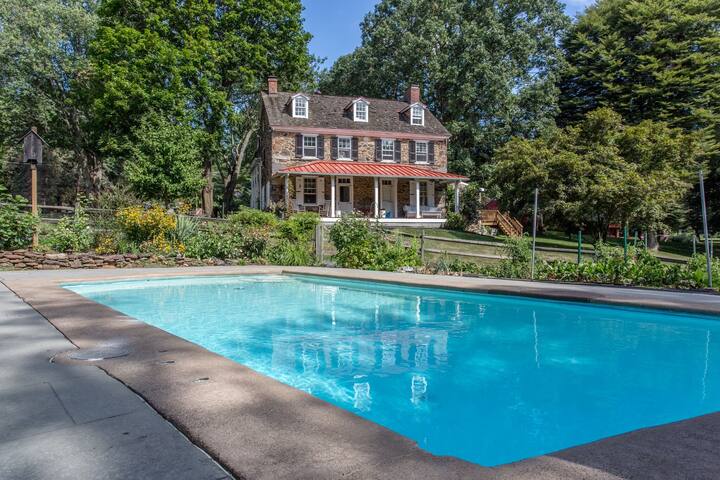 Kamertype
Gehele woning/appartement
---
Type woning
Huis
---
Geschikt voor
5
---
Slaapkamers
Media, Pennsylvania, Verenigde Staten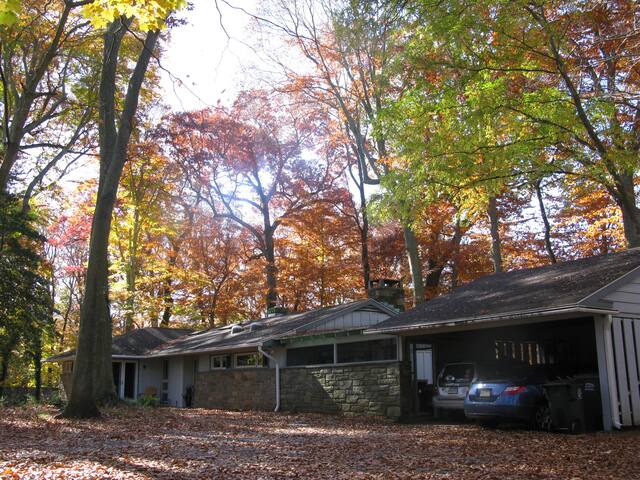 Kamertype
Gehele woning/appartement
---
Type woning
Appartement
---
Geschikt voor
3
---
Slaapkamers
Media, Pennsylvania, Verenigde Staten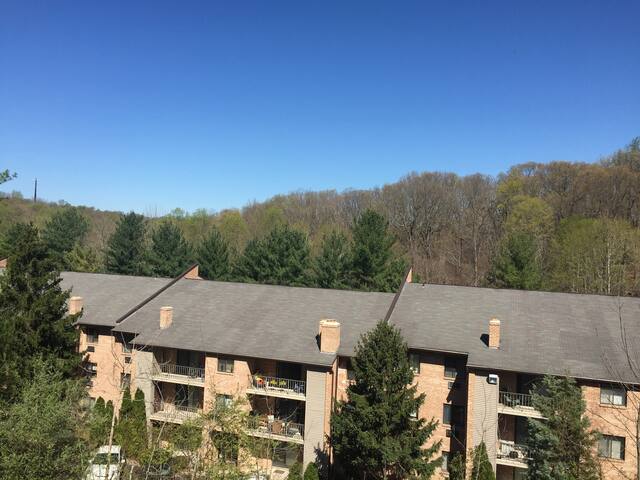 1

–

18

van

129 Accommodaties
Voer datums in om de volledige tariefopbouw te zien. Er kunnen extra kosten zijn en er kunnen belastingen worden toegevoegd.