Een historisch huis met mooie tuin en wrap around veranda. De kamers zijn mooi ingericht en de gasten genieten van een heerlijk ontbijt. Gelegen nabij het centrum van de stad en dicht bij de trein en bus service. Op de Santa Fe trail en in de buurt wandelen en wandeltocht.
Antieke meubels, badjassen, wifi, wasserette beschikbaar, koelkast en magnetron, extra beschikbaar.
Omgeven door prachtige kerken op drie hoeken, uitzicht op de voet van de Rocky Mountains ligt in het centrum van de stad en op korte loopafstand van restaurants, musea, wandelpaden, theaters en historische wandeltocht maken.
We will never forget Barbara's hospitality and delicious breakfast. Had wonderful conversations with her which both me and my husband enjoyed. Since it is a historic home, the guests share a bathroom, but in our room we had a sink and shower, which was nice. She does have a second restroom downstairs. It was a pleasure to have met Barbara and to have stayed at her Victorian home.
sharon
2016-07-15T00:00:00Z
It was a delightful stay. Barbara is an excellent host. We really enjoyed our stay.
jim
2016-09-03T00:00:00Z
I'd ask her ahead of time for more instruction on where house is. It was dark, and had snowed & we could not find her house easily.
Karen
2016-12-22T00:00:00Z
Barbara was a wonderful host with a beautiful house. She was flexible on scheduling and very helpful as well. We'd be happy to stay with her again!
Mike
2016-08-14T00:00:00Z
From lotions and potions and bedding so nice, Delectable peaches enhanced with fresh spice. Waffles and country ham, eggs and oh my! Our own hearts desire is to stay here...we sigh! You'll enjoy this delightful respite and your lovely gracious Air B&B host, Ms Barbara! Her home is a fascinating historic treasure and yet she has provided everything to make it comfy for a modern traveler. Large rooms complete with freshly laundered quilts and bedding, In-room fridge, wifi, tv, microwave, sink, convenient charging outlets, books, brochures describing local history, toiletries, etc Etc. This was perhaps the best run B&B we've ever had the pleasure to visit! We really did want to stay another day or two but we had time constraints and meeting obligations. Darn! Breakfast was another special treat. Barbara served fresh peaches grown in her lovely yard. She even pre-chilled the orange juice glasses! Everything was served in a lovely breakfast room with patriotic linens. Eggs, ham, waffles, coffee. Her thoughtfulness is evident in everything she does, serves, says and even in her careful lovely grooming. It's evident that Barbara is is a very special person running a no-excuses top-notch B&B. Her little Yorkie girl, (URL HIDDEN) adorable. Barbara makes sure Guiness stays downstairs though we would welcome Guiness visiting. Guiness and our Westie dog, Buddy ...became fast playful friends quickly. There's a great fenced in play yard for the pups and a doggie door too. There's everything to love about Barbara's "Heart's Desire." Don't hesitate to book your stay with her but do contemplate staying longer. We wish we had. Guess we'll just have to return! With pleasure.
Angela
2016-07-18T00:00:00Z
We enjoyed our stay with Barbara very much. She is a very spirited and joyful soul who loves meeting new people. Her service was well thought out and she was completely available and helpful whenever we needed it. The house and room were very comfortable and we felt very at home there. The town was so cute and downtown shopping was within walking distance of her house. We would have loved to stay longer to enjoy her company and tell stories, but had to go, with promises of seeing her again.
Schelly
2016-07-08T00:00:00Z
Barbara's place is why we do Airbnb. It was so unique and interesting with a vibe that you simply don't get at those interstate intersection chain hotels. In some respects Barbara's place is a trip back in time but with all the necessities and many unexpected amenities in place. The room we stayed in was clean, comfortable and quiet. I'm not a good sleeper and both my wife and I had a great night's sleep. Barbara is a great hostess and makes you feel immediately at home. Conversation was easy and we found her to be a wealth of information on virtually every aspect of life in the area. Raton itself is not a tourist destination by any stretch but we found everything there to our satisfaction as it relates to an enjoyable overnight stay.
Clark & Paula
2017-03-26T00:00:00Z
Barbara was very friendly and immediately made us feel very welcome. Her house was beautifully decorated with many antiques from her family. Her breakfast was fantastic and she made sure if we had any special needs or requests. She was very helpful with ideas of things to do and places to eat in Raton. I highly recommend a visit to Barbara's Bed & Breakfast!
Jan
2016-09-17T00:00:00Z
Kamertype
Privé Kamer
---
Type woning
Bed & Breakfast
---
Geschikt voor
2
---
Slaapkamers
Raton, New Mexico, Verenigde Staten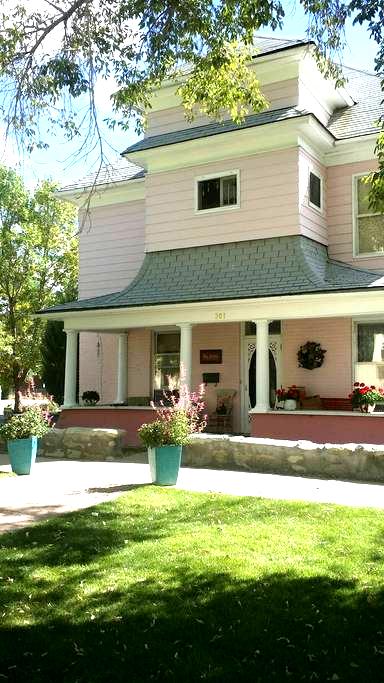 Come enjoy a piece of heaven in northeast New Mexico. Wonderful, peaceful, quiet setting. Located just outside of Raton - an absolute old-time jewel of a town. Be ready for seconds-long traffic jams of 2-3 cars around rush hour.
This is a large pool house nestled in a secluded canyon just north of Raton, NM; just a few scenic miles to the Colorado border. Remarkable views surround us. Pedazo de Cielo shares the neighborhood with lots of wildlife - birds, deer, bear, mountain lion, and the occasional fox. There is a queen bed, a double bed, double sleeper sofa, a pack-n-play for littles, and a loveseat and a full-sized sofas - all in the pool room. If an additional bed/private bedroom is needed, there is another studio apt available onsite. The pool room has a salt-water swimming pool, with auto cover/safety lock. Pool heated for additional charge Oct-April, price dependent on length of stay. Great hot tub with tv and disco lights, wood burning fire place, as well as outdoor gas grill on the patio. Fire pit is allowed during times when burn-bans are not in effect, 52" TV. Kitchenette has microwave, toaster oven, roasting oven, toaster, hot pot, blender, full size side-by-side refrigerator, coffee makers, two hot plates, cooking utensils. Enjoy dining in or al fresco. Sorry that I am no longer able to accept pets. The furfamily members don't understand the pool cover and have damaged it by running on it. The huge shower has rain head with on-demand hot water heater. Game area - lots of board games, cards, dominoes. Full size ping-pong table. Children's play area. Outdoor relaxing with umbrella tables. Star-gazing. On-site hiking 31 acres. Lots of hiking trails in Raton and around local State lakes. Geocaching sites in area. Year-round fishing at local lakes. Ski slopes 1-1/2 hr away (Angel Fire, Red River, Taos). Lifts run 9 am to 4 pm. Golf - 18 hole course in town. Be ready to play around wildlife. At sunset, it is awesome to watch the wild turkeys running/flying to their nests right off the 19th hole. On-site parking, with 2 spaces inside (advised due to bears in area and no snow/ice on vehicles when heading out). Garage doors accomodate high clearance vehicles with overhead gear. Great settings for large families, retreats, special events. Catering can be scheduled. Pedazo de Cielo is here for your enjoyment! Entire property (front chalet-style home connected to pool house and apartment; two large garages for 8+ vehicles/rvs, 31 acres) is FOR SALE! Listed on Zillow. Will continue to rent until property is under contract.
Pedazo de Cielo offers lots of fresh air and sunshine year-round. Town is just a few miles away so this area is especially quiet - except for occasional thumberstorms, and fireworks around the holidays.
Mimi was very kind, and her place was just so beautiful. It really is a hidden paradise inside the small town of Raton. The pool was also quite special, and we very much enjoyed the stay!
Stephanie
2016-06-13T00:00:00Z
Mimi was a very friendly and accommodating host. The property was wonderful and the neighborhood was beautiful. There is a fenced in yard that was perfect for our two little dogs to play in and for us to enjoy our morning coffee with a great view. I highly recommend this host and this property,
Paul
2016-10-17T00:00:00Z
Mimi is a wonderful host. We met her during check in and she insured we had everything we needed. The provided garage is huge and was large enough for my F250 diesel which was a pleasant surprise. The house itself is absolutely beautiful and has everything you could possibly want for a relaxing getaway. While we didn't use the pool we greatly enjoyed the hot tub and the fireplace. Even as large as the home is it still felt cozy. The property is gorgeous, quiet, and away from it all. It is the perfect getaway!
Jeremy
2016-12-30T00:00:00Z
I had a great time staying at Mimi's place. The highlight for me was swimming in the pool with all the windows open and a view of the hillside outside. The fenced outdoor area was beautiful and looks like a great place to hang with friends. My dog certainly enjoyed it! There were plenty of towels, pillows, etc. The kitchen area was also well equipped. I really loved the overhead shower head. Everything was great. I hope to visit again soon!
Chris
2016-08-30T00:00:00Z
Thus was such a fun place to stay. My kids were in heaven for sure! I loved the amazing hot tub and the kids played in the pool for a long time. Thanks for such a unique experience.
Maggie
2016-06-30T00:00:00Z
A wonderful place to getaway from it all! Mimi is Fabulous and the pool is fantastic!
paula
2016-07-10T00:00:00Z
We really enjoyed staying at Mimi's place. She was so kind. She greeted us upon our arrival, and chatted with us a bit. She was always available by text, if we needed anything. She gave us our privacy in the very large pool house. We had never stayed in a pool house before, and didn't know quite what to expect, but it worked out great for us! We had our own garage and entrance, so we could come and go, without bothering her. She allowed me to have my two little dogs. We enjoyed her pool and hot tub. We loved sitting on her back patio, and watching the deer pass by. The kitchen had everything we needed for our stay. The bathroom was stocked with towels, and the oversized shower was wonderful. I really have nothing negative to say! The sleeping area is in one corner of the pool house. Since beds are close together, it may not be ideal for everyone, but it was fine for us. She also had various toys for kids, and games for kids and adults. Next time we are in Raton, we will be staying with Mimi again.
Carmen
2016-07-29T00:00:00Z
Mimi was very hospitable. She's was absolutely responsive by text before and during our visit. The locked garage was very handy. Huge space with lots of light. Like a cathedral. Hot tub had the most amazing jets I have ever experience. Weather was perfect!
Stephanie
2016-10-24T00:00:00Z
Kamertype
Gehele woning/appartement
---
Type woning
Overig
---
Geschikt voor
6
---
Slaapkamers
Raton, New Mexico, Verenigde Staten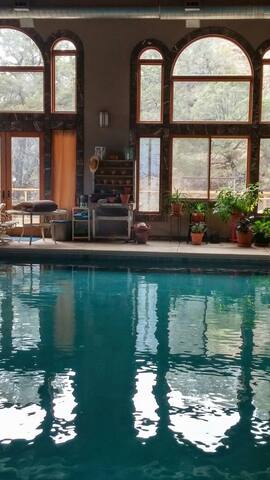 READ FIRST - Adventure in a private ghost town! Not your average listing! Cozy solar-powered cabin tucked into a coal mining ghost town. Experience our wildlife, hike, fossil hunt, explore ruins, tour dispensaries and enjoy life. At 7000ft, all seasons offer new activities. You can easily find out more about Morley by visiting the Pueblo Steel Museum or by searching Wiki. We are always improving the property so come back for new stuff. Currently, we are working on adding bathrooms/showers.
Off-the-grid cabin on the outside, high-tech glamping on the inside. You might have trouble leaving the advanced amenities this solar powered adventure launch pad provides, were it not for the ghost town we've nestled it in. 50' TV and dvd player - TONS of movies. You will have to run to town in order to watch the game (any game). Laptop and USB charging. Propane camping stove and always stocked munchies. Coffee and tea are provided along with soda and water. Huge beanbag bed (double) and a smaller fold up couch-chair-bed (great for dogs or third wheels), we also provide a crazy amount of blankets. Large propane heater fills this small space quickly regardless of outside conditions, small heater can be left on all night to maintain temp. This space is truly meant to provide comfort at night for Morley explorers all year around. We have a biweekly maintained porta john for a bathroom currently. We are currently constructing a shower/bathroom building, but don't expect to use it until at least summer 2017. Tent and truck camping sites are available affordably just ask. Sometimes the weather does not cooperate with our solar setup, so we will totally run a generator at your request. We are working on expanding our power system to include a working lighted fridge, keurig, and instant water heater. Honor Liquor Bar? Yes. Please replace the value that you consume, and leave the price tags on your replacements. (Or tip so we can.)
Our neighbors consist of wild animals such as bears, elk, antelope, coyotes, turkeys, large and small cats and cows/bulls (summer). Be very respectful of them. Near the cabin there are two other storage cabins. We live in an RV on the property except when we are traveling in it. We ask that you stick to our ~80 acres only, boarders will be explained/ shown. If you do meet any of our human ranch neighbors, please be respectful and friendly. Feel free to spread the word about the airbnb if you decide to go to Raton and/or Trinidad. ;) If you see full sized houses at any point, turn around, you're probably on the ranch. No one is allowed on the ranch.
If you're looking for adventure and love nature and history this is an experience you don't want to miss out on. Seeing the ruins to what used to be a small mining town embedded in the mountains is fascinating! We were welcomed and felt very at home in our cozy cabin. Overall we had a great time and recommend it to anyone looking for a getaway.
Eddie
2017-02-05T00:00:00Z
Beautiful scenery and an amazing story behind the abandoned ghost town! Only got to stay for one night, but a nature paradise away from home! We'll be back!
Alexis
2017-02-20T00:00:00Z
The place is amazing! I had the time of my life exploring the ghost town. The hosts are amazing people, perfect tour guides as well. Very knowledgeable. You won't regret it!
Maria
2017-03-04T00:00:00Z
This is the perfect place for any laid back folks or adventurous couples looking for that chill place to be close enough to town but still be off the grid. The hosts are super cool & very gracious. Gennette found us as we were getting lost & even took the time to custom make us curtains so the cabin would be more private. Ryan met us at the cabin when we arrived & graciously rolled out the welcome mat. Great place, great people, plan on going back!!
Matt
2017-03-20T00:00:00Z
If you are in the need, or are looking for an easily accessible place with excellent hosts and great history, this is the place. Loved the private tour of the ghost town and hosts are extremely kowledgable and friendly. Had a great movie night with a wonderful hike in the morning!
William
2016-12-29T00:00:00Z
The cabin was great for a small scenic getaway. Ryan and Genette were super friendly and accommodating. They have tons of knowledge about the history of the surrounding area. I loved hiking with my dog, taking photographs, and enjoying the snowstorm that hit my last day there.
Chris
2017-04-04T00:00:00Z
My husband and I stayed in the cabin 1 night and hiked on a guided tour all around the ghost town the next day, everything was covered in snow! The cabin was just as described and Genette went above and beyond making sure we had a good time and that we had everything we needed. We can't express how great the experience was! We will definitely be back! Porta potty for use and no shower. We absolutely loved it!
Bonnie
2017-01-22T00:00:00Z
Great place with friendly host.
Joshua
2016-12-14T00:00:00Z
Kamertype
Gehele woning/appartement
---
Type woning
Houten huisje
---
Geschikt voor
2
---
Slaapkamers
Trinidad, Colorado, Verenigde Staten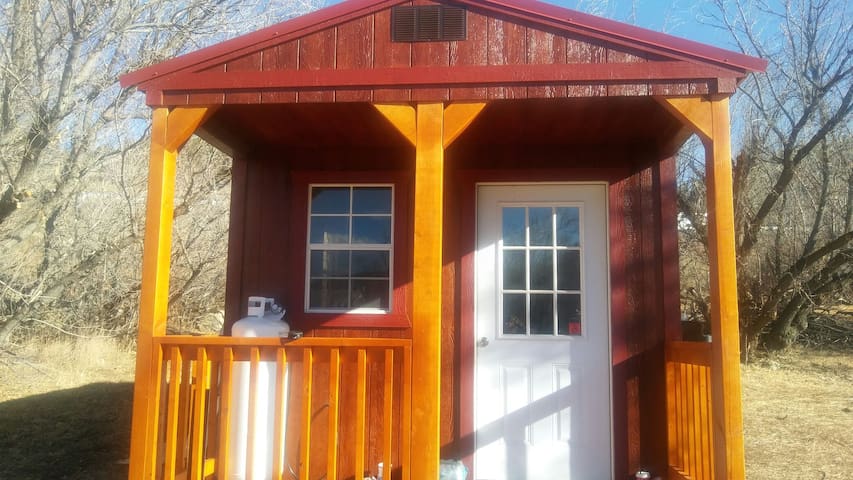 My place is close to Angle Fire and Red River Ski Resorts. 3/2/2 w/ Loft Eagle Nest Lake and Trout Fishing Fly Fishing on several rivers Taos and Sante Fe New Mexico near by Several Nearby State Parks. You'll love my place because of the views, the ambiance, things to do and the location. My place is good for couples, solo adventurers, families (with kids) and furry friends (pets).
House used for a family of 5 out for a ski trip. Great central location between Angel Fire and Red River. Taos ski valley is about an hour away. There's also a great ski rental shop right across the street in Eagle Nest. House was a quiet retreat in the evenings with nice views of the valley.
Doug
2017-03-19T00:00:00Z
Beautiful home in a convenient location. We walked into eagle nest downtown for shopping and food. Location was great for our family ski trip. Lake is close by and could easily serve as a great home to fish the lake. We watched animals like elk and deer from the front porch in the evening. Night time provided excellent star gazing opportunity
Charles
2017-03-15T00:00:00Z
Kamertype
Gehele woning/appartement
---
Type woning
Huis
---
Geschikt voor
7
---
Slaapkamers
Eagle Nest, New Mexico, Verenigde Staten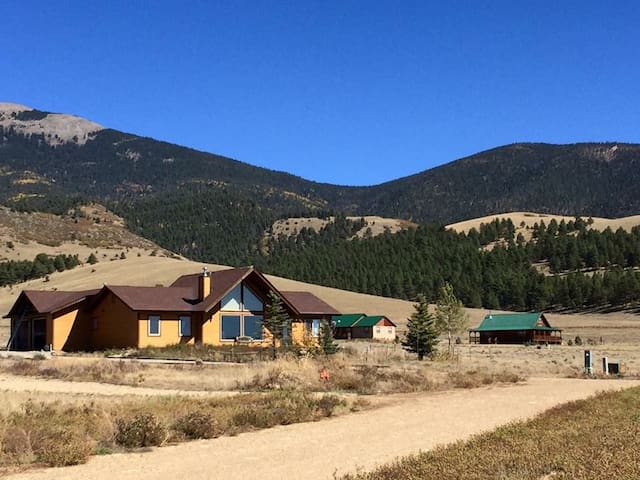 Our second home is a perfect getaway for your second home as well! Situated in Eagle Nest close to the lake and Main Street, with an easy drive to Red River (25 min) and Angelfire (18 minutes the other way) Eagle nest is a gem on the Enchanted Circle! The first floor locks off for a reduced rate if you do not need the second floor and bedroom. Real estate broker services available while you are here too if you are here to look for potential properties. Please inquire if this is you.
New, beautifully furnished, homey, happy. Two story with one bedroom on each floor and a single sleep New Mexican day bed in the living room allows lots of space for two couples and one single. Peaceful, quiet, and new. Perfect location for people wanting to explore northern NM and perfectly located to have quick access to both the summer hiking and events of northern New Mexico as well as both or the winter ski areas or Red River and Eagle Nest.
I love that it is a population of about 220 people and the Main Street is Provincial and dear to us. Nothing like an old fashion 4th if July in Eagle Nest!! The people are friendly and live their privacy. For me, it is a perfect retreat from Santa Fe and Taos. The lake is just a short walk, and the forest is a quick drive. The view from the master bedroom and from the second story patio is the mountain, the lake, and Wheeler peak. Best flying to the big airports is from Albuquerque or Santa Fe, Amarillo, or Denver.
Matthew's place has so much to offer, we were there at Xmas, so Much snow, so much fun. He even arranged for us to be pulled out of the snow. Place is so tranquil, cozy and well equipped, lots of towels, bath robes, shampoos, conditioners, body lotion and more more more, in the kitchen too, all the basics to cook and more and more, he even treated us to some mas goodis. View is fantastic, Eagle Nest is such a neat little place. We are planning on returning in the summer to enjoy the deck and the lake, it was a little chilly this time around!! Highly highly recommend, DO NOT MISS THAT ONE! You definitely get what you pay for, thank you Matthew and hope you enjoy that smelly French cheese
Cecile
2016-12-28T00:00:00Z
I absolutely love this house!! It was exactly as posted and was perfect for our trip. Beautifully decorated and had all the comforts of home. Will definitely be staying again!
Alison
2016-08-08T00:00:00Z
Great time in house and great location to 3 different ski resorts!
Matt
2017-01-01T00:00:00Z
Kamertype
Gehele woning/appartement
---
Type woning
Huis
---
Geschikt voor
5
---
Slaapkamers
Eagle Nest, New Mexico, Verenigde Staten
Luxury antique Victorian suite with 150 year-old chestnut bed, Eastlake furnished sitting area, original Currier & Ives artwork, Jacuzzi, walk-in shower and views that will stir your soul. Free Wi-Fi, flat-screen TV. Outdoor patio with firepit.
Complimentary Continental Breakfast with Starbucks coffee, homemade pastries, fresh fruit and more.
Upscale neighborhood with 360 degree views of Eagle Nest Lake, the Cimarron & Sangre de Cristo Mountain Ranges. Blue Ribbon Trout fishing minutes away. Hosts are flyfishers, botanist, wildlife manager and historians.
Kamertype
Privé Kamer
---
Type woning
Bed & Breakfast
---
Geschikt voor
2
---
Slaapkamers
Eagle Nest, New Mexico, Verenigde Staten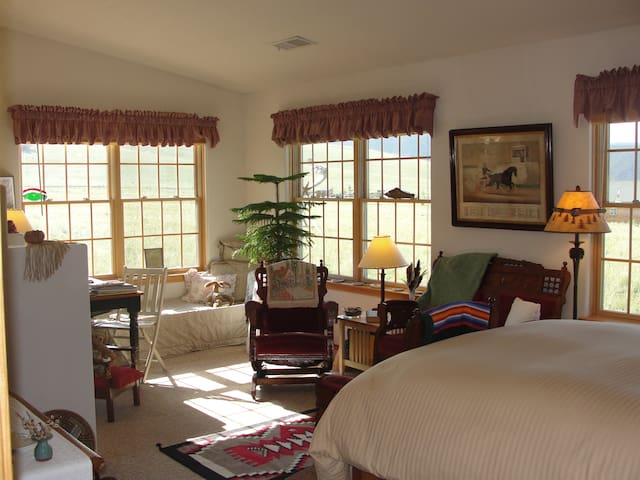 1

–

6

van

6 Accommodaties
Voer datums in om de volledige tariefopbouw te zien. Er kunnen extra kosten zijn en er kunnen belastingen worden toegevoegd.