Prachtig architectonisch huis met muren van het terugtrekken van glas open voor een adembenemend oceaan en de bergen, binnen buiten gevoel. Master bedroom suite (boven), de belangrijkste verd. w / strakke keuken, badkamer, wrap dekken, onder fl. logeerkamer w / badkamer, wasplaats.
Drie verdieping tellende gebouw met voorgevel glazen wand kijkt uit op een onvergetelijk uitzicht op de oceaan. Het huis is een architectonisch hoogstandje, de locatie is zeer rustig, vredig.
Rustig, rustig, rustig, rustig, veilig ... dit is een echte gemeenschap, waar de buren uit te kijken naar elkaar. Ik ben lid van brandstichting Watch, en de wet officieren en first responders te leven op het blok, zodat je veilig voelen.
Jennifer is really quick with all the questions and her place is absolutely amazing!! Lastly the house is extremely clean and the view to Malibu beach is stunning!
Clemens
2014-10-19T00:00:00Z
The house was beautiful. The views were breathtaking. Beth and Jennifer were great. An amazing space for entertaining.
Kate
2014-12-05T00:00:00Z
I have never had a host so eager to make us happy - Jennifer reached out three times before we arrived to make sure everything had been thought of and no detail went unaccomdated to make our stay outstanding. Xavier, her house manager was every bit as kind, providing fresh juice, muffins and fruit for our stay. And what a stay it was - The view is akin to something you would usually need a helicopter to accomplish - breathtaking. The house is cutting edge modern, but with elements you know will be classics in 20 years, not bleeding edge flashiness. It was magnificent and we all were overjoyed at the time we spent at this amazing oasis in the sky.
Nader
2016-09-15T00:00:00Z
Wonderful! Jennifer was very accommodating. The house is absolutely stunning, can't wait to go back!
Kirsten
2016-03-17T00:00:00Z
We recently spent 3 nights in Jennifer's tremendous Malibu home. I've rented a lot of places on AirBnb and this was one of our best experiences. Not just the house (which I'll get to) but also communicating with Jennifer. She responds quickly to any request/question and her instructions (driving directions, home instructions, etc) were impeccable. She was a pleasure to work with. As for the home, it's really an amazing and special place. It's around 10 minutes up into the canyon, so understand that it's not a beach place, which was fine for us. The mountain/canyon experience is wonderful. The views from the home are fantastic, both of the ocean as well as the canyon/mountain. The home is impeccable and is great to just hang out and watch the ocean and the sky. There's great hiking nearby, and only a short drive to PCH. I highly recommend staying here. We'll be back.
Dan
2016-03-26T00:00:00Z
Jennifer was a delight to work with! We did a photoshoot at her home and we got some really beautiful footage. The views are just incredible here! Jennifer is very easy to get in touch with and I would love to work with her anytime. Thank you again for opening up your home to us!
Lori
2016-09-19T00:00:00Z
As soon as we began ascending the steep & winding Corral canyon rd,I knew I had picked the best place to spend my Malibu vacation. As an avid traveler and member of Inspirato vacation club, I am admittedly jaded when it comes to vacation rentals. The pictures of Scorpiesse were phenomenal, but this is one of the few times I can say the actual space was even better in person. Upon arrival, we were greeted with a smile and a cold beer. After that, we were left in complete privacy. The peace and tranquility of this tastefully designed and furnished residence cannot be described, only experienced. At its' price, I find Scorpiesse to be of immense value. The night before I arrived in Malibu, I stayed at a 5 star hotel in Beverly Hills for the same price. However, the experience is not even comparable. Do yourself a favor, book Scorpiesse.
Scotty
2016-04-25T00:00:00Z
We went to Malibu for the weekend. First time as a Airbnb user, i must say it was incredible. Jennifer has her assistant Xaxier greet me at her place. He was very helpful thw entire stay. Jennifer was very communicating as well even though she was not there. Views were amazing and I felt like i was relaxed the whole time. The only thing i would say if you are scared of heights the road up to her house can be scary. Otherwise everything else was perfect! Definitely Would come back again.
Neri
2016-12-12T00:00:00Z
Kamertype
Gehele woning/appartement
---
Type woning
Huis
---
Geschikt voor
4
---
Slaapkamers
Malibu, Californië, Verenigde Staten
Een unieke ervaring voor de persoon die de natuur en vintage Amerikaanse iconen houdt. Een beetje rustiek, maar zeer de moeite waard. Lees de volledige lijst en bekijk een uitgebreide fototheek om te bepalen of deze locatie voldoet aan uw viervoeter comfort quotiënt.
Gelegen op een heuvel met een prachtig 360 graden uitzicht over de Stille Oceaan, Catalina, Santa Barbara Island en de Santa Monica Mountains, brengen de avond kijken naar de zonsondergang over Boney Mountain als het vervaagt naar zwart. De sterren komen door de millions- en je oppassen voor kometen en satellieten passeren overhead van de comfortabele Adirondack stoelen. Je terugtrekken in de comfortabele semi-gerestaureerde interieur van 'The ALUMILODGE'- een 1957 AIRSTREAM 22 ft. Flying Cloud, en sluit je iPod in de Bose Acoustimas sound systeem, terwijl het openen van een gekoelde fles lokale wijn die u op een wijngaard tour verworven. De dinette is ingesteld voor een romantisch diner, die je voor te bereiden op de onboard kombuis en gasfornuis. Na nog een blik op de Melkweg, je terugtrekken in de Queen size bed achterin met kwaliteit beddengoed en veren duvet- de frisse bries Pacific sussen je in slaap in de stilte alleen onderbroken door af en toe een uil 'giller' of coyote gehuil in de verte. Je wakker om de zonsopgang te beleven met onze Franse koffiezetapparaat en een andere dag in een paradijs kun je niet voorstellen dat is zo dichtbij en toch zo ver van Los Angeles. Het gebied biedt ook wijngaarden rondleidingen, wijnproeverijen kamers, uitstekende restaurants, wandelen / fietsen de Backbone Trail, trail ritten allemaal binnen enkele minuten. Pool (seizoen) en internet hotspot beschikbaar voor gasten. We zijn huisdier vriendelijk. Wij rekenen een extra platte $ 15 schoonmaakkosten per reservering te betalen in contanten tijdens uw verblijf voor huisdieren. **** Voor Film & Foto Shoots Neem contact op Hosts voorafgaand aan de boeking **** IT "is hier !! Vanwege de populariteit van de 'Flying Cloud', hebben we BEREID andere locatie, dit een een 1971 AIRSTREAM 31 FT. ' SOVEREIGN die is gelegen in een bosrijke weide. Bekijk de lijst: "AIRSTREAM VINTAGE AVONTUUR PT.2". https://www.airbnb.com/rooms/1077343 Extra Conciërge beschikbaar - Informeer: - Vers gebakken chocolade croissants, koffie en zondagochtend LATimes opgeleverd. - Reserveren bij lokale restaurants, Golf Course. - Ruiterpaden. - Mountainbikes
Zeer landelijk met veel verbazingwekkende schilderachtige road trip mogelijkheden!
Bij aankomst werden we welkom geheten en werd ons verteld hoe we bij de Airstream konden komen. Het is een hobbelige steile weg omhoog en je hebt direct het gevoel op een bijzondere plek te zijn. Even later kwamen de verhuurders naar de Airstream om ons het een en ander uit te leggen, dit was allemaal heel prettig. Het plekje was geweldig en de Airstream had alles wat je nodig hebt. We hebben tijdens onze reis op veel verschillende locaties geslapen, maar deze is echt uniek! De afbeeldingen en de beschrijving kloppen. De omgeving is schitterend en de zonsondergang geweldig mooi om te zien!
Mathilde
2014-09-26T00:00:00Z
Had an incredible time up in the mountains. Murray was nice and friendly and let us be. A definite recommend.
Jonathan
2015-04-13T00:00:00Z
My wife and I had a wonderful experience on our 5 day stay in the Air stream on top of the hill. Trailer was comfy with incredible views and sunsets looking out over the ocean and Malibu hills (along one night of awesome stargazing on one of the warmer nights). We did plenty of hiking in the hills and on the nearby beaches. Murray was a great host and we hope to be back sometime in the coming years.
Tim
2016-01-02T00:00:00Z
We were looking for a place to reconnect with nature as well as each other. What an amazing match that was. The location is incredible and we were lucky enough to have showed up on the first sunny day after persistent rain storms had passed through the area. The air was crisp and the views spectacular. The peacefulness of the flowing water caused by the rainstorms added a rare spectacle to our stay. The trailer was well prepared and expectations properly set for a two day retreat. Murray transported us up the windy mountain road and delivered us safely. Two nights was clearly not enough time to take in all the nature and Beauty offered by the venue. I'll take what I can get. Thank you so very much for adding this awesome memory to our lives.
David & Hibiki
2017-02-23T00:00:00Z
I surprised my husband by renting the Airstream for his birthday. When we arrived we were in awe of the location of the trailer and the magnificent views. The Airstream is fully stocked with all we needed for our time there. We sat outside way past sunset, admiring the view for as long as we can. Then went inside to make dinner and play scrabble. Cooking on the stove top really warmed up the trailer so we didn't even need to use the heater during the night. We made sure to look up sun rise time and got up in time to see it peek over the mountains. We will definitely be back here! Thanks Murray and Kay for a wonderful experience and sharing your treasures!
Debbie
2015-02-01T00:00:00Z
My partner and I had a very relaxing time--wish we had had a few more days to enjoy the solitude. Murray was an excellent host--relaxed but attentive and easy to talk to. Even though we arrived pretty late in the evening, he made sure we how to find the hiking trails which we took advantage of early the next morning. We also managed to get in a little surfing at Zuma Beach. Thankfully, as advertised, the airstream has a very comfortable bed! Very clean, very cozy and would recommend this to anyone.
Eleanor
2014-03-10T00:00:00Z
My girlfriend and I had an amazing getaway at the Murray and Kay's Airstream Trailer!!! It's a no brainer to book this airbnb. You're secluded in the mountains of malibu and and beaches are just a 15-20 min drive away. We cooked every morning, afternoon and night. Probably one of the best vacations I've been on in awhile.
Maddison
2015-11-23T00:00:00Z
Yes, the drive up the hill was challenging, but we made it okay in our old station wagon. And yes, this is an original airstream with limited comfort, especially when it comes to the TINY bathroom, but all of that was expected as it was described. We were rewarded with a beautiful, quiet night under a full moon and some stars, which was exactly what we had come for. If you plan on cooking a big meal, do bring your own bigger pots, though! All in all a very worthy short trip far away from the bustle of LA and a very nice birthday surprise...
Silke
2015-08-01T00:00:00Z
Kamertype
Gehele woning/appartement
---
Type woning
Camper
---
Geschikt voor
2
---
Slaapkamers
Malibu, Californië, Verenigde Staten
Dit is een 600 vierkante voet prive-appartement met eikenhouten vloeren, voldoende parkeergelegenheid. Het is boven een 3 auto garage met een prachtig uitzicht over Boney Ridge + Charmlee Wilderness Park. uitzicht op de oceaan uit de keuken, leefruimte, badkamer met douche, en dek. Er zijn wandelpaden, wijnkelders, plaatsen om live muziek te horen, en prachtige stranden 10 minuten. Er is een bar b, met granieten tafel, 5 stoelen, twee ligstoelen, strandlakens, koeler voor het strand en moeras koeler op uw terras of een warme dag.
Dit is een open ruimte met een aparte slaapkamer met een cal koning. De stapelbedden en koningin matras in de leefruimte met een futon op de bank. Er zijn wit eiken vloeren met een spectaculair uitzicht. Het omvat HD Direct TV. draadloos internet. Geen huisdieren toegestaan.
Deze plek is hoog in mts. maar slechts 7 minuten naar de stranden van El Matador, La Piedra en El Pescador. Kom kijken surfers het hele jaar door op Nicholas County Beach en Neptune's Net.
Great place! Amazing view! My GPS couldn't find the place at first but once we figured it out it was all good.
Mickael
2017-02-12T00:00:00Z
Dana's place is nestled away in the hills of Malibu with beautiful views on all sides. It's cozy and clean and a great place for a getaway into a calm, peaceful setting. Close driving distance to beaches and great restaurants. Dana had lots of great recommendations for where to go! :)
Amanda
2017-02-20T00:00:00Z
Dana was a great host. The property itself was beautiful and peaceful with amazing views and a comfortable outside seating area. The apartment was incredibly clean - the cleanest Airbnb I've ever stayed in - with very comfortable beds and a futon and plenty of extra blankets and bedding. The kitchen was also well-equipped with everything we needed. She was also very kind and let us have a very late check-out because she didn't have another guest that evening so that was greatly appreciated. The only thing to be prepared for are the roosters who wake up with the sunrise, though for me it was also a reminder of being close to nature. I highly recommend this lovely Airbnb!
Helane
2015-11-15T00:00:00Z
This rental is really quaint and we had a great experience. The view from the deck is beautiful and it was so nice to sit out in the morning on the lounge chairs or at the breakfast table. The location is great - just about 15 minutes from Malibu beaches and restaurants. I would highly recommend this to anyone wanting to stay in Malibu - note that if you stay here you almost have to have a rental car!
Clare
2016-09-19T00:00:00Z
Great flat with excellent 360 view on the mountains and ocean ! Loved the modern and warm place, very comfortable. You have to like waking up with the 2 roosters ;-) Thank you
Arnaud
2015-12-01T00:00:00Z
We had a wonderful stay. The apartment is as described fit our group of 4 well. It is a beautiful setting. It was helpful to have a car to enjoy the area.
Mark
2016-10-03T00:00:00Z
Beautiful setting with great patio with great views. Spacious flat with everything you need.
Holger
2016-08-20T00:00:00Z
This apartment has beautiful views of the the mountains and ocean. The table outside on the deck was a wonderful place for breakfast, a glass of wine in the evening and just enjoying nature. The inside was great with very comfortable rooms and plenty of kitchen amenities to cook an entire meal! You do need to be a heavy sleeper to not be bothered by roosters crowing at 3am.
Jeanne
2015-12-08T00:00:00Z
Kamertype
Gehele woning/appartement
---
Type woning
Appartement
---
Geschikt voor
5
---
Slaapkamers
Malibu, Californië, Verenigde Staten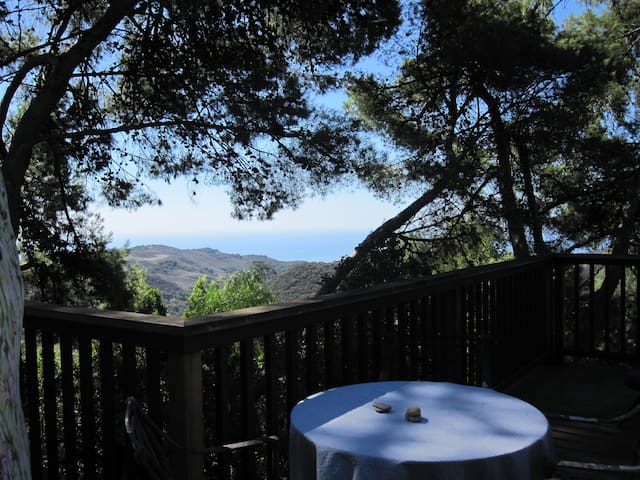 Charme en Vrede in de Malibu Hills! Ouder huis, prachtige plek om je hoofd te rusten na een drukke dag in de omliggende gebieden van Los Angeles en Malibu. Ontdek de wijngaarden, stranden en onze heel dichtbij staat parken (3!)
Wij bieden een kamer in een mooie 3-level woning in het niet opgenomen gebied van Agoura Hills / Malibu Hills. De kamer is op de derde verdieping en biedt privacy van de rest van het huis. Er is een grote tv-kamer op de derde verdieping ook, door iedereen gedeeld, met een grote bank en een 55 "LED TV van Samsung. De kamer zelf bevat een kleine dressoir, bureau en 2 bedden-een bed is een Full, de andere is een tweeling. Perfect voor een stel met een kind. U heeft uw eigen badkamer met bad en douche op de eerste verdieping, evenals de toegang tot een gedeelde badkamer op de derde verdieping. de keuken is gelegen op de eerste verdieping en is nieuw gerenoveerd met marmeren werkbladen en nieuwe apparaten. Wij bieden etenswaren voor het ontbijt, koffie en diverse soorten thee voor onze gasten. shampoos, lotions en zeep zijn aanwezig, evenals een haardroger, in je eigen badkamer. Het huis is gelegen in de Santa Monica Mountains, 6 minuten van de snelweg 101 en 14 minuten van de Pacific Coast Highway en de Malibu stranden. Pepperdine University is slechts 15 minuten afstand. Op loopafstand zijn twee nieuwe wijnhuizen genaamd "Sip" en "Cornell", evenals een groot restaurant bekend als "The Old Place." Er zijn ook mooie plekken om te wandelen in de buurt door. Drie grote staat parken liggen in de buurt, één ligt net in de straat. Hoewel er veel te doen, het gebied en de wijk is erg rustig en stil. We hebben een grote, mooie dek dat open staat voor alle om te ontspannen en te bezoeken. Roken is buiten toegestaan, maar niet in het huis. Wij zijn een vriendelijk en aardig gezin van drie (Mamma, dochter-27, son-29) en zullen u graag met u praten over plaatsen en sites uit te checken. We hebben ook twee honden genaamd Ihop en Mason, beide zeer oude, maar zeer vriendelijk. Het huis heeft een zwembad dat je vrij bent om te gebruiken, maar het is niet anders dan een warming deksel verwarmd. In de zomer is het zwembad is zeer verfrissend met lounge stoelen en drijft om te ontspannen. In de winter, zou je moet heel dapper en zeer winterhard te zwemmen in het te zijn! Wij hopen dat u bij ons blijven en kijken ernaar uit om u te ontmoeten!
We leven in een stille, rustige wijk in de Santa Monica Mountains - op loopafstand van wijnhuizen en 10-15 minuten van de vele goede restaurants, live entertainment en winkels. Onze streek is bekend voor bruiloften en we hebben veel met ons verblijf dat het bijwonen van de gebeurtenissen in de omgeving zijn. Parkeren: Parkeren is op straat of in de voorzijde van onze poort / huis. Gelieve niet te parkeren in de voorkant van onze buren huis of blokkeren van hun oprit.
Karen was an excellent host. She is a very kind and caring human being. She does her best to make your stay a comfortable one and she is great at doing it. This was my first time using Airbnb and it has been an incredibly positive experience thanks to Karen. The location is a 15-20 minute drive from nearby beaches and hikes and very close to charming restaurants and cafes. I would absolutely recommend this listing to anyone of my friends or family. And breakfast was amazing too! 5 stars!
Lane
2016-08-02T00:00:00Z
Chase and Karen have a lovely home. They are fantastic hosts and I recommend their place to anyone. Thank you Chase and Karen.
James
2013-08-03T00:00:00Z
Thank you Karen & Chase for easing the pain of sending our youngest to college. Your warmth as a hostess was radiating from the moment we arrived (early) with 12 bags full. Andy & I really feel like we have friends in the Santa Monica mountains. We loved the room and the comfort of your home. You knowledge of the area was invaluable and I wished Andy had checked with you before we hit Decker Canyon Road, at night, after a long day. We look forward to another stay in the not to distant future. Stay safe and we will see you soonest. Warm regards The Q's
Debbie
2015-08-27T00:00:00Z
Only stay at Karen and Chase's place if you want a wonderful experience. I would go so far as to say this was the ideal Airbnb experience. This is a family home, using Airbnb to help pay the bills, and doing so with a warm and friendly experience. In all my Airbnb stays, I have never seen such an agreeable array of breakfast items made available. They had excellent communication beforehand, met us when we arrived, and recommended two terrific local places to eat. We could not have felt more welcomed. Understand that this is a bit out-of-the-way if you are trying to explore Los Angeles. You can get into Los Angeles from here (45+ minute drive), but I would recommend using it as a base to see the countryside north of LA. There is some fantastic nature nearby (take a drive or bicycle on Mulholland Highway), but you are near enough to "civilization" if you would like. Karen in particular has lived in the area for years, so she is a fount of information. My best recommendation is that many of her guests are repeat visitors.
Chip
2016-04-08T00:00:00Z
We could not have asked for a better stay with Karen! The neighborhood is nice and quite. There was an amazing view from our room, the room and bed were very comfortable. Karen went above and beyond for us. Breakfast was delicious. We would stay there again in heartbeat. This airbnb experience will be hard to beat.
Beth and Luis
2016-10-11T00:00:00Z
Karen and Chase are great hosts. The house is awesome, in a lovely neighborhood. We had a great time. We will never forget our stay at Karen and Chase's place, and we will definitely come back soon.
Lucie
2014-07-02T00:00:00Z
Karen's home was the best airbnb experience we've ever had! Her house is gorgeous and everything is very clean. She has an awesome tv lounge right next to the bedroom and is very accommodating with breakfast. She is a very gracions and nice host and we can't recommend her more. The neighborhood is also very safe.
Marika
2015-01-02T00:00:00Z
We had a warm and hospitable welcome at Karen's beautiful home. Spacious room with a very comfortabel bed, good shower (with a view!), great home cooked breakfast in the morning. Karen knows a lot about Agoura Hills and Malibu. Beautiful environment, beautiful nature and close to Mailbu beaches. Highly recommended!
Joyce
2016-04-29T00:00:00Z
Kamertype
Privé Kamer
---
Type woning
Huis
---
Geschikt voor
3
---
Slaapkamers
Malibu, Californië, Verenigde Staten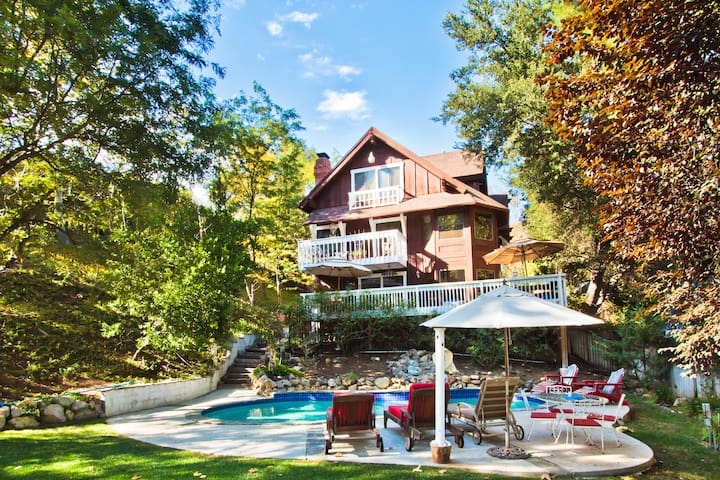 Charmante kleine slaapkamer gastenverblijf w / loft op paard eigendom in de Malibu Mtns. Ga weg van het verkeer en de stad waanzin en wat tijd doorbrengen wijn nippend en kijken naar de zonsondergang in de prachtige Malibu Mtns. The Cottage is een ideale bestemming voor een wijnproeverij, wandelen, MTN fietsen, straat fietsen, strand gaan of gewoon relaxen in een rustige afzondering. Ervaar de magie van de Santa Monica Mountain Range het hele jaar door. We zijn 10 mijl van Malibu en 5 mijl van de 101 snelweg.
Let op: Ik heb een paar upgrades sinds 2017/02/10 gemaakt. Er is nu een deur aan de badkamer en er is een gasfornuis. :-) Het grootste deel van het huis bestaat uit een keuken met een mini-koelkast (FYI mini-koelkast is klein en heeft een nog kleinere vriescombinatie), een 4-pits gaskookplaat, broodrooster oven, magnetron, koffiezetapparaat, etc. Er is een eethoek en een kleine zitkamer met een tv en een kleine filmcollectie (sorry er is geen kabel-tv). Er is een loft en een schilderachtig badkamer met een douchecabine. Gescheiden van de woonkamer is er een kleine slaapkamer die een eigen ingang (zie slaapkamer foto's) heeft. Er is een koningin bed in de slaapkamer en een tweepersoonsbed in het hok. Helaas is er geen wifi dus breng een boek en geniet van de stekker uit de matrix :-).
De gronden hier zijn mooi en de magie van de Santa Monica Mountains is zacht en inspirerend. Terwijl ze 10 minuten naar de beschaving, het voelt als een andere wereld. Iedereen geniet van de schoonheid van het hebben van koffie of thee in de ochtend op het dek in de rust en sereniteit van de ranch. Dit is een geweldige plek om te schrijven, te gebruiken als een uitvalsbasis voor recreatie avonturen, yoga doen, het plannen van lokale wijn avonturen, of gewoon relaxen. De avonden zijn heerlijk, een ster gevulde hemel, een grote maan, en de natuur rondom. De buurt, als je het zou kunnen noemen een wijk bestaat uit woningen verspreid over de bergen. Er zijn een paar huizen op naburige eigendommen vrij dicht, maar je voelt alsof je rustig afgelegen en privé weg in uw eigen bergwereld verscholen.
Rafael is super sweet and the property is excellent. If you're going to stay here, you don't need to have your own car but it sure makes things nicer. Good place to go into seclusion.
Eve
2016-08-21T00:00:00Z
Rafael was a fantastic host. He made sure everything was ready for our stay and was extremely understanding when our arrival time shifted at the last minute. The cottage oozes charm and the surrounding area is beyond picturesque. Even though you can't interact with the horses, we found their presence to be a great added bonus. All in all, we felt very much "at home" in Rafael's place. As long as you are prepared for the simple accommodations (which are fully spelled out in the listing!), there is no more charming place to stay in the Malibu area.
Brian
2016-10-12T00:00:00Z
Everything was super good! I'll choose this property to the next ! The experience was pretty nice to me, every detail was just like Fairy tale ......that's the best experience that I've never had! Good good
Zhongliang
2016-09-10T00:00:00Z
This place is absolutely amazing. It is so quiet and peaceful and exactly what we were looking for. Rafael was easy to contact and answered any questions we needed. He had juice, coffee and bagels provided for breakfast which definitely came in handy the next morning as we arrived late the previous night. It was easy to find using our GPS and Rafael's directions also helped when we arrived. The views are breath taking. This place does not disappoint. Highly recommended!
Luke
2016-11-03T00:00:00Z
This was a fantastic getaway for the long weekend & Raphael was a wonderful host! He kept in touch during our stay to ensure that we were happy and went out of his way to assist us with check-in when our plans changed (we had to check-in later than originally scheduled). The breakfast items in the fridge were a very thoughtful touch as well (bagels, orange juice, milk etc). The cottage is really lovely and caters to everything you could want (it is quiet, secluded, very clean and has a great little kitchen for cooking). The location was perfect for us as we did a tour at the Saddlerock Ranch/Vineyard, which is only a couple of miles down the road. A+ all round – would love to stay here again in the future!
Genevieve
2016-09-07T00:00:00Z
Could not have been happier with my stay at Rafael's place. Perfect location, great view, and lovely home. Communicating w Rafael was easy, and being there was incredibly relaxed. Definitely a place I hope to stay at again.
Azazel
2016-10-23T00:00:00Z
We had a really nice stay, our beds were comfortable, the cottage was very nice, the location perfect. Our host, Rafael was friendly, although we did not meet while we were (just a night), he provided us with all the essential information and made himself available for further questions. Wish we could stay longer! I totally recommend staying here.
Daniel
2016-10-22T00:00:00Z
Three of us stayed here for one night girls getaway. The place is just as described, very clean and comfy. It is located right next to horse pastures and sitting outside in the morning to enjoy the scenery was lovely. It was close to where we wanted to go (Malibu Wines and Malibu Cafe) and we really enjoyed our stay. Rafael was great with communication and left us some breakfast foods and coffee supplies, which was so nice to have. Would highly recommend!
Ashley
2016-11-20T00:00:00Z
Kamertype
Gehele woning/appartement
---
Type woning
Pension
---
Geschikt voor
4
---
Slaapkamers
Malibu, Californië, Verenigde Staten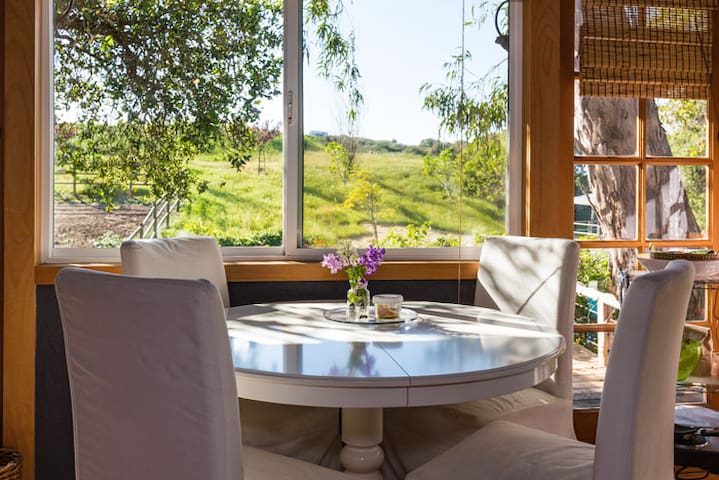 Beautiful Malibu home in quiet mountain top neighborhood, 8 minutes from Pacific Coast Highway and beaches, 360 degree views, bedroom w/ balcony, private bath, parking, access to kitchen, living room, laundry, and fenced-in yard, house trained pets welcome
Peaceful and quiet house perfect to come back to after a day in the city or at the beach, or just to hang out in and do nothing. Lots of windows and balcony access looking out on trees, mountains, and the coast line. Lots of wildlife including the occasional flock of wild parrots on the fruit trees in the spring and summer.
Not happy right now
Nick
2017-02-25T00:00:00Z
Great hospitality, amazing place, fantastic view and very relaxing trip! Thank you Eddy and Nate you guys are the best of the best, we really appreciate your kindness and friendliness. We are definitely coming back!
Jr
2017-03-08T00:00:00Z
The hosts was very kind and friendly. I loved the house location feels like you in other country. The house is very neat, and had amazing view. I will recommend to friend and come again
כנרת
2017-02-26T00:00:00Z
Eddy's home is up in the mountain and has gorgeous views! She and Nate were great hosts. Would definitely come back.
Anisah
2017-03-06T00:00:00Z
This place is a great shared space. Even if the homeowners are there, the bedroom, bathroom, and balcony are very private. And if you do bump into the owners, they are very cool! So welcoming and make you feel like it is your home, too. They allow you to use anything in the house - kitchen if you want to cook, shared living room if you want to chill and watch TV (there is one in your private bedroom, as well). My girlfriend and I loved hanging out all weekend with the balcony doors open. Our dog had so much room to frolic around the house and loved it - especially the three layer backyard. Would definitely recommend to our friends and anyone, and would book it again.
Marlee
2017-03-12T00:00:00Z
Kamertype
Privé Kamer
---
Type woning
Huis
---
Geschikt voor
2
---
Slaapkamers
Malibu, Californië, Verenigde Staten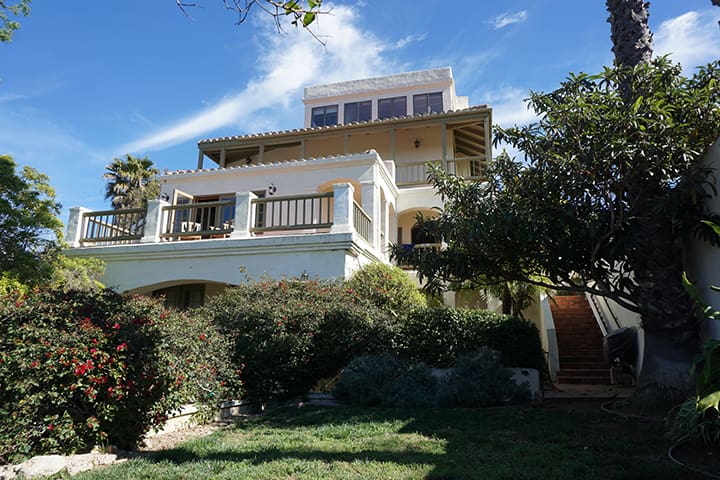 Adembenemende oceaan en uitzicht op de bergen van deze sprankelende schoon, licht, rustig, modern, prive 2 BR, 1 BA gast appartement gelegen op de 1e verdieping van 3 verdiepingen mediterraan Malibu huis. Vernieuwde w / grote prive-omheinde tuin & outdoor zitjes. Ideaal het hele jaar door klimaat. 6 min. van het strand. Beste wandelen in de wereld op de voordeur. Volledig gevulde w / koelkast, kookplaat fornuis, outdoor grill, borden, pannen, strandstoelen, handdoeken, en elk detail om uw verblijf comfortabel
Onze beoordelingen spreken voor zich. De meest rustige, mooie, vriendelijke plek waar je kunt voorstellen. Ons klimaat is uitstekend - ongeveer 70 graden gemiddeld in de zomer en 60 graden gemiddeld in de winter. Het regent hier zelden. Elk detail is goed doordacht tot in luxe badjassen, toiletartikelen, strandlakens, strandstoelen, koffiezetapparaat met Starbucks koffie, en te veel voorzieningen naar de lijst. We hebben echt gaan boven en buiten om ervoor te zorgen dat onze gasten de meest aangename ervaring mogelijk te maken.
Dit is één van de mooiste plekken op aarde. We grenzen aan een vierkante mijl van de open ruimte. We zitten midden in het hart van de mooiste wandel- en fietsroutes gebieden in de wereld en zijn slechts ongeveer 6 minuten afstand van het strand. We zijn ongeveer 10 minuten afstand van Pepperdine University en de meeste restaurants en winkels in Malibu.
Jerri is a consummate host. One does not know where to begin with the amenities that go so far above and beyond what one usually finds in an Airbnd: the fact that Jerri stocks the pantry with cereals, oatmeal, bagels, English muffins, sparkling waters, iced tea, assortments of sodas, cream cheese, eggs, butter, coffee, tea, and milk is amazing in itself -- but then she appears periodically (but always with appropriately discrete notice) with freshly cooked appetizers, freshly picked limes and flowers, and even a plate of bacon in the morning. Moreover, Jerri knew that my mother was making the trip for a visit to the closed set of Days of Our Lives and purchased her a coffee-table book commemorating the show as a gift! This is an extraordinary property with an exemplary host!
Eric
2017-03-22T00:00:00Z
Jerri was very kind and welcoming and had many "extras" available to us like snacks and cookies and a fully stocked fridge with waters and sodas. She told us all about the apartment and very thorough. We very much enjoyed being up in the Malibu Hills with beautiful ocean views from across the street - great for sunrise and star gazing in the evenings.
Susan
2015-10-09T00:00:00Z
Jerri's home is a beautiful, quiet and scenic retreat, and the perfect place to get away while also having wonderful shops and restaurants close by. It has a beautiful view of both the mountains and the ocean. And Jerri couldn't have been a more welcoming and accommodating host. Her home will feel like your home while you are there.
Lisa
2017-03-08T00:00:00Z
Staying at Jerri and Frank's was an utterly unforgettable experience. Every inch of their guest apartment was put together with thought and love. When you're there, you feel an abundant sense of comfort and home. Jerri and Frank have provided their guests with all amenities you could ever need, and two steps out the door and you can drink in the most spectacular views of the coast and mountains. The property is just five minutes from the PCH (we had delicious meals at Malibu Farm, Topanga Table, Ollie's, and V's), yet you are still so removed and set back from the bustle of Malibu. The highlight of our trip was sitting on the secluded bench at the edge of mountain and watching the sunset and moonrise. Jerri and Frank are undoubtedly the most kind, warm, and welcoming hosts I have ever encountered. I am excited to come back for years to come and share this slice of heaven with my loved ones!
Steph
2016-11-14T00:00:00Z
Another great stay with Malibu's best host! This is our second time staying with Jerri but this time we rented the 2bd and brought along my niece and her boyfriend. The apartment comes fully stocked and all you need to bring is yourself! Jerri gives great recommendations for places to visit during your stay. She checks on you everyday to make sure you don't need anything and truly cares that her guests have a memorable and relaxing experience. Jerri's home is truly paradise! We got to explore some great hiking trails just a short ride up the hill from the house and it was truly breathtaking. It's the perfect getaway and trust us that if you stay here you will not be disappointed. We were even lucky enough that Jerri offered to do our laundry for us the night before we left! If you want the perfect Airbnb experience, stay at Jerri's. Wonderful accommodations with an even better host! Trust us, you will want to come back again for a return visit!
Amanda
2016-06-19T00:00:00Z
If you are looking for a truly wonderful hostess, you will find it in Jerri. Even before I booked our stay, she answered all my questions and made sure we were comfortable with our decision. Her attention to details is impeccable! Before arrival, she made sure we had everything that we needed plus asked if there were other things to our liking that she could provide. Upon arrival, she made sure we felt welcomed and, to be honest, somewhat pampered. : ) There was not a day that went by during our stay when she did not make sure we were completely comfortable and enjoying ourselves. Her knowledge of Malibu and what it has to offer is a plus! There are quite a lot of nice things to do and experience in Malibu and she is more than happy to share her knowledge of them (book with biking/hike trails in the property, a list of restaurant recommendations, not to mention the detailed amenities). We really had a spectacular experience and would definitely go back. Thank you Jerri!
Ines
2016-08-01T00:00:00Z
AMAZING!!!! I absolutely loved this Air B&B, it was truly the best experience! Jerri is awesome and immediately made me feel welcomed from the moment I messaged her! She was very quick to respond to my messages. The day before our trip she called me and gave me great suggestions on what to do in the area, where to eat, and provided me with information about the local weather. She was there to greet my husband and I as soon as we arrived and she even took us on a tour of Malibu so we can get familiar with the area during our stay. The house was beautiful, clean, and literally has everything you could ever need in it! Jerri stocks the kitchen with food and drinks for you to enjoy during your stay. If you forgot something at home Jerri has you covered with a drawer full of necessities to use in case you forgot including a hair dryer, make up remover, deoderant, soap, etc. She also has beach towels, beach chairs, wet suits, and paddle boards to use if you would like. I'm telling you this place has it all. But best of all is the view! It's Breathtaking!! Spectacular view of the ocean, I could spend all day just sitting there enjoying the view! My husband and I feel lucky to have found this place and we will definitely be coming back!! Thank you Jerri for your hospitality!! Victoria
Victoria
2016-10-08T00:00:00Z
Jerri truly goes above and beyond to make sure you are happy and comfortable during your stay. The amenities she provides are unparalleled, the apt is great, and the views are beautiful! I would stay here again in a heartbeat.
Helena
2016-10-23T00:00:00Z
Kamertype
Gehele woning/appartement
---
Type woning
Huis
---
Geschikt voor
4
---
Slaapkamers
Malibu, Californië, Verenigde Staten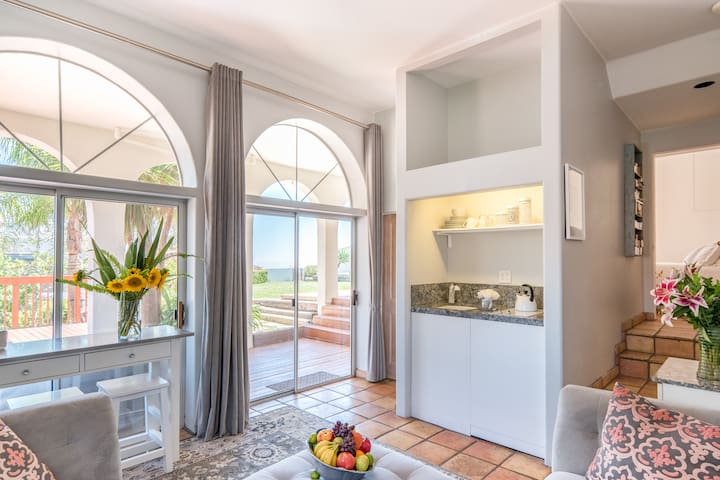 Separate entrance, private balcony, quiet luxury with designer finishes. Breathtaking ocean views sweep from Santa Monica to Catalina.
The ocean view is unparalleled, but the house is an architectural masterpiece with exquisite luxury designer fabrics, artwork, modern antiques and fixtures.
Quiet, serene, tranquil, peaceful, calm, secure...this is a real community, where neighbors look out for each other. I'm a member of Arson Watch, and law officers and first responders live on the block, so you'll feel secure.
My wife and I decided to have a little "staycation" here in SoCal. We were looking at the usual spots for locals: Santa Barbara, Solvang, Ojai, etc., and then we stumbled across this beautiful home here in Malibu! Since we have a lot of traveling coming up we figured Malibu would be the spot; but only if we could stay at Jennifer's stunning home. We were extremely lucky as there was availability! Since we have never used Airbnb, Jennifer went out of her way to make sure our stay was top notch. As we got to talking we realized that Jennifer is a smart and savvy woman whose philosophical beliefs align with our own! We were excited to say the least. About 2 days prior to our stay my wife and I decided that we wanted to be hermits and not talk to anyone, it had been a long week for the both of us. I emailed Jennifer and asked her if there was anyway that we could just kind of "come and go" without much hosting. She was on the same page as she had just got done with some traveling. She was able to set up her residence so that we could just show up and relax. We had also asked if it were okay to truly relax, meaning, could we enjoy the sun where the sun typically doesn't shine. Her response was priceless: "Scorpiesse is a totally No-Shame-Zone!" Even though she had been traveling, and was just getting back in town, we arrived to a beautifully hand written note welcoming us to her luxurious house along with a basket of goodies! The views from the room and multiple decks are stunning to say the least. The decks in back give you amazing views of Winding Trail, a new perspective that we had never seen. The decks and patios in front give you sweeping views of the Pacific and Solstice Canyon. There was a nice ocean breeze that travels up the canyon to make the temperature absolutely perfect! The house itself is nothing short of an architectural masterpiece. It reminded me of the homes you would see on the Bird Streets, above Sunset Blvd in WeHo, but with nature and silence as the backdrop. The interior of Scorpiesse is smartly appointed with high end decor and a plethora of books - think Design Within Reach meeting Herman Miller and having a baby that loves to read. :) The shower floors were made of smoothed rock and the linens were fluffy and clean. There were soft robes along with a bed that you just want to hangout in all day while reading a book in peace. Upon arrival we immediately put the robes on and got comfy for the night. The next morning we woke up to stunning views, as well as a message from Jennifer, letting us know that she was leaving to workout until 3pm-ish, and that we could use all the decks at our leisure. We...
Chris
2016-06-27T00:00:00Z
Loved being back in Malibu! Jennifer has the most beautiful home with stunning views! She is a great hostess and always makes our time with her memorable!
Carlos
2016-11-22T00:00:00Z
My aunt's family spent two days in Jennifer's place. Jennifer was such a great host! She communicates ahead to ensure their safe arrival and provide an extra bedroom for them because they have 3 person. My aunts family really enjoyed the BEAUTIFUL scenery the house locate at! I'd give this listing a BIG thumb up!
Fang
2015-11-19T00:00:00Z
Jennifer was the ultimate host. She greeted us with warm fresh banana bread. The accomodations were beyond luxurious!! Great in helping with leisure activities & restaurants "not to miss". We will definately be returning to Scorpiesse & recommending to All of our Friends & Family. Beyond AMAZING!!
Leslie
2016-02-14T00:00:00Z
Jennifer, was a wonderful hostess. Her home and, the view, were exceptional. I would highly recommend this to anyone and, plan on returning for another visit!
Cynthia
2016-05-11T00:00:00Z
The photo doesn't do it justice.. This is a gorgeous private room and bath in a magnificent home with a breathtaking, ever-changing view, in the quiet, calm rarified air at the top of a winding canyon road. Jennifer was so gracious, generous and welcoming - it was a perfect getaway. Thank you!
Nancy
2015-07-19T00:00:00Z
Jennifer was such a warm and welcoming host. She made sure we had everything we needed, and her guide to Malibu was very helpful. The house is absolutely beautiful and we couldn't get enough of the view. Everything was great!
Marta
2016-03-17T00:00:00Z
在山顶上,风景如画,更适合周末放空。女主人优雅热情,品味超群。房间超级整洁。早上有咖啡。
rui
2015-02-18T00:00:00Z
Kamertype
Privé Kamer
---
Type woning
Huis
---
Geschikt voor
2
---
Slaapkamers
Malibu, Californië, Verenigde Staten
Alles wat Malibu te bieden heeft, waaronder het strand, winkelen, Pepperdine University, en natuurlijk, Los Angeles - deze Toscaanse villa heeft een panoramisch uitzicht op de Stille Oceaan en de Santa Monica Mountains. Stranden zijn binnen enkele minuten van het huis het maken van dit huis een perfecte toevluchtsoord voor een familie-friendy activiteiten. Lokale restaurants zijn onder andere Nobu Malibu en Geoffries op het strand. Mijn plaats is goed voor koppels, solo avonturiers, zakenreizigers en gezinnen (met kinderen).
the host was very welcoming and responsive.The house was lovely and comfortable. the view was spectacular and so was the neighborhood. Overall we had a great experience while staying there. Would definitely recommend this place and revisit.
Abdullah
2016-07-25T00:00:00Z
We loved everything about this marvelous home. Totally awesome
Bruce
2016-10-24T00:00:00Z
Wow! One word is all that's needed here . . . but let me elaborate. First of all, this place is beyond description really . . . Magnificent is an understatement. Carmelo, the host, personally built this home and you can tell the guy is a master artist. The mosaic work is like something out of an Italian dream. The house is spacious and open with high ceilings and a VIEWS for days! I spent most of my time OUTSIDE on the terrace under the pergola sipping wine while taking in the clean air and ocean view. I woke up in the morning and jumped in the hot tub (very clean and nice) in the back of the house and looked out over the Santa Monica mountains. The Master Bedroom is spacious and welcoming, as is the Master Bathroom. The kitchen is obviously the kitchen of a chef. Carmelo offered to cook for me and I took him up on his offer. LET THIS GUY COOK FOR YOU! I have eaten in some of the best restaurants in the world but this meal was done by a true master . . . absolutely makes me want to book the house and the owner AGAIN! In summary: Amazing Home . . . spacious and private Artistic details abound through out the house Beautiful views of both the Pacific Ocean and Mountains Close to EVERYTHING in Malibu . . . especially Cross Creek and Nobu Close to the famous beaches Close to incredible mountain hikes Great HOST! (Thanks again Carmelo!) One of the best AirBnB experiences I've had.
Jon
2016-06-03T00:00:00Z
Our host was fantastic. She brought us a delicious wine, gave us her cell phone number, and told us all about the neighborhood. The home is BEAUTIFUL; the views are spectacular. This is the only place we will ever stay at in Southern California from now on.
Jonathan
2016-08-28T00:00:00Z
Carmelo was a great host. Everything was ready when we arrived, and he even provided us with some snacks, breakfast items and good coffee. The view from the villa was phenomenal!
Jeffrey
2016-10-04T00:00:00Z
Carmelo met us at the house and showed us around. He had coffee milk orange juice soda beer and wine waiting for us. His house is beautiful and has an amazing view of the mountains and the ocean. The 7 minute drive up the mountain is fun, scenic and well worth it.
Joseph
2016-12-04T00:00:00Z
What you see is what you get! This is a beautiful home with a ton of charm and views that will truly take your breath away.
Carmel
2017-02-13T00:00:00Z
Gorgeous getaway from hectic Malubu yet only 10 minutes to beaches and restaurants.
Christy
2017-03-13T00:00:00Z
Kamertype
Gehele woning/appartement
---
Type woning
Huis
---
Geschikt voor
6
---
Slaapkamers
Malibu, Californië, Verenigde Staten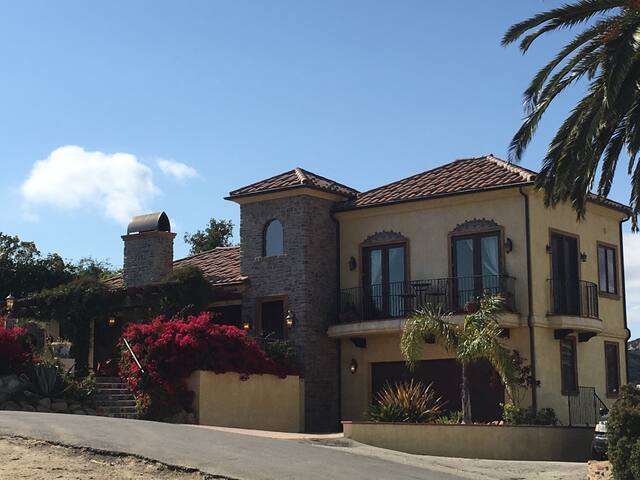 Onze mooie vintage luchtstroom is een klein huis geplaatst op een heuveltop op 10 hectaren grond met uitzicht op de Malibu kustlijn. We zijn net klaar met de eerste fase van een renovatie met een zen, bohemien chique, rustieke stijl. Boeking via 2017.
A vintage trailer off grid on a peaceful Malibu mountain top with an ocean view. This unique experience is for nature lovers, zen seekers and romantics with a sense of adventure. We have had multiple writers and creatives looking for some peace quiet and to focus away from the city. Our listing has the earliest check in and latest check out that we've seen. (2pm check in noon check out). The perfect staycation spot that's just 25 minutes north of Santa Monica. Full futon mattress with memory foam with fresh clean sheets (cotton or microfiber), blankets/comforters (down w/duvet), pillows, electric space heater (heats it up in 15-20 minutes) fan, electric water heater/tea kettle, kitchenware, snacks, drinks, spring water, ice box and towels, paper towels, candles, and a bottle of local wine are all included. Two burner stovetop, pots & pans, cutting boards, knives/utensils inside as well as two burner propane cook stove outside and mini propane BBQ. Full outdoor kitchen and separate spa style bathroom with claw foot tub coming soon. Bring your personal belongings and food to cook and your Bluetooth boombox. There is electricity and electrical outlets to plug in your laptops or charge your phones or other devices. Wifi works on a Verizon hotspot with unlimited data so feel free to stream some great tunes while relaxing on the lounge chairs outside. This trailer is off grid so there is not a full bathroom. There's a composting toilet inside and always the "water the trees" nature option. No shower at this point. There will be a solar shower by beginning of the busy season in May. A composting toilet is a regular toilet. It's not flushable but works just like a regular toilet and you don't have to do anything to it other than use it like a regular toilet. It's thoroughly cleaned and wiped down with cleanser every time and have had no complaints. Now accepting photo shoots productions events etc! please see House rules section for details and pricing Unless there's a bad rainstorm/thunderstorm during your dates you'll be able to pull up and park right next to the airstream. We do live on a dirt road though so if there's s bad rainstorm there's a good chance your reservation will be cancelled for safety and liability issues. If you're looking to book Easter, Memorial Day, 4th of July, Labor Day or any other major Holiday weekend the rates will be booked at a flat rate of $200 per night. LOCAL ATTRACTIONS Restaurants: At the beach:Sunset Restaurant – elegant beachside dining in Point Dume. Neptune's Net – seafood and snacks – surfers' and bikers 'hangout. Spruzo's Café – pizza and Italian dining with beach view. Kristy's Café – oven roasted dinners with panorama sea view Malibu Seafood – world famous Malibu outdoor fish dining with sea view Paradise Cove – beach-side dining and take-out on the beach More Local Cafes: Sunlife Organics - organic smoothies and health food Lily's Café – Mexican breakfast and lunch. A local hangout. Zuma Sushi – Delicious and reasonable – a Zuma favorite Mexican Café – Margarita happy hours In the Canyons: Calamigos Ranch – Romantic indoor/outdoor canyon dining The Old Place – Wild West dining – good for brunchSaddle Peak Lodge – elk, bison, ostrich – great atmosphere Rock Store – local hangout – good for beer and burger Malibu Golf Club – quiet place to mingle with Malibu locals In Malibu/Pier area: Nobu - Sushi with the stars! Malibu Farm Cafe - all organic at the end of the Malibu Pier Down the beach towards Santa Monica 15-20 minutes away: Reel Inn (fish) (our favorite), The Chart House, Gladstone's, Cholada's Thai Beach Cafe Farmers' Market in Topanga Canyon– Friday mornings Famous beaches: El Matador Beach - gorgeous beach with natural arches Leo Carrillo – another beautiful beach with natural nooks and crannies City of Malibu – check out local shopping mall - great kids playground – fancy shops – Cuban restaurant. LA Westside (15-20 minutes drive)Santa Monica Pier3rd St. Promenade – walking street – flagship stores – movie theaters - restaurants Venice Beach "Boardwalk" - fun street vendors, funky, great shopping.
Malibu Canyon is een van de meest afgelegen en prestigieuze regio's van Zuid-Californië de thuisbasis van zowel de lokale wijnhuizen en beroemdheden. Onze woning heeft een geweldige bergen en de oceaan uitzicht op de Malibu kustlijn met Santa Monica in het zuiden en de Kanaaleilanden voor de kust.
Beau was a great host; very was easy to make arrangements with and the air-stream is a fun alternative to the busy hustle and bustle of L.A. It's quiet and secluded and the basic amenities were easy to use. As long a you're prepared for more of a camping-like experience you won't be disappointed. The views are amazing. I would definitely recommend staying here!
Brooke
2017-01-27T00:00:00Z
Terrific location. Very remote and tucked away with some really cool views of the Santa Monica Mountains. Bed was very comfy too...definitely recommend getting there during daylight hours if possible though. Can be a little tricky for some to find.
Billy
2017-04-01T00:00:00Z
Due to unexpected changes in my traveling schedule I had to cancel my stay at Beau's place last second and was really bummed I didn't get to stay at his amazing AirStream in Malibu. Hope to be back in the next few months...Despite missing out on staying there, Beau was very friendly throughout all communications and very respectful. Hope to meet someday in person.
Michael
2017-03-18T00:00:00Z
This place offers a wonderful, back-to-nature experience for anyone visiting the LA area. The communication from Beau was great from start to finish. Highly recommended!
Chris
2017-02-25T00:00:00Z
Beau is a great host, very responsible and friendly! Everybody loves his place because it's like no other. The neighborhood was quiet and safe. You'll love the view up there the sunset was just stunning. Give it a try!
Leila
2017-02-16T00:00:00Z
It was beautiful!
Jack
2017-03-13T00:00:00Z
Absolutely such a unique place. This is a true getaway spot. Beau was super helpful, great directions, and has everything you could think of. I've stayed in other Airbnb properties that did not even have all of the amenities that he offered in this simple yet beautiful airstream trailer. If you want mountains, breathtaking views, seclusion, and a stay you won't forget, give it a go.
Derek
2017-03-09T00:00:00Z
The place to go to talk with your soul. Right in the middle of naure. LA in far distance. Don´t expect ordinary comfort. This place offers you the kind of comfort one really needs.
stefan
2017-02-03T00:00:00Z
Kamertype
Gehele woning/appartement
---
Type woning
Camper
---
Geschikt voor
2
---
Slaapkamers
Malibu, Californië, Verenigde Staten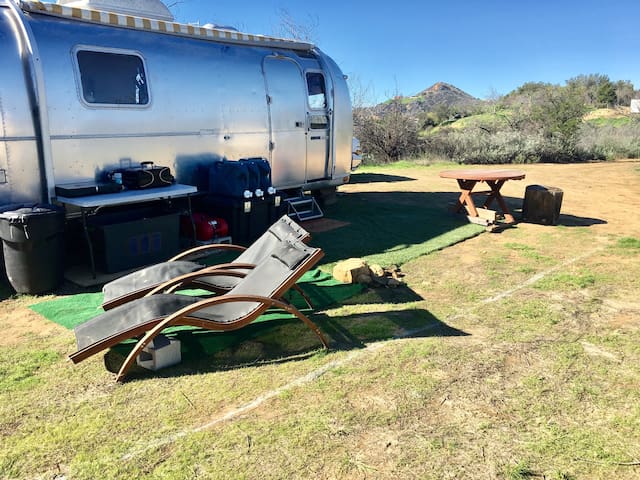 Zie gedetailleerde beschrijving ..... Het strand is niet echt een eigen, maar het grootste deel van de tijd zijn er slechts een paar mensen op het hele strand ... of helemaal geen ....
Romantische en unieke 'A-frame' op het zand op het strand Livingston, een privé-strand met slechts 23 huizen, op steenworp afstand van de premier surfplek County Line Beach in Malibu. LET OP: dat er 2 Een frame (URL HIDDEN) achter de andere. De huur is achter de eerste en tot erboven. Een droom locatie met een adembenemend uitzicht. Het begint vanaf het moment dat u uw Malibu ontsnapping in te voeren, van de vroege ochtend zonsopgang, tot spectaculaire zonsondergangen en magische maan balken over de oceaanbodem. 18 voet hoge plafonds en een open haard verbeteren van de romantiek van een ontspannen vakantie. Een goed uitgeruste keuken, outdoor barbeque, groot buitenterras en kruidentuin zorgen voor goede maaltijden en kwaliteit momenten samen. Dolfijnen, zeehonden, pelikanen, meeuwen, en als je geluk hebt een walvis, toe te voegen aan de magische natuurlijke omgeving. Ontspan op het dek, lopen op het zand, surfen, kajakken, en zwemmen zijn een steenworp afstand van uw voordeur. De loft slaapkamer en converteerbare den slapen 4 comfortabel. Bekijk films in HD op de 2 grote flatscreen-tv's of gewoon de geluiden van de oceaan wiegen je in slaap .... Elk detail is decorateur ontworpen voor uw comfort. Wees een van de eerste om tijd door te brengen in dit werkelijk verschillende en unieke strand huis dat de 'oude Malibu vibe,' maar gerenoveerd voor uw comfort vertegenwoordigt. De weergave bevat meestal een of twee van de Kanaaleilanden naar het noorden en Catalina Island naar het zuiden. Wanneer we kijken North er geen huizen meer op het strand en je ziet Point Mugu in de verte. Deze totale effect geeft je het gevoel alsof je op een eiland ergens in een afgelegen deel van de wereld. Neem contact met mij voor meer foto's of informatie aan één van de eerste gasten in onze strand uitje.
(URL HIDDEN)
Great spot in a great location - Morrie was excellent with directions and tips. The place is super cool 70's style and beautifullyand recently renovated. The beach is pretty and peaceful - and a short drive to some of the most beautiful beaches in the world. I really felt like we got away and would definitely come back.
Eric
2014-06-24T00:00:00Z
The home exceeded my expectations! The listing was extremely accurate. The kitchen was stocked with everything you could imagine for cooking. There were also very fun beach toys and the view was gorgeous. Morrie was extremely helpful and so was his packet of the Malibu recommendations. I will be reserving another weekend here before the end of this year :)
Alexis
2015-10-04T00:00:00Z
Wonderful!
Robin
2017-03-12T00:00:00Z
Morrie was a great host. He provided clear instructions and kept in contact with us to make sure all was well. The place is amazing! Beautiful location, very clean and nicely designed. I would definitely recommend this place and hope to come back again sometime.
Liz
2015-09-18T00:00:00Z
I was very happy with this place and Morrie was a helpful host, providing a lot of info about the local area and advice about what to do and where to eat. The place was small but beautiful and in person it looked exactly like the pictures. The weather was cool and cloudy on the days we stayed but it was beautiful to watch the waves roll in and surfers just outside our window. The small bit of beach behind the house had some sand exposed for a few hours each day and rocks for most of the other times. However, 100 yards away is a full public beach with sand all the time, no need to get in a car. We saw dolphins swimming outside the back window one day and of course lots of sea birds up-close.
David
2016-06-04T00:00:00Z
This place is great. Quiet, clean and in a beautiful location. The indoor and outdoor settings are thoughtfully designed. We hope to come back. The owner did a great job making sure my daughter and I had a great experience.
John
2017-03-20T00:00:00Z
This is the first time my wife and I tried Airbnb and our experience with Morrie was really great. His place sits right on the beach, and in the morning we would sit on the deck, and watch dolphins swim by as we drank our coffee (he has a french press for guests). His house was impeccable with plenty of amenities. He gives you very comprehensible instructions of how to get to his place with a guest folder there that has recommendations of what to do, and where to eat. We would for sure come back!
Jonathan
2014-05-24T00:00:00Z
We had a great time in the A-Frame. The house is located directly on the beach! Surfing is great next door (2 minute walk). The center of Malibu is only 10 minutes away. The apartment is very clean and completely renovated and has everything you need. If you are looking for a stay in Malibu on the beach this is the way to go!
Bas
2013-07-04T00:00:00Z
Kamertype
Gehele woning/appartement
---
Type woning
Huis
---
Geschikt voor
4
---
Slaapkamers
Malibu, Californië, Verenigde Staten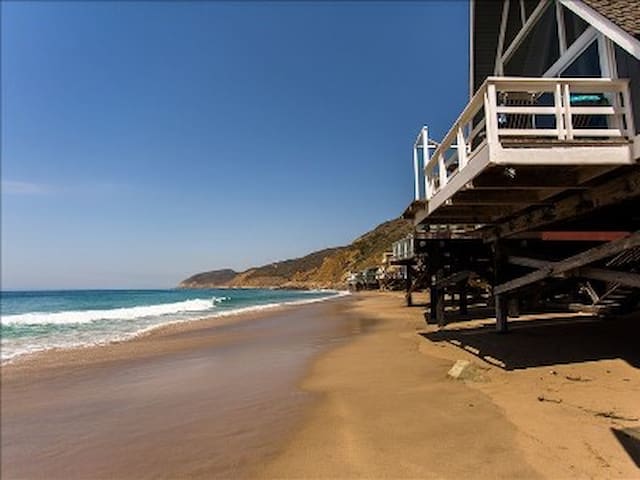 Cozy new bungalow with full gourmet kitchen, bathtub & shower, washer & dryer, built in stereo, flat screen TV, bedroom with queen bed and full size futon in common area. 4.1 miles from famous Leo Carrillo Beach. Breathtaking views of state and national parks surround the property. Quiet rural setting in Malibu. Hike, swim, bike, relax! Setting is totally rural yet offers relatively easy access to Los Angeles attractions and the famous Malibu scene. 1 hour from LA & Burbank airports.
Comfortable, cozy bungalow with private patio and mountain privacy in Malibu. Brand new kitchen has granite counters, built-in new appliances and pots and pans ready to cook. Patio is fenced and features beautiful mountain views. Bath is tiled throughout with full bath and shower. Couch converts to extra bed. Flat screen internet streaming video linked to surround sound stereo.
The Bungalow is located next to the main house. The property is surrounded by state and federal parks. There are no neighbors for more than a mile in any direction.
The bungalow is nestled in a picturesque mountain setting. Very nice accommodations. The host was fantastic and went the extra mile to make our stay comfortable. Julie is such a nice person and very accommodating to requests.
Kevin
2016-07-17T00:00:00Z
Julie was very kind and accommodating, allowing us to stay on only hours notice. The bungalow was darling, and our kids loved watching Star Wars with great surround sound :) We enjoyed our stay! Thanks so much for hosting us!
Holly
2016-07-23T00:00:00Z
The bungalow as amazing! Everything looks very new and its spotless inside. The bed is super comfortable! It was very easy to find and parking was not an issue, not to mention the gorgeous surroundings. My sister and I would go back in a heartbeat!
Holly
2016-06-24T00:00:00Z
This is a great find offr he beaten path if you are looking for some peace and quiet not too far from the bustle of the LA area. Everything was perfect.
Tony
2016-07-11T00:00:00Z
The bungalow was spotless and in great condition. There was plenty of room for the 3 of us, even with the futon/sofa open. The private patio was great for breakfast in the morning. The location is very quiet with easy access to Malibu and the beaches along Hwy 1. We would definitely stay there again next time we're in the area.
Tom
2016-08-13T00:00:00Z
Great experience, Julie and Steven are very nice, they were discrete but always helpful. The bungalow is very cosy and was crystal clean and quiet. It is the perfect location if you want to enjoy the beach and the Santa Monica mountains area.
Jean-Philippe
2016-08-21T00:00:00Z
Great weekend in Malibu, the place is perfect! Very clean, very calm and close to the beach. Julie was always very reactive in all our request/questions.
Sophie
2016-07-24T00:00:00Z
Julie was the greatest host! She greeted us with a warm hello and made our experience very pleasant. She gave us pointers on what to do locally and was very accommodating. The bungalow was very cozy, clean and had all the essential amenities. We spent a very quiet peaceful weekend and will surely be back! Thank you Julie!!
Vanessa
2016-07-18T00:00:00Z
Kamertype
Gehele woning/appartement
---
Type woning
Bungalow
---
Geschikt voor
4
---
Slaapkamers
Malibu, Californië, Verenigde Staten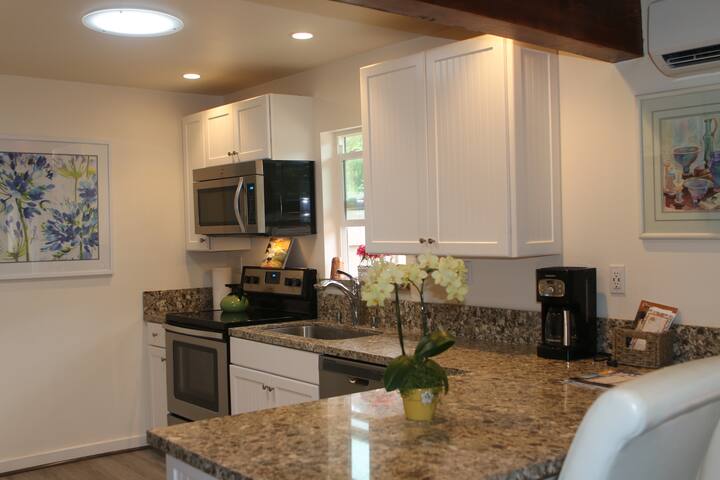 Vrijstaand Octagon House ~ genesteld Decker Canyon in de heuvels net boven Malibu! Een rustige, prive-retraite ruimte met een grote berg bekijken dek. Omgeven door de natuur, en de vogels ~ gouden licht in de late namiddag plus sterren kijken en de maan te kijken 's nachts!
Peaceful, private bohemian - chic rustic space! A magical environment designed for enjoying the nature, meditating, yoga on the deck, hiking, surfing, wine tasting, relaxing or simply just "being" .. you will be embraced by the mountains and blanketed by the stars! However, if you are seeking activity ~ there are many great wine tasting rooms & cool, hip restaurants nearby ~ The Sunset Restaurant, Malibu Wines, The M Cafe, The Old Place and The Cornell Winery are some of our favorites! For a super affordable "Happy Hour" you can drive down to Westward Beach and check out the Sunset Restaurant ~ A Malibu Local Favorite :) Vintage Market, Zuma Sushi, Spruzzo's Restaurant ~ Sunlife ~ Acai bowls, fresh soups etc.. Duck and Dive for great food and music are all located nearby between Zuma Beach and Point Dume ~about a 15 minue drive. PS ~ The second bedroom is a "Sleeping Loft" with a Queen-size bed~ it's like sleeping in a Tree House :)
Malibu stranden, Malibu, wijnstreek, wandelpaden, fietsen (er is een fietspad langs de Pacific Coast Highway, Vintage Kruideniers, winkels en restaurants aan de overkant van Zuma Beach ..about 15 minuten rijden .. Restaurants in de omgeving. Duck -Ollie en Duik- goede vibes, live muziek op sommige weekenden. -De Farm op Malibu Pier- biologische verrukkingen gelegen aan het einde van Malibu Pier, op het water. Moet gaan, te zien, te eten en te drinken. -De Sunset- Awesome happy hour en het prachtige strand setting. Zorg ervoor dat je op tijd om de zonsondergang te vangen. Of heerlijk dineren boven. -De Old Place- Rustiek, Cowboy, Hipster, Coolness. Artiesten, muzikanten, modellen, acteurs en een darn excentrieke menigte hou van deze verborgen parel. Gelegen op ongeveer 20 minuten in het midden van de Malibu Bergen / Wine Country. Reserveren. Boeken snel en is erg klein en intiem. -De Malibu Cafe- Enorme, mooi, rustiek buitenomgeving. Gelegen in het Malibu Bergen / Wine Country. Lake, eenden, optillen boten, geweldig voor brunch, een drankje en chillen in de zon. Geef jezelf een paar uur daar. De gronden zijn zo mooi! Gouden uur voor zonsondergang ~ dramatische hangende twinkeling lichten 's nachts :) -Neptunes Network Dit is een mijlpaal. Het is hier altijd al geweest !! Motorfiets, Surfer rondhangen. Verse vis, clam chowder, Fish and chips etc ... Gelegen op PCH tegenover het strand. Loop en orde. -Ollo- Net geopend. Heup, modieus, edgy en koel. Ongelooflijke menu. Incredible drankjes. -Spruzzo Pizzaria- Family Italiaans. Vuurkorven. Eet Al Fresco op de bovenste uitzicht op de oceaan dek. -Nobu- Moet ik meer zeggen. Het is Nobu. Lekkerste sushi, heup, heet A-lijst menigte, gelegen op het strand. Prachtige setting. -Tradinoi- Familiebedrijf Italiaans. Gelegen op Cross Creek. Kinderen kunnen spelen in het park, terwijl je buiten zitten en te eten. -Zuma Sushi- Locals hangout. Sushi verrukkingen. -Coral Beach Cantina- Lokale Mexicaans eten. -Taverna Tonys- Incredible Griekse lekkernijen !! Prachtige outdoor instelling onder de twinkeling lichten. -Café Habana- eigendom van lokale A-Listers, Cindy Crawford en Rande Gerber. Totaal terugkeer naar Cuba in de jaren '50. Geweldig eten. Karaoke op sommige avonden. -Johns Tuin- Fresh, sandwiches, salades, smoothies enz. Dit is niet een zitten. U belt in of ga in een volgorde, pick-up en eet in het park buiten. -Bui Sushi- Yummy Sushi, goede drankjes, hip publiek. -Cholada- Thais eten door Topanga. Pizza bezorging- D'amores spruzzo Sunlife- Biologische verse sappen, Acai bowls, Smoothies, Wellness, Drip Coffee etc ... lilys Café- Malibu lokale gat in de muur een verdomd goed ontbijt burrito te krijgen. Zwaar maar oh zo gooood. En zorg ervoor dat een kant van hun gele hete saus te krijgen !! Niet een geweldige indoor setting. Buiten eten of mee te nemen. -Als U het station te maken naar Venetië ... dit zijn enkele van onze favs: -Gjelina -degustatie Kitchen -Zout Air -Superba lokale markten- -Vintage Grocers -Pavillions -Ralphs Boerenmarkt- Gelegen beneden in het midden van Malibu op Civic Center Way, elke zondag 10-3 LOKAAL wijnhuizen en wijn Tours- Kijk online voor de lokale wijn tours in onze Malibu Wine Country. Het is enorm en mooi en een geweldige manier om een middag door te brengen. -Malibu Family Wines -Cornell Winery enz…
The dolphin octagon house was a perfect place for my husband and I and our two friends to relax and regroup during a fun- packed wedding weekend. The house is immaculate and has everything you need. We enjoyed breakfast and yoga on the tranquil deck in the mornings. There are so many unique touches like the rock shower and the beautiful stain glass windows. The bed linens smell freshly washed and are very comfortable. We had a small issue with the hot water tank and it was fixed immediately. We hope to return to this beautiful oasis in the hills in the future.
Cassidy
2016-09-11T00:00:00Z
Great place to stay! Only 20 mins away from busy towns and beaches - we had a great time and Kathleen was a wonderful hostess!
Claudia
2017-04-02T00:00:00Z
my wife and I loved our relaxing stay. The octagon was just as described and a perfect place to disappear for a few days
Adam
2016-08-30T00:00:00Z
We had a wonderful time. A really special place that very comfortably sleeps four private secluded gorgeous views and surroundings excellent service. 15 minute drive from beaches and restaurants. Highly recommend. We would stay again for longer.
Raegan
2015-09-07T00:00:00Z
We recently stayed at the Dolphin Octagon with our 16 month old daughter. It's located in a beautiful area of the Malibu hills. Kathleen went over and above to make our stay carefree, including sourcing a high chair. It's located within a 10 min drive of the beach as well as a bunch of cool cafes, wineries in the area. The Octagon is well equipped with everything you could need. It's not necessarily the best place to stay with little ones (the shower, stairs and loft was a bit of a challenge) however this was brought to our attention by Kathleen well in advance of our trip so we didn't have any surprises. Overall it's a great little hideaway and we really enjoyed our stay.
Fi
2017-03-08T00:00:00Z
Perfect. We stayed for a month. I just wish we booked for 2 months :-)
Kyle
2017-02-04T00:00:00Z
The space is great - just be prepared to be in the middle of nowhere - Kathleen was a great host however and the trip was wonderful!
Kasey
2017-02-26T00:00:00Z
We had an absolutely amazing experience here at The Dolphin Octagon! We came for a girls weekend and it was absolutely the perfect place to stay. It was nestled up in the hills of Malibu, very relaxing, and very private. We spent our days in the heart of Malibu and afternoons/evenings relaxing and talking at The Dolphin Octogon. Everything was comfortable, clean, and we had a perfect weekend!
Halli
2016-10-04T00:00:00Z
Kamertype
Gehele woning/appartement
---
Type woning
Huis
---
Geschikt voor
4
---
Slaapkamers
Malibu, Californië, Verenigde Staten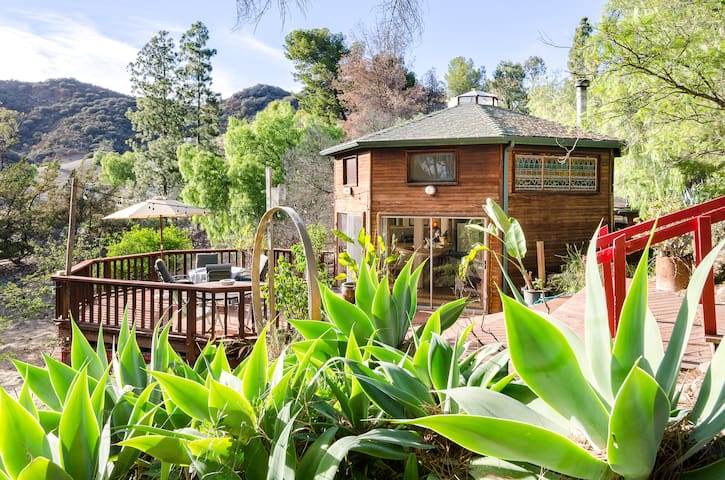 Kom genieten van de zon op dit strand huis op een privé-strand in Malibu. Een mooie Cape Cod exterieur en modern en vernieuwde interieur is de perfecte strand vakantie te bieden. 750 sf dek geeft je 180 graden uitzicht
De master suite heeft een prachtig uitzicht op het strand en het dek - met een rustige en ongerepte strand op slechts een steenworp afstand. Je bent op loopafstand van een geweldige surfspot evenals een paar minuten rijden van de hoogtepunten van Malibu. Een grote outdoor BBQ entertainment gebied en gastronomische keuken zal u de tools voor het onvergetelijk diner binnen of buiten.
Prive-strand aan de uiterste westkant van Malibu, op loopafstand van County Line surf strand en Neptune's Net Restaurant. Ongeveer 16 mijl van Malibu Midden- en Pepperdine University
Welcome to the property was great. Barry and family were very helpful every step of the way. The only complaint we have is that the windows weren't clean which hampered the view somewhat.
Guner
2016-07-21T00:00:00Z
Barry's home is absolutely wonderful. We rented the top floor with the roof terrace. Words can't describe how amazing the roof terrace is - we never even went inside! The views are incredible, Barry provided us binoculars and I was able to see a family of dolphins and seals. You can't beat going to sleep and waking up to the sound of waves crashing! And not to mention, the bed was so comfortable - we slept better here than at home in our own bed. Everything about this stay was perfect. Barry went out of his way to make sure we had everything we needed and even gave us a cute welcome basket with wine from Malibu rocky oaks and some snacks for the beach! We will be back!! :)
Caitlyn
2017-03-26T00:00:00Z
There's nothing not to love about this place. We kayaked, surfed, whale watched, made awesome meals, sipped wine on the extraordinary deck, drove 15 minutes to a fun winery, walked across the street for fried fish and much more. Cozy and comfortable. Great hosts!
David
2017-01-17T00:00:00Z
Barry was extremely helpful throughout our booking process and with directions for arrival etc. Upon arrival we were greeted with some refreshments and a list of some great places to eat and visit, not to mention the view. The house was everything we had imagined, and made our stay worth every minute. I would highly recommend this property as a rental and I am thoroughly impressed with our overall experience. Thank you, Barry!
Devin
2016-08-06T00:00:00Z
Don't skip over this place! If you are looking to disconnect from the real world and enjoy a weekend by the beach this place is perfect! Barry is extremely helpful With any needs and happy to answer any questions we had! Well worth the money!!!
Evan
2017-01-09T00:00:00Z
This was a wonderful home on the beach. My wife and I had a great vacation. The views were spectacular. Barry and his wife were a pleasure to deal with. We highly recommend this property.
Richard
2016-01-29T00:00:00Z
Great communication with us. Very responsive.
Marc
2016-12-05T00:00:00Z
Absolutely stunning house. The deck is the standout feature. It was so nice to sit out there, sip on some wine, soak up the views and relax. The beds are extremely comfortable, the kitchen is well equipped, and the house is not far from Malibu country mart, Nobu or Geoffrey's (all highly recommended). Most importantly, Barry was a lovely host and a great communicator. I will definitely be returning.
Sam
2016-12-16T00:00:00Z
Kamertype
Gehele woning/appartement
---
Type woning
Huis
---
Geschikt voor
5
---
Slaapkamers
Malibu, Californië, Verenigde Staten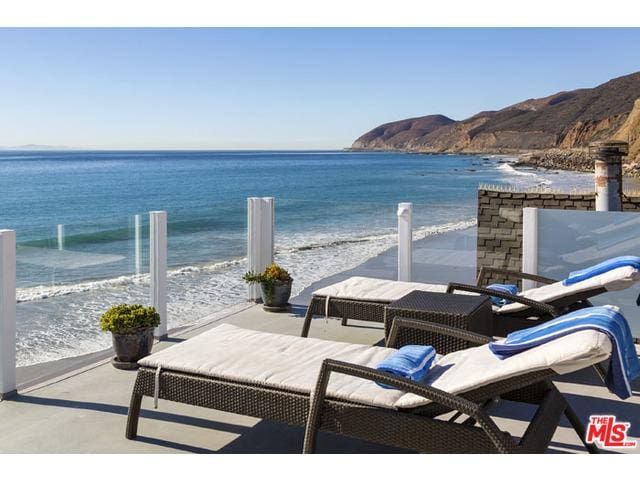 We have a special spot overlooking Solstice Canyon Park with ocean and mountain views. We are in a rural, quiet area close to Pepperdine University, Point Dume, Zuma Beach, City Center, Restaurants and Dining. You can surf, hike, visit local wineries, or just chill and enjoy the ambiance and natural landscape. You can inquire about your furry friends (pets). As the crow flies, we are one mile from PCH and it takes about 8 minutes to get here from there.
This is a Master Bathroom/Bedroom Guesthouse. We supply a Microwave, Small Refrigerator, Coffee Maker, Plus Essentials. We also supply Beach Chairs and Towels for your use.
We sit atop a mountain and we are the last home at the end of the road. There are only a few homes in our area so we are very private. The guesthouse is in a gated property.
Tucked away into the beautiful hills, but a close enough drive down to amenities and beach, this home was exactly what we were looking for in a Malibu escape. We fully enjoyed the breathtaking views, hikes around the home, and star- gazing from the hot tub. Deborah and Peter could not have been more welcoming (yet respectful of our privacy). The guest home was very clean and has the comforts of home, plus some extra treats. Hope to be back!
Elizabeth
2017-01-31T00:00:00Z
Exactly what my wife and I were looking for in a Malibu getaway - beautiful, quiet, central to everything we needed, a very comfortable space and Debbie and Peter were gracious hosts. At first I was hesitant to be further from PCH but the location turned out to be so much more peaceful than that would've been, and the winding drive up was actually one of my favorite parts of the adventure. The location and views are breathtaking, true to the pics if not better. The space was larger than I was expecting, the bed felt bigger than a king, and waking up to distant water views was wonderful. Exploring/hiking directly from the cottage, watching the sun set as a full moon rose over the canyons, and a nice complementary bottle of wine were all added bonuses. A great overall experience for us, highly recommend it!
paul
2017-01-14T00:00:00Z
The place was absolutely beautiful inside and out. It was truly a unique find and it was a luxury experience at a completely reasonable cost. Deborah was extremely helpful and made sure I had everything I needed. Highly recommended stay for anyone looking for a quiet place with amazing scenery. Thanks again Deborah and Peter!
Jeremy
2017-02-05T00:00:00Z
Look no further- this place is perfect! Deborah and Peter are exceptionally hospitable and kind! The view is beyond beautiful! It was a perfect getaway for me and my wife! 5 stars all around!
Preston
2016-12-18T00:00:00Z
The pictures hardly do the place justice! The location is secluded, peaceful and beautiful. The guest house is extremely nice and has all the amenities you could need for a get-away. Deb is also incredibly kind and helpful. She gave great, clear instructions on getting to the place and was responsive to any needs we had throughout the stay. Cannot recommend this place highly enough! We enjoyed our stay there so much!
Luke
2017-01-06T00:00:00Z
Debbie and Peter's Malibu Escape was absolutely FANTASTIC! Truly a special spot as described. My friend and I stayed this past week and had an absolute blast. Debbie and Peter were amazing hosts that were readily available and extremely accomodating if we needed anything. The drive up takes about 15-20 minutes and is a fun adventure. Once you arrive you feel like you are in another world. Its peaceful, quiet and exquisite. The guesthouse was extremely clean and there are many details (the fridge is stocked with some nice essentials, great coffee and tea selection) that will make you feel right at home. Debbie even provided us with a delicious bottle of wine. Its these subtle touches that makes the Sinding's wonderful hosts. We had a great time chatting with them both and they are very respectful of one's privacy. The outdoor hot tub was fantastic and clean, providing a great way to unwind at the end of the day. As other's have written, I would recommend checking in during the day so that you can get a feel for the canyon. We also loved sweet Maisy (their super friendly dog)! Thank you both so much for sharing your little piece of heaven with us!
Sarita
2016-12-13T00:00:00Z
This secluded guesthouse is everything that it is presented to be and more. The view of the hills and Pacific Ocean (with Catalina Island also in the backdrop) is nothing short of spectacular. This guesthouse is perfect for those that want to spend their time hanging out on the property in seclusion, but is also close enough to access the amenities & attractions that Malibu and the PCH have to offer. The guesthouse provides all the essentials that you would need or want (short of having a full kitchen, though there is a fridge, microwave, etc.) and Debbie & Peter are very responsive to requests or questions. The king bed, the walk in shower, the hot tub (and so on!) we're all lovely. There's even cable television (with many movie channels) for watching a movie after a long day exploring. The winding drive up to the property from the PCH is reminiscent of parts of Italy and is very pretty, though those afraid of heights ought not look down (the road is safe and paved, but at times cuts through steep cliffs). There also are many hiking trails nearby with excellent sunrise/sunset views. This place gave my wife and I the perfect balance of lazy seclusion and relaxation while also enjoying Malibu's excellent and varied culinary offerings. We highly recommend and would consider coming here again!
Darin
2017-03-13T00:00:00Z
Very comfortable with super views..everything was great .Thank you Deborah and Peter
Victor
2017-03-02T00:00:00Z
Kamertype
Gehele woning/appartement
---
Type woning
Pension
---
Geschikt voor
2
---
Slaapkamers
Malibu, Californië, Verenigde Staten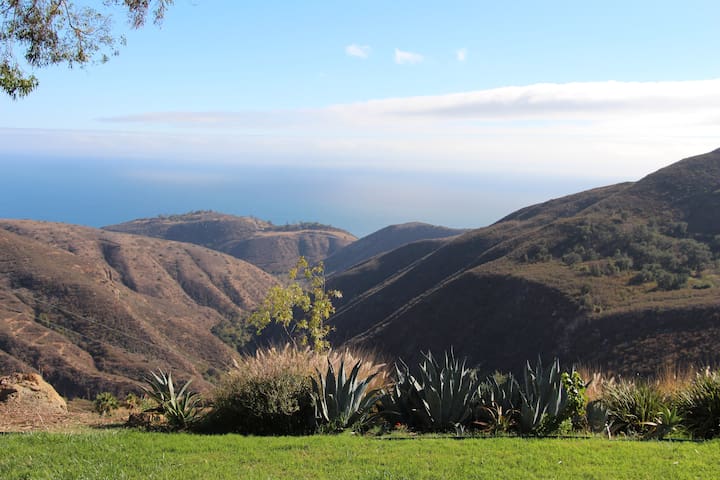 Humble accommodations in opulent Malibu Central, a beautiful escape from the city where you can enjoy being surrounded by nature, and indulge in personal inner space while observing the ocean and wild life. Guest suite with bathroom, closet and separate kitchen in the house on cul-de-sac street, views of greenery from the bedroom. 5 minute drive on a beautiful canyon to the ocean, ocean views from the outdoors of the house. Perfect for solo travelers, a couple, maybe a couple with a baby.
Single guest apartment with a separate kitchen, bedroom, hallway, full bathroom with a walk-in closet.
Outdoor activities of course: surfing, biking, hiking, motorcycle rides, horseback riding and more adventurous once that you won't ketch me doing :). Restaurants are fantastic, in fact I think most of them are outstanding, and almost all are good, I am a foodie and would be happy to share my favorites. The place is probably what we imagine a heaven should be like, it resonates with all senses in most indulging way. I lived here for a little over a year and still thrilled every day to wake up to such beauty.
Kamertype
Gehele woning/appartement
---
Type woning
Appartement
---
Geschikt voor
2
---
Slaapkamers
Malibu, Californië, Verenigde Staten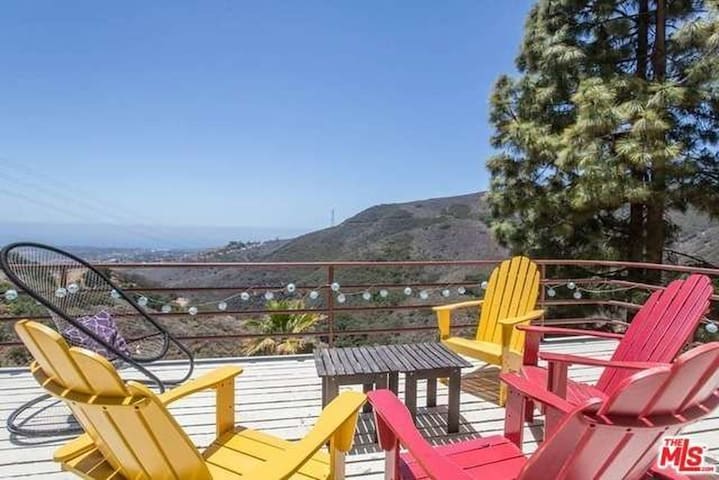 Perched atop a stunning Malibu Canyon Home is a unique studio ideal for a elusive, healing or very romantic getaway. Those seeking a special environment with open vistas, fresh clean air, expansive & elevated ocean views, and access to the Coast & Wine District in less then 3 miles will appreciate the turn-key commodities this space offers. You can "escape" and turn if all "off" OR you can elect Uber and WiFi phone if you need to be "on." (NOTE: Driving directions are required reading.)
The suite is approximately 780 square feet. It includes a walk out patio veranda that is the perfect place for either an evening barbecue or to connect with the sun in the eastern horizon as it comes up in the morning. It has a Mediterranean aesthetic and a broad vista architecture. Truly a unique space that reminds me of a tree-house because of its elevation and seclusion to the main house. The property is a working Ranchitta with goats, chickens, and horses. A generous private bath with a jet bath tub & walk-in tiled shower is what sets this space a part from the rest. This space is perfect for the environmentally conscious and those looking for healing. If you are interested in serenity and opportunities to go hiking, ride horses, relax, and enjoy your own space, this is the perfect spot for you. I'm equestrian and enjoy several horses, goat and chickens on my property and private trail access in the Santa Monica Mountains. Mountain & street biking opportunities abound. The infamous Latigo Canyon biking loop a 360 degree vista as well as a secluded creek oak covered moderate hike are out your back-door. The neighborhood is incredibly quiet and watchful -thus Malibu Escapes. However, the "Bu" scene, Zuma & Surfrider Beach, spectacular coastal drives and 365 degree views of the ocean, islands, and Santa Monica mountain range are out your back-door. In addition to all the amenities listed, the suite also is equipped with WiFi cell phone & date capabilities, Uber access, bubble bath for the jet bath tub in your Suite. If you wish, a local wine is made available upon your arrival and fresh ground coffee and authentic free range fertilized organic eggs you may gather in the morning. If you have horses and wish you bring them, please contact me about arranging extra corral space. Additionally, there is an exterior Jacuzzi hot tub - available upon request by special arrangement only. Additional fees apply. (I will need Use is at your own risk, and please you need to notify me 24 hours ahead of time if you want to use it.) The sofa easily accommodates an extra person. Drought conditions in California require me to assess extra fees for excessive water usage. (Brief daily showers and/or Jacuzzi use every three (3) days is considered acceptable.)
Deze wijk biedt een unieke Indiaanse geschiedenis die spiritualiteit en een verbondenheid met de natuur ondersteunt. Er is voldoende frisse lucht en natuurlijke verlichting. U vindt er rust en inspiratie van alle soorten te vinden. Het is perfect gelegen tussen de Pacific Coast Highway en Interstate 101, waardoor u een ruime toegang tot de omgeving Greater Los Angeles. U kunt wandelen, fietsen, surfen, zwemmen, boogie board, ga wijnproeven, en bezoek Pepperdine University allemaal binnen 10-15 minuten. Er is ook een mooie kreek wandeling langs het pand.
Susan is a very gracious and attentive host. Great communication. The accommodations were very clean, private and quiet. Really enjoyed the huge soaking tub for two! Beautiful shower as well. Guests should be aware that there are many steep steps from the street to the guest unit.
Stephanie
2016-12-04T00:00:00Z
Not only was the property even more beautiful than depicted in the pictures, but Susan was warm, welcoming, helpful, and just super cool. Shower and massive tub are GREAT. Great fireplace to use when the wind isn't crazy. The whole space is just lovely. And I'm not sure I've ever seen so many stars as I did from that balcony. Highly recommended. Thanks, Susan!
Shaun
2017-02-01T00:00:00Z
Amazing place!
Hess
2017-03-01T00:00:00Z
Had a amazing time at the Cloud studio suite! Working with Susan for a last min. business trip was top-notch and the team really enjoyed the view and the surrounding area. It was far enough away, but near the ocean for the great breaks we needed! I can't wait to make another trip here!
David
2016-06-22T00:00:00Z
Susan was a very generous & gracious host. She was very kind and made us feel so welcome. There was often a cool breeze and the views were stunning. The studio was very comfortable, in a beautiful setting and we really enjoyed our stay. We hope to be back some day!
Cliff
2016-08-06T00:00:00Z
Secluded private home just far enough 'off the beaten path'. Very quiet - peaceful.
Michael
2016-07-28T00:00:00Z
Susan has a beautiful place nestled in the Santa Monica Mountains above Malibu. She had 35 good reviews and two bad ones one of which was in Chinese! The other one seemed like a mishap with toilet issues and we thought that could never happen to us but Murphy's law kicked in and our stay ended up a comedy of errors I should start by saying hat Susan is a very nice person but may be in a little over her head with managing the Airbandb properties she owns. As I stated she was late for our check in but that was not a big deal except she did not clean the apartment thoroughly. There was a cleaning rag on the floor and the bathroom sink counter had dead bugs on it and the hot tub inside the bathroom was very dirty. Also the toilet was running and would not flush but Susan fixed that for us. So we rolled with the punches but later that night we discovered the bed was not to our liking. To her credit Susan was very accommodating and offered us the bed in the empty lower unit while we kept our things in the original unit. The next morning we went back upstairs to shower and use the toilet and to our surprise it clogged again. ( the same basic problem as the other bad review) I went to look for Susan to get a plunger but couldn't find her and texted and messaged her too. When we returned later that afternoon Susan was in our unit cleaning up the mess on the bathroom floor. Apparently she tried to flush instead of plunge and the toilet overflowed on the bathroom floor. Susan had cleaned it up but she also left the plunger in the bathroom sink too. I guess she forgot it there. My wife went to use the bathroom in the lower unit and discovered that the filthy toilet water was leaking into that unit and almost slipped on the hard floor. We were at wits end and Susan did try to make it up to us by having here massage therapist give my wife a free massage. In the end Susan place is beautiful on the outside and she did some gracious things for us like giving us eggs from her chickens and the massage but the disorder, chaos and uncleanliness still bothers us several days after we arrived home.
Jeff
2017-03-19T00:00:00Z
Susan is lovely.. She is so communicative and made the whole trip easy for us. Her kindness and care shine through in every conversation. she really wants us to have a lovely and peaceful time.
justine
2016-08-20T00:00:00Z
Kamertype
Gehele woning/appartement
---
Type woning
Huis
---
Geschikt voor
3
---
Slaapkamers
Malibu, Californië, Verenigde Staten
This lovely spacious suite with private entrance & private bathroom is the ground floor level of the main house on 10 acres on a rural property in the Santa Monica mountains with it's own waterfall & canyon views. Close to horseback riding, the famous backbone trail, hiking & biking, Malibu wine safari, Saddle Rock Garden Dinners, Malibu wines & tasting. Short drive to beaches and Malibu restaurants. A beautiful drive to Pepperdine University activities, Malibu Pier and famous Surfrider beach.
Deze ruime suite met een eigen ingang en een eigen badkamer, is meer als een studio met een queen bed en een ongelooflijk comfortabel kingsize bed uitschuifbare. De kamer heeft een keurig koffiezetapparaat met Starbucks koffie, broodrooster, magnetron, waterkoker en een kleine koelkast en wastafel. Echter, de ruimte beschikt niet over een keuken of kookgelegenheid. Het is de beneden maaiveld in een aangepaste woning, ontworpen en gebouwd door de eigenaar. Geniet van het gevoel van wordt omringd door handgemaakte aangepaste houtwerk. U bent van harte welkom om een wandeling door het pand te nemen en gebruik maken van de hangmat en zithoeken onder de bomen. Er is een eigen zithoek naast de vijver voor de deur, dat is alleen voor onze suite gasten. Perfecte plek voor een kopje koffie of een drankje. Dit is de ideale plek voor iedereen die wil om weg te komen en te ontspannen, perfect voor schrijvers, omringd door schoonheid en natuur. We hebben een huisje spa, hier op het terrein. Boek een gezichtsbehandeling of massage en geniet van de rust en stilte. Grote gemakkelijke toegang parkeren. Opmerking * Als de reservering voor twee personen, maar het tweede bed nodig (pull van de bank) die u nodig hebt om te vragen dat bij het boeken, zodat we kunnen het hebben opgemaakt voor uw aankomst. Opmerking * er is een extra toeslag voor 3 & 4 personen * Opmerking: GSM-verbinding is zeer onregelmatig in de canyons. U kunt onze vaste lijn te gebruiken als een alarmnummer. Gratis Wi-Fi verbinding beschikbaar is. alleen volwassenen, geen kinderen onder de 12 jaar, geen huisdieren.
Ons huis "Sequit Falls Ranch" is gelegen in het Santa Monica Mountains National recreatiegebied (SMMNRA). Er zijn veel mooie wandel- / fietsroutes waaronder de wereldberoemde Backbone Trail, we zijn een handige overnachting. Wij zijn gevestigd in het midden van de training routes voor de internationale fietsers, met inbegrip van training voor de Tour de France en andere grote wielerevenementen. (URL HIDDEN) We zijn ook dicht bij "Malibu's Wines" wijngaarden, proeven locatie en Wine Safari. Malibu heeft een aantal goede restaurants en winkels en natuurlijk de wereldberoemde stranden, een mooie 6 mijl canyon rijden naar Leo Carillo strand en State Park en Pacific Coast Highway. We zijn ongeveer. 1 uur van Universal Studios, Venice Beach en Santa Barbara en ong. 1 1/2 uur van Disneyland en Knotts Berry Farm. We zijn ongeveer. 21/2 uur rijden van San Diego en Sea World. De internationale luchthaven van Los Angeles is ongeveer. 1 uur 15 min, met een mooie rit langs de Pacific Coast Highway.
We had a great stay here. The suite is beautiful and very spacious. Gary and Ali were very welcoming and kind. The local area is great too.
Nicole
2016-09-19T00:00:00Z
POETRY IN THE HILLS OF MALIBU... I've lived in Los Angeles several decades but never realized I could feel as if I were in the hills of Tuscany...or even Provence by traveling to Gary and Ali's. The key words ar(URL HIDDEN)and tranquility. Plan to stay at least three nights mininum because you will want at least an entire day and evening to relax on the property itself. This is the best AirB&B experience I've had so far because the hosts makes you feel so welcome and engage with you as little or as much as you wish. They are as much a part of the land as its ancient inhabitants... they are indeed caretakers and they will treat you with kindness and care and you will leave feeling that you have visited a magical landscape and been a part of it, it only for awhile. (URL HIDDEN)
Lois
2017-03-28T00:00:00Z
The room is amazing. Perfect get away tucked away in the hills of Malibu. Every attention to detail was taken when setting up the house. Perfectly clean and comfy. We went on a short hike down the street and into the trails. Very peaceful and relaxing. It is about 15 minute drive to Leo Carillo where my wife and I saw the perfect sunset. The room is exceptional. We loved everything about it. I wish we had more time to get massages. I will definitely be back.
Tony
2016-12-29T00:00:00Z
My "Sequit Falls Ranch" journey has come full circle… Amazingly I already knew about this property, having been 2 a social function held here (owners rent it out 4 private parties, weddings, movie location & photo shoots). Had heard about the onsite Massage/Spa offerings & was a customer of "Soap the Earth/Malibu Pure" 4 some time (full line of all natural personal products, soaps & candles produced on the ranch)….  having first bought their products at a Vegan Restaurant/Shop in Westlake/Agoura & Vintage Grocers on PCH, Malibu (about 15 minutes from Ranch), purchase online now. Was completely jazzed learning u could now stay on this property!!  Spent morning at beach before making short, scenic drive there, (stopped at Vintage Grocers 2 stock up, great ready-made food options) knowing we wanted 2 make the most of "Spa Retreat Themed" stay & not leave the property (small refrigerator worked perfect).  Used other sites, this is first reservation & review here. Pretty seamless. They confirmed booking & responded to additional requests ASAP!!! Booked massages & requested custom basket of their products 2 be waiting on arrival.   PRO's & CONS  (things I personally was concerned/cared about most) ·    Friendly, warm greetings & interactions in general from the get go with Gary & Ali, engaged when we engaged. Always felt there was a mutual respect of each others space. While they actively work on the property never felt they were in our face/space or we in theirs. With use of the blinds, suite itself was private as we cared for it 2 be. ·    The Suite was IMMACULATE!! Felt it was cleaner/more sanitary than ANY accommodation I've EVER stayed in!! Super fresh/clean, spacious, well & thoughtfully appointed!! Uncluttered, unique, inviting & warm. Gary is a Master Woods Craftsman, much or most of what you see is of his creation.  ·    Totally surprised & grateful 4 unexpected basket of fruit, crackers, water & Ali's homemade cookies; Starbucks Coffee, option to make tea, beach towels. ·    Loved/appreciated the "try me" sampling of their products in bathroom!! ·    Beds were both SUPER comfortable….. did a coin toss & I slept on the pull out which I have 2 say was NOT a losing proposition.  ·    There were numerous Zen spots outside u could plant yourself & chill.  When u live in the city you don't realize the noise level, that silence has a sound of it's own, that the sky looks different, the sunsets & moon seem grander, the air smells different, birds & nature abound…. I think you follow!! It's a different world. If you R looking for tranquility, 2 renew yourself.... this is the place. That said, it's positioning in the canyon is excellent should U be very active, or tourist & this is your pit stop or base camp !! ·    Ali's spa/massage services speak 4 themselves. No regrets!! ·    The glaring CON, that we were only booked 4 one day & had 2 leave!! LOL  Left feeling renewed & better equipped 2 face world/workweek!!
Hernan M
2016-04-14T00:00:00Z
We loved our stay here in a quiet relaxing environment. Gary & Ali were very welcoming. The cottage was beautiful, clean & comfortable with added touches eg home baking, orange juice waiting in the fridge, extra towels & blankets available & also the hammock in the garden. I would love to come back here if I ever find myself in the Malibu area again.
Paulene
2016-06-29T00:00:00Z
We had the absolute best time at Ali and Gary's place. They welcomed us with open arms, yet gave us privacy as well. We felt so welcome here and wouldn't change a thing. If we are ever back in Malibu, we will absolutely stay again!!
Kim
2016-08-14T00:00:00Z
Truly excellent hosts. Beautiful, quiet, peaceful ranch with great landscape and a very comfortable suite. Would absolutely stay with Gary & Ali again.
Daniel
2016-07-19T00:00:00Z
The whole experience was great and everything we were hoping it would be. Gary and Ali were definitly very welcoming and friendly.
Alex
2016-07-11T00:00:00Z
Kamertype
Privé Kamer
---
Type woning
Huis
---
Geschikt voor
4
---
Slaapkamers
Malibu, Californië, Verenigde Staten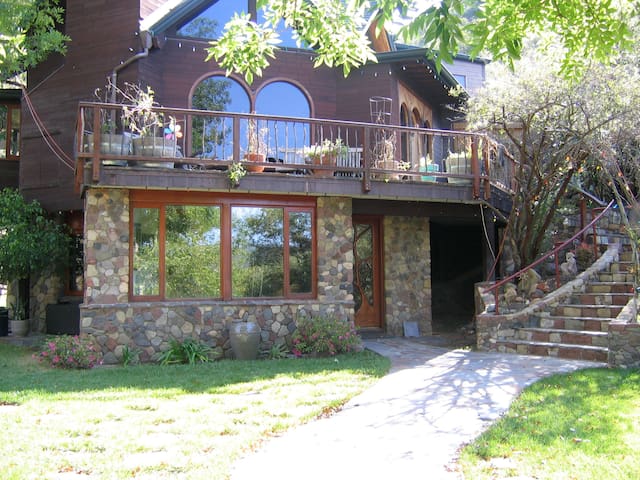 Voer datums in om de volledige tariefopbouw te zien. Er kunnen extra kosten zijn en er kunnen belastingen worden toegevoegd.