My offer is near parks. You'll love my job because of: area, comfortable bed and cozy. My place is good for a couple, the adventure solo business travelers, families (with children), large groups and furry friends (animals).
The pension is situated on the estate Skalne in Karpacz in a quiet area, close to hiking trails. Nearby is the Aquapark Sandra and Western City. Nearby ski slope Relax.
Kamertype
Privé Kamer
---
Type woning
Huis
---
Geschikt voor
2
---
Slaapkamers
Karpacz, Województwo dolnośląskie, Polen
De "Tower" is bijzonder, antroposofie, hoge energie natuur huis, met een prachtig uitzicht op het Reuzengebergte in Karkonoski Park, Neder-Silezië, Polen. De architectuur en het interieur zijn gebaseerd op de natuurlijke materialen uit de regio. Het is een geweldige plek voor solo-avonturiers of koppels die op zoek zijn naar een rustige plek om alleen te zijn met hun gedachten, lezen, schrijven, mediteren, schilderen, zwemmen in de waterval, naar muziek luisteren, fietsen, runing of lange wandelingen in het prachtige bos rondom .
Dále jen "věž" je krásný a jedinečný tři podlaží domu: 1. V prvním patře je vchod do "věže". 2. Ve druhém patře najdete obývací pokoj, plochu pro notebook, varnou konvicí a kávy / čaje, velká koupelna, Ark, mini-bar malým kuchyňským koutem a vytápění krbem s protokoly. 3. Ve třetím patře je ložnice s velkou pohodlnou manželskou postelí (pro pár) nebo dvěma samostatnými lůžky. K dispozici je také velká skříň prostor pro obecné skladování a visí oblečení. 4. Nad třetím patře máme malou galerii. si můžete dát ve středu galerie váš mobilní telefon nebo iPod s reproduktory a pak "věž" bude plná úžasných akustické zvuky. V Przesieka máme 4 obchody s potravinami v docházkové vzdálenosti od "věže". Máme také velký supermarket (Biedronka) u vchodu do vesnice a otevřít většinu času. Nemyslím si, že naše ruests by měla přinést jídlo v předstihu a můžete si koupit a užívat si místní jídlo, které je chutné a levné.
De "Tower" wijk is uniek en perfect voor vele redenen, waaronder: 1. Goede energie uit de grond en de omringende lucht. 2. Bijzondere sfeer van diepe rust en stilte. 3. Voortdurend krijgt nieuwe bevoegdheden in je. 4. Bijzondere natuur (Przesieka maakt deel uit van Krkonoski natuurgebieden). 5. De omringende grote bossen waaronder veel wandelpaden en vele fietspaden. 6. Het weer (zelfs in de winter). Alles Over Przesieka: Przesieka [pʂɛɕɛka] (origineel en Duitse naam: Hain) is een dorp in Neder-Silezië, het zuidwesten van Polen. Het behoort tot Neder-Silezië, in Jelenia Góra County, podgórzyn. Het is een van de belangrijkste centra van de bergen wandelen. Het ligt op ongeveer 12 km (7 mijl) ten zuid-westen van Jelenia Góra, en 103 km (64 mijl) ten westen van de regionale hoofdstad Wroclaw. Het ligt op 15 minuten rijden van het centrum van Jelenia Góra (5 minuten rijden van Cieplice Spa). Er is een regelmatige stadsbus gaat Przesieka van Jelenia Góra centraal station. Diverse wandelroutes naar Reuzengebergte beginnen in Przesieka. Een van de meest gebruikte is een route (2 uur lopen) naar Karkonoska Mountain Pass (Pools "Przełęcz Karkonoska"). Hotels langs de weg omvatten Odrodzenie (Poolse herberg) en Špindlerova bouda (Tsjechische hostel). Andere populaire routes leiden tot Chojnik Castle (German Kynast) (1 uur lopen), en Karpacz (1,5 uur lopen). Een interessante plek om te bezoeken in Przesieka is Podgórna Waterval (547 m boven de zeespiegel). Przesieka is een mooi gehucht. Het is karakter verandert voortdurend van die van de traditionele / landbouwgrond die van een meer "toeristische georiënteerd" plaats. De meeste mensen die naar Przesieka zijn van Neder-Silezië. Wrocław inwoners bezoek ons het vaakst. Ze proberen te kalmeren in vrede en rust. En ze vinden het hier, in Przesieka en de naburige dorpen van Borowice, Jagniatkow en Zachelmie. Andere badplaatsen van Karpacz en Szklarska Poreba kan dit soort ontspannen sfeer niet bieden. Bezienswaardigheden in Przesieka: Podgorna Waterval - de meest populaire attractie in Przesieka. Chybotek - een enorme en adembenemende kei ... en andere interessante plekken gelegen in de nabijheid van Przesieka: - Chojnik kasteel-1,5 uur. lopen - Wang Kerk in Karpacz - 2 uur durende wandeling. - Karkonoska Pass- grensovergang met de Tsjechische Republiek - 3 uur lopen. - Podgorzynskie Stawy Vijvers en een visrestaurant in de wal het aanbieden van gastronomische verse vis. Zuid: (Blue trail) naar "Przelecz Karkonoska" - bergpas op de Pools-Tsjechische grens en de "Odrodzenie" refuge (2'15 "). West:: (Yellow trail) om Jagniatkow en Szklarska Poreba (door "Droga pod Reglami" bergweg). Noordwest: (Groene en zwarte pistes) op "Chojnik" - de ruïnes van het kasteel (1'00 "). North: (Blue trail) naar Podgorzyn Gorny (0'15 "). Zuid- oosten: (Groen en geel paden) naar Borowice en Karpacz (2'15 "). Plaats: Locatie van de Przesieka, Neder-Silezië. Coördinaten: 50 ° 48'30 "N 15 ° 40'20" ECoordinates: 50 ° 48'30 "N 15 ° 40'20" E. Land: Polen Polen: Neder-Silezië Powia: Jelenia Góra Gmina: Podgórzyn Actiegebied: Bergen, West-Sudeten, Ore Janowickie Kaczawskie, Jizera Mountain Volunteer Ambulance Service is een vrijwilligersorganisatie, actief in zeven regionale groepen in het zuiden van Polen. Bergredding taak is om te helpen in het geval van de berg, preventieve activiteiten, evenals security events in het bergachtige terrein. geschiedenis van de Mountain Rescue Rescue is onlosmakelijk verbonden met het toerisme, dat in de late negentiende en vroege twintigste eeuw begon te ontwikkelen op Pools grondgebied. De meeste actieve tijd van hun activiteiten is natuurlijk de winter, wanneer de hellingen, skiërs en snowboarders domineren. Echter, de afgelopen jaren laten zien dat de zomermaanden brengt een hoop werk redders. De toenemende toeristische verkeer, de veranderende vormen van recreatie in de berggebieden, zoals paragliding, mountainbiken, en recent zeer modieus bergbeklimmen zijn de oorzaak van een toenemend aantal ongevallen en verwondingen die ingrijpen op de bergen nodig.
Wir hatten kurz Probleme, das Haus zu finden, und wurden sofort von Rony's Freund Macin mit dem Auto an einer schnell vereinbarten Stelle abgeholt. Macin & sein Sohn waren auch in den folgenden Tagen stets erreichbar und sehr hilfsbereit!
Svenja
2016-10-31T00:00:00Z
Wir sind für ein verlängertes WE zum Schneewandern gekommen und wurden nicht enttäuscht. Wälder, Berge und Täler... alles weiß. Der "Tower" ist für Wanderungen super gelegen. Wir haben wunderbar geschlafen, alles war sauber, die Freunde von Rony, die uns alles gezeigt haben, sind super nette Leute. Wer sich selbst verpflegen will, hat im Tower Kaffeemaschine, Wasserkocher, Herdplatte oder im Winter auch den Kamin, auf dem wir uns wunderbar einen Topf Milchreis köcheln konnten. Ansonten kann man im Haupthaus auch Ronys Küche nutzen. Wir waren sehr gerne im Tower und können ihn als Bleibe weiterempfehlen. Vor allem, wenn man einen ruhigen Urlaub verbringen will.
Theresa
2017-01-30T00:00:00Z
The Tower has everything you need to relax and enjoy the quiet surrounding. There`s an electric stove and kettle, fridge and even the coffee machine. We spent lovely evenings by the fireplace and enjoyed walks to Podgorna Waterfall and Myja Cascades, Golden View, the Walloon Stone. Karpacz with amazing Sniezka (the highest peak in The Karkonosze Mountains) is only about 20 minutes by car from Przesieka. We are thinking of coming back to Przesieka during the summertime.
Joanna
2017-01-26T00:00:00Z
This is an amazing place! So beautiful and peaceful! Rony's tips are super helpful and his friend Marcin helped us out very good when we arrived! Definitely want to come back!
marleen
2017-04-02T00:00:00Z
A place with a soul. Magic, mountains and nature all around. For those who look for something extraordinary. Really nice welcome, no problems with communication. :) Worth recommendation!
Paulina
2017-03-12T00:00:00Z
It is a very cosy and beautiful place! Everything is well described and the communication with the host was perfect. We really want to come back and enjoy the landscape during summer!
Filip
2017-01-05T00:00:00Z
The place is beautiful and calm, pure nature! The Tower is magical! Rony and his family and friends are really nice and helpful people. Would like to stay here forever!
Vladimír
2016-09-07T00:00:00Z
PERFECT! Honestly we were suprised, we didnt even expect that much over there. Super cosy and comfy, you wont complain to anything. Stoke was already working, house was warm and fully equipped, additionally you have access to second building nearby house ~ there you will have large kitchen and common area. What suprised us much more was that second building was also just for us. Also area around is super beautiful, looks like typical mountain village side with no turist. We had wonderful time there, I am highly recommending!! Thank you Rony !
Jakub
2016-11-20T00:00:00Z
Kamertype
Gehele woning/appartement
---
Type woning
Huis
---
Geschikt voor
2
---
Slaapkamers
Przesieka, Województwo dolnośląskie, Polen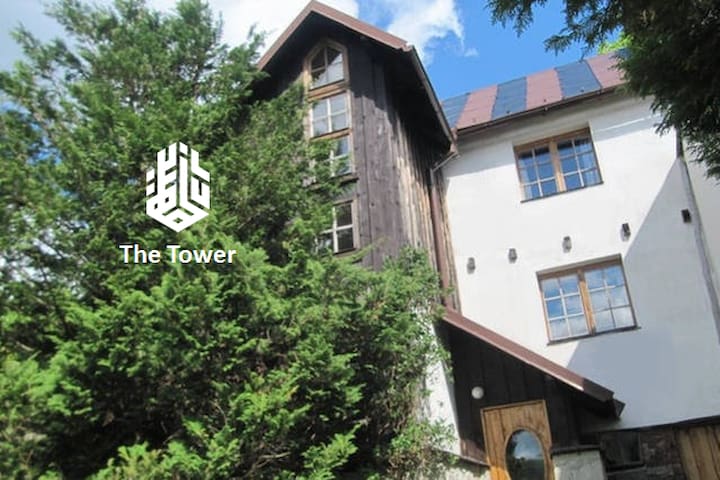 Onafhankelijk apart appartement in een vrijstaand huis met een parkeerplaats voor auto's
Bardzo przyjemny Apartament, wszystko jest czyste ,zadbane, blisko centrum ,blisko markety, kuchnia zaopatrzona, cisza . Polecam z czystym sercem , zimą oraz latem.
Tomasz
2017-01-07T00:00:00Z
Polecam mieszkanie. Najwiekszą zaletą mieszkania jest jego lokalizacja - ok. 150-200 metrów do głównej ulicy, przy której można znaleźć wiele reatauracji i sklepów. Poza tym, mieszkanie czyste, wyposażone we wszystkie niezbędne rzeczy i sprzęty, dodatkowy plus za oddzielne wejście. Kontakt z panią Marią bardzo dobry, a sama właścicielka miła i pomocna.
Natalia
2017-02-14T00:00:00Z
Polecam. Blisko centrum. Bez problemowy kontakt. Czysto i schludnie
Paweł
2017-02-06T00:00:00Z
Szczerze polecam :-)
Agnieszka
2017-02-17T00:00:00Z
Kamertype
Privé Kamer
---
Type woning
Huis
---
Geschikt voor
4
---
Slaapkamers
Karpacz, Województwo dolnośląskie, Polen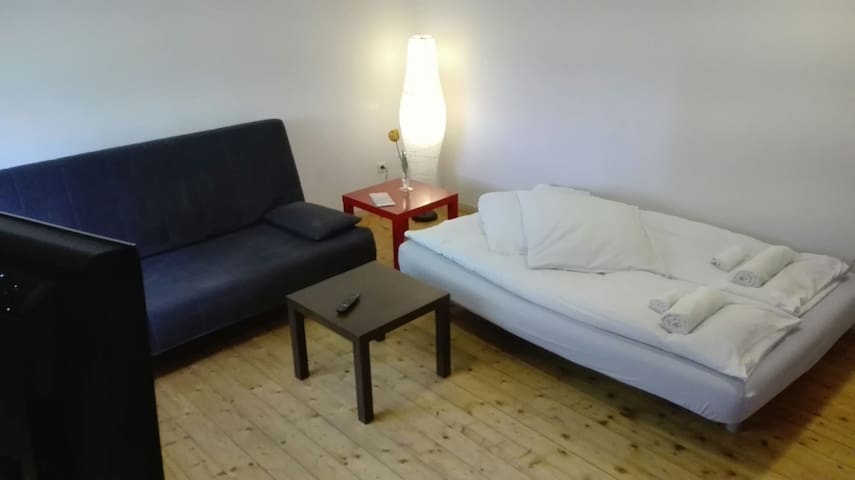 Het is me in de buurt van Pec pod Snezkou en Janske Lazne. Het is dicht bij Pec pod Snezkou en Janske Lazne.
cute small cottage, ideal for 2-4 people, near to all tourist location, very clean
Michaela
2017-03-29T00:00:00Z
The house was super clean and Lucie put on the fire before our arrival so it was homely and very cosy from the beginning of our stay. The wooden house creates a very nice ambiance and it´s perfect to relax. I haven´t seen Lucie but communication was very friendly and easy and she was helpful with everything. I can really recommend this place!
Ina
2016-11-27T00:00:00Z
Fantastic place, beautifully kept, you'll feel right at home in the heart of the Czech mountains. Hosts were lovely, and went above and beyond what we expected. Strongly recommend.
Will
2017-03-26T00:00:00Z
Krásná, nová, skvělě vybavená, čistá, romantická a utulná chatička na nádherném místě v přírodě, kousek od Pece pod Sněžkou.
Michaela
2016-10-23T00:00:00Z
Kamertype
Gehele woning/appartement
---
Type woning
Huis
---
Geschikt voor
6
---
Slaapkamers
Horní Maršov, Hradec Králové Region, Tsjechië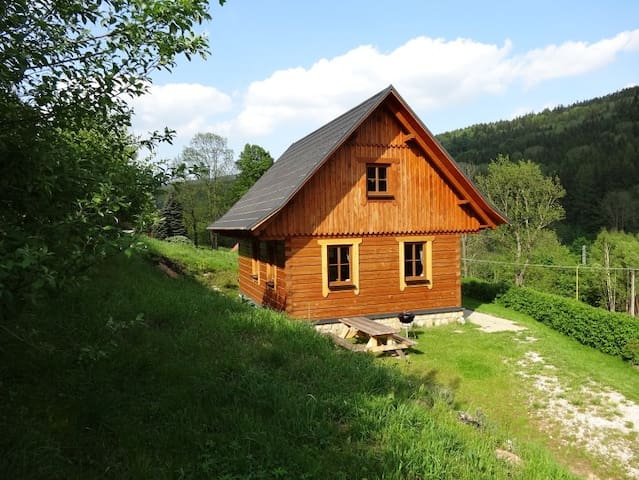 Viooltje is een van de twee semi-vrijstaande huizen ontworpen en gebouwd met aandacht voor elk detail en de hoge kwaliteit van de materialen. Onconventionele ruimten, een groot gebied en de prachtige omgeving zorgen voor een comfortabel verblijf.
Pansy Cottage is een van de objecten Toerisme Enterprise BATUR. Ons aanbod en het aanbod van diensten is voortdurend in beweging en het uitbreiden en daardoor - u meer te bieden hebben. Onze prioriteit is om te ontwikkelen en te voldoen aan de behoeften van de klant. Wij nodigen zowel individuele cliënten en groepen. We proberen altijd om alle verwachtingen van de klant te voldoen. Organisatie van individuele thematische trip naar Praag, bestel een taart en garneer appartement in verjaardag ballonnen, het organiseren van kookworkshops / sieraden / ontwikkeling, enz., Het organiseren van het jubileum diner? Uw wensen zijn onze uitdagingen. Er is niets onmogelijk voor ons. Wij doen het anders. We doen het met passie.
Viooltje huis ligt op slechts 15 minuten van het centrum van Karpacz, maar nog steeds garanderen dat zal je hier niet horen lawaai van de straat of geluid van gedwongen verkeer. Echter, in ongeveer 10 minuten is de stad van Western City, waar de kleintjes kunnen voelen als het Wilde Westen.
Дом очень удобный, комфортный, теплый. Большая зона гостиной с камином прекрасна для семейных вечеров или вечеринок друзей. Хозяева быстро решают все возникающие вопросы. Отдых очень понравился, всем рекомендуем данное жилье!
Nadiya
2017-01-12T00:00:00Z
Beautiful area, fantastic house, near the centre of Karpacz, Western city is only a few yards away. Fantastic for children too.
Bernard
2016-09-11T00:00:00Z
Kamertype
Gehele woning/appartement
---
Type woning
Huis
---
Geschikt voor
11
---
Slaapkamers
Karpacz, Województwo dolnośląskie, Polen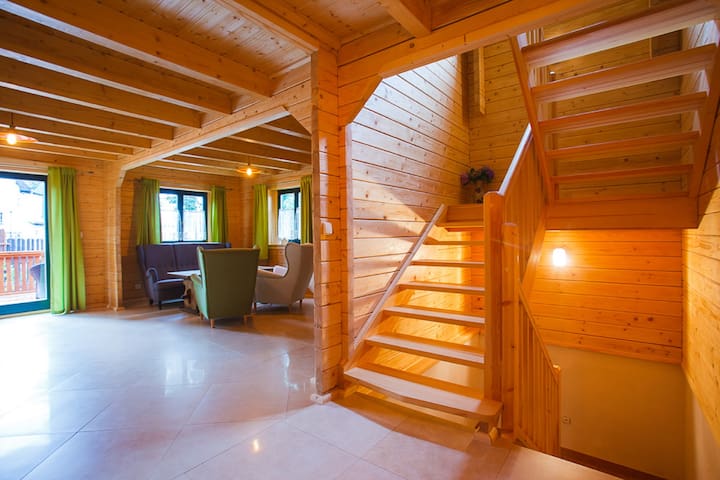 Mein Angebot ist in der Nähe von Parks. Sie werden lieben meinen Job, weil: die Lage, die Menschen und das Klima. Mein Platz ist für ein paar gut.
Kamertype
Privé Kamer
---
Type woning
Huis
---
Geschikt voor
2
---
Slaapkamers
Karpacz, Województwo dolnośląskie, Polen
Skromné ale útulné ubytování v klidné části Krkonoš - na Pomezních Boudách.
Formidable expérience ! Une famille très chaleureuse et accueillante, qui aime échanger. Nous avons pu partager leurs repas, qui étaient délicieux, et passer du temps avec toute la famille. Le paysage est magnifique et la maison, bien qu'en travaux, a beaucoup de charme
Léa
2017-01-07T00:00:00Z
Freundlicher Empfang mit Kuchen und ein gutes (vegetarisches) Abendessen konnte ich dort auch bekommen. Das Haus hat wohl nur mehrere Mehrbettzimmer, aber da nicht viel Betrieb war, hatte ich eins davon für mich allein. Es war im Obergeschoss und sehr ruhig, Ausstattung nur Betten, Stühle und ein Einbauschrank. Toilette eine halbe Etage tiefer, Dusche ganz unten. An einigen Stellen wird wohl noch renoviert, aber solange das nicht passiert während ich da bin, stört mich das nicht. Für meine Zwecke bestens geeignet.
Matthias
2015-10-26T00:00:00Z
Kamertype
Privé Kamer
---
Type woning
Huis
---
Geschikt voor
4
---
Slaapkamers
Malá Úpa, Hradec Králové Region, Tsjechië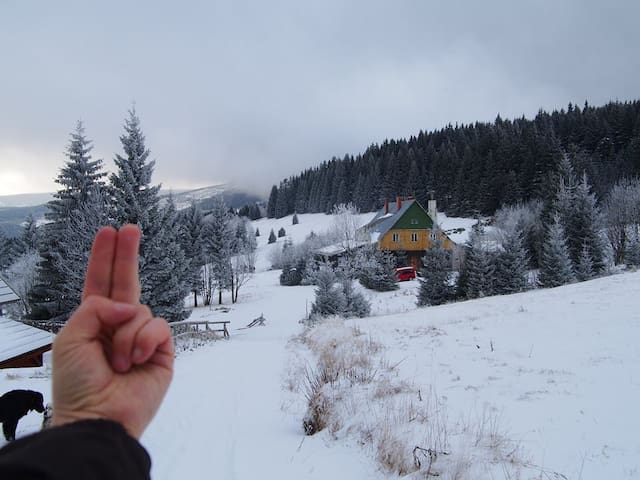 Ons huis: "Tomysówka" is geopend in de zomer om te wandelen en skiën in de winter.
Wij nodigen u van harte uit om onze familie huis in Kowary. Het milieu en het huis bieden een ideale sfeer voor een ontspannen vakantie met het hele gezin of met vrienden. Wie heeft er een pauze van de stad en het elke dag in ons huis met vier slaapkamers, een badkamer, een toilet, de keuken en de grote woonkamer precies goed. In de voorkamer naar de tuin vindt u tal van spellen, zoals darts en tafelvoetbal te vinden. In de winter is de open haard zorgt voor een gezellige warmte en nodigt u uit om te lezen en de aarde. In de zomer heb je een grote tuin voldoende ruimte voor het grillen, eten en spelen. De honden kunnen gratis worden uitgevoerd omdat de tuin wordt begrensd door een hoog hek. Er is ook een van onze kinderen, goede asgestattetes speelkamer.
Kowary (Schmiedeberg) is een klein stadje in het Reuzengebergte, dat is gelegen tussen twee van de aard unieke beschermde gebieden. Er is volop ruimte voor individuele vrijetijdsbesteding. Degenen die van plan zijn een sportieve en actieve vakantie, tot de zomer wandelen en in de winter skiën. Bovendien zijn een aantal klimmogelijkheden. In de omgeving er ook een manege. Het dichte netwerk van wandel- en fietsroutes biedt ook gelegenheid voor Montainbiking. In slechts een paar uur kan de hoogste piek in de Sudeten, Sněžka (1603 m boven de zeespiegel. NN), op loopafstand zijn.
I had a wonderful time in Michalina's house! I came to "Tomysówka" with my friends. We enjoyed the homey atmosphere of the house and the beautiful garden with the cosy bower and outdoor grill. Michalina and her friend Nina were nice, easy-going and flexible. We would like to come back to Kowary some day and we will surely recommend "Tomysówka" for Summer holidays, mountain hikers and families. Many thanks! Dziękujemy bardzo!
Emilia
2016-05-30T00:00:00Z
Unsere Reise nach Kowary war eine sehr schöne Erfahrung. Ich war mit meiner Schwester, meiner 70jährigen Mutter und meiner 10 Monate alten Tochter für vier Tag dort und wir haben uns alle sehr wohl gefühlt. Die Kommunikation mit Michalina vor Antritt der Reise war sehr freundlich und hilfreich. Sie hat sich rührend um unsere Bedürfnisse gekümmert. Ihre Freundin Nina hat uns vor Ort weitergeholfen und uns sogar noch spontan einen Hochstuhl besorgt. Das alte Haus ist etwas ganz besonderes, nicht nur eine sterile Unterkunft wie es sonst oft so ist. Man hat das Gefühl bei einer Familie zu Gast zu sein. An der Wand hängen viele Bilder aller Familienmitglieder, vom Duschgel über Sektgläser und Currygewürz ist einfach alles vorhanden. Wir haben es sehr genossen zu viert so viel Platz zu haben, aber man hätte auch locker zu acht dort wohnen können. Sowohl das Spielzimmer als auch den schönen Garten haben wir gerne genutzt. An zwei Tagen haben wir im Altan gefrühstückt und abends haben wir in der Abendsonne auf dem Balkon noch ein Glas Wein getrunken. Kowary selber hat auch sehr viel mehr zu bieten, als uns vorher klar war. Die meisten Touristen fahren ja nach Karpacz. Aber gerade mit Kleinkind fand ich Kowary sehr viel besser geeignet. Wir haben den sehr sehenswerten Miniaturenpark besucht und die Bergwerkstollen, vom Haus ausgehend haben wir ausgiebige Spaziergänge in der wunderschön grünen Landschaft gemacht und uns an Ziegen, Kühen und Pferden erfreut. Auch der Spaziergang zur Kapelle der heiligen Anna lohnt sich. Wir haben oft gekocht, was in der super ausgestatteten Küche sehr gut funktioniert und manchmal waren wir auch in der Altstadt essen (besonder zu empfehlen die gekochten Pierogi ruskie bei Gościniec ;) Der große Supermarkt Biedronka und viele kleinere sympathische Lebensmittelgeschäfte und Bäckereien sind in fünf Gehminuten zu erreichen. In einem netten Second-Hand-Laden in der Fußgängerzone haben wir alle tolle Schnäppchen gemacht. Die Einwohner von Kowary waren alle sehr freundlich und hilfsbereit zu uns. Besonders gerührt hat mich die Kinderfreundlichkeit. Ich kann einen Urlaub in Michalinas Elternhaus nur wärmstens empfehlen. Gerade Familien mit Kindern werden sich hier bestimmt sehr wohlfühlen, aber ich überlege auch schon mit ein paar Freunden herzukommen um den 40.Geburtstag meines Mannes dort zu feiern. Im Kickerraum im Keller mit Dartscheibe wäre das sicher lustig :) Danke an Michalina und Nina für eure gute Betreuung. Wir kommen bestimmt wieder.
Johanna
2016-06-05T00:00:00Z
We were staying there just for one night but we really enjoyed the place, the house was big, there was enough space for everybody, was comfortable and convenient as long as we reached Karpacz in about 30 minutes. Michalina and her son Franek were very friendly and gave us some recommendations connected with our trip to Karpacz. There was beautiful gaden where we had barbeque and swimming poool, unfortunately we couldn't swim as it wasn't enough warm outside and little raining from time to time)) We recommend this place and will definitely come back there again for longer stay
Nataliya
2016-07-05T00:00:00Z
Kamertype
Gehele woning/appartement
---
Type woning
Huis
---
Geschikt voor
8
---
Slaapkamers
Kowary, Województwo dolnośląskie, Polen
Borowice (in German Baberhäuser, in Czech Borovice) is a piedmont holiday resort belonging to the highest range of the Sudetenland, Karkonosze Mountains, situated in the Valley of Five Streams. Hidden among the spruce forests of [regiel dolny] rest-hose with diffuse single houses on a vast glade appears to be a great place for a rest far away from urban noise.
Dom znajduje się na wzgórzu z pięknym widokiem na góry i dolinę
ALL
Zeer ruim huis op een nog ruimer perceel. Mooie omgeving. Alles was in orde. Borowice stelt weinig voor. Karpacz is erg toeristisch maar verder een mooi gebied. Lukasz en z'n lokale man Andrej hebben ons prima bediend. Prettig.
Egbert
2016-08-07T00:00:00Z
Lukasz's house is a fantastic little find for a quiet getaway trip. The forest is practically next door, there's both an indoor and outdoor fireplace, and there's plenty of space for a group of friends or family to stay. I did not meet Lukasz, but he was always quick to respond to messages, and his friend who lives nearby was attentive and helpful in handing the keys over and dropping around when I had a small problem needing resolving.
Rob
2017-03-20T00:00:00Z
Lukas was amazing! So helpful. I had car trouble in Berlin and made it to the house pretty late, but he arranged it so that his very helpful neighbor was there to get me settled in. Wine and a fire waiting for me! The house is big and quiet. Perfect secluded mountain get away! There's a nice little hike directly from the house to Karpacz. Plenty of room for a group, though I stayed on my own. Really beautiful area and I would highly recommend staying here.
Mindy Eve
2016-09-08T00:00:00Z
Wspaniałe miejsce! Cisza, święty spokój, zieleń, sielanka, przepiękne widoki. Duży, malowniczy, ogrodzony ogród (nasze psiaki z bloku nie mogły się nim nacieszyć :D). Grill do dyspozycji, możliwość rozpalenia ogniska. Ogromny, przytulny dom z świetnie wyposażoną kuchnią. Ręczniki do dyspozycji. Wygodne łóżka. Na początku pobytu otrzymaliśmy winko w prezencie od właściciela :) Polecamy każdemu, aż żal wyjeżdżać! Obsługa gości na najwyższym poziomie, gratulujemy :)
Anna
2016-07-12T00:00:00Z
Generalnie wszystko było w jak najlepszym porządku, zarówno dom, wyposażenie jak i okolica w pełni spełniły nasze oczekiwania. Gospodarz był na każde nasze zawołanie.
Paweł
2016-01-12T00:00:00Z
we had a great new year´s trip to Lukasz cottage in the mountain. really nice house in an awesome location near the mountains! thanks again!
Uwe
2017-01-03T00:00:00Z
"Dom w górach z widokiem" oferowany przez Łukasza stanowi bardzo ciekawą alternatywę dla mocno skomercjalizowanych noclegów w Karpaczu. Niewątpliwą zaletą jest lokalizacja domu, Borowice zapewniają bowiem intymność, spokój i ciszę, z dala od wielkomiejskich zgiełków, a jednocześnie są dobrze skomunikowane z Karpaczem. Duży i dobrze przygotowany ogród daję sporą frajdę pozwalając zażyć trochę sportu. Co więcej, nie zabrakło również miejsca na grilla i ognisko, co zdecydowanie poprawia ogólną ocenę. Dom w środku jest schludny i czysty, zapewnia 8-9 komfortowych miejsc noclegowych. Jest dobrze wyposażony, przez co podczas pobytu nie zabrakło nam niczego. Kontakt z Łukaszem bardzo dobry, na plus zasługuje elastyczność dotycząca terminu przyjazdu/odjazdu. Reasumując, "Dom w górach z widokiem" stanowi ofertę godną polecenia.
Konrad
2015-08-03T00:00:00Z
Gdybym wybierał ponownie z pewnością wybrałbym to samo miejsce. Polecam.
Michał
2016-08-27T00:00:00Z
Kamertype
Gehele woning/appartement
---
Type woning
Huis
---
Geschikt voor
9
---
Slaapkamers
Borowice, Województwo dolnośląskie, Polen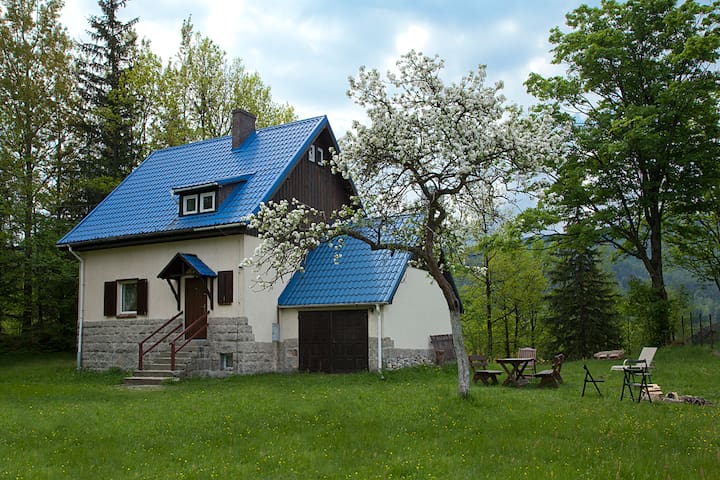 The charming and comfortable wooden house with a fireplace at the foot of Snow White. The house and the whole property for the exclusive use of guests. The unique interior of the house, large garden, beautiful view of the mountains! Near the center, hiking trails, ski lift, swimming pool & spa.
Villa Tyrolean is a stylish house located 1100 explosions plot on a natural hill, among the old trees of larch trees and century-old rhododendrons. Garden naturally goes into the forest. The house has a wooden exterior facade, is mounted on a granite foundation and palisadach supporting floor and the terrace in the Tyrolean style, which offers a beautiful view of the garden and the Giant Mountains. The old pre-war villa has been splendidly restored. The interiors of the house are newly decorated maintaining the original architectural elements, interior design and furniture, old hand-painted motifs of nature. Worship owners to detail and details can be among the furniture, paintings and prints capture the spirit of the mountains of the Giant Mountains region. At the same time the villa is equipped with everything necessary to spend time in a warm home-like atmosphere among relatives and friends. Location of the villa on a natural hill gives you the opportunity to enjoy the picturesque panorama of the mountains. Detached wooden house is a great place to guarantee complete privacy and undisturbed peace.
Karpacz town and nearby surroundings allows you to spend your free time both in the urban style and nature. For all we walk in the immediate area, hiking in the mountains and Krkonose Landscape Park. For the curious can explore the numerous monuments of local architecture, among others, castles and palaces; the nearby village full of various attractions; museums; mines. Ready to spend time actively invite you to cycling, ride on the summer toboggan run in winter for winter sports; hot air ballooning, etc. Who appreciate a relaxing and lazing on the terrace house and a hammock in the garden where you can listen to the birds singing and the feed ore neighbor - a squirrel :)
Das Haus ist wunderschön und hat einen tollen Garten mit viel Platz. Innen alles mit viel Geschmack eingerichtet. Man kann vom Haus direkt in den Wald und hoch zur Schneekoppe wandern. Wunderbarer Urlaub. Sehr zu empfehlen. Immer wieder!
Frank
2016-04-04T00:00:00Z
The house is perfect for anyone who seeks some quiet without leaving the civilisation. It is cosy and charming, beautiful details and very comfortable. It is perfectly equipped, everything one could need is there. We spent a lovely week there and enjoyed every moment.
Rix
2016-12-16T00:00:00Z
We had good holidays in Kapacz and stayed comfotable at Dominkas house.
jan
2016-02-08T00:00:00Z
Spędziliśmy świetny czas w domu Pani Dominiki. Idealny na rodzinny wypoczynek. Dziękujemy. Polecamy!
Małgorzata
2016-10-02T00:00:00Z
Kamertype
Gehele woning/appartement
---
Type woning
Huis
---
Geschikt voor
6
---
Slaapkamers
Karpacz, Województwo dolnośląskie, Polen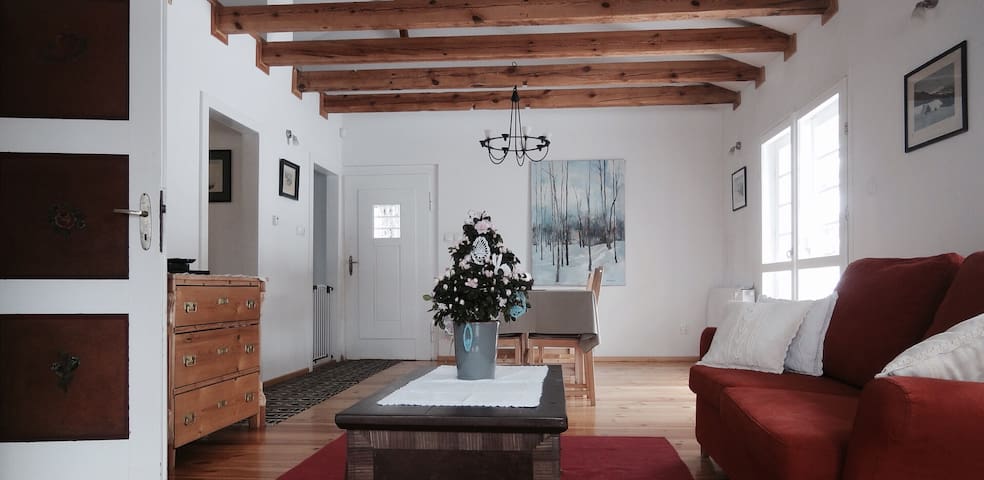 This modern house, built in 2015, is a part of semi-detached house and is located 10 min walk from the parking lot near the cable car lift to Snezka. Skibus stop is located 100 metres from the house. There are two bedrooms with a double bed, bunk bed and en-suite bathroom in each of them. The house has a living room with a TV and fireplace, equiped kitchen and a dining table. There is also a garage and infrasauna. The house is great for family vacations. No parties please.
The house has a kitchen with all the basic cooking equipment and a dishwasher. On the main floor there is also a living room with a TV, fireplace, sofa-bed for two and a dining table with 8 chairs. In each of the bedrooms in the upper floor, there is a double bed and a bunkbed. The maximum capacity of the house is 10 people. There is a sauna room with infrasauna and also a garage for two cars and a wall-mounted ski holder. There are another two parking spots in from of the garage.
The house is located in Pec pod Snezkou (see the map). During winter there is a skibus that can take you to the main skilift Javor in approx. 5 mins. The bus stop is less than 100m from the house and the skibus runs regularly in 15-20 min intervals. You can also walk to the skilift, which is about 800 metres away. Therefore it is better to take the skibus if you are wearing ski boots. There is a small supermarket 5 min walk from the house and a little bakery with fresh bread 8 min walk. The Snezka cable car is a 20 min walk away but the towncentre with all the restaurants is less than a 10 min walk.
Kamertype
Gehele woning/appartement
---
Type woning
Huis
---
Geschikt voor
8
---
Slaapkamers
Pec pod Sněžkou, Hradec Králové Region, Tsjechië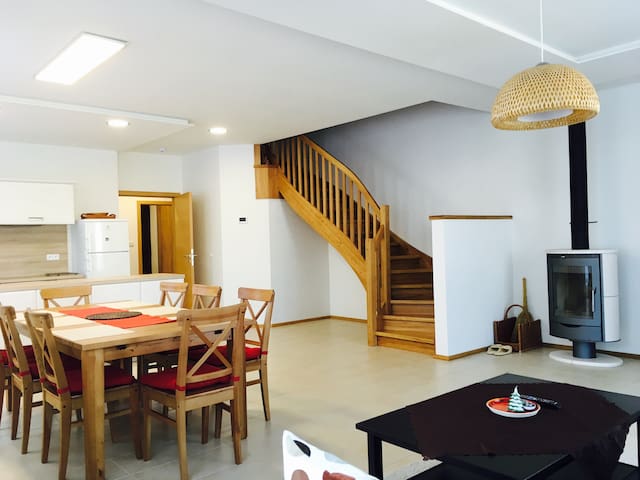 Twin room in a purely terraced house in the heart of the mountain resort Pec pod Snezkou. An excellent place for lovers of skiing activities and mountain excursions. Room with own bathroom, shared kitchen and living room.
Great accomodation, I recommend to all ;)
Karolína
2017-02-05T00:00:00Z
Everything was ok, reliable to the offer. I would highly recommend it if you want to stay at some economic accommodation
Lucie
2017-01-14T00:00:00Z
Jednoduchý pokoj. Krásné okolí.
Vendula
2017-01-15T00:00:00Z
The room was good, price very good. But in winter with non-working heating is impossible. It was terrible cold, and no one come to us to ask about anything. Only oldest czech man gave us key and leave. The apartament is alright for this price, but heating must work...
Krzysztof
2017-01-22T00:00:00Z
moc hezké ubytování. Děkuji :)
Michal
2017-03-20T00:00:00Z
Kamertype
Privé Kamer
---
Type woning
Huis
---
Geschikt voor
2
---
Slaapkamers
Pec pod Sněžkou, Česká republika, Tsjechië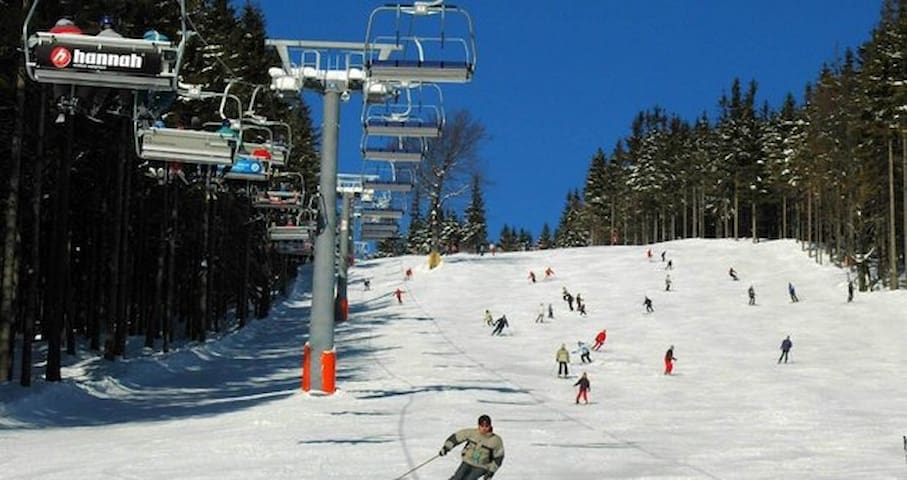 Beautiful cottage for 2 - 4 people, located in the middle of small mountain village called Strazne. Place is 100m from ski slopes and restaurants. It takes 15 minutes to drive to Spindleruv mlyn. Cottage include sauna, whirpool, kitchen, shower and bathroom. Free wifi and parking lot available.
Bezva vánoční pobyt na horách. Počasí vyšlo, chatka je útulná a poskytuje vše co je třeba. Trošku tvrdé matrace, ale aspoň má člověk pocit, že spí v přírodě :-). Děkujeme
Markéta
2016-12-30T00:00:00Z
Very good experience ! The sauna and the bath are both a perfect way to relax the muscles after a skiing day :) Furthermore, the house is very cosy and confortable
Martin
2017-02-26T00:00:00Z
Chata se nachází ve velmi příjemném prostředí blízko sjezdovek, sauna a masážní vana je po lyžování naprosto super :) S přítelkyní jsme tu strávili krásný víkend, určitě doporučujeme :)
Pavel
2017-03-05T00:00:00Z
Chata je skvělá a pobyt jsme jsme si tu moc užili a opravdu rádi přijedeme znovu :)
Daniela
2017-03-19T00:00:00Z
Convenient base for skiers, sauna after a day on the slopes priceless :) the restaurant across the street very atmospheric :)
Kuba
2017-02-05T00:00:00Z
good place for skiers because you have sauna apres-ski)
Denis
2017-01-03T00:00:00Z
One word: Perfect ! ;)
Martin
2017-01-30T00:00:00Z
Nice place to stay for a while! We felt verry comfortable!
Thuurtje
2016-08-13T00:00:00Z
Kamertype
Gehele woning/appartement
---
Type woning
Huis
---
Geschikt voor
4
---
Slaapkamers
Strážné v Krkonoších, Tsjechië
Villa Skalka is a house for people who value peace and quiet, wanting to take a break from the noise and frenetic pace of city life. The building is located near the forest and away from the main road.
In our house we offer at your disposal 5 rooms for 2 cars (+ possibility of 4 extra beds for children). Each room has its own bathroom and TV (in some rooms fridge, 3 rooms have balconies)
The house is located right next to the forest where the trails start. Before the house is a playground Orlik and a playground for children.
Kamertype
Gehele woning/appartement
---
Type woning
Huis
---
Geschikt voor
10
---
Slaapkamers
Karpacz, Województwo dolnośląskie, Polen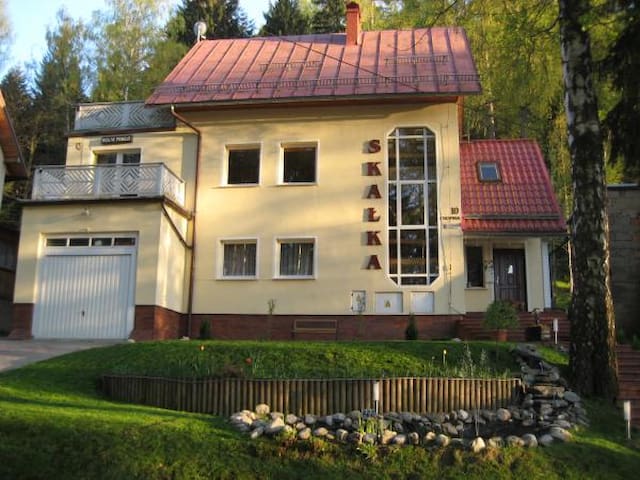 Mijn plek is goed voor koppels en gezinnen (met kinderen).
Kamertype
Privé Kamer
---
Type woning
Huis
---
Geschikt voor
3
---
Slaapkamers
Karpacz, Województwo dolnośląskie, Polen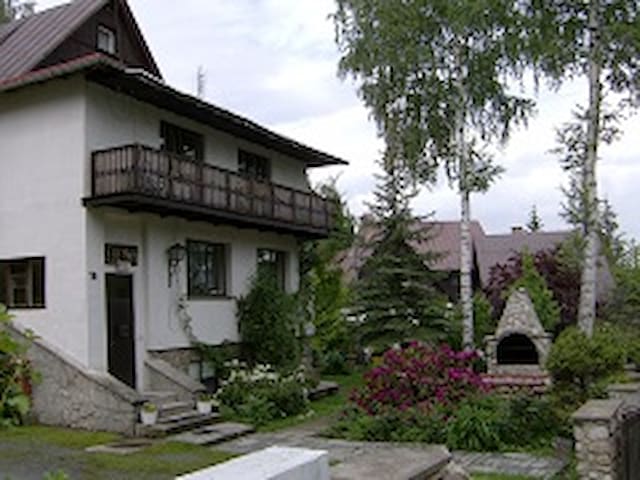 Vakantiehuis beschikt over 2 slaapkamers (ieder met een 2 persoonsbed) en op de grote slaapkamer is een extra slaapbank geplaatst. Ook is er een luxe badkamer met bad en aparte douche met wastafel, er is een apart toilet in het huis. Ook is er een mooie eetkeuken voorzien van een koelkast, kookplaat en vaatwasser.
Dit mooie vakantiehuis voor 4 personen met een heerlijk veranda, is geschikt voor 4 tot max. 6 personen. Het huis is gelegen in het Reuzengebergte in het plaatse Lampertice. Het vakantiehuis beschikt over een tuin, in de zomer wordt er natuurlijk een zwembad geplaatst. Ons vakantiehuis is voorzien van een schitterende grote veranda met een louncheset. De veranda is vanuit de woonkamer bereikbaar middels de openslaande deuren. Ook aan de kinderen is natuurlijk gedacht, direct grenzend aan de parkeerplaats is een leuke speeltuin gemaakt met schommels, zandbak en natuurlijk een trampoline, waar de kinderen naar hartelust kunnen spelen. Vakantiehuis "Nas Domek" beschikt over 2 slaapkamers (ieder met een 2 persoonsbed) en op de grote slaapkamer is een extra slaapbank geplaatst. De luxe badkamer met bad en apparte douche en wastafel, apparte toilet en een mooie eetkeuken voorzien van koelkast, kookplaat en vaatwasser. De woonkamer is voorzien van een televisie met alle Nederlandse zenders, verder beschikt de woning over een breedband WiFi internetverbinding (draadloos).
Wintersport in Tsjechië voorziet ook in lange, goed geprepareerde, langlaufloipes en veel grote, (deels stijle), hellingen. Daarnaast is de infrastructuur met zijn vele sleep- en stoeltjesliften uitstekend te noemen. Wat natuurlijk niet mag ontbreken tijdens de wintersport is de après-ski, Tsjechië voorziet hier middels zijn vele cafés, bars en restaurants ook uitstekend in. Hier kunt u niet alleen heerlijk dineren maar ook uw skidag in stijl afsluiten met een uiterst goedkoop en heerlijk pilsje. Iedereen die zijn wintersport eens in Tsjechië heeft mogen vieren komt terug, het charmante karakter van het land in combinatie met lage prijzen, de opwindende pistes, de rijke cultuur en de gezinsvriendelijkheid maakt dat iedere bezoeker zich er direct thuis voelt.
Kamertype
Gehele woning/appartement
---
Type woning
Huis
---
Geschikt voor
4
---
Slaapkamers
Lampertice, Hradec Králové Region, Tsjechië
Woonhuis gelegen op 845 m boven zeeniveau uitzicht op de ski pistes gelegen naast Wang kerk . veel goedkope restaurants, skien in de winter , wandelen in de zomer . veel attracties in de regio
Kamertype
Gehele woning/appartement
---
Type woning
Huis
---
Geschikt voor
10
---
Slaapkamers
Karpacz, Neder-Silezië, Polen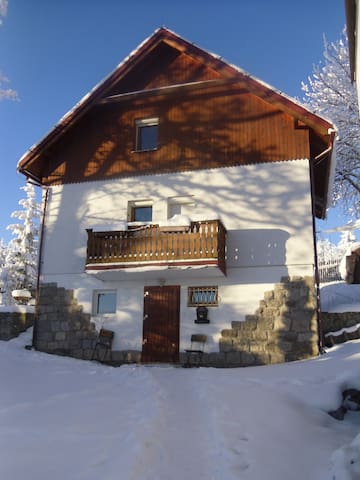 A beautiful house with an area of 90 m2, completely renovated in the vicinity of the river and forest. The guests are 3 bedrooms, 2 bedrooms with a fireplace and a living room with a sofa bed, 2 bathrooms and a covered terrace and small garden. Address: Rybacka 6 (URL HIDDEN)
Beautifully furnished cottage designed for rest and relaxation. The property is fully equipped, luxury. Suitable for up to 6 guests. link to the video of the object: (URL HIDDEN)
Near the center and yet surrounded by nature, with the home direct access to the river, the forest. 300 m to the waterfall - Łomnica dam. The house is adjacent to another neighbor's house (common entrance through an arbor to both houses).
This is a really lovely place to stay in Karpacz, it has all the charm of a mountain chalet from the outside but once inside it is a stunning and modern home that is very well equipped and with every creature comfort thought of. The finishing touches are high end and luxurious and the attention to deal and little extras are spot on. The garden is a lovely peaceful spot and the outdoor dining and BBQ area has everything provided.. Anna was a lovely and responsive host. My husband and I stayed for 5 nights and would definitely stay again.
Leonie
2016-05-31T00:00:00Z
Expensive and opulent - a massive WOW factor when we arrived. The living room was large and spacious (although other rooms were a touch more "bijou"). Every fixture and fitting was quirky or original or luxurious. LOVED the stylish wood-burners in the rooms. Location was great - few minutes walk from main street, but also surrounded by trees and backing onto a stream, giving it a secluded, quiet, remote feeling. Anna and her mum were great hosts greeted us warmly when we arrived and left us some delicious baked goods etc. We did have some quibbles: the electrics in the kitchen caused the circuit breaker to jump if multiple appliances used, which meant traipsing to the fuse box. No bathtub. The 2 shower rooms were a bit cramped, as was ceiling in upper bedroom (tall broad-shouldered man talking here!) . We were 2 couples, 2 kids and one baby, and with the kids sleeping in the living room, we did at times feel a tiny bit crowded. Minor quibbles in a way but then again, we paid really quite a lot of money so I feel entitled to be fussy! This didn't detract from us all having a great time in Karpacz and in the property so a big thumbs up to the experience overall.
John
2016-01-05T00:00:00Z
Bardzo mila i profesjonalna obsluga. Wszystko tak jak w opisie, bez zadnych niespodzianek. Dom duzy i bardzo pieknie urzadzony, polozony w bardzo uroczym otoczeniu. Serdecznie polecam
Konrad
2015-04-08T00:00:00Z
Kamertype
Gehele woning/appartement
---
Type woning
Huis
---
Geschikt voor
6
---
Slaapkamers
Karpacz, Województwo dolnośląskie, Polen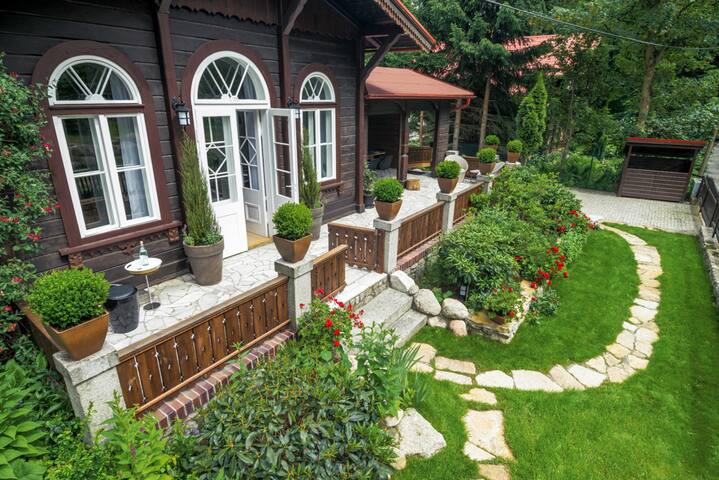 Malá Úpa - Airbnb
:
Gemiddeld

4.54

van

5

sterren op basis van

103

gastrecensies
1

–

18

van

91 Huizen te Huur
Voer datums in om de volledige tariefopbouw te zien. Er kunnen extra kosten zijn en er kunnen belastingen worden toegevoegd.