Welcome to the bed and breakfast ' Guapas ' in Garapacha, a place that exist already over a 100 years and where time still stands still ... where the rest rustle trough the olive trees . where you can lingers at the swimming pool with sight on the v
open authentiek rustig
het is een adembenemend uitzicht, de temperaturen zijn goed , aan het natuurpark waar men kan wandelen, mountainbiken, etc
Nos ha encantado el sitio, una casa antigua restaurada con mimo, respetando y manteniendo todo el encanto, en la casa se respira tranquilidad y buen gusto y arte,la piscina un lujo asiatico, la comida riquisima preparada con esmero, esperamos volver muy pronto.
virginia
2015-08-14T00:00:00Z
My husband and I were visiting a number of hosts so that we could learn about Spanish life and see potential regions of Spain for permanent relocation in the near future. We stayed at Mieke's beautiful home for 2 nights, intending to drive around the surrounding areas through the day however, the setting was just stunning and what Mieke has created is a peaceful sanctuary and we just wanted to sit and soak it all in so that is what we did. The scenery is stunning, the accommodation is absolutely wonderful and Mieke is amazing. We can not praise Mieke's hosting skills enough - from the moment we arrived we felt so welcomed, so at ease, so relaxed and had the most amazing time ever. If you want peace and tranquility, you will find it here. If you want to engage with your host, you will have this here. If you want to have time alone to just sit and soak in the environment, you will have this here. If you want comfort and to feel at ease, you will have these here. Nothing was too much trouble for Mieke, she is a fantastic host and will engage with you as much or as little as you want. We cannot recommend this location or this host enough and will certainly be returning when we next need to 'escape' the madness of our world.
Dawn
2016-10-07T00:00:00Z
What a beautiful place with an astonishing view. Very authentic, lovely rooms and so many things to see: art, animals, the village and the mountains. We really enjoyed our stay (and the breakfast) and all the hospitality we found. Thank you, we'll be back!
Boy
2016-04-17T00:00:00Z
Kamertype
Privé Kamer
---
Type woning
Bed & Breakfast
---
Geschikt voor
4
---
Slaapkamers
La Garapacha, Murcia, Spanje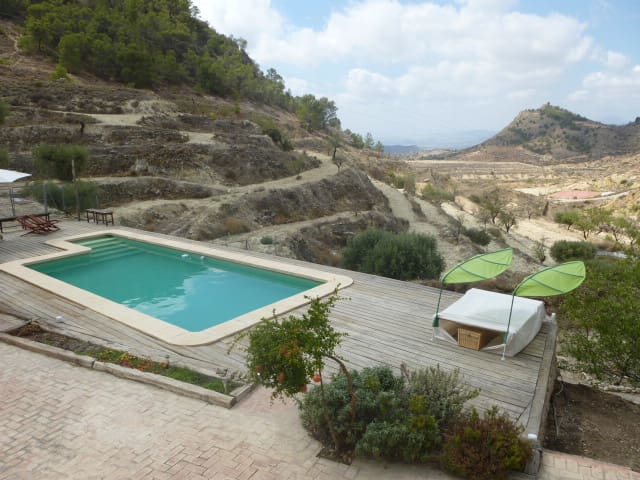 Finca El Anillao, y la casa, Casa Ruiz, se encuentran en pleno parque natural de la Sierra de la Pila; sitio único por su belleza, tranquilidad, además de ser propicio para grandes paseos a pie, o en bicicleta.
Está totalmente equipada para alojar a 10 personas. Tiene cuatro dormitorios, uno de matrimonio, uno doble , otro con capacidad para cuatro personas, y otro con un sofá-cama. Dos cuartos de baño completos, cocina, comedor, salón-chimenea, salón-biblioteca y terraza. Cuenta también con un pequeño patio con horno moruno y una despensa. Dispone de lavadora, lavavajillas, horno, microondas, televisión, DVD, equipo de música y botiquín completo. Hay calefacción y una chimenea grande para el invierno. Para los meses calurosos, la finca dispone de una pequeña piscina perfectamente integrada en el entorno, y desde la que se contempla la belleza de la Sierra de la Pila. Además en nuestra casa hay dos bicicletas para uso de nuestros huéspedes. La casa está preparada y acondicionada para acoger a personas con minusvalía.
La Finca se ubica dentro del Parque Regional de la Sierra de la Pila, en la pedanía de La Fuenteblanca, en Fortuna. Ocupa la mitad sur de un cerro del Monte Blanco, y cuenta con una superficie de 25.335 m2. Parte de la finca se encuentra distribuida en diversas terrazas de cultivo, lo que es vestigio de la antigua actividad agrícola que en ella se desarrollaba y que actualmente se encuentra en proceso de recuperación.
Kamertype
Gehele woning/appartement
---
Type woning
Huis
---
Geschikt voor
8
---
Slaapkamers
Fortuna, Región de Murcia, Spanje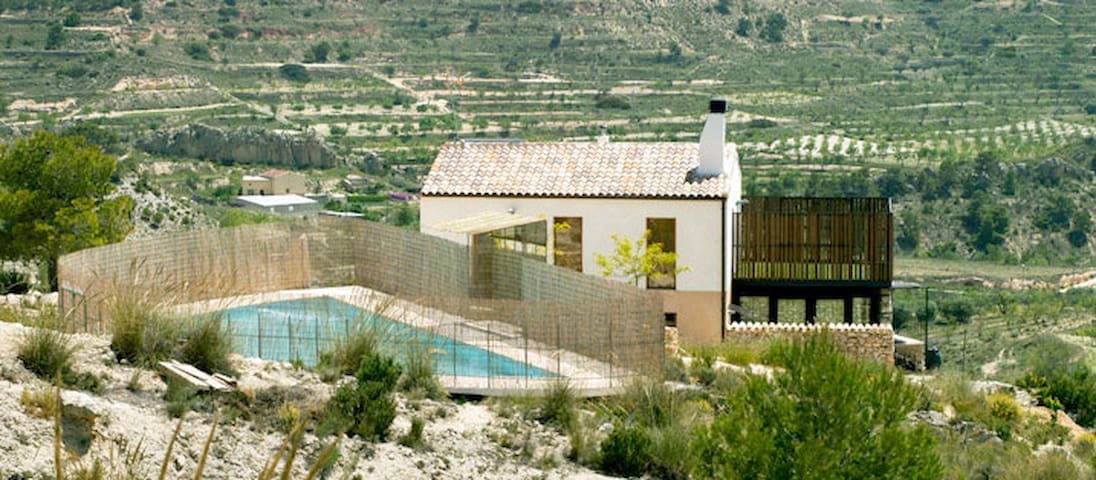 Lugares de interés, actividades en familia y de montaña. Te va a encantar mi lugar debido a las zonas exteriores y la ubicación. Entorno unico en plena montaña con vistas increibles.
Las casas estan situadas en plena montaña, a 8 Km de Fortuna y en las faldas del parque natural de la Sierrra de La Pila. Dispone de piscina, calefaccion central y en el entorno hay numerosas actividades para realizar como rutas de senderismo y ciclismo, escalada... Tambien disponemos de dos balnearios (Fortuna y Archena) no muy lejos de las casas.
La zona es perfecta para una escapada, relajarse y desconectar gracias a su entorno tranquilo, perfecto para amantes de la montaña y la naturaleza.
The host canceled this reservation 25 days before arrival. This is an automated posting.
Helga
2017-04-03T00:00:00Z
Kamertype
Gehele woning/appartement
---
Type woning
Huis
---
Geschikt voor
4
---
Slaapkamers
Fortuna, Región de Murcia, Spanje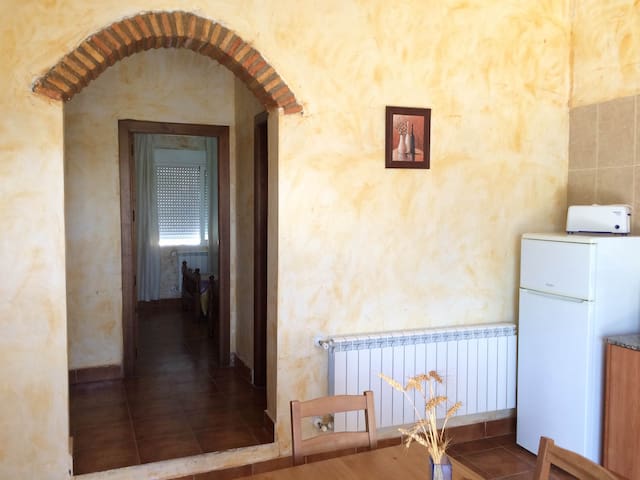 Attracties: schitterend uitzicht en familie-activiteiten. U zult genieten van mijn ruimte gezellige ruimte, locatie en uitzicht. Mijn accommodatie is goed voor koppels, avonturiers, families (met kinderen), en grote groepen.
Bed & Breakfasts in de Sierra de la Pila / Murcia, de grote capaciteit maakt het ideaal voor feesten en bijeenkomsten van grote groepen vrienden terrein. Aan de andere kant, zijn unieke karakter maakt het de ideale plek voor liefhebbers van wandelen, mountainbiken etc. Het huis is uitgerust met alles wat nodig is om uw verblijf zo aangenaam en comfortabel te maken. je esperamos¡¡
Het huisje is gelegen in de Sierra de la Pila waar de natuur is de hoofdpersoon, midden in het gehucht Peña Zafra de Abajo, behorende tot de localida Fortuna / Murcia.
Kamertype
Gehele woning/appartement
---
Type woning
Huis
---
Geschikt voor
16
---
Slaapkamers
Peña de Zafra de Abajo, Región de Murcia, Spanje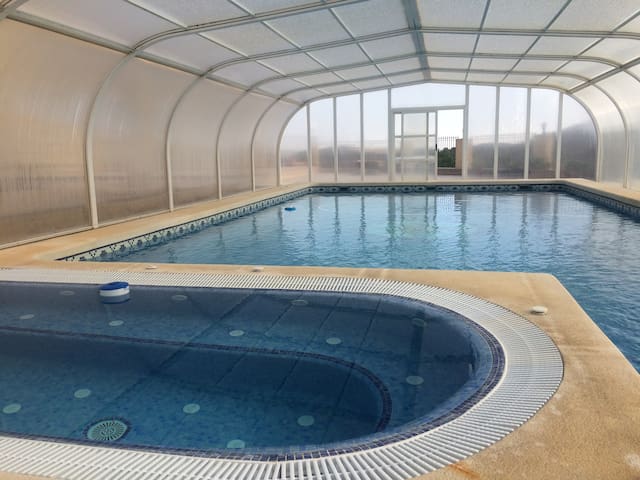 A picture is worth a thousand words... Here's a sample of our cave: (URL HIDDEN)
You will stay in the cave side of the house. It has been restored to a beautiful finish. It offers a full bedroom with a queen size bed, one private bathroom with shower sink and toilet. Walk out of the house into the trails of Sierra de la Pila. The cave has one bedroom with a queen size bed. A private bathroom with shower, sink and toilet. A sofa bed in the living area. The cave house has two private entrances and it is divided from the rest of the house. We are in the process of adding a new mattress from viscodream. Guest will now have the chance to purchase the same type of mattress directly from their smart phone or tablet. By using code J3AHRY3H they can save an extra 10%. So, they get to try the mattress before they buy it. We had complaints about our mattresses, so we decided to invest into something good for our guests. We are located in the natural park of Sierra de la Pila so you can enjoy going on bike rides which we can provide. Walking on many of the trails the area has to offer. We can also provide guided tours of Fortuna and the area. We can provide you with a simple breakfast to get your ready for your day. We can also take you on a guided tour of Fortuna and Murcia. We can recomend you best places to eat and visit. You will stay walking distance to a lovely village called Fuente Blanca. The area has beautiful views of the Sierra. Down in the town of Fortuna there are restaurants and the famous banios de Fortuna. Also the archeological site of the Black cave is a must see if you come this area. You will need a car to get to Fuente Blanca. Once you are here you can get around by walking or riding a bike which we can provide for a small fee. We have five bicicles available, including small bike for kids. The cave is seperate from the main house. You will have privacy. We do have three small children, dogs and one chicken.
Encontré la casa cueva de Clement cuando, después de una larga e infructuosa búsqueda, empecé a mirar también las sugerencias que AirBnB mostraba. Intercambiamos varios emails, y después de una generosa bajada de precio (por alguna razón, en mi primera visita no vi cargos adicionales a partir de X personas por lo que el precio final era bastante más alto de lo que la web inicialmente me indicaba), reservé nuestra estancia para 4: mi hermana, mis 2 mejores amigas y yo. La comunicación entre Clement/su mujer y yo fue continua durante el mes que pasó entre la reserva y nuestra estancia: Desde preguntas acerca de nuestras preferencias en cuanto al desayuno (que está incluido) y posibles alergias, como información sobre la zona, hasta conversaciones sin relación con la estancia :) Muy majos los dos, sin duda! Además, ambos fueron muy flexibles con todo, muy amables y siempre dispuestos a atender mis preguntas. Tal y como dice Clement sus niños están muy bien educados, y por tanto fueron prácticamente imperceptibles. Asimismo los perros no causaron ninguna molestia y tan solo buscaban - tímidamente - alguna muestra de afecto por nuestra parte. Nuestra primera mañana allí (sábado) salimos junto a los 5 miembros de la familia (más los 3 perros adultos) a pasear por la sierra (donde pudimos ver algunas cuevas abandonadas) mientras Clement nos iba contando cosillas de la zona. Fue un paseo de 2h que disfrutamos un montón! A pesar de estar las 2 cuevas pegadas, no sentimos pérdida de privacidad. Además, durante nuestra estancia seguimos comunicándonos vía (SENSITIVE CONTENTS HIDDEN) (hay WiFi, pero no cobertura): pedimos leña para la chimenea, luego ayuda para mantener el fuego.. y ellos nos preguntaban si queríamos tal cosa que habían comprado en el súper, o tan solo si todo estaba bien o necesitábamos algo. Nos sentimos arropadas en ese sentido. Teniendo en cuenta nuestro plan de no salir mucho de la casa cueva, tener, por ej., un hornillo eléctrico nos habría venido bien, pero con el microondas nos apañamos esos dos días. También disponíamos de un hervidor de agua y un tostador. Resumiendo: A favor: Casa muy limpia. Baño grande y nuevo. Perfecto seguimiento y acompañamiento antes y durante la estancia. WiFi. TV para escuchar música (conectando MP3) o ver películas / jugar (hay una PlayStation). Desayuno copioso y abierto a nuestras preferencias. A mejorar: Al menos uno de los 2 colchones (en el que una amiga y yo dormimos) se hundía un poco en el centro y se notaban un poco los muelles. Lo medio-solucionamos extendiendo un par de mantas sobre el colchón. Un hornillo eléctrico podría ser interesante.Conclusión: Totalmente recomendada (teniendo en mente los puntos anteriores).
Raquel
2014-12-29T00:00:00Z
We arrived by bike at Valerie and Clement's cave house, finally a delicious fresh place in the middle of a more than 35 degrees August hot day. We have been received by them, their three kids and two nice dogs. Ok, when you will arrive, the dogs will do their job, protecting the house and bark but when you are inside, you will be part of the family almost instantly. We cooled down nicely at 21 degrees and spent a good night, enjoying the salon with WIFI, the sleeping room and a very clean and new bathroom just for us. We felt confortable and spoke about the things we love like history, geology and computer design. We recommend the stay if you want to discover the Sierra de la Pila and spend a good time speaking in english or Spanish with this very charming american family. If you guys come you will probably enjoy soon a incredible new viscodream foam mattress and sleep more hours than you can expect as promised by Clement. I will put 4 stars just to be sure they will improve the bed We arrived by bike at Valerie and Clement's cave house, finally a delicious fresh place in the middle of a more than 35 degrees August hot day. We have been received by them, their three kids and two nice dogs. Ok, when you will arrive, the dogs will do their job, protecting the house and bark but when you are inside, you will be part of the family almost instantly. We cooled down nicely at 21 degrees and spent a good night, enjoying the salon with WIFI, the sleeping room and a very clean and new bathroom just for us. We felt confortable and spoke about the things we love like history, geology and computer design. We recommend the stay if you want to discover the Sierra de la Pila and spend a good time speaking in english or Spanish with this very charming american family. If you guys come soon you will probably enjoy a incredible new viscodream foam mattress and sleep more hours than you can expect as promised by Clement. 4 stars, i keep one star in my pocket for the upcoming viscodream ;)
Fred
2015-08-08T00:00:00Z
Kamertype
Privé Kamer
---
Type woning
Grot
---
Geschikt voor
2
---
Slaapkamers
Fuente Blanca, Murcia, Spanje