Una bonita habitación disponible con todas las comodidades en una calle tranquila. A poca distancia del centro. RÁPIDO conexión Wi-Fi gratis y conexión de auto-servicio de desayuno incluido Tassimo café o café Ninja.
Baño es compartido con los anfitriones. Que son bienvenidos a utilizar la lavadora y secadora, sala de estar para la televisión o una película, y la casa es muy agradable y tranquilo. Puedo ser tan disponible o ausente como desee. servicio de toallas. Excelente ubicación cerca de la autopista y el acceso a la 401, que también se encuentran en las principales rutas de autobús ya poca distancia de la ciudad. El desayuno no está anunciado, pero si lo desea puede cereales, avena, máquinas de café, etc. Lo que tenemos disponible es bienvenida para servir tú mismo el desayuno.
Uber está normalmente disponible en 5-10 minutos. Los taxis están generalmente disponibles para nosotros dentro de 10 minutos por lo que siempre nos aseguramos de que estamos listos para ir antes de llamar a la cabina. La ruta de autobús es una gran manera de moverse y ahorrar dinero con paradas en ambos extremos de la calle. El barrio es tranquilo en una calle arbolada de 2 1/2 casas de pisos que eran estructura entre la década de 1910 de los años 1940. Cerrar el acceso a las carreteras principales, incluyendo HWY 401, 8, 7, y la avenida de Conestoga. Acceso a disposición del patio trasero y áreas comunes.
Christina and Andrew were VERY friendly and made the stay lovely.
Jack
2016-09-24T00:00:00Z
House is very good. The surrounding environment is also very good. By bus is easy. Room is very big and warm. Bath is easy.
Rubing
2016-01-03T00:00:00Z
Christina and Andrew are AWESOME individuals!!! They are very warm and welcoming and their home is absolutely luvly! The room is AWESOME and the bed is luxuriously comfortable! It looked amazing on the ad and was doubly good in reality! Andrew and Christina could be Air B&B Ambassadors - they represent everything good about what Air B&B is all about! I am so impressed by Andrew & Christina's sense of community! They provide everything you need to feel comfortable during your stay! Tons of little extras that show you how kind and considerate they are! They are mindful, kind, generous and fun! I am a teacher and I give them an A+! Their home is centrally located in a luvly neighbourhood - it is very clean, quiet and comfortable!
Jenny
2016-02-10T00:00:00Z
Thanks for accepting me on short notice! I stayed in town an extra day and the previous Airbnb host had another person booked. An older home with character! Very welcoming. Jack
Jack
2016-11-01T00:00:00Z
The host(s) joined us for libations on Valentine's at a cool spot they selected on Waterloo, and even treated us to an Uber ride. Very generous people!
Je.
2016-02-16T00:00:00Z
It was great staying at your apartment.
Bhavishya
2017-02-23T00:00:00Z
It was a fantastic stay in Kitchener! They provided everything I needed-comfy bed, nice breakfast and bath/shower. It was a lovely experience!!
Akiko
2016-08-11T00:00:00Z
Hi Andrew and Cris, thank for receiving us! It was a great experience! You are very nice people and we learned a lot with you! You were the first Canadians that we meet and now we can say that Canadians are good people, generous, kind, polite and happy! It was a pleasure to meet you! We are so grateful from you, our conversations and share your experience!I hope we can see you again! Hugs, Renata and Jean
Renata
2016-05-28T00:00:00Z
Kamertype
Privé Kamer
---
Type woning
Huis
---
Geschikt voor
2
---
Slaapkamers
Kitchener, Ontario, Canada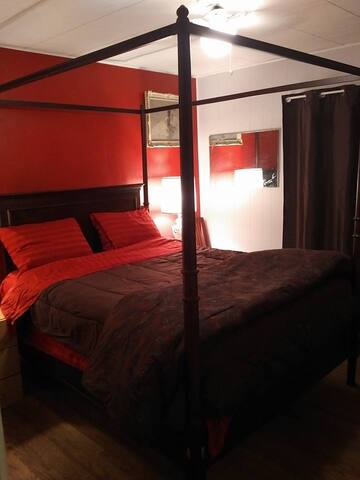 Ce bel appartement au deuxième étage est entièrement équipé pour un séjour très confortable pour deux. Il dispose d'un parking plein manger dans la cuisine, pour un seul et est à deux pâtés de maisons de l'hôpital St. Mary et Victoria Park. Il est également très proche du centre-ville, de nombreux restaurants et situé à quelques pas du terminal de transit principal. Internet, Apple TV, et de nombreux éléments essentiels de tous les jours sont inclus!
Ceci est une belle unité située au deuxième étage d'une maison centenaire au cœur du centre-ville de Kitchener.
Nous sommes situés à quelques pas du centre-ville. également à seulement deux pâtés de maisons de l'Hôpital général de St Mary. Nous sommes proches de l'École de pharmacie, de nombreux sièges d'entreprises de haute technologie et restaurants sans fin du centre-ville. Belle Victoria Park est à quelques minutes en bas de la rue.
This place is fantastic! It was SO clean, I was really impressed, and it's beautifully decorated. Jason is a thoughtful host and I know he would have helped out if there were any issues, but there weren't and everything was perfect! I will definitely be staying here the next time I'm in the area.
Yasmin
2016-10-28T00:00:00Z
Jason's place was exactly as expected, it had a small but lovely patio to relax at. The room was comfortable to stay in, and the kitchen was decently equipped. The small gesture of wine, danishes, fruit, and chocolate were also super appreciated. Would definitely stay again.
Eric
2016-11-27T00:00:00Z
Jason's place was exactly as described, but the little extras made it special. The space is tastefully decorated with a clean, cozy, homey feel and the little touches were a welcome addition. The kitchen was well equipped, the bed was comfortable, the shower pressure was good, and the place was immaculately clean. There was also an off-street parking space. Communication within jason was great --I would book Jason's place again!
Lianna
2017-03-22T00:00:00Z
Jason's place is beautiful, wonderfully decorated and very clean. It was cozy with all of the amenities that one would need for a comfortable stay. I loved the little treats left for me and the place is centrally located which was convenient for me. Jason is quick to respond to questions and very accommodating!!! I would highly recommend this place for anyone who is visiting to Kitchener!!!
Betty
2017-01-31T00:00:00Z
Jason is an incredible host. Goes the extra mile to make sure everything is in order. Place was spotless and had all the amenities needed for a comfortable stay. If you are looking for a quick place to stay in Kitchener, I highly recommend this spot!
Tim
2016-12-22T00:00:00Z
Gracious Host.
Riaz
2017-01-22T00:00:00Z
Jason is an incredible host. He was very responsive and accommodating. He also added a personal touch by leaving a bottle of wine, and chocolates. The apartment was well kept and he made sure everything was in place prior to our arrival. We would love to stay here again, and highly recommend this place to anyone who is visiting the area.
Abhishek
2017-03-18T00:00:00Z
Beautiful accommodation, gracious host. I'll be back!
Victoria
2017-04-02T00:00:00Z
Kamertype
Gehele woning/appartement
---
Type woning
Appartement
---
Geschikt voor
2
---
Slaapkamers
Kitchener, Ontario, Canada

Great space for single travelers. Close to outdoor shopping malls, parks and in a very nice neighborhood.
Can comfortably space two people.
Quiet neighborhood, lots of parks and things to do nearby!
Ayata was a very welcoming host and the room was great. Very spacious, and private bathroom.
Steve
2016-12-17T00:00:00Z
Very good value for a private basement unit.Unit has a kitchen table and a desk, plus a small kitchenette and a fridge. Also, Ayata was a great host who made me feel comfortable. Would definitely stay here again in the future.
Chris
2016-11-29T00:00:00Z
Ayata is absolutely amazing! She went out of her way to make sure I was comfortable and had a great stay. The basement apartment was exactly what I needed!
Emily
2017-01-27T00:00:00Z
Very nice set up, it's like having your own apartment, private and everything that you need.
Mark
2016-11-25T00:00:00Z
Perfect place to stay :)
AMAR INDER
2017-03-21T00:00:00Z
I had a great stay. Ayata got me in fast, showed me everything I needed, and then I got to sleep. A great value for the price, very comfortable.
Jess
2017-03-28T00:00:00Z
Amazing value. You are getting your bang for your buck here. Clean and comfortable place with fast internet
Mohamed
2017-04-04T00:00:00Z
Ayata's place is clean and quiet and very relaxing.
Steve
2017-01-01T00:00:00Z
Kamertype
Privé Kamer
---
Type woning
Huis
---
Geschikt voor
1
---
Slaapkamers
Waterloo, Ontario, Canada
이것은 우리의 1.5 층 집의 지하실에있는 주요 넓은 객실입니다. 당신은 좋은 깨끗한 시트와 많은 아늑한 담요를해야합니다. 장식은 빈티지입니다. 우리는 맥스라는 이름의 사랑스러운 개 있습니다. 그는 우리와 함께 위층 잔다.
그것은 매우 큰 및 개인이기 때문에 우리의 공간이 유일하다. 장식은 빈티지하고 우리는 매우 아늑한 만들었습니다.
우리의 이웃은 바로 성모 병원 근처에있다. 우리의 뒤뜰은 학교 운동장에 백업합니다. 우리는 세 개의 버스 정류장, 일곱 피자 레스토랑, TD 캐나다 트러스트, 몬트리올 은행, Sobey의, 렉솔, 캐나다 포스트, 스포츠 바, 및 기타 물건을 많이에서 거리를 걷고있다. 가장 가까운 주유소는 하이랜드까지 3 분 거리에 있습니다.
Place was cozy and clean. Check-in was super easy. The bed was a bit too soft for my taste but can't complain for the price. Good experience overall for my short stay.
Ken
2017-04-02T00:00:00Z
It was just as advertised, a cozy room in a welcoming home with a sweet dog. Good stay!
Amber
2017-03-26T00:00:00Z
A very comfortable and convenient stay. I had everything I needed. Great bed, sizable room, fresh sheets and towels, and clean bathroom. Getting in and out was a breeze. Hosts were very nice.
Jess
2017-03-09T00:00:00Z
Great hosts, easy check in and out, friendly dogs and comfortable setting. Would recommend.
Rohit
2017-03-18T00:00:00Z
I had a great stay with Heidi and Brent. They're both very lovely. The place is exactly the way it's been described. It's clean, spacious, and very comfortable. Will definitely rebook in the future.
Kerry
2017-03-20T00:00:00Z
The hosts are wonderful and I had a great stay!
Jennifer
2017-03-17T00:00:00Z
It was great.
Mn
2017-03-27T00:00:00Z
I stayed here for two nights and it was a great stay. Private large room downstairs. Hosts very accommodating. No hassle from start to finish.
Tina
2017-03-12T00:00:00Z
Kamertype
Privé Kamer
---
Type woning
Huis
---
Geschikt voor
2
---
Slaapkamers
Kitchener, Ontario, Canada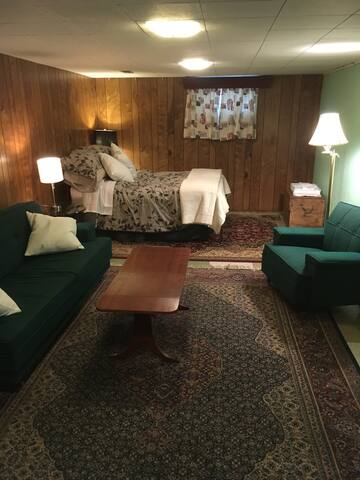 3 Schlafzimmer in charmanten Jahre alten Haus. Um die Ecke von Communitech Hub, von Restaurants, Cafés und Bio-Markt umgeben. Walk to School of Pharmacy, Bus Terminal, Bahnhof, Victoria Park, Iron Horse Trail, Farmers Market.
Sie werden in diesem charmanten Haus mit originellen Details wie zu Hause fühlen. Ruhig und ruhige Oase für diejenigen, die einen ruhigen ruhigen Rest brauchen. Sie werden Ihr eigenes Zimmer mit Zugang zu einem gemeinsamen Bad und Wohnraum haben. Setzen Sie sich in der Veranda Sie Ihren Kaffee oder Tee zu trinken oder einfach in den wunderbaren Klängen der Vögel nehmen. Man kommt zu Fuß in die Innenstadt oder die schöne Victoria Park. Große Wifi im ganzen Haus verfügbar.
Die Stadt Kitchener ist eine der am meisten vielfältigen und multikulturellen Städte in Kanada. Der Communitech Hub, wo sich das Haus befindet, ist ein sicherer Bereich zugänglich zu Transport und gedeiht mit neuen Unternehmen wie G oogle, Lust zu lernen, und kommende Technologie-Unternehmen. Die leicht zu Innenstadt zu Fuß bietet Einkaufsmöglichkeiten und einige der besten Restaurants in Kitchener zu bieten hat. Einfache Fahrt mit dem Bus nach Waterloo, wenn Sie die Gegend weiter zu erkunden.
I'm a return guest and once again I highly recommend Edit's place to stay at!
Cat
2017-03-02T00:00:00Z
Thank you very much to Edit for a very warm welcome and enjoyable first Kitchener experience. Your house is complete: clean, safe, and close to Kitchener down, which are what I look for. Her hospitality is excellent and I really enjoyed chatting with her and other guests in the evening. I really appreciated her guide in finding restaurant and coffee shops in the area as well. Again, thank you so much Edit!
Pisek
2016-09-02T00:00:00Z
I had a beautiful stay at Edit's home. I was only there for one night and I arrived late. I enjoyed awesome conversation with her this morning and I look forward to staying at her beautiful home again the next time I am in Kitchener!
Jenny
2017-02-01T00:00:00Z
Edit is a lovely person and a wonderful host - the listing was very accurate - great central location - clean and very nice.
John
2016-11-11T00:00:00Z
Edit was very warm and made me feel very comfortable.
Michelle
2016-11-20T00:00:00Z
Edit was a lovely host. I felt very welcome, she was very generous, and everything was as described in her profile. I would definitely stay with her again, perhaps when it's a little less hot :)
Morgan
2016-08-21T00:00:00Z
Very friendly, thanks!
Filip
2016-11-27T00:00:00Z
What a wonderful experience! The house is lovely and can't be any closer to Communitech. Edit is the best host you'd meet! I can't wait to stay at her house again.
Lana
2017-02-23T00:00:00Z
Kamertype
Privé Kamer
---
Type woning
Huis
---
Geschikt voor
1
---
Slaapkamers
Kitchener, Ontario, Canada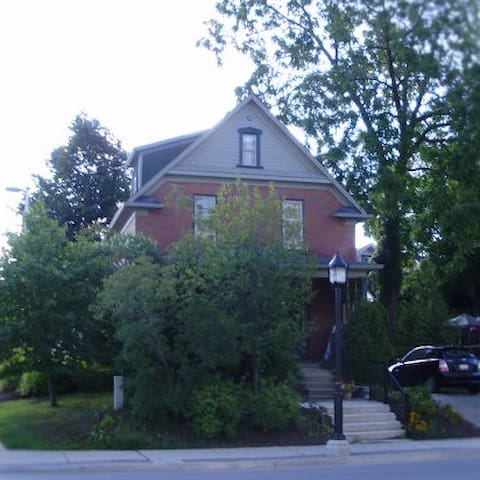 Quiet St.,steps from LRT and amenities, right in the heart of the city. Upper level of a century home. Private entrance. All inclusive. If you appreciate location and character, this is the right place for you.
Awesome place to live. Lucinda was a great host! Will surely recommend her place to others, my friends and family too! The place is clean, cozy and amazing. Lucinda welcomed me and my family with the flowers I love, Tulips!!!! woah like it was a surprise to me which made me feel happy. I was overwhelmed staying here!!! Thank you Lucinda ...Lots of love!
Neha
2017-03-31T00:00:00Z
Kamertype
Gehele woning/appartement
---
Type woning
Appartement
---
Geschikt voor
2
---
Slaapkamers
Waterloo, Ontario, Canada
Ma maison est une maison de siècle chargé de charme et de caractère. Il est en plein centre-ville, très proche du marché, des boutiques et restaurants de l'agriculteur, les lignes de bus et des sociétés de technologie, et un bus facile à Uptown Waterloo et les deux universités. Il y a une deuxième chambre disponible dans la maison, donc vous pouvez être partager la maison avec un autre invité. Dans le troisième étage grenier aménagé, il y a deux lits, avec un fauteuil confortable, un petit bureau et beaucoup de rangement. Le stationnement est disponible pour une voiture.
Votre chambre privée est tout le troisième étage de ma maison de siècle. Il y a beaucoup de place pour deux lits et un coin pour se détendre ou travailler. Il y a un grand placard de plain-pied et une commode pour le stockage. Il a des planchers de bois franc d'origine et beaucoup de charme. Les marches pour accéder à la troisième étage sont plus étroit et raide qu'un escalier typique, donc pas le meilleur choix pour une personne à mobilité limitée, mais une fois que vous êtes dans la salle, il est très spacieux, avec un plafond en pente sur le côtés.
Je vis dans un quartier résidentiel et à venir. Nous sommes à quelques pas du centre-ville, et beaucoup de jeunes professionnels et les familles avons progressé dans au cours des 5-10 dernières années. Il est assez calme le soir, avec marchabilité facile et sûr des commerces et des restaurants.
Megan is a warm, friendly, wonderful host and has created a gorgeous home! Highly recommended!
Heidi
2016-12-19T00:00:00Z
Had a wonderful stay at Megan's place. It was a great arrangement and our host was very friendly and accommodating. Super clean, calm, quiet and cozy. Would definitely recommend and would love to visit again!
Soubhik
2016-12-20T00:00:00Z
We needed a place to stay while we had some work done on our house, and Megan's place was perfect for our needs. Located around the corner from the farmer's market and Nova Era bakery, we enjoyed getting a taste of downtown Kitchener while staying in Megan's beautiful home.
Paula & Andrew
2017-02-26T00:00:00Z
The room and house were really nice and clean, I liked it very much. Communication was great and Megan is very friendly. House is on walking distance to downtown Kitchener. Definitely I'd recommend to stay here.
Mateus
2017-03-17T00:00:00Z
The house is well decorated, spotlessly clean without being intimidating. It is an easy place to feel at home in. Megan is a helpful host.
Sharon
2017-02-19T00:00:00Z
No regrets at all! We stayed at Megan's place for three nights. Megan is a wonderful host! She is very obliging, well organised and if we didn't know, we wouldn't have believed she just started on Airbnb! She has a very nice attention to detail. Also her dog Cinna is such a cute gem! She is so happy - all around the clock. Megan's home is very cozy and you will feel comfortable the moment you step in. (It's nothing to rate, but just to mention: her style is on point!). If we're around the area again, we will definitely stay here again! Thank you very much!
Maximilian Tarik
2017-04-05T00:00:00Z
Megan is a great host, her house is very clean and tidy, the top floor room is large and well set up with a choice of a double or single bed. The washroom shower is very nice. Theres parking and her little dog is so friendly. I'd recommend staying at Megan's house.
Mark
2016-12-21T00:00:00Z
Megan is a great host, our flight was seriously delayed so we arrived way past normal time but she stayed up to welcome us. And her place is at walking distance from pretty much anything you might need in downtown Kitchener. And of course, as many said before, Cinna was a star :)
Oleg
2017-02-11T00:00:00Z
Kamertype
Privé Kamer
---
Type woning
Huis
---
Geschikt voor
3
---
Slaapkamers
Kitchener, Ontario, Canada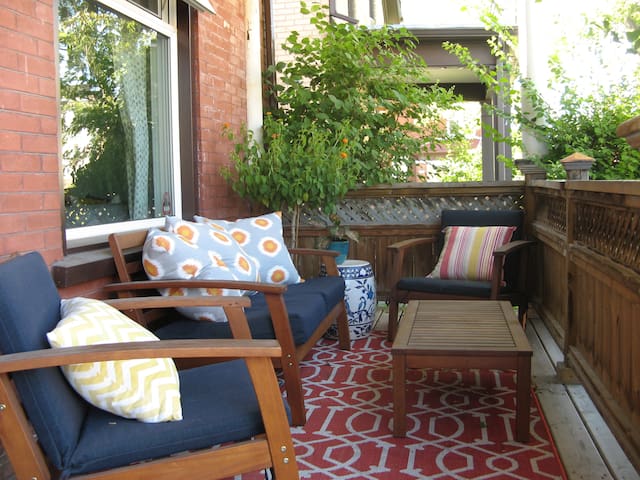 Here is your private cozy space to start your KW adventures! LUXURIOUS bed. Your own private living space/bedroom, bathroom and kitchenette. Free parking. Close to the universities, Uptown Waterloo, Waterloo Park, and buses. Boutique hotel style❤
This charming space comfortably fits two people in the comfy queen bed (with additional space on the pull out sofa full size) and is perfect for singles and couples. The entire level is yours. We are usually upstairs if you need us, but after welcoming you we will give you all the privacy you want. We have fresh towels, toiletries, and even basic beverage needs (coffee, tea, hot chocolate). Lots of vibrant colours and a few windows facing the south allow for a bright and cheerful basement. Attention to details make this place! There is a small kitchenette stocked with basic needs, but for bigger cooking needs you will have access to the larger kitchen upstairs. Wi-Fi. You can also enjoy the outdoors on our roomy veranda with comfy couch and chairs. Around the yard we have a food forest (help yourself), a small pond with goldfish, a trampoline (yes, even adults can use this!), zip line (and yes...Adults can use this too!!), and a large play structure. A perfect home base for your Waterloo region adventures or if you're commuting a nice place to use during the week!
Located in Old Westmount, this is one of the most sought after neighbourhoods in Waterloo. Lots of mature trees make for beautiful walks. Located across from an elementary school, you will have access to a large green space and natural playgrounds. A short walk away is Westmount Golf and Country Club, and in the winter time you can snowshoe or cross-country ski there. We are a hop, skip and jump from Uptown Waterloo where you can enjoy the many restaurants, chic shops, and local mall. Belmont Village is also a great place to enjoy lots of different restaurants and hot yoga. We are a 10 minute walk from Value Mart a PC grocery store or Vincenzos, a local favourite specialty grocery store! Several bus lines run nearby, but the closest line 8 will take you to the Universities and to the malls in Waterloo and Kitchener.
Erica is a very lovely guest and she responds very quickly if anything goes wrong with the stay in her place. The house was very beautiful, clean and well-prepared upon the check-in.
Mahshid
2017-03-09T00:00:00Z
Erica is super friendly and communicated with me with plenty of detail for our stay. Everything was accommodating. Thanks Erica!
Maria Krista
2017-02-09T00:00:00Z
Erika's suite is great. Everything I needed to enjoy my stay and weather the snow outside. The description is accurate, the bed comfy, and the family welcoming but discreet.
Elspeth
2017-03-15T00:00:00Z
Amazing space, very clean and host was extremely sweet and thoughtful - offered different toiletries as well as items in the pantry for us to use. Definitely recommend Erica's bnb to others!
Mandy
2017-03-24T00:00:00Z
The room is super clean and the host is really nice.
바다
2017-01-18T00:00:00Z
very comfortable and great amenities! would highly recommend it for anyone coming to the area
Sophie
2017-01-26T00:00:00Z
A great deal: super clean; simple yet tasteful; easy, reliable communication; and very walkable to central Waterloo. Easy to recommend!
Brett
2017-03-05T00:00:00Z
Erica is really nice and friendly! I can always get in touch with her by email. The room they provided matches all the information online. It is close to bus stops and very convenient.
Tianyue
2017-01-31T00:00:00Z
Kamertype
Gehele woning/appartement
---
Type woning
Appartement
---
Geschikt voor
4
---
Slaapkamers
Waterloo, Ontario, Canada
Wow, what an incredible place to stay! I stayed in Sheila's suite for many nights over the past 3 weeks. I have only good feedback- the home is spotless and adorable. It's beautifully decorated and even better, I had the place all to myself! There is all kinds of breakfast food available in the kitchen. I chose to stay in the suite room, which is so beautifully laid out and decorated- the view from the window IS stunning (made me feel like I was in a lush forest, not a city). The soaker tub was heaven for me (-as my days were quite stressful and busy). Most importantly, the BED! Before this suite, I always slept terribly away from my own bed... All that changed when I slept in THAT bed. I had incredibly restful sleeps. I never even woke with any of my usual back pain. Sheila is a reliable, gracious host. She made my stay so memorable- just with the little things she did (lilacs in my room, mints by my bed, homemade jam in the fridge, bubble bath etc.) Sheila clearly loves what she does, and she cares. She even allowed me to switch my booking night at the last minute because I was so homesick. An exceptional stay! I will be back. Thank you so much Sheila! PS, I had a chance to check out the other rooms she has available in the house. They all were big and beautifully decorated... With the SAME bed as the one I had. Look no further, stay here... You will have absolutely NO regrets
Leah
2016-06-01T00:00:00Z
We had a wonderful stay in Sheila's loft. From beginning to end Sheila made everything easy and comfortable for us. The bedroom was spacious and the bed was very comfortable! We stayed in the middle of June and the only down fall was how hot the loft got, but the room came equipped with two fans so that helped to cool things down a bit. Breakfast was greatly appreciated and we would stay here again in a heart beat!
Amanda
2016-06-27T00:00:00Z
Sheila was a great host and accomodated me on very short notice. The place was very clean, elegant, and charming. I would definitely go back!
Josh
2016-07-26T00:00:00Z
Great communication... such a nice relaxing getaway feeling to the room
Colleen
2017-04-02T00:00:00Z
Sheila's house was great! Very charming and well-kept. We stayed in the upstairs loft suite and really enjoyed it. It's very spacious and well-appointed, with beautiful fall views and a large soaker tub. We had full access to the whole house and Sheila was also kind enough to leave breakfast for us in the fridge-- she really does go the extra mile to make sure guests have a great stay! We loved our stay here and are sure to come back if we're ever in the area again.
Akshanta
2016-10-08T00:00:00Z
Everything worked smoothly. We got the keys easily and everything was as described. Also, as you can see in the pictures there was no shower in the bathroom so don't except more than a bath. The bed was very soft, so for some its cosy for others not so really... However, the room was clean. The house was really cold due to the air conditioner so we put the temperature a bit higher to manage it. In the morning someone came by to the house without saying a word while we were having breakfast and turned it down to 17 degrees celsius. It would have been nice to greet at least the host if she was there. It was ok for a short one night stop.
Sirkka
2016-07-26T00:00:00Z
I really enjoyed my one night stay thanks to Sheila! The neighbourhood was lovely and quiet, and the room exactly as pictured. The bed was even more comfortable than I imagined! Checking in was a breeze and I was able to access the suite and leave the next morning without any hassle. stress-free travelling at it's finest!
Wisam
2016-05-29T00:00:00Z
Sheila's place is easy to find. It's in a quiet location and the setup is wonderful. The bed is one of the most comfortable I've ever slept in in an airbnb. The guest area includes a private bathroom and a private kitchen for guests which is a bonus. The place is tastefully decorated and very clean. Communication with Sheila was excellent, though we never got to meet her. We will be back!
Lynn
2017-04-08T00:00:00Z
Kamertype
Privé Kamer
---
Type woning
Bed & Breakfast
---
Geschikt voor
2
---
Slaapkamers
Kitchener, Ontario, Canada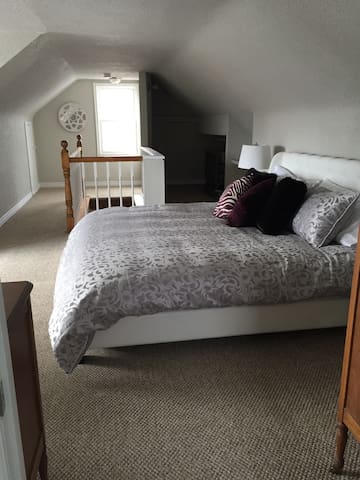 Mon mari et moi avons préparé et rénové ce condo 1 chambre pour votre séjour. Situé au milieu du centre-ville de Kitchener, vous êtes littéralement à 5 minutes à pied de tout! Nous espérons que votre séjour à Kitchener une excellente expérience.
Si vous êtes à la recherche d'emplacement, vous l'avez. Ce condo est situé dans le centre-ville de Kitchener. Vous pouvez vous promener à votre bureau, des cafés, des gymnases, des pubs et des grands restaurants. Dans le condo, vous pouvez profiter de la TV complète avec Netflix et wifi pour votre utilisation de l'ordinateur. L'espace dispose d'une chambre séparée de la pièce principale. Blanchisserie sur place avec ordinateurs connectés à Internet à proximité des machines.
Vous ne serez pas besoin d'utiliser votre voiture tout en restant avec nous. Tout est à quelques minutes à pied, ou hop sur un bus depuis le terminal Charles St bus, situé à seulement 2 pâtés de maisons. Nous allons vous fournir des recommandations pour les meilleurs endroits dans la région.
We had a pleasant stay at Heather and Chris's. It's very convenient to get to Waterloo where my daughters going to University .we will definitely stay again next time we are in town
Alyssa
2016-09-09T00:00:00Z
Great host, super accommodating, with excellent communication. Heather took great care in making sure our stay was comfortable. Thank you.
Raymond
2016-02-22T00:00:00Z
Heather made us feel very welcome as she met us at the train in the pouring rain,took us to the condo and made sure every thing was fine.Chris came by the next day to make sure we were connected to the internet and gave us a few hints of what was available in the area. As we didn't have a car, we found the neighbourhood had most everything we needed within walking distance. We found the location and the condo very convenient for our needs. We would certainly consider it again the next time we visit Kitchener.Larry& Dorothy
Larry & Dorothy
2016-01-09T00:00:00Z
Heather's place was just as described: clean, quiet and incredibly well located. In addition, her flexibility and communication were particularly appreciated. Highly recommended!
Michael
2016-04-24T00:00:00Z
We were pleasantly surprised and happy with our first Airbnb experience. Heather was so hospitable and had everything ready for us. She had great suggestions on places to eat and the condo was within walking distance to most things. We were lucky in that on the day we arrived, she told us about a festival that was taking place in Victoria Park. We walked to the festival and really enjoyed the bbq and entertainment. It was a nice way to wind down from our drive from Ohio. I would not hesitate to recommend Kitchener, the condo, or Heather as a host. Thanks, Heather!
Mary
2015-07-21T00:00:00Z
Communication was via text and very prompt. Easy to get access to our unit. I enjoyed living downtown for a few days. Currently there is a LOT of construction downtown and just about everywhere else but we managed okay and this is a heads up, not a deterrent. I enjoyed the balcony every evening watching the sunset. My husband enjoyed the Netflix. It was also nice to have underground parking. Don't miss St Jacob's Market if open while you are staying here. Would stay here again if in the area. Oh yes, the queen bed was comfy.
Linda
2016-09-13T00:00:00Z
Fantastic apartment in a central location with everything you need within walking distance. Thanks for the great stay and all the little touches that made my stay so easy. Lianna
Tommy lianna
2015-05-08T00:00:00Z
Heather was a great host. She met us conveniently to check in to the apartment and give us the keys. The place was very clean and comfortable and centrally located. Exactly what we needed for our visit. Thanks Heather!
Nick
2016-02-29T00:00:00Z
Kamertype
Gehele woning/appartement
---
Type woning
Appartement
---
Geschikt voor
2
---
Slaapkamers
Kitchener, Ontario, Canada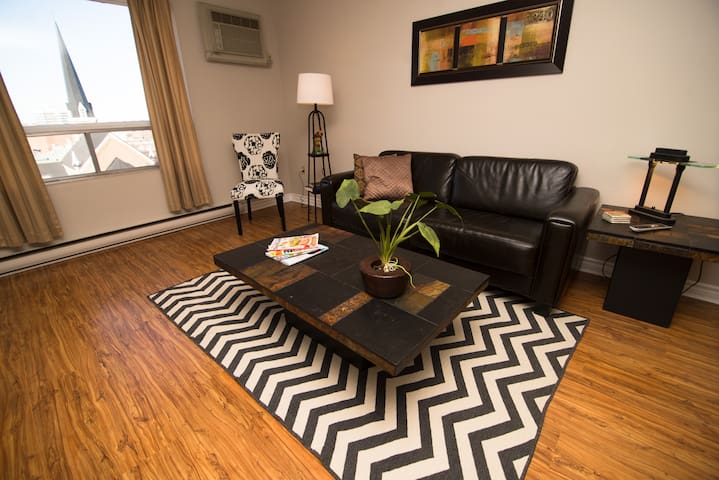 we had a good stay. the room was practical and we could use the kitchen. it wasn't very cozy but for our use ok. people were friendly.
Marion
2016-11-30T00:00:00Z
Quiet street close to main roads. Separate entrance and very clean.
Patrick
2016-10-10T00:00:00Z
Very close to public transport and was very convenient for a last minute stay.
Katie
2016-10-30T00:00:00Z
I needed a place to stay b4 moving into UofWaterloo. With a relatively low price, I got access to a very comfortable room and a clean bathroom. In addition with the superb hospitality of the owners Mr. John and Mr. Fang, I'd say you are getting a bargain for staying in Waterloo. Highly recommendable for lone traveler for short stay.
Max
2016-09-02T00:00:00Z
Fang's place is exactly the same as shown in her pictures. The bed is very comfortable! I had a really good rest after my long and tiring flights. Fang and her husband helped with my bags and luggages, much appreciated! Definitely a great choice staying here!
Xinyi
2016-09-04T00:00:00Z
I needed an inexpensive place to stay for a few days while visiting the University of Waterloo, and this served my needs well. The owner was very responsive through airbnb and came to the house to check on me. The others living in the house were graduate students and postdocs at the University of Waterloo. They were extremely welcoming to me, and I enjoyed getting to know them.
Joel
2016-07-06T00:00:00Z
Host was nice, available right away upon arrival. I was not expecting a luxury room (due to the $30.00/night rate) but I would have appreciated a less gloomy, disheveled, dusty space. My allergies were going haywire when I spent any amount of time in the room; made sleeping next to impossible. Someone without allergies might have a better experience.
Zac
2016-09-23T00:00:00Z
good, 位置很好找,transport is convenient,主人也很友好,只住一晚但很热情, 把我送到汽车站,还给我两个橙子
heepyi
2016-08-19T00:00:00Z
Kamertype
Privé Kamer
---
Type woning
Bungalow
---
Geschikt voor
2
---
Slaapkamers
Kitchener, Ontario, Canada
Cottage style living close to Waterloo Park, both universities, shops, businesses and nightlife of the Uptown. 900 square foot bungalow with three bedrooms, kitchen and large living room. Much space for parking and a private backyard.
The three bedroom bungalow offers sufficient space for a small family or group of friends. Laundry facility is only offered to long-term guests.
The house is close to Waterloo Park, both universities, shops, businesses and nightlife of the Uptown. It is also near the bus routes.
Was able to check in on short notice and the hosts were lovely and flexible about a later checkout. A great location downtown Waterloo!
Elissa
2017-03-02T00:00:00Z
We are so grateful for the convenience of this cottage. We had great sleeps. Thank you so much.
Wendy
2017-03-14T00:00:00Z
Great!
Nicolas
2016-11-13T00:00:00Z
We had a great time at Abby and Wenling's place. Their house is conveniently located and the neighborhood is safe and quiet. The house is clean and comfortable. We felt right at home. Abby and Wenling are great hosts, very responsive and helpful. We definitely recommend them.
Victor
2016-12-04T00:00:00Z
Great place - small, but very clean and central. Wenling was great - very responsive, helpful and friendly
Mat
2016-04-18T00:00:00Z
Abby made me feel welcome by being in contact with me at all the right times - once the booking was done, just before I was to arrive and then was accessible to talk to once I arrived in Waterloo. She was also at the house before I got there and then showed me around very thoroughly. The description and the photos of the house were accurate. The neighbourhood was nice and quiet and close to both universites.
Diane
2016-11-11T00:00:00Z
As advertised. Clean house. Central location.
Aghil
2017-03-31T00:00:00Z
Very convenient location. Nice and clean house. Perfect for young families.
Aejaz
2017-02-25T00:00:00Z
Kamertype
Gehele woning/appartement
---
Type woning
Huis
---
Geschikt voor
4
---
Slaapkamers
Waterloo, Ontario, Canada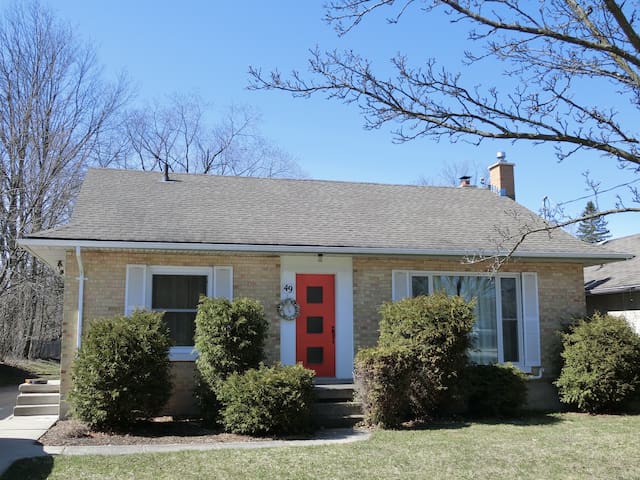 Situé dans un quartier calme plus vieux, ma maison est une promenade facile à Uptown Waterloo et Kitchener Downtown (10-15 minutes à pied: G00GLE, Tannery, Hôpital Grand River, Sun Life, à 20 minutes de VIA Rail, GO et stations de bus). Parking disponible.
La chambre est grande et est le seul espace de vie sur le plancher du sous-sol (les autres chambres sont au deuxième étage), ce qui rend très calme et privé. Il dispose d'un bureau, un lit, une commode et chaise de lecture. Il a beaucoup de lumière naturelle, ainsi que est très lumineux avec six lumières encastrées gradables.
located-- Idéalement une courte promenade à Uptown Waterloo et le centre-ville de Kitchener. Très orienté communauté et diversifiée. potlucks hebdomadaires en été et un jardin communautaire pour ceux qui sont intéressés. Beaucoup d'enfants et de jeunes familles dans le quartier.
Alexis was very helpful and welcoming. She was also very accommodating for moving things around and making sure I felt comfortable. The area is wonderful. Busy during the day and quiet at night. Lots of families and kids. I look forward to staying here again.
Chantel
2016-10-01T00:00:00Z
Alexis was an absolutely wonderful host. She was very accommodating and super friendly. The bedroom was sizable and fit a TON of my stuff. The entire house was spotless and the decorating and design of the space was immaculate. I totally suggest if you are going to stay in the Kitchener-Waterloo region, you consider staying there.
Anthony
2016-12-12T00:00:00Z
This was my fourth trip to the Kitchener-Waterloo area over the last 3 months, this has been my favorite place to stay so far! I've tried our a couple different hotels as well as a couple other AirBnB hosts (one trip was split between two hosts) again Alexis's place was definitely the most chill place. It's a very easy walk to both uptown and downtown areas and if you're in town to work at any of the tech companies they are all an easy walk away. Next time I'm in town I'll be hoping this place is open and available again!!
Josh
2016-07-09T00:00:00Z
Alexis is a great host. She was very warm, welcoming, and even went out of her way to help me. As to the room, it's a rather large room in the basement and gives you a good sense of privacy. You gotta walk upstairs for the washroom; not big of a deal for me but you may wanna know. The house was also nice and clean which I really liked. I'd stay there again.
Kianoosh
2016-04-02T00:00:00Z
Kamertype
Privé Kamer
---
Type woning
Huis
---
Geschikt voor
2
---
Slaapkamers
Kitchener, Ontario, Canada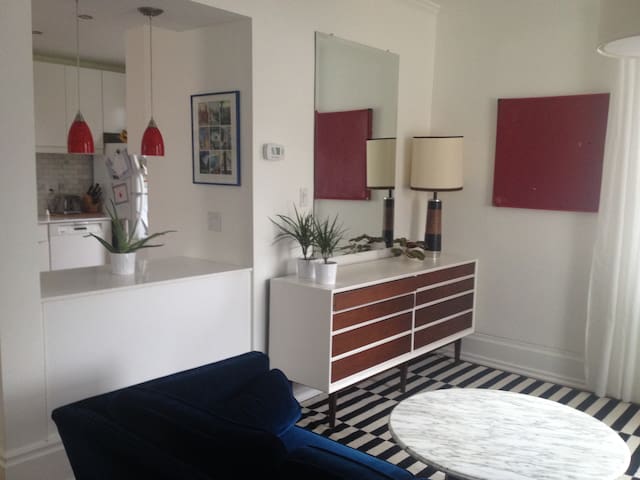 The Haven is a thing of beauty. Completed in September of 2016, this quiet dwelling resides at the end a private lane way in the backyard of our 19th century home. While only a 3 minute walk from Uptown, The Haven is central yet serene.
The Haven features - A queen size bed, a double, and futon which can serve as another bed (Both beds are fitted with luxurious bamboo sheets to insure a restful nights sleep) - A fully equipped kitchen (oven, fridge, microwave, french press, kettle, and an assortment of complementary teas and coffee) - 2 bathrooms (the master bathroom is centered around a large glass shower and beautiful tile work) - Large screen TV - Netflix - Speakers with AUX input - Blow dryer - Back deck and upstairs patio overlooking the neighbourhood.
The neighborhood is quiet yet central, being only a 3 minute walk from Uptown Waterloo.
The apartment looks exactly like the pictures. Very spacious and cosy, and Misha was very accommodating. Great location close to the city and yet it was a quiet retreat.
Kristin
2016-12-15T00:00:00Z
Excellent in every way. We came from England at short notice to visit a very ill relative at the nearby hospital. Misha and his family went out of his way to ensure our stay went smoothly.
Robert
2016-11-16T00:00:00Z
Misha is a wonderful host. They told the neighbours about our arrival so our children got to play outside in the snow for many many hours and were very entertained. The location is great as its a stone's throw away from uptown Waterloo.
Sesheeni
2016-12-27T00:00:00Z
Misha's place was extreamly spacious and cozy! Will definitely be coming back!
Mohit
2016-10-29T00:00:00Z
I've stayed at many airbnb whole-house/apartment rentals, and this was the best! The privacy of a beautiful, clean, and well-appointed whole house combined with the support and friendliness of Misha and his family right nearby and family-friendly neighborhood. He was in constant communication and offered lots of advice about the region. Checkin and out were a breeze. This house is ideal for a couple or a family with small children. The location couldn't be any better. It is walking distance of many good restaurants and bars, the grocery store, the University, and the public swimming pool. It also includes an off-street parking location, which is essential in this area. There are many children in the neighborhood. The house is tucked into a back lot off the street and completely silent at night. It is part of a duplex but you wouldn't know from the sound insulation, house design, and private entrance in the side. During the day the interior is even more beautiful than the photographs can show, with lots of light, high ceilings, and nice views. The open plans on both floors give lots of space and sight lines. If you're visiting in a cold month, you'll also appreciate that it is well-insulated and has a large hot water heater.
Morgan
2017-03-25T00:00:00Z
We were in Waterloo visiting family and friends. Misha's place was perfect for this visit. We felt right at home from the get-go. We had everything we needed and the place is perfectly located. Communication with Misha was also excellent.
Nada
2016-11-26T00:00:00Z
Amazing place in a beautiful historic neighbourhood. We had a lovely stay. The flat is clean, spacious and looks out over beautiful trees. The sunlight comes streaming in through the windows and a small deck is a great place to enjoy a coffee. I highly recommend this flat!
Nadine
2016-11-06T00:00:00Z
We travelled to Waterloo for a tour of the university with International Students. This was a most awesome experience. We loved the place. I will be sure to recommend it when and if my students parents visit from China.
Sandra
2016-10-27T00:00:00Z
Kamertype
Gehele woning/appartement
---
Type woning
Huis
---
Geschikt voor
4
---
Slaapkamers
Waterloo, Ontario, Canada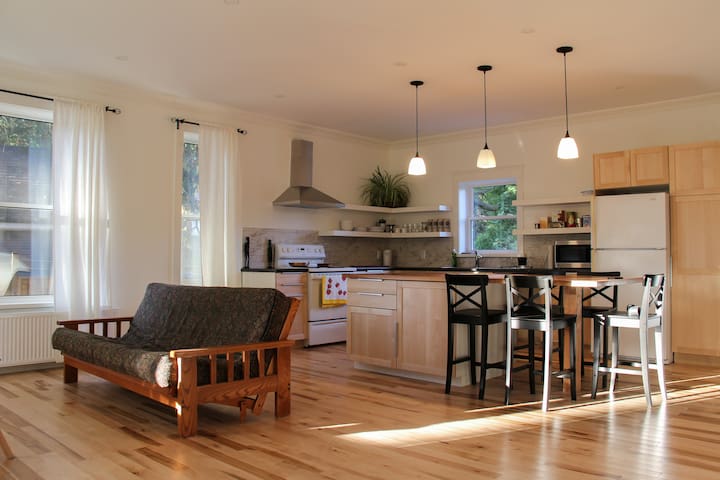 Chambre confortable dans un joli sous-sol débrayage. Vous aurez votre propre salle de bain privée et l'accès au sous-sol salon brillamment éclairé et notre cuisine commune à l'étage. Le petit-déjeuner Self servi, wifi illimité, et un place de stationnement inclus! Situé à 10 minutes en voiture de l'Université de Waterloo, l'Université Wilfrid Laurier, Uptown Waterloo et Kitchener Downtown.
Bienvenue chez nous! Vous aurez votre propre petite suite dans notre sous-sol débrayage lumineux: une chambre privée et salle de bains privée 2-évier. Les draps sont fournis pour le lit confortable. Le salon est aussi le vôtre pour vous rendre à la maison dans - il y a un bureau pour votre ordinateur portable, deux canapés à un salon sur, et une cheminée à bois chaleureux! Libre-service petit-déjeuner est sur la maison! Nous avons une gamme de thés et d'une machine à expresso impressionnante. Vous êtes les bienvenus pour prendre un bol de céréales / farine d'avoine, cuire quelques œufs, etc. Nous accueillons les enfants, mais s'il vous plaît noter que nous ne pouvons pas fournir un lit ou du linge supplémentaire, donc ils auraient à partager le lit avec vous. Nous sommes heureux de fournir une petite crèche Voyage pour les bébés de moins de 6 mois et une crèche plus grande de Voyage (jeu de cour) pour les bébés plus âgés et les tout-petits. Ceux-ci viennent avec un drap housse et auront sans frais supplémentaires.
Nous vivons dans un grand espace avec beaucoup de jeunes familles. Nous sommes à 5 minutes à pied d'une petite place qui dispose: Taps & Grill -hack -Double Offre une pizza et des ailes épicerie indienne -Onkar Restaurant -Lucky Chinese Garden -Victoria Hills Pharmacy
Quiet, comfortable and clean! I was on a business trip so I didn't have much interaction with the hosts but the communication was great with Farrah through text messages.
Martine
2017-03-24T00:00:00Z
Nice place, everything was clean. Communication was great, enjoyable stay.
Alan
2017-01-19T00:00:00Z
Super cozy! AMAZING bathroom, way better than mine back home haha. Would definitely recommend!
Stephanie
2017-01-02T00:00:00Z
I loved my stay at this place. Farrah has thought of everything one would need. The space is beautifully decorated and it was a very comfortable stay. I especially love the nerdy books that are available in copious amounts, I wish I had stayed long enough to enjoy some of them.
Prasenjit
2017-04-05T00:00:00Z
Farrah and Ty were great hosts, very welcoming and friendly. The place was exactly as advertised. I highly reccomend choosing Farrah's place .
Chris
2017-01-14T00:00:00Z
Another great stay! Communication is always super easy/fast as well.
Lina
2016-11-23T00:00:00Z
Farrah and Ty were welcoming hosts. The bed was super comfy, the house was very clean.
Rod
2015-08-15T00:00:00Z
Nous avons passé un très bon séjour chez Farrah, Ty et Scheezie. La suite correspond tout à fait aux photos : propre, confortable et accueillante. Le matelas est de très bonne qualité, la SDB grande et très propre, le coin salon idéal pour se détendre. Nous recommandons !
Karine
2016-12-30T00:00:00Z
Kamertype
Privé Kamer
---
Type woning
Huis
---
Geschikt voor
2
---
Slaapkamers
Kitchener, Ontario, Canada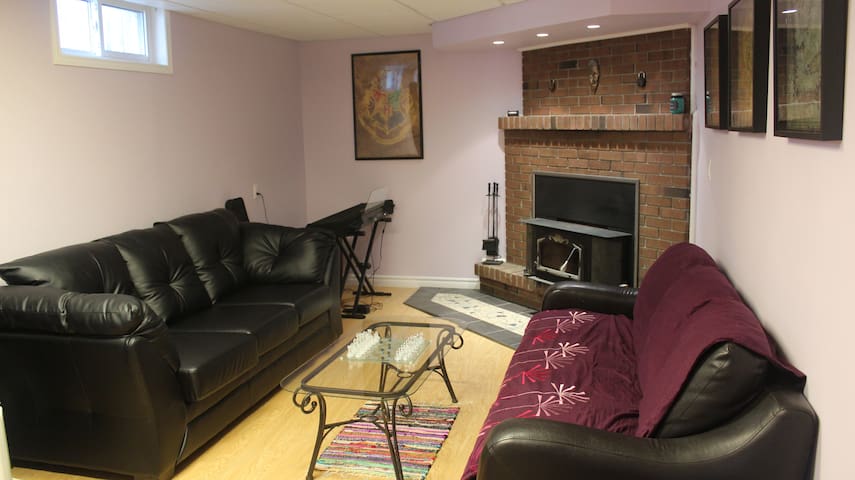 Nice big room, well decorated house. Jay is always trying to make improvements to the place. Good location and clean. Can be difficult if you have a car, since there is only 2 parking spots on the driveway, and 5 people living in the house. I had to park down the street by a convenience store.
Julia
2017-03-31T00:00:00Z
I booked last minute and Jay was very accommodating and easy to get in contact with. The place was clean and the description is accurate. I would stay here again.
Stephanie
2016-09-03T00:00:00Z
Jay could be reached through text and gives a prompt response. Room had an electrical outlet problem and he followed up with me and had it fixed within the week. Rest of the tenants during the stay is nice. Washroom and room was clean, and kitchen maintained well among all of us. Kitchen is also rarely occupied so its mostly yours when you need to use it.
Oscar
2017-03-12T00:00:00Z
This is a really nice place!
Wenjie
2017-01-31T00:00:00Z
Kamertype
Privé Kamer
---
Type woning
Stadswoning
---
Geschikt voor
2
---
Slaapkamers
Kitchener, Ontario, Canada
Mein Platz ist in der Nähe familienfreundlichen Aktivitäten. Sie werden meinen Platz wegen der bequemen Bett und die hohen Decken lieben. Mein Platz ist gut für Paare, Solo-Abenteurer, Geschäftsreisende, und pelzigen Freunde (Haustiere).
My boyfriend and I adored Chantal's Loft. So much so that we ended up spending more time in the loft than exploring the city as planned. Her design aesthetic is so so beautiful and the place itself is very clean, spacious and cozy. The loft is also located conveniently at just a couple minutes walk to the nearest bus stop, Kitchener City Hall & a ton of restaurants. Chantal herself was very pleasant and responded quickly to any questions I had. She was also super flexible with check-in and check-out which made our travels easier. We would definitely stay at her Loft again, hopefully in the near future :)
Rehanna
2017-03-04T00:00:00Z
Amazing place to stay, super clean, close to amenities and local transport. Chantal was very friendly and cooperative. Highly recommend to all travelers :)
Noha
2017-02-28T00:00:00Z
I had a lovely time at Chantal's place, she was very communicative and helpful even though she was not even in the same time zone as me during my stay :)
Cecilia
2017-03-10T00:00:00Z
Kamertype
Gehele woning/appartement
---
Type woning
Loft
---
Geschikt voor
2
---
Slaapkamers
Kitchener, Ontario, Canada
I have an extra room in my apartment on the 4th floor. It's in a nice area of Waterloo, close to all the shopping and food you need with easy access to bus routes and uptown. Shared bathroom and kitchen, living with a cute cat
I have a cat in the apartment. She tends to stay out of the way and I try to keep it clean
Nice places to walk, close to everything you need. A few minutes walk from: Sobeys (grocery store) Walmart Tim Hortons Subway sandwich shop Shoppers drug mart Dollar store Bulk barn Bank of Montreal Beer store Convenience store Chinese food Fish & chips Pizza places And more
Wir hatten eine angenehme und ruhige Nacht. Andrew hat uns herzlich empfangen und hatte kein Problem damit, dass wir später als angekündigt ankamen. Es gibt einen großen Parkplatz um die Ecke.
Christian
2015-05-28T00:00:00Z
Andrew is a nice guy and he was very accommodating. The room and the washroom were very clean! It was definitely a pleasant experience.
Ariel
2015-04-18T00:00:00Z
The room is as it appears in the pictures. Andrew was a good host, I would stay hear again if I came back to Waterloo. It was very quiet and had a goos night sleep.
Chris
2015-04-26T00:00:00Z
Andrew was very easy to contact and answered very quickly. The place was easy to find, very clean and cozy. His animals are also very cute and friendly.
Monica
2016-06-18T00:00:00Z
Andrew was the perfect host. The apartment was clean and Andrew was extremely accommodating. Thank you Andrew.
Sweta
2015-09-15T00:00:00Z
Andrew made me feel very welcome and the listing description is accurate. The neighbourhood is very convenient and Andrew's cat and bunny are adorable! Parking can be a bit tricky though.
Steve
2015-04-19T00:00:00Z
Nice
Hiteshwar
2015-07-26T00:00:00Z
Great person. Nice place. No issues except the room was hot late at night which Andrew quickly responded to by turning up the AC.
Aly
2015-07-29T00:00:00Z
Kamertype
Privé Kamer
---
Type woning
Appartement
---
Geschikt voor
2
---
Slaapkamers
Waterloo, Ontario, Canada