This fully equipped apartment is on the upper floor of a separate building from the main house on a beautiful country property. Surrounded by tall trees, this location is very private and peaceful with the feel of a cottage retreat. lots of room for parking.
This fully equipped apartment located in Pontypool; only a 10 minute drive to Canadian Tire Motorsports Park (Mosport), and 5 minutes drive to the Ganaraska Forest and many equine facilities. Situated just minutes from OFSC snowmobile trails, the location is perfect for your next snowmobile getaway! This bachelor style apartment sleeps up to 5 people, is fully equipped and very clean. The apartment is on the upper floor of a separate building from the main house on a beautiful country property. Surrounded by tall trees, this location is very private and peaceful with lots of room for parking and trailers/toy haulers. There is a 3 piece bathroom that includes a small washer and dryer. Outside on the deck is a perfect place to enjoy your morning coffee or your dinner. Guests have access to a BBQ on the property, inquire for details. A TV is included for DVD's. Beds include; - 1 double - 1 single - 1 pull-out double Kitchen includes; - Fridge - Stove/oven - Microwave - Standard coffee maker - Tassimo coffee/beverage machine - Toaster - All dishes, cutlery, pots, pans etc.
Wat een heerlijk huis hadden we bij Mike & Kerri. Alles, maar dan ook alles aan apparaten is er. De inrichting ziet er smaakvol uit, de bedden liggen prima. Heel attent: spullen voor in de badkamer, allerlei drogisterij-artikelen, wat spullen in de koelkast; koffie en thee; kortom we voelden ons heel erg welkom. Het huis ligt prachtig temidden van de bossen. 's Nachts is het oorverdovend stil en pikkedonker. En toen wij er waren straalde de zon 's morgens al vroeg tussen de bomen door. Je zou er zelf willen wonen
Ineke
2015-10-03T00:00:00Z
We had a great time @ the loft, Mike and Kerri were very easy to deal with. We were running a bit late and they were very understanding. The place was clean and well stocked even had cream in the fridge!! I would stay here again in a heart beat. Couldn't ask for more.
Kimberley
2015-09-14T00:00:00Z
The place is described accurately on the listing. When we got there, Kerri welcomed us and showed us the apartment which is located separately from their main house. It pretty much has everything from kitchen utensils to toiletries (even chocolates). It also has a fridge, a stove, and an oven for those who want to prepare their meals inside the apartment. The hosts have have a bbq grill on the patio of their main house, but they are so much willing to share it with their guests. During the night of our stay, they even offered to setup a campfire for us. The place is surrounded by tall trees, so visitors can expect their stay to be peaceful and very relaxing. We definitely enjoyed our stay in this amazing place with such wonderful hosts.
Krizia
2015-05-19T00:00:00Z
Our hosts were welcoming, helpful and very fast at answering our questions. The apartment was represented very well and has everything you need for a weekend gettaway. The forest and conversation area nearby are beautiful places to visit and view the fall leaves.
Emily & Josh
2016-10-30T00:00:00Z
Mike and Kerri's cabin was lovely, the area was beautiful and the place was everything that was described. They were both very welcoming and made clear that if we needed anything to let them know. We were given directions to go hiking and had a great time. When their guests the next day let them know they were arriving later they text me to let me know I could take my time checking out which was very considerate. :)
Sophie
2015-01-03T00:00:00Z
Mike and Kerri were great! They were very flexible with our late arrival time. The space is an open loft located above a separate two-car garage next to their house (No AC). Everything was very clean, and the kitchen was fully stocked with plates, cups, cooking utensils, and a coffee-maker with complementary coffee and tea! Bathroom also included a basket filled with amenities. We had traveled to Kawartha to watch the meteor shower, and Mike was kind enough to have staked out places for us to view it. He also provided with insect repellent and extra lawn chairs! Even though it was so late in the night, He took the time to drive with us and led us to a great lookout point. Really went the extra mile. We didn't see any stars, but it was an enjoyable stay! Thanks Mike, Kerri (and Penelope)!
Rahul
2016-08-13T00:00:00Z
I love nature and house is place in the middle of forest where you have complete silence...
Damijan
2016-08-20T00:00:00Z
Beautiful apartment with everything our family of four needed.
Jessie
2016-09-26T00:00:00Z
Kamertype
Gehele woning/appartement
---
Type woning
Appartement
---
Geschikt voor
5
---
Slaapkamers
Kawartha Lakes, Ontario, Canada
My place is close to Private Retreat close to Bobcaygeon.
Kamertype
Gehele woning/appartement
---
Type woning
Appartement
---
Geschikt voor
6
---
Slaapkamers
Kawartha Lakes, Ontario, Canada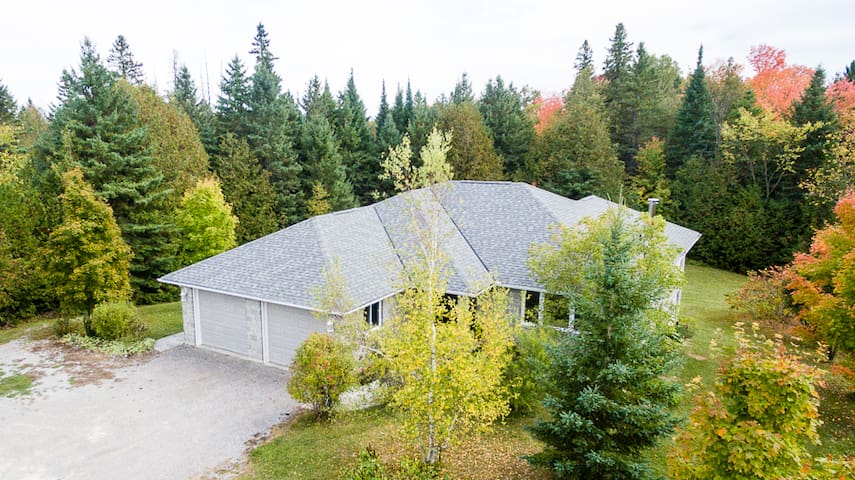 Cozy backlot cottage with shared waterfront access on Sturgeon Lake. The waterfront is great for swimming and fishing. The cottage is located within a 5 minute drive from Fenelon Falls--a tourist attraction. You can walk along the lift locks and watch the boats while having an ice cream cone. There is a lovely public beach area with a play ground for children. In Fenelon Falls you will also find restaurants (Tim Hortons, Godfather's Pizza, Cow & Sow, etc.) and shopping (Sobey's, LCBO, etc.).
Thanks for everything, Lisa! We went swimming on 2 occasions (awesome for September), canoed to The Falls and back, enjoyed a beautiful bike ride in the quiet neighbourhood. Wonderful time. :) Thanks for the sheets. I'll pack a set, regardless from now on. ;) Thanks again.
Denise
2016-09-20T00:00:00Z
The cottage itself is perfect. Has everything that you need for your vaction. It's very clean and had a great layout. We thought we would be closer to the water but it's only a quick walk to the shared water access. We did most of our swimming at the public beach which is right in town. Lisa was great to deal with. She was very accommodated and answered all our questions quickly.
Brett
2016-08-16T00:00:00Z
The cottage is cozy and very pleasing!
Huifang
2016-10-10T00:00:00Z
We enjoyed our stay at Lisa's cottage and would definitely go back. The fire pit in the backyard was great and they even provided us with wood so we didn't have to buy any. All the amenities provided made for an easy stay. The location is great, quick drive to town for groceries and supplies. And behind the Sobey's we found a cliff jumping spot which we took advantage of. Excellent experience and Lisa was very nice and came by the cottage when we got there k show us everything and explain everything we needed to know.
Brittany
2016-09-05T00:00:00Z
Lisa greeted us upon arrival and gave us a tour of the space. It was even lovelier in person. The cottage is perfect for a couple or small family and my boyfriend and I had a lovely 4 night stay. The waterfront is a 3 minute walk from the cottage and although it is shared, we hardly saw another person the entire duration of our stay. The lake is beautiful, the kitchen was well equipped for cooking, and the layout of the cottage was great. We will definitely be back!
Danielle
2016-08-27T00:00:00Z
Lisa was incredibly nice and very available for any questions we had. The lake was gorgeous and the cottage was lovely. We really enjoyed having a fire in the back yard and laying around on the dock by the lake.
Josh
2016-08-21T00:00:00Z
Kamertype
Gehele woning/appartement
---
Type woning
Appartement
---
Geschikt voor
4
---
Slaapkamers
Kawartha Lakes, Ontario, Canada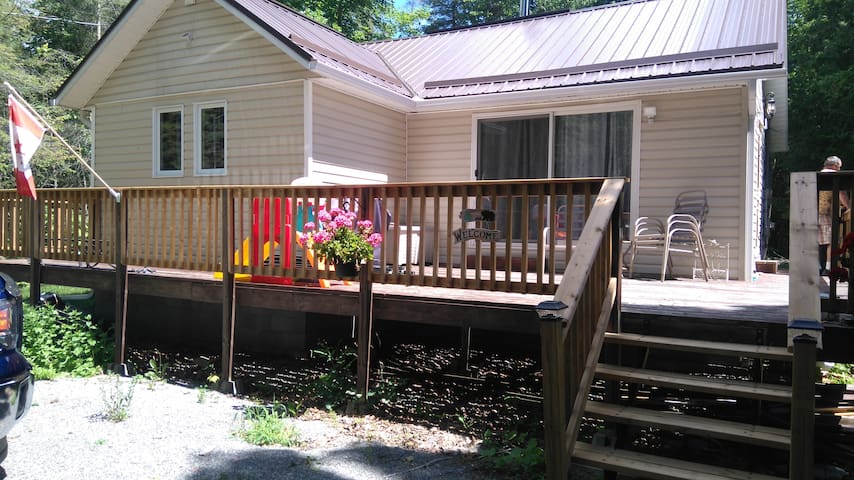 My place is close to restaurants and dining, family-friendly activities, and great views and plenty of places to shop. Located right downtown main street in Bobcaygeon. You'll love my place because of the comfy bed, the kitchen, and the outside porch with a barbeque, perfect for a couple looking to explore Bobcaygeon. Oh and don't forget you can always grab an ice cream and can go for a nice sunset walk.
Nick and Laura are awesome hosts! Extremely accommodating and easy to talk to! The apartment is even nicer than the pics and sitting on the deck enjoying our coffee in the morning was an added bonus! As for location, it doesn't get better than this if you want to experience Bobcaygeon. We'll definitely be back!!
Lloyd
2016-07-19T00:00:00Z
Nick and his wife were absolutely awesome! His house was in a great area with an awesome deck! He left us ice cream coupons, coffee for the morning and granola bars for breakfast! We will definitely return, best part is they are above a fudge and ice cream store that they own as well! Awesome
Maryann
2016-07-13T00:00:00Z
Great experience - location and hosts were fantastic. Highly recommend this place.
Dave
2016-08-21T00:00:00Z
The listing was as described. Great location and our host was wonderful. It was a hot few days and the back deck was great and provided a wonderful breeze. Thank you again, j
JACQUELINE
2016-07-31T00:00:00Z
Kamertype
Gehele woning/appartement
---
Type woning
Appartement
---
Geschikt voor
2
---
Slaapkamers
Kawartha Lakes, Ontario, Canada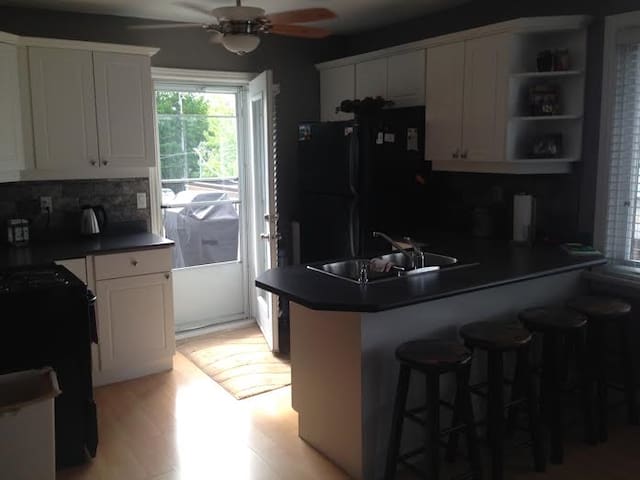 Suite Retreat is excellent for couples, solo adventurers, business traveller, internships, placements, residency, parents visiting students, or a weekend getaway. Close to Hospital, Medical Centre, Peterborough Clinic, pharmacy, downtown, parks, restaurants and dining, bus route, and groceries. You'll love this place because of the coziness, the comfy bed, the kitchen and proximity to all that Peterborough has to offer. Unlimited Wifi Keyless entry TV/DVD/Apple TV Coffee/Tea
Clean, freshly decorated, separate one bedroom suite in our home. Complete kitchen, equipped with essentials. The suite has unlimited WiFi and the lounge has a TV, DVD player, and Apple TV. Bathroom with shower. In-suite laundry with detergent provided.
This Suite is located on a quiet street in the prestigious Old West End of Peterborough, near the hospital, the Peterborough Clinic and the Medical Centre. 15 minute walk to downtown, restaurants and bars.
Beautiful self-contained suite . Krista was a gracious host and provided a spotless and pleasant environment including a very nice continental breakfast . I would highly recommend these accommodations to anyone travelling in the area.
Vitali
2016-09-18T00:00:00Z
It was great.
Hooman
2017-03-17T00:00:00Z
Fantastic hosts, very friendly and will go above she beyond to make you comfortable. The place itself was spotless. Has every thing you need to make you feel home. I stayed there for a full month. Thank you !
Mahmoud
2016-10-16T00:00:00Z
Nice little space. Very comfy. Easy to find. Quiet neighbourhood. We came in and found the space quickly. Had access to fridge for our food and water. Nice to have an Apple TV with Netflix.
Sheri
2016-09-12T00:00:00Z
As soon as I walked into Krista's place I longed for my trip to be a vacation that would last a few more days. It's such a comfortable place! Alas, I was on a business trip so could only stay the one night. Krista has equipped her kitchen with all the small things that we travellers can't bring with us, and provided a very helpful guidebook for the area. Her place is convenient for reaching downtown if you don't mind a walk. Arrival/check-in was super easy and Krista was in touch with all the necessary details. I recommend her spot for any traveller but found it especially accommodating for those of us on business.
Katie
2017-01-24T00:00:00Z
Krista and Andre are great hosts. They provided us with all the information we needed before we arrived, which made planning our trip much easier. Their basement apartment has lots of windows that allow for natural light. The space is perfect for two people. We loved the open concept kitchen and living room. The kitchen has everything you need and more. The location is close to town (5min drive), restaurants, grocery stores, and a shopping mall. They have Apple TV which was great for us, we were able to connect to our Netflix account and watch movies. There was also DVDs and board games available for us to use. The shower is a little bit smaller than we're used to, (my boyfriend is 6ft tall) but we managed and it was not uncomfortable. We've stayed at a lot of different Airbnb's and Krista and Andre's Suite Retreat is one of our favourites! I would recommend this to anyone who is looking for a cozy weekend getaway, away from the city.
Martina
2016-09-05T00:00:00Z
I had a wonderful stay at Krista's place when I unexpectedly had to spend a night in town after work. I loved having my own parking spot and how easy it was to access and get into the apartment. The place was clean, lovely, and well-equipped. Since it was an unexpected stay, I especially appreciated the extra toothbrush and other amenities like that. Had a great sleep in a very comfortable bed. It's also a lovely neighbourhood and I walked downtown in 15 minutes for a bite to eat. Would definitely stay there again.
Shiri
2017-02-07T00:00:00Z
We had a lovely one-night stay at Krista's and Andre's. The suite was clean, cozy, quiet, and comfortable, and Krista was a great host. She responded to our inquiries in a timely manner and accommodated our request for an earlier check in. We appreciated the kitchen amenities (especially bread, peanut butter, and coffee!) as well as the private entrance that made us feel like we weren't intruding in someone's home. We would definitely recommend to others!
Laurie
2016-09-18T00:00:00Z
Kamertype
Gehele woning/appartement
---
Type woning
Appartement
---
Geschikt voor
2
---
Slaapkamers
Peterborough, Ontario, Canada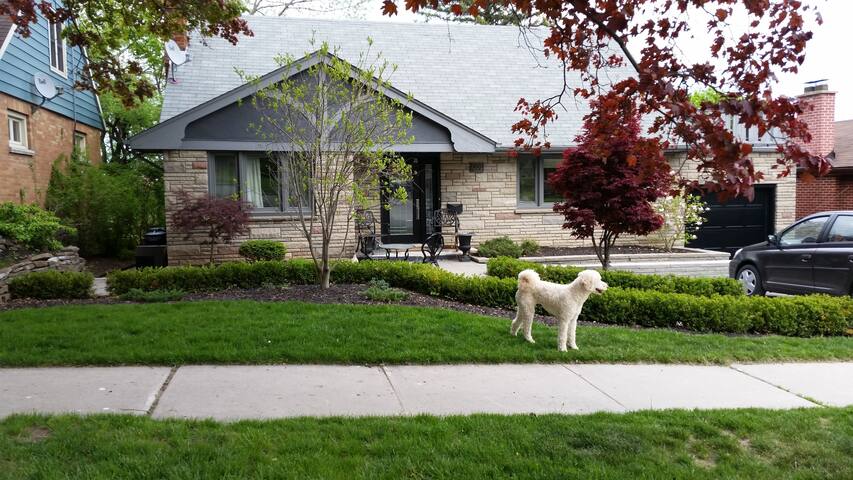 Desirable East City location. Village feel within the City.
Desirable East City location. Village feel within the City. Bright, homey and clean. It's newly renovated and decorated. Main floor entry is from the back deck. Four piece bathroom Queen bed, laundry, dishwasher & parking Trails, park space, river and tennis courts directly across the street Quiet and safe neighbourhood Close to all amenities 5 minute walk across the Hunter St. bridge to downtown Wireless Internet (30 Mbps) Washer and dryer (free) Towels and linens Fully stocked kitchen for guest use (dishes, pots & pans, utensils, french press, kettle, microwave, etc.) Help yourselves to coffee, tea, spices, and cream Parking included up to 2 spots- please park on the right (South) side of the house when you get here Keyless entry, check in any time after 3:00 pm Village feel in the city. Trails, river and close to everything. Check out the guidebook that we have included for recommended places to visit!
We love East City. It feels like a little village. It has shops around the corner, walking/biking trails just outside the door and great restaurants. Downtown is just across the bridge.
My friend and I were going through town and needed a place to stop over and this cozy apartment caught our eyes. An excellent get away for two close to multiple lakes/parks, stowed away on a corner lot with a large backyard and lots of privacy not to mention the apartment is tastefully decorated. Overall an excellent place to stay over 9/10
Yusuf
2015-08-05T00:00:00Z
The apartment met our needs perfectly. Clean, stocked, warm with lights left on. Laura texted us a few times during our stay to ensure all was well. The sectional was comfortable and worked well as a second bed for my daughter. Conveniently located downtown.
Sara
2014-12-07T00:00:00Z
Appartement toujours aussi agréable!
SOPHIANA
2015-04-23T00:00:00Z
The warm welcome was pleasantly received. We loved the closeness to our Yoga Teacher Training course venue. The apartment is well appointed with care to details of which as a woman it means the world to me. We look forward to booking time for the rest of our yoga training. In gratitude for a safe haven to rest and re-charge.
Viktoria
2016-04-17T00:00:00Z
Laura's place was a pleasure - meticulously decorated and extremely comfortable, as well as being perfectly located to walk downtown in minutes. Highly recommend this wonderful place.
Joshua
2015-10-26T00:00:00Z
L appartement est très beau et nous avons passé une bonne nuit.
SOPHIANA
2015-04-20T00:00:00Z
Laura's place was the perfect place for us. Her place is modern, cozy and perfectly arranged. It is located in a great part of the city and is filled with everything you can need. My partner and I could have not imagined staying at a better place.
Daniela
2015-05-10T00:00:00Z
Laura and Phil were fantastic as was their property! The accomodations were clean, bright and an optimal location to enjoy downtown or the rest of the city. All interactions were fast and pleasant. We are already looking forward to our next visit. Thank you Laura and Phil for such a great home away from home.
Tamara
2015-12-10T00:00:00Z
Kamertype
Gehele woning/appartement
---
Type woning
Appartement
---
Geschikt voor
2
---
Slaapkamers
Peterborough, Ontario, Canada
Professional style hospitality meets a place to call home. Modern boutique-hotel-like interior... for a fraction of the price. 'Light, bright and airy' has been quoted by a recent guest. "A modern tailored look" by another. Come see for yourself, I'm at your service. Gleaming hardwood floors, 2 big-screen TV's, private entrance... a real home-away-from home.
Large, bright, second floor 1 bedroom apartment with windows on three sides.
Downtown Barrie is a 1 minute walk away and is a showcase for what a revitalized waterfront community can be. With it's vibrant downtown, 3 beaches, waterfront parks, marina, pubs and great restaurants (almost any kind of food choice can be found here!) you will never get bored. Barrie-licious (a taste-sampling event put on by participating restaurants) takes place in February and is a real treat... not to be missed.
A friend and myself stayed at Mark's place during the WayHome music festival and it was absolutely wonderful. Mark has gone out of his way to make his home welcoming - from the toiletries in the bathroom to the water in the fridge. Would definitely recommend!
Joyce
2016-07-25T00:00:00Z
Fantastic host and fantastic apartment. It really is one of if not the nicest places I've ever stayed at. Clean, great location and Mark even had delicious lasagna and cold beer waiting if I was interested. Mark could easily ask twice what he asks and it would be well worth it. Highly recommended and will book again if it's available. Just awesome!
Mike
2016-06-16T00:00:00Z
Very clean and attentive
Madi
2017-03-12T00:00:00Z
Mark is really friendly and helpful. Enjoy my stay very much!
jing
2017-01-16T00:00:00Z
Mark's place is perfect. I've been staying here for months and keep coming back. He leaves fruit & chocolate routinely. There are home-made frozen dinners in the freezer. He has been the best host I've ever stayed with. Highly recommend him.
Mark
2016-11-11T00:00:00Z
Mark made himself available to welcome us even though our arrival time was hard to determine. There was no time during our stay that we thought we could not reach Mark or that he would make every effort to accommodate whatever need we might have had. If you are not familiar with Barrie I can assure you that you will be hard pressed to find a more central location.
Eric
2016-08-29T00:00:00Z
This was a great place. Mark has created a wonderful blend of old architecture and modern touches that speak to comfort and style. A brand new kitchen with lots of dishes and utensils, thoughtful amenities in the bathroom, and a very comfortable bedroom. Plus a quiet street very close to downtown Barrie. The whole apartment was spacious and warm. And immaculate!
Laurie
2015-12-27T00:00:00Z
This listing is exactly as pictured with such lovely decor. It is absolutely spotless and extremely clean. Peaceful neighborhood and quiet ambiance; even with tenants living downstairs, I did not hear anything. Mark is such a great host, very accommodating and willing to help. Any interactions I had with him were perfect.
Marie
2015-12-11T00:00:00Z
Kamertype
Gehele woning/appartement
---
Type woning
Appartement
---
Geschikt voor
2
---
Slaapkamers
Barrie, Ontario, Canada
Geïnspireerd door de Scandinavische ontmoet modern design dit appartement is gelegen op de eerste verdieping van ons huis, ligt verscholen tussen de bomen in de East End van Barrie. Minuten van restaurants, stranden en bars dit boutique suite is ideaal voor reizigers op zoek naar de rust van een huisje met de voorzieningen van de stad.
We noemden de ruimte na mijn grootvader die altijd een nieuwsgierigheid naar de wereld om hem heen heeft gehad. Road trips behoren tot zijn favoriete hobby's en toen we begonnen met het ontwerpen van een ruimte voor anderen om te genieten op hun avonturen, konden we niet helpen, maar worden herinnerd aan zijn vasthoudend vermogen om uit te gaan en het land te verkennen. Als een ervaren houtbewerker we besloten om hulde te brengen aan zijn passie en het grootste deel van de meubels die u ziet in de ruimte op te bouwen met de hand met tijdschriften hij aan ons doorgegeven. De Karl Heinze is een passie project voor ons en herinnert ons eraan om altijd onze omgeving te verkennen. De belangrijkste kamer en slaapkamer hebben beide grote heldere ramen die blik op weelderig groen en mooie, grote bomen. Willen onze gasten de mogelijkheid om eten te koken geven, gebouwd we een keuken-achtige ruimte met alle nodige tools om eenvoudige maaltijden te maken. Hoewel dit niet een volledige keuken, zult u borden, bestek, potten, pannen, kruiden, een koelkastje, een elektrische kookplaat, een toaster oven, crockpot, een waterkoker en een koffiezetapparaat. We kozen voor de Belgische lakens aan het bed en de Turkse handdoeken te dekken voor de badkamer om u het allerbeste te geven in comfort. We ontwierpen en maakten de meubels met een Scandinavische minimalistische uitstraling.
The apartment was lovely. It was cozy and felt like we were away at a cottage. The location was great. Communication was very efficient.
Alexandra
2016-11-06T00:00:00Z
Amazing stay!!
Julia
2017-02-20T00:00:00Z
The place is really beautiful. The bathroom especially. The surrounding area is really nice, very close to the lake and a 15 minute walk or minute drive to all the bars and restaurants. Everything was smooth and comfortable. Would highly recommend!
Jafar
2016-09-21T00:00:00Z
The place is quite clean and comfortable, even better than the pics tell! Large window, wooden floor, spacious bathroom, surrounded by greens, a short walk to the lake, all of which makes it more like a resort for people live in big cities. Sarah is so nice and sweet, leaving much info about groceries, restaurants and trails on handwriting cards, and brought us fresh cinnamon rolls the other morning. The communication's great. Will definitely recommend to people go to Barrie!
Peng
2016-09-13T00:00:00Z
Sarah & Adam are very kind and welcoming in nature, and have done a great job of creating a well designed, and warm space. The Karl Heinze is quick walk to downtown Barrie, but the space felt more like we were in cottage country. All their responses were wicked fast, and when we had to shift dates they were very accommodating, and easy going. I also think they have Barrie figured out. We tried most of their recommend local spots and had some seriously great meals and great times! In short, If you decide to stay at the Karl Heinze, you will be happy with the space, and happy with your hosts.
Matt
2016-10-23T00:00:00Z
Such a lovely and cozy place! So lovely we added another night to our trip. The rooms were sun filled with tons of trees. Sarah was super accommodating and kindly had a bottle of bubbly waiting for us to celebrate my boyfriends birthday. She left tons of information for places to visit and ride the bikes they provided us with. The house looked like it was hand picked straight out of a magazine. Highly recommend! We can't wait to visit again :) Thank you Adam and Sarah
Ellie
2016-08-30T00:00:00Z
Adam and Sarah's place was so beautiful and modern. It had the perfect amount of rustic feel and the bathroom was elegant. It was also decorated so perfectly and we enjoyed the privacy. Very cozy. We would love to come back again! :)
Amy
2017-02-26T00:00:00Z
The hosts go above and beyond. Everything is exactly as advertised and the communication was excellent.
Ryan
2017-02-05T00:00:00Z
Kamertype
Gehele woning/appartement
---
Type woning
Appartement
---
Geschikt voor
2
---
Slaapkamers
Barrie, Ontario, Canada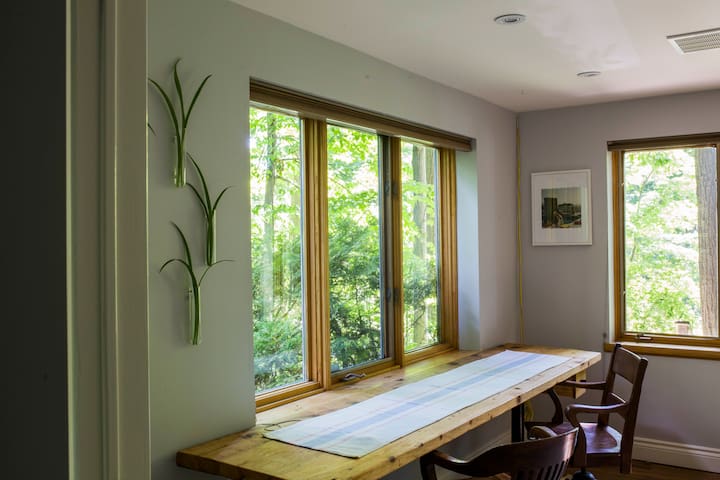 Deze woning is gelegen aan de rand van Muskoka. De huur-eenheid is gloednieuw en gelegen in het lagere niveau van dit huis. Het is op een doodlopende straat in het land, omringd door bos en grenst aan de Black River voor mijl van kajakken, kanoën, zwemmen of vissen. Het is 5 minuten naar Lake Couchiching en dicht bij het strand en het park. De kleine schilderachtige stadje Washago ligt op 10 minuten rijden met unieke cafe, supermarkt en restaurant. Een uur naar Algonquin Park en op slechts 10 minuten naar Casino Rama.
Large open apartment in lower level of a house with a small deck with chairs and a propane bbq. There is a kitchen sink and counter with microwave, mini fridge, coffee maker, toaster, kettle, plates, bowls, cups and utensils. Brand new queen sized bed, single bed and futon. New tv with satellite connection but no free WIFI. The tap water is treated municipal water safe for drinking.
Zeer vriendelijke, rustige landelijke omgeving. De doodlopende straat is geplaveid en het water wordt behandeld, gemeentelijke bronwater.
It was a nice wonderful experience. The fire pit was ready before our arrival. People were really helpful in arranging things. I would love to go back.
Mohanprabhu
2016-11-13T00:00:00Z
This was my first Air b&b experience, and it was overall pretty good. I stayed overnight here as I was in the area to see a show at Casino Rama, and it was 10 minutes away which was extremely convenient for the location. The basement apartment was clean, comfortable, and the added pamphlets of the area were a nice touch. We did not get to meet Lisa, but she was a fantastic host, and was always quick to respond to messages. Her husband was also available nearby to help with anything if we needed, which we appreciated. The one thing that was a little challenging was the tenants upstairs - they left the TV on loudly until 2 am, and you could hear them walking around frequently as well as their pets making noise. This is not a reflection on Lisa though - just something to note if you're a light sleeper or have issues with noise (earplugs are recommended). It was also fairly chilly in the basement, but there were lots of blankets provided which we greatly appreciated. Overall, great host and really enjoyed the scenery aspect in the neighbourhood.
Bethany
2017-01-08T00:00:00Z
We have stopped here on the way to Algonquin & muskoka region. Lisa's place is huge and has all the necessities we needed. We didn't get to talk to her but the tenant upstairs was very friendly. The room is in the basement though so it did get a bit chilly at night and the floor is not very sound-proof so you can hear the movie & music from upstairs (not that they were trying to make a noise).
Lei
2016-10-08T00:00:00Z
We stayed at Lisa's for a quick trip to Bracebridge. Great find, less than 30 minutes to Bracebridge, very comfortable beds.
TJ
2016-08-08T00:00:00Z
It was a pleasure to stay at Lisa's lovely place on the serene river. We enjoyed the freshness of the trees around the backyard and dips and kayaking in the river. Lisa was very flexible and accommodating to our late booking, checkin/checkout times and quick to answer all our questions. A very welcoming host with a place that was clean, organized, and as described in the listing. We look fwd to returning at another time in the future!! Thanks, Gurpreet
Gurpreet
2016-09-04T00:00:00Z
We contacted Lisa the day we wanted to arrive, hoping that she would be okay with us visiting for the day. Everything was already set up and ready to go. Her basement apartment is very clean, but does not have a kitchen. The backyard was spacious and good for playing with kids. The river was not good for kids, as the entrance drops off and is steep. Washago is 5 minutes away and you can find a grocery store and restaurants there.
Ashley
2016-09-19T00:00:00Z
We stayed at Lisa's place in the month of January. The heating system was good. The place was warm. It can definitely accommodate 6 ppl if 2 ppl are ready to crash in the couch. The lake was frozen when we went in January.
Josephine
2017-01-29T00:00:00Z
Lisa's place was really nice to stay in, it was comfortable and clean. Would recommend if you are up in the area.
Mike
2016-11-20T00:00:00Z
Kamertype
Gehele woning/appartement
---
Type woning
Appartement
---
Geschikt voor
5
---
Slaapkamers
Washago, Ontario, Canada
Our Hillside Guest Suite is a separate living space including, liv rm, 2 bdrms, kitchen, bathroom, wireless internet, satellite tv, private deck, geothermal heating/cooling. It is close to everything, outdoor activities, and in the midst of extensive trails. 8 minutes to downtown Barrie, 15 min to Wasaga Beach, 61 min to Pearson Airport. 11 min to Georgian College and RVH Hospital, 30 minutes to Penetanguishene (on Georgian Bay). Includes large carport for car or trailer, bikes, etc.
The Hillside 2 Bdrm Guest Suite is ssIt is a quiet and comfortable space with nature and forest views from large south and west facing windows. The entire space has on site milled golden hewed hemlock and pine walls, doors and trim. (No drywall here). All open beam construction with 9 foot ceilings. The apartment is is attached to a very spacious large one of a kind custom hand built log home. The space has its own outside access. and offers considerable privacy. It has no living space directly above nor below nor directly attached to it. The bathroom features a handbuilt made glossy natural wood counter with dual sinks and large tub with shower and in floor heating. Their is a small eat-in kitchen w new appliances including full size fridge and 24" range with vented exhaust hood. The kitchen is equipped with normal necessities, microwave, coffee maker, coffee, tea, cutlery, dishes, pots, pans, toaster, and wine rack. The living room is quiet and comfortable with Bell satellite tv and lots of built ins for storage. The corner sunfilled bedroom has a double bed with large closet. The second bedroom has a double bed w single bunk above and large closet and dresser. We have Rogers wireless internet. The apartment is great for two to four adults or a family. If needed we can provide an almost new playpen/bed suitable for an infant or small toddler.)
We are barely outside of town yet it feels very private and country-like. The land around here is quite hilly in fact we have two different driveways each going to a different level of the house. Just down the road is Nicholyn Farms a really great locally- grown food grocery store with lots of organic produce. We are 11 minutes from Georgian College and RVH General Hospital. Also Midhurst Pharmacy, popular Burbies bar/restarant, Macs Milk, a vet clinic, an Asian restaurant, the Midhurst Wellness Center and two Christian churches (one Baptist and one United) are within 2 km.
Kamertype
Gehele woning/appartement
---
Type woning
Appartement
---
Geschikt voor
5
---
Slaapkamers
Midhurst, Ontario, Canada
A place to relax in winter in front of the fireplace with a beautiful view of the Otonabee River. In summer enjoy a swim, paddle boat, or kayak on the river. Enjoy supper cooked on a gas barbeque and end the evening roasting marshmellows over an open fire. A country like setting but only 5 mintes to shopping, restaurants, and entertainment in downtown Peterborough.
Approximately 1100 sq ft of space fully furnished. Large living area with 2 bedrooms, fully equipped kitchen, and 3 piece bathroom. The living room has two couches, a 60 inch flat screen cable TV with surround sound. There's an assortment of CD'S, DVD'S, books, puzzles and games available for guests to use.
Quiet residential neighbourhood on the river, yet 5 minute drive to downtown. A small park with children's playground next to our property.
Kamertype
Gehele woning/appartement
---
Type woning
Appartement
---
Geschikt voor
4
---
Slaapkamers
Peterborough, Ontario, Canada
Eigen Ingang, Super-Lux Garden Studio met terras / organische bed exclusief voor 5-sterren hotels. 50" flatscreen-tv met kabel-pakket en wi-if. Luxe spa-achtige en-suite met een groot bad en een tv in de badkamer! Grote inloopdouche. Een perfecte get-away of corporate retraite!
Gloednieuw, begane grond, tuin toegankelijk unit met slechts 2 stappen. Een oord / spa gevoel te wachten staat in de off witte meubels en neutrale afwerkingen. Er is een kleine koelkast en magnetron en een koffiezetapparaat. De suite is groot met een strak diep bad en een aparte inloopdouche. Vloerverwarming verwarmd tegels zal je voeten warm op die kernachtige ochtenden houden. Er is een muur gemonteerde tv in hier ook. Voor het geval dat je nodig hebt om bij te blijven op de markt of uw favoriete soap. Lay back in het bad en geniet!
Het is in het hart van het oude Barrie op loopafstand van de jachthaven en de hele waterkant. Het is een oude gevestigde buurt, grote oude boom lijn de straat. Het is opvallend rustig 's nachts gezien we zijn het centrum. Gemakkelijke toegang tot de Highway 400, maar ver genoeg weg van het lawaai, stank en chaos. Queens Park is de straat met goede tennisbanen. Laat uw auto in onze prive-off street veel. Geweldige restaurants en markten opnieuw slechts een paar minuten lopen. Heritage Park, de jachthaven en het Barrie waterkant zijn tien minuten lopen. Geen stedelijke wildgroei hier in de buurt.
Had an amazing time at this place. Beautifully decorated suite. It has absolutely everything we needed. Very warm and welcoming. Mark received us later in the evening with smiles and letting us know he was there for anything we needed. How do I say this........location, Location, LOCATION. Very well situated an within walking distance of almost all of the top restaurants in Barrie. The linens and bedding were high quality and I really think Mark goes above and beyond and keeps you in mind with his choices in the space. My husband and I will be back. This bathroom alone is worth the repeat visit. Thanks Mark, now I need to go buy a TV for my bathroom. Was too spoiled this weekend. Thank you for having us. We will be back.
Tiffany
2016-11-27T00:00:00Z
Great stay. Good quality furniture, superb bathroom with all the amenities, quick and easy communication. Only small issue was difficulty with the thermostat - the place felt too warm even during the winter. Would highly recommend if staying in Barrie for the night. Loved the massive TV with wifi.
Jacob
2017-03-16T00:00:00Z
This is truly a gem of a find. Beautifully decorated with all possible amenities.
Mary
2017-03-14T00:00:00Z
We had a great stay, Marks place is a perfect little spot that has a hotel feel
Stacy
2017-02-20T00:00:00Z
Mark was an excellent host and has a lovely place. Greated us when we came in and made sure we were set for everything. The place is a nice spot for one or a couple. The floors are heated and is a nice warm spot on a cold winters day. The giant soaker tub can fit two and is perfect for any couple. Place is very clean and super modern. Mark went above and beyond to make sure our stay was perfect. Definately would book again and highly recommend for anyone looking for a nice spot downtown barrie that's walking distance to anything by the water front. Thanks again Mark!
Daniel
2017-03-13T00:00:00Z
Perfect getaway. Modern and beautiful.
Zara
2017-01-10T00:00:00Z
Everything was exceptional! Wish that we had a bathroom like that at our house. It was a lovely delight! Would highly recommend Parkside!
BN
2017-01-15T00:00:00Z
Marc is a professional host - don't hesitate!
Monique
2017-01-13T00:00:00Z
Kamertype
Gehele woning/appartement
---
Type woning
Appartement
---
Geschikt voor
2
---
Slaapkamers
Barrie, Ontario, Canada
This one bedroom suite is cozy and comfortable, with a pullout couch in the little livingroom area. It is walking distance to Bass Lake and 20 minute drive to Mt St Louis Moonstone and also to Casino Rama.
Bass Lake Retreat is a unique property. This Spanish villa is our home, but the Suite is a seperate unit with it's own entrance.
We love the area here. We are a short walk to the beach at Bass Lake. The Provincial Park, and Scout Valley walking trails are nearby. The West Orillia sports complex (with beautiful Tennis courts) is 3 km away. We are also only 2 km from shopping. We have the best of both worlds! (email hidden). Mount St. Louis Moonstone and Horseshoe Valley are 20-30 minutes away.
I absolutely love this place! This was my 2nd time staying at the Bass Lake Retreat & I have to say this is one of the best airbnb bookings I have found. Barb is warm, hospitable, welcoming and makes the best banana muffins around. The room is so clean and you can instantly relax once you're there! The suite is only minutes from Orillia, where you can easily finds shops, grocery stores and restaurants. The room is clean, airy and well equipped.
Breanna
2016-06-05T00:00:00Z
When we arrived Barb was there to welcome us, she was very wonderful to deal with and accommodating to the check in and check out timings. The place was amazing, exactly as described. She left us snacks, fresh baked muffins and fruit! I would highly recommend staying here, we will definitely be back :)
Garima
2016-03-20T00:00:00Z
Highly recommend this place. Extremely clean, cozy and private. Looks exactly like the pictures. Easy to find, conveniently located off of the Hwy. Barb is easy to communicate with and very pleasant. She even thought of leaving some snacks for a quick breakfast. Would definitely stay at her place again. Thank you for a relaxed stay Barb.
Anna
2017-03-18T00:00:00Z
Barb is a very nice, warm and friendly person, making you feel welcome and like at home. Check in and check out went smooth and quick. The suite is quite small, but comfortable enough for short stay. House is close to fairly busy road, so don't expect complete quietness. But from the other hand close to shopping and restaurants.
victor
2015-09-21T00:00:00Z
Would highly recommend to all!
Gail
2016-07-03T00:00:00Z
Very comfortable.
judy
2017-03-11T00:00:00Z
Great
Guy
2016-08-01T00:00:00Z
Barb was very sweet welcoming and helpful and made me feel at home.
William and Sandra
2016-09-26T00:00:00Z
Kamertype
Gehele woning/appartement
---
Type woning
Appartement
---
Geschikt voor
2
---
Slaapkamers
Oro-Medonte, Ontario, Canada
Private, affordabe and close to everything! Private entrance entire apartment. Queen pillow top bed in a private bedroom, Gas fireplace, deck, sunroom, fully fenced yard, kitchen and full bath. Parking Free WIFI. Be our guest!
Ruim en perfect! Gezellig in de open haard. Slaap zacht in de eigen slaapkamer. Lichte maaltijden bereiden in de lichte ruime keuken en genieten van gratis koffie en thee. Behoefte aan een plek om uw werk te brengen? Bureau met bureaustoel voor laptop gebruik en gratis WIFI. Veranda ideaal voor loungen of laden voor een dagje aan het strand of op de ski-heuvels! Het ruime terras is ideaal om buiten te eten in de lente, zomer en warm val avonden.
We zijn dicht bij alle belangrijke winkels, restaurants, entertainment, het ziekenhuis en de universiteit op loopafstand van de meeste. Highway 400, Highway 11 North zijn minuten. Koffiebar, bakker en supermarkt op de hoek van onze belangrijkste kruising ongeveer 5 minuten. lopen.
The gas fireplace was wonderful and we appreciated the Keurig coffee maker and the complimentary selection of coffees and teas!
Catherine
2017-03-07T00:00:00Z
Really enjoyed our stay. Check in and out process was smooth. They were very thorough with their instruction booklet and suggested places to eat/ activities. Would stay here again.
Brad Prime
2017-04-02T00:00:00Z
It was wonderful to stay there and Redvers and April were great hosts!
Connie
2016-12-19T00:00:00Z
Great place no complaints just like the ad says staying there lots
Luke
2016-12-09T00:00:00Z
Redvers & April are responsive, professional and keep a lovely, comfortable space. A pleasure to stay with them once again.
Jennifer
2017-02-14T00:00:00Z
Another great stay. Redvers & April are wonderful hosts and always pay attention to the details, like keeping the walkaway clear in the snowy weather.
Jennifer
2017-01-27T00:00:00Z
This is great value for a family stay. The apartment is cosy and comfortable and the place is well maintained and spotless. Easy parking and great instructions allow you to find everything easily!
Alison
2017-01-08T00:00:00Z
I stayed with Redvers & April while working in Barrie for a couple of months and couldn't have asked for better hosts. They were responsive and attentive, always making sure that the walkway and driveway was clear of snow. The apartment was very spacious and comfortable. The internet was reliable and fast. The gas fireplace was definitely an added bonus during the wintery evenings. A great place to stay!
Jennifer
2017-02-22T00:00:00Z
Kamertype
Gehele woning/appartement
---
Type woning
Appartement
---
Geschikt voor
4
---
Slaapkamers
Barrie, Ontario, Canada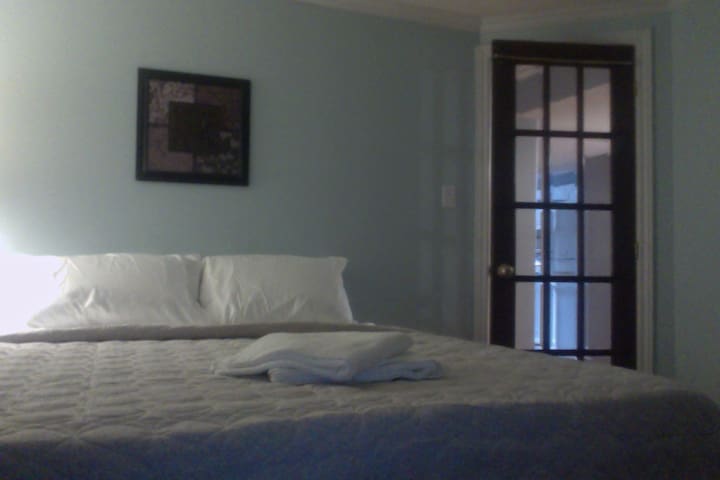 The light filled apartment near The Lindsay Exhibition , the Academy Theatre, Kawartha Trans Canada Trail, Ken Reid Conservation Area, The Lilac Gardens,Lindsay Farmers' Market,The Olde Gaol Museum,Trent Severn Waterway, Fleming College, hospital, Devil's Elbow, public transport & the airport. The 1904 Edwardian home is curated with finds from the turn of the last century to today. The unit is completely self-contained.You won't be sharing with anyone. Quiet owners live on main floor.
Lots of quaint, kitschy items of interest in the apartment. The unit is spacious and quiet. If you are staying for a few days, there is a washer and dryer in the unit for your exclusive use. The fridge and stove are full size. There is a breakfast bar for you to enjoy your meals. High speed internet is included.
There are lots of great places, spaces and people to meet in the City of Kawartha Lakes. I am happy to tell you about them and recommend places to dine etc.
Denise was a fabulous host who totally spoiled us with many snacks and a perfectly lovely place to rest our heads before sojourning into the Ontario northland for a camping trip, beating the Friday traffic. Lindsay is a great town. Location was perfect and apartment was great. Chocolates on our pillows!
Sharon
2016-08-06T00:00:00Z
What a delightful "apartment" located in Denise's grand home. Located on a quiet street in a charming vintage neighborhood. We arrived late at night and missed meeting our host but we still felt very welcomed indeed. The a/c was chilling our bedroom nicely, yogurt, fruit and popcicles waiting for us in the fridge on a very hot summer night. The apartment was spacious and super clean! We had a great sleep and were on our way early in the morning...once again missed meeting Denise. We would absolutely stay in this lovely home again. Thank you Denise.
Judy
2016-07-24T00:00:00Z
Denise was a wonderful host. She was quick to communicate prior to the stay and once we had arrived, gave us a tour of the apartment. It was very cosy, with everything we needed. She even left some yogurt and fruits for breakfast, which was just lovely! I'd definitely recommend Denise's place if you are looking to stay in the area.
Nure
2016-07-02T00:00:00Z
Denise's apartment was fantastic! Everything we needed was at our fingertips - and super clean! It's quite spacious and is decorated in a funky retro style. Bright and airy and so close to everything! We would definitely recommend Denise's!!!!
Jo-Anne
2016-07-21T00:00:00Z
We had a wonderful time at Denise's appartment. The place is vey clean,comfortable and (URL HIDDEN) has everything you need including air climatisé and netflix. The area is surrended with old houses quiet and peacefull. We recommand this appartment. Denise is vey helpfull and made soup for us at our arrival. Thank you Denise and hopefully we will be back .
Suzanne
2016-06-28T00:00:00Z
Very quiet Very clean Good location Quirky decor Good value for money
John
2016-08-23T00:00:00Z
We absolutely loved our stay at Denise's place, it was an extremely clean, and beautiful apartment with all the amenities we needed and more. They were very welcoming and informative about fun places to visit in the area as well. I highly recommend this place for anyone planning a trip to Lindsay.
Kirby
2016-07-01T00:00:00Z
Denise nous a chaleureusement accueilli après notre long voyage avec des petites attentions (fruits et laitage au frais). L'appartement est encore mieux que sur les photos! Calme, cosy et atypique, on s y sent aussi bien que chez soi! Je vous recommande cette adresse si vous passez dans le coin!
Céline
2016-08-31T00:00:00Z
Kamertype
Gehele woning/appartement
---
Type woning
Appartement
---
Geschikt voor
2
---
Slaapkamers
Lindsay, Ontario, Canada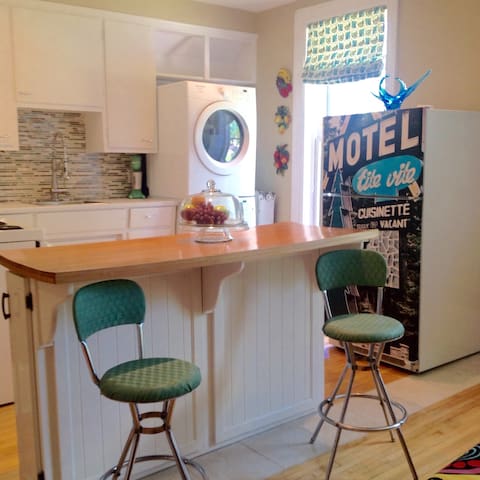 Downtown by the Lake Walk to downtown, Little Lake, Memorial Center, Farmer's Market, Del Crary Park, Art Gallery. Close to Lift Lock, Canoe Museum, Zoo, Golf, Bike and Walking Trails. Enjoy free Summer concerts on Wednesday and Saturday evening at Del Crary Park. Access to fishing, canoeing, boating, beach's, swimming, and winter skating on our local waterways.
Upper 2nd floor, bright and clean, 2 bedrooms with 2 queen size beds. Parking available for one vehicle in front and a boat trailer in back yard if required Main floor entrance with a staircase to second floor Bathroom with large vanity, bath tub and shower Kitchen with most of the essentials you might require Living room with dining area are in the same room. We can meet with you to show you around the place if you like or you can use keypad entry on main door. It will depend on circumstances and guest preferences. We live on the main floor but are also available by phone, text or e-mail should you have any questions.
Kamertype
Gehele woning/appartement
---
Type woning
Appartement
---
Geschikt voor
2
---
Slaapkamers
Peterborough, Ontario, Canada
Bright and fresh lake view, 2 bedroom apartment ideal for families looking for local accommodations while exploring the Kawarthas Cottage County. Equipped kitchen, bed linens and towels, bbq, firepit, dvd, internet, propane fireplace.
Close to picturesque hamlet of Buckhorn, Lock 31, Kawartha Highlands Park, golf courses, art galleries!
Very friendly and welcoming neighbours.
Kamertype
Gehele woning/appartement
---
Type woning
Appartement
---
Geschikt voor
4
---
Slaapkamers
Buckhorn, Ontario, Canada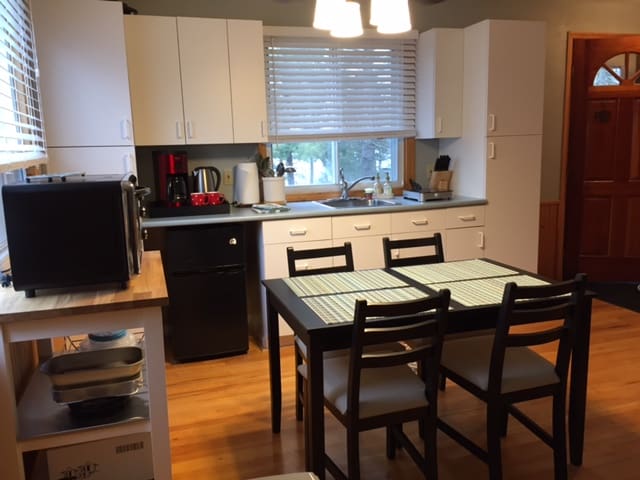 My chalet is close to the beach, and a waterpark on a beautiful lake with great views, and the famous High Falls waterfalls. You'll love my place because of the ambiance, and the outdoors space. My place is good for couples, solo adventurers, business travellers, families (with kids), big groups, and furry friends (pets).
Since we never actually got to stay there, there was no experience to assess. The place looked like a basic cabin resort, completely locked up and somewhat run down.
Christine
2016-09-11T00:00:00Z
Before arriving, we had a good communication with Erin through text messages. But once we arrived, we were very disappointed by the chalet: unusable kitchen (dirty microwave, dirty dish drainer, the oven didnt work, the cooktop didnt work, etc.), no towels, no soap, no bedsheets, the fireplace didnt work, no TV as announced, no shower curtain, etc. We only stayed the night we arrived, then left the morning after instead of staying 2 nights as planned. We sent text messages to Erin and the man who welcomed us to the place, but we didnt get any answer so far. So we sent a message to Erin through Airbnb website, but still no response. We travelled from France to enjoy couple days in Muskoka, but this experience ruined our stay there.
Equilies
2016-09-07T00:00:00Z
Unfortunately, it is one of our worst Airbnb experiences. It looks like they suspended their business in history and restarted recently. The brother and the staff are helpful but a lot of things went down We never got the chance to use the kitchen so had to eat outside for every single meal The host stopped answering any messages once Airbnb forwarded the money into their account !
Mimi & Vic
2016-08-27T00:00:00Z
Kamertype
Gehele woning/appartement
---
Type woning
Appartement
---
Geschikt voor
4
---
Slaapkamers
Bracebridge, Ontario, Canada