300+ Appartementen te Huur
We have minimalist Scandinavian style to bring you a different stay. Comfortable mattresses, reasonable space and a big sofa bed can make your home a comfortable day.
Kamertype
Gehele woning/appartement
---
Type woning
Appartement
---
Geschikt voor
5
---
Slaapkamers
Burrillville, Rhode Island, Verenigde Staten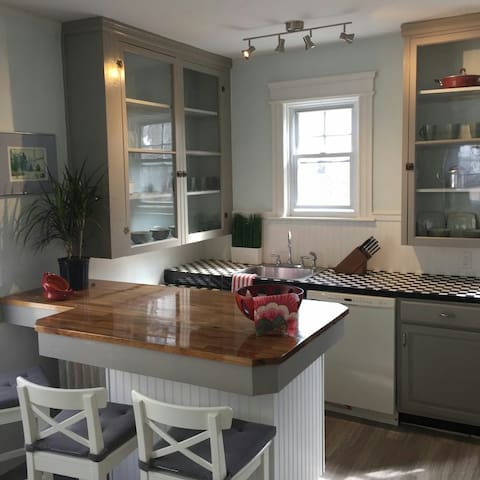 A bright blue room with tropical art, yellow curtains, and crisp white and navy blue bedding. The two twin beds can be pushed together to make a king for a couple. Shampoo, conditioner, and dental hygiene is offered as an amenity.
This second floor apartment has narrow indoor stairs. Two twin beds that are separated on either side of the room but can be pushed together and made with king sheets for a larger bed space. There is no kitchen table but the kitchen is open. The furry friend is a young cat who is medium haired with a phobia of people. The guest room is kept tidy and clean but the rest of the apartment is thoroughly lived in by a full time grad student with an internship and job.
The house is located on a half lot, in between three other houses. This allows for a secluded, private living experience with minimal noise. Conveniently located right up the street from a pizza place, thai place, chinese place, and the police department gives this space ease of mind and time.
Really nice the convenient place if you're around Webster. Sent a response quickly and is very helpful.
Steve
2017-03-22T00:00:00Z
The room in Cynthia's apartment was private and tidy. The location was very close to the main street and plenty of places to find food. Cynthia was super helpful and check in was easy. It was a friendly, quiet place for a night.
Karma
2017-04-04T00:00:00Z
Kamertype
Privé Kamer
---
Type woning
Appartement
---
Geschikt voor
2
---
Slaapkamers
Webster, Massachusetts, Verenigde Staten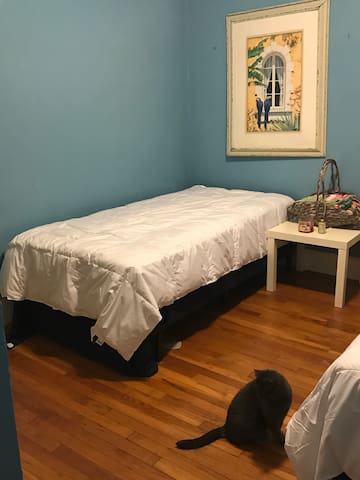 My place is located in a quaint New England town 15 minutes outside of Providence. We are within an hour of Boston. We have a cute, clean space that is walking distance to coffee shops, stores, restaurants and just a 5 minute ride to Twin River Casino!
The Third floor apartment in a house built in 1875 by a mill owner! Historic and beautiful.
Family friendly neighborhood in a small town. Close to the Blackstone Valley bike path, Lincoln Woods State Park and only an hour to the beaches!
This place was great! Clean, adorable and cozy. Comfortable beds and great fully equipped kitchen. After spending the day in Boston, we wished we had just relaxed and spent the whole time at Joanne's place. Would definitely stay again.
Carrie
2016-12-13T00:00:00Z
Joanne's space was clean, comfortable and accommodating. We were beyond pleased with our stay!
Casey
2016-12-28T00:00:00Z
We loved this place from the moment we entered, it is spacious, everything is clean, very well equipped for your stay, super cozy, so much that we did not want to leave from there, Joanne is always outstanding and responds on time, she is a good hostess! By: Jacky, Willy and Angie
Jackeline
2016-11-20T00:00:00Z
We stay at this property when we visit our son in Lincoln. The apartment is so clean and comfortable. It feels like home. Joanne is wonderful to work with. She is very attentive to every detail.
Cindy
2016-12-21T00:00:00Z
The place was wonderful! Very clean and spacious. I would definitely stay again.
Shannon
2016-12-07T00:00:00Z
Wonderful experience of a home away from home. Thank you very much, Joanne!
John
2016-12-26T00:00:00Z
Joanne's place was perfect! Everything was so clean, there were clear instructions for everything, and anything we needed was already there! The pictures don't really do the place justice, it was much roomier than we expected. The memory foam bed was a dream, and the rainfall shower head was magical. The suite was so quiet and comfortable. Joanne was an excellent host - she checked in to see if we needed anything and was readily available at any time. I would stay there over and over again hands down!
Caroline
2016-12-18T00:00:00Z
I loved everything about this place. She has little chalk board on the walls with memos that are so helpful. IF you are reading this, just stop looking this is the perfect place! Its 10-15 minutes away from downtown, its spacious, its adorable !! Plus Joanne is the most helpful host I've had thus far !
Olivia
2016-12-04T00:00:00Z
Kamertype
Gehele woning/appartement
---
Type woning
Appartement
---
Geschikt voor
4
---
Slaapkamers
Lincoln, Rhode Island, Verenigde Staten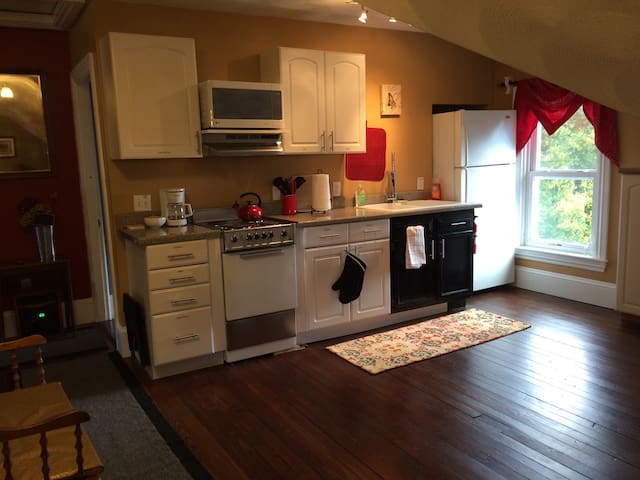 This property resembles an Italian Villa on the water, with great views, activities. The studio is modern, professionally decorated and cleaned, located in a separate wing of the home, completely private, furnished deck with waterfront view, comfy bed, in a quiet neighborhood (3 minutes off Exit 6 Route 95 in RI). It is resort-style accommodations ideal for couples, kids, solo or business travelers, and furry friends (pets)!
Cozy yet modern professionally decorated hotel-style studio, second floor walk up, with one Full Size bed only, functional kitchenette, furnished private deck with water view, pet friendly, extremely clean, peaceful with water views, small chicken farm with fresh eggs available (seasonal).
Quiet & Safe. Waterfront on Lake/Reservoir.
This was my first time using AirB&B and it was a wonderful experience. Veronica and Dan have a beautiful home overlooking Johnson's Pond and the studio we stayed in was perfect. From the comfortable bed to the well appointed bathroom (plenty of towels and toiletries in case we forgot anything), we were able to relax and enjoy total privacy. Veronica and Dan's place was far nicer and more spacious than any hotel I've stayed in here in RI. In fact, their studio was one of the best stays I've had anywhere! The private deck with a beautiful view of the pond was lovely to wake up to each morning, and nights were peaceful and quiet. We didn't want to leave! I highly recommend staying at Veronica and Dan's place; you'll feel right at home :) Thank you, Veronica and Dan!! We enjoyed our stay immensely and wish you both all the best!
Emily
2016-09-12T00:00:00Z
The place was so comfortable and spacious.The balcony had a great view.Everything was clean and the place had everything we needed.We would like to come back during summer.
mary manasa
2016-11-24T00:00:00Z
The hosts were awesome - we just stayed here for a couple of nights and they were very accommodating and helpful. I asked if we could use their iron/ironing board and they had it ready in our room ahead of time! Also were very responsive and easy to communicate with. The studio is lovely, spacious, and has an amazing view. Would recommend this place to anyone!
Urooj
2016-10-10T00:00:00Z
The host canceled this reservation 4 days before arrival. This is an automated posting.
Ariel
2016-09-08T00:00:00Z
Veronica and her family were excellent, informative, and welcoming hosts. The apartment was located at a beautiful pond and private, with great outdoor space. I highly recommend this spot!
Zan
2016-09-25T00:00:00Z
Great location and excellent accommodations. Veronica made me feel very welcome and was an excellent communicator. It was a quick stay this time, and I look forward tom returning.
Ted
2016-09-22T00:00:00Z
This apartment is much bigger and more modern than it looks in the photos. The property is wonderful and private. Made for a very relaxing, quiet weekend away from the city.
Nicholas
2016-11-27T00:00:00Z
We had a great stay here! The studio apartment is very spacious and well-kept. Everything was clean and nicely decorated. The waterfront view was absolutely beautiful and having our own deck was awesome. We had more than enough towels, toiletries, bedding, and kitchen appliances to last our entire stay. The gym was extremely convenient and well equipped as well, which was highly appreciated. Veronica was very welcoming and quick to respond to any of our questions. Highly recommend and would stay again!
Virginia
2016-11-06T00:00:00Z
Kamertype
Gehele woning/appartement
---
Type woning
Appartement
---
Geschikt voor
2
---
Slaapkamers
Coventry, Rhode Island, Verenigde Staten
Moved into this space when some elbow grease was required. I'm renovating and updating it as time and money allows. It's simple, but I can offer you a clean, safe, no-frills place to lay your head. As a traveler myself, for the listed price, I'd consider this place a good find. The neighborhood is lively, I've got FIOS internet, and upon request I can make a mean cup of coffee in the morning. (For those who may have knee issues, bedrooms are on the 3rd floor, so lots of stairs!)
Simple accommodations with a comfy full-sized bed for a single occupant or couple, with an air mattress added for 2+ guests. I can't promise much beyond cleanliness, internet, coffee, and a place to sleep, but that I'll offer in plenty. I'm a traveler, and I've got this room set up where I'd be pretty happy with this price. This is a 4 bedroom apartment, with 3 bedrooms available for guests at any given time.
Oh man, we're in the heart of Providence's most Italian neighborhood. You're literally a one-minute walk to Atwells Avenue where you can bounce from Italian cafe to Italian cafe. Beyond that, we've got at least 25 restaurants, 12 bars, and 14ish cafes in a 10-minute walk. Also, you're a 15-minute walk from downtown Providence. Side Note: If you're here for Brown University; it's on the East Side. That means a 25-minute walk from here or a 10-minute cab ride.
great host very friend would stay again
Derek
2016-10-16T00:00:00Z
The house is as described. An in-progress labor of love. What the place lacks in finishes, John more than makes up for with hospitality, great recommendations, and wonderful conversation.
Paul
2016-09-16T00:00:00Z
Place: John's place was a great choice! Right in the heart of Federal Hill, it was a walk away from Brown University and about 19 coffee shops! 45 minute drive to Newport, Rhode Island. Parking was plenty and pretty easy (although I was not here on the weekend). Accomodations: Always had a thermos of coffee ready for all his guests! He was chalk full of suggestions for places to eat, drink and play! Room was small but perfect space to crash for the night and was right across the hall from the upstairs guest bathroom. Bed was comfy and clean! Walls are pretty thin so you may here the next room air bnb'ers but there's a fan to blur out the noise. Good price for a place to crash while exploring Providence and Newport.
Katie
2016-09-28T00:00:00Z
John was accessible and very welcoming. The neighborhood is within walking distance of amenities and a short Uber drive $6-7 ( off hours) to downtown. My room was neat and clean as was the bathroom. I would room there again.
Robin
2016-10-01T00:00:00Z
Came here for a twelve day study trip. The room was great because of its privacy and how set back it was from the busy city life. Close enough walk to anywhere. About a twenty minute walk to College Hill which was where I spent most of my time. And John is a great conversationalist. Which was good to have since I didn't have anyone I knew in the city. Will definitely come back again.
Christian
2016-11-22T00:00:00Z
John is a fantastic host! Room was clean and exactly as pictured. Great location near restaurants! I would definitely stay here again.
Allyson
2016-09-27T00:00:00Z
Communication previous to stay and day of was great. Easy to get to and made nice meal suggestions in the surrounding blocks
Michael
2016-10-21T00:00:00Z
The listing description was accurate, the host was very kind and welcoming, and everything was clean, organized, and super comfortable.
Tyler
2016-10-03T00:00:00Z
Kamertype
Privé Kamer
---
Type woning
Appartement
---
Geschikt voor
3
---
Slaapkamers
Providence, Rhode Island, Verenigde Staten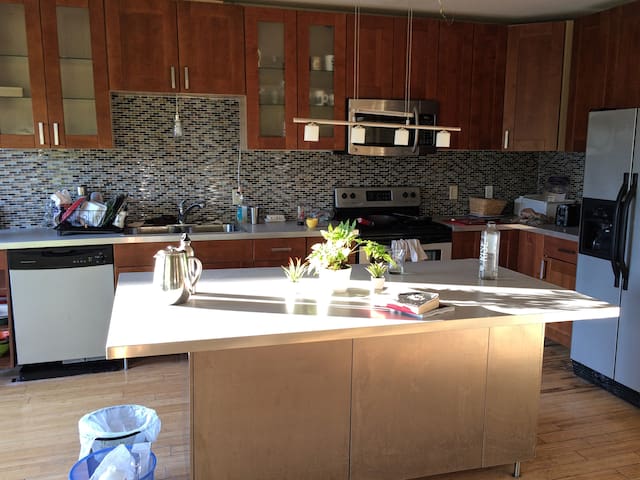 Unique studio with cool lounge vibe. Tucked away on a quiet dead end near everything on the East side of Providence. Featuring a fully equipped kitchen, comfy bed, washer dryer, gas fireplace, 2 TVs, heated floors in bathroom and yard access.
Very unique and artistic studio. It has a cool vibe.
5 min walk to whole foods. 10 min walk to Thayer and Brown. 15 min walk to Miriam Hospital
The apt. is just as described. It is very clean, the bed super comfortable, espresso machine for morning pick me up, rain shower head, and a crazy blue throne chair, my favorite place to sit. There is parking but also easy walking distance to Brown. We came for our son's graduation. It is a basement apt but very well renovated, very comfortable and quiet. Eric communicated with us promptly each time we had a question. He was unable to meet us when we arrived but gave clear directions and instructions on how to get in. He left notes taped up all over anticipating any question we might have. Overall a very positive experience.
ELIZABETh
2016-05-31T00:00:00Z
If you are looking for a cozy, comfortable, clean and quiet place then look no further. I could not even tell I was in a basement. The place is well decorated and has a cool feel to it. It was easy to communicate with the host and he is very inderstanding. I highly recommand staying at this place if you are in the providence area.
Wideleine
2017-04-02T00:00:00Z
Eric was easy to contact to coordinate key pick up and details of the apartment. The apartment was very clean, and had lots of lighting options, great art, and convenient features, like a heated bathroom floor. Great shower, and Eric had offered us toiletries, too. Our one issue was that it was a basement apartment, and the people on the first floor were having a party. It was loud and hard to fall asleep until the party was over. This might have been because it was a weekend.
Jessica
2017-04-08T00:00:00Z
Kamertype
Gehele woning/appartement
---
Type woning
Appartement
---
Geschikt voor
2
---
Slaapkamers
Providence, Rhode Island, Verenigde Staten
Two-story loft converted from industrial mill. Exposed brick and beams. Open concept kitchen and living area. Private bath. Private entrance. Large projection screen and entertainment area. Additional bed/bath/entrance downstairs. W/D on premises. Location 5 minute walk to Downtown and 15 minute walk to College Hill. Located in Federal Hill (entertainment/food district). Pet-friendly with deposit.
Really awesome place, (a little envious I don't live in a loft like this!) Host was great, he was out of town so he had his friend Travis greet us and help us it (extremely friendly) And a big thank you to them for working around are late night check in!!!! Seriously cool place...and anyone reading this check out Bolt Coffee in downtown for some of the best coffee ever!
Lauren
2017-04-01T00:00:00Z
Kamertype
Gehele woning/appartement
---
Type woning
Appartement
---
Geschikt voor
8
---
Slaapkamers
Providence, Rhode Island, Verenigde Staten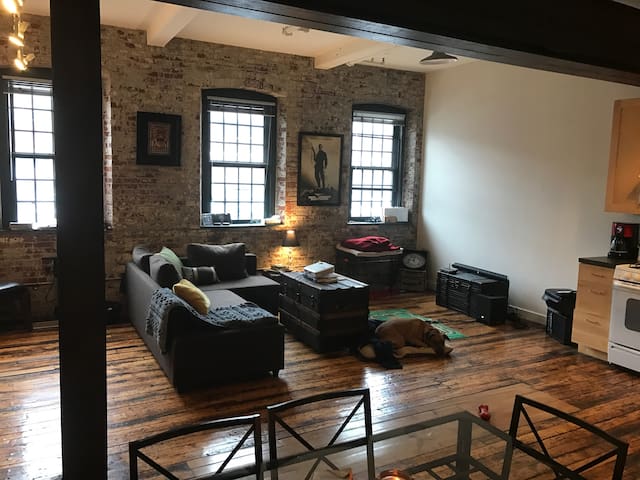 A cozy place just outside the bustle of the city, with a great second-floor porch to relax and sip some tea. Birds and people alike love to come rest here! This is a queer-friendly home. ***** Guests with at least two positive reviews/references ONLY *****
This is a friendly neighborhood, with mostly immigrant families. The immediate area is pretty quiet and residential, yet close to Downtown and Federal Hill! The street looks a little rough around the edges, but is friendly and has a great view of Federal Hill.
Kay was an exceptional host-- prompt in communication, easy to get along with, and gracious with her hospitality. The room matched the listing-- cozy, charming, and comfortable. It's a great value, and I wish I could have stayed for longer. I'd love to stay here again when I come back to pvd!
Nina
2016-10-08T00:00:00Z
Stay with Kay was great, the location is close to everything and Kay was so helpful with all kinds of suggestions for what to do in town.
Bart
2016-10-30T00:00:00Z
Totally rad gal! It was great to meet Kay. Her place is comfortable and clean, and she's totally chill and lets you do your own thing. I'd definitely stay with her again if I ever pass back through town.
Natalie
2016-06-20T00:00:00Z
Kay was a helpful, informative host. The bed room was very well appointed and cozy. I would recommend her place for a solo adventure or couple looking for an affordable option in Providence but still close to the downtown area (15 min walk). Thoroughly enjoyed my stay and her homemade cookies was plus!
Silver
2016-09-01T00:00:00Z
Kay communicated very well during the whole stay. The apartment is nice and it was comfortable in terms of the temperature. The worst part was the bed, as it is a twin and we were two people. I believe the ad is misleading as it looks much bigger in the photos. This was a letdown as it was difficult to sleep the two nights we were there. Otherwise, the apartment is in a quiet neighborhood but is a little far from the downtown area (definitely farther than fifteen mins to most spots downtown and in Federal Hill). But you can walk everywhere if you're up for it.
Chloe
2016-08-21T00:00:00Z
Our stay with Kay was wonderful. Her apartment is adorable and she is really helpful and friendly. The only thing to clarify is that the bed is a double, not a full. We hadn't picked up on that in her profile, so that was on us!
Hannah
2016-09-30T00:00:00Z
Everything as expected. We had a wonderful time at Kay's!
Louise
2016-09-23T00:00:00Z
We had a great stay with Kay. The apartment is within easy walking distance of downtown Providence and off street parking is a bonus if you have a car. Kay was easy to get on with and we had fun talking with her in the evenings about vegan cooking. In all a brilliant HQ to explore Rhode Island from.
Joanna
2016-12-04T00:00:00Z
Kamertype
Privé Kamer
---
Type woning
Appartement
---
Geschikt voor
2
---
Slaapkamers
Providence, Rhode Island, Verenigde Staten
Out in the country, on a lovely pond, we are in the woods with our own private beach. The room(s) is on the ground floor of our house - bedroom (with small kitchenette) and bath, and has a private entrance (thru the bathroom). There is an extra bedroom that sleeps 3 if you have more than two people. Great for walks and canoeing and fishing and biking. We are only 65 miles from Boston, 15 minutes to Sturbridge Village. There is a comfortable shared veranda, useful for three seasons.
Two bedrooms and a large bath, includes a private entrance. The main room has a queen size bed for two and kitchenette. Ability to cook on outside grill or inside stove, Keurig for coffee making, and small fridge for cold items, as well as a microwave. There is also a kitchen sink in the room and dishes and glasses to use and an outdoor propane grill.
We are safe and comfortable and uncrowded and surrounded by nature with deer and beaver and great blue heron, good fishing for wide mouth bass and other fish, great hiking trails, swimming at the private beach.
Mike and Kathleen were very gracious and welcoming for our entire stay. We rented a car (recommended as the place is deep in the woods) and had a tranquil, relaxing weekend exploring the lake in their canoe and cooking dinner for ourselves in the kitchenette. Kathleen made us delicious scones one morning and Mike pointed out some local attractions. The room was comfortable and cozy, and we thoroughly enjoyed our stay! We hope to come back again some day!
Carol
2016-09-06T00:00:00Z
I wish I had been able to spend more time enjoying the surroundings of Baker Pond while I was there, but I was in town because I was dealing all week at the Brimfield Antiques Market. Though I was out the door very early and back fairly late each day, it was lovely to walk outside to the sunrise and mist over the pond and enjoy the sleep of the dead in this cozy and very quiet space. Kathleen greeted me when I arrived and showed me around, and was very responsive by text when I had questions or needed to notify her of my comings and goings so she could wrangle the dog. The space itself is quirky -- you enter through the bathroom and the kitchenette is in the bedroom -- but it more than served my needs and was well kept. I did spy a mouse in the room my last night there, however given the location and surroundings it didn't seem out of the ordinary that a wild creature could find its way in.
Lauren
2016-05-16T00:00:00Z
A quirky place in a beautiful location! We enjoyed our stay especially meeting the very friendly, interesting and generous owners Kathleen & Mike and their dog. It was close to Old Sturbridge, which is why we chose it, but away from the commercialism of closer accommodation, which we much preferred.
Linda
2015-10-11T00:00:00Z
Accurate listing. Hosts were great. We were there for a short time but it was a nice visit.
Sally
2015-10-12T00:00:00Z
Because of a medical issue, we didn't actually stay with Kathleen. I can report that communications were good. We're looking forward to meeting Kathleen another time.
James A
2015-04-11T00:00:00Z
To say that I was apprehensive about the host being present is an understatement, but the truth of the matter is that almost immediately, we all felt that we were part of the family! Mike and Kathleen are great host! The house is beautiful, their dog and cats are awesome, and I would recommend to anyone! If you miss this gem, then you are totally shorting yourself!
Sean
2015-05-17T00:00:00Z
This was my first Airbnb experience. It is a quiet, peaceful, and beautiful location overlooking a lake that is surrounded by nature. Mike and Kathleen made me feel like family. They were considerate and engaging. Conversations flowed, yet privacy was always at the forefront. I would encourage and absolutely recommend the welcoming atmosphere.
Vincent
2017-01-13T00:00:00Z
My boyfriend and I had an amazing time staying at Kathleen and Mike's beautiful property. They were gracious hosts and made us feel quite welcome, even going as far as to provide delicious homemade scones! We enjoyed taking the canoe out and wish we could have spent more time hanging out. Mike has done a lot of landscaping on the property and we certainly marveled at his work. We left feeling like we had made new friends and look forward to our next visit!
Sharon
2015-09-10T00:00:00Z
Kamertype
Privé Kamer
---
Type woning
Appartement
---
Geschikt voor
5
---
Slaapkamers
Charlton, Massachusetts, Verenigde Staten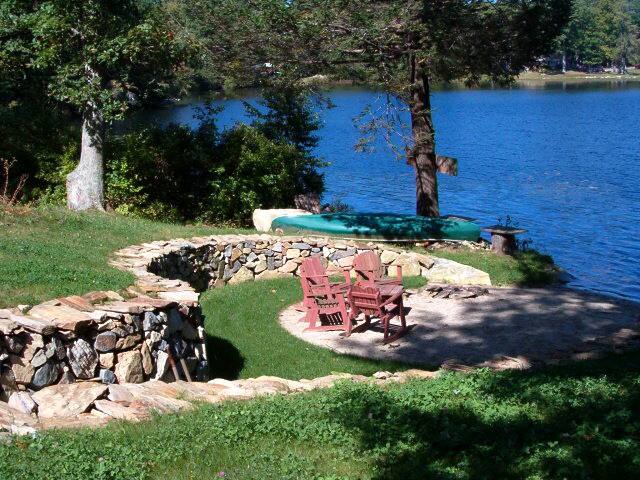 Located in the Historic Apponaug section of Warwick, less than 10 minutes from TF Green Airport/Train Station. Newport and Providence are 20 - 25 minutes away. There are a few great spots to dine within walking and bus lines run out front. We offer river views, modern features and amazing energy. Enjoy a glass of wine on the deck as you watch the ducks go by. Our place is good for couples, solo adventurers, and business travelers.
The history of the Tide Mill, a former grist mill, dates back to 1710 (possibly as early as 1680!). Bathroom: - Updated bathroom includes a stand-up shower, sink with marble vanity, full length mirror and washer/dryer for laundry. Kitchen: - Includes refrigerator, double sink, stove and microwave - stocked with everything needed for your cooking requirements including dishes, pots, pans and linens - Center island includes stools and is perfect for a quiet dinner for 2 Bedroom: - Queen bed with fresh linens, closet for personal items and a dresser Living Room: - Includes wall mounted TV, an electric space heater/fireplace (please do not leave on when you are not at home or awake). While cable is not available, there is a Roku connected to the TV. - Futon can be folded down for 2 more guests to enjoy the stay - small desk and chair ** we have an additional small bedroom with a twin bed which can be rented on weekends (Thursday pm - Monday am) and holidays. The bedroom is in a shared hallway accessed through the living room. Inquire for details and pricing.
Apponaug is historic area of Warwick which is currently undergoing a renaissance. It is a mix of commercial business and residential housing. Within walking distance of the Mill is a pizza place, a wonderful Italian/American restaurant (with full bar), a pharmacy, Cumberland Farms, a liquor store, Dunkin Donuts and more. Anything you need during your stay can be easily secured on foot :) Our location is minutes from Kent Hospital and the Crown Plaza, as well as a 15 minute drive to the Quonset commercial park in NK. It is easy to catch an uber or Lyft from the Mill to the airport, Providence or downtown East Greenwich. Downtown East Greenwich has a huge range of dining options, bars, coffee shops and local stores. Be sure to plan an afternoon or evening in EG during your stay.
I really enjoyed my stay here. Katie and Mike were quick to respond and were always checking up on us. Couldn't ask for a better host. Stayed for a cold weekend in RI but my friend and I were still pretty toasty at their place! Everythjng was at a walkable distance, so it was convient. I would definitly book again if I'm by the area again!
Jenny
2017-03-06T00:00:00Z
The hosts – Katie and Michael are incredible hosts: they are very responsive, considerate, warm, organized, and thoughtful. They brought us extra blankets, candles, flash lights… before the big snow storm. They sent us emails about places to see around town and recommended restaurants. They made things really easy for us. The apartment – It is just as shown in the pictures: clean, sunny, and pleasant. The view outside the window is awesome. It feels great with water running through in the front yard. Katie wrote a little history about the "Mill", which is very interesting. In summary, we highly recommend Katie and Michael to anyone coming their way.
Jennie
2017-03-19T00:00:00Z
Tide Mill is charming historic building in the middle of a modern commercial area near many conveniences and sites. It worked perfectly for us since we were attending an conference nearby. Katie was wonderful and the unit was set up with all we needed and more. We will be staying there again next year or maybe sooner to explore the area.
Alexander
2017-03-26T00:00:00Z
I was looking for a place convenient to the airport, interstate and shopping. This quaint and clean apartment met all of my needs. The brook that runs along the side of the property was very tranquil in the evening. Mike and Katie are fabulous hosts and were accessible by phone. I truly enjoyed my stay and will certainly keep their property on my short list for future travel to Rhode Island.
Crystal
2017-02-27T00:00:00Z
Our stay at the Tide Mill was extremely pleasant! The owners were quick to respond to any needs or concerns we had. The place was cute and very clean, and had all the necessary kitchen needs. The Tide Mill's location was very convenient as it was close to places to eat and shop. And if you are willing to drive 30-45 minutes you will be able to visit Newport and Jamestown to see the beautiful North Atlantic coast. Absolutely recommend if you travel to this area!
Scott
2017-03-09T00:00:00Z
Kamertype
Gehele woning/appartement
---
Type woning
Appartement
---
Geschikt voor
4
---
Slaapkamers
Warwick, Rhode Island, Verenigde Staten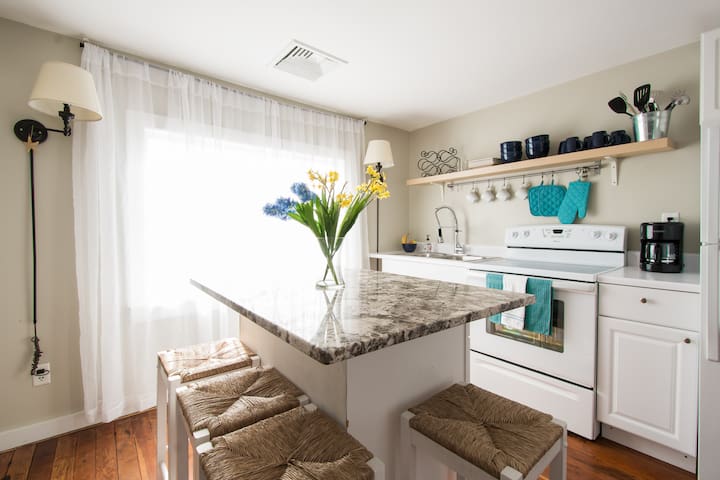 Empty bedroom available on the east side of Providence, 3 minute walk to/from the Rochambeau ave 'R' line bus. Great area, both hosts available to be local tour guides if requested!
Kamertype
Privé Kamer
---
Type woning
Appartement
---
Geschikt voor
1
---
Slaapkamers
Providence, Rhode Island, Verenigde Staten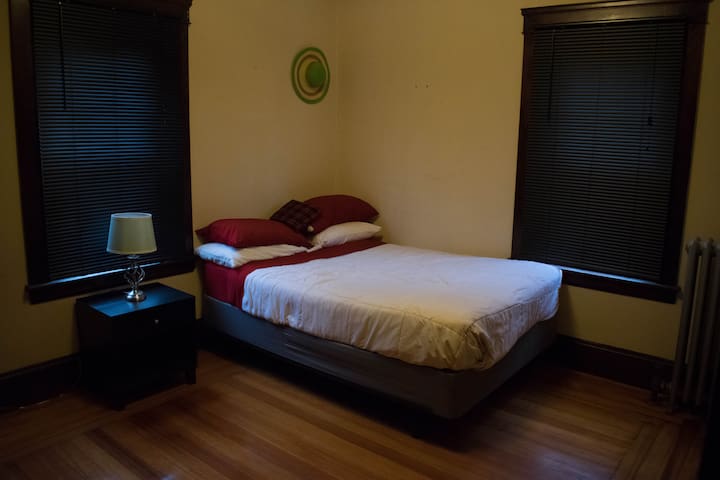 Hello travelers and anyone looking for convenience and comfort in a very beautiful historic apartment. Located on lovely Benefit street. One block away from Risd, one block away from Brown University and two blocks up the hill from the river.
South west facade and floor to ceiling windows make for stunning sunsets. Old historic charm with curved walls, window and door. High 12 ft ceilings. Original wood floors underneath Persian and oriental rugs. Decorated with items I have collected from my travels around the world from Vietnam to morocco. Brand new and clean kitchen and bathroom.
The house is located in the best neighborhood in Providence, in close proximity (walking distance), to just about everything. It is also the safest neighborhood in providence. Unfortunately the crime rate surges upwards downtown and further away from the campus area. Being between two college campuses partying and loud music is definitely not an every night thing, but it does happen, especially if you're staying on or around a holiday. I know all of the other tenants in the building and they are all really respectful people. Usually when someone is throwing a party in the building I am given notice. If you hear loud partying within the building and it is disturbing you, DO NOT HESITATE to call or text me. I will sort it out. This very rarely happens, but just in case, no one wants to suffer through a loud party when they're trying to sleep. This is a college city with over 30,000 students in close proximity to the house. Nevertheless this is a quiet and respectful neighborhood, but there are always exceptions.
Isabella responded promptly to my last minute inquiry and had clear directions in parking and unlocking the apt.
Anne
2016-08-19T00:00:00Z
Isabella's place is beautiful, and was so conveniently located when we were visiting College Hill. She was super easy to get in touch with, and everything was all set for us. There was even tea and coffee available, as well as a parking space. I would highly recommend a stay here!
Daniella
2016-11-20T00:00:00Z
As advertised ... great location and really neat historical apt
Tony
2016-02-18T00:00:00Z
We had a really wonderful stay at Isabella's apartment and she could not have been more helpful. The spot is very well located and looked exactly as it did in the photographs. I'd love to stay there again if I'm in Providence
Wendy
2015-11-02T00:00:00Z
Cute place, very interesting building and apartment. location is great for access to the city. Easy access and very comfortable. Only drawback was load music coming from somewhere on South Main. wasn't terrible but was noticeable.
Tim
2016-06-20T00:00:00Z
Isabella was great with communication. Met us at check in and showed us around the apartment, helped with the wifi password and tv use then left us to settle in. What an amazing place... have never seen a oval room before... so cool! We walked everywhere... luckily had great weather! Thanks for a great night in Providence!!
Maria
2016-10-10T00:00:00Z
Although I did not meet Isabella, but the arrangement was seamless. She provided me with parking pass and clear instructions on where to locate the keys. The apt was larger then I expected and very comfortable. It is centrally located in the college town easily access to all locations.
Helen
2016-06-06T00:00:00Z
Everything was fantastic! Isabella made the booking and check-in/check-out processes very easy, and the apartment itself was spacious, fun/unique, clean, and homey. Isabella's place was a perfect spot to stay for our visit to College Hill.
Corey
2017-01-22T00:00:00Z
Kamertype
Gehele woning/appartement
---
Type woning
Appartement
---
Geschikt voor
4
---
Slaapkamers
Providence, Rhode Island, Verenigde Staten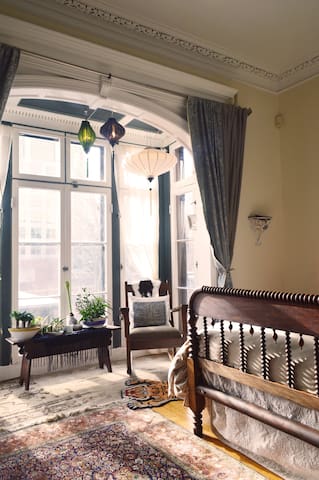 The apartment is decorated with art works. The apartment is clean and new decoration. Heating works very well! Everything is walking distance. Minutes walking to downtown Kennedy Plaza and the downtown bus station. And minutes walking distance to train station. This place is located next to RISD & Brown campus. And minutes walking distance to JWU.
The room is shared room in living room,don't have lock for room. Basic daily supplies will be provided (body wash, shampoo, plastic cups, toilet paper, etc). There is CVS, BOA and Starbucks around the place. It's just next to the downtown Providence. The apartment is next to the main bus line, convenient to go to Brown, RISD, JWU and downtown Providence.
Kamertype
Privé Kamer
---
Type woning
Appartement
---
Geschikt voor
1
---
Slaapkamers
Providence, Rhode Island, Verenigde Staten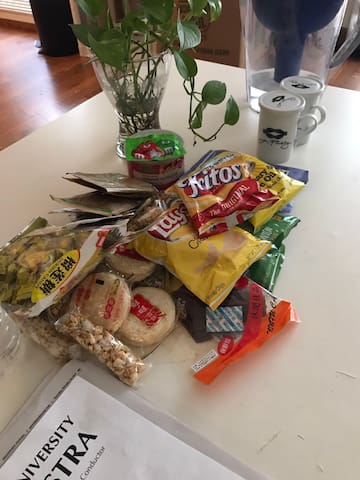 Our beautiful house is spread over a six acre property adjacent to River Ridge Golf Course. Our house is close to Foxwoods, Mohegan Sun, Mystic and i-395. You will be using the private in-law apartment attached to the house. It is a good space for couples, solo adventurers, business travelers, and families (with kids).
Perfect location, about 15 minutes from foxwood ($15 Uber each way). The place is beautiful and clean. Will definitely be coming back. Thank you
Arisbel
2017-03-04T00:00:00Z
This place is amazing. Very clean and comfortable. Laurie is really a helpful host. It was a great stay! Would recommend to future guests!
Rachel
2017-03-06T00:00:00Z
We stayed at Laurie's place to go to Foxwoods for the night, and we had a wonderful stay. Check-in was very easy and Laurie even left us homemade cookies! The kitchen was stocked with necessities and everything was very clean. Beautiful location with a balcony and private parking. Loved our stay, thanks so much!!
Natasha
2017-02-19T00:00:00Z
This was our first time using Airbnb and it was fantastic! Very clean and cozy, and there were freshly baked pumpkin muffins when we got there! Only 20 minute drive from Mohegan Sun. Would definitely recommend staying here if you're coming to the area!
Alana
2017-03-17T00:00:00Z
Adorable and more than adequate apartment within seven miles to Foxwoods. Laurie was a great host and the night's stay was perfect.
Kristine
2017-02-26T00:00:00Z
Laurie's place is absolutely fantastic, and for the price and central location you can't go wrong! Although we didn't get the chance to meet her the process couldn't have been any easier. Everything you could possibly want in an Airbnb rental this place has! We cannot wait to come back again
Matthew
2016-12-22T00:00:00Z
My spur of the moment one night stay was quiet and comfortable and was also my 2nd time staying there and woun't be my last!!! See my previous review
Michael
2016-12-17T00:00:00Z
My husband and I visited on an overnight trip to Foxwoods. The location is very convenient and reasonable. Laurie was very welcoming. She had delicious homemade cookies and milk waiting for us when we arrived. I am very picky about my milk I like it cold and extremely fresh. I was impressed that the milk was just what I would have wanted. My husband has to stay in constant contact with his clients and the wireless internet was strong and fast. We enjoyed our stay and plan to return again.
Sherrie
2017-03-01T00:00:00Z
Kamertype
Gehele woning/appartement
---
Type woning
Appartement
---
Geschikt voor
2
---
Slaapkamers
Griswold, Connecticut, Verenigde Staten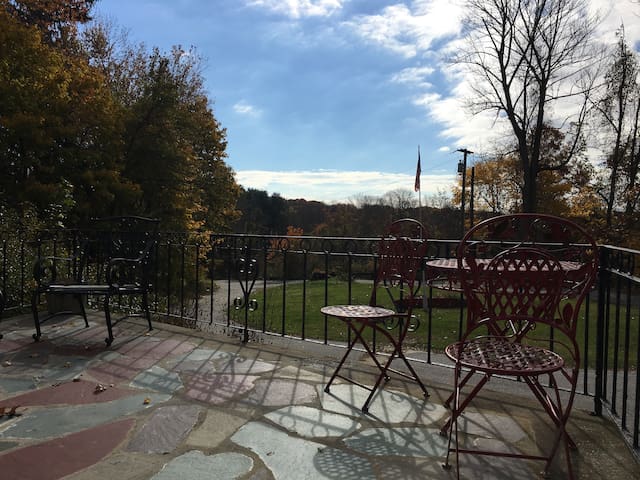 The space is a private studio apartment located on the first level of my house on a low traffic street in a quiet leafy neighborhood with off-street parking and great WiFi (w/ Netflix, Hulu, Amazon & Live TV). It's less than 10 minutes from Route 95, 15 minutes from downtown Providence, 20 minutes from TF Green airport, 30 minutes from Gillette Stadium, and one hour from downtown Boston and Logan airport. It's a clean, comfortable, well-equipped home base for all that Rhode Island has to offer.
If you're looking for a clean, quiet, comfortable and affordable place to spend one night or a few weeks, this is it. With a comfortable pillow top mattress on the single bed and a high quality full size futon mattress on a solid wood frame, the apartment can accommodate three comfortably. The internet connection is fast, and there is Netflix, Hulu, Amazon Prime, as well as cable and over-the-air TV. There is a kitchenette with a microwave, small refrigerator, coffee pot, electric kettle, and toaster. There's also a small desk and a comfortable office chair for working or writing. For guest storage, there is a closet with hangers and a large dresser.
The Saylesville Highlands neighborhood in Lincoln sits on a hill and contains houses built in a wide variety of architectural styles spanning the decades since the 1920s. The streets are curved, hilly, and tree lined. Traffic is minimal.
Wonderful experience for the two-night stay at Eric's place. Clean, quiet and comfortable studio near the Pawtucket and Providence. Nice neighborhood. Very covenient for a leisure weekend. The host Eric is so sweet that he welcomed us for the second time (Yes we stayed here a couple of months ago). And the most important thing is this place feels like HOME. Love it!
JINNAN
2016-12-12T00:00:00Z
Eric is a friendly, humble, courteous and down to eart host I have ever met. The studio apartments was perfectly displayed and explained as it was. Isolated from anybody´s interference. Wifi speed up to the mark. Wasroom was clean and tidy. A car parking space within the boundry of the property. If I would get any chance again to visit RI, without any doubt closing my eyes I would opt/recommend Eric´s Studio apartment to stay in.
Manoj
2016-09-07T00:00:00Z
Eric was great right from confirming my booking. His place was just as described in a wonderful area near where we were visiting. He also helped with restaurant recommendations. Comfotable clean and private. A great stay
annette
2016-10-23T00:00:00Z
I chose Eric's place because I had a week-long art workshop in Pawtucket. I did not want to stay in a hotel and have to take I-95 to and from my classes every day. This studio unit was only 12 minutes away from my classes. It was cozy and comfortable and had everything I needed to feel at home. Things like stocked cupboards in the kitchen with coffee, tea, honey and creamers in the fridge and a good supply of toiletries in the bathroom, ironing board, hair dryer, cleaning supplies, menus for local eateries, a state map of Rhode Island, cable tv, wi fi, outdoor lighting, ample parking all in a nice quiet residential neighborhood are all things that I appreciated during my stay. Eric was always immediately available if I had a question or needed something.
pamela
2016-10-22T00:00:00Z
This studio was perfect for a weekend trip to Rhode Island. We spent most of our weekend rock climbing in Lincoln Woods, which is super close to this studio. We did not spend much time in the apartment, but we were pleased with the ease of access and impressed with the amenities--we really appreciated the free coffee! We would definitely stay here again if we're in the area.
Meghan
2016-11-13T00:00:00Z
Lovely place!
marissa
2016-10-16T00:00:00Z
Eric is really a worderful, friendly and helpful host I have ever met till now. The Studio was built in at a very quite and calm place. Moreover the studio was isolated from anybody´s intereference. Seprate entarnce to the studio, a card parking space, good internet speed, clean and tidy room and washroom. If I would get a chance again ti Visit RI, I would without any doubt prefer/recommend Eric´s Studio Apartment.
Manoj
2016-09-03T00:00:00Z
Great place, highly recommended !!!
Sam
2016-11-14T00:00:00Z
Kamertype
Gehele woning/appartement
---
Type woning
Appartement
---
Geschikt voor
3
---
Slaapkamers
Lincoln, Rhode Island, Verenigde Staten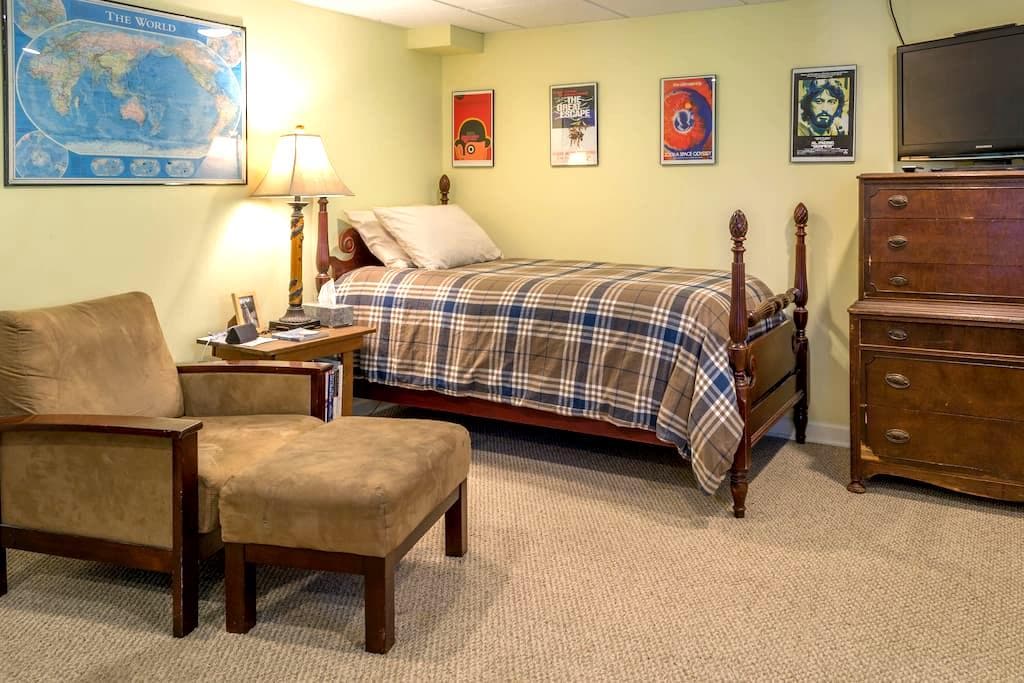 A great landing pad for your visit to Providence, close to lots of great cafes, bakeries, bars and event venues, and easy access to 95/195. Our beautiful, sunny second-floor apartment features a spacious kitchen with granite counters and island, custom cabinets and stainless appliances. Enjoy great views from the balcony, which overlooks Providence's 'Little Italy'. Shuttle bus nearby to downtown, Brown/RISD campuses. Host lives next door to help with any needs!
wonderful couple with young family, beautifully restored and comfortable in historic city
Sarah
2016-11-24T00:00:00Z
I thoroughly enjoyed my stay here. There are plenty of bars and restaurants within walking distance, and you can't beat the heated floor in the bathroom.
James
2017-04-05T00:00:00Z
Lovely apartment in a perfect location close to everything. The host was very nice .
Tyson
2017-03-25T00:00:00Z
I really enjoyed staying at this apartment. The owners are terrific - very friendly with plenty of helpful advice about Providence. The apartment is very clean and comfortable, with all the amenities we needed plus lovely extra touches such as fresh flowers, freshly ground coffee, and breakfast foods. The owner even brought us homemade cookies! I would happily stay here again, and I recommend it for your next visit to Providence. Please note there is a full flight of stairs to get to the apartment.
Sheri
2017-03-22T00:00:00Z
Benjamin's apartment was the perfect getaway for us! Such an adorable, cozy apartment set in the Italian side of town. Benjamin was extremely helpful in giving us recommendations on restaurants and how to get about the city. If we needed anything or had any questions he responded to our messages right away. We are definitely keeping this spot in mind for future trips to Providence!
Jess
2016-12-18T00:00:00Z
Nice place close to everything.
A
2017-02-17T00:00:00Z
Had a great stay at Ben's apartment. He was easy to work with on coordinating details and such. Would absolutely stay again.
Nick
2017-02-19T00:00:00Z
What a fantastic spot! We stayed at Ben's place as a quick pit stop on our way north. Being from around the Providence area I was very excited for the chance to show some friends this special town, and was thrilled with Ben's perfectly located apartment at such a great price. Ben met us at the place and had reserved a place right outside the apartment for us to park. The place is very quaint, clean, and spacious. The kitchen is recently renovated if you want to use the space to cook, we walked half a block to the restaurant packed main drag. Ben was a very accommodating and relaxed host. He gave us some tips on low-key bars in the area and chatted with us about the history and culture of the area. The place is on Federal Hill, a restaurant and bar filled area, and a short walk from downtown. We had a great trip and will definitely be checking out Ben's place again for our next Providence stay!
Liz
2016-12-03T00:00:00Z
Kamertype
Gehele woning/appartement
---
Type woning
Appartement
---
Geschikt voor
6
---
Slaapkamers
Providence, Rhode Island, Verenigde Staten
This 2 bed 1 bath apartment is conveniently located within short walking distance of Brown University, RISD, the train station, and downtown Providence. Enjoy a terraced backyard and easy access to the best of the east side and downtown!
This second floor apartment features two spacious bedrooms, a cozy living room, a small but well-stocked kitchen, and a full bathroom. The rear bedroom overlooks the terraced backyard and the grounds of St. John's Episcopal Church and is furnished with a double bed. The front bedroom looks over a quiet stretch of leafy Benefit Street and has a king-sized sofa bed. Each bedroom and the living room are equipped with window a/c units (not pictured).
Alicia and the apartment were absolutely amazing! The place itself is so charming, and Alicia was the most gracious and accommodating host. To top it off, the apartment is in such a perfect location, especially for easy access to the Brown/RISD campuses.
Maahika
2016-05-31T00:00:00Z
Kamertype
Gehele woning/appartement
---
Type woning
Appartement
---
Geschikt voor
4
---
Slaapkamers
Providence, Rhode Island, Verenigde Staten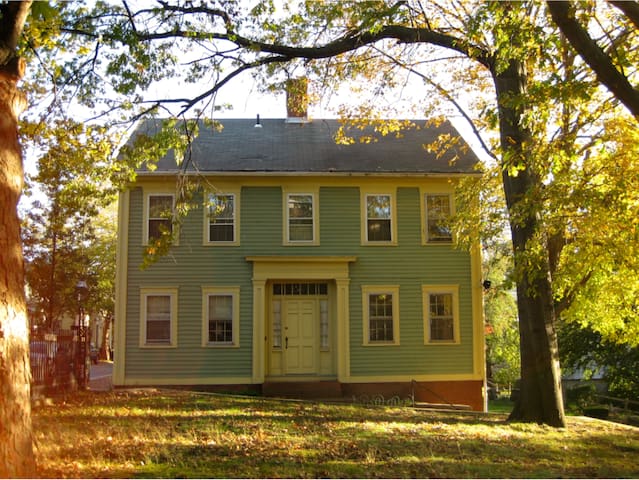 This apartment is considerably big with 2 rooms Queen sized bed rooms. It is located in a friendly, safe area in North Providence, 15 minutes away from the Providence Downtown area, with easy access to main high ways "95", "295" and "195".
Kamertype
Gehele woning/appartement
---
Type woning
Appartement
---
Geschikt voor
5
---
Slaapkamers
North Providence, Rhode Island, Verenigde Staten
Killingly - Airbnb
:
Gemiddeld

4.9

van

5

sterren op basis van

385

gastrecensies
1

–

18

van

300+ Appartementen te Huur
Voer datums in om de volledige tariefopbouw te zien. Er kunnen extra kosten zijn en er kunnen belastingen worden toegevoegd.