300+ Appartementen te Huur
A rural haven in Spain`s sunny Costa Blanca. Just 35 mins from Alicante airport,a comfortable self-contained apartment in a 200 year old farmhouse.Set amongst olive and almond groves,and with spectacular mountain views,you`ll love the peace and tranquility of our rural idyll. Our fully equipped apartment comprises 3 double bedrooms ( 1 x ensuite, 1 x 4 poster, 1 x twin), lounge with UK TV,kitchen, separate bathroom and south/west facing terraces. Private pool,free parking,free Wi-Fi.
Las Laderas is ideally situated for a relaxing stay in the spanish sunshine.For the more energetic,there are many hiking trails in the vicinity,some of which start from the house.The owner is a UK qualified (Mountail Leader Training Association) walk leader and may be available to guide you (please ask) , or provide maps etc for self-guided walks.
Las Laderas is a 200 year old farmhouse set in a tranquil rural location with stunning mountain views.Much of the surrounding area is terraced with almonds, olives,figs and grapes the main crops. Both Hondon de las Nieves (5kms) and Hondon de los Frailes (7kms) boast a selection of bars,restaurants,supermarkets,bakery,pharmacy,sports facilities etc.
Kamertype
Gehele woning/appartement
---
Type woning
Appartement
---
Geschikt voor
6
---
Slaapkamers
Alicante, Comunidad Valenciana, Spanje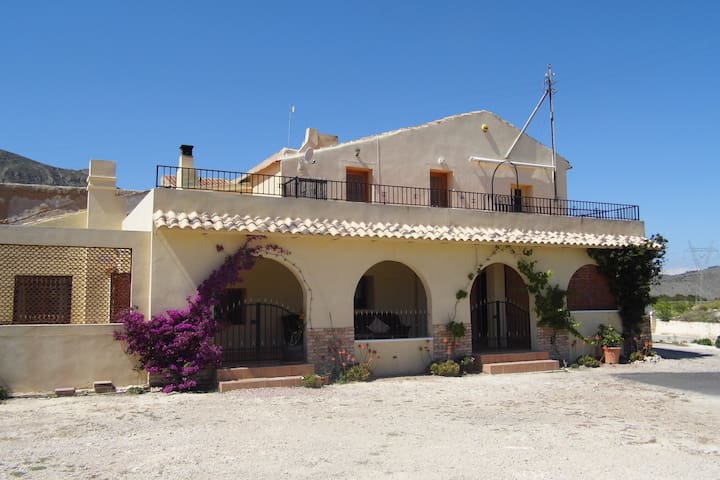 Piso muy tranquilo. Zona deportiva a 200 m.
Museo Arqueológico, Museo de la Semana Santa, Polideportivo, rutas de senderismo en la Sierra de Crevillent: La Vella (837 m.), Sant Juri (813 m.) y Sant Gaietà / San Cayetano (818 m.). Ruta que combina recorridos de los PR-CV señalizados con postes y pintura.   Rambla Salada  Sierra de Crevillente/Alicante      Circular  -  10,3 km.  -  5 h. Desnivel: 363 m.   Dificultad Alta  -  Sin Señalizar   LOS MOLINOS  Sierra de Crevillente / Alicante   Circular  -  8 km.  -  3 h. Desnivel: 331 m.   Dificultad Baja  -  Sin Señalizar   CIRCULAR BARRANCO SAN CAYETANO P.R. V-110  Sierra de Crevillente / Alicante    Circular  -  10 km.  -  5 h. Desnivel: 837 m.   Dificultad Media  -  Señalizada   Rio Chicamo  Sierra de Abanilla / Alicante     Circular  -  10,95 km.  -  4 h. Desnivel: 197 m.   Dificultad Media  -  Sin Señalizar   PR CV 109 - Sierra de Crevillente  Sierra de Crevillente / Alicante    Circular  -  12 km.  -  5 h. Desnivel: 748 m.   Dificultad Media  -  Señalizada
Kamertype
Privé Kamer
---
Type woning
Appartement
---
Geschikt voor
1
---
Slaapkamers
Crevillent, Valenciaanse Gemeenschap, Spanje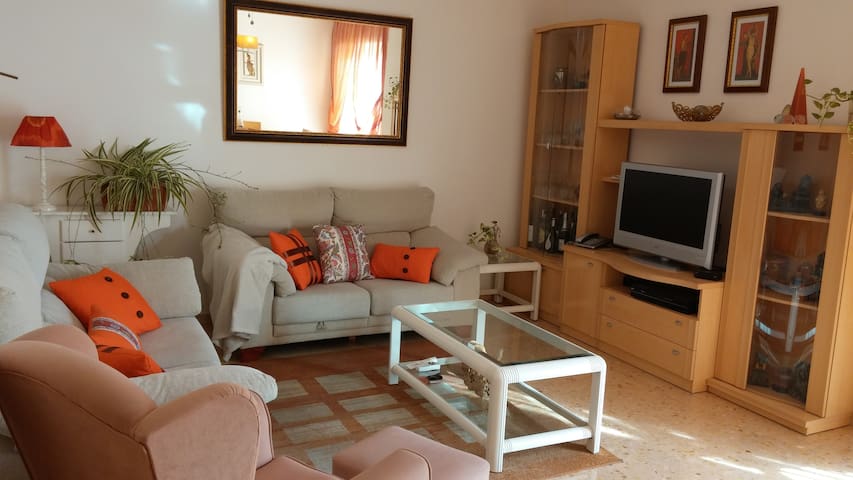 Ons appartement bevindt zich naast het station, gevestigd in San Isidro, Alicante gemeenschap net 17minutos 17minutos Alicante en Murcia, goed verbonden met regelmatige lijn van vervoer. Keuken, eetkamer en toilet voorzien. Geniet van de stranden van de Middellandse Zee.
Supermarkt in hetzelfde blok, restaurants en alle voorzieningen. Het is een comfortabel en comfortabel huis.
Bezoek het restaurant om palmbomen te eten, het is een zeer rijke braseria en het is goed geprijsd.
Modern, clean and neat apartment. Worked well as a base for day trips to surrounding areas as it is between the highways. Adrian was friendly.
Egill
2017-04-01T00:00:00Z
Bien situado para actividades deportivas y turísticas en la zona. La zona es tranquila y Adrián es un buen anfitrión. Recomendable.
Cèsar
2017-03-05T00:00:00Z
Piso muy acogedor, y Adrián, el anfitrión, muy agradable y simpático.
Raúl
2017-02-26T00:00:00Z
The host canceled this reservation 122 days before arrival. This is an automated posting.
Martinez
2017-03-22T00:00:00Z
It is a lovely apartment in a small village close to bigger places like Alicante en Murcia. Ideal to hop to these cities if you have a car. The brand new train station is next to the his building and very easy to reach other cities. The house itself is very neat furnished, has 2 toilets en 2 sleeping rooms, nice kitchen and a very good supermarket with nice fresh around the corner. Adrian is a nice guy and had everything arranged with the keys. He still has to practice a little bit more of English but with basic words it all went well. Small things we missed where: Water Cooker, WiFi and a bit of English TV. But hey, that is why you go on a holiday and have fun. We would come back again if we are around. Gerard - Rotterdam NL
Gerard
2017-02-14T00:00:00Z
Kamertype
Gehele woning/appartement
---
Type woning
Appartement
---
Geschikt voor
3
---
Slaapkamers
San Isidro, Comunidad Valenciana, Spanje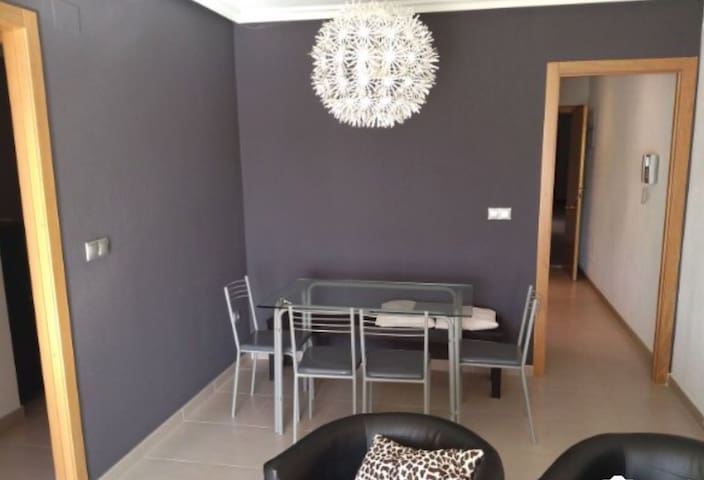 If you are passing through Alicante , Albatera awaits. Well connected people and half an hour of the Mediterranean. Room sleeps two.
-Dining And spacious kitchen. -Terrace .
Quiet area with supermarket 50 meters.
Manuel es tranquilo, la casa era excelente y todo estaba muy limpio. Nos hemos alojado aquí y utilizado el tren (4 km, coche) por un día para ir a Muria y un día a Elche.
Mathieu
2015-09-28T00:00:00Z
Manuel's home was very clean and tidy and the room and bathroom were very comfortable. Manuel went out about half an hour after we arrived and he wasn't out of bed in the morning when we left quite early. We arrived late in the afternon and didn't see much of the town as it was Sunday and everything was closed. Difficult to find anything to eat on a Sunday night though Manuel phoned a few places for us - they were closed. We were very comfortable so I could certainly recommend it.
Narelle
2015-08-31T00:00:00Z
The host canceled this reservation 7 days before arrival. This is an automated posting.
Erik
2016-07-05T00:00:00Z
Nous avons trouve l appartement splendide avec une decoration raffinée et une tres jolie terrasse. Nous avons pu utilise la cuisine ce qui est un plus surtout le matin. Notre chambre etait tres grande et confortable et nous avions une salle de bain privee. Nous ne pouvons que recommander ce lieu. Merci a Manuel.
brigitte
2016-10-20T00:00:00Z
Genial, un piso moderno, limpio y cómodo.
Alfonso
2016-07-24T00:00:00Z
Manuel es un anfitrión con un gran corazón, que se cuidó mucho de nosotros y preocupado de que todo vaya bien para nosotros. Su casa es spatieuses y decoradas con buen gusto. ! , Aunque tengo bajo nivel de español , nos las arreglamos para comunicarse bien .Gracias por todo y por su tan bienvenidos !
Rachel
2015-03-29T00:00:00Z
Manuel was there to meet us and made us welcome. The apartment is large, spacious, clean, modern and contemporary. Close to bars, restaurants and supermarket. An ideal place to stay to explore the area. I would recommend this apartment.
Sue
2015-05-17T00:00:00Z
INCREÍBLE!! Así querríamos nosotros nuestro piso. Es sin duda, uno de los mejores sitios donde podrías alojarte. Limpieza excelente Cama súper cómoda Todo de 10. Si tenemos la ocasión, repetiremos sin dudarlo.
Francisco Javier
2016-08-28T00:00:00Z
Kamertype
Privé Kamer
---
Type woning
Appartement
---
Geschikt voor
2
---
Slaapkamers
Albatera, Comunidad Valenciana, Spanje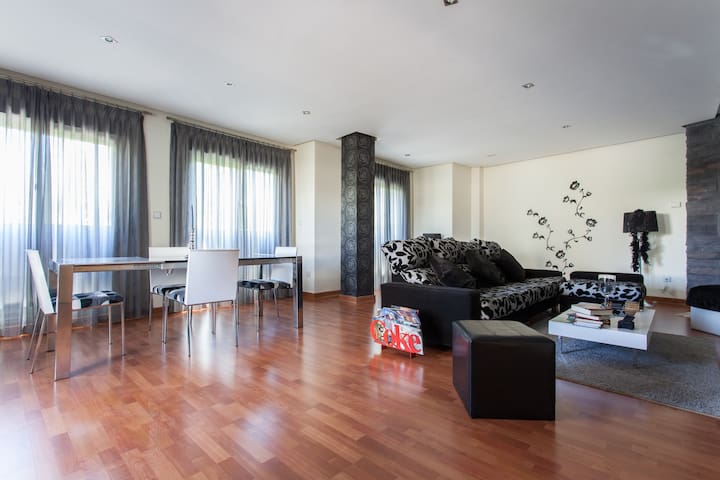 One double bed room self contained apartment with a pantry in a fabulous mountain location set among orange and lemon groves Breathtaking views as far as the eye can see. Use of private pool and lounging areas. Ideal for walks in the mountains or cycling in quiet roads. Nearest village (Albatera) 5km . We can provide free transport to the nearest village when we visit the village, we go to the village most days. As we are in the countryside ideally visitors should hire a car. Alicante airport is 25 mins by car. We can provide transport to and from the airport for 20 Euros each way. Taxis will charge you about 40 Euros. WiFi available for free. We have no animals in the property and as we are non smokers, prefer no smoking in the house. We will do our best to make your stay comfortable. Please note that the map location is wrong as we are not in the town of Albatera but 5km north by the mountains. If you are not sure of anything please feel free to ask us for more information. Maximum rental period is two weeks. Electric car charging point available. Also wifi available.
Quiet & tranquil. No neighbors nearby. Nice walking area.
Fantastic! We achieved a state of zen within the first few hours in Vidiya's lovely garden. Perfect location that was indeed a mountain retreat (what a view!) and perfect hosts who really made us feel welcome. We'd love to come back.
Silke
2012-06-27T00:00:00Z
Firstly it was a real pleasure to meet Vidiya. A gentleman, good company and very helpful. The accommodation is a good, compact, nice bed and bathroom. Internet is fast and reliable. The pool is great and in the summer in this area of Spain you will need it. Very nice stay thank you.
Edward
2015-06-23T00:00:00Z
This is a lovely apartment with everything you need. Vidiya was a great host, very helpful and he went out of his way to make sure we had everything we needed, including advice on what to see and do in the area. One thing to be aware of is that this is not really a mountain retreat as such. It is inland and relatively close to the hills, but it is on flat land. It does have nice mountain views though, and also distant views to the sea.
Liam and Malene
2014-07-10T00:00:00Z
notre hôte Vidayi est vraiment quelqu'un de formidable on a trouve tout ce qu'il a promis généreux,modeste,très gentil ,disponible Vidayi est une personne respectueuse qui met à laise ses locataires
sabrina
2016-08-24T00:00:00Z
We enjoyed our stay with Vidiya and Bernie. Their property was beautiful, matching the pictures and descriptions perfectly. They were great hosts, met us in town to show us to their place and recommended some great activities for the surrounding areas. Would definitely go back, and recommend it for anyone! Rikki. I can't say enough about this location: private, serene & well positioned for sight-seeing throughout this part of Spain. Better even are the hosts, Vidiya & Bernie! They are truly sympatico... the perfect couple to share a bottle of wine with. Their local knowledge of restaurants, sights & hikes is the icing. We plan to return! John
Rikki
2012-05-10T00:00:00Z
Vidiya and Bernie were lovely hosts and we thoroughly enjoyed our week in Albatera. They invited us into their home to watch movies and offered us fruit from their orchards. We couldn't ask for a warmer welcome! The apartment is clean and modern with a small kitchen and heat pump which is great in the colder months. One important thing to note is that the wifi does not reach the apartment. The signal is only available around the main house. There is a great terrace for sunbathing, Albatera is an easy drive away, and Pyter Pan bakery in town has amazing donuts! We would definitely stay here again if we return to Albatera.
Yannick
2015-12-07T00:00:00Z
Vidiya nous a bien reçu. Il nous a offert des citrons et des mandarines de son jardin. Nous avons loué son appartement en hiver. Nous n'avons pas eu l'occasion de rencontrer Bernie, qui n'était pas présente. Dans l'ensemble c'était correct, mais nous avons tout de même quelques remarques à faire. Pour information, cette maison n'est absolument pas en montagne ! Elle se situe sur une plaine, au milieu d'autres villas à 96 mètres d'altitude… ! Dans son descriptif il est écrit : télévision, wifi. Le wifi est accessible uniquement dans la pièce commune et non dans l'appartement et il n'y pas de télévision. La cuisine est vraiment petite, il s'agit vraiment d'un garde mangé… La pièce commune donne directement sur son appartement et en hiver nous sommes beaucoup dans la pièce commune. Un soir, Vidiya nous a fait profiter d'une soirée plutôt intime… malgré les rideaux baissés et les portes fermés, le bruit passe à travers les (URL HIDDEN) soudain vers 20h plus de lumière…(uniquement accessible depuis son appartement), nous sommes allés nous coucher…-!) Il est évident que l'été, il doit être très agréable d'y vivre, pouvoir profiter des extérieurs, de sa magnifique terrasse et sa piscine.
Virginie
2015-02-15T00:00:00Z
Very nice house , very happy about my journey , the host is very sympatic i recommended this place. Tres jolie maison ,je suis très heureux de mon séjour , l'hote est très sympatique , je recommande ce lieux.
Jean-Philippe
2012-09-08T00:00:00Z
Kamertype
Gehele woning/appartement
---
Type woning
Appartement
---
Geschikt voor
2
---
Slaapkamers
Albatera, Alicante, Spanje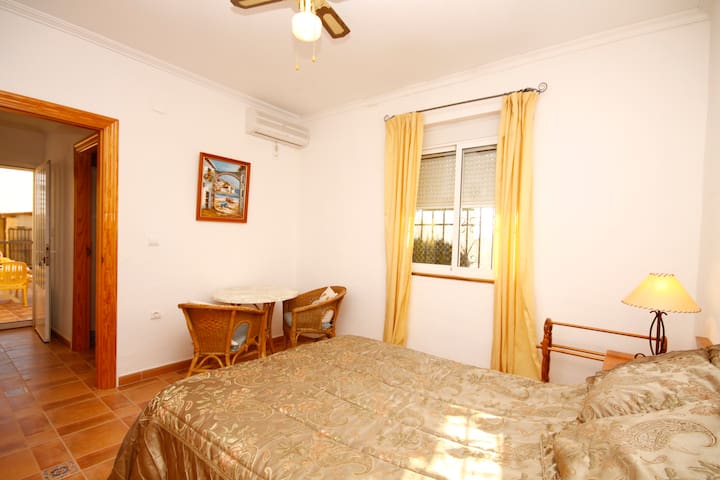 5 Star, Benferri, WiFi, Air Con, Sky TV, Own Pool. Executive apartment with genuine private swimming pool. UK Sky TV, DVD Player, Wi-Fi 10 Mb. Air conditioning hot and cold. Car Sat Nav. All free, fully inclusive, no hidden rip off extras for cleaning and laundry. Free welcome pack. All amenities within walking distance. 20 mins to Alicante airport. Top rated on Trip-advisor with over 20 reviews. Offering guests flexible check-in and check-out times.
This 2 bedroomed villa apartment is totally private. Benfis Park is a small exclusive urbanisation consisting mainly of luxury villas. ''This is not the ''Costa Blackpool''. This large private ground floor villa apartment sleeps up to 5 persons. The upper floor is reserved for the owner who works in South East Asia. You will therefore have exclusive and private use of all the facilities.The apartment consists of living room, kitchen, family bathroom, master bedroom with king-size double bed (extra single bed available) and second bedroom with one king-size double and one single bed. Outside you have an 8 x 4 metre private swimming pool in secluded landscaped gardens complete with all garden furniture, BBQ, outside dinning, 6 Sun loungers. The local Spanish bars, restaurants, mini market, shops and banks are within easy walking distance. Main supermarket only 3 km and open 7 days a week.There is little or no crime in Benferri. It has its own Police force that patrols 24 hours a day. There is a local doctors and medical centre.You will be met at the property on your arrival. Free golf lessons, Premium Large Golfing Driving Net – 7ft (213cm) High x 10ft (304cm) Wide x 5ft (152cm) Deep. Perfect for practising your driving and chipping shots in the comfort of your own holiday villa apartment garden!
Kamertype
Gehele woning/appartement
---
Type woning
Appartement
---
Geschikt voor
5
---
Slaapkamers
Benferri, Comunidad Valenciana, Spanje
The villa is situated slightly out of the town in a very quiet area, next to an Almond plantation, with wide ranging views over the town and beyond. The acommodation is part of a villa with own entrance. It has a refurbished kitchen, double bedroom, the shower/toilet/washing machine utility room is across the small secluded courtyard which also has outside table and chairs. Car parking at the front. Gated enclosed property.
Kamertype
Gehele woning/appartement
---
Type woning
Appartement
---
Geschikt voor
2
---
Slaapkamers
El Pinós, Valenciaanse Gemeenschap, Spanje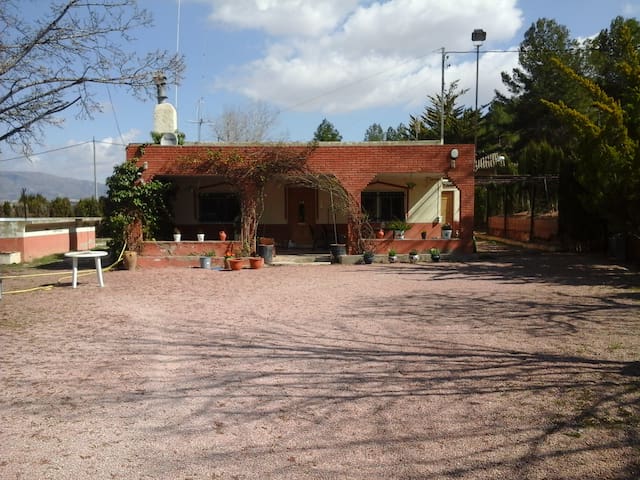 Sol finca luxury 1 bedroom self catering apartment in the country side of Hondon de las Nieves. 15 minute walk to the village, local attractions include cycling, & hiking, very close to the Natural Park. Full use of the swimming pool.
Set in the beautiful mountainous countryside of the Hondon Valley
The property has fantastic panoramic views of the Hondon valley mountains. Set in a quite country road, overlooked by the mountains, Sol Finca is the place for you to relax and forget the world.
Kamertype
Gehele woning/appartement
---
Type woning
Appartement
---
Geschikt voor
4
---
Slaapkamers
El Fondó de les Neus, Comunidad Valenciana, Spanje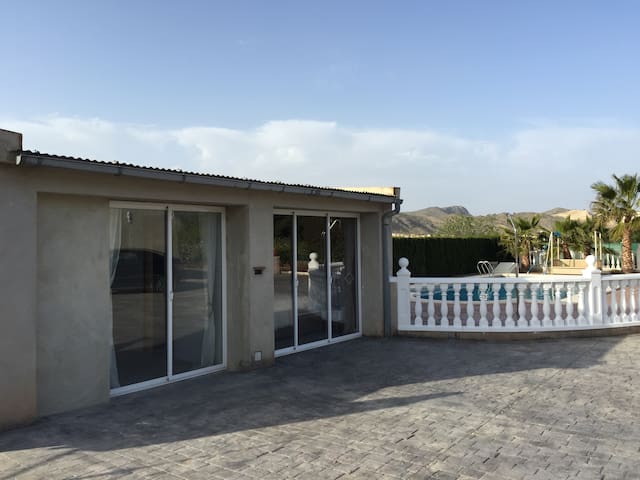 My place is close to restaurants and dining. You'll love my place because of the comfy bed and the coziness. My place is good for couples, solo adventurers, business travelers, families (with kids), and furry friends (pets).
Kamertype
Privé Kamer
---
Type woning
Appartement
---
Geschikt voor
2
---
Slaapkamers
Callosa de Segura, Valenciaanse Gemeenschap, Spanje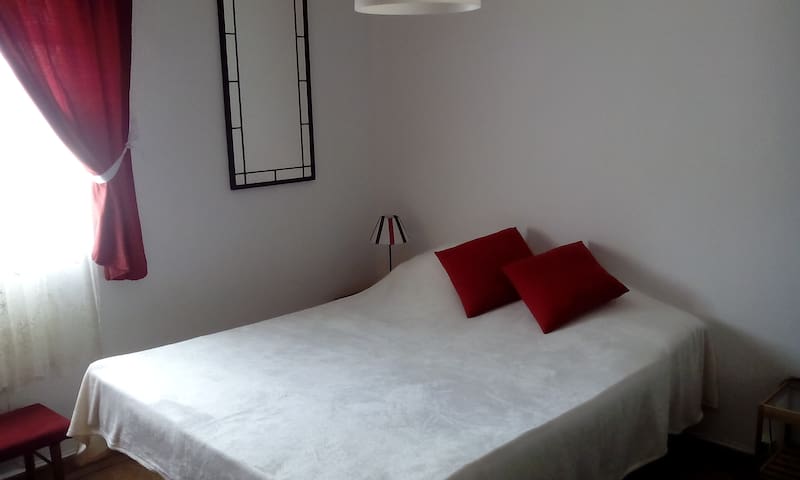 Apartment in the heart of Catral.lift,light and airy with amazing mountain views,comfortably furnished and equipped.Main bedroom has a large double bed and 2 double wardrobes drawers.2nd bedroom has bunk beds and pull out bed this room has a chest of drawers. rooms have a TV/Dvd. lounge has a table for 4 and corner sofa that seats 6 comfortably, with a large TV. A small balcony Air cond/heat,mosquito nets,internet,communal pool, covered area and large area for sunbathing and roof terrace.
Great Holiday Home in a great traditional Spanish village. Spacious 2 bedroom apartment with living room, dining area, kitchen, bathroom, balcony and large communal pool! Great place to relax.
Restaurants, bars, bakeries, markets, beaches,great parks, shopping and so much more
Kamertype
Gehele woning/appartement
---
Type woning
Appartement
---
Geschikt voor
5
---
Slaapkamers
Catral, Comunidad Valenciana, Spanje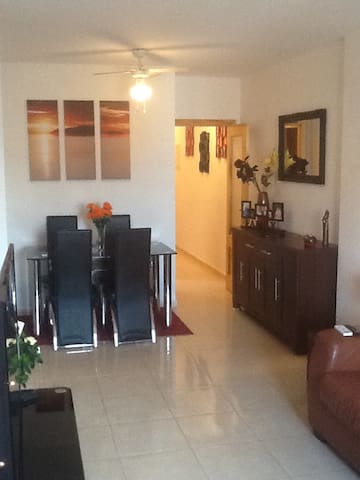 My accommodation is good for families (with children) and large groups.
Kamertype
Gehele woning/appartement
---
Type woning
Appartement
---
Geschikt voor
10
---
Slaapkamers
Crevillent, Valenciaanse Gemeenschap, Spanje
Large living room and kitchen with island, three bedrooms, two bathrooms, double jacuzzi and hydromassage column, wooden floor. Ideal to relax and unwind
The tranquility of the zone
The tranquility
Perfecto todo. Comenzando por puntualidad tanto a la entrada como a la salida, y terminando por limpieza total, pasando por todo tipo de comodidades y facilidade así como fidelidad de las fotografías con la realidad. Amabilidad 100%. Repetiría sin duda. Muy aconsejable.
Jose Manuel
2015-11-09T00:00:00Z
Un piso muy tranquilo y acogedor. Muy buena luz y fácil de encontrar. Las fotos se corresponden perfectamente con el estado de la casa. La comunicación con Jonathan ha sido excepcional. Recomendable.
Borja
2016-01-04T00:00:00Z
Kamertype
Gehele woning/appartement
---
Type woning
Appartement
---
Geschikt voor
5
---
Slaapkamers
San Isidro, Comunidad Valenciana, Spanje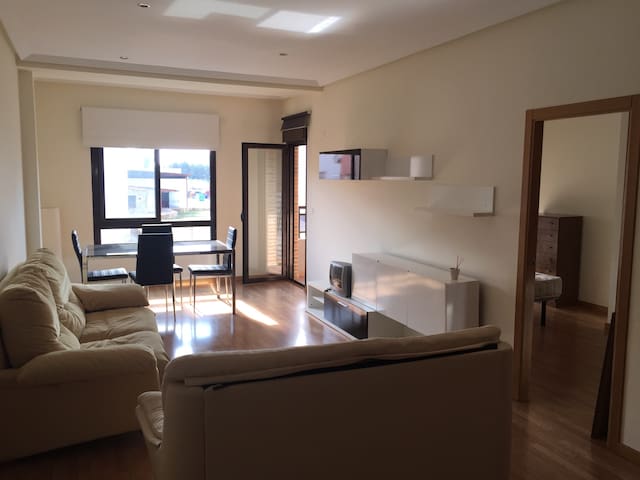 Beautiful 2 bed apartment (1 double and 1 small bedroom with double bed in Pinoso a traditional Spanish town which is located in the mountainous countryside (ideal for walkers) of the Alicante/Murcia border(35 miles from Alicante). The apartment is within walking distance of several English and Spanish speaking bars and restaurants and a large open air swimming pool open June to September. Pinoso holds its market every Wednesday & Saturday where you can buy fresh and locally grown produce.
Pinoso is very pretty, the Spanish are friendly and welcoming in the many bars and restaurants. It's a totally different experience to the coast but within easy traveling distance to Murcia and Alicante.
La casa muy chula y tranquila . La dueña de la casa muy amable .
Jesica
2017-03-25T00:00:00Z
Kamertype
Gehele woning/appartement
---
Type woning
Appartement
---
Geschikt voor
4
---
Slaapkamers
Pinoso, Comunidad Valenciana, Spanje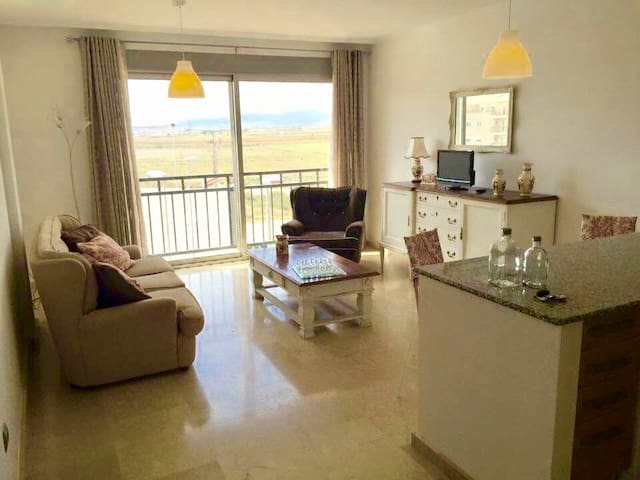 Relax at 91 is located in Pinoso itself. You'll love it because of the fact that you can walk everywhere in town, enjoy the atmosphere, grab a drink or a bite to eat thanks to the café culture here. It has two private terraces for relaxing and reading or catching some sun. It has newly refurbished light, modern and airy living space with a sofa bed as well as a separate double bedroom. The kitchen is fully fitted with all new appliances including a dishwasher and coffee maker.
We are registered with the Generalitat Valenciana Turisme d´Alacant - Nº Registro VT-451348-A.
Relax @91 is an immaculate apartment in a great central location in Pinoso. There is everything there at the apartment to make it a fantastic home from home. The many bars, restaurants and shops are all on your doorstep. Definitely somewhere I will use again and would recommend it highly to anyone looking for accommodation in Pinoso
Barbara
2017-04-08T00:00:00Z
Lovely place. We will stay again.
Pete
2017-02-05T00:00:00Z
Kamertype
Gehele woning/appartement
---
Type woning
Appartement
---
Geschikt voor
3
---
Slaapkamers
Pinoso, Comunidad Valenciana, Spanje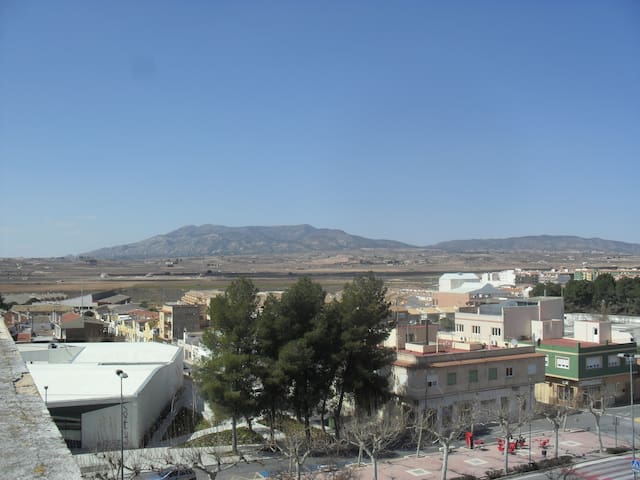 Fully equipped modern apartment only 10 minutes walk to Elche center and to the Congress Center. Very Big and Bright. 100m2 in 3 spacious rooms: 2 singles and 1 double with bath ensuite. Wonderful dining/living room. Good connections by train/bus. 10 km to the aeroport, 15 km to Santa Pola. Free private parking and free wifi.
A nice and modern apartment close to the center, with a fully equiped kitchen. Close to an entertainment street with bars, restaurants and shops. 15 min away from the Alicante airport.
The Neighborhood is very central. You can find supermarkets, restaurants, gim, and so on very close to this apartment.
Appartement très agréable ,très confortable .nous avons été très bien accueilli . tous est conformé à la description . Nous avons beaucoup souffert de la chaleur car il n'y avait pas de climatiseur.Ana nous avait fourni des ventilateur, mais pas efficace . Elle nous avait prévenu. Le quartier est festif début août ,feu d'artifice,pétard,beaucoup d'animation à Elche.Plein de commerce à proximité .Très belle ville,une magnifique palmeraie a visiter. Très belle plage à 25 minutes en voiture.
Houria
2016-08-25T00:00:00Z
Appartement très bien situé au centre de ELCHE avec un garage Appartement neuf très bien équipé très propre digne d'un hôtel 5 étoiles (avec drap et serviettes) Nous recommandons fortement cet appartement
Magali
2016-11-02T00:00:00Z
We really enjoyed our stay at this gorgeous so good as new apartment. It was spacious ,clean and the facilities were wonderful. We find everthing what you need for living. Location perfect close to supermarkets for us importent organic shops and the center of Elche. It is a big apartment. The busstation is about 20 min.walk from were we make many nice trips. Ana is a lovely and helpful host as give us many info about the erea. We highly recommend this relax place for a stay.
Evert
2016-06-11T00:00:00Z
Casa muy acogedora, amplia, cómoda y bonita. Bien comunicada, y céntrica. El parking muy amplio y fácil para aparcar. Ana y Juan Carlos muy buenos anfitriones, haciendonos muy fácil todo y pendientes de que la estancia sea maravillosa y te sientas como en casa, facilitando cualquier recomendación que necesites. Repetiríamos sin dudarlo y volveremos. Gracias por todo Ana y Juan Carlos.
Natalia
2016-11-19T00:00:00Z
El alojamiento es muy acogedor, práctico y limpio. Enseguida estás en el centro caminando. Nos ha sorprendido mucho la historia de Elche, la que no se conoce tanto... aconsejamos la visita guiada al MAHE (en domingo es gratuita).
Maria
2017-02-05T00:00:00Z
Thank you Ana and J.Carlos for taking so much care in the preparation of the home for our stay. You had eveything, towels, iron, washing machine, tumbe dryer, various foods/spices to get us going and 24/7 access to reach you if needed. You even ensured my baby had a bouncer, cot and high chair. Checkout was really easy, exactly what you need when dashing for the airport. 5*
Binish
2017-03-18T00:00:00Z
Trevlig lägenhet inom gångavstånd till centrum och med butiker o restauranger runt hörnet. Rent o snyggt.
Börje
2017-03-09T00:00:00Z
A great place to stay in elche. Great location - in easy walking distance to the centre and shopping mall. Very useful to have parking, as it can be very hard to find! Ana and Juan Carlos were great hosts. The apartment is well equipped, it's a nice bonus to have kitchen basics like salt, spices and olive oil - So you don't have to buy everything from scratch for cooking!
Caroline
2016-12-16T00:00:00Z
Kamertype
Gehele woning/appartement
---
Type woning
Appartement
---
Geschikt voor
4
---
Slaapkamers
Elx, Comunidad Valenciana, Spanje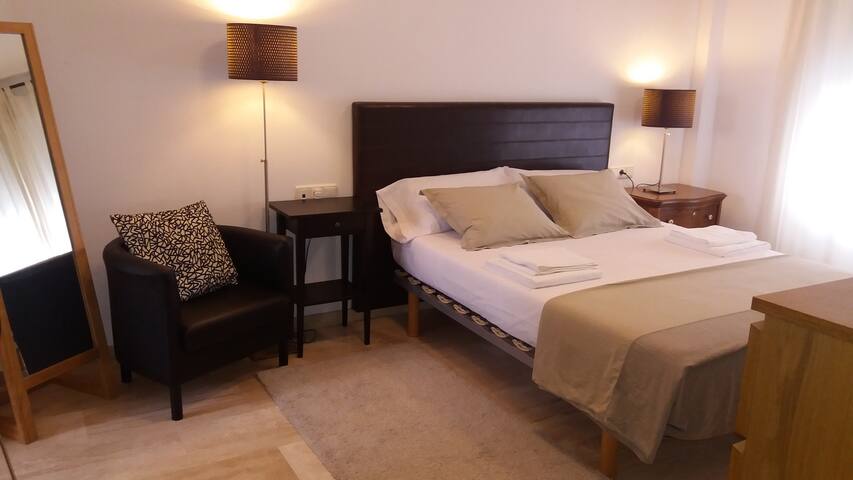 Apartamento ubicado en Callosa de Segura en el interior de Alicante, municipio de 18000 habitantes, excelentemente comunicado con Alicante situado a 50 kms y Murcia a 25 kms por autovía, situado en zona de Sierra con posibilidades de realización de deportes de montaña (escaladas y senderismo, ciclismo, etc) y situado a 30 km de las playas de Guardamar del Segura y Torrevieja. Municipios que dispone de todos servicios necesarios para el disfrute de una vida tranquila y placentera.
apartamento en primera planta con ascensor de tres dormitorios todo exterior, dos terrazas, patio, cocina independiente totalmente equipada, un baño completo y un aseo, tarima flotante por toda la casa, orientación Sur, muy luminoso y soleado.
Callosa de Segura es una cuidad y municipio de la Comunidad Valenciana situada al Sur de la provincia de Alicante, la ciudad posee una estación de cercanías, autobuses, etc... es un ciudad tranquila con mucho encanto por sus parajes de la Pilarica y Cueva Ahumada. A tan solo media hora de las mejores playas de Guardamar del Segura, una ciudad que posee todos los servicios generales que se pueda necesitar para unas vacaciones ideales y disfrutar en familia. Callosa de Segura muy conocida también por sus procesiones de Semana Santa y fiestas patronales de moros y cristianos en Agosto.
Kamertype
Gehele woning/appartement
---
Type woning
Appartement
---
Geschikt voor
5
---
Slaapkamers
Callosa de Segura, Comunidad Valenciana, Spanje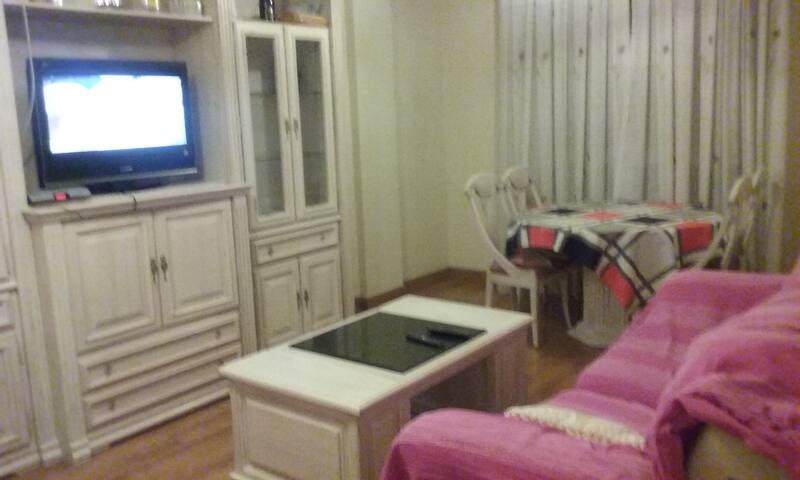 Located in a central and modern neighborhood located two minutes walk from the historical center. The beach is a 15-minute drive away. It has free WIFI, a fully equipped kitchen and a spacious living room. With modern and functional decoration, the apartment has a living room, equipped kitchen and television. The kitchen includes a microwave and washing machine. In the surroundings you can find several supermarkets and bars, as well as restaurants.
Es un piso muy amplio, con dos habitaciones y de estilo loft. Dispone de un sofá cama en el Salón. La cocina está totalmente equipada, microondas, horno, vitroceramica. Dispone de lavadora y TV. Está ubicado en una finca centrica y moderna, con buenas zonas de aparcamiento cercanas(algunas zona azul), que es perfecta para disfrutar de unos dias del centro de Elche, Museos, Congresos. El Gran Teatro se encuentra a 10 minutos a pie, igual que el Ayuntamiento. Dispone de todos los servicios a muy poca distancia ( Mercadona, Hiperber, etc.)
Para mi todo ha sido perfecto. He ampliado la reserva en dos ocasiones y he estado una larga temporada. Piso muy céntrico y con todo lo que he necesitado cerca.
Esteban
2015-12-22T00:00:00Z
El dueño muy amable y con bastante consejos utiles sobre la ciudad. El piso limpio, practico y muy centrico.
Paul
2017-03-05T00:00:00Z
The host canceled this reservation 38 days before arrival. This is an automated posting.
salma
2016-11-16T00:00:00Z
La descripción del anuncio si se corresponde con el piso. El piso tiene muy buena ubicación, se encuentra en el centro. Me ha sido muy fácil comunicarme con Jose y esta muy atento por si necesito algo.
Esteban
2015-10-24T00:00:00Z
El apartamento está bien situado y muy cénrico. Es muy espacioso. Para mi gusto, creo que tiene muchas posibilidades pero no está aprovechado. Aún así, Jose encantador y muy atento. Me dio muchas facilidades y dejó algo de enseres para hacerme café, aceite, sal.. Vamos los indispensables. Lo recomiendo.
Alvaro
2016-11-27T00:00:00Z
El piso es más grande de lo que aparece en las fotos y muy tranquilo. Estancia satisfactoria
Víctor
2016-01-26T00:00:00Z
La estancia en casa de José ha sido espectacular. La casa es genial, un hogar en un emplazamiento especial de Elche. Tiene todas las comodidades de una casa moderna y se echan de menos pocas cosas. José es un gran anfitrión, muy cercano y presto a ayudar en todo.
José
2016-09-18T00:00:00Z
Jose's place is very close to the main square and garden. There are a lot of shops and restaurants around (2-3 min walk). The place is perfect for 5 people very spacious and larger than the pictures shown. The only missing thing was that there was no AC and just one fan for 4 people, but we did not mind as the place was very clean and spacious.
Anadi
2016-07-26T00:00:00Z
Kamertype
Gehele woning/appartement
---
Type woning
Appartement
---
Geschikt voor
5
---
Slaapkamers
Elx, Comunidad Valenciana, Spanje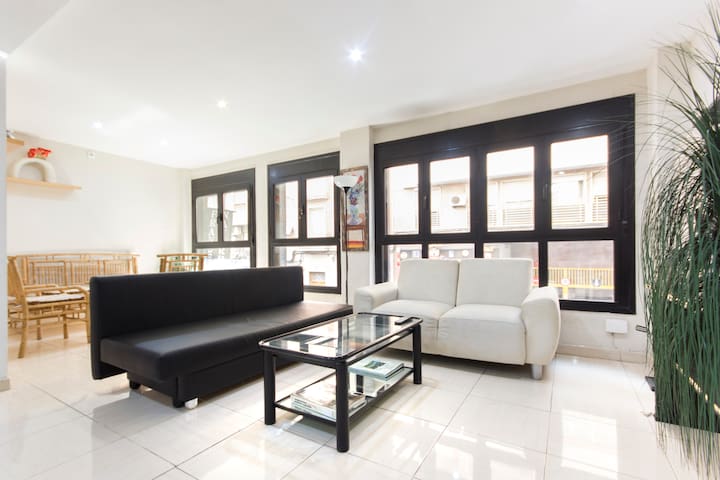 A 3 Double Bedroom Apartment, in Elche, Spain. Sleeps 3 adults, but owners are not too fussy about sleeping arrangements, children are welcome. Large Living room, reasonable sized kitchen, bathroom, wifi, washing machine and tumble dryer. In Elche town centre very close to all shops and Markets.
A 3 Double Bedroom Apartment, on the Second Floor (Spanish Third) of an apartment block. All 3 rooms are quite spacious, 2 rooms have a balcony over looking the road. The master bedroom has a ceiling fan, the back bedroom has a Wooden framed bed and a wardrobe. there is a good sized lounge with 2 large sofas, the wifi router is also located in here. The Kitchen has all the amenities you should need with a area to the side that contains the washing machine and dryer. Bathroom is located behind the Kitchen.
The apartment is in a very close community, there are supermarkets within 30 seconds from the front door, where Alcohol can be cheaper than soft drinks. There are plenty of Bakeries around when you can buy daily fresh bread, also plenty of bars and restaurants. There is a play ground to the right of the apartment and its always filled with local children. Elche historically, is known for its shoe production and there are plenty of shoe stores around, but be smart and keep looking because there are many outlets selling the same shoes for much cheaper on side roads than the ones on the main roads. (I will add a more detailed description of this in the near future) There is a local swimming pool up the road that the kids will enjoy and there is also a local spa near by which is more for adults.
Appartement très grand mais la propreté et l'entretien de l appartement n étaient pas satisfaisants! Pas d eau chaude et pas d électricité dans toute les pièces! Globalement décevant.
Tiago
2015-07-22T00:00:00Z
It was fantastic place to stay thx Flat clean and big.
Przemysław
2014-08-26T00:00:00Z
Description was vague. Parking was a nightmare. BUT parking was horrendous. We even got towed one day because the street around the corner has a market on Monday and Saturday as do many local streets. I had asked about parking because I can walk but distance is very painful before booking the flat. I was only told it was free. Apartment was missing the TV and the boiler was unpredictable. Beds were clean and very comfortable. Lots of towels, bedding etc. Furniture in the rooms was not always usable. Several drawers did not work properly. Despite the fact that we were told that the flat had been prepared the worktops were sticky and the cutlery drawer had lots of crumbs in it. The bathroom had odd shaving bits in one of the drawers. There was NOTHING in the flat including NO loo roll. I think a few basic essentials would make the place more welcoming and not be that expensive. We had to move the Microwave as it was on top of the fridge freezer and being vertically challenged very unsafe to use. We moved it top the counter top where it was much safer and worked well. Kitchen had most utensils and there was enough china and cutlery. There were even English style mugs. Oven only has one tray so we had to improvise with tinfoil when we wanted to cook pizza and chips. Hob only had two rings which worked - the back two. Washing machine worked well. Only used it once. Having the keys in a lock box was great as we could arrive and leave at an odd time. We had a great time in the apartment despite the issues. AND it was relatively inexpensive. So really it could be just a bit better to be great!! but not if that means it costs a lot more.
Eirwen
2016-04-21T00:00:00Z
El piso está genial. Es grande y bastante moderno; todo estaba muy limpio y ordenado. Hay varios supermercados, bares y restaurantes por la zona que, además, no queda lejos del centro. No tiene ascensor, pero al ser un segundo piso, no supone problema alguno. Damian me dejó las llaves en una caja de seguridad, junto al timbre (lo cual es un buen recurso), por lo que no tuve la oportunidad de conocerle. Sin embargo en todo momento se mostró muy atento, y atendió rápidamente mis preguntas. Lo recomendaría sin lugar a dudas! Jesús.
JESUS
2016-02-01T00:00:00Z
Ya conocia el piso. La situación del mismo es correcta tiene todos los servicios a mano: supermercados, autobuses, mercado, bares, bancos... está muy céntrico. En verano se está muy bien pues es un piso freco, pero ahora cuando el tiempo ya no es tan bondadoso se hace algo frío pero nada que no pueda mejorar una estufa
ana
2014-11-08T00:00:00Z
Logement agréable spacieux au centre ville à 12 km des plages sable fin proche de toutes commodité.
najib
2015-08-22T00:00:00Z
A lovely, spacious and well-equipped apartment. Damian was always a very helpful and communicative host. I stayed here just over two months and this apartment was perfect for walking to the University Miguel Hernandez and also close to the city centre.
Meghan
2016-12-11T00:00:00Z
Reservé este piso en Elche para unos amigos que vinieron unos días a visitarnos. El piso se encuentra en un barrio cercano al mercado, demás comercios y servicios. El centro de la ciudad está a 20 min de paseo del piso. Hay una gran plaza al lado del piso muy agradable para salir y tomar algo en las terrazas de los bares. A 2 min a pie está una estación de tren para ir a Murcia y Alicante. Toda la casa cuenta con lo necesario para una estancia confortable. Cuenta además con conexión a Internet WIFI. Es de resaltar y agradecer la hospitalidad de la anfitrona, quien nos enseñó el piso y estuvo muy atenta a nuestras necesidades. Recomiendo este piso a aquellos que quieran visitar Elche y alrededores y no cuenten con mucho presupuesto. No dudaría volver a alquilar su piso de nuevo.
(EMAIL HIDDEN)
2014-04-25T00:00:00Z
Kamertype
Gehele woning/appartement
---
Type woning
Appartement
---
Geschikt voor
3
---
Slaapkamers
Elche, Valenciaanse Gemeenschap, Spanje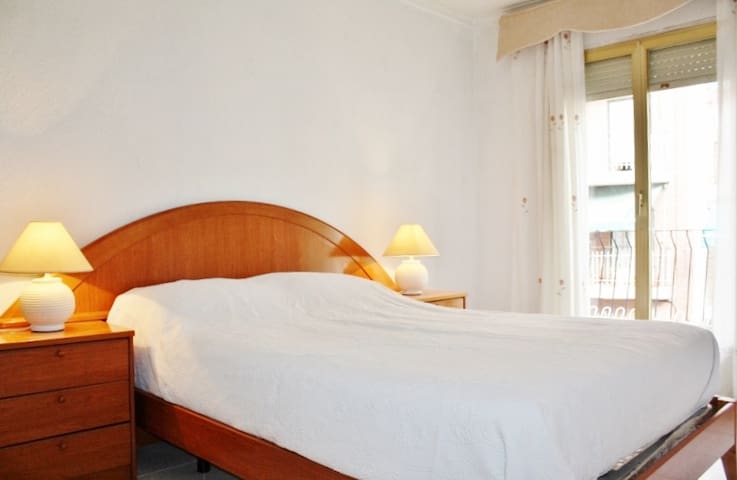 1

–

18

van

300+ Appartementen te Huur
Voer datums in om de volledige tariefopbouw te zien. Er kunnen extra kosten zijn en er kunnen belastingen worden toegevoegd.