Experience nature in its purest form. The house is nestled between hills and woods - an absolutely gorgeous setting during all seasons. Hiking, swimming in our own swimming pool or hot tub or just chilling in the garden is what we have on offer for you. The fully equipped kitchen as well as the grill and a parking space will be available to you for shared use during the time if your stay. We (Sabine and I, Beat) are living a simple but beautiful life. In the same house there is another apartment where Bettina and Philippe live. We are interested in meeting people from all over the world. We used to travel a lot some time ago. (Usually hitch-hiking). We appreciate good conversations with our guests, but we're also respectful of everyones privacy – We are polite, friendly and helpful in a way that isn't pushy! :) Please no parties.
Wij waren er maar voor 1 nacht, maar vanaf het moment van aankomst tot het vertrek de volgende morgen verliep alles zoals je het wenst. Beat is een goede gastheer en geeft je gelijk het gevoel dat je je thuis kunt voelen. Wij stonden open voor gesprekken en daardoor werd het een hele gezellige avond. De volgende morgen verzorgde Beat een heerlijk ontbijt in de ochtendzon. Kortom wij hebben een hele gezellige overnachting gehad en als je openstaat voor een praatje, dan kan dat iedereen overkomen, maar privacy word ook gerespecteerd. Bedankt Beat, Sabine und Jacqueline gr. Inge en Rob
Rob
2016-07-29T00:00:00Z
Beat und Sabine waren beide sehr nett. Wir dürften mit ihnen abendessen und Frühstück wartete auf uns. Es war eine sehr schöne Erfahrung, das Haus ist sehr schön und Landschaft ist wunderbar !
Marie
2015-02-22T00:00:00Z
Es war sehr schön bei Beat und seiner Freundin, ich hätte es mir nicht besser wünschen können. Sie waren sehr nett und zugänglich, aber überhaupt nicht aufdringlich. Ein schönes Haus und auch ein schönes Zimmer und eine traumhafte Umgebung.
Nina
2014-12-23T00:00:00Z
Beat and Sabine welcomed us kindly for one night during our road trip through Europe and it was a great stay. We enjoyed a lot in late night talk and dinner while exchanging experiences, culture differences, travel memories and a lot more. Their place is beautiful, we would love to come back sometime again since this time we were there just for one night and we think that nature and surrounding area should be explored a bit longer. I can just imagine how relaxed their place is during the sunny days while reading a good book, listening to some vinyl records and drinking wine / coffee in the garden. After they made us a healthy breakfast in the morning, Beat even showed us his workplace which was really nice from him since I was interested in learning more about it. Thanks for everything Beat, we'll let you know if we'll be in the near of your place sometime in the future so maybe we can meet again!
Antun
2014-08-16T00:00:00Z
Vielen Dank für die super Unterkunft, gerne wieder! Die Unterkunft ist sauber, grossräumig und sehr schön gelegen und lädt zu Spaziergängen in der Umgebung ein. Gerne wären wir noch länger geblieben. Die Gastgeber sind sehr zuvorkommend und "easy-going". Absolut empfehlenswert.
Christian
2015-06-01T00:00:00Z
Nach langer anstrengender Wanderung durch das Emmental fanden wir bei Beat ein super Zuhause für die Nacht. Wir wurden herzlich empfangen und verbrachten einen wunderschönen und lustigen Abend mit Beat und seinen Freunden. Das Zimmer ist sauber und ruhig und es fehlte uns an nichts. Uneingeschränkte Empfehlung. Wir würden jederzeit wieder hier übernachten.
Saskia
2015-08-05T00:00:00Z
Me and my boyfriend traveled 8 nights with different hosts trough Italy and Switzerland and I have decided to write all of the reviews when I get home and gather my thoughts. We traveled a lot before and I am also an host in my town so I guess we have a lot of experience. So I will try to be objective but also mention some things specific for my needs. When we arrived the host was still at work so we set by the pool which was great and had some snacks and it was totally okay to wait. Beat was very considerate, talkative and kind host. His partner was out of town so he offered us some dinner with him and he and my boyfriend spent some time talking, basically we questioned him lot about Switzerland hehe. The only problem was that the room we got to sleep in was in fact a storage/garage converted to sleeping room by putting a bed in it, it was not the room on the pictures. The other problem was there was no shower, only sink (with hosts shoes and other stuff in the storage room) and toilet which was OK. So I am not sure if this was what other guests got because I didn't see it in reviews. Host had a free rooms in a top of the house so that made our sleeping in a garage even a little bit more awkward. And I couldn't use the pool so it was really not convenient not to have a place to wash yourself after a trip. Bed was comfy matters on a pallets and WIFI worked as well as possible for that rural area. The area it self is amazing with hills and cows and it is quiet. Cats are great and the dog living with another people on the property can sometimes be a bit barky for no reason, it's an old dog so I guess it can growl sometimes too. Breakfast was basic. Beat was completely trusty host and the best thing is that we got to se the traditional Swiss instrument - alphorn. Thank you Beat for your hospitality, you were a warm and patient host!
Azra
2016-07-06T00:00:00Z
Beat and Sabine are amazing hosts! They are hospitable and always willing to share their histories and ideas about places to visit! I highly recommend everyone to stay at their wonderful home!
Laura
2014-04-15T00:00:00Z
Kamertype
Privé Kamer
---
Type woning
Huis
---
Geschikt voor
2
---
Slaapkamers
Heimiswil, Bern, Zwitserland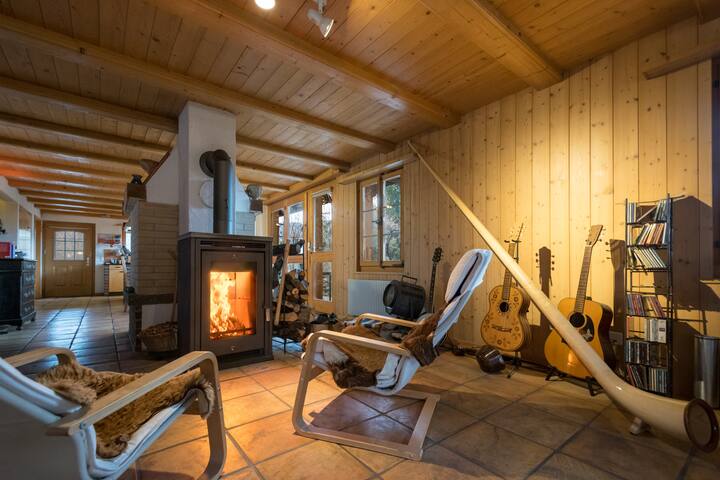 My house is near public means of transport, forest, shopping center and the Moossee. My guest room is suitable for single travelers, adventurer / inside and Business Travellers. w-lan is present, an office table is in the guest rooms.
the bathroom is shared.
Marianne is amazing, was the best bnb I've ever taken. She's so friendly and nice! The whole house is really beautiful and the room confy and clean. One of the best things was the music, Marianne has got really good tastes! Everything was perfect
Domenico
2016-12-02T00:00:00Z
Ich war nun schon das zweite mal bei Marianne und habe mich wieder sehr willkommen gefühlt :) Sie ist sooo lieb und cool und egal ob du Ruhe brauchst oder Lust auf ein Glas Wein mit ihr hast, es ist alles möglich :) Vielen lieben dank
elissa
2016-11-23T00:00:00Z
The host canceled this reservation 22 days before arrival. This is an automated posting.
Sandra
2017-01-15T00:00:00Z
Marianne ist eine tolle Gastgeberin. Wir haben uns schnell verstanden, da sie sehr offenherzig ist. Wir konnten uns bei einem Glas Wein näher kennenlernen und ich durfte einige Sachen aus ihrer Küche nehmen. Ich komme sehr gerne wieder bei ihr!
Thierry
2016-12-04T00:00:00Z
Una casetta deliziosa, pulita, accogliente con una camera rassicurante e un letto comodo. Marianne accoglie come se si fosse amici di lunga data. Assolutamente da consigliare.
Simone
2016-12-15T00:00:00Z
alles super
Maurizio
2017-01-17T00:00:00Z
I was the first guest for Marianne by AirBnB. I found her very kind and friendly. She let me feel like in my own home. The house is nice and the room is comfortable. I recommend this AirBnB.
Alex
2016-11-14T00:00:00Z
Accueil des plus chaleureux de Marianne (cerise sur le gâteau j'ai mangé une fondu Suisse préparé par ses soins !!) Elle est très arrangeante. Totalement satisfait de mon séjour à Schönbühl. Je recommande vivement Marianne à toute personne cherchant un logement proche de Berne Mathieu
Mathieu
2016-11-21T00:00:00Z
Kamertype
Privé Kamer
---
Type woning
Huis
---
Geschikt voor
1
---
Slaapkamers
Urtenen-Schönbühl, Bern, Zwitserland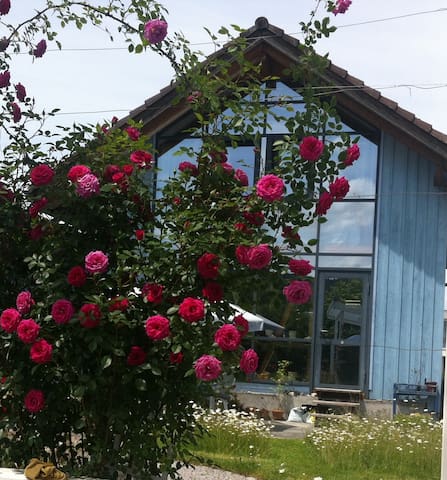 Modernes, grosszügiges Haus an ruhiger Lage. Das Haus liegt in familiärem Quartier ohne Verkehr! 3-stöckiges Haus (Keller mit Wasch-und Heizungsaum /Erdgeschoss mit offenem, hellem Wohnraum und Küche sowie einem Gästebad / Obergeschoss mit 3 grossen, hellen Schlafräumen südseitig, 1 Balkon sowie einem grossen Bad) ÖV in 7 Gehminuten erreichbar
Kinderfreundliches Quartier! Spielplatz, Einkaufsmöglichkeiten, öffentliche Verkehrsmittel in der Nähe (zu Fuss erreichbar). Ruhige Lage mit freier Sicht auf die Emmentaler Hügel und Berge. Direkte Zugverbindung nach Bern, Thun, Burgdorf, Solothurn u d Langnau i.E.
Unkompliziert, freundlich und familiär
The host canceled this reservation 5 days before arrival. This is an automated posting.
Ryan
2016-10-09T00:00:00Z
The host canceled this reservation 142 days before arrival. This is an automated posting.
Animesh
2017-01-12T00:00:00Z
Kamertype
Gehele woning/appartement
---
Type woning
Huis
---
Geschikt voor
5
---
Slaapkamers
Hasle bei Burgdorf, BE, Zwitserland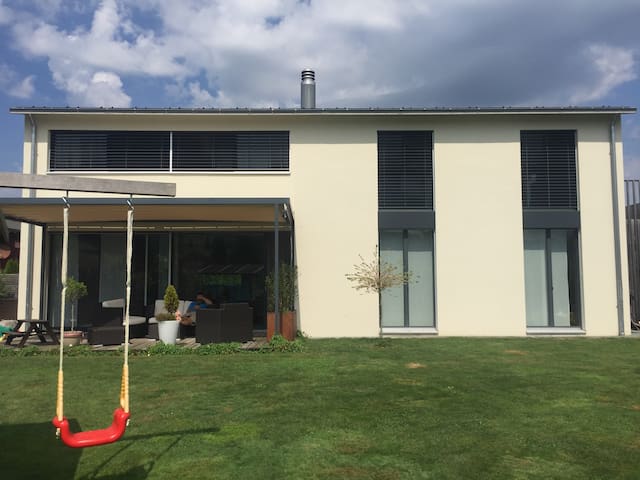 3 sleeping rooms with a living room and a separate entrance. It has a fully equipped kitchen with coffee machine. Own washing machine and tumbler. Access to your own private terrace/garden. TV with DVD Player is at the living room. Bedsheets and towels are of course included as well
3 sleeping rooms with a living room and a separate entrance. It has a fully equipped kitchen with coffee machine. Own washing machine and tumbler. Access to your own private terrace/garden. TV with DVD Player is at the living room. Bedsheets and towels are of course included as well
Kamertype
Privé Kamer
---
Type woning
Huis
---
Geschikt voor
5
---
Slaapkamers
Oberburg, Bern, Zwitserland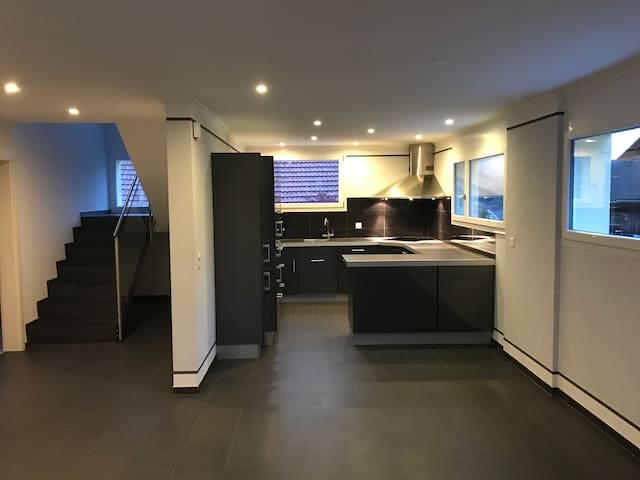 Het appartement is gelegen op de bovenste verdieping van een 100 jaar oude boerderij. Er is een slaapkamer, een andere grotere kamer, die is verdeeld in een woonkamer en slaapkamer en keuken en badkamer. Biglen ligt op 30 minuten rijden van Bern, Thun en Burgdorf.
rustige buurt, zeer landelijk. De supermarkt kan worden bereikt in ongeveer 20 minuten
De advertentie beschrijving klopt absoluut. Alles was klaar voor ons inclusive echt lekker jam van eigenaar!
Elena
2016-05-09T00:00:00Z
Perfekt für mich!
Stefan
2017-02-03T00:00:00Z
Super schöne Unterkunft mit toller Ausstattung
Frank
2017-03-03T00:00:00Z
This was an amazing place to stay. It is located right on the edge of town, next to fields and woods and only a short walk from the train station We were visiting Biglen to do some genealogy work in the local area. The home is quiet and picturesque. The host was very helpful with our search. The place was very spacious and set a new standard for cleanliness. The kitchen was very complete with all you need to prepare your own meals. The beds were very comfortable. This could not have been a better experience.
Shem
2017-03-23T00:00:00Z
While I was mostly out for work in Bern, this place was amazingly nice to come back to out every evening. Bern is just a short 20 min. drive away, but the tranquility of driving and staying here at night made my day. The view and area are gorgeous and the stay comfortable and practical in every sense. Sitting on the balcony with moonlight and all quietness around except for the cow-bells in the far distance, gave me at some times, even the serenity you get in Bali (with Gamelans in the distance). Although I wasn't much out in the area (except for a one time trip with the bike down to Bern) the area of Biglen holds all possibilities for hiking and biking. I will definitely recommend this to anyone, who wants to be in the nature, while the city of Bern is close at the same time. And I will be definitely come back in the future.
Erik
2016-10-28T00:00:00Z
A true swiss experience! From the fresh milk and eggs from their own farm to the beautifull views, really amazing! Host not there (but in in good communication) and her family really helpful, great and polite, we also had nice conversation, thank you. We definitely recommend it. Its a quick train ride to Bern, or even Zermatt as we did! The flat was big, very clean, well equipped, comfortable, with all you need! We will stay here again on our next visit. Thanks for a great experience and really liked your place.
ANDRE
2015-10-11T00:00:00Z
We had a wonderful time at the Farmhouse, very relaxing! Our 2 year old enjoyed a lot visiting the cows and the chickens, and playing with the cat. We were delighted to drink fresh milk and eat fresh eggs each day. The apartment is spacious and the beds are comfortable, everything was crystal clean when we arrived, which is very appreciated. The kitchen offers a lot of space to cook and spend family meals, the living room is very luminous. We definitely recommend the farmhouse! Thank you to Nadine's very nice parents who made us feel like home!
Annie
2016-10-14T00:00:00Z
The farmhouse was a lovely place to stay and had everything required for our stay. Although we did not meet Nadine, her parents and brother made us very welcome. A big surprise was even seeing a new born calf being delivered by them. The farm house is about 20 mins from the railway station on foot but with Nadine's excellent directions, was easy to find. The apartment itself has a fully equipped kitchen so it was easy to pick up the groceries in the local Coop store, at the railway station, and prepare meals after work. Would definitely recommend Nadine's place to anyone and hope to be back soon
Mark
2016-06-25T00:00:00Z
Kamertype
Gehele woning/appartement
---
Type woning
Huis
---
Geschikt voor
5
---
Slaapkamers
Biglen, Bern, Zwitserland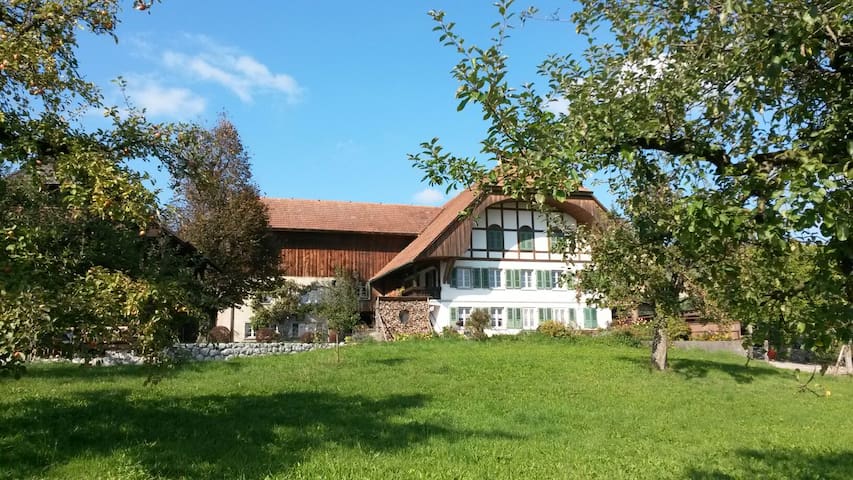 Cozy opportunity to rest. with public transport compound
Kamertype
Privé Kamer
---
Type woning
Huis
---
Geschikt voor
2
---
Slaapkamers
Burgdorf, Bern, Zwitserland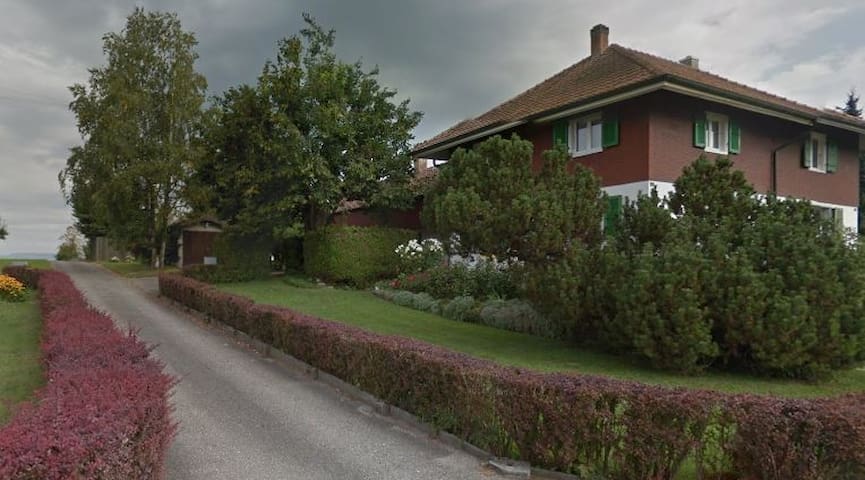 Gemütliches Gästezimmer in schönem Einfamilienhaus an ruhiger Lage mit Parkplatz. Nahe der wunderschönen Stadt Solothurn und der Autobahnausfahrt Kriegstetten, sowie Solothurn Süd. Die offene Küche, das Wohn-Esszimmer und der Garten können mitbenutzt werden. Es hat ein gemeinsames Badezimmer + 1 WC. Ihr Haustier ist auch gerne willkommen.
Das Haus ist hell und modern. Es verfügt über alles was man braucht und die 'Mitbewohnerin' steht bei Bedarf mit Rat und Tat zur Seite.
Man grüsst sich freundlich, tauscht ab und zu ein paar Worte. Am Wichtigsten ist aber, das Motto 'Leben und Leben lassen'.
Very nice and gentle host, organized, she provided all the necessary! Beautiful, clean and warm house, very quiet and comfortable..parking is a plus..thanks again to Manuela!
Alberto
2016-11-04T00:00:00Z
Manuela hat uns schon beim ersten Kontakt das Gefühl gegeben, willkommen zu sein. Ihr Haus, das uns bei unserer Ankunft ganz allein, wie selbstverständlich, zur Verfügung stand, ist ein Traum, unser Zimmer war mit allem ausgestattet, was man sich wünschen kann. Erwähnenswert ist auch die Tatsache dass es einen eigenen Parkplztz vor dem Haus gibt. Diese Unterkunft und die Begegnung mit Manuela ist wirklich lohnenswert.
Jutta
2016-11-06T00:00:00Z
Tolles Zimmer und.... wenn du ein unkomplizierte und angenehme Gastgeberin suchst bist du da goldrichtig!
andi
2017-01-14T00:00:00Z
Alles super, was kann man mehr sagen! Manuela ist eine tolle Gastgeberin!
Thomas
2016-11-29T00:00:00Z
Manuela has a lovely home. She was very understanding and the room was very cosy. The house also has a lovely garden. The rail station is just 900m away, so we could easily travel. It was such a pleasure.
Elizabeth
2016-10-23T00:00:00Z
Manuela is a very nice and frienly woman (always smiling), and the room very comfortable in a very nice house and huge bathroom!! Bed is really comfortable!!
MIGUEL
2016-11-27T00:00:00Z
Abbiamo passato una notte nella bellissima casa di Manuela la quale ha gentilmente accettato la prenotazione praticamente all'ultimo momento nonostante avesse molto da fare. La casa é stupenda, tutto pulitissimo e ordinatissimo, molto curato e organizzato, la doccia fantastica. Il letto, sebbene sia un divano - letto é molto comodo. I dintorni assolutamente tranquilli. I miei cani non sono stati un problema, anzi hanno ricevuto un sacco di coccole extra. Aggiungo che é veramente a pochi minuti dall'autostrada. Se ci sarà l'occasione sicuramente ci torneremo. Grazie Manuela!
sonia
2016-11-26T00:00:00Z
Ich konnte mich bei meiner Gastgeberin voll und ganz von anstrengenden Tagen ausruhen. Das Gästezimmer im Haus ist gemütlich, alles sehr sauber und liegt angenehm ruhig. Für diesen Erholungswert habe ich auch die Anbindung per Bus in die nächste Stadt in Kauf genommen. Auch die Kommunikation war stets rasch, somit konnte ich flexibel an -und abreisen. Gerne wieder!
Rieke
2017-03-22T00:00:00Z
Kamertype
Privé Kamer
---
Type woning
Huis
---
Geschikt voor
2
---
Slaapkamers
Biberist, SO, Zwitserland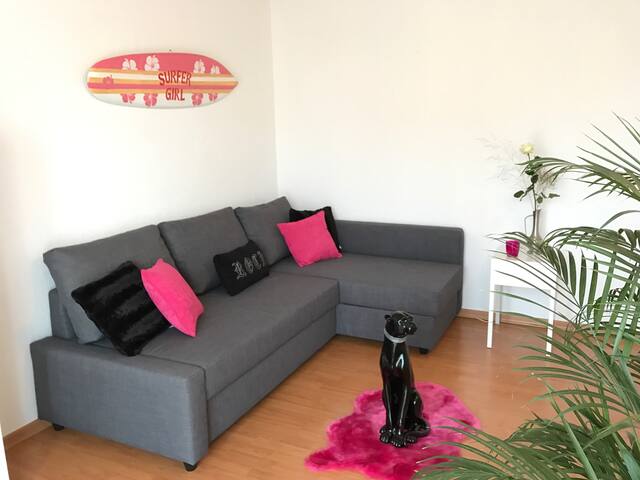 Wunderschönes, komplett renoviertes Ferienhaus auf der Moosegg im Emmental. Dieses Haus bietet alles, was man sich für perfekte Ferien wünscht – einzigartige Aussicht in die Berneralpen, tolle Umgebung zum Wandern, Biken, etc. Übrigens: die tolle Aussicht können Sie nicht nur von extern des Hauses geniessen, sondern dank den grossen Panoramafenster auch vom Wohn- und Essbereich aus.
Wunderschönes, neu renoviertes Ferienhaus für Sie alleine.
Enough can't be said about Ferienhaus Moosegg im Emmental and it's gorgeous views. Even though we arrived late Beats wife was waiting for us in front of the place. She was very hospitable when showing us the house. The place was very cozy, clean and modern. Even though the home is situated in the hills and it was snowing at the time of our visit, the roads are safe and the drive up to the home was feasible. A few positives things to note, the place is stoked up with firewood and has individual heating units for every room. Your neighbors are two adorable kangaroos that can be seen hopping around from the dining room table. Located in-between the capital city of Bern and the lakeside city of Lucerne, Beat's home is in a perfect location for those want to be secluded yet in close proximity to all the major cities.
Karen
2016-11-15T00:00:00Z
Die Unterkunft war genau so wie beschrieben und alles hat super geklapt! Sehr gastfreundliche und zuvorkommende Gastgeber. Wir haben uns sehr wohl gefühlt und würden jederzeit wieder diese Unterkunft wählen. Der atemberaubende Ausblick konnte besser nicht sein!
Sonia
2016-09-01T00:00:00Z
C'était un endroit chaleureux avec une vue sublime, une maison qui est bien équipé, idéal pour un Weekend
Umair
2016-05-31T00:00:00Z
Découverte inoubliable de la Suisse dans un lieu très charmant. Merci
David
2016-11-01T00:00:00Z
Beautiful!!! The view is amazing. The host is very nice. I highly recommend this home!
Hannah
2016-10-27T00:00:00Z
We loved everything about the place - it exceeded our expectations and we did not want to leave. The view was amazing, and the interior was clean, cozy and comfortable. We definitely recommend!
Katherine
2016-07-10T00:00:00Z
Was für ein fantastisches Ferienhaus! Alles war richtig: das Haus, die Empfang, die Einrichting und natürlich die Aussicht. Wir haben uns wirklich in diesem Haus zu Hause gefühlt.
Harm en Lia
2016-10-23T00:00:00Z
What a wonderful house! Everything was perfect. Rahel and Beat are very kind and warm. They answered everything very soon. The view!!! Fantastic. Thank you for everything. I don't want to leave this house. I hope stay next time again. 해발 955m 높은 곳에 위치한 집이라서 처음에 네비게이션만 믿고 올라갈 때는 정말이지 산골 너무 후진 집을 예약한 거 아닌가 걱정이 태산 같았는데 집에 딱 들어가는 순간 탄성을 질렀어요. 융푸라우요흐와 마테호른 봉우리를 있는 내내 감상하고 왔습니다. 루체른과 베른을 넘나들기 좋지 않을까 하고 이 집을 선택했었는데 그 도시들에서의 시간들을 아끼고 오히려 이 집에서 보내는 시간들이 훨씬 더 소중하게 느껴졌어요. 네스프레소 커피 한 잔과 알프스 전경은 그 무엇과도 바꿀 수 없을 것 같네요. 다시 꼭 와보고싶은 흠잡을 곳 없는 멋진 집이었습니다.
Jiin
2016-10-29T00:00:00Z
Kamertype
Gehele woning/appartement
---
Type woning
Huis
---
Geschikt voor
6
---
Slaapkamers
Lauperswil, Bern, Zwitserland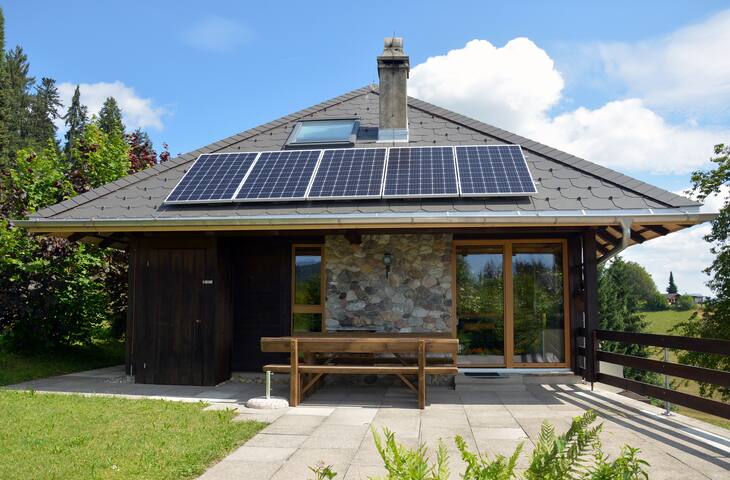 Das Haus liegt etwa 100 m Fußweg von der Emmentaler Schaukäserei (ideal zum Einnehmen von Mahlzeiten), am Ende einer Sackgasse (kein Verkehr), auf einem Grundstück von 1000 qm. Fußbodenheizung (Raumklima!), Teppichboden im gesamten Haus. - Der Gastgeber ist derzeit der einzige Bewohner des Hauses. - Sie reisen mit Kind(ern)? Nach Absprache können Sie Ihren Gastgeber als Babysitter buchen (Näheres weiter unten). - Infos für Raucher weiter unten.
Das lichtdurchflutete Erdgeschoss des Hauses ist, wie man auf einem der Fotos sieht, wie ein grosser Wintergarten. Da unseren Gästen die Möglichkeit geboten wird, das Erdgeschoss als 'Gemeinschaftsraum' mit zu benutzen - und da ja nur ein Appartement vermietet wird, mieten Sie eigentlich ein ganzes Haus mit grosser Terrasse. Für Kinder unter zwei Jahren muss kein Aufpreis gezahlt werden. Es steht auf Wunsch für Fr. 15/Nacht ein spezielles Babybett zur Verfügung ("babybay 100110 Original natur unbehandelt extra belüftet Beistellbett") Matratze Das Doppelbett im Gästezimmer (Hauptzimmer) hat eine Breite von 160 cm. Bei der Matratze handelt es sich um eine 7-Zonen-Matratze mit einem speziellen Bezug für Allergiker. - Für Gäste, die grösser als 1,80 m sind, gibt es eine extra lange Bettdecke. Frühstück: Auf Wunsch kann (zwischen 8 h und 12 h) ein Frühstück serviert werden (auch auf Ihrem Zimmer). Preis: Fr. 18,- für Erwachsene und Fr. 12,- für Kinder bis 14 Jahren. Nach Ihrer Buchung werde ich mich bei Ihnen nach besondere Wünschen für das Frühstück erkundigen und Ihnen Ihre Wünsche, soweit irgend möglich, zu erfüllen versuchen. - Gästen, die morgens VOR 9.00 h das Haus verlassen wollen/müssen, kann auf Wunsch für Fr. 15,-/Person ein 'Schnell-Frühstück' bereit gestellt werden (Kaffee/Tee aus Kaffeemaschine, Cornflakes/Müsli mit Milch oder Brötchen/Brot/Croissants mit Butter und Marmelade/Honig). Beim Bäcker neben der Schaukäserei (Mätteli-Beck) gibt es ein Frühstück ab 8.00 h. Die Schaukäserei hat ab 9.00 h geöffnet. Bewirtung: Abends (20.30 h bis 24 h) ist eine Bewirtung (Getränke und Snacks) möglich. Dies ist auch, abhängig von der Anwesenheit Ihres Gastgebers, tagsüber möglich. - Eine semi-professionelle Kaffeemaschine für die Zubereitung von Espresso und Cappuccino ist (selbstverständlich) vorhanden. 65''-UHD-Fernseher Im Gemeinschaftsraum (Wohnzimmer) befindet sich ein 65''-UHD-Fernseher (3D-Brillen vorhanden), der von unseren Gästen in den Abendstunden bis gegen 0.00 h nach Absprache (mit-) benutzt werden kann (nach 0.00 h nur noch das TV-Gerät auf dem Zimmer). Auf Wunsch können von diversen Streamingdiensten (z. B. Swisscom-TV, Apple-TV) Filme gegen Entgelt geladen werden. Separater Kühlschrank im Gästezimmer: Im Gästezimmer befindet sich ein kleiner Kühlschrank, damit unsere Gäste eigene Getränke oder kleine Mengen Lebensmittel kühlen können. Im Gästezimmer befindet sich ein Radio mit CD-Player und iPod-Dockingstation Sauna: Im Keller des Hauses gibt es eine Saune. Sie kann von Gästen genutzt werden. Fr. 25,- für das Anheizen und Fr. 5,- pro Person für Badetuch und Handtuch. Massage: Wir meinen, dass Pierre-à-Baus kann es mit jedem Wellness-Hotel aufnehmen. Ihr Gastgeber ist nicht nur Coach, er ist auch ein erfahrener Masseur (keine medizinischen Indikationen!). Eine Ganzkörper-Massage, und danach eine Sauna. (Falls Sie es bevorzugen, kommt aber auch gern unsere Masseurin ins Haus.) Tischtennisplatte: Große Terrasse und Rasen bei entsprechender Witterung nutzbar (z. B. zum Spielen, Tischtennisplatte vorhanden, kann gegen geringes Entgelt gemietet werden).
Ein wunderschönes schweizer Landhaus mit einem seriösen und feinfühligem Gastgeber. Dankeschön!
Achim
2017-03-04T00:00:00Z
Toller Vermieter! Ganz untypisch für einen Mann geht er richtig fürsorglich mit einem als Gast um. Wer fragt schon, ob man Frühstückswünsche hat, die nicht auf der Karte stehen?! Das hatte ich jetzt nicht erwartet. Es war auch überall sehr sauber im Haus. Und normalerweise schlafe ich in der ersten Nacht schlecht in einem fremden Bett. Dank der Matratze war's aber prima. Und auch schön: Es stehen keine ausrangierten (Sperrmüll-) Möbel im Zimmer, sondern die Einrichtung ist neu!
Gesine
2017-03-05T00:00:00Z
Wir sind vollauf begeistert. Das Haus ist wirklich sehr schön, die Zimmer gut eingerichtet und sauber. Aber am besten ist das Babysitter-Angebot: wir hatten extra eine Unterkunft mit Kinderbetreuung gesucht, weil wir ausgehen wollten. Davon gibt es nicht so viele; wir waren also sehr froh, Pierre-à-Baus gefunden zu haben. Peter ist nicht nur ein ausgezeichneter Gastgeber, sondern kann wirklich super mit Kindern umgehen. Unsere sind nicht mehr so klein (beide 11), aber dafür manchmal umso kritischer. Aber Peter war ganz ungezwungen, sehr zugewandt, aufmerksam – sie haben sich gleich gut verstanden. Wir sind relativ früh aufgebrochen, d.h. die Kinder haben den ganzen Abend mit Peter verbracht, was ganz wunderbar geklappt hat. Es hätte sogar die Möglichkeit gegeben, per Videoüberwachung nach ihnen zu sehen. Das haben wir nicht in Anspruch genommen, weil wir das sichere Gefühl hatten, dass unsere Kinder bei Peter gut aufgehoben waren. Fazit: wir sind sehr zufrieden wieder nach Hause gefahren und wären gern länger geblieben.
Simone
2017-04-09T00:00:00Z
Kamertype
Privé Kamer
---
Type woning
Huis
---
Geschikt voor
4
---
Slaapkamers
Affoltern im Emmental, Bern, Zwitserland
Rosengarten, Zytglogge, Bärengraben liggen met de bus gemakkelijk te bereiken. Ook het Stade de Suisse en de PostFinance Arena liggen binnen handbereik. Zeer geschikt voor koppels en zakenreizigers.
Douche baden, goed uitgeruste keuken, een eettafel en een bank. TV, radio en WLAN. Wasmachine en droger kunnen worden gedeeld.
Kamertype
Gehele woning/appartement
---
Type woning
Huis
---
Geschikt voor
2
---
Slaapkamers
Ostermundigen, Bern, Zwitserland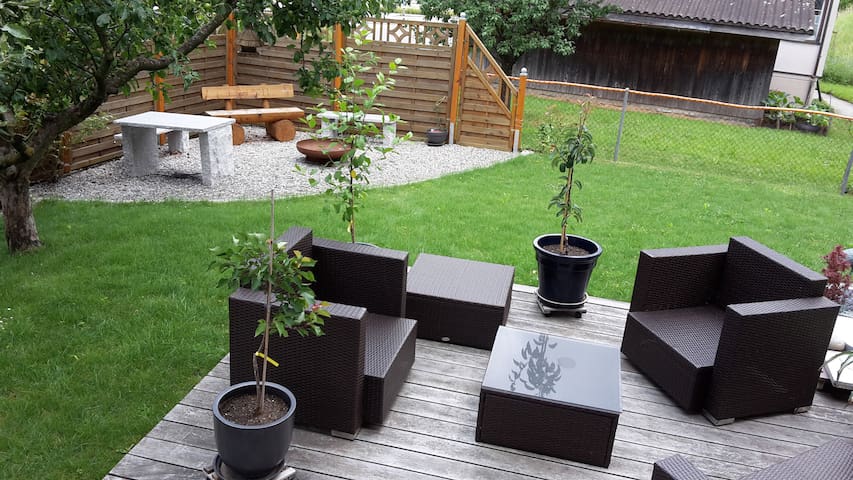 Hostel in a central location in the countryside (30 min by public transport to Bern / University) with a lawn in front of house. 1 room with 3 beds. Hostel in central and green area (30 min. By public transport till Bern / University) with a garden for relaxing. 1 Rooms with 3 beds.
The family house is in "Linde field-quarters" after only 2 min. Walk from the train and bus "BLS Steinhof", from where direct trains to Berne HB / University in the 1/4-hour clock and each in 1/2-hour clock Langnau and Thun or Zurich exist. In 1:20 Zurich can be reached by public transport and everything from early morning until midnight. At the weekend 3 x drives a night Moon Liner Bus from Bern to Burgdorf. The station is about 7 min. From the house, next to the regional hospital Emmental. I offer in my house is currently at 2 rooms with maximum 5 beds. The room services, can be seen on the highly-connected images: bed, table, wardrobe and chest, mirrors, chairs, bookcase with kettle and filter coffee maker or even enough electrical outlets ... (tea & coffee maker, there is only the ground floor). The room on the 1st floor with 3 beds is not yet seen in the pictures. This room has direct access to the balcony. In each room there is a wardrobe, and a table and chairs and also enough light or multiple sockets. The rooms may not be cooked, to the kitchen is there on the mezzanine floor. Please leave the kitchen clean and tidy. Thank you very much!
The house is at the edge of an old established Burgdorfer family house and smaller residential quarter. The location of Grimm's Hostel is perfect because my house abuts on one side of the adjacent property, where life could be perceived in the house. The neighborhood is very pleasant and you can live well today. Perfect :) So!
Mr. Thomas was very nice, the house is lovely and also the location.
Ivo
2016-07-02T00:00:00Z
I loved staying at Grimm's hostel. The room was very cozy and comfortable, just like the whole house. The hostel is a five-minute-walk to the train station and there is a supermarket very close. He picked me from the station, which was great as I was carrying a heavy luggage! Thomas is a very kind and attentive host, always trying to make the guests' lives easier. He kept me updated about the cultural events in town, which was great, too. Thank you for the enjoyable stay!
Ana
2016-09-16T00:00:00Z
We had a great stay of 4 nights at Thomas' house. Our host was very kind and helpful. The house was correct, clean and comfortable. The neighbourhood was calm and peaceful. I can recommend this house to stay for more days for anybody.
Timea
2016-05-30T00:00:00Z
I enjoyed very much my staying in Thomas´ home. He met me at the railway station and was very flexible with the depature time. he also gave a lot of useful information about the place. The house was exactly as it was discribed. It was very easy to communicate with Thomas and I really feel as at home during the stay.
Anna
2016-08-08T00:00:00Z
Es ist alles vorhanden und es ist kein zwang when man dort wohnt man kann sich frei bewegen und Thomas ist ein gutter und freundlichen Gasgeber.Ich war 15 Tage dort und Ich glaube daher kann Ich es gut beurteilenen.
Daniel
2017-02-09T00:00:00Z
!!!
Mikhail
2017-02-12T00:00:00Z
Vielen Dank für die freundliche Gastfreundschaft!!!
Sarah
2017-02-19T00:00:00Z
非常好!感谢Thomas让我第一次在瑞士旅游就有这么好回忆,房间非常的舒适,Thomas人也很好,还特地来火车站接我。总之推荐给大家~
Yuqing
2017-01-04T00:00:00Z
Kamertype
Privé Kamer
---
Type woning
Huis
---
Geschikt voor
3
---
Slaapkamers
Burgdorf, Bern, Zwitserland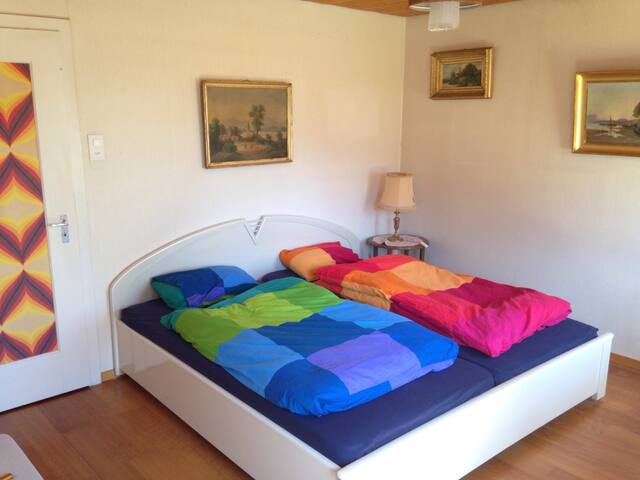 An old three storey log house with 600 qm garden is waiting for you. Your room is about 20 qm and very bright. It does not have a real bed. But the sofa is very comfortable. :) In this house next to me still my son (18) the dog Homer, the two cats Glubschi and Jöggu as well as a turtle called Lollypopp. It is suitable for couples, single travelers, business travelers, adventurers, ... Animals are welcome! We are very spontaneous and open-minded.
Feel like at home! Free Wi-Fi
Restaurants, cinema, swimming pool, cafes, biking, hiking, river, nature,...
Great place to stay if on a budget. Myriam is awesome, an so is her son. I stayed a full month with her; highly recommended.!
Aarón
2017-03-09T00:00:00Z
Kamertype
Privé Kamer
---
Type woning
Huis
---
Geschikt voor
2
---
Slaapkamers
Signau, Bern, Zwitserland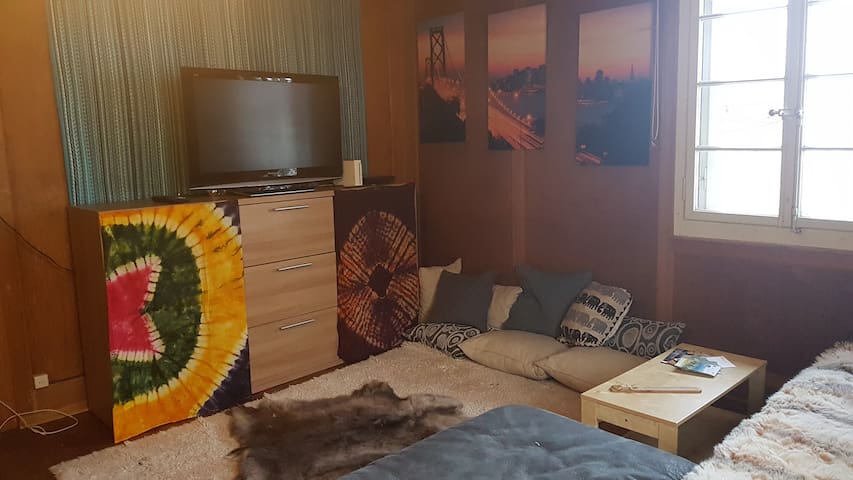 In the middle of nowhere but close to Solothurn and Bern! 5 minutes walk to the small train station or a parking place right outside the house. A Room for two persons with toilet and shower, calm and away from the other rooms. The garden invites you to sit outside under the sun. A young family who likes visitors from all around the world welcomes you in Schalunen. The space is optimal for 1 or two guests but if needed we have 2 more mattresses to put into the room beside.
Wonderful garden, Fireplace, Table & Chairs to stay outside, Pizza oven...
Kamertype
Privé Kamer
---
Type woning
Huis
---
Geschikt voor
2
---
Slaapkamers
Schalunen, Bern, Zwitserland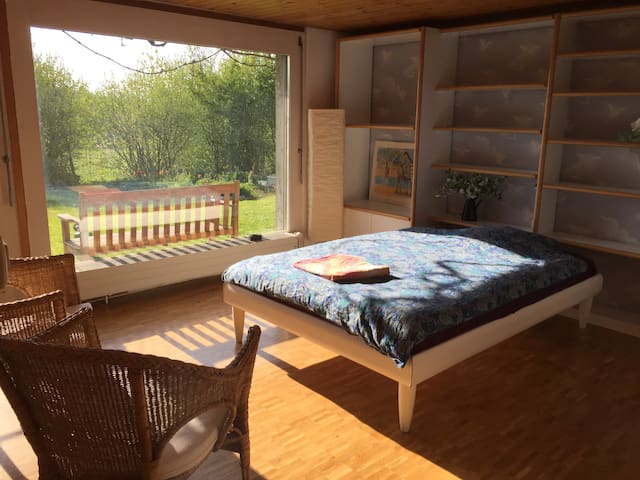 Das Zimmer ist im 2. Obergeschoss. Im Zimmer sind 2 Betten 140 cm und 1 Bett 90 cm. Bad und Küche zur gemeinsamen Nutzung sind im Erdgeschoss. Parkplatz direkt vor dem Haus ist gratis.
Das Zimmer ist nur für euch. Es hat 3 Betten und einen Tisch mit Stuhl sowie einen Wäscheständer für die Duschtücher. Bettwäsche und Duschtücher sind vorhanden und im Preis inbegriffen. Es hat keine speziellen Einrichtungen für Kinder. Gebt bitte bei der Anfrage bekannt welche Haustiere ihr mitbringen wollt.
Ländlich aber die Städte Zürich, Bern, Basel, Luzern sind in 1 Stunde erreichbar. Einkaufsmöglichkeiten mit Supermarkt, Bäckerei, Metzgerei, Käserei, Drogerie und diversen anderen Läden nur 100-200 m entfernt. Diverse Restaurants im Dorf.
Wij hebben met onze 3 kinderen op weg naar onze vakantie in Italië overnacht bij Jozef in Zwitserland. Het was fijn dat we met ons vijven op 1 kamer konden slapen. We mochten gebruik maken van alle faciliteiten van het huis. Jozef was een fijne gastheer die ons alle ruimte gaf in zijn huis, dat hij zelf helemaal heeft gebouwd. De kinderen vonden het heel leuk om met de pooltafel, dartspel en voetbaltafel te spelen. Wij konden lekker even bijkomen van de reis. Er is veel ruimte om te lezen of wat te schrijven. Wij voelden ons thuis bij Jozef! Jammer dat we niet meer tijd hadden om de omgeving verder te verkennen.
Inge
2016-07-22T00:00:00Z
Het was erg gezellig bij Josef en zijn familie. We werden erg gastvrij ontvangen en hebben heerlijk raclette gegeten samen. Aanrader!
Marleen
2016-05-04T00:00:00Z
Danke für ein nettes Ankommen, eine entspannte Nacht und eine neue Erfahrung beim Kickern und Billard.
Christine
2016-07-12T00:00:00Z
房东Josef人很好,由于之前没有确定好准确到达时间,他还会主动联系下并留下房门。房屋很宽敞适合全家出行。缺点是只有一个双人床,剩下的是床垫,可能会有些不舒服。
Jiangang
2015-07-08T00:00:00Z
The host canceled this reservation 37 days before arrival. This is an automated posting.
Sunil
2016-04-06T00:00:00Z
josef 's place is really well located and it is easy to find. His house is so amazing ,comfortable and value for money. it makes us feel like home. He is also very friendly and very helpful. i highly recommend his house to all travellers.
farah
2014-12-14T00:00:00Z
Großartige Kommunikation, sehr netter Gastgeber, komfortable und saubere Betten, alles wie beschrieben. Sehr empfehlenswert. Wir (vier-Personen-Familie) waren leider nur für eine Nacht auf der Durchreise bei Josef, wären aber gerne geblieben.
Luc
2016-03-21T00:00:00Z
Der Gastgeber war sehr freundlich, alles war sauber und in Ordnung. Preis/Leistung hat gestimmt.
Harald
2016-05-22T00:00:00Z
Kamertype
Privé Kamer
---
Type woning
Huis
---
Geschikt voor
5
---
Slaapkamers
Madiswil, Bern, Zwitserland
neuhaus offers a spectacular view of the bernese alps & Langnau i.Emmental. neuhaus is perfect for family/group holidays,seminars, retreats, you name it. neuhaus is rented to one group at the time,offers a well equipped kitchen, 14 sleeping places in 5 bedrooms, several leisure rooms, 2 bathrooms, 1 sauna, a terrace and a fireplace with a breathtaking view. No neighbours,feel free to play music, sing,play or whatever your heart desires. We do our best to make you feel at home.
Das neuhaus ist ein altes grosses Emmentaler Bauernhaus auf der Moosegg. Auf 850 m.ü.M. gelegen, 300 Meter vom nächsten Haus entfernt. Die Ferienwohnung ist im ersten und zweiten Stock des Hauses angesiedelt. Der Essraum direkt neben der Küche bietet Platz für bis zu 18 Personen. Eine gemütliche Sitzecke lädt zum Verweilen ein. Die Wohnung ist komplett ausgerüstet, Frotté- und Bettwäsche vorhanden. Haustiere sind willkommen.
Mitten im Grünen, ohne direkte Nachbarn.
The home was in the most beautiful area with a picturesque view. Our host was incredibly kind and accomidating. She even helped with a parking incident that we got while we were out. They are such wonderful people
Jason
2016-09-17T00:00:00Z
Wir hatten einen tollen Aufenthalt bei Renate. Das Haus liegt mitten im Grünen, nur umgeben von Natur. Es ist sehr gut für eine größere Gruppe geeignet mit gemütlicher Sofaecke im Haus und einer super Terrasse mit vielen Sitzgelegenheiten und Liegesesseln vor dem Haus. Von dort hat man einen tollen Ausblick auf die schneebedeckten Gipfel am Horizont. Es lässt sich sehr gut Wandern, die Umgebung ist hügelig, höhere Berge sind mit dem Auto aber super zu erreichen. Wir konnten unsere Zeit sehr genießen, mit Tischtennisplatte und Tischkicker wird es auch nie langweilig! ;)
Patrick
2016-08-15T00:00:00Z
Renate ist eine sehr zuvorkommende, freundliche und unkomplizierte Gastgeberin. Das alte Bauernhaus ist riesig und bietet alle Unterhaltungsmöglichkeiten (Ping Pong, Tischtennis, Billard, grosse Terrasse, Feuerstelle, etc.), einen wunderschönen Ausblick und sehr viel Platz, drinnen wie draussen. Perfekt, um für ein Wochenende dem Alltag zu entkommen und eifach zu relaxen.
Aaron
2017-03-26T00:00:00Z
Wir feierten mit der gesamten Familie den 70. Geburtstag von meinem Grossvater in diesem wunderschönen Bauernhaus. Das Haus ist sehr gut ausgerüstet, gemütlich, sauber und warm (auch bei eisigen Temperaturen). Die Umgebung ist traumhaft und lädt zu Spaziergängen ein. Rund ums Haus gibt es viele Spielmöglichkeiten (Töggelikasten, Ping-Pong etc.). Wir alle von der Jüngsten (5-jährig) bis zum Ältesten (70-jährig) haben die paar Tage sehr genossen. Renate ist eine super Gastgeberin! Die Unterkunft können wir mit guten Gewissen weiter empfehlen.
Giulia
2017-01-05T00:00:00Z
This is a very typical Swiss mountain farmhouse, warm, wooden and very cosy. The kitchen is very spacious and equipped for large numbers. The view over the Alps including Eiger, Mönch and Jungfrau are spectacular and due to its elevation, fog is not a problem. One can forget the world there, go for long or short walks. In Summer, the setting sun over the mountains can be enjoyed from the terrace or the fireplace equipped with easy chairs for hours. In Winter, a warm drink in the "Stuba" (cosy living room) is just perfect. Your hostess, Renate, is always ready to help and has plenty of suggestions for where to walk or visit.
Peter
2016-12-27T00:00:00Z
Kamertype
Gehele woning/appartement
---
Type woning
Huis
---
Geschikt voor
14
---
Slaapkamers
Emmenmatt, Bern, Zwitserland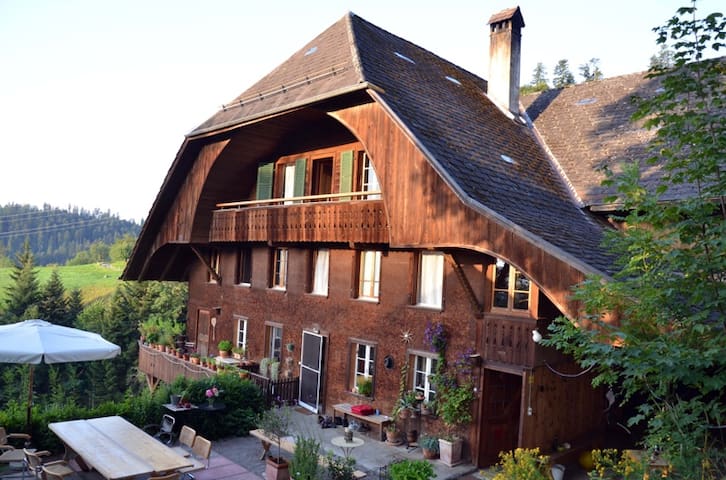 Vrijstaande woning op twee verdiepingen. Groot terras en ruime parkeergelegenheid House ligt op 30 meter van de hoofdweg - bereikbaarheid via Oschwandstrasse.
This was the best airbnb experience. Beat and Karen were so incredibly welcoming and just such heart-warming people. They were so personable and accommodating. The house is very comfortable, and clean, and our expectations were far beyond met. Staying in this house really gives you a feel for an authentic Switzerland experience; we got an amazing view of the stars and escaped the tourist crowds and city lights. Although this village is slightly away from the town, it is 100% worth it because it magnifies your experience to the true Switzerland -- outside of the stereotypical tourist attractions. I highly recommend staying here.
Juju
2016-07-03T00:00:00Z
We really enjoyed our time here. Beat and his wife were very good hosts. Our train was delayed so Beat picked us up at the train station in the village. We really appreciated that since we had a long day of travel. Beat was very helpful in giving us directions for a day trip through Switzerland. I would highly recommend staying here. We felt right at home. This couple is very welcoming and friendly. Thank you!
Chantelle
2016-07-19T00:00:00Z
It was a really good place to stay. Quiet, big bedroom and bathroom, all on the last floor of the house, that give impression to have our own place. Beat is really a good man, interesting, it was funny to talk with him about everything, especially about his travel experiences.
Gaël
2016-02-18T00:00:00Z
Nuestra estancia en casa viajeros fue estupenda. Los dueños son una pareja encantadora, su casa muy acogedora y bonita. 100% recomendable!
Sara
2016-03-31T00:00:00Z
Accueillants, sympathiques et arrangeants, j'ai très vite eu l'impression d'être avec des amis. L'habitation est comme décrite dans l'annonce et correspondait entièrement à ce que j'attendais, sale de bain bien entretenue et j'ai bien apprécié la terrasse le soir. Le site est agréable et relaxant on est très vite dans la nature et le calme, le soir, la chambre est fraîche et on dort très bien. A refaire.
J-F
2016-07-02T00:00:00Z
tip top und sehr unkompliziert
Nicole
2017-02-28T00:00:00Z
Accueil chaleureux et cadre sympathique à la campagne. Salle de bain individuelle et grande chambre confortable.
Jean-Baptiste
2016-05-05T00:00:00Z
Very pleasant stay, i feel very comfortable with Beat and his wife.
Petr
2016-05-14T00:00:00Z
Kamertype
Privé Kamer
---
Type woning
Huis
---
Geschikt voor
4
---
Slaapkamers
Riedtwil, Bern, Zwitserland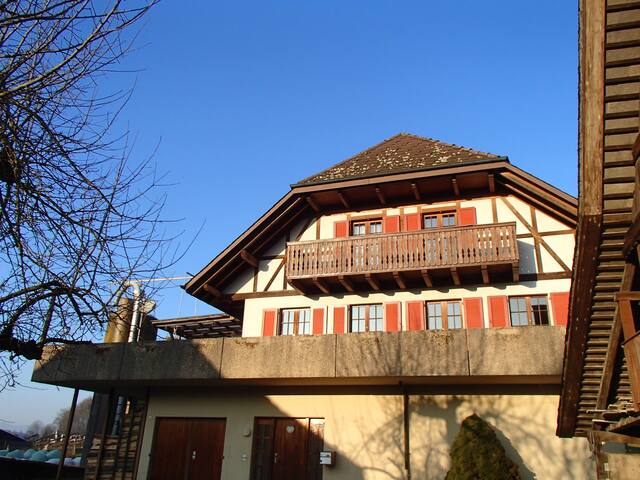 Gästezimmer mit separatem Eingang an sehr ruhiger Lage für max. 4 Pers. mit privatem Badezimmer, Einstellhallenplatz und Internet.
Das Haus ist sehr ruhig gelegen an leichter Hanglage, etwas abseits der Strasse und ist über einen Privatweg erreichbar. Das Gästezimmer mit privatem Badezimmer und separatem Eingang hat ca. 20m2. Vor dem Zimmer hat es einen gedeckten Sitzplatz mit Tisch und Stühlen. Ideal für Gäste, die Ruhe und Erholung suchen oder geschäftlich in der Region Bern unterwegs sind. Es gibt in der Umgebung viele Wanderwege, nach Bern hat man mit dem Auto 10-15 Min. Keine Küche! Kaffeemaschine, Wasserkocher, Mikrowelle und Geschirr sind vorhanden.
Das Haus liegt in einer ruigen Gegend, umgeben von Einfamilienhäusern und Villen oben am Hang in Boll-Sinneringen (Gemeinde Vechigen)
Kamertype
Privé Kamer
---
Type woning
Huis
---
Geschikt voor
4
---
Slaapkamers
Vechigen, BE, Zwitserland
1

–

18

van

32 Huizen te Huur
Voer datums in om de volledige tariefopbouw te zien. Er kunnen extra kosten zijn en er kunnen belastingen worden toegevoegd.