Gebouwd in een authentieke Istrische stijl met elementen van de moderne. Grootte van 28 m2, het bestaat uit een woonkamer gebruikt voor koken en slapen versierd met de typische Istrische open haard, en toilet met douche.
Studio appartement is gelegen in het hart van Istrië, ongeveer 30 minuten van Rovinj, van Porec en van Rabac, de belangrijkste toeristische centra in Istrië, zodat u na een lange dag genieten van de prachtige zandstranden van Rabac naar een avondwandeling langs de pittoreske Rovinj nemen .
Studio Apartment "CAMI" is gelegen in de buurt van Gračišće, een van de mooiste middeleeuwse stadjes, rijk aan culturele activiteiten. Naast de kerken, zijn er stadsmuren, de Forteca toren en de Renaissance paleis Salamon. In aanvulling op de culturele rijkdom kunt u uw vakantie te vullen met lange wandelingen of fietstochten door prachtige en ongerepte natuur. Vergeet niet om de gemarkeerde wandelroute St. Simon, 10 km lang te bezoeken, die door valleien en bossen naar de prachtige waterval Sopot.
Ontvangst was zeer hartelijk.We kregen brood met ham en een karaaf wijn aangeboden.
Hans
2016-06-19T00:00:00Z
We enjoyed in this cute little studio it just got everything you need!!Emanuela and her mother and father in law are great hosts and very helpful :) Thanks again!!RECOMENDED... i wish i comeback here in winter to try inside fireplace :D Hvala pozz još jednom and thank you for homemade bread and fritule we loooove them they were soooo tasty!GREAT HOST!! Mima&Marjan
Mima
2014-09-12T00:00:00Z
Emanuela gave good directions to her charming and beautiful apartment, and met us as we pulled in. The night was chilly and a fire was built in the fireplace, creating a warm and welcoming arrival. A bottle of homemade brandy, sweets and a bowl of grapes and apples from her garden were ready on the table, and we were set for a truly wonderful five days in gorgeous Istria.
Kris
2015-10-24T00:00:00Z
We couldn't have asked for more. The lead up contact with Emanuela was efficient and timely. The place was just as listed. The greeting with warm fire and delicious snacks was welcome. Everything in the cottage space was perfect. We utilised the outdoor space as well and felt very much at home here. We had read that Internet was tricky but we found it fine. Our contact with Emanuela during our stay was great too and her contact with a local restaurant for us helped in us having a delightful meal close by. We would recommend this space to everyone
Pat
2016-05-24T00:00:00Z
Great place to stay and relax for a couple of days! Loved the fireplace!! Emanuela is a great host!! Thanks a lot!!
Iain
2016-10-16T00:00:00Z
Emaneula's cottage is nicely tucked away in Istria, and when we pulled up, she was there ready to meet us with a great fire and some Croatian fritula and cherry brandy. The place is ideal for bouncing around the region, is it's not far to get to any of the bigger cities. The area is calm and relaxing, and the ambience is perfect for a little getaway. The only issue we had was getting a wifi signal -- but when you're at a place like this, that should be the least of your worries!
Jake
2016-03-30T00:00:00Z
The perfect place to spend some relaxing days in Istria! After a long trip, we were welcomed with a neatly set table, homemade food and wine ... Emanuela is a wonderful host and helped us out with many tips and information. Hopefully, that was not our last stay at this lovely cottage ...
Ina
2015-06-05T00:00:00Z
EXCELLENT RAPPORT QUALITE - PRIX !!! Nous avons passé 3 nuits chez Emmanuela, dans cette petite maison tout confort, très propre et bien au calme loin des touristes de la côte (mais assez proche pour pouvoir se rendre pour la journée comme nous l'avons fait : Porec & Rovinj, Rt Kamenjac & Pula). Emmanuela et son mari sont très gentils, très disponibles et discrets à fois ;) Nous recommandons sans hésiter leur logement !
Morgane & Matthieu
2016-08-14T00:00:00Z
Kamertype
Gehele woning/appartement
---
Type woning
Appartement
---
Geschikt voor
2
---
Slaapkamers
Gracisce, Istria, Kroatië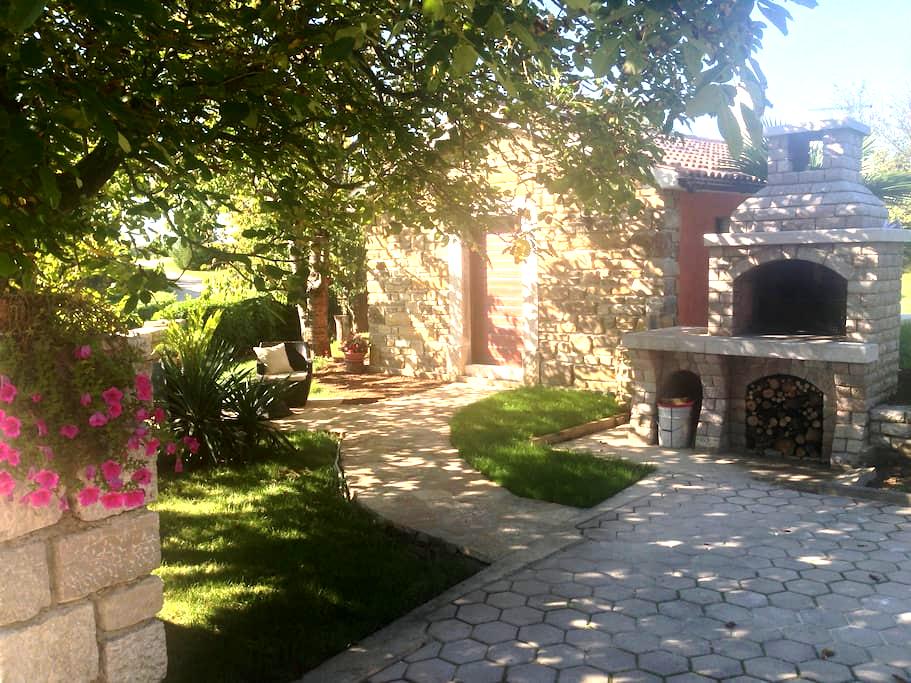 Zeer comfortabel, mooi ontworpen, houten meubilair, grote ramen met prachtig uitzicht op de tuin en toegang tuin. Mooi terras met dakterras, tuin en landschap uitzicht: de wijngaarden en heuveltop middeleeuwse stadjes, prachtig. Twee grote badkamers, keuken, echte houten bedden, geen banken. Lcd-tv, gratis WiFi. Alles nieuw! AANBOD: - Mogelijkheid om het ontbijt / lunch / diner bestellen - 4X4 Off Road Safari Tours met onze Vehicle - Guided Enduro Tours - Guided Quad Tours
Dit appartement is uniek omdat alle bedden zijn echt en groot, gemaakt van hout, is er geen banken at all! Het appartement is ingericht en zeer zorgvuldig ontworpen met veel stijl. De badkamers zijn groot en mooi, een uitgerust met wasserette wasmachine. In het appartement kunt u genieten van een lcd-televisie SAT. U zult genieten van grote ramen met uitzicht op de tuin en een terras met dak direct naast de tuin met groen uitzicht op de tuin en landschap, evenals op heuveltoppen en middeleeuwse plaatsen Pićan en Gračišće. Zeer rustige plek vestigden zich in kleine wijngaard dorp.
Klein dorp waar mensen doen de landbouw werken, kun je vaak horen tractoren of andere voertuigen, auto's niet zo vaak. Overal zijn velden, wijngaarden en tuinen.
Onze eerste vakantie in Kroatië is ons erg goed bevallen. Het huis is verdeeld in vier appartementen, maar wij hadden geluk dat we de enige bewoners waren, buiten Danielle en haar man, de ouders van Doris. Ons appartement was heel ruim en zeer compleet ingericht. Het terras en de tuin zijn fantastisch en het uitzicht is prachtig. Op een iets lager niveau is er ook nog een fijn zwembad. Danielle is een heel hartelijke en zorgzame gastvrouw. Ze heeft bovendien een paar huizen verder een gezellige konuba, waar je lekker kunt eten en kletsen met de rest van de familie. De locatie bood precies wat wij zochten. Rust in een mooie landelijke omgeving. Met alle highlights van Istrië met de auto binnen het uur bereikbaar. En ook een tripje naar de eilanden Cres, Losinj en Krk is zeer aan te bevelen. Wij danken de hele familie Floricic voor de fijne elf dagen, die wij daar door mochten brengen. Carla en Wil
Wil
2016-09-30T00:00:00Z
Très bon accueil de la part de Doris et de sa famille à notre arrivée et tout au long du séjour. Ils nous ont donné des renseignements sur les lieux à visiter. Nous avons bien apprécié la piscine.
Sophie
2016-08-07T00:00:00Z
Amazing, there are no other words to describe this location. Located very central in Istrie. All interesting places can be visited in less than one hour driving. The house has all what we need to relax. Very quite surrounding and a nice pool to cool down. We also enjoyed the dinner served and the nice talks. Thanks for the amazing experiance!
Steven
2016-07-13T00:00:00Z
Wir sind spät am Abend angereist und sehr freundlich empfangen worden. Die Familie hat uns bereits erwartet und uns noch ein köstliches Abendessen mit gutem Wein gerichtet. Die Beschreibung der Unterkunft war sehr gut und hat genau unseren Erwartungen entsprochen. Floricici ist ein idealer Ort um in Ruhe zu entspannen.
Anja
2016-06-24T00:00:00Z
Unser Uralub bei Doris und ihrer Familie war wunderbar und hat uns so gut gefallen, dass wir gerne wiederkommen. Alles hat gepasst, die perfekte Landschaft vor Ort, die unberührte Natur und die freundlichen Menschen haben sagenhaft harmoniert und wir haben uns direkt zuhause gefühlt. Selbst mit unserem Hund lief alles wunderbar und reibungslos. Egal ob man seine Ruhe möchte oder die Leute und Kultur kennenlernen will, ist man hier genau richtig. Danke für den tollen Urlaub. Es ist auf alle Fälle eine Reise wert! Beste Grüße Silvia, Patrick und Dog
Patrick
2016-10-23T00:00:00Z
We had a very warm welcome in Floricici, the place is very quiet situated surrounded by green hills. You will need a car here!! All major sites are within a 1-1,5 hour drive. We enjoyed all the fresh fruits and vegetables from the garden. Our daughter loved the company and the garden! We would love to come back some day!
Jeffrey
2016-09-09T00:00:00Z
Whoever you are, reading this review, deciding on your holiday, I'm pretty sure you need this experience in your life. We were only here for 3 nights but felt like family by the time we left. The apartment is lovely and spacious and well equipped, and the terrace looks out onto their garden and the mountains behind. It made us happy just to be there. But the real magic is with the Floricic family, who have a special gift for hospitality. They radiate kindness and generosity. Daniela, Doris's mother, cooked beautiful meals including handmade pasta and produce from their farm. We ate these meals in a little stone building over 500 years old. Other members of the family helped entertain and keep our glasses full of their own wine and liqueurs. Doris's brother, Dorian, was often in this role, and it was easy to converse with him in English, and a pleasure, too, with his good nature. I didn't get to meet Doris during this stay, but I spoke briefly to her on the phone, and she gave me a great book recommendation at my request. This is a quiet retreat in a tiny village whose name (Floricici) doesn't even show up on (SENSITIVE CONTENTS HIDDEN) Maps. From here, we were able to drive south to Pula and Rovinj one day and north to hilltop towns like Motovun and Buzet the next. Had we stayed longer, I'm sure we would have included a beach or two! We didn't get around to swimming in the pool, but it looked very inviting, and I noticed that it was placed to be quite private as well, which I appreciated. This was such a special experience we're grateful to have had, and I hope we can come again and next time hear Dorian's band play and meet Doris. I understand they are often fully booked, so if you're considering, don't wait too long!
Jessica
2016-09-16T00:00:00Z
Although we didn't get to meet Doris, we met her mother and brother who were incredibly kind and welcoming. The home and property were even better than the expected. The pictures don't do this place justice. It was a large spacious room, nice bathroom and kitchen, and the outdoor living space was incredible. Beautiful views of the garden and vineyards with views of the nearby towns on the hilltops across from you. What made the experience the most meaningful was the dinner Doris's mom made for us every night. She invited us into her home that their family has been in for over 300 years. She made us 4 course delicious meals with wine from their vineyards. (P.S. make sure you pay her as she doesn't ask for it, we gave 200 kuna per person per night.) We ate, drank, talked, and laughed for most of the evening. Such kind people. We were sad to leave them. I highly recommend staying at this home. It was a highlight of our trip. We can't wait to return!
Amy
2016-07-01T00:00:00Z
Kamertype
Gehele woning/appartement
---
Type woning
Appartement
---
Geschikt voor
5
---
Slaapkamers
Pićan, Istarska županija, Kroatië
Authentic istrian Villa with tavern situated in small town Gracišce in central Istria. Fully equipped house offering joy of istrian tradition. *Additional fees may be applied upon arrival (example: aircon, babycot, pets, etc...) YOUR GUEST FEE IS COVERED BY TRAVEL HORIZONT. YOU ARE WELCOME :) (the 10% discount is already calculated in all prices)
This beautiful Istrian house is ideal for a holiday with family and friends. Completely equipped, consists of two bedrooms, one bathroom,kitchen, dining room and living room, terrace with outdoor seating,outdoor fireplace, grill, parking in the grounds. Everything you need for your perfect holiday in Istria is here.
Gracišce is the centre of the Gracišce Municipality, which extends over 60 square kilometres and has a population of about 1500 people. The well preserved landscape has encouraged a few households to engage in agritourism. The traditional commitment to wine production, on the other hand, has given rise to an already popular annual Exhibition of the Wine of Central Istria. The beauty and singularity of cultural and historical monuments located in the preserved landscape are the greatest value of Gracišce. The town is visited by more and more visitors every day, not only for the Exhibition of the Wine of Central Istria, the St. Vitus Feast or the Festival of the Harmonica Zasopimo na organic. Many enthusiasts often come to this town to feed on the tranquillity inundating its streets lined with old architecture and converging at the tall bell tower and the parish church, both from the 18th century. Everyone will receive a gift here: from the lawn surrounding the church, visitors obtain probably one of the most beautiful views extending over the undulating landscape of Istria, merging into the peaks of the lofty Ucka Mountain.
Kamertype
Gehele woning/appartement
---
Type woning
Appartement
---
Geschikt voor
5
---
Slaapkamers
Gracisce, Croatia, Kroatië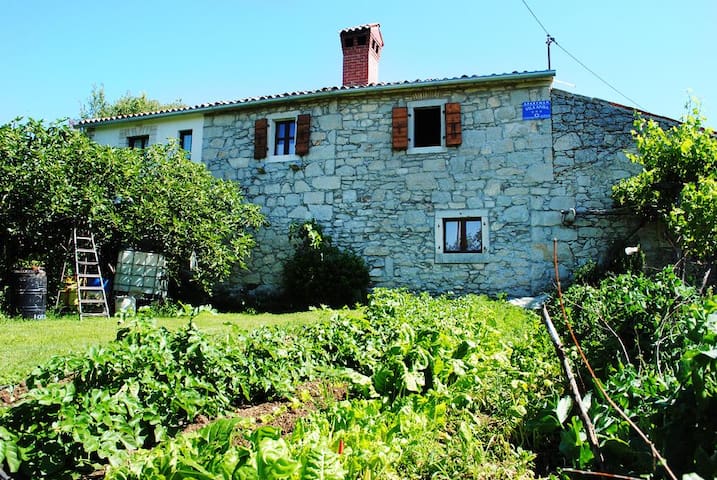 Peacefull place next to Pazin for a relaxing and quiet holiday away from traffic and noise. Comfortable apartment fits max 4 persons. Ideal place for family. *Additional fees may be applied upon arrival (example: aircon, babycot, pets, etc...) YOUR GUEST FEE IS COVERED BY TRAVEL HORIZONT. YOU ARE WELCOME :) (the 10% discount is already calculated in all prices)
The Family house surrounded by green, offers an apartment well maintained and ground floor positioned. Easy access for handicap people too. Offers a bedroom with double bed, a living room with a sofa for 2 extra persons, bathroom with shower/toilet and a equipped kitchen, private parking place and barbecue in the garden at guest use free. Maximum fits 2 + 2 persons. A perfect location away from traffic and noise , offering relax and peaceful stay. The apartment offers a bedroom with double bed, a living room with a sofa, bathroom with shower/toilet and a equipped kitchen, private parking place and barbecue in the garden at guest use free. Maximum fits 2 + 2 persons. A perfect location away from traffic and noise , offering relax and peaceful stay. Easy access for handicap people too.
Gracisce town is very distinctive with architecture and exciting history. Situated on a cliff overlooking Cepic fields, the former lake, offering a beautiful panoramic view of the surrounding hills, Ucka, Julian Alps and Dolomites. It is located about 8 kilometers east of Pazin, on the road Pazin Kršan-Vozilici. Gracisce is surrounded by lush greenery and rich architectural and natural heritage. The town preserved medieval urban structure and numerous cultural and historical monuments, while the legally protected town and the surrounding area offer a distinctive gastronomic and enological hapennings , with traditional dishes and wines from this region.
Kamertype
Gehele woning/appartement
---
Type woning
Appartement
---
Geschikt voor
4
---
Slaapkamers
Pazin, Croatia, Kroatië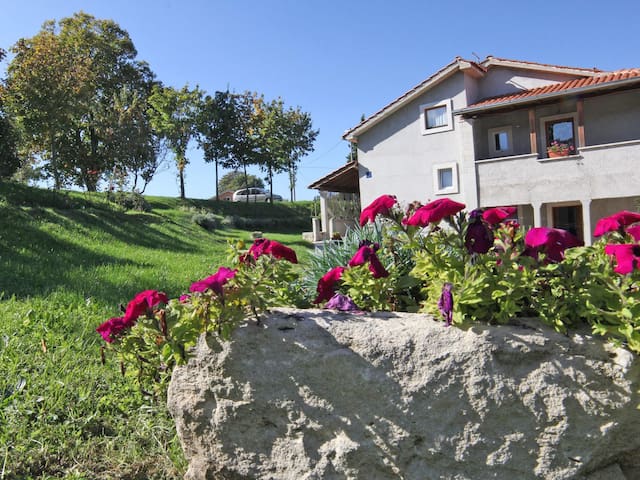 This cosy apartment in our family home has a separate entrance and garden terrace. Located just steps away from the charming medieval hilltop village of Gračišće, the apartment has lovely views of the countryside and rolling hills.
This is a comfortable apartment with one bedroom, a living / dining room (with an extra sofa bed which can sleep two more people), a fully equipped kitchen, bathroom with shower, and pleasant garden terrace. Guests are welcome to enjoy our garden.
This is a great place for nature lovers who enjoy long hikes in a peaceful, natural setting. This is also a good base to visit other destinations in Istria like Pazin (8km away), Labin (25km), Motovun (28km), Poreč (40km), Rovinj (45km), Pula (60km). The sea is only 30km away in Rabac!
Silvia is a perfect host. She helped us with planning our stay in Istria and was very friendly. The appartment is well-situated in a quiet area, beds are very comfortable and there is a lot of space. We wish we could stay longer. And Silvia is producing probably the best wine in Istria!
Bartosz
2015-08-08T00:00:00Z
La signora Silvia ci ha accolto con 2 bottiglie di liquore fatto in casa davvero buoni. Casa in ordine e pulita. Consiglio vivamente. Ottima soluzione per fare tappa arrivando dall'Italia.
Marco
2014-08-17T00:00:00Z
You feel welcomed like family while still having space and privacy. They are very nice people, offering plums from their garden and home made local liquor. The town is tiny and charming with hiking in the area. It is close to Motovun, where we had some lovely meals. And it is close to rovinj where we went swimming in the Adriatic.
Flora
2016-07-17T00:00:00Z
Leggendo la guida siamo stati attratti dall'entroterra istriano, un susseguirsi di colline costellate da uliveti e intensa vegetazione, e borghi in pietra a spezzare i dolci pendii; in particolare ci avevano colpito le poche righe dedicate alla piccola e meravigliosa Gracisce...ebbene le nostre aspettative non sono state deluse, alloggio compreso. La casa è a piano terra, pulita, comoda e accogliente, con tanto di indicazioni sulla strada principale, inoltre posizionata in un punto strategico per chi è interessato ad esplorare l'entroterra dell'Istria. La signora Silvja ci ha accolti con un sorriso e un succo fresco e dolcetti per darci ristoro dopo il viaggio in moto, e anche se la padronanza di inglese e italiano non era perfetta, ci siamo capiti senza problemi; si è resa disponibile per darci qualche dritta e ci ha dato subito una mappa dell'istria e qualche opuscolo informativo; infine ci ha regalato una bottiglia del suo liquore fatto in casa: super! Per niente invadente ma molto gentile, prima che andassimo via si è interessata a come stava procedendo il soggiorno, insomma è stata una padrona di casa esemplare, e consiglio a chiunque sia amante del buon cibo, della natura e del paesaggio bucolico di fare tappa in istria, e soprattutto di non perdersi Gracisce e la comoda casa di Silvjia!
Greta
2015-07-25T00:00:00Z
Nous avons été très bien accueillis. Ils nous ont très bien aiguillés pour une randonnée pédestre. Le confort, la propreté et les dimensions de l'appartement étaient plus que satisfaisants. La gentillesse de nos hôtes étaient au rendez-vous. Ils nous ont fait déguster leurs spécialités culinaires locales. Bref, que du bonheur !
Carole
2015-04-30T00:00:00Z
Appartement au frais, idéal en plein été. Tout y est. Hôtes particulièrement charmants, prêts à nous conseiller pour les balades et nous offrent même une bouteille de leur propre vin. Village mignon, à visiter rien que pour le panorama.
Candice
2016-07-19T00:00:00Z
Sylvia was very welcoming host. She greeted me with a bottle of krappa and home made sweet. The place is very clean and comfortable. It is a great place to explore the heartland of Istria. You can really experience the real life of people here since there are barely tourists around. It is only 35-45 minutes away from the coast. I highly recommend this apartment.
Prem
2016-09-06T00:00:00Z
Silvia is a very nice host. She welcomed us with homemade grappa and wine and gave us a lot of information about Istrie.
Carin
2014-07-16T00:00:00Z
Kamertype
Gehele woning/appartement
---
Type woning
Appartement
---
Geschikt voor
4
---
Slaapkamers
Gračišće, District Istrië, Kroatië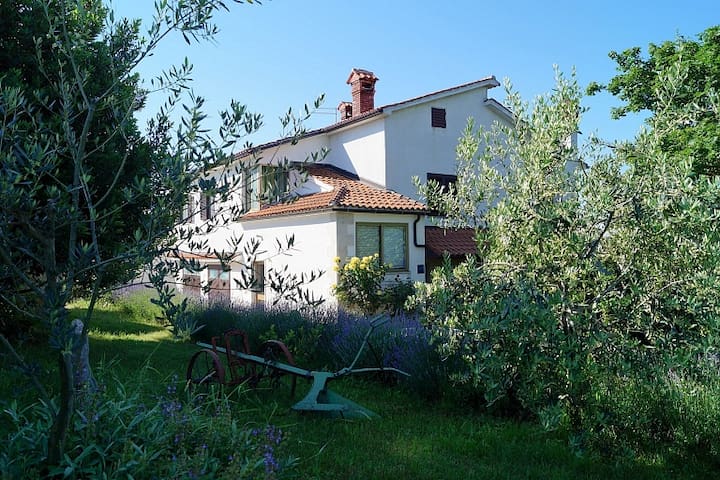 House 7134 in the town of Gračišće, Središnja Istra - Istria contains accommodation units of type Apartment (1) and is 20000 m away from the sea. A beach is nearby (pebble). The house is categorized as "Facilities for peaceful vacation". You will be the house's only guests during your holiday, as there are no other rooms or apartments. Your hosts will be present in the house during your holiday. The house owner is under no obligation to accept additional persons and pets that were not stated in the reservation request and it is necessary to report them in advance.
Apartment can accommodate 4 guests. Beds are situated in 1 sleeping rooms, but also in the dining room, within 48m2. Food can be prepared using barbecue which is shared with other guests too. Apartment has neither balcony nor terrace. INCLUDED IN THE PRICE: tourist tax, final cleaning, central heating, parking, internet, laundry, iron, ironing board, hairdryer. OPTIONAL ADDITIONAL COSTS: air-conditioning (€7.00 per night), additional bed (€7.00 per night). The availability of additional services for your chosen dates of stay, as well as their prices (if none are listed) must be checked ahead of time. Any additional services not shown in the price calculation are payable directly to the property owner and only if used by the visitor. AMENITIES Courtyard (100m2, Sitting area), Parking lot (Number of parking spaces: 2, Distance from the house: In the courtyard), Barbecue (shared), WiFi Internet, Laundry service, Hairdryer, Iron, Ironing board LOCATION AND ACCESS Main road between the property and the beach Car access possible: Yes The facility is situated in quiet surroundings The property isn't surrounded by greenery DISTANCES Sea: 20 km Beach: 20 km Supermarket: 170 m Restaurant: 300 m Emergency room: 7.5 km Post office: 280 m Disco: 7.5 km Diving Centre: 30 km Pharmacy: 7.5 km Internet cafe: 7.5 km Exchange office: 280 m Tourist info: 7.5 km No of people can fit in is 4
Kamertype
Gehele woning/appartement
---
Type woning
Appartement
---
Geschikt voor
4
---
Slaapkamers
Gračišće, Istarska županija, Kroatië
The address: Marcani 130.B (PHONE NUMBER HIDDEN) Gračišće, Istra, Croatia Location: (PHONE NUMBER HIDDEN)
The apartment has 50 m2. It has 1 bedroom with double bed, the living room with 1 big couch for 2 persons and 1 small couch for one person. It also has one bathroom and a kitchen with all utensils needed. We provide bed linen and towels. Outside the app, on the terrace there are benches, a big table and a sunshade. App is situated on the back side of the family house and on your disposal is a big parking. We have a wine cellar and nobody lives around us in a circle of 1 km. It´s possible to taste wines and other homemade products-olive oil, spirits, cheese, prosciutto, juices and marmalades and of course you can pick and eat all the fresh seasonal organic fruits and vegetables grown in our garden. We are situated on the main road which connects towns Pazin and Labin and it`s really easy to find us. The closest restaurant and the bar are 1 km far, and the nearest pizzeria is 3 km far. Pazin is nearest town 7 km far, less than 10 minutes driving(post office, bank, shops etc.). We have no public transit. The distance between our apartment and sea resorts in Istria is cca 40 minutes - Poreč, Pula, Rovinj, Rabac, Briuni Islads etc. Our apartment is situated in the vineyard and you can walk around without disturbing anyone. It´s a nice forest on the back side of the apartment and the Path of Saint Simeon if you like walking in the nature. You can also visit a medieval place Gračišće.
Beautiful apartment with a friendly and enthousiastic host, Iva! She showed us their wine cellar and we had a great wine tasting evening with her. From the apartment you have a beautiful view on the vineyard and on the town Gracisce at the top of the hill on the horizon. From this spot it is easy to visit towns like Rovinj, Pula, Labin and Rabac.
Marit
2014-07-18T00:00:00Z
Iva's place is exactly as described, the view from the door is vineyards everywhere and the picturesque village of Grasice. Her parents, who greeted us there, are really friendly, hospitable and generous enough to provide us with fresh fruit from their orchard and eggs, that were greatly appreciated by our children. Wonderful spot in the country and a good location to explore Istria. The house itself is very well equipped.
Michail
2015-08-24T00:00:00Z
Iva is a wonderful hostess. She is always there to answer questions. They also have wonderful fruit,vegetables and of course wine! We hade a great time exploring Isteria.
Gayle
2013-08-02T00:00:00Z
Iva is a very friendly host. So are her family and dogs. When we need some information Iva is always helpful. We bought vegetable and fruit, wine from her which I liked. The apartment is clean and nice. The win yard is also very nice and quiet. The Internet is very week but everything else is good!
Jessica
2016-08-10T00:00:00Z
Vina Bazon was a wonderful holiday rental. The suite of rooms matched the description and pictures perfectly - in fact, the rooms and the farmyard surroundings were even better in real life than on the website. Our hosts were very helpful and welcoming, always giving us fruit and vegetables from the farm. We highly recommend the wine tasting! Vina Bazon was also perfectly located for all the sights in Istria - Pula, Rovinji, Porec and Rabac were all within 45 minutes' drive.
Katherine
2015-08-07T00:00:00Z
An ideal place to stay on holiday. The Bazon family welcomed us warmly and the apartment and its setting is perfect. Each morning, the sun rises over the vineyards right in front of the door to the apartment. We had breakfast outdoors on the table surrounded by fruit trees. They also make excellent wine and a beautiful wine-tasting room and balcony where you can sit and relax in the evenings. Located near Gracisce village, it is ideal for exploring other places in Istria. Or you can just stay in the apartment and on the vineyards and have a great time. Wonderful stay, highly recommended. Thank you to Bazon family!
Amrita
2014-08-26T00:00:00Z
We had a lovely stay at Vino Bazon! Iva was very friendly and easy to communicate with. The apartment is spacious, very clean and comfortable with a nice view of the vineyard. We were able to cook several nice meals in the well stocked kitchen. There is a washing machine and clothes (URL HIDDEN) handy when you are traveling. We really enjoyed wine tasting with Iva's brother Matej who runs the vineyard (great wine at a great price), and met her parents. There are four friendly dogs and roosters who steal the grapes! This is a grest central location from which to explore Istria. I would highly recommend staying here.
Ruth
2014-09-19T00:00:00Z
апартаменты в самом винограднике семьи Базон! очень красиво! тихо! можно самому увидеть как растет вино и его попробовать! мне больше всего понравилось мерло! все чисто, красиво! все работает! вайфай правда работает слабо :), больше брал на улице за столом где пили вино:), но это не мешало! хозяйка и хозяин очень приятные люди! нам понравилось и мы бы с удовольствием еще раз та остановились! apartments in the family vineyard Bazon! very nice! quiet! You can see how to grow wine and give it a try! I liked merlot! everything is clean, beautiful! everything works! vayfay really works :) little more took to the streets at the table where they drank wine :), but that did not stop! hostess and host very nice people! we liked it and we would love to once again she stopped!
Vladimir
2015-06-07T00:00:00Z
Kamertype
Gehele woning/appartement
---
Type woning
Appartement
---
Geschikt voor
5
---
Slaapkamers
Gračišće, District Istrië, Kroatië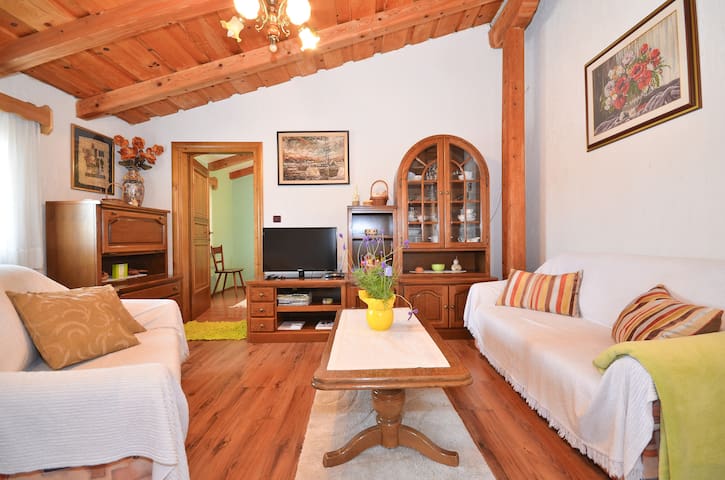 Holiday house in Istria with 4 bedrooms, 3 bathrooms, aircondition, wifi, panoramic view, enclosed property with swimming pool, terrace with garden furniture, barbecue, playground. Pets are not allowed!
Holiday home for 6-8 persons with total living area of 200 sqm on two floors. On the ground floor there is a kitchen, dining room and living room with sitting area and access to a covered terrace, one bedroom with double bed and two shower/toilets. On the first floor there are three bedrooms , one with a french bed , private toilet and terrace, one with a double bed and one with two single beds, bathroom /toilet approachable from the hallway.
Villa Andretti is a situated in an autentic Istrian village in the green innland of Istria, about 5 kilometers from the old picturesque town Gračišće and approximately 27 km from pristine eastern coast beaches. The house was built in 2011 and is situated on its own enclosed garden of 800 sqm with maintained lawn, where the guests have at their disposal a private parking for 3 cars, an outdoor swimmingpool of 32 sqm with sun loungers, swings for children and a covered terrace with sitting set. Residents of the village are mostly engaged in agriculture so it is possible to see the numerous domestic animals such as authentic Istrian cattle, donkeys and horses, chickens and ducks which can be especially fun for the children. It can be said that holiday in this house represents a real village experience. The home owner does not live on the property.
Kamertype
Gehele woning/appartement
---
Type woning
Appartement
---
Geschikt voor
8
---
Slaapkamers
Gračišće, Istarska županija, Kroatië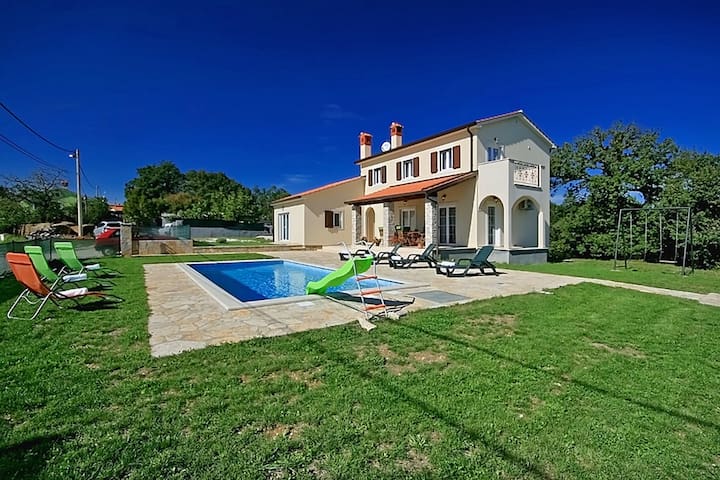 We offer our guests a first category apartment for 3+2 persons. Facilities: living room with sofa (convertible to a double bed), satellite TV, air-conditioning; kitchenette with stove/oven (gas/electricity), coffee machine, fridge/freezer and utensils; one large double room (one extra bed available); bathroom with shower and toilet; door to the terrace; safe parking place in the yard. Our estate spreads over 35 hectares of land located in the Municipality of Gračišće. The house and farming facilities are situated near Gržići, a village with only 3 families and just a few house numbers. Our farm can be found at the end of the village and is separated from the rest of the village offering the possibility to be separated from everything even though everything is nearby... The villagers are occupied with agriculture or small craftsmanship ensuring your stay is peaceful and safe. The farmhouse «Stari kostanj» (Old Chestnut) got its name after an old chestnut tree which used to be a protected natural monument until struck by lightning during a stormy night. The tree caught fire and it took three days to put the fire out. After some years our old tree started to grow again and it still lives and holds ground. Come to meet it, let it meet you and become a part of its long life. We felt respect for it and made it a part of us - so much that it became a name and symbol of our house and our family. Our greatest love are our numerous animals, the nature that surrounds us all, vines and wine, the fragrance of freshly baked bread and dried prosciutto on the table. Everything blends into our primary activity - agriculture - which involves the whole family. Family is our greatest love and our greatest wealth - come and become a part of our family for some time, work with us, enjoy with us... Our greatest pride is our cows - the indigenous Istrian Podolian cattle, known for their strength and tameness. Some time ago the oxen called boškarin were used in most of the farming jobs - today they have been replaced by modern mechanisation. We are proud to have joined the campaign aimed to preserve this indigenous variety of cows and old Istrian traditions. Apart from cows, on our farm live horses, sheep, a billy goat named Franc, hens, geese, pheasants, conies, dogs and cats. What is even more important is that here you can find peace, shut your mind off, enjoy the view, breath in fresh air, eat healthy organic food - grown and prepared on our farm, drink wine whose production you can follow from the vineyard to the table, sleep in a detached house, wake up happy in the morning...
We had a great holiday with our 4 small children here, beautiful place, far from city and noise, just nature, the kids loved it too!Hosts are lovely people, good food but do not forget this is rural so it comes with bugs, if you don't like grasshoppers and crickets crawling up your skirt or tasting your dinner ;) or have problems with scorpions maybe choose more of a city place, we were very excited to see so many scorpions and they are protected in Istria so please DO NOT KILL them if you see one in your bedroom, just take them out!they are harmless!!The dog is cute and kids loved to feed the rabbits every day, so we really liked it there and hosts made us feel very welcom!Also it is easy to visit all those cute little towns from here, the sea is also just half an hour drive away!i just hope this place never gets commercialised! It should stay as it is!
Bori
2016-08-19T00:00:00Z
Siendo sincera no volvería, el lugar en sí es bonito pero la casa está muy dejada, sucia y tiene chinches y pulgas en las camas .
Jenny
2016-09-05T00:00:00Z
the place was very confortable and quiet, perfect for 5 people! we ate typical istrian food in their restaurant and it was delicious ! we only met petar's son, Elvis, and he have been very nice with us and we fekt like home! we'd love to return there!
Sofia Virginia
2016-08-06T00:00:00Z
We had a really great time at Petar's house. Kristijan and Elvis, Petar's boys, took good care of us. They are two really friendly guys ! They have amazing homemade farm produces and a marvelous natural white wine. Additionally we have a special thought for Flash (or Flesh I'm not sure) the farm dog, he really loves to be pet. We do recommend !
Damien
2014-08-16T00:00:00Z
We had a great stay! Our children absolutely loved the farm. My daughter was crying when we left, so we had to promise her that we will return. They give us great food and wine which were all produced on the farm.
Ken
2015-07-28T00:00:00Z
Petar's guesthouse was more than my expectation. We had a completely private spacious house built in antic style. Everything was there for travelers. My daughters loved many animals in their farm. Also their lightning burnt chestnut was real and amazing to see from its inside. More of all, I loved peaceful scenes around Petar's farm. I heard that they have managed this guest house over 15 years which explains how everything went so smoothly. If you are driving through Croatia and need a stop to take a good rest, then Petar's house might be perfect for you.
Pil Ho
2013-07-22T00:00:00Z
Spędziliśmy świetny czas. Okolica jest piękna. Gospodarz (Elvis) jest bardzo pozytywnie nastawiony i przyjacielski. Częstował nas swoim winem, oliwą i innymi lokalnymi pysznościami. Polecamy zdecydowanie!
Radek
2016-08-05T00:00:00Z
Great place to stop out in the countryside. Must have a car! Cute little cottage and a nice host..
Dale
2013-08-18T00:00:00Z
Kamertype
Gehele woning/appartement
---
Type woning
Appartement
---
Geschikt voor
5
---
Slaapkamers
Gračišće, District Istrië, Kroatië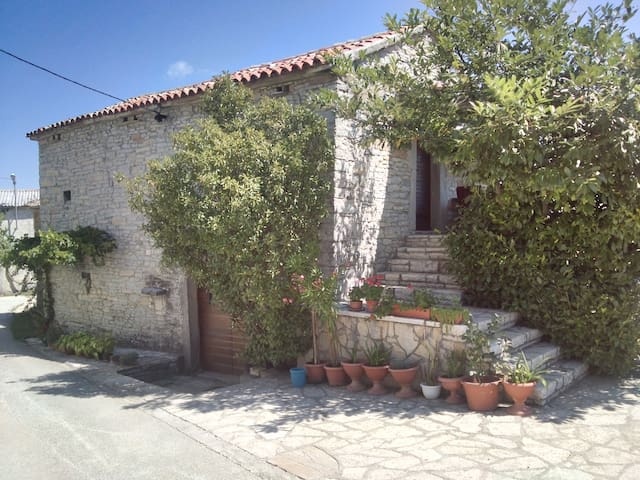 Što se nalazi u blizini: lijepe panorame, restorani, and sadržaji i aktivnosti za obitelj.
Kamertype
Gehele woning/appartement
---
Type woning
Appartement
---
Geschikt voor
6
---
Slaapkamers
Gračišće, Istarska županija, Kroatië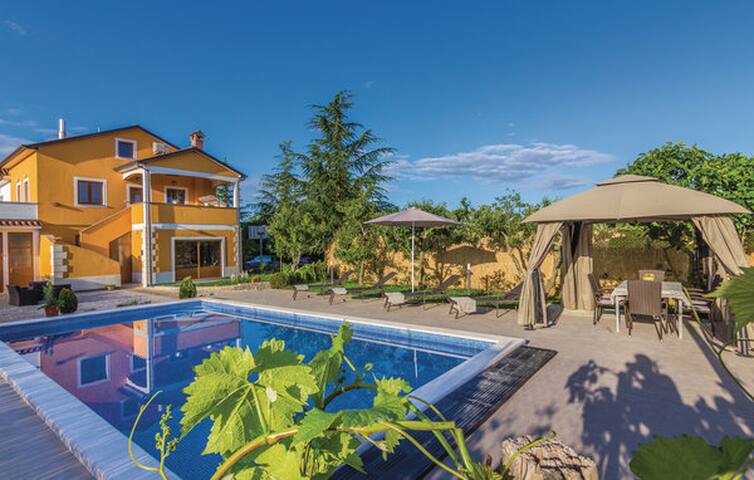 Leuk appartement in het hart van Istrië met een groot terras, de tuin en de wijngaarden uitzicht en groot zwembad. Een kamer, keuken en woonkamer met grote sofa, leuke badkamer, Airconditioning, TV, broodrooster, magnetron, gratis WIFI. Mooi terras met dakterras, tuin en landschap uitzicht: de wijngaarden en heuveltop middeleeuwse stadjes, prachtig. Gastheren heten u welkom in Family taverne met wijnstokken! AANBOD: - Mogelijkheid om het ontbijt / lunch / diner bestellen - Off Road Safari Tours met onze Vehicle
Tal van outdoor ruimte, natuur, mooi landschap, in de buurt is Sopot waterval. Groot zwembad, interactie met de gastheren, gastronomie en lokale Istrische keuken, grote kans om de mooiste plekken in Safari Tours te zien! Zeer rustige plek vestigden zich in kleine wijngaard dorp.
Klein dorp waar mensen doen de landbouw werken, kun je vaak horen tractoren of andere voertuigen, auto's niet zo vaak. Overal zijn velden, wijngaarden en tuinen.
L'appartamento di Doris e immerso nella natura con una cascata a 2 minuti a piedi da casa, tutto e stato bello, c'è anche un giardino, una piscina, la casa era pulita. Una bella esperienza. Se vi piace stare in mezzo alla natura vi consiglio questo alloggio, vi piacera sicuramente. Ottimo anche per chi fa downhill con la bici o moto cross.
Linda
2016-04-06T00:00:00Z
Nous avons passé une seule nuit chez Doris (étape lors de notre retour en France). Un veritable bol d'air pur. Le lieu est tres agreable en pleine nature, avec un jardin magnifique. Une grande piscine tres agreable . Daniella la maman nous a accueilli et malgré la barriere de la langue a tout fait pour communiquer avec nous et nous faire sentir a l'aise. Nous avons passé une nuit tres agreable. L'appartement est tout petit mais pour une nuit ca ne nous a pas derangé. Nous avons passé beaucoup de temps dehors. Merci beaucoup a Doris et a sa maman pour leur accueil!!
Céline
2016-08-22T00:00:00Z
We had a wonderful holiday in Istria. The apartment is in the heart of the beautiful Istrian countryside. The apartment was perfect for us (two adults and two kids) with great views up to the medieval hilltop town of Pican. The pool is fantastic and kept the kids happy. We met Doris twice, she is warm, friendly and full of local knowledge. Her mother Daniella, who lives down the lane is the star of the show. She runs a Konoba, which is an informal dining experience in her home. Great food, their own wine and grappa, not to be missed. We would rarely go back to the same place but may have to change our mantra.
G
2016-08-03T00:00:00Z
This is really a nice starting point for exploring Istra. Although we didn't meet Doris, her mom was really nice so we felt like we're at home. Apartment is easy to find if you follow detailed instructions. We had a nice time and also a nice chat with Floricic family. I can recommend this place for anyone who needs a place to stay in this part of Istra, it's well located for little road trips.
Ivan
2016-06-12T00:00:00Z
Nice and clean apartment. Beautiful garden and pool. Other apartments in same building so a bit noisy. Would stay here again!
Ingeborg
2016-08-28T00:00:00Z
Fun little up and down countryside roads to get to Floricici, basic and clean apartment, cosy and peaceful backyard with a swimming pool and great views. Hospitable, friendly atmosphere
Boris
2016-03-31T00:00:00Z
Kamertype
Gehele woning/appartement
---
Type woning
Appartement
---
Geschikt voor
4
---
Slaapkamers
Gračišće, Istarska županija, Kroatië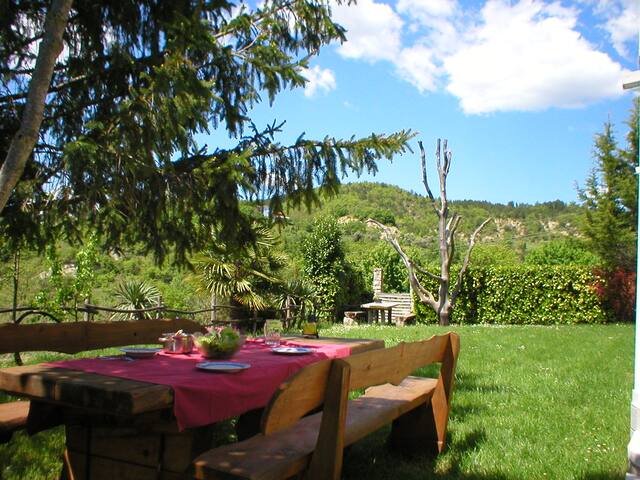 Mijn plaats is goed voor koppels, solo avonturiers, zakelijke reizigers, families (met kinderen), grote groepen, en harige vrienden (huisdieren).
extremely pleasant and competent people, wonderfully peaceful environment. only compliments :) Greeted by her parents who gave us local schnaps bottle for new years eve.
Luka
2017-01-02T00:00:00Z
Kamertype
Gehele woning/appartement
---
Type woning
Appartement
---
Geschikt voor
6
---
Slaapkamers
Pićan, Istarska županija, Kroatië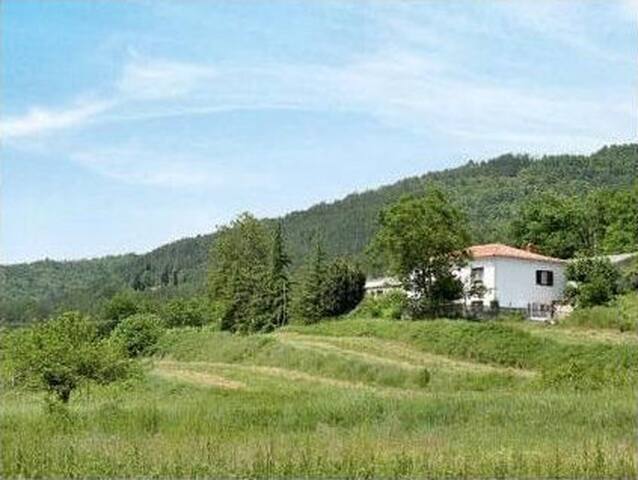 My place is close to UČKA, parks, great views. My place is good for couples, families (with kids), and big groups.
Kamertype
Gehele woning/appartement
---
Type woning
Appartement
---
Geschikt voor
7
---
Slaapkamers
Pićan, Istarska županija, Kroatië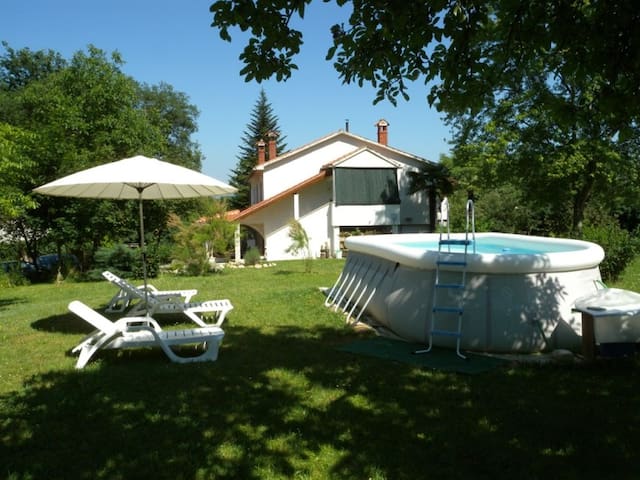 A beautiful, historical renewed apartment decorated in the style of the end of 19th , situated in the center of Pićan. Apartment for two persons, double bed with bathroom, kitchen, fireplace and terrace. Spend your romantic holidays and enjoy the beautiful countryside, a lot of bike and trekking roads, historical monuments of Pićan, relax in peace and quiet and a glass of excellent wine in the terrace. (URL HIDDEN)
Pican ist ein Dorf in einer exklusiven Lage auf der Spitze eines kleines Berges, hoch über der Ebene. Es ist vergleichbar mit den bekannteren Bergdörfern wie Motovun oder Groznjan, aber touristisch fast völlig unentdeckt. Deshalb ist Igors Apartment auch herrlich ruhig und unaufgeregt, obwohl mitten im Dorf, am zentralen Platz. Das Apartment ist sehr geschmackvoll und stilsicher renoviert worden und es riecht fein nach dem neuen Holz. Renovierung und Einrichtung werden dem historischen Ambiente des Ortes gerecht, alles sehr charmant, ohne ein Museum zu sein. Igor ist eine sehr symphatische, zugewandte und grosszügige Person. Sein Empfang war ausgesprochen herzlich, dabei entspannt und gastfreundschaftlich. Beim weiteren Aufenthalt lernten wir ihn als sehr unkomplizierten, pragmatischen und immer hilfsbereiten Menschen kennen. Besser geht es nicht. No complains, just compliments Pican is a village in an exclusive location on the point of a small mountain. It is comparable with the more known mountain villages like Motovun or Groznjan, but touristically almost absolutely undiscovered. Therefore, Igors house is very quiet and unexcited, although in the middle of the village, on the central place. The cottage is very tasteful and has been renovated stylistically confidently and it smells delicately of the new wood. Renovation and equipment do justice to the historical ambience of the place, everything very charmingly, without being a museum. Igor is a very likeable, approachable and generous person. His welcome was really kind, relaxed and hospitably. With the further stay we got to know him as a very uncomplicated, pragmatic and always helpful person. As good as it could be. No complains, just compliments Thank you, Igor
Nikolaus
2016-08-19T00:00:00Z
Le logement correspond parfaitement à la description avec une magnifique position sur la placette au cœur d'un hameau typique et charmant
Reine
2014-07-09T00:00:00Z
Kamertype
Gehele woning/appartement
---
Type woning
Appartement
---
Geschikt voor
2
---
Slaapkamers
Pićan, District Istrië, Kroatië
Cozy apartment, surrounded by a garden, peace and greenery, five minutes walk from the city center.
Apartment"Garden" is located in family house (on the ground floor), surrounded with flowers and greenery - ideal place for enjoyment, easy going and stressless holiday. Apartment (40 m2) furnished with love and passion, with bedroom, living and dining room, kitchen, toilet and bathroom. Kitchen is equipped with all accessories and utensils, ready to be used and already having all small necessary items such as salt, oil, sugar and similar sometimes being a hassle on arrival. Unfortunately, we cannot provide you with breakfast since my working hours start early morning till late afternoon, but can advise you with all necessary info where and how you can find great supplies or eat local food and specialties. Pazin is a little city/ village few minutes walking distance where you can walk to the open market, grocery store, or bakery for a fresh morning bread, or just enjoy coffee reading papers in a local and very friendly and safe environment.
The neighborhood is family and kids friendly. The courtyard is quiet and gives you privacy. From the bus and train station you have 5 minutes easy walk.
Ik voelde me direct welkom. Sonja was heel vriendelijk en aardig. Het huisje was heerlijk licht en zomers, precies zoals op de foto. We hadden beschikking over een kleine keuken, slaapbank, tafel en stoelen, tv, zacht bed, wc, klein bad/douche en een parkeerplek en we mochten gebruik maken van de tuin met tuinset. Pazin ligt in het midden van Istrie, dus we hoefden nergens langer dan 40 minuten te reizen met onze eigen auto. Ze heeft een lieve hond, die heel erg op zichzelf is, en een hele lieve kat die af en toe een aai komt vragen. Er was hier en daar wel wat kapot in de woning, lamp, wc-rolhouder, muggenhor, vriezertje; kortom allemaal kleine dingetjes, niks om je aan te ergeren, het is tenslotte vakantie. Het huisje is al iets ouder, maar ik vind echt dat Sonja het beste van de woning heeft gemaakt; leuke zomerse lichte inrichting. Je voelt je er gewoon thuis, geen hotelgevoel, maar een echt huisje. We verbleven er 2 weken, we mochten haar wasmachine gebruiken, dat was heel fijn. Omdat het zo vreselijk warm was, 35 - 40 graden, had ze voor onze komst een waaier en antimuggenapparaatje aangeschaft, super aardig. Wij zijn zeer tevreden!
Moniek
2015-07-27T00:00:00Z
We can only warmly recommend Sonja's house! She is so friendly and the place is really comfortable and very sweet. We felt at home and at ease in the middle of the flowery garden. Sonja is very kind and open and it was nice to meet her. Thanks you Sonja for sharing your house and garden and tomatoes!
Anne
2015-07-31T00:00:00Z
I had a wonderful stay in Pazin with Sonja. I felt like part of the family and the apartment is fantastic. Very comfortable bed, great little kitchen and lounge, and a wonderful little outdoor terrace shaded by grape vines where you can sit and enjoy Sonja's beautiful garden. Sonja even grows some fruit and vegetables and you might be lucky enough to try some! Pazin is located about 30-40 minutes max from places like Rovinj, Pula and Porec. I took the public buses to go on day trips but it would be even better if you had a car. I really enjoyed seeing other parts of Istria and returning to the peace and quiet and green of Sonja's place at the end of the day. Thanks again for a wonderful time. I will be back!
Amber
2014-07-20T00:00:00Z
Sonja was a great host, she was very helpful and gave us good tips. The apartment worked well for our needs and it was to our expectations with regards to the price. It was clean and had all the cooking essentials in the small kitchen. The living area is cute and fairly spacious compared to other apartments we stayed in during our trip to Croatia. I The apartment is well located to visit different parts of Istria. The outdoor sitting area is very quaint. Sonja even offered that we have some of the delicious prunes and grapes that grow in her garden!
M-H
2015-09-23T00:00:00Z
Sonja and her son Nikola were fantastic. Not only were they great hosts and conversationalists, they let us know what things in Pazin were the best to see and do. My parents and I were very impressed and pleased with them and their beautiful place (and their wonderful dog Max). Great job guys!
Paul
2013-06-22T00:00:00Z
Sonja est une merveilleuse hôte! Elle nous a accuillies chaleureusement en nous offrant des légumes frais de son jardin et une bière! L'endroit est calme et son jardin est paisible pour y prendre le petit déjeuner. Nous recommandons vivement un séjour chez Sonja!
Marjolaine & Kimberley
2015-07-16T00:00:00Z
Very welcome
Snjezana
2016-09-02T00:00:00Z
Sonja is a very good host and interested in her guests. The appartment is full of caracter with lots of atmosphere. Small kitchen, but has everything you need, except a tap with hot water. Small bathroom with shower, but no washing basin. We loved our stay especially because of the atmosphere. Would highly recommend this appartment.
Cathelijne & Onno
2016-05-18T00:00:00Z
Kamertype
Gehele woning/appartement
---
Type woning
Appartement
---
Geschikt voor
4
---
Slaapkamers
Pazin, District Istrië, Kroatië
The apartment is located in the very center of Pazin, near the bus station. Our suite will offer its guests full comfort and pleasure of staying like at their own home.
Manifestations in/or near Pazin: - Istrakon (PHONE NUMBER HIDDEN) - Gračišće Wine Festival - 31.05.2017. - WINE DAY - Open Day of wine cellars and taverns in centar of Istria - 05.-22.07.2017. TRAD in ETNO FESTIVAL - 13.-20.08.2017. - Festival seven days of creation. Attractions: ZIP LINE main attraction in town - award winner for 2016 Cities near Pazin: - Motovun - 20 km - Grožnjan - 25 km - city of art - Gračišće - 4 km - Hum 30 km - the smallist city in the world - Draguć - 20 km
Nensi was amazing and our stay could not have been better. Everything was perfect and the only problem was we only had 1 night here. The apartment was immaculate and had everything we needed. Thank you Nensi your beautiful.
Kate
2016-08-29T00:00:00Z
This was a truly wonderful experience and I would highly recommend staying here! Not only is the apartment a delight but the family are genuinely lovely people. Although Nensi and family were on holiday at the time all communication throughout our stay was quick and easy. We were welcomed by her sister and brother-in-law who went out of their way to make us feel at home. As well as some homemade gifts we were greeted with some fresh herbs and vegetables from their garden! The following day they helped us plan a trip to the Istrian towns Groznjan, Oprtalj and Motovun and as we didn't have a car they gave us lift to and from the towns!! Through this experience we were able to get to know each other well and we learned so much about Croatian life. Bikes are included with the apartment too and Pazin is very easy to get around. Also you don't need to lock them up as they are completely safe unlocked in the area!!! We ate at Hotel Lovac one evening and enjoyed the spectacular view across the gorge. My only regret is that we didn't have more time to spend getting to know Istria and relax in the lovely apartment. It is just like Tuscany but without the hordes of people. Thank you Patricija, Jan, Mia and Nensi for making our stay so unique and memorable and we hope to come back one day soon!
Margaret
2016-08-10T00:00:00Z
A warm welcome, people were just very kind and (URL HIDDEN) Word : Amazing! I deeply recommand :)
Ambre
2016-08-17T00:00:00Z
Nensi's place was fantastic for a traveler exploring Istria. The flat was clean, modern and (importantly!) air conditioned. We had a dedicated parking space and a gas station next door to fuel up. There was also a pedestrian boulevard a two minute walk away with grocery stores, cafes, and ATMs. It was really an ideal stop. Nensi was a great host and supplied all the little things (milk, cereal, toiletries, and quince liqueur) that make life easy.
colleen
2016-09-08T00:00:00Z
This is an amazing appartment and was a lovely surprise after a long day cycling. Nensi is an outstanding host who welcomed us with home made apple pie and other little gooddies. The place is brand new and has a luxury feel and we can fully recommend it to anyone who is coming to Pazin! Thank you,Nensi, for being a wonderful host!
Oliver and Katrin
2016-08-05T00:00:00Z
The apartment is almost brand new and really spacious. Within a few minutes you are in the centre of the city and all the area sourrounding is great for hicking.
Achim
2016-08-08T00:00:00Z
Kamertype
Gehele woning/appartement
---
Type woning
Appartement
---
Geschikt voor
6
---
Slaapkamers
Pazin, Istarska županija, Kroatië

Spacious house with two bedrooms made in traditional, rustical style located in Lindar, the village in the heart of Istria, 5 km away from Pazin. Enjoy your holiday far away from traffic jam and urban areas! *Additional fees may be applied upon arrival (example: aircon, babycot, pets, etc...) YOUR GUEST FEE IS COVERED BY TRAVEL HORIZONT. YOU ARE WELCOME :) (the 10% discount is already calculated in all prices)
House Elena is a spacious house with two bedrooms made in traditional, rustical style located in Lindar, the village in the heart of Istria, only 5 km away from Pazin. The house consists of two floors: at the ground floor there is a kitchen separated from living room and a bathroom with a shower and on the first floor there is one bedroom with double bed and in the other room there are two single beds. The house is full equipped with SAT / TV, free wi-fi signal and 3 air conditioning. The total cost of air conditioning is 5 € pro day. Enjoy your holiday far away from traffic jam and urban areas!
PAZIN is a town of long and rich tradition. It is situated in the very centre of Istrian peninsula, only 30 km away from well-known tourist centres. The intensity of life here is pretty much the same in winter and summer, with the monthly exception of every first Tuesday, when a flood of curious buyers from all over the Istria runs into the town to visit the traditional Pazin Market. The Castle of Pazin is the biggest and the best-preserved medieval fortress in Istria. It was first mentioned in written documents in 983. Since that time, the Castle and the growing civil area that surrounded it have been given as present, conquered and sacked, destroyed, rebuilt and sub-leased many times. It has changed owners, managers and names. It was under the dominion of Patriarchate of Aquileia, and then under the County of Gorizia. The whole Middle Istrian area, then called Graftschhaft Mitterburg, Contea di Pisino or the County of Pazin was being governed within the safety of its masonry. Since 1374, the whole County had been a private property of the Austrian house of Habsburgs. Today, the Ethnographic Museum of Istria and the Museum of Pazin are located there, and their exhibitions are held.
Kamertype
Gehele woning/appartement
---
Type woning
Appartement
---
Geschikt voor
6
---
Slaapkamers
Pazin, Croatia, Kroatië
Appartement met prachtig uitzicht op de middeleeuwse steden en groene landschap. Groot, comfortabel en ruim, volledig ingerichte plek waar je zal voelen als thuis. Wij verwelkomen u met een drankje in onze Tavern, dan kunt u genieten van lokale gerechten en probeer Safari Tours. Vanaf dit punt bent u in 20 minuten naar het strand .. Wij zijn gelegen in een landelijke Istrië in de buurt van Sopot waterval. AANBOD: - Mogelijkheid om het ontbijt / lunch / diner bestellen - 4X4 Off Road Safari Tours met onze Vehicle - Guided Enduro Tours - Guided Quad Tours
Zeer groot en comfortabel appartement met terras en balkon met een prachtig uitzicht op het zwembad, de wijngaarden en het landschap. Twee comfortabele kamers, grote badkamer met wasserette wasmachine, eetkamer, volledig uitgeruste keuken, woonkamer met LCD-scherm, satelliet-tv. In het appartement is airconditioning. Het beste van dit appartement is geweldig uitzicht. Vanaf dit punt zie je middeleeuwse stadjes op heuveltoppen en prachtige groene landschap. U zult genieten van heel veel!
Klein dorp waar mensen doen de landbouw werken, kun je vaak horen tractoren of andere voertuigen, auto's niet zo vaak. Overal zijn velden, wijngaarden en tuinen.
We enjoyed our stay in Floricici and Istria. The house was fully equipped and our hosts were very friendly and helpfull. The kids loved playing in the swimming pool. The meal cooked for us on our first night was delicious. We did day trips to Pula and Rovinj and also walked the st. Simeon trail which passes close to the house.
Bart
2016-08-07T00:00:00Z
We were in Floricici for ten days and had a great time there. It could not last long enough. We saw Doris only once (Doris, hope to meet you again!) but were welcomed by her parents, brother and sister in law. We spend a few evening with them and miss them already. Those are the most warm and welcoming people. The evenings in the konoba we will always remember. Hope to meet them again!
Remy
2016-08-16T00:00:00Z
If you want to be in the middle of a loud pack of tourists, this is not the place for you. If you want to experience the serenity of the beautiful Croatian countryside, you can find no better location. The accommodations were spacious and homey, and our hosts were gracious. Located in lovely area with many hiking trails, close to the darling villages of Labin and Pazin, less than an hour to Rovinj. Wish we could have stayed longer.
Robin
2015-08-19T00:00:00Z
What a great place to visit, everyone makes you feel so welcome you would think you were part of the family. the apartment is spacious and so, so clean. The surrounding countryside is beautiful especially as the sun sets over the hills. The view from our balcony was magnificent. Understand that this is a rural experience, cocks crow and dogs bark and the neighbour starts his tractor in the morning. If you are looking for a five star en-suite beach type holiday this may not be for you. But if you would like to experience an authentic slice of Istrian culture and meet people who you will never forget, then I can't think of a better place. If you are exploring Istria this is a great place to base yourself, pretty much everything in the region is accessible within a one hour drive from the delights of the west coast ports to the medieval hill villages and the Austro-Hungarian splendour on the east coast. There is more than enough to see and do. Ten days was not enough. Having travelled a bit there are few places that we would look forward to going back to; this is one of them.
Peter
2015-09-24T00:00:00Z
Nos divertimos muchisimo durante nuestra estancia en Floricici, fue una experiencia inolvidable. Aunque conocimos a Doris el ultimo día, los verdaderos host, son sus padres Daniella y Jordano. Pasamos mucho tiempo con ellos, cenando, probando sus vinos y licores, y contando muchas historias sobre Istria y su familia. A pesar de las barreras idiomaticas, nos hicieron sentir como en casa y disfrutamos de dos dias entrañables. Daniella cocina de maravilla. Comidas y desayunos abundantes y todo hecho a mano con productos de la familia. Jordano fue muy atento con nosotros. También conocimos a su hijo Dorian (que habla ingles) y nos ayudo en todo lo que necesitamos. El alojamiento era muy espacioso, cómodo y limpio. Con un jardin para uso propio de los huéspedes y unas vistas increíbles. Ademas disfrutamos con todos los animales que vivían en el pueblo, gallinas, ovejas, gatos... El tiempo se paso volando, charlando con ellos mientras probábamos sus deliciosos vinos y grappa Nos habríamos quedado mucho tiempo más. Sin duda los mejores anfitriones que jamas hayamos tenido. Esperamos volver a saludar a la familia Floricic. We had fun a lot during our stay in Floricici, it was an unforgettable experience. We met Doris the last day. The hosts are their parents, Daniella and Jordano. We spent some time with them, dining, tasting wines and spirits and telling many stories about Istria and Floricic family. Despite language barriers, we were made to feel at home and enjoyed two days endearing. Daniella cooking a wonderful meal. Meals and hearty breakfasts and all handmade products of the family. Jordanoo was very attentive to us. We also met his son Dorian (who speaks English) and helped us in everything we need. The accommodation was very spacious, comfortable and clean. With a garden for guests own use and incredible views. Also enjoyed all the animals living in the village, chickens, sheep, cats ... The time flew by, chatting with them while we were testing their delicious wines and grappa We would have been much longer. Definitely the best hosts we have ever had. We hope to greet the family Floricic.
Maria
2014-09-28T00:00:00Z
Doris's apartment was exactly what I expected: calm oasis in the middle of Istria perfect for everybody craving some peace away from big cities... not only perfectly positioned for hiking, cycling and enjoying the nature, but also not far from the coast, this apartment can be recommended also for longer vacation. We felt really at home there, and were warmly welcomed not only by our hosts, but also by their animals - especially two cats Tom and Otto who kept us company :-)
Andreja
2016-03-28T00:00:00Z
I can recommend this place without any doubt! Especially for people who love beeing in the nature (hiking, biking etc.). Although I didn't met Doris, she always helped me and responded quickly. Thanks a lot , Doris!! And the parents of Doris are lovely; I had lunch with them and spoke for a long time. I will definitely come back one day. Again, thanks for every thing, Tobias
Tobias
2015-05-17T00:00:00Z
The visit to the agriturismo apartments is so much more then a place to stay. It is a taste of Istrian hospitality and culture. It is a "must include" for any visitor to Istria. I felt like I was coming home. I was immediately adopted by Dorris's parents Giodano and Daniela. Their home in the village dates back to the 1700's. They welcome you with open arms and make or grow most things themselves. They make their own grappa and liqueurs, their own prosciutto, their own wine, their own pasta, their own bread, their own music......their son continues the Istrian music tradition by having his own band that plays contemporary Istrian music and is famous in the region. When booking request to do at least one dinner with the family plus one breakfast - it is a treat beyond words! Ask papa to play the harmonica - I had grand son Jan on drums - at 2.5 years the boy has rhythm! The apartments all share a beautiful garden and a really lovely pool. The surrounding area is jaw droppingly beautiful and perfect for long walks. This is deep countryside - people ambling past in tractors and everyone is growing something. I loved every minute and was so sad I had such a short time there. It is really special - stay for a week if you can!
Pamela
2014-06-25T00:00:00Z
Kamertype
Gehele woning/appartement
---
Type woning
Appartement
---
Geschikt voor
6
---
Slaapkamers
Gračišće, District Istrië, Kroatië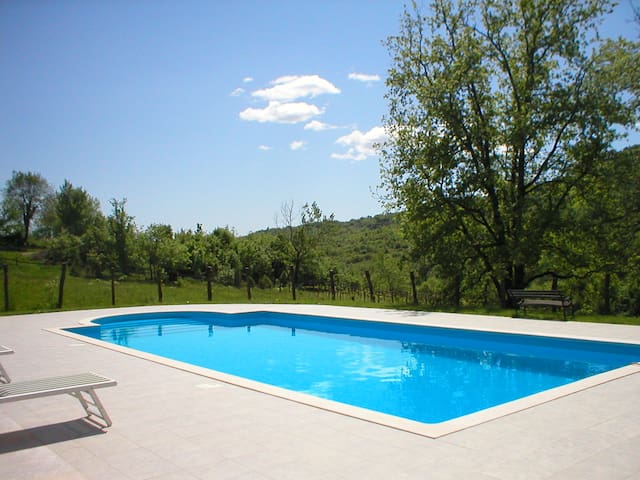 Gračišće - Airbnb
:
Gemiddeld

4.64

van

5

sterren op basis van

174

gastrecensies
1

–

18

van

97 Appartementen te huur
Voer datums in om de volledige tariefopbouw te zien. Er kunnen extra kosten zijn en er kunnen belastingen worden toegevoegd.