Big One bedroom 900 ft.² condo. Best location in Huntington Beach. 1 block to ocean and Main Street. Restaurants, entertainment. Great for couples. Ocean breezes, 2 balconies, fireplace, washer and dryer. Pool and jacuzzi. easy parking. Hard to find better for the price. Perfect casual beach pad.
ATTENTION 1st time air Bnb users please read. THIS IS NOT A HOTEL. There is no front desk. There are no emblems on towels. No bell hop. It's a very basic condo. If your looking for a plush hotel experience please stay at a hotel. I only rent to EASY GOING PEOPLE. If your uptight (and you know who you are) please book something else. My condo is great but it has normal wear and tear and it is priced accordingly. It's an awesome location. Right next to ocean and Main Street. Best beach location in HB that you can get. Pool and jacuzzi on site. Portable Air conditioning (in bedroom). Full kitchen, washer and dyer, can rent 2 private parking spaces in structure. 2 large beds and one solid air matress. Absolutely perfect beach condo for a fun get way on the beach. It is on a busy street near all the hot spots so not ultra quite. If you are very noise sensitive or have ultra high standards this is not the condo for you. It is very quiet at night but noisy during the day. I'm offering a very well priced great place to stay in HB. Walk to everything. I have beach chairs The house is stocked with all standard kitchen and bathroom supplies. I also have an extra mattress I can bring in for $25. PARKING is $10 per day. I can get 2 spaces. You pay cash when you arrive. Any questions feel free to ask me. This unit is NOT the ritz Carlton it just a causal beach pad in a great location. IF YOUR LOOKING FOR A HOTEL EXPERIENCE AND ARE UNFAMILIAR WITH AIR BNB THIS IS NOT FOR YOU. If your looking for a great priced condo where you can walk to everything then this is your spot.
Huntington Beach is awesome. Very safe and fun. This condo is one street over from Main Street which is known as the most fun area of Huntington Beach.
The location was pretty fantastic. Three blocks from the beach and downtown with plenty to do. There were a few things about the set-up I didn't love. We had to pay for parking (which is understandable) except there was a notice on the garage stating 24-hour complimentary parking for guests (it looked like each unit had one resident space and one guest space and we were only there for a total of 36 hours). It seemed a little odd. Also, the temperature in the unit was not adjustable. There was a note on the portable A/C unit asking not to take it out of the closet and the central air unit in the apartment didn't not seem to respond to temperature adjustments. The dishwasher also did not work so we washed dishes by hand. We weren't looking for a 5-star hotel as far as expectations are concerned and none of these factors were deal breakers. Darrel was very thorough in making sure we had everything we needed and left his cell number asking us to call if we needed anything. Would definitely stay again as long as the rate was right. P.S. The Thank You post-it wall was pretty rad.
Alexander
2016-09-05T00:00:00Z
The location of this space is perfect. A friend and I stayed here to go To Disney for Halloween. Darrel was organized about check in and was able to accommodate us with time and locations for check in.
Sara
2015-10-09T00:00:00Z
He gave very detailed instruction on how to get in and called to make sure I got it. The location is amazing! We walked to everything and stayed in Huntington the whole time because there's so much to do within walking distance. The parking here is pretty expensive at $10 per car per day. Our other member found street parking for free super close so I'd recommend saving money (we spent $40) and parking on the street. The bathroom was stocked the kitchen was a little bare but has the very basic essentials. Overall it was a great stay!
Theodora
2016-07-11T00:00:00Z
It is all about location! It is situated by the beach and Main Street. The accommodations are comfortable. Darrel was a confident host.
Linda
2016-08-20T00:00:00Z
Darrel's apartment was the perfect location for hanging out in Huntington Beach. The balcony was really nice and private and the living room was comfortable. The kitchen was stocked with basic dishes and appliances. The timing didn't work out to meet Darrel when we checked in so we spent some time struggling to figure out the building access and the air conditioning. That said, Darrel was extremely responsive to messages. We enjoyed our time in Huntington Beach. Thanks!
Emily
2015-09-10T00:00:00Z
Experience and communication with Darrel was great. Great location.
Martin
2017-01-15T00:00:00Z
Incredible value, very cool and large apartment and only a short walk to the Huntington Beach boardwalk. Darrel was cool and very helpful. Loved his place, would absolutely stay here again.
Jacob
2016-09-29T00:00:00Z
The place was very nice, very convenient, and I was really pleased with my stay. Thanks!
Ryan
2016-09-02T00:00:00Z
Kamertype
Gehele woning/appartement
---
Type woning
Appartement
---
Geschikt voor
6
---
Slaapkamers
Huntington Beach, Californië, Verenigde Staten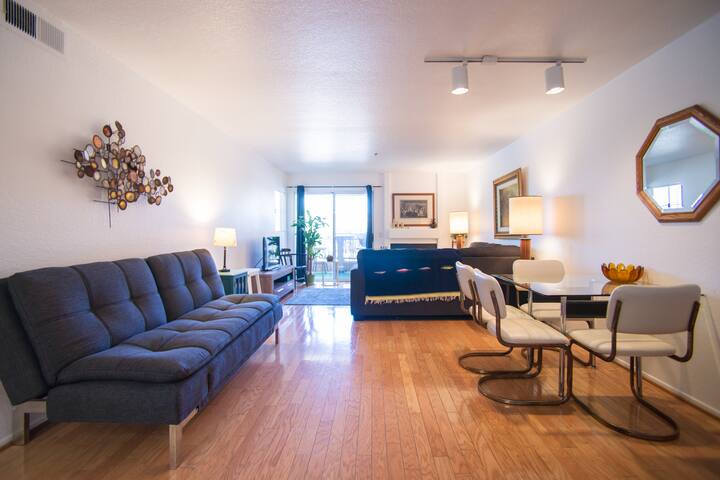 Studio apartment in historic neighborhood. Private -- by itself in a quiet spot surrounded by trees.
The apartment is in a detached building behind the hosts' home, in a very pretty neighborhood (Park Santiago) on a street covered by oaks. . . . Second floor, over a fenced yard with orange, avacado and myrtle trees. ----------------------------------------------------------------------- Lots of good restaurants -- near "Old Towne, Orange Historic District," "Downtown Santa Ana," and The Santa Ana Artists Village. ----------------------------------------------------------------------- Short walk to MainPlace Mall, restaurants, and Mother's Market grocery. ----------------------------------------------------------------------- Close to Disney and Anaheim Convention Center. ----------------------------------------------------------------------- Twenty minutes from the beach. -----------------------------------------------------------------------
Douglas and Chris have a very lovely and cozy studio, and they had everything set up for us when we arrived. They were very understanding about our circumstances and kept constant communication. We had a very relaxing weekend here and really enjoyed everything the studio had to offer us. We would definitely recommend this studio and will be back forsure!
Nicole Marie
2017-02-18T00:00:00Z
Cute little place right behind their main home. They communicated very well and made sure we had everything we needed. I would definitely go back for another stay.
Justine
2016-09-28T00:00:00Z
Perfect place to stay! Great neighborhood, quiet and pretty. Very close to Disney and activities. Chris met us first thing, gave us a bunch of tips about the area and told us about the studio. The cookies were amazing! Would definitely love to come back!
Natalie
2015-01-30T00:00:00Z
Chris and Douglas were friendly and made us feel very welcome. The studio is beautifully decorated, and they left us chocolate chip cookies as a welcome treat. We had everything we needed, and they even provided beach towels for us to use! The neighborhood is really nice and quiet, all of the houses are older but really well maintained with manicured gardens and fruit trees. The location is great- easy access to I-5 and the 22, and close to Disneyland, and not far from the beaches either. I would definitely recommend them as hosts, and I would stay there again for sure.
Julie
2015-02-15T00:00:00Z
Location was close to many things. Studio was exactly as described. The cookies for us on arrival were delicious.
Tina
2015-12-21T00:00:00Z
I was very pleased with the studio. It was extremely clean and adequately stocked with the essentials (including a nice collection of movies). Douglas and Chris were very warm and welcoming hosts. I'd highly recommend staying here.
Lynda and Nick
2014-10-02T00:00:00Z
Douglas and Chris were kind enough to host my brother without me when I couldn't continue our trip. My brother said they were so kind and helpful and the place was great, would defiantly recommend.
Saskia
2015-02-04T00:00:00Z
I stayed with Douglas and Chris for one night and this was my first time using Airbnb. I briefly met Douglas who was very inviting. The studio was exactly as the pictures show. Douglas gave us delicious cookies which we stashed for the road trip. They also have a handy binder with suggestions of various districts and restaurants to check out. Place was great and couldn't have asked for a better place to stay!
Kari
2015-10-12T00:00:00Z
Kamertype
Gehele woning/appartement
---
Type woning
Appartement
---
Geschikt voor
2
---
Slaapkamers
Santa Ana, Californië, Verenigde Staten
Your home away from home! 6 bedrooms, 3.5 bathrooms, swimming pool, game room and full kitchen! House is suitable for families (lots of toys and baby gear), adults (travel books, DVDs and games) and anyone just looking to enjoy our awesome weather!
Look no further: you've found the house that will make everyone's dreams come true! Weather you crave private time in a luxurious bedroom, want to step into the Millennium Falcon with your favorite Star Wars characters or a princess that dreams of her very own castle we are the house for you! Loaded with everything you could want from a vacation rental - heated swimming pool, cook's kitchen, ample seating (both lounge and dining), toys, game room, outdoor living and dining rooms, tons of linens and kitchen accessories, baby gear, washer & dryer to family favorite DVDs you'll be able to pack light and relax with all the comforts of home. This is the premier Disneyland vacation rental home which features 6 bedrooms and 3.5 bathrooms. We are 8 minutes away from Disneyland (less than 3 miles). The house is 3,250 square feet on a 1/4 acre lot and we can sleep 15 people. The property features a large eat-in cooks kitchen with a 6 burner Viking range, a great room, formal dining room with seating for 10, a den that converts to another bedroom, garage game room with billiard table and foosball, covered 400 sq ft outdoor room with dining for 12 and outdoor couches, and huge back yard with a heated pool, playhouse, ping-pong table and barbecue! Our home also has lots of hot water with a commercial-grade hot water heater, a brand-new air conditioning / heating system, beautifully furnished theme bedrooms including custom built-in bunk beds for Star Wars fans and a fairy tale castle for princesses, five flat-screen TV's with nearly 100 DVDs, a Wii and Wii fit and streaming Netflix. We also have lots of toys, board games, beach gear (including chairs and umbrella) baby gear (2 pack n' plays with sheets, 3 baby gates, large indoor / outdoor play yard, high chair, booster seat, monitor, double stroller, an umbrella stroller and a potty)! We are located near Disneyland in one of Anaheim's best residential neighborhoods. Our house is at the end of a beautiful cul-de-sac and is one block away from a huge park and library. Our heated pool is truly gigantic (50,000 gallons!) and the backyard is lovely with multiple areas for play. The house is spacious and well laid out - all the sleeping areas are on one side of the house and the common areas are on the other. There are 4 bedrooms upstairs and 2 downstairs. Upstairs there are 2 bathrooms (1 with a tub/shower combo and the other with a shower) and downstairs there is a powder room off the bedrooms and another bathroom with a tub/shower combo off the living room. The driveway can accommodate 5 minivans or a 43' RV. We have a MAXIMUM of 5 cars allowed (all must be parked in the driveway at all times; no street parking allowed per the City of Anaheim's short-term rental ordinance). City of Anaheim Licence #REG(PHONE NUMBER HIDDEN) The bedrooms have luxurious, high-quality mattresses and linens and the sleeping arrangements are laid out as such: - Master bedroom upstairs: California King bed and a twin over twin daybed - 2nd upstairs bedroom: Queen bed and Full futon - 3rd upstairs bedroom (princess room): 2 sets of bunk beds with 1 trundle (5 twin mattresses total) - 4th upstairs bedroom: Queen bed - 5th downstairs bedroom: California King bed and a Queen pull-out couch - 6th downstairs bedroom: boy's Star Wars room: built-in bunk beds with 6 twin mattresses - downstairs den with a fully stocked entertainment center We live in Los Angeles and have three small children of our own. We designed this house to entertain our friends and guests and all the kids as well. We stay here often, so we maintain the property constantly. We fell in love with the neighborhood, the proximity to Disneyland and the beaches and love that the house can accommodate as many people as we need. We have made this house our family's dream vacation home and look forward to sharing it with you! PS - love the house but the calendar is booked for your desired dates? Check out our other houses 'Frozen and Superhero 10 bedroom' and our 8 bedroom 'Lazy River house' to see if they are open...hope we can accommodate you!
Safe, quiet residential part of Anaheim. Our home is on a small cul-de-sac tucked away from the hubbub of the parks yet only a 1/2 mile to grocery stores and 8 minutes to Disneyland!
Great place for family stay in Anaheim. Beats staying in a hotel, exactly as described. Dea was a great host!
Daniel
2017-03-21T00:00:00Z
Worked pretty well for a 13 person work planning retreat.
Andrew
2017-01-20T00:00:00Z
The house was big with lots of room! Great location and nice kitchen. Only downfall is the bathrooms, there really bad water pressure and don't smell good, almost mold smelling. Besides the yucky bathrooms all was great!
Jenni
2016-03-23T00:00:00Z
Dea left us a nice welcome basket and provided excellent instructions for everything we needed. The house was very close to Disneyland which was exactly what we were looking for. Would recommend for a big group!
Danielle
2016-09-12T00:00:00Z
The house is great for families with little kids. The pool is stocked with lots of awesome toys and the decorated bedrooms are a hit!
Cheryl
2016-08-18T00:00:00Z
We had a personal note from Dea, welcoming us with a basket of goodies. The neighborhood was quiet and nice. It was easy to find. Dea made it easy, if we needed to communicate with her. We would come there again! It was very nice, fun and relaxing!
Robb
2016-03-13T00:00:00Z
Dea was very helpful in answering our questions and making sure everything was ready for our visit. The house was nicely set up and ideal for a trip with a big group.
Benjamin
2016-11-14T00:00:00Z
Dea and her home is the best experience for our time in Anaheim, this time it was for work, but I can imagine how fun this home would be for families. Truly a model home for AirBnBs worldwide.
Ritche
2016-01-25T00:00:00Z
Kamertype
Gehele woning/appartement
---
Type woning
Huis
---
Geschikt voor
15
---
Slaapkamers
Anaheim, Californië, Verenigde Staten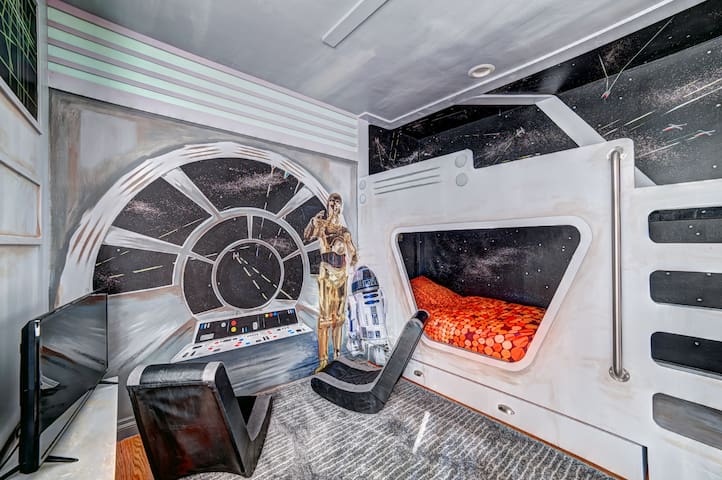 Our well space -planned studio w/ "Air Condition" in an upscale N Downtown HB quiet neighborhood, Luxurious Queen bed, 1 twin bed, complete kitchen, 40"TV, Washer/dryer close to Beach, 3 cruiser bikes, boogie boards, free parking space, amenities,BBQ, walk to shops, restaurants, grocery, banks, etc.
A Contemporary design built and fully furnished," Air Conditioned" studio apt in a very safe and quiet neighborhood a few blocks north of Main Street in Downtown HB, close enough to Downtown but away from any noise... a free parking space next to the unit... A short walk , (less than one mile), or take the 3 cruiser bikes and ride to the beach. The kitchen has large appliances. It also comes with small appliances: (coffee makers,grinder, hot water maker, toaster oven, toaster, blender, real size oven and microwave, ) Utensils, wine glasses, mugs, plates, pots and pans, cooler for the beach... The unit is always stocked with coffee's, tea's, waters, pantry is usually well stocked for light meals, and baking, and condiments needed for cooking. * a new solar sky light was added for extra sunlight. "Real beds", A Cozy Queensize Bed, A twin bed trundle, and a twin air mattress 1-3 people in the unit for maximum comfort. There is a full capacity stackable washer and dryer in the unit. There is Free high speed Wi Fi. Hi Def Smart TV 40" Take a shower in the spa designed bathroom. if you forget anything you can probably find it in here... hair dryer, soaps, shampoos, toothpaste, lotions... There is a patio with BBQ, fire pit, lounge seating... Walk to grocery, shopping, bank, restaurants, beach, Some of the best surfing and contests in the world, beach volleyball, coffee houses, shopping, nightlife, Art walk and culture, casual bars or award winning restaurants. "Surf-City Tuesday Nights", where Main Street is blocked off for live performances, street bands, farmers market, shopping, food and fun. Grocery, banks, parks, golf, Live Theatre, all within walking distance. There is so much to do and see all year round. Centrally located to all freeways, Amusement Parks,20 min to Disneyland), 1 1/2 hour to SanDiego, 1 hour to Hollywood. I can offer many ideas for food, activities, getting around, discounts... free parking. There are two beach cruiser bikes, with locks. you can see our beach 24 hours a day on the free web camera :website revealed after confirmed reservation. please print out check in instructions once your reservation is confirmed. to print out: go to "Itinerary page" A security deposit is required . It will be on hold via credit card with Airbnb, and will be refundable after check out. ***If there are less than the minimum days available on the calendar, message me to book, we would rather fill all days than leave empty...
quiet, traquil, nice people, close to everything without the noise or the touristic crowds... "A Home away from Home"
This Studio had all of the essentials for our stay. We were well located for the family event that we were attending. Lauren was a delight, and helpful when we reached out to her.
Tyler
2015-03-23T00:00:00Z
Lauren was there to greet us as soon as we arrived. The apartment was very clean, The bed was comfortable and the bathroom was very nice and included good lighting and a makeup mirror. The location was perfect-a few minutes from the beach and downtown in a nice quiet neighborhood.
Michelle
2016-05-03T00:00:00Z
Cute little studio that had all the amentities you could want! Great neighborhood! Lauren was a great host!
Jane
2015-11-17T00:00:00Z
This little bungalow is fantastic, great neighborhood and a great space. Just off the "pier" scene enough to be quit and relaxing. A great location. Everything was clean and with new appliances, including washer drier, I was super stoked. Thanks Lauren!
Jess
2014-12-27T00:00:00Z
My girlfriend and I visited OC over the Thanksgiving weekend and we planned on being out and about for most of the trip so we didn't need much for accommodations. Basically, we wanted a clean place within walking distance of the beach. This place was perfect. We walked to the beach and restaurants by the Huntington Beach pier everyday. There were bikes available but we preferred walking. This is a very nice little studio.
John
2016-11-27T00:00:00Z
The listing was 100% accurate. It was the perfect space for my boyfriend and I to stay while in town. You are so close to the beach and down town. It was easy to find and the parking as great!
Cristine
2016-08-08T00:00:00Z
Lauren was a great host! The place was everything we needed and it was awesome having the bikes to ride around by the beach! Would definitely stay again. Thanks Lauren!
Matt
2016-06-15T00:00:00Z
The condo was perfect and exactly as described/pictured! We used the beach cruisers to ride to the pier and it took about 10 minutes. The bed was very comfortable and the a/c was a Godsend as it was quite warm during our visit. We especially loved how easy access it was--you literally park right at the door! (I get annoyed staying at condo's or hotels that require lugging your bags half a mile from your parking spot
Tom
2015-09-13T00:00:00Z
Kamertype
Gehele woning/appartement
---
Type woning
Appartement
---
Geschikt voor
3
---
Slaapkamers
Huntington Beach, Californië, Verenigde Staten
Absolutely stunning resort style 3 bedroom 2 bathroom condo with full amenities including a fully equipped gym, large swimming pool, and jacuzzi. Nestled in a safe gated complex close to the 5 & 22 freeways and only 1.4 mile to Disneyland and Convention Center. 3 Garage parking spaces are provided. Also close to supermarkets and convenience stores. Perfect for families looking to go to Disneyland or travelers looking to go to the Convention Center. Also very walkable to The Outlets at Orange!
Amenities provided: Towels, Shampoo, Conditioner, Body wash Iron and ironing board Blow dryer Refrigerator TV with Amazon Fire Stick NETFLIX Internet with Wifi Air Conditioner/ Heater Pool Rollaway bed (if requested) A stunningly beautiful and stylish resort style condo with a beautful view from the balcony and a large pool and gym that is located about 1.4 miles from Disneyland, Downtown Disney, and the Anaheim Convention Center and only 1.5 miles from the Angels stadium, our house is a perfect choice for your holiday stay. Our place is situated in a private gated community where parking is abundant and secure. There is a community pool where you and your family can use to take a dip to relax on those hot summer days. There are 3 bedrooms. One of which is a master suite that has its own attached bathroom and walk in closet. Each room comes equipped with a queen bed (with waterproof & bed bug proof mattress covers) so the house can easily accommodate 6; however, the living room has a sofa that can fit 1 more and I can also provide a rollaway bed upon request. A 49" LED TV with Cable TV, computer desk, Amazon TV, Netflix, YouTube are also provided in each room. The internet is BLAZING FAST with 100Mbps download and 10Mbps upload. Fresh towels and toiletries are provided at no cost. 3 parking spaces in the garage. You are welcome to do your laundry with our washer and dryer. If you have a pet, please message me before booking. There will be an additional $20-$30 clean up fee for the stay depending on the size of your pet.
We are safely tucked away in a wonderfully safe gated community with access to a swimming pool and gym.
John was an awesome host. The place is well stocked and exactly as pictured. The location was perfect and so close to Anaheim Convention Center we actually walked back one night (got to love Cali weather). This will be my go to place for this area every time we visit. Leaving a great review is much needed for John, except he will stay booked!
Spring
2016-08-14T00:00:00Z
This was a great spot for our family to meet up for a 2 day disneyland trip. It is very conveniently located, so we could go back and forth as needed depending on schedules for our granddaughters' nap, etc. The neighborhood was safe and quiet, and the unit was clean and roomy. The only thing we missed was a coffee maker, but we grabbed coffee nearby at a coffee bean on our way to disneyland.
Cheryl
2016-04-27T00:00:00Z
Perfect for a family
Christine
2016-09-09T00:00:00Z
The house was a perfect location to Disneyland, which was the whole purpose of our family trip. I had my parents with me, so they were a bit more pickier than my 20 something year old self. Here was the breakdown: Pros -very comfortable beds (with exception of the cot--not so much I'm afraid) -close proximity to Disneyland, Target, food restaurants, etc. I.e. GREAT location -the comforts of being in a home versus hotel room -Apple TV, Netflix, etc. in every room which was nice -Fast WiFi -Fairly clean (except my mom would say it's due for a deep cleaning) Cons -missing hand towels for 2 out of 3 bathrooms (maybe it was just our stay) -missing utensils to cook & bake with (can tell the house isn't used for cooking purposes, then again, I don't think our host anticipated mama chef with me) Overall, our stay was pleasant. There was an incident with the next guest staying after us trying to check in earlier without us knowing. This was, however, solely mistaken on the guest's part and not John's. John was very apologetic and contacted the guest. I would stay again (without my elderly parents who require a bit more) :) Thanks John!
Jacquelene
2016-09-14T00:00:00Z
We really enjoyed staying at John's place! It was in a great quiet, safe & family friendly location, close to Disney (less than 5 min drive to theme park parking lots). Very spacious. Great to have access to washer & dryer. We enjoyed the pool. John was quick & easy to communicate with via Airbnb app. Great to have garage parking. Would recommend to anyone travelling to the area with a family!
Rob
2016-07-02T00:00:00Z
My family and I stayed here for our mini Disney vacation. The house is in a nice and quiet complex just a couple of miles away from Disneyland. The house is very nice and John had the bathrooms stocked with shampoo, conditioner, and body wash which was nice because I forgot my shampoo. There were 6 people total in my family and not having to use a key but instead using a code for the door was very convenient. Overall we had a great experience staying here. John is awesome!
Maritza
2016-04-24T00:00:00Z
John was a great host. He replied to any question almost immediately. The house was clean and spacious. Great place to stay.
Krystle
2016-01-18T00:00:00Z
John was a great host! The house was great, all house essentials were provided, communication was smooth. would definitely come back and stay again. 10/10 A+++
Daniel
2016-07-31T00:00:00Z
Kamertype
Gehele woning/appartement
---
Type woning
Huis
---
Geschikt voor
9
---
Slaapkamers
Anaheim, Californië, Verenigde Staten
Open the front door and there's the ocean .located right on Pacific Coast Beautiful sunsets. If you're looking for the Hilton This is not the place .built in 1926 and it's decorated very artfully . Charming and unique . made for the individual. thank you look forward to meeting you
Please read you're either going to love it or not love it you get the house to yourself we're on Pacific Coast Highway can get noisy the sheets and towels do not match it is design very artfully make sure that you are unique person when you stay here if not go stay at the Hilton I don't want to hear a complaint it is completely clean superclean. Belt in 1926 .
My favorite thing about our neighborhood is that most of the businesses are not franchise. They are independently owned there still a lot of a Historical buildings . The homes are not cookie-cutter homes - they are individual homes with cool architecture The feel of a small village and 11 miles of beach. Great bird sanctuary - lots of open space and plenty of space. Please remember that you are in the heart of downtown and it can get noisy . Free parking throughout the neighborhood. We provide one parking place that it is not guaranteed
Can not say enough about The Chelsea! What an awesome experience and so close to everything! Our host, James "Jinx" Varona is amazing. He's like the ambassador of Huntington Beach. Upon arrival, he made sure we had tons of ideas on what to do and all the toys (bikes, boards, etc) to do it with. This guy is the real deal!!!! I'll be back! Thank you so much Jinx!!!
Chad
2015-08-03T00:00:00Z
Loved the hand written instructions, bikes and surfboard selection. Right across the street from the beach. Close to shops. Food and coffee! Don't think I could have found a better place.
Cassie
2016-01-18T00:00:00Z
James was awesome!! Had a great time there! I will definitely be back
jamie
2017-01-11T00:00:00Z
The host made us feel very welcome, he is a very friendly and helpful person. Although we didn't see him when we checked in, he gave us all the information we needed to enter the bungalow and there were notes inside the door with all the info we needed for our stay. He also stopped by during the week to tell us about the place and to offer suggestions of fun things to do while we were in town. The listing was accurate and we very much enjoyed the feel of the place and the eclectic decor. It feels like home away from home. It is located only two blocks from Main Street and within walking distance to the beach and a lot of shops, including a CVS in case you forget anything. We did have to use a white noise app at night due to noise from traffic and the oil rig next door, but with the white noise app you can't hear anything outside and we still slept great. 10/10 would recommend
Virginia
2015-11-07T00:00:00Z
If you're staying in Huntington and want to really feel the vibe, there's nowhere else to stay. I'm from the area and was in town for Thanksgiving, and I will [hopefully] only stay here from now on when visiting. James was super accommodating and helpful when our plans kept changing (family gatherings, right?), and when we did finally arrive he popped in to give us a quick history of the place (which is pretty rich and totally insane). When we had a little issue with the the bath, he was in there immediately to clear it up. Plus, he's just a super nice guy. As he mentions in the listing, the house also comes with boards of all sorts, bikes, anything one might want when staying literally across the street from the beach. It was a bit of a funny setup for two jet lagged couples (though not impossible, and definitely worth it), but for a single, couple, or group of friends looking for the best beach pad to stumble home to after a night out on main street, this is the place.
krysten
2015-12-02T00:00:00Z
Great place! Great location! Would definitely stay again!
Ashley
2016-03-13T00:00:00Z
James is the most wonderful host! The spot was perfect for what I was looking for. Right on the water and in the heart of Huntington. I really cool little spot!
Bonnie
2015-03-08T00:00:00Z
James was an absolutely amazing host! The Chelsea was exactly what he described on the site and much more. James was kind enough to come by when we arrived, and filled us in on some amazing history of the little bungalow. It was just about sunset when we arrived, and when he threw open the curtains we could see the sun setting on the ocean from the living room! The Chelsea has a vibe...hard to explain, but it just breathes you in. It is homey, relaxing and fun! He has plenty of boogie boards, surf boards, and bicycles. James even offered to bring my little daughter a smaller girls bike, because the bikes in the back were to big! We had an amazing time at the Chelsea and look forward to future trips to stay here. Some things guests should be aware of, it is on PCH hwy, so there is a lot of traffic and it is not quiet. But my family and I love being in the center of it all.
Erin
2016-02-13T00:00:00Z
Kamertype
Gehele woning/appartement
---
Type woning
Huis
---
Geschikt voor
6
---
Slaapkamers
Huntington Beach, Californië, Verenigde Staten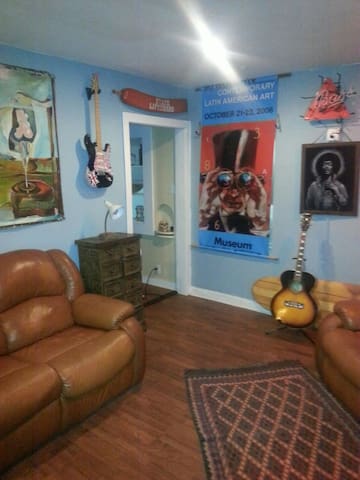 Close to Disneyland, Knott Berry Farm, Shopping & Movie Theature, World Famous Christ Catheral Church, Beaches - Early bird price, wont last long!
Kamertype
Gehele woning/appartement
---
Type woning
Vakantiewoning
---
Geschikt voor
10
---
Slaapkamers
Garden Grove, Californië, Verenigde Staten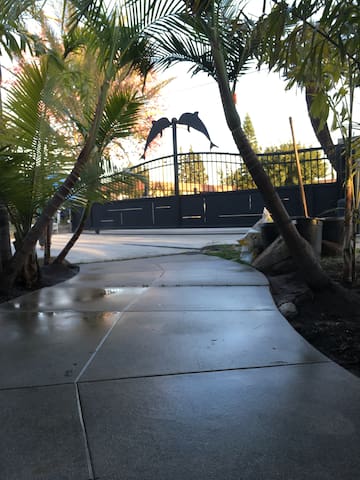 This beautiful room is only 1.5 miles to Disneyland, you can walk to Disney and save parking fee there! It is 2 miles to the Anaheim Convention Center, It is not as closed as you see on the map, Just a friendly remind. A lot of restaurants and shopping around!
距离迪士尼乐园比较近,步行20分钟,周围很安静!
鑫
2017-02-10T00:00:00Z
The guys a jerk, he changes his posting constantly to avoid bad reviews
Osiris
2017-03-01T00:00:00Z
Everything was fine, just had no forks and spoons there.
Patricia
2017-03-07T00:00:00Z
Super convenient location and very inexpensive. House is pretty quiet but you can occasionally hear the other guest walking around or talking, not a big deal though. Definitely would go back.
Ashley
2017-02-03T00:00:00Z
Walkable to Disney - very convenient!
Dayna
2017-04-02T00:00:00Z
Make sure your time is spent there just for sleep and shower
Polo
2017-02-22T00:00:00Z
A great place within walking distance to Disneyland. The rooms are numbered so it's easy to know where to be and there are three bathrooms so there's always one free.
Fabian
2017-04-05T00:00:00Z
Its a house with assigned rooms like in a hotel. No one lives there you check in online and go to your room
Ericka
2017-01-16T00:00:00Z
Kamertype
Privé Kamer
---
Type woning
Huis
---
Geschikt voor
3
---
Slaapkamers
Garden Grove, Californië, Verenigde Staten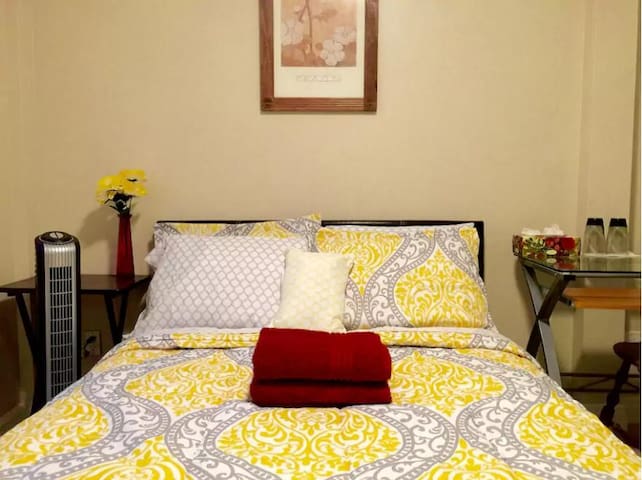 Our beautiful home is located at prime location of Garden Grove. Close distance to Disneyland (little over 1 mile), and other attractions of near by cities. You can actually watch fireworks nightly from our front patio. Extremely clean room with private entrance and bathroom in quiet, safe neighborhood.
Just little over a mile to central of Disneyland and near by attractions (famous Crystal Cathedral, Korean Town, Little Saigon, Angel's Stadium, Anaheim Hotels and Convention Center, Huge shopping malls, cinemas, restaurants...) The room is our Master Bedroom. It comes with King-size bed (fits 2-3 people comfortably), the sofa in your room is also a second bed when needed (pull down sofa-bed twin size fits comfortably for 1 adult or 2 small children). Please contact us upon checking in so we can put bed sheets for your sofa-bed. We also have high speed 100 MB internet allows you to stream movies from Netflix, Hulu or Amazon with our included flat screen TV. The room has beautiful view to our backyard which equipped with large BBQ grill for families who enjoy chilling and BBQing in warm sunny California afternoons. Very peaceful and quiet neighborhood. We are kids-friendly family. We have a good size backyard with trampoline, swing chairs, and lots of kid toys, boardgames so your children can have their own fun quality time.
This is a very quiet and safe neighborhood and is quite close to Disneyland and other attractions. At night, guests can enjoy the spectacular view Disneyland's fireworks from our front yard.
Vivian had a lovely place as was super accommodating. The place was a ten minute walk to food and dining places and a quick 5 minute drive from Anaheim.
Lisa
2016-12-07T00:00:00Z
We had a great stay with Vivian in the private bedroom and bathroom. It's in a quiet neighborhood just a short uber away from Disneyland. Will definitely stay here again!
Abi
2016-11-08T00:00:00Z
My sister and I had a fantastic stay over the weekend at Vivian's place! The room was great and had everything we needed. Vivian went above and beyond in making us feel comfortable. She even had a welcome basket of water and goodies and a toiletry basket in the restroom. She was great to communicate with us daily to see if we were satisfied and needed anything. She even went as far as to print our boarding passes for our return flight. We couldn't have asked for a better stay. A perfect location for a trip to Disney! We used Lyft and had no issues. We even took a trip to Huntington Beach to eat, shop and watch the surfing competition. We would definitely stay with Vivian again!
Amanda
2017-01-16T00:00:00Z
Perfect place! $5-10 Lyft/Uber ride to Disney. Great room. Clean and comfy. Vivian goes above and beyond by providing waters and other toiletries in case you forget. Comfy pillows, huge bed. Wifi, Tv. Honestly, everything you need. It's great.
Victoria
2017-01-12T00:00:00Z
Vivian's place is really nice. Neighborhood is very quiet. The check in is fast and easy,. We get to there around 5pm, easy to find, especially during a raining day. Parking is easy found in front of the house. Room is nice and Vivian prepared everything that we need. The bed is big and comfortable. With the big tv and all kind of channel. Bathroom is not big, but everything needed is there. This location near Disney, about 10 minutes driving. Vivian is a great host, she message us before we come, ask about anything need, also she remind me about the street cleaning which is already on the house information and I forget about. And she is so kind to offer her drive way to let us park there during the street clean. If I go to Disney again, I will happy to stay in Vivian 's place again. And I recommend this place to everyone go to Disney
Lee
2017-02-09T00:00:00Z
This was our first Airbnb experience, and it was great! Loved the private entrance and bathroom. Host communicated well. There were a lot of great amenities like bathroom supplies, mini fridge and microwave, tea kettle, welcome basket with water and other goodies, etc. Low cost. We would definitely stay here again!
Angie
2017-02-16T00:00:00Z
Vivian was the best host. The location is quiet and private. Everything was clean and neat. There is even a lemon tree outside your door. There were late night snacks in the room and even a toothbrush if you forgot yours. Great bed. Wonderful place to stay. Will definitely recommend it to anyone.
Alex
2017-01-23T00:00:00Z
Vivians place is perfect after a long day of walking around Disneyland. It takes about 10 mins to get to the parks. It is also close to a lot of restaurants, Starbucks, Target and more. The room and bathroom was clean. theres a lot of street parking and the neighborhood was really quiet and safe. Would definitely recommend this to anyone planning a Disneyland trip!
Stephanie
2017-03-07T00:00:00Z
Kamertype
Privé Kamer
---
Type woning
Huis
---
Geschikt voor
4
---
Slaapkamers
Garden Grove, Californië, Verenigde Staten
A private suite with its own entrance located in a safe and quiet neighborhood. The suite has two beds and one full bath with towels, shampoo, shower gel, ect... Also, attached spacious private living room that includes a mini fridge, microwave, water fountain, coffeemaker, large screen TV, a long and comfortable sofa. Especially, we have free Wifi, TV Cable, Netflix, Computer, Printer.
We are only 0.5 mile from Disneyland and the Anaheim Convention Center.
The neighborhood is very safe and quiet for any late check- in. There're plenty of parkings in the streets, but Wednesday on the second week and the fourth week of the month, from 8AM- 10AM are street sweeping days.
Kevin gave perfect directions to his place. I was the easiest check in I have even had anywhere. It was so close to Disneyland and so nice to rest after our first day of the theme parks. Denny's was on the way to Disneyland so it was a get location. Enjoy if you stay here, no worries Kevin will take care of you. Thank you Kevin!
Cathy
2017-04-04T00:00:00Z
Great place, close to Disneyland, neat and tidy - very kid friendly!
Jean
2017-03-17T00:00:00Z
Kevin is an outstanding host. Friendly, accommodating, and eager to provide a great experience for our 3 night stay. We were attending a trade show at the convention center and the location is perfect. A 20-25 minute walk in beautiful Southern California sunshine (or a $5 Uber ride) The apartment/addition to his family's home was exactly as described in the listing. The living room was spacious, the beds were comfortable, and the bathroom was modern and clean. Overall a fantastic Airbnb experience!
Bob
2017-01-22T00:00:00Z
My 3 friends and I stayed at Kevin's place because of its close proximity to Disneyland. It was just a $5 Uber to the park and Kevin's place exceeded my expectations. Extremely clean and well kept with easy check in and check out. Will definitely stay here again if in the area!
(EMAIL HIDDEN)
2017-03-24T00:00:00Z
The room was great. It's a good balance of living space and sleeping area. The bathroom is very nice as well. Plus, there is a great back yard for relaxing in the evening. Thanks Kevin!
Darin
2017-03-14T00:00:00Z
An awesome host and more than flexible to help out! 10/10
Jay
2017-03-18T00:00:00Z
What a find! The suite is spacious and comfortable. I really enjoyed the extra space, and the privacy afforded by the suite. And the little touches, like a microwave, coffee maker, mugs and cups, and a drinking water dispenser, were a lovely benefit. Kevin is a welcoming, generous, hospitable host. Would stay again for sure.
Doug
2017-01-16T00:00:00Z
We enjoyed our stay for 3 nights. Perfect location for Disneyland and I liked the spacious living room. Thanks for good communication, Kevin.
seo-young
2017-03-30T00:00:00Z
Kamertype
Gehele woning/appartement
---
Type woning
Huis
---
Geschikt voor
4
---
Slaapkamers
Garden Grove, Californië, Verenigde Staten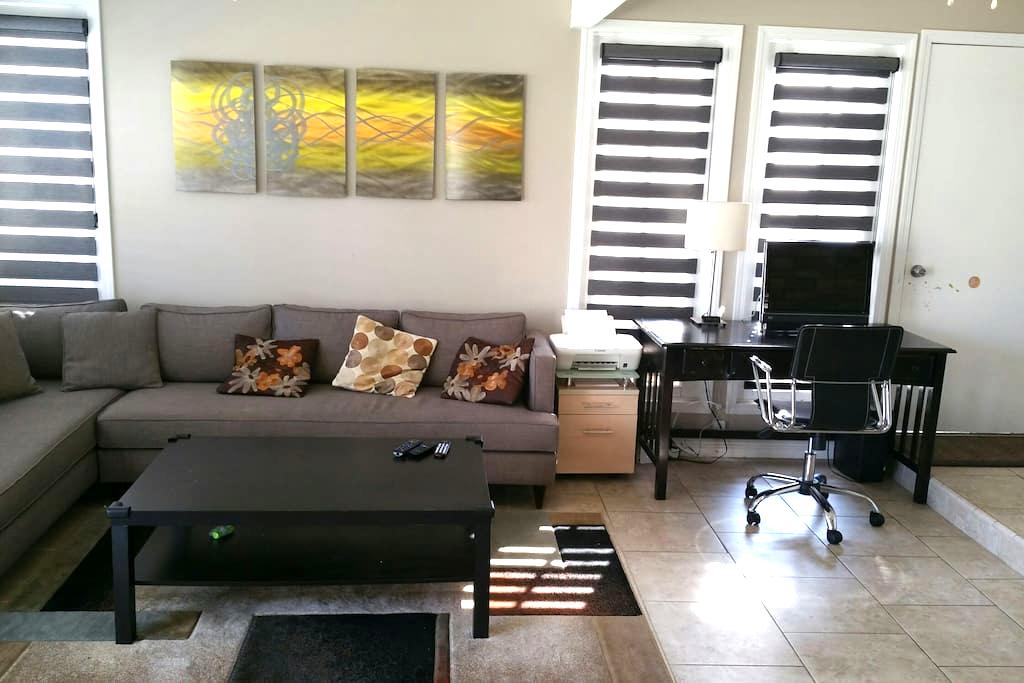 Beautiful remodeled 3-story home in safe quiet gated community. 10 minutes to Disneyland/California Adventure, The Outlets at the Block of Orange, Angel Stadium, and Honda Center. 15 min. to Knott's Berry Farm/Soak City, 20 to Huntington Beach. 3 bedrooms (one has gym equipment but we can provide jumbo queen blow-up mattress for additional sleeping accommodations). Large remodeled kitchen with quality appliances. 3 TVs with Direct TV. Attached garage parking available for 2 cars. Free wifi.
Gate entry is through a code. Garage/home entry through a code. Pool area entry through key provided. Complimentary extras available: beach chairs, coolers, 2 bikes, board games, netflix access. FYI Allergy Note: We do have 2 labrador dogs. They are at Daycare while you stay with us. The house is professionally cleaned.
Gated safe neighborhood. 5 minutes to shopping center with restaurants and nice recliner movie theater.
Kamertype
Gehele woning/appartement
---
Type woning
Huis
---
Geschikt voor
6
---
Slaapkamers
Garden Grove, Californië, Verenigde Staten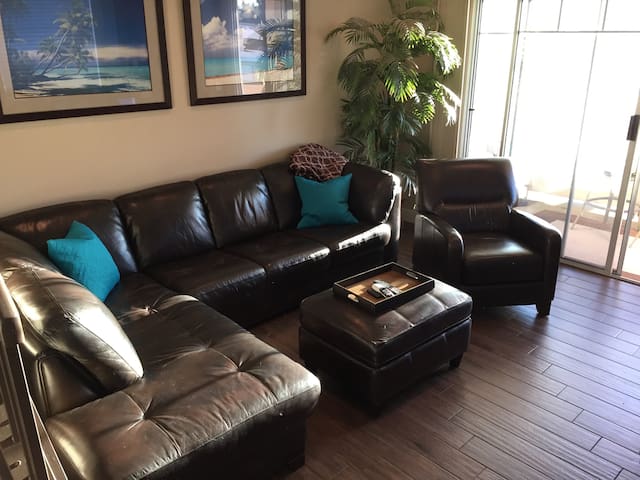 Newly remodeled 3 bedroom, two story town home just a few blocks from Disneyland! There's plush linens, large 55" Direct TV, free wi-fi, toys for the little ones.. and private hottub for relaxing after a long day! Save money on hotels & get much more comfort & space!
Very spacious. Good value for families compared to hotel. There were a couple small issues with electrical and wifi that owner has been notified about. Neighborhood was very loud at night. (Not that owner can do much about that)
Jennifer
2017-04-02T00:00:00Z
Great place, very clean, good location.
Julian
2017-01-07T00:00:00Z
House is clean and very quiet, Norma also has a recommended driver who can pick you up from the airport if needed. Overall a good stay
Rob
2017-02-10T00:00:00Z
This place was perfect for kids. Lots of little toys for them to stay occupied. We were all very comfortable. Very close to Disneyland. There's a lot of places to eat nearby. The jacuzzi was such a bonus after a long day walking around. Just be sure it's on when you get there so it'll be ready for you when you get back. Norma is very flexible and very helpful with any questions you may have. We will definitely try to book this home again for any future Disney trips.
Andrea
2017-03-25T00:00:00Z
We totally loved Norma's home. It was perfect for us with our 9 and 6 year old. It's a 5 minute Uber to Disneyland which was our destination. Oh how nice to have my own ensuite upstairs. Loved it! Kids were so happy with their Disney rooms and everything we needed was there. I can't tell you how nice it was to come home to the spa after a full day of Disneyland!! Norma was great & also got us a nice ride to the Airport with the lovely Jose, which was great. Very happy.
Angie
2017-04-05T00:00:00Z
Very accommodating.
Coleman
2016-11-07T00:00:00Z
Nice and comfortable flat. Everything was ok. Very suitable for our aims.
Elvio
2017-02-04T00:00:00Z
Norma was very accommodating of our requests. Overall very smooth experience.
Isabel
2016-11-12T00:00:00Z
Kamertype
Gehele woning/appartement
---
Type woning
Huis
---
Geschikt voor
11
---
Slaapkamers
Garden Grove, Californië, Verenigde Staten
Cozy home with open floor plan. 1 mile from Disneyland and Anaheim Convention Center. Two Bedrooms and one bath, sleeps 4 privately/8 total. Full kitchen, large family room with backyard dinning and living area. Enjoy the year round California sunshine. Perfect for couples or small family. We are a diverse family and would love to welcome you to our home. Raised garden provides fresh produce during summer months. 14 year old outdoor cat lives in garage/backyard.
It is located in such a great space to access Disneyland, Anaheim Convention Center, Honda Center, Angel Stadium and Downtown Disney.
Kamertype
Gehele woning/appartement
---
Type woning
Huis
---
Geschikt voor
6
---
Slaapkamers
Garden Grove, Californië, Verenigde Staten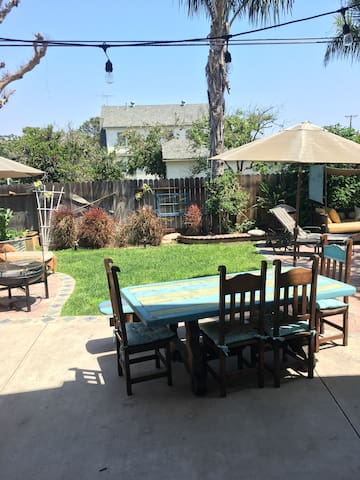 The newer home in gated community few blocks close to Disneyland Park, Anaheim Convention Center, The Outlet, Anaheim Angel Stadium, UCI hospital, Crystal Cathedral and the city center. You'll love my place because of the nice and clean space, the comfortable beds and baths, and ample space kitchen. My place is good for couples, solo adventurers, and business travelers.
New listing start 1/1/2017 . Nice, clean 2 separate bedrooms for 2 guests each bedroom. 1st bedroom with queen size bed. 2nd bedroom with new, comfortable full size folding bed.
security gate neighborhood with ample guest parking spaces in Garden Walk community.
good place to Disneyland.
Lei
2017-03-31T00:00:00Z
We've stayed in a lot of airbnb's and I'd venture to say this may be the best one yet. Our hosts were delightful and gave us full use of the house. The house has everything you want and is easy to find. Definitely recommend!
Brie And Shura
2017-03-17T00:00:00Z
Nice and quiet. A great place to stay for business travel.
Kamil
2017-01-20T00:00:00Z
Beautiful home, bedroom and bathroom were 1st class. Jamie was very flexible with our schedule- we attended a 3 day event at Anaheim Convention Center - this was the perfect place for our biz trip
Brian
2017-03-27T00:00:00Z
Great location near the Convention Center and Disney. Nice neighborhood, perfect place to crash for the night after a long day.
Justin
2017-04-02T00:00:00Z
Located a couple miles from Disneyland. Cheap pricing compared to the other hotels and motels in the area close to Disney. Small gated community.
Nicholas
2017-03-10T00:00:00Z
Jaime and her husban were very nice to us and their house is very well located!
Magui
2017-01-22T00:00:00Z
Enjoyed our stay. Hosts were great
Jason
2017-03-25T00:00:00Z
Kamertype
Privé Kamer
---
Type woning
Huis
---
Geschikt voor
5
---
Slaapkamers
Garden Grove, Californië, Verenigde Staten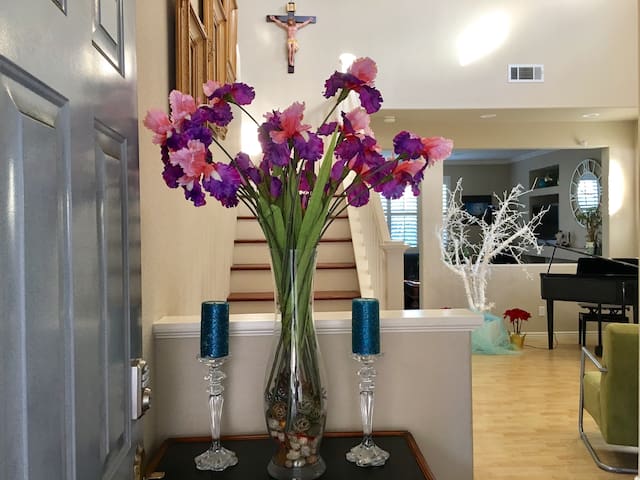 Welcome home! Our unique studio with private entrance, private bath and kitchenette is ready to accommodate you on your next vacation or business trip in sunny Southern California. Nothing is better than coming home to a super comfy king-sized bed and other extra amenities within one of the nicest neighborhood in Garden Grove. Only 3 miles away from Disneyland, Anaheim Convention Center, exceptional restaurants,beaches as well as many other major attractions!
The studio is perfect for a single or double occupancy. Sleep through the night on a king-bed with high quality mattress and well-made linens. Basic amenities are provided. It also has a small kitchenette if you decide to make some quick, simple food. You are welcomed to enjoy the beverages provided in the fridge as well as the cup noodles :) TV has Netflix for your movie nights! ****Feel free to check out my other studios under my profile as well, in case this one is booked already.*****
* The neighborhood is extremely safe and quiet, day and night. Please help keeping it the same. * This is a residential area with a hint of rural feeling. There will be bird chirping on the trees as we have a lot of trees around and occasional rooster crowing.
The location on the web's map is a little different to the actual address. It's 3 miles far from the Disneyland as the title. Excluding the small confusion, the experience is really great. There is quiet and clean. It's comfortable and make ourselves at home. There are some cup noodles and drinks provided by Thu An. We felt thankful.
Joseph
2017-01-29T00:00:00Z
Loved it so cozy and beautiful!
Jennifer
2017-01-31T00:00:00Z
Great service,clean room,quiet place,amazing!!!!!
Arman
2017-03-06T00:00:00Z
What a great experience! Thu An's place is right near Disneyland. Clean, comfortable, private, convenient and great communication. Everything we were looking for and more. I would definitely recommend staying here. Thank you for hosting us! We look forward to staying here again :)
Melissa
2016-12-04T00:00:00Z
It is really a nice room. Everything was perfect for our stay. Would definitely come back again.
Victoria
2017-02-10T00:00:00Z
Easy parking. Minutes to Disneyland. The room is cozy and clean. Great BnB for two.
Valen
2017-03-14T00:00:00Z
Clean, easy to access, $8-10 Uber ride to Disney, (EMAIL HIDDEN)es with its own kitchenette and beautiful bathroom. Just keep in mind that you can hear noise from the other side of the wall but it wasn't loud enough to disturb our sleep.
Alyssa
2017-02-06T00:00:00Z
Thu was a great host! She was very helpful and had fast communication. The airbnb room was better than expected. The bed was HUGE and the room had everything I needed. Thu also provided complementary foods and drinks. :-)
Jocelyn
2017-04-03T00:00:00Z
Kamertype
Privé Kamer
---
Type woning
Huis
---
Geschikt voor
2
---
Slaapkamers
Garden Grove, Californië, Verenigde Staten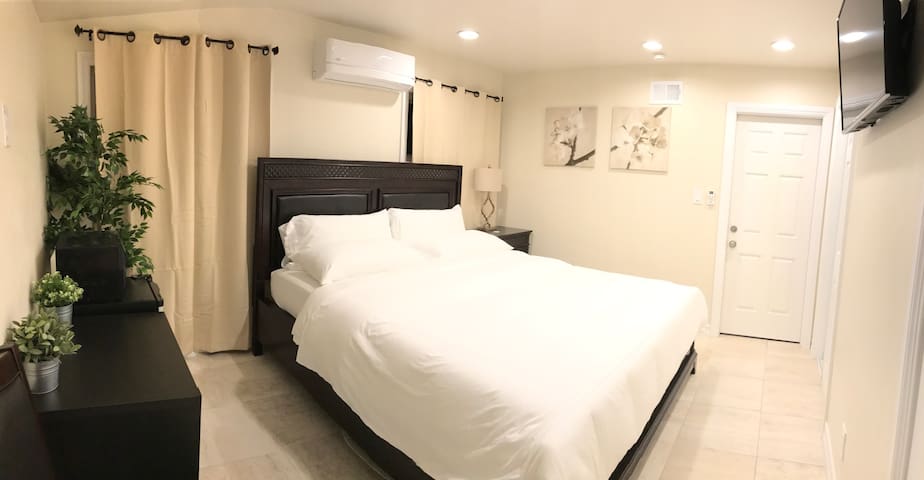 Spacious pool house close to Disneyland, Knott's Berry Farm, Adventure City, and the beaches! Sleeps 8 to 10 people.
Very large driveway that allows more than 4 cars to be parked. 2 car garage. 2 queen beds, 1 double bed, 1 double futon, and a comfortable couch. Each room has ceiling fans. Fire place in living room to make s'mores. Patio has patio table, chairs, pool floaties and cute lounge chairs to soak up the sun. Feel free to enjoy my fruit trees (blood oranges, limes, tangerines, oranges, pomegranates). Bean bag toss game, and disney puzzles for the kids are available. New stainless steel microwave and fridge installed. Keurig available if you want a cup of coffee. Amenities: -Bath towels, hand towels, washcloths, kitchen towels -Toilet paper and paper towels -Shampoo, Conditioner, Body wash -Dish soap -Dishwasher soap -Brand new refrigerator with ice maker -Kitchenware, drinking glasses, wine glasses, mugs, silverware, cooking utensils, stainless steel pots and pans -Toaster, Keurig coffee maker, rice cooker, and microwave -Board and card games, bean bag toss, puzzles, and toys for the kids. -55" Smart TV with Netflix, Youtube etc. -Washer and Dryer with sensitive skin non-fragrant soap -Air conditioning/heating -Steamer for clothes -Iron and iron board -Hairdryers -Free Wi-Fi -Patio furniture -Lounge chairs to soak up the sun -Pool with floaties and noodles -Baby stuff (ie. High chair, play pen, baby bath etc available upon request)
Very quiet and friendly neighbors. - Disneyland: 3.4 miles / 10 min drive - Anaheim Convention Center: 3.3 miles / 8 min drive - Cal State Fullerton: 11 miles / 20 min drive - South Coast Plaza: 11 miles / 24 min drive - Huntington Beach: 11 miles / 25 min drive - Long Beach: 15 miles / 28 mins - Newport Beach: 17 miles / 30 min drive
Kamertype
Gehele woning/appartement
---
Type woning
Huis
---
Geschikt voor
10
---
Slaapkamers
Garden Grove, Californië, Verenigde Staten
Voer datums in om de volledige tariefopbouw te zien. Er kunnen extra kosten zijn en er kunnen belastingen worden toegevoegd.