Come visit our beautiful country home, in a quiet neighborhood. Located just 2.5 miles from Hwy 99 and 15 minutes South of Fresno. Less than 2 hours away from Yosemite, Sequoia and King's Canyon National Parks!
Comfortable room with Tempurpedic mattress and television. Private bathroom and separate bathroom with shower access. Breakfast and coffee provided.
It's such a comfortable experience that StoneHaven has become my home away from home. They treat me like an honored royal new guest each time ... even though I stay there every month.
Bryan
2015-11-24T00:00:00Z
This is hard to review as just a private room. This is an experience. Stonehaven comes by it's name very easily. The room was as described with a bathroom which had a beautiful view. The landscaping is something else entirely. It is a retreat. You would think you were near a waterfall in the Sierras with boulders strewn around, creating side streams with their own waterfalls. The Hostesses were exceptionally gracious. I would not hesitate to return. Exceptional!
Bud
2015-08-26T00:00:00Z
From a cost vs. benefit perspective ... the value is off the chart. Yes, it's Fowler -- not San Francisco, but this is the easiest 5-Star AirBnB rating ever. Seriously, if there was a Ritz Carlton & a Four Seasons on both sides of it ... I'd choose Stonehaven ... even if all 3 were the same price. The hosts are truly committed to exceeding guest expectations. The treatment is royal, their home is impeccably clean, fragrant and quiet, and the bed is very comfortable. The property itself, covered in other reviews, is quite unique and really a cool oasis/wildlife sanctuary. I'm looking forward to returning !
Bryan
2015-08-14T00:00:00Z
After a long day of traveling and playing on a scholarship audition, this was exactly a place me and my boyfriend needed! Ashley and here mom are wonderful people and absolutely impeccable hosts, we immediately felt like home. It was a great pleasure to meet them and to share couple of interesting conversations. Their home is absolutely amazing! We felt huge respect for the way they build this house and the thought it was put into it. Would definitely love to come back and spend some more time here!
Julijana
2016-03-07T00:00:00Z
StoneHaven couldn't be any easier or more comfortable! Want to be treated like a king by the most gracious and attentive hosts imaginable ? ... stay there !
Bryan
2015-12-11T00:00:00Z
This gorgeous estate, located less than five minutes off the freeway, is hosted by two lovely women, who made us feel welcome from our arrival. If you want a stunning place to stay amidst miles of vineyard, look no further! The back yard has a natural pool and spa, a pond, and some emus and even an ostrich! These are grounds that beg a wedding or stellar event on them; Stonehaven will "wow" you from first sight. We arrived road weary and stressed, but our stress melted right away in the spa, where we could unwind in quiet, beautiful surroundings. I cannot say enough about the hospitality. Even though we only stayed one night, the hosts were so accommodating and friendly, we felt we were leaving friends when we had to go. We will definitely be back! There were a few little extra surprises that I won't reveal; I'll let you find out for yourself! The room is elegant and well appointed, with a tempurpedic mattress and luxurious bedding. The private bathroom has a spa tub that looks out into a tiny private garden complete with a water feature. The care and love poured into creating a luxurious and relaxing space shows everywhere you look at Stonehaven. The pictures don't do it justice. We have stayed at airbnb places before, but we really felt we lucked out when we booked here. What a gem! Thank you thank you, Ashley and Darl. We know we will see you again!
Jamie & Cindy
2015-07-24T00:00:00Z
Stonehaven is such an oasis ! I always look forward to my stays there. They couldn't really be more attentive than they already are. They even pre-heat the spa for me each evening before I arrive and send me off with coffee to-go each morning (after feeding me a nice breakfast). Feels more like vacation than business travel !
Bryan
2015-10-10T00:00:00Z
This is an amazing place! I was so glad I found Stonehaven, and am thankful for the relaxing time I had during my quick trip through California. Ashley and her mom were great hosts! The place is huge. Clean. Quiet. Relaxing. Just like a spa. Speaking of spa, the HUGE hot tub was a bonus! If you're ever coming through the Central Valley, this is the place to stay!
Conrad & Jodi
2016-02-26T00:00:00Z
Kamertype
Privé Kamer
---
Type woning
Huis
---
Geschikt voor
2
---
Slaapkamers
Fowler, Californië 93625, Verenigde Staten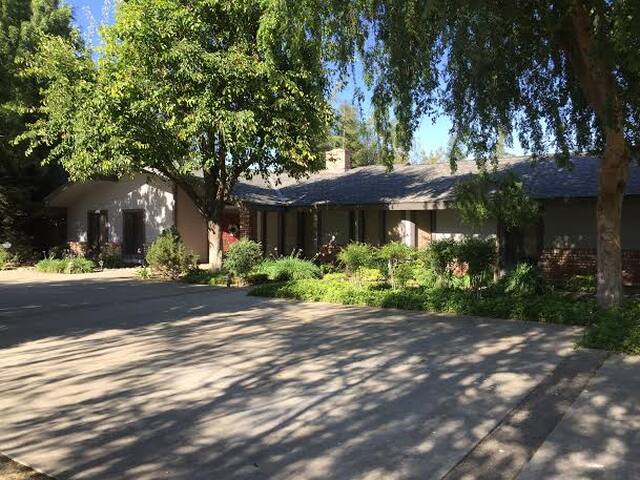 Quiet country home surrounded by orchards and vineyards but only 3 miles from the freeway. Less than two hours from King's Canyon, Sequoia and Yosemite National Parks! We are just 15 minutes south of Fresno, CA. Meet our gentle alpacas. We have 11 right now They love carrots if you happen to bring some! Cozy room with private bathroom and shower. Wireless, plenty of parking space. Swimming pool. Small towns nearby with good restaurants and stores. We are just "bed and breakfast" (i.e. we have jobs) with check-in any time after 6 p.m. and check-out time 10:30 a.m. If you stay more than one night we can certainly be more flexible on times. Beware, we have very friendly dogs........... We love meeting people from all over the world and we'd love to meet you! Barb and Charis
Every thing that an Air BnB is expected to be !! Great location, close to freeway and restaurants . The property was exactly as described and very homey. Enjoyed the alpacas, and all the adorable rescue dogs. Breakfast was an added bonus and enjoyed all the conversation with the hosts. They even found windshield wiper fluid for me... Would recommend this property to all animal lovers .
Pamela
2015-05-13T00:00:00Z
We had such an enjoyable stay at the Alpaca Ranch with Barb and Charis! It's hard to pick one thing: the relaxing conversations, the delicious breakfast, or the alpaca encounter and feeding. All in all it was a very memorable stay and we recommend it highly!
Audrey
2014-03-17T00:00:00Z
Barb and Charis were just wonderful! They have a beautiful home and many alpacas and dogs. We brought my dog and they were very accommodating. Highly recommend!
Carolyn
2016-10-10T00:00:00Z
This place was just wonderful! Barb and Caris made us feel welcome and were so kind to let us play with the dogs and alpacas (we miss Cinnamon already!) Caris also made us a beautiful breakfast each morning. Highly recommend. Would love to stay here again!
laura
2015-07-07T00:00:00Z
Barb and Charis were great hosts, and the room was great! You can tell they really enjoy hosting. Barb took the time to give us a great tour of the alpaca ranch. It's really cool how much she and Charis love the animals and how much they sacrifice to make sure Handsome (who wouldn't feed from his mother) grows up healthy and strong. In the morning, we were treated to a great breakfast with coffee and a nice conversation about religion, which is one of my favorites. Bonus: super-comfortable bed! We recommend booking here!
Kerri and Jeff
2014-07-07T00:00:00Z
A fantastic place to stay, exactly as advertised, lovely, clean and welcoming. Barb and Charis are wonderful hosts, welcoming without being overbearing, in fact the only negative point was that we couldn't chat longer because we had to be up so early! Knowing that, they very kindly left us out a few things for breakfast. Would definitely stay again, one of the highlights of our holiday!
Josh
2015-07-02T00:00:00Z
Barb and Carris welcomed me into their home. By the end of my stay, I felt like extended family. Carris' banana nut bread is the best. Make sure to hangout with the Alpacas (they love to be fed the mulberry leaves).
JoAnn
2015-06-09T00:00:00Z
Barb and Charis are such great hotsts! We stayed with them while peach picking at the Masumoto Family Farm. They were extremely accommodating and made us a wonderful breakfast spread. Barb gave us a great tour of her ranch and answered all of our alpaca questions. She was even nice enough to let us come back to swim in their great pool after we had already left! I recommend staying with Barb and Charis and will come back for future peach harvests.
Miju
2012-08-06T00:00:00Z
Kamertype
Privé Kamer
---
Type woning
Bed & Breakfast
---
Geschikt voor
2
---
Slaapkamers
Fowler, Californië 93625, Verenigde Staten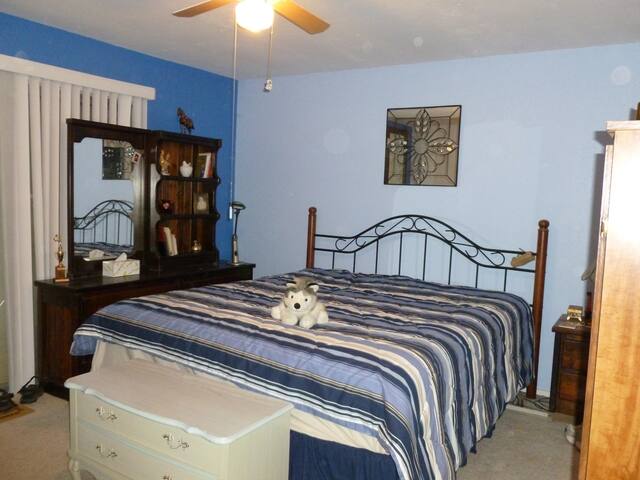 This is a two bedroom (URL HIDDEN) have your own (URL HIDDEN) Internet is available 24 hours of the day,tv is available to your (URL HIDDEN) (URL HIDDEN) only alone with my two year old daughter.
Great place. Nice and quite, and very friendly host
Michael
2017-02-11T00:00:00Z
Everything was perfect there. Reuben was really nice and welcoming, room is pretty big, you got all you need. He even borrowed me his phone to call in the US! P-e-r-f-e-c-t
Maxime
2016-12-11T00:00:00Z
Great place to stay!
Andy
2016-12-09T00:00:00Z
Reuben is very nice and accomodating. I did not like the scenario, I feel very un safe. I was unease parking my car on the street but I was assured none has ever been broken in.
Eric
2016-07-12T00:00:00Z
Ruben is a cool guy. He is very good host. It was good experience living at his place. If I get opportunity to stay at his place, I will definitely choose his place. He is very helpful. He was gracious enough to drop me at my next location. Thank you Reuben for all your help.
Hemant
2016-09-27T00:00:00Z
One of the most hospitable and generous hosts I've ever met on Air B&B! Could be a little better with his communication though
Ryan
2016-12-03T00:00:00Z
Reuben is an awesome guy! Room was very clean and bed super comfy, fast wifi connection also. Reuben was very friendly by inviting me to have dinner with him over a great conversation about life, I can safely say that I made a new friend :)
Ismael
2016-06-01T00:00:00Z
Reuben was a very good host. The bed was very comfortable and there was even a small refrigerator in the room.
Brenda
2016-07-15T00:00:00Z
Kamertype
Privé Kamer
---
Type woning
Appartement
---
Geschikt voor
1
---
Slaapkamers
Fresno, Californië 93727, Verenigde Staten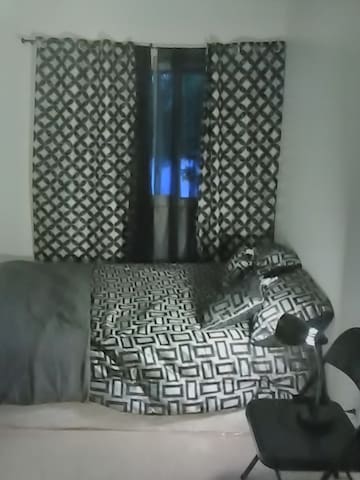 PARK LIKE SETTING CONDO 1450 sq feet FULLY GATED AND SECURE WITH A 2 CAR GARAGE. CLOSE TO THE UNIVERSITY OF PACIFIC COLLEGE, KINGS CANYON THE SEQUOIAS, SAVEMART CENTER, DOWNTOWN, Fresno FAIRGROUNDS, FREEWAY, SHOPS, MALLS AND FOOD CENTERS! Pool and Jacuzzi, washer and dryer.
Kamertype
Gehele woning/appartement
---
Type woning
Appartement
---
Geschikt voor
6
---
Slaapkamers
Fresno, Californië 93727, Verenigde Staten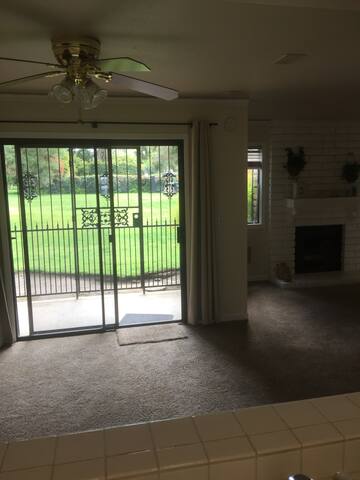 My place is close to public transport and the airport. You'll love my place because of the coziness and the location. My place is good for solo traveler nurses and respiratory therapists and furry friends (pets). Only.
You will have your own bathroom and walking closet..
Is very family oriented and gated community.. quiet and great neighbors.
Alicia kept in touch during my commute to her house. The rainy weather delayed arrival. She adjusted her schedule to be at the home to greet and assisted with moving my stuff into home. Her home is lovely in a quiet neighborhood - easy in and out, access to all main hwys including airport. Very helpful to direct when GPS is wacky! Easy to talk to. Son is a young gentleman with a welcome smile. Highly recommend to hang out for short or long stay.
Lydia
2016-11-20T00:00:00Z
Kamertype
Privé Kamer
---
Type woning
Huis
---
Geschikt voor
1
---
Slaapkamers
Fresno, Californië 93725, Verenigde Staten
Kamertype
Gehele woning/appartement
---
Type woning
Appartement
---
Geschikt voor
2
---
Slaapkamers
Fresno, Californië 93706, Verenigde Staten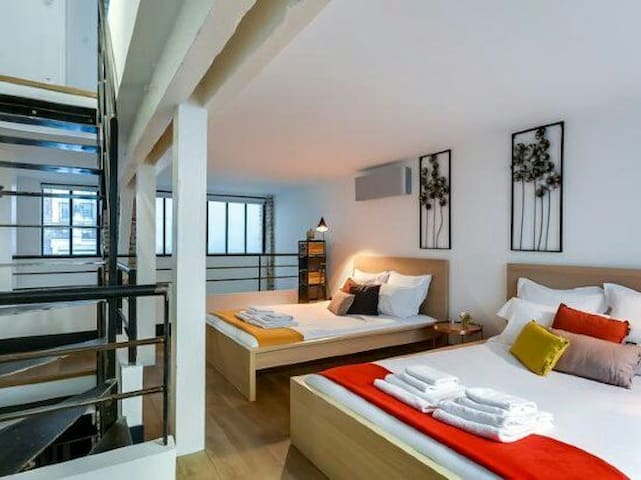 1

–

6

van

6 Accommodaties
Voer datums in om de volledige tariefopbouw te zien. Er kunnen extra kosten zijn en er kunnen belastingen worden toegevoegd.