Our house was originally built during the Lusignan period (14th century); is home to many cultures and is in the heart of the walled city-Famagusta, close to the city center. It takes only few minutes to walk to the square, beach and port. You'll love our house because of the comfy beds, the kitchen, the coziness, beautiful green courtyard, the historical atmosphere. My place is good for couples, business travelers, families(with kids), history lovers. It has two bedrooms with private bathrooms.
Our house is the starting point for exploring the art and cultures in the walled city... Famagusta possesses a wealth of history, which you can learn about. You can catch a multicultural atmosphere (Byzantine, Lusignan, Venetian, Ottoman, British footsteps) in every street of the walled city and you can discover more than 40 monuments including Othello Castle,St. Nicholas Cathedrals, Venetian Palace, churches, Turkish baths, Venetian Palace, Land and Sea Gates, Ravelin, Martinengo Bastion etc.
Un lugar perfecto para conocer Gazigamusa. Una casa muy bonita y acogedora. Limpia y muy bien situada en plena zona amurallada. Yo fui con mi marido y mi hijo de 1 año y estuvimos muy a gusto. Se puede aparcar en la puerta. Okan es un gran anfitrión estuvo pendiente de nosotros en todo momento y nos ayudo en todo lo que pudo. Lo recomiendo.
Virginia
2016-12-05T00:00:00Z
Okan is a great host, he welcomed us and showed us around. Some fruit, snacks and water was in the kitchen for us. The room was clean, tidy and comfortable. I would definitely stay here again.
Freya
2017-01-09T00:00:00Z
The place is right smack in the middle of the historic old town, walking distance from everything the town has to offer. Loads of character and charm, and spotless too. Okan is a courteous and flexible host. I'd definitely stay at the Lusignan House again.
Arda
2017-01-22T00:00:00Z
The Apartment is very nice and located in the walled city of famagusta. Especially the backyard is beautiful & relaxing. Okan gives very helpful tips about the city. It was really nice to stay in Okans guesthouse.
Hendrikje
2017-01-31T00:00:00Z
Okan's place is beautiful, with a charming courtyard and pretty rooms. It is perfectly located for exploring the fascinating walled city of Famagusta. The neighbourhood is quiet, with many traditional houses. If you have small kids, you should be aware that one bedroom is upstairs and another is downstairs via the courtyard. We really enjoyed the stay and we'd definitely stay there again!
Elizabeth
2017-02-20T00:00:00Z
Okan was an awesome host. Communication was a pleasure. He was very hospitable, friendly and helpful. The room was not very spacious but it had the necessary for our stay, it was clean and cosy. The house is located in the heart of the walled city of Famagusta with easy access to the main shopping street there, some restaurants and cafes. The entire experience felt nice, in between of staying at the guest room of a friend of yours and a hotel. I recommend this listing. It will be perfect for a family of 4 or friends!
Dimitar
2017-01-15T00:00:00Z
A stay within Famagusta's walled city is the perfect way to immerse oneself in the fascinating history of a truly remarkable place. Okan is the most hospitable and knowledgeable of hosts one might hope for.
Nigel
2017-02-12T00:00:00Z
Das Haus ist makellos, einfach klasse! Wunderschön mit perfekter Lage.
Sezgin
2016-11-13T00:00:00Z
Kamertype
Gehele woning/appartement
---
Type woning
Huis
---
Geschikt voor
4
---
Slaapkamers
Gazimağusa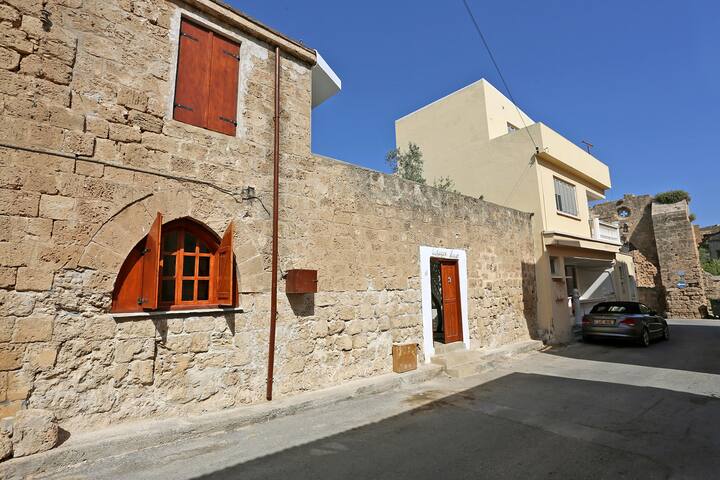 It is in the centre of the old town, surrounded by the historic ramparts of Famagusta where you can track the footprints of the Lusignans, Venetians, and Ottomans. If you want to swim beach is only15min. by walk. 2min. market,5min.bar&pub&restaurant
The house consists of two bedrooms (1 double bed and single or double bed ), Open kitchen, living room, bathroom, dining room .The kitchen is fully equipped, washing machine and dishing machine you can see on photos There is also a fantastic balcony You can feel Lusignans Time (Lusignan Dynasty, (PHONE NUMBER HIDDEN)) The house story: The house use to use by my mother family, My mother and sister and brother grove up at the house. We did some restoration and redesign some part of house and make more functional and also we did classic and modern style combine
The house is located in the calm and peaceful residential place, you can walk to market ,museums, restaurants, bars & pub just in a minute.
These holidays were marvelous to us for several reasons but first of all due to Serhat and his kind assistance and constant support during whole our staying at his beautiful house. He treated us as good friends from the beginning when he met us in the airport and picked up to Magusa till the very end when he brought us back for getting flight. His wonderful house is comfortably located in the heart of old city on hand distance from every prominent point of ancient Famagusta. Apartment is very quiet and cozy, modern and ethnic in the same time, enriched with artistic objects and ideas, fully equipped for your needs. We were so delighted to stay there and we definitely want to come again. We recommend everyone to not hesitate with booking of this house if you wanna feel the true hospitality.
Dmitry
2015-10-30T00:00:00Z
Ottima accoglienza. Appartamento perfettamente in ordine e molto ben equipaggiato (c'è anche la lavastoviglie). Inoltre abbiamo trovato a disposizione acqua e altre bevande in frigorifero, della frutta e vari prodotti per la pulizia. Ringraziamo Serhat per la sua accoglienza e disponibilità.
maurella
2015-07-17T00:00:00Z
Serhat went above and beyond to make our stay magnificent. Would love to stay here every time I come back to cyprus for a visit! Beautiful location,amazing food and shops near by!
Jennifer
2017-02-16T00:00:00Z
We had a perfect time at Serhat's place - and luckily (this time of the year!) aircon units works as heaters! Also, advice for restaurants was much appreciated, we fully agree with Serhat's choice! Every gesture counts... not least the absolutely delicious mandarins waiting for us on the counter... THANKS Serhat!
Konrad
2016-12-29T00:00:00Z
Great host, very attentive and accessible
Gebhard
2016-10-08T00:00:00Z
Serhat a été un hôte à l'écoute et nous a aidé au cours de notre séjour. Nous avions eu des soucis de bagages perdus à l'aéroport et Serhat s'est chargé de nous aider pour les communications téléphoniques en turc. Différentes infos sur la ville sont même mises à disposition dans l'appartement. Nous avons apprécié le logement qui est situé dans un quartier très calme et au milieu de la vieille ville, tout est accessible à pied ! De plus l'appartement est décoré avec gout et on se sent immédiatement comme chez soi ! Top confort ! Appartement impeccable niveau propreté avec quelques petites attentions de la part de notre hôte qui ajoutent encore un charme supplémentaire à ce bel endroit. Je recommande l'appartement de Serhat à toute personne souhaitant passer quelque jours à Chypre du nord ! Nous regrettons juste de ne pas avoir pu rester plus longtemps ! Merci pour tout Serhat !
Sarah
2016-10-28T00:00:00Z
Serhat was a great host. I had to make a last minute booking and he was very accommodating even though he had very little time to prepare. I really enjoyed my stay at the house and would recommend it to anyone. The location is excellent (famagusta old city) with plenty of historical buildings to visit and great restaurants. Petak patisserie is well worth a visit, just a few minutes walk from the house. Such a memorable holiday. Thank you Serhat.
lolli
2016-01-27T00:00:00Z
This property exceeded all our expectations; well maintained with lots of beautiful personal touches. Serhat was a very accommodating host, and responded quickly to any queries we had. The location was quiet and very close to a little shop and the walled city centre was only 5 minutes walk away with loads of restaurants and cafes. Palm beach was 25 minute walk and well worth a visit. Having a balcony to be able to sit out on day or night was an added plus, and the air conditioning was very welcome during the day. We wouldn't hesitate booking here again when we come back. It really felt like a home. thank you Serhat, Kirsty & David
David
2015-09-30T00:00:00Z
Kamertype
Gehele woning/appartement
---
Type woning
Huis
---
Geschikt voor
5
---
Slaapkamers
Gazimağusa, Cyprus, Cyprus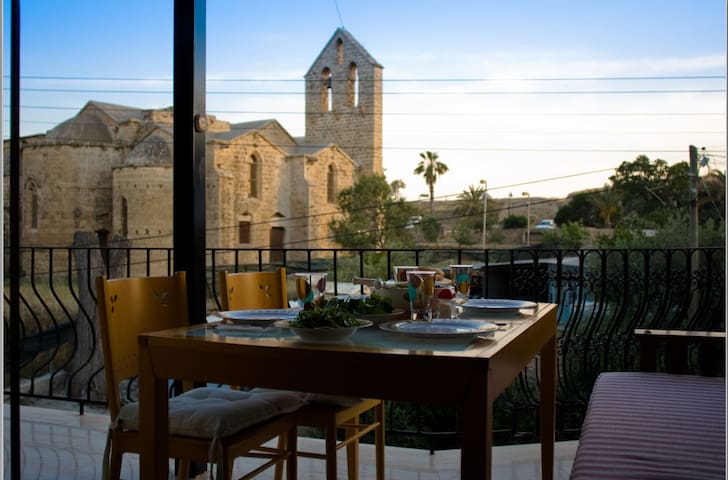 This traditional Cypriot townhouse is located in the heart of the walled medieval city of Famagusta. It's private courtyard garden provides a peaceful retreat, but with cafes, shops, restaurants, and sandy beaches all close by. Ideal for couples and young families or for family reunions.
This traditional Cypriot house offers a unique experience. Lovingly restored and modernised, it is decorated in traditional style and furnished with antique and hard-carved furniture. The high-walled courtyard garden is shaded by olive, tangerine, fig, pomegranate, and lemon trees (with fruit for the taking!). A gate from the end of the garden leads into the narrow pedestrianised streets that weave through the walled city, leading to its many historic sites, including churches and fortifications, a Gothic cathedral and the remains of a Venetian palace. There is a lovely sandy beach within walking distance, or five minutes by car. The house was previously listed with Owners Direct for over three years and received a unanimous five-out-of-five star rating from 12 reviewers.
Everything you might need, including shops, restaurants, cafes, bars, are close by so hiring a car isn't strictly necessary. The sandy 'Palm Beach', with clear waters that attract Green and Loggerhead turtles, is within walking distance (20-30 minutes). But this location also makes a great base for exploring further afield: the ancient ruins of Salamis, the Five Finger mountains, and the unspoilt beaches of the Karpaz are within easy reach and highly recommended. Most guests, however, seem to find it difficult to leave the relaxing atmosphere of the house and garden, let alone the city! One visitor described it as the perfect place to paint or to write a novel.
Communication with Dan was great. Too bad the weather over Christmas had not been so agreeable! Cyprus isn't used to cold weather coming down from Siberia. Temps were well below average. As a result we were cold, even though the house has heaters. The main problem was that the mobile heater didn't work. We needed that in the kitchen. We eventually worked things out. Also, the excessive rain caused a short in the water pump. Dan got that fixed quickly. Kitchen was great and we appreciated be able to use some Christmas decorations Dan had there. Its an interesting house in a city of countless ruins. Dan's video of Famagusta is very good!
Muriel
2016-12-27T00:00:00Z
We had a very nice week in Dan's house in Famagusta. The house is cosy and has all you need for cooking and good sleeping facilities. The old city is full of beautiful ruins of medieval churches and if you walk a bit further outside the city walls you will find a nice public beach behind a new hotel/resort. All of this we can recomment.
Mads Peter
2017-03-07T00:00:00Z
Kamertype
Gehele woning/appartement
---
Type woning
Huis
---
Geschikt voor
7
---
Slaapkamers
Famagusta Bay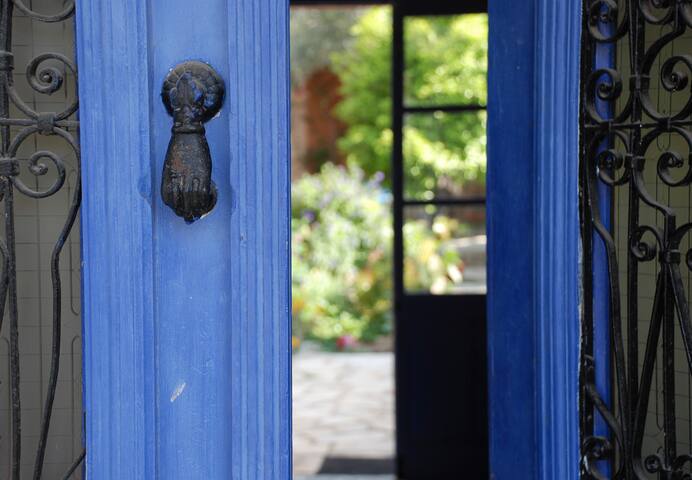 Our comfortable 2 bedroom house is located in the heart of Old City of Famagusta. 10mins walk to the beach and surrounded by many historic sites and only 5mins walk to the local shops. We can accomodate upto 5 (1 extra sofabed)
Located within historic old city of Famagusta and can comfortable accommodate 5 persons. (1 double 2 single beds and 1 sofabed)
Quite and calm a great escape from the city, on the other hand easy and quick access to local shops, restaurants and bars.
I am gonna make the long story short. staying in Pelin's house is like staying at your friend's house. Pelin is way too much than a helpful host, she is more of a close and kind friend who helps in the situations that nobody can help (for example, communicate with non-English speaking taxi drivers). staying in these clean, nice and specious houses was like having a friend's house keys.
Homan
2016-10-19T00:00:00Z
Me and my family had wonderful stay for 3 nights in Pelin's house. The house is cozy and spacious with a nice dooryard. If you visit Famagusta, I highly recommend this which is very close to touristical places, cafes&restaurants, sea and everything else. Thank you!
İrem
2016-06-06T00:00:00Z
Pelin was a lovely host and I'll most definitely recommend her apartment to anyone who is considering staying in Famagusta, Although I haven't meet her in person however I felt I did as she would daily contact us via (SENSITIVE CONTENTS HIDDEN)/Viber, recommending us good places to eat and to visit some nice beaches close by , she even helped us with car hire.  About the apartment : it met all our basic requirements with a fully equip kitchen with clean bathroom facilities and with the added bonus of having AC in all the rooms which was most welcomed. The apartment was centrally located and easy accessible to all the bars and restaurants which is 5 mins away.  Pelin really made our vacation a truly memorable one and for anyone considering her apartment don't even hesitate. 
Delme
2016-09-18T00:00:00Z
My whole experience at Pelin's house was fantastic. My flight was delayed so arrived really late but the family were still there to greet me. Before I left for Cyprus, and during my whole stay Pelin was in touch, she couldn't have been more helpful. She arranged taxis for me, gave me directions on places to visit and made sure my whole stay was perfect. I contacted her on a few occasions whilst I was in Cyprus to ask advice on various things (where to shop, how to travel) and Pelin always answered within 10 minutes.
lisa
2015-09-02T00:00:00Z
Pelin's place is ideally located in the heart of historical part of the city. House can accommodate four persons and has a very fast internet. I stayed in winter which was a bit cold but i bet rest of the year it is a ideal place to stay. I didnt have chance to meet Pelin in person but she knows how remotely makes you feel at home. She combines the Western professionality with Eastern hospitality and that's why I recommend her place for future visitors.
Aidin
2017-02-01T00:00:00Z
Il posto e' motlo carino e accogliente, nella zona piu' bella e di interesse storico. Vicino a ristoranti buoni e pastticcerie rinomate. Pelin e' super cortese e disponibile
Daniela
2016-12-26T00:00:00Z
So it begins from weeks before our visit when we contacted Pelin. She was most helpful and approachable. She organised taxi transfer from airport to apartment, which was brilliant with our little boy. There was a trustworthy and reliable driver waiting at airport for us even though our flight was over an hour late and border control took forever! On arrival Pelin's mother was waiting for us even though it was nearly midnight. She was very welcoming and polite. There was a personal note from Pelin with all the basic instructions regarding nearest supermarkets, internet and other essential things. We knew we were off to a good start already. Apartments was spotless, there were all amenities in kitchen including milk for the lil one. Pelin had organised a cot for our little boy and even a small bath tub for him. Brilliant air-conditioning in both rooms. Kitchen had everything one needs including brand new fridge, washing machine and cooker. Oh and there is brilliant Wifi connection. Towards the end of our trip Pelin was like a friend of ours. Very approachable. Regardless of time of day or night always replied to messages straight away. We woke her up early hours of the morning on more than one occasion and messaged her late at night well, too many times and she always welcomed us. She organised from car rental to even ordering take away for us!!! We just thought of going to south cyprus and just mentioned it to her and she organised that trip for us including car rental and directions for us although we ended up not going. If you are planning to visit Gazimagusa/Famagusta this is an ideal apartment to stay and Pelin and her family are absolutely amazing hosts!
Bilal
2015-09-17T00:00:00Z
We had a lovely time and Pelin was quite responsive when we needed anything. Thanks!
Begüm
2016-11-05T00:00:00Z
Kamertype
Gehele woning/appartement
---
Type woning
Huis
---
Geschikt voor
4
---
Slaapkamers
Gazimağusa, Walled City, Cyprus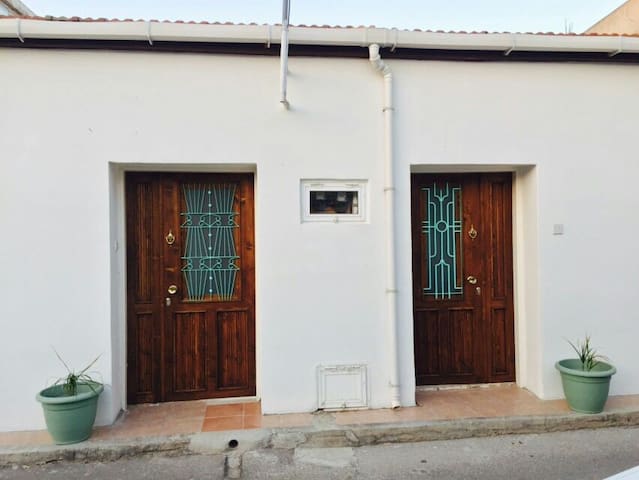 This is old traditional Turkish Cypriot home that's been modernised and refurbished to a good standard really close to best beaches on the island and plenty of history but with that extra traditional village experience . close to town centre aswell and 20 min from airport
Traditional village home in traditional village culture but with modern amenities include hot water and wifi and smart tv
It's voted the safest peaceful village on the whole island
Kamertype
Gehele woning/appartement
---
Type woning
Huis
---
Geschikt voor
5
---
Slaapkamers
Yeni bigazici, C, Cyprus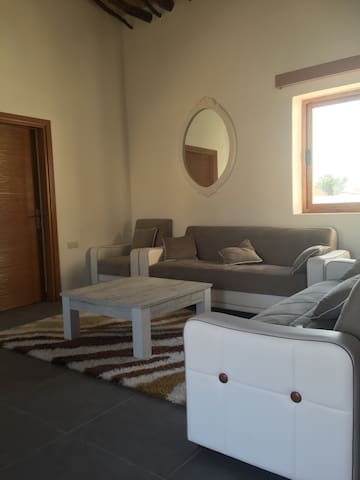 Originally a groundfloor conservatory this small but very comfortable room is well furnished and has a spacious folding armchair for a comfy bed. Please note that this is home with friendly pets roaming ...three dogs and many cats. Not suitable for those with allergies or animal phobias. There is also a larger(double) room upstairs: please see my listing 'Comfortable Private Room' for rates and availability. Have a super holiday!
It is a quiet well lit room with double glazing, heavy blinds, tiled floor, rugs, Air Conditioning (H&C), electric fire, ample wardrobe storage, stool, small table, large dresser with cupboards , shelves, drawers and mirror, overhead fan/light unit with reversible blades, further wall unit with shelves/racks, mirror and worktop, backing onto the wardrobe. There is Wi Fi , electric kettle and in the adjoining dining room there is a refrigerator for your convenience. There is also a fully equipped common kitchen. There is a lockable private door to the outside and a french window into the dining room, which gives access to the shared bathroom, as well as to the lounge.
This is an ideal base from which to explore the east coast and the many popular resorts. There is a local bus stop within a few metres. Intercity buses run from the town centre (St. George's, Paralimni). Car hire, bicycle rental and many other amenities are close by. There are restaurants, bars, cafes and tavernas in abundance ...and opposite the accommadation is the largest regional supermarket, the Metro.
Mi experiencia en la casa de Max fue memorable. Max es una persona increíble, que ama a los animales, es amigable, divertido y conversador. Es muy interesante, le gusta compartir ideas asombrosas y experiencias de vida. Sera difícil encontrar un anfitrión tan bueno como él, siempre atento, generoso y cordial. Sa casa esta en un lugar muy tranquilo y bonito, y sus mascotas le dan vida a su hogar. Gracias infinitas!
Gabriel
2016-11-01T00:00:00Z
Uber die genaue Beschreibung des Zimmers, wo sie schlafen sollten, die Hygiene wegen seiner Haustieren.
Adi
2017-01-17T00:00:00Z
Я искала тихое уединенное место для путешествия не в сезон и я его нашла. Макс - гостеприимный душевный хозяин. Мне досталась маленькая уютная терраса с диваном. Что было удобно и приятно - собственный отдельный вход в дом и большое окно, куда утром приходило солнце. Но по сути в моём распоряжении был весь дом - столовая, гостиная и кухня, где можно было свободно готовить. Макс любезно предлагал разделить с гостями ужин и развлекал беседами. Место подойдёт для неприхотливых путешественников. Терраса рассчитана на одного человека. Не подойдёт тем, у кого есть аллергия на домашних животных. Коты и собаки тут повсюду.
Anna
2016-12-17T00:00:00Z
The room for a solo traveller is a nice place to stay during vacations. Max is very intelligent and there is always something to talk about with him. He cooks very well and he may provide you an ice-cream and an excellent dinner. With three joyful dogs, Jupiter, Norman and Maisy, staying at the house is nearly always funny. I'm glad I visited this place and I'd like to come again.
Tagir
2016-09-27T00:00:00Z
It was wonderful! Max - a noble elderly man with a lot of dogs and cats in the house. He took me to local attractions and was a great tour guide ... I want to wish him good health and the animals! Thank you!
Антон
2017-02-03T00:00:00Z
I had a great time at Max's : )! He came to pick me up when I arrived in Paralimni, shared many dinners with me and was always really kind with me and the two other guests :)! Max's life sounds like a great adventure and he will definitively makes your stay worth it. His place is very near by supermarket and bus stops (which was very handy as I didn't have a car) and only 30 minutes away (by bus) from the wonderful Capo Greco : ) !! If you love pets I highly recommend this Airbnb :D !
LaurenceWanna
2016-10-11T00:00:00Z
Max has a cosy home and is a very friendly & welcoming host. Make sure that your into cats & dogs because there are a lot of them in his place.
Tine
2016-11-25T00:00:00Z
Max's place is more a home than a place to stay. He collected me from, and dropped me off, at the bus station which is always great and saves faffing about when you are too tired to think straight. Max obviously enjoys having people staying with him. He enjoys conversation and sharing his home, his food, his gentle animals and lots more with his guests. He is a delightful, compassionate and empathic person who is a joy to be around. He thinks of everything you may need and provides way over and above what I imagine people expect from Airbnb. I miss him, his cosy home and his assorted animalia already and intend to return for a longer stay. Thank you Max for making me so welcome in your lovely, homely home.
Janet
2016-10-18T00:00:00Z
Kamertype
Privé Kamer
---
Type woning
Huis
---
Geschikt voor
1
---
Slaapkamers
Paralimni, Famagusta, Cyprus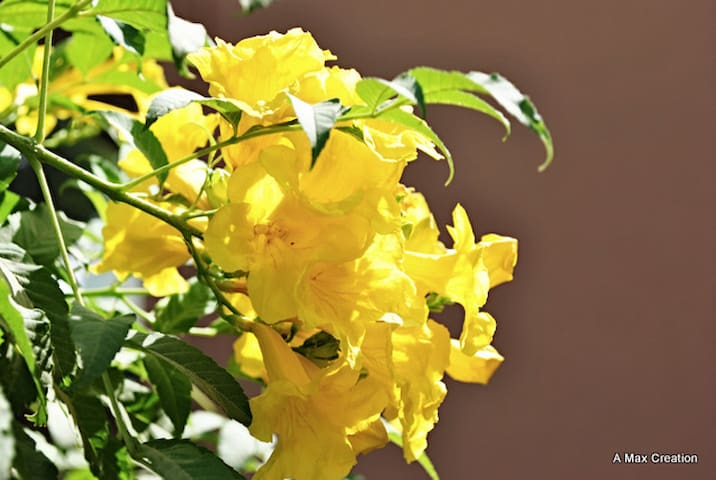 Вилла расположена на море в восхитительном месте с потрясающим видом на кристально чистое Средиземное море. Наслаждайтесь красивым видом на море отдыхая на патио или около бассейна. В главной спальне душевая комната и балкон с видом на море. На территории виллы частный бассейн, терраса с лежаками и столиками, настольный теннис и барбекю. Недалеко от виллы вся инфраструктура курорта: магазины, бары, кафе, рестораны. Эта вилла великолепный выбор для вашего отдыха на Кипре!
Kamertype
Gehele woning/appartement
---
Type woning
Huis
---
Geschikt voor
6
---
Slaapkamers
Paralimni, Cyprus
A detached holiday house in a quiet area at Kapparis Protaras. 300 metres from the beach and 100 metres from the bus station. Close to the central road of Kapparis street surrounded by restaurants with chinese , italian , cyprus , british and european cuisine
Very quiet area. 2 BEDROOMS WITH 2 DOUBLE BED AND EXTRA 2 sofa-bed (double). 2 parking place.
Friendly & family environment.
Очень хороший и спокойный район для отдыха. Хороший дом, есть все необходимое для комфортного проживания. Рядом улица, на которой расположены магазинчики и таверны. Море практически рядом. Пляж замечательный, красивая бухта, чистая прозрачная вода. Yiannis очень гостеприимный и заботливый хозяин. Всегда готов помочь решить любые проблемы. Спасибо огромное!
Елена
2015-09-21T00:00:00Z
Les hôtes sont très accueillants et n'ont pas hésité à nous rendre service. La maison correspond aux photos et à la description. La plage, les commerces et les restaurants sont tout près mais le centre ville n'est accessible qu'en bus ou en voiture. Il y avait tout ce dont on pouvait avoir besoin dans la maison. Nous avons passé un agréable moment ! Et nous recommandons ces hôtes les yeux fermés !
Coline
2016-08-26T00:00:00Z
Большое спасибо Янису за гостеприимство и радушие! Очень понравился дом, очень уютный, есть все необходимое! Фото соответствуют действительности! Нам было очень приятно жить в этом доме, мы чувствовали себя как дома! Спасибо большое Янису за прекрасно проведенный отпуск!
Anna
2016-08-18T00:00:00Z
We stayed in Kappis for 2 weeks in September. This house is exactly the same as in the photo. It's suitable for families with children (located in quiet area, plenty of space for games). The nearest beach is Fireman's, it's small but clean and good equiped. You can go by bus to Fig Tree Bay (15 min), the bus stop is in 200 m from the house. Yiannis is very hospitable host, he greeted us with gifts and fruits. He had always been in touch and resolved all our issues. Yiannis, thank you and your wife! Мы отдыхали в Каппарисе в течение двух недель. Дом точно соответствует фотографиям. Он подходит для семей с детьми (расположен в тихом районе, много свободного места для детских игр). Ближайший пляж к дому - Fireman's beach, он небольшой, но чистый и прекрасно оснащен для отдыха. Вы легко можете добраться на автобусе до пляжа Fig Tree (15 минут), ближайшая остановка в 200 метрах от дома. Янис - очень гостеприимный хозяин, он встретил нас с сувенирами и фруктами. Всегда был на связи и решал любые вопросы. Янис, благодарим вас и вашу жену, спасибо!
Maria
2016-09-20T00:00:00Z
Kamertype
Gehele woning/appartement
---
Type woning
Huis
---
Geschikt voor
8
---
Slaapkamers
Protaras - Paralimni - Kapparis, Paralimni - Protaras, Cyprus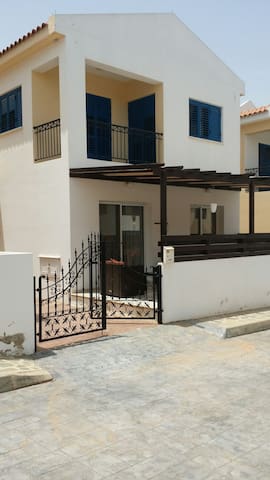 Quaint one bedroom property with private courtyard in the heart of the Old City Famagusta. Ideal for exploring the City's many historical features. Many shops, cafes and restaurants on your doorstep and a sandy beach close by.
One bedroom property with fully equipped kitchen, oven, hob, fridge, toaster, kettle, microwave, washing machine, water cooler. The bedroom has a double bed with en-suite bathroom (with shower). The courtyard is accessed via the kitchen and there is a small roof terrace for sunbathing. The lounge has a TV (minimal English channels) and DVD player with a number of DVDs provided. There is also a CD player and a selection of books. Wireless Internet is also provided. Linen and towels are provided but not beach towels (please bring your own beach towels).
The Palm View Courtyard House is located in the heart of the Old City Famagusta which is famous for its historical architecture including St. Nicholas Cathedral and Othello's Tower. All shops, cafes and restaurants are easily accessible, the sandy Palm Beach has clear, warm waters, which attract green and loggerhead turtles and is within walking distance (25 minutes. Further afield you can explore the ancient ruins and the unspoilt beaches in the Karpaz region. There are also a number of other great beaches you can try and hotels with small waterparks. Salamis Ruins and St Barnabas Museum are a must if you haven't been to the island before. Great for couples, solo adventurers and business travelers.
Kamertype
Gehele woning/appartement
---
Type woning
Huis
---
Geschikt voor
2
---
Slaapkamers
Gazimağusa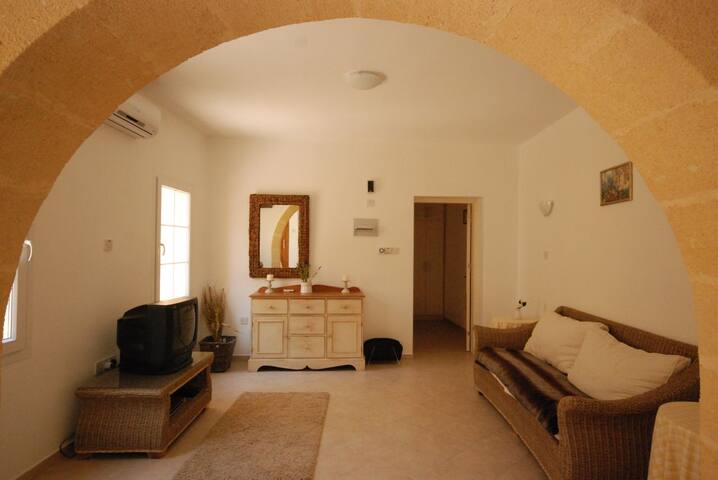 Met 3 slaapkamers, de vrijstaande villa heeft een prachtig open woon. Een prive-zwembad met stoelen buiten en ligweide, samen met buiten te dineren. In het traditionele dorp Frenaros, ligt op slechts 10 minuten rijden naar het resort van Ayia Napa. Terwijl de populaire stranden van Kaparis, Pernera en Protaras zijn net zo dichtbij. Deze villa is ideaal voor degenen die graag een beetje luxe met een vrijstaande villa met zwembad met behoud van de mogelijkheid binnen een budget te leven.
Deze mooie villa met 3 slaapkamers In Frenaros dorp is de perfecte locatie om te ontspannen en te genieten van het aanbod aan u. De stranden van Agia Napa, Kaparis, Pernera en Protaras zijn slechts een klein eindje rijden Ingericht in een moderne, eigentijdse mode dit 3 slaapkamer villa is een geweldige vondst. Het buitenterrein is ontworpen rond ontspannen hele dag lang, veel ruimte om te zonnen, te ontspannen in de schaduw van het prieel en buiten te dineren. Open plan woon opent de keuken, eethoek en een lounge voor gezelligheid en uitzicht op de tuin en het zwembad. Er is een handige rust kamer op de begane grond met een vol bad / douche boven. de slaapkamers aan de voorzijde van het pand hebben zowel een balkon dat toegankelijk is via openslaande deuren. De villa is gelegen op een kleine residentiële ontwikkeling en ligt op loopafstand van het centrum van het dorp
Dit is een mooie slaperige dorpje weg van de drukte van de grote steden, zijn er bars en restaurants op loopafstand te vinden en de dorpelingen geven altijd een warm welkom. Bakkerijen, supermarkten, kruideniers en slagers zijn allemaal op loopafstand. Dit is een andere manier om cyprus in een huiselijke omgeving ervaren
Kamertype
Gehele woning/appartement
---
Type woning
Huis
---
Geschikt voor
6
---
Slaapkamers
Frenaros, Famagusta, Cyprus
Lovely townhouse in peaceful friendly village,only 15 minutes drive to beautiful sandy beaches & lively resorts.Open plan ground floor,2 double bedrooms with fitted wardrobes,large family bathroom,front & rear patio gardens & use of the communal pool
Lovely spacious townhouse with modern decor situated in a small complex. The ground floor features an open plan living,dining & well equipped kitchen area,also a guest toilet. 2 bedrooms with comfortable double beds & fitted wardrobes. Large family bathroom with bath and shower. Front and rear patio gardens. Air conditioning throughout.
Vrysoulles is a quiet friendly village with plenty of local amenities such as a large modern supermarket, bakery, bank and chemist. There are great local cafes, restaurants, bars and tavernas. English is widely spoken. It is an excellent location to explore all of Cyprus.
If you are looking for a quiet and relaxed countryside place then this is the right townhouse for you! The location is very good and all the necessary spots like grocery stores, some restaurants and the best beaches in Cyprus are easily accessible by car in short driving time. The host, Kirsty, is an amazingly welcoming and helpful lady. She's been living in Cyprus for many years and knows the area very well to give recommendations for any activity. For our first day at Kirsty's place we have been supplied with some food and water, so we did not need to bother ourselves with shopping after the journey. The two-storey townhouse is a modern and fully furnished building with all the necessary things. Anything you need for self-catering you will find it here. There is a separate parking spot in the front yard and a little backyard for nice and sunny breakfasts. My wife & I stayed there for one week and really enjoyed it. We would definitely come back here, and would recommend Kirsty's place to anyone!
Tadas
2016-03-19T00:00:00Z
We were very happy with the villa, it was clean, and fully functional. Which was exactly what we needed. The house was equipped with everything you could possibly need and more! The extra touches of having the fridge stocked with food and beer, went down a treat!! 10/10 we will be booking again, and would highly recommend. Ryan.
Ryan
2016-08-25T00:00:00Z
Fantastic house and Kirsty is a wonderful host. The area is a 150 meter walk to the village where you can find some shops. bakery etc. and 500 meters from one of the best supermarkets in the eastern part of Cyprus, Litsa's, where you can stock on waitrose and other high quality products at similar or even cheaper prices to what you would pay in the UK! It was lovely to wake up listening to birds chirping and catching brilliant winter sun in the front yard. In case you oversleep you can also catch sunshine in the back yard! Highly Recommended and I will certainly stay at Kirsty's on my next visit to the area!
Daniel
2017-02-21T00:00:00Z
Closest Greek cypriot point before Famagusta! The house is perfect, clean and friendly.
Konstantin
2017-01-29T00:00:00Z
Great place, clean, tidy and close to the little village where there is restaurants and bakery's nearby.
Liam
2016-10-06T00:00:00Z
Kamertype
Gehele woning/appartement
---
Type woning
Huis
---
Geschikt voor
4
---
Slaapkamers
Vrysoulles , Famagusta, Cyprus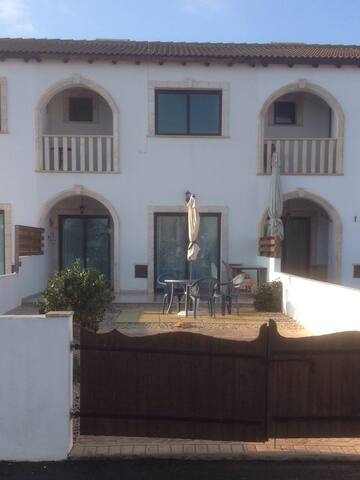 Рядом с моим жильем центр города, парки, отличные виды и рестораны и кафе. Вам понравится, ведь в моем жилье есть пространство у дома, удобная кровать, район, кухня и свет. Мое жилье подходит для этого: пары, семьи (с детьми) и большие группы.Для проживания: 4 взрослых чел. + дети до 3х лет на детских кроватках. Возможно доп. 2 чел. на раздвижном диване за доп.плату. Ближайший аэропорт: Международный аэропорт Гермес г. Ларнака, 40 мин. на автомобиле Пляж: Fireman beach – 5 мин. пешком. Магазины
находится в 200 м.от моря район Капарис в Паралимни в пешей доступности вся инфаструктура,детские площадки ,частный бассейн . На втором этаже две спальни. В одной двухместная кровать, в другой две одноместные. Есть место для дополнительной детской кроватки. В одной из спален мы расположили игрушки и книги для детей. Также на втором этаже расположена ванная комната с туалетом. В каждой комнате есть кондиционер.В гостиной располагается телевизор с плоским экраном, спутниковое телевидение, WiFi. Кухня виллы полностью оборудована: холодильник, эл.плита с духовкой, посудомоечная машина, стиральная машина. На первом этаже есть туалет.Около виллы есть парковочное место. На первом этаже находится гостиная открытого типа с обеденным столом. Из нее стеклянные двери патио ведут к бассейну. Бассейн 3 х 5 метров, территория вокруг бассейна с лежаками, где Вы можете загорать. На территории можно готовить на барбекью и есть на открытом воздухе за обеденным столом. Небольшая игровая зона для детей может быть отделена от бассейна специальным ограждением, и тогда Вы сможете спокойно наслаждаться солнцем, лежа у бассейна, а дети будут играть рядом. Сюда мы можем поставить для детей игрушечный домик и игрушки за дополнительную плату. В 5ти минутах ходьбы находятся песчаный пляж Fireman beach (Файермэн бич). Примерно на таком же расстоянии находятся магазины, рестораны и бары. Это место очень хорошо подходит для семейного отдыха.
The property was clean and as described. Close to the beach in one direction and bars and restaurants in the other. We only stayed for one night but would recommend for a longer stay. The pool was not full but because of our short stay (and end of the season) it did not concern us.
Ann
2016-10-30T00:00:00Z
The host canceled this reservation the day before arrival. This is an automated posting.
Evgenii
2016-09-03T00:00:00Z
Отличное место для отдыха с маленькими детьми от грудных до 4 лет. Мы ездили с женой и дочкой 1,5 года. Очень тихое место до пляжа 2 шага, без преувеличения. Дочка ходила сама пешком на пляж - на коляске возили всякие игрушки. Пляж песчаный - просто супер для детей. У берега тоже песок, а дальше каменный бенч с кучей рыбок - с удовольствием плавали с маской. Готовили на кухне - есть вся посуда. Электроплита/духовка/тостер. Кондиционеры во всех комнатах, свой бассейн у дома позволяет в самую жару (с 12 до 16) загорать у дома. На две недели 100 КВт электроэнергии включено, все что сверху - надо доплачивать по 30 центов за 1КВт. До ближайшего магазина 10 минут ходьбы. До супермаркета Метро - 20-25 минут. До кафе и ресторанов 10 - 15 мин. пешком, зато нет громкой музыки и шума машин - можно спать с открытыми окнами. Из ресторанов и кафе есть доставка или take away. Из окон вид на море.
Anton
2016-09-22T00:00:00Z
Kamertype
Gehele woning/appartement
---
Type woning
Huis
---
Geschikt voor
6
---
Slaapkamers
Paralimni, Ammochostos, Cyprus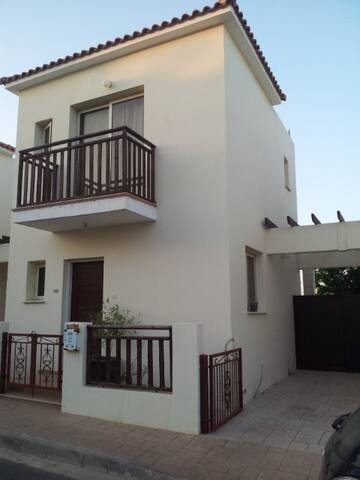 Διόροφη μεζονέτα ακριβώς απέναντι απ' τη λίμνη του Παραλιμνίου, κοντά σε Πρωταρά κ Αγία Νάπα. Δύο ΥΔ (ένα με μεγάλο διπλό κρεβάτι, ένα με δυο μονά κρεβάτια, διατίθεται κ επιπλέον κρεβάτι), καθιστικό (TV Samsung 42 ιντσών), άνετη κουζίνα (πλήρως εξοπλισμένη με πλυντήριο πιάτων,μικροκυμάτων,ψυγείο,φούρνο,τοστιέρα,καφετιέρα), μπάνιο (με πλυντήριο ρούχων) κ τουαλέτα. Κλιματιστικά και θέρμανση σε κάθε δωμάτιο Αισθανθείται σαν το σπίτι σας!
Διόροφη μεζονέτα αποτελούμενη από σαλόνι (με 2 καναπέδες και πολυθρόνα καθώς και τραπεζαρία), πλήρως εξοπλισμένη κουζίνα, συμπεριλαμβανομένης ψησταριάς, 2 υπνοδωμάτια (με 1 king size bed και δύο μονά κρεβάτια, το καθένα με δικό του μπαλκόνι) μπάνιο με πλυντήριο κ 2η τουαλέτα. Πλήρως επιπλωμένο με κλασσικά και ποιοτικά έπιπλα. Διαθέτει θέρμανση , κλιματιστικά και ζεστό νερό. Για διαμονή άνω των 10 ημερών γίνεται ειδική προςφορά στην τιμή. Παρέχεται δυνατότητα και ενοικίασης αυτοκινήτου σε πολύ συμφέρουσα τιμή.
Βρίσκεται ακριβώς απέναντι απ τη λίμνη του Παραλιμνίου, πολύ κοντά στον κεντρικό δρόμο της πόλης (Lidl, Marks & Spencer, Nike, Stefanis κτλ κοντά). Λίγα λεπτά με το αυτοκίνητο ως τις παραλίες του Πρωταρά και της Αγίας Νάπας.
Panayiotis and his family is very friendly and welcoming! Their house is very nice and in very good location close to Aiya-Napa and Protaras. I'd definitely recommend to stay at this place.
Vlad
2016-05-08T00:00:00Z
panayiotis parents have received us in the house, they where very nice and helpful. the house is lovely two floors in a quiet area a short drive from Ayia Napa. me and my mum had a great stay.
Katja
2015-08-31T00:00:00Z
In July and August (month) we rested in the house of Panagiotis. We all loved it! It began with the communication with the owner of the house - Panagiotis. As it is written in a review, he always responds very quickly. When arrived on Cyprus, in the house we were greeted by Panagiotis parents, very good, friendly people. All showed the house and told)). The priority in the selection of property in Cyprus was calm. The house is located opposite the lake. Only in the summer it dries, so it we could not see. But we are not particularly upset)). The house has everything you need for your stay. We had the feeling that we are at home and not at a party, just the way we wanted. The photos posted on the website are true. The house has air conditioning in every room. Everything is working. There area behind the house, where you can fry a shish kebab. Near the house there is a large supermarket Lidl, and many different stores. Before many are within walking distance, but in the evening)). We traveled by car, so we did not matter at what distance from the house there are shops, taverns and beach. At the entrance to Paralimni has a large supermarket Carrefour, farther Faragora, where you can buy fresh seafood and close shop Frutoriya and even farther Kokkinos store, so the problems with the purchase of something did not arise. Our favorite beach is located in Ayia Napa. It takes min.10. Before Ayya- Napa can be reached by bus 101. Near the house there is a beach, on which local drive. We like the town of Paralimni, and the house we were looking for specifically in this city, because it does not travel as Ayia Napa and Protaras, but you do not feel cut off from the entertainment. But when all Ayia Napa buzzing with partying and music, you are in 10 minutes you can be at home and enjoy the peace. A month has passed very quickly. After Panagiotis we agreed how much will come of his parents, to give them the keys. At the time of departure we have no limits. We left as we were comfortable. Saying goodbye to the hospitable hosts, we left with the hope that next year when we come to Cyprus we will be able to re-book the house for our holiday.
Алексей
2016-08-20T00:00:00Z
Very nice house in a peacefully area. The host is a kind person, he answer every single questions in 10 minutes. The house is well equipped and huge with two floors, it's really really comfortable, it's a real home. The area is peacefully and quiet, you can find everything in the near - shops, coffee places, supermarkets, etc. There are a lot of beaches in the near. Best place to stay in the region, best host to rent!
Papp
2015-08-19T00:00:00Z
Дом очень удобный для проживания - есть вся необходимая техника, даже чуть больше. Очень тихий район, подходит, если вы хотите проводить вечера слушая только сверчков. Мы отдыхали с маленьким ребенком - очень удобно. Но обязательно нужна машина, без нее до моря добраться нельзя. Автобусных остановок по близости нет. Недалеко находится супермаркет, что очень удобно. Хозяева (родители Панайотиса - очень приятные люди) встретили в аэропорту и отвезли в аэропорт в конце отпуска. Оставили телефоны на случай вопросов, но не пригодилось. Панайотис всегда был на связи, на все вопросы отвечал оперативно. Отдых понравился, будем рекомендовать друзьям.
Elena
2016-09-18T00:00:00Z
Хороший полностью оборудованный дом в тихом месте. До пляжа 10 мин на машине. На кухне есть все необходимое. Удобен для размещения семьи с двумя детьми. Для пляжного отдыха нужна машина. Недалеко центральная улица с магазинами. Супермаркет ЛИДЛ. Хозяева очень радушные. Несколько лаконичен вид из окна, но это компенсируется тем, что место действительно тихое. It is fully equipped house in silent place. 10 min to the beach.The kitchen is fully equiped with devices and utensils. It is comfortable for familiy with two children. For comfortable beach rest it need to have/rent a car. It is not far from central street with shops and supermarket LIDL. Masters is very hospitable. A little bit laconic view from windows. But it is compensated with silence.
Nata
2016-10-01T00:00:00Z
A BIG thanks to Panayiotis for the great and fast communication before the trip and his parents for having everything ready! The house has everything needed for a peaceful and relaxed vacation! This place is highly recommended!! And its very near to any beach in Protaras and Ayia Napa!
Chris
2016-08-24T00:00:00Z
Kamertype
Gehele woning/appartement
---
Type woning
Huis
---
Geschikt voor
5
---
Slaapkamers
Παραλίμνι, Αμμόχωστος, Cyprus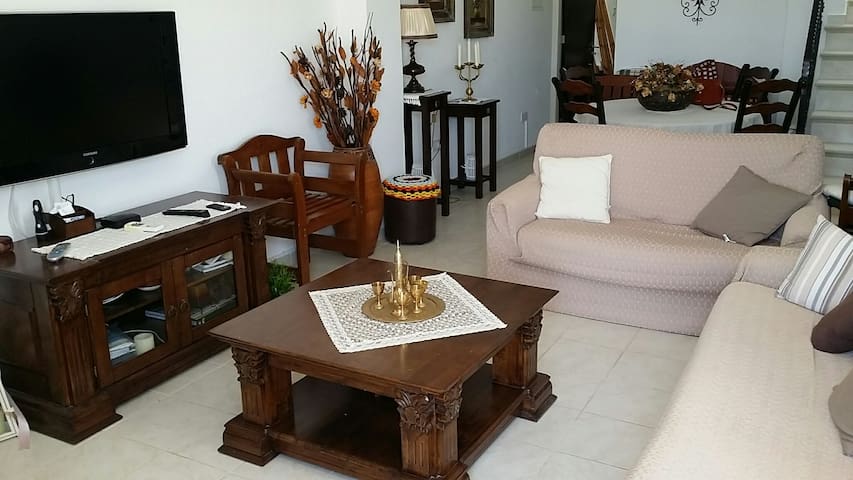 Brand new home with new furniture. the House is located in Yeniboğaziçi Village that is very close to Famagusta, sandy beaches, Salamis ancient city ruins and other historical places such as St Barnabas monastery.
The house consists of three bedrooms, a sitting room, a separate kitchen, one bathroom with toilet, one separate toilet and four balconies.
The house is beatiful, large and well kept, in a quiet sorrounding. The host is very nice: he did everything he could to make us feel well. Only one negative thing: he asks to much money, compared with others of ainBnB, for cleaning.
Rossana
2015-09-26T00:00:00Z
This villa is absolutely perfect choice if you decide to discover Northern Cyprus. You will stay just between the most attractive locations having all what you can get within 1hr drive distance. Area has great selection of beaches and various historical places. Ozgur is very kind person ready to help with advise at any time. We liked the place so even decided to extend our stay for few more days. Highly recommended.
Evgeny
2016-07-24T00:00:00Z
The review reflects the OVERALL experience-- location + property: We went to Famagusta not fully understanding what the scene would be like-- nor did we realize that the Famagusta area was located in both the Turkish and Greek sides. Upon arriving to the location, we were disappointed to learn that the village was not that of a quaint, charming local area. It is more of developments being built in a desolate area that, in 3-5 years, would resemble something of a residential neighborhood. It shouldn't be suggested to have a car-- it should be REQUIRED. Having said all of that, Özgür was, by far, THE friendliest, MOST welcoming host we have encountered through Airbnb. He went out of his way to drive us to the town and show us around the historic areas and Ghost Town. He is approachable, willing to help and made sure we were comfortable. When we decided to shorten our stay, Özgür was gracious enough to drive us to the bus station the next day and offered his place if we wanted to return any time during the week we were in Cyprus. The home was newly built-- it was spacious and had plenty of room for the three of us. The water pressure was great, and the internet worked well. The decor was welcoming and had bright lights. Had this property been in a more developed, lively area, we would have easily stayed much longer. Unfortunately, the town itself was not what was expected; it lacked the energy of a beach town and seemed slightly depressed and deserted. It could be because we were there during non-peak season. (Also, not an ideal area for jogging/ running, as the area is just developing, so there were many empty construction sites and dirt roads.)
tina
2015-04-21T00:00:00Z
This house is a hidden pearl. Allocated in a peacefull town, very convenience value, 5 min drive to incredible sandy beaches, Salamis historical place and St Barnabas Church. Just 7 km far from Famagusta/Gazimaguza city. So, if you have a car, stop looking for and keep this place. The house is brand new, modern furniture, very good style and design. You have all the facilities you need. The kitchen is just perfect! Do not hesitate in rent this house. I would defenitely return for a weekend or a longer period if I have the opportunity. Ozgur was very polite and communicative.
Christian
2014-08-18T00:00:00Z
Ozgur was a great host! The apartment was brand new and clean; he was very kind to accommodate all our requests. I would defitively recommend the place.
Andrea
2014-07-27T00:00:00Z
We had an excellent stay at Ozgur's house! The house was brand new home with new furniture and importantly - it was clean. The location was ideal for us - Yeniboğaziçi Village - which is a 10 minute drive from Famagusta city and extremely close to the lovely sandy beaches and Salamis ancient city ruins, as well St Barnabas monastery. We picked the location as it was close to our friends who lived in Ötüken and my cousin's Off Licence – Golden Dawn - (URL HIDDEN) (muharrem dövec plaza, karpaz yolu Yeniboğaziçi) Ozgur was a fantastic host and he made us feel very welcome in his lovely house. We will be booking again, as it was perfect for us. We have twin girls aged 3 and a half and they loved having their own rooms.
Rahme
2015-11-08T00:00:00Z
Ozugur has been the most hospitable and helpful host. Ozugur was very responsive to me questions and requests. For someone who doesn't drive like me, Ozugur offered his ride and a bike, which proved very convenient in visiting beaches and relics nearby. This place is also super close to the ancient city of Salamis, which is important to a history maniac like me. The house is recently decorated, very clean and comfortable. The only down side was that the neighborhood was not very densely populated and thus not very lively. All in all, it is still a very good place to stay.
Philip
2015-06-25T00:00:00Z
Ozgur was a great host, he came to meet us at a restaurant near his place, and guided us to his house, showed us round it and gave us advice on the local area. The house is very modern and is in a quiet street, with very little outside noise, The wider surrounding area seems to be in the process of development. The location of the house is close to the original village, it has all the amenities you might need in walking distance, small tavernas, small supermarkets, fresh fish shop and various others. You might bring a Turkish Phrase book to help a little, but most of the locals we met spoke enough English and the were quite a few English speaking Expats around in the evenings.
Kevin
2015-10-03T00:00:00Z
Kamertype
Gehele woning/appartement
---
Type woning
Huis
---
Geschikt voor
4
---
Slaapkamers
Agios Sergios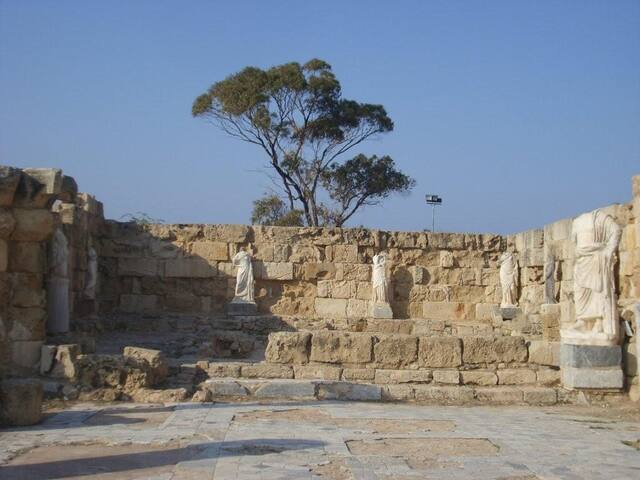 Our comfortable 2 bedroom house is located in the heart of Old City of Famagusta. 10mins walk to the beach and surrounded by many historic sites and only 5mins walk to the local shops. We can accommodate up to 4.
Located within historic old city of Famagusta and can comfortable accommodate 4 persons. (1 double 2 single beds)
Quite and calm a great escape from the city, on the other hand easy and quick access to local shops, restaurants and bars.
Dit verblijf is een aanrader wie houdt van rust in een unieke omgeving
Lut
2017-03-03T00:00:00Z
We had a lovely stay at open museum. Pelin was amazing in organising a car for us to rent and directing us to get to her place. The house was clean and had a simple elegance. It is well stocked with crockery etc. For a prefect catering holiday.
Sharon Ann
2015-09-21T00:00:00Z
L'appartamento di Pelin corrispondeva esattamente alla descrizione, perfettamente pulito e molto comodo. Pelin è stata molto puntuale nell'accoglierci. Ottimo rapporto qualità/prezzo
antonio
2016-08-22T00:00:00Z
Pelin was a wonderful host: whenever we had a question, she responded immediately and found a solution for us. Also, she organised a taxi from the airport to her house for us, so the arrival was quite easy. Traveling with a little child, that helped a lot. Her house was cozy and clean and is in a good spot near of all the attractions inside the city walls of Famagusta. Pelin organised a baby crib and a bath tub for the baby, very helpful! We also liked the peaceful neighborhood and hanging around in our own courtyard. For staying in the old town of Famagusta, this is the best place to stay!
Sarah
2015-11-07T00:00:00Z
Pelin is a great host. We were actually lost and so waited in one place, she came looking for us. Very sweet of her. She had a lot of maps and guides in the room which helped us decide what we wanted to do. The room itself was very comfortable and very clean, compact. We could not ask for anything else. Thanks Pelin for making our new year holiday a very memorable one
SRINIVAS
2017-01-01T00:00:00Z
Pelin is super attentive and responsive! We planned a last minute weekend away and appreciated her help and advice about what to see and where. We very much enjoyed the central, quiet location of her place within the old city walls :)
Jun-Dir
2016-12-11T00:00:00Z
Pelin's house is very spacious, especially for two people only and very well located, you can reach everything you need or are interested in in a few minutes. It was also freshly cleaned when we arrived and equipped with a fresh set of towels for each of us. Pelin was helpful and always answered to our questions in a short period of time. However, we never met her personally. We've had some bad luck with the WiFi connection, though, which at the beginning worked for a few hours but was unstable for the rest of our stay.
Catarina
2015-10-13T00:00:00Z
Pelin ist eine sehr hilfsbereite Person. Wir haben sie zwar nicht persönlich gesehen, waren aber via Mail immer in Kontakt. Sie hat sich stets um unser Wohl bemüht und immer hilfreiche Ratschläge gegeben. Die Wohnung ist sehr speziell und hat uns sehr gut gefallen, sehr gross und sauber. Die Lage mitten in der Altstadt ist ein Erlebnis, nur wenige Touristen, welche hier übernachten.
Martina
2016-09-29T00:00:00Z
Kamertype
Gehele woning/appartement
---
Type woning
Huis
---
Geschikt voor
4
---
Slaapkamers
Gazimağusa, Gazimagusa, Cyprus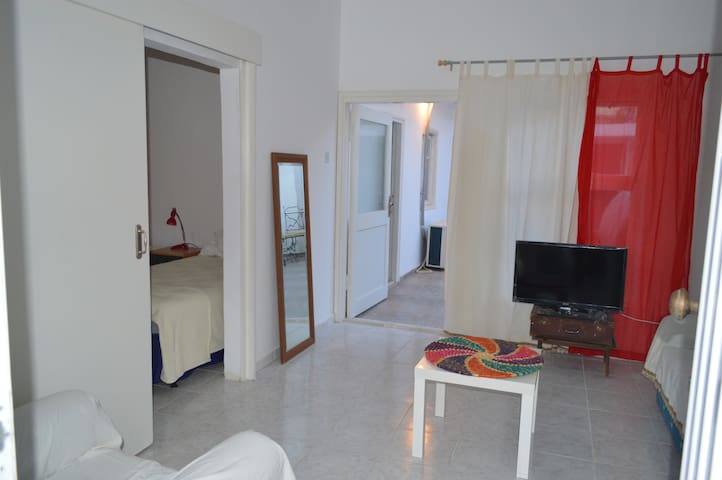 Situated in one of the most beautiful beaches of Cyprus in Protaras-Kapparis, The self-catering, luxury house is fully equipped to enjoy a carefree holiday. You can reach two blue flag bays at a 2 minute walking distance each.
On a beautiful open-plan type layout, you find all the living spaces and kitchen. One bedroom is situated on the ground floor with ensuite bathroom. The three other bedrooms are on the first floor.
The house is a 1 minute walk away from the beach! The neighborhood is very calm and quiet. It is a gated area of luxury villas byt yet a short walk from a busy road with shops. It's 5 minutes walking distance to many amenities: pharmacy supermarket, restaurants and pubs,
Это был наш первый опыт с airbnb, и это было великолепно! Мы отдыхали семьей, и три поколения с комфортом разместились под крышей этой прекрасной виллы, ничуть не стесняя друг друга. Все было на высоте: мама хозяйки, Элли, выслала мне подробную фото-инструкцию о том, как добраться до места, встретила нас и все показала, была очень приветлива! Вилла хороша: стильный интерьер, вся необходимая бытовая техника, классный участок, дощатый настил вокруг бассейна (не скользко!), оборудованная зона барбекю и цитрусовые деревья сразу за домом. В двух минутах ходьбы живописный пляж в скалистой бухте. Пляж оборудован лежаками и зонтами, есть вай-фай и маленькое кафе. Песчаный вход в воду, вода удивительно прозрачная и голубая, волн нет, народу не слишком много (октябрь). С удовольствием приедем ещё раз, влюбились в это место. Спасибо хозяевам!
Anastasia
2016-10-13T00:00:00Z
Owners were great hosts. Description is accurate. House is located in very quiet small village area, and few minutes walk from the public beach.
Val
2015-09-03T00:00:00Z
Veronika and Olivia's home in Paralimni is a great place to stay. Not only is the home fully equipped (and nicely furnished) with everything we needed (including cot and highchair for our youngest) but it is also in a nice quieter part of Cyprus with Fireman's beach just a few minutes walk (the house is one back from the cliff with glimpses to the sea) and great cafes/restaurants/supermarket etc at the top of the street. Veronika and Olivia were great hosts and I would highly recommend this property - we hope to be back at some point.
Leanne
2014-10-10T00:00:00Z
Отдыхали двумя семьями в сентябре 2014. Вилла очень понравилась, есть все необходимое, и даже больше! Отлично расположена, очень близко к двум пляжам. Все остались очень довольны и надеемся вернуться в следующем году. Спасибо Веронике и ее маме за все!!
Irina
2014-09-24T00:00:00Z
Kamertype
Gehele woning/appartement
---
Type woning
Huis
---
Geschikt voor
8
---
Slaapkamers
Paralimni, Kapparis, Famagusta, Cyprus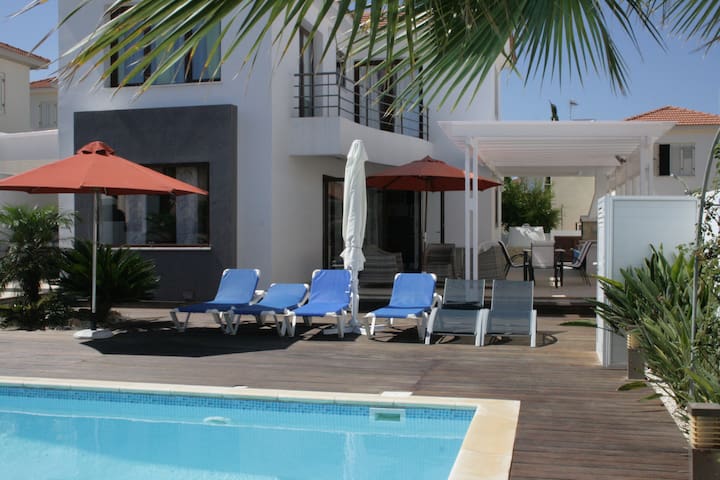 Lovely cozy villa with 2 beds just few minutes away from the wonderful beach. Inside you will find everything you might need during your relaxing holiday. Restaurants. shops are in walking distance
Уютная, небольшая вилла с двумя спальнями и бассейном расположилась совсем рядом с песчаным пляжем в спокойном курортном месте, Каппарис, Протарас. Всего пара шагов до Средиземного моря. В вилле вы найдете все необходимое для расслабленного отдыха. До центра Протараса 5-10 минут.Вся инфраструктура, магазины, бары, рестораны) в пешей доступности 5-7 минут.
Расположение напротив моря рядом пляж до моря меньше 100м рестораны, магазины в 5и мин. пешком 5мин на авто до гипермаркета меньше 10и мин. на авто до центра Протараса 3 мин. на авто до Океанического Аквариума 3 минуты на авто до причала Аквапарк Протараса
Kamertype
Gehele woning/appartement
---
Type woning
Huis
---
Geschikt voor
5
---
Slaapkamers
Paralimni, Ammochostos, Cyprus
An amazing 4 bedroom detached villa located with in 6-7 minutes walk away from Firemans beach in Kapparis area. The location and the property is ideal
An amazing 4 bedroom detached villa located with in a couple of minutes walk away from Firemans beach in Kapparis area. The location and the property is ideal for weekly holiday makers. There is a large plot with mature garden, and a private swimming pool. When you enter the villa you will notice the separate kitchen and living room area. There is a fireplace for the cold winter days, a fully furnished living room. there is a bedroom downstairs and a family bathroom. Upstairs there are three bedrooms, one with ensuite bathroom. There is a family bathroom upstairs as well. All upstair bedrooms have access to balconies/verandas. Great Value for money property at a walking distance to 2 sandy beaches, amenities, restaurants and bars.
One of the best neighborhoods in the area. All amenities are within walking distance
Все понравилось, Крис был доступен по телефону при необходимости - правда, особой необходимости не возникало. Расположен дом в 5 минутах от моря, ближайший магазин - тоже около 5-7 минут пешком. Также в районе есть несколько ресторанов и отличная пекарня. Район очень спокойный - все развлечения, бары и рестораны чуть дальше, пешком не дойти - но на машине до 10 минут езды.
Сергей
2016-10-02T00:00:00Z
Все прошло идеально! Крис был отзывчив по-максимому. У нас остались только положительные впечатления! Очень уютная вилла, соседние виллы уступают по виду внутреннего двора и по размеру бассейна. Близко к морю. На ужин могут заглянуть соседские кошки. Тихий район, фургон с мороженным часто проезжает мимо.
Veronica
2016-09-26T00:00:00Z
Замечательное расположение виллы! Рядом всё, что нужно: магазины, таверны, 4 пляжа. Район очень тихий, спокойный. Все ваши просьбы выполняются мгновенно. Встреча и проводы в аэропорт была на высшем уровне!!!
Светлана
2016-10-13T00:00:00Z
We enjoyed a great stay in this lovely villa with our 3 young children. Chris was friendly and helpful with everything we needed.
Johdi
2016-10-29T00:00:00Z
Hi I am recommend this apartment in 200 %. Great value for good money. We spent one week with 8 person an 2 years old child in this house and it was perfect. Big and quite rooms, fantastic swimming pool and great communication with owners ☺. Jozefina organise for us trip to Famagusta and Salis. If you would like to feel like in Miami this property it's for you!
Przemyslaw
2017-03-18T00:00:00Z
Kamertype
Gehele woning/appartement
---
Type woning
Huis
---
Geschikt voor
10
---
Slaapkamers
Protaras, Ammochostos, Cyprus
Famagusta - Airbnb
:
Gemiddeld

4.75

van

5

sterren op basis van

141

gastrecensies
1

–

18

van

300+ Huizen te Huur
Voer datums in om de volledige tariefopbouw te zien. Er kunnen extra kosten zijn en er kunnen belastingen worden toegevoegd.