A restored, rustic and romantic three storey townhouse in a small, sleepy village with pool, terraces, wifi, outdoor bathing and two bedrooms. Lots of quirky and Moorish touches and plenty of space to relax and enjoy the wonderful Lecrin Valley, just south of Granada.
This is our holiday home. The moment we saw it we fell in love with it and we hope you will too. The house was restored about 10 years ago and is a comfortable place to stay with lots of typical Moroccan touches like the interior patio to cool you down; low, laid back lounging in the living room and shuttered windows with Juliet balconies. There is plenty of outside space for all weathers - sunny spots and shady places; views across an orange grove to a small stream and the terraced valley opposite; the pool, an outdoor bath and shower and all of it very private.
The house is on one of the main, narrow, traffic free streets of the sleepy little village of Saleres, which is in the Lecrin Valley, 30 minutes from Granada city and 40 minutes from the beaches of the Costa Tropical. The village of Restabal is a 5 minute drive or 20 minute walk and has several bars, two shops, bank, pharmacy and restaurants. Melegis and its Los Naranjos restaurant with fantastic valley views is just a couple more. There is fantastic walking in this area straight from the front door. The GR 7 walking route which stretches from Tarifa to Turkey passes right through the village or you can simply walk the track through the terraces to the neighbouring villages of Albunuelas or Restabal. And if you want walking further afield there is always the white villages of Las Alpujarras about an hour away. Besides walking there is great road and mountain biking in the area, again right out of the front door.
Kamertype
Gehele woning/appartement
---
Type woning
Huis
---
Geschikt voor
4
---
Slaapkamers
Saleres, Andalusië, Spanje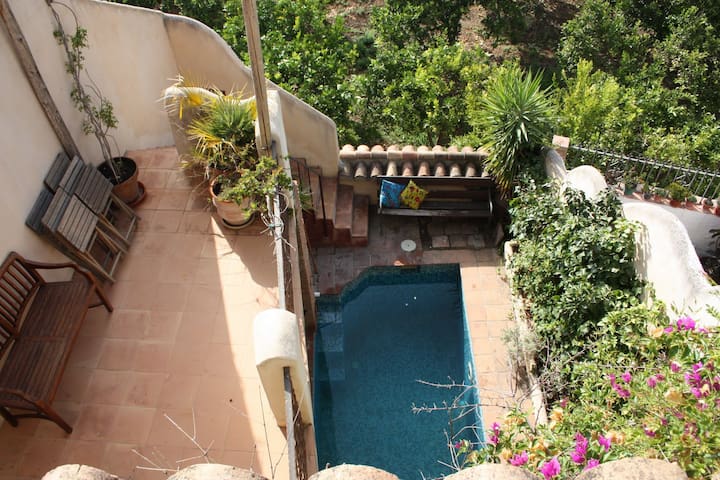 House with garden in authentic spanish village of Saleres in beautiful Valle de Lecrin. Close to the magnificent moutains of Alpujarras, only 20 minutes drive from Granada, and 40 minutes to the beach, the house is perfectly located for a great weekation.
La localización de la casa es perfecta para visitar Granada y sus alrededores. En 40 minutos se llega a Granada y a las Alpujarras. Los alrededores del valle de Lecrín también merecen una visita (en especial, el barranco de la luna). La casa está bien equipada, es muy confortable y acogedora. Ahora en invierno, hemos echado de menos alguna calefacción o chimenea, y que el agua de la caldera saliera más caliente. Por lo demás, es un sitio totalmente recomendable para alojarse.
Juan Carlos
2017-01-04T00:00:00Z
This is a beautiful little house in an amazing location within a magic small town in the middle of the mediterranean mountains of south Spain. I rented the house for friends of different countries attending our wedding in the same village. They all loved the house. I particularly love the ample yard where you can seat and enjoy an unique view of an ancient mosque transformed into a Christian church, and the white houses of the village, cut against a landscape of fig, almond, olive and orange trees.
José Manuel
2016-08-22T00:00:00Z
Lovely village house with beautiful valley views, terrace, garden. Peaceful, quiet setting overlooking the church, village and river valley.
julia
2016-09-18T00:00:00Z
Una casa acogedora, solo le falta calefacción o una chimenea
Javier
2016-12-11T00:00:00Z
Kamertype
Gehele woning/appartement
---
Type woning
Huis
---
Geschikt voor
6
---
Slaapkamers
Saleres, Granada, Spanje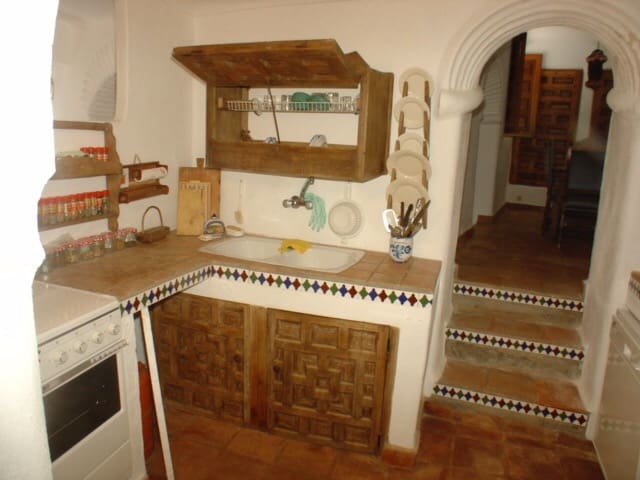 Charming sunny cottage, with private pool and stunning views on the lake and the valley, full privacy in a 5000 m2 orange garden, ideal for 2 or 3 families. Granada 30 min, beach 20 min, ski resort 60 min. Fully renovated 2016 first rent.
Enjoy this peaceful retreat at the outskirt of an authentic Andalusian village in the heart of the Lecrin Valley. Exceptional 10x8 swimming pool with jacuzzi surrounded by 150 sqm terrace. Fully equipped kitchen, living room with open fire adjacent to a huge sunny terrace. 2 bedrooms with balcony, view on the lake and ensuite bathrooms. 3 more bedrooms with view on the garden, sharing a bathroom. Incredible views from the multiple sunny or shady terraces, chill out, barbecue. Cool garden to enjoy a siesta laying under the orange and lemon trees. The cottage has been fully renovated in 2015 with traditional materials and full modern confort (central heating). More guests can be accommodated on mattresses in the 40 sqm activity room with adjacent bathroom and shower.
300 m from the cottage is the village of Melegis with a excellent restaurant, bar and small supermarket.
Magnifique maison très agréable à vivre : superbe terrasse surplombant le jardin d'orangers, grand espace de vie salle à manger/séjour/cuisine, maison idéale pour nos 2 familles avec adolescents. La maison est aux portes de la sierra Nevada, dans un petit village isolé mais malgré tout assez proche de Grenade. L'accueil de Maria José fut très chaleureux.
Jean-Christophe
2016-10-26T00:00:00Z
The house was absolutely fantastic - even better than the pictures. We were a group of 9 (7 adults and 2 kids) where the house with its large terrace and pool was excellent. Philippe was a great host - quick to respond to all questions and supplied us with a helpful guide beforehand. Would definitely recommend and be happy to revisit. // David
David
2016-07-18T00:00:00Z
My family have had the most fantastic time staying in Philippe's beautiful country house. It was a very special holiday as my dad turned 60 and my sister flew over from Australia so it was so important that we had a magic place to stay, which it was! The most idyllic beautiful setting, relaxing poolside fun and what a great location in terms of being in the country side, yet close to all the hot spots! Thank you Philippe for a magic stay. Best, Helene
Helene
2016-09-28T00:00:00Z
Cette maison perdue dans une orangeraie ensoleillée en plein mois de décembre du matin au soir a rendu notre séjour andalou si agréable que nous avons eu du mal à rentrer vers le froid parisien. Nous y reviendrons avec plaisir
DORINE
2016-12-30T00:00:00Z
Nous avons passé un excellent séjour dans cette maison ! Tout était conforme à la description. Les 2 plus grandes chambres sont vraiment superbes et très bien aménagées. Les 2 autres sont un peu plus petites mais confortables également. La maison est très bien équipée et le jardin et la piscine très agréable Nous garderons un excellent souvenir de ces vacances et de la maison, et peut être y reviendrons nous !
Sandrine
2016-10-09T00:00:00Z
Philippe was a fantastic host - very easy to get hold of and responded quickly whenever we contacted him. He emailed us beforehand with a guide to the house and surrounding area which was extremely helpful! The house was absolutely beautiful. The views were beautiful and we all thoroughly enjoyed relaxing by the pool. We were a group of 10 and the villa was the perfect size! Very well equipped kitchen and the bathrooms/bedrooms were all great. The garden/terrace was the perfect place to eat and the oranges from the trees were delicious! Would very highly recommend this place - we were all sad to leave!
Amelia
2016-07-06T00:00:00Z
Tuvimos la experiencia Airbnb perfecta en la casa de Philippe ! Con mis amigos, nos enamoramos de su casa super linda totalmente perdida entre los naranjos : de su terraza con vista impresionante, de su piscina entre los arboles, de su interior super cosy y design... La casa es aún más linda en la realidad que en las fotos ! Y sobre todo Philippe fue un superhost, muy amable, disponible y organizado : todo parecía sencillo con él. Queríamos quedarnos más tiempo en este pequeño paraíso : lo recomiendo a todos mis amigos y ya estamos pensando a nuestro proximo viaje por allá... Gracias por estos 5 días geniales Philippe, y nos vemos pronto !
Elisa
2016-07-22T00:00:00Z
Perfect house and perfect location. Highly recommended. The house is beautiful and well appointed with a well equipped kitchen, including essentials such as olive oil, salt, pepper etc. - a small thing but really appreciated not having to buy all these things. Philippe was very accessible and responsive. We had a couple of issues which he did everything he could to respond to and fix as quickly as possible. The area is stunning and easily accessible from Granada and the coast. We would return
Shiv
2016-07-31T00:00:00Z
Kamertype
Gehele woning/appartement
---
Type woning
Huis
---
Geschikt voor
11
---
Slaapkamers
Granada, Andalusië, Spanje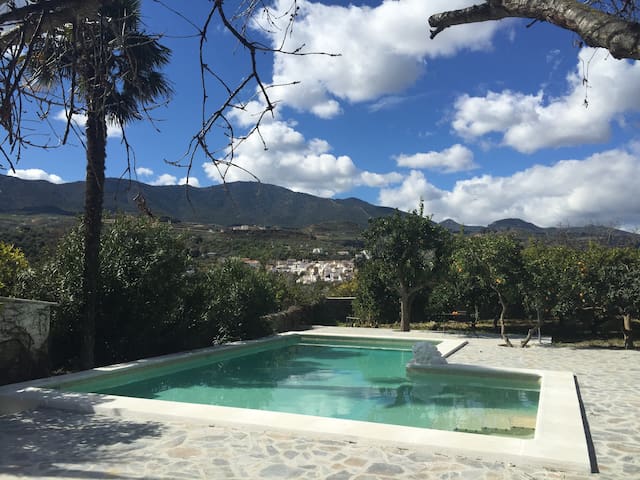 Cottage mit Charme, eigenem Pool und Garten in der charmanten Lecrin Valley im Dorf, 15 Minuten von Granada, 25 Minuten vom Strand entfernt und 50 Minuten vom Skigebiet der Sierra Nevada. 3 Schlafzimmer, zwei Bäder und eine Toilette.
Charmantes Haus mit sonnigen privatem Pool in der charmanten Lecrin Valley, in Conchar Stadt, 20 Minuten von Granada, 30 Minuten vom Strand und 55 Minuten vom Skigebiet der Sierra Nevada. Das Haus verfügt über einen hübschen Garten voller Pflanzen, Mandelbäume, Hängematten. Es hat auch eine schöne Terrasse mit schöner Aussicht. Seit seiner charmanten Veranda können Sie spektakuläre Sonnenuntergänge, Blick auf den Lecrin-Tal und Sierra Nevada genießen. Spüren Sie die Luft der Natur und frische Luft. Das Haus verfügt über ein 3 Schlafzimmer, 2 Badezimmer, Wohnzimmer, nette voll ausgestattete Küche, Studio mit schöner Aussicht, auch sie hat einen warmen Holzfeuer und Grill. Es ist eine perfekte Wahl für einen Urlaub mit Charme im Einklang mit der spanischen Kultur und Natur. Genießen Sie Ihr Abendessen auf der Terrasse beobachten die Sterne. Entspannen Sie im Garten ein Buch zu lesen oder ein Sonnenbad zu genießen. Sie nicht die Gelegenheit verpassen, Granada, Lecrín-Tal, die Alpujarras und die tropische Küste zu besuchen.
Ganz und pacefull andalusische Stadt.
Superbes vacances à Conchar avec nos quatre enfants âgés de 8 à 2 ans. La maison est spacieuse et pleine de charme, bien adaptée pour une famille. Tout le confort y est. La piscine et le jardin sont agréables et protégés des regards par une belle végétation. Les quatre chambres sont spacieuses et joliment aménagées. Manger le matin ou le soir sur la terrasse qui surplombe le village est un réel plaisir. Le village de Conchar, à flanc de montagne est très calme et très reposant. C'est le point de départ de nombreuses excursions que nous avons faites, notamment Grenade (voir absolument l'Alhambra), la Sierra Nevada, la mer. Bref, nous avons passé de très belles vacances.
Vincent
2016-07-24T00:00:00Z
Kamertype
Gehele woning/appartement
---
Type woning
Huis
---
Geschikt voor
6
---
Slaapkamers
Cónchar, Andalusië, Spanje
This architect restored rustic house offers everything you need to explore beautiful Andalucía, Spain. With 3 beautiful bedrooms, 2 bathrooms and roof terrace, it sleeps up to 6.
Located in the village of Albuñuelas, Casa Morisca is a typical Mudejar house, lovingly restored around an open patio, with tiled floors and exposed beams in all rooms. Boasting thick walls with small windows and traditional shutters to keep it cool and shaded in summer and a log-burning stove making it cosy in winter, it's the perfect base for walking and exploring Granada and its province. Just an hour from the famous ski resort of Sierra Nevada, the house is set in the heart of the old village, enclosed in Moorish style by other properties; but its second floor terrace gives a wonderful view over the rooftops. It also looks down into an inner patio with a barbecue, flowers and a fountain. Through the front door of Casa Morisca, you'll find a traditional lounge with Arab-style banquettes, the fireplace and to the left, a modern kitchen. This leads into the open patio, lighting up the dining room and a double bedroom, which has a shower and ensuite WC. Enjoy the gentle melody of running water throughout the house from the fountain in the patio as well as a centuries-old fountain in the downstairs suite, which still supplied water to the previous occupants. On the first floor, you'll find the master bedroom, with a king size bed, a twin bedroom, a bathroom with full-size bath and a study. Above is a roof terrace with a view to the mountains - perfect for breakfast or a G&T as the sun goes down. Cleaning, linen and towels are included. There is public parking near the residence, smoking is permitted on the premises and pets are not welcome.
Albuñuelas is an old Andaluz pueblo blanco (a village of white houses), lying at 737m above sea level. It sits at the head of the Lecrin Valley,at the end of the Alpujarras, on the steep side of the Río Santo gorge and beneath the Sierra de Albuñuelas. With open country all around, you'll be walking distance away from shops, a bank, a choice of bars, a restaurant and a weekly market. Freshly baked bread is delivered each morning and colourful vegetation abounds, with oranges, lemons, pomegranates, avocados and vegetables, almonds, olives and pines growing all around. Albuñuelas remains hidden from the influences of tourism, but with Granada half an hour away and other hotspots less than an hour's drive, it is an ideal base for your holiday! Cycling, hiking and rock climbing excursions and horseriding from the village as well as birdwatching are a must for nature lovers – but this area really has something for everyone: The Sierra Nevada ski resort sits just 76km away, the nearest golf course is 34 km away, and the beach of Salobrena is located 45km from the house.
Kamertype
Gehele woning/appartement
---
Type woning
Huis
---
Geschikt voor
6
---
Slaapkamers
Albuñuelas, Granada, Spanje
Min bolig er godt for eventyrere og familier (med børn).
Kamertype
Gehele woning/appartement
---
Type woning
Huis
---
Geschikt voor
11
---
Slaapkamers
Melegís, Andalusië, Spanje
Pretty cottage with stunning views, unique environment, Andalusian decoration, surrounded by nature, located just a few kilometers from Granada, the sea and the mountains, perfect place to spend a few days to relax en enjoy the authentic spanish life.
The fountain House is a cozy place to spend a holiday and relax in the Valley Lecrin place. A few meters from a supermarket, with another supermarket in the vicinity and one minute from the bakery, two restaurants within walking distance. It is very well located, and no need to leave town unless you feel like visiting other places. The ground floor includes a hall, a large living room, a bathroom with shower and a large and fully equipped kitchen. There are windows of cloth to the terraces surrounding the house, and stairs lead to the pool and garden. Next to the garden, there is an orchard of orange and lemon trees. On the first floor are two bedrooms with two beds each, one bedroom with double bed and a spacious bathroom, all very bright. Down the stairs we climbed to a turret with panoramic valley views of the mountains. For now, the turret is used as a study, with all the light entering and open windows is a great place to paint. The house has double glazing and central heating, ideal for holidays in winter, a warm home and cozy to rest from a day of action on the slopes of Sierra Nevada, less than an hour's drive, or to enjoy a walk in the Mediterranean beach, half an hour away, and Granada 20 min by car.
Kamertype
Gehele woning/appartement
---
Type woning
Huis
---
Geschikt voor
6
---
Slaapkamers
melegis, granada, Spanje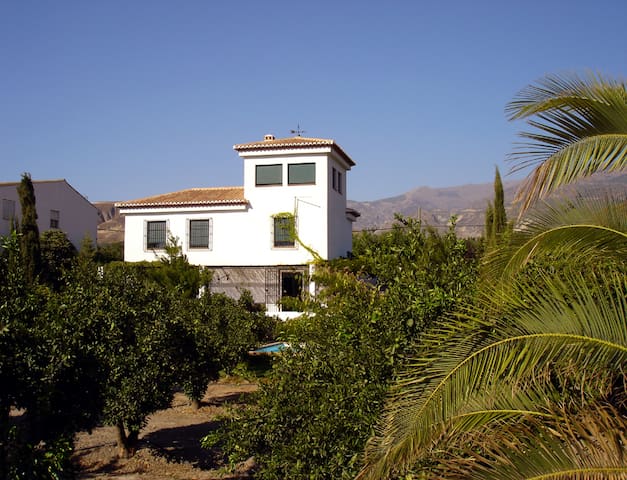 The Cortijillo is part of Cortijo El Rosario, an organic farm with olive, orange, fruit trees and a vegetable garden. It has gardens, a patio with beautiful mountain views and a pool. Electricity and hot water come from solar energy.
El Cortijillo is in the village of Albuñuelas, 732 meters above sea level, in the Valley of Lecrin, facing the imposing peaks of Sierra Nevada. The Valley is a crossroad steeped in history halfway between Granada and the Mediterranean coast and entrance to the Alpujarra. The village is crossed by the Albuñuelas river and is surrounded by orchards, olive, orange and almond trees. It is also very close to an abrupt and untamed sierra, thick with pines and wild herbs and bushes, and crossed by gorges and cliffs that result in spectacular views.
Albuñuelas and the Valley of Lecrin offer in general magnificent opportunities for hiking, horseback riding, bicycling, adventure sports and paragliding. You can also visit a wine cellar nearby for wine tasting or be introduced to the world of olive oil and olive oil tasting in our cortijo. We can help you organise any of these activities as well as tickets for the Alhambra which need to be reserved ahead of time. Taking advantage of your holidays to learn or better your Spanish is another possibility.
We spend 6 nights in El Cortijillo. We rented the El Cortijillo a week before and contact with Rosmary was very efficient and quick. On arrival we were warmly received by Rosemary. El Cortijillo was everything we had hoped for. Fully equipped on a beautiful spot on the hill with a fabulous view over the area. It was a joy to have breakfast on the terrace while enjoying the view. We loved the fireplace and used it in the evening. Rosemary had useful tips and suggestions for restaurants, places to go to and hiking suggestions in the area (including Granada and Sierra Nevada).
Cees
2016-11-01T00:00:00Z
We had a wonderful time at Rosemary's cottage. The cottage is light and spacious with a beautiful patio that looks over the valley. Rosemary is very hospitable and enthusiastic (and so are here two friendly labradors :-)). The cottage is perfectly situated for day trips to the coast as well as to the Sierra Nevada. Would definitely recommend this place!
mark
2015-10-20T00:00:00Z
Rosemary nous a accueillis, en français s'il vous plaît, sur sa propriété où se cache, entre oliviers et orangers, une petite maison individuelle aussi chaleureuse que notre hôte.
Lionel
2015-05-20T00:00:00Z
What an amazing find! We stayed in winter for some skiing and hiking, with very cosy fires in the evenings. There is a fully equipped kitchen to enjoy the fruits of your shopping, or just some freshly squeezed orange juice from the surrounding trees. This place would be just as nice in the summer. The space is huge, and the views across the valley superb. Very easy to find and secure, with good parking. We couldn't recommend more highly and hope to one day return.
Nick
2017-01-03T00:00:00Z
I cannot emphasise how great El Cortijillio is. We stayed for two nights. Rosemary picked us up from the bus stop and drove us to the nearby village for groceries. We were invited to enjoy the fruit growing on the property and arrived at the cottage to find a cosy fire going. We were given plenty of information about the area and its history. Rosemary even drove us up the valley to drop us off for a wonderful day hike. The cottage itself was fantastic. It is custom-built and perfect for two. It has a terrace with a view overlooking the village below, a fully equipped kitchen and a very comfortable bed. We were lucky enough to have some of Rosemary's olive oil; I won't be able to go back to standard olive oil again! We really felt like we were staying with family, even though we were only there for three days. All in all, the perfect place to stay and well worth the journey out of Granada.
Anna
2015-03-10T00:00:00Z
I can only recommend this little paradise! The cottage is located above a small village, surrounded by olive, lemon and orange trees (we had fresh orange juice for breakfast every morning). It is very clean, light and beautifully decorated and you can perfectly relax on the sunny terrace. Rosemary is such a nice host and welcomed us so warmly. She really wants you to feal at home and gives you very nice recommendations for restaurants and places to visits. And last but not least there are her two lovely labradors that come to visit you from time to time to see if you are ok. I can definitely recommend this place!
Sabine
2016-04-11T00:00:00Z
Kamertype
Gehele woning/appartement
---
Type woning
Huis
---
Geschikt voor
2
---
Slaapkamers
Albuñuelas, Andalusië, Spanje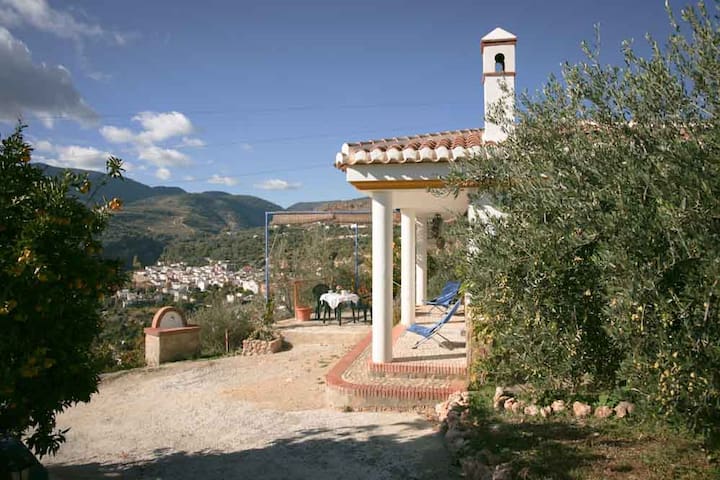 3 bedrooms available in total. Spacious master room with artisan kingsize bed and woodburner in traditional fire place. Large wardrobe and bedside tables and patio doors out to a grapevine shaded courtyard. 2 twins also available each with comfortable twin beds and wardrobe or hanging space. The house can accommodate 6 people comfortably and has a characterful lounge with woodburning stove. The kitchen is fully equipted and there are 2 bathrooms, dining terrace and sun terrace. Visit (URL HIDDEN) for more information.
Traditional working village where oranges, almonds and olives are grown. Cheap local bars with free tapas and friendly and curious locals. A great place to practice your Spanish.
La maison de Karen à Albuñuelas est trés plaisante,perchée dans les montagnes au sein d'un village assez typique.Le lieu est calme et agréable.L'accueil a été sympathique et l'accueillant toujours disponible .Notre séjour nous a plu.Karen a fait en sorte que nous ne manquions de rien:tres agreable...(vaisselle+accessoires;linge de lit,serviettes...).
naima
2016-08-18T00:00:00Z
We really enjoyed the stay. It was a lovely country house in an village near Granada. The house was very nice and have all the commodities. I really recommend for people that enjoy to feel authentic places.
Marina
2012-08-01T00:00:00Z
Una casa perfecta para pasar unos días de naturaleza y tranquilidad,tiene todas las comodidades!!! La chimenea y las zonas comunes hacen que estés muy cómodo y con espacio.Nos dejó leña para todos los días. Las habitaciones tienen estufa de calefacción para el invierno. Un pueblo muy tranquilo,gente hospitalaria,pan y bollería en horno de leña,el bar de la plaza genial,bebidas con tapas.
alberto
2017-01-01T00:00:00Z
I rented the house for a group of friends attending our wedding in a nearby village. They all had but great comments about the house and the town.
José Manuel
2016-08-23T00:00:00Z
This a super house in a beautiful location. Its like stepping back in time with carless streets and curious (but friendly) village folk. On our first day the neighbour insisted we went to look at his donkey! Thoroughly recommended.
Jayne
2016-09-20T00:00:00Z
Gran casa, comoda y muy tranquila, misma definición que en las fotos
Raul
2014-03-03T00:00:00Z
Karen, disfrutamos de la estancia. Es una casa encantadora. La casa está muy bien y tiene todas las comodidades. Realmente la recomiendo para las personas que disfrutan de lugares auténticos. Saludos Santi
Santiago
2015-12-09T00:00:00Z
I'm loathe to write this....because I'm selfish....and hesitant to let others know how absolutely lovely this house, this village, this corner of the world is. My family of four spent one glorious month in Karen's charming, comfortable house and thoroughly enjoyed every minute. The house is full of character (as advertised) and has everything one could hope for - various beautiful places to relax, comfortable beds, a well-stocked kitchen, and a great location in a very special village. It's the perfect spot from which to explore the area....or not. Karen is the perfect owner - responsive and easy to work with - thank you for all of your help and for sharing your house with us!
Christina
2014-06-30T00:00:00Z
Kamertype
Gehele woning/appartement
---
Type woning
Huis
---
Geschikt voor
6
---
Slaapkamers
Albuñuelas, Andalusië, Spanje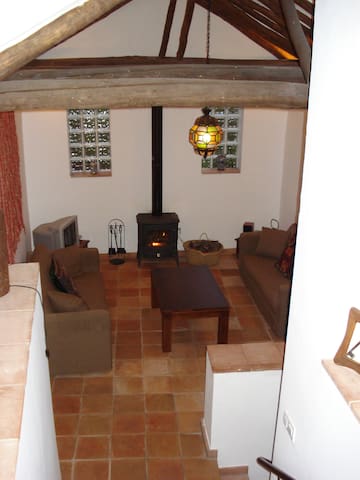 A really very beautiful mountain villa on a plot of 2 hectares with incredibly beautiful vistas entirely to yourself.Beautiful and large villa with everything you need for an unforgettable holiday!
Casa Golandrinos: A delightful country house on a mountain top with stunning views to the Lecrin Valley and the Mountains of the Sierra Nevada. The house is in a tiny village between Conchar and Albunuelas. But still just a few minutes away from the motorway, so it is easy to drive to Granada, the Costa Tropical, the Alpujarras and the other villages in the Lecrin valley. Everything's there in the house for an unforgettable stay: Large outdoor swimming pool (11 x 5 metres!) surrounded by wide terraces to enjoy the sun. In front of the house is a covered terrace with a large garden table for breakfast, dinner, or just a glass of wine to enjoy the surroundings. On the ground floor: a complete kitchen with all the furniture you need, a comfortable couch with a TV in the corner – there's even a separate room for quiet reading. A separate toilet with a washing machine for your laundry, and a large hallway complete this floor. First floor: Master bedroom with ensuite toilet, shower and sink, and outside terrace. Second bedroom with two single beds, a third bedroom with one double bed and one single bed. These two bedrooms share a second bathroom with a sink, toilet and a shower. And then there is a third bathroom: a really stunning Turkish bath! On the roof is a big terrace where you can overlook the whole valley! This really is a wonderful house in a natural setting with stunning views. If you want some more information don´t hesitate to contact us:
The House is with 2 other houses on a mountain slope, of which an owner is a Dutchman who lives there permanently.Very exceptional in this environment that was allowed to be built here.yet central for your trips to bv Durcal where a number of restaurants and tapa bars.
The house is large, airy and comfortable - combining a charming mixture of modern and traditional. Its situation for us was perfect - perched up high and with no other property in sight or earshot; and all around breath-taking views of the mountains. It is quiet and peaceful without being isolated, since the wonderful city of Grenada is so easily accessible, along with a number of small, local towns. We were made very welcome by Martin and the house and its facilities exceeded our expectations. This felt like the real Spain and we would definitely love a return visit.
Jane
2016-08-27T00:00:00Z
Kamertype
Gehele woning/appartement
---
Type woning
Huis
---
Geschikt voor
7
---
Slaapkamers
Cozvijar, Andalusië, Spanje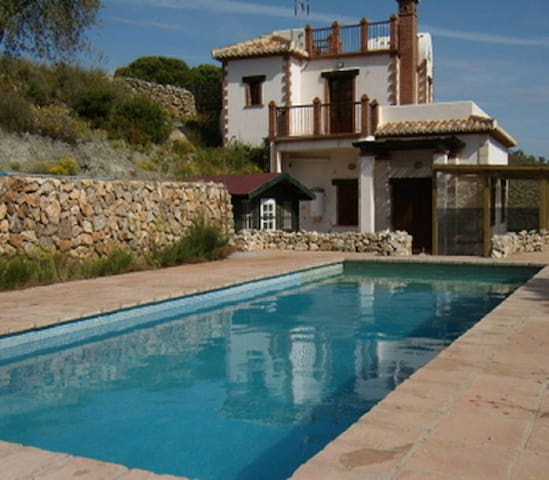 Great for families. The house is fully furnished & offers living room, kitchen, three bedrooms, two bathrooms. Pool, terrace with spectacular views over the valley Lecrín. Both the outside & the inside reflect typical Andalusian design & furnishings
★Typical Andalucian Village Home ★ Amazing Views ★ Great for families ★Stunning walks ★ Situated just 20 minutes from Granada ★ 40 minutes from the unspoilt Costa Tropical ★ 40 minutes away from the skiing slopes of Sol y Nieve. Casa Margarita makes an ideal holiday base for all different types of holiday from just relaxing in a typical Spanish village through to city visiting, walking or lounging on the beach or next to the pool or even trying your hand at a round of golf at the nearby Santa Clara Golf Course. Murchas is a small village with truly reflects Spanish village life and I feel sure that you would be amazed at the tranquillity that it offers and not to mention the amazing walks from the back of the house through miles of rambling citrus and olive trees. The house offers some spectacular views from the specially built roof terrace which is complete with outdoor dining and a barbeque. "Casa Margarita" is a very typical village house which I had rebuilt and restored in 2003. Both the outside and the inside reflect typical Andalusian design and furnishings but full of all the modern conveniences that you would expect for all your holiday needs. ★There are 3 bedrooms (2 twin & 1 large double with en-suite bathroom) ★2 bathrooms (one en-suite) ★Spacious open-plan lounge, kitchen and indoor dining areas ★ There are an additional two dining areas: one in a courtyard next to the small downstairs plunge-pool and another on a roof terrace overlooking some fantastic views of hills mingled with olive and orange groves. Another advantage of our situation it that we are only 20-30 minutes from Granada airport with daily flights from the North and South of England. Alternatively you can fly in and out of Malaga which is approximately one and a half hours from the property. Should you require any further details please dont hesitate to contact us through here.
Murchas is a local Spanish in the municipality of Lecrín , in the province of Granada , independent community of Andalusia . Near this town are the beautiful villiages of Talara , Chite , Melegís , Mondújar , Peloteos and Restábal . Murchas is a small village with truly reflects Spanish village life and I feel sure that you would be amazed at the tranquillity that it offers and not to mention the amazing walks from the back of the house through miles of rambling citrus and olive trees. Murchas has a bakers and small supermarket just seconds up the street from the house and is a great step-off place for walking in the surrounding countryside. Nearest restaurants, banks etc. are a two-minute drive.
Kerris had a beautiful house and we enjoyed our stay. It's all comfortable and everything is great.
Suhaina
2016-03-29T00:00:00Z
Kamertype
Gehele woning/appartement
---
Type woning
Huis
---
Geschikt voor
6
---
Slaapkamers
Murchas, Andalusië, Spanje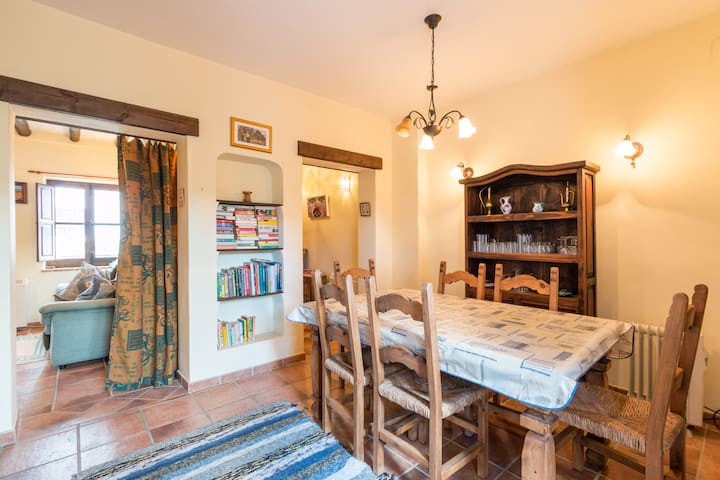 30 minuten van de meest bezochte monument in Spanje, het Alhambra in Granada, gelegen op een heuvel in de Lecrin Vallei, El Molino del Azahar, het Domein van 6000m2, biedt een panoramisch uitzicht van deze groene vallei gewijd aan Andalusische citrus- en olijfbomen,
Gewoon open mei 2012 Droomt u van loskoppelen uw dagelijks leven? Deze plek is voor u. 30 minuten van Granada, het Alhambra, de Alpujarras en de stranden, El Molino del Azahar ligt in de Lecrin Valley genieten van een uniek microklimaat. Op het zuiden, met een uitzonderlijk uitzicht van deze groene vallei gewijd aan citrus- en olijfbomen, detente is een gouden regel. 2 dble kamers en 1 kamer voor 3 wachten op u in deze natuurlijke landschap met een zwembad de hele dag zonnig, een prachtige open haard voor een paar dagen in de winter en (indien gewenst) een keuken vol met mediterrane smaken bereid met streekproducten onbehandeld, niet te noemen een aantal goede soorten wijn. Of u nu kiest om te lopen op de heuvel met uitzicht op de geschiedenis van Granada en op haar meerdere culturen, liep je de kleine straatjes van de Albaycin of liever te dromen in de tuinen van het Alhambra, een symbool van de kunst Al Andaluz, of zelfs naar het Science Park of het museum van Andalusië en tenslotte trillen om het geluid van de flamenco of wandel in de tapas bars, de toegang naar Granada is heel eenvoudig via de snelweg 27km van ons. U kunt huren door de kamer of het hele huis. met ruimte voor twee 75 € en voor het ganse huis in de zomer van 255 € per nacht en de rest van het jaar 235 € Activiteiten: Paard te bevrijden, golf, kajak, paragliding, klimmen, fietsen, stranden, en nog veel meer ... Ter plaatse: zwembad, jeu de boules, tafeltennis, en een kalender van festivals, concerten etc ... zijn beschikbaar. Werkplaats mogelijk karton of gips met de gastvrouw (URL HIDDEN) via e-mail. 4 seizoenen verblinden ons elk jaar, kom genieten! Granada luchthaven 35 min, de luchthaven van Malaga 90 miljoen Als je niet wilt rijden zult we halen u op .... Caroll & Yann wensen u Bon Voyage
je bent Infront van u een prachtige vallei vol fruit bomen en farest de bergen beveiligingen
Petit havre de paix un petit coin de paradis pour les amoureux de l Andalousie. Petite maison coquette qui a beaucoup de charme et qui bénéficie d une tour d ou l on a une vue a 360 degrés sur la vallée et sur les étoiles le soir tombe. Nous sommes ravis de notre séjour.
Cathy
2013-08-01T00:00:00Z
After a couple of weeks travelling the main cities of Spain, Our desire was to find somewhere secluded and full of character to conclude our trip in peace and relaxation. 20 minutes down the freeway from Granada we hit the jackpot. Caroll was a wonderful host who welcomed us with open arms and fluent English, French and Spanish. She is a wonderful person, with a life lived and stories to tell. She is also a magnificent chef so we would recommend taking advantage of her cooking services! She lives next door on the property and so is readily available should you have questions about the area or need anything. We certainly felt like we had made a friend straight away. The property itself is stunning, set back in the hills and surrounded by pomegranate, lemon and orange trees and 360 degree views of the hills and mountains. You simply don't get tired of gazing upon that view. Your quarters are a beautiful building desperate to that in which Caroll lives. It is equipped to handle multiple occupants so would be wonderful for a family or a group of friends. Every aspect you need is there with beautiful rooms, comfy beds, lovely bathrooms and a stunning farmhouse kitchen that was a joy to cook and eat in. Although the temperatures outside can soar, the house itself remains cool and there is always a great pool outside your window to refresh. The area itself is detached but within reach. There are several little charming villages dotted around offering snapshots of Spanish life and basic necessities such as cafés, banks and small supermarkets. The local major supermarket (mercadona) is just a ten minute drive away back to the freeway. It really is a prefect way to enjoy all aspects of the area. In staying here you get the serenity and peace of rural Spanish life. In one direction down the freeway you can explore the Alhambra and tourist delights of Granada. Go the other way and head towards the beach. You have the best of all worlds. We will always take fond memories of our time here! Merci beaucoup Caroll!
Raquel
2013-09-28T00:00:00Z
We had a great time at Carroll's place. The location is incredible and the views are amazing. Just what we were looking for. When you step out of the front door into the morning sun you are greeted by the hills and mountains around and the sound of birds and bees. The gardens are full of flowers and lemon, orange and olive trees. There were plenty of lemons around for us to use in our cooking and gin and tonics. Really special. The pool was totally ours for the week and this made the stay perfect. We cooled off with a swim whenever we were too hot and lit-up night swimming with the kids was fun. We could look up at the stars and watch the bats swooping. Carroll kept the pool very clean. We played Finnish skittles and table tennis in the mornings or evenings when that area was shady. There was enough to do so that we didn't have to drive off all the time looking for diversion. There was plenty of shade for our kids to be in the garden under the fruit trees. There was also a covered outside eating area so we could enjoy eating outside. This was lit up at night. The kitchen was large and well-equipped so cooking was easy and this made our stay economical. There is a huge supermarket 10 mins drive away or small ones up the road in the nearest town which were fine for things we forgot. Nice bar there too with pool and air con. We would definitely return, we had a great week there.
Polly
2016-08-05T00:00:00Z
Carroll's house is a delight. The rooms are airy, the kitchen well equipped, the beds comfortable and the whole house exudes a sense of style. It feels like someone's home. Carroll and Jan live next door so can offer advice and help when needed. They are a wonderful, vivacious couple. The crowning glory of the property is the garden. In late April the citrus trees were crowded with fruit and blossom. The air was tinged with Jasmine. There were magnificent irises. The Garden will be a lifetimes work but the bones are good and Carroll and Jan clearly have the passion to create an Eden here.
andrew
2014-04-25T00:00:00Z
Caroll was a great host. Upon arrival we were treated with her delicious home made lemonade and treats. The house is in a beautiful location just 25 min out of granada city. It's surrounded by lush vegetation, citrus and granada trees are all over! This place is very recommendable, I only wish we had more time to enjoy it.
Vita
2015-10-12T00:00:00Z
Very nice place to stay in a lush garden with fresh oranges and citrus fruits. Delicious fresh juice on arrival of which the recipe is kept a secret. Caroll is a very helpful host
Frans
2016-05-02T00:00:00Z
非常抱歉,没有时间写英文的评价,这次来西班牙旅行是带着一家人一起来的,这里也是这次旅行中最大的体验和收获,房子十分漂亮,厨房特别大,父母非常喜欢在厨房活动,房子旁边有果园,房东说可以摘橙子和柠檬,因为是房东自己种植的,橙子都很新鲜也非常好吃,另外房东非常热情,在我们离开的那一天还为我们介绍很多安达卢西亚的风景!
JIAN AN
2015-06-28T00:00:00Z
Il posto è veramente fantastico ed unico. La casa è immersa in un giardino con una piscina molto ben esposta. Al piano terreno la grande cucina in muratura è accogliente e pratica. Dettagli curati ovunque. Camere molto particolari e comode. Eccezionale il punto di osservazione all'ultimo piano. Insomma, un posto da non perdere. La posizione strategica consente di visitare Granada, la Sierra Nevada, il destro di Tabernas e la costa di Nerija. Un ultimo cenno sulla proprietaria. Una persona squisita ed accogliente.
Gpv
2015-08-31T00:00:00Z
Kamertype
Gehele woning/appartement
---
Type woning
Huis
---
Geschikt voor
7
---
Slaapkamers
El Valle, Andalusië, Spanje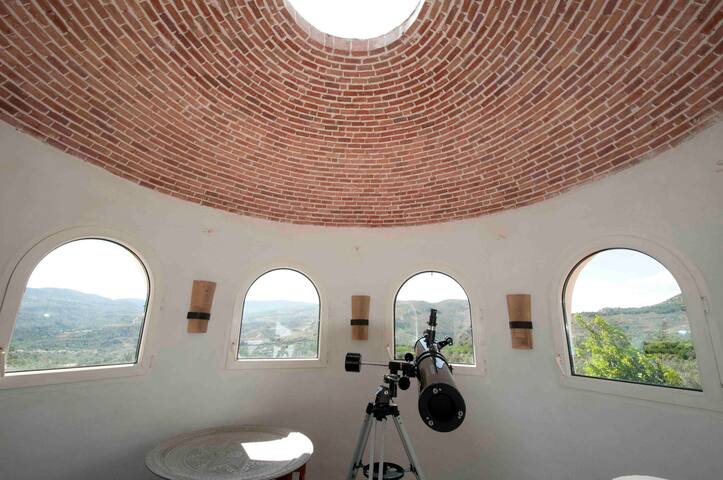 The tranquility and relaxation are assured!!! in this comfortable house in a small and authentic Andalusian village near Granada, the beach and Alpujarra. Our house is traditional but it have all necessary for to make your holidays unforgettable.
Our vacation home is located south of Granada, at the foot of the Alpujarra and heart Lecrín Valley, also known as Valley of Happiness. It is a place of great ecological and authentic Andalusian flavor. This beautiful home is located in the village of Albuñuelas, on top of the hill and has spectacular views over the town, the Sierra and the Santo River Gorge. In half an hour you arrive the center of Granada and the beaches of Salobreña and Torrenueva. The ski slopes of Sierra Nevada are 65 km, one hour by car on a good road. The 140m2 house is catering for 7 + 1. It has three double bedrooms and one single. Two bathrooms and a cleanliness. You can add an extra bed and a cot with request. The ground floor is a large open room of 50m2 as traditional area, where you can relax or read by the fire through a large open fireplace. If you prefer you can also enjoy the traditional board games that we offer, and we also have free wifi. But if the air breathes traditional rural living, the kitchen has all the comforts of SXXI: microwave, fridge-freezer, espresso machine, electric kettle, blender and toaster. A large dining table with seating for 10 people separates the two rooms. Plus provide all the necessary equipment for their lunch and dinner unforgettable. The house has a patio and a small pool to cool off and a vine under which you can take a nap, and a splendid terrace for sunbathing in winter. The Loma neighborhood of Albuñuelas is a privileged and quiet where life is unhurried, its terraces and roofs in the drying laundry shares space with sun dried tomatoes. The silence of the streets, interrupted only by the sound of animals and vendors to bring up fresh bread, fresh fish from Motril, eggs, fruit and vegetables. The rest is assured. In Albuñuelas you will find all you need to spend a few days off, bank, pharmacy, clinic, bakery, two supermarkets, library with newspapers and magazines, plus several bars where tapas. Nearby, at 12 kilometers, is the largest municipality Dúrcal Valley, which is the commercial center for the residents of nearby villages. A bus service makes the trip three times a day, runs through the valley, reaches Dúrcal and continues to the central station of Granada. Residents living in the area and that explains the cleanliness and neatness of their terraces, lined with olive trees, almond trees and vineyards. From the house and just across the street, the visitor is in the middle of the mountains. A local agency offers horseback riding to the Sierra de Albuñuelas. Béznar ElEmbalse is a good place for canoeing and fishing. For the hiker or mountain biker who likes, this town is the ideal place from which to launch routes to more authentic Andalucia unknown. Is lung Lecrín Valley and is part of the international path GR7. The Albuñuelas saw is covered by rich vegetation between the predominantly pine forest dotted with all kinds of wild flowers and medicinal and aromatic plants. There are places in this mountain range where visitors can marvel at the lost and more great views. Walking through a forest of pines and olive trees, on forest trails or roads that lead to endless springs and streams along the Rio Santo, are a paradise aquifer.
Los vecinos son amables y cordiales, la vida transcurre con calma en Albuñuelas. La mayoría viven todavía de la agricultura y es fácil verlos trabajar durante el día en sus huertos.
Nous avons eu le plaisir d'être accueillis par Manuela la cousine de Xesca qui parle très bien le français. Nous la remercions d'ailleurs pour son aide à retrouver la valise d'une de nos amis perdue à l'aéroport de Madrid, elle s'est occupée également de prendre RDV pour nous dans une Cuela. Merci Manuela ! Le gîte en lui même est bien équipé, nous avons trouvé à notre arrivée, une bouteille de lait et des biscuits traditionnels. Une très belle vue depuis la terrasse dont nous n'avons malheureusement pas pu profiter au vu du temps froid et pluvieux durant notre semaine de vacance ! La cheminée nous a été très agréable ! Sinon gîte bien situé en pleine campagne à mi-chemin entre Grenade, Alparujas et mer. Un seul bémol : les chiens du voisinage très bruyants ! Nous conseillons ce gîte a ceux qui veulent visiter Grenade et sa région.
patrice
2016-05-15T00:00:00Z
Nous avons été accueilli et il y avait des fruits et légumes ainsi que des boissons pour notre arrivée
Laurent
2016-08-14T00:00:00Z
La maison est très accueillante, propre, conforme aux photos, la vue est magnifique. Le petit bassin a été très apprécié par les enfants, d'autant plus que la chaleur a été torride pendant notre séjour à Albunuelas. La cousine de Xesca qui s'est occupée de nous accueillir parle très bien le français et nous a de suite mis à l'aise. Il y avait des boissons fraiches dans le frigidaire et des tomates qui nous attendaient dans la cuisine. Cette location est bien située pour visiter Grenade (à peine une demi heure de voiture), faire des ballades en montagne et la plage n'est pas très loin (environ 40 mn de route). Le village est très tranquille, mis à part les chiens errants et ceux de la voisine qui peuvent être quelque peu bruyants.
Catherine
2015-07-24T00:00:00Z
La casa de Albuñuelas nos gustó mucho, éramos 5 personas adultas las que pasamos el año nuevo ahí y en todo momento nos sentimos como en casa. Las habitaciones eran cómodas y calentitas. El salón comedor y cocina eran bastante espaciosos y el tener la chimenea encendida daba un toke muy bonito a esos días. La zona muy agradable, aprovechamos para dar un paseo por el pueblo el día del mercadillo y otro día recorrimos El Valle del Lecrin donde es increíble la cantidad de árboles cargados de naranjas que hay por toda la zona. Los restaurantes de los pueblos espectaculares! Muy buena comida casera. El resto de días fuimos a visitar la Alhambra que queda a solo media hora en coche. Las primas de Xesca quienes nos dieron la bienvenida fueron muy amables en todo momento. Recomendaría está casa a todo aquel que quiera pasar unos días de descanso en una zona apacible.
Elena
2017-01-02T00:00:00Z
Host was fantastic and very responsive to texts throughout visit. House is cute with lots of comfortable sleeping space and nice views from terrace.
Glenn
2016-07-09T00:00:00Z
Really helpful host who responded very quickly to questions. Lovely, well equipped house with stunning views from roof terrace. Can imagine very cosy in winter also
Kirsty
2015-07-13T00:00:00Z
Kamertype
Gehele woning/appartement
---
Type woning
Huis
---
Geschikt voor
7
---
Slaapkamers
Albuñuelas, Andalusië, Spanje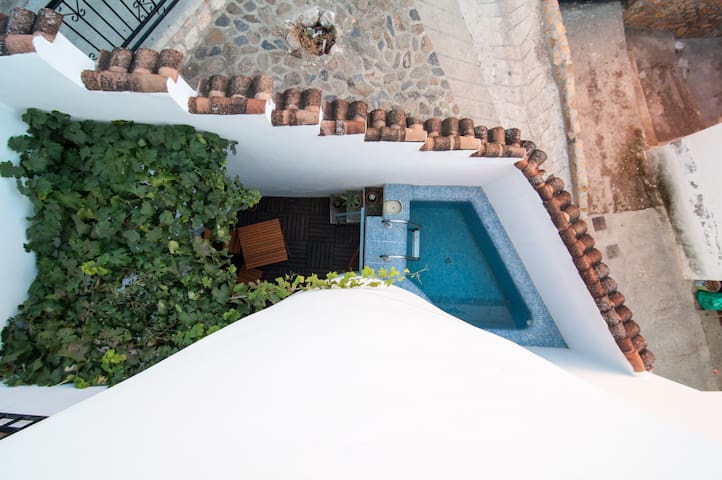 It is a charming accommodation with wonderful views of the mountains and surrounded by a private and genuine natural environment. Located in the village of Conchar, the property is 30 minutes from the beach, 25 minutes from Granada and 60 minutes from the ski resort of Sierra Nevada. Farmhouse every detail is carefully looked after, and high-quality furniture designed for the convenience and comfort of guests.
Kamertype
Gehele woning/appartement
---
Type woning
Huis
---
Geschikt voor
6
---
Slaapkamers
Cónchar, Andalusië, Spanje
La Fabrica - gelegen in de beroemde Lecrin vallei, in een biologische boomgaard met een prachtig uitzicht vanaf slaapkamers en patio's. Maar 2 minuten lopen van de bushalte en de route GR7 en het dorpje Restabal, met winkels, restaurants en een medisch centrum.
Dit afgelegen boerderij biedt het beste van vele werelden - 1/2 uur van de stad Granada, 1/2 uur van het dichtstbijzijnde strand van Salobreña, en 1/2 uur van de skipistes van de Sierra Nevada. Goed verbonden met buslijnen, de GR7 en het dorp, het is een klein paradijs op zich, die zich in zijn eigen terrein, 4 terrassen van sinaasappelen, citroenen, druiven, peren, appels, vijgen en kiwi's. Je zult in staat zijn om jezelf te helpen om wat te produceren is in het seizoen. Het huis heeft 2 terrassen, een grote schaduwrijke terras aan de voorzijde van de woonkamer, met hangmatten, tuinmeubilair, enz. Nog een dakterras met panoramisch uitzicht en ligbedden, ideaal om te zonnen. In de zomermaanden hebben we de grote splashpool, 5 meter diameter. Het dorp, dat zich aan het einde van een groot meer, ligt op minder dan 5 minuten lopen met supermarkten, een bank, apotheek, medisch centrum.
De Lecrin vallei is beroemd om zijn prachtige locatie - halverwege tussen de kust en Granada, in een vallei van 3 rivieren, een meer en vele mooie witte dorpen. De Lecrin vallei is groen en weelderig, en vol feesten en culturele evenementen gedurende het hele jaar.Het GR7 wandeling is de Andalusische route dat deel van Europa wandelroute No.4 vormt, en ons huis ligt direct aan de deur.
we hebben een geweldig verblijf gehad. een heerlijk huisje, van alle gemakken voorzien. prachtig ligging in een rustig spaans dorp. Kleine supermarkt dichtbij. het contact met de verhuurder en Mar terplaatse verliep prima. vers fruit aan de bomen.
Ina
2016-07-01T00:00:00Z
Nos hospedamos en la casa mi pareja y yo para pasar la nochevieja buscando tranquilidad y naturaleza y fue lo que encontramos. Vicente estuvo atento a todo lo que necesitamos y fue muy amable y el desayuno que nos preparó buenisimo! La casa tiene unas vistas desde la habitación principal espectaculares y un patio muy bonito donde en la epoca de verano se tiene que estar de lujo!
Maria
2015-01-01T00:00:00Z
we had a wonderful stay at Mars lovely place. Everything we wanted. Quiet, attractive, affordable. thank you.
Donald
2016-07-29T00:00:00Z
Great to have been welcomed at the airport and driven back for a small fee it was very convenient. The house was great and we even had food in the fridge. Would recommend.
Aisha
2014-10-08T00:00:00Z
Vicente nous a très bien accueilli dans cette jolie maison. Elle est très bien située, à 5 min de l'autoroute et à mi-chemin entre Grenade et la côte, et proche de la Sierra Nevada et des Alpujarras. Très agréable terrasse en bas et 2 jolies chambres à l'étage, par contre les toilettes sont en bas et l'accès entre les 2 étages se fait par un escalier extérieur. Sinon il y a un bon restaurant à Melegis, la commune voisine, qui s'appelle Los Naranjos.
Eric
2015-08-23T00:00:00Z
La estancia en la casa de Vicente fue muy buena. El trato por su parte muy amable, nos explico como acceder a las rutas y pueblos. Es una casa de pueblo con encanto rodeada de multitud de naranjos y limoneros. El valle de lecrin es precioso sobretodo en primavera. Recomendable
Oscar
2015-04-06T00:00:00Z
Nos ha gustado todo, lo único es una pena que tienen solo un baño. Pero el sitio es precioso.
Tatiana
2017-01-01T00:00:00Z
We (2 adults and 2 teenagers) had a wonderful stay at la Fabrica. Mar made us feel very welcome and went out of her way to help us, even though she was expecting a child very soon. Like settling us in, arriving after midnight! The house and situation were exactly as expected, with the 2 hammocks, the swimming pool, and the absence of mosquitos being the absolute plusses! There were some nice fiestas in the small village, with the unfortunate fireworks (well, only a loud 'bomb' rocket) at 8 in the morning :-) Too bad our stay was outside of 'orange season', but we can imagine it must be so nice around march... Instead now we had some smell of rotting fruit, but of course brilliant weather! We would definitely recommend the place!
Lm
2016-07-25T00:00:00Z
Kamertype
Gehele woning/appartement
---
Type woning
Huis
---
Geschikt voor
6
---
Slaapkamers
Restábal, Andalusië, Spanje
Kleinschalig complex met gemeenschappelijk zwembad. De woning gelegen in het witte bergdorpje Albunuelas beschikt over een klein eigen terras aan de voorzijde van de woning. Vanaf het balkon heeft u een schitterend uitzicht over de vallei. U kunt hier in alle rust het echte Spaanse leven en de natuur ontdekken. Het tuinmeubilair kan bij het gemeenschappelijk zwembad geplaatst worden.
Er is een klein terras evenals een balkon aan de voorzijde van de woning. Tuinmeubels kunnen echter ook bij het zwembad geplaatst worden. Geen internet in de woning alleen op het dorpsplein.
De Lecrin Vallei met zijn vele sinaasappelbomen, het Alhambra in Granada, de overweldigende natuur in de Alpujarras en uiteraard de stranden aan de Costa Tropical.
We had a great stay. Lovely house, beautiful location. Will definitely be going back :)
Matt
2016-09-19T00:00:00Z
Vacances magnifiques juste un peu loin de la mer mais tout etait parfait !
Emilie
2016-08-30T00:00:00Z
Kamertype
Gehele woning/appartement
---
Type woning
Huis
---
Geschikt voor
4
---
Slaapkamers
Albuñuelas, Andalusië, Spanje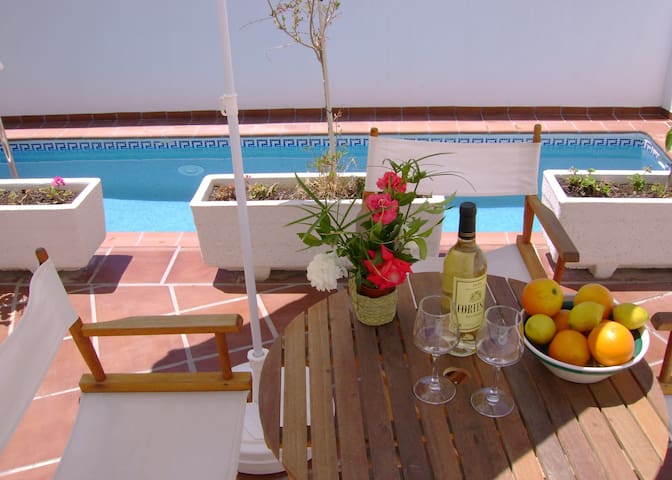 2 bedroom cottage on a very quiet lane at the end of the Lecrin valley. Perfect walking country with shops and bars only ten minutes away. House fully modernised, wood burning stove and full central heating. Comfortable roof terrace and views of mountains and lemon groves.
Kamertype
Gehele woning/appartement
---
Type woning
Huis
---
Geschikt voor
4
---
Slaapkamers
Albuñuelas, Andalusië, Spanje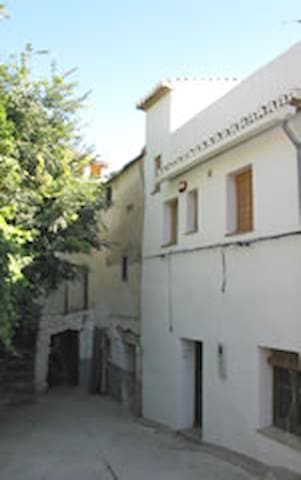 1

–

18

van

28 Huizen te Huur
Voer datums in om de volledige tariefopbouw te zien. Er kunnen extra kosten zijn en er kunnen belastingen worden toegevoegd.