Onze bungalows zijn gelegen in het nationaal park Biogradska Gora, op 7 km van de Biogradsko meer. Dit zijn 3 bungalows, elk voor 2 personen. Om onze gasten bieden wij nationale keuken. Het ontbijt is inbegrepen in de prijs. Dus, onze hutten zijn aan het einde van het dorp. Ook om Dolovi Lalevića u kunt komen off-road voertuig met ons. Transfer prijs is 40 euro in één richting.
Als je kleine auto (als uw auto niet 4 bij 4 voertuig), moet u uw auto op de parking van Biogradsko meer, en loop dan 7 km naar onze hutten op Dolovi Lalevica. Het duurt ongeveer 2 uur naar ons dorp komen. Of u kunt onze transfer service te gebruiken. Verkoopprijs is € 40 in één richting.
We had great time over there in the mountain. The place was fun, the view beautiful, the food awesome and the family very welcoming and kind. We recommand it! It's a unique experience!
yvan
2015-08-10T00:00:00Z
Thank your for the great welcoming and nice place! The natural Park is amazing and the little houses make it a unforgettable experience! All the farm products are good and we hope to come one more time:) Alexandre and Lisa
Alexandre
2015-08-20T00:00:00Z
Нам очень понравилось жить в бунгало в горах! Хозяева гостеприимные, радушно нас встретили. Угощали кавой (кофе) и вкусным сыром собственного производства! Мы проживали в бунгало в начале октября. Хозяйка сделала все, чтобы нам было комфортно и тепло спать, а также мы грелись и кушали в общем теплом доме. Мы заказывали завтраки и ужины, было все очень вкусно! Само место очень красивое, мы гуляли по горам, наслаждались видами. Это был прекрасный опыт! Мы увидели другую Черногорию и пожили среди местных жителей. Всем рекомендую! Мы остались довольны!
Maria
2016-10-03T00:00:00Z
What a view! This was an amazing place to stay and especially hike. We met some wonderful friends there. In the evening we made a fire with the help of one of the hosts. The food was fantastic, especially the fresh fish (I highly recommend this), the Priganice and the pancakes. This was our favorite stay of Montenegro, with a particular atmosphere! One last tip: look at the sky at night, you'll see lots of shooting stars there.
Amber
2016-09-05T00:00:00Z
Nous avons été très bien accueillis par la famille qui tient le refuge. Ils sont aux petits soins pour qu'on se sente le mieux possible. Le cadre est extraordinaire ! Parfait pour randonner dans le parc, idéal pour un séjour nature. On recommande vivement !
Damien
2016-07-16T00:00:00Z
Great accomodation. I would recommend this to everyone. Really cosy and great food! Thanks for the fantastic experience.
Marie-Laurence
2016-09-20T00:00:00Z
We stayed one night and wanted to stay forever, very confortable tiny 'house to sleep' as on pictures in the middle of the mountains. The hiking to get there makes it a great place to arrive. The family that is running the place is so kind and welcoming. A very special experience!
Thibaut
2016-08-19T00:00:00Z
precioso lugar, alojamiento tal como en las fotos, anfitriona muy simpática. El lugar solo se alcanza en jeep o tras una ruta por el monte de 7km muy bonita.
Borja
2015-08-16T00:00:00Z
Kamertype
Gehele woning/appartement
---
Type woning
Bungalow
---
Geschikt voor
2
---
Slaapkamers
Dolovi Lalevića, Kolasin, Montenegro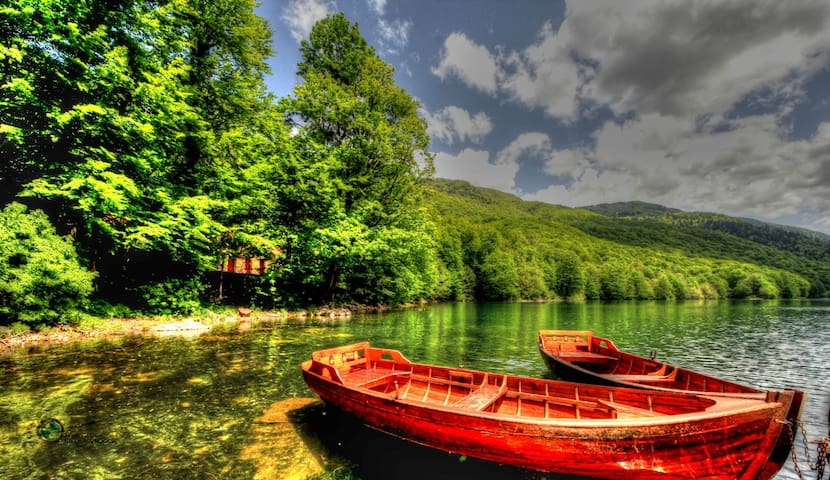 Eco village Goles is located on the 1600m N.V. in the national park Biogradska mountains, away from the city noise and civilization. Here you can try dishes of traditional Montenegrin cuisine,and get to know the way of life of the highlanders. Transfer service is not included in the price of accommodation.
You will leave your car in Kolasin, and we will take you to our eco summer pastures by jeeps. When you finishe your stay, we will also take you back to your cars. This transfer is included in the price.
Le katun de Goles est un vrai paradis au milieu des estives, entre vaches, moutons, chèvres, sentiers de randonnée... Ici, plus de portable mais vous vivrez aux côtés de vrais montagnards. Le confort est rudimentaire mais assuré (les douches sont chaudes, tout est très propre...). Munissez-vous de cartes précises et d'un bon dictionnaire Monténégrin/votre langue ou anglais car Ranko ne parle pas du tout anglais. Du coup, on a du mal à poser toutes les questions que l'on souhaite pour mieux comprendre leur vie, découvrir des balades à faire etc. Une expérience qui reste unique cependant !
Francoise
2016-08-13T00:00:00Z
First we walked to the ecovillage from biogradsko lake. We can not recommend anyone to do this unless your on a hiking vacation. It is a really steep walk. We were warmly welcomed, immediately got drinks and had a delicious home cooked meal at a fair price. Altough they did not speak english they were really friendly and took care of us. Staying at the ecovillage is an amazing experience, to bad we had bad weather. Make sure that you include the price of the transport back and forward (40 euros per ride, so 80 in total) when you consider coming here.
Axel
2016-09-07T00:00:00Z
We went here for four days with our 2-year old daughter. We had an excellent time. There are several small farms in this valley, and you can see cows, horses, sheep and chicken walking around. Even though it is not listed as "child-friendly", the place is in fact very child friendly. They can walk around safely and the host even arranged a special bed for our daughter. The hiking is also great. But the best part is the food provided by the hosts. That was really, really good. All in all this was the best part of our holiday (total 2,5 weeks with 4 locations).
Gijs
2016-07-07T00:00:00Z
The host canceled this reservation 4 days before arrival. This is an automated posting.
Mieke
2016-10-05T00:00:00Z
We parekd our car in Kolašin where Petar waited for us in the tourist office. His collegue drove us to Goleš with the jeep which took us 1 hour and 20 minutes. During the nice ride through the national park we learned a lot about life in Montenegro. We were very warm welcomed by Sloba and Ranko. They are really warm and caring hosts and love to show you how they live their easy life up in Goleš during summer. The food they provide was fantastic and the little huts very simple but cozy. We had a fabulous time and would love to come back!
Livia
2016-08-01T00:00:00Z
We started our trip in Belgrade and then went to Kolašin into the Mountains. Petar drove us with a Jeep the exciting Route to the Woods and Mountains Goles – this was where a real Adventure for us, two People from the City – started. Goles is a beautiful and authentic place with lovely Farmers; you can hike to the Biogradska Lake in the National Park, walk around or just sit and watch. Visit the Neighbours and see what they're doing. There are a lot of Animals: Sheeps, Cows, Cats, Pigs and Dogs and beautiful Nature. Ranko and his wife, where our little Guesthouse was, were very kind and we got a lot of very tasty traditional Food – fresh Milk from their Cows and Honey from Bees that also live in the Village. We'll never forget this!
Johanna
2015-08-31T00:00:00Z
This place is just superb - tasty food, amazing mountaintop location, really nice hosts. My girlfriend and I stayed in Goles for four days and loved every minute. You stay with a couple called Ranko and Sloba - totally charming people with a real passion for preserving their traditional way of life. They bring their ten cows up to these pastures in the summer to graze. This is an authentic seasonal farming site so you can see the sheep being shepherded (their neighbours) and watch the milking. Breakfast involved totally delicious home made yoghurt, wild berry jams, eggs from their mountain chickens - bliss! For a few euros they can cook supper for you too. All this food coming off Slobas wood burning stove. They've got solar power lights in the huts, flushing loos and hot showers off the wood burner, but apart from that its back to nature. All quite light touch which hasn't spoiled the charm of the place at all. Petar took us up the thrilling dirt track in his 4x4 from Kolasin and and collected us at the end. To save money you could hike up to the village from Biogradska car park - a couple of hours up steep terrain though. I'd say bring some wet weather clothes as you are at 1700m so the weather can change. Binos for the wildlife. A phrase book perhaps (we mimed and got on OK!). Snacks for the daytime as you can get by quite easily with a light lunch as the portions are so generous. As an ecologist it was wonderful being right next to one of the few untouched forests left in Europe - walking down to the lake through the World Heritage Site was just so great. We just loved the fact that they were still farming like this, with all this biodiversity all around, and such good hosts. Quite a gushing review I realise but we totally loved it!
Henry
2015-09-26T00:00:00Z
Kamertype
Gehele woning/appartement
---
Type woning
Bungalow
---
Geschikt voor
2
---
Slaapkamers
Kolašin, Kolasin, Montenegro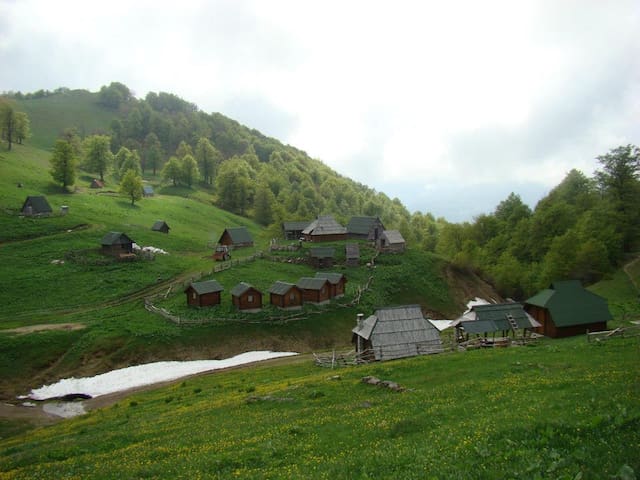 Our bungalows are located in the National park Biogradska gora, 7 km from the Biogradsko lake. These are 6 bungalows each for 2 people. Two bungalows have two single beds and 4 bungalows have double beds. To our guests we offer national cuisine. Breakfast is included in the price. Anyway, to get to us, you will pass our neighbors Janketić. So, our huts are at the end of the village. Also, to Dolovi Lalevića you can come by off-road vehicle with us. Transfer price is 40 euros in one direction.
If you have small car (if your car are not 4 by 4 vehicle) , you must leave your car on the parking of Biogradsko lake, and then walk 7 km to our cabins on Dolovi Lalevica. It takes about 2 hours to come to our village. Or, you can use our transfer service. Transfer price is 40 euros in one direction.
Kamertype
Gehele woning/appartement
---
Type woning
Bungalow
---
Geschikt voor
2
---
Slaapkamers
Opština Mojkovac, Opština Mojkovac, Montenegro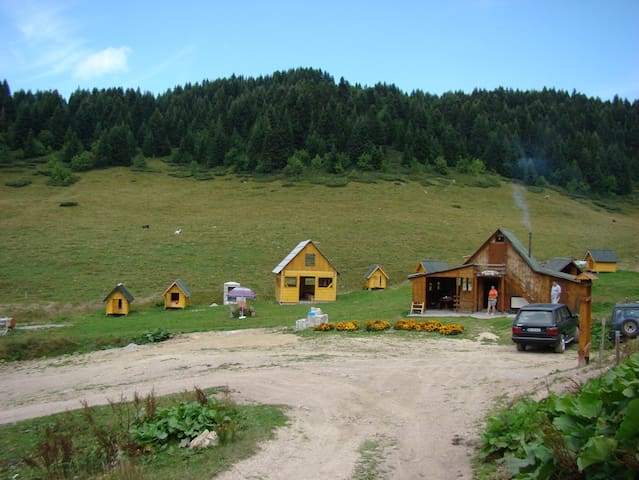 My place is close to great views. You'll love my place because of the coziness. My place is good for couples, solo adventurers, families (with kids), big groups, and furry friends (pets).
Kamertype
Gehele woning/appartement
---
Type woning
Appartement
---
Geschikt voor
6
---
Slaapkamers
Kolašin, Opština Kolašin, Montenegro
1

–

4

van

4 Accommodaties
Voer datums in om de volledige tariefopbouw te zien. Er kunnen extra kosten zijn en er kunnen belastingen worden toegevoegd.