You will enjoy this newly remodeled 1200sf house, greate neighborhood,close to Greenfield,Deerfield , Deerfield Academy,Eagle Brooks school
Kamertype
Gehele woning/appartement
---
Type woning
Huis
---
Geschikt voor
5
---
Slaapkamers
Deerfield, Massachusetts, Verenigde Staten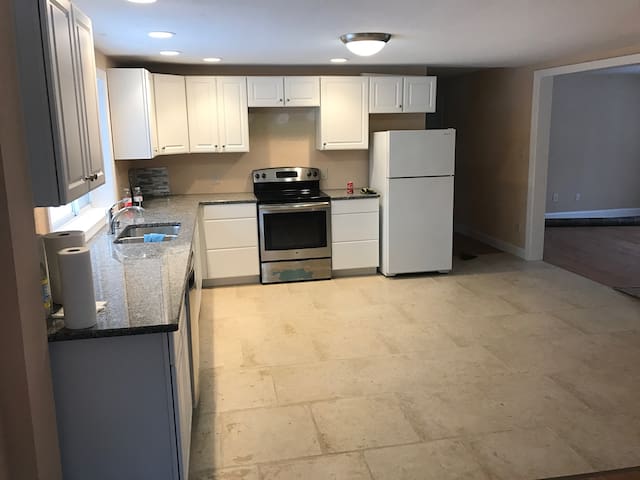 This home overlooks fields with a beautiful view of North Sugarloaf. We are 5 minutes from I 91, just a few minutes from Historic Deerfield and its private schools, The Bement School, Deerfield Academy and Eaglebrook School as well as Woolman Hill Quaker Retreat. We are 10 min. to Greenfield, 15 min. to Northampton or Amherst. Private full bath and bedroom a few steps down on one level. Living room available. There is a taxi service available if needed. Coffee/tea/hot choc, yogurt available.
We live in a 1970's mid century modern split level deck house overlooking North Sugarloaf and the Holyoke range. Guests have a bedroom on the lower level where you will wake up to a beautiful view from the large windows of North Sugarloaf. Just opposite the bedroom is a private full bath, with a private living room available for your use. Our friendly cat, Smantha, does wander in and out of the living area so if you don't like cats, this might not be a great place for you! The yard has large shade trees, flower gardens and great views of the mountains. There is cross country skiing outside our door when the weather is right, great hiking nearby within walking distance of our home. During the warmer months you can see flocks of turkeys wander by, deer feeding in the field at dusk, and an occasional coy wolf that wanders the area.
We live in a rural neighborhood with families and farms. We are within walking distance from the Magic Wings Butterfly Conservatory and Gardens, and about a five minute drive to Historic Deerfield and Deerfield Academy, The Bement School and Eaglebrook School as well as The Woolman Hill Quaker Retreat. We are ten minutes from Greenfield, fifteen minutes to Amherst, or Northampton. There is plenty of hiking nearby and great restaurants.
Kathy and Joe were wonderful hosts. They responded immediately to our request for the next day's stay and were incredibly hospitable. I really enjoyed the yogurt and juice in the morning and the comfortable accomodations. The views were outstanding. I highly recommend Kathy and Joe.
Jennifer
2014-11-10T00:00:00Z
My parents from Germany came to the United States to visit me and to see something from the east coast. They didn't know airbnb before but because I used it and was very happy about it they wanted to give it a try with my account. Kathy and Joes place was just perfect for them. They loved the lovely house and described Kathy and how as very helpful and open minded persons. My parents would definitely recommend this place!! Thanks to you two for giving them such a good time!
Inga
2015-05-24T00:00:00Z
Very nice people and exactly as described. Very Friendly and helpful. Would recommend to others.
Steve
2016-06-13T00:00:00Z
We had a wonderful stay with Kathy and Joe. They were extremely welcoming and fun to talk to. The room was very comfortable with an incredible view!
Polly
2016-05-08T00:00:00Z
Kathy and Joe's place was very comfortable. They were helpful and easy to deal with. We mostly used it as a place to sleep because we were attending a program at a conference center nearby, but would have liked to spend more time there. If the weather had been better (it was bitter cold), it would have been a good base for outdoor activities. We can say that we were warm and comfortable, even with below zero temperatures outside, and we enjoyed the view. The living room is a good size and has a fireplace. The bed was comfortable.
Naomi
2016-02-16T00:00:00Z
Convenient location for my visit in Deerfield, Kathy and Joe have been really welcoming, though I was too busy to have much conversation with them, they still tried to make sure everything is fine with my stay. I would be very glad to stay with Kathy and Joe if I travel to Deerfield again next time.
Sean
2016-04-14T00:00:00Z
Kathy and Joe were very welcoming and the space is very much as described. The view from the walkout basement space is spectacular. Our stay was very relaxed and very much what we were looking for.
Lewis
2016-08-29T00:00:00Z
En nous souhaitant la bienvenue chaleureusement et nous faisant visiter notre logement avec les explications nécessaire
René
2016-07-11T00:00:00Z
Kamertype
Privé Kamer
---
Type woning
Huis
---
Geschikt voor
2
---
Slaapkamers
Deerfield, Massachusetts, Verenigde Staten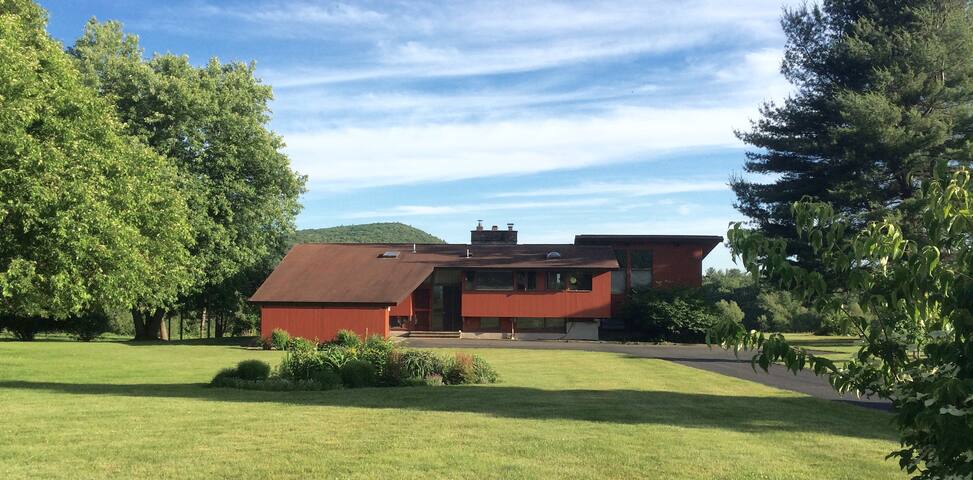 We are in Deerfield, 5 minutes from Greenfield, 15 minutes from Shelburne Falls, and less than 25 minutes from Amherst and Northampton. Perfect for families looking at the private schools and five colleges in the area. Enjoy local color, concerts, and festivals. You can hike, snowshoe, or XC ski from our property. Meander around our gardens and relax in our hot tub at the end of the day.
This is a comfortable, airy, clean four room apartment on the first floor of our farmhouse. There are hardwood floors throughout. There is a double bed in the bedroom, a futon that opens up in the TV front room, and a day bed (twin mattress) in the sitting area of the large room with a twin trundle bed under that. Cell phone reception is excellent here, and we offer high speed wifi and cable TV. Relax and enjoy the fresh air on the wrap around porch. If you are an early riser, you can enjoy watching the sun rise from there, or even from your bed, if you wish. Watching the full moon rise is also a treat. You can hike, snowshoe, or cross country ski right out the front door. We have three horses on the property, and two large box stalls are available if you are traveling with your horses. Our black cat, Tom, is also wandering around so you might see him.
We are minutes off I 91, but on a beautiful country road.
This is such a warm, wonderful place! Judy and Bill are exceptional hosts. The apartment is spacious, beautifully equipped, and there are wonderful and convenient touches all over. It feels like home. I can't recommend it enough! Thank you so much for the wonderful stay!
Jessica
2017-01-01T00:00:00Z
I have thoroughly enjoyed my stay here. Judy and Bill are amazing hosts and the apartment is just perfect. My daughters and I have found it so comfortable and welcoming, like a home away from home. You really can't beat the beauty of the countryside and the warmth and kindness of the people you meet here. I would certainly recommend this spot to anyone!
Mary
2017-01-31T00:00:00Z
This apartment is exactly as described. I found all the comforts of home including a full kitchen and newly renovated bathroom. They also have soft water which is not something I've ever found in a hotel! There were many little touches that made me feel welcomed and Judy even offered me use of her garden! Her tomatoes are very very good :)
Connie
2016-09-29T00:00:00Z
Judy and her husband were wonderful hosts. What an amazing property! The apartment is well furnished and very comfortable. They were very insightful about things to do in the area and were a pleasure to talk to. It's quiet and a nice getaway. We will definitely come back!
Lilly
2016-09-18T00:00:00Z
All great! Judy's communications were always thoughtful, helpful, clear and responsive. Made us feel well taken care of and comfortable. Gracious amount of space and easy, separate access. Made us feel that they were there if we needed, but plenty of privacy as well. Highly recommend!
Margaret
2016-10-15T00:00:00Z
Judy and Bill were such welcoming hosts! We came out for a bicycling event, Bill and Judy had looked up directions and had them prepared for us. They are environmentally conscious hosts with solar power and composting. Overrall it was great!
Stephanie
2016-11-13T00:00:00Z
This is a wonderful country setting in which to relax! We (2 adults, 2 children) stayed for two weeks between houses and could not have been any more comfortable or felt more welcomed. Judy and Bill were marvelous, discreet hosts who provide a cozy apartment with all the comforts of home. Full kitchen, hot showers, wrap around porch, hot tub...what more could you ask for away from home?
Paula
2016-10-31T00:00:00Z
Kamertype
Gehele woning/appartement
---
Type woning
Appartement
---
Geschikt voor
5
---
Slaapkamers
Deerfield, Massachusetts, Verenigde Staten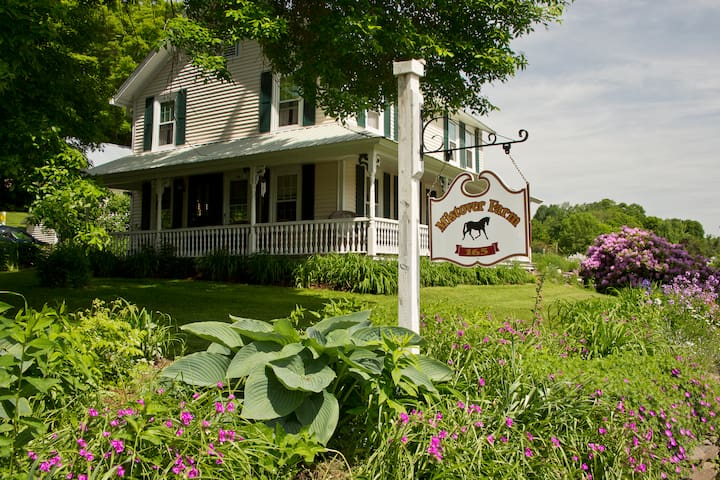 Sitting area/TV, private bath, sofa-bed/futon in another room ($40 one-time for each); use of elliptical, piano. Fireplace in winter, A/C, summer. Quiet, rural, in educational area and close to many attractions. If Sun. check-out after 8:30, +$20.
Come to visit our kids at local boarding schools, work (wireless internet access, practice your musical instrument); or play (piano, sports); or tour area attractions (e.g. Yankee Candle, Historic Deerfield, Magic Wings Butterflies, Shelburne Falls, Pheasant Tail Tours).
The neighborhood is best described as quiet and rural, but convenient to many attractions.
The place was clean and beautiful and in a very peaceful area however there was no air-conditioning and no lock on bedroom door. When traveling with children not ideal in terms of feeling safe.
Mary
2016-07-30T00:00:00Z
Fabulous!! Meg's immaculate home is located in a serene setting just outside historic Deerfield. We enjoyed a peaceful evening and the accommodations, company, and area were perfect! We highly recommend.
Julie
2016-10-22T00:00:00Z
Meg was the hostess with the mostess. The room was as described/pictured on the site and Meg's upbeat and sunny personality was a lovely way to be greeted. The house is located on a beautiful green space; a nice retreat away from the noise and craziness that less country settings have. The room was large with comfortable beds, additional seats and enough floor space to easily spread out and still accommodate several individuals very comfortably. Breakfast was delicious and took dietary restrictions seriously. Fantastic hostess, location and experience. Highly recommended!
Julie
2016-07-09T00:00:00Z
Meg was a wonderful hostess, and the house was beautiful and comfortable. Four of us were staying there, and we were arriving at different times. Meg was understanding of some schedule changes and special needs that our group had, which was really appreciated. She made us a delicious breakfast. We appreciated that the house had two bathrooms. The four of us slept in the same room, which was very large and comfortable. It is a beautiful house with lots of windows and a great view. I would highly recommend staying here.
Ninya
2016-07-11T00:00:00Z
As advertised! Very nice home, well decorated and Meg thinks of all the little extras. Location could not have been better for our purposes near the schools we need to visit in the area. A delightful host and great experience.
Steve
2016-05-08T00:00:00Z
Both the house and the host, Meg, are wonderful! The room is big enough to host three of us (we are two parents and one kid). We can share the sun-splashed cozy living room as well as the dining room. The rooms are very clean and neat just as Meg describes it as "spotless". The view is just stunning: the New England mountain landscape! We enjoyed the company of Meg and the breakfast she made every morning very much! She is such a caring, cheerful and thoughtful host. Love the place and the host! We will definitely come back.
鸣
2015-09-11T00:00:00Z
For the moment I clicked on Meg's listing she was attentive and informative. Our stay was brief but made to feel comfortable as soon as we arrived. The house was super clean and all the amenities were wonderful.
deborah
2016-07-16T00:00:00Z
Both my daughter and I enjoyed our stay at Meg's house. Meg is a wonderful host, warm, friendly and energetic. I arrived very late. Meg was very kind to leave the lights on for me and a very detailed direction to my room. The room was clean and cozy. The breakfast that Meg cooked for us was delicious. We felt like at home. I definitely give a high rating. Thanks Meg for everything.
Tianling
2015-10-11T00:00:00Z
Kamertype
Privé Kamer
---
Type woning
Bed & Breakfast
---
Geschikt voor
5
---
Slaapkamers
Deerfield, Massachusetts, Verenigde Staten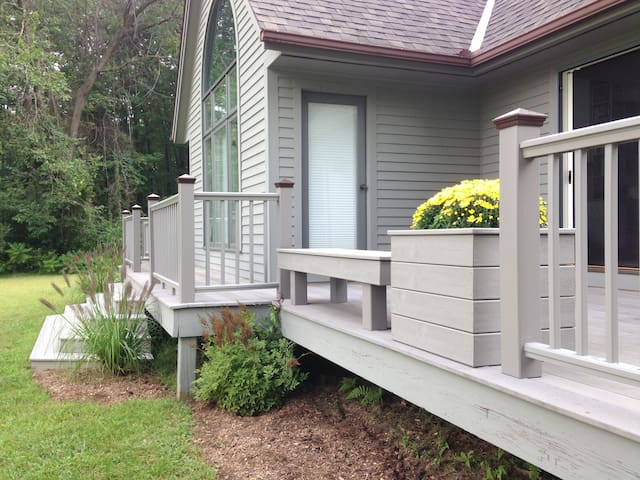 This exquisite and tranquil 3 bedroom house with lots of outdoor space is close to many schools and universities. Stay here if you're in the area for an interview, school revisit day, visiting family, graduation, or anything else! Long term rental available No parties or loud events
3 bedrooms, 2 full baths, coat closet, office overlooking trees, kitchen, dinning area, and living room. Lots of natural lighting featuring many windows, wooden floors, high ceilings, and a keyless entrance system. 1 acre backyard
1 mile from Deerfield Academy, Bement School, and Eaglebrook. 12 miles from UMass, 15 miles from Smith College. Close to many restaurants and grocery shops in Greenfield, South Deerfield, Amherst, Hadley, and Northampton. Apple picking and farms nearby. Ski mountains about an hour away. Boston is 2 hours away
The experience was excellent, the home wasspacious, clean and convenient.
Kaveh
2016-10-02T00:00:00Z
Wonderful clean place, with very comfortable beds and nice atmosphere. We were there on a very cold snowy weekend and the heating warmed up pretty fast. The kitchen is new and has a dishwasher which makes it very comfortable to cook in. Perfect for a weekend with friends.
Kim
2017-02-05T00:00:00Z
beautiful house in Deerfield
Vivian
2016-10-16T00:00:00Z
The host canceled this reservation the day before arrival. This is an automated posting.
Jesse
2016-11-23T00:00:00Z
We stayed in this house for one night for a wedding, and it certainly suited our purposes. The house itself is a little eclectic, but overall it was clean and very easy to access. The surrounding area is great - Deerfield and Greenfield are both lovely.
Carra
2016-10-23T00:00:00Z
Had a great stay here. I came out with some girlfriends for a weekend away, and this place was great - plenty of beds and sleeping arrangements to very comfortably accomodate our group. The place is furnished a bit eclecticly, and if you are planning to do a lot of cooking, you should probably bring some essentials (there is no coffee pot, but we were able to make coffee anyways and poured through a strainer). But there are amazing big windows, a beautiful view, and the place was clean and comfortable.
Ayala
2017-01-08T00:00:00Z
Kamertype
Gehele woning/appartement
---
Type woning
Huis
---
Geschikt voor
6
---
Slaapkamers
Deerfield, Massachusetts, Verenigde Staten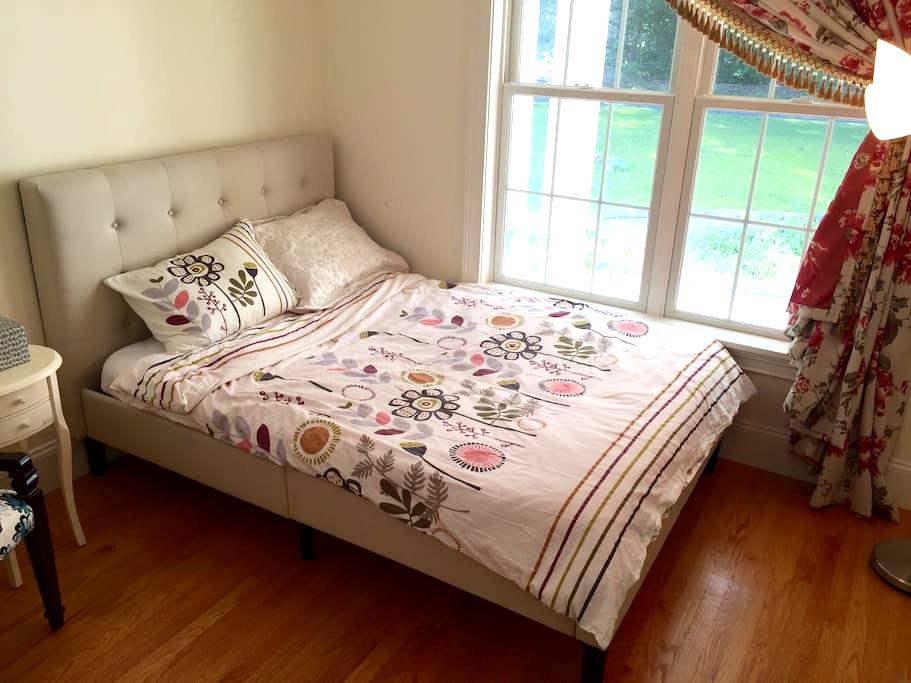 Situated on a seldomly travelled side road, in a quiet neighborhood with views of fields and mountains, your nest awaits. Three miles or less to Historic Deerfield, Yankee Candle, Magic Wings butterfly conservatory and gardens. 100 miles to Boston.
Furnished with antiques and oddities, it is a playful space.
Distant neighbors, large lots. View of Mount Sugarloaf.
Frank and Manon were the perfect hosts. They are attentive but unobtrusive. They provided more food and drinks than we could use, a spotless apt and even flowers on the table. They were both incredibly kind to us on our visit. I miss being nestled in that quiet neighbourhood!!
Ian
2016-05-16T00:00:00Z
Frank and Manon are the perfect hosts! We booked on very short notice, and Frank contacted us immediately with check-in details, letting us know how to find the place and that he had put cones out by the driveway so we could see it in the dark. Very much appreciated! The place was extremely clean, and well-stocked with every amenity we needed. A variety of food and drink was provided for us in the refrigerator - a really nice touch and an example of how the two go above and beyond to provide for their guests. We loved checking out the local restaurants and we spent New Year's Eve in Northampton, which was just a 20 minute drive from their place. A relaxing, comfortable, lovely place to stay - we'd love to return!
Stephen
2017-01-01T00:00:00Z
Frank did a great job making me feel welcome, from putting cones at the end of the driveway so I didn't miss it in the dark, to stocking the refrigerator & providing a variety of breakfast items.
Anne
2016-03-09T00:00:00Z
If I could give higher than five stars I would. Frank and Manon were beyond hospitable, they were kind and generous. They responded quickly to questions and provided really helpful info. And I enjoyed chatting with them. The accommodations were spacious, with lovely antiques, a new, very comfortable mattress, soft towels, a refrigerator full of yummy things including fresh cut watermelon, a very needed air conditioner (this was a hot summer visit), and a delightful swimming pool. And the place was immaculately clean. I wish I had more reasons to visit western MA more often and stay at the Nestled Inn.
Barbara
2016-08-01T00:00:00Z
Frank and Manon were ideal hosts. The apartment was exactly as promised, and they went above and beyond by greeting us on our arrival with a cold bottle of champagne to celebrate our recent marriage. Thank you for your warm welcome to MA!
Kimberly
2016-08-23T00:00:00Z
The host greeted me when I first arrived and reviewed all the amenities. The neighborhood is a quiet lovely setting. I had a wonderful time.
Patrick
2016-10-03T00:00:00Z
Lovely one-bedroom apartment with separate entrance in a quiet neighborhood. Very clean and well-appointed. Kitchen was generously stocked with a wide variety of food and beverages so we could make whatever we wanted for breakfast and snacks. Host was very welcoming and readily accommodated our request to include our daughter sleeping on the couch. Location was very convenient to Six Flags, Sugarloaf Mountain Observatory, Yankee Candle, and historic Deerfield, all of which we visited. It was our first stay with Airbnb and we were delighted with our experience overall and the reasonable price for a perfect place for our family to stay.
Marti
2015-10-26T00:00:00Z
Frank is a terrific host-- the apartment was just as described, and was made welcoming by a table filled with fresh flowers, fruit, and chocolate. Basic food supplies plus breakfast goodies, soda, beer, and wine were in the fridge. The screened in porch was handy for watching the meteor shower that happened our first night there. The hosts were welcoming, but not intrusive, and we would definitely stay here again! Tenant tips: A car is needed, as this is not in downtown Deerfield, but in a charming, rural subdivision with very large lots-- it felt very private, quiet, and was filled with birds, squirrels, and falling leaves. A charming place!
Jenifer
2015-11-08T00:00:00Z
Kamertype
Gehele woning/appartement
---
Type woning
Appartement
---
Geschikt voor
4
---
Slaapkamers
Deerfield, Massachusetts, Verenigde Staten
If you're seeking a home away from home for visiting friends, private school graduations, a wedding, or just seeking a country refuge, my cozy home & glorious gardens offer travelers a great alternative to hotels. Ideal for families with kids. Deck, yard & fire pit! Please be advised our older, indoor only, sweet kitties must remain in the home. Please be kind & caring to them. I am an ally, & this is a safe zone. This home and neighborhood are LGBT & 420, MMJ friendly, but no cigarettes please
SPECIAL NOTICE FOR STRANDED AIR TRAVELERS... Due to the unfortunate events of our president, If you are a refugee, green card holder or a student, coming from a banned country and find yourself stranded in or near MA, I have one bedroom available in our home for a single Female traveler, a couple, or a small family. Due to my immunocompromised health, travelers must be free of communicable illnesses, and no pets I'm afraid. Regardless of what the calendar says, please contact me if you are from outside the country and find yourself stranded. I will do my best to accommodate your needs on a first come first serve basis. I speak limited spanish, am LGBT friendly, and indifferent to religion. Being decent humans is what's important. Not the details that make us minorities. We are all stronger together! No hate, No fear, Immigrants are welcome here! :-D My home is a unique farmhouse in the historic town of South Deerfield, one block from Yankee Candle Co. Purchased 11 years ago, I have spent the entire time renovating everything, and I'm happy to say, we are just about done! It's an amazing improvement over the dated, funky situation we walked into 11 years ago. On the entry level, you will find my full-service salon, piano room, and a half bath. Two sets of double french doors open wide to the outside on the rap-around deck. 4 steps up, brings you to the newly renovated kitchen with a gas stove & oven, new refrigerator, new dishwasher, next to the kitchen is a full bath including full-size washer & dryer, living room, and beyond the kitchen is the newly renovated dining room. There is a newly renovated sun porch on the front with access from the kitchen. The dining room has brand new New England White Pine floors, and the kitchen and sun porch have just been restored. We restored the original cherry from 1880 in both rooms. The living room sports the original, yet restored oak floors. This house is technically a 1-1/2 story house because there is no attic and sloped ceilings that follow the roof outline. Upstairs you will find a unique bedroom set up. A regular room on one side, then on the other, a regular room with an opening into another bedroom/playroom. This is an ideal room for kids, as the adjoined room off this one has a short ceiling, and still houses many of my sons' toys, trains, and games, even though he's a teen now. Kids LOVE the "Fort", although it may be too low of a ceiling for an adult with mobility challenges unless you are adventurous! You could fit a 6th person on the incredibly comfy & oversized sofa. There are 2 ceiling fans upstairs and air conditioning. Please note, there is no bath upstairs on the bedroom level. The main bath is on the main level, and the 1/2 bath is on the lower salon/piano room level. We have 2 sets of golf clubs, men's & women's, you're welcome to use. So enjoy all the countless, fantastic golf courses around. You'll be glad you did! We have an assortment of bike sizes, so if you'd like to ride, please let us know your sizes needed and we'll be sure to have them ready. We have tennis racquets and balls if you'd like to use the beautiful tennis courts at Frontier Regional school around the corner. We ask you be cautious about the weather if you want to use the fire pit. It is fairly close to the house and gardens, so we try to limit fires to when the winds are less than 5mph to prevent blowing embers from landing on the deck or rooftop. We are on Directv, and have highspeed internet. No password is required. We also have Netflix and Amazon streaming, plus a wide variety of movies on blue ray and dvd, including kids movies and Disney. There are also many movies and shows recorded on the Directv DVR.
My home is in a quiet dead end neighborhood, within walking distance to the small town. This is a safe zone. We, & our town, are LGBT friendly. MA is a legal MMJ state and my home (inside and out) and neighborhood are 420 friendly, so enjoy it if you've got it. If you need recommendations, please ask. There is a spirits shop in town just a few minutes away, or a short walk away. I ask the nicotine cigarettes either not be smoked, or be smoked away from the house, and definitely not inside the house. You will be charged an additional cleaning fee if nicotine cigarettes are smoked inside. We are around the corner from the elementary school & highschool, which you can see from the back yard. During the day you will hear kids on the playground (which I love!) and after hours you are welcome to take your kids to play on the swings and other playground equipment. The highschool has fabulous tennis courts and basketball courts, and you are welcome to use our balls, raquetts, baseball bats, wiffle ball bats, etc. This is a family oriented town, and if you spend time walking around, you will happen by numerous ball games, practices, other people walking, and kids out on bikes. A very very quiet and safe town, almost non-existent crime, safe for walking at any hour, with friendly helpful neighbors at every turn. There are some restaurants in town, as well as a library, several banks, a spirits shop, post office, pharmacy, and a few stores. Stop by my son's karate studio in town and watch a class, or bring your child in for a free class. If you're feeling brave, sign yourself up for a Krav Maga class! If my son Sam isn't teaching, tell them we sent you. This is an easy walking or biking town. You will also have access to our bicycles. We have a variety of bicycle sizes, please let us know in advance what size bikes you may need so we can have them out and ready. There is a swing set in the back yard, easily visible from the deck. The police station is 3 houses away, and the fire station is around the corner. My street is located directly off rt 5&10. Please await my specific, easy instructions and do not follow gps, as it will not get you to my section of my street. We are a 10 min drive to Northampton, Amherst, & Greenfield.
I really liked the home a lot and communication with Jules was excellent. She was very responsive to any questions we had. I will say that if you don't like cats, this probably isn't the place for you. We love cats, so for us, they were a huge bonus. The bathroom is downstairs and the bedrooms are upstairs, so that is just something nice to know and for some guests, that might be an important factor. The home is charming, clean and comfortable. This was our very first experience with Airbnb and Jules was an excellent host! Cheers!
Rachel
2016-10-23T00:00:00Z
My girlfriend and I had a wonderful stay at this cozy and eclectic home. We enjoyed the big tv, the wonderful garden, the amazing kitchen, and the super cute cats. We're very grateful that our host was so welcoming and that the area was fun to explore and safe. We will definitely be returning to the Amherst area soon!
David
2016-08-03T00:00:00Z
Julie was incredibly welcoming, and she made every effort to make our arrival/stay fun and cozy. My friends and I came for the Deerfield Antiques show, and her house was conveniently located. The neighborhood was so quite, so we enjoyed a relaxing break from the noise of New York City. Her three cats were adorable, and the fresh apple crisp she made was delicious!
Margaret
2016-10-09T00:00:00Z
This house was great! It was a beautiful old farm house that has been wonderfully restored. Julie was great and helped us with everything we needed. Easy to get to UMass/Amherst as well. Would absolutely stay there again!!
Stephanie
2016-10-03T00:00:00Z
Comfortable, clean, easy to find, and very affordable.
Jeff
2016-11-06T00:00:00Z
Julie met us upon arrival after our drive up to Massachusetts and promptly went to showing us her place. Everything was laid out excellent for us. The house has it's idiosyncrasies, but to us, it simply added to the charm. Kitchen is very well appointed and the quiet nights can't be outdone.
Dan
2016-08-22T00:00:00Z
Julie was the best! We (my wife and I, my sister-in-law and her boyfriend, and a friend) stayed at her house for our wedding. Julie was extremely kind and welcoming from the start, and her kitties are just adorable! She even wrote us a kind card, and bought us a wedding gift, and groceries! Most importantly, she made us feel very at home. 11/10 would stay at her place again!
Michael
2016-07-24T00:00:00Z
Julie was terrific. Met us for a brief walk through to familiarize us with her home. Introduce us to the kitty's. (They were easy). Her home is charming and eclectic! Her personal sense of style showing through. Her location was very near to the Deerfield Academy events we were in town for. Gave us a nice place to relax between the festivities.
Linda
2016-06-13T00:00:00Z
Kamertype
Gehele woning/appartement
---
Type woning
Huis
---
Geschikt voor
5
---
Slaapkamers
Deerfield, Massachusetts, Verenigde Staten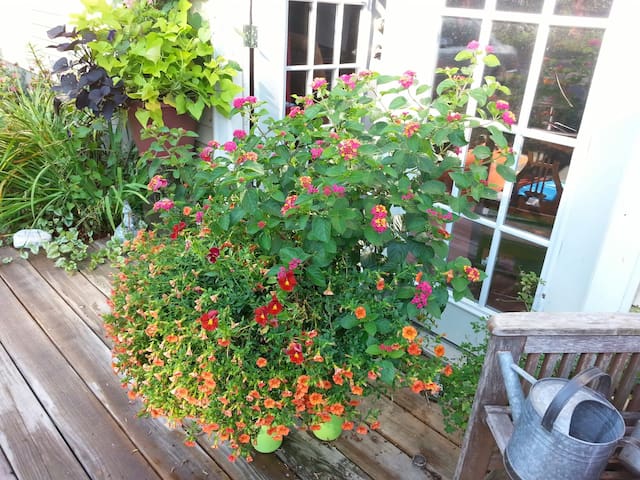 The Tibetan Inn is open year-round. It is a unique 3-room modern Bed & Breakfast. Each room has been thoughtfully named and decorated with wonderful handcrafted ornate Tibetan furniture, woodcarvings and colorfully painted trim. Each room comes tted with a atscreen TV, WiFi, private bath and all the amenities to ensure a warm and comfortable stay. Natural setting, large covered deck. Full breakfast. Located in The Tibetan Plaza in South Deerfield, close to Yankee Candle, Magic Wings, Historic Deerfield. Please contact me at (EMAIL HIDDEN) or (PHONE NUMBER HIDDEN). You can find more i(EMAIL HIDDEN)
Great Place to stay. exactly as described.. Breakfast was great..
Raj
2014-09-29T00:00:00Z
Kamertype
Privé Kamer
---
Type woning
Bed & Breakfast
---
Geschikt voor
4
---
Slaapkamers
Deerfield, Massachusetts, Verenigde Staten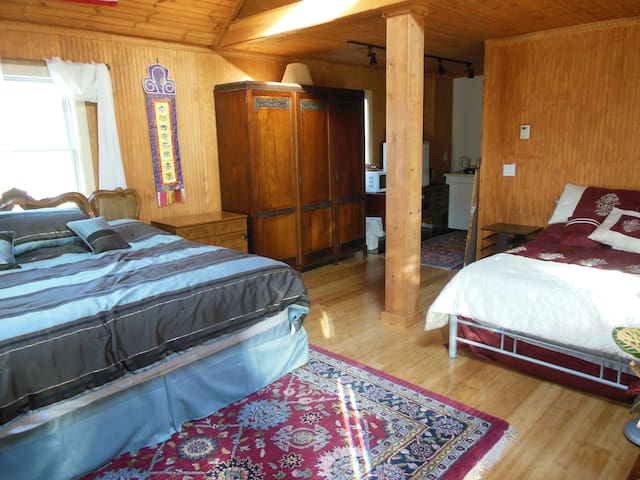 A delightful Asian ambiance and a very comfortable king sized bed. Private bath.
The Penma Koe Room was comfortable and quite large. There is a TV, full bathroom with a tub and a writing desk. Can't find a better deal that includes a full breakfast and great hosts. Thanks for having us!
Susann
2015-10-11T00:00:00Z
I was pleasantly surprised by the Tibetan Inn. It was clean and provided all modern amenities like TV and WiFi. The host Sonam Lama is very friendly and accommodating. The breakfast was delicious and filling as well. I highly recommend this Inn especially in this area where good accommodations are scarce.
Sarane
2015-02-01T00:00:00Z
Sonam and his family made us feel very welcome at Tibetan Inn. This was college graduation weekend and, all the rooms in the area were booked up long ago. The bed and room were comfortable and the area very quiet and charming. We needed to leave very early the next morning and his wife got up very early and cooked us a delicious custom breakfast with fresh fruit, oatmeal and eggs. The shops next door to the Inn are nice and we bought some items from the knitting shop, and my wife visited the TaiChi and Yoga center. We also walked down the road to see the Butterfly Center, however, it had closed for the evening.
David
2015-05-19T00:00:00Z
Kamertype
Privé Kamer
---
Type woning
Bed & Breakfast
---
Geschikt voor
2
---
Slaapkamers
Deerfield, Massachusetts, Verenigde Staten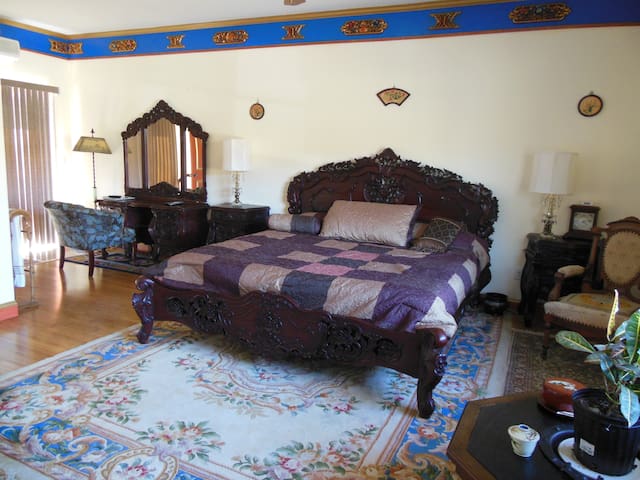 The same on the outside since 1884, but with modern amenities on the inside, the inn is the centerpiece of Old Deerfield, and a feeling of warmth, welcome, and happiness prevails. An unspoiled American Brigadoon! Great restaurant & tavern, too!
The Deerfield Inn is one of the classic New England inns. The service is top notch.
Jay
2015-08-22T00:00:00Z
The Deerfield Inn is a lovely place nestled inside historic Deerfield. Check in was easy. The room was spacious and had everything we could need. The chilled water and coffee anytime are a nice addition. We had a late dinner in the tavern and enjoyed the selection of local craft beers. The food, both dinner and breakfast, were wonderful. We will certainly stay again if ever back in Deerfield.
Katherine
2016-08-05T00:00:00Z
I had a very, comfortable stay in a lovely place! Thank you!
Sabrina
2016-07-25T00:00:00Z
The Deerfield Inn never disappoints. The rooms are extremely comfortable, the breakfast is wonderful and we always sleep like babies in this quiet little village steeped in history.
Holly
2016-06-06T00:00:00Z
Kamertype
Privé Kamer
---
Type woning
Bed & Breakfast
---
Geschikt voor
2
---
Slaapkamers
Deerfield, Massachusetts, Verenigde Staten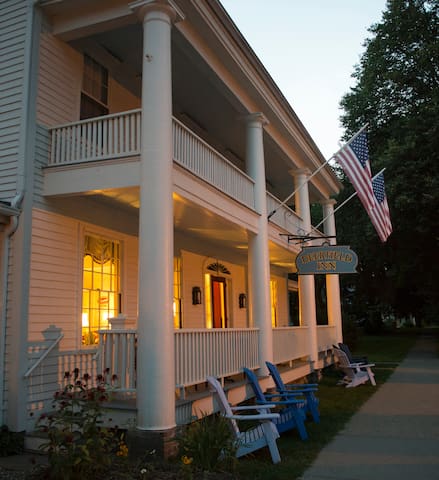 Adorable bungalow in beautiful, private, picturesque setting, yet minutes to 91, Northampton, Amherst, Deerfield, 5 colleges, Mohawk Trail. Oversized bedroom with queen bed, pull-out single, cozy fireplace (gas). Living room has large sectional sofa, t.v. 2nd "bedroom" off kitchen has comfy full futon. Cathedral ceilings throughout. Sliders to deck.
Cozy, comfortable, inviting interior is naturally bright and airy with cathedral ceilings and southern exposure. Lovely, private grounds with gardens, birds (humming birds, too!), resident ground hog, deer grazing in the meadow, fireflies...
We are 5 minutes to route 91, Yankee Candle/Chandlers restaurant, Mt. Sugarloaf. 10-15 min to Historic Deerfield, Magic Wings Butterfly Conservatory, the scenic Mohawk Trail, and Amherst and Northampton museums, restaurants, performance venues and shopping. 25 minutes to Shelburne Falls (and the must-see Bridge of Flowers!), Brattleboro and Springfield. Walk to Tea Guys factory store, Tall Grass Alpaca Farm.
The host, Rebecca, is amazing. She was there to greet us and show us around the house and the property as well as answer all of my questions. We immediately felt right at home and being just the two of us had tons of space. We were well provisioned and the area was absolutely beautiful. There is a great diner about 2 miles away and the house is located about a 10-15 minute drive to anything you could ever need I would highly recommend this listing if you are looking for a quiet getaway where you can watch the stars and leave it all behind.
Christine
2016-05-31T00:00:00Z
This is an absolutely beautiful, private, sweet place that I would recommend to anyone needing a getaway in the Western Mass area. The home was spotless, pristine, beautifully and comfortably decorated, surrounded by nature and peace. It was well stocked with anything you might need.
Erica
2016-06-23T00:00:00Z
The cottage is located in an attractive rural setting convenient to both Sunderland and Amherst. Communication with the hosts was clear and timely both in getting in to the place and how things worked inside. Rebecca stopped by to welcome us. The place was clean and neat and starter basic food and coffee items provided
peter
2015-10-19T00:00:00Z
This was a scenic and serene spot, with lots of land and lovely flowers. We were close to Smith, Hampshire, Amherst, the Book Mill, the Yiddish Book Center, the Emily Dickinson House, and Atkins Farm. Great for a family of 3.
Erika
2016-06-08T00:00:00Z
I thought the hosts were friendly and communicated well once we booked the house. The bathroom was very clean. I felt the house was a little musty even though the A/c unit worked well. Extra linens for the spare pull out were lacking ( probably an over site on the owners and I am sure they would have come over if we contacted them). The house itself is set on a beautiful property and we enjoyed sitting outside in the morning.
Kim
2015-07-13T00:00:00Z
Even though we were unable to meet our hosts, Rebecca was just a text away and we had no issues getting settled (and there were two fresh homemade donuts waiting for us, too). Loved the birds who greeted us in the yard! There were so many wonderful touches here -- in every corner, a surprising detail, and it's obvious this home is well-loved and cared for. We especially liked sitting out on the deck/patio and taking in the bucolic scene. Also, the location is close enough to "civilization" to find a great steak for the bbq, but we also took some nice drives through farm country which was just beautiful, and the home feels very private. And it's not far from Northampton and Amherst if you're so inclined. Such a great getaway -- thank you for sharing your home!
David
2016-09-06T00:00:00Z
We had a really stay at Rebecca and Gabriel's. The house is very cozy and comfortable and looks very much like the pictures. It's nicely decorated and well-equipped. The garden and yard are beautiful, again just as in the pictures. It's very close to Northampton, like 15 minutes or so, and we enjoyed going into the town to eat, walk around, etc. There's also a really nice farmstand a few minutes from the house that had very nice vegetables so we cooked two nights. Rebecca was extremely attentive and helpful for our whole visit. (Also, I was sleeping on the TV room futon in our group, and I found it to be very comfortable!)
Tanya
2015-08-30T00:00:00Z
We had a terrific stay at that Gabriel and Rebecca's house when we were in town for a family wedding. My kids enjoyed running around the yard and playing on the zip line and the swing and the house was very well-provisioned and clean. Thank you for having us!
Melanie
2016-05-23T00:00:00Z
Kamertype
Gehele woning/appartement
---
Type woning
Huis
---
Geschikt voor
5
---
Slaapkamers
Whately, Massachusetts, Verenigde Staten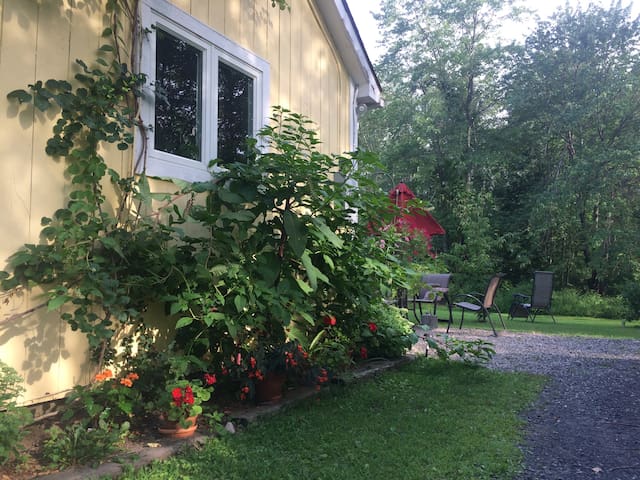 Two bedroom apartment on national historic register downtown street. The best of both worlds. You will feel like you are in the middle of the country, yet only minutes from all the activity. Sleeps five or six. We sanitize all towels and bedding between guests!! One bedroom with king size bed. One bedroom with queen size bed. Full size pullout couch in living room. One and a half baths. Full kitchen, washer and dryer, cable, internet, private deck, beautiful garden and mountain views, and plenty of off street parking. Walk to famous Whately Inn for dinner. Walk to Quonquont Farm, the newest hot spot for banquets and weddings . 15 minutes to Northampton, Amherst and Old Deerfield. Close to county snowmobile trails and Berkshire East Ski Mountain.
What a fantastic place to stay! It's close to everywhere we wanted to be but still not far from a highway so getting around was a breeze. The kitchen is stocked with everything you need to cook and Susan surprised us with snacks, coffee, and fresh fruit that we enjoyed throughout our stay. The beds (especially in the master bedroom) were incredibly soft and comfortable and plenty of towels as well as travel sized soaps and shampoos were provided. Overall, it felt clean, welcoming, cozy, and just down right relaxing. I would recommend this to anyone who wants a quiet and convenient place to stay in the area.
David
2012-11-26T00:00:00Z
The apartment was beautiful and immaculate. My children were thrilled to discover that they could watch Netflix on the TV. We were taking college tours and it was very convenient to both Smith and Amherst. I would definitely recommend staying here.
Diane
2014-08-30T00:00:00Z
Great space, clean, well supplied and I wish I had the king bed at home. A perfect place to stay and have the ability to invite friends for dinner. A- plus all the way!
Paul
2016-05-16T00:00:00Z
Susan and Mike's rental accommodated our small group and pet spaniel very comfortably. We loved the welcoming goodies in the kitchen. The space felt cozy like a real home, and the property and neighboring homes were peaceful and quiet. The rental was incredibly clean. The air-conditioners in the bedrooms and 2 ceiling fans downstairs kept us comfortably cool during the hot weather. We also appreciated our private deck with a view onto a lovely meadow. If you stroll down the historic road there are gorgeous views of the mountains. We highly recommend this rental!
Magda
2015-06-13T00:00:00Z
The location was perfect for us and the home was clean, warm and welcoming. An easy-going and happy décor greeted us. There were extra touches in the kitchen to welcome us that meant a lot (like coffee & cream). We had everything we needed and felt at home. Details and instructions were clear and easy to follow. A warning about the top step at the entrance may be helpful though. The morning we left we had plumbing issues downstairs that took a long time to resolve, but it wasn't the end of the world. It did push our checkout time out and that turned into a great hassle that wasn't very happy at all. Rustling everyone with one bathroom was a challenge that, it seemed to me, wasn't met with much understanding. But the house was great. The master bedroom was incredibly comfortable. All the furniture was pretty comfy.
Jennifer
2016-05-23T00:00:00Z
Can't say enough about this relaxing spot -- living in Baltimore, you forget that things can be quiet, that there are stars to be seen (in our case, two nights worth of a meteor shower), and how a cozy spot like this will always beat a hotel. Very comfortable beds, great snacks including fresh fruit and the place was in great condition. Should we find ourselves in the area again, or know of friends headed that way, we'd certainly recommend this to them.
Nick
2012-08-14T00:00:00Z
Excellent location, close to towns we wanted to visit but a bit off the beaten path, quiet and so beautiful. The apartment couldn't have been any better. We didn't need a thing that wasn't already thoughtfully in place there, and it was neat and clean and large enough that we could enjoy time with our family. We all said we would definitely want to stay here again.
Lonnie
2012-10-08T00:00:00Z
A cozy two bedroom home in the country. The home was,clean and renovated. We liked the open floor plan and ample kitchen. Great view of the mountains from the living room and back deck. Would definitely stay here again
Jason
2016-10-23T00:00:00Z
Kamertype
Gehele woning/appartement
---
Type woning
Appartement
---
Geschikt voor
5
---
Slaapkamers
Whately, Massachusetts, Verenigde Staten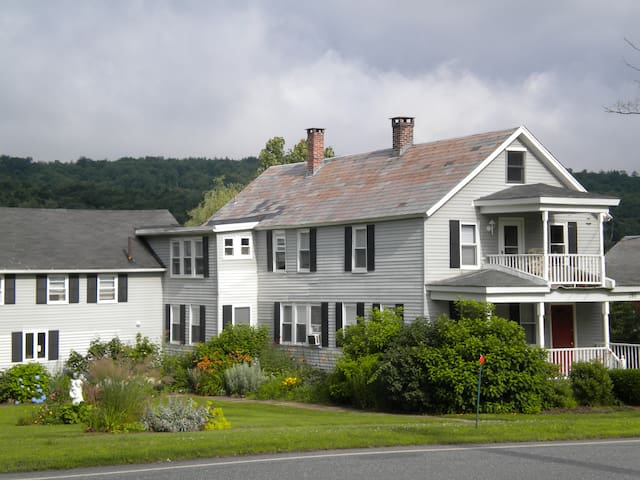 We live in a 1928 bungalow across from a gorgeous apple and peach orchard. We are 15 minutes to Northampton, Amherst, Umass, and Greenfield. Views of farmland and Mt. Sugarloaf can be enjoyed from our deck! Private room with comfy double bed.
Jonathan and Mette were absolutely wonderful and made us feel right at home. We were in the area for a wedding and running around for most of the weekend so did not get to spend much time with them but they left us great little notes around the house, gave recommendations and directions for places in the area to eat, and provided coffee/tea and breakfast for us! They were even kind enough to mail us our phone charger that we left behind. They have a beautiful home in a beautiful part of the state, and we would return again in a heartbeat!
Lindsay
2016-05-31T00:00:00Z
Jonathan and his family were wonderful hosts. The house was charming and comfortable. Yummy homemade yogurt and granola was waiting for us when we woke up the 1st morning and scrumptious homemade muffins the next, coffee and teas both mornings. Beautiful gardens out back and a gorgeous view of the hills from the kitchen. The bathroom was wonderful! Although our time at the house was limited due to the events we were attending, we really enjoyed our stay.
Robert
2016-05-16T00:00:00Z
I love this cozy, charming home and the warmth, thoughtfulness, and good company of the hosts. This is my second stay while visiting my daughter at Amherst College. I highly recommend it!
Kathryn
2016-10-29T00:00:00Z
This place is a gem and Jonathan and Mette were perfect host. The minute I walked in the door, I felt like I was wrapped up in a warm blanket. It was warm, charming, beautiful and filled with calm energy. Super comfortable bed gave me a good night sleep which is unusual for me and delicious home made muffin were icing on the cake. I felt so taken care off, waking to a sound of a whisk against a bowl while Mette and Jonathan was whipping up the muffin batter. Great night sleep, fabulous conversation and delicious breakfast, what else is needed? Thank you Jonathan, Mette and family for perfect night. One of the best Airbnb stay!
Gina
2016-11-13T00:00:00Z
Jonathan and Mette were wonderful hosts, making me very comfortable with their thoughtfulness. Their house is a delight with stupendous views from the kitchen and deck. I only wish I had had time to savor them more fully but work kept me pretty busy. Still, I felt very well taken care of and looked forward to returning each evening. Many thanks to you both, Jonathan and Mette!
Anne
2016-09-04T00:00:00Z
Beautiful home in an excellent location! Right across the street from the orchard/farm and on perfect roads for biking. Jonathan and Mette were fantastic hosts and very accommodating. We wished we could have stayed longer but hope to stay at their home again soon!
Michael
2015-07-19T00:00:00Z
I arrived in the dark and in the rain. Fortunately, I remembered what the house looked like from the website so I was pretty sure I was at the right place. I love old houses, and this house is lovely and welcoming. My room had a wall full of books, which I wished I had time to read. The bed was very comfortable. I usually cannot sleep in strange places, but this was the exception. The views from the kitchen are spectacular. I loved it! Mette is kind and funny and I enjoyed talking about making homemade yogurt and mozzarella cheese with her. She provided me with an Iphone charger, since I forgot mine, as usual. Also an umbrella for the rainy day. I felt right at home.
Ann
2016-10-23T00:00:00Z
This was our first experience staying in an (URL HIDDEN) will be tough to top! The house and the gardens were wonderful and Mette and Jonathan made us feel comfortable and welcome. We appreciated the house's intricate details: the tiling in the bathroom, the paint colors, the artwork, all lovely. Over coffee served in a ceramic blue and white pitcher, grapes from their garden, apples from the orchard across the street and perfect strawberries, we had a nice morning conversation. We plan on returning.
Elizabeth H.
2015-10-05T00:00:00Z
Kamertype
Privé Kamer
---
Type woning
Huis
---
Geschikt voor
2
---
Slaapkamers
Whately, Massachusetts, Verenigde Staten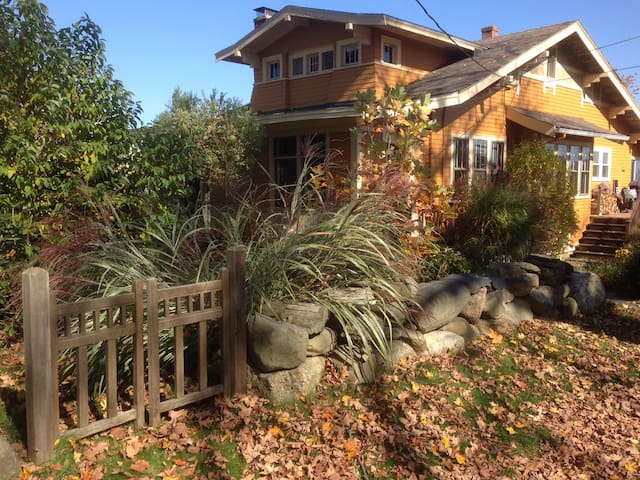 Large bedroom with comfy Queen-sized bed and private bathroom situated in the rich farm country of the Connecticut Valley, close to the Five Colleges and Deerfield Academy. Beautiful views of neighboring farms and Sugarloaf Mountain in the distance will welcome you after a day of driving. The next morning, you will enjoy a delicious, home-baked breakfast using our own berries and, when available, honey from our bees. Electricity powered by the sun! For $10 extra, we can provide a cot in your room for an additional person. We are 15 minutes drive to Northampton and Amherst and a mile to Interstate-91.
Ann and Richard were wonderful hosts. They were very pleasant and offered good conversation but were unobtrusive. We were in town for a wedding and they were very understanding about our odd check-in time and late return after the wedding. The room was very comfortable (and exactly as shown in the photos). The mattress was much more comfortable than my own; I regret not asking them what kind it was so I could purchase the same one when I need to replace mine. The water pressure in the shower was good and the towels did the job well. The breakfast was excellent and they took suggestions/requests for breakfast items to offer. The location was in a rural area, but it was only about 15 minutes from Northampton and Amherst. It's a very easy drive to the Five Colleges and would present a very nice alternative to a regular hotel for, say, parents visiting their children at college, a couple looking at campuses while applying for grad school, etc. Overall, this was a great stay and I would happily stay with them again.
Michael
2014-07-14T00:00:00Z
On our way from Marblehead to Lenox we thought to take it easy and were looking for a B&B somewhere in between. And we decided to ask Ann & Richard. This was one of the best ideas we had on our frequent travels, since this was an exceptionally B&B in many respects: great hospitality and friendliness of the hosts; very nice location close to the river (good for walks). We felt like privately invited, the room was splendid, quiet and perfectly equipped. And finally the breakfast, freshly prepared with organic food, was exceptionally good and rich. All much better than in any hotel, and additionally at a price that is more than fair. We also got very good tips from the hosts what to visit in the area, from culture/art, history to restaurants. Our number 1 in Mass! Marcus & Danielle
Marcus
2011-07-25T00:00:00Z
Lovely cottage with birds chirping and sun streaming through the windows. Very private bedroom/bathroom area for guests. Comfortable bed. Amazing breakfast cooked by Ann and Richard with fresh ingredients from their garden and henhouse. Highly recommended!
Andrew
2014-07-07T00:00:00Z
This is the best AirBnb place we ever stayed. It's extremely clean and you have your own private bath and room in downstairs. Both Ann and Richard prepared a delicious breakfast for us every day and they tried to accommodated all our needs. It's a very friendly and cozy place and a true "home away from home." The location is ideal, as it's not far away from UMass and Amherst, yet you get the countryside view of the farm land near the Connecticut River.
Kaimei
2016-01-15T00:00:00Z
Ann and her husband were warm, friendly and hospitable. The room and rest of the home were very clean. They offered me a cooked breakfast in the morning, though I only had time to stick around for coffee. Highly recommended.
Alice
2016-09-24T00:00:00Z
We had a great time staying at Ann and Richard's! The room was very comfortable and clean, and we had the bathroom to ourselves. They made us an incredible breakfast that included homemade jam and honey from their back yard, and fresh fruit from their garden. I'd recommend this airbnb to anyone who will be passing through the area!
Jenna
2016-07-11T00:00:00Z
Richard and Ann were wonderful hosts! Richard was there when we arrived and got us settled in. The house is clean and cozy and in a quiet spot, so expect a good nights rest! RIchard started our day right with a fabulous breakfast...WOW! I highly recommend this sweet spot!
Janet
2012-10-19T00:00:00Z
Ann and Richard were both generous and gracious hosts! Our room was comfortable and we and our daughter especially enjoyed touring the farm and meeting the hens who gave us breakfast. We will certainly be back next time we're in the area.
Kara
2014-08-12T00:00:00Z
Kamertype
Privé Kamer
---
Type woning
Huis
---
Geschikt voor
3
---
Slaapkamers
Whately, Massachusetts, Verenigde Staten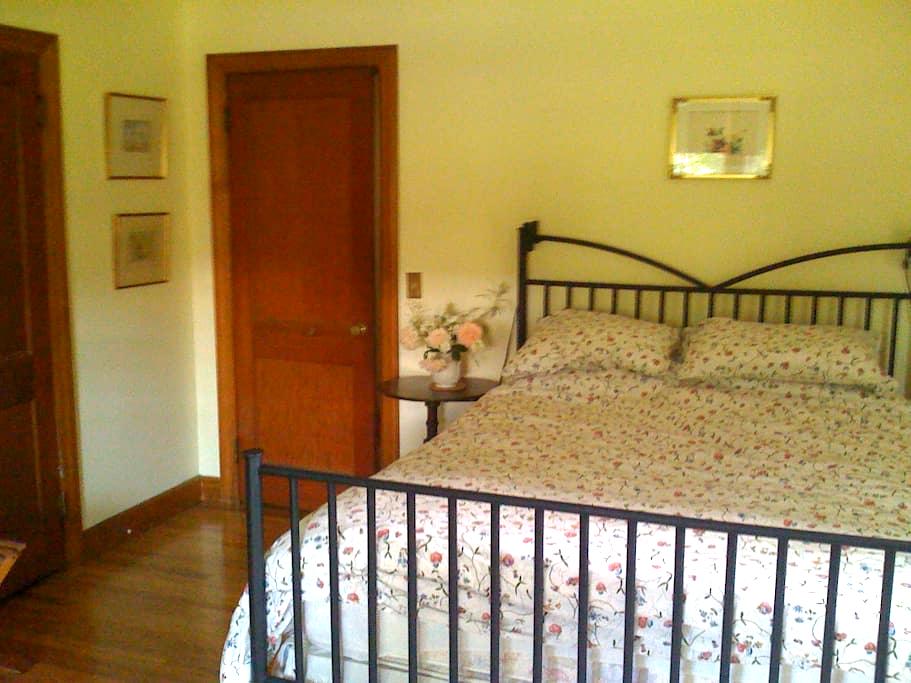 My place is close to Deerfield, UMass, Amherst, Mt Sugarloaf, Yankee Candle, public transport. You'll love the location. My place is perfect for parents' weekend, faculty, and New England seasonal travelers. You will have one/two bedrooms, living room and private bath in a basement fully finished with TV, hardwood floors, oriental rugs, microwave, coffee pot, toaster, and mini fridge.
This country ambience is also flavored with diversity and talent. There are several delicious restaurants very nearby. From pizza to upscale dining, you will find what you need right here in Sunderland – but, if you would prefer exploring Amherst or Northampton, we are centrally located. Mt. Sugerloaf, which is only a few miles away, offers some of the most wonderful hiking and sightseeing in New England. There are safe biking trails, and we are in the five College area – so we are convenient to any event held at Smith, Mt. Holyoke, Hampshire, UMass or Amherst College.
Kamertype
Privé Kamer
---
Type woning
Huis
---
Geschikt voor
5
---
Slaapkamers
Sunderland, Massachusetts, Verenigde Staten
The Alamo is a humble, clean, peaceful ranch style home close to University of Massachusetts at Amherst; Yankee Candle Shops and Museums; Mullins Center at Umass/Amherst; Basketball hall of Fame in Springfield, MA.,; art and culture, great views, restaurants and dining, family-friendly activities. You'll love my place because of the ambiance, the people, the outdoors space; the quiet setting; the privacy. My place is good for couples, solo adventurers, and business travelers.
This humble ranch style home is located on the border line of the Town of Sunderland and Amherst, Massachusetts in the "Happy Valley". It's right on the front line of Massachusetts route 116. (a.k.a. "Amherst Road")
The TOWN OF SUNDERLAND was incorporated Novemb(PHONE NUMBER HIDDEN) and is located at the southern end of Franklin County. It borders the towns of Whately, Deerfield, Montague, Leverett, Amherst and Hadley. The Town's 2010 census population was 3,684. Sunderland is 14.78 square miles and its elevation is 137.121 feet above sea level.
Kamertype
Privé Kamer
---
Type woning
Huis
---
Geschikt voor
2
---
Slaapkamers
Sunderland, Massachusetts, Verenigde Staten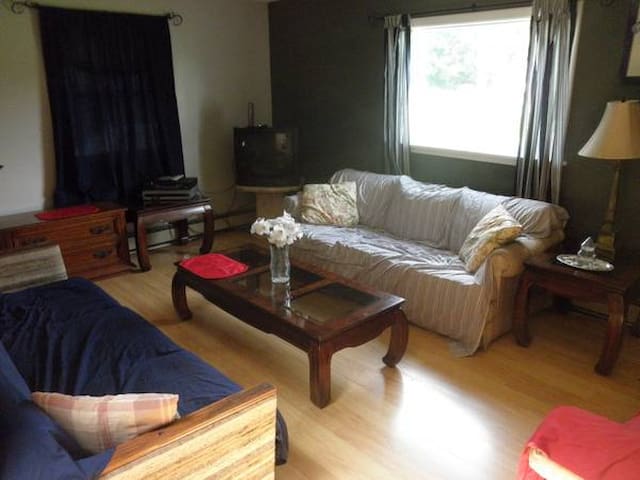 Enjoy wonderful handcrafted ornate furniture, woodcarvings and colorfully painted trim. Private bath.
No one was there to check us in and we slept in our car until 2 am. There were Thomas the tank engines and underwear in our room. Not impressed
Whitney
2014-09-29T00:00:00Z
Kamertype
Privé Kamer
---
Type woning
Bed & Breakfast
---
Geschikt voor
4
---
Slaapkamers
Deerfield, Massachusetts, Verenigde Staten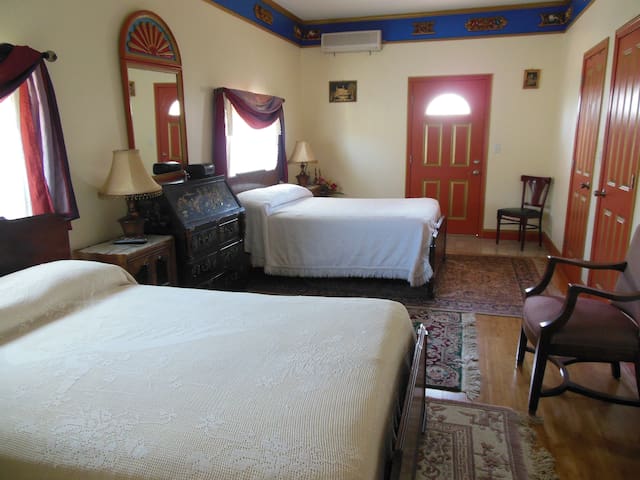 This is a lovely fully furnished home that sits on a hill overlooking the Connecticut River Valley. It is in a prime location to access 5 local universities, 2 private schools and several popular ski resorts. Comfortably furnished and clean.
My girls and I absolutely loved staying at Barbara Ann's beautiful home! So pretty and the sunsets were gorgeous!! Thank you for your wonderful hospitality!!!
Kim
2015-12-28T00:00:00Z
From the moment we walked in it felt like home. The house is in a beautiful spot on a hilltop overlooking the Connecticut River. The bed is very comfortable, as is the couch. The house seems fairly new, in great shape and well appointed. The fenced in dog area was a nice extra. It's a short drive to Greenfield, Amherst or Northampton, and there are trails at the Mt. Toby State Conservation area nearby. We had a relaxing couple of days, which is exactly what we hoped for.
Seth
2016-03-21T00:00:00Z
What an absolutely beautiful home with breath taking views! We stayed in Barbara's house for a week when we moved from one state to another, and we couldn't have been happier with the location. Barbara's home was cozy and (URL HIDDEN) was like being in your own home. The accommodations were spacious and there was plenty of room for our family of four and one cat. The home feels like it's nestled in the mountains, but is in close proximity to multiple towns, shops, and restaurants. We loved the house so much, we told Barbara that we might not leave... We enjoyed every minute of our stay in Sunderland!
Kim
2015-12-05T00:00:00Z
Wonderful stay at this beautiful home with a fantastic view of the Connecticut River. It was quiet and spacious, and our family dog Lester felt especially comfortable with the many extras at the house for dogs.
Noah
2016-12-04T00:00:00Z
I would highly recommend this listing. The house is lovely and spacious, with beautiful views. The house is close to the Northampton area (about 20 minutes away), and it is an easy drive. There were three of us staying at the house (my husband and me, and our friend), and we had plenty of space. The kitchen is large, modern and well equipped for cooking. There is a master bedroom and full bathroom on the first floor. There is also a second bedroom and full bathroom on the upper floor (and even a separate sitting area), which worked great for our friend. Barbara Ann was also very friendly, and while we didn't have a chance to meet her in person, she was informative and fast to answer any questions over email. Overall, we had a wonderful time, and our dog Frank also enjoyed himself! MUCH better than any hotel!
Danielle
2015-11-09T00:00:00Z
Barbara Ann's home was lovely, comfortable, and beautiful. We were so happy to be able to bring our dog too! It was so helpful that she was so accommodating with our furry friend. The back yard and kennel were amazing too for the dog. Beautiful views too! Overall great stay.
Beth
2016-03-09T00:00:00Z
What a great place! The view of the river was great, the home was very cozy and inviting, and Barbara Ann was very accomodating! GREAT place to use as home base for looking at Happy Valley colleges, especially with a pooch. We will be back because we didn't get to go to the Eric Carle Museum, so this will be our go-to place in the area. ps nice selection of games- we played Blokus one night
sal
2016-03-25T00:00:00Z
We stayed at Barbara's the last week in December 2015 and had the most wonderful time. From the moment we contacted Barbara she was warm, welcoming, and promptly answered all of our questions. The house is beautiful, cozy, and very comfortable. We loved the sitting areas and the beds are very comfortable too. Because the house sits on a hill it has an amazing view of the river and mountains. We wanted a house that was accessible to The Valley and we were just 20 minutes away from Northampton and about 30 from Amherst. Our 5 year-old son had a lot of space to play inside and outside. We highly recommend this listing .
Raymond
2016-01-02T00:00:00Z
Kamertype
Gehele woning/appartement
---
Type woning
Huis
---
Geschikt voor
4
---
Slaapkamers
Sunderland, Massachusetts, Verenigde Staten
Voer datums in om de volledige tariefopbouw te zien. Er kunnen extra kosten zijn en er kunnen belastingen worden toegevoegd.