Mijn plaats is in de buurt van een prachtig uitzicht en restaurants en eetgelegenheden. U zult genieten van mijn plaats omwille van privacy, omheinde tuin, schoon en gezellig, voordek koffie of een cocktail terwijl u geniet van de rustige woestijn. Het is slechts mijl van Rhyolite spookstad, Death Valley, warmwaterbronnen en nog veel meer .. Mijn plek is goed voor koppels, solo avonturiers, zakelijke reizigers, families (met kinderen), grote groepen, en harige vrienden (huisdieren).
Onze ruimte is 8 mijl naar de ingang van Death Valley door middel van Daylight Pass. U kunt genieten van een adembenemend sterrenwacht te wijten aan het ontbreken van lichtvervuiling. Het is rustig en vredig, zich lenen tot wandelen en eenzaamheid.
Onze buurt is eclectische en rustig. U zult genieten van dat je kunt gaan voor lange wandelingen bij zonsondergang of zonsopkomst en hebben schone lucht, rust en weinig verkeer. Wees gewaarschuwd dat er wilde ezels die dwalen rond de stad. Ze zijn onschuldig, maar niet erg traffic-savvy en ze niet reflectoren te dragen, dus wees op de uitkijk!
My husband and I had a good time here. The place is quiet and very close to death valley. It would take just about 2 hours from here to drive into the various parts of the park. We stocked up on groceries in Las Vegas, as there isn't much to do, see or buy in Beatty.
Nibha
2017-03-15T00:00:00Z
It's a nice and clean and it's good for visitors from Death Valley to take a rest.
昊一
2017-03-09T00:00:00Z
I'd like to say thanks a lot to Andrea. It's really beautiful house. I've never stood at the same place.
Igor
2017-03-12T00:00:00Z
We loved our stay at Andrea's house. It was clean and comfortable, and we felt very well cared for. The neighborhood was just right for our early morning walk, and the full kitchen was a delight. We were able to prepare our own breakfast before we headed out to Death Valley for the day and could have easily prepared our own dinner if we had chosen to do so. Andrea was readily accessible and available if we needed assistance but totally respected our privacy. We will certainly return to Andrea's place the next time we're in the area.
Dean
2017-02-23T00:00:00Z
We really enjoyed Andrea's place for our trip to Death Valley. The fenced yard was perfect for our dog, and the location is awesome! Communication is great, check in is easy and the description is accurate. Andrea went out of her way to stock her place with the little things that make a stay enjoyable. I highly recommend!
Jeff
2017-02-03T00:00:00Z
Great place to stay. Andrea could not have been more helpful, directions were easy to follow and house was perfect for exploring Death Valley. House was clean and had everything we needed including comfortable beds and breakfast. Definitely a great find.
Anna
2017-04-01T00:00:00Z
We had a great time at Andrea's place. It was very quiet and just as described. We were looking forward to seeing the burros but unfortunately we didnt get to see one. Would love to visit again when the wind is not as strong :) thank you!
Shielline
2017-03-31T00:00:00Z
enjoy watching Stars.
chul hyul
2017-03-28T00:00:00Z
Kamertype
Gehele woning/appartement
---
Type woning
Appartement
---
Geschikt voor
6
---
Slaapkamers
Beatty, Nevada, Verenigde Staten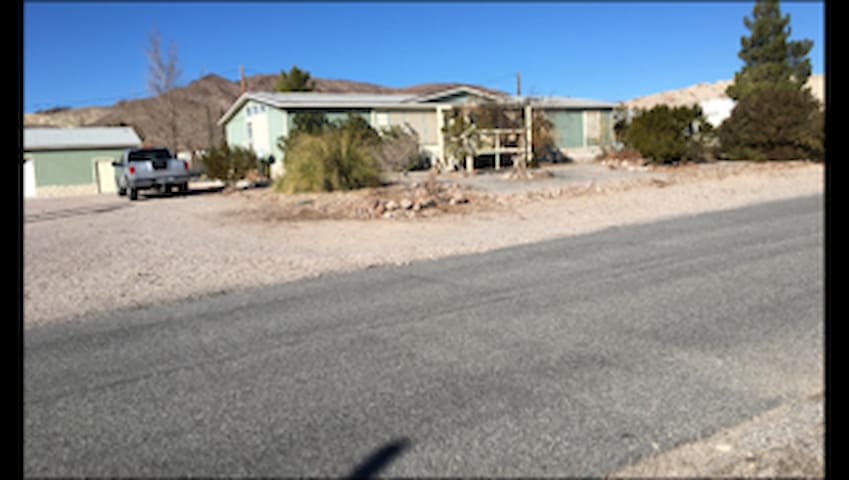 This apartment is a clean, comfortable, light and airy haven to relax in. It has a private entrance and fenced back yard to enjoy outside, vaulted ceilings, comfortable beds, and a great room including full kitchen inside. Just minutes from Death Valley National Park, it provides the perfect spot from which to explore the area. A front deck gives a panoramic view of our small town, the surrounding mountains and exquisite stargazing.
Our place is 8 miles to the entrance to Death Valley through Daylight Pass. You can enjoy breathtaking stargazing due to the lack of light pollution. It is quiet and peaceful, lending itself to walking, hiking and solitude.
Our neighborhood is eclectic and peaceful You will love that you can go for long walks at sunset or sunrise and enjoy clean air, quiet and little traffic. Be advised that there are wild burros that wander around town. Generally harmless, they are not very traffic savvy and they do not wear reflectors, so be on the lookout!
We only stayed for one night, But Andrea's place was perfect. The view is beautiful with All the mountains surrounding this little town. there are Some restaurants in the neighbourhood, only a max 10 minute drive away.
Nina
2017-04-03T00:00:00Z
Great house, comfortable and has everything you need for a safe and inviting stay while you're in Beatty, NV or just stopping in on your way to or from Death Valley.
L
2017-04-02T00:00:00Z
Kamertype
Gehele woning/appartement
---
Type woning
Appartement
---
Geschikt voor
6
---
Slaapkamers
Beatty, Nevada, Verenigde Staten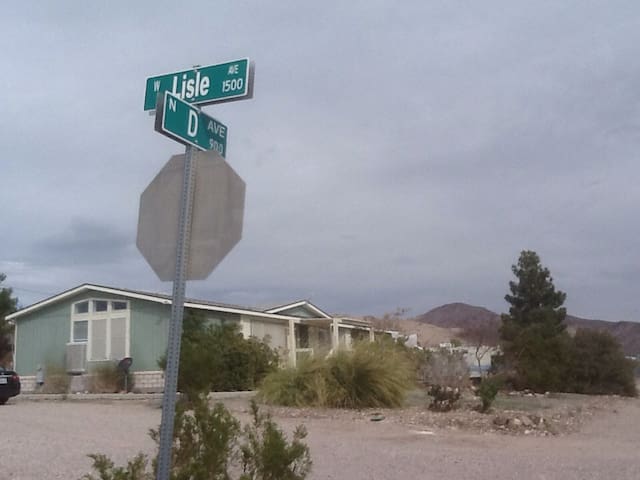 Tlaquepaque Guest Ranch is located high in the hills overlooking Pahrump, with wide open vistas of spectacular sunrises and sunsets. Tlaquepaque, (t-la-qu-pa-qe) means casa or house on a hill. "The Casita at Tlaquepaque" nestles within the entry courtyard of the ranch. A garden of cactus specimens and desert flora. A fire pit and Kiva surrounded by the gentle sounds of a Spanish fountain from Tecate, Mexico, add to the peace and solitude of this very special Mojave Desert Retreat.
The Casita at Tlaquepaque is done in the Spanish Mission style. The unique architecture, set against a southwestern courtyard creates a tranquil setting and a comfortable place to relax at the end of your day. The living area features a desk with a comfortable office chair as well as complimentary wifi. A comfy couch sits across from an entertainment center with a large 55" LCD tv with DirectTV and a DVD player. The Kiva fireplace in the corner provides a warm ambience. A small kitchenette includes a microwave, mini-fridge, toaster, an Induction Cooktop, a Keurig coffee maker, as well as complimentary coffee, tea and water. The bedroom includes a new queen size Casper mattress, nightstands on either side of the bed and it's own TV with a built in DVD Player (no DirectTV in the bedroom). There is plenty of storage provided for your clothing in both a credenza and a large walk-in closet. The bathroom features a large shower (no tub), marble sink and plenty of oversized bath towels for your comfort.
Tlaquepaque is surrounded by open desert on two sides. The neighboring homes are on larger lots giving plenty of space between homes which helps create the quiet and peaceful environment that many enjoy.
Beautiful little home. Relaxing and inviting. Clean, nicely decorated with comfort all around. Easy drive to death valley. Decent amount of food options. Thanks again
Abraham
2017-02-20T00:00:00Z
Everything was welcoming, smooth, and comfortable. We felt at home upon arrival and the owners provide really helpful information to get oriented quickly to the house and the area. A great home base for visiting Death Valley. We would be happy to return in future.
Hans
2016-10-19T00:00:00Z
This place was amazing. It was our first time staying in a casita and we just loved it. Every detail has gone into making the casita perfect. From the world's most comfortable bed, to big and thick bathroom towels. There is a really nice fireplace that you can use if the weather is getting cool, and a little kitchen. My wife especially loved all the incredible Navajo rugs and art work. It is clear that Lloyd and Carol have spent many years collecting unique pieces and using them to create an eclectic but beautifully designed place. We had the opportunity to chat with Lloyd and Carol, and they were both beyond helpful and friendly. They have had such an interesting past, which you can learn about through an information book in the casita. They did all they could to make our stay comfortable. Their daughter Deseray was very helpful and communicative in the lead up to our stay. Overall, an amazing airbnb experience. Oh, and check out the stars in the sky at night. Incredible!
Tim
2016-11-04T00:00:00Z
The casita was great and had everything we needed. The place is beautifully decorated, peaceful, and comfortable. We stayed here for 3 nights while visiting Death Valley. The hosts were kind and helpful-- and responded quickly whenever we needed something. I would highly recommend people to stay here if you're in the area.
Olivia
2016-11-28T00:00:00Z
I got to say that house is one of the best place I've stayed. The house is new, super clean, and at the good location. Lloyd and Carol are very nice and kind and Billy who takes care of online services gave me specific instructions. I thank all of them and I will definitely come back here again:)
Dong-Kyun
2016-09-03T00:00:00Z
It was amazing. We felt completely at home and when we are in the area we won't stay anywhere else.
AlanandLise
2016-09-18T00:00:00Z
Carol and Lloyds Casita is gorgeous , the location is perfect for a desert vacation and if you are missing crazy , Las Vegas is only one hour away. A beautiful , helpful family that made us feel very welcomed. Don't forget to check out the night sky , spectacular!
Cathy
2017-03-26T00:00:00Z
We loved our stay at Lloyd and Carol's place. It is perfect for escaping Las Vegas and exploring the surrounding area - such as Death Valley which was an easy day trip. It was very private, beautifully decorated and had all the amenities we needed. Definitely a place to relax and unwind! Highly recommend. Make sure you drive out to the China Date Ranch and Death Valley brewery in nearby Tecopa!
Elise
2017-01-02T00:00:00Z
Kamertype
Gehele woning/appartement
---
Type woning
Appartement
---
Geschikt voor
2
---
Slaapkamers
Pahrump, Nevada, Verenigde Staten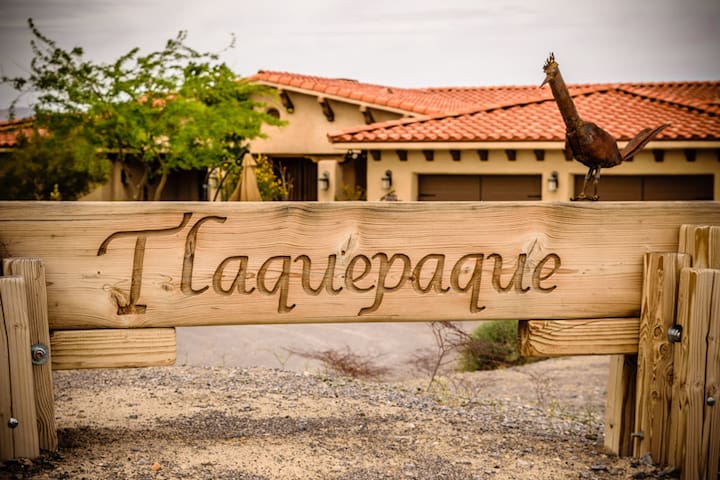 My place is close to ... Pahrump City Center Front Site Firearms Spring Mountain Motor Resort Jetpack America Death Valley Mountain Falls Golf Club Pahrump Valley Winery Zabriski Point. You'll love my place because of Central Location Mountain Views Desert Views Quaint Rural Atmosphere My place is good for couples, solo adventurers, business travelers, families (with kids), big groups, and furry friends (pets).
Very comfortable place. Maria was extremely hospitable and friendly. She ensured that we had a smooth check-in experience and made sure that the fridge was stocked with veggies and fruits. Highly recommended!
Guha
2017-02-07T00:00:00Z
Nice small home in a central location for hikers heading to Death Valley, Red Rock Canyon and Valley of Fire. Pahrump is a decent size area with the basics- a few good restaraunts (pasta at Nicco's was pleasantly delicious! And Red Sky BBQ was also very good), close grocery and a Wal-Mart. Maria was a lovely host, very friendly and attentive, quickly answered all of our questions and even left fresh fruit for us and left us a goose egg! The house is small but provides comfort and needs for weary hikers.
Mary
2017-03-14T00:00:00Z
The place is as described and the location is great! Maria gave us some food to start our stay and the place is clean and homely. Recommended.
Wei-Fah
2017-03-28T00:00:00Z
Pros: Maria was very nice, easy to deal with, and communication was great. The fridge is a really nice sub zero. the beds were nice and comfortable, and there is a great massage chair. For comparable money it is way better than the Best Western we have stayed in. Cons: WiFi would be nice, but not necessary to me. TV, it has antenna, but cable or satellite would be an upgrade. There are a few other little nit picky things, but those probably say more about me than the location.
Jeff
2016-12-31T00:00:00Z
Cute place to stay. Clean, comfortable, perfect for two people and a great location if you are attending Frontsight. Maria and her husband had everything there we needed and were great hosts! Thanks
Frank
2017-04-03T00:00:00Z
Maria's place was super cute! It was a great surprise. She was a very good host and went out of her way to check us in even though we arrived in the middle of the night, and she even had Wifi installed for us. Thanks Maria for the great stay!
Giselle
2017-01-16T00:00:00Z
Perfect sweet house! Maria provides a classic decoration on her house (my favorite type~~) she is very nice and friendly. Her house provide everything that a traveler will need(especially drive from desert) I would give 5-star for her house. Thank you Maria~~cheers Nancy
Nancy
2017-02-13T00:00:00Z
Kamertype
Gehele woning/appartement
---
Type woning
Appartement
---
Geschikt voor
4
---
Slaapkamers
Pahrump, Nevada, Verenigde Staten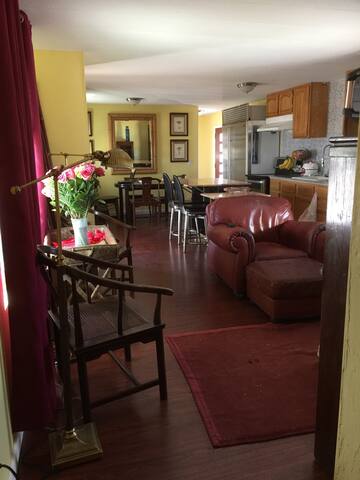 Death Valley - Airbnb
:
Gemiddeld

5

van

5

sterren op basis van

88

gastrecensies
1

–

4

van

4 Appartementen te huur
Voer datums in om de volledige tariefopbouw te zien. Er kunnen extra kosten zijn en er kunnen belastingen worden toegevoegd.