122 Appartementen te huur
You are passing in Coaticook? You will be charmed (s) by this heritage home built in the late 19th century. The apartment has two bedrooms, one on the ground floor and a basement. It also includes two bathrooms, and a kitchen including stove and refrigerator.
Kamertype
Gehele woning/appartement
---
Type woning
Appartement
---
Geschikt voor
5
---
Slaapkamers
Coaticook, Québec, Canada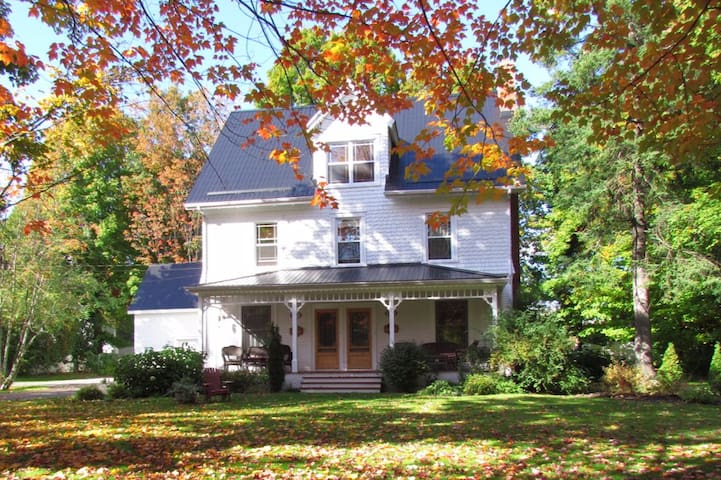 Paisible Gite Champêtre! Situé entre Coaticook et Baldwin, en campagne . En temps estivale: prêt de Foresta Lumina à Coaticook et de la plage Lyster à Baldwin...Petite cuisinette, salon avec télé et radio, une chambre et une salle de bain.
Très propre et construction récente avec tout les commodités souhaités!
Unique avec Foresta Lumina a Coaticook (environ 10 a 15 min)Pres du Parc Découverte Nature, Excursion au Mont Pinacle, Plage de Baldwin; avec location de Kayak si l'on désire, Golf, Steakhouse, Pêche avec location de canot...En temps hivernale, coucooning, Musée Beaulne , activités hivernales selon les fins de semaines...
Kamertype
Gehele woning/appartement
---
Type woning
Appartement
---
Geschikt voor
2
---
Slaapkamers
Coaticook, Québec, Canada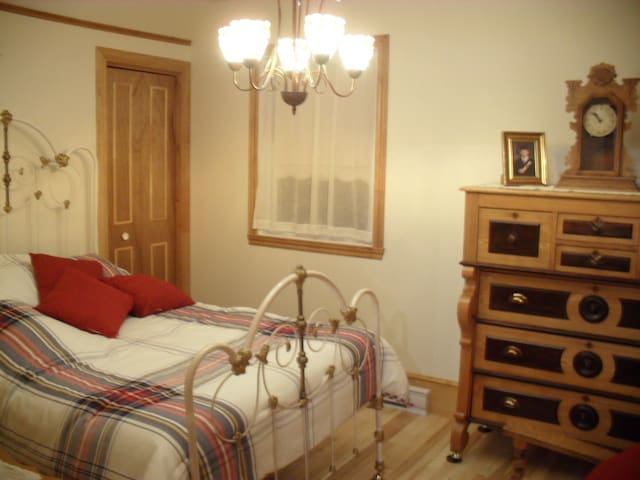 De amateursport d`hivers zal worden voldaan. Alpine skiën, langlaufen, wandelen, lef, ijsvissen, of gewoon genieten van een rustige en vredige aan het meer met prachtige zonsopgang. De Scandinavische spa's zijn ongeveer 15 minuten rijden, kunt u ook naar het diner het centrum en ga dan naar de oude klokkentoren voor een show. Snowmobilers zal blij zijn om te weten dat er 2 overdekte parkeerplaatsen.
Loft met keuken en badkamer. Ideaal voor vakantie liefhebbers. De foto's spreken voor zich. Er is een koffiezetapparaat beschikbaar (Tassimo) broodrooster en een kleine pizza-oven, een koelkastje, keukengerei. Er is alles wat je nodig hebt. Ik heb ook handdoeken voor de douche. er is ook een zeer comfortabele bank en een HD-TV. Skiërs boek vroeg, skiën komt eraan en ik zal kortingen voor de nabijgelegen station hebben, is, Orford, Owl's Head, Sutton en Bromont.
We zijn 10 minuten van het centrum en terrassen, op 15 minuten van de Mont Orford en 2 minuten van de Golf van Venetië. Het meer is rustig en ideaal voor kajakken of windsurfen zeilen en gemotoriseerde watersporten. Rustige buurt. Geprepareerde tracks uw attenderont u deze winter.
Martin met us at his door, showed us around the yard and apartment, then showed us how to use certain amenities such as the elaborate shower and offered kayaks for our use if so desired. He had also obtained a brochure on a specific subject we had requested information about. The apartment was very clean and looked new with an upscale shower. We enjoyed the sunrise over the lake and the Adirondack chairs on the dock. Kayaks were available which we would have used if the weather had not been so cold! This was our first AirBnB stay and we won't hesitate to use it again!
Kay
2016-10-11T00:00:00Z
My boyfriend and I booked a weekend getaway at Le Cozy and it was exactly what we were looking for; a relaxing and romantic getaway. The location is excellent for enjoying nature on a quiet lake with a stunning view for two. Martin was a gracious host and the apt had everything we needed. The apt was clean, zen and exactly what the description stated, extremely cozy!
Julia
2016-08-14T00:00:00Z
The host was just fantastic extremely accommodating very helpful two thumbs up for Mr Martin
Vito
2016-08-03T00:00:00Z
Our host, Martin, was welcoming and provided us with maps to nearby hiking trails. He went out of his way to provide us with information about local attractions and restaurants. The private entrance and convenient access to Route 55 were especially appreciated.
Karen
2016-08-18T00:00:00Z
Martin was an exceptional host! He welcomed us with such kindness. Was flexible and super available for any questions we had. His a"studio space is simple and sweet and had everything that is needed for a short or a longer stay! Being near the water is fantastic with such a short distance to town. Also, he literally had the best shower we have ever experienced. Thank you so much for your kindness and generosity! We can't wait to see you again, Martin!
Ellia
2016-09-09T00:00:00Z
Martin has managed to take a basement apartment space and turn it into a cozy, modern and spacious-feeling get away. The space is decorated simply and with good taste. The lake is just outside the main windows, and there is a wide lawn leading down to the waterline and dock. We were there late in the season and couldn't fully take full advantage of the lake's proximity. In fact we had some snowfall, which further confirmed the cozy comfort of our retreat. The views are uplifting, whatever the season. We highly recommend Martin's AirBNB if you're looking for casual comfort and quietude, a great home-base to explore this beautiful portion of the Eastern Townships.
Judy
2016-10-23T00:00:00Z
Superbe séjour sur le bord du Petit Lac Magog!! Wow! À quelques minutes à peine du centre-ville de Magog, juste assez loin pour se sentir dans un endroit reposant! La vue est magnifique du matin au soir! Quel bel endroit pour passer du bon temps et profiter du quai pour y déjeuner, y relaxer au soleil ou prendre un verre en fin de journée! Notre hôte Martin était très accueillant et vraiment sympathique! Il était facilement rejoignable et a fait en sorte que l'on passe un magnifique séjour chez lui! Accès direct au lac, avec possibilité d'emprunter son canot et ses kayaks. Le logement est vraiment bien décoré au goût du jour et il y a tout ce dont on a besoin lorsque l'on désire y passer quelques jours. D'un style que je qualifierais "petit loft", il y a un bel espace salon avec grand sofa confo, jolie table haute avec bancs pour manger, un bon petit espace cuisine et un lit vraiment confortable! Finalement, la salle de bain avec douche est elle aussi au goût du jour et assez spacieuse. Que du positif!! Merci encore Martin!!
Simon
2016-07-22T00:00:00Z
The location was private and had a beautiful lake view. Martin was very welcoming! Everything was modern and clean. We had a great time! We only wish we could have checked in earlier as the stated check in time was after 4 pm which is quite late in the day. We would definitely recommend Martin's place!
Olivia
2016-08-01T00:00:00Z
Kamertype
Gehele woning/appartement
---
Type woning
Appartement
---
Geschikt voor
2
---
Slaapkamers
Magog, Québec, Canada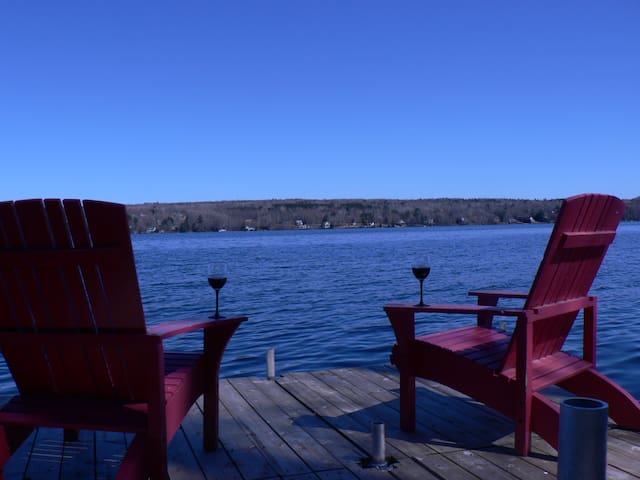 In the Eastern Townships at 0.5 km of Lake Memphremagog, 5 km from the Mont Orford. Condo 3 bedrooms with queen beds and one sofa bed in the living room, full kitchen, 2 bathrooms and amenities, washer, dryer, dishwasher, wood fireplace, barbecue. Accommodation is perfect for couples, solo travelers, business travelers and families (with children).
Tous les renseignements étaient exacts et nous avons les avons reçus largement en temps. Merci
Pierrette
2016-10-30T00:00:00Z
Superbe fin de semaine. Notre hôte nous a envoyés au préalable plusieurs communications d'information, d'accueil, de disponibilités, de rappel, etc. Secteur rempli d'activités. Environnement calme. Logement spacieux, propre et confortable. (Un peu difficile de trouver les adresses le soir.) Nous y retournerions sans hésiter.
Jean
2016-10-23T00:00:00Z
tres bien place pour un sejour de ski a orford.
Jean-Françcois
2017-03-11T00:00:00Z
Dany was so kind to accommodate our women's weekend at the last minute. The condo was just perfect. We enjoyed all of the amenities, the location is great, and Dany's home warm and inviting.
Christina
2016-02-08T00:00:00Z
Condo spacieux idéal pour 6 personnes, bien situé à Magog
Alain
2016-10-16T00:00:00Z
Nous avons passé un très beau séjour dans votre condo. N'ayant pu profiter de la neige, nous nous sommes reposés en famille. Merci!!
Chantal
2015-12-29T00:00:00Z
Ce fut lun des plus beau week end que j'ai passé dans un chalet ou appartement, tout etait propre et super. J'y retournerai assurémemt.
Karine
2015-09-21T00:00:00Z
Très beau condo. Génial comme endroit.
Pier-Karl
2016-01-07T00:00:00Z
Kamertype
Gehele woning/appartement
---
Type woning
Appartement
---
Geschikt voor
8
---
Slaapkamers
Magog, Québec, Canada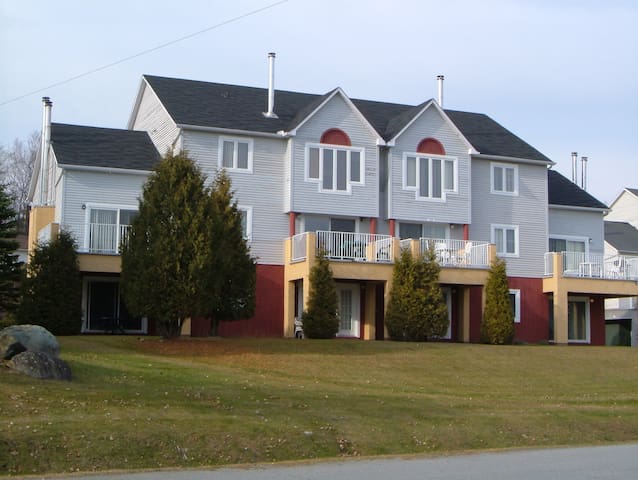 My home is close to downtown and parks. My accommodation is perfect for couples, solo travelers, business travelers, families (with children) and four-legged.
We had good communication with Isabel. We appreciated she checked with us to make sure everything was okay. The house is in a good location. Inside it is clean and equipped. There are three of us and the house served us for that size. Like Goldilocks, it was not too small or too big. It was just right!
Harold
2017-03-06T00:00:00Z
Repeat visit to area; favourite place for us to stay in the Eastern Townships.
Harold
2017-03-19T00:00:00Z
Petit et douillet. Juste ce qu'il faut pour un weekend en amoureux. Lit un peu petit pour mon copain de 6'-2" ( une chance qu'on s'aime!) Attention aux allergies, bien que c'était très propre, il y a du tapis et ils acceptent les animaux.
Annie
2017-03-13T00:00:00Z
Logement très bien placé pour découvrir la région. Il est très bien équipé. Malgré le fait qu'Isabel ne soit pas présente pour notre arrivée elle a été très arrangeante et disponible. Merci!
Enora
2017-02-13T00:00:00Z
This apartment is a great value. It was quiet, clean, and convenient for exploring the area's many outdoor activities. It is also only a few blocks from the downtown shopping district.
Mike
2017-02-21T00:00:00Z
Kamertype
Gehele woning/appartement
---
Type woning
Appartement
---
Geschikt voor
5
---
Slaapkamers
Magog, Québec, Canada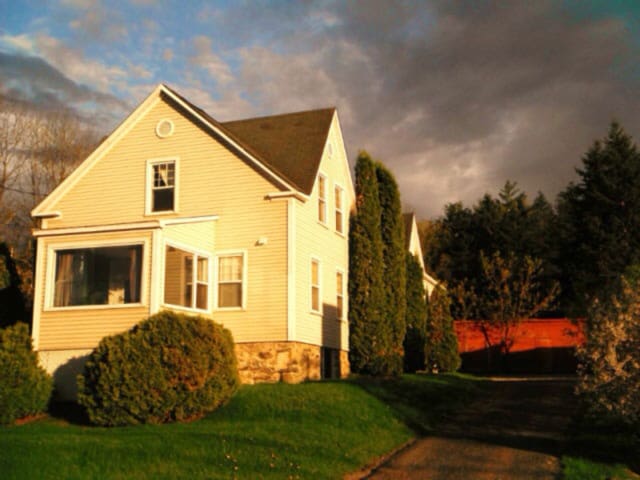 Superbe studio proche du centre ville de magog. Resto, bar , boutique a proximité de marche. Vous verrez que l'ambiance de Magog est superbe. Le terrain est accessible a tous, les balancoirs, BBQ et feu de foyer. La vue du bord de l'eau est magnifique ! 15 min d'Orford :)!
Directement au bord du lac Memphrémagog avec vue sur la montagne. Distance de marche au village et près des activités estival et hivernale. Ce studio moderne comprends cuisines toute équipé, lit escamotable, feu de foyer, balcon! L'immeuble a condo vous donne acces à piscine extérieur, piscine intérieur, spa, salle d'entraînement ! Wifi aussi disponible gratuitement!
Près du village, ce quartier est sécuritaire, plusieurs immeuble à condo tout près !
Un petit studio coquet, très propre et fonctionnel, idéal pour un séjour à deux.
Marie-Laure
2017-03-05T00:00:00Z
Charlene was wonderful. Helpful re: directions, and things to do. I would stay here again.
Anita
2017-03-01T00:00:00Z
Très beau petit condo, parfait pour un couple. Lit encastrable très pratique et confortable. Entièrement équipé de vaisselle, ustensiles, couteaux, cafetière, grille-pain, poêles et chaudrons bref, tout ce dont on peut avoir besoin pour faire des repas élaborés. Il y a un sauna juste de l'autre côté du couloir et une piscine intérieure est disponible dans le bâtiment voisin. Beau et grand balcon avec vue sur la marina. Lors de notre visite, l'endroit était très tranquille et silencieux. Bien situé comme base de départ pour des escapades en voiture dans la région où il y a beaucoup à voir; et tout près à pied de la rue principale de Magog pour du shopping et les restos. Charlene est très gentille et s'assure que tout est parfait. Je recommande!
François
2016-10-11T00:00:00Z
The place was nice, close to the shops and restaurants. The host was helpful and the place was clean and neat.
Amy
2017-02-24T00:00:00Z
Petit logement parfait pour un pied à terre à coté du centre-ville de Magog. Propre, sécuritaire et offrant une belle vue sue la marina. Lit double escamotable et table bistro au confort moyen si vous êtes de taille et grandeur au dessus de la moyenne comme nous. Wifi inconstant lors de notre sejour. Belle experience en général.
Janic
2016-10-16T00:00:00Z
Cozy apartment; small but efficiently arranged. Great pied à terre for exploring and hiking in the Eastern townships. Really lovely to soak in the hot tub or sit by the fire after a long autumn hike!
bronwyn
2016-11-17T00:00:00Z
Great place, great view and love the location! Great place to go at anytime of year!
Gregory
2017-04-04T00:00:00Z
Très beau studio bien équipé, bien situer.
Lakhdar
2016-09-09T00:00:00Z
Kamertype
Gehele woning/appartement
---
Type woning
Appartement
---
Geschikt voor
4
---
Slaapkamers
Magog, Québec, Canada
Vous avez envie de relaxer?Ravissant logement tout équipé situé dans un quartier paisible à 5 minutes de marche du centre-ville de Magog.Chambre spacieuse avec très grande terrasse privée au 2e étage (vue).Décorée au goût du jour.Spa(15 mai-15 oct.).
Magnifique appartement champêtre sur 2 étages tout équipé. Chambre ensoleillée(style loft) avec lit queen situé au 2e étage avec terrasse privée (porte patio). Décoration au goût du jour. Cuisine complète, literie, TV, Wifi, laveuse/sécheuse, bain/douche. Tout pour votre confort!
Très bien situé à 5 minutes de marche du centre-ville de Magog où on retrouve spectacles (Vieux Clocher Magog), plusieurs restaurants, plage, marina, sentier de marche, vélo (piste cyclable), ski, golf.
Le logement proposé par Francine et Gaétan était idéal pour ces quelques jours de repos en couple. Confortable et bien situé, nous avons fortement apprécié notre court séjour à Magog et ses alentours. Un grand merci à Francine et Gaétan pour leur accueil et leurs bons conseils !
Pierre
2016-11-13T00:00:00Z
The apartment was very nice, in good condition and kept clean. The host was helpful and accommodating. The house was down a quiet street which is a very short walk from the downtown area. We had dinner and breakfast downtown and also enjoyed using the spa!
Scott
2016-05-29T00:00:00Z
Bel appartement chaleureux, près de tout!!!! Nous nous y sentions comme chez (URL HIDDEN) que dire de l'accueil si attentionné que nous avons reçu! Un couple fort sympathique qui adore leur région! Merci pour tout!! :)
sydjie
2015-10-19T00:00:00Z
The apartment is great, stay here! Clean, cozy, and quiet, and fully equipped. The huge rooftop patio is amazing and having access to the hot tub is a bonus. The location is amazing, everything is walking distance (downtown, beach, grocery stores). The Hosts are very friendly and let us keep our bicycles in their garage so we did not have to worry about locking them up.
Natalie
2016-08-03T00:00:00Z
Absolument parfait ! Hôtes sympathiques et logement à proximité du centre-ville.
Vanessa
2015-10-12T00:00:00Z
Gaetan and Francine are so thoughtful and welcoming. We like their place so much that this is our second time staying with them! The apartment is very clean and has everything you need. It is an easy walk or quick drive to many good restaurants. This time we skied Mont Orford which is only 10-15 minutes away. We will likely return in the summer!
Kate
2017-03-12T00:00:00Z
Merci et au plaisir de vous revoir! Lucie et Jean
lucie
2017-02-12T00:00:00Z
L'appartement est vraiment à côté du centre et de toutes commodité (tout est faisable à pied). L'appartement en lui même est extrêmement propre, et tout est fait pour y être confortable: produits de nécessité dans la salle de bain au cas ou, serviettes pour la douche et le spa, laveuse sécheuse, cuisine toute équipée, des couvertures en plus pour le lit s'il fait trop froid, un lit très confortable, climatisation, tele, wifi, et une immense terrasse a cote de la chambre. Le spa est très appreciable meme sous une pluie torrentielle! Et enfin les hôtes sont d'une immense sympathie, Francine a préparé un (gros) classeur avec plein de proposition d'activités à faire aux alentours. Des guides sont aussi mis a disposition. En somme nous avons passé un week-end très agréable, et reviendrons très sûrement un weekend ou il ne pleut pas!!
Annaelle
2016-07-10T00:00:00Z
Kamertype
Gehele woning/appartement
---
Type woning
Appartement
---
Geschikt voor
2
---
Slaapkamers
Magog, Québec, Canada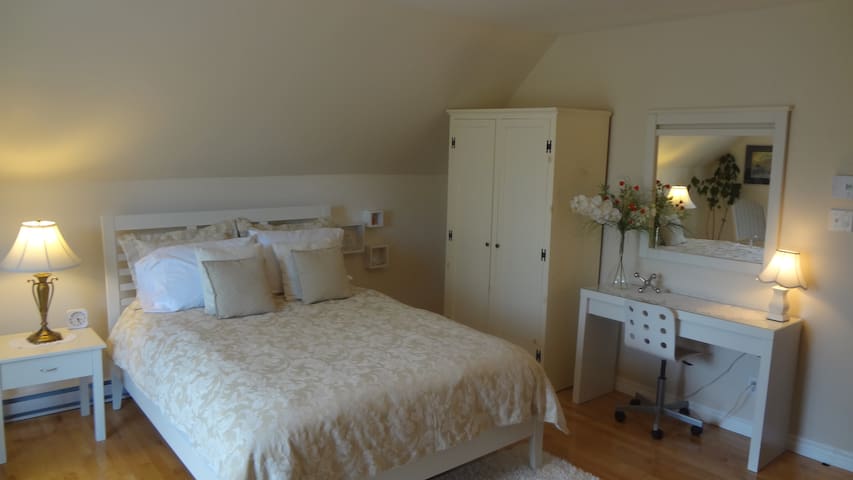 Superb Condo, 1 bedroom with a view of Mount Orford. The Condo eat close to the bike path, facing the Memphremagog. Location very quiet and peaceful, private balcony facing the pool. Fully furnished with new and equipped (bedding, dishes, etc) Non-smoking staff.
Located in a peaceful environment and scenery enchanting, condo 1 bedroom + sofa bed has all the amenities to ensure a comfortable stay: - Microwave, Dishwasher - Sofa bed, bedding, towels, household products - Cable television, internet
Malgré je n'ai jamais rencontrer Sylvie, elle était très accueillante et vite à mes demande par courriel. Le condo est parfait et propre.
pamela
2016-06-13T00:00:00Z
The apartment was lovely and in a good location. Sylvie left balloons and chocolate with a nice note of birthday wishes for my husband! i would recommend this place to anyone!
Helena
2015-11-10T00:00:00Z
L'hôte nous avait fourni toute l'information nécessaire pour notre arrivée. Le condo est très bien situé pour pouvoir se déplacer à pied au centre-ville de Magog. L'endroit était propre et très bien aménagé. Nous avons grandement apprécié notre séjour !
Johanne
2015-12-28T00:00:00Z
Nous avons séjourné une semaine chez Sylvie. Le condo était tel que décrit et parfait pour une famille avec deux jeunes enfants. La piscine a été bien apprecié par nos deux enfants. La communication avec Sylvie était excellente, elle nous répond rapidement. Le condo est idéalement situé à quelques minutes de marche du centre ville, de la plage et des activités. C'est calme et nous avons adoré profité de la piscine et du grand patio! Nous le recommandons chaudement pour un couple ou une petite famille!!!
Melanie
2016-07-03T00:00:00Z
Stayed for two nights in Magog with one of my kids at Sylvie's condo and it was great. Close to everything and was very well equipped for our stay. Thanks and will be back again!
Ted
2016-05-20T00:00:00Z
Condo très propre et bien localisé. Rez-de chaussé facile d'accès. Très traquille durant la nuit. Bon matelas. Piscine très propre. Bonne communication avec Sylvie.
Richard
2015-09-20T00:00:00Z
We really enjoyed the stay. We would like to stay at the same place again when we vacation in Magog.
Yen
2016-02-16T00:00:00Z
The host canceled this reservation 79 days before arrival. This is an automated posting.
Paul-E.
2016-10-08T00:00:00Z
Kamertype
Gehele woning/appartement
---
Type woning
Appartement
---
Geschikt voor
4
---
Slaapkamers
Magog, Québec, Canada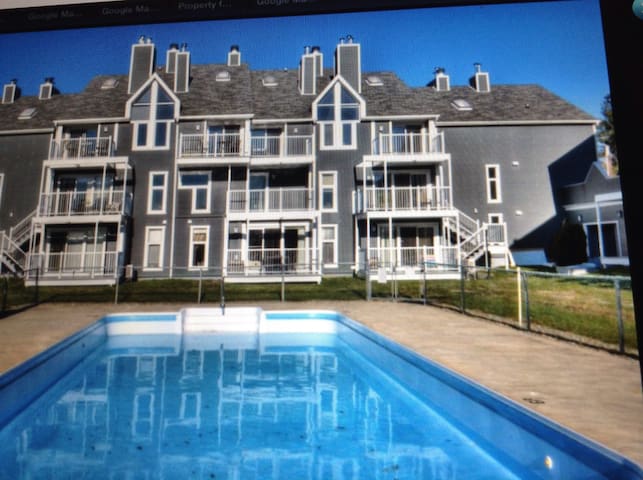 Beautiful condo close to the sports and tourist attractions. 5 minutes from the beach, 10 minutes from Mont Orford slopes and good restaurants of downtown. Easy access from the motorway, an hour from Montreal. Relax in this peaceful haven with fireplace, parking and private balconies.
Logiquement très propre bien équipé parfait pour quatre personnes
Caroline
2017-03-25T00:00:00Z
Lovely, will use again.
Yon
2017-03-05T00:00:00Z
It is exactly the way the pictures portray it. A Comfy homey feeling in a very relaxing environment perfect for an extended stay in the beautiful town of Magog.
Calvin
2017-02-27T00:00:00Z
Super condo. Toutes les facilités nécessaires pour passer un bon séjour. Bien situé
Raynald
2017-03-19T00:00:00Z
Terrific apartment in a very convenient location. Exactly as pictured. Short drive to Orford ski hill and cross country facility. Walking trail to centre of Magog with a skating path almost the entire way running right beside it! This was the best-equipped Airbnb kitchen we have ever stayed in. Extremely spacious and very comfortable beds in bedrooms. Note: sofa in living room does not open up to bed, but 2 people can lie on it, along seat areas or with ottoman pulled in.
Richard/Nancy
2017-02-22T00:00:00Z
Everything was great!
Martin
2017-01-29T00:00:00Z
Kamertype
Gehele woning/appartement
---
Type woning
Appartement
---
Geschikt voor
4
---
Slaapkamers
Magog, Québec, Canada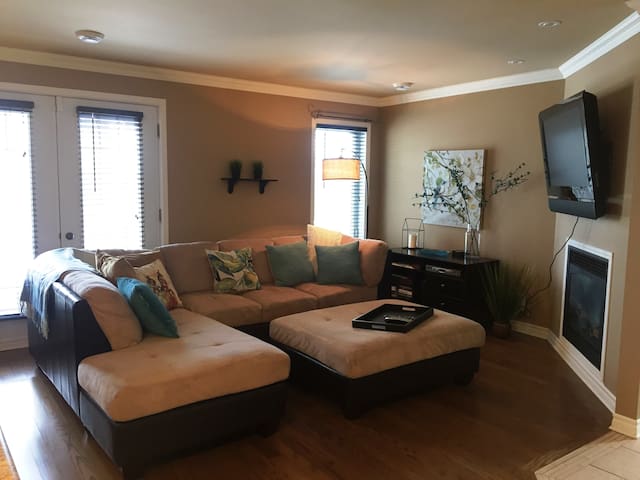 kitchen cabinets in cherry modules, designed by the owner and designed by a cabinetmaker. airy space, lots of windows; very pleasant to live. Large bathroom. Air Conditioning. TV with cable. Bosch washer and dryer!
Kamertype
Gehele woning/appartement
---
Type woning
Appartement
---
Geschikt voor
4
---
Slaapkamers
Magog, Québec, Canada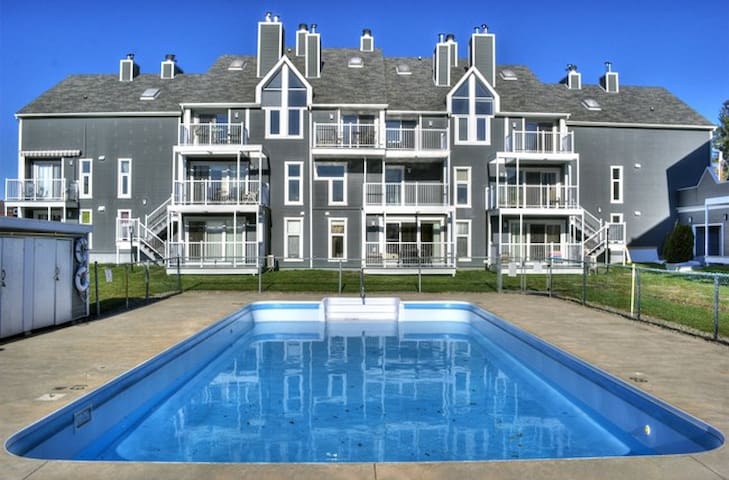 In the Eastern Townships at 0.5 km of Lake Memphremagog, 5 km from the Mont Orford. 2 bedroom condo with 1 queen beds and 2 twin beds, full kitchen, 1.5 bathrooms and amenities, washer, dryer, dishwasher, fireplace, barbecue.
This was our first time using Airbnb. We were impressed by how well stocked the condo was and how conveniently located it was in Magog. We found the bathrooms and kitchen to be very clean. My young children were excited that there were a few toys to play with. We hosted 8 family members from the area for dinner and there was more than enough dishes, cutlery, glasses, and supply of pots and pans for a large family dinner. My only concern was that the clothes washer did not work. Although the owner was quick to offer a suggestion on how to get the washer to start (the door didn't properly close and therefore wouldn't lock) I was unable to get it to work and was thankful that my brother rented the condo next door so we could make use of their's. It certainly is an important feature while traveling with young children. Thank you, Annick! We will look forward to renting from you the next time we come to Magog!
Daphne
2017-01-16T00:00:00Z
The condo was just as describe. Spacious and clean. Perfect for our family vacation. The owner was nice, communication was easy and efficient.
Alessandra
2017-01-01T00:00:00Z
This is a great place, Real nice Condo, Lots of room. Super value Much better than a hotel. Super Condo, Beaucoup d'espace, Tout le nécessaire pour un séjour agréable. Super prix bien meilleur qu'à l'hotel. Will rent again for sure / Je vais re-louer Garantie
Pierre
2017-01-24T00:00:00Z
Kamertype
Gehele woning/appartement
---
Type woning
Appartement
---
Geschikt voor
6
---
Slaapkamers
Magog, Québec, Canada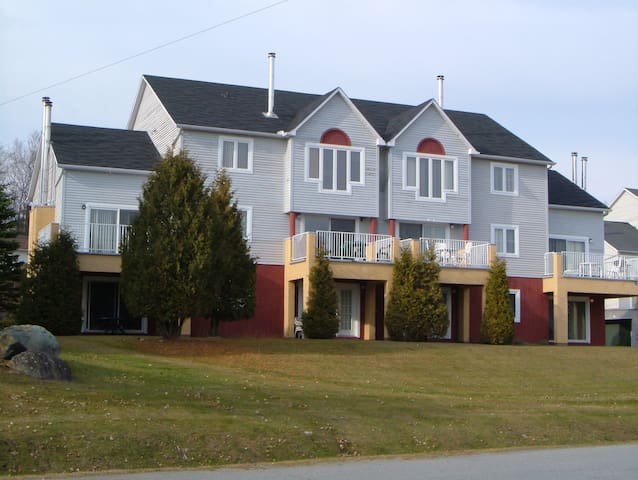 Superbe condo sur 2 étages, idéal pour 4 personnes, situé à 200 mètres de la plage municipale, de la piste cyclable et à dix minutes à pied du centre-ville de Magog et de sa vie trépidante. Avec une vue sur le mont Orford et le lac, il est tout équipé pour un séjour réussi!!
Situé dans un environnement paisible et dans un décor enchanteur, ce condo 2 chambres sur deux étages idéal pour 4 personnes possède tous les équipements pour assurer un séjour réussi: - Micro-onde, lave-vaisselle,vaisselle - Divan-lit pouvant accommoder 1 à 2 personnes supplémentaires ($) - Literie, serviettes, produits domestiques - Télévision câblée, - Air climatisée - Foyer - Balcon privé .... et plus! Les commodités du complexe: Piscine extérieure chauffée, Aire de BBQ et picnic, Locker, Buanderie ($$)
À moins de 200 mètres: Plage municipale, Route verte (piste cyclable), Centre-ville, Restaurants, épicerie, pharmacie, dépanneur, SAAQ, etc(URL HIDDEN)Dans les environs: Mont Orford, Mont Owl's head, Vignobles, Bleu Lavande, Fromagerie, Terrains de golf, Activités nautiques, etc.
Je conseille à chaque voyageur qui passe à Magog de loger dans le logement de Patricia et Réjean ! Très bien situé au cœur de la ville, le logement était impeccable et très bien équipé. Lumineux et spacieux, nous y avons passé un très agréable séjour. Il faisait un peu froid donc nous n'avons pas pu profiter de la piscine, mais par une belle journée d'été, elle semble parfaite :) merci Patricia et Réjean !Frédéric
Frédéric
2015-10-04T00:00:00Z
My family loved staying at Patricia's chic condo in Magog. We had everything we needed; comfortable beds, a well equipped kitchen, and a great location for exploring. The marsh walk was especially nice and starts just past the parking lot.
Elisa
2016-10-14T00:00:00Z
Super séjour chez Patricia et Réjean! Le condo est très bien situé près du Lac et des restaurants et boutiques. Il est bien équipé et confortable. Parfait pour une famille avec un ou deux enfants!
Claude
2016-09-18T00:00:00Z
Well spotted condo at the center of Magog. Close to municipal beach and all amenities. Owner had a well tuned system for check in and departure. Appartment was well kept with everything spotless clean. Beds were comfortable and in good shape. Neighbors were quiet and friendly. This is the perfect set up for a small family vacation and we will likely book again next year.
Maxime
2016-07-28T00:00:00Z
condo as described. walking distance from the beach and short drive to the main area. very clean. a pleasure to stay at this place. no need to hesitate when booking.
Robert
2015-07-21T00:00:00Z
We are a family of 4, two kids age 8 and 10 and booked a long weekend in Magog. This apartment is spotless, first of all and has got everything you'd be looking for in a home from home. This includes wifi, a well equipped kitchen, a small balcony overlooking the pool, two bedrooms, a pull out sofa in the living room and a powerful shower. Would happily return here as we all loved being so close to the village with bars, restaurants and also the waterfront. We had a great time here.
Alan
2015-09-08T00:00:00Z
This is a two-story apartment with a balcony and everything nearby. Downtown is a just a few minutes away on foot and there are plenty of grocery stores and restaurants all round. It was also nice to have a pool right there when the temperature reached the 80s. Though we only communicated via email, both Patricia and Rejean were very helpful and always ready to answer any questions I had. Magog is a beautiful town worth exploring and this place is a great choice to do just that :)
Amila
2016-07-01T00:00:00Z
Kamertype
Gehele woning/appartement
---
Type woning
Appartement
---
Geschikt voor
6
---
Slaapkamers
Magog, Québec, Canada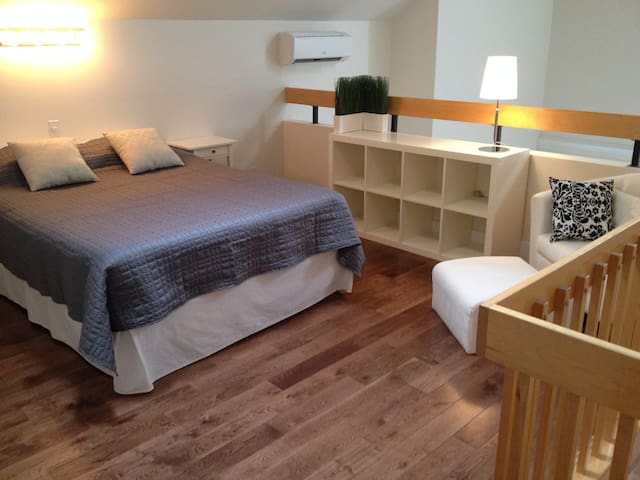 Condo located directly on Lake Menphrémagog a few minutes walk from the city center. The condo is located on the first floor, close to the air BBQ and swimming pools. Spa pool, sauna and relaxation of air throughout the site.
It is not unique but very well located on the first floor near the air BBQ and swimming pools. Marina View. Walking distance from downtown
Beautiful holiday town much for winter activities and summer. Many places to visit nearby.
Condo bien situe acces facile au 1er etage. Tres bien situe aussi pour aller au centre-ville. Tout y est pour un petit sejour agreable.
Benoit
2016-10-09T00:00:00Z
The house was simple, clean and as advertised. The only trouble we had was finding which apartment complex the room was located. We ended up seeing our host Suzanne in the window of one of the rooms and connected with her that way. For anyone experiencing the same problem it is complex D room 107. Very close to town and nice to have the hot tub.
Max
2017-01-04T00:00:00Z
Hôte très disponible par courriels et par téléphone. Petit appartement situé près d'une rivière dans une très jolie ville. On a accès à un foyer mais il fallait lorsque nous y avons été apporter notre propre bois. Un autre aspect à améliorer considérant le prix serait de fournir draps et serviettes sans frais supplémentaire. La piscine et le petit spa commun intérieurs sont très sympathiques. Merci !
Sébastien
2016-03-25T00:00:00Z
Le logement est confortable et très bien équipé. Il est situé dans un quartier résidentiel calme. Nous avons beaucoup apprécié notre séjour.
Flavie & Louis
2017-01-01T00:00:00Z
Très beau séjour dans un endroit magnifique de Magog. Nous avons profité de la belle piscine et avons adoré nos vacances. À proximité de la rue principale et de la plage. Communication très efficace avec Suzanne. Merci !
Simon
2016-07-16T00:00:00Z
The condominium is very near the lake and the town of Magog is a short walk away. The place is compact but everything you need is there. Suzanne was waiting for us and showed us around essential supplies were in the fridge & cupboards - so we were able to have tea & coffee on arrival. We did not have time to use the facilities on site, but would gladly return on future visits to Quebec.
Anita
2016-08-22T00:00:00Z
Très bien localisé. Excellente communication avant notre arrivée. Endroit chaleureux. Je recommande l'endroit et je compte y retourner!
Claire
2017-03-12T00:00:00Z
Place was great, we built a fir, watched the snow. Close wall-to-wall Town and drive to Mont Orford
Wendy
2016-12-30T00:00:00Z
Kamertype
Gehele woning/appartement
---
Type woning
Appartement
---
Geschikt voor
5
---
Slaapkamers
Magog, Quebec, Canada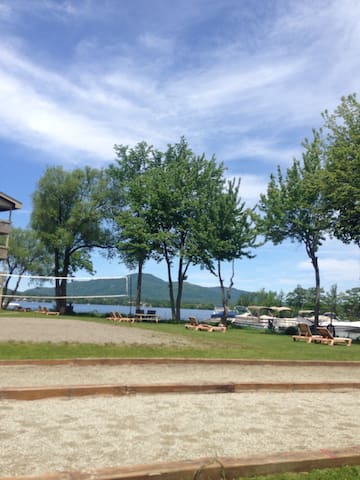 Large 3 bedroom condo on the shores of Lake Memphremagog. Pool int / ext, sauna, spa. Wood fireplace. Excellent location, just 5 minutes walk from the main street and the Merry Point and all the attractions. Overlooking beautiful water !!!
Beautifully situated, this corner unit on the 3rd floor offers a live view of the lake and the marina of Lake Memphremagog. The balcony is private and the condo is bright with its many windows. On the second floor you will find 3 closed bedrooms. The small kitchen is well equipped and bedding and bath towel are included.
The condo is located on a large plot on the edge of the water. In this area you can enjoy long, comfortable chairs, an aperitif in the swings while watching the sunset and the boats from the marina. An atmosphere of calm and serenity will be at the rendezvous. Located walking distance to the main street is packed with friendly restaurant and local flavor to shop. A bicycle and pedestrian pathway is accessible only 2 minutes from the site. Every winter it turns into a beautiful icy trail 2.5 km First Lake. Magog is an amazing city with many festivals, activities and attractions.
Très beau condo, super propre et sans oublier la vue sur le lac, magnifique! Marie-Julie a été une hôte très fiable et qui a toujours répondu rapidement à mes messages. Je suis super contente de son service et de mon séjour à Magog.
Karine
2016-06-13T00:00:00Z
Beautiful condo on Lac Memphremagog. The rooms were large, plenty of space for the five of us, the corner unit had lovely water views. I would definitely go back. Meghan
Meghan
2016-09-29T00:00:00Z
I was in charge of finding a place for our weekend. Once the guys stepped in the condo, they were very impressed. I received high fives from everyone. Very nice place and the outdoor activities looked fun. We left the cars there and walked to downtown. Everything as described. Very clean. Host very helpful. A must !
Robin
2016-09-04T00:00:00Z
Very clean and well equipped top floor, end unit condo. Lots of room for 6 people. Bring your own firewood for a beautiful roaring fire in the living room. Also, a CD player is available with aux input option to play from your own device, very convenient! In separate building is the indoor pool & jacuzzi which are a great bonus.
Sandra
2016-11-28T00:00:00Z
We enjoyed a wonderfully relaxing weekend at Marie-Julie's condo in Magog. The view of the lake and cozy layout of the apartment, along with close proximity to downtown Magog suited our needs perfectly. The beds were comfortable, the kitchen was well equipped, and the bathroom had all the towels needed for our group of five. This is an ideal getaway spot to enjoy one of the best areas in the Townships.
Sean
2016-03-16T00:00:00Z
The location is terrific - literally overlooking Lake Memphramagog and Mt Orford! We enjoyed lounging at the shore, swimming in the lake and pool, and using the BBQ and picnic area when family came over. The "private beach" is more of an access point to the lake though. The apartment itself is up several flights of stairs with bedrooms upstairs again, so be warned!
Laura
2016-08-21T00:00:00Z
Marie-Julie was very prompt in responding to all inquiries and made it easy to book and check-in. The condo is in a great location--nice view of the lake, close to town and shops and restaurants, and, important for us, to Mount Orford Park, where we went nordic skiing each day. The area is beautiful. The place was well-equipped for our stay, with all we needed in the kitchen and bathroom. The indoor hot tub, sauna, and pool was a plus.
Louise
2016-02-29T00:00:00Z
The condo was really nice! It was everything we could have hoped for. Also, Marie Julie was very quick to respond and an extremely kind and helpful host. I would recommend!
Chloe
2016-02-22T00:00:00Z
Kamertype
Gehele woning/appartement
---
Type woning
Appartement
---
Geschikt voor
8
---
Slaapkamers
Magog, Québec, Canada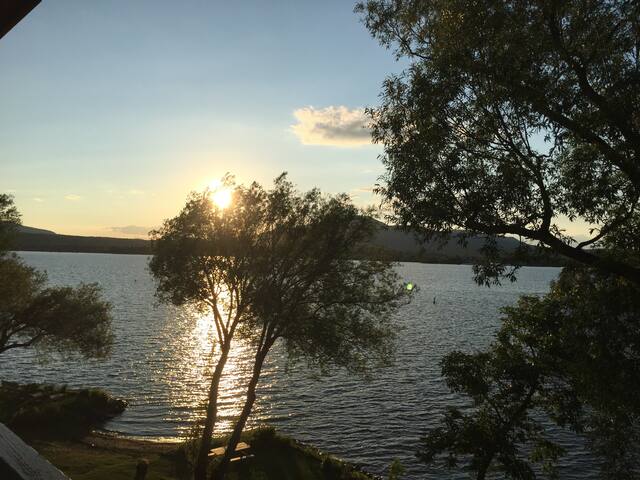 Sunny first floor. Located 5 minutes from Orford (downhill, cross country) and 20 minutes from Owl's Head (alpine skiing, cross country skiing). Located 5 minutes from downtown Magog, good restaurants and several entertainment (marina, wine road).
I cannot rate the experience at Michel's place because he cancelled our reservation one day before we were to arrive in Magog. I was shocked to receive his mater-of-fact email saying the place is not available and that the listing on Airbnb is inaccurate. We had made the reservation over the month ago and he sent us the email just one day before our trip. Since we were traveling with an infant I called him up right away and he passed me on to his wife. Upon calling his wife, who seemed sympathetic over the phone, she did not make any difference to the reservation. She informed me that the place was rented to another tenant for six months. I asked her why did they wait till the last minute to let us know. Their behavior is extremely unethical as they accepted our money as soon as i made the reservation and haven't returned it as yet. Meanwhile, they asked us to look for another place. She said she was looking for another place in Magog but could only find a one bedroom. We were four adults and an infant and a one bedroom would not suffice. Since we were visiting family in Magog who were unwell, the trip could not be postponed. After a number of stressful phone calls and emails we ended up finding another place in the last minute. We were lucky to find a lovely place in Mansonville. I would describe our experience with Michel to be nightmarish, as he cancelled our reservation and still hasn't returned the money to us. If you plan to stay with him, please ensure that he is serious about hosting you, and won't cancel in the last minute.
Srimoyee
2016-07-05T00:00:00Z
The host canceled this reservation 23 days before arrival. This is an automated posting.
Chantal
2016-07-05T00:00:00Z
Kamertype
Gehele woning/appartement
---
Type woning
Appartement
---
Geschikt voor
4
---
Slaapkamers
Magog, Québec, Canada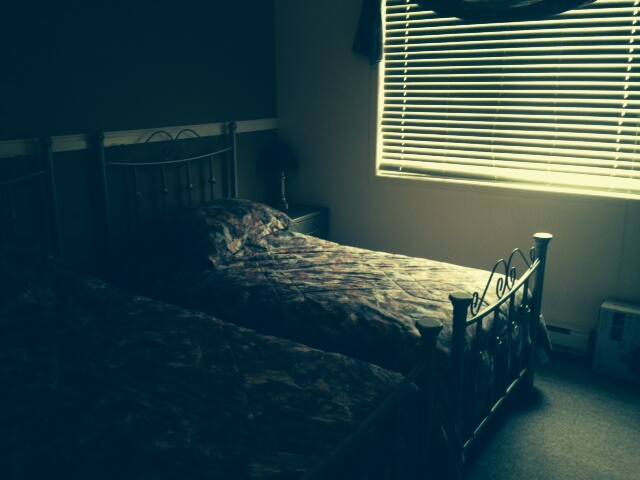 CONDO Comfortable Well located in Magog. Club Azur. At 400m of the Lake (Beach Townships). Bicycle path (Route Verte). View Orford, 6min of the mountain. 30min USA. Home 2 persons. BBQ. Patio. Bicycle path. Wireless. Cathedral. Air Conditioning. Car park. Ideal for couples, solo business. Eastern Townships events. Activities-Sport-Sport Relaxation Nature-close!
Perfect location in the heart of Magog. Comfortable for 2 people. Promotes a relaxing sport where in the Eastern Townships. Ideal for relaxing after skiing. 6min Orford. 400m from the lake and beach. 2km Center and Merry Point. Marais, bike path and nearby nature. Gym-pool ($). 5min Spa Nordic Station. BBQ-Patio. Cooked. WIRELESS. Inside hook for cycling. Car park. Located on the 3rd floors. Stairs only. No fire home. ☆ Schedule flexible schedule so special request ☆
Perfectly located in Magog. Roundabout Condo. Secure. Pleasant. Warm. Between lake and mountains, peaceful. Patio with view to the way to the beach and bike path. At 40 meters of the International Sports Complex, pool ($). Several choices of activities nearby. Rental item or nautical sports ($). 2km from the city center. USA 30min. Calm, respect for neighbors. District holiday fashion :)
Kamertype
Gehele woning/appartement
---
Type woning
Appartement
---
Geschikt voor
2
---
Slaapkamers
Magog, Québec, Canada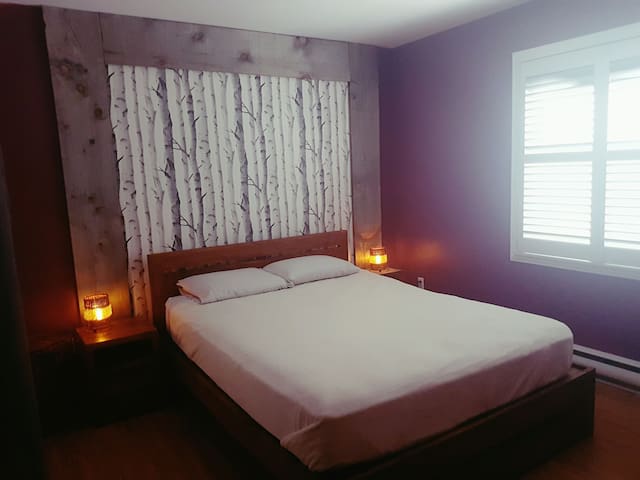 full kitchen, linens, fireplace, TV, DVD, WiFi, pool int / ext, spa, sauna, private balcony with lake views. 6 min. walk from the city center, shows, restaurants, private beach, walking trail, cycling, golf, skiing, h(URL HIDDEN)
2nd floor with private balcony, condo beautifully decorated and fully equipped. We welcome you to the condo h(URL HIDDEN) website
The beauty and tranquility of the lake the proximity of the town and the National Park of Mont Orford walking trails and bike the restaurants, terraces and theater Le Vieux Clocher near several ski centers and golf courses nearby
Très joli condo, conforme à la description. Charmante chambre à coucher et belle vue sur l'eau. BBQ et chaises longues à disposition. Quartier calme et stationnement facile. Ginette est demeurée disponible et répond rapidement aux messages et aux questions. Je recommande ce logement!
Marie-Christine
2015-05-31T00:00:00Z
Charmant condo, exactement comme sur les photos, emplacement reposant incluant plusieurs commodités très appréciées : piscine, chaises longues.... Ginette arapidement répondu à nosquestions.
Denise
2015-07-18T00:00:00Z
Lovely condo. Perfect for a couple. Setting very pretty on the lake with good facilities. Lovely hosts! Thumbs up!
Anne
2015-07-13T00:00:00Z
The place was perfect and so convenient. The hosts were so kind and accommodating. I would definitely stay there again! Only issue at all was the air conditioner, it worked but it would be great if there was one in the bedroom
Jess
2016-05-16T00:00:00Z
Bel endroiy chaleureux! À recommencer
Andréa
2016-10-02T00:00:00Z
Brève description de ces lieux : plénitude des sens !
Sylvie
2016-09-23T00:00:00Z
Tout s'est bien déroulé. Marc était très sympathique.
Claude
2016-08-25T00:00:00Z
super séjour! un endroit charmant et des propriétaires à l'écoute de nos besoins et flexibles! je le recommande à tous!
stephanie
2016-09-07T00:00:00Z
Kamertype
Gehele woning/appartement
---
Type woning
Appartement
---
Geschikt voor
4
---
Slaapkamers
Magog, Québec, Canada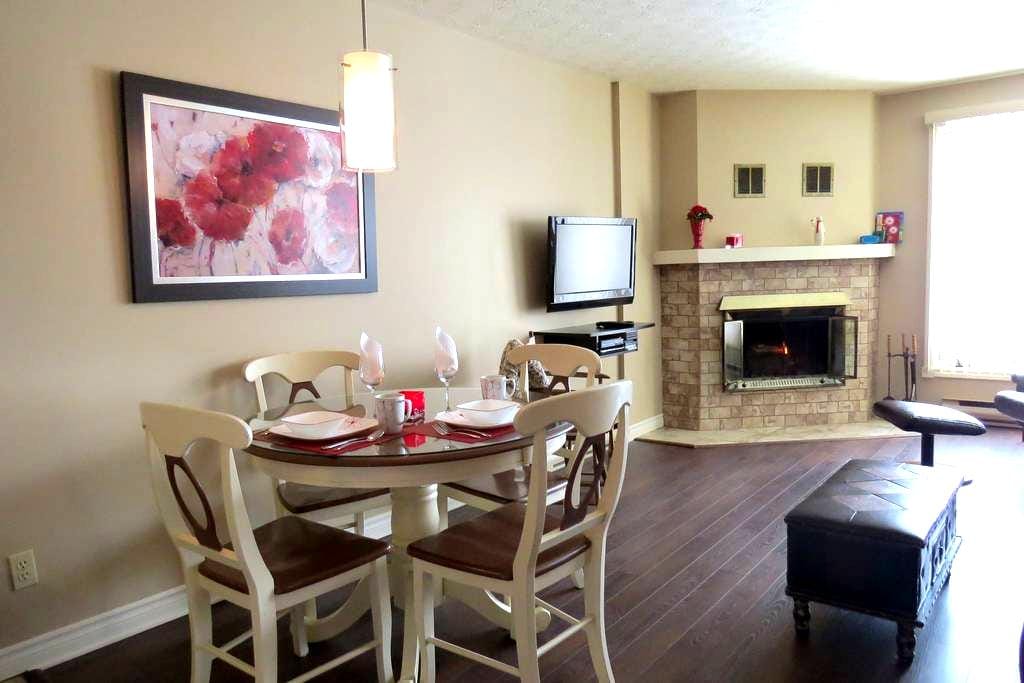 A base for the Province of Quebec as a whole or a quiet condo near Lake Memphremagog between Magog and Mont Orford, 2 bedroom, accommodates 6 people. Impeccable, very equipped, provided household, Wifi
La maison est bien située et est tenue proprement. Nous nous sommes immédiatement sentis comme chez nous. L'endroit est calme. Nous regrettons qu'il n'y ait pas eu de climatisation. Il a fait très chaud dans les chambres la nuit.
Donrock
2016-07-03T00:00:00Z
Yves place was great - close to town and the ski hill, easy to use for our short holiday. Despite bitter temperatures and wind outside, the unit was warm and very quiet. We didn't use the fireplace but it was ready to go, with firewood stacked. We arrived very late but access was easy with the door code and the unit was spotless. Thanks for a great stay.
Hagen
2015-03-22T00:00:00Z
The experience was good. The place was very clean. The place was very convenient to Mont Orford, and the town of Magog. When we had an issue, Yves was available to take care of it when we called. Nice place
Willy
2016-12-30T00:00:00Z
Nous avons passé un super séjour à Magog, le condo est très bien aménagé et très bien situé. La plage des cantons est accessible à pied, magog également. La région mérite le détour par sa nature vraie. Je recommande vivement cette location. Vivement mon prochain séjour.
Sybille
2016-08-27T00:00:00Z
Yves war ein unkomplizierter, freundlicher Gastgeber, der uns gut mit Informationen versorgt hat. Das Appartment ist sehr schön am See gelegen, Magog über eine Uferpromenade sehr gut fußläufig zu erreichen. Das Appartement ist sehr gut ausgestattet, geräumig und schön aufgeteilt. Wir haben uns zu Fünft sehr wohl gefühlt. Vielen Dank, Yves!
Sabine
2016-07-15T00:00:00Z
Kamertype
Gehele woning/appartement
---
Type woning
Appartement
---
Geschikt voor
6
---
Slaapkamers
Magog, Québec, Canada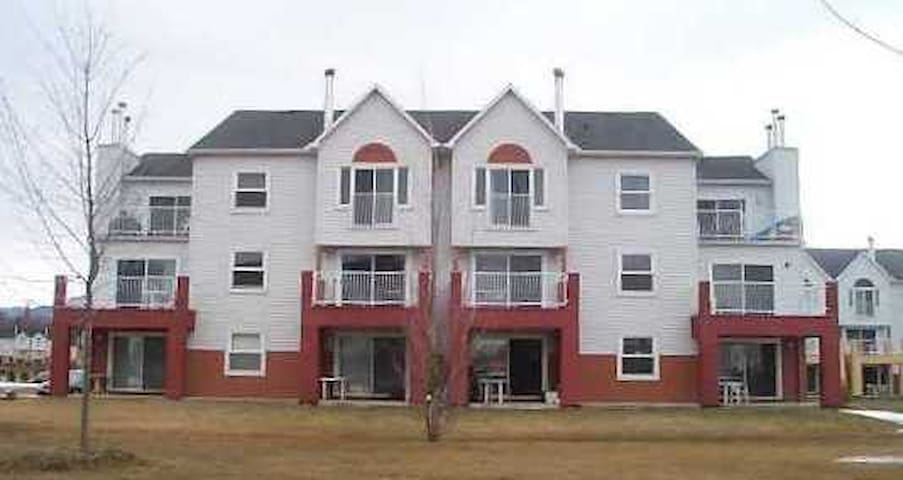 Coaticook - Airbnb
:
Gemiddeld

4.69

van

5

sterren op basis van

354

gastrecensies