Voer datums in om de volledige tariefopbouw te zien. Er kunnen extra kosten zijn en er kunnen belastingen worden toegevoegd.
10 Accommodaties
· Centralia
10 Accommodaties
· Centralia
This property, located on Lake Centralia, offers a relaxing lake front experience that's perfect for a couple's get away to hosting large families. If you are looking for a relaxing stay nestled in the woods or are into fun on the water, this property has everything you're looking for.
Escape to quiet Turtle Cove on Lake Centralia where you will be able to relax, recharge, while having fun with your friends and family. This expanded modular home offers a full kitchen, dining room, three bedrooms, 2.5 baths, with a large addition that could be just for the kids which has two futon sleepers, satellite TV, with the half bath. The living room and large addition both offer expansive views of quiet and inviting waters of Turtle Cove. While the inside is comfortable and cozy you'll definitely want to spend most of your time outdoors. Starting with the covered lanai/covered deck which offers a bar area with seating for up to 10, which is a great place to enjoy your morning coffee while you're planning your events of the day. The adjacent concrete patio is an ideal place for serving your outdoor meals while doubling as a great central location for your groups activities. The provided patio set offers comfortable seating for six but offers rail seating on the perimeter for up to 20. There is also a electrical outlet if you need to power any outdoor speakers or appliances. Just next to the patio is a very inviting fire pit which offers a large expanded metal grill in addition to a swiveling stainless steel surface that's perfect for searing. We will provide the roasting sticks and enough firewood to last your entire stay. This property has many amenities to include: Washer and dryer Extra full refrigerator with freezer chest in an external shed and a mini fridge in the bonus room. A large covered dock which offers two boat slips. A fire pit for cooking or a well used gas grill is available. A detachable floating dock which can be towed around the lake by boat and anchored to become your own private sunbathing/swim platform. A sand filled beach area for the kids including use of beach toys and rafts. Fishing, some poles will be available, but a fishing license is required by state law. Free use of the canoe, coolers and lawn chairs. Water sports on this quiet 400 acre lake if want to bring your own boat. A boatlift is not provided if you're wondering. However a public boat launch area is available. Our covered boat dock has two covered slips. A regulation washer pit with washers. If you've never played the game Washers, let us know and we will give you the lowdown. It will provide hours of friendly fun amongst your friends and family. An outdoor swing and picnic table. An aluminum canoe with paddles for the adventurous. A private driveway. The owners of the property live 40 minutes away but are available to be present during check-in to answer any questions.
Cell Phone coverage is weak near the lake with the best carriers being Verizon followed by AT&T. Expect Slow data signal. If you have a boat, there are places on the lake where a strong signal is available. Use this link to locate strong signal areas. (website hidden) All boats on Lake Centralia require a local permit that maybe purchased from the local lake patrol person at a cost of $10. If you don't already have a permit for 2015 you will need to carry $10 in cash in the event you are approached by the Lake Patrol. The water depth at the end of the dock maybe as shallow as 4ft deep depending on the time of the year. Swim with caution
Turtle Cove was wonderful! This was definitely one of our best family vacations. As my 13-year-old said, he loved being "lazy" for a few days! My kids enjoyed swimming, canoeing and fishing. Mary called us on our arrival day to provide all the information we needed and checked in with us on our check-out day. The house is extremely well-stocked with everything you need to be comfortable ... down to skewers for marshmallow roasting, sand toys, decks of cards, puzzles, games and everything in the kitchen. Thanks for a great stay!
Peter
July 2016
Mary and Larry were both awesome! This is a great place to get away and hang out on a lake for the weekend or for an entire week! Bring the family or use it as a romantic getaway. Fires, smores, fishing, boating, swimming, tanning, beach all of these common lakehouse threads apply so get out there!
Matthew
March 2016
Mary's place was awesome. There was plenty of room in her house for my group. The house is on a nice lot where it is nice a private. My kids played on the sand beach. My kid caught her first fish. We took out the canoe on the lake. Definitely going back next year. Thanks Mary for letting us stay at your lake house.
Jason
June 2016
The Turtle Cove Lakehouse is wonderful - quiet, clean, and comfortable. Views are beautiful.
Ruben
June 2016
We had a wonderful relaxing vacation staying at Turtle Cove Lake House. Mary made everything easy for us and very welcoming. Everything was available that we would have needed; even flashlights for one night that we had a storm come through and we lost power for a few hours. Our families came out to visit. We cooked outdoors on the fire pit; hot dogs, Smores and even Twinkies, and yes they were delicious. My brother brought his pontoon boat out and took us for a ride around the lake. Now we know why they call it turtle cove as there were lots of turtles out sunning. There was no internet access but that was okay with me; I enjoyed the quality time of family and friends, turtles, ducks and even the deer. I would highly recommend staying at "Mary's" lake house. It was very clean, spacious and welcoming. I am looking forward to our next vacation and hope that it will be available at that time. I plan to coordinate it with my daughters family so that the grandkids can join us at the lake with swimming and fishing, feeding the turtles and ducks. Thank you, Mary, for providing such a lovely place to stay. Yvonne & Victor Metzger Cape Coral, FL
Yvonne
May 2016
Host communication before during and after was great. Description of property was spot on beautiful lake view. Neighborhood what could see no issues on a lake Would stay there again when time permits
Karen
September 2016
The house was exactly as described. Very spacious, inside and out. Mary provided all of the essentials needed including extra bed linens, towels, and cooking supplies. The lake itself was gorgeous and calm. Although the property is very private, it's only a short drive into the towns of Centralia and Salem where you will find plenty of restaurants, grocery stores, and small town sights.
Mary
July 2016
This home is quiet and secluded - lots of fun summer ideas and relaxing during the winter. Mary is a great hostess and very good to communicate with!
Mikki
January 2017
Kamertype
Gehele woning/appartement
---
Type woning
---
Geschikt voor
15
---
Slaapkamers
3
Centralia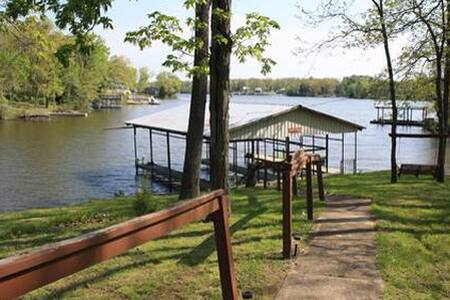 Little house in the woods, cozy, clean, private. Full kitchen, shower, close to fishing, sailing, hunting. Nice place to stay for sailing regattas, local events, or travelling through on I-64. 15 mi from Nasville IL. Clean, newer, and charming.
Little house in the woods, cozy, clean, private. Full kitchen, shower, close to fishing, sailing, hunting. Nice place to stay for sailing regattas, attending Sparta shooting complex, or just travelling through. It is clean, newer, and charming. There is a small shower, full kitchen, one bedroom, and living area. The deck looks over the woods and Kaskaskia river. When the temp is below 70 at night it is wonderful to turn the AC off, open the window and listen to nature. This unique site is located in Southern Illinois near the City of Carlyle, less than 50 miles from several airports and St. Louis, MO. Guests will have access to a variety of amenities from quaint local restaurants and shops to the bustling activities of the St. Louis area to the interesting country life of church picnics, county fairs, tractor pulls, etc. (No phone, no tv, sorry no pets) Try to meet you depending on schedule.
Neighborhood quiet. Houses separated by woods. Holiday weekends neighbors may use recreational vehicles, so not as peaceful, usually summer holiday timeframe. The river view is best during fall, winter, spring when lush foliage goes to sleep. It is pleasant to walk near the little lakes. (Sorry no fishing without me at neighborhood)
We had a nice and relaxing time at Linda's house. Upon arriving to the cabin we were pleasantly surprised by the charm of the cabin and the surrounding woods. We were able to walk around and listen gleefully to the silence. The cabin met our needs for the weekend and was full of special touches that would make anyone feel welcomed.
Deanna
July 2015
Linda's place was the perfect place for my girlfriend and myself to get away for a few days. We were a little worried about getting in after dark and driving the winding roads but it turned out to be very easy to navigate and easy to find her location. I had a few questions and Linda provided all the information that we needed. The house was small but very cozy and extremely comfortable. It was immaculately clean and exactly as described. We sat on the back porch in the morning with our coffee and watched the river winding through the trees which is probably more visible once the leaves have all fallen. The little town of Carlyle was only a few minutes away and we picked up enough firewood for the week and sat out almost every night by the fire pit. The kitchen was fully stocked with everything we needed and we made our meals there every day. We also used the little Weber charcoal grill and had some great steaks. The bed and bedroom was comfortable and the bathroom was clean just like the rest of the house. The location was very quiet and the nearest neighbor is a good distance away. Except for the occasional vehicle that drove by, we didn't notice anyone else. There is no TV/Internet as we expected which gave us a chance to unplug and unwind. We would definitely recommend this to anyone that is looking for some peace and quiet and wanting to unplug and get away. Can't wait to come back!
Jake
October 2016
Linda's house was absolutely fantastic! Everything was clean and comfortable. The house is a little off the beaten path, so it's perfect if you're looking for a night to get away from your typical motels/hotels and highway travels. I was even able to play my guitar while I was there without disturbing the neighbors. This is a great place to stay, it's definitely worth the extra drive time from the highway.
Paul
August 2015
Our hostess communicated well, but was unable to be present to show us around her beautiful House in the Woods which was immaculate. The description was perfect, but lush foliage obscured some of the river view.
Louise
August 2015
Linda's house in the woods was perfect! It was very clean and tidy and charming. Linda was very clear about communicating with us and giving good directions to the property. The kitchen is fully functional, and stocked with cookware, perfect for a night of cooking at a home away from home. I highly recommend staying here!
Caitlin
October 2015
Pros: Linda was an excellent host. Her cottage was immaculately clean, well maintained, and very comfortable (aside from a lack of air conditioning). We definitely enjoyed the outdoor fire pit :) Cons: Aforementioned lack of air conditioning and very noisy neighbors. The noisy neighbors may have been due to the fact that it was Memorial Day weekend.
paul
June 2015
If you are looking for a cozy stay off the beaten path in the woods, this is the place for you! Linda was also great at responding to emails, etc. and her directions were perfect!
Lori
September 2015
Quaint cozy little cabin, great place to disconnect and unwind. Would stay here again!
Kylanne
December 2015
Kamertype
Gehele woning/appartement
---
Type woning
---
Geschikt voor
2
---
Slaapkamers
1
Bartelso
Owned by our family since 1885, the farmhouse has historic charm combined with modern comforts including newly added bathrooms, central HVAC and new windows. It is situated on a peaceful farm setting near golf, hunting, antiquing and other attractions.
Historic Log Cabin built circa 1850 with Victorian-era section built in 1905. Recent renovations (2012) include a room addition, two updated bedrooms, two new bathrooms added and the third bathroom updated, central heating and air-conditioning. The property offers great indoor and outdoor space. Historic charm and modern essentials. 500 square foot back deck added 2016. Guests will have full access to the farmhouse and the Milk House (one of the small buildings outside) as well as the front porch, back deck and large yard. Barns, sheds, cow pasture, fields, gardens and lake are strictly off limits. Host will most likely stop in for check in and can stop by any time to answer any questions that come up.
This is a very peaceful area. The skies, lanes, trees and crops add great views throughout the day. You will need to have a car. You might go for walk/ down the country roads or for a bike ride (if you bring a bicycle).
The restored farmhouse is a gem. It was lovingly restored, with great attention to detail. The kitchen and bathrooms are fully stocked. We loved the beautiful quilts. The exterior grounds are kept pristine and watching the sunset from the front porch was lovely. You could take a nice walk from the property and the location was perfect our trip. Communication along with check in/check out was seamless. We'd highly recommend this farmhouse.
Julie
December 2016
Knowing we would arrive before the listed arrival time, I contacted the host who accommodated our early arrival. Upon arrival we found the house comfortably cool and very welcoming. The first day the host contacted me to make sure everything was o.k. and to arrange a time we could meet the next morning. The house is a short drive from the interstate, so very easy to reach after traveling on a high speed highway. Yet the house is not so close that you can see the interstate or be bothered by the traffic. We found that there were cooling breezes each morning and evening making it quite comfortable to sit outside even on very hot days.
David
July 2016
From well before we arrived at the farmhouse, Cora made us feel welcome. Since we were arriving late at night, we were concerned about finding the house and her directions were perfect. She responded immediately to all our inquiries. We walked into a beautiful home, well cared for with generations of family history. While the farmhouse itself is quite old, with even part of the original log home exposed in the dining room, all the rooms are beautifully decorated. The bathrooms and kitchen are modern in every way. Everything was immaculate. It was wonderful being on a farm, enjoying the expanse of the surrounding cornfields. We enjoyed every minute of our stay and would love to return some day. To top it off, the coffee she provided was excellent.
diana
October 2015
Our stay at the farmhouse was absolutely fantastic. Family members from three states stayed there during my nephew's wedding weekend. There were numerous oohs and aahs as each group arrived and toured the home, as each room was uniquely decorated and offered pleasant surprises. Whether it was cooking in the kitchen, enjoying breakfast in the dining room, visiting in the parlor or on the porch, walking around the property, biking down rural roads, or enjoying the unique bedrooms, everything was outstanding. Three bathrooms were great for allowing everyone sufficient time to prepare for various wedding events. Everyone wished they had an extra day or two, just to experience the farmhouse a little longer. Definitely recommend the farmhouse to others.
Paul
June 2016
The farmhouse was a perfect place for our group. It was clean, spacious, private, and peaceful. Everything we needed was available and the scenery was beautiful. The owner was very responsive and helpful, as I had never stayed in an airbnb home. It was an easy drive into St. Louis every day, and shopping and other conveniences were all on the way. I would definitely recommend this home to any family, or group gathering. It was just what we needed.
Laura
May 2016
Cora was very communicative and helpful. The house was beautiful and in a secluded location- just what I was looking for. We were driving cross-country on I-64, and this house was very convenient for us to stay in. I hope I can visit again!
Renata
August 2016
The farmhouse was a great place to stay, exactly as described. It was equipped with all the amenities needed. The cleanliness was superb. We enjoyed our stay so much and would recommend it. The host was super nice and helpful.
Rosa
September 2016
What an amazing farm-house on a working farm. The rooms are spacious and comfortable and the bathrooms are remarkably modern and clean for such an historic home. Cora has made the house such a comfortable and cozy place to stay with family while exploring the St Louis area. We thoroughly enjoyed our stay and will plan to stay again when we're back in the area visiting family.
Rachel
December 2016
Kamertype
Gehele woning/appartement
---
Type woning
---
Geschikt voor
8
---
Slaapkamers
4
Okawville
Across from St. George Church and close to all other area restaurants and St. Louis area. Large rooms in an older home, full of character. 15 X 17 tiled kitchen for cooking and baking during your stay. Access to full bath along with one of two living rooms. 2 bedrooms to accommodate 4.
Kamertype
Privé Kamer
---
Type woning
---
Geschikt voor
4
---
Slaapkamers
2
New Baden
The Gowler Lodge is a mid century brick ranch home set on the 90 acre nature preserve section of Farraway Farm in picturesque Southern Illinois. The lodge has 3 bedrooms, 1 bathroom and 1 half bath and is perfect for families, writers, hunters, etc.
The Gowler Lodge has been part of Farraway Farm's property for over 60 years. My grandfather had always rented the house. We now welcome Airbnb travelers to take in and enjoy it's recent upgrades. The Gowler is fresh for all to enjoy. Be sure to note the SolaTubes that bring natural sunlight into the living room. library, board games in the closet, kitchen supplies As needed.
According to the 2003 census, there were 785 people, 283 households, and 223 families residing in the village of Bluford, IL. The Gowler House is situated just before the iconic blue Bluford water tower. Up the road and on the left is Farraway Farm, our family's historic cow farm which currently is home to Black Angus cattle and 2 horses. Further up the road is a convenient store run by an outsider named Vick. He carries all the tobacco and alcohol products one should ever need. Car is a must. Truck is even better!
Pictures were exactly how house was set up. Lots of space to move around. The area was peaceful and not much noise. Great for a big family to spread out.
Jaclyn
July 2016
Had an enjoyable stay while our home was being painted.
John
December 2016
Yes, listing description was accurate. Things were clean and all in place. Everything was provided. We came at night and it was a little hard to see and find, but Elizabeth was accessible and helped us. The place was wonderful..cute and roomy. The yard was spacious, and the neighborhood quiet and beautiful. Pond and trails to walk.
Melissa
September 2015
Elizabeth was extremely attentive to getting us setup as easily as possible and making sure we had everything we needed. The house was clean and extremely convenient for our trip and it couldn't have been more warm and welcoming! Elizabeth is extremely accessible and answers any questions very quickly and we are looking forward to going back and staying again next year!
Chad
November 2016
What a wonderful, tranquil lodge house! Plenty of space for two to three families spending vacation together. We were thoroughly impressed with the cleanliness and comfort that awaited us once we stepped through the doors! The air conditioning definitely works. Newer updates to the main bathroom and living area were beautiful! Take a nap on the soft supple rug in the living room...our babies did! :) Plenty of outdoor space for games or nature walks...have a meander out back where the trail leads to a small hidden lake! Don't miss the black walnut tree or wild raspberries and blackberries! We witnessed wild deer, turkeys, an owl, a hawk and a few rabbits and squirrels all through the back windows while we were cooking or in our bedrooms. Pets really love the outdoor frolicking but watch the thorn bushes and ticks (this isn't a criticism, just a warning since it can't be helped no matter which wooded area you explore!) The two living areas were spacious and served different purposes. The living room offered a quiet area for contemplation or reading with a small library, fireplace and that wonderful snugly rug I mentioned previously. The den was where the TV (with cable!) was located and had pocket doors to keep out the noise from the rest of the house. Perfect as a play area for kids on a rainy day! Town is only 20 minutes down the road and there are many of the shops and restaurants you would have in a suburban area. We took a trip to Pheasant Hollow Winery and tasted some delicious fruit wines. We bought a whole case at a very reasonable price. Look for the board games in the den closet...we made use of Clue and Uno but Operation and Electronic Battleship were there too! We did not see a deck of cards but we brought our own anyway. Some minor issues: No microwave or toaster. The dishwasher was on the fritz but hopefully that will be fixed for the next guests. In our estimation there weren't a wide variety of pots/pans, baking dishes and cooking utensils to service a family that wants to make their own meals. We actually purchased a large chopping knife, a large skillet and a large glass baking dish in town in order to complete the meals we wanted to cook. Definitely check the cupboards for these items before you go shopping...and maybe bring your own in advance unless they add these in the future. The lawn in the front and back could have used a mow before we got there but they also just had a lot of rain and some big storms that passed through so that may have been the reason... All-in-all these are very minor issues! If you want comfort, seclusion and a serene experience of nature with many of the comforts of home this is your place! Elizabeth was very quick to reply to questions before and during our stay. We would stay again!
Vanessa
July 2015
Lovely home, very clean, great communication from host!
Gena
July 2015
Thank you for the beautiful home! It was perfect for our large family. We had pretty much everything we needed and it was a hone away from home. We look forward to seeing you again soon. Elizabeth was great at returning calls in a timely manner. Thanks again, Pastor Dallas and Angela Wood
Angela
August 2015
We loved this place and felt both at home and like we were on vacation - the best of both worlds. The house is lovely, of the well- made ranch style. Spacious, with nice living areas, is is set back on a nice hill with surrounding lawns sprinkled with nice old trees. The house was very clean and not only appointed with appliances and accoutrements that we needed but some basic food items that we could use. It had many towels and the second night we were there we were joined by our son and his friend. We had plenty of room and privacy. We were there for a reunion and loved driving the backroads. I went on a run each morning on the road, encountering very little traffic.
Larry
October 2015
Kamertype
Gehele woning/appartement
---
Type woning
---
Geschikt voor
10
---
Slaapkamers
3
Bluford
Very large historic centennial home and barn owned by same family since 1856. 230 acres of hiking trails, 2 fishing ponds. Winery, water skiing, boating, fishing & golf very close at Rend lake. You'll love the solitude & outdoors space. Great for couples, solo adventurers, families, reunions, spring Turkey hunters or people wishing longer stays. Pets welcomed. Fully equipped kitchen, washer/dryer, BBQ grill, fire pit croquet/horseshoes. Central air/satellite TV. 4 golf courses nearby.
Enjoy the 2 fishing ponds (fish food and worms provided). Enjoy the barn and play in hay loft or horse stalls. Hiking trails throughout the 230 acres of fields and creeks. Large living room, with fireplace (wood provided). Large screened back porch and very large back deck with lawn chairs, umbrellas and tables. Front porch swing with observation deck above front porch. As mentioned, kitchen is fully equipped with electric stove/oven, Microwave, toaster, blender, all utensils, drinking and wine glasses. Guests are welcome to utilize any and all of the 230 acres and house. Binoculars provided to view deer, turkey and other wildlife. Spring Turkey hunters and horse back riders welcomed. Horses boarded in barn free of charge with feed provided. Shawnee National Forest and Giant City state park only 1 hour away for further hiking or horse back riding. Boat storage available. I'm available at: area code three one four, seven zero seven, zero six two three. (314) 707-0623. I will strive to meet all guests expectations and can be contacted directly at area code three one four, seven zero seven, zero six two three. (314) 707-0623
The farm provides solitude while still offering necessary amenities in the house. There are two near by towns (Dahlgren & McLeansboro), both approx. 5 miles away. McLeansboro offers multiple grocery stores and several eating establishments. There are two near by towns (Dahlgren & McLeansboro), both approx. 5 miles away. McLeansboro offers multiple grocery stores and several eating establishments.
Flannel sheets and farmhouse charm ...... we met our daughter who lives in Chicago for Christmas at the farm. My husband went bird hunting and we shopped and cooked! The house is a four generation farm with exposed brick walls and a swing on the front porch. Bill, our host had provided a couple of bottles of wine and plentry of wood for the fireplace. We brought our dogs and the farm house provided the perfect enclosed porch for them to hang out plus plenty of room for morning walks on the 200 acre property. Bill had a Christmas tree and other decorations to make our holiday perfect! We hope to return in late February ...
Donna
December 2016
The description of the home was accurate and the surrounding land provided a beautiful, picturesque setting. It is an old home, so be prepared for older amenities, including a single restroom. Nonetheless, it was perfect for what our family was seeking out of the weekend, which was dedicated family time. I would definitely recommend this location for the right event. In addition, the seller was top notch in customer service striking the right balance of staying in contact with me and providing support. Bill gets an A+!
Heather
July 2016
Bill was a very welcoming host! Looking forward to seeing what upgrades are in store for this farm!!
Noreen
September 2016
We had a wonderful time staying at this beautiful century home. The house is even prettier than the pictures --especially the kitchen area. Bill stayed in touch with me and answered all of our questions. He was extremely nice and welcoming.
Laura
September 2016
Lovely old home designed for groups.
Erin
July 2016
Bill was a great communicator. He kept in touch prior to our arrival and asked us daily how things were going and if we needed anything. The location is WAY off the beaten path - so perfect if you really need to get away (my Verizon phone got service, but our friends service did not), this is the spot for you. Make sure you have everything you think you might need - the closest stores are approximately a 25 minute drive away. The ponds were fun to go to & feed the fish, wear bug spray though, it's farm & woods all around.
Joanie
August 2016
Peace and quiet! Loved the home and the surrounding grounds. It is a place to get away from it all. The guys loved the fish pond, and I loved the huge deck to sit and relax.
Lisa
September 2016
Kamertype
Gehele woning/appartement
---
Type woning
---
Geschikt voor
13
---
Slaapkamers
4
Belle Rive
Cozy, individual rooms with access to the clubhouse with TV, fireplace, kitchen, WiFi, exercise room plus bird hunting, hiking and shooting range available. Shared bathroom with shower.
Bill and his family are fabulous hosts; they make you feel right at home and are friendly and very generous people. The Lodge is definitely rustic, but comfortable and simple and I thought a very interesting and cozy retreat.
Frances
March 2016
loved the people at the hunting lodge. We were treated like part of the family. We would come back anytime.
Molly
January 2016
Kamertype
Privé Kamer
---
Type woning
---
Geschikt voor
2
---
Slaapkamers
1
Vandalia
My place is on the lake! You'll love my place because of the great views of the lake and the vaulted ceilings and loft that give it a real cabin feel! It is extremely clean and offers your own private bedroom and bathroom. My place is good for couples, solo adventurers, and business travelers.
Kamertype
Privé Kamer
---
Type woning
---
Geschikt voor
2
---
Slaapkamers
1
Vandalia
It's a very nice 3 bedroom trailer completely furnished 2 miles from rendlake beach marine and boat dock. The home is located out in country picnic table grill and nice quit place to enjoy your stay or be loud and have a good time
Kamertype
Gehele woning/appartement
---
Type woning
---
Geschikt voor
4
---
Slaapkamers
3
Sesser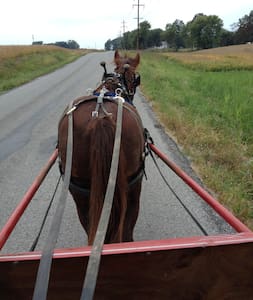 Beautiful 1 acre property with lake view. 6 bedrooms, 3.5 bathrooms. Close to Greenville College. Also close to the St. Louis area for families wanting to visit St. Louis while staying away from all the congestion.
The house and all of its contents are yours to use. The only off limits are the boat and jet ski's. I will be available for any questions or last minute needs.
Jeff's house was absolutely amazing. It was priced super fairly for how amazing the place is. The pictures do not do it justice and we would love to stay here again in the future. Thank you Jeff!
Garrett and Ewa
May 2016
Beautiful house by the lake. House is huge and has everything. Our host Jeff was really good with communication. We would go again definitely.
Hardik
March 2016
Beautiful home on Bond lake. Plenty of space and bedrooms, kitchen had everything we needed. Great back-yard & deck.
Dan
November 2016
This was my first experience with Airbnb and it couldn't have gone better. Jeff was a wonderful host and his home was everything described and neat as a pin. He provided a detailed instruction and items location list that allowed us the freedom to use his home as if it were our own. Our experience was a welcome relief for a busy wedding week. Thanks Jeff and Airbnb.
ann
September 2016
Kamertype
Gehele woning/appartement
---
Type woning
---
Geschikt voor
12
---
Slaapkamers
6
Greenville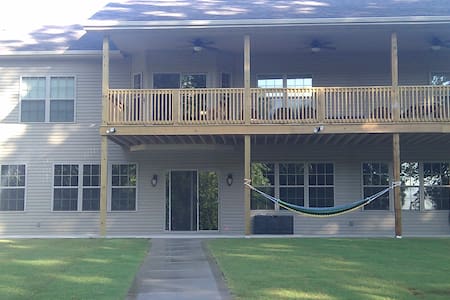 1

–

10

van

10 Accommodaties