Large room in a house bordering ideal starting forêt.Point for hikers, cyclists, "discoverers" of the region. Tips thermal randonnées.Bains to vicinity.Possibility local breakfast, price on request.
Large bright room in quiet maison.Situation 5 minutes from the center of Bulle. Forest two (URL HIDDEN) dwelling is near activities suitable for families, restaurants and nightlife.
very quiet, well wooded area.
C'était super si nous devions revenir dans cette belle région nous retournerons volontiers chez Isabelle tout y est pour vous sentir bien le confort la propreté une salle de bain spacieuse une jolie chambre confortable avec un petit plateau de bienvenue qui nous a fait très plaisir, on ne manque absolument de rien. Vous pouvez y aller les yeux fermer.
Marion
2016-10-08T00:00:00Z
Séjour agréable dans la maison d'Isabelle, nous n'avons manqué de rien. Isabelle a beaucoup de bonnes adresses et de conseils à nous donner pour profiter un maximum de cette belle région. A recommander !
Laura
2016-08-18T00:00:00Z
Maison d'aspect discrète de l'extérieur mais superbe à l'intérieur. C'est un endroit calme où on s'est bien reposé. Isabelle est sympathique et chaleureuse et toujours joignable. Dommage qu'on n'ait pas passé plus de temps dans cette endroit situé entre lac et montagne. À recommander sans aucune hésitation.
Gerard
2016-08-22T00:00:00Z
Wir waren sehr zufrieden mit der unterkunft, dehr sauber- leicht zu finden von der veloroute - hat uns bulle gezeigt - wo wir essen können - unsere velo - reparatur machen, die zwar sehr teuer war- der heimweg vom uentrum ist einfach zu finden - frühstück war auch super. Danke für alles und wieder einmal.
Tonie
2016-08-05T00:00:00Z
If you wish a kind host and a big, luminious and quiet room in a well situated apartment, go to Isabelle's. Si vous voulez un bon accueil et une spacieuse chambre, silencieuse et lumineuse, dans un appartement bien situé en ville... logez chez Isabelle!
MARIA (PRABHA)
2017-04-07T00:00:00Z
Accueil souriant. Nous etions attendus. Le logement est calme, tres propre, avec l'accès a une grande salle de bain avec douche et baignoire. quelques échanges agréables, Isabelle met a l'aise et est a notre disposition si besoin. Il y a une place pour stationner un vehicule. nous recommandons cette adresse.
Arlette Et Yves
2016-09-25T00:00:00Z
Cosy et douillet, la maison d Isabelle est tres agreable avec plusieurs terrasses ou il fait bon s'y poser. Isabelle met tout en œuvre pour que vous y sentez bien. L'endroit est très calme.
Edwinne
2016-08-13T00:00:00Z
Isabelle is a great host and her place is super!! Highly recommended!
Mark
2016-09-29T00:00:00Z
Kamertype
Privé Kamer
---
Type woning
Huis
---
Geschikt voor
2
---
Slaapkamers
Bulle, Fribourg, Zwitserland
Willkommen, Willkommen, Bienvenue! Nahe Bulle Stadtzentrum und zu Bouleyres Wald zu Fuß. Genießen Sie Gruyere Lake (5 min mit dem Auto), die Lemanic Küste, oder die Mountain Resorts: Berra, Moleson und Charmey Ideal für alle Jahreszeiten: Ski, Schlittschuhlaufen, Wandern, Schwimmen im See, heiße Bäder in Charmey, Käse oder Schokolade Herstellung Besuche ... Die besten Käse in Gruyère (15 min mit dem Auto) und beste Schokolade in Broc (15 min mit dem Auto)
Es gibt eine schöne Ansicht der alpinen Bergwelt. Es gibt ziemlich viele Treppen im Haus und keinen Aufzug. Dies könnte für sehr junge Kinder ungeeignet sein.
Das Haus befindet sich auf einem Sackgasse, die die Gegend ist sehr ruhig und ruhig macht.
It was an amazing stay. House and room are super clean, tidy and with wonderful forniture. We had a very comfy bed and also had a private bathroom. Communication with Emannuelle was fast and easy and check in was very flexible and simple. We were greeted with warmth and cordiality and got very good advice on places to visit and restaurant. We will come back!
Elisa
2016-10-30T00:00:00Z
We (me and my girlfriend) really enjoyed stay in Emanuelle's apartment. Her house is in nice and calm part of the town Bulle. Guest room is really amazing mainly because of roof windows - so you are getting asleep under sky full of stars.
Marian
2016-07-05T00:00:00Z
Emannuelle ist eine großartige Gastgeberin! Alles lief mehr als problemlos ab, ich wurde vom Bahnhof abgeholt und schließlich auch noch zu meiner nächsten Unterkunft gefahren. Die Gastgeberin und ihr Mann sind sehr höflich, gastfreundlich und weltoffen. Man hat mir vorzüglichen Wein serviert und spezielle Tipps gegeben. Fußläufig ist die Innenstadt gut zu erreichen und in der Natur ist man in 5 Minuten. Ich kann diese Unterkunft nur weiterempfehlen.
Katharina
2017-02-26T00:00:00Z
Emmanuelle, nous a très bien accueilli, notre arrivée a été facile, agréablement et efficacement expliquée par avance. La maison est très accueillante et très bien entretenue. Nous serons ravis de revenir à nos prochaines vacances. Cerise sur le gâteau, la ville de Bulle et ses environs sont un endroit idéal à visiter en moto.
Aileen
2016-08-28T00:00:00Z
I enjoyed my stay with Emanuelle and Stephan. They are very welcoming and interesting people who have lived in many places around the world. Emanuelle offered me espresso and allowed me full use of the kitchen as I desired. Stephan even had dinner in town with me which was lovely since I was traveling alone. Stephan also shared some lovely wine with me. They were both very helpful, gave me travel tips, and suggested helpful apps (meteo swiss is great for predicting weather). Their house is beautifully but simply decorated in the Swiss style. The bedroom was spacious, clean, and comfortable. One note is that you might bring eyeshades for sleeping since there are big skylights in the room. I used their home as a base to visit Gruyeres (for the Giger museum, castle, and fondue) and the Cailler chocolate factory where I did a macaron making class. I used a car to travel to these places but the house seemed close to buses etc. You can walk into Bulle for dinner etc in 10-15 minutes. I highly recommend staying here!
Jessica
2016-06-13T00:00:00Z
Kamertype
Privé Kamer
---
Type woning
Huis
---
Geschikt voor
2
---
Slaapkamers
Bulle, Fribourg, Zwitserland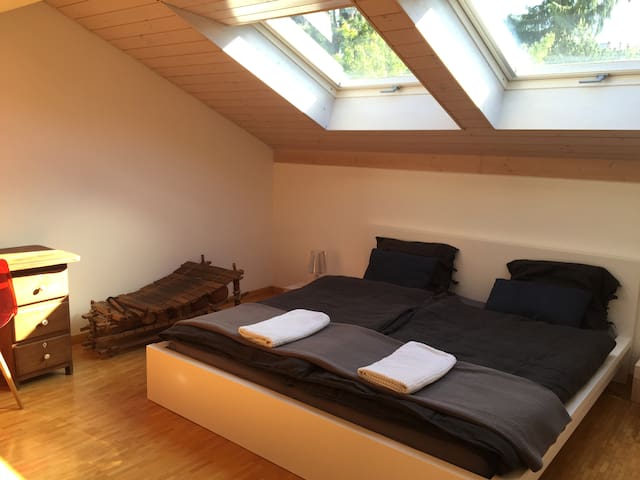 Moderne 4 Schlafzimmer, 3 Badezimmer Haus mit Blick auf die Alpen. Fußbodenheizung mit Holzofen. Garage, große Terrasse und Garten. Parkplatz. Im Herzen der Region Gruyere, tolle Wanderwegen und 30 min zu Skigebieten. Satelliten Fernsehen.
Ansichten der Alpes
Die Gruyere Region ist in den Ausläufern der Alpen und hat eine wunderbare und abwechslungsreiche Wanderwege. Es ist auch leicht mit dem Auto zu Vevey und Montreux am Genfer See und nach Bern, der Hauptstadt (40 Minuten) und der Altstadt von Freiburg.
Host was friendly and showed me around the house inviting me to use the kitchen, TV, washer/dryer, etc. I made the arrangement at the last minute, and the host was very accommodating.
Clare
2015-07-12T00:00:00Z
Une très bonne adresse. Suzan nous a rendu la vie très agréable et facile! Chambre et salle de bain rien que pour nous!
Cécile Et Sebastien
2015-07-30T00:00:00Z
Susan's house is in a nice neighborhood. The view was great and the house was comfortable. We were there only for a day but she took the effort to (SENSITIVE CONTENTS HIDDEN) some restaurant recommendations for us in the evening.
Shilpa
2016-03-22T00:00:00Z
Très bon séjour à Bulle. Merci :-)
Sissy
2015-09-17T00:00:00Z
The host canceled this reservation 44 days before arrival. This is an automated posting.
Gary
2016-05-08T00:00:00Z
The place was in really good condition, and surrounded with a beautiful view of the mountains. A bit of a walk from the Bulle center. Everything was clean and tidy, and the room was quiet and comfortable. A helpful and a nice host. Thanks!
Lauri
2017-02-17T00:00:00Z
A wonderful place to stay. Susan made us feel right at home. The room was very clean and comfortable and Susan was a gracious host.
Leitha
2015-09-22T00:00:00Z
Susan and her home were absolutely amazing!!! My boyfriend Ron and I couldn't have asked for a warmer welcome. The house is beautiful, clean and extremely easy to find. 2km from downtown, very convenient to enjoy the city life!!! Susan was fabulous to talk to, and so helpful with recommendations for hiking adventures. We can't wait to go back for another visit to the Gruyere area, as well as to see her again!!! Highly recommended!!!
Brittany
2015-09-13T00:00:00Z
Kamertype
Privé Kamer
---
Type woning
Huis
---
Geschikt voor
2
---
Slaapkamers
Bulle, Kanton Fribourg, Zwitserland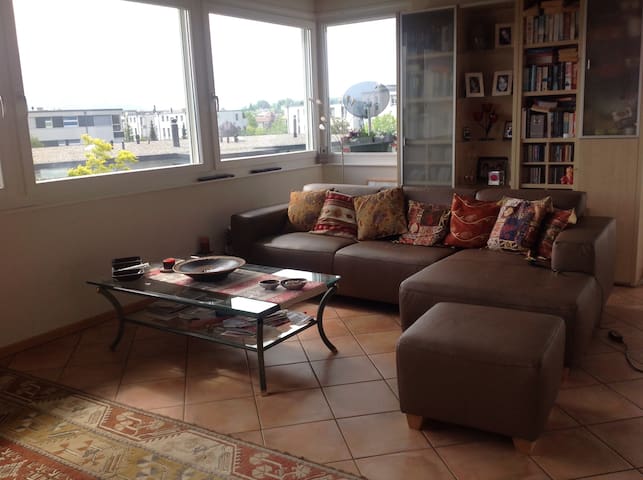 de advertentiebeschrijving klopte voor mij persoonlijk met de realiteit. Alles was in orde; keuken en kamer de bijkomende basis benodigdheden waren netjes en proper. Het huis was niet te ver gelegen van het centrum en het station. de buurt was ok.
Nicolas
2015-01-16T00:00:00Z
Really nice place. Calm and very clean place. I would recommend it to anyone. I just did not like the fact that the host thought i took her towels with me. She could have checked first. A little incident can spoilt the whole thing. Still a nice place to go to.
Rania
2015-02-03T00:00:00Z
J'ai passé un excellent moment sur BULLE et MONIQUE m'a bien aidé pour que ce séjour soit le plus agréable possible avec un excellent petit déjeuner complet et un apéritif dînatoire avec produits du terroir gruyérien - son accueil a été chaleureux, une conversation agréable, une mise à disposition des lieux qui met à l'aise, attentive et discrète, une belle personne et une maison confortable avec jardin car en rez de jardin - je reviendrai rapidement sur place de confiance, comme à la maison - merci MONIQUE
jean
2016-07-07T00:00:00Z
The host canceled this reservation 3 days before arrival. This is an automated posting.
Alyne63
2016-04-29T00:00:00Z
Une jolie petite maison au calme à seulement 5 minutes à pied de la gare de Bulle. J'ai passé trois jours vraiment agréable et sympathique avec Monique :-) qui est une hôte géniale. Il y a tout se qu'il faut pour passer un bon séjour !
Mélisande
2015-05-07T00:00:00Z
Accueil sympathique, Monique est même venu à notre rencontre car la rue où elle habite comporte plusieurs embranchements. La chambre est calme et propre, ainsi que la salle de bains. Café ou thé mis à disposition le matin.
Elizabeth
2016-09-04T00:00:00Z
I had the placer to stay at Monique house. The house is very warm and causy. extreme tidy and modern, 5 minutes walk to the center of Bulle. the host is very nice and helpful.
Angelo
2016-01-15T00:00:00Z
Kamertype
Privé Kamer
---
Type woning
Huis
---
Geschikt voor
2
---
Slaapkamers
Bulle, Fribourg, Zwitserland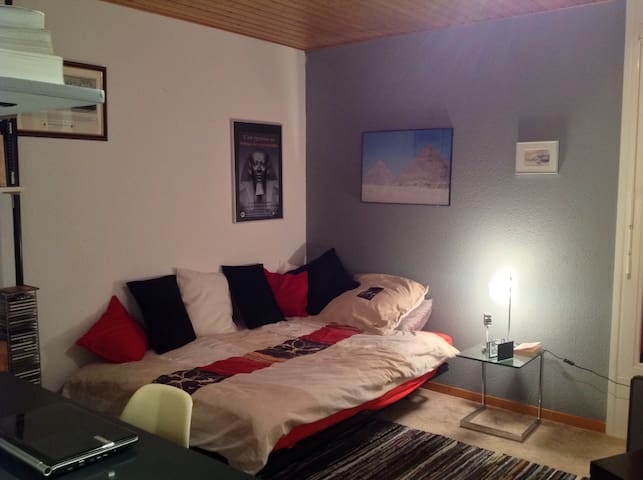 Cette chambre spacieuse avec lit double, un accès bureau etc. à une terrasse privée. Vue sur Alpes. Utilisation de la cuisine, salle à manger, salon.
Courte distance de Bulle, à proximité de Gruyères, belle vue sur les montagnes
Il y a une belle vue sur les montagnes et à seulement 10 minutes à pied du centre de Bulle.
muy gentil y comedida
David Sebastian
2016-12-12T00:00:00Z
Very good experience. Susan was very kind. Everything was as described. It has been also nice to talk with Susan. I strongly suggest this accomodation.
Paolo
2016-03-21T00:00:00Z
It is a very nice stay and visit. The house is in a nice neighbourhood, quiet but also get a splendid view of the mountains. The room and bathroom are clean, and the bed is big and comfortable. Sue is a very nice host. I have no problem finding everything needed, making a dinner. She is also an interesting person, and we had a really nice talk. I would definitely recommend this to everyone.
Tony
2016-04-06T00:00:00Z
Susan ist eine sehr liebenswürdige und angenehme Gastgeberin. Das Zimmer ist schön und zweckmässig eingerichtet. Die Benutzung von Badezimmer und Küche ist problemlos. Ruhige Lage, Zentrum zu Fuss in 15 min erreichbar oder mit Bus, Haltestelle 2 min. Wir waren sehr zufrieden und kommen gerne wieder.
Ulrich
2017-01-29T00:00:00Z
Lovely host, made me feel right at home! Short walk to town and Bulle train station.
Lauren
2016-01-17T00:00:00Z
J'ai passé un agréable séjour chez Susan. C'est une hôte très gentille chez qui il fait bon vivre. Je la recommande vivement. :-)
Mélisande
2016-10-17T00:00:00Z
Great stay! Susan is a kind and comprehensive person with good advices. Dont be afraid she speaks french and english so don't hesitate!
Darry
2016-06-02T00:00:00Z
Susan is a lovely host, her apartement stay on a perfect place in bulle, where you have a beautiful view to the mountains. The room is nice and bequem, where you have your privat garden and sitplace =)
Priska
2016-08-10T00:00:00Z
Kamertype
Privé Kamer
---
Type woning
Huis
---
Geschikt voor
2
---
Slaapkamers
Bulle, FR, Zwitserland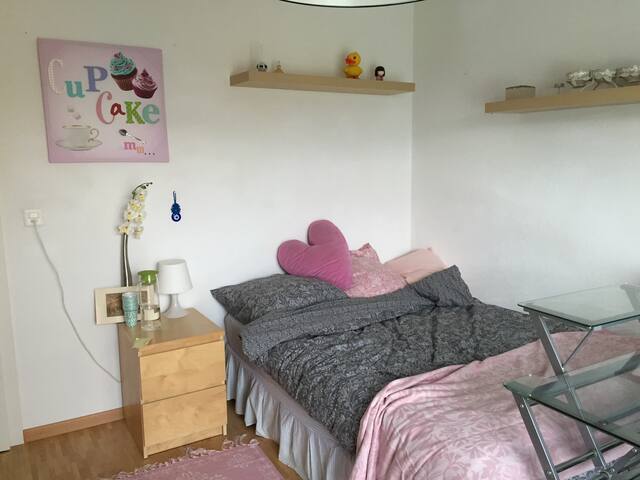 Angenehme Wohnung 1 Moderne Zimmer-Bungalow in einer ländlichen Gegend, 5 min. Fahrt vom Stadtzentrum entfernt. Sehr gut eingerichtet und ausgestattet wie zu Hause fühlen. Gelegenheit zu sein, ruhig zu studieren. Terrasse und Parkplatz zur Verfügung. Kostenloses Kinderbett auf Anfrage.
Studio von 42 m2, kürzlich erbaut. Independent. Sehr gut mit Waschmaschine und Trockner. Die Küche ist gut (website hidden) Flachbild-+ WiFi. Mit Blick auf die Landschaft und die Voralpen. Bettwäsche und Handtücher werden gestellt.
Genießen Sie die Ruhe und eine natürliche Umgebung. Schneller Zugriff auf die Stadt.
Nous avons séjourné 5 jours à Sweetbulle. Nous avons été très bien accueilli dans ce studio bien équipé et d'une propreté impeccable. Très bonne localisation pour visiter la région Fribourgeoise pour les gens avec un véhicule. Parfait pour un couple ou une famille avec un bébé. Nous avons grandement apprécié la présence d'une chaise et d'un lit de bébé. Information disponible sur les activités de la région. Les hôtes sont vraiment charmants et nous y retournerions à nouveau sans hésiter.
Frederic
2014-09-20T00:00:00Z
Sweetbulle est un studio super joli, propre et équipé de tout ce qu'il faut. C'est un endroit dans lequel on se sent tout de suite comme à la maison. Sweetbulle se situe au calme mais le centre-ville n'est pas loin. C'est un logement super moderne et spacieux. De plus, les hôtes sont super gentils et adorables, leur accueil est très chaleureux et ils font toujours attention à ce que tout va bien. Sweetbulle est vraiment mignon.
Alessia
2015-11-03T00:00:00Z
Mon séjour dans le logement c'est très bien déroulé. L'accueil a été chaleureux. Rebecca est présente quand on en a besoin et très discrète le reste du temps. Les photos sont parfaitement conformes à la réalité. Le studio est très bien équipé ! Le studio est un peu loin du centre, donc une voiture est obligatoire. Je recommande le studio à tout le monde !
Noémie
2016-09-25T00:00:00Z
Les hôtes sont adorables, accueillants et prévenants; le logement est agréable, confortable et soigné. Ce studio tout équipé est très bien situé, à la fois au calme et à quelques minutes du centre-ville. SweetBulle s'avère être une solution idéale pour qui souhaite découvrir la Gruyère en toute autonomie. J'y aurai passé, pour ma part, un séjour plus que sweet...
Dorian
2014-12-31T00:00:00Z
Rebecca and Frederic were fantastic hosts, making me feel welcome from the moment I arrived after a two hour drive from Zurich airport. I was in Bulle to study at a local university and was really lucky to have found Sweetbulle. The apartment looked just like it did in the photos, and was even better equipped than I imagined. Fantastic wifi, cable TV with English news channels, fully equipped kitchenette, washing machine, dryer, ironing board and a really comfortable bed ! The studio was clean and had everything that I could have needed for a few weeks' stay! In fact, they were so thoughtful that they even brought in an extra shelf for me to place my books when they knew that I would be studying. Throughout my stay,Rebecca made sure that the kitchen was stocked up with coffee capsules etc and I really enjoyed all the sweet treats she prepared. Rebecca and her family lives in a separate apartment above the studio and that was good for privacy but also meant that someone was always around if I ever needed any help. I was on my own and had plenty of space, but the studio will be comfortable for a couple or two friends. The apartment is in a beautiful and quiet residential part of town, about 5 minutes drive or 30 minutes walk from the town centre and train station. Will be perfect for anyone with a car looking for a base for easy access to slopes (its less than 15 minutes away from Moleson and under an hour away from Verbier) or to check out the sights in Bulle and neighbouring Gruyere and Fribourg.
Sze
2015-01-31T00:00:00Z
Kamertype
Gehele woning/appartement
---
Type woning
Huis
---
Geschikt voor
2
---
Slaapkamers
Bulle, Kanton Fribourg, Zwitserland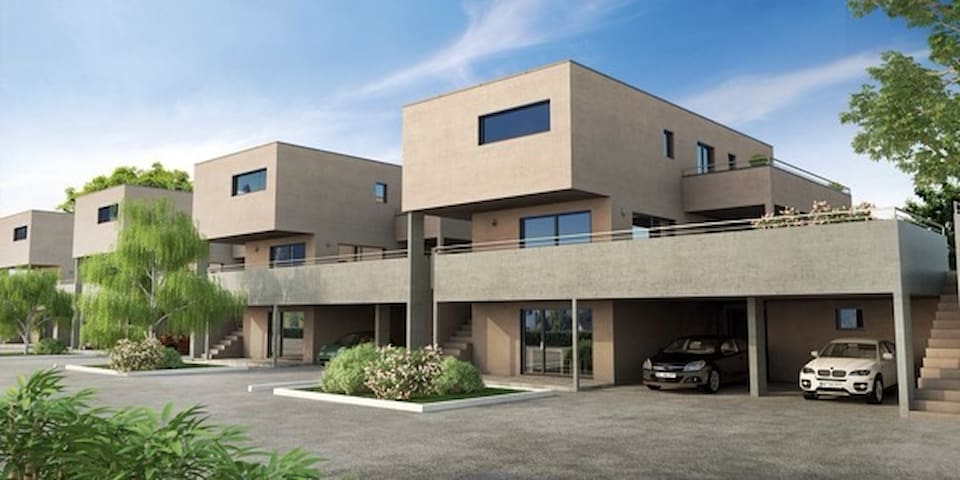 - Maison, intérieur douillet aux couleurs chaudes. Poële suédois, cuisine agencée. Plein pieds sur jardin et terrasse. - A proximité : bains thermaux, piscine, télécabine, parapente, pistes de ski Nombreuses randonnées sont proposées à partir de ce lieu - Du 7 novembre au 1er février plus d'ensoleillement direct sur la maison
Maison duplex ouvert, chambre à coucher lit double + lit au salon
This home is so very charming, perfect that it's in Charmey! It's very colorful, cozy and central to all your tourist attractions - there's a bus stop right across the street. And if you drive, Maison Cailler is a mere 10 minutes away, Bains de la Gruyere 2 minutes. Even though we arrived early unannounced, Marie José was very accommodating and always made sure she would be reachable. The house is suitable for families or large parties, and the garden outside is lovely.
Carrie
2016-09-18T00:00:00Z
Un vrai havre de paix. Maison charmante tout comme sa propriétaire. Idéal pour un week-end en amoureux. Nous recommandons vivement !
Dunia
2017-02-05T00:00:00Z
Marie José vous recevra comme des rois ! Hôte chaleureuse, accueillante et très avenante. Cadre magnifique , autour de la maison une terrasse avec végétation, vraiment agréable offrant une vue imprenable sur la montagne. Charmey est une petite ville paisible avec toutes les commodités nécessaires à votre séjour.
Oriane
2016-08-31T00:00:00Z
Eine charmante und kreative Unterkunft mit bestens ausgestatteter Küche und toller Aussicht. Es war sehr ruhig und man hörte nur das Rauschen vom Bach nebenan. Marie-José ist eine tolle Gastgeberin und es hat alles wunderbar geklappt. Ein Highlight ist der romantische Garten.
Kim
2016-06-06T00:00:00Z
Maison tres sympa, chaleureuse, bien équipée... Un excellent accueil.... Une region magnifique . Nous comptons bien y refaire un petit sejour !
Catherine
2016-07-18T00:00:00Z
Le duplex est très accueillant et très confortable. Il y a plein de livres à lire et de musique à écouter et un bon feu de cheminée. La cuisine est spacieuse, la terrasse ensoleillée
Laurence
2017-02-25T00:00:00Z
Marie-Jose met us on arrival and was extremley helpful. she had fresh provisions for us on arrival which was very sweet. She also gave us slippers to use whilst there. I wonderful clean place with plenty of character
mat
2016-06-20T00:00:00Z
Un appartement à louer les yeux fermés, un super accueille, Marie José veillera a votre confort! Idéal pour les amateur de randonnées. La vallée de Charmey est une merveille....
vincent
2016-04-22T00:00:00Z
Kamertype
Gehele woning/appartement
---
Type woning
Huis
---
Geschikt voor
4
---
Slaapkamers
Charmey, Fribourg, Zwitserland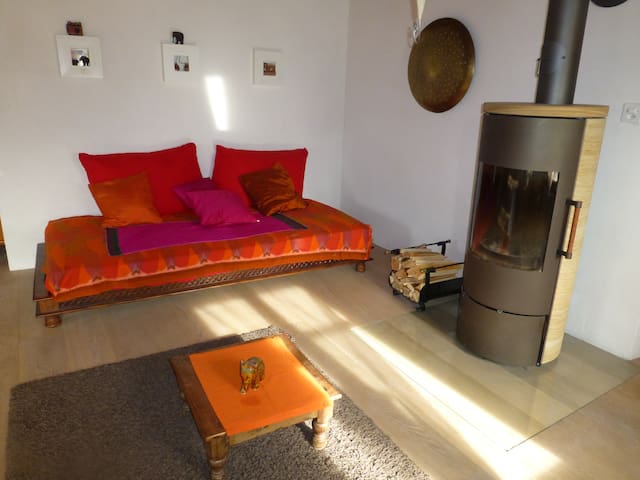 Dans la verdure des préalpes fribourgeoises, située à 150 m. des Bains de la Gruyère, dans un quartier résidentiel et tranquille, cette grande chambre avec salle de bains privative vous attend pour une petite escapade ou un plus long séjour.
La chambre se trouve au rez-de-chaussée d'un chalet typique de la région, et sa salle de bains avec douche confortable y est attenante. Lit de bébé à disposition, majoration du prix de 20 € par nuit. Pour les sportifs, dans votre chambre, vous pourrez en plus profiter d'un vélo d'appartement, d'un élliptique, et d'une cabine sauna/infra-rouge. Devant votre chambre, vous avez un petit jardin. Nous vous offrons aussi l'accès à la terrasse équipée de chaises longues par beau temps.
Le centre du village, avec ses magasins et restaurants, se trouve à 5 minutes à pied, Les Bains de la Gruyère à 2 minutes. Le chalet est dans un quartier résidentiel calme et tranquille. Vous bénéficiez d'une place de parc privative.
Anne has been a wonderful host during my stay in Switzerland and she totally offers the well known swiss hospitality, preparing breakfast for us everyday and picking us up when we came. It was a wonderful stay with Anne! Merci beaucoup!
William
2017-02-19T00:00:00Z
Everything was very nice. Anne was a very patient and sweet host. Great location in Charmey!
John
2016-09-25T00:00:00Z
Super chambre pour ma mère qui a pu se reposer et profiter des bains. Elle a reçu un accueil très chaleureux de la part d'Anne et son mari. Le temps était au rdv et les gens au village très agréables.
Maxime
2016-12-02T00:00:00Z
Die Gastgeberin war sehr freundlich und zuvorkommend. Das Zimmer ist sogar noch grösser als es auf dem Bild aussieht, und es gibt sogar eine kleine Sauna. Ich kann den Aufenthalt nur empfehlen.
Andreas
2016-10-30T00:00:00Z
Nous avons passé 3 jours merveilleux chez Anne. Son chalet est situé face à la montagne, avec une vue panoramique à couper le souffle. Vous serez en 1min aux bains de Charmey et en 5 au centre ville. La chambre est très grande, avec une salle de bain attenante très comfortable et grande également. Nous reviendrons à tous les coups :) Merci Anne pour ce séjour mémorable !
Elsa
2016-05-17T00:00:00Z
En un mot: parfait En plusieurs: La chambre est très agréable, le lit fort confortable, la douche et salle de bains impec, tout est conforme aux photos. L'accueil de Anne et Jean-Baptiste est des plus convivial, chaleureux et adapté aux souhaits des voyageur, avec beaucoup de gentillesse et de serviabilité manifeste pour parer à d'éventuels imprévus. Nous n'avions qu'une nuit à disposition, mais nous serions resté volontiers une semaine, et nous reviendrions sans hésiter. Le petit-déjeuner fut un excellent moment de convivialité à quatre. Aussi savoureux que généreux, de qualité, et même les cappuccini vous transportent immédiatement en Italie. Quand à Dalton, le petit chien de la maison, il est très gentil et drôle. De quoi réconcilier tout le monde avec la gente canine. La localisation est parfaite, à 2min à pied de tout .... Bref: comme dit au début, et un vrai très bon moment de vie.
Pierre
2016-08-07T00:00:00Z
Nous avons passé une semaine à charmey, nous y cherchions le calme de la montagne et le charme de la Suisse, et bien nous sommes ravis! C'était réèllement un séjour super! À savoir, Anne (l'hôte) étant absente, nous avons eu accès à la cuisine moyennant un supplément pour le nettoyage, mais l'annonce initiale était seulement pour une chambre (à noter pour les longs séjours). Anne est très arrangeante et a pu répondre rapidement à nos questions. Tout était conforme à l'annonce, et c'est plus beau en vrai qu'en photo! Merci Anne!
Jakou
2016-07-17T00:00:00Z
We spend a wonderful time in the Chalet. Annie and her husband are nice and friendly people. We totally enjoyed our stay!
Mikhail
2016-08-01T00:00:00Z
Kamertype
Privé Kamer
---
Type woning
Huis
---
Geschikt voor
2
---
Slaapkamers
Charmey, Fribourg, Zwitserland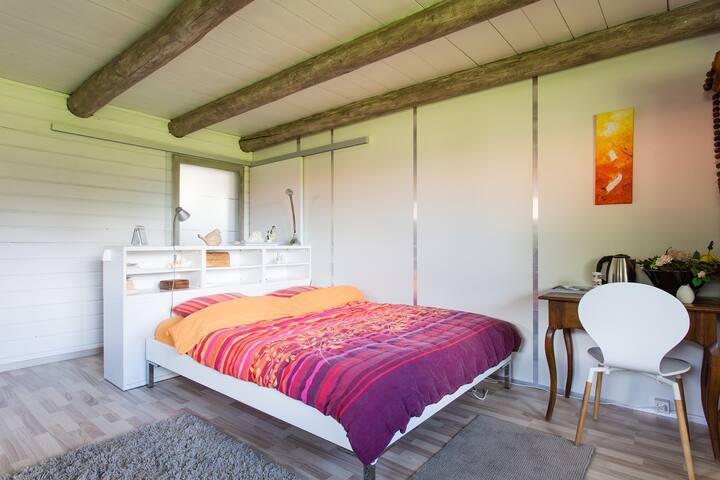 My home is 15 'from the center of Fribourg by bus, 5' by car. A spacious room of 13m2 with mountain views in a house surrounded by a lovely garden, near a shopping center and the theater Nuithonie. Calm neighborhood. Bus stop 3 'walk. My accommodation is perfect for couples, solo travelers and business travelers.
single room, with a bed of 140 cm. A desk, a wardrobe.
quiet area, near a shopping center and the theater Nuithonie.
Tutto ottimo, comodo e confortevole.
Stefano
2017-02-23T00:00:00Z
Kamertype
Privé Kamer
---
Type woning
Huis
---
Geschikt voor
2
---
Slaapkamers
Villars-sur-Glâne, Fribourg, Zwitserland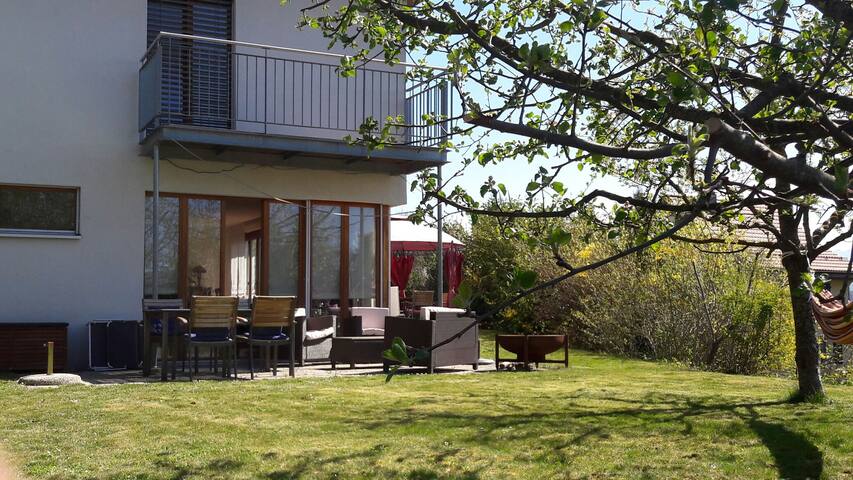 Nossa casa está localizada perto de Fribourg e constitui uma boa base para as suas viagens de um dia na Suíça. Viagens: De comboio, 3 min. de Fribourg (trens a cada 30 minutos). De ônibus, 10-15 min do Fribour (ônibus a cada 10 minutos). De carro, a 3 minutos da saída da auto-estrada Fribourg Sud. A casa está localizada em uma área muito tranquila e pedonal, com uma piscina ao ar livre no quartier. Você pode encontrar um pouco shopping center a 3 minutos a pé. O quarto, com cama de casal e casa de banho privada, tem um acesso directo ao jardim.
Realmente bairro sossegado e com excelente facilidade para chegar à cidade de ônibus ou trem. Você também é muito rapidamente na auto-estrada.
The room was great, very comfortable and just like it was on the website. Very nice, calm and quiet neighbourhood. Maryline and family gave a great welcome, the kids are wonderful! Also, they give nice hints of the best places to visit in Fribourg, and good restaurants. I do recommend them as very good hosts.
Andreia
2015-05-01T00:00:00Z
Maryline and family were friendly, accommodating and welcoming. The room was light, cheery and comfortable with a private bath. One of the highlights of our entire trip was an invitation to join them and their friends at a barbeque on their deck; it was truly an international dinner with at three languages being spoken and everyone seemed to have a great time ( I know we did). This was a great place to use as a base to explore Broc, and Gruyere for the Swiss chocolate and cheese tours.
ken
2013-09-05T00:00:00Z
Je vous recommande vivement cet appartement propre, agréable et une hôte flexible et disponible. La chambre a un accès direct sur le jardin et la salle de bain est attenante.
adele
2017-02-18T00:00:00Z
The whole family welcomed me very nicely and I directly felt well. The kids are soo cute and enjoy the guests :). The family always talks with you but also leave you alone if you need some time for yourself. They also give you good hints about the town and you always get some food there. So, in total, I was absolutely happy having had my stay there and I would definitely do it again if I came back there.
Markus
2014-09-06T00:00:00Z
Our experience at Maillard's home was absolutely amazing! The house is very comfortable with ambient light, quiet and cozy. We could also make use of the kitchen to prepare meals, mainly because we were traveling with our 2 yo daughter. Our bedroom was spacious and very comfortable. However, the main advantage of staying at Maillard's home is enjoying their company and friendship! The family is very generous, kind, caring and fun! All the time! They helped us a lot in our adaptation to live in Switzerland. For all this, we have no words to express our eternal gratitude to them. Thank you for all! Alice, Bráulio and Renata.
Renata
2013-09-22T00:00:00Z
Very welcoming ... Big, beautiful house with lots of light and warmth. And Maryline is very sweet! Lovely experience - I'll definitely repeat, if possible, and recommend.
Scotti
2013-04-15T00:00:00Z
Kamertype
Privé Kamer
---
Type woning
Huis
---
Geschikt voor
2
---
Slaapkamers
Villars-sur-Glâne, Fribourg, Zwitserland
Studio for 2 - 3 person. 1 kitchen, 1 bathroom, 1 room, 1 balcony 20 min by train (Goldenpass) to Montreux. Train station 3 min by walk. Very nice calm area.
Ondanks de regen hebben we een paar heerlijke dagen gehad in Les Avants. Kristyna bood ons bij aankomst gelijk een kop thee aan met wat lekkers en heeft vanalles voor ons uit- en opgezocht. Ze gaf tips over wat we konden doen in het gebied, ook in de regen. Ze liet ons verder vrij in onze bezigheden. Het ontbijt bracht ze wanneer we wilden. Een goede gastvrouw! De studio is prima voor met zijn tweeen. Een ruimte met een prima bed, een keuken en een kleine badkamer. Verder een balkon met prachtig uitzicht. Met de auto ben je met een kwartierje in Montreux. Het is 2 minuten lopen naar het station, met de trein ben je in 20 minuten in Montreux. Vanuit Les Avants kan je heerlijk wandelen in de Alpen, met een prachtig uitzicht over het Meer van Geneve.
Dicky
2014-08-02T00:00:00Z
It was our third time at Kristyna's place. Amazing view, calm environment, mountains. Convenient train connections. We had everything necessary for a three-week stay. Hope tocome again. Thank you so much, Kristyna!
Valentina
2017-04-02T00:00:00Z
Casa na montanha, em local muito bonito, cercado de maravilhosas paisagens e numa região que possibilita grande descanso.
Carlos HC
2017-03-09T00:00:00Z
Communication was not done well. Host was not around and I could not check in, it was about half past 1pm. Directions were poorly described, and I spent a good one and a half hour trying to locate the place, which I only managed to after some help from a local staying around. By the time I reached and found the place it was about 4pm and I couldn't get much done which was sadly, a day wasted :( I have to caution that it was not a 5 min walk from the station. The house is located uphill, and it was quite a steep climb. It takes about 15-20 mins walk up. With heavy luggage, estimate at least double the time. I did meet the host in the end, and asked for extra blankets (it was winter) which she provided. You have the place all to yourself, it was equipped with a kitchen for cooking, utensils provided. It is clean, I like the view. I think with better communication and if the host would gladly show the way it would have been a nicer stay.
May
2015-02-22T00:00:00Z
Traumhaft schönes Appartement! In einer super Lage. Es hat alles gepasst, Beschreibung stimmte, die Ausstattung für Selbstversorgung passte. Die Verabredungen mit Krystina haben prima funktioniert. Auf ein nächstes Mal!!
Stefan
2015-08-24T00:00:00Z
Kristyna made us feel most welcome and even cooked us fresh bread for breakfast as we woke up to a wonderful and sunny mountainside view. She even went out of her way to provide us with the extra toiletries that we need after travelling light on bicycles. It was an ideal stop over for a cycle tour of the region, even if the climb up the mountain was a huge challenge!
Matthew
2015-09-13T00:00:00Z
Lovely place! Very peaceful and scenic, with cow bells ringing throughout the day. Especially loved Kristyna's cats!! Kristyna took the effort to make us a big breakfast as well, really appreciated that!
Daphne
2014-09-16T00:00:00Z
Endroit magnifique avec un paysage à couper le souffle ! Notre hôte Kristyna est d'une gentillesse remarquable ! Je recommande cet endroit pour avoir un vrai décor digne de la Suisse !
Kathleen
2014-09-09T00:00:00Z
Kamertype
Gehele woning/appartement
---
Type woning
Huis
---
Geschikt voor
2
---
Slaapkamers
Montreux, Vaud, Zwitserland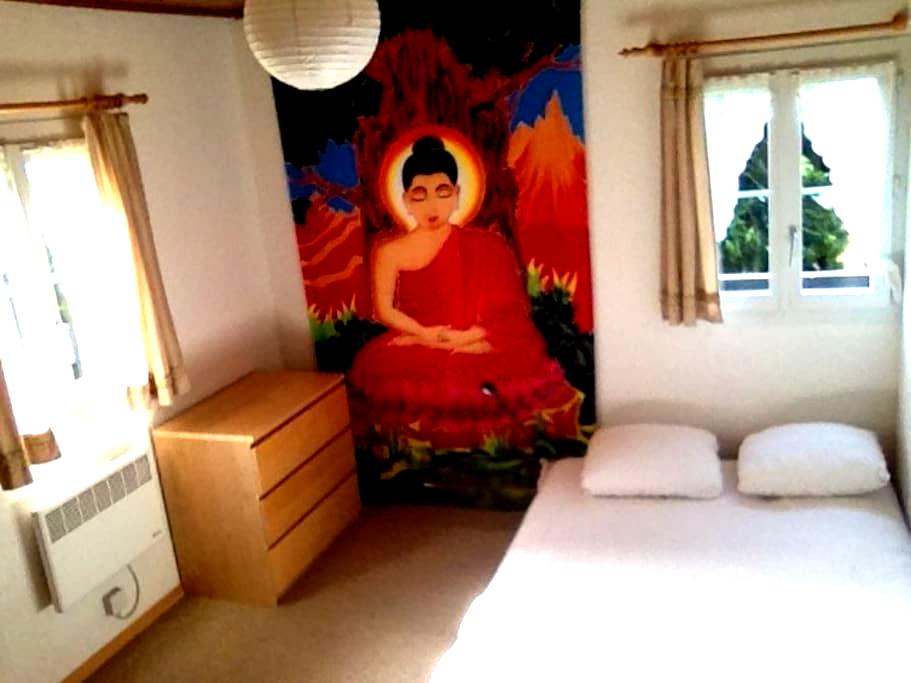 Nice furnished on the 1st floor with shelter for 2 cars, well located for pleasant strolls, shopping and close to public transport. spacious accommodation, a kitchen, a large bathroom 18m2 with dressing room and a living room of 35m2. perfect bedding Ability to pick you up at Bulle train station Included in the price: breakfasts offered - coffee - tea - bread - butter and homemade jam and cold drinks, as well as the tourist tax 5 CHF 2 Pers.
Nice accommodation in a house all wood - the charm of the old with all the modern home comforts ine Travelers provided a comfortable private apartment. In my neighborhood located in a small industrial area neighbors are very friendly, the shops are close - bus - train - access to the forest and beautiful walks from the house - cyclabes track etc. By train - by bus - by car 2 parking spaces available
(URL HIDDEN) - active area near shops and near the forest with beautiful garden next river. Beautiful walks from the chalet. - pharmacy, dairy, supermarket, petrol station, doctor, McDonald, are available and less than two hundred meters away.
Super nuit passée dans ce logement ! Ce chalet est vraiment chaleureux, et tout est présent pour y vivre (cuisine tout équipée, salle de bain, salon-chambre, petit ruisseau derrière la maison) et tout est nickel Bref..., Dommage de n'y avoir passé qu'une seule nuit. Mais que serait ce logement si il n'y avait pas Arlette, une dame extrêmement gentille et attentionnée envers ses hôtes. Ses précieux conseils vous permettrons de découvrir des endroits proche du chalet qui valent la peine d'être vu. Une seule chose à dire ... parfait ... :)
Pierre
2017-04-07T00:00:00Z
Super accueil, superbe prestations, chalet superbe, très belle vue, très agréable et intimiste pour les couples, nous avons adoré et nous y retournerons très certainement ! Une hôte aux petits soins avec ses voyageurs ! :) N'hésiter surtout pas si vous voulez passer un agréable moment !
Alexis
2017-04-04T00:00:00Z
Arlette a été très sympathique et accueillante, le logement est plus que bien ! Complètement équipé et décoré avec goût, il est très confortable et donne envie d'y rester... Arlette a pris soin de laisser de la documentation et nous donner des conseils sur les lieux à voir aux alentours, rien à redire !
Anaïs
2016-07-30T00:00:00Z
un séjour formidable!! un accueil très chaleureux de la part d'Arlette, quelqu'un de très ouvert, très amicale! et pour le logement parfait, meme plus que parfait!! aussi bien la superficie, l'agencement, la décoration, et aussi les petites attentions d'Arlette, , tout pour le petit déjeuner, la lingerie, tout parfait!!
Andrée
2016-10-09T00:00:00Z
la casa è bellissima, molto spaziosa e arredata con gusto. la casa è accessoriata di ogni cosa, c'è un posto per l'auto, e Arlette e suo marito sono molto gentili e accoglienti. il centro di Bulle è raggiungibile anche a piedi e nelle vicinanze c'è un grande centro commerciale con supermercato. il paesaggio intorno è splendido.
giovanni
2016-08-04T00:00:00Z
Such a lovely studio, helpful kitchen, really really nice host, 5 mins walk to a big supermarket, good value for this price, highly recommended.
Nika
2016-10-18T00:00:00Z
Ten stars!! Five for the apartment and other five to Arlette and husband. Highly recommended.
Victor
2016-09-29T00:00:00Z
Excellent hostess and great accommodation - highly recommended!
Marta
2016-07-25T00:00:00Z
Kamertype
Gehele woning/appartement
---
Type woning
Huis
---
Geschikt voor
2
---
Slaapkamers
La Tour-de-Trême, Fribourg, Zwitserland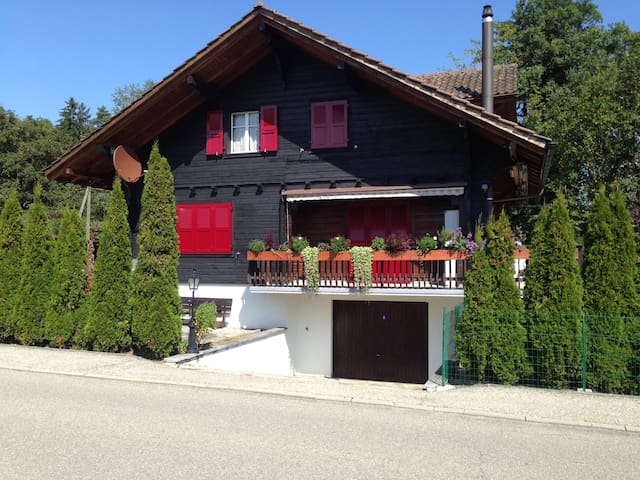 Mein Zuhause ist 15 'vom Zentrum von Freiburg mit dem Bus, 5' mit dem Auto. Ein geräumiges Zimmer von 13m2 mit Blick auf die Berge in einem Haus von einem schönen Garten umgeben, in der Nähe eines Einkaufszentrums und das Theater Nuithonie. ruhigen Nachbarschaft. Bushaltestelle 3 'zu Fuß. Meine Unterkunft ist ideal für Paare, Alleinreisende und Geschäftsreisende.
Einzelzimmer mit einem Bett von 140 cm. Ein Tisch, eine Kommode und ein Kleiderschrank.
ruhig gelegen, in der Nähe eines Einkaufszentrums und des Theaters Nuithonie.
Très bel accueil, très jolie maison, séjour très agréable.
Philippe
2016-12-16T00:00:00Z
Très bon accueil, beaucoup de bienveillance, je recommande.
Veronique
2017-02-17T00:00:00Z
Kamertype
Privé Kamer
---
Type woning
Huis
---
Geschikt voor
2
---
Slaapkamers
Villars-sur-Glâne, Fribourg, Zwitserland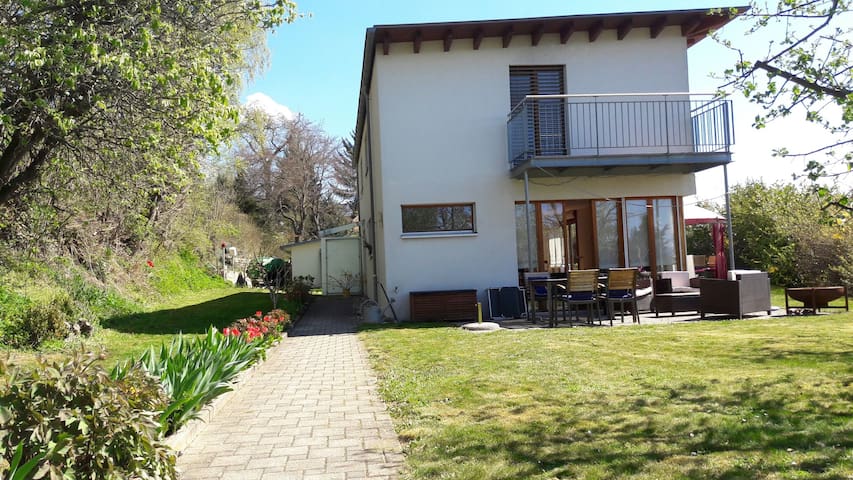 Maison villageoise du 19ème siècle au bord des vignes avec une très belle vue sur le lac. A quelques minutes du centre de Montreux, Brent est un petit village accueillant et charmant. Notre maison en pierre possède un charme et une âme
Brent est épargné. Les maisons vigneronnes et paysannes forment notre village. On les découvre au gré de ruelles qui font des tours et détours. On respire des odeurs d'étable. On entend bruire un petit torrent et chanter des fontaines. Il y a des jardins, beaucoup de fleurs. On débouche tout de suite dans les vignes ou les champs. Le soir, des pans de brise rabattent des effluves d'herbe fauchée, qui ont une fraîcheur de ciel étoilé. Notre quartier est chaleureux, et de sympathiques voisins vous y attendent. C'est une vraie vie de village, où l'entraide, la bonne humeur et les apéros font partie du quotidien.
Kamertype
Privé Kamer
---
Type woning
Huis
---
Geschikt voor
2
---
Slaapkamers
Montreux, Vaud, Zwitserland
This is a stunning interior designed property overlooking Montruex and Lake Geneva. It has 4 large bedrooms, two beautiful sitting rooms with a large open plan kitchen. There is a large garden and terrace with breathtaking lake and mountain views.
The house is nestled in the hills above Montreux offering seclusion whilst being only 10 minutes from the centre of Montreux. On the ground floor there is a large open plan kitchen, dinning room and living room with access onto the large terrace perfect for outside dining. Guest WC and office and playroom complete the downstairs. The first floor comprises 4 large bedrooms, two double and two twin rooms with a family bathroom and an en-suite for the master bedroom. The master bedroom also has its own balcony. The top floor has a large second living room with fireplace and kitchenette perfect for entertaining. Speaker systems on the terrace, ground floor and top floor along with 2 televisions and Blue-ray / DVD players with Apple TV and wi-fi complete the audio visual set up. Outside there are 3 car park spaces. A car and chauffeur and a chef can be provided at extra cost.
Calm and tranquil with beautiful views of the Lake and mountain. Close to Montreux and the famous Montreux Jazz festival.
Du début jusqu'à la fin, Sophie a tout fait pour rendre notre séjour le plus confortable possible. Elle a répondu très rapidement à toutes nos questions et comme elle n'était pas présente dans la région, ses parents ont fait le déplacement pour nous procurer en pleine nuit de Noël des ustensiles nécessaires à la fondue. La maison est superbe, spacieuse, très bien équipée, propre et décorée avec beaucoup de goût! Nous nous sommes très vite sentis chez nous. Si vous avez des enfants, cette maison est idéale. Nous y avons séjourné en hiver, mais j'imagine qu'en été, les jardins et forêts avoisinantes feront ravir grands et petits. La maison est située à environ 15 minutes de Montreux. N'hésitez surtout pas! La maison est encore plus belle que dans les photos.
Zeina
2016-12-28T00:00:00Z
The place was beautiful as described and we felt very comfortable at home there.Time flew so fast . We spend a lot of time on the patio . Super with pleasure again!. Thank you Sophie
Ralf
2016-07-12T00:00:00Z
we had i great experience
fahad
2016-08-26T00:00:00Z
Sophie's house is in a beautiful location with a gorgeous view. It has a couple of easy parking spots right outside. Although Sophie wasn't there, her dad was there to greet us and kindly showed us around. She had left us an instruction manual for various things in the house to make our stay more comfortable. The house itself is very functionally designed, with a well equipped kitchen, comman areas and comfortable bedrooms (with the most comfortable mattresses). She had left us wardrobe space in each bedroom and also fresh flowers in the house. I would highly recommend this house!
Shreni
2016-07-25T00:00:00Z
The host was unbelievable, very helpful, polite and explain everything. The house was amazing and everything was there that you would need. I can't describe how good everything was in words. But 5 Star plus.
Paul
2016-08-12T00:00:00Z
sophie's house is beautiful with breath taking views! it is well equipped with everything anyone could need and stunning while still feeling cozy and homey. Sophie and her parents who live nearby were very gracious hosts. thank you for a lovely stay.
Sara
2016-07-05T00:00:00Z
Kamertype
Gehele woning/appartement
---
Type woning
Huis
---
Geschikt voor
10
---
Slaapkamers
Montreux, Vaud, Zwitserland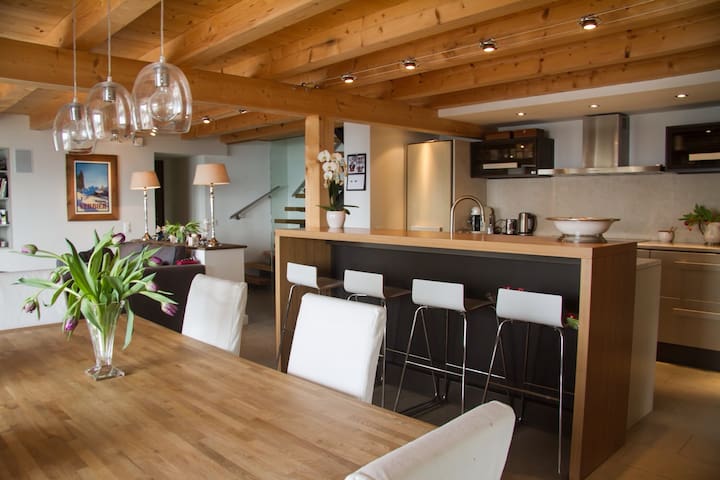 Bright and airy independent studio apartment with large sunny balcony. Double bed, desk, wifi, kitchenette, large bathroom. Part of renovated 17th century farmhouse in historical Romont. Walking distance to Romont train station, museum, shops and restaurants. On main hiking trail. 50m to bus stop.
SELF CONTAINED STUDIO APARTMENT WITH LARGE SUNNY BALCONY Bright and airy independent studio apartment with large sunny balcony. Double bed, desk, wifi, kitchenette, large bathroom. Part of renovated 17th century farmhouse in historical Romont. Walking distance to Romont train station, museum, shops and restaurants. On main hiking trail. 50m to bus stop.
ROMONT: Romont, a small picturesque town dating back from the 10th century, is located on the main roads and railway lines connecting Lausanne (30 mins) and Bern (40 mins), between the lakes and the mountains. Built on the top of a hill, Romont is a medieval town rich in history and art. Its castle, with a beautiful court yard, shelters the Swiss Stained Glass Museum. Its gothic church is decorated with stained glass from 15th to 20th century. Surrounded by fortified walls and watching towers, the town has a lively centre filled with traditional shops and restaurants. Outside the town, the Abbey De La Fille-Dieu is of important historical centre, and, the entire village of Romont is part of the Inventory of Swiss Heritage Sites. The nearby forest, the « Bois de Boulogne », provides areas for sports and leisure, hiking and biking paths and mountain bike circuits.
Maxine & Family, Thank You above all else. I really appreciated your kindness in all communications in planning my trip. As well as the Warm Welcome. The space you have created is truly exceptional, very tasteful. The studio is absolutely perfect for a voyager who needs to find refuge and recollect their thoughts before going back out into the world. All of the amenities are of the highest quality, and the bathroom immense. I loved crossing the gardent to access the studio, too. I would absolutely love to come back again. And Romont the most charming of cities, a place of utter respite & tranquility. THANK YOU
Jennifer
2016-07-31T00:00:00Z
Studio moderne et tout confort dans une belle maison récemment rénovée. Studio très propre, propriétaires charmants et accueillants dans petite ville pleine de charme. A conseiller sans réserve!
Mathieu
2016-08-15T00:00:00Z
Very nice place to stay in romont. Very friendly host. Thank's a lot
Christian
2016-09-29T00:00:00Z
Ich war beruflich 2 Monate in Romont. Die Unterkunft war perfekt, vor allem das man einen separaten Eingang hat. Die Familie war grossartig, sehr nett und extrem hilfsbereit. Ich kann es nur weiter empfehlen!
Petra
2017-02-23T00:00:00Z
Fantastic hosts and beatiful place
Nicolas
2016-12-27T00:00:00Z
Appartement idéal. Accueil sympathique. Rapport qualité/prix excellent. Je recommande vivement cet appartement à ceux qui séjournent dans la région.
Pierre-Yves
2016-12-20T00:00:00Z
Accueili par le mari de Maxine, accueillant et sympatique. Très beau studio placé en contre bas du centre historique de Romont ! Un studio très bien équipé et un matelas tip top. Un hébergement à recommander vivement.
Jonathan
2016-11-18T00:00:00Z
Tout est parfait, le lieu, la famille qui vous accueille,.... Je ne peux que dire que je retournerais avec plaisir dans ce petit lieu de bien être
Simon
2016-12-05T00:00:00Z
Kamertype
Privé Kamer
---
Type woning
Huis
---
Geschikt voor
2
---
Slaapkamers
Romont, Fribourg, Zwitserland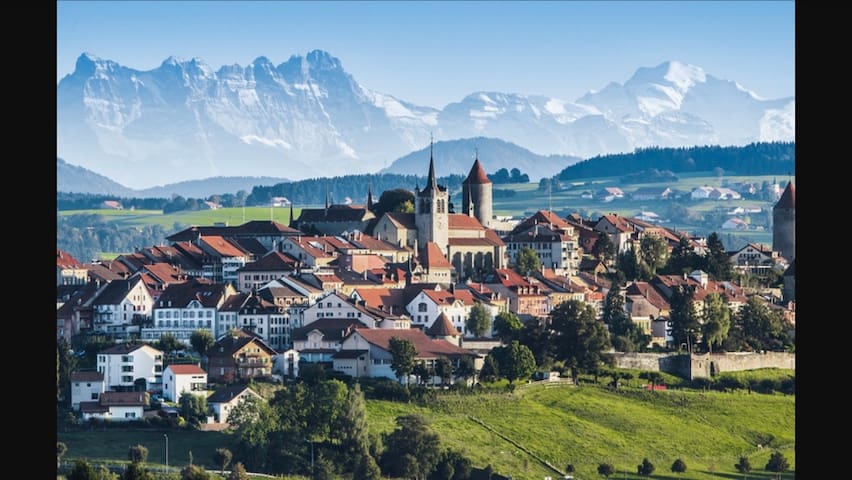 La casa és molt bonica, amb les seves parets de pedra que manté la frescor a l'estiu. És a prop de les activitats turístiques de Gruyère i prop del transport públic.
Venim de renovar de manera sostenible la nostra casa amb parets de fusta i cànem i vam optar per revestiments naturals per a una vida saludable. La nostra casa consta de planta baixa amb accés al jardí: gran cuina oberta al menjador, una sala d'estar i un bany amb dutxa italiana, 1a planta: 2 dormitoris, una cambra de bany amb banyera i accés a la gran terrassa, 2 ° pis: una gran sala oberta a l'àtic convertir en un dormitori i una sala de classes. Jocs de taula per a nens.
La casa, amb vistes a la muntanya, es troba a l'antiga zona residencial de la ciutat. La zona és molt tranquil i agradable. El bosc és a 5 minuts a peu de la casa i el llac a 15 minuts amb cotxe. A prop de les activitats turístiques a la regió Botigues com fleca, confiteria, xarcuteria, carnisseria i el formatge és de 2 minuts a peu de la casa.
Maison vraiment très charmante et accueillante à proximité des très nombreuses activités disponibles en Gruyère. Nous y avons passé un séjour idyllique ! Une demeure où l'on se sent comme chez soi... En outre, nous avons été enchanté par les contacts que nous avons eu avec notre hôte : disponibilité, compréhension et sens de l'accueil. Nous recommandons vivement !!!
Xavier
2016-08-05T00:00:00Z
We were welcome with a flowered table and treated like honour guests. The house was top and fully equipped for a fantastic stay. Congratulations for the very cozy/zen interior decoration and typical woody atmosphere (we would have liked to take the Italian shower away with us). The surroundings, including the lake, are idyllic for trailing or easy walking. The placement is perfect, close to stores and Nature. We warmly recommend this place for a family with up to 3 young children or two teenagers.
Stephane
2016-07-17T00:00:00Z
Un joli bouquet champêtre nous attendait et la spécialité locale de bienvenue nous a régalés. Nous avons été touchés par les ondes positives qui se dégagent de ce foyer.Les alliances suisses-indonésiennes, modernes-traditionnelles font de cette demeure un lieu unique où l'on regrette de ne faire que passer.
Élisabeth
2016-07-29T00:00:00Z
très bon accueil au niveau de la famille, maison claire et spacieuse, idéal pour les familles avec enfants , à proximité des magasins et des lieux de visite à recommander
marie-paule
2016-07-25T00:00:00Z
La maison de Lisa est spacieuxe, bien équipée et proche de toutes les commodités et des lieux à visiter. Le logement est au calme, il est idéal pour une famille avec enfants. Lisa a su se rendre disponible avant et pendant le séjour ce qui a été très appréciable. Bref, je recommande vivement cette adresse et cette région de La Gruyère qui est magnifique.
Delphine
2016-08-20T00:00:00Z
Kamertype
Gehele woning/appartement
---
Type woning
Huis
---
Geschikt voor
5
---
Slaapkamers
La Tour-de-Trême, Fribourg, Zwitserland
Studio full foot villa with a small garden terrace Zen. Separate entrance. 500m from the village center and small shops. Motorway 3 minutes. Located between Bulle-Fribourg-Romont. Lausanne and Bern 40 minutes to 30 minutes.
double bed, but can make 2 single beds. Ability to add an extra bed. Kitchenette, 2 electric rings, fridge, kettle, coffee machine, toaster, kitchen utensils available. Bathroom with shower, sink and toilet. Linen bathroom, toilet paper and hair-dryer. Small terrace with outdoor seating and Zen garden
The area is very quiet country lanes are nearby if you want to enjoy nature when walking. Our house is at the entrance of the neighborhood and there is a welcome sign.
Ma compagne et moi avons passé un moment très agréable en Suisse. Le studio de Claire do est très bien situé, proche de belles villes à visiter (notamment Gruyères) dans un cadre très facile d'accès. L'accueil de Claire do et son mari est très chaleureux et l'on se sent très vite comme à la maison. La literie est très confortable et le silence apaisant qui règne permet de passer de très bonnes nuits. Si nous repassons par le région de Fribourg, nous ferons certainement une nouvelle halte à cette adresse.
Yannick
2016-08-17T00:00:00Z
Claire Do was a lovely hostess. She and her husband greeted us as we drove up. They even called their nephew over to help with translation. Everything was fresh and clean, she had maps and things to do in the area .
Dan
2016-07-19T00:00:00Z
Un excellent accueil et des petites attentions à disposition (café / beurre / gelées maison / chocolats...). La qualité du logement (calme / très bonne literie) nous a permis de bien nous reposer pour profiter au maximum de nos journées. Très proche du centre du village (poste / église) et des petits commerces (200 à 300 mètres). Super !!
Catherine
2017-02-18T00:00:00Z
Logement bien équipé, nous avons été reçu chaleureusement et beaucoup de générosité. Petits détails très appréciés (confitures, café, eau, etc).
Benoit
2016-09-07T00:00:00Z
Perfect place to stay. They welcome us very kindly and showed us the room. It was great. Tidy, clean and very comfy. We got to the house very late at night because we were traveling and visiting but they welcomed is happily and joyful. Really recommend it!!!
Diego
2016-07-26T00:00:00Z
Son sourire ! Et bien sûr ses petits chocolats et tous ces petites choses qui rendent la vie plus facile au voyageur ! Merci Claire-Do nous reviendrons très certainement
Patricia
2016-09-20T00:00:00Z
Accueil et hôtes très sympas, grand studio propre et décoré avec très bon goût et entrée séparée. Merci beaucoup pour les bons chocolats et confitures.
Michael
2016-11-06T00:00:00Z
Accueil très chaleureux de la part de nos hôtes, qui nous ont même proposé un couvert suite à notre arrivée tardive (20h), de surcroit un dimanche. Hôtes discrets mais disponibles, soucieux de notre bien être. Appartement décoré avec goût, bien équipé, fonctionnel fidèle au descriptif, très bonne literie. Une entrée indépendante pratique pour ne pas déranger. Commerces à proximité et accès à Fribourg facile. On a, entre autre, apprécié le petit panier de spécialités suisses (chocolat) et les confitures maison!
Pascal
2016-04-07T00:00:00Z
Kamertype
Gehele woning/appartement
---
Type woning
Huis
---
Geschikt voor
2
---
Slaapkamers
Farvagny, Fribourg, Zwitserland
1

–

18

van

95 Huizen te Huur
Voer datums in om de volledige tariefopbouw te zien. Er kunnen extra kosten zijn en er kunnen belastingen worden toegevoegd.