One Single bedrooms in a 5 bedroom apartment with shared kitchen laundry and living room and 2 bath for Boys available immediately with total of 5 bedrooms and 2 bathrooms and a laundry and shared kitchen. No parking no pets Features and Amenities Air Conditioning Controlled Entry 2 year old building carpet free furnished unit with bedroom, living room, dinning area furniture. Individual code-operated key-less controlled entry. Room with double bed, desk.Bring your bed sheet, pillow.
It is a newer building with good size rooms. Room comes with a double size bed, a mattress, desk, side table and a closet. total 5 rooms in an apartment. Other occupants are serious university or coop students. whole building is carpet free.
The host canceled this reservation 16 days before arrival. This is an automated posting.
Yukun
2016-08-08T00:00:00Z
Kamertype
Privé Kamer
---
Type woning
Appartement
---
Geschikt voor
1
---
Slaapkamers
Waterloo, Ontario, Canada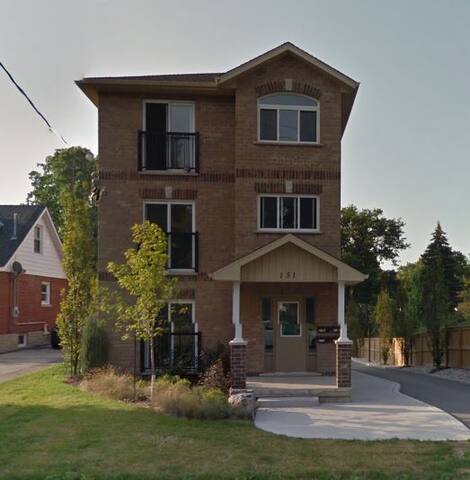 My place is close to restaurants and dining and parks. You'll love my place because of the cosiness and the views. My place is good for couples, solo adventurers, and business travellers.
Kamertype
Gehele woning/appartement
---
Type woning
Appartement
---
Geschikt voor
3
---
Slaapkamers
Waterloo, Ontario, Canada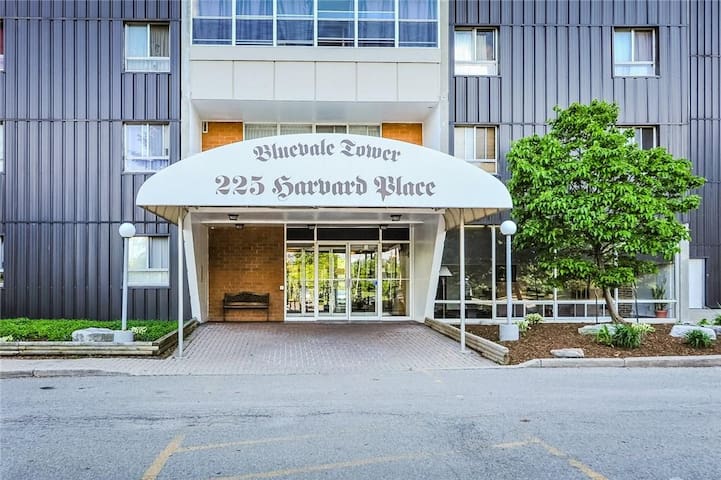 My place is close to restaurants and dining University of Waterloo Wilfrid Laurier University Uptown Waterloo. My place is good for couples, solo adventurers, and business travellers.
Kamertype
Privé Kamer
---
Type woning
Appartement
---
Geschikt voor
2
---
Slaapkamers
Waterloo, Ontario, Canada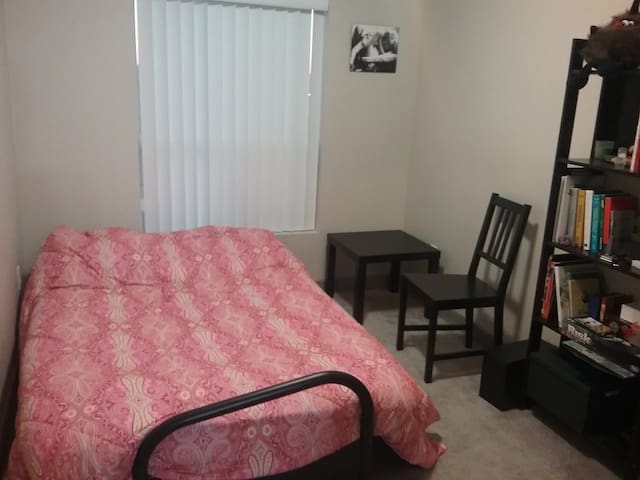 My husband and I have prepared and renovated this 1 bedroom condo for your stay. Located in the middle of downtown Kitchener, you are literally a 5 minute walk to everything! We hope to make your stay in Kitchener an excellent experience.
If you're looking for location, you've got it. This condo is centrally located within the Kitchener downtown core. You can walk to your office, coffee shops, gyms, pubs and great restaurants. Within the condo you can enjoy the TV complete with Netflix and wifi for your computer use. The space has a separate bedroom from the main room. Laundry on-site with internet computers near the machines.
You will not need to use your car while staying with us. Everything is within a short walk, or hop on a bus from the Charles St bus terminal, located only 2 blocks away. We'll provide you with some recommendations for the best places in the area.
Heather was a great host. She was very helpful and super quick to respond to messages. Her condo is right in the heart of downtown Kitchener - highly recommended for a stay in KW.
Liam
2016-02-16T00:00:00Z
Our experience was fantastic! It is our first time in Canada and first time using Airbnb, we can strongly say that this month was so special. We learned from this experience to love airbnb and to love Canada. We liked the condo, its location, the way it is furnished and prepared for the guests. But what made our stay very special was the hospitality and thoughtfulness of Heather and Chris. We felt welcomed and supported. Heather guided us through this first month by suggesting a lot of great places. I will highly recommend this place! You will sure be impressed and happy by this choice. It was one of the greatest decisions we made in our move to Canada. Airbnb should congratulate Heather and Chris for the great image they reflected and the impression they left with us. So grateful for you guys! Love and respect Gladys
Kladys
2015-06-30T00:00:00Z
This was a lovely condo,exactly as depicted on airbnb.Although our flight was delayed,it seemed no trouble at all to be there whenever we arrived and make us feel very welcome. Emails from Heather before and during our stay were warm and hospitable. The location was very convenient for downtown Kitchener and bus routes. The apartment was very clean and wel equipped with a very comfortable bed.Thank you Heather and Chris.
Imelda
2015-05-23T00:00:00Z
We highly recommend this apartment. It is clean, beautiful, and perfectly located. One block away from the main bus station, one block away from Kitchener downtown, yet fairly quiet. Heather and Chris were extremely responsive and helpful in our communications prior to the stay. The apartment also has a folder with info on their favorite restaurants and such in Kitchener as well as a map. In summary, you absolutely can't go wrong with this apartment.
Peter
2015-08-03T00:00:00Z
This was my second stay at Heather and Chris's. Everything - from picking up the keys to dropping them off - went smoothly. The apartment is very accomodating and well equipped and was perfect for my needs. An added bonus was they now have onsite parking which was very convenient. They have really thought of everything, and I plan to be back in a couple of months and look forward to another stay!
Marc
2016-03-18T00:00:00Z
Clean, comfortable, convenient. A modern, fully equipped condo in a quiet building—at an excellent price. I wouldn't hesitate to recommend it to anyone looking to stay in the Kitchener/Waterloo area. That's my concise, vacation magazine style review. If that doesn't suffice, here are some of the details... Comfortable: spacious rooms, a large, nice bed (by which I mean a quality mattress, quality sheets, etc), effective temperature controls (I stayed in December and never felt cold), a quality shower (wide shower head, consistent water pressure, hot water), an HD television with Netflix, and quiet neighbours (I rarely heard my neighbours at all, even during the day)(URL HIDDEN)Convenient: a block from King street (the main street running through downtown), a 5-10 minute walk from many restaurants and stores, and fully equipped (kitchen appliances/supplies, bathroom supplies, cleaning supplies, and other amenities). Regarding the unit itself, that covers all of the major points, I think. But I should also mention that the hosts, Heather and Chris, were very friendly and accommodating. They were communicative, without being at all imposing, and made sure that I enjoyed my stay. In short, Heather and Chris are ideal hosts—and also offer great restaurant recommendations! If you choose to stay at their condo, your expectations will be met (or perhaps surpassed).
Josh
2014-12-13T00:00:00Z
The place was as pictured and checkin was very easy. With the private apartment, it felt like home for a few days. One small thing that could be improved was the quality of suppliers in the kitchen - just slightly higher quality things (pots, kettle, teas, coffee etc.) would have been nice.
Mark
2016-04-06T00:00:00Z
Everything as advertised. Great host. Perfect downtown Kitchener apartment. Highly recommended.
Dave
2016-03-28T00:00:00Z
Kamertype
Gehele woning/appartement
---
Type woning
Appartement
---
Geschikt voor
2
---
Slaapkamers
Kitchener, Ontario, Canada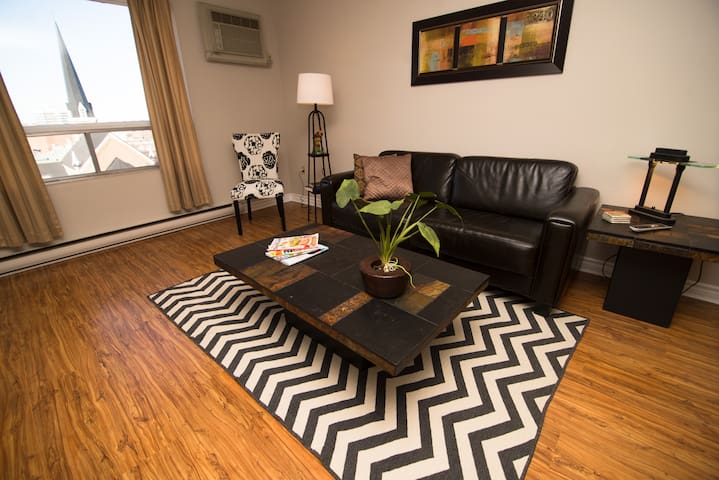 This beautiful second story apartment is fully equipped for a very comfortable stay for two. It has a full eat in kitchen, parking for one and is two blocks from St. Mary's hospital and Victoria Park. Also very close to the city center, many restaurants and located a short walk from the main transit terminal. Internet, Apple TV, and many everyday essentials are included!
This is a beautiful unit located on the second story of a century home in the heart of downtown Kitchener.
We are located a short walk from the city center. also just two blocks from St Mary's General Hospital. We are close to the School of Pharmacy, many tech business headquarters and endless dining options downtown. Beautiful Victoria Park is just minutes down the street.
Darren
2017-03-11T00:00:00Z
Beautiful accommodation, gracious host. I'll be back!
Victoria
2017-04-02T00:00:00Z
Great stay
Sara
2017-03-26T00:00:00Z
Convenient location to downtown Kitchener and Jason made everything about the stay easy and welcoming.
Mike
2016-10-18T00:00:00Z
I can't say enough great things about Jason and his lovely home! It is located perfectly to go anywhere in the area, it is immaculately kept and the wine and chocolates were such a nice treat after our long journey. I will be recommending this listing to everyone I know!
Nancy
2017-01-10T00:00:00Z
This is my second time staying at Jason's place. The reason I keep coming back here whenever I'm in Kitchener is because the place is beautiful and truly a home away from home. It is centrally located and as a host, Jason is absolutely amazing! Truly a pleasure to deal with. So again, I highly recommend this place to anyone who is visiting the area. Check-in was super easy and the entire experience was top notch!! Thanks again!!!
Betty
2017-02-23T00:00:00Z
Upon having another Airbnb host cancel on my boyfriend and I the night before we ventured 3 hours to Waterloo to see a concert, attempting to book Jason's cozy century home apartment was a last ditch effort before we had to settle for an average hotel room. This was our first Airbnb experience, and long story short, I had gotten a little turned around attempting to navigate the app on my phone and actually ended up cancelling my original request all together by accident. Jason contacted me regardless and after re-submitting my request he had graciously accepted moment later! This was around 12:00 am the night before we headed to the Kitchener/Waterloo area - so I was thrilled to have figured out a place to rest our heads after the show! Check-in day was a breeze, which was a relief as a new Airbnb-er. Jason sent me a simple yet very concise message about how to enter the apartment, because he wasn't present at the moment - an easy key lock box and a quick walk up a flight of stairs later we entered the unit. Jason had left some lights on inside to guide our way in, and the apartment was literally a warm welcome on its own, as it was snowing when we arrived. The size of the apartment is perfect for 1 or 2 guests. My boyfriend and I already reside in a tiny loft, so occupying this small living space for the night felt very homey! The bathroom is small and tidy, with everything a hotel would have included in it, and there's a cute kitchen with a fridge, stove, microwave etc. if you were planning on staying longer than one night! We literally just sat around and enjoyed the space for 3-4 hours before the concert, we each had a shower and enjoyed a few drinks before heading out for the night. Waterloo is around a 10 minute cab ride that cost 15 bucks or so, I'm sure this was a more expensive means of getting there, but we didn't mind! We returned around 11:30am-12:00am - snuck back into the apartment and considered watching some Netflix on a small wall mounted television that faces the bed. We were happy to have the option (just like at home!) but we turned in for the night instead. The bed was comfortable and we both slept like logs. The morning was great as we could sleep in without worry with the late check out time, even though we departed around 11 anyways! The apartment is both a close drive or a walk away from Kitcheners features, in addition, I noticed a lot of public transit options (bus or cab) going by the house regularly. There's also a private parking spot in that back if you have your own vehicle, so you won't have to worry about parking on the street or having to move your car in the morning! Overall, this place has it all! It's convenient, cozy,...
Katelyn
2016-11-25T00:00:00Z
I have stayed at Jason's place on numerous occasions. It's definitely my go-to place when I'm visiting Kitchener for work. It's quaint, beautifully decorated and the little touches from Jason puts him a notch above the rest! Please do consider this place when visiting Kitchener!!! Highly recommended!
Betty
2017-03-30T00:00:00Z
Kamertype
Gehele woning/appartement
---
Type woning
Appartement
---
Geschikt voor
2
---
Slaapkamers
Kitchener, Ontario, Canada

A cozy guest bedroom in a shared 2 bedroom apartment. It's got a queen-size bed, dresser, and a large closet. My place is comfy and laid back. It's a short walk from Fairview Mall and easy access to the highway and bus stops.
Just a couple minutes away is Fairview mall and the shopping strip. It's got great restaurants - The Works is one of my favourites - and lot's of places to go shopping.
The hosts are awesome, great place pretty neat and clean, quiet location, everything was perfect, thank you daniel and kenya i would definitely love to visit again.
Malik
2017-01-11T00:00:00Z
It was awesome place. Clean and so kind. Thanks kenya and daniel. Miss u guys love ya
하나
2017-03-06T00:00:00Z
Great. Super nice hosts. I especially loved how the apartment was set up to make things as accessible as possible for guests (especially the kitchen). Just down the street, one finds most things they need. There's a huge supermarket, 24/7 store and gym less than a 5 min walking distance away.
Maxim
2017-02-25T00:00:00Z
Great place in the city quiet clean and comfortable:)
Sooraj
2017-03-24T00:00:00Z
This is an ideal place to stay when on official tours or for people just trying to get away from the hustle and bustle.
Rejath
2017-01-19T00:00:00Z
Room was cosy as advertised. Kenya was a great host. Apartment was clean and plenty of visitor parking. would;d reccommend
Patrick
2016-10-28T00:00:00Z
A simple yet clean and cozy room. Although an apartment, there's plenty of visitor parking space and I had no problem finding a spot at 9pm. The hosts were friendly and responsive. Thanks Kenya and Daniel.
Tony
2016-10-25T00:00:00Z
The host canceled this reservation 47 days before arrival. This is an automated posting.
James
2016-11-08T00:00:00Z
Kamertype
Privé Kamer
---
Type woning
Appartement
---
Geschikt voor
2
---
Slaapkamers
Kitchener, Ontario, Canada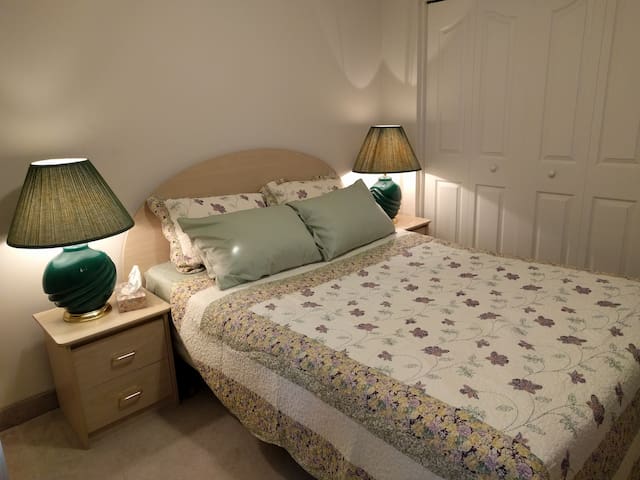 Nice and cozy basement apartment. Convenient to Kitchener Waterloo International Airport, downtown, with shopping nearby. Grocery store within walking distance. Across the street from a community center with indoor pool and sauna. 10 minute walk to the river and the river trail system - great for walkers and runners. If you're moving to Canada, please consider renting for 4 weeks. It's very difficult to find housing and we may not be able to extend your stay.
Entire apartment with all the privacy with separate bedroom, fully equipped kitchen, bathroom, dining and living room, sofa bed, and laundry. Private yard for your use. Parking provided on our driveway. For business travellers, both wifi and wired internet are available. If you need more desk space we have a folding table you can use.
Grocery store within walking distance, shopping and restaurants nearby. Like most of this area, there are great local shops and ethnic restaurants nearby. Check out our guidebook. Great walking and trail running opportunities - ten minute walk to the community trail system along Grand River and woods. The trail is well maintained and goes on for many kilometres. There are great parks and access to the Great Lakes within an hour's drive. We're not much for nightlife, so if you find a good local hangout please drop us a line so we can add it to our guidebook.
We hebben 2 weken gelogeerd in het appartement van Yan en Noriko eind september. Het appartement is ruim genoeg voor 2 personen, goed gelegen in een rustige buurt en toch op loopafstand van de winkels. De communicatie verliep heel vlot en zij doen er alles aan om je wegwijs te maken in de buurt. Als we nog naar Kitchener gaan, zouden we hier zeker terug logeren! Marianne en Luc
Marianne
2016-10-08T00:00:00Z
Clean and Cosy. The apartment was as described and look exactly like in the pictures. Good and functional, not large but enough for the family of 3 or 4 people. Good communication with the host. Clearly writen indication and instructions in the guest book. Dear Yan and Norico, thank you very much for your hospitality! Best regards, M&V.
Michel
2016-10-24T00:00:00Z
A very nice apartment that's well appointed and very clean. Kitchen has everything you need for preparing meals. Bed was comfortable. Hosts were very helpful and kind.
David
2016-12-04T00:00:00Z
Very nice and tidy place. Thanks for being the wonderful host for us.
Sakshi
2016-09-17T00:00:00Z
Yan & Noriko's place was great! They were very friendly and definitely went above and beyond to make sure that we enjoyed our time there. The place had all of the amenities that we needed and has to have been one of the cleanest places I have ever stayed in. I highly recommend staying here if you are looking for a place in the Kitchener-Waterloo area.
Alex
2016-10-16T00:00:00Z
Yan and Noriko are very good host and very quick response with e-mails. The house is very clean. I will for sure to stay their house again when next time visiting this area. James
James
2016-11-19T00:00:00Z
Comfortable and clean! Our family will definitely stay here again when we visit the area.
Thuy
2017-02-21T00:00:00Z
Very nice comfy clean apartment!
Steve
2016-11-29T00:00:00Z
Kamertype
Gehele woning/appartement
---
Type woning
Appartement
---
Geschikt voor
4
---
Slaapkamers
Kitchener, Ontario, Canada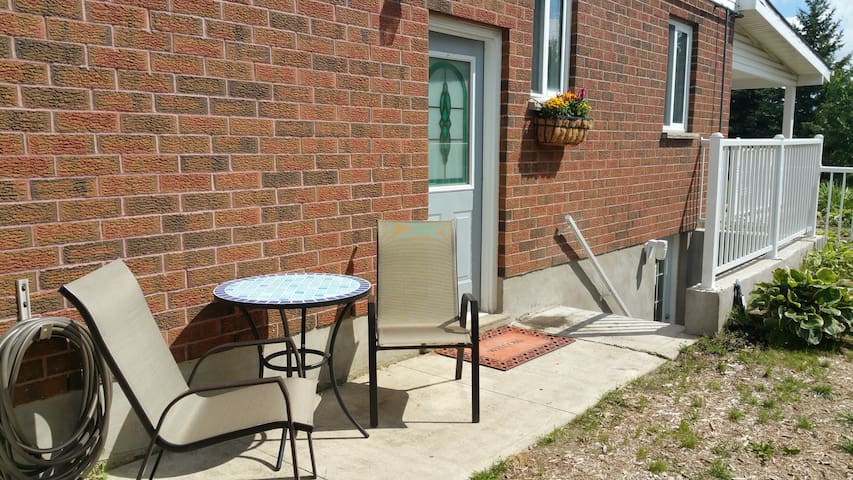 My place is close to art and culture, restaurants and dining. You'll love my place because of the coziness, the location. My place is good for couples, solo adventurers, and business travellers.
Joan's apartment is an excellent choice. I was very happy with my stay there. The location is great for enjoying downtown and I had a wonderful morning visiting the market and Yeti cafe. I didn't get to spend much time in the apartment itself but there's lots of space to relax, watch tv, play video games, etc. Bed was comfortable, linens were great. Check in and out was very easy and Joan communicated very well with me during a busy week. It's not a dedicated short term rental, it is a lived in apartment (but a very nice one).
Fraser
2017-04-02T00:00:00Z
Joan was a super helpful and communicative host! It was a pleasure staying in her home. Very central to all amenities. Her home is just what I needed for my stay in Kitchener!
Adrian
2017-02-12T00:00:00Z
Joan was friendly and accommodating! Her place is quiet, private, and well-kept.
Simon
2016-12-04T00:00:00Z
The host canceled this reservation 3 days before arrival. This is an automated posting.
Raymond
2017-02-11T00:00:00Z
Staying here was very convenient and we'll located near all amenities. We kept in good communication all along as i received great tips from places to visit where to get groceries.
marina
2017-02-26T00:00:00Z
Joan was a lovely host - organized things very well for us in terms of check in and for the dates that we needed. She was very prompt in all communications. It's a lovely little apartment, centrally located in Kitchener. For the light sleeper, it won't be a good match as there is street noise. For those with a car, parking is an issue - so be forewarned. We enjoyed our stay.
Anna-Marie
2016-12-27T00:00:00Z
Kamertype
Gehele woning/appartement
---
Type woning
Appartement
---
Geschikt voor
2
---
Slaapkamers
Kitchener, Ontario, Canada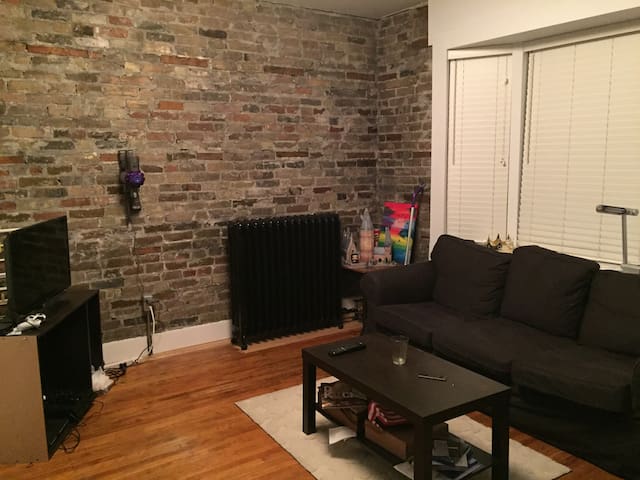 Fully Furnished 2 bedroom Apartment with large windows, full Kitchen and Bathroom. Incl Hydro, Cable tv and Wifi. Quiet and clean, carpet free. Easy access to new LRT and Hiway 7/8 to 401, Waterloo, Cambridge, Straford. Available immediately and also for short and long term.
Kamertype
Gehele woning/appartement
---
Type woning
Appartement
---
Geschikt voor
3
---
Slaapkamers
Kitchener, Ontario, Canada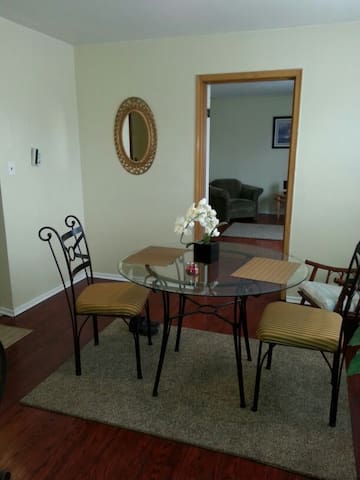 Het apart is zeer goed gelegen, met een mooi uitzicht, allemaal ingericht, stappen lopen van St Louis Engels school, het stadhuis, banken, restaurants, apotheek en supermarkt. Wij zijn een Braziliaanse familie die houdt van mensen te ontvangen bij ons thuis.
Er zijn 2 slaapkamers, 1 suite met een toilet dat is onze kamer :) en de 2e slaapkamer heeft een badkamer met douche / bad pal voor de deur van de slaapkamer. De slaapkamer heeft een stapelbed met een tweepersoonsbed beneden en een eenpersoonsbed op de top, waar ze passen drie mensen comfortabel goed, kasten en dressoir in de kamers en ramen met black-out gordijn. Alle kamers inclusief de badkamer is voorzien van centrale verwarming. De keuken is voorzien van koelkast, fornuis, blender, pannen, bestek, glazen, diverse gerechten, formulieren, etc .. voel je vrij om te gebruiken wat je nodig hebt en voor te bereiden wat je wilt eten. Gebruik, wassen en terug te zetten waar je het gevonden! Als onderdeel van onze gastvrijheid, bieden we koffie, water en sap. En items voor u om een continentaal ontbijt te maken. ☺
Het appartement is zeer goed gelegen, alle ingericht en met een geweldig uitzicht want het is in een hoge verdieping. Op steenworp afstand van St Louis School (zeer beroemd Engels school in Kitchener), in de buurt van het stadhuis van Kitchener, banken, goede restaurants, apotheken, supermarkt, bars, nachtclubs, bibliotheken, parken, de Centrale Markt van Kitchener en Charles Central Bus Terminal , u kunt lopen naar al deze plaatsen.
Julliana was a great host, very generous and friendly.the room and the apartment are very clean and cozy. Definitely recommend it!
Saška
2016-12-02T00:00:00Z
This location had everything I required. The hosts were hospitable and friendly!
Stephen
2016-11-20T00:00:00Z
Me and my wife had a great time at Juliana's place. Herself and her husband Marcos are great people, very friendly and make us really feel like home. Thanks a lot for the way you more than welcomed us guys
Fabiano
2016-11-27T00:00:00Z
Great space, and exceptional hospitality!
Kelly
2016-11-08T00:00:00Z
Juliana and Marcos are the best hostess that i had during all my travels. She helped me all the time and gave me all the informations that um foreign needs when arrive in Kitchener. They cook very well and we enjoyed a lot!! The room was better than it supposed to be, and the Location is easy walking for anywhere downtown. Few minutes from Charles terminal and in front off the Bus Stop for all Universities, Train Station also. I loved to stay for a month with them!!! See you Juliana, Marcos and Donna!!! you are now my family here!!!!
KAREN
2017-04-01T00:00:00Z
Kamertype
Privé Kamer
---
Type woning
Appartement
---
Geschikt voor
3
---
Slaapkamers
Kitchener, Ontario, Canada
Our sleek and comfortable one bedroom apartment is modern yet quaint, located in the heart of Midtown Kitchener. 5 minutes walk to (SENSITIVE CONTENTS HIDDEN), Commumitech and UofW School of Pharmacy. Walk to both downtown cores, with access to restaurants & nightlife.
We hope you will love our City Suites 138 apartment during your visit to Kitchener Waterloo! 138 Moore is a quiet, executive 1 bedroom + den apartment, in a beautiful century home surrounded by trees. Centrally located within minutes walking distance of Uptown Waterloo or Downtown Kitchener. Located on a major bus route and only steps away from the future LRT station, you won't find a better location than this! The apartment is a lower level city suite, (rear entrance) within easy walking distance of groceries, banking, several restaurants, pubs and LCBO. You are truly located a few minutes walk from Uptown Waterloo or Downtown Kitchener. Apartment Information • transitional design • Queen Size Bed from West Elm • Full Office • Leather sofa and Chairs in living room • 50" flat screen TV • In suite European style washer and dryer • Eat in Full Kitchen (for 2), Including Stove, Fridge & Microwave • All dishes, pots and pans & cooking utensils provided • Parking for one spot You will find our apartment ideally located, very comfortable and with all the amenities you will need for your executive stay in Kitchener Waterloo! Neighbourhood Information: Family Neighbourhood - You will feel safe and secure in this lovely family oriented neighbourhood! Work & Learn Nearby - No Commute - Large tech corporations, Hospitals and Universities are all within easy biking / walking distance. Wilfred Laurier, University of Waterloo - Health Sciences Campus & Pharmacy School, Clarica/Sunlife, Manulife, Stantec, & Communitech. The Tannery Warehouse District is right down the street with High-Tech firms such as (website hidden) and Desire2Learn, plus many smaller neighbourhood shops, stores and services. Shop Nearby - Groceries, banking, government services, and health services are all within steps of your front door! Shop the Kitchener Farmers Market, Central Market, Vincenzo's or Sabletine! Beertown, The Bauer Kitchen, The Bauer Butcher, The Works….. all within easy walking distance of your front door! Transportation - Local buses stop literally at your doorstep, and the main terminal is very close by. The VIA station with access to Toronto, as well as the new LRT station! Entertainment - A short walk gets you to a variety of downtown & uptown restaurants, theatres and amenities. A five minute walk to downtown Kitchener and you have The Centre in The Square, Kitchener Public Library, & skating rink at Kitchener City Hall, and in 5 minutes to uptown Waterloo you have the Princess Twin, The Clay & Glass Gallery, The Shops in Waterloo Town Square, as well as the Waterloo Skating Rink! Lets not forget the world class institutions: The Perimeter Institute and The Center for International Governance!
Our apartment is located in one of the most central areas of Kitchener-Waterloo. It is within walking distance to the Lang Tanning Building, or The Breithaupt Block, as well as either downtown core! Restaurants and bars are within close proximity, as are major Universities. The neighbourhood is very quiet and family oriented with beautiful century homes.
Melissa Scott made herself available to greet us at the apartment. This was done at our convenience, with explicit instructions how to get there. Her welcome was warm and friendly. The apartment was stocked with a few food items for breakfast, coffee and cream. A welcome treat after traveling. The apartment was exactly as advertised and more. It was clean and well stocked with the essentials needed for traveling such as alarm clocks and hangers. There was also small containers of toiletries to replace forgotten items. The place was well decorated, well lit and has a very comfortable bed. The apartment is located in a well kept, quiet and mature treed neighborhood. A simple short walk to a grocery store and a coffee shop. A neighborhood in which a long leisurely walk was very pleasant. I was very relaxed and comfortable , the apartment itself felt like a holiday. I would return any time and would highly recommend this Airbnb.
Lloyd
2015-06-21T00:00:00Z
This location was exactly what we needed it to be. My wife and I were in the area for 6 months, and we stayed at this location the entire time. It was fantastic because all the furnishings etc. were perfect for what we needed, and everything was well-stocked. Melissa was extremely responsive to our requests and communicated well with us. During a six month stay, maintenance issues sometimes come up, and Melissa was always prompt with fixing the issue. Finding this place saved us from the hassle of furnishing and leasing an apartment for short-term residence, and we couldn't be more satisfied with how it turned out.
Andy
2016-09-17T00:00:00Z
We had a nice stay here, with the whole basement apartment to ourselves. Melissa was welcoming, with some tips on the local area, and had a set us us up with a few supplies to start us off - the fresh bagels and cream cheese were much appreciated :) The apartment itself was nicely furnished and had a good feel. There was some occasional humming that could be heard in the bedroom, which isn't ideal for a light sleeper, but it's manageable. It was good to have the separate study area with desk (as we both had to work while there), and the rooms were all a good size.
Laura
2014-09-03T00:00:00Z
The apartment and neighbourhood were great. On the day of arrival the host was very helpful. We stayed here for a month and we would recommend this apartment to anyone planning a trip to the Waterloo area.
sander
2015-01-02T00:00:00Z
That was the first AirBnb experience for me and my wife. We stayed here for over a month and really enjoyed the apartments. Melissa is a great host, very helpful and flexible! The apartments have everything you need which make you feel like you're at home at the time when you really need this feeling.
Zakhar
2016-03-13T00:00:00Z
Excellent basement accommodation; well and thoughtfully equipped; superbly managed. Audible movements from above and noisy fan associated with central heating might disturb a light sleeper. Convenient and very comfortable - thank you!
Anna-Marie
2015-12-31T00:00:00Z
Stayed in this apartment while on a short-term work placement. Outfitted with everything you need; kitchen well stocked and internet was fast and reliable. Melissa was friendly and a good communicator. Would stay again.
Aaron
2017-03-06T00:00:00Z
My husband and I stayed in this quaint little apartment while visiting our son in Waterloo. Melissa was a wonderful host and went out of her way to make sure our stay was enjoyable. The apartment was immaculate and the bed was more comfortable than most hotels we have stayed in. Our flight was not leaving until later in the day and she very graciously offered the use of the apartment until we were ready to leave.
Eileen
2014-06-16T00:00:00Z
Kamertype
Gehele woning/appartement
---
Type woning
Appartement
---
Geschikt voor
2
---
Slaapkamers
Kitchener, Ontario, Canada
My place is close to the fabulous Kitchener farmer's market, good cafes, and exotic tattoo parlours (!). *Please review the house rules and cleaning upon check-out before booking :) You'll love my place because of the friendly neighbourhood, comfy bed, sweet lil kitchen, laundry, tons of towels, clean everything, plentiful hot water, massive 2nd floor attic, box set of Columbo DVD's, the cosiness and quiet street... My place is good for couples, solo adventurers, and business travellers.
Two top floors of large mid-century brick house. Kitchen, bathroom, office/bedroom, bedroom all on main floor with massive attic with skylight on top floor. Both couches pull out into what I'm told are comfortable beds. Bed has feather duvet + feather pillows, with plenty of linens should the pull out bed be necessary. The top floor has a large cutting table for crafts + painters studio and comfy couch/lounge chairs for getting cozy with a book etc.
My street is quiet, residential and a five minute walk to the Kitchener Farmer's Market. Produce is sold Saturdays, the amazing international food court is open throughout the week until 2pm. Other fun stuff: The Apollo Cinema The Yeti Cafe Jane Bond Restaurant & Live Music The Starlight Ethel's Lounge Queen Street Commons Cafe Kitchener Waterloo Art Gallery (KWAG)
Sarah was a wonderful host. It was easy to communicate with her prior to the arrival. The apartment's location was great - close to downtown Kitchener. The apartment was clean, quiet and safe.
Paula
2016-10-10T00:00:00Z
Excellent :) the apartment was beautiful and in a great location. Sarah was very helpful, would recommend.
Julian
2016-10-14T00:00:00Z
Sarah is an excellent host. Very responsive and quick to let me know if there was anything happening. I really enjoyed my stay!
Helen
2016-12-23T00:00:00Z
My stay at Sarah's was lovely. Everything I needed was there and the "artist studio" atmosphere was very conducive to my little writing retreat. Sarah was very considerate and easily communicated with even though she was not in town.
Peter
2016-11-13T00:00:00Z
Sarah's apartment was well-equipped and served me well for four nights. I didn't meet Sarah but she was helpful and answered my questions quickly. The apartment seemed a bit out of the way without a car, but it was walking distance to downtown Kitchener.
Darcy
2017-01-02T00:00:00Z
Kamertype
Gehele woning/appartement
---
Type woning
Appartement
---
Geschikt voor
2
---
Slaapkamers
Kitchener, Ontario, Canada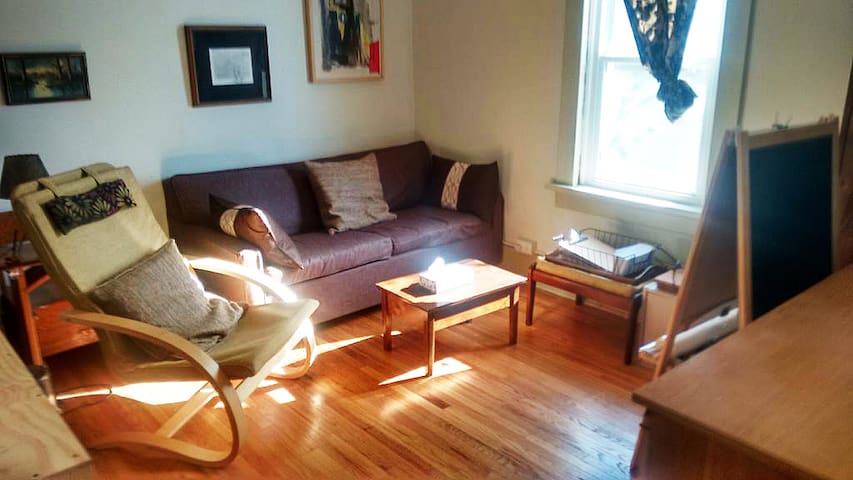 This quiet, private 3-room suite is on the 2nd floor of a new townhouse. Rooms included are: private bedroom, private living room, and private full bathroom. Also included: wifi, Netflix, and bar fridge. Just 5 minutes from the Waterloo Region Airport, and 10-15 minute drive from most central locations in Kitchener-Waterloo. Located in a quiet neighbourhood with walking access to amenities, transit, and trails. This space is great for couples, solo adventurers, and business travellers.
If Airbnb had a category between whole house and private room — this would be it! Though the entrance, stairwell to 2nd floor, and upstairs landing is shared with us, the 3-room suite is private and yours! You might not see us much – as we spend much of our time on the main floor and basement.
Quiet neighbourhood on the edge of town near walking trails and Grand river. 5 min walk to an ABM, a well-stocked convenience store, amazing pizza shop, and a Subway sandwich diner.
Kathryn and Joseph are great hosts! They provided me with more than necessary and were always reachable and friendly. Loved staying with them since they have such a comfy place. Would recommend it to anybody.
Jeniffen
2016-10-11T00:00:00Z
I can't Kathryn and Joseph for the professional and friendly environment they created for me while I stayed with them for two weeks.The rooms were extremely well kept and clean with everything you need. If you are looking for a comfortable place to stay with down to earth helpful hosts regardless of whether it is a business trip or for pleasure, this is a great option.
Mark
2016-09-16T00:00:00Z
Joseph and Kathryn made this the best possible airbnb experience. Clean - quiet - beautiful home - available for any questions... it was better than I could expect.
Gus
2016-10-19T00:00:00Z
Amaizing hosts, beautiful, clean home, quiet, save neighbourhood. Kathryn & Joseph made me feel very welcome. Fantastic place to stay! Strongly recommend!
Margo
2016-11-20T00:00:00Z
Best stay ever. Everything was perfect, even more then we expected from the pictures.
Prabhjot
2016-09-01T00:00:00Z
It's amazing experience. I love this life style and we can get 3 rooms for live. Thank you so much for give us a new experience. Charlotte and Rex
Yueting
2016-09-04T00:00:00Z
While being "between the houses" and needless to say a bit under stress we were looking for a place to stay. In that situation we were really lucky and delighted to meet and stay at Joseph & Kathryn's place. They were very nice, friendly and ready to accommodate our needs to make the stay enjoyable and worry free. The place location is perfect to reach the city and highways but very quiet with river just beside it. We had 3 rooms for our private use (bedroom, office/breakfast/tv room, and the bath). That was great. When we were looking for a place to stay for yet another week, we (without any hesitation) booked again with Joseph & Kathryn's. Luckily it was still available and we had that wonderful place for us. We would like to mention how well Joseph and Kathryn organized and maintain the place in very, very clean condition. This is wonderful place and we would strongly recommend it to everyone. Personal, if we would need a place to stay again, we would check Joseph's and Kathryn's place availability first.
Viktor
2016-08-13T00:00:00Z
This place is incredible! Kathryn and Joseph are super nice and friendly. Living room is warm and sweet. Bedroom and bathroom are both very big. The price is affordable and reasonable. Highly recommend to everyone!
Jenny
2016-09-23T00:00:00Z
Kamertype
Gehele woning/appartement
---
Type woning
Appartement
---
Geschikt voor
2
---
Slaapkamers
Kitchener, Ontario, Canada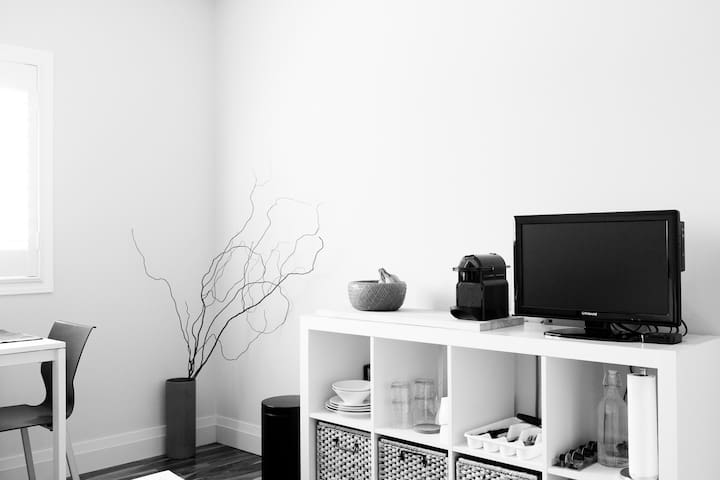 Whole place is yours until April 9th, 2017 only. Then it will be on a case by case basis after April 9th. Charming heritage home within walking distance to Center in the Square and all downtown Kitchener has to offer.
Veel karakter en trappen in deze eeuw huis. Niet mobiliteit vriendelijk als het apparaat is op de 2e en 3e verdieping.
Kamertype
Gehele woning/appartement
---
Type woning
Appartement
---
Geschikt voor
4
---
Slaapkamers
Kitchener, Ontario, Canada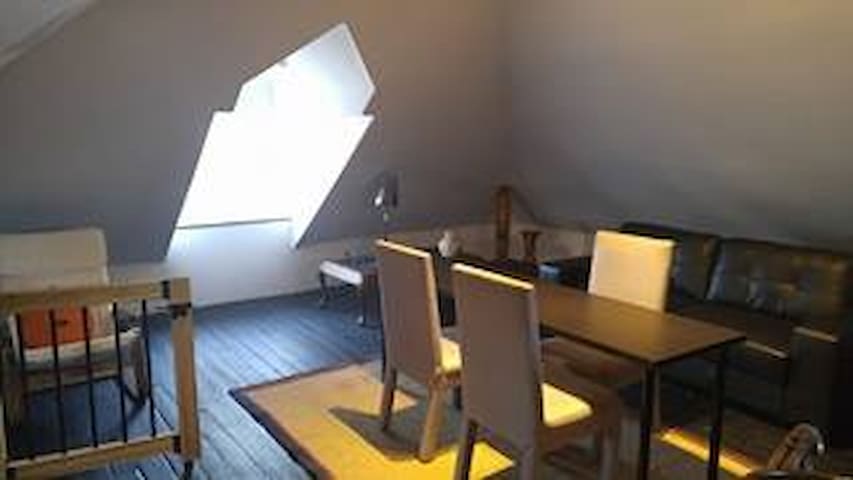 Hello my lovely travellers! Bright and cosy one bedroom apartment with full bathroom. Walking distance to Downtown Kitchener and Uptown Waterloo! Beautiful balcony, relax outside and watch the sun set during your stay.
Hello my lovely travellers! My name is Jessica and I am so excited to finally be hosting my apartment for those who are looking for a relaxing, unique space to get away or spend the night! This apartment has a zen/artistic vibe. It is in an old apartment building, so it has its quirks. There is a lot of natural light and space. There is also a beautiful balcony where you can relax, get some fresh air and watch the sun set during your stay. There is a double bed. I am also able to set up a blow-up mattress, please let me know in your enquiry if you need it. I have no animals, but many plants! Especially cacti. Don't worry - they don't bite! I make my own body products, so you will have access to homemade shampoo and soap. I'll also have some fruit and breakfast items for you! There is a ukulele and keyboard you are welcome to use! There is parking for one vehicle on site. Additional parking can be found on the street.
The apartment is located in a quiet, older area of the city. Downtown Kitchener is a 5-10 minute walk away. Uptown Waterloo is a short bus ride away (you could walk, too!). All amenities are very close. Grocery stores, Walmart, Tim Hortons are just a short bus ride away.
Jess' place is a great little 3rd-floor apartment in an older building. The place is well cared for, clean, and so very close to downtown. Jess was a great hostess, and very flexible with our changing conditions. Thanks Jess!
Paul
2017-01-05T00:00:00Z
Very cute decor. Jess is very communicate with and she made it super easy to access the apartment. She's very welcoming, leaving both a book about the history of Kitchener and a note greeting guests, as well as handmade soap, shampoo and body wash for guests to use. The apartment was tidy with fresh linens, though perhaps not scrub-til-it-shines clean, but the cozy feel, charm, and great organization made up for it. Overall, very unique space and easy experience!
Celia
2016-09-18T00:00:00Z
Staying at Jess' place was probably the most smoothest Airbnb experience I've had. She's super easy to get a hold of and is very helpful; just an awesome character in general. Checking in and out was easy and flexible. The place itself was very nice and would come back to stay again.
Baljit
2017-01-15T00:00:00Z
The host canceled this reservation the day before arrival. This is an automated posting.
Alykhan
2016-05-10T00:00:00Z
This was the most beautiful, homey place I've ever been to. I wish I could live there! I recommend this to anyone who wants a cute place to relax, I honestly can't describe the experience, it was amazing, and jess was a very gracious and understanding host. Thank you so much for allowing us to stay at your home, she will be hearing from us again next year!
Nathan
2016-06-07T00:00:00Z
At first, after my stay, I was reluctant to give a really great review, because I feared that too many people would flock here, and I would never be able to get a night here again! Ha ha. Nevertheless, this property gave me everything and never asked for much in return. Relaxation was almost immediate upon settling in. I had a sleep fit for a king and felt very comfortable and secure here. The artistic flair and pictures of distant lands took me away from my busy day, and left me with a smile on my face. I would recommend this little piece of heaven to anyone, young or old.
Peter
2016-09-29T00:00:00Z
Check-in was smooth and easy and the apartment was cute and very comfortable. We appreciated the home-made soaps Jess provided and the watermelon she left in the fridge :) The location is very convenient to downtown Kitchener.
Jesse
2016-07-14T00:00:00Z
This is an awesome place! It was very vintage and it gave me so many ideas on how to decorate my own home! The location was perfect too! A couple minute drive to Downtown Kitchener and with food shops nearby, its just as easy to walk. Jess also had board games to play! I loved the Jenga 'Donkey Kong' edition. If I'm ever back in Kitchener, I'd happily rent again!
Umaesh
2016-07-03T00:00:00Z
Kamertype
Gehele woning/appartement
---
Type woning
Appartement
---
Geschikt voor
2
---
Slaapkamers
Kitchener, Ontario, Canada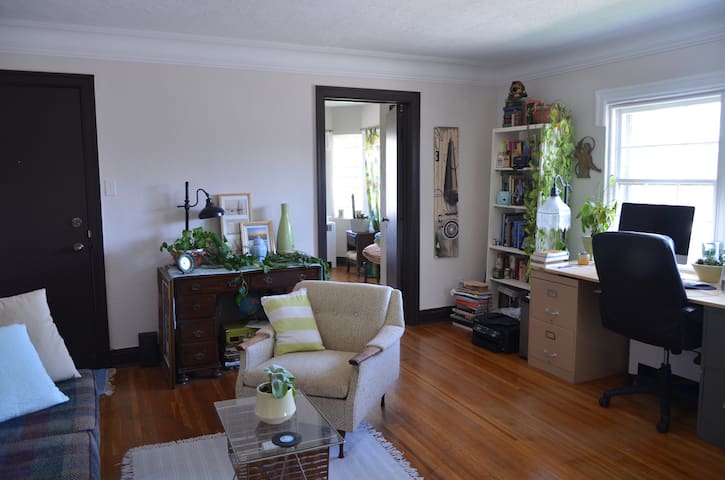 Basement studio apartment with private entrance, a full kitchen, full bathroom, 1 parking spot and separate laundry. This studio has a modern feel, bright and open concept. We are located on a quiet street in a suburb of Kitchener close to Waterloo
Our space is bright, clean, modern and inviting.
Quiet suburb or Kitchener, close to Waterloo and the expressway.
Your location was really fantastic and thank you for your hospitality.
Naomi
2016-07-31T00:00:00Z
Great apartment, very friendly host
Tom
2016-05-10T00:00:00Z
Our stay here was awesome! Good location and easy check in. Would highly recommend!!
Adrianna
2016-07-11T00:00:00Z
Our host was very simpatetic, kind and tried to make our stay as comfortable as posible. The place was wonderfull and had everything that we needed. The neigbourhood was very calm and safe. Beautiful place.
Cendar
2016-09-01T00:00:00Z
Overall a good experience, great hospitality as milk and cereal was provided. A bit of noise in the morning, but expected from a basement apartment. Some suggestions for future guests are a microwave, plunger and fixing the water leaking from the bathtub. Still a great and cozy stay for a guests.
Anita
2016-06-07T00:00:00Z
Staying at Robert's was a very home like feeling. They were the perfect hosts. Took care of almost all our needs. They provided us with everything one can possibly need. They all were very friendly. My son also loved interacting with all of them.
Fabeha
2016-07-02T00:00:00Z
Très bon accueil (des petits présents bien appréciés) et toutes les explications utiles
Pierrick
2016-06-15T00:00:00Z
amazing.
yunfeng
2016-08-16T00:00:00Z
Kamertype
Gehele woning/appartement
---
Type woning
Appartement
---
Geschikt voor
2
---
Slaapkamers
Kitchener, Ontario, Canada
Super central location - walking distance to Innovation District, Grand River Hospital, School of Pharmacy, GO Train Station or 10 min drive to universities. Spacious, bright, top floor apartment, recently renovated with 3 new bathrooms and 4 new beds. Great for business travellers (wifi, printer, desks) or family and friends looking for more space. Off-street parking for 3 cars plus plenty of space on the street. Kitchen is well equipped to make it our second home in KW.
This is a large apartment on the top two floors of a converted Victorian house. I use the apartment as my second home when in Kitchener. Minimalism was on my mind when I started to furnish and decorate the property. There currently is no TV (there is however a projector and we enjoy movies on the big screen next to the stairs). If you contact me, I will reply quickly to booking requests or questions.
It is very large and open. Excellent space for my 2 small children. Beautiful!
Beth
2017-03-11T00:00:00Z
Even with the time difference (he lives in the UK) Terry was always very quick to respond to any questions and requests. He was very accommodating especially since I had different shifts of people staying at his place for an installation we were doing at a venue in Kitchener. The house was perfect for hosting everyone and was a nice place to stay.
Alex
2016-10-13T00:00:00Z
This was our second stay at Terry's and we've already booked our third. His home is spacious and well equipped for visiting with family with all of the comforts of home.
Michelle
2017-03-26T00:00:00Z
Terry est très disponible si vous avez des questions et ce, même si il n'est pas présent lors de votre arrivée. La maison est très agréable et très spacieuse. Elle est complètement équipé et très pratique. Je vous recommande la maison de Terry sans hésitation
Emeline
2016-11-13T00:00:00Z
Terry's place was exactly what we were looking for. It was very well located and quick to get to most places in KW by car. The house was clean and very spacious! It had most of the amenities we needed and even some basic kitchen supplies. Terry was great at communicating with us despite of the time difference. The only thing the place is missing is a microwave, but I do not fault Terry since the listing clearly states this. The internet was also fairly slow, although still very much usable. All in all, a great stay for us!
Sebastian
2017-01-15T00:00:00Z
Terry was quick to answer any questions we had. It was a great first experience with airbnb.
Cathy
2016-12-04T00:00:00Z
A pleasure to deal with Terry. Excellent place to stay, we really enjoyed ourselves.
Cara
2016-12-16T00:00:00Z
Terry's house suited us perfectly. It was clean, spacious and comfortable. The kitchen was well equipped for eating in and the beds and bedding were great quality for a good night's sleep. We hope to visit again while our son attends grad school in Waterloo.
Michelle
2017-01-03T00:00:00Z
Kamertype
Gehele woning/appartement
---
Type woning
Appartement
---
Geschikt voor
8
---
Slaapkamers
Kitchener, Ontario, Canada
Small room in a 2-br apartment
Kamertype
Privé Kamer
---
Type woning
Appartement
---
Geschikt voor
2
---
Slaapkamers
Kitchener, Ontario, Canada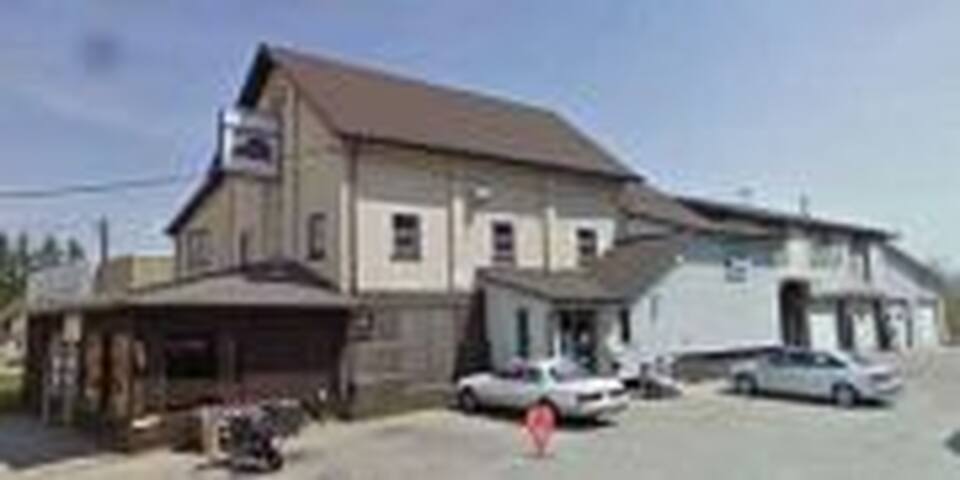 Breslau - Airbnb
:
Gemiddeld

4.77

van

5

sterren op basis van

214

gastrecensies