Small studio apartment, situated conveniently in wide city center, only 15 min. walking away from the main city square. Apartment is clean, neat and comfortable for single traveler or a couple. Excellent for spending some great time in Belgrade.
Just renovated apartment studio is in a basement of an apartment building. Contains of a living room with kitchen included and the bathroom. Although window is facing a main street, apartment is very quiet and isolated. I have two more apartments in the same building, please check them out, go to my profile my and scroll down.
It is a one of the safest neighborhood in Belgrade , across the street is a main police station .
Great place to be used as a base for launching trips around Belgrade! The host: Meda is the best organized host you will ever meet. He will give you the best info about anything you need and there is no way you can make a mistake. When you see the message telling you how to reach the place you will see what I'm talking about: street address, coordinates, password from the wifi to contact him when you're there, help if you need to get there from airport... the guy thought of everything. Every advice he gives you is spot on: need a place to eat - ask Meda. When we arrived at the apartment there was some issues with the shower. Just sent one viber message to Meda and we walked out to get something to eat. Meda walked inside, fixed it and left it spotless and we didn't even notice. You can always reach him and he is super helpful and kind! The place: the place was clean, the bathroom was spotless! It also had a kitchen, but we didn't use it. The place is well heated, you have hot water all the time and it is really all you need if you don't plan to spend days locked into the apartment. Location: The apartment is located near one of the main streets in Belgrade. At around 200m from your apartment you have a public transport station and you can go wherever you need. We didn't use the public transport though since the apartment is within a walking distance from Skadarlija, Knez Mihajlova street, Kalemegdan and so on. There are a lot of small/medium supermarkets near by so you have everything you need. Of course being in Belgrade you never have to worry about food: burgers (try cika Miletove Pljeskavice), bakeries and small restaurants all around you :) If you need anything more ask Meda. To whoever stays here: have a great stay :)
Gordan
2017-01-06T00:00:00Z
Thanks Meda i had a great time in Ireland! Meda was looking after from the moment i landed and ensured that i was not missing anything throughout me stay. Place was just like on the pictures. Highly recommend!!
Tere
2015-09-28T00:00:00Z
Great place!
Milan
2017-03-08T00:00:00Z
Great place for this price. Yes it's small but you have all you need. Including a big shower. Location is great because you are a 20min walk from the center in a quiet street, much better then in the center with the noisy bars.
Nuno
2016-09-16T00:00:00Z
If you want to stay in Belgrade, you should choose this room! I completely reccomend. You can not only stay but also live there. All you need things are equiped this room, and very clean! I was verysurprised I could watch Youtube on this room's TV. This accommodation's host, Mr. Meda is very kind, anxious of me when I stayed Belgrade all the time. I really appreciate him, I could live with very relax time!
Masayuki
2016-03-15T00:00:00Z
I would certainly recommend this studio for a stay in Belgrade. Meda is a very nice and helpful host. The location of the studio is great, easy to commute to city center with many bus lines.
Daming
2016-06-29T00:00:00Z
I spent a week in Dusan apartment. The room looks exactly as in the picture. The apartment itself was really clean and cozy. The location was comfortable - only 10 minutes of walking to the downtown. Public transport was also available. Dusan was nice and very kindly host. I would strong recommend Dusan and his apartment to spend.
akimi
2015-01-30T00:00:00Z
Nice small room that's walking distance to the main attractions. Really enjoyed our stay in Belgrade and Meda was really helpful throughout.
Kirsty
2015-10-15T00:00:00Z
Kamertype
Gehele woning/appartement
---
Type woning
Appartement
---
Geschikt voor
2
---
Slaapkamers
Belgrado, Serbia, Servië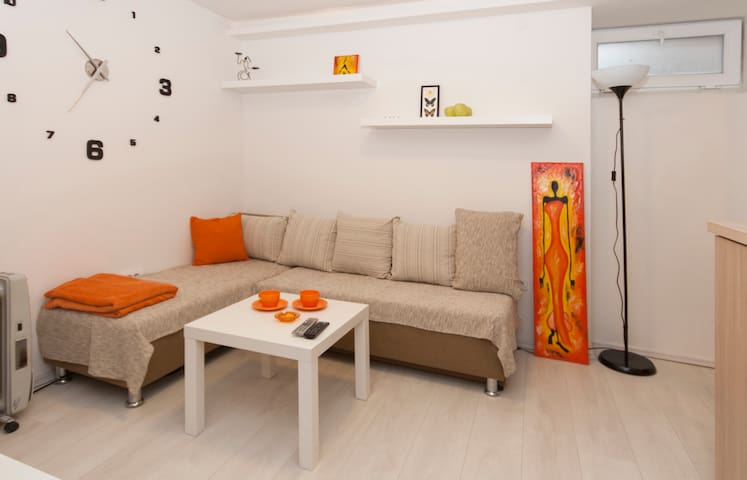 This beautiful, luxury one bedroom house is a stylish retreat in one of the top ranked entertainment cities in Europe. The unique home features a secluded garden oasis, with exotic plants and magical atmosphere perfect for entertaining or relaxing. It is located steps from shopping, restaurants/bars and transit, yet is completely private and quite. LOCATION The house is centrally located to all major transportation (2 minute walk to all main transit, streetcars and buses) and easy access to highway. Direct buses and streetcars will take you to down town center in 12 to 15 minutes. Direct buses/streetcars (phone number hidden)) will take you directly to major attractions in Kalemegdan, Knez Mihailova, Terazije, Skadatlija, old town Zemun and New Belgrade. The house is steps away from one of the oldest and longest streets in Belgrade known as Bulevar Kralja Aleksandra, bustling with shops, restaurants and cafes. Find local produce at charming farmers markets such as Cvetkova Pijaca and Djeram also walking distance from the house. TRANSPORTATION / DRIVING SERVICE Driving services are available to and from the airport / bus station and around the city during your stay. The private chauffer is available at your request at comparable rates to city taxis. Free parking available on the street if you are coming with your own car. AMENETIES This Belgrade home, has an international flare. The house features; a high cathedral ceiling, American style open concept kitchen/dining area, a beautiful 20 square meter wooden deck terrace with foldable table and chairs perfect for romantic dinners outdoors, or gatherings with friends. This residence easily sleeps three people - two in the bedroom and one on an extra large comfortable sofa. The house is a fully equipped with brand new high-end amenities; air conditioning, washing machine, dishwasher, microwave, oven, glass cooktop, vacuum cleaner, kettle, dish wear, linen, towels, iron & ironing board, remote controlled color LED lighting & dimmer lighting, large 47" LED TV, HD cable TV, WI-FI internet and local phone line. No smoking inside the house.
Heerlijk appartement in Belgrado. Groot genoeg om te genieten na je stadsavonturen. Niet direct in centrum wat voor ons een voordeel was. Schoon, zeer smaakvol ingericht, rustig en een geweldige kat inclusief. Met lekker weer heerlijk buitenplaatsje. Met Vesna alles goed geregeld. Wij komen terug! Dikke 8.5
Marija
2016-05-05T00:00:00Z
Amazing house! It got a beautiful garden, comfortable furnitures. Fast food, bar, supermarket, and bus stations are all around. Hosts are friendly and warm-hearted. We spend a great time there.
Yan
2017-03-31T00:00:00Z
This is second visit to Vesna's palce. 4 weeks of great hospitality, wonderfull time in Belgrade and all I can say - highly recomended! thank you Vesna for all! Nino
Nino
2016-02-14T00:00:00Z
The house's living actually. We absolutly glad to had this house. İf it's gonna be next time. I ll book this house again. Easy to go center by bus. Max 20 mins. Matija's very friendly and cared us.
serkan
2016-12-15T00:00:00Z
Ev gercekten bir huzur kosesıydı. Tasarımı modern ve kullanıslıydı. Ihtıyacımız olan her sey her esya mevcuttu. Mutfak gereclerinden banyo malzemelerine ve nevresim takımlarına kadar her sey gayet hijyenikti. Yardima ıhtıyacımız oldugunda ev sahibi gayet ilgiliydi. Lokasyon olarak merkeze otobusle 20 dk uzaklıkta. Otobus duragı 10 dk yurume mesafesinde. Yakınında yeme icme icin market ve pastane (URL HIDDEN) kaldıgımız bu evde cok huzurlu ve mutlu hissettik. Her sey için çok tesekkur ederiz.
Sabanur
2016-03-01T00:00:00Z
Very clean and very beautiful apartment. Lots of nice pictures and arts. Also very quiet. Everything looks exactly like on the pictures. I will definitely come back !
Dejan
2016-02-27T00:00:00Z
we've stayed at vessna's beautiful hideaway for 5 days in jun and loved every moment of it. the apartment is beautiful, comfortable, very tastefully decorated and really well equipped with everything you would need during your stay. we felt right at home! if and when we come back to belgrade, this is from now on the only place we would ever stay in... vessna was a lovely host, from the word go she was available to help in every possible way. we would warmly recommend "mala centrala" to anyone visiting belgrade!! tamara and petar
tamara
2014-06-07T00:00:00Z
very well equipped and comfortable for the size of apartment It was a hard to find in beginning but than secluded and peaceful place Vessna was very helpful also offered to pick me up from the Airport. All together satisfied
Aleksandra
2016-05-04T00:00:00Z
Kamertype
Gehele woning/appartement
---
Type woning
Huis
---
Geschikt voor
3
---
Slaapkamers
Belgrado, Servië
Luxury duplex apartment at the riverbank. Nature, river and hedonistic atmosphere in the heart of Belgrade. You will enjoy staying in this extraordinary , centrally located apartment. Outdoor pool and bar are at guests disposal.
I'm am surprised there's no reviews so far so here is a detailed one. Location: 5 min drive to the city centre or a mall. 150 meters aways from the 'raft clubs' - most popular summer clubs in the city. Things that you should know is that you can't drive exactly in front of this place, so you need to leave the car on the parking that's 2 min away by foot and you walk through a park. That's not easy with big bags but the host would help you if you need. Also, make sure you pick up anything you need when you go to the city because there is no supermarkets within a walking distance. During the weekends you can hear the music from the clubs. We didn't mind because we were to tired. :) Apartment: This is a big raft that works like a small hotel. You would get one room in it with a batrhoom and a balcony door to take you to the cafe that's avaiable 24/7. The rooms are brand new, beutiful and with modern design. Perfect for couples I would say. However, some parts were not very practical, like the shower. Shower is not in any way separated, there's no curtain or glass.. basically, once you turn it on the whole bathroom gets flooded. Not very convenient, since you need to wait for some time (10-15 min) for the water to go away and you need to keep your toiletries elsewhere if you don't want them wet. Host: During the day, Sasha, the guy who works at the cafe/reception, is there for you for whatever you need. We found him very positive, approachable, kind and friendly and it seamed that other guests find it that way as well. During the night, somebody else it there but I forgot his name. (Sorry :( ) Also, there is security checking that your car is safe every 30 min throughout the night- we've been told. All in all this is an unusual and cool place to stay in. Sitting by the river and enjoying the view in the summer time is awesome. And if you go clubbing you don't have to think about the drive back- it's a 1 min walk. :) We also had some friends over for drinks so it's convinient that the café is there. So apart from some technical problems I described, I am happy we chose this place since it was much more interesting than a normal flat.
Ana
2016-06-07T00:00:00Z
Hvala na svemu!!
Nino
2017-01-02T00:00:00Z
The host canceled this reservation the day before arrival. This is an automated posting.
Blago
2017-01-06T00:00:00Z
Ganz tolle und exklusive Unterkunft. Sehr schön gelegen an der Sava. Wer was besonderes sucht ist hier genau richtig. Werde auf jeden Fall noch mal wieder kommen.
Dragosava
2017-04-04T00:00:00Z
Kamertype
Gehele woning/appartement
---
Type woning
Appartement
---
Geschikt voor
4
---
Slaapkamers
Belgrado, [no name], Servië
Sunny and spacious 55 sqm apartment with large balcony in new, modern building located in the walking distance from the city center and new hipster area "Savamala". 24/7 secured parking available upon request (5 EUR per day). There is big Maxi/Delhaize supermarket just behind the building, as well as various public transportation lines and other shops. Despite of the closeness of the city center, highway is easily reachable. Perfect for couples and groups of three.
Kamertype
Gehele woning/appartement
---
Type woning
Appartement
---
Geschikt voor
4
---
Slaapkamers
Belgrado, Servië
Two bedrooms apartment in the heart of the city, fully furnished, newly renovated, luxurios, spacious, with air- conditioning, LCD TV , WiFI, cable TV, laundry, secured door and all other necessary appliances included. OPTIONAL - SECURED GARAGE
New and modern apartment located in the very heart of Belgrade, the best area you can stay at. Walk to the beautiful sites in Belgrade and experience its popular night life. SECURED GARAGE at an additional charge available upon request.
Excellent flat, outstanding location and Jelena is super helpful at all times. A real gem!
Iavor
2015-10-04T00:00:00Z
The reservation was canceled 2 days before arrival. This is an automated posting.
Alaa
2014-10-06T00:00:00Z
Jelena (pronounced Yelena) was an amazing host with a wonderful place. Exactly as photos show. She was waiting for us downstairs in a cool restaurant. She told us the places to go (and not go upon arrival). LOCAL EXPERT! Location is absolutely perfect for having coffee downstairs or walking to ALL of Belgrade's hot spots: The Fort park (Kalemegdan), the pedestrian shopping street (Knez Minailova), and the Sava River with the newest, coolest riverside restaurants like Toro, Sakura, Frieda. It was only 500 Dinars ($5 usd) to taxi to the biggest Church in the Balkans, Saint Sava (still under from 1895, home of original church burned in 1595). Around the Chuch are other cool places to drink, eat, and chill. Highly recommended.
Peter
2016-10-16T00:00:00Z
Gerçekten çok ilgili bir ev sahibi. Evin yeri gerçekten mükemmel.Belgrada bir kere daha gidersem kesinlikle kalacağım yer burası olacak.
Alper
2016-03-02T00:00:00Z
Very Nice flat in the center of Belgrade. Jelena is very easy and prompt with her communication. Would definitely like to stay here on my next trip to Belgrade
can
2016-05-23T00:00:00Z
Odlicna lokacija i super apartman.
Luka
2016-05-02T00:00:00Z
Absolutely brilliant. Great location, apartment, amenities and host. Jelena was there to greet us as soon as we got there and the place was spotless. Located just minutes from the central district but on a quieter street so was very peaceful.
Andrew
2016-02-22T00:00:00Z
Good location. Great design. Fair price. Friendly host! I loved this apartment!
Anas
2017-01-28T00:00:00Z
Kamertype
Gehele woning/appartement
---
Type woning
Appartement
---
Geschikt voor
4
---
Slaapkamers
Belgrado, Servië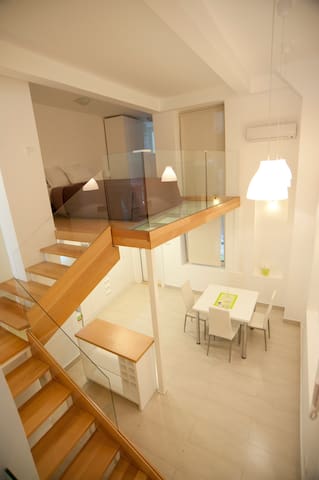 Stylish,homey,equipped 1 bedroom,65m2 flat with lots of natural light,modern kitchen,terrace;great location close to the city center right across the Grand Casino and the large Danub river park area with various bars/restaurants,clubs, sport options
This apartment is very warm and has all the things one needs for a very enjoyable stay. One large bedroom with a huge king size bed (for two), spacious living room with a big comfy couch (ideal for one person sleeping on it) and one convertible sofa for the 4th guest. The living and dining area have large windows facing the tree-lined street for a very pleasant natural lighting experience. The main space has a flat screen TV, cable TV with a selection of international channels and Wi-Fi internet. The kitchen is equipped with an electric hob, electric oven, a dishwasher and is fully stocked with cooking utensils. The washing machine is also hidden and positioned in the kitchen. Central heating is available in winter, and an air conditioner keeps you cool in summer. There is also a cozy, small terrace with a table and chairs that seat three, but the terrace is large enough if more people wish to enjoy the fresh air, a quick smoke etc. Please note that the terrace as well as the whole apartment, have window shutters if guests prefer less light or no light at all while sleeping.
The apartment is located right across the Danub river park/walkway where various restaurants and bars are located. It is also very nice for walking, running, biking and other sports activities. The walkway is long and beautiful and it really offers various options - on one side it takes you to a Bohemian area of the city called Zemun, where there are some of the best fish restaurants in the city overlooking the river and its great surrounding nature. On the other side of the walkway there are open gym areas, bicycle routes that than take you all the way to the famous Ada lake, more restaurants, as well as some of the most famous clubs in the city with all types of music (domestic, house, pop, alternative etc). The walk from the apartment through the river park area all the way to the city center is highly recommended, especially during good weather since it has great nature and beautiful postcard images overlooking the whole city. Hypermarkets are steps away, as well as Goce Delceva street famous for the best fast food in Belgrade. Sports - except various outdoor options that the Danube river park/ walkway offers, there is also an indoor gym as well as a Cross Fit club all within walking distance. The largest shopping center and cinema is located 15-20 minutes by foot (walking through the Danube park area) or within 5 minutes with various bus lines which also stop right next to the apartment and are very frequent.
Really tasteful decor - the outside of the building doesn't give you any idea of how nice the flat inside is - very spacious, clean, comfortable - colourful - right near the beautiful Danube - very satisfied!!
Adrian
2016-09-05T00:00:00Z
Nothing could be bettet
Wohnhas
2016-10-03T00:00:00Z
Our home was lovely. Although ,we couldn't meet Nemanjia in person, he and his father were helpful and informative in everything we asked. The house is located next to bus station,  market and 24/7 open fast-food restaurants. It has washing machine, dishwasher, smart-tv, hot water, very fast internet :), and everything you might need. Nemanjia has prepared instruction cards about usages of the machines, sightseeing recommendations etc.. Moreover, Belgrade has beautiful parks, bars, restaurants and also, the life in the city is inexpensive. Free public transportation is highly appreciated. Thanks for everything, we hope to come back again :)
Hürkan
2016-09-19T00:00:00Z
Le décor, le confort, l'emplacement agréable font que cet appartement a été parfait. Je n ai pas rencontré Nemanja mais la communication a ete facile, efficace et agréable. Voyageuse régulière à Belgrade, je classifie ce logement en "top list".
Dragana
2016-01-18T00:00:00Z
Still the best place to stay when I am in Belgrade.... I feel like at home...
Dragana
2016-08-09T00:00:00Z
Nemanja is very responsive and went out of his way to answer all of my questions very quickly, thank you! Nemanja's dad welcomed us and was very lovely in showing us all the important bits and pieces. The apartment is exactly as described. We loved our stay in Nemanja's place! It is vibrant, cool, modern and literally like you entered an Ikea catalogue - loved every detail!! The building is great (there is a hairdresser on the ground floor and a cafe on the corner!). The location is perfect - a bus stop right in front of the building that takes 3 bus stops to Usce Shopping Centre and a further 2 bus stops to the centre of Belgrade. I would highly recommend Nemanja's place and will definitely be back very soon :) Thank you for being a great host!
Ivana
2016-10-14T00:00:00Z
The host canceled this reservation 41 days before arrival. This is an automated posting.
Erik
2017-01-21T00:00:00Z
It was such a pleasure staying at Nemanjas lovely apartment during our short visit to Belgrade. Even in the lead up to our arrival he was nothing short of accommodating, informative, helpful and friendly. Although we weren't able to meet Nemanja in person his dad was there to let us in on our arrival and both were very helpful with questions throughout / including dropping off a fan as the bedroom was quite hot one day and suggesting good local hairdressers. Easy to get into the city as the bus is right outside the apartment. Would recommend for a quick visit to Belgrade!
Jess
2016-08-01T00:00:00Z
Kamertype
Gehele woning/appartement
---
Type woning
Appartement
---
Geschikt voor
4
---
Slaapkamers
Belgrado, Serbia, Servië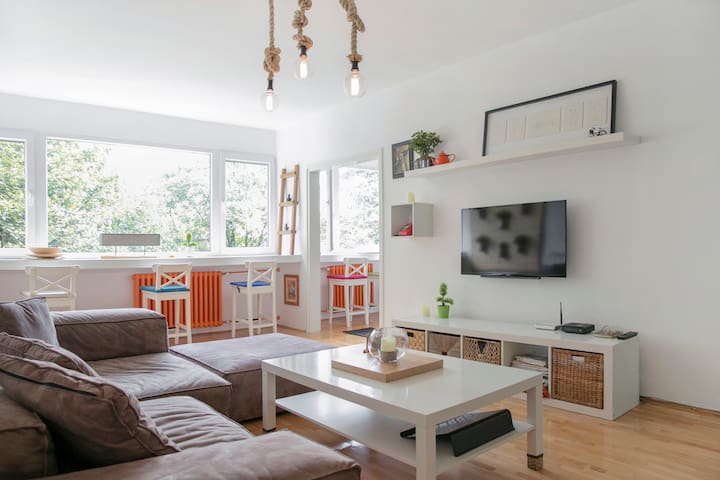 A private room in a wonderful apartment situated at a 25 min by public transport from Belgrade center. Public transport, shopping and Serbian green market around the corner. My beautiful apartment has everything to make you feel you live here! We welcome you with our warm hospitality.
Don't just visit Belgrade! Why wouldn't you live in Belgrade, live like a local? We don't want to make you feel like home. There's no place like home. But, we will make you feel you belong here. And the home is where you belong. You will be welcomed as a guest and will depart as a friend! Our home is tucked in a nice block, close to most exclusive part of Belgrade, Dedinje. Peaceful, safe and quiet, virtually traffic-free, with lots of fresh air. It is triple-oriented and filled with natural light. You can use private parking lot in front of the building free of charge. You will find public transport and various shopping opportunities and weekly super fresh fruit and vegetables markets just around the corner! It is 100m² / 1076 ft² and air-conditioned. It has 4 bedrooms, and common areas: a spacious living room with cable TV (international channels), with dining room, kitchen and balcony next to it. Another TV in matrimonial bedroom. Free & limitless WiFi is also available. The kitchen is fully equipped and has an oven, big fridge, and microwave. You can cook Serbian and international dishes with the products from the nearby markets and stores and enjoy your morning coffee at the balcony with view to the beautiful green hill and to the creek! Bathroom is equipped with large bathtub and natural ventilation. In the upper bathroom you will find a comfortable shower. You'll be provided with hair-dryer and beach towels. In the spacious living there is a sofa that can be transformed to beds for 2 adults and 2 children. It is a very clean, hospitable Serbian home with a lot of amenities for a price not even close you'd be offered in a hotel. A perfect base for collecting unforgettable nice memories and wonderful friendships, rather than in a hostel. Smoking is only allowed at the balcony. For electricity & water we kindly ask you to leave 1€ per day per room, prior to departure. For longer stays we count the electricity and water bills' price. We're sure that you will feel you belong here. Enjoy your staying with us.
Located in nice area and about 25 minutes to the city center by public transport. There is a weekly market with super fresh veggies and fruits that will make you happy:) and many stores that can foresee you with all you need. We provide all our guests with nice tips about the surroundings and are available for any questions about the house or the place.
Great hospitality. Gojko and Tamara do everything to keep their guests happy. The rooms are nice and clear and the area is not loud and it has a lot of trees. They have good value proposition. Check it out.
Александар М.
2017-03-04T00:00:00Z
I highly recommend this home and it's amazing hosts, Tamara and Gojko. My girlfriend and I stayed at Tamara's and Gojko's home for about 3 and a half weeks. Great hosts. Always accessible if you need anything. The home is beautiful. The view from the balcony is amazing - it over looks foot hills and a beautiful neighborhood. Lot's of room in the kitchen, the dining area, and in the living area with a big corner couch and TV. Also, the hosts will bring in a cleaner when you arrive, so the place is kept well. A short walk to the bus station that takes you into the heart of the city. The bus goes straight to downtown, no need to change to another. And they run all day and late into the evening, even on the weekends. Great grocery store nearby - close enough to walk with groceries in hand. A really nice coffee shop/bar with wifi nearby as well, they have great food to. The place is called Manos, check it out. There is a really good burger joint in the area as well, very reasonable priced. Around 1.5 euro per burger, maybe less, not bad :) If I had to pick one thing that made the experience stand out the most, I'd have to say it's the hosts, Tamara and Gojko. Truly great people. Thanks Tamara and Gojko! You really did make the stay for me and Raluca great. We enjoyed meeting the two of you a lot. Let's keep in touch! And of course, we will be back, hopefully soon :) -Jimmy
Jimmy
2016-04-28T00:00:00Z
Тамара и Гойко заботливые и гостеприимные хозяева. Все, чтобы вы не попросили с радостью делают и вы не чувствуете себя брошенными в незнакомом городе. Как нам показалось, их главная задача - чтобы нам понравился Белград. И он нам понравился. Всего 20 минут на троллейбусе из зеленой части города, где находится дом и вы уже в центре Белграда. Район ,в котором находится дом почти сельский со звучанием сверчков, разговором собак и бродячими кошками. Спокойствие, воздух и блаженная тишина после запыленной Москвы. Хотя и центр Белграда во много раз спокойнее и приятнее ,чем московские магистрали. Спасибо за прекрасную атмосферу доброжелательности и заботы!
Katarina
2016-07-27T00:00:00Z
I spent an extremely nice time at Tamara and Gojko's place. The place is very very clean and furnished, and the area is quiet but still you have everything you need a few minutes walking. The hosts are lovely, always we spent some time together and had a lovely chat. They are always willing to help. the flat is actually 20 minutes from the city centre by bus, but at the end of the day it is totally worth.
Elisabetta
2016-06-26T00:00:00Z
We had a really nice time in the house, Tamara and Gojko did everything to made our holiday nice and comfortable. They helped in everything and we felt that we can ask anything anytime. The house and the view is beautiful as our room too. That was our first airbnb experience and it couldn't be better! :-)
roberto
2016-05-17T00:00:00Z
I had a really great time in Belgrade while staying at Tamara's apartment. She was expecting me with a welcome package, and a clean, nice apartment with a beautiful view. So everything was perfect during my weekend there.
Csilla
2015-11-16T00:00:00Z
I truly enjoyed my stay here. While the location may be a bit from the city center, the transport options are numerous, pretty much day and night. And the neighborhood has so much to offer - indoor pool, running trails, a green market... The apartment is spacious, and the hosts, Tamara and Goyko are fantastically helpful and responsive. I look forward to staying here again.
Tricia
2015-10-10T00:00:00Z
Tamara and Gojko welcomed me personal in their apartment when I was still intending to stay for just a week. We chatted for a while about our experience and travels and I experienced them as very warm, caring and welcoming people. Not pursuing the money but to encounter the personal story and the people who come to Belgrade for their different reasons. An honest interest and a humble attitude made me like them from the very beginning. The apartment itself is amazing. Four guestrooms and an extremly comfortable couch in the living room, a dinner table, a fully equiped kitchen, something sent from heaven if you stay longer and a balcony overlooking a beautiful forest. In the night you can even see the stars. While it sometimes can take a while to get into the city during working hours the drive is safe and easy to find, accesible also throughout the night. While I was facing problems with the internet connection in the first week (they just changed the provider) within few hours they had called the provider, gave me all the instructions needed. Were even up to visit the place the same evening to solve the problem themselves if it wouln't have worked out with their earlier instructions already. All my questions were answered with such friendlyness and care that I felt home here within a week. I think it speaks for itself that now I'll stay in total three weeks here. The major part of my stay in Belgrade and two (!) more weeks than planned. To Gojko and Tamara, i can just say that I'am very happy that I found your apartment and that I'am able to live here. Thanks for listening to the problems I had and beeing so quick to solve them all. It really helped to have a save and reliable apartment. Considering the options I doubt you'll find a more lifefriendly place to live in Belgrade. Kind regards, Satchel
Satchel
2015-08-30T00:00:00Z
Kamertype
Privé Kamer
---
Type woning
Appartement
---
Geschikt voor
3
---
Slaapkamers
Belgrado, Servië
*I can offer shuttle service for my guests from airport to apartment and back for better price than taxi companies. Just let me know if you need drive... *Also i can organize you driver and car or a van for travelling from Belgrade to other destinations in Serbia... just let me know in front.
We are in the heart of bohemian Belgrade in center of all the sights and tourist attractions of this beautiful city. Apartment is on the first floor, spacious, comfortable ... we are in Skadarska street, it means in hart of Belgrade and just a few steps to Knez Mihajlova, to Kalemegdan, port of Belgrade...restorants so in few steps you will see and experience why everybody love Belgrade 24h considering that we are in the city center, guests can use multiple types of public transportation.
The charm of old Belgrade... To discover the secret of Belgrade, you must go deeper in its heart, where possible and impossible meet, where everything is allowed, in the quarter which you will not want to leave and where you can always come back, the bohemian skadarska street...
Thanks to Ilija. He helped us about the city and his apartment was really good and comfortable.
Aygün
2016-02-15T00:00:00Z
We really enjoyed Belgrade and Ilja's apartment. When we arrived he was so kind and told us all about what we should see and visit during our stay. Communication was great. Also the apartment was ideally situated right in the middle of the bohemian quarter with lots of restaurants and bars nearby. The city center was just a quick walk away. I would warmly recommend staying at Ilja's place!
Dina
2016-08-02T00:00:00Z
Es hat uns allen sehr gefallen. Die Lage ist genau so top wie die Auskunft die Ilija einem über Belgrad erteilt.
Tobias
2015-12-01T00:00:00Z
Very friendly as promised.. the place was very comfortable .. the host was very helpful.. I would stay here again
Erik
2015-06-15T00:00:00Z
The apartment was superb, the perfect location and everything we couldn't wish. Ilija was the most generous and caring host. I'm sure I'll come back!.
Juanma
2016-10-16T00:00:00Z
Comfortable apartment with walking distance to the center. Ilija was kind, helpful and full of good tips on how to have good time in Belgrade. Highly recommended!
Ena
2015-11-22T00:00:00Z
The apartment is exactly as on the pictures. We loved the high ceilings. The rooms are very spacious and very light even in cloudy day. The kitchen was well supplied with plates and glasses and also basic goods like coffee and sugar. The kitchen and bath are small, but it is normal for so old buildings. Also want to mention that the house looks prety well from outside also. It has been renovated and does not look anymore like on photos from (SENSITIVE CONTENTS HIDDEN)Maps. We liked very much our stay in this apartment. We will stay there in future if we come to visit Belgrade again and I recomend it to everybody who want to enjoy Belgrade and have a good rest after sight seeing tour.
Plamen
2016-05-25T00:00:00Z
Ilija was a great host and the neighbourhood was awesome. We really enjoyed staying at his flat.Thank you for caring,great suggestions and organizing the flat as we needed.All the best!
guzide
2016-07-06T00:00:00Z
Kamertype
Gehele woning/appartement
---
Type woning
Appartement
---
Geschikt voor
6
---
Slaapkamers
Belgrado, City of Belgrade, Servië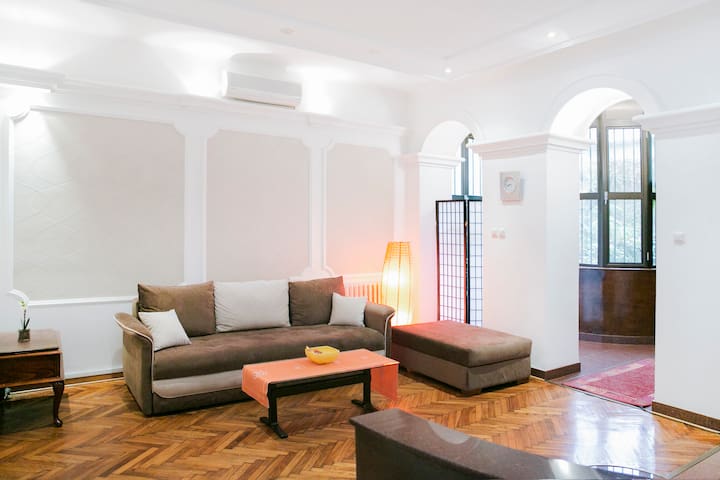 If you are looking for BASIC BUDGET accommodation where you will feel at home, this is it! - Belgrade's busiest street 1 min walking - Central downtown zone 30 min walking (2.5km) - Public transport, cafes, shops, restaurants 2 min walking
The space is small and well organized. It has all the things you may need for short term stay. All beds are stretch beds. It is the best and most comfortable if just two people are staying together, for they can enjoy full comfort. Of course, there is enough space for four to sleep, but then beds should be folded back in order to be used for sitting during the day.
Neighborhood of Vracar is very nice and close to the central area. It combines history and is a kind of a mix of everything. It is very lively with a lot of shops, restaurants and cafes. It's not noisy during the night, so you can enjoy a good night sleep.
The neighborhood is not so close to the center,30 min by foot,but it is very good connected with the public transportation (10min)
andrea
2015-06-22T00:00:00Z
Everything was perfect, just as described. The apartment is very nice, clean and comfortable. It has very nice backyard with terrace to enjoy morning coffee. I can sincerely recommend this place.
Aleksandra
2015-05-12T00:00:00Z
The warm welcome of Iva made me and my girlfriend feel right at home! She explained in good english how the apartment worked and she even gave great advice on which places to visit in Belgrade. Id definitely recommend this apartment to anyone visiting Belgrade as it lies in a good neighbourhood with a 20 minute walk to the city centre.
Wouter
2015-06-17T00:00:00Z
Everything was great! Thanks a lot!
Natalia
2014-10-04T00:00:00Z
Very nice stay in Belgrade, and liljana, ivaˋs mother, helped in making it even greater. Very interesting discussions, and a nice flat in a charming and well connected neighborhood. See you soon !
Simon
2016-07-30T00:00:00Z
I had a great stay at Iva's. Her place is within walking distance of the city center. I was very happy with all the facilities - considering the price per night, simply excellent value for money. Iva herself (who I met at check-in) and her sister (who was there at check-out) were also very friendly and helpful. All in all, I can highly recommend this as a place to stay in Belgrade!
Marc
2015-01-06T00:00:00Z
It was very nice to stay in Ivas Apartment. Everything was how we expected. Everything you will need is very near located: supermarkest, restaurants, a market and coffee. It was sad that we could'nt spend time together, because we were like all day and night trying to inhale belgrade. I think it would be cool hanging around with her. She is very sympathetic. Her parents too. They helped us by everything they could. The apartment is full equiped. The city center is like 10-15 minutes with the tram to reach. We feeled very safe and we would love to come again.
Milana
2015-06-09T00:00:00Z
Ива и ее мама были очень приветливы и коммуникабельны, до центра города буквально 20 минут пешком, рядом есть рынок, магазины и кафе, квартира на цокольном этаже с очень красивым видом и красивым внутренним двориком! очень чисто и комфортно, внутри все удобства, постельное белье, туалетные принадлежности.
Yana
2016-09-28T00:00:00Z
Kamertype
Gehele woning/appartement
---
Type woning
Appartement
---
Geschikt voor
4
---
Slaapkamers
Belgrado, Servië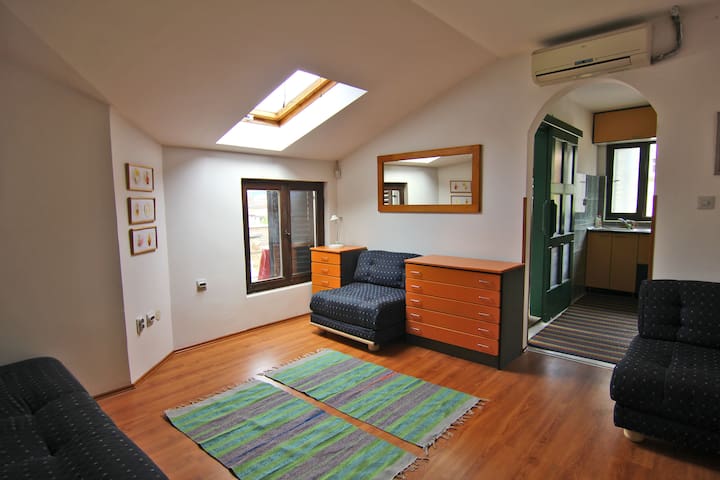 Beautiful studio flat, ideally located - perfect for touring on foot! Well planned kitchen, warmly decorated bedroom with 1 double bed & bathroom. Cleaning fee included in the price. SPECIAL OFFER: Car drive from bus and train station for free.
Welcome to our apartment, situated in the very hart of the historical city part, just across the Kalemegdan Park and Fortress with magnificent view on the Sava and Danube Confluence. It takes only five minutes from our apartment to popular pedestrian zone Knez Mihailova, full of shops and nice cafes and restaurants. Bohemian Skadarlija Street and many other city attractions are also within walking distance. The apartment is suitable for 2 persons. Homey and bright, organized as a functional open space, fitted with a double bed, a comfy sitting area opposing it and additional two bar chairs facing the kitchen. The kitchen has all the amenities necessary for cooking, as well as some coffee, tea... Cotton towels provided and the bed linen will be made up prior to arrival. There is a plenty of wardrobe space and hangers for your clothes and bags. You can freely use the air conditioner, cable television and (high speed) WiFi. Should you have some specific demands, or you need more information, please feel free to contact us!
Predrag bietet den tollen Service an, seine Gäste direkt vom Flughafen abzuholen und für einen sehr geringen Geldbetrag zur Unterkunft zu fahren. Super Service! Er gibt einem von Beginn an das Gefühl, bei ihm willkommen zu sein und ist während des gesamten Aufenthaltes jeder Zeit ansprechbar, erzählt gerne über Belgrad und Serbien insgesamt und hat super Tipps zum Ausgehen und für andere Aktivitäten. Vielen Dank für alles und sehr gerne würde ich das nächste Mal wieder bei bei dir wohnen
Christian
2017-01-08T00:00:00Z
Pedja was amazing hostess. He made everything possible to make us to feel at home, more than that it even felt we were old friends. He picked up us in the airport and also took us back to the airport (even our flight was very early in the morning still he was there absolutely punctual and awake at 4 am !! thank you so much Pedja!!) He gave us also a bit of his special Rakija, the best one we got in Belgrade for sure!!! Also the Wi-Fi works great in the apartment and the location is just perfect, we were close to most sightseeing places, also bike rentals, park, restaurants and pubs. Pedja gave us nice tips for walking around. We recommend it!!!! Thanks again Pedja, it was a pleasure for us to stay at your place! HVALA!
Rebecca
2017-04-09T00:00:00Z
Very nice place, central location, apartment looks just like in the photos. Host was helpful and friendly, we got along great. Recomand this place for someone who wants to stay a few days in Belgrade!
Bogdan
2016-11-07T00:00:00Z
Everything was great, location is in the center of the city, and Predrag was a great host! Nothing to complain about.
Saša
2016-10-21T00:00:00Z
Cosy flat, good location, friendly and helpful host
Andrey
2016-11-24T00:00:00Z
Predrag was a very communicative and very friendly host, the apartment is cosy, functional, clean and you can find all possible things you need - even the home made raki :-)
Veronika
2016-10-04T00:00:00Z
Apsolutno sve pohvale domaćinu Predragu, koji je učinio naš dolazak i boravak savršen! Interijer, susjedstvo, lokacija = ocjena 5/5, domaćin = ocjena 5*/5 P.S. Objektivna ocjena za domaćina :)
Ivana
2016-09-20T00:00:00Z
Спасибо, Предраг! Всё было на высшем уровне!
Михаил
2016-10-15T00:00:00Z
Kamertype
Gehele woning/appartement
---
Type woning
Appartement
---
Geschikt voor
2
---
Slaapkamers
Belgrado, Serbia, Servië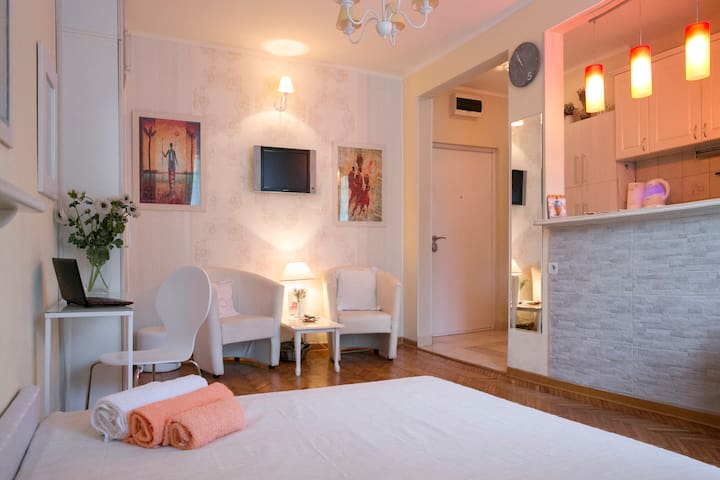 Cottage is freshly renovated, designed by us, and located in unique garden where you will always find your privacy and your special place to enjoy your time, surrounded by old trees, and the smell of flowers. You can enjoy your morning coffee:)
Dear travellers Welcome to Belgrade! We would be happy to accommodate you in our beautiful and sunny 1 room flat for rent in the popular neighborhood of Vracar, 15 minutes by walk from city center. Tastefully furnished apartment area 28 square meters and beautiful terrace area 20 square meters. Apartment is duplex consists: dinning room, equipped kitchen, small bathroom with shower and bedroom (double bed and single sofa bed). In the apartment you have radio, cable TV, computer, free internet access, AC, central heating. All linen and towles are supplied. If you are going to stay longer then 7 days the bed and bath linen iare changed once a week, also cleaning service is available once a week. The flat is located in a quiet street abounding with restaurants, caffes, hidden bars, famous clubs and street markets. A short walk will bring you to the all city sites. For our guests we can provide parking place for free in front of the apartment. You have access to 3 bicycles, to tour the bike friendly streets and neighborhoods of Belgrade. Save some money on transportation and see more of the city. We can also provide you a car for 20 Eur per day. Can also offer you variety excursions in Belgrade and over Serbia. Thanks to our guest's reviews we have be able to improve the quality of our service Nikoleta & Dejan
We spent the week-end at Nikoleta & Dejan's apartment and we enjoyed our stay very very much. For the first time since ages we are coming (from time to time) to Belgrade this is probably the BEST place we've ever stayed. The atmosphere is relaxed and both Nikoleta and Dejan are truly friendly and talkative!!! We also loved Nikoleta's birthday cakes a lot as well as their huge dog!!! Highly recommended to those looking for real Serbian hospitality!
Lorenza
2013-10-29T00:00:00Z
The apartment is small but comfortable and full of character. Nikoleta and Dejan we charming hosts, friendly and welcoming. We would be happy to stay here again.
Darryl & Katia
2016-12-15T00:00:00Z
Nikoleta and Dejans are really nice- they welcomed us with delicious food and gave us tips on what to see and do in Belgrade. The place is quite specious and clean and have everything you need. Renting bikes is very useful to get around and explore the city.
Barbara
2015-09-01T00:00:00Z
We arrived late in the evening and were very kindly collected from the station by Dejan. Because of a family matter Nikoleta and Dejan hadn't been able to prepare our chosen apartment in time, and so moved us to another one. This was in a more central location and slightly bigger; Dejan gave us a quick tour and recommended places to visit on the way to the apartment which was greatly appreciated. Although the apartment wasn't dirty, it hadn't been cleaned thoroughly as there was still dried shampoo on the walls in the bathroom, but the apartment generally felt clean. The wiring in the bedroom was a little worrying as the wire to a lamp ran across the doorway, causing one of us to trip in the night. We also quickly realised that the toilet didn't work which wasn't great, but Dejan was quick to repair it the following day. All in all we had a great stay in Belgrade and appreciated the effort Nikoleta and Dejan went to considering they had other issues to attend to. Although we completely understand the situation, it was a little disappointing to not get the apartment and service we'd read about on here and was our reason for booking.
Ness
2015-09-15T00:00:00Z
The host is very helpful and the communication is fast. The house is good for two people. The only drawback is the small bathroom. Other than that it's a nice stay.
Vishal
2016-10-13T00:00:00Z
Nikoleta and Dejan were such warm and welcoming hosts. We had some great chats with them and they couldn't have been more helpful when any problems arose. They are a really amazing pair, it's difficult to put into words just how great they are and how happy we are that we chose to stay here. They were on hand any time we needed advice or help. The apartment is gorgeous, well equipped and the outside area is perfect for relaxing with a cup of coffee in the morning or enjoying a glass of wine in the evening. The location is great, a short tram ride from the centre but with plenty of shops in the immediate area too.
Sheena
2014-11-12T00:00:00Z
Nice place.
JESUS
2016-10-12T00:00:00Z
Nikoleta is very kind and informative, she gave us lots of information on where to go and what to see, also the best places to eat. I would recommend staying in this beautiful little house to anyone.
Tom
2015-04-23T00:00:00Z
Kamertype
Gehele woning/appartement
---
Type woning
Appartement
---
Geschikt voor
3
---
Slaapkamers
Belgrado, Centraal Servië, Servië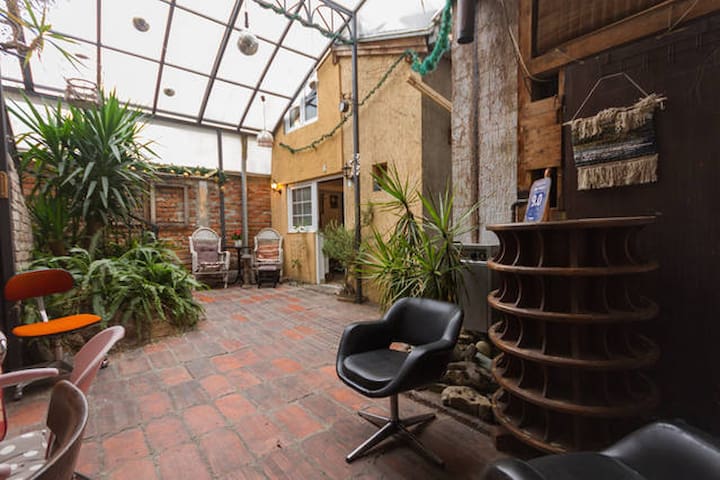 Located in the liveliest square in Belgrade, this studio is a short walk away from all the downtown attractions, as well as the river and the clubbing district Savamala. The interior is young & fresh, perfect for those who need a cosy place to rest.
This charming little studio for two is located right in the center of the city, in one of the busiest squares, so as soon as you reach it you will be able to breathe in the true atmosphere of Belgrade! Its location is perfect for the curious travellers who want to learn as much as possible about our city, because everything is close by. Whether you wish to explore the art-nouveau architecture of Terazije, with its stunning hotel Moskva, have breakfast and coffee with the Belgraders in Obilicev Venac or in one of the trendy restaurants on the river front, or go dancing until the morning in the hip clubs of the Savamala or the famous Belgrade floating bars on the river - you will be pleased to find that all of it is within a short walk away! You will never need to use a bus or a taxi to move around town. And just across the street, as a bonus, you can enjoy a walk through Belgrade's oldest green market, Zeleni Venac, where you can see and taste local food that will generously be offered to you by the farmers. On the third floor of an elegant 1930s building, far away from the city noises, you will find just what you need to get a good rest after a long day (and night) of exploring and fun around the city. Studio 24 is a 24 square meters apartment, just enough to fit everything you will need during your stay! It has also just been renovated, so everything in there is brand new. The space is divided between a bedroom with parquet floor and the kitchen with original stone floor that you will find throughout the building. Everything has been spruced-up with a mid-century charm, completed with modern art works and original features: the chevron pattern wall paper and the industrial metal kitchen chairs, the pale colours and the artsy wall tiles create a pleasant and relaxing atmosphere for you to have breakfast in, and the white bathroom with a roomy shower space will energize you before heading out for another adventurous day! But remember, if you're tired and just want to stay in, the bed is comfortable, the kitchen is fully equipped, and there is even a small terrace where you can have a cup of coffee or tea as well as a night cap, or smoke a cigarette if you wish to.
What's happening in Belgrade? You can be the first to know if you just step out the door! Down there below you is a city full of people rushing to get to their daily chores or a fun evening out. All the attractions of the Belgrade downtown are right there: the beautiful buildings on Terazije street, Hotel Moskva - one of Belgrade's landmarks, the main square Trg Republike, the pedestrian Knez Mihajlova street, the museums, the bars, the restaurants, the shops... All you need to do is step outside the building, and you will immediately find yourself right in the center of the action! Across the street is Belgrade's oldest green market, full of charm and authentic food for you to taste - make sure to visit it! Within 3 minutes walk, you can reach Terazije, one of the most beautiful streets in Belgrade, where you can enjoy the city's architecture and sights: the Town Hall, the Presidential Palace and the beautiful Hotel Moskva (that also offers the most delicious desserts in their stunning cafeteria - treat yourselves!). If you're up for shopping, you will find some of the most exclusive stores here, and in the pedestrian Knez Mihajlova street which is also minutes away. Make sure to ask about the "secret" passage, that will take you from your building right to Trg Republike - the city's main square! ;) If you go down the road instead, within a few minutes walk is Branko's Bridge, where all the night action takes place! If you just go down the stairs of the bridge, you will find yourself right in the center of the Savamala district, a paradise for the young crowds. It is packed with bars and clubs where you can wait for the sun to rise over tha Sava river. The original setting of the Belgrade alternative scene is given by the early 1900s industrial buildings with painted murals and graffiti. Or, you can cross the bridge, and choose the more mainstream floating clubs on the river. And if you stick around the area until breakfast time, you can hop to Beton Hala, in the Belgrade Port - one of Belgraders' favourite places for a morning stroll along the river or a long breakfast in one of the trendy restaurants located there. Remember, you will never stay hungry in this area, day or night! It is packed with all sorts of fast food places from Zeleni Venac to Trg Republike. You can have breakfast or a late night snack indulging in famous Serbian baked goods sold in Pekara (there is one on the same sidewalk as your building), or you can have local burgers next to the green market. The restaurants in Skadarlija are a 10 minute walk away! Down in Savamala, you can find homemade sausage stands, or a slice of pizza... And 5 minutes away from the apartment, there is a supermarket open until 11 pm. For more information, check out my local recommendations guidebook on my "Stylish Downtown Oasis" listing!
Some things happened in Serbia that was out of Jana's control. Her mom saved the day and did her best to help me. She was great. Thanks.
Courtney
2017-01-15T00:00:00Z
I would totally stay here again!! Jana and her mother were very informative and prompt in their communication...very close to shopping restaurants and local bus system..clean and neat...and you get a lovely workout every time you walk up the 3flights of stairs...very good value
Cecilia
2017-03-07T00:00:00Z
We had an amazing few days in Belgrade! There is so much to do and see! The apartment was located in the city centre in Zeleni Venac which was perfect and easy to find! The apartment was very clean and tidy and had a lot of space. The amenities were very good with the kitchen and bathroom being more than adequate. Our overall experience of the apartment was a very good one and we will be very interested in returning again in the future.
Jamie
2016-05-21T00:00:00Z
Jana`s apartment is in the city centar, small but very practical, especially if you want to explore the city. Once you are here everything is so close or reachable by the buses which are 1 minute away from the apartment. We did`t had chance to meet Jana however communication was very easy and we really enjoyed our stay in Belgrade. Thank you Jana once again :)
Aleksandra
2016-11-25T00:00:00Z
It was good flat with good hospitable hostess;) there is comfortable flat in all senses
Anastasiia
2016-05-31T00:00:00Z
It's very clean and very very close to centre. Jelana is very kind.
Oğuz
2016-09-21T00:00:00Z
Great place right in the center of Beograd. Jana's Mom was a super nice host and we had everything we needed. Wouldn't hesitate to recommend it
Annika
2016-05-05T00:00:00Z
Die Lage ist einfach fantastisch. Man kommt schnell von A nach B. Es war alles wie beschrieben und das Zimmer war sauber. Kann ich nur empfehlen !
Silvana
2016-08-26T00:00:00Z
Kamertype
Gehele woning/appartement
---
Type woning
Appartement
---
Geschikt voor
2
---
Slaapkamers
Belgrado, City of Belgrade, Servië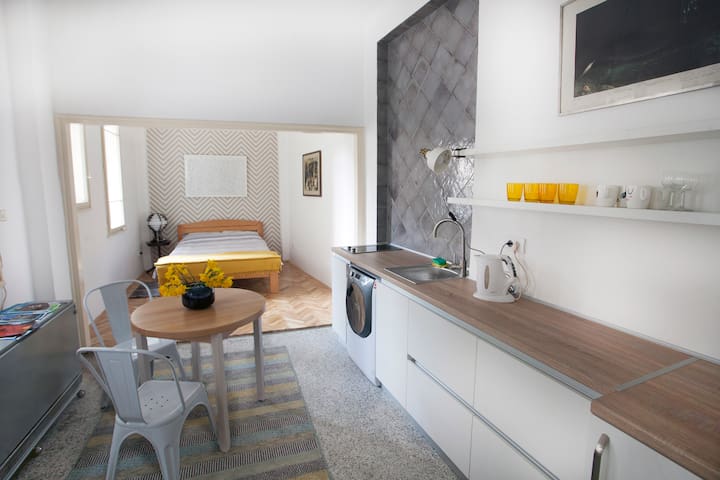 EXCELLENT QUALITY - BEST PRICE Champagne Studio Apartment is located in the beautiful historical district of Vracar just a couple of minutes away from the city center, close to Nikola Tesla Museum and Saint Sava's Temple.
Studio Champagne is a modern style furnished 35 m2 apartment designed to accommodate maximum 3 persons. It has a king size bed and a pull-out sofa, LCD cable TV and Wi-Fi and Air conditioner The kitchen is fully equipped with the oven, microwave, fridge and toaster. Bed sheets, towels, hair dryer, utensils and iron are also provided for your pleasant stay, including cleaning services once a week, free of charge.
Champagne Studio Apartment is located in the beautiful historical district of Vracar just a couple of minutes away from the city center, close to Nikola Tesla Museum, Saint Sava's Temple and Serbian University of Law and Technical Sciences. In this part of the city you will find some of the best taverns and fine dining restaurants in Belgrade at only 100 meter distance from the apartment. Taverns: Potkovica(traditional Serbian family restaurant known for the best horse meat in the city), Restoran Kalenić ( known for the best traditional cooked dishes ), Trandafilovic and Ribarska prica ( The Fisherman's Story ) are amongst the most visited traditional restaurants. Italian restaurants Casa ( recommended from the Italian Chamber of Commerce OspitalitaItaliana ) and New York are well known for serving the best Italian cuisine in Belgrade. If you intend just to enjoy the worm ambient with a cup of coffee and a dessert,Café Privé and Kafe Star Moda are amongst the nicest lounges in the city just 2 minutes away. All my guests will be provided with the 20% off vouchers for the Italian Restauraunt Casa
Jasmina is very good host! Very accurate, welcoming and cooperative. It was no problems with her at all. She even provide us with airport transfer on our arrival, which was really great help at flight were very late one. Apt is very nice, charming and very clean. Location is also very good. It has my full recomendation !
Maja
2014-09-19T00:00:00Z
Thanks, Jasmin! Apartment cozy, pure. time passed with comfort, as at home! we recommend!
Юлия
2014-04-18T00:00:00Z
Jasmina and Luka are great people and great hosts. Their apartment has a great location too and you could enjoy on a walking distance of a few minutes a great breakfast&brunch places, bars and restaurants. Your stay could only be a great and an extraordinary experience.
Nikka
2016-10-17T00:00:00Z
Great apartment, amazing and very pleasant hosts and terrific neighborhood.
Luka
2015-09-09T00:00:00Z
Lep stan koji sam po drugi put bukiro. Mogu da preporucim i vrlo sam zadovoljan bio.
Zoran
2016-03-29T00:00:00Z
Alles super die Wohnung ist sehr schoen eingerichtet und die Gastgeber freundlich gerne wieder danke fuer alles :-)
Dragan
2015-03-31T00:00:00Z
I had a very pleasant stay in Jasmina's apartment, which looks just like the pictures and is very conveniently located near the city centre. There were loads of restaurants, cafes and small shops near the apartment which were handy for finding breakfast and afternoon coffee. I didn't get to meet Jasmina personally, but her friendly husband Luka met me upon arrival and got me settled into the apartment very efficiently.
Lisa
2014-04-06T00:00:00Z
Спасибо за отличный приём и подарок!
Yaroslav
2017-03-26T00:00:00Z
Kamertype
Gehele woning/appartement
---
Type woning
Appartement
---
Geschikt voor
3
---
Slaapkamers
Belgrado, Servië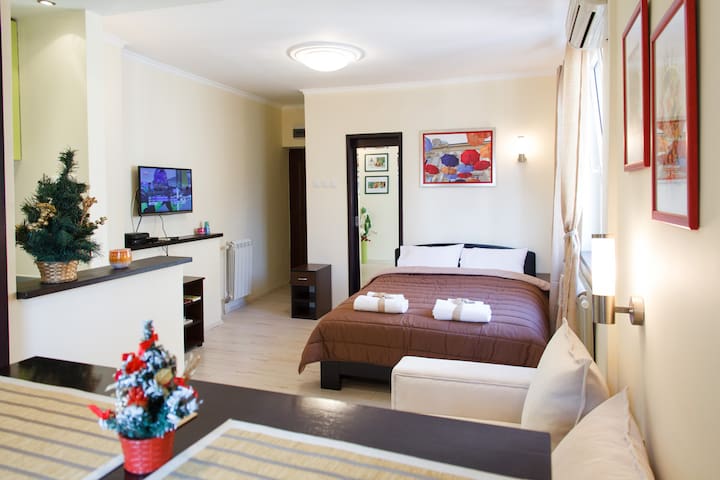 Welcome to my Tiny Cosy Studio (15m2) just few steps from the famous bohemian quarter Skadarlija and city center's pedestrian area on Knez Mihailova street. The studio is quaint & tiny, but well equipped and has everything what it takes for a pleasant short stay in Belgrade.
Perfect for up to 2 people looking for a place to be in and out of during the day while exploring and to have a good night's sleep -OR- travelers on a short layover that want comfort and city access.
Quiet neighborhood with the best areas in Belgrade. Foreigners won't beat the area and will love the ease to find anything and everything their heart's desire.
Perfect accurate flat which have literally everything what you need in good part of the city, next to cafes, supermarket and touristic heart of Beograd. Nice friendly owner. Thank you!
Арина
2017-03-30T00:00:00Z
Ana Marija's flat is small but very functional. It has everything that you need. Location is great , a bakery is just next door and a mini mart also . Unfortunately, we haven't met Ana Marija but her brother is waited for us and gave us a key. But we were in contact with Ana Marija which was very kind and helpful. We highly recommend it .
Iva
2017-02-13T00:00:00Z
Ana Maria's place is amazing. It is cozy, fully equipped and located close to most of tourist attractions in belgrade that can be reached by walking. Ana Maria was awesome. Besides being a charming lady, she is so kind, sweet and helpful. She was always available for contact even when she had work. I owe her the great tips she gave that made me surf belgrade completely in my short stay. I would never think of any other place to stay in when visiting belgrade again hoping it would be available ;).
Sami
2017-03-14T00:00:00Z
Very approachable host, lovely modern place, close to the main street with lots of restaurants and shops around, would definitely reccomend
Romana
2017-04-10T00:00:00Z
We spent 3 amazing days in Ana Maria's flat. The location is great and she helped us a lot regarding what to do in Belgrade. I recommend this offer.
Irène
2017-01-28T00:00:00Z
Fantastic place to stay. I was working for the weekend I was in Belgrade and everything was excellent. I arrived late and Ana Maire was there to welcome me. I would recommend this trip.
Dave
2017-03-06T00:00:00Z
Kamertype
Gehele woning/appartement
---
Type woning
Appartement
---
Geschikt voor
2
---
Slaapkamers
Belgrado, Serbia, Servië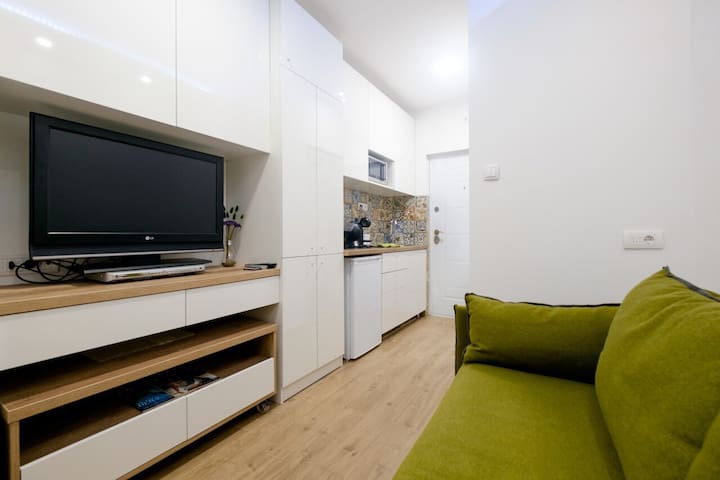 This deluxe penthouse is offering excellent location and great views of Belgrade and Sava river . Centraly located, just few minutes from the main bus and train station, Trg Republike, Skadarlija, Knez Mihajlova it is next to everything you may need
Situated next to the historic landmark and 1830's museum "Manakova kuca", this comfortable penthouse is offering excellent location and great views of Belgrade and Sava river . Short walk to all of the city center landmarks, minutes from the main bus and train station, as well as all other modes of public transportation. The penthouse features spacious one bedroom apartment with large living room, which comfortably accommodates five adults (children are welcome as well as babies for which we will be happy to provide crib and high chair). Fully furnished, just bring clothes and good humor and enjoy the view of the river Sava and City rooftops from all the rooms and our cozy terrace!
Everything that you may want or need in the city center is a short walk away. The Belgrade landmarks, night clubs, banks, shops, even a farmers market is just a short walk away.
The apartment was clean and the accommodations were as described. Ivana and her family were very polite, the welcomed me like one of their family members. I will definitely rent from them again.
Djordje
2015-12-27T00:00:00Z
Ivana and Veljko were wonderful and generous hosts who were patient with my travelling companion and me when we were late and lost. Their flat is lovely and in the absolute best location. It's a total bargain. Thank you, Ivana and Veljko for your hospitality!
Amber
2016-02-02T00:00:00Z
The owners are the kindest people and helped us with directions to get to Belgrade's many beaches. This made us appreciate Belgrade even more!
N.G.
2015-06-22T00:00:00Z
Ivana is a great great host. She was very nice, kind and give me all the info I needed. We were in touch and the comunication was very easy. The position of the apartment is great, it is really in the center, there are a lot of shops of any kind. It was clean and there was anything you need. The apartment is also quite big. Definitely recommended :).
Antoniya
2016-11-28T00:00:00Z
Perfect location, perfect apartment and perfect host! So helpful before and during the stay. I'd recommend this apartment anytime.
Ken
2015-07-13T00:00:00Z
I thoroughly attained great comfort staying here! Ivana is extremely thorough and prompt in her communication. But since she handles the communication and her husband is the one who shows up during checkin and checkout, sometimes things get lost in translation. Above that, everything is super! I love the cosiness and homely feel of the apartment. A bit dated but it is a nice breakaway from overtly modern style lofts. This one is charming, the view is probably the best i have ever had. A pity it was snowing i cannot lounge at the terrace. And the bed is so comfortable I had the deepest sleep i had in 5 weeks! A bit pricey for a solo traveller but I guess if you share it it is very worth it. I love the location, extremely central to everything and near the intercity train and buses. And at the foot of the whole shebangs in Belgrade. The water cut off for a bit due to winter I guess and the lift is aways giving a problem. I know the secret to fixing it now but if the neighbours aren't kind enough to fix it from the top floor, it is your bad day to walk all 7 floor up or take the alternative lift at the other side of the building. And panic when the lights keep going off. Quite an adventure but makes things exciting i guess. One thing I'm so impressed with and a bit amused is tree are cctv live coverage of the apartment building, the stairs, the gate etc on tv viewed by all residents i guess?
Noor
2017-01-10T00:00:00Z
Everything was just fine, from the Check in till the Check out. Ivana and her husband where great hosts.
Aleksandar Sasa
2017-03-13T00:00:00Z
Awesome place, cheap, good location and has anything you need. Recommended!
Radoslav
2017-01-22T00:00:00Z
Kamertype
Gehele woning/appartement
---
Type woning
Appartement
---
Geschikt voor
5
---
Slaapkamers
Belgrado, Serbia, Servië
KONA apartment is located about 300m from Skadarlija - bohemian quarter and 1000m from Republic square - Belgrade city centre. It is bright, air-conditioned and comfortable to stay. Choice of public transport is excellent.
Our three bedroom apartment is located in the Dorcol, the wonderfull and characteristic residential quartier in Belgrade city center. Few steps away you will find Skadarlija, main bochemian street with bars and restaurants. Apartemnt Description: Newly opened, 90 sqm, apartment with three bedrooms and two bathrooms. There are 8 beds (3 + 3 + 2). In two bedrooms they can be 3 x single or double + single. In the 3rd bedroom there is 1 double only. Wireless internet connection, big led TV and magazines. Fridge, air conditioning and central heating. All the shops, market and main services are at less then 1 minute walk. Smoking is not allowed!
Appartement parfaitement conforme à la description, très agréable et plutôt bien situé. L'équipement de la cuisine un peu juste pour 8 personnes (ex: pas de lave vaisselle). Sladjan est un hôte très arrangeant et compréhensif, je recommande sa location à 100%!!
Marie
2017-01-30T00:00:00Z
We had a wonderful stay in Belgrad! Sladjan and his family gave us a warm welcome and lots of useful tips for taxi, restaurants and clubs. The flat is perfectly located as prevoius guests wrote. It was clean, well equiped: has all you need. We recommend it and would book it again ! Thank you!
Judith
2016-05-23T00:00:00Z
Very good Apt. on perfect location. I have only one problem - with parking place for all period. On this place doesn`t have good parking place on normal price but i find good place .
Ivaylo
2016-09-24T00:00:00Z
I would definitely recommend this lovely apartment. What you see is what you get, very clean, comfortable, well located, in the center of the city, just next to "Skadarlija". Many of the important spots in the city are in walking distance. Sladjan, our host, was very kind, we felt welcomed. Perfect for group travellers.
Nerma
2015-11-15T00:00:00Z
Sladjan apartment is in a very good position. Easy to reach, clean and very nice. Sladjan is a very good host, even if we never met him... But he was on the phone every time we need. When we arrived we met his parents for the check in: a very nice moment!
Chiara
2016-08-13T00:00:00Z
The apartment is situated in a really great location. Be it going out, finding a supermarket or a taxi, everything was right next door. Communication with Sladjan was very easy. I can really recommend this place.
Maxim
2016-09-14T00:00:00Z
Sladjan´s appartment is simply perfect! you will for sure not get the better deal in the center of Belgrade, so clean, so comfortable, so spacy, unbeliveable. We were very happy there, Sladjan was flexible with our arrival and departure time. Everything went better then expected. Thank you Sladjan, we will surerly come back again.
Maya
2016-12-18T00:00:00Z
Die Wohnung ist super, genau so wie auf den Fotos. Preis/Leistung is sehr gut. Auch die Lage ist super. Die Kommunikation mit Sladjan war einfach. Kann ich nur empfehlen, wir hatten ein tolles Wochenende in Belgrad.
Dario
2016-06-20T00:00:00Z
Kamertype
Gehele woning/appartement
---
Type woning
Appartement
---
Geschikt voor
8
---
Slaapkamers
Belgrado, City of Belgrade, Servië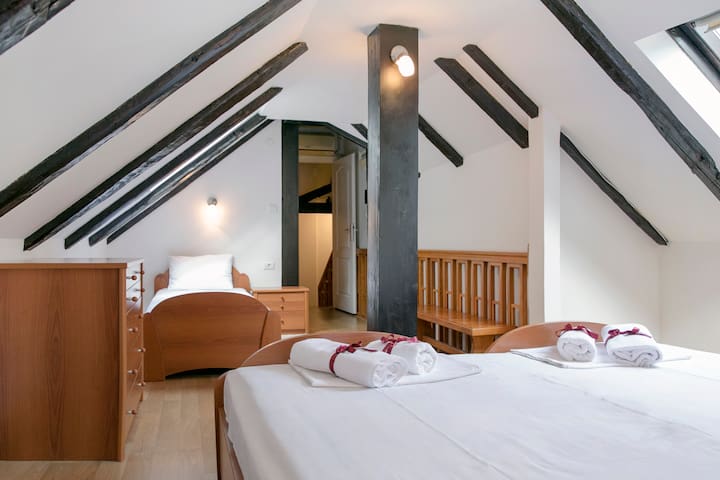 Charming and cozy, Belgrade apartment consisting of spacious room & two balconies with an exceptional view. A few steps from a city-center landmark Beogradjanka, it is in walking distance of major touristic sites & nightlife area. Ideal option for any visitor ready to experience what this city offers!
Central part of the living room is wide and sunny, with a fully functional kitchen on the left and a modern salon on the right. The advantages of this flat are two terraces, with a beautiful view of Belgrade, that you can see in the photos above. There is also a small lobby with a mirrored closet and a bathroom with shower cabin next to it.
At the perfect location half way between city center and quite place in the center.
Milan is very easy going and helpful, he will provide you whatever info you need. Apartment is on perfect location, bright, warm and cosy. Basically its all you need if you want to explore and enjoy Belgrade by day or its night life and doing all that within walking distance.
Jasna
2015-11-01T00:00:00Z
Good location, clean and cozy.
Adriana
2016-06-14T00:00:00Z
Petra's place is just great. It's centrally located, less than minutes walk from the Belgrade train station, around 10-15 minutes walk to St. Sava Temple and 20 minutes walk to Belgrade fortress, you will see everything you need on your way towards the fortress. Petar was very responsive to messages and agreed to meet me at 6:50am to hand over the key on a Monday morning. Would definitely recommend this place to anyone staying at Belgrade! Thanks again Petar!
Shouan
2016-08-29T00:00:00Z
Wir wurden von einem Kollegen von Milan herzlich empfangen! Er war sehr unkompliziert und hilfsbereit! Die Wohnung ist sehr sauber und hat alles zur Verfügung. Der Standort ist optimal voll im Zentrum von Belgrad! Ich empfehle diese Unterkunft sehr gerne weiter!!!
Basile
2015-08-26T00:00:00Z
Petar is a great guy. His place is nice and cozy in the middle of Belgrade. He was available at all times and was very helpful in returning a backpack we forgot at his place.
Marcel
2016-08-20T00:00:00Z
Petar, a friend of Milan, received me at the apartment. He was very kind and made sure that I feel at home. He offered help if needed and brought a bottle of rakija as a present. Thank your for that, I enjoyed it! :) I needed an iron and he brought one immediately the next day. The apartment is not big, but big enough for 1-2 person to stay for some days in Belgrade. It's located very central. I definitely enjoyed my stay there. Thank you Petar!
Vic
2015-08-19T00:00:00Z
Great stay at Petar's place. The apartment is the perfect size - can very comfortably house 2 people. It's very open and has a great bar/kitchen, and two terraces! The location is everything; it's located in the very center of Beograd, so you're no more than 5-10 minutes away from major bus/rail stations, Trg Republike, Hram Svetog Save, Knez Mihajlova, etc etc. There's also a 24h IDEA just down the street on Knez Miloš, which came in very handy more than a few times. Would definitely stay here again ... love everything about this place!
Marta
2016-10-29T00:00:00Z
We had a pleasant staying in Milan's place. The flat is clean, well equipped and in a very convenient location. Recommend!
Francesco
2015-09-21T00:00:00Z
Kamertype
Gehele woning/appartement
---
Type woning
Appartement
---
Geschikt voor
2
---
Slaapkamers
Belgrado, Savski Venac, Servië
Awesome place close to the center (10min walk), Kalemegdan Park and Skadarlija the most famous street in Belgrade.
Was great!
Miika
2016-09-16T00:00:00Z
We stayed at Olga's flat for a week and had a lovely time. She was really kind and gave us a list of things to do, see and eat in Belgrade. The flat was very spacious, in a great part of town with easy access to the centre and next to a lovely bakery and coffee shop (go to both we had wonderful coffee
Anna
2015-07-06T00:00:00Z
hvala sto sam smeo da prespavam u vasem stanu i sto mi je vasa porodica toliko pomogla. marko
Marko
2015-08-08T00:00:00Z
Great value for money, lovely place, near the city centre and everything you need.
Anamarija
2015-08-13T00:00:00Z
Olga was a great host. We met in a cafe and she waited patiently while we finished our lunch, despite probably having lots to do. She was very friendly and welcoming, and had lots of suggestions for things to do in the city. She was happy to answer all our questions and help us with taxis, and was very accommodating and flexible when we asked to stay another night. The apartment itself is great. The space is really lovely and the location is fantastic. We considered it great value for what we paid. I may be returning in November and would definitely stay here again. Would highly recommend!
Hannah
2015-09-05T00:00:00Z
Olga gave us a very nice welcome in Belgrade, she took her time to sit down for a coffee with us and wrote down a lot of nice places to go to and to see. In our opinion the apartment wasn't very cosy and charming but everything we needed was there. There were three of us and we had more than enough space. All the cool places in Belgrade are within reach of the flat.
Lea
2015-09-14T00:00:00Z
Our stay in Belgrade was very nice. The apartment is very spacious and well located (10 minutes walks from the main city Square). Olga was very nice and give us useful information about the city. And she is very reactive on (SENSITIVE CONTENTS HIDDEN) if you need anything during your stay. She was also very convenient about the check out. I totally recomand this apartment :)
Stéphane
2015-09-08T00:00:00Z
Olga was a very good host and the apartment is perfect. Everything is nearby and the neighbourhood is quiet.
Vladimir
2015-08-19T00:00:00Z
Kamertype
Gehele woning/appartement
---
Type woning
Appartement
---
Geschikt voor
4
---
Slaapkamers
Belgrado, City of Belgrade, Servië