Read a book on the teak swing, paint in the terracotta garden, write in a secluded study, or just relax in your private pool. Walk 5 min. to the metro for direct access to bustling M G Road, Indiranagar, and Koramangala.
Excellently maintained place, very close to all the popular restaurants and bars, and Srivalli was a great host- accessible and accommodating.
Arpita
2016-02-25T00:00:00Z
A very calm and quiet place.. Exactly how it looks like in the photos. I got the place very clean and was also given bottles of water and tea/coffee supplies. The place is 5 min walk to 80 ft road and from there CMH road with plenty of options to eat. The lady taking care of the place was very sweet and helpful.
Gopika
2016-12-04T00:00:00Z
Wonderful bungalow, in a quiet neighborhood with great restaurants all around. The pool was a sanctuary and a luxurious retreat from the hot and fast paced city!
Karmella
2017-03-16T00:00:00Z
Good neighborhood. The place is exactly like the pictures.
Shreya
2016-12-10T00:00:00Z
As described. Very well maintained and all the instructions provided are more than enough. Book it for a very peaceful stay. 10 mins cab ride to the main area with all the restaurants and pubs. Overall a very pleasant experience.
Deep
2017-02-15T00:00:00Z
Nice and cosy place, not too far of a walking distance from main markets, and great hospitality.
Blair
2017-01-31T00:00:00Z
Great place. Nice, secluded and peaceful area. Very clean and beautiful. Difficult to imagine such a place in a city. Very accurate description. Srivalli was sweet enough to offer help even at late night, but thanks to elaborate instructions, we didnt need to wake her up. This is the first time we tried airbnb in india, and she has set the bar really high.
Ram
2016-07-05T00:00:00Z
A wonderful stay in a great house in a great location. The house is quiet and spacious, with nice outdoor areas. Being within walking distance of Indiranagar is awesome, as there are a lot of fun restaurants and bars in the area.
Joseph
2016-07-16T00:00:00Z
Kamertype
Gehele woning/appartement
---
Type woning
Huis
---
Geschikt voor
3
---
Slaapkamers
Bangalore, Karnataka, India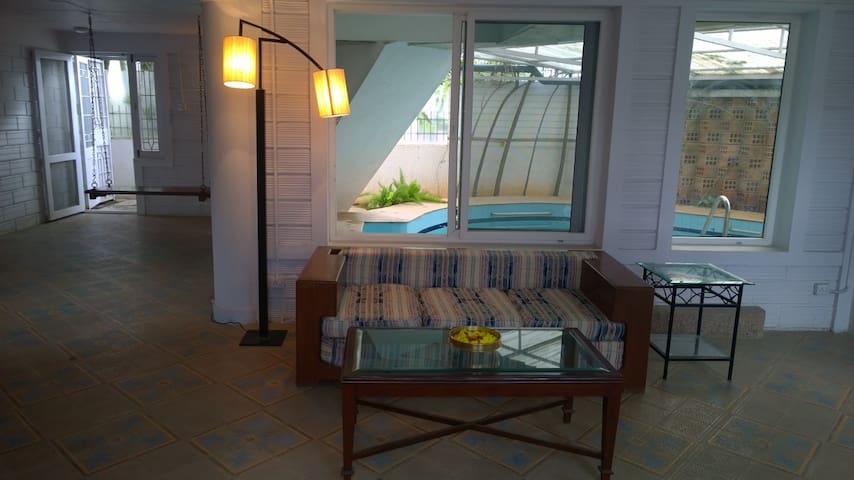 This Beautiful room has colourful paintings, an en-suit toilet with geyser, bathtub & shower. The private patio entrance is through a lush garden walkway leading to the patio. You come & go as you wish! Access is also had through the main entrance of our architectural home.
Our home is a one-of-a-kind neat, clean, modern bungalow with a garden retreat to boot! It has all amenities including rooms with modern en-suite bathrooms and warm red oxide flooring. In Bangalore's concrete jungle, our house is a unique, comfortable abode to relax in and to show-off to your friends, or guests! Earlier guests named our home "the Oasis"! The interiors are beautiful, with wide-open spaces and walls adorned with reputed Art. Outside the house, the neighborhood is thriving with lovely restaurants, retail stores, medical stores and Hospitals within 50 to 100 yards or within a 10 to 15 minute walk! Returning home after a day at work, or in the city, you will definitely appreciate the calm, peaceful, relaxed atmosphere and environment that the House and Garden offer. A late evening drink in the lush garden, is a tranquil experience you will certainly enjoy. Our home offers 3 very comfortably, spacious, independent rooms that accommodate two people in each room. Children below 5 years can be accommodated without charge in the same room. Our listings are separate for each room and they can be booked by a Guest independently, by choosing Listing 1, Listing 2 or Listing 3. And, Listing 5 is a One Bedroom Penthouse with an attached Private Bathroom
We are well connected with locals and across India and that is a big advantage for all foreign guests visiting Bangalore or traveling around the country. We can help you with suggestions over and above your itinerary. We can also help arrange necessary transport to get around.
Had an excellent stay with KC & Grace. Felt like we were at home and were made comfortable. Spacious rooms and hotel standard bathrooms kept clean daily. Simple but delicious breakfast (we finished all their eggs!) and a sumptuous dinner prepared on our request. Regret we could not have spent more days with them.
Puneeta
2016-04-18T00:00:00Z
Leider konnte ich von drei gebuchten Nächten nur eine in dem wunderbaren Zimmer bei KC verbringen. Alles dort ist sehr bedacht eingerichtet und sieht genauso aus, wie auf den Fotos. Ich habe mich gleich wie zu Hause gefühlt und wurde sehr nett von KC empfangen - obwohl ich mitten in der Nacht um 4 angekommen bin, hat er mich herzlich empfangen und mir alles in Ruhe gezeigt. KC ist sehr hilfsbereich und gibt gerne Rat. Wirklich eine empfehlenswerte Unterkunft!
Yasemin
2017-01-16T00:00:00Z
KC and his wife Grace are excellent hosts and gave us a wonderful time during my stay at his beautiful home. Very hospitable couple and well located. KC is a retired Air Commodore with the Indian Air Force and has many enlighting stories and experiences to share. Grace is a lovely cook and I enjoyed her meals.
Ishaan
2017-01-24T00:00:00Z
KC and Grace are very kind and caring hosts. Their house is beautiful (just like in the pictures) and an oasis of peace and quiet in the lively and fascinating city of Bangalore. I spent seven nights in room no. 2 visiting a German friend who is working in Bangalore and it was my first trip to India. Although I arrived in the middle of the night (my plane was delayed) KC was there to welcome me and I immediately felt comfortable. KC is very helpful with everything you can do in and around Bangalore. For example he showed us a great club and even called the manager to give us a good table. It feels like KC could and would help you out with just about anything. The breakfast is delicious and offers a variety of fresh Indian and European dishes. It is also a good opportunity to meet up with the other guests in the house which I enjoyed very much. Altogether, I couldn't have found a better place to stay!
Tilman
2017-02-02T00:00:00Z
Unfortunately I had to postpone my visit to KC and Grace,due to my father's quickly deteriorating health. However, prior to this change in schedule, KC arranged for taxi pick up from the airport to his place,booked and paid in advance for my bus ticket at a huge inconvenience to himself, and generally made sure that all questions were answered promptly, in depth and with care,by addressing all my concerns. Without having even met KC and Grace, I have no doubt that they are honorable people. This has been shown to me, not only with words, but through their actions too. Thank you so much, and I will definitely see you in the future. Light and love, Vanessa x
Vanessa
2015-05-04T00:00:00Z
Thanks to KC and Grace , for being such a great hosts. Everything was perfect.
Rashmi
2015-02-23T00:00:00Z
KC and Grace were fabulous. Felt like i was staying with long lost family rather then a bnb. The food was fantastic, location great, the villa was the best.
Sachin
2015-03-22T00:00:00Z
We stayed with KC and Grace in 2015 and again in March 2016. If not for our hosts, our stay in 2015 might have been stressful, tiring and expensive. We were first in Bengaluru as medical tourists. KC called several times at his own expense with information that helped us make an informed decision. Thanks to him we found a good maxillofacial surgeon at a reputable hospital, and at a very reasonable cost. If there is a rating above Super Host on Airbnb, then Grace and KC deserve it! Another example of their kindness and the lengths they went through for us: my son forgot his backpack in a shopping mall the evening before we were to fly to Goa. By the time we realised where the bag was, it was too late to collect it. It was also too late to attend the dinner KC and Grace had invited us to. They graciously accepted our apologies, but Grace went through a lot of trouble to collect the bag the next morning, and even enlisted the help of their lovely and beautiful daughter to bring it with her to Goa on her holiday. Thank you Grace. We especially treasure this kindness, as I know you were going through a difficult time then as your sister was hospitalised when we were there. KC and Grace are exquisite hosts, unassuming and unpretentious, who have caring, respect for others and love for life imprinted in their DNA. They have created a beautiful, happy home. The staff, Ayesha, Mallika and Shyamala are cheerful, friendly and very efficient. DJ adds his own charm. All three en-suite rooms are bright, clean and well-appointed. The rooms and bathrooms are cleaned daily. The beds and pillows are comfortable, and linen and towels clean. The yummy Indian breakfasts are accompanied by fresh fruit and juice, and coffee or tea. We also had a few lunches and dinners, as my son had special dietary requirements after his surgery. I am surprised to read the comment of another guest who found the home-cooked meals expensive. As Indians who reside in other countries, perhaps we still expect prices to remain at the levels they were when we lived here. We had our laundry done for a nominal fee. There is free wi-fi, good reading lamps, and you can 'borrow' the daily newspaper! KC arranged a driver with a clean and comfortable car for us. So travelling in the city, shopping and sightseeing was easy. We took the opportunity for a day trip to Mysuru, which was worth it. It was a privilege to stay in this Oasis and I cannot thank Grace and KC enough for welcoming us into their home, their kindness, concern and comfort. I'm looking forward to a relaxed holiday here, listening to music, drinking wine, and enjoying KC and Grace's wonderful repertoire of stories, learning bits of recent events and history from people who have lived it. Thank you Grace and KC.
Beena
2016-04-02T00:00:00Z
Kamertype
Privé Kamer
---
Type woning
Huis
---
Geschikt voor
2
---
Slaapkamers
Bangalore, Karnataka, India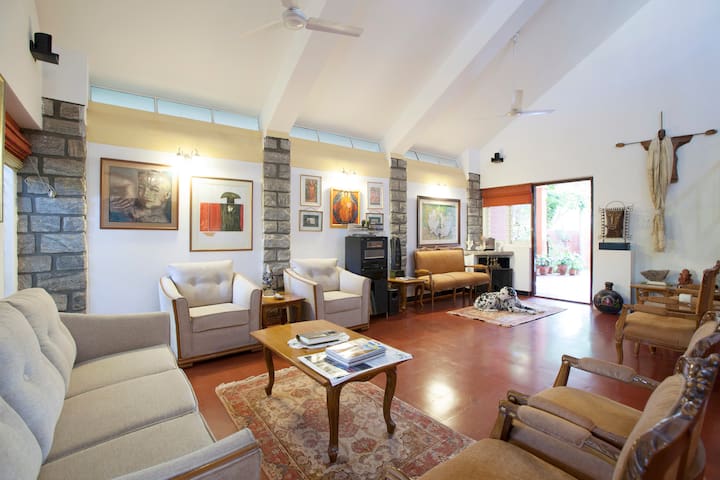 Located about 20 kms from the heart of the city of Blr. in India - once the outskirts of Blr. Located in a farm land of 1.5 acres where vegetables and other crops are planted in rotation. There is also a small swimming pool adjoining the house.
it was ok
Tamar
2016-10-23T00:00:00Z
Kamertype
Gehele woning/appartement
---
Type woning
Huis
---
Geschikt voor
3
---
Slaapkamers
Karnataka, Karnataka, India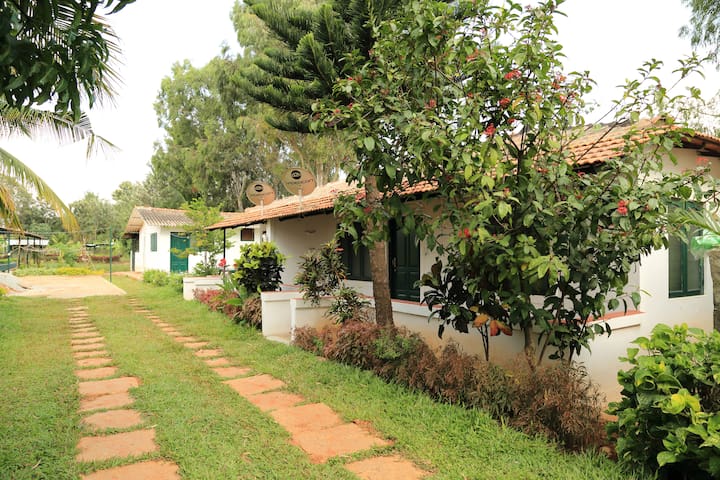 A very comfortable and peaceful place to relax. The best part about it is 24x7 availability of water. Bangalore is facing huge water crises (increasing with time). Almost all the places have very less water supply. We use ground water and the guests have very comfortable stay. Other basic facilities are RO drinking water, wifi & hot water in the attached bathroom. The place is close to the city center, parks and restaurants. My place is good for solo adventurers and business travelers.
I had booked Abhishek's place (which is actually a guesthouse) to stay over the weekend, there were some slight issues with the room and wifi not working etc. But the both Abhishek and Mr Khan (the caretaker/owner) did their best to rectify the situation and gave me a full refund for my troubles. I really liked the place due to the character and nature of Mr Khan who is a nice, old, gentle soul who treats you like family and will try to help you out in anyway he can. He isn't the sort of person who is behind money and is very hospitable. If you want a cheap, clean and safe room in blore with a super friendly host (who respects your privacy) then this is the place for you. Just make sure you contact Abhishek to check for availability before you book it.
Akash
2017-03-27T00:00:00Z
I was looking for a calm and quiet place within the city and got what I wanted
Praveen
2017-03-19T00:00:00Z
Kamertype
Privé Kamer
---
Type woning
Huis
---
Geschikt voor
1
---
Slaapkamers
Bangalore, Karnataka, India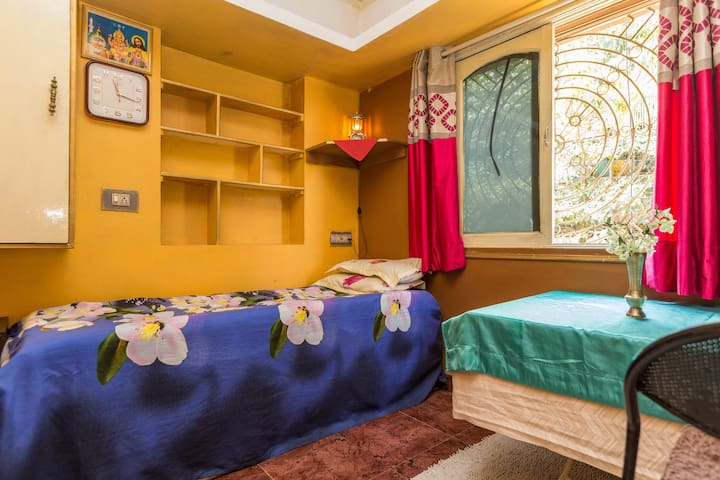 Comfortable room with a single cot, quiet and peaceful with a dedicated bathroom. Centrally located to most commercial places in South bangalore and about 100 mtrs from Lal Bagh Botanical Garden (West Gate) and about a kilometer from Jayanagar. We are also located just 1.5 km from 'The Isha Place', in Jayanagar.
Our 100 year old Mango tree with a garden around it inspired the name, Mango Tree Garden House. It is a 4 bed room duplex house, where the house overlooks the garden and you are welcome to sit in the garden with a cup of tea, and have a chat with us if you wish. This is a single bedroom with a dedicated bathroom right next to it. The house also has a kitchen with basic amenities, a hall to lounge in with a TV and a sofa set and a small verandah at the entrance. There is also access to the terrace if you would like to lie down and gaze at the stars. If you need more than one room, please check out our other listings for the other rooms in the house.
The neighborhood is quiet and pleasant and the famed "Food Street" is just a few yards away for local vegetarian food. We are located approx 100 mts from the famous Lal Bagh Botanical Garden (West Gate). We are also located just 1.5 km from 'The Isha Place', in Jayanagar. We are located approx 100 mts from the famous Lal Bagh Botanical Garden (West Gate) and a walk through Lalbagh will be a refreshing route to reach 'The Isha place'. We are 200 mts from the upcoming metro station for easy travel, which is also a hub to different commercial areas and markets, yet placed in a very pleasant residential area. Finding every local cuisine is just a little distance away like MTR, Kamath, Vidhyarthi Bhavan, N.M.H., New Shanthi Sagar, IBACO icecream, Kabab Magic, Ambara (cafe`) and the world famous food street for pure vegetarian delights. Gandhi Bazaar, a big market area with a lot of shopping options is also just 2 kms away. The Big Ganapathi temple is also a famous tourist attraction for your divine senses. Krishna Rao park, a kilometre away, is a great place to visit for an evening walk, where you can meet a lot of locals who come for their share of walking with lots of chit chat in the process. Jayanagar, the biggest layout in Asia, is also just a kilometer away. Jayanagar is another shopping hub with everything from street shopping to high end shopping. It also has movie theaters and malls. Over all this will be an enriching experience.
Ramanath, his son Arjun, his wife and his daughter in law were so nice to me. I arrived at 4 am and they were kind enough to receive me even at that time. It was my first time in Bangalore alone as a woman, so I was a bit nervous. But they helped me a lot showing me how to move around and giving me so many tipps. Also the area is very nice, I felt always totally safe there. There is Food Street only 5 min. away and Lalbagh Garden for jogging just around the corner. The room looks just like on the picture, it is simple, but for me it was totally fine. Also, all the facilites like kitchen and bathroom were cleaned daily and they offered me fresh sheets and a fresh towel after a week. The house is actually a separate house with 4 rooms for rent out. So you have a lot of privacy and might only be sharing the kitchen with other guests. However, if you need any information, you can just go over and knock at the door and Ramanath or some member of the family will be happy to help. I would definitely recommend anybody to book at the Mango Tree Garden House :)
Tatiana
2017-03-23T00:00:00Z
So accommodating thank you for working around my schedule I en joyed my stay in bangalore
Premyer
2017-01-30T00:00:00Z
Ramanath and Arjun are great hosts. My stay in their Air BnB has been very comfortable and pleasant. I had enough privacy, but could also contact them for any question I had. They were very communicative and helpful. Thanks a lot!
Lisa
2017-03-27T00:00:00Z
Stayed at Mr. Ramanath place for a night. It was a clean and neat place with a homely atmosphere. Very close to lalbagh and also the food street at V. V. PURAM
Srihari
2016-12-09T00:00:00Z
Muy buena
Eduard
2017-02-05T00:00:00Z
Very central and close to the botanical gardens, public transport, restaurants and food outlets. Unfortunately the decor and furnishings let's it down very badly, sorry to say but it's more like a prison cell and i would not stay here again.
Wesley
2017-02-02T00:00:00Z
Good place, excellent location. Near to restaurant, food street, market and the botanical garden.
Eduard
2017-01-23T00:00:00Z
Si vuelvo a Bangalore estoy seguro de volver aquí
Eduard
2017-02-13T00:00:00Z
Kamertype
Privé Kamer
---
Type woning
Huis
---
Geschikt voor
1
---
Slaapkamers
Bangalore, Karnataka, India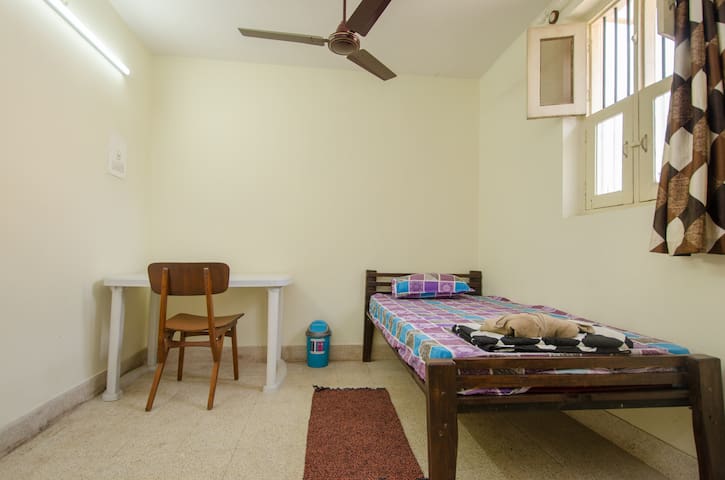 Bangalore can be chaotic given its traffic and pollution. We have made our home with utmost care and we are ready to share that with you. This probably will be your mini experience of Kerala with a Lush green 6 acre orchard view from your bedroom. Come home to unlimited Indian tea and a open kitchen for your usage. How about free WIFI and all the modern kitchen and Home appliances so that you dont miss your city and home life. Choose your Dinner/Lunch from Menu to order at budget price.
Your own bed with a private bath and shared kitchen and living space. Enjoy your weekend admist a mini forest view. Stay in a rustic village feel and still accessible to upcoming bangalore suburb: Evening at: India's biggest Microbrewry (HOOT) - 4kms A faboulous Date with great food: Big Brewsky - 3.5 kms Or watch a movie: PVR, Central Mall - 5 kms Inox, Forum Value - 7 Kms Virginia Mall - 7 Kms A day out with paintball, rock climbing, Quad biking Play Arena - 4 kms Now you can also rent a Motorbike from us: BAJAJ V15: 450 per day In Bangalore's concrete jungle, our house is a unique, comfortable abode to relax in and to show-off to your friends, or guests! The interiors are beautiful, with wide-open spaces and ample of natural sunlight. Outside the house, the neighbourhood is thriving with lovely greenry, Biking and running trails ! Returning home after a day at work, or in the city, you will definitely appreciate the calm, peaceful, relaxed atmosphere and environment that the House and Garden offer. A late evening tea/coffee in the drawing room or on terrace is a tranquil experience you will certainly enjoy. Our home offers 3 very comfortably, spacious, independent rooms that accommodate two people in each room. Our listings are separate for each room and they can be booked by a Guest independently.
Our hosts were welcoming and easy going. It was on short notice so they were forced to improvise a little, yet we had a good night's stay. The house is exactly as beautiful as the pictures.
Nikita
2016-10-11T00:00:00Z
Very Good!
Abby
2017-03-04T00:00:00Z
Rituraj was a good host. The stay was hasslefree and comfortable.
Rohin
2017-03-06T00:00:00Z
I loved my stay here. The room was clean, comfortable and beautiful. Rituraj and Rashmi were excellent hosts, polite and helpful.
Arpit
2017-02-26T00:00:00Z
It was my first time that I took my parents along for an AirBnB stay, and I felt that this experience was worth it! Rituraj and Rashmi were very helpful throughout the stay. The energy in the house is very positive. They also helped us with food on a very tight notice with open arms. I would certainly recommend to experience their hospitality for once. Beautiful people.
Chirag
2017-01-27T00:00:00Z
The first thing you notice about this place is the relative calm all around! The second of course the house itself - a split-level villa with a very personal room to relax and unwind after coming out of busy and chaotic city traffic. The hosts are more than welcoming, and willing to engage in conversations to make you feel at home! The Art room where I stayed was classy with limited and useful furniture and absolutely NO clutter! The pics here speak for themselves - the handmade paintings and a few photo-shots behind the bed, the french window opening up to the garden view and ample sunlight, fresh and clean bathroom with provision for hot/ cold shower.. there was absolutely nothing missing except may be a few power points to remain recharge if you are a gadget junkie! That problem was solved very quickly with Rituraj getting me an extension large enough to go around the whole house :).. This was my first Airbnb experience and I must say I'm impressed.. I wish I could be a host sometime, till then I look forward to checking-in back into such places more often. My two thumbs up and a BIG thank you to the hosts Rituraj and Rashmi!!
Neeraj
2016-12-10T00:00:00Z
The place is absolutely beautiful, modern and clean, The Host were very polite and welcoming, I thoroughly enjoyed my short stay. Absolutely recommended.
Puneet
2017-02-12T00:00:00Z
Rituraj was an attentive and gracious host that couldn't have done more for us - communication was excellent and constant and he even let us check out late for a flight. Overall a relaxing and peaceful stay with excellent amenities about 45 mins outside of Bangalore city centre. Highly recommended!!
Brad
2017-02-02T00:00:00Z
Kamertype
Privé Kamer
---
Type woning
Huis
---
Geschikt voor
3
---
Slaapkamers
Bangalore, Karnataka, India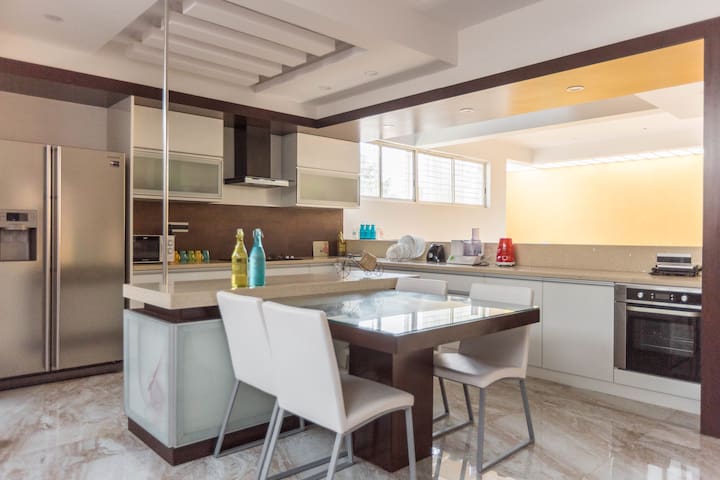 The room is on a terrace surrounded by lot of healthy trees. You can expect peace and good breeze all the time. The other good thing about this place is its closeness to Starbucks,CCD,Brewsky and other common hangout points.
Independent room on a terrace with bike rental available to get around nearby.
Trees and lush green surrounding. Only 200 metres away from CCD,Starbucks and other lounge
Gud place to crash for a night or two. Nice and quiet neibhourhood with decent options for food and transport. Piyush also provides vehicles on rent for transit. Its a terrace room.. so its impossible to always keep it clean,but they did their best. Clean sheets and pillows could need improvement. A source of drinking water could be a great addition And finally piyush and his friends were very hospitable
Surya
2016-08-21T00:00:00Z
A very basic but good and affordable place in a very central location or South Bangalore - great if you don't want to spend much on your stay and Piyush was an nice host and help me out with any WiFi/room-related issues I had. He went above and beyond his host duties by connecting me with his friends.
Devi
2017-04-04T00:00:00Z
Piyush promptly provided me with things I required. He also provided with the hot water I required that time. He was ready to do anything I required. I simply loved the place. Terrace was spacious and surrounded with trees, the kind of ambience I like the most. In nutshell, It was simply awesome. I would love to visit the place I am in Bangalore.
Vivekanand
2016-08-03T00:00:00Z
Airbnb - room with a terrasse - was just the beginning of a 5 weeks long - short story - situated in the center of Bangalore with all it's facilities and yet set apart from rush-hour trafficjam . the 1st flor terrasse - iluminated from sunrise to sunset , surrounded by a variety of beautifully old aged trees and their fauna-hábitat invite to feel relaxed,practice yoga or meditate if you feel like. It was even accepted to set up my room to my alike. but as Piyush - living downstairs opened the door to participate in daily activities - there also was the posibility to share vegetarian food - meeting his friends - listen to stories or telling mine. i felt lucky having chosen this place - enjoying my stay from the first to the last day.
Anand
2017-01-02T00:00:00Z
Good cheap clean place :)
Aabha
2016-08-30T00:00:00Z
Piyush was very welcoming and respectful, the terrace room is a chill place to hang out in the evenings, decent place to spend a couple of days and its close to restaurants and bus stops, no problem commuting around.
Suraj
2016-09-01T00:00:00Z
For the price in bangalore it is a decent place to stay
Divyendu
2016-11-05T00:00:00Z
Location is really good and ambience is great. If a bit of furniture is added this can be the ideal place to stay in Bangalore.
Mudit
2016-11-13T00:00:00Z
Kamertype
Privé Kamer
---
Type woning
Huis
---
Geschikt voor
2
---
Slaapkamers
Bangalore, Karnataka, India
Mijn plaats is goed voor koppels, solo avonturiers, zakenreizigers en gezinnen (met kinderen).
Grow al mijn eigen biologische groene bladgroenten.
Rustig in het weekend en boerderijen rond
The host canceled this reservation 7 days before arrival. This is an automated posting.
Pankaj
2017-03-09T00:00:00Z
The place is absolutely beautiful. The greenhouse, garden and pool were very nice. Everyone working here was so helpful. The food was great. They provided breakfast, coffee and tea throughout the day and we paid a little extra to have lunch as well. There is a good restaurant only 2 minutes walk away that you can also order in from. We had a wonderful experience and hope to come again!
Megan
2017-03-20T00:00:00Z
Kamertype
Gehele woning/appartement
---
Type woning
Huis
---
Geschikt voor
4
---
Slaapkamers
Bangalore, Karnataka, India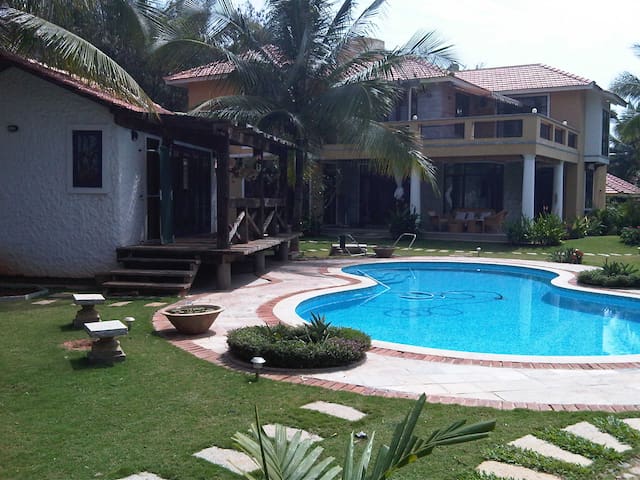 Onze 2 slaapkamer is centraal gelegen binnen vier Kms van MG Road, Majestic, Koramangala, Jayanagar etc., gemakkelijke toegang tot het openbaar vervoer
Geniet van een volledig ingerichte slaapkamer met een moderne badkamer bevestigd in een mooi huis in een rustige locatie in het hart van de stad Bangalore! De inrichting is zeer eenvoudig. Ik blijf bij mijn lieve familie die mijn moeder, vrouw, zoon, dochter en dochter-in-law omvat. Deze slaapkamer ruimte is een ideaal uitje voor iedereen die een bezoek Bangalore. Het is geschikt voor 2 personen. Er is een comfortabel tweepersoonsbed. De kamer heeft een sofa, kledingkast en voldoende stopcontacten om uw elektronica te laden, en een bijgevoegde moderne badkamer met warm water en douche faciliteit. Toiletartikelen zijn op het huis. Zijn we vergeten om een keuken te noemen? Yup, er is zelfs een gemeenschappelijke keuken met alle benodigde apparatuur, waar u een lekkere maaltijd of twee kunnen koken. Maar als je niet in de stemming, is er een grote verscheidenheid aan eetgelegenheden in de buurt om je te voeden hongerige maag. U krijgt toegang tot een kleine zitten om een kopje koffie of een lekker koud drankje, en genieten van de aangename weer van Bangalore.
Prachtig gelegen - 0.5 Km van het Shantinagar Bus stand - 6 km van het treinstation. - 15 minuten van Garuda mall die alle beroemde Voedsel Kettingen en Fashion Brands heeft. - 1 Km van de Bangalore Club - 3 km van de stad winkelgebieden, zoals Commercial Street, Brigade Road en MG Road) - 1 Km tot grote mand, Naamdhaari en Foodworld - 1 km van het Hockey Stadium van Bangalore - In de nabijheid van ziekenhuizen, zoals NIMHANS, Sita Bhateja Nurshing Huis, Mallya ziekenhuis Verscholen in een rustig hoekje weg van het lawaai maar toch, zeer goed verbonden met de Business stad hub, openbaar vervoer, restaurants, banken geldautomaten etc. supermarkten, restaurants en winkelcentra liggen op loopafstand. Een bushalte ligt om de hoek, en autorickshaws (tuk tuks) zijn gemakkelijk verkrijgbaar, zelfs in het midden van de nacht. Wij kunnen een taxi regelen als u liever dat ook.
Nice room to stay a few days. Very close to the city center. Vijay is a nice and welcoming host !
Julian
2017-04-04T00:00:00Z
Vijay was a wonderful host. He and his Wife are very nice and cook up a mean breakfast. Vijay helped me organize a driver to the airport and even negotiated for me. I would recommend this place to anyone.
Timmy
2016-11-22T00:00:00Z
Mr Vijay was very cooperative and helpful in guiding us to the property. The breakfast was excellent. The property is located very close to shanthinagar bus station hence commuting was easy. Mr Vijay took care of our needs and got the room cleaned as we requested. However I felt that the room and especially the bathroom and toilets could have been cleaner.
bindu
2016-09-16T00:00:00Z
Vijay and his family are natural hosts, friendly, hospitable and considerate. Scheduling conflicts prevented us from partaking of their famed South Indian breakfasts, but we hope that will happen the next time. The location is good and the directions we were given were very accurate.
Hari
2016-06-18T00:00:00Z
Vijay's home is a solidly built older building on a quiet side street off Double Road, one of Bengaluru's busiest, which makes access to taxis and auto-rickshaws a breeze. Restaurants, small shops and an ATM are all right there. The guestrooms are just inside the front door, so you can more or less come and go as you please. WiFi was good, but phone service in my (back) room required that I came into the hallway. Vijay and his wife are wonderful hosts and will do whatever they can to make you comfortable.
Roger
2017-02-08T00:00:00Z
I only had a very short stay but received a very warm welcome by Vijay and his family. They really get out of their way to make your stay as comfortable as possible. Great people and good location!
Ash
2016-12-24T00:00:00Z
Very friendly host. Comfortable stay.
Sreekrishnan
2016-06-09T00:00:00Z
The house is in a quiet yet central location and the room and bathroom are spacious. Moreover, the daily included South Indian breakfasts are delicious. Good experience overall--don't hesitate to stay there!
Elliot
2016-01-08T00:00:00Z
Kamertype
Privé Kamer
---
Type woning
Huis
---
Geschikt voor
2
---
Slaapkamers
Bangalore, Karnataka, India
Hi guests WELCOME! Do Share with us about yourself & what brings you to our lovely city.We have FIVE ROOMS- 3 on terrace with common bath, kitchenette & gazebo; TWO on first floor with attached baths. Check out full listing then check in ☺
You have access to a large open terrace area with a gazebo to relax and decompress after the day, with a cup of coffee from the attached kitchenette. Open space & green trees all around make this space the perfect stress buster.
This is a lovely, clean, green & safe residential neighborhood ideally situated between the airport and the city. Great shopping, eating is within walking (website hidden) road/ Brigade road is ~8KM/ 5 Miles. The airport is 30KM away but easy access to the highway make it an approximately 25/ 40 mins away (which is GREAT in Indian traffic :)) Lots of parks, greenery and well laid out roads make this an ideal place to walk around or take a jog.
I had a comfortable stay. Hosts very helpful and friendly and made me feel very welcome and treated me like family. Would recommend to friends.
Roshni
2017-03-12T00:00:00Z
The stay in as very pleasant and the host is very warm and welcoming. Great terrace with a lot of plants make your evenings super relaxing and just outside the house is a park which is perfect for a jog. The rooms is very clean and anything you needed, the host is immediately available to help you.
Sridhar
2016-03-16T00:00:00Z
Lovely aparment, you get a room with a common shower and toilet. Has a cosy little kitchen and a huge terrace where you can sit and enjoy the rare silence in the urban jungle. The host is very knowledgable and helpful.
Kris
2015-08-14T00:00:00Z
I had a very comfortable stay at their place. The rooms are extremely clean and spacious. It also has a very spacious terrace to relax. Kalpana ma'am was very accommodating and gracious. The place has a lot of good eateries nearby as well.
Rodney
2017-02-01T00:00:00Z
Wonderful and comfortable stay...the hosts were very hospitable and welcoming...would love to reach out to them if in the city
Kushal
2017-03-05T00:00:00Z
The room was comfortable for a single person. The location was amidst residential area and very peaceful. The gazebo was perfect for a sitout and to chill. The host was very friendly and gave crisp instructions about what to do. The flip side was that the bathroom and toilets are common for all rooms, and because it's in a quiet neighbourhood not ideal if u plan on partying. Best place for solo travellers and single women as this is a secured and warm place
Vishal
2016-12-29T00:00:00Z
Best place in this budget :) The place is same as in the photo. The host is very helpful and understanding(URL HIDDEN)
Shubhendra
2016-02-26T00:00:00Z
Sweet and helpful host
Kamlesh
2017-03-10T00:00:00Z
Kamertype
Privé Kamer
---
Type woning
Huis
---
Geschikt voor
2
---
Slaapkamers
Bangalore, Karnataka, India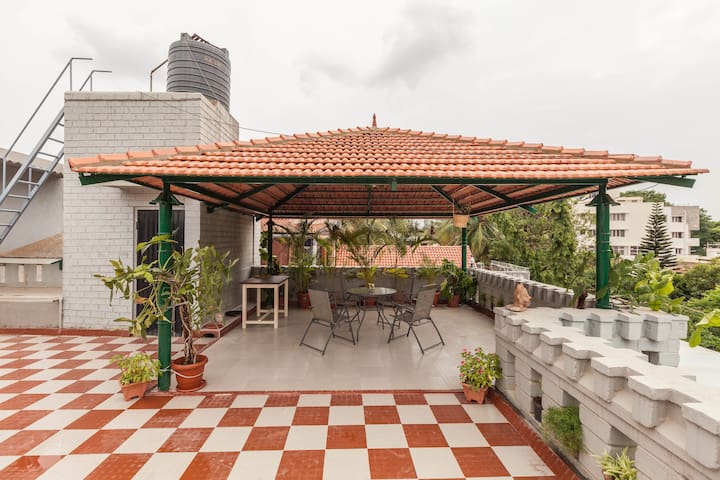 My place is good for solo adventurers, and business travelers. Excellent connectivity with calm and peaceful surroundings.
Best place to stay in Bangalore
Saransh
2017-04-05T00:00:00Z
Kamertype
Privé Kamer
---
Type woning
Huis
---
Geschikt voor
2
---
Slaapkamers
Bangalore, Karnataka, India
TRANQUIL SERVICED APARTMENT (Devarachikkanahalli Main Road).Our spacious single room with attached (URL HIDDEN) are sure to feel at home with all the amenities and easy accessibility to the main road,public and private transportation.
It is spacious zen Inspired single room with a minimalistic look yet having all the basic amenities one requires for a comfortable stay. The room is on the ground floor of a 3 storeyed apartment with separate entry to it.. it has TV with cable, study area.A bathroom with geyser and 24 hour water supply. Also basic toiletries like body wash,toothpaste,towel are provided. Wifi is installed.Double cot which is comfortable for 2. We provide kettle with tea bags ,sugar and milk powder. The USP of the place is the cleanliness and neatness maintained at all times. I'm sure you will enjoy your stay at our cozy space.
The room is in a quiet apartment on the ground floor. The building is a stones throw away from the main road. One can easily reach all the supermarkets,grocery stores,fruit shops,food outlets, recharge shops,milk booth etc as they are all at walking distance. Guest can easily access local transport services like ola and Uber. The bus stops are not too far away. Our building location is such that one can easily reach silk board / koramangala and on the other end, bannerghatta road /IIM in not more than 15 mins. Couple of ATM's about 50 mtrs away.
Nidhi's place is great! She was easy to reach for any queries and the room was amazing. It was comfy and well-equipped and Mithun, her helper, was super helpful with anything you might need! The locality is a bit far from the city centre but is easily accessible by cab. I would definitely recommend it to anyone visiting the city as it is near the Koramangala area too.
Nikita
2017-01-02T00:00:00Z
We had a comfortable stay at Nidhi's place. No problems faced. The apartment was well maintained and had all listed amenities. Nidhi and her family were wonderful hosts.
Yogender
2016-11-06T00:00:00Z
1. The room has been maintained well 2. Bad location 3. Electricity keeps going 4. The flow of water in the toilet is inconsistent 5. Wifi is good 6. Good homemade food served by nidhi and family
Stevie
2016-11-02T00:00:00Z
Nidhi was very welcoming and treats her guests very well. Staying at her place was wonderful experience and I will surely be coming back next time I am in Bangalore. She as a host was very helpful in finding the place and helps personally for anything needed by guests. Room interiors are very nicely done, and Nidhi made sure everything is perfect and clean in the room. Thanks Nidhi for being great host.
Arvind
2016-09-28T00:00:00Z
Very nice and clean room. Nidhi was very helpful in finding the location. We did not have any trouble at all.
Vishan
2017-01-05T00:00:00Z
Stayed here for half a day. Nidhi was quite accommodating with the early checkin and checkout. The room itself was pretty neat - almost like a decent hotel room with required amenities. Thanks to her Mom and their helper Mithun, it was a nice stay!
Saaransh
2016-09-23T00:00:00Z
Well , this was my first time using Airbnb and I must Nidhi was the perfect host. On explaining to her that we were arriving early, she was kind enough to let us check in early. The place is not exactly central but rather accessible considering you have played and uber around. Nidhi was super helpful with suggestions on where to go and what to do at all times. The roam was comfy, clean and as it looked in pictures. Sometimes it not just about the place but the personal touch which the host provides and Nidhi definitely did all in her power to make our stay a pleasant one. Would definitely suggest this stay to others
Sergio
2016-09-06T00:00:00Z
Nidhi was a wonderful host and the place is very good for short stay. Well maintained and clean room. Location is close to major roads of Bannerghetta Road and Hosur road which makes it easy to commute. You can have an affordable stay in a safe and convenient location. Recommended .
Ajesh
2016-09-26T00:00:00Z
Kamertype
Privé Kamer
---
Type woning
Huis
---
Geschikt voor
2
---
Slaapkamers
Bangalore, Karnataka, India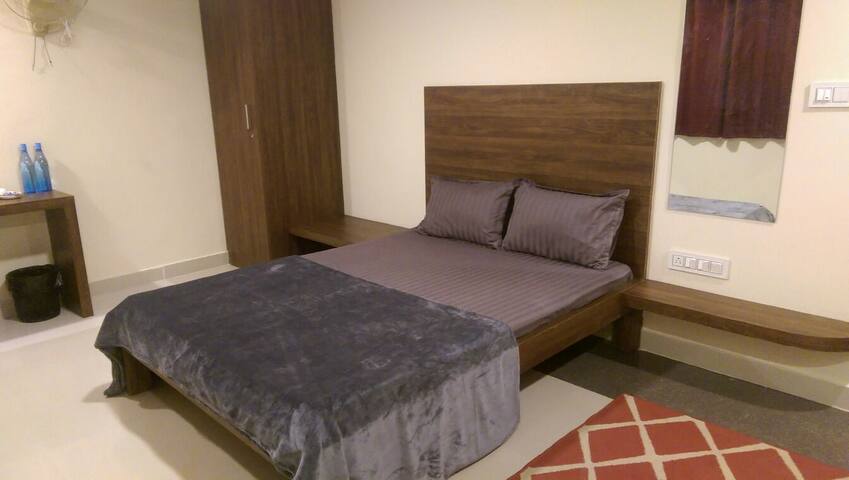 My place is close to restaurants and dining, family-friendly activities, nightlife, and public transport. You'll love my place because of the coziness, , the location, the people. My place is good for couples, solo adventurers, business travelers, and families (with kids).
The guesthouse is located conveniently, though in the heart of the city, the street is silent and in a residential area. Best suited for a comfortable stay. The much sought after street of Bangalore, 100 feet road is just 50 meters away. The hot water in baths is from solar heater, you may have to keep the tap open for a while to get it .
A calm residential area . You can buy almost everything for daily needs from the nearby street 18th Main road. For door delivery from restaurants use Apps like SWIGGY /ZOMATO and for online grocery delivery GROFERS
Wonderful stay. Would highly recommend.
Shant
2017-02-23T00:00:00Z
already reviewed - good stay, recommend it.
Jonathan
2017-02-12T00:00:00Z
The room was simple but clean, with a comfortable bed and all the basics you need. The house is nice and there is a good shared kitchen. The vibe is professional, i.e. it does not feel like a hostel / hanging out at friends and you will not meet many people in the house, which means you will have your privacy and can relax. The location is very convenient for Bangalore, it is right next to the very busy 100 feet road, where many of the popular stores and restaurants are and an Uber is usually at the door within 5 minutes, but the street the house is actually on still feels nicely residential and calm. Some small things were missing at arrival, like the house key, toilet paper or the wifi password, and a vent was not working properly, but all of this was taken care of immediately. Another thing to note is that there is no washing machine. But the housekeeper, who is always available, can take your washing to get cleaned for a small fee. I was very happy with the experience and rated the stay 5 stars since Dr Sibi and his staff responded to all requests immediately and were always very helpful and nice, and made me feel welcome. If this type of accommodation, setting and location is what you are looking for, I would definitely recommend you stay with Dr Sibi in Bangalore.
Jonathan
2017-02-19T00:00:00Z
Kamertype
Privé Kamer
---
Type woning
Huis
---
Geschikt voor
2
---
Slaapkamers
Bangalore, Karnataka, India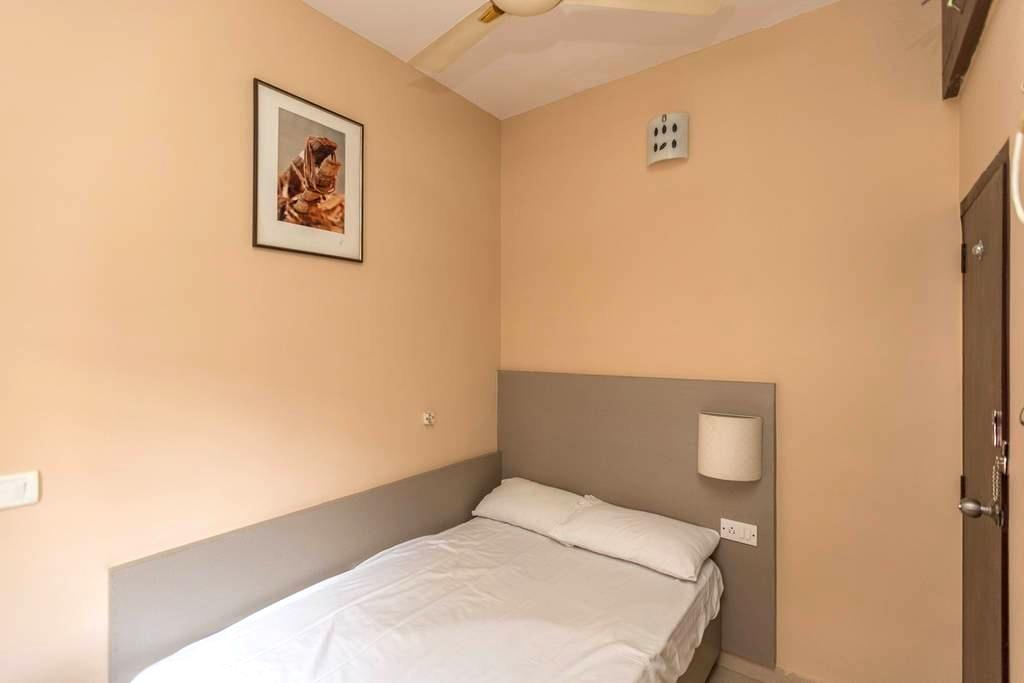 Kom en verblijf in onze slaapkamer boutique appartement, gelegen midden in het centrum van Koramangala, dicht bij alles wat je nodig hebt voor een comfortabel verblijf in Bangalore Als je houdt van kunst (Ik wed dat je te doen), is dit de plek waartoe u behoort! * Self-service check-in 24/7 * High-speed Wifi * Dagelijkse schoonmaak * Meer resultaten: klik op mijn foto »+ More» Bekijk het volledige profiel »Bekijk alle lijsten
Dit boetiekhotel appartement is gelegen in het midden van Koramangala en hosts ansichtkaarten, infographics, reisverhalen en souvenirs uit de hele wereld. DE SLAAPKAMER: De slaapkamer is heel ruim en volledig ingericht. We hebben een dubbel bed met een goed matras, extra kussens en dekens. Kasten en veel boeken voor u om te lezen. De badkamer heeft een westers toilet. De kamer heeft een ventilator, verlichting en een bedlampje. HET HUIS! Het appartement heeft een slaapkamer en een ruime woonkamer + keuken. Het is op de begane grond van een 4 verdiepingen woongebouw. PLAATS: We zijn dicht bij Maharaja signaal in Koramangala, omgeven door veel restaurants en kroegen. We zijn ongeveer 5 minuten van Oasis Mall (kruidenier / shopping) VEILIGHEID: We hebben een veilige buurt. - 24 uur per dag bewakers in onze samenleving - Cameratoezicht VERVOER: In Bangalore, de belangrijkste vorm van openbaar vervoer zijn auto-riksja. We hebben de openbare bussen en een metro-railsysteem ook. Dus auto riksja's zijn 24/7 beschikbaar buiten de poort van onze samenleving. Ze zijn goedkoop en ook de beste manier om rond te krijgen, tenzij u het huren van een auto. U kunt ook gebruik maken van Ola / Uber optie voor delen taxi te gaan rond de stad. ETEN : Ontbijt, lunch en diner is niet inbegrepen, maar kan worden op aanvraag beschikbaar tegen de prijs van 200 / gemaakt - per hoofd. Laat het ons weten wat uw maaltijd plannen in de ochtend, zodat we kunnen plannen voor de dag. Ten slotte, als je iets nodig hebt, aarzel dan niet om te vragen!
Dit deel van Koramangala is heel groen en staat bekend om de beste restaurants in de stad. Er zijn een aantal cafés in de buurt die iedereen op reis naar Bangalore niet mag missen. 5 redenen waarom Koramangala Is Bangalore's Favourite Bestemming: 1. Het is de thuisbasis van de beste evenementen in Bangalore! 2. Het heeft een aantal van de beste kroegen in de stad! 3. Het heeft een aantal ernstige stijl quotiënt! 4. Levend het goede leven is ongelooflijk eenvoudig hier! 5. Het heeft de beste foodie hangplekken in de stad! (URL HIDDEN)
The place is just right and close to everything you can think of. Simple and elegant...
Renthish
2016-11-17T00:00:00Z
I didnt acknowledge my confirmation but i have been charged for it. Im not sure how the money is been taken from the Card without my approval. Very poor communication
Bharath
2015-10-02T00:00:00Z
Good stay . Nice home
Ahmed
2017-03-31T00:00:00Z
Ease of use... host was very accomodating... answered all questions on time
Alok
2016-11-21T00:00:00Z
It was a great stay, the place was very neat and clean...!! 5 stars...!!
Mayur
2017-03-09T00:00:00Z
Really nice place in a residential neighbourhood. A mall nearby and a lot of options if you walk for ten minutes. Just that the correct address would be shared by the host and is not listed correctly, and our flight landed pretty late and battery died at the last moment was very difficult to locate the place. Also Wifi was not working. They have linen and hot water and a very peaceful place. Overall it was an fine experience and I was on a business trip could not expect better. Would recommend it to fellow travellers! :)
Rupesh
2017-02-02T00:00:00Z
The place is great and very well located in Koramangala. The listing description is accurate. Apartment decor is fun and eclectic. I loved the DYU Cafe (at five minutes walking distance). Saurav and Pooja are very friendly. They were very attentive to my needs. They are well travelled people and know Bangalore very well.
Eduard
2016-01-24T00:00:00Z
The host canceled this reservation the day before arrival. This is an automated posting.
Aadisht
2015-11-28T00:00:00Z
Kamertype
Gehele woning/appartement
---
Type woning
Huis
---
Geschikt voor
4
---
Slaapkamers
Bangalore, Karnataka, India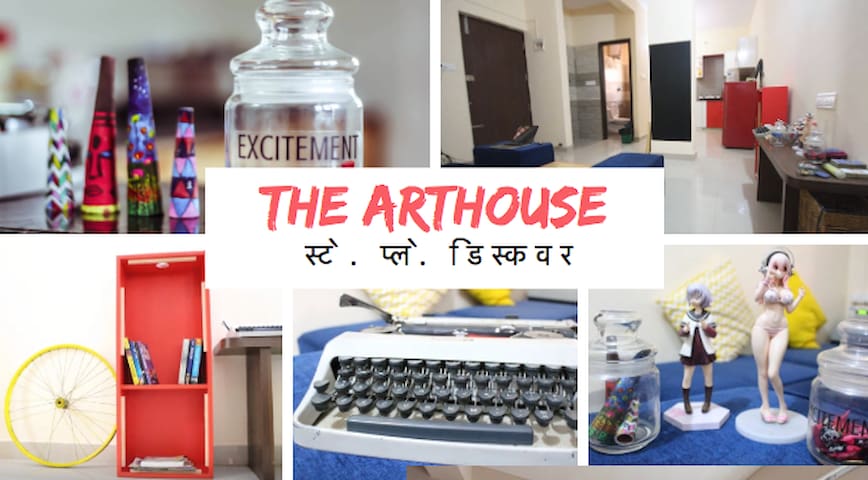 Please read the description well before you book. It helps to set expectations and avoid surprises. Welcome to this small but cozy place. We have a queen bed and a folded mattress that can be rolled out.A refrigerator,Unltd internet connection, Cable TV, and gas stove with basic utensils which means you can cook almost anything . 2 mins to Mathikere bus stand, auto stand, park and markets. Plenty of food delivery options available. Maid will be provided on request at a fee of 150 rupees per day.
Yeshwantpur Railway Station:- 1.8 kms, Manyata tech park :- 8.9 kms , Hebbal :- 5.2 kms, Orion mall:- 3.5 kms, Mantri mall :- 6.5 kms, MG Road:- 11.5 kms, Koramangala:- 16kms, Whitefield:- 23 kms The place is as the title reads, a cosy little space. It's for a budget traveler so please do not book the place of you are looking for luxury. It's nestled in the middle of mathikere and is about 80 mts or so from the bus stand. Auto's are available right outside the gate. It's safe, because it's enclosed on all 4 sides with metal grille . Comes with a small functional kitchen complete with a gas stove, utensils,chopper, refrigerator, and everything you need to cook a meal(no microwave at the moment). The living room has a folded up mattress that can accommodate 2 people, but i have put up the listing for 3 only. If you are ok with booking for 4, then you can do so. The small bedroom comes with a queen size bed, wall wardrobe, an attached bath with a geyser for hot water, TV with cable, a bed side table, and WiFi connection. You will have great privacy and are on your own from when to check in till you check out. however I am available on phone, and you can reach me if you need anything. As of now there is no facility to wash clothes, but a maid can be sent over for a small fee to wash your clothes when you want the service. There is a temple right next door, so apologies for the NOISE they make during times of pooja. A few times during the day they have bells and drums on for about 5 mins, so please bear with it and keep that in mind while booking. There is nothing we can do about the noise as its a communal thing. Please treat the place as your home and not as a serviced apartment or a hotel. Clean up the dishes and throw the garbage out. If you need a maid, she will be made available to u on request and u will have to pay her a nominal charge of 150 rs for all the work u need to get done, including washing clothes as there is no washing machine.
Simply the best place one can get in Bangalore! close to most of the places but also a little away from the noisy busy roads of Bangalore. Though the host was not there at the time of my stay, her parents took real good care of us. Would stay at the same place just for them :) thank you!!
Pradheep
2016-11-07T00:00:00Z
The place was in line with what i was told except the following. I was expecting a bigger bathroom. it was very small to my liking. the property shares the wall with a temple because of which there is lot of noise very early in the morning (5 am onwards) thereby disturbing sleep. The owner was very helpful and courteous. My purpose of finding a clean, well maintained room near my work place was served.
lokesh
2015-12-05T00:00:00Z
Little White Space is all you need if you are looking for a comfortable, economical stay at Bangalore with all the facilities - in their cutest, 'mini' form. If you don't bother about the size, this is a blind pick which is totally worth your payment. The place is easily reachable once you find its walkable connection to main road which leads to Mathikere. The place is fully covered with metal grill and you get enough security and privacy. Bedroom is perfect for two people, kitchen is small yet totally functional with all needed things. Living area and Washroom are indeed small but they serve the purpose. The temple nearby is harmless. Din't find the noise difficult. Nandita, a perfect host is my personal favourite since I had stayed at another place of hers, last year. She's so professional and equally friendly. Always reachable and has a practical solution for everything. Book the place right away if you bother only about your needs and comfort, not any visible spacious luxuries(URL HIDDEN)
Akhil
2016-02-29T00:00:00Z
it was nice stay!
Praveen
2016-11-12T00:00:00Z
The host is very kind and did definitely make me feel welcome. The place is just as described and was very convenient for my stay. The kitchen was well stocked with basic stuff like tea, coffee and sugar. She even left some bread butter and eggs in the refrigerator for my consumption. The bedroom is sufficiently big for two people. The bathroom is small but is a functional one and serves the purpose well.The place is very close to the bus-stand and auto are available right outside the gate. There is enough privacy as its an independent house. I would love to stay here every time i visit Bangalore.
Giri
2015-11-07T00:00:00Z
Perfect Host !!
Praveen
2016-10-26T00:00:00Z
The stay in the property was phenomenal. I will definitely return back here. Thanks Nanditha for being a wonderful host. :)
Aditya
2016-10-02T00:00:00Z
This place was small but very cosy. Nanditha is very friendly and helpful. She made sure we had everything we needed, even left lots of food in the fridge. As the house shares the boundary wall with a temple, there was bit of a noise in the morning and at certain times of the day. But it remained for just a while each time, so I did not really mind. Overall, had a really pleasant stay and will certainly recommend this place.
Joli
2015-12-22T00:00:00Z
Kamertype
Gehele woning/appartement
---
Type woning
Huis
---
Geschikt voor
4
---
Slaapkamers
Bangalore, Karnataka, India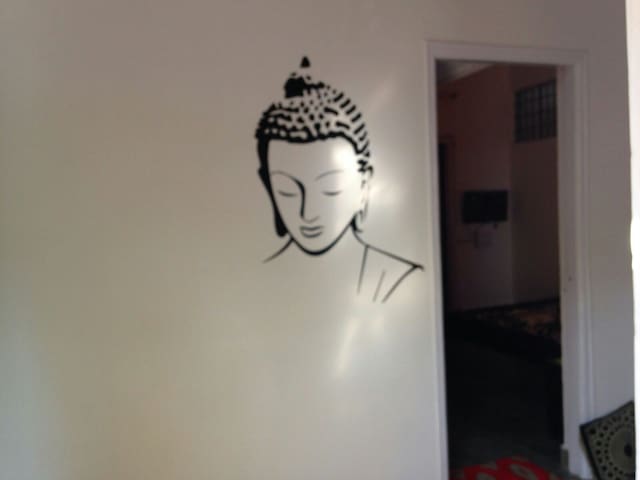 Our centrally located independent home consists of two bedroom, hall, dining & kitchen suitable for four guests with parking facility. Close reach to cantonment railway station, MG road, Shivaji nagar, cubborn park metro station, Cunningham road ,Vidhaan Soudha etc.
Near to commercial and residential places
Shopping, access to transports, railway station.
Our host Mr. Vijay was polite and welcoming. The house was as exactly as described and most of the amenities were relatively new. Apparently we're the first guest to stay here, we were a family and the house was so comfortable for us, it felt like home. Mr. Vijay is a very friendly and helpful person, he was very supportive in remedying any snag during our stay. He made certain of the guest having a pleasant stay. And as far as its location, it's very close to Bangalore Cantonment railway station and Cubbon Park Metro, so local and out of station commute are quite easy. Also walk-able to shopping centers and few of the tourist's spot in Bangalore.
Yogesh
2016-09-04T00:00:00Z
This property is very centrally located and within walking distance of Cubbon Park and good places to eat out. It is very spacious with high ceilings and large rooms. The host family is very friendly and helpful. The only downside is that the kitchen is not that clean and dishes could do with replacement. Some of the rooms seem freshly painted while a couple need a fresh coat of paint. Other than that, this place is good value for money.
Ranjit
2016-11-13T00:00:00Z
很好的房主,总是帮助我解决各种问题,房屋特别靠近市中心
元智
2017-01-02T00:00:00Z
It's a very beautiful house and centrally located easy access to MG n indiranagar..Host was Amazing we felt like home..Thank you Mr Vijay kumar
Shalvin
2016-12-20T00:00:00Z
This is really a very good place and I like this place very much,the house owner is very friendly and very big house to live for family
元智
2016-11-27T00:00:00Z
Vijay was very welcoming and helped us immensely with our arrival. The place is spacious for a family with a kitchen and lounge room. The place was cleaned regularly through the week and the host was easily contacted and would check to ensure our comfort. It's a short walk to many eating opportunities and a cheap Uber ride everywhere! I highly recommend this stay for a group or family.
Nick
2016-12-29T00:00:00Z
Vijay Kumar was a great host, connected easily with him, the place is just fantastic, enjoyed the stay with my family, wouldn't have had the same experience had I stayed in a hotel
Arvind
2017-01-22T00:00:00Z
是
元智
2016-11-29T00:00:00Z
Kamertype
Gehele woning/appartement
---
Type woning
Huis
---
Geschikt voor
4
---
Slaapkamers
Bengaluru , Karnataka, India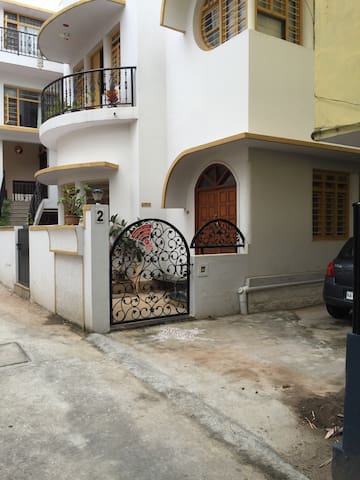 The room is walking distance from South End Metro Station and has a separate entrance ( independent entry and exit) with an attached bathroom( english toilet and hot shower )( &Wifi). The place is about 100 meters from a lake, restaurants and market.
It was a real nice stay..Abhishek is an awsome host. He made sure that everything is fine every now and then. There was an open skylight but it was fixed the next day. I read the reviews n it said there was some noise problems. But i think it has already been fixed. I found no such issues. I look forward for my upcoming stays at Abhishek's place for sure..a 5 star rating for this..
Santrupta
2016-07-02T00:00:00Z
Its a good stay for a bachelor.. Has basic amenities and is close to restaurants, market. Mr. Khan is very helpful and supportive. He is available at any given time for help.
Aditya
2017-02-18T00:00:00Z
The room I stayed in had BED BUGS and I was bitten all over. I killed at least 5 and videotaped one running across the blanket! Mr Kahn is as helpful as can be but knows very little English so a third party mediates between you and the owner. This caused a problem in communication at one point which was frustrating and stressful.. The listing said there was a LED TV in the room but there was none. I asked for a slight refund and received it with no difficulty. I was told rooms with a tv are more expensive but there is no price breakdown in the ad as to what the real costs are for what you're renting. Also I was told not all rooms have a window and having a window means your room is more expensive too which is also not stated anywhere in the ad. I suppose I should be happy that I didn't have to pay extra for a door to my room either in that sense. Mr Kahn let me borrow a bicycle which was nice of him and he also drove me to the airport for RPS $1,000.00 No sink in the bathroom. Regardless I would never recommend this place because of the bed bugs. Do yourself a favour and pay a bit more for peace of mind and a good nights sleep. This was the worst way to end my two months in Indian before coming back home.
Jordan
2017-03-28T00:00:00Z
had a great stay yet again ..
Renjin
2016-09-26T00:00:00Z
The place is located at JayaNagar East, almost the south eastern outskirts of the city, quite far off from the city center. The Neighborhood and the surrounding is developed and 10 to 15 walking distance from the place to commercial district (modern brand shops and restaurants) and a metro station. If you plans in Bangalore implore you to go to city center and locals frequently it might become a hassle, that's something consider. The Private rooms with single bed comes with attached shower/toilet a single bed table desk. small space but sufficient for a single traveler for a short stay. The place was clean with washed sheets the toilet was clean by standards. My request for hot water in the morning and night was fulfilled. Khan Saab the the on site manager was diligent in providing a good service. Good value for the money.
Mohamed
2016-11-30T00:00:00Z
Great place to stay as it gives value for money. The place is suited mainly for long term lodging for males.
Chhanda
2016-11-21T00:00:00Z
this place is great value for money . wi-fi is very fast. abhishek was so (URL HIDDEN) felt like having our own home where we could just be relaxed.strongly recommended.
Manoj
2016-06-11T00:00:00Z
Good value for money.. Good locality the main commercial areas are just 15-20 mins walking ... I had a wonderful experience and a good stay ..
Renjin
2016-07-24T00:00:00Z
Kamertype
Privé Kamer
---
Type woning
Huis
---
Geschikt voor
2
---
Slaapkamers
Bangalore, Karnataka, India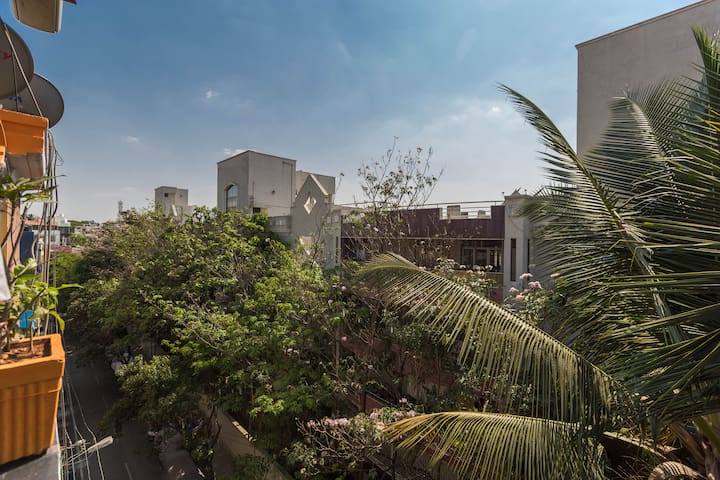 This cozy home is surrounded by greenery, silently tucked away from all the hustle bustle & yet at stones throw distance to some of the best branded stores, metro station, banks, hospitals, popular pubs and coffee shops! Check our 2nd room too, "The Green Nest"!
Beautifully located in lush green surrounding, away from all the hustle bustle but yet at stones throw distance from the best branded stores, pubs, restaurants and coffee shops!! Not too far from the IT hub of the city!!
The location of this nest is a blessing by itself!! We have one of the best hospitals (Chinmaya MIssion Hospital) around the corner along with well equipped diagnostic centres and chemists. There are plenty of places to hang out at walking distance ...... CCD, Au Bon Pain, KFC, Costa coffee, Kobe Sizzlers, Tom Yum Thai are a few of the eateries. We have some great stores too very close by ...... Fab India, Max India, Bandej, Chumbak, Samsung are a few!! For those who wish to enjoy the night life in Blr, they can just hop, skip and jump into Toit, The Warehouse, Oye Punjabi, Take 5 or many of the other exciting pubs and restaurants!! We also have quiet a few banks /ATMs around close by, Axis, HDFC, ICICI are a few to name!!
An excellent hostess who ensured you felt very much at home. Extremely clean & very aesthetically done homestay. Will definitely return whenever in Bangalore & will highly recommend to all who want to have calm, peaceful & pleasant stay.
benjamin
2015-11-16T00:00:00Z
Veenas home is in one of the posh areas of Bangalore close to all the good shops and nightlife. (I recommend going to The Toitt if you like beer, its in walkable distance). Basically everything is reachable with auto under 100 rupees. ;) Veena is super helpful and knows everything about Bangalore and India. We came to visit my sister in law. She helped us with Indian tradtions too! Thank you! Home is very cozy and full of magical bonsais. We loved Tipsy who is the cutest and smartest bodyguard i have ever seen. Shaila is also always helpful and cooked very delicious breakfast for us. If you want to experience a comfortable and authentic indian lifestyle Veena's place is the right choice! :)
Melisa
2017-03-10T00:00:00Z
Wir (Familie mit 10 jähriger Tochter) durften eine grossartige Zeit bei Veena verbringen. Es ist eine Oase in Mitten einer turbulenten Millionenstadt. Veena ist sehr offen und hilfsbereit. So durften wir auch während eines 2-Tagesausflug nach Mysore unser Reisegepäck bei ihr lassen. Auch unsere Tochter hat sich wohl gefühlt in dem sehr wohnlichen Haus mit all seinen spannenden Details. Das Morgenessen war fantastisch und sehr variantenreich. Uns hat es so gut gefallen, dass wir es gerade ein zweites mal gebucht haben. Das sagt wohl alles ;-)
Christian
2017-03-17T00:00:00Z
Veena is very knowledgeable and understands a lot about various cultures. She is very flexible and I found her communication excellent.
Ivan
2016-06-30T00:00:00Z
This Place s nice sweet home cleanliness atmosphere everything s amazing n chinna s so cute
Rohith
2015-11-10T00:00:00Z
It was like an amazing lively place. One have to see the maintenance of the room, it was so neat. N yes, Veena was so good to us. She was waiting for us to turn up for breakfast and even lunch. The garden was so beautifully decorated with the bonsai, amazing accessories and what not, all which are customised by Veena.
Aakash
2015-10-04T00:00:00Z
Great location, tucked away from the main shopping & entertainment area of Indiranagar. Nice cozy room ... What you see is exactly what you get... quiet and well appointed room for a short stay. Veena is a gracious host, keeping attention to all the details during the stay. Great homely breakfast and filter coffee coupled with a good conversation to start of the mornings. Would love to comeback and say hi to Veena and Tipsy..
Harsh
2016-01-10T00:00:00Z
Perfect accommodation. I was there for 3 days. Veena was a perfect host. The room was so good. I will prefer to go there if I ever go to bangalore.
Eknath
2016-01-02T00:00:00Z
Kamertype
Privé Kamer
---
Type woning
Huis
---
Geschikt voor
3
---
Slaapkamers
Bangalore, Karnataka, India