A cozy house by the seaside. There is a gym in the second floor. During the summer you can swim and relax on the beach just in front of the property.There are beach towels, sun beds, chairs and umbrellas for the beach available. In a walking distance you can find greek restaurants, grocery stores and pharmacy. It is minutes away from the airport and the city
A beautiful two floors apartment with a veranda and sea view that can accommodate four or six
Lovely evening walks on the beach watching the sunset over Thessaloniki
Mijn eerste keer dat ik via Airbnb een (lang) verblijf heb geboekt en daar heb ik zeker geen spijt van gehad. Vooraf was het contact met Konstantinos positief en daar is geen verandering in gekomen. Hij was vriendelijk, attent en was altijd online bereikbaar om mij van advies te voorzien. Het appartement is schoon, groter dan ik verwacht had en alles wat je nodig hebt is aanwezig...zelfs een Frappe mixer!. De fitnessruimte geeft extra glans aan het geheel en omdat ik hiervan veel gebruik heb gemaakt was het fijn dat er genoeg handdoeken aanwezig waren. De locatie van het appartement is wat mij betreft erg goed. Het strand is 1 minuut lopen, het gezellige dorpje met een aantal leuke restaurants is 3 minuten lopen en de ligging is perfect als uitvalbasis om een bezoek te brengen aan bv Thessaloniki en Halkidiki. In de periode van mijn verblijf heb ik enkele vrienden op visite gehad en ook zij waren compleet verrast van mijn tijdelijk onderkomen. Ik heb echt genoten van mijn verblijf en ik kan zonder twijfel het iedereen aanraden. Hartelijk dank, Konstantinos!!
John
2016-07-01T00:00:00Z
Очень милая и светлая квартира. На первой линии с пляжем. Пляж имеет голубой флаг. Море не глубокое - подходит для отдыха с детьми. На береговой линии достаточно много ресторанчиков, в шаговой доступности несколько супермаркетов с минимальным набором продуктов. Ближе к Салоникам (3 км пешком или 4-5 остановок на автобусе) находится городок крупнее, где есть крупные супермаркеты с широким выбором и много ресторанов. Ресторан рекомендую ANTONIS - большие порции и очень вкусные морепродукты! Костас и его отец очень дружелюбные и отзывчивые. По любому поводу можно к ним обращаться - всегда помогут и подскажут. При приезде нас ждал подарок от них. Остались очень довольны квартирой, расположением, хозяевами - если доведется еще раз поехать в Салоники - остановимся только там! Very nice and bright apartment. On the first line the beach. The beach has a blue flag. The sea is not deep - suitable for families with children. On the waterfront are many small restaurants, within walking distance of several supermarkets with a minimum set of products. Closer to Thessaloniki (3 km by foot or 4-5 stops by bus) is a larger town, where there is a large supermarket with a wide choice and many restaurants. Restaurant recommend ANTONIS - large portions and very tasty sea food! Kostas and his father are very friendly, very hospitality and helpful. For any occasion you can apply them - will always help and advise. Upon arrival we waited a gift from them. We were very pleased with the apartment, location, owner - if you happen to once again go to Thessaloniki - will stay only there!
Oleg
2016-09-16T00:00:00Z
We stayed in Konstantinos house for a month and it was wonderful. There is everything you need to feel like you are home. The house is very comfortable for long stay. It is very big and kids had a lot of space for playing. The near beach is not very clean but on the other hand it is not crowd. There is beautiful beach nearby if you have a car. I recommend Konstantinos house a lot.
Teodora
2016-09-03T00:00:00Z
Thank you konstantine! Everything was perfect!!!
LOUISA
2017-02-26T00:00:00Z
Our visit at Konstantinos Apartment startet with a very friendly and highly welcoming meeting. Our mail contact before arrival as well our meeting was very obliging and helpful. Konstantinos informed us about all important details concerning the flat and he offered to contact him whenever we need him. We got a great basket with welcome gifts. The flat was highly clean,it was a homelike place with everything you need. For sporty people there was a fitness hall on the second floor of the flat, everything was very high quality and full equipped. WiFi was prefect, we got towels and bedlinen. The flat is 50 meters away from the sea and the beach, 20minutes (with the car) from the airport and 35minutes from thessaloniki city centre,there is a promenade near the flat with a lot of taverns and restaurants.On the main street,which is not far away,there are bakery pharmacy and super markets. A car is recommended. Alltogether we had a great time at Konstantinos apartment and highly recommended it for everyone who wants to spend a quiet and relaxed time with a great sea view!
Katjuscha
2016-01-24T00:00:00Z
Reisezeitraum Mitte Oktober 2016. Vielen Dank an Konstantinos für sehr freundlichen und netten Empfang mit Obstkorb, Wein und Informationsmappe! Immer gute Kommunikation vor dem und während des Aufenthaltes. Das Haus ist genau wie beschrieben und liegt sehr schön am Strand. Alles vorhanden: Bettwäsche, Handtücher, Strandtücher, Shampoo, Spülung und Duschgel. Küche voll ausgestattet, Betten sehr bequem. Nur eine kleine Bemerkung: es fehlen Treppengeländer an der Wand, daher mit kleinen Kindern problematisch. Wir waren aber erwachsene Personen, daher keine Probleme. Dorf liegt sehr ruhig am Ende des langen Strandes, wer Ruhe und Entspannung sucht, ist hier richtig. Tavernen und Einkaufsmöglichkeiten sind in 5 Min fußläufig erreichbar, Busverbindung Linie 72 ist sehr gut. Bustickets sind im Russischen Laden erhältlich. In Großem und Ganzem sehr schöne, warme und entspannte Oktobertage verbracht. Danke Konstantionos, wir kommen bestimmt wieder!
Olga
2016-10-18T00:00:00Z
Konstantinos place is very spacious, cozy with modern appliances, very clean, comfortable and all basic essentials provided upon arrival. If visiting from the USA, the only thing to be mindful of is electrical outlets need an adapter from USA 110v to European 220v... and surge protector with 3 prong ground are risky and not recommended interchangeable. It is best to plan to use European electric items. Konstantinos had one electric adapter he delivered immediately when we asked for help with our cell phone battery recharge and also took us to buy cell phone SIM cards for local cell phone service. Plus, Konstantinos was always available whenever we had questions or needed additional support. Our stay was very enjoyable with all our needs provided and the local community was very inviting, safe with everyone very kind and helpful. We rate Konstantinos place A+++
Kristy
2016-11-18T00:00:00Z
Kostas is very hospitable man, his meeting of us was full of surprizes. The house came bigger and more comfortable than we expect. The sea is near the small yard under your window, so you can go swim from it. The district of house - is small village near the seam but in the high season the beach full of life. Kostas was on-line all the time. So I recommend you to rent this house, if you decide to visit Greece (especially with small children).
Denis
2016-05-07T00:00:00Z
Kamertype
Gehele woning/appartement
---
Type woning
Appartement
---
Geschikt voor
6
---
Slaapkamers
Agia Triada, Macedonië Thracië, Griekenland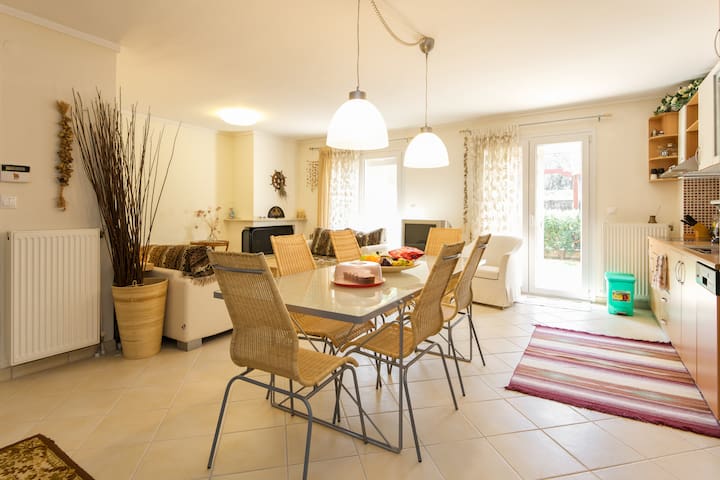 50 meters from the sea, 13 kilometers from the airport, 25 kilometers from Thessaloniki (accessible by bus), free wi-fi, air-condition, well-equipped kitchen, with a little garden, near restaurants, cafes and beachbars. Ideal for car owners.
The flat can accommodate up to 5 people. The house provides brand new fully equipped kitchen Safety door Electric oven Fridge Dishwasher Dinnerware Cookware & cutlery Toaster Bed & kitchen linen, Towels Hair dryer, Iron Standard equipment (toilet paper, soap, cleaning material).
Agia Triada is a quite village. It is the perfect place for families because it combines sandy beaches, calm sea, tasteful cafe and restaurant with local delicacies (seafood, fresh fish etc) It was once a fishers village. There are also three villages nearby (Mihaniona, Nei Epivates, Perea) where you can spend the day. During August there is a wine festival.
I stayed in this apartment with my wife and teenager son. The flat is great - especially the the shady terrace outside. Location is a little far away from Thessaloniki and it takes a while to travel on a bus. We didn't rent a car as came mainly for the beach, but it would be really needed if we wanted to explore the region more. There are number of cafes/restaurants in just 10 minutes walking distance. But the apartment kitchen is well equipped, so we were cooking some food too. Persa is a fantastic host - her advice and recommendations before the arrival and during our stay were invaluable. Despite our pretty late arrival in the evening, she's spent some time to show me around the village, show the shops, bus stops and explain how the buses work. She's also given really nice introduction to Thessaloniki attractions and food places.
Alexander
2016-08-28T00:00:00Z
The apartment was clean and quiet. Persefoni and her husband were very polite and willing to help us during our stay in Thessaloniki.
Papapantelidis
2017-02-18T00:00:00Z
If all the people were like Persefoni and here family, this world would be a better place. We stayed at Persa's apt during sudden floods caused by the heavy rain, that ruined several villages and small towns near Thessaloniki, damaging Agia Triada also (unfortunately electricity and water shutdowns were part of that also). We were traveling with a 5-month-old baby, so Persa and her family did more one would expect to help us not feeling the problems flooding brought. First they welcomed us at the airport, and then after the floods they drove us to their apt in Thessaloniki, where we stayed until things were back to normal (electricity and water supply), made sure we had everything we need, and then after few days when things settled, they drove us back to Seaside to continue our holiday... Persa baked us the best chocolate cake, and her mom even offered to cook us lunch, provided us with some food, her husband George and her dad drove us, and her sister showed us Thessaloniki. Great people! Apt has everything one needs, nice garden with good shade, 50 meters from a very nice beach – and overall Agia Triada is a lovely place for those who want a relaxed holiday with no shopping and all that fuss (lots of good tavernas and restaurants, nice promenade, good for fishing)... Also, Persa was wonderful enough to give us maps, tips, and insights into the area... I literally but literally traveled around the globe, but I can honestly say Persa was the best host ever.
Borjana
2016-09-14T00:00:00Z
Ένα μεγάλο ΕΥΧΑΡΙΣΤΩ στην Πέρσα και το Γιώργο για την ευγένεια, την εξυπηρέτηση, τη συνεχή καθοδήγηση, την κάθε είδους πληροφόρηση που μας πρόσφεραν. Συγχαρητήρια για το άψογο υπερσύγχρονο σπίτι που δεν του έλειπε ΤΙΠΟΤΑ!!! Πεντακάθαρο,τα σεντόνια, τα σκεπάσματα, οι πετσέτες μοσχοβολούσαν και είχε όλες τις ανέσεις. Μόνο που μου δημιούργησε ένα πρόβλημα: στα παιδιά μου τώρα δεν αρέσει το σπίτι μας γιατί θα΄θελαν να΄μεναν σ΄ένα σπίτι όπως της Πέρσας...
Αικατερίνη
2017-01-04T00:00:00Z
Persa and George have been excellent hosts and I thoroughly recommend this accommodation to anybody! The apartment is very spacious, clean and has a lovely garden. As illustrated in the description box, the kitchen is very well equipped and offers some goods in the fridge as well as in the cupboards which we were allowed to use. The same applies to the bathroom where shower gel, shampoo and conditioner were provided. We travelled with small children and Persa and George went above and beyond to make our stay as comfortable as possible, notably through organizing a travel cot which was normally not part of the inventory. The beach is literally just across the street (1 min walking distance) and even had a lifeguard service. It's a clean sandy beach and was not overcrowded at all! The village Agia Triada offers some restaurants, cafés, a souvenir shop and a supermarket that is not overprized. There is even a well-maintained and modern playground at the other end of the village. There is a bus service running about every 15 min that takes you to IKEA bus station in Thessaloniki or you can take the ferry from the neighbouring village Nei Epivates (4km) to Thessaloniki city centre. The communication with Persa was great and both hosts are very easy-going! They provided us with maps, emergency as well as taxi numbers and even drove us to the supermarket to get some drinkable water. All in all, this accommodation is perfect for people/ families who would like to spend a calm and relaxed beach holiday while still being able to do some sightseeing of Thessaloniki if desired. A big thank you again to Persa and George for the great holiday!!!
Daniela
2016-06-14T00:00:00Z
Staying at Persefoni flat was very pleasent, flat with 2 rooms was big enough for 4 adult person, on ground floor with possibility to have food outside through balcony door. Installing aircondition these days will make this flat even more comfortable. Beach was really very close and nice. Beach bar about 100 m. Thanks for everything and maybe see you again.
Milan
2016-09-04T00:00:00Z
We have received a nice welcome from Persa and Georges. The appartment is well located and that's perfect for visiting Thessaloniki. The flat is very clean, practicale and very well equipped. The shady terrace is useful. The small distance for the beach is an avantage. Persa is a very good guild to let know Thessalonki and its area. Frédérique et Laurent (FRANCE-BRITTANY) .
Laurent
2016-07-23T00:00:00Z
Overall good quality for the price. About the flat: 1. wonderfull terrace 2. the beach is just 50m outside 3. spacious flat 4. a slight smell of mold in the flat - doesn't really bother, but should be taken into consideration 5. bathroom - overall good. But rusty boiler, uncovered electrical cord contacts. 6. No wi-fi 7. The flat is located in quite village with restaurants, a small supermarket and a couple of other shops. No ATM in the village - there is a bank in the nearest village, Perea, about 10 min by bus. 8. Over 1 hour drive to Thessaloniki - should take 2 buses, which is exhausting. Persa is a wonderfull host - she helped with everything we needed. Baked us a cake, her mom prepared us a spagety. Persa helped me to change 500 euro (shops don't accept such a banknote) - spend with me about 2 hours on the first day. Persa speaks good english.
Anatoly
2016-07-06T00:00:00Z
Kamertype
Gehele woning/appartement
---
Type woning
Appartement
---
Geschikt voor
5
---
Slaapkamers
Agia Triada, Macedonië Thracië, Griekenland
Mooi appartement in de voorkant van de zee met uitzicht op de diepe galazio..Echei twee comfortabele kamers gloednieuwe keuken, barbecue, een volledige keuken (URL HIDDEN) een gezin met anesi.Vrisketai te ontvangen in een rustige omgeving dicht bij de luchthaven
The apartment is pleasant, quiet "comfortable and happy, has all necessary as large closets in every room spacious bedrooms, large fridge in the kitchen, oven with ceramic hob and oven mikrokymaton.Sto the front balcony there is a table with chairs for nobody the view of the sea, and of course has awnings to shade in times of great iliofanias.Sto back balcony there is a barbecue which you can enjoy in front .The beach is clean with blue flag and lifeguards for safe Jiucheng Di I has PACKAGE coffee, beautiful coastal tavernas 10 m of the home paraliaka.I distance of Avenue ABSTAINS 1km and supermarkets are three blocks which kato.To love.
Quiet area, sunny, simple without FUMES the city and simplicity .All these close to the town and close to Chalkidiki.
Kamertype
Gehele woning/appartement
---
Type woning
Appartement
---
Geschikt voor
4
---
Slaapkamers
Αγία Τριάδα, θερμαικος -θεσσαλονικης, Griekenland
Mijn plek is geschikt voor alle soorten reizigers die willen vakantie te combineren in een mooie volledig uitgeruste apt met alle apparatuur en een geweldig uitzicht op zee! U kunt zwemmen in de goed georganiseerde strand, geniet van je kuieren, ontspannen in de zee tavernes en koffie / snack bars.Thessaloniki ligt op 25 kilometer afstand, het openbaar vervoer is heel handig! 15' uit de buurt van het vliegveld, 1 uur afstand van Chalkidiki! Er is gratis wi-fi, air - conditie, 3 tv-toestellen, een wasmachine en alle gemakken die men zou kunnen gebruiken!
De flat is geschikt voor maximaal 4 personen. Het huis biedt gloednieuwe volledig uitgeruste keuken veiligheidsdeur Elektrische oven Koelkast Vaatwasmachine Servies Pannen en bestek Tosti apparaat Bed & keukenlinnen, handdoeken Haardroger, strijkijzer Standaard uitrusting (wc-papier, zeep, schoonmaak materiaal). In het huis vindt u informatie, niet alleen voor de plaatsen die u kunt bezoeken, maar ook over de restaurants, cafés en bars kunt u gaan zoeken. In het geval u een auto te huren, kunt u deze gratis parkeren in een eigen parkeerplaats.
In de buurt zijn er supermarkten, supermarkten en bakkers en een apotheek (apotheek).
Kamertype
Gehele woning/appartement
---
Type woning
Appartement
---
Geschikt voor
4
---
Slaapkamers
Thessaloniki, Griekenland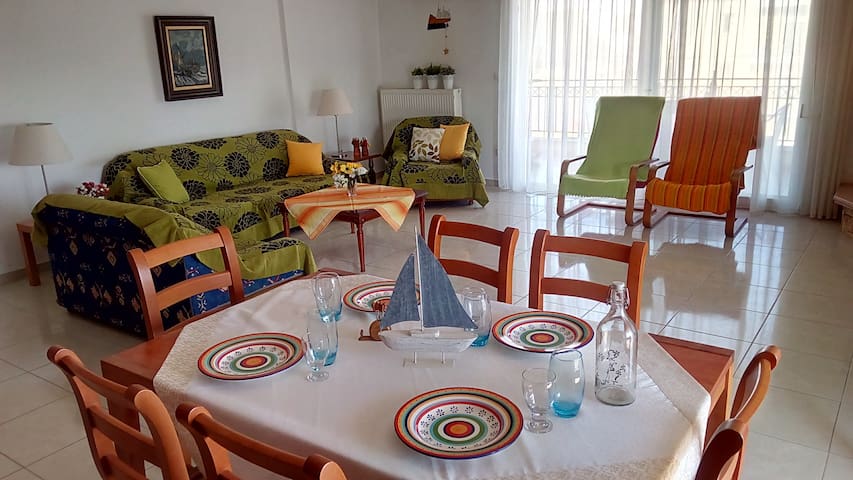 Centrally located on the coast within a friendly, this fully renovated and newly refurbished apartment becomes available for renting from April 2017. Situated at the west end of Agia Triada, the most western village of the Prefecture Thermaikos, this apartment is no more than 100m from the shallow bay of the Thermaic Gulf or from the cooling environment of the nearest beach bar. This idyllic location offers far ranging views, on clear days, across the bay of Thessalonica. Als
This versatile apartment suitable for families, couples or professionals is situated in the southern suburb of Thessaloniki known as Agia Triada. Sleeping upto 4 persons, the flat covers 65 sq. meters offering two bedrooms, a living room, a bathroom, a kitchen, an entrance hall and a long balcony. For more details on the facilities, a floor plan diagram of the apartment, and some pictures from within click here. The apartment is available throughout the year for short weekend breaks, summer vacations, or longer term basis between autumn and spring.
Local attractions: The following are just a small selection of attractions available in and around Agia Triada: Numerous cafes, bars and restaurants are located along the village promenade. An outstanding bakery, a small super market, and various other shops can also be found within the village. Approx 20 minutes by car you can reach the international airport of Thessalonica and another 10 minutes further you are in downtown Thessaloniki the major city of central Macedonia. During summer you can reach Thessalonica also by ship, which departs from the nearby village Neoi Epivates (5 min by car or 10 minutes by bus). Day trips / Surroundings: The following suggestions for trips in the surrounding region is offered to provide an overview of alternate options that take the intrepid holiday maker away from the beach. Agion Oros (orthodox monk republic - access only for males) Distance approx. 1h by car. Pella, the ancient capital of Macedonia with its museums, and ancient palest sites. Distance approx. 2h by car. The Volvi Lake, a nice recreation area with a wildlife sanctuary and hiking trails. Distance approx. 1,5 h by car.
Kamertype
Gehele woning/appartement
---
Type woning
Appartement
---
Geschikt voor
4
---
Slaapkamers
Agia Triada, Zentralmakedonien, Griekenland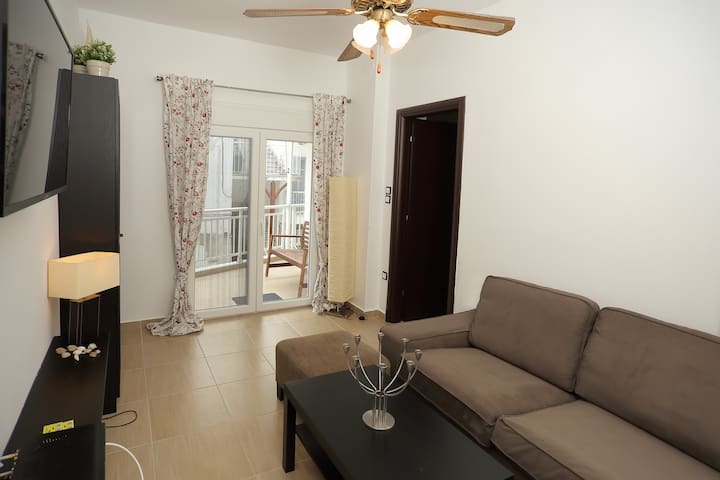 Beautiful beachfront penthouse breathtaking views of the water and the city of Thessaloniki across the bay, very comfortable, fully equipped home, sandy beach, blue waters,great restaurants, shopping centers, close to airport and public transportation, 25 kilometers from Halkidiki, 20 minutes from center of Thessaloniki with endless options of entertainment and sight seeing. Relax and enjoy the view from the lights & of the water in the beautiful & peaceful balcony , real paradise in Greece ...
5 ***** Hotel like amenities, State of art bathrooms, kitchen with all the amenities, washer and dryer and a beautiful balcony with sitting area, dining area and a BBQ.....the most beautiful views of the sandy beach and the city across the bay, close to airport , shopping malls, great restaurants and lots of sighseen, 20 min to downtown and 25 kilometers from chalkidiki, luxury living... Paradise In Greece!!!!! Dreaming vacation!!!!!!!!
On the water , close to town... quiet... feel of a greek island...
Kamertype
Gehele woning/appartement
---
Type woning
Appartement
---
Geschikt voor
9
---
Slaapkamers
Agia Triada, Thermaikos, Thessaloniki, Griekenland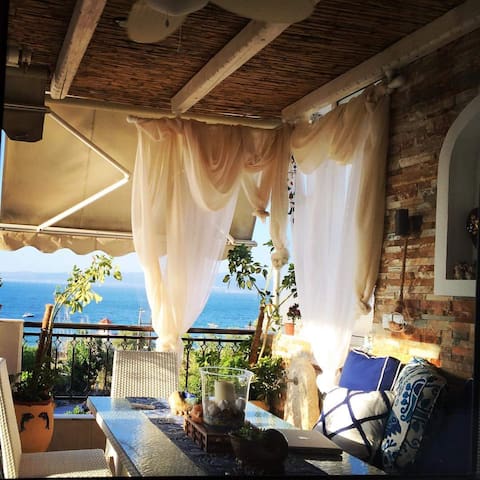 Fully equipped and furnished apartment on the roof in front of the sea. Located just 50 m from the sea. A lot of organized beaches in the whole wide area. Ideal for vacation with rental car or using public transport. Nice view to Mount Olympus
Unique view - sea & Olymp The flat is designed for people with asthma: there are no carpets, curtains, moquette etc Free parking The unit was completely refurbished in 2014 and provided with standard equipment (air conditioning/heating, washing machine, flat TV). Situated on the upper floor/roof in a condo.The unit is surrounded by a private garden (about 2000 sq meters) equipped with toys for children and a barbeque.
-just in front/about 50 m of us we have wild beach but it's not so clear -in the center of Mihaniona/about 200 m there is municipality sandy beach -in 4-5 km is Riviera beach, you can find on youtube - blue flag -same distance is Agia Triada beach -in 15 km is Akti Retzika/Potamos Epanomi - blue flag Nea Michaniona - 4.000 population coastal city with all nessesary facilities like Restaurants, Fresh fish traditional tavernas and Fish market, Caffes, Supermarkets, Night clubs, Bars, Kinder gardens, Parks,Police station and Medical Health Center. Nea Michaniona is just 32 Km away from the center of Thessaloniki and 12 km from the Airport of Thessaloniki.
Spędziliśmy miło i bezpiecznie czas w apartamencie Iliany. Dom wewnątrz i zewnątrz jest wyposażony we wszystko co niezbędne. Na tarasie jest wiele różnych mebli, dzięki którym można się wygodnie relaksować w ciszy, z widokiem na morze i kwiaty na tarasie. Polecam!
Barbara
2016-08-21T00:00:00Z
This place is awesome. I will definitely recommend it and I will definitely book again. Thank you, Iliana.
Nikola
2016-08-01T00:00:00Z
The photos and description of the apartment do not fully reflect the reality. In fact it is a lot nicer. Magnificent sunrises and sunsets, the beauty of the flowers, the wind blowing can not be described by words. The little roof flat is very clean and maintained and is larger when you add gorgeous terrace equipped as two rooms. It proved ideal for breakfasts, lunches and dinners outdoors, reading a book and relaxing. Rooms are equipped with everything necessary, isolated, cool and protected from the sun, we did not even have to use the air conditioner. Extendable cover on the terrace and water mist system created an amazing feeling during the hottest hours of the day. The location offers excellent conditions for Olympic peace not only because Olympus is in the distance, but also because of the excellent conditions created by Iliana and Ivan. This is the perfect place for real vacation, we spent there eight nights, but we would like to come back.
Radoy
2016-08-31T00:00:00Z
Moja pięcioletnia córka nie chciała wychodzić z penthausu, który wynajęłyśmy od Iliany! :-) Prawdę mówiąc, ja również byłam zachwycona wylegiwaniem się na fantastycznie urządzonym tarasie na dachu. Morze tuż tuż. Góry na wyciągnięcie ręki. Hamak i olbrzymie legowisko zachęciło nas nawet do nocowania na zewnątrz. W mieszkaniu czułyśmy się jak u siebie. Iliana bez problemu zorganizowała dla nas transfer z lotniska i z powrotem. Wszystko sprawnie i bez jakichkolwiek niedomówień. Zdecydowanie polecam.
Katarzyna
2015-10-01T00:00:00Z
Wir haben unseren Aufenthalt sehr genossen, vor allem die Terrasse und der wundervolle Ausblick haben uns gefallen. Wir waren viel mit dem Auto unterwegs, das Appartement war dafür ein guter Ausgangspunkt. Iliana war immer hilfsbereit und hat uns schnell bei Fragen geantwortet. Wir haben uns sehr wohl gefühlt.
Katrin
2017-04-01T00:00:00Z
Ayant eu un petit problème de clefs , Iliana a tout de suite répondu et donné la solution! Le lieu est très tranquille ,en dehors de Thessalonique , et l'apt à une vue très belle sur la mer et le port de peche ; bien agencé et joliment décoré .
Olivier
2016-05-02T00:00:00Z
Iliana and Ivan were very nice and they arranged the way from the airport for us, even with our baby! The apartment is nice and well equipped, with confortable matresses and everything for a baby (bed, chair...) The view from the roof was just amazing and for sure the best thing for us... with great smells from the trees and flowers. Nea Michanonia is a nice little city port. You can buy fresh fish and grill it on the barbecue! You can also eat in typical taverns and try the great buracaos for breakfast there. For the beach, it's not very nice to swim or rest, so you have to get the bus to go to another beach. We tried Peraia which is great and about 15 minutes away by bus. You can also go to Thessalonique with 2 buses and the city is great!! Very pleasant stay at Iliana's apartment!
Isis
2016-06-12T00:00:00Z
Kamertype
Gehele woning/appartement
---
Type woning
Appartement
---
Geschikt voor
6
---
Slaapkamers
Nea Michaniona, Central Macedonia, Griekenland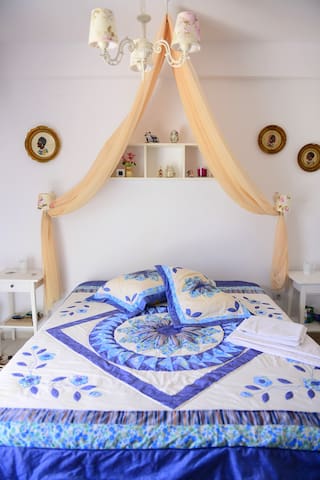 A great apartment to N.Michaniona next to Thessaloniki 10'from Airport Macedonia and 20' from Thessaloniki's (URL HIDDEN) has 2 bedrooms a big green garden and it's 5' from a great sea.N.Michaniona is a really beautiful seaside town. Greek Hospitality
Ο καταπράσινος κήπος μας είναι ετοιμος να σας χαρίσει στιγμες χαλάρωσης ! Πολυ κοντά απο το κέντρο της Θεσσαλονίκης .
We voelden ons enorm welkom. Koelkast gevuld met lekkere dingen, zelfgemaakt hapjes op tafel. Elke dag contact, er werd gevraagd hoe het met ons ging en of we het nog naar de zin hadden. Samen Byzantijnse koffie gedronken, de kinderen laten kennismaken met zelfgemaakte snacks en drankjes. Zelfs vanaf de huwelijksreis-locatie werd nog gevraagd of we het naar de zin hadden..
Jolanda
2016-07-31T00:00:00Z
His old man kostas is an absolute gentleman and scolar..and his mother liana is a rare exaple of a traditional woman of the house..we did not fill like we are on holiday in some unknown (URL HIDDEN) was like we spent time with close relatives we have not seen for a very long time..the whole famili speaks perfect english which makes the experience much more enjoyable..
George
2015-07-10T00:00:00Z
The reservation was canceled the day before arrival. This is an automated posting.
Vlada
2015-04-03T00:00:00Z
Recommend everyone to take advantage of this offer. I was for the first time in Greece, and through these people got a very good impression. Thank you parents for Thanos.
Валерий
2016-08-31T00:00:00Z
Thanos' parents are the best hosts in the world!!!!!!! His father, Kostos( sorry if the name isn't written properly), met us, in the center of the village, although it was very late, his wonderful wife Liana made a very tasty pie for us, and gave us a jar of homemade jam. We felt just like coming back home!!!! The house is very cosy, clean and nice!! The garden is beautiful!! The location is convenient both for visiting Saloniki and swimming. Also there is a waterpark "Waterland" not far from the house. All the period of our staying Kostos and Liana were 200% hospitable!!! They invited us for coffee in the morning, we had some great evenings in there garden sitting together, communicating and tasting different delicious traditional things, cooked by Liana, or grown in their garden! They are very pleasant, educated , kind and helpful people!! We wish them good visitors and really miss them!!!
Эдуард
2015-07-16T00:00:00Z
Unfortunately this "great garden house" is in reality a cellar of a host house, though the garden is quite good. It's also not stated that the house is by quite a busy road, the sound of motorbikes can annoy at night.We spent a month in Nea Micnaniona, and I'm sorry but it s not the best place if you want a beach holiday. We got several problems. At times, especially in the evenings,there was no hot water, on our complaint about this we got a reply that probably we wash too much, but we didn't. Canalizations problems, low pressure in the tubs, problems with drain pipes in the bathroom and in the kitchen, mattresses were with stains which is not pleasant , mould on the ceiling , hair dryer was broken( I got another one), no kettle, no iron. During the first week we had to solve all these problems. I don't want to do it when I'm on holiday, I just want to relax. On the photos we can see a very beautiful beach, but it's not stated that the only way to get there is a car or a taxi. The nearest beach to the house is dirty, and there is a fish plant on the seashore so forget about a beautiful view. One night when we came from a trip, the floor of our accommodation was covered with water, so we were moved to two separate studio flats which were of a better quality. Though the cleanliness lived much to be disired. The toilet, the floor, the fridge wasn't cleaned properly.again we had to wash everything ourselves. all the rest was ok. Good points. The garden is really nice, Thanos's parents are very friendly and helpful. The village is quite big and lively, there is everything you need,nice fish market, which is open every day,a big street market every Thursday, a lot of different taverns and it is close to Thesaloniki. If you have a car it's not bad to spend a holiday here.but I would recommend Chalkidiki, because of the sea, the beaches and the nature. You can easily find accommodation there even ,if you are lucky ,for a better price
Татьяна
2016-07-14T00:00:00Z
We had a wonderful time at Thanos' and his parents Kostas & Liana. They made us feel very comfortable and we had amazing conversations in the evening hours with beer & wine. The garden is great ( Turtle pet living there ) and you have many places to sit and relax. The sea, a mini market and a gas station are nearby. Thanos gave us perfect advises where to go and helped us with everything we asked. Thank you for the lovely hospitality ( homemade snacks & drinks ) and an amazing time during our stay. Cheers to you!
Maria & Patrick
2016-08-02T00:00:00Z
The reservation was canceled 11 days before arrival. This is an automated posting.
louis
2015-05-06T00:00:00Z
Kamertype
Gehele woning/appartement
---
Type woning
Appartement
---
Geschikt voor
5
---
Slaapkamers
Nea Michaniona, Thessalonikis, Griekenland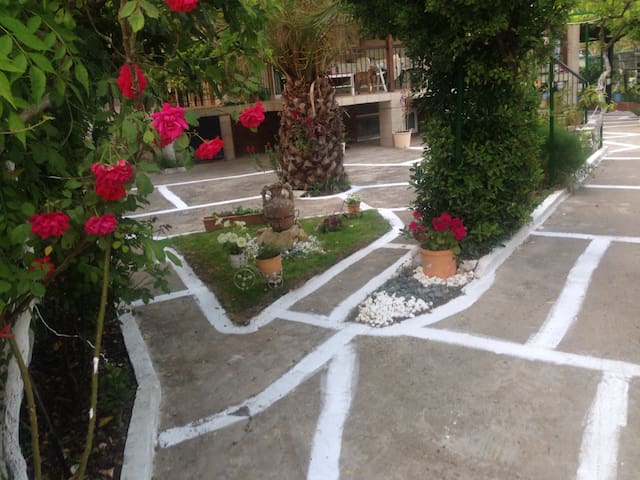 Beach House in Style makes part of "Trinity Apartments" complex. Beautiful cosy apartment just 100 m. from a sandy beach. The place is renovated with new kitchen& bathroom, is equiped with autonomy heating system and all amenities included.
The apartment is located in a safe, quite and friendly neighborhood suitable both for families, friends and couples only 3 minutes walk from the beach. You will find yourselves right in the middle of almost everything you need in a walking distance; bakery, supermarket, pharmacy, bars, restaurants, Greek tavernas, fast food, beach bars are right next to you.
Kamertype
Gehele woning/appartement
---
Type woning
Appartement
---
Geschikt voor
5
---
Slaapkamers
Agia Triada, Griekenland
Book this 2 bedroom, 1 bathroom apartment in Agia Triada today! A total of 9 people can sleep here comfortably. Free WiFi, AC and parking space on site. The accommodation consists of: LIVING ROOM with 3 sofa beds, seating area and 43'' flat-screen SMART TV BATHROOM with walk-in shower, rain shower and hairdryer TWO BEDROOMS with double bed, fan and floor lamp; work desk (in one of them) KITCHENETTE, fully equipped with dining area Bed linen, towels and ironing facilities are provided.
Hello and welcome to LUX APART GREECE! :) Located in the peaceful village of Agia Triada, Lux Apart Greece is just 99 metres away from the beach. Featuring a sea view as well as mountain and forest views, this dual-aspect apartment offers a self-catering accommodation with free WiFi and air conditioning. Lux Apart Greece can easily accommodate up to 9 people. The property is situated just 15 km from Thessaloniki-Macedonia International Airport (SKG). Free parking space is available on site. The apartment has a new ceramic tile floor and consists of 2 bedrooms and a combined sleeping and living room with a kitchenette. There is also a New York style bathroom with a large rain shower and a hairdryer. LIVING ROOM The air-conditioned living room features 3 sofa beds that provide comfortable sleeps for 4 adults. The ninth person/child can sleep on the smaller, single sofa bed. Guests can enjoy a seating area where they can relax after a busy day. The seating area includes a 43'' flat-screen SMART TV with Internet connectivity and multimedia features. BEDROOMS Lux Apart Greece is situated on the first floor and offers two separate bedrooms: the purple and blue one. Each bedroom features a double bed, a fan and a floor lamp enhancing the mood for relaxing evenings. In the purple bedroom there is also a work desk providing a space for business travellers who can use our free, fast WiFi for their working purposes. The blue bedroom opens to a corner balcony overlooking the Aegean Sea, forest and mountains. The amazingly spacious balcony makes a perfect place to enjoy a cup of tea or coffee outside and watch lovely sunsets over Thermaikos Bay. KITCHENETTE Guests can cook in the kitchenette, equipped with a fridge, mini oven with grill and hobs, coffee maker and electric kettle, or eat out in the cafes and restaurants nearby. The attractive open-plan kitchenette area also has an elegant dining area. Kitchenware is provided. For your convenience, the windows come with roller shutters and mosquito nets, and there are also awnings over the balcony. Bed linen, towels and ironing facilities are provided. AREA There are many seafood and meat taverns, fast foods, café bars, beach bars and a supermarket for the general supplies just minutes from the accommodation. Bus stops, pharmacies and bakery shops are located within a walking distance, less than 500 metres away from the property. The area is popular for cycling, sit-down paddle boarding and fishing. In case of questions please drop us a line. We will be more than happy to make you feel at home :)
Very close to the beautiful, blue flag awarded beach of Agia Triada. LUX APART GREECE is located in the very center of Agia Triada. Everything you need is within a walking distance. Our apartment offers much higher standards than accommodation options nearby at an affordable price! Perfect for all those seeking to add a hint of luxury to their holiday stays.
Iwi was very helpful, providing travel directions, suggestions for our time in Agia Triada, etc. The apartament is clean, located very close to a beautiful beach. Thank you a lot, Iwi!
Ani
2016-08-14T00:00:00Z
Wonderful, hotel-like accommodation for reasonable price. Big, comfortable beds and what the most important for me there is walk-in shower instead of a shower curtain, which are so popular in Greek apartments. The kitchenette is well-equipped, there are toaster, coffee maker so I had a chance to prepare good breakfast very quickly. The colors do incredible job in this apartment, they make you feel relaxed and calm, I admire great sense of beauty in the decoration. Contact with the owner is very good and quick, which is also the advantage.
Martyna
2017-03-13T00:00:00Z
Neu sanierte und modern eingerichtete Wohnung. Nahe dem schönen Strand und nur ca. 20 Minuten (Auto / Taxi) von dem Flughafen Thessaloniki entfernt. Schnelles Wi-Fi und Smart TV (Filme online). Einige Tavernen mit der feinen traditionellen griechischen Küche. Ich habe mich dort echt wohl gefühlt. Empfehlenswert sowohl für kurze Geschäftsaufenthalte als auch als Ferienwohnung. Vielen Dank Iwi :)
Grzegorz
2017-03-23T00:00:00Z
We had a wonderful time at Lux Apart Greece in Agia Triada. The apartment is comfortable, clean and sunny. It has a large balcony where you can have breakfast or dinner. It is located right next to a clean, quiet beach with sand and clear sea. In the taverns at the beach you can taste delicious local fish and seafood dishes, having a romantic night view of Thessaloniki. There is a shop nearby. Good public transport to the airport and the city of Thessaloniki and a very helpful host make the stay pleasant and comfortable. Thank you Iwi, we would love to go back there. A place worth recommending to friends.
Iz
2017-03-25T00:00:00Z
It was a business trip and I found this place very friendly to business travellers. It offers fast WiFi and there's a work desk in the smaller bedroom where you can work with your laptop. This feature is usually missing even in hotel rooms. I felt very comfortable in the apartment. Also, I really liked that there were many clothes hangers in the wardrobes – this is something that every lady will always be delighted to see! :) You will also find ironing facilities, so don't have to worry about wrinkles on your dress. These are small things that make you feel at home and you appreciate when doing a lot of business travels. There's also self-check in option (code access) which is great for independent travellers. As for location of the apartment, it's just a few steps away from the beach and 20-minute drive from the airport. To get to Thessaloniki city centre, you need approx. 40 minutes in rush hours. I liked that after doing business in Thessaloniki you can come back to Agia Triada and enjoy the beach life or relax over an evening drink in local taverns and pubs. Sincerely recommend!
Iwona
2017-03-27T00:00:00Z
Mieszkanie wygodne, usytuowane w cichym miejscu ucieszy każdego kto chce odpocząć od codziennych spraw. W krótkim czasie można dotrzeć do sklepików czy jednej z wielu restauracji a bliskość komunikacji miejskiej ułatwia szybki dojazd do Salonik które tętnią życiem. Agia Triada ma jedną z ładniejszych plaż na którą z przyjemnością wracam od kilku lat. Samo mieszkanie jest czyściutkie, wyposażone w niezbędne sprzęty do samodzielnego przygotowywania posiłków. Polecam kontakt z Iwi, jest przyjemny, szybki i o każdej porze. Jest rzeczowa, pomocna i nie pozostawia bez odpowiedzi żadnych pytań.
Malgorzata
2017-03-21T00:00:00Z
This is very comfortable apartment in the nice area. There are nice restaurants nearby, bakeries and shops, where you can buy everything you need. In the apartment I appreciate the most a kitchenette with coffee machine which allows you to get some coffee in the morning without going out. There are also a great walk-in shower and very comfortable beds. The apartment was very clean. I like the decoration, it is in good taste and make you feel good. Very good contact with the host, I am sure I will come back in this place :)
Igor
2017-03-29T00:00:00Z
The apartment is in a little resort outside Thessaloniki, near the airport. It The apart is located not far from the beach and a bit further away from seaside restaurants, which is OK for summer holidays. On a windy October night, the place was quiet and we did not have the opportunity to enjoy the beach. The apartment is all newly decorated with taste (Asian influence), of compact size (ideal for 2 people, a couple with 1-2 children sharing, up to 2 couples). There is a small bathroom cum toilet. Iwi was not present during our stay but she was attentive and proactive and responsive to our needs. She had excellent recommendations for restaurants and we were well guided to the house by her contacts.
Philippe
2016-10-09T00:00:00Z
Kamertype
Gehele woning/appartement
---
Type woning
Appartement
---
Geschikt voor
9
---
Slaapkamers
Agia Triada, Griekenland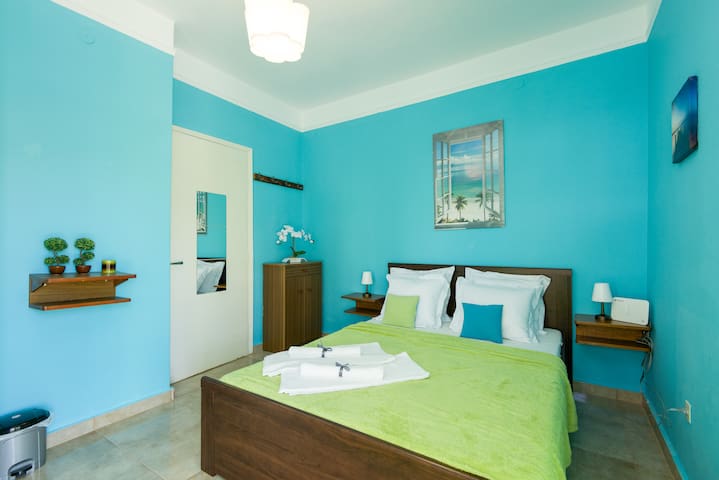 My room is close to a wonderful view. My space is suitable for couples, business travelers and families (with children).
Kamertype
Gehele woning/appartement
---
Type woning
Appartement
---
Geschikt voor
6
---
Slaapkamers
Thessaloniki, Griekenland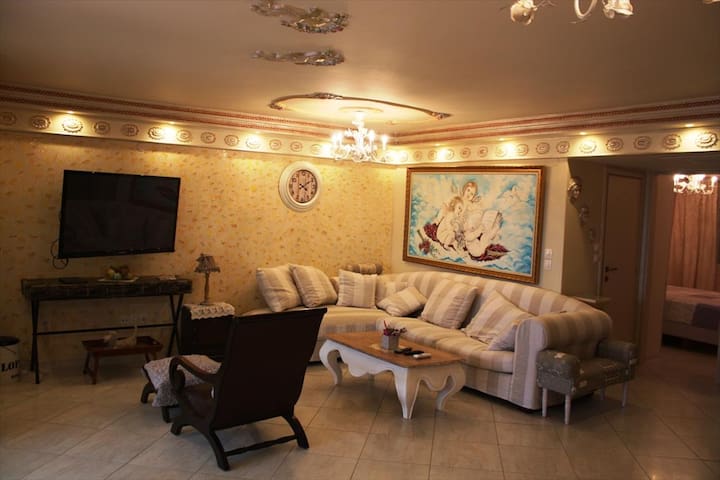 Kompletní vybavený a zařízený byt v Agia Triada, s 1,000 obyvatel pobřežní vesnice se všemi nessesary zařízení, jako jsou restaurace, čerstvé ryby tradiční taverny a rybí trh, kavárny, supermarkety, noční kluby, bary, školky, Parks.The apartmán se nachází pouhých 20 metrů od moře. Agia Triada je pouhých 26 km od centra města Soluně a 8 km od letiště v Soluni. Velký počet organizovaných pláží v celém širokém okolí. V blízkosti kasina, historické památky, letních nočních klubů a Сhalkidiki oblasti (první vesnice v pouhých 20 minut se autem) .Ideal pro povolání s pronájmem auta nebo pomocí veřejné přepravy. Informace dávají v angličtině, řečtině a ruštině. TIMES: 3 min autobusem na město Nea Michaniona 3 min autobusem na Neoi Epivates pláže (modrá vlajka udělena) 5 min autobusem na Peraia pláž (modrá vlajka udělena) V ceně je zahrnuta pomoc (pozvání) pro Viza do non senghen občanů, a vyzvednout z letiště.
We had a very relaxing time in Agia Triada, Nikos is very friendly and helpful host. He picked us from the airport at a very late hour and he showed us a little bit the village and the good restaurants and how to move between villages and Thessaloniki. The house was exactly how it was explained and very near the beach and restaurants. If you want a relaxing time, nice beaches, tasty food, and above all a helpful host we recommend this house.
Chadi
2016-07-12T00:00:00Z
Nikos is very friendly and outgoing person. His apartment is located in nice village with everything (a lot of groceries, bakery, restaurants, sea) in 10-100m distance (nearest grocery is located in the same building). Apartment is spacious, traditionally decorated, rather basic, but convenient as place to spend a few days in Agia Triada.
Lukasz
2014-05-01T00:00:00Z
Our stay was great! Nikos was very helpful making sure we had everything we needed and more including maps bus routes. He even picked us up from the airport and dropped us back off! Great location and great people. I would recommend this to any friend!
Beth
2014-04-07T00:00:00Z
Nikos was the best host you can imagine. He really helped us a lot with a lot of things. He even came and picked us up at the train station. We had some wery good and interesting conversatins. The house was also very nice and and the beach was wery nice and it was a nice and safe area with a lot of nice people. We had the best stay and I can only give the place my wery best recommendations.
Thomas
2013-08-05T00:00:00Z
The host was very friendly and helpful. He printed for us the boarding cards, his friend picked us up from the airport. The accomodation is cosy and clean.The place Agia Triada is very nice, the sea is very close. There are many small restaurants and people are hospitable. I can recommend this house.
Sylwia
2014-08-10T00:00:00Z
Fantastic place - perfect if you have small kids. Beach is 20 meters away. The place is spacious and has good air conditioning. Close to Thessaloniki. We went there for our evening stroll - but Agia Triada is also very pleasant. One drawback - there are mosquitoes there. Dont sleep on an open window and bring repellent.
Tim
2013-07-15T00:00:00Z
Our stay at Nikos' apartment was great! We had trouble finding the apartment and (even though it was 10pm) Nikos came to pick us up and bring us to the apartment. The apartment is close to the beach (in the same street) and above a supermarket where you can buy almost anything you need. There are some really nice local restaurants on the beach where you can have great salads and fish. The apartment is spacious with a large living room and two bedrooms and was big enough for the four of us (with baby). Also, there is free parking right in front of the apartment. Super handy! And you are in 15 minutes at the airport of Thessaloniki and in 30 minutes in the city centre. All in all, we had a fantastic stay!
Maartje
2014-06-03T00:00:00Z
We were 5 days at Nikos place and we had a great time. We were with 7 people so it was not that big but enough place for us. It's also nice that the house is very close to the sea, so it's easy to take a refreshment. The supermarket beneath us, was very handy! It was just a petty that there were'nt enough glasses and no towels to do the dishes. And hot water to take shower would be also nice. But we had a great time and Nikos was very friendly and made no problem to pick us up and bring us back from the airport.
Kobe
2014-09-14T00:00:00Z
Kamertype
Gehele woning/appartement
---
Type woning
Appartement
---
Geschikt voor
7
---
Slaapkamers
Thessaloniki, Macedonië Thracië, Griekenland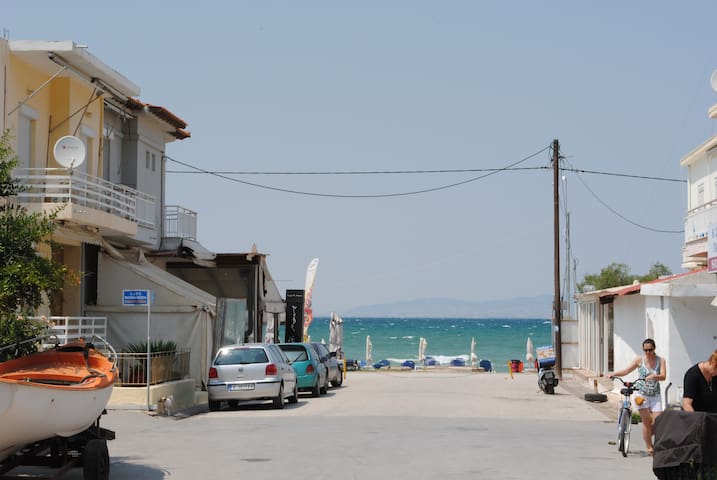 Ο χώρος μου είναι κοντά σε δημόσια συγκοινωνία και κέντρο πόλης. Λόγοι που θα σας αρέσει ο χώρος μου: η θέα, η τοποθεσία, οι άνθρωποι και το περιβάλλον. Ο χώρος μου είναι κατάλληλος για ζευγάρια, δραστηριότητες για ένα άτομο, επαγγελματίες ταξιδιώτες και οικογένειες (με παιδιά).
O χωρος του διαμερισματος αποτελειται απο ενα ευρυχωρο σαλονι με κουζινα που περιλαμβανει ολα τα σκευη μαγειρεματος,εχει δυο καναπεδες που μπορουν να χρησιμοποιηθουν σαν κρεβατια.Επισης διαθετει ενα ξεχωριστο δωματιο με διπλο κρεβατι και εντοιχισμενη ντουλαπα.Διαθετει επισης ανετο μπανιο με πλυντηριο ρουχων και ζεστο νερο.Τελος στην προσοψη υπαρχει ευρυχωρη βεραντα με απεραντη θεα την θαλασσα και το ορος Ολυμπος.
Ειναι μια γειτονια ησυχη αλλα και προσβασιμη σε ολες τις υπηρεσιες και την τοπικη αγορα .
Kamertype
Gehele woning/appartement
---
Type woning
Appartement
---
Geschikt voor
4
---
Slaapkamers
Nea Michaniona, Griekenland
"A comfortable and naturally well-lit apartment, conveniently located within walking distance (50 meters) from the seafront. It can accommodate up to 5 people. The apartment consists of 2 large bedrooms, a modern bathroom (with bathtub), an open pla
Το διαμέρισμα μπορεί να φιλοξενήσει άνετα 2-4 ενήλικες ή 2 ενήλικες και 2 παιδιά.
Heleni was a great host and her apartment is lovely and well supplied. We have a wonderfull stay there. Heleni gives us all the information we needed for our trip including point of interests, fast-food restaurant, supermarkets, and more. If you have the opportunity you must go to halkidiki, we went to Kassandra and it was beatiful.
Andres
2014-06-06T00:00:00Z
Eleni est une hôtesse exceptionnelle. Le lieu de rendez-vous devant l'hôtel Santa est très facile à trouver. Non seulement Eleni avait rempli le frigo pour quasi 3 jours, mais comme je suis arrivée sans voiture, elle a pris le temps de m'emmener faire des courses en voiture, le tout avec une immense gentillesse. Je reconnais en elle toutes les qualités de l'hospitalité grecque qui n'est pas un mythe en dépit des difficultés. Eleni est très disponible et fait tout pour que ses hôtes se sentent réellement comme chez eux. L'appartement est grand, spacieux, parfaitement équipé, y compris pour les moustiquaires. Le balcon est très agréable, on y voit le mont Olympe et une partie du golfe de Thessalonique. Le quartier est calme, tranquille, avec beaucoup de fleurs et d'arbres. Je conseille néanmoins de louer une voiture (ce n'est en rien une remarque négative) pour les courses mais aussi pour profiter au mieux de la région. Certes on peut faire beaucoup de choses par bus, mais c'est long. En résumé j'ai adoré cet appartement et j'y retournerai avec le plus grand plaisir.
Valérie
2015-07-05T00:00:00Z
We had a marvelous vacation at Eleni's house! Her apartment is very cozy, comfirtable and stylish. Even better than what you expect from the photos. With large terrace where we've spent the biggest part of the time. Within a short walking distance there's a nice beach (near hotel Santa) with sunbeds and umbrellas. A bit further, but still pretty close - lively resort town Neo Epivates with bars & tavernas and a supermarket Masoutis. Bus stop - just a step away. Eleni is a very friendly and helpful host. She even provided us with groceries for breakfast, which was a pleasant surprize. All in all I would highly recommend Eleni and her lovely flat for your next trip to Thessaloniki!
Alexander
2015-09-21T00:00:00Z
Eleni was just great. After a long day traveling, she picked us up from the Santa Hotel and took us back to her apartment. Her hospitality was first class and, in addition to her lovely apartment, she also showed us a well stocked fridge containing (which also contained some some ice cold beers - just what was needed!). The apartment is spacious and has a homely feel. It is conveniently located for both the beach and local tavernas and public transport is good allowing you to explore the area without the need to hire a car. The occupiers of other apartments are very respectful of the 'quiet time' and there were no noise issues whatsoever. Eleni, we enjoyed our time in your apartment and we really did appreciate your welcome and generosity on our arrival. It was Greek hospitality at it's best and we are sure that everyone who books your apartment will benefit from the same treatment. All in all, a lovely holiday in a very nice area (and, once we got the Wi-fi sorted, we didn't miss the TV either!)
Nick
2014-09-12T00:00:00Z
Kamertype
Gehele woning/appartement
---
Type woning
Appartement
---
Geschikt voor
4
---
Slaapkamers
Agia Triada, Macedonië Thracië, Griekenland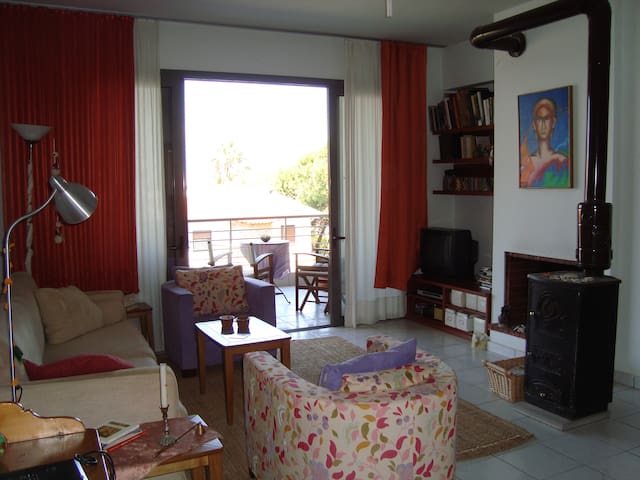 My place is close to the airport and in a safe spot of the area. My place is good for couples and solo adventurers. The center of Thessaloniki is about 25 minutes away by cat.
Recently renovated apartment, with all the essential amenities to ensure a pleasant stay!
The apartment is located in a very pleasant and quiet neighbourhood, with a supermarket and a bus stop right in front of it!
Πολύ άνετος και καθαρός χώρος! Η κυρία Κατερίνα είναι ιδιαίτερα φιλική και πρόθυμη να βοηθήσει. Νιώθεις ότι βρίσκεσαι σπίτι σου. Το διαμέρισμα είναι σε κεντρικό σημείο με ευκολη πρόσβαση σε ό,τι χρειαστηκαμε (συγκοινωνίες, μαγαζιά). Ευχαριστουμε και θα τα ξαναπούμε!!
Νομική
2016-10-28T00:00:00Z
Η κατερινα ειναι απιστευτη!!! Πολυ φιλικη, μας εκανε να νιωσουμε ανετα απο την πρωτη στιγμη, ευγενεστατη, και παρα το φορτο εργασιας της μας εξεπληξε ευχαριστα με το ενδιαφερον της για τη διαμονη μας και την ευχαριστουμε παρα πολυ! Το σπιτι ειναι ακριβως οπως στην περιγραφη, πολυ ανετο, ειχε τα παντα μεσα και η τοποθεσια, δεν θα μπορουσε να ειναι καλυτερη για εμας! πολυ βολικη, κοντά στο κεντρο και την αγορα αλλα και στην ΑΕΝ (που ηταν το ζητούμενό μας). Σιγουρη επιλογη μας και παλι στην επομενη επισκεψη μας στη Μηχανιωνα!!!
Parga
2016-11-04T00:00:00Z
Catherine is a very pleasant hostess. The apartment was just as described and had everything you need. We will come back. Thank you for all!
Tom
2016-09-12T00:00:00Z
One of the best host ever I've met on my travelling. Catarina is really wonderful person, friendly and full of enthusiasm to help and explain whatever we've asked her. Apartment fully equipped, clean, good seated, close to city center, airport, 20 minutes from Thessaloniki. Neighbors friendly. Nea Mihanona very interesting small town by the sea with wonderful Greek orthodox church. Don't miss to see X century icon of Panagia Feneromeni. We had been very lucky to be there in the time of celebration of Her, and church street procession with Holly (so called miracle) in the presence of more than 1000 people. Definitely my fully recommendation.
Djordje
2016-08-22T00:00:00Z
Host's were more than friendly :) Everything was perfect, we stayed for 7 nights... If you come here by car - Thessaloniki is 30 minutes away. If you are looking for beaches good ones are 70-90km away...
Milos
2016-09-22T00:00:00Z
Kamertype
Gehele woning/appartement
---
Type woning
Appartement
---
Geschikt voor
2
---
Slaapkamers
Nea Michaniona, Griekenland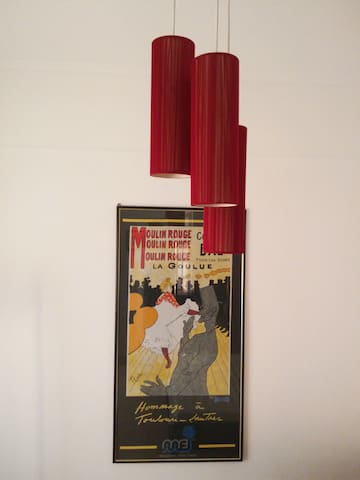 Hallo ... Ik ben Pelagia !! Dit huis is onze zomer thuis !! Groot appartement 150m in de voorkant van de zee met parking space.Suitable voor gezinnen met kinderen, en koppels.
Het is in een rustige buurt, in de voorkant van de zee met een grote tuin die perfect geschikt is voor kinderen, we hebben 2 tafels met stoelen en u kunt genieten van een lunch, koffie of drankje.Het strand is in 20 m (We hebben strandstoelen en umprellas, die u kunt gebruiken) de linker- en rechterkant van het huis in 15 minuten te voet er strandbars en vis taverns.Also je (URL HIDDEN) busstation kunt doen is 5 minuten ver van het huis. Is een regio die vrede met kosmopolitische leven combineert omdat in veel korte afstanden zijn er bars, tavernes, cafés en markets.Τhessaloniki ligt op 20 minuten met de auto en het eerste dorp van Halkidiki 30min.
Everything was just great. The apartment is really huge. It was more than enough space for our company of 5 adults and 2 kids. The area of Agia Triada is very nice. The beach is 70 m from apartment. The one you should note is that in this area it is better to have a car with you than to have not. I can definitely recommend the apartment to anyone seeking for great vacation place for a reasonable price. I would be glad to provide with more details anyone considering this apartment rent while I am available via (SENSITIVE CONTENTS HIDDEN). Additional and continuous gratitudes to extremely nice and hospitable host Pelagia! Hope to see again you and Thermaikos bay.
Andrei
2016-08-14T00:00:00Z
Хозяйка — прекрасный человек, приветливая и отзывчивая. Расположение квартиры — идеальное: на берегу моря, от пляжа дом разделяет лужайка. Сама квартира огромная, просторная и хорошо оборудована — есть все, что нужно. Из окна видно и слышно море. Есть бесплатная парковка прямо под домом, ворота закрываются, поэтому машина не запаркована на проезжей части. Дом хороший, чистый. Район тихий, красивый, добраться легко, есть магазины недалеко.
Victoria
2016-07-21T00:00:00Z
We had a great time at Pelagia's lovely apartment. It is very close to the beach which was even during summer season not very crowded. It's just a 10 minute drive to the airport and about 20-25 minutes to downtown Thessaloniki. Pelagia was a great host and helpful at all times. We stayed at her place with 2 kids (3 and 5 years old) who very so happy to find so many toys in the apartment to play with. Overall we can absolutely recommend this place and will be happy to come back.
Friederike
2016-08-23T00:00:00Z
The landlady is hospitable and responsive. She made an extra set of keys. But for 5 people need 5 sets of keys. The apartment is suitable for families only. The area is very quiet and remote. The apartment needed a washing machine, internet, extra kitchen utensils, all the locks have to work. Thanks for the hospitality
Alehander
2016-09-23T00:00:00Z
My family and I loved the apartment, it is exactly as in the photos - and even better, spacious, airy, perfectly equipped and clean, and we are also very satisfied with our host who was very helpful, communicative and did everything to make our stay pleasant.
Igor
2016-08-02T00:00:00Z
Kamertype
Gehele woning/appartement
---
Type woning
Appartement
---
Geschikt voor
8
---
Slaapkamers
Thessaloniki, Griekenland
Dit is een klassiek strand appartement in een rustige buurt, op steenworp afstand van het mooie zandstrand van Agia Triada, met twee balkons met zeezicht. Het biedt volledige voorzieningen, gratis parkeerplaats, ligbedden, stoelen en parasols voor het strand, en veel speelgoed voor onze kleine gasten. In een loopafstand zijn er vele strandtenten, verse vis restaurants, supermarkten en apotheek. En al deze net buiten Thessaloniki en op enkele minuten van de luchthaven. Welkom in mijn huis!
Het huis heeft 2 slaapkamers, beide met tweepersoonsbedden. In de woonkamer is er ook een grote bank die een tweepersoonsbed kan worden. We hebben een volledig apparatuur keuken waar u al uw maaltijden kunt bereiden. Drie balkons: een aan de voorkant, ideaal voor het diner (met toegang vanuit de keuken). Het balkon aan de achterkant heeft een prachtig uitzicht over de zee en de stad Thessaloniki, met toegang van zowel van de slaapkamers. Het is de perfecte plek voor het ontbijt koffie. Ook wordt geleverd met Griekse siësta luiken die al het licht kan dichten tijdens de dag. We bieden ook speelgoed voor de kinderen en een aantal klassieke tafelspelen voor de volwassenen. Veel plezier!
Veel restaurants, bars, strand bars, cafés langs de promenade langs het strand, een paar straten verderop. Er zijn twee wekelijkse boerenmarkten (één in Neoi Epivates op vrijdag, en één in Perea op maandag), supermarkten, winkels winkels, bank en taverna's slechts in 5 minuten afstand. We zijn 15 minuten van de luchthaven en de lokale nachtclubs. Het appartement ligt in een familie georiënteerde neighborhoud waar mensen vaak samenwerken.
Staying in Simona apartment was the best decision. The apartment is so peaceful and beautiful. Simona was extremely helpful. I liked her apartment so much that I am planning another trip to thessolonki and will defiantly be staying in her apartment again. Simona thank you for making our trip so memorable. X
Kashmalla
2016-04-13T00:00:00Z
Muy lindo departamento, a pasos de la playa y una anfitriona muy amable y servicial. Totalmente recomendado para unas tranquilas vacaciones
Cristofer
2017-02-22T00:00:00Z
Simona is a great host. The flat is very nice, clean and in a great location. Recomendeddddddd :)
Rakan
2016-05-25T00:00:00Z
Everything was wonderful. Relaxing and peaceful place. Good food in rural pubs near to the apartment.
Ivo
2016-07-17T00:00:00Z
I booked this apartment for my parents vacation and they felt really comfortable and good staying there. Everything was as described and even better. They found everything needed there, from beach equipment to everything needed in the house day by day. The sea and the beach is really close, very clean and quiet. A perfect location for relaxing and also close to the city. Simona took care that my parents are welcomed. She answered every time and quick to every concern or question they have. They were so satisfied that in the future want to go there again. Thank you very much for everything Simona! You`re a beautiful person and a great host!
Alexandra
2016-09-01T00:00:00Z
Apartment is very close to the sea, cosy, comfort and clean. Everything was great! Highly recommended. Many thanks.
Predrag
2017-03-14T00:00:00Z
Die Unterkunft war genauso wie beschrieben. Nona ist die ganze zeit erreichbar und hilfsbereit gewesen wenn wir mal fragen hatten. ich kann sie zu 100% weiter empfehlen:)
maike
2016-10-24T00:00:00Z
We have a very nice stay at Nona's apartment. The apartment was very clean, comfortable, and just a stone's throw away from the water...we felt at home. She even had toys for our daughters to play with. Nona herself was very friendly and easy to communicate with. She was always available to answer our questions and give tips. We really appreciated that. I would recommend renting a car if you decide to stay here. We didn't and ended up spending a lot of time on the bus. We also recommend taking a day trip down to Halkidiki which has some of the most beautiful beaches and water that we have ever seen.
Rachel and Gerrad
2016-10-18T00:00:00Z
Kamertype
Gehele woning/appartement
---
Type woning
Appartement
---
Geschikt voor
6
---
Slaapkamers
Thessaloniki, Griekenland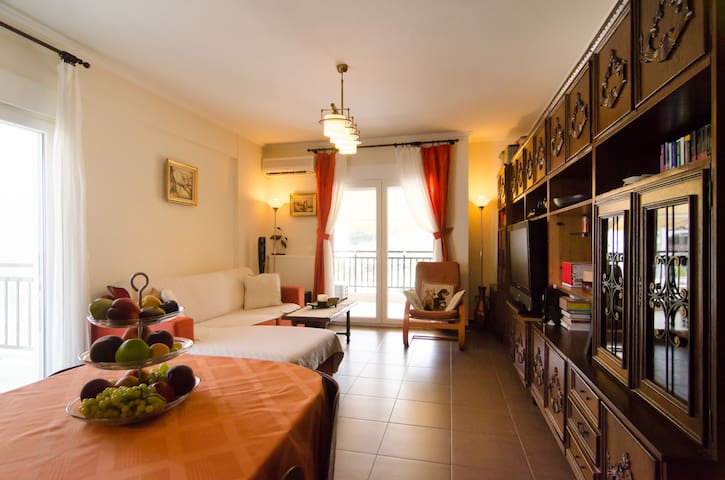 Modern Family BeachHouse Trinity makes part of "Trinity Apartments" complex. A 112 sq.mt family apartment, on the first floor, suitable for kids, fully functioned, in the village of Agia Triada, just 25 km from Thessaloniki Center, 13 km from Thessaloniki Makedonia Airport, 2 min walk from the beach!
This apartment is suitable for both family and friend holidays. It is strategically positioned so you combine city's and nature's privileges.
The apartment is located in a safe, quite and friendly neighborhood suitable both for families, friends and couples only 3 minutes walk from the beach. You will find yourselves right in the middle of almost everything you need in a walking distance; bakery, supermarket, pharmacy, bars, restaurants, Greek tavernas, fast food, beach bars are right next to you.
Cute apartment in quiet area with plenty of room for our group of 7
KENDALL
2017-03-03T00:00:00Z
We felt very comfortable and welcome. The apartment is cosy and the coffees drunk on the terrace are more tasty. The hosts are very friendly and caring people.
Adina
2016-08-21T00:00:00Z
Kamertype
Gehele woning/appartement
---
Type woning
Appartement
---
Geschikt voor
10
---
Slaapkamers
Agia Triada, Griekenland
1

–

18

van

91 Appartementen te huur
Voer datums in om de volledige tariefopbouw te zien. Er kunnen extra kosten zijn en er kunnen belastingen worden toegevoegd.